Shop My House & Spaces I've Designed Here
Want to know where I got that cute lamp in my house, or maybe my new rug you saw me share in my Instagram feed…no worries, I've got you covered with this shop my home page. Well as much as I can anyway. I try to update links as often as possible, but sadly products do get discontinued at times.
Some of these links are affiliate links, which means that while the item doesn't cost you any more than normal, I do get a little commission from the company when you use my link to shop, so thank you!
The Willow House (the main house)
I love this country home of ours! It is a ton of work, but driving down our long private road through the woods until you come to the main house at the end is just so picturesque! You come to the guest house on the property first, then a ways down is our traditional colonial style home.
The Living Room (& Secret Game Room)
This living room was a budget before & after with DIY built-ins, DIY art, and more done for the FrogTape challenge. See the full reveal here, and learn more about how I built the storage built-ins here.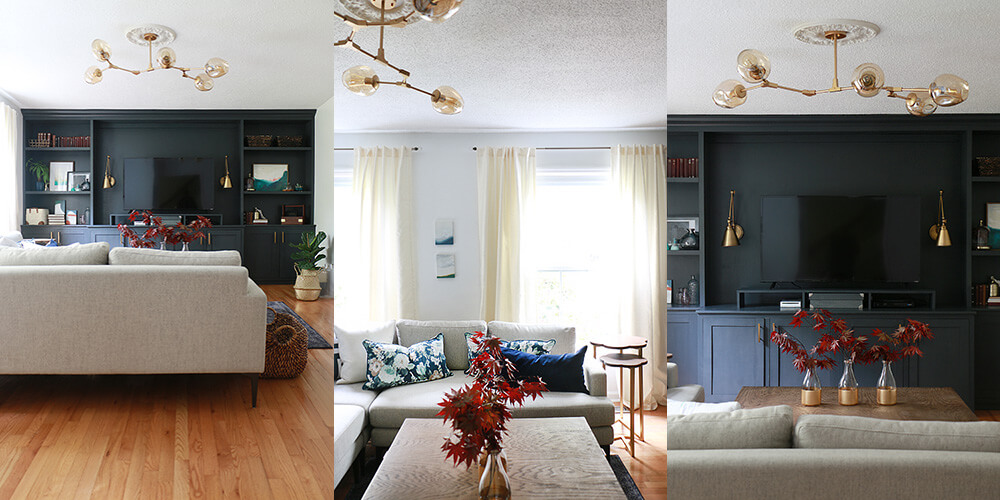 Shop Sources: | Sofa Sectional | Ceiling Bubble Chandelier | Gold Sconce | Pair of Flower Nesting Tables | Gold Cabinet Pulls | Seagrass Plant Basket
Formal Family Room
This room was an amazing before and after done as a chosen designer by Better Homes & Gardens in the One Room Challenge. What an amazing honor, and I'm loving my beautiful space with it's balance of some of the most feminine and masculine elements I've ever used paired together.
Read more about this family room here>>

Shop Sources: | Office Chandelier | Blue Sofas | Ceiling Light Fixtures | Wall Sconces | Office Chair | Greek Key Coffee Table | Round Ottomans | Round Foldable Metal Tray | Floral Curtains | Area Rug | Grey & Gold Bookshelf | Black & Gold Serving Cart | Floral Armchair | Acrylic Curtain Rod + Gold Curtain Rings + Gold End Bracket + Gold Middle Cap | Pillow Cases: Coquette Gold / Coquette Black & White / Green Velvet / Geometric Charcoal
Powder Room
The downstairs powder room may be small, but it is full of style! No need to stick to the the 'typical' in a bathroom space, add what you love. Learn more about this space here>>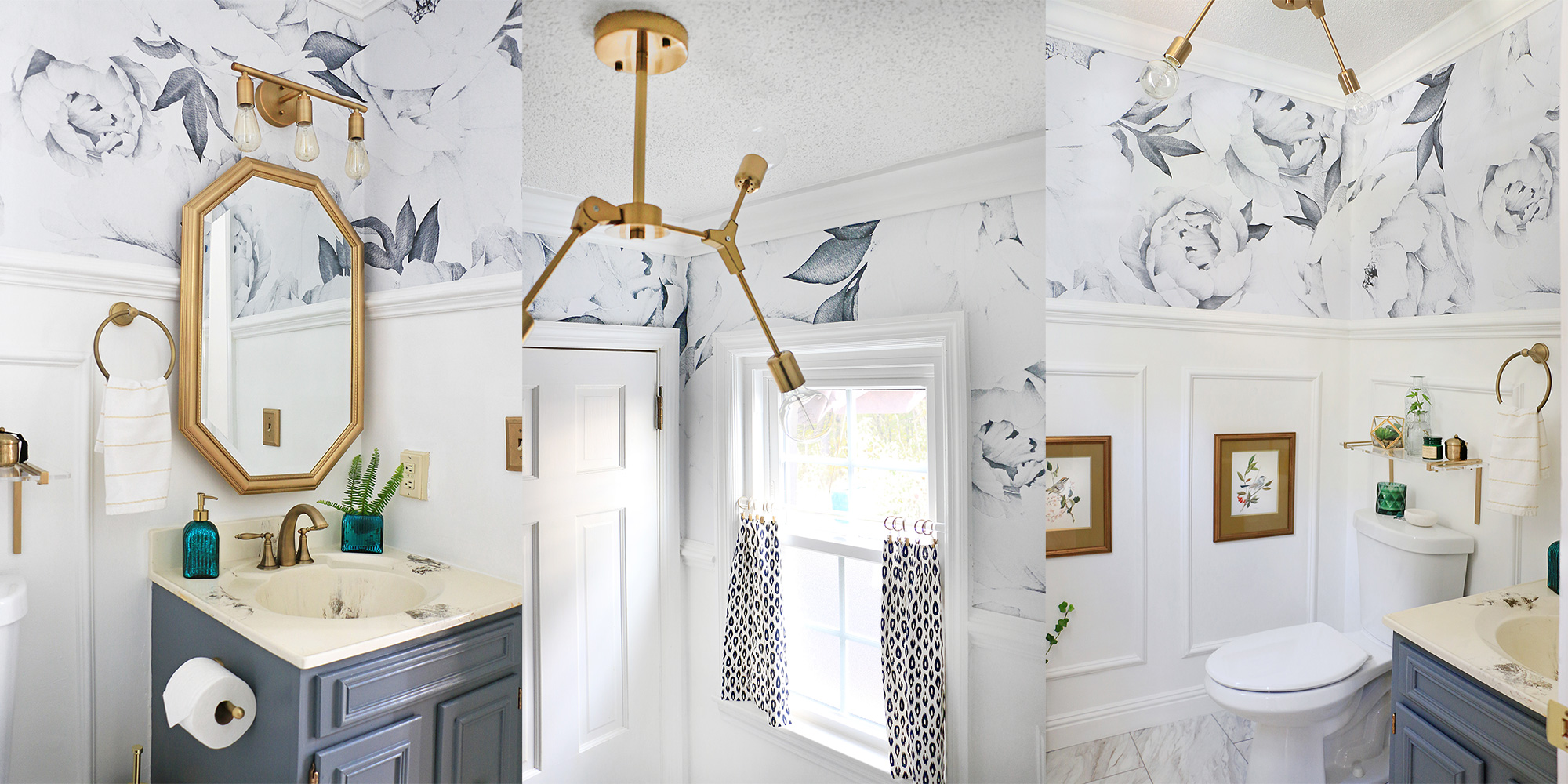 Shop Sources: | Sputnik Ceiling Light Fixture | Vanity Light Fixture | Peony Wallpaper | Acrylic Shelf | | Acrylic Rod + Rings | Vanity Pulls | Faucet | Soap Pump + Toothbrush Holder + Wastebasket | Toilet Paper Holder + Towel Holder
Entryway
This small pass-through room has ever changing decor with the seasons, but a few beautiful pieces remain consistent. This entry hall peeks into the living room, and even the dining room on the other side of the stairwell.
Entryway Posts: Paint Colors | Smart Light Installation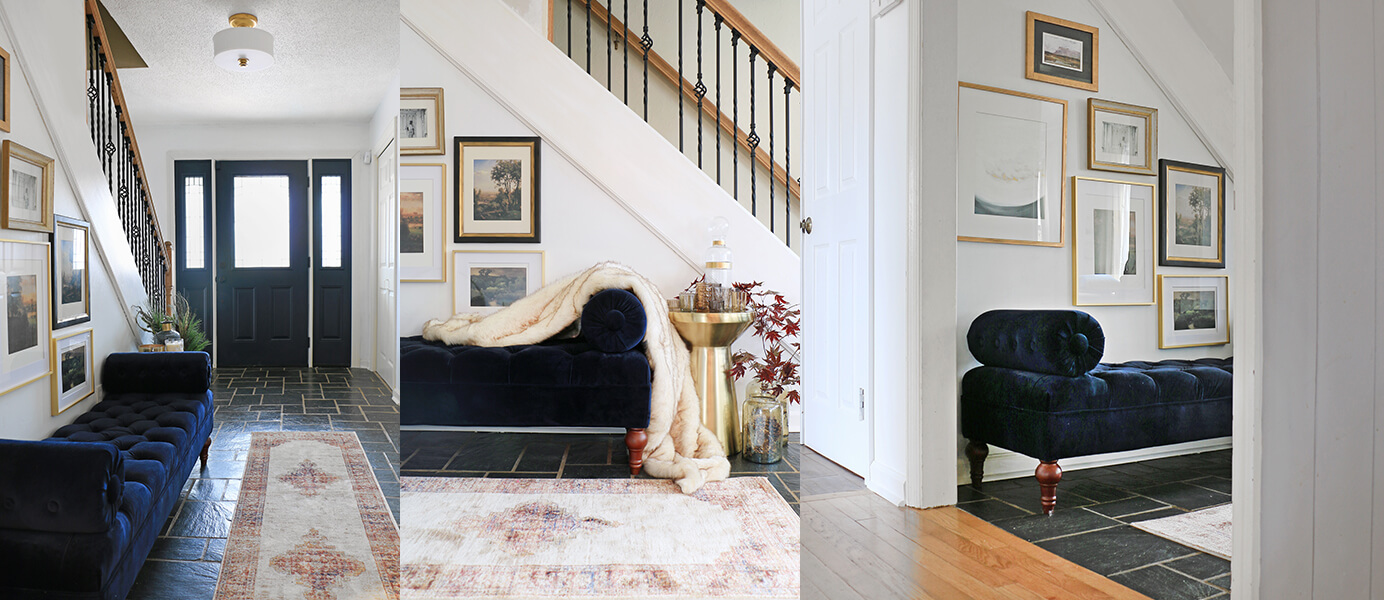 Shop Sources: Blue Ottoman | Light Fixture | Gold Accent Table | Gold Picture Frame | Faux Mink Fur
Kitchen
This kitchen is my dream space! You can't believe what the kitchen and dining room looked like before, and what a difference few structural and flow changes could make.
Kitchen Posts: Before + Design | Appliances |


Dining Room
The dining room was closed off from the rest of the house before it was remodeled. Now it opens to the kitchen, while maintaining enough separation to feel like it's own space. That incredible mirror can be found here.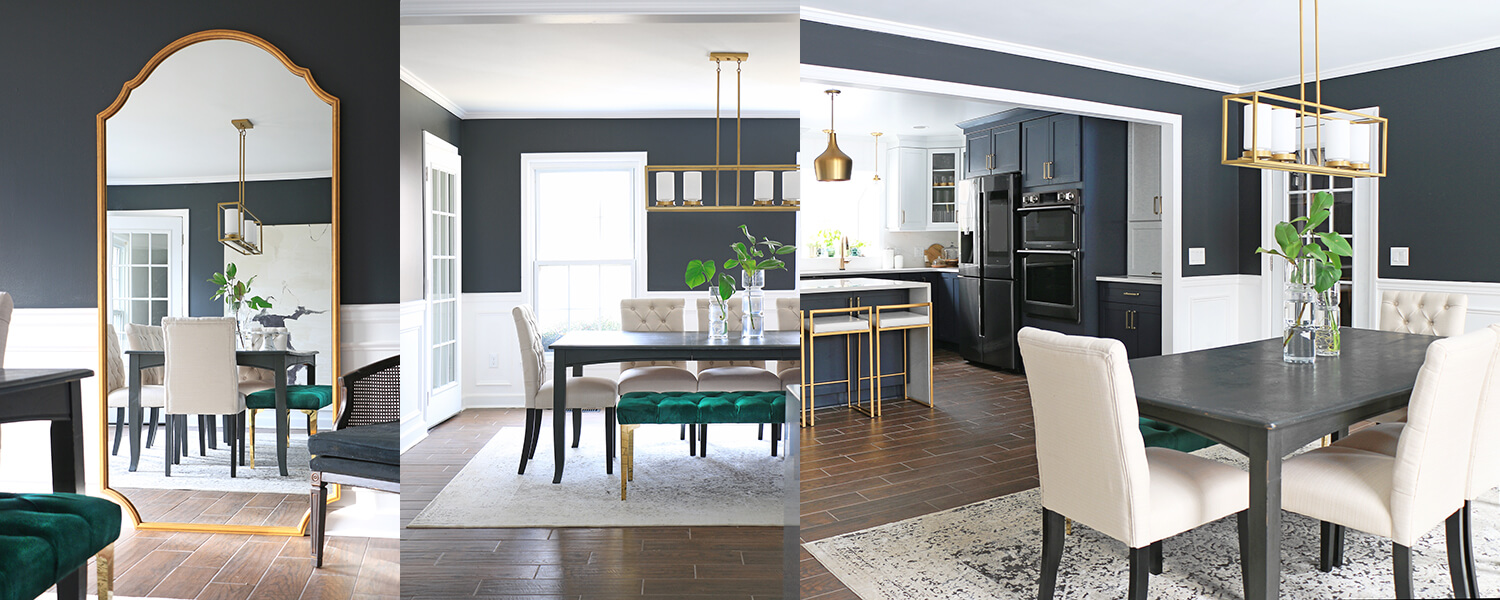 Shop Sources: Floor Mirror: Capelle Mirror |Brass Drapery Rods (.75) | Brass Drapery Rings (.75) | Art: 'Sunset Falls' by Donald Towns |

Laundry Room
This room use to be a space at the back of my garage until I remodeled it to turn it into a room attached to the house from the inside only. It is SO lovely to have a real laundry room now!
Laundry Room Posts: Laundry Room Reveal | Before Pics + The Plan | Decorating Accessories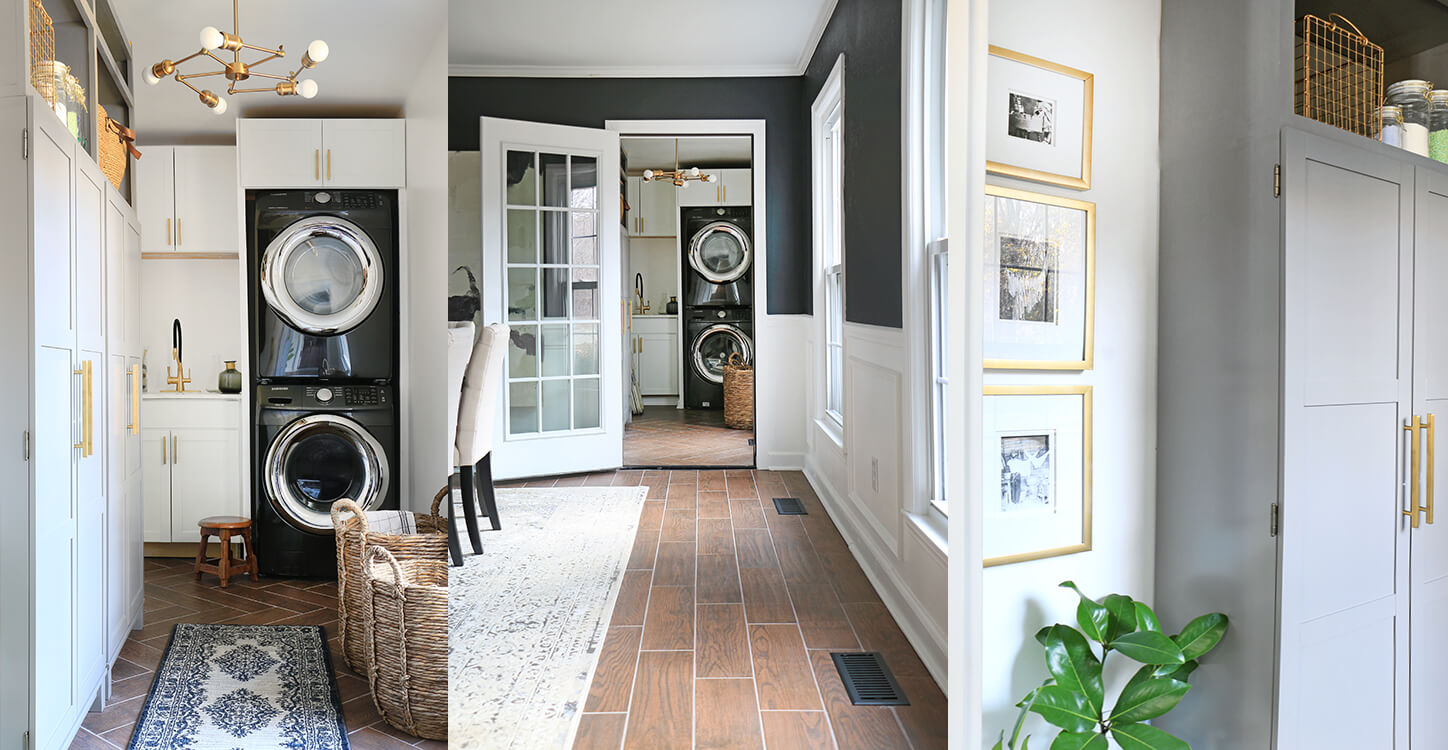 Shop Sources: Washer | Dryer | Base Cabinet | Upper Cabinet | Appliance Cabinet (DIY with plywood plus cabinet) | Sputnik Chandelier –discontinued (Alternative #1, Alt #2 , Alt #3| Cabinet Pulls | Faucet | Vanity Top |Flooring | Grey Storage Cabinets (partial DIY) | Accessories, rug, baskets, picture frames, etc. (At Home Stores) | Glass paned door
Garage / Workshop Studio
My garage workshop is where the DIY magic happens! This is where all my woodwork, metalwork, and crafty endeavors take place. Read all about the transformation here.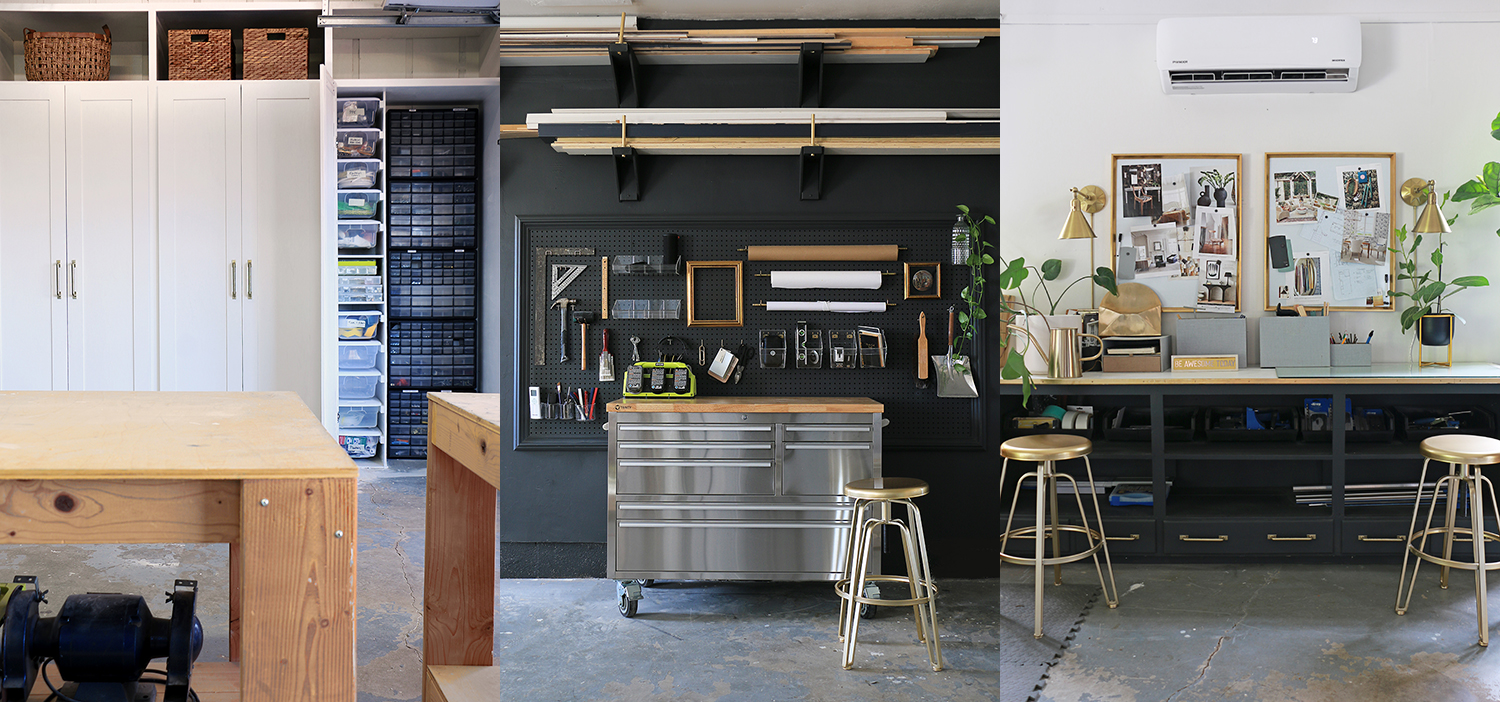 Shop Sources: Wall Sconces | Air Filtration System | Mini Split Air Conditioner & Heat Pump | AC/Heat Pump Mounting Pad | Pegboard Kit | Towel Bar (AKA Clamp Bar) | Magnetic Dry Erase Memo Board | 7.2 Gal Black Storage Bin | 6-1/2″ Satin Brass Drawer Pull | Swivel Adjustable-Height Gold Bar Stool | Small Parts Organizer | Stainless Steel Workbench
The Master Bedroom
This room was started with a One Room Challenge makeover and still isn't quite done. It is our private little haven, and I want it to have an eclectic vibe to it you won't quite find anywhere else in the house.
Master Bedroom Posts: ORC Reveal | Lounge Seating Area | Before Pictures | Moodboard + Plan | Gallery Wall


The Master Bathroom
This space just goes to show that attention to architectural details can make such a huge difference! The before and after in this space is pretty dramatic, even though the footprint did not change, and the space isn't large.
Master Bedroom Blog Posts: Reveal

Shop Sources: ART: Black & White Botanical #1 | Black & White Botanical #2 | Old Shadow Road | LIGHT FIXTURE: Polished Nickel Sconce | Black Iron Framed Mirror | FLOORING: Firenze Calacatta Honed Marble Tiles | Door Levers | MOULDING: 1-1/4″ White Hard Unfinished Chair Rail Moulding | 3-5/8″ Crown Moulding | 4-1/2″ Baseboard Moulding | ACCESSORIES: Acrylic soap dispenser & tooth brush holder | Large Turkish Towels | Hand Towels | Black Modern Hooks | Gold Trash Can |
The Master Closet
Shop Sources: Gold Chandelier |
Sophisticated Glam Teen Bedroom
My eldest daughter's bedroom was amazingly transformed with simple updates and hacks. The ceiling fan is actually an easy hack, and many of the pieces already existed in this space! This just goes to show that it's all in the details… View the full refresh here.

Shop Sources: Wallpaper | Gold articulating sconces | Gray pinstriped curtains (Cypress Cotton Canvas material) | Tufted round ottoman | Velvet pillows | Round gold mirror | Round nautical mirror | Polystone Bookends | Candle votives | Sea green decorative bowl | Down pillow inserts | Peacock silk tassel | Thatch silk tassel | Campaign Desk| Gold & white end table | Outlets & switch covers
The Tiny Teal Bedroom
My youngest daughter loves her tiny but mighty bedroom! See the full reveal here.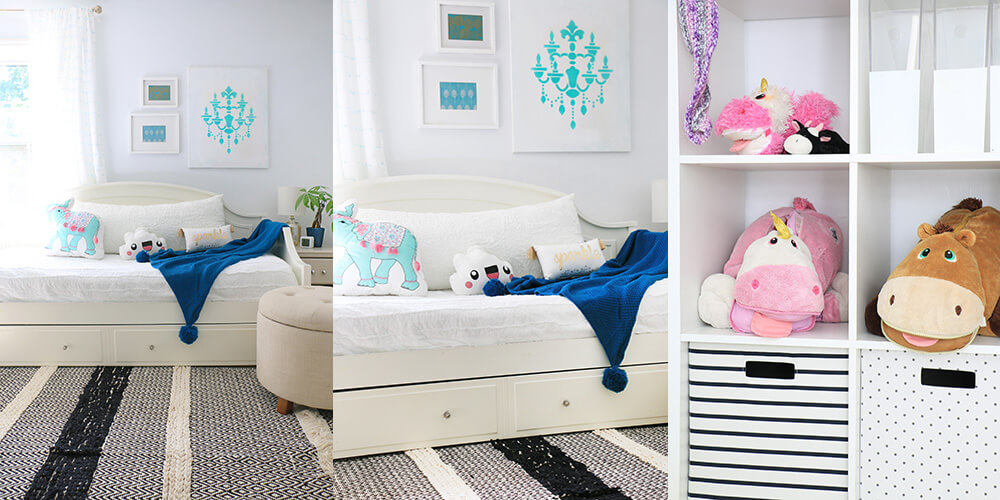 The Whimsy Girl Bedroom
My artsy middle daughter has taken her bedroom design by storm as a young up-and-coming textile designer. Priya designed the fabric on the headboard and throw pillows herself, and they are for sale in our Spoonflower shop! You can also learn how to build the nailhead headboard here.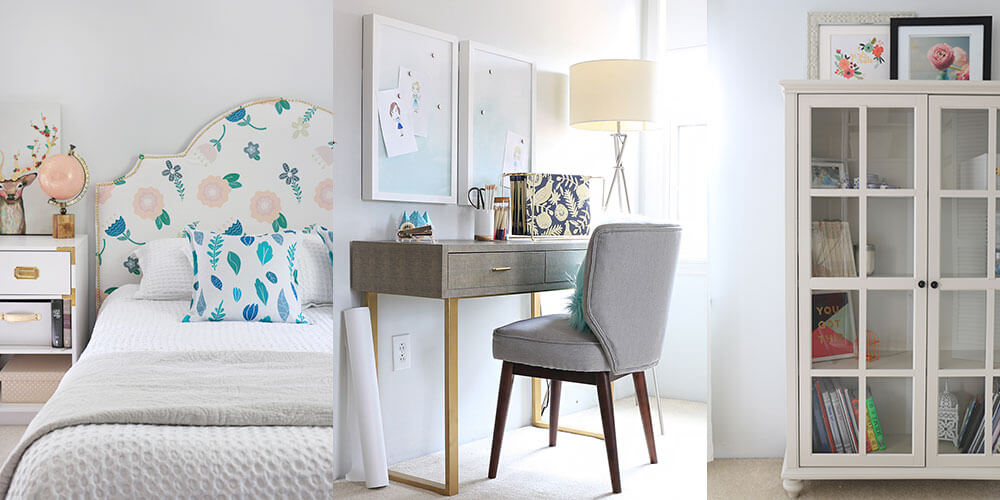 The Cottage (the guest house)
I'm always working to make this small but mighty 3-bedroom, 1-bath, Airbnb house, full of charm. And what better way than to turn it into a sweet little cottage?
The Entryway
I wanted to bring in lots of natural light and allow the entryway to be a pretty (and practical) way to greet my Airbnb guests.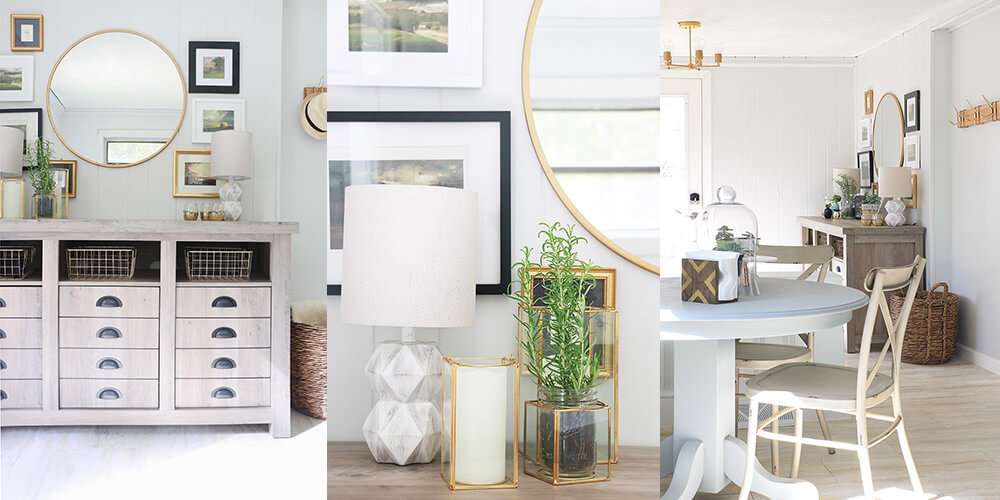 The Dining Room
My dining room makeover was a pretty dramatic one, even with a few inexpensive changes! The stunning artwork on my gallery wall consists of custom fine art prints you can shop here at Donald Towns Art studio.
Dining Room Posts: Dining Room Reveal | Before + Dining Rm Choices | Holiday Bar Cart Vignette + Tablescape | Light Fixture Choice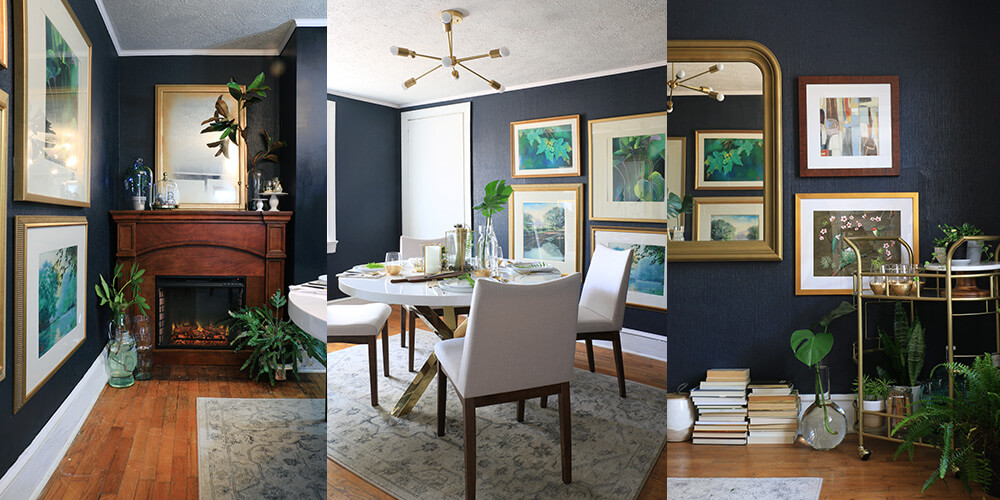 The Bathroom
It may be a small bathroom, but that doesn't mean it can't have a little style… it still has a long way to go, but small makeovers can go a long way!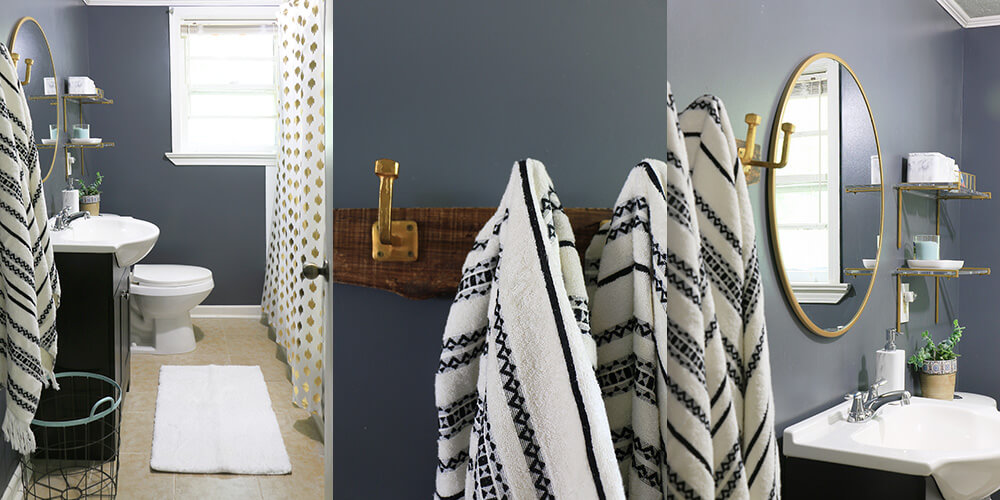 Outdoor Spaces
The Garden House
Shop Sources: Wallpaper | Ceiling Light Fixtures | Sherpa Accent Chairs | Cocktail Tables | Table Lamps |
Spaces I Have Designed
Nicole's Studio Apartment
From a bare apartment to a stylish space, see the full budget before and after here! The sidetable is a DIY build which you can see here.

More Coming Soon…