It is the big reveal of the New Year, New Room Refresh challenge! I am SO excited to share with you what a huge difference a 5 week refresh made on this teen bedroom.
My daughter's bedroom was never suppose to be a full makeover (thus the term "refresh"), but when changes like paint on a wall, or new carpet, makes such a huge difference, it pretty much looks and feels like a full remodel.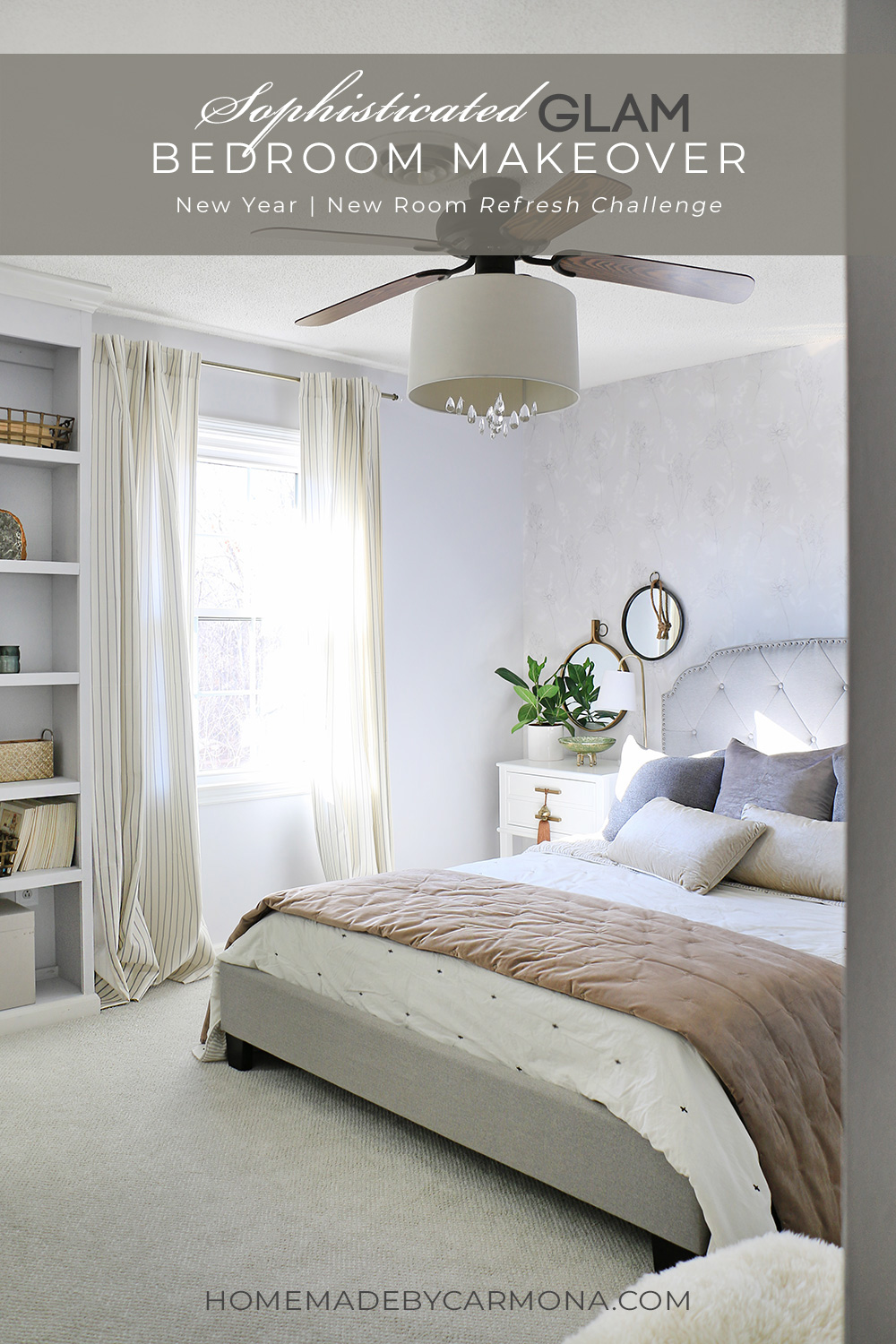 *Thank you to the NYNR sponsors who made this room possible! Special shout out to The Home Depot, Liberty Hardware, Milton & King, Spoonflower, Smith & Honig, and Sazerac Stitches!
This space just goes to show that with a few weeks, and a little elbow grease, you can totally transform a space in your own home!
Where there other things I would have liked to change? Yes, but considering how far this room has come in such a short time, I'm pretty happy with it.
Catch up on each week of this remodel here: Week 1 | Week 2 | Week 3 | Week 4 | Week 5 (You're Here!)
Teen Bedroom Before & After
This is what Fiora's room looked like just 5 weeks ago. I kinda feel bad that she has lived with stained carpets and cruddy walls since we moved in 3 years ago. She even got use to it, and *shudder* started to like her weirdly minty green carpet.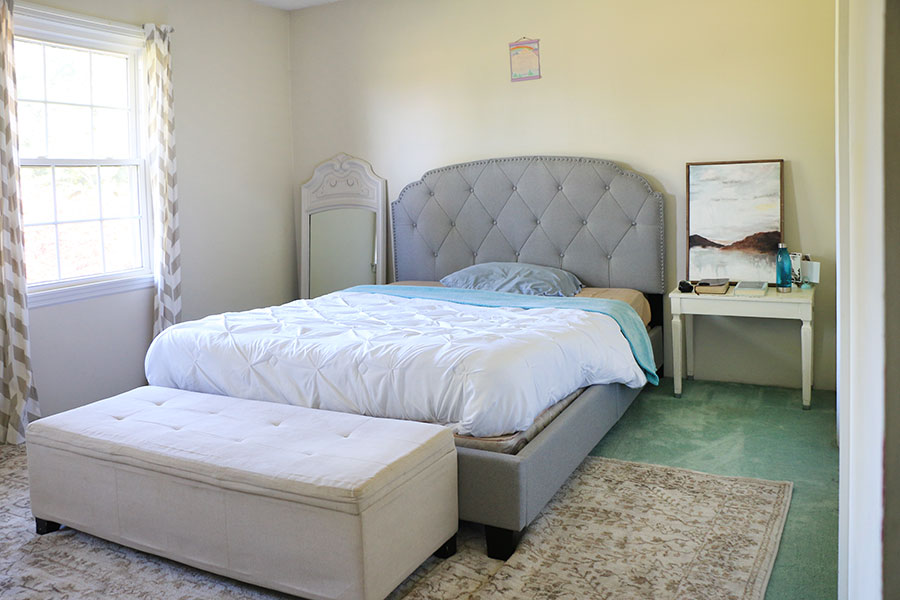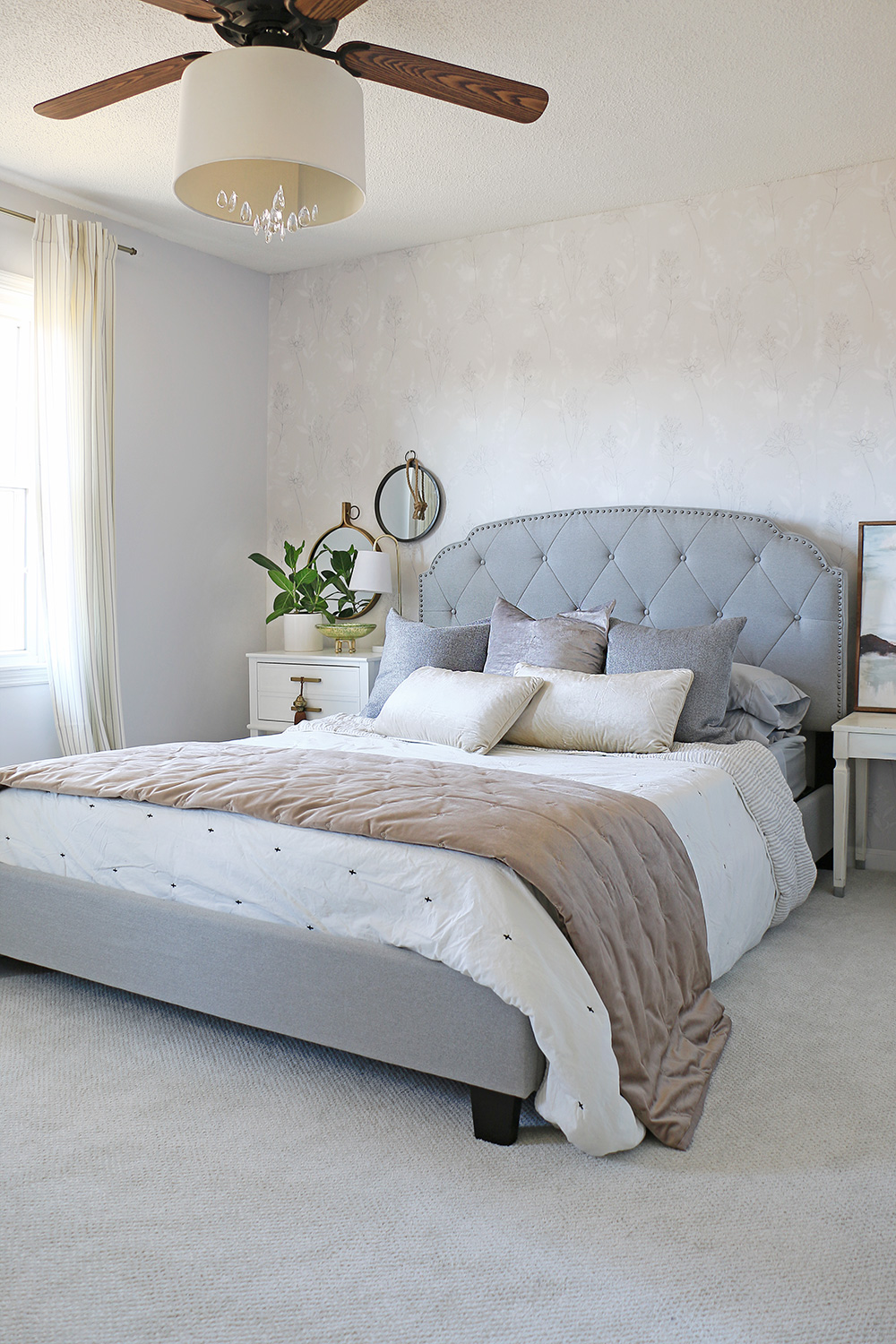 You'll notice we didn't change any of her furniture pieces… she has the same bed, piano bench side table, armchair, and desk. So in truth, it didn't take much to transform this space.
Not a lot changed in here…A good coat of paint, a pretty wallpaper, new carpet (in our case), and a few decorative details took it to the next level.
It goes to show that you can buy new pieces of furniture for a space, but it really is attention to details that takes it from a rather sad space to something that could be in a catalog. Speaking of details, even the switches and outlet got new and improved covers from Liberty Hardware!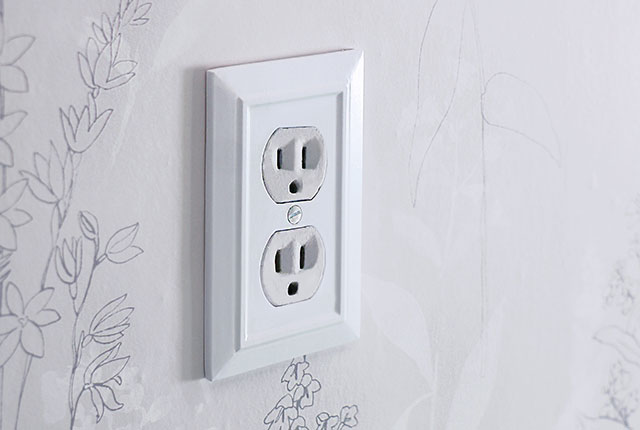 I also got some handy dandy coat/hat hooks from Liberty Hardware. We swear by hooks in this house…I love them as a good way to keep the kids (and the hubby's) coats, purses, etc. off the floor.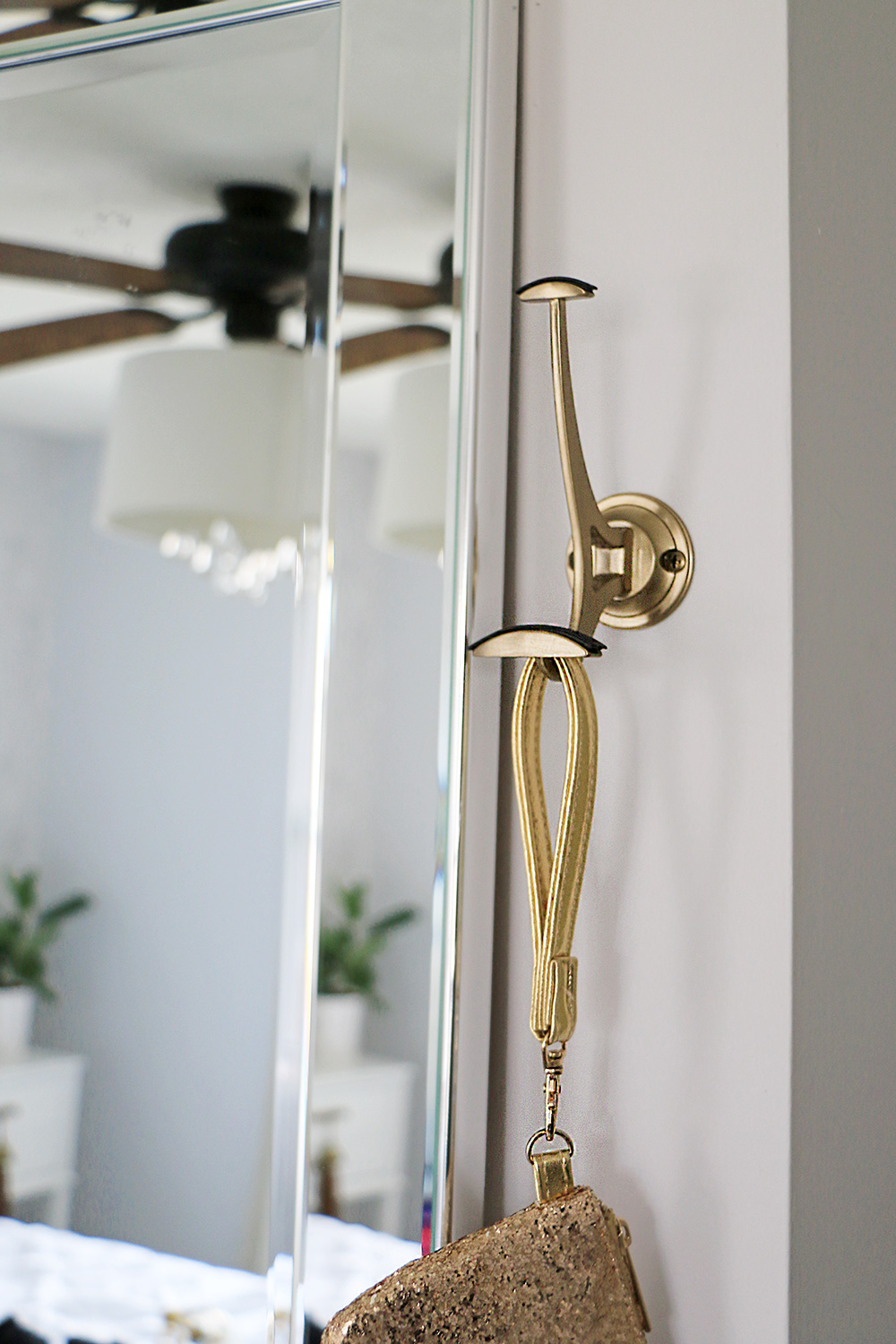 Beautiful Details Don't Have To Break The Bank
Okay, new carpets cost a pretty penny…but I'm going to assume you don't all need new carpeting. In which case, a room refresh doesn't have to be expensive to be truly dynamic.
It may simply require effort, like this bookcase I built for Fiora's room. It isn't only practical storage, it adds a bit of architectural detail, and in my opinion, charm that was otherwise lacking.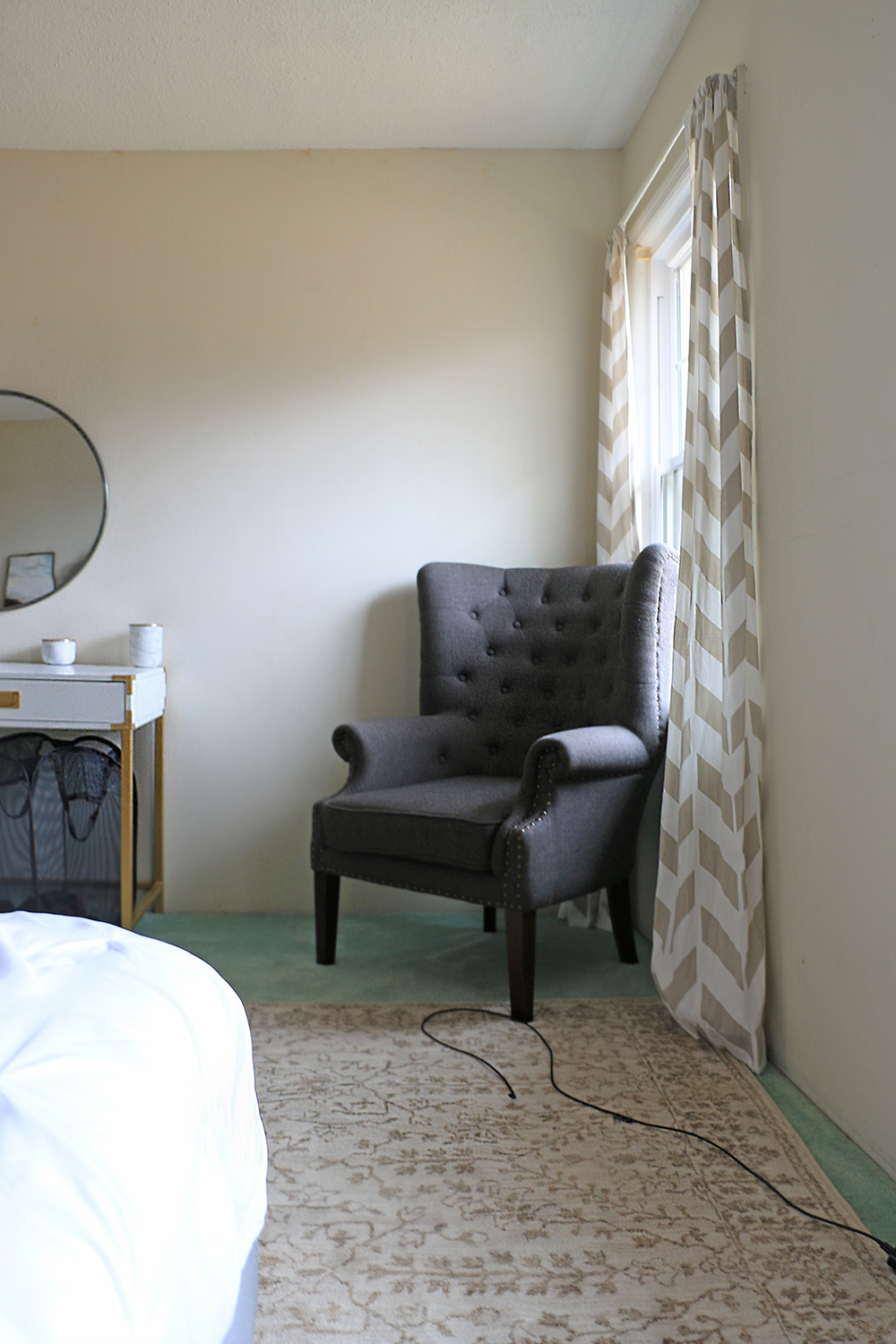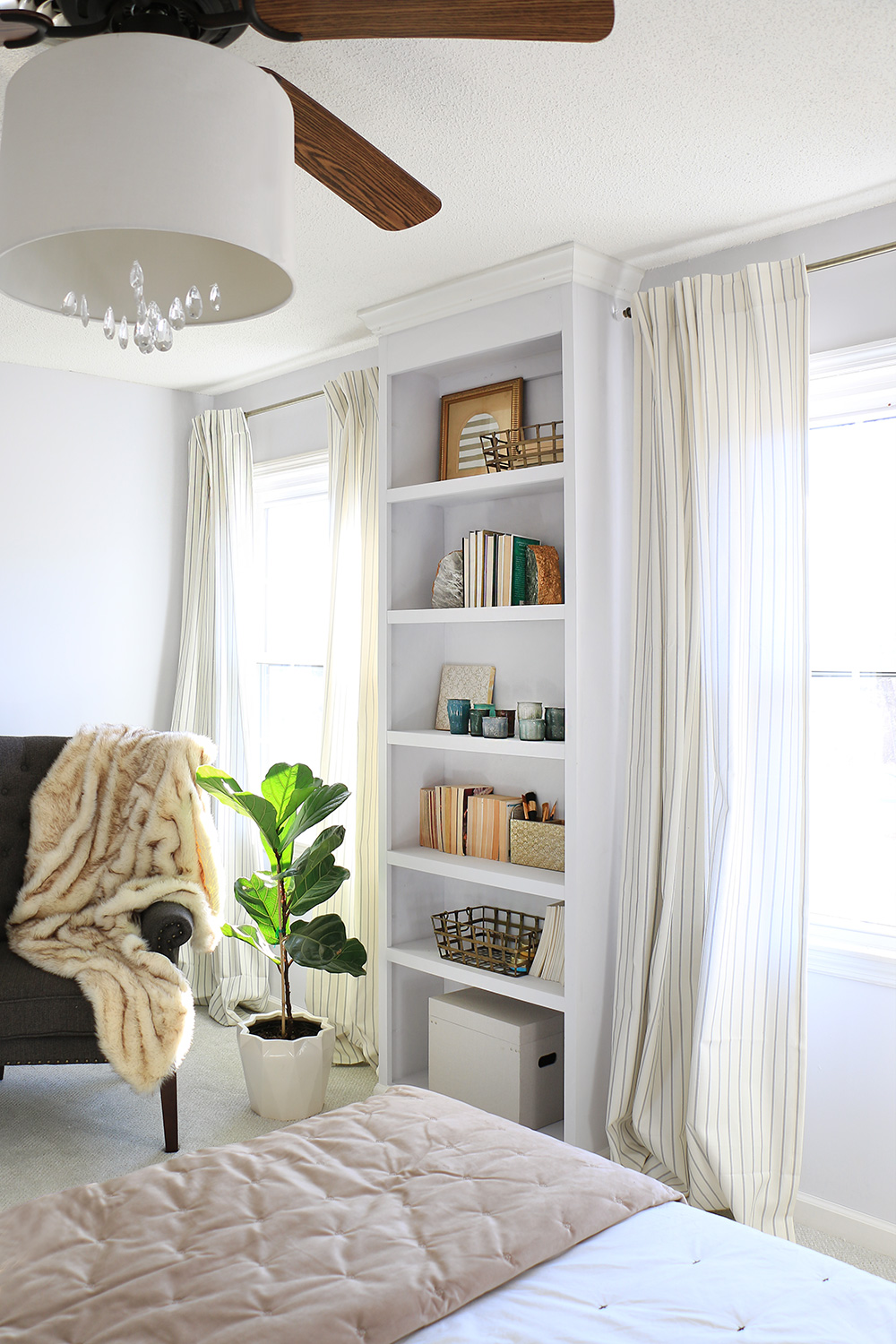 Who knew a scrap wood built bookcase could add so much visual interest? Or an outdated ceiling fan could be outfitted with a thrifted $3 lamp shade, some beads, and look sweet and feminine?
Sometimes a little creativity can take you a long way!
Texture & Pattern Play
My daughter had one basic palette in mind; gray with gold accessories. I loved the direction of a gray base for a sophisticated teen space, but I didn't want it to feel monotone. The best way to add a little visual interest to this type of palette is to supplement with texture and pattern.
The feature wall has that same gray color she loves so much, but provides such great visual interest! I went with a gray wallpaper called Dalrymple by Milton & King, and it really makes the space. It is demure, but with a bit of whimsy, and it was just the feminine touch to set the tone and direction for a teen girl's room.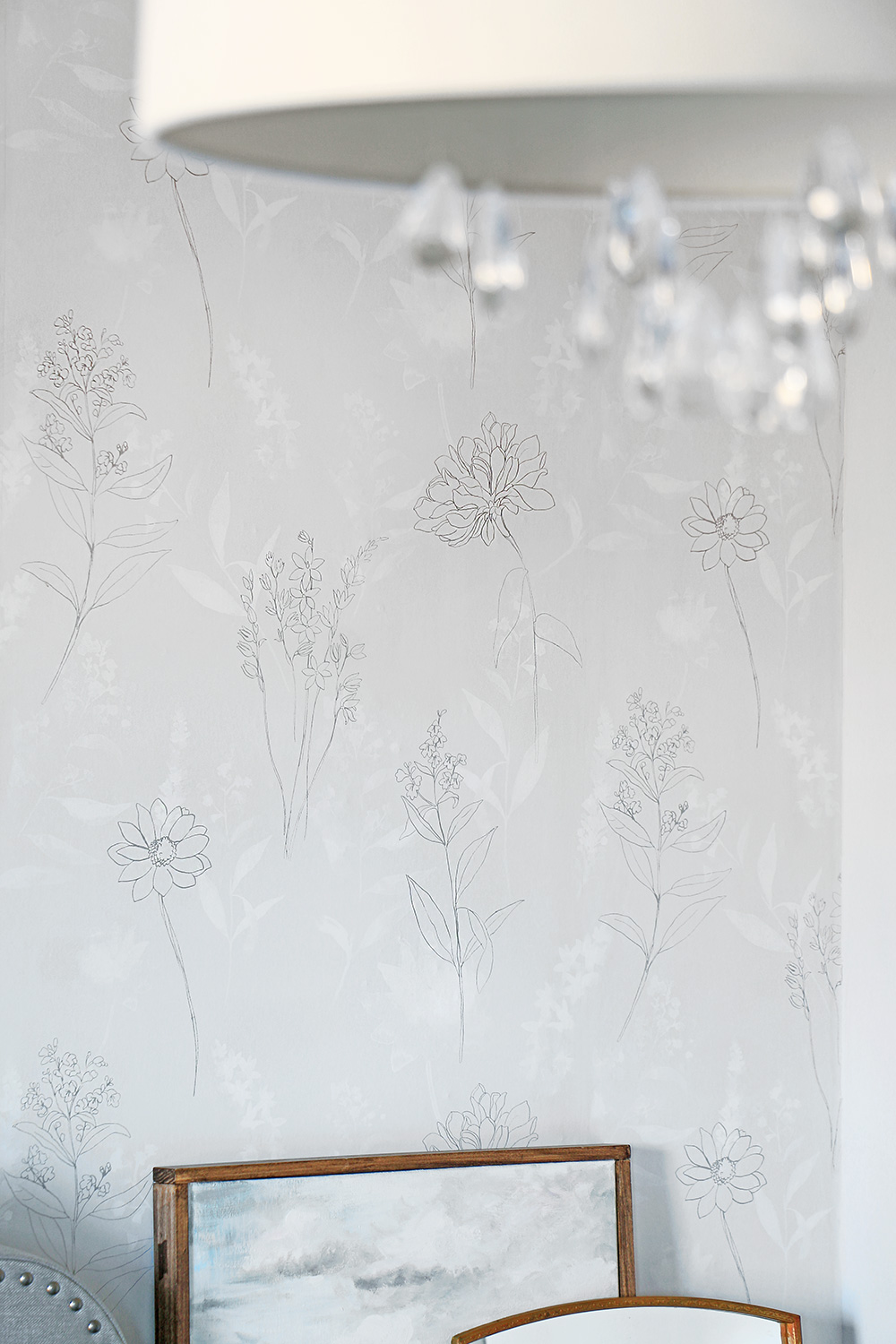 I was a little nervous installing wallpaper, but as soon as I got started I realized how easy Milton & King wallpaper was to install. Thank goodness! All the information needed to install wallpaper is provided on their website.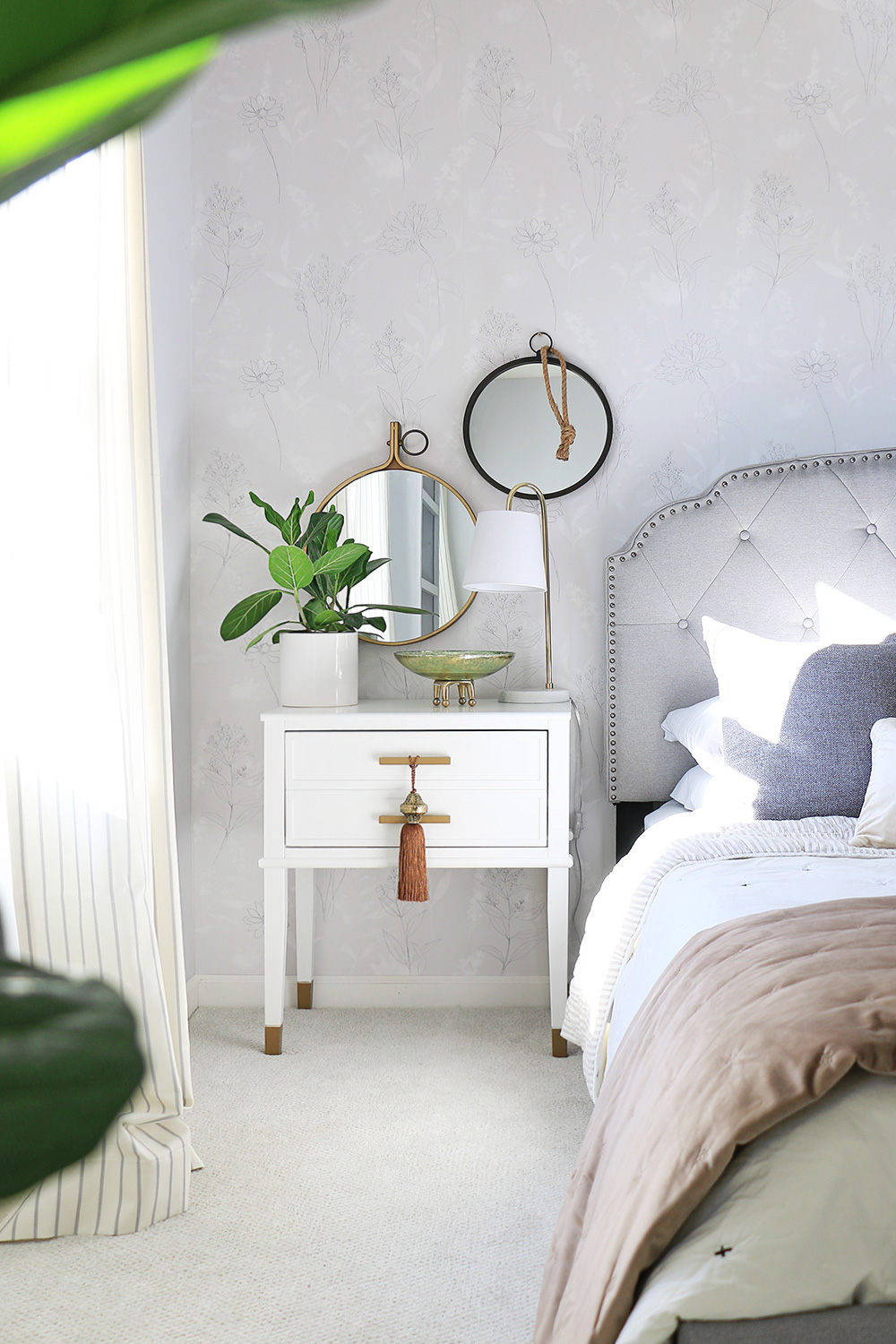 I also added a second subtle pattern with these striped curtains from Spoonflower. Again, it doesn't have to be a bold print to have a big impact on a space. You can bring multiple subtle patterns, textures, and tones together to create a cohesive but visually impactful space.
Spoonflower was a great place to find the perfect print to compliment the room. Gracious, they have such an enormous collection to choose from, the hardest part is narrowing it down to just one favorite. Plus you can order a print in the form of fabric, wallpaper, or as household decor like throw pillows and drapes! A room just isn't dressed without wonderfully full curtains. Someone is going to ask, so this is the Gray Pinstripe print on Cypress Cotton Fabric…which in my opinion is the absolute best for curtains, and great on upholstery as well!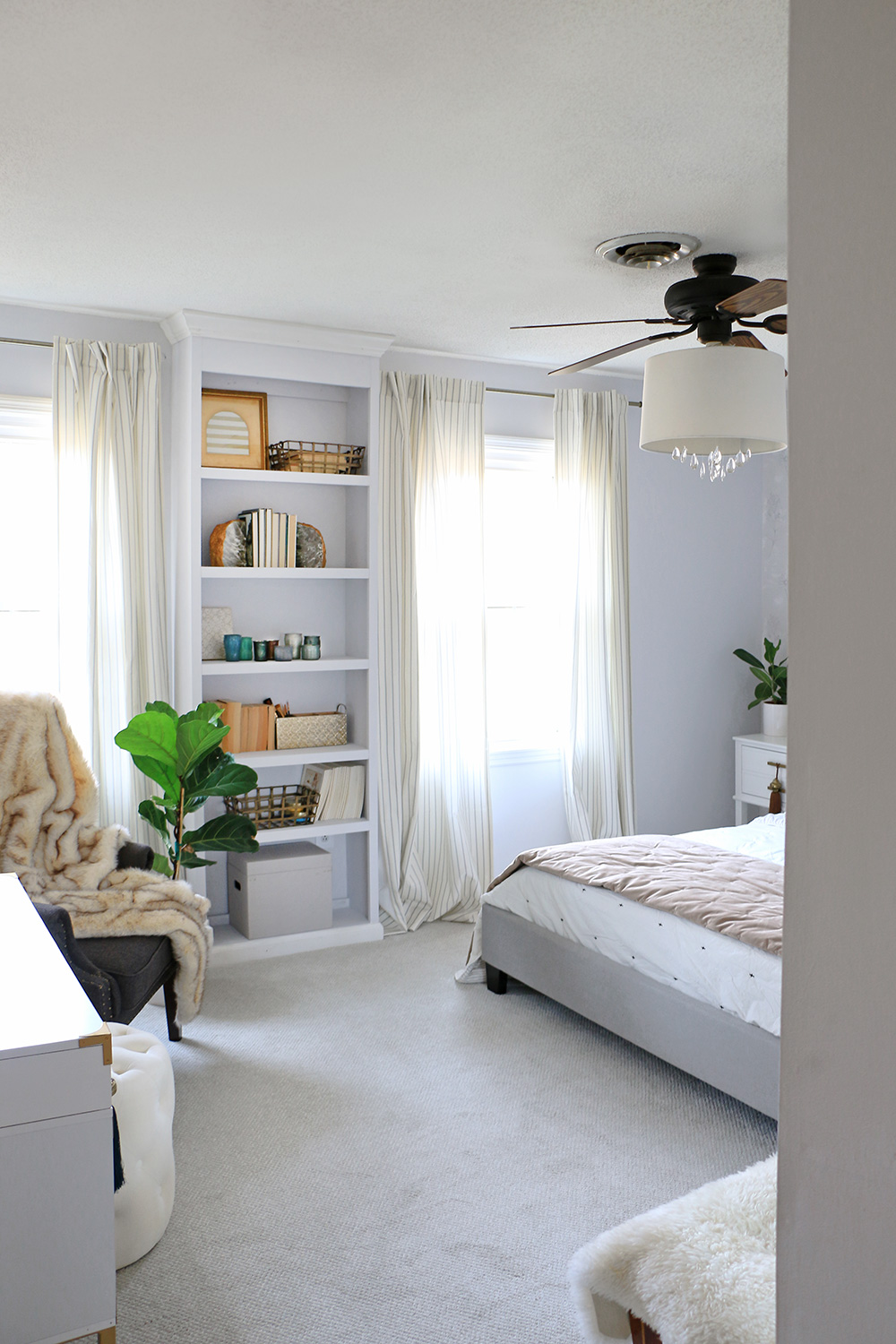 Go For The Funky Accessories
The great part about accessories? You can be as fun and playful as you want! I always look for those unexpected items that are just a little bit of something cheeky and eclectic in the space.
All my new accessories were provided by The Home Depot, which has a huge variety of home decor to choose from online. I know, you tend to think of things like wood, or garden supplies when you think of The Home Depot, but it is actually one of my favorite go-to's for decor too! Like this very cool sea green decorative bowl with it's cute little feet. See? Cheeky!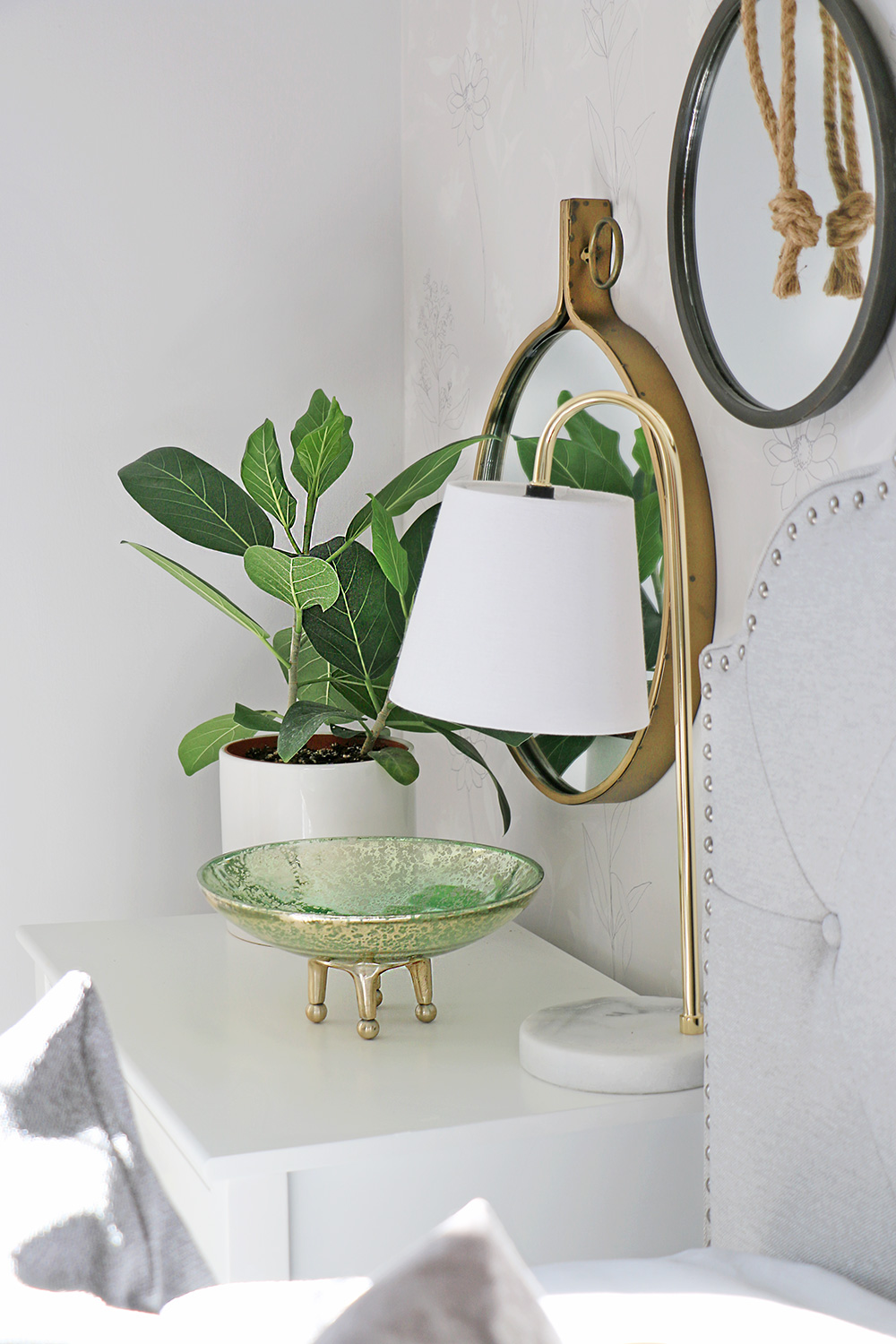 The decorative mirrors above the bedside table, the bookends, votives…and even the brown velvet quilt and velvet throw pillows are all from The Home Depot online. Accessories are a great way to add a pop of color, especially when you aren't sure you want to commit to that color throughout the room.
Add A Few Vintage Pieces and Globally Inspired Pieces
Again, I am a firm believer in mixing styles. A few eclectic, global, or even vintage pieces elevates a space to designer level. I added a few globally inspired pieces to the room, like these tassels from Smith Honig.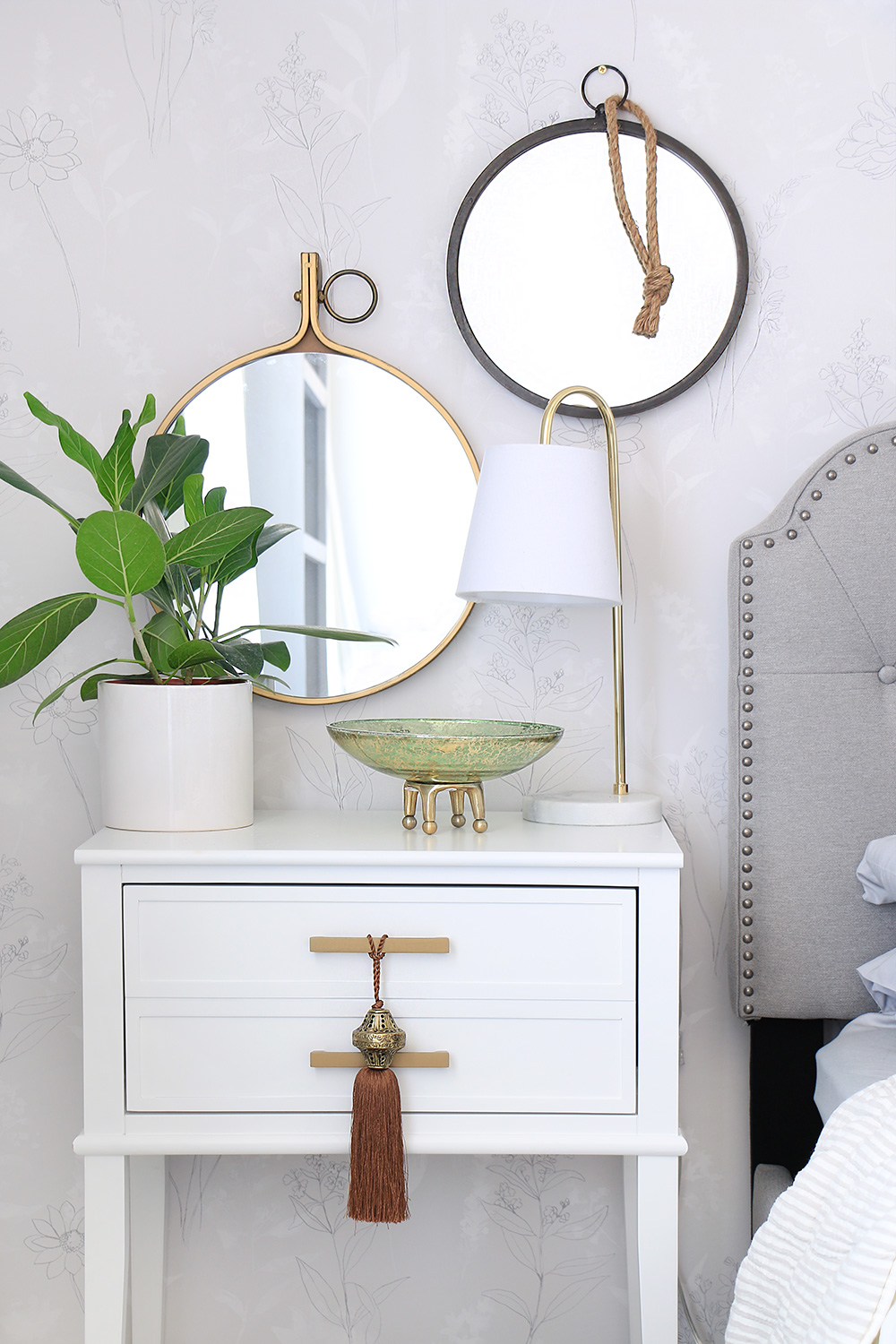 Aren't they perfect in the space? I had a hard time letting them go (just saying, they would look amazing in MY bedroom 😀 ), but it's the perfect item for a teen's room. You hang it on just about anything, and suddenly that item is next level cute!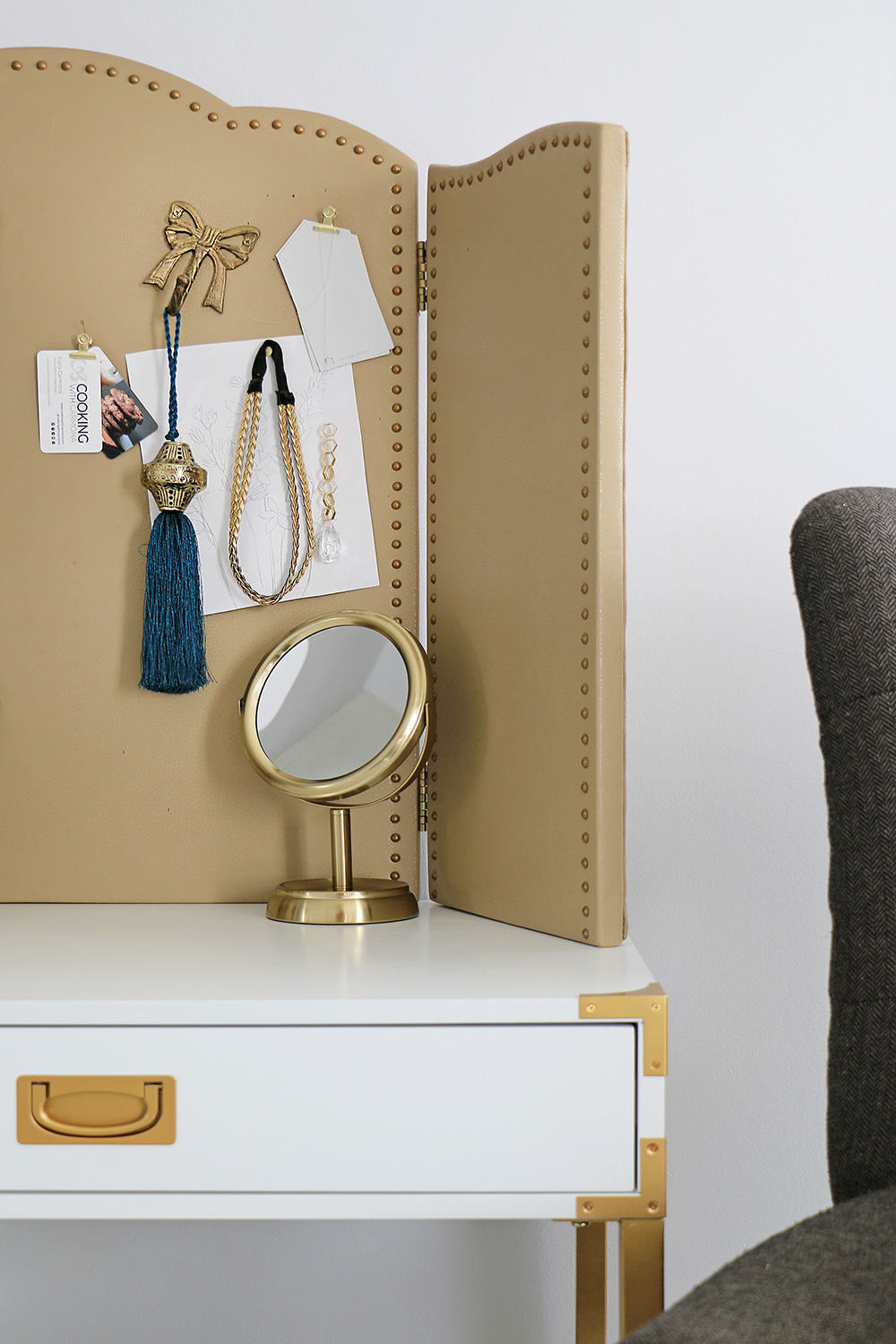 This vintage screen made for the perfect desktop pinboard, and I couldn't beat the price at $25 from a local thrift store. Mixing old adds depth of character and charm to a space.
Big or Small Changes? Go For What Makes An Impact
I hope you have enjoyed touring this room! My daughter said she didn't think anything big had changed… haha kids. But I will say, this room was truly elevated in style and sophistication.
To truly move the needle, the room didn't require new pieces of furniture…the room surfaces needed a fresh new lease on life. The walls, carpet, lack of trim, and old beige outlet covers needed to be replaced. Pretty much anything that looked dirty, grungy, or dull had to go.
Then attention to small decorative details gave it the polished sophisticated look this teen bedroom required.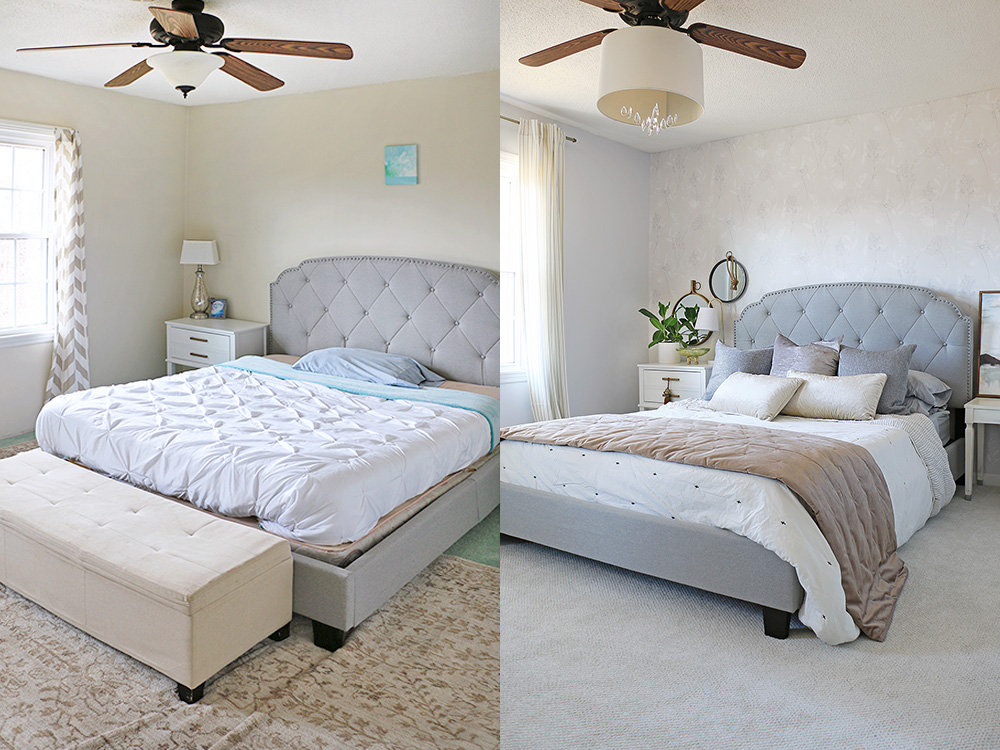 Source List: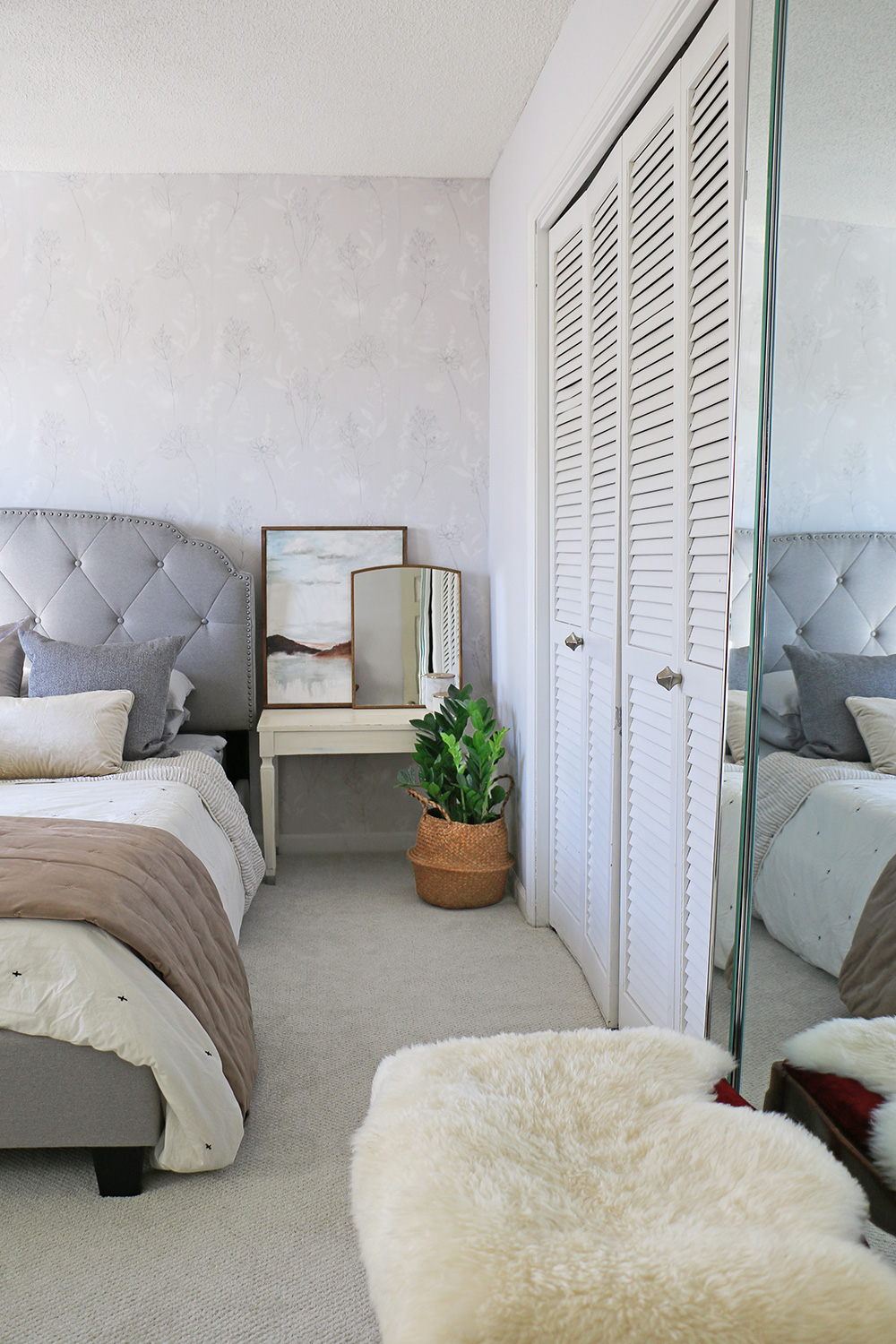 **One Week Later…UPDATE!**
My daughter moved a few things around in the bookshelf. Shockingly she left a couple houseplants in there (yay!), and I added the MOST ADORABLE sconces you've ever seen to her reading nook.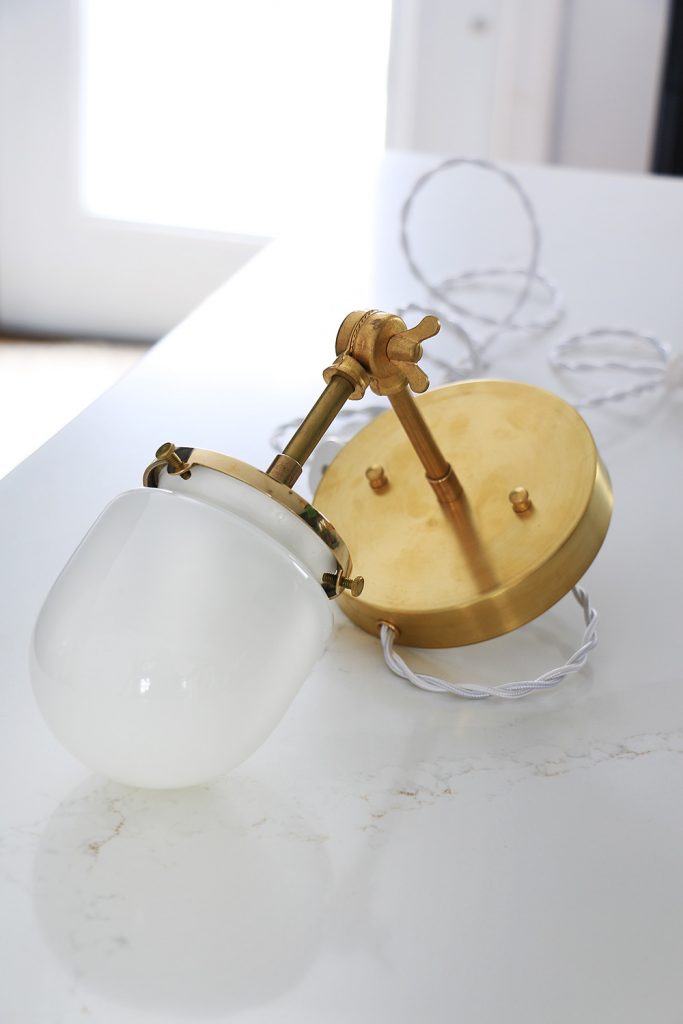 This beauty is the Articulating Single West End sconce from Sazerac Stitches.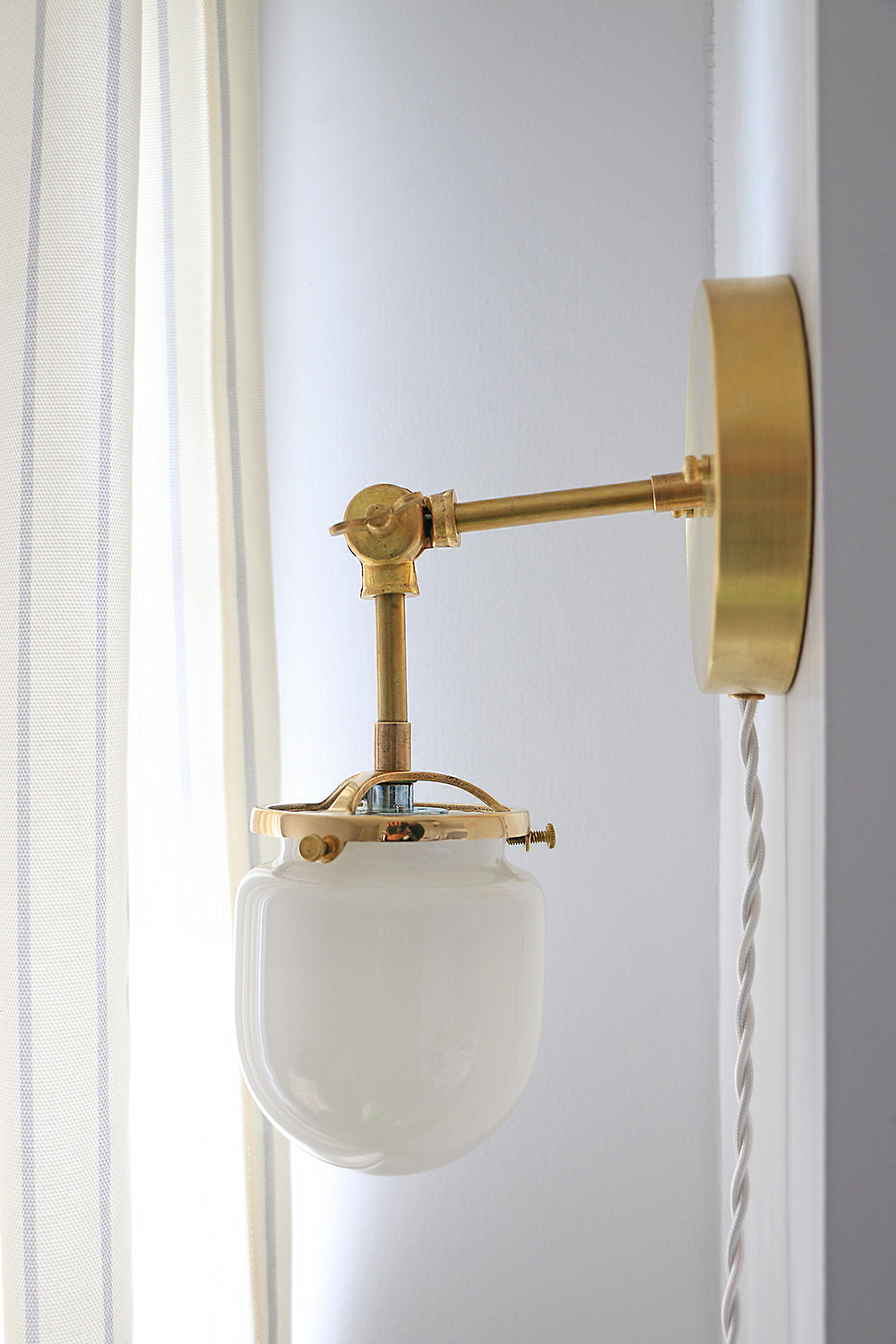 WAIT! Don't Miss These Incredible Reveals!
Today is reveal day for all 17 bloggers, so hop over and check out the other amazing makeovers. We hope you'll be inspired!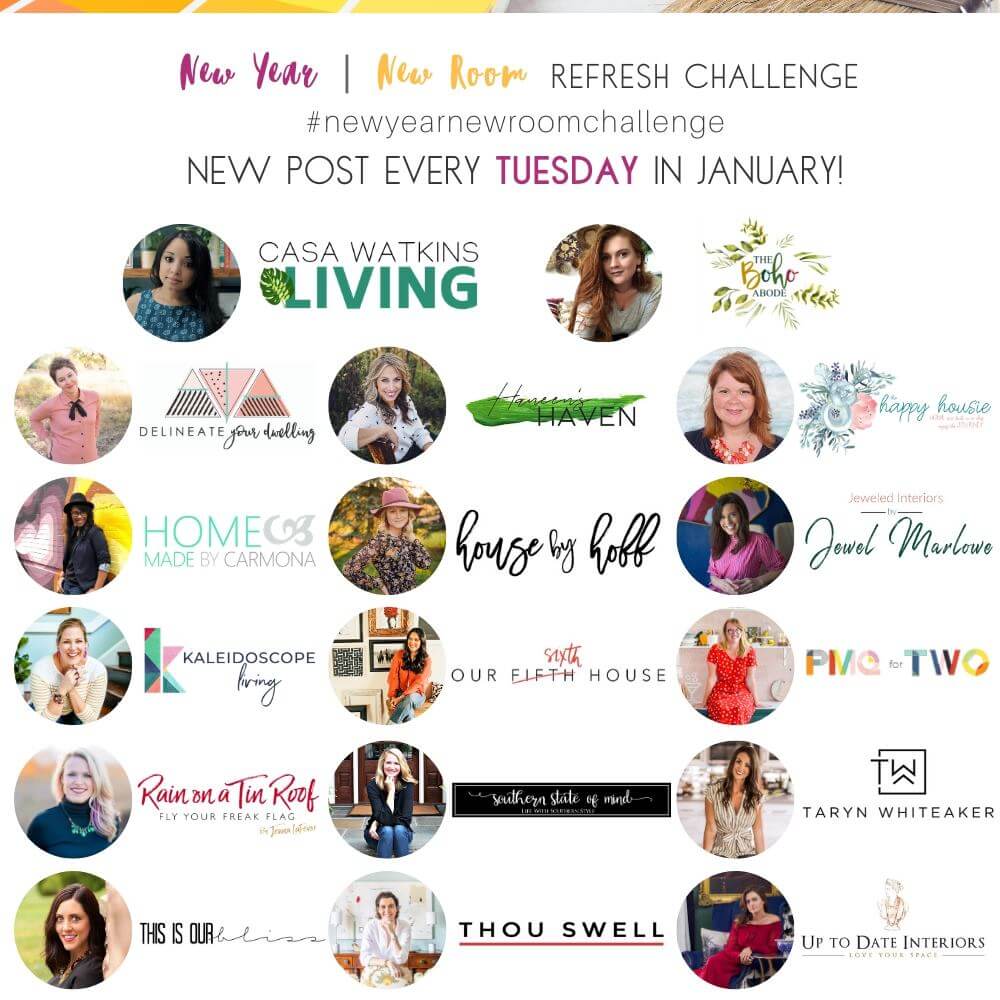 Casa Watkins Living // The Boho Abode // Delineate Your Dwelling // Haneen's Haven // The Happy Housie // Homemade by Carmona // House by Hoff // Jeweled Interiors // Kaleidoscope Living // Our Fifth House // PMQ for Two // Rain on a Tin Roof // Southern State of Mind // Taryn Whiteaker // This is Our Bliss // Thou Swell // Up To Date Interiors
Thank you to all the New Year New Room Sponsors!
A special thanks goes to all the amazing NYNR sponsors that helped make these beautiful spaces possible.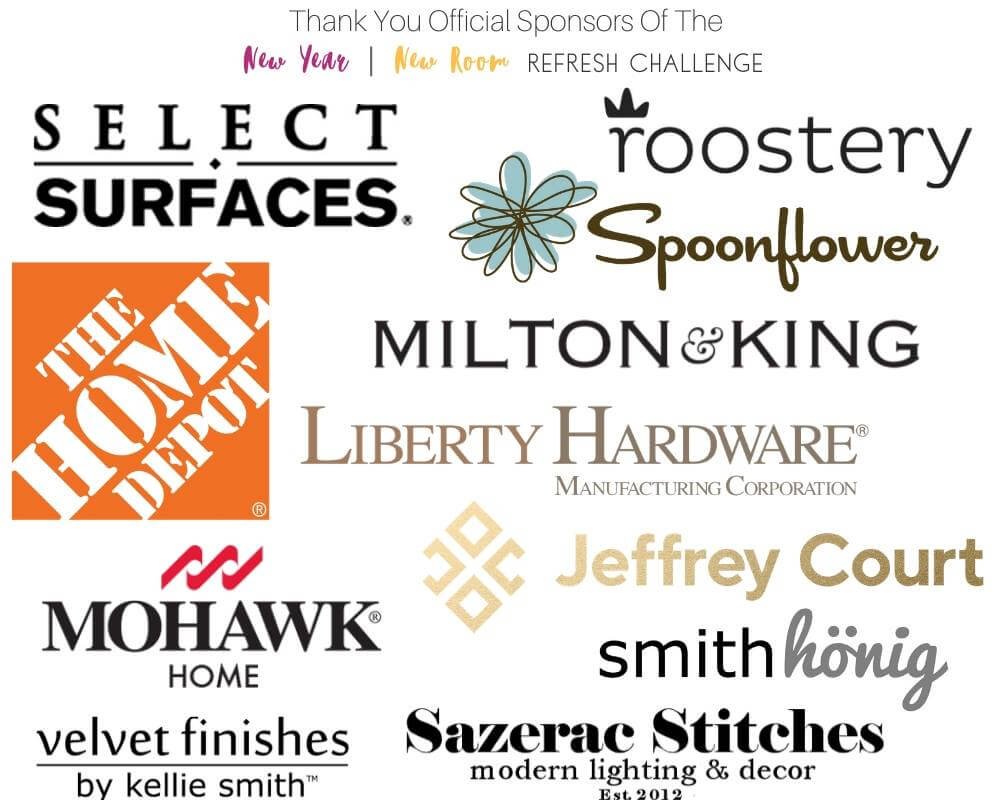 Select Surfaces | Roostery – Spoonflower | The Home Depot | Liberty Hardware | Mohawk Home | Jeffery Court | Velvet Finishes | Smith Honig | Sazerac Stitches
Like This? You'll Love These!
Follow this playful and trendy girl's bedroom moodboard to create a new look for your child!