Every time I look at this carpet I start singing "loaaaathing, unadulterated loathing", from the broadway show 'Wicked'. I can't help it. THAT one line is exactly how I feel about this carpet…the ugliest carpet that ever there was.
It is week 4 of the New Year, New Room Refresh challenge. And just to remind you what this space looked like 3 weeks ago…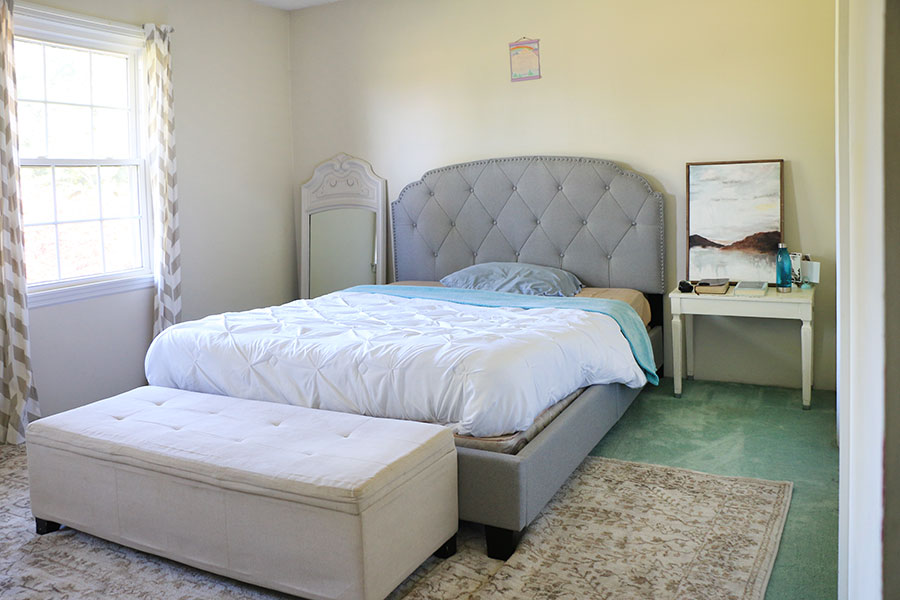 *A special thanks to The Home Depot, and all the NYNR sponsors for making this space possible!
And in case you missed what all the hubbub is about…Over the month of January, a group of 17 bloggers are participating in a 5 week room refresh challenge to show you what can be done in just a month to refresh a space. A space can get a whole new look without going through a full remodel! Pop over to week 1 of this room refresh and catch up, or take a long look at that before pic and read ahead. You'll get the gist. 😉
So Long Ugliest Carpet. And Sorry, Not Sorry…
It's bad enough that the 'ugliest carpet know to man' is bright mint green, which I love in ice cream, not in carpeting. But to add injury to insult, it has stains that simply will not come out. I kinda feel bad about making my kid live with that since we moved in 3 years ago.
Hm, maybe that's why she is always cleaning like she has OCD on steroids. Okay, it's not really that bad, but how many 15-year-old's do you know that voluntarily vacuums every week? It's weird. And great, but weird. She is also pretty darn organized, so there's that…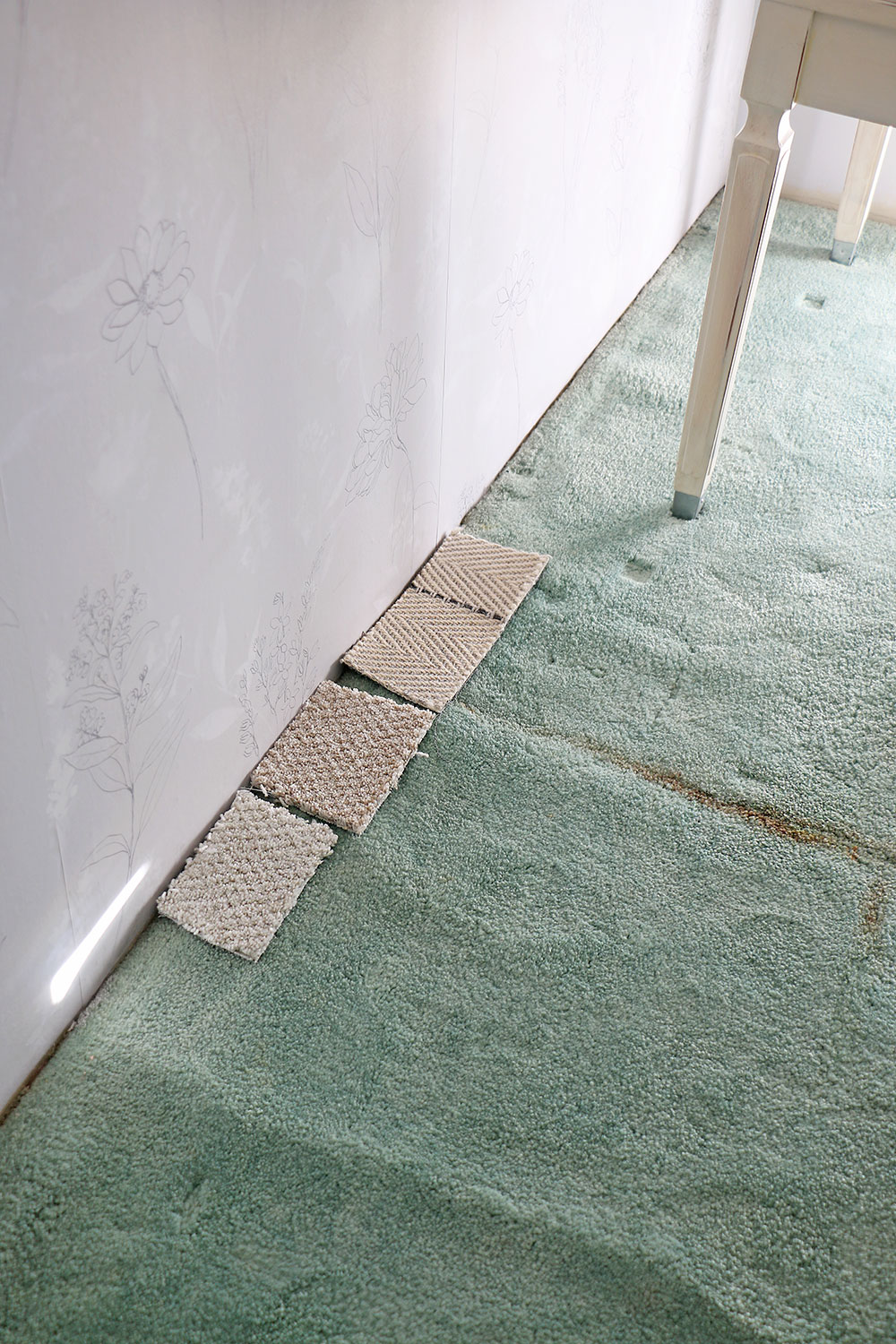 Check Out That Before & After
The carpet installers came on Wednesday last week, and it took all of one morning to transform this room. It was kind of cool watching the process. They laid out the old carpet in my front yard, and used it as a template to cut the new carpet.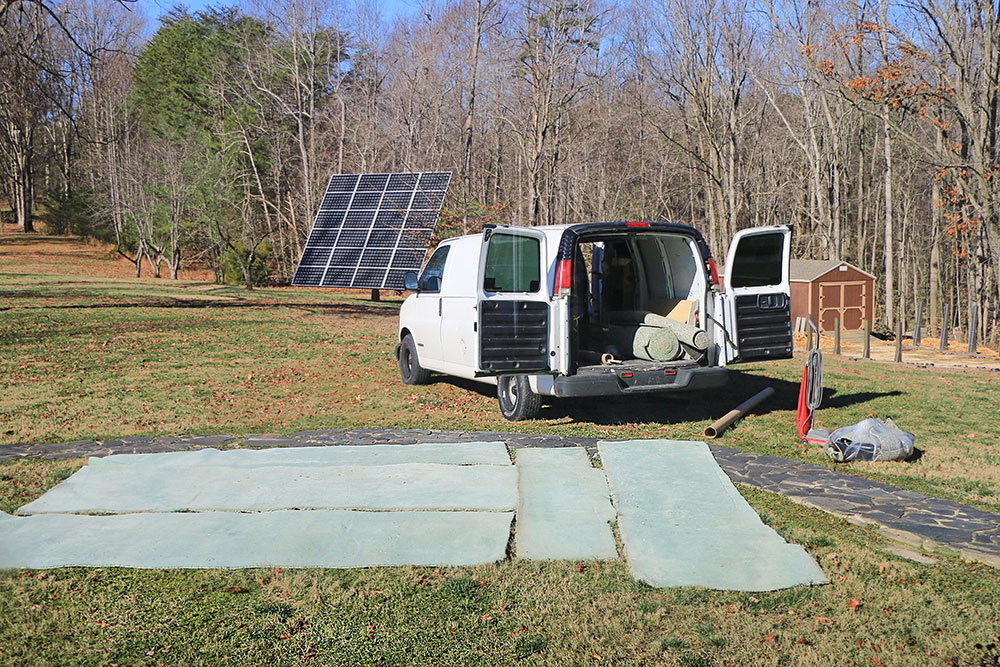 Of course they had to move everything out of the room, so I finally got a shot of the empty room with it's new paint color, wallpaper, and carpeting.
But first check out this 'before' taken right before we moved in. I just wish I had take a wider shot so you could see more of the room and the ugliest carpet ever.
Okay, now take a look at this 'after' shot, and tell me that doesn't make a difference.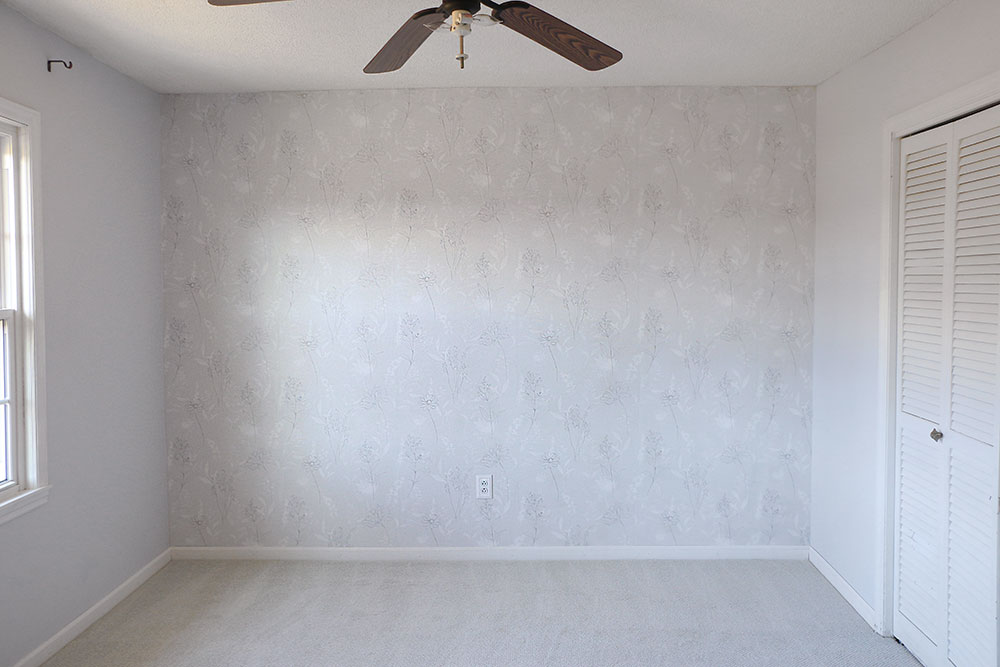 Ceiling Fan Update
While you are looking at those before and after pictures, take a good long look at that ceiling fan. Shall we say I'm not a 'fan' of this outdated look? Heheh…see what I did there. Ugh, yeah that was incredibly bad. Pretend I didn't say that.
It just wasn't in the budget to replace the ceiling fan, so I decided to hack my way to a somewhat cuter fan. I removed the glass dome cover and replaced it with a shade instead. Admittedly, I wish the shade was a little closer to the fan blades, but beggars can't be choosers. Maybe I'll replacing the threaded rod with a long one and flipping the shade upside down so I can better control the height/distance to the fan. We'll see…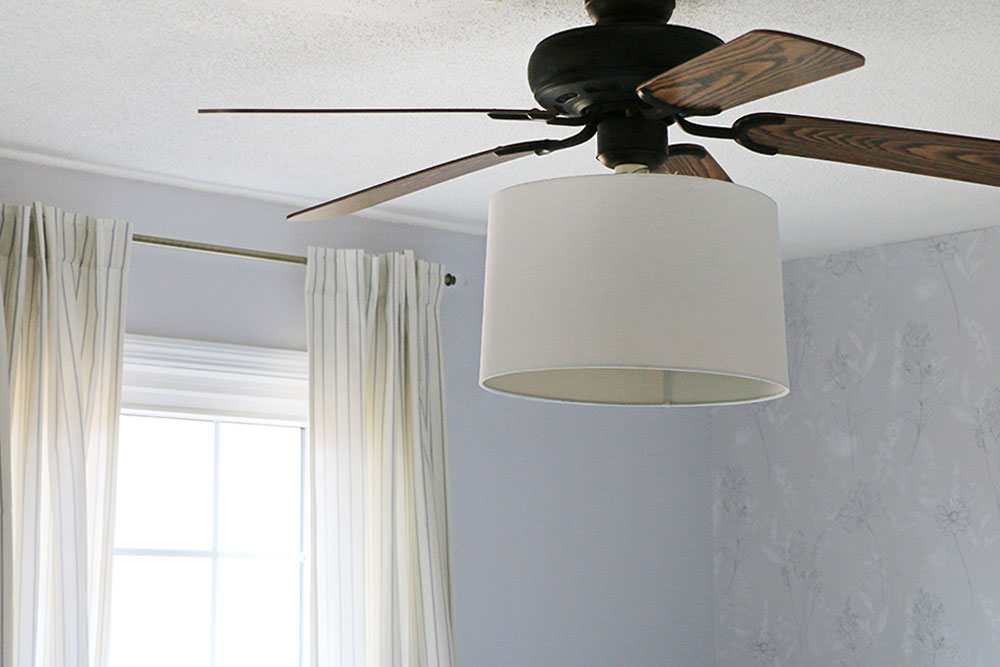 Accessories Are Starting To Arrive!
I can practically see the finished product. Especially as all the accessories I ordered online from The Home Depot begin to arrive. Yesterday I got these pretty little votives, which are perfect to help introduce another color into the room.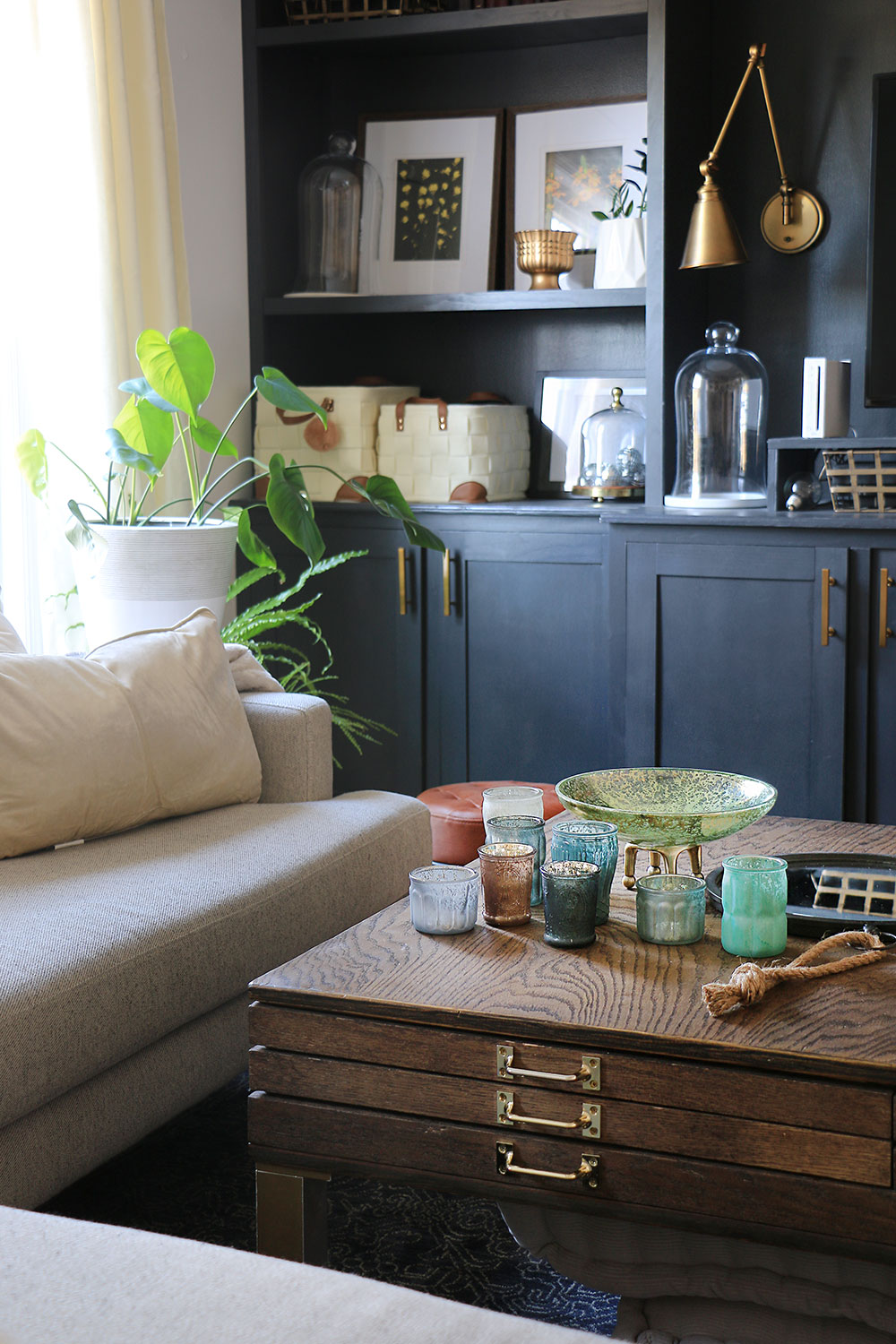 Tomorrow there are a bunch of other packages due to arrive, and the big reveal is in one week!
What Is Left?
If I have extra time, I might work on refreshing the closet doors. But in truth I still have to finish the bookcase trim, and then the fun part can happen. Accessories sound like an easy task, and it is, but I want to take a little time to get it just right.
Wallpaper the feature wall
Paint other walls & trim
Install curtain rods and hang curtains
Build custom bookcase (not quite done yet)
Add baseboards
Replace carpet
Accessorize!
Follow The Rest of The NYNR Room Updates
Have you been following the progress of all the New Year, New Room refreshes going on? I can't wait to see everyone's final reveal next week!
Casa Watkins Living // The Boho Abode // Delineate Your Dwelling // Haneen's Haven // The Happy Housie // Homemade by Carmona // House by Hoff // Jeweled Interiors // Kaleidoscope Living // Our Fifth House // PMQ for 2 // Rain on a Tin Roof // Southern State of Mind // Taryn Whiteaker // This is Our Bliss // Thou Swell // Up To Date Interiors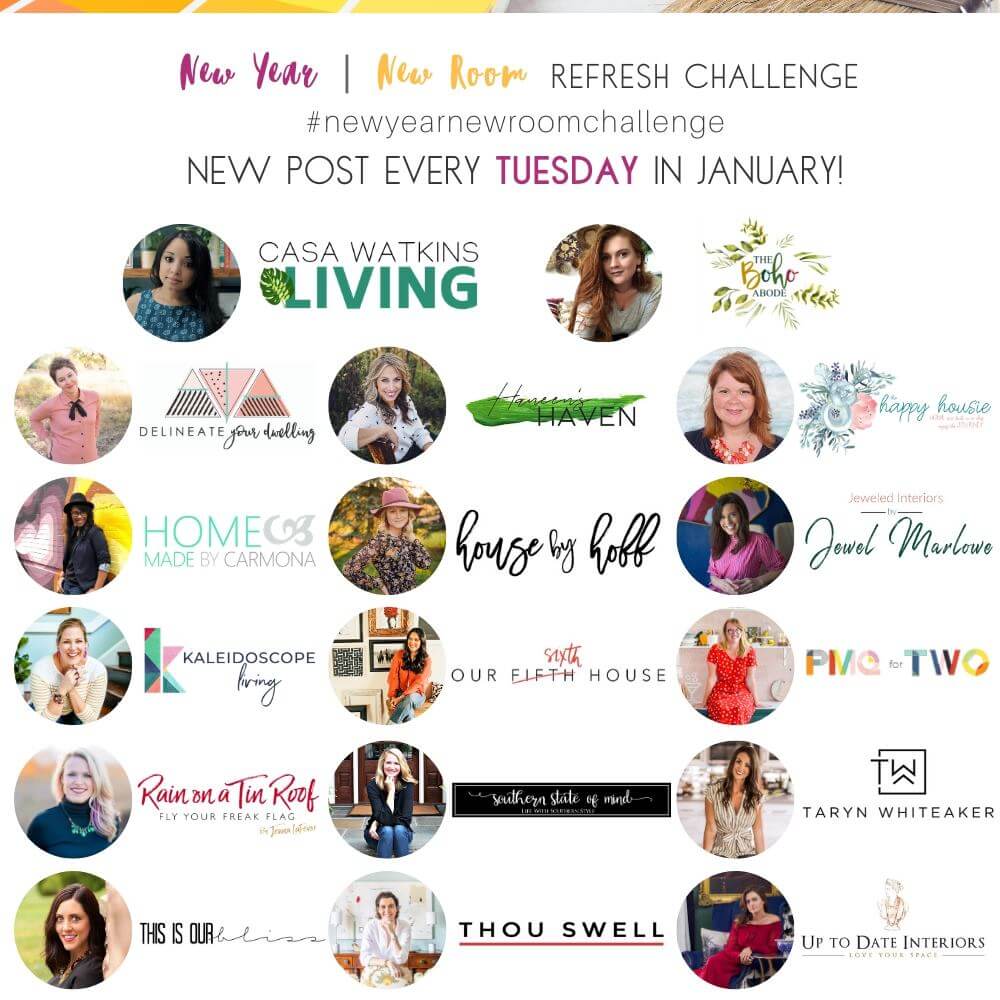 And a huge thank you to all the New Year New Room sponsors! They make this challenge (and our beautiful spaces) possible:
Select Surfaces | Roostery – Spoonflower | The Home Depot | Liberty Hardware | Mohawk Home | Jeffery Court | Velvet Finishes | Smith Honig | Sazerac Stitches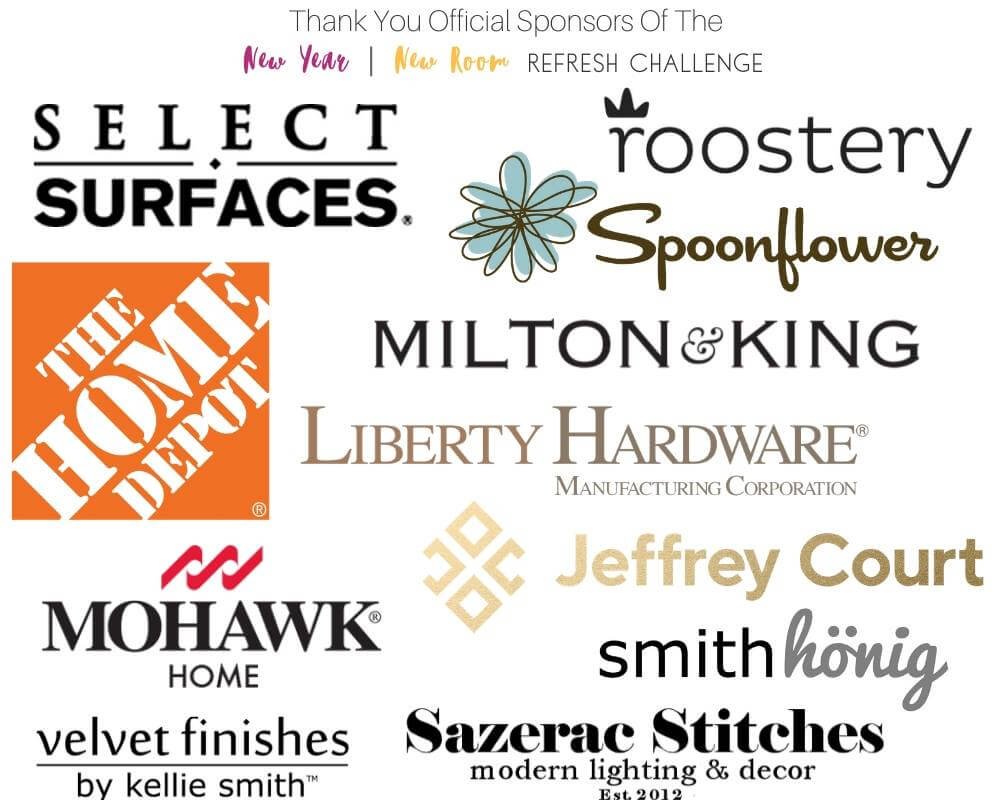 0cdd5d80ea2401440b20f9bb9091bbb56c09ff36db9b5ef50d