Welcome to the grand reveal of my she-shed! I like to call it the garden house, because it sits right in the garden. Plus it has a greenhouse built on, and plant care is it's primary function.
It took 8 weeks of the One Room Challenge to transform this basic shed into a glamourous retreat. Whether we call it a she-shed, a potting shed, a garden house, or otherwise…it makes me incredibly happy!
Hey guys! I'm Ursula, and turned my messy old shed into a stunning garden house with artist studio and greenhouse! Welcome to the big reveal!

Catch up on Week 1 | Week 2 | Week 3 | Week 4 | Week 5 | Week 6 | Week 7 | Week 8 (you're here)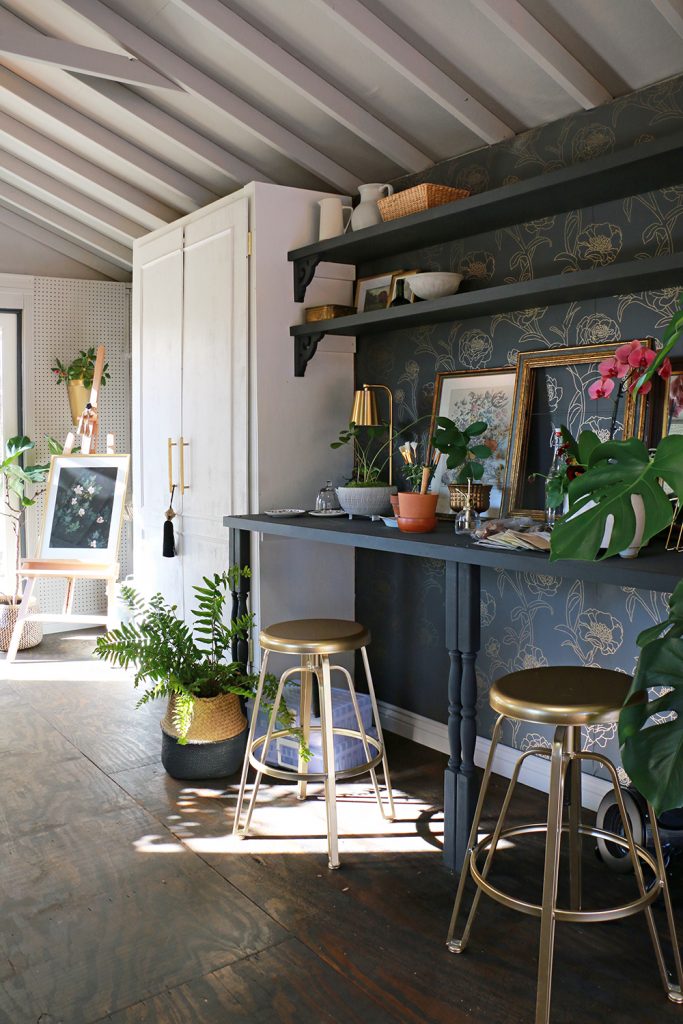 To be honest, it's not completely finished… There are a few details I couldn't wrap up before running out of time in the challenge. Trim is missing from around the window, there are no door pulls on the barn door, and wayward wire needs to be wrangled. But it's good enough for me to snap some photos and share!
She Shed Before & After
It's hard to believe what a huge change has taken place in this shed. Do you remember this before: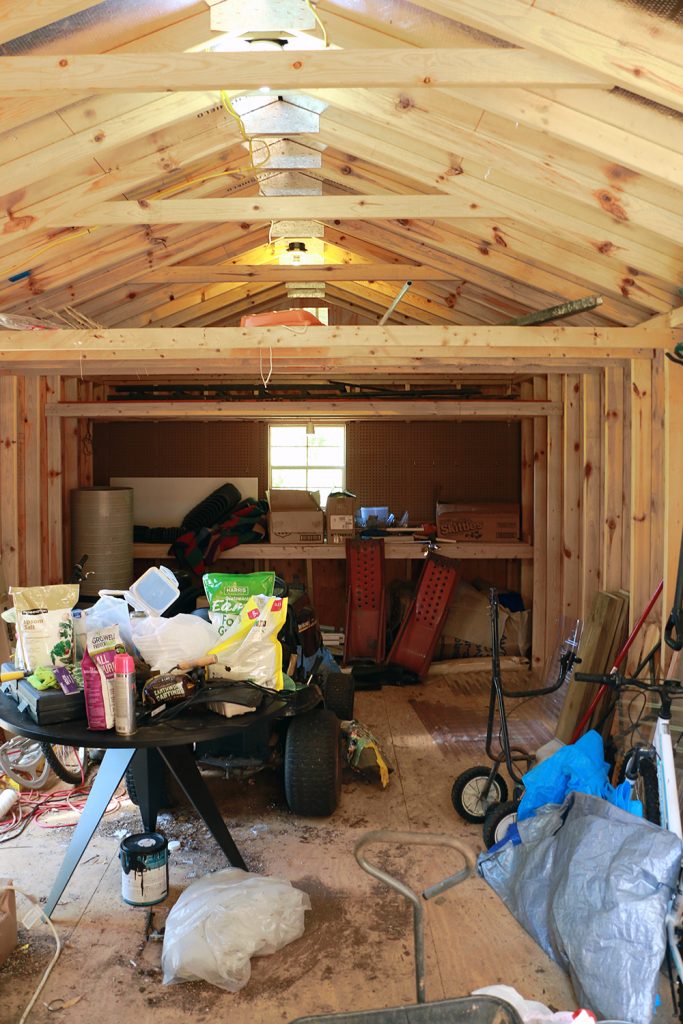 Removing the workbench, overhead storage, and tiny little window may have seemed crazy to some, but I knew it had to be done.
Here it is from the same view after: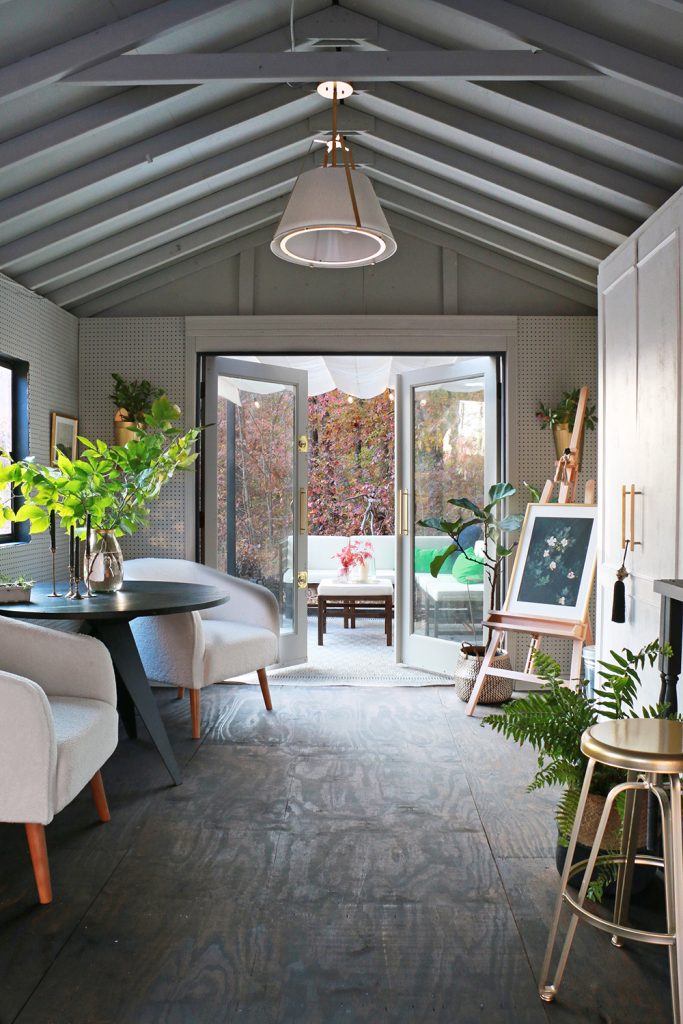 I repurposing the materials from the workbench, turning them into storage units. Then upped the game by adding French doors at the back of the shed leading out to a brand new deck. And this isn't the only entrance where you can see a big difference.
Small Before & After Moments
This used to be the view when you opened the door from inside the greenhouse looking into the shed: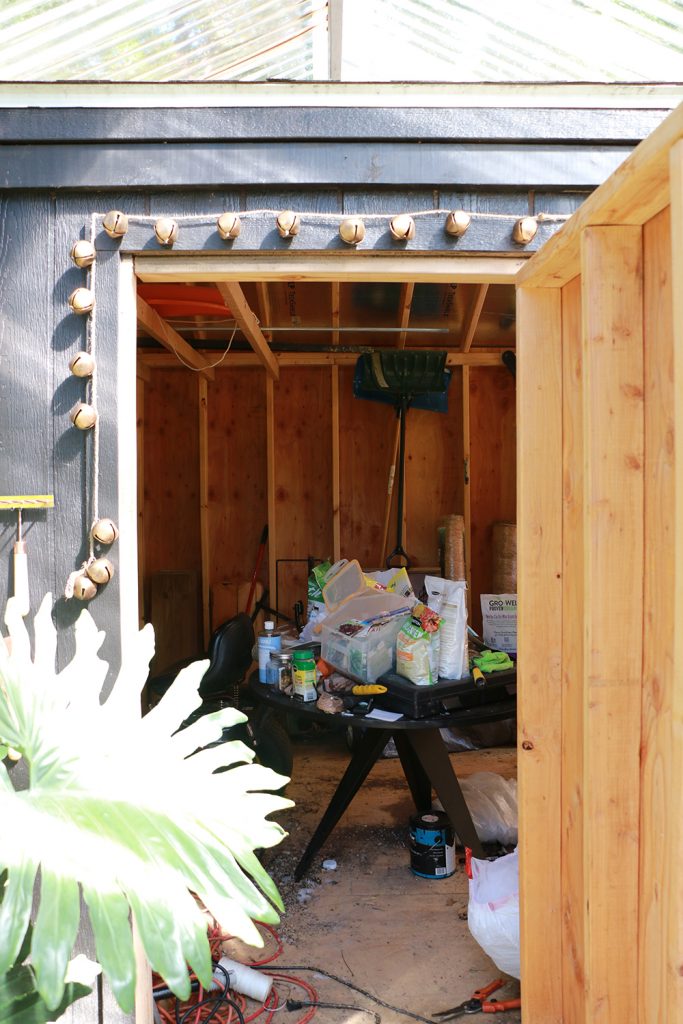 I spend time daily checking on seedlings in the greenhouse, and I wanted the site line from the greenhouse into the shed to immediately stand out. So I created a focal wall with a stunning self-adhesive wallpaper from Tempaper called Peonies in Noir.
Now the same view after is much more pleasing, and the potting table is right across from the greenhouse door for easy access.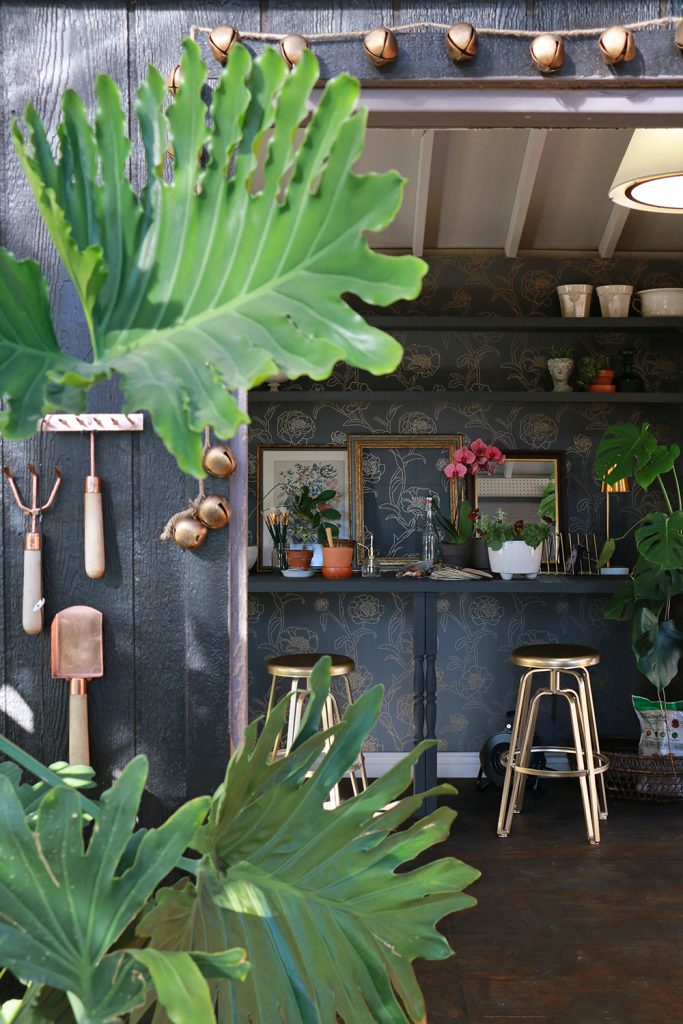 Okay, one more before and after, although I think by now you get the idea.
The previous shelves were not doing the job. I built better storage in other parts of the shed, and turned this into a little nook to hold garden signs, garden tags, twine, hand spades, and more.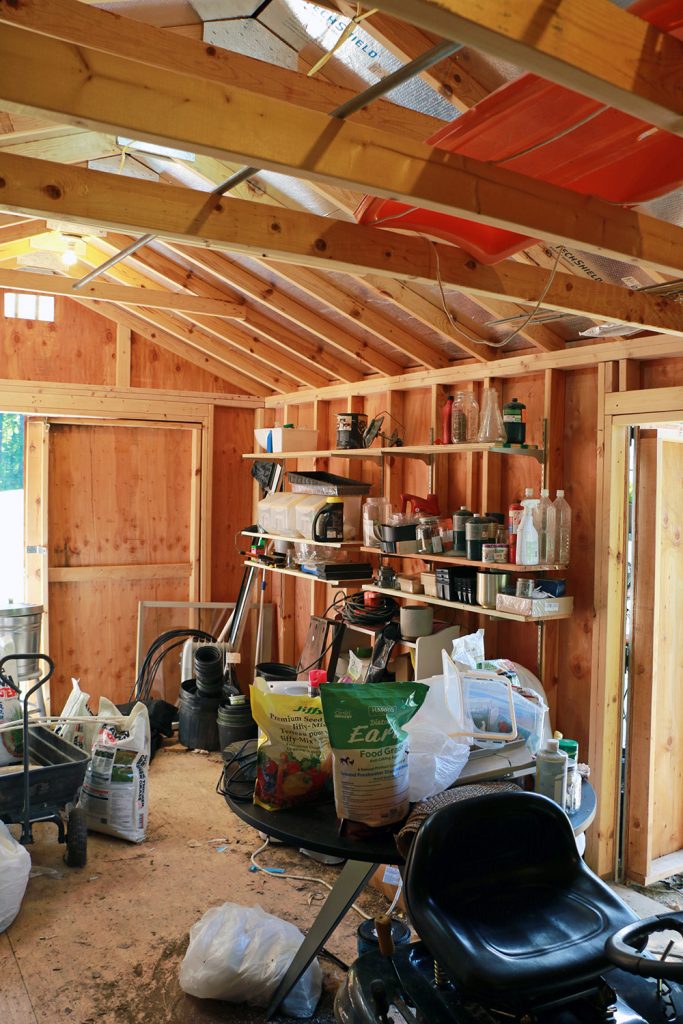 Everything in this shed was placed strategically. Not only does the little shelf you see here offers quick access to frequently used gardening items, but offers a spot to hang up my jacket and sit to change my shoes right near the front opening of the shed.
This lovely black and gold bench is just one of the cozy pieces of furniture from HomePop in my shed! The soft sherpa accent chairs that compose the seating area in the she-shed are also from HomePop!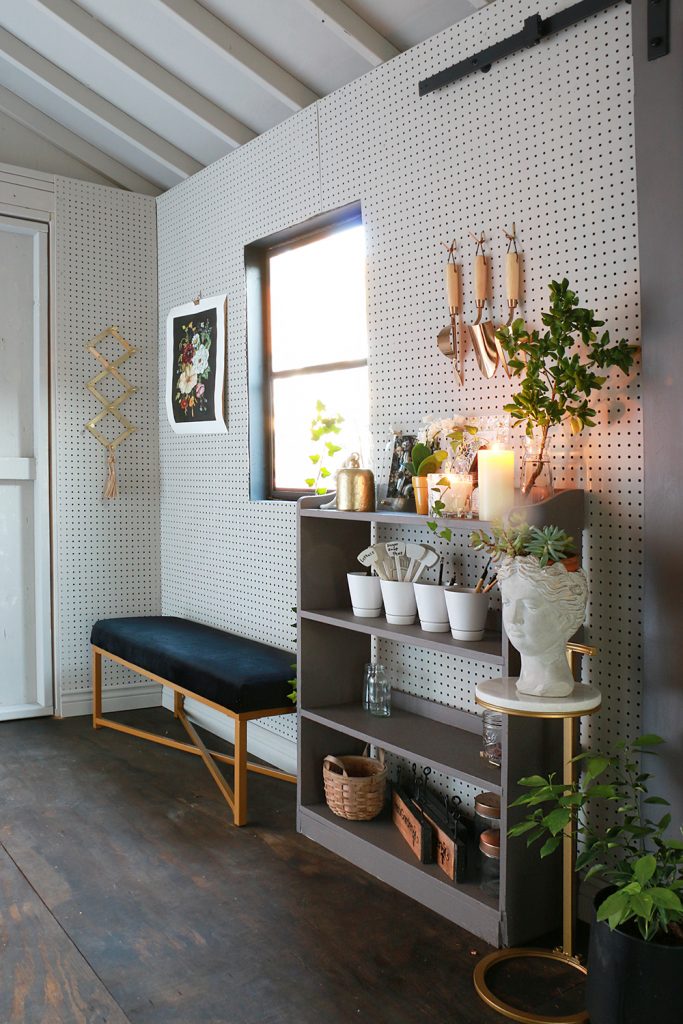 Can You Have Too Many Shed Entrances?
There are three entrances to the shed because each one leads to something different and has a different purpose. The front has two large doors that swing open to drive a tractor in. French doors were added to the back to open to the deck, and the side door leads into the greenhouse.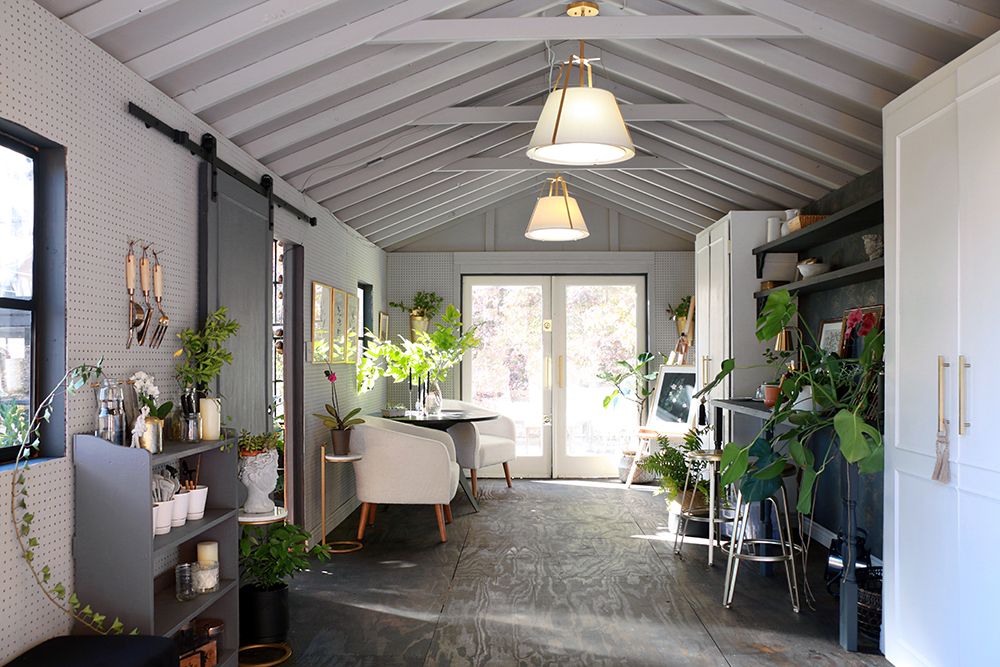 The original door that leads to the greenhouse swung open into the greenhouse, using precious space. Thanks to Delaney Hardware's classic 1000 Series sliding barn door hardware, an old door turned into a barn door. A little moulding, a little paint, and this "new" old door even adds style to this otherwise plain wall.
I didn't have a chance to patch the hole in the door and add door hardware, but that will come later.
Never Sacrificing Storage For Style
I am a firm believer in practical living, and stellar organization. The shed severely lacked that before, and it progressively got worse. It's important to know exactly what will be stored in a space, and create storage that works for you!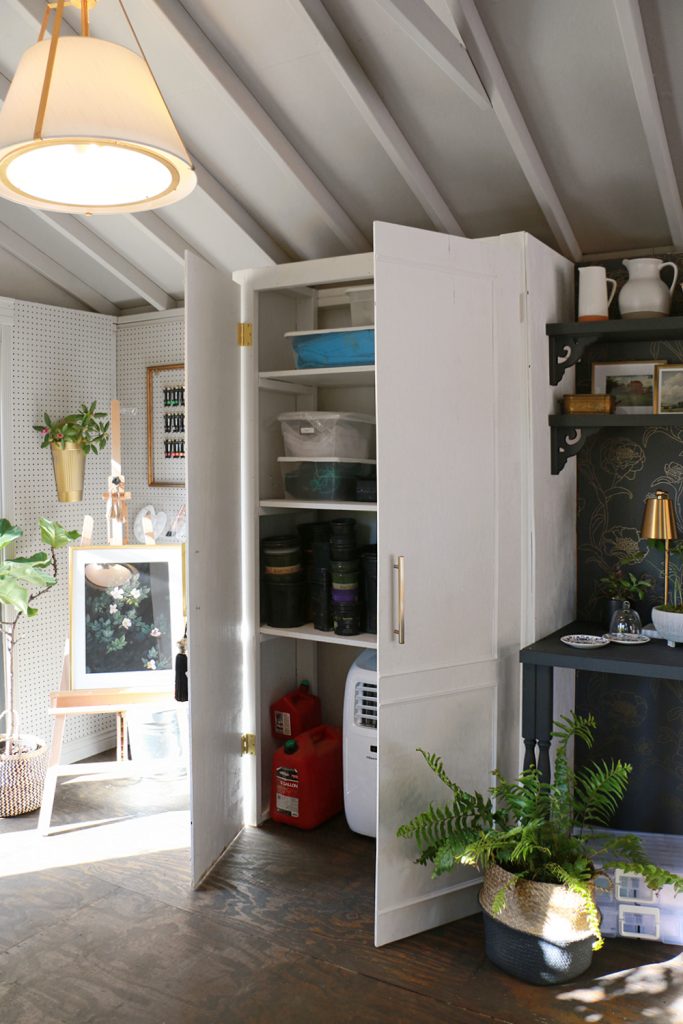 I built custom storage closets on either side of the potting table and open shelves. Open shelves are for storing fancier pots, and the closed closets for the not so picturesque items.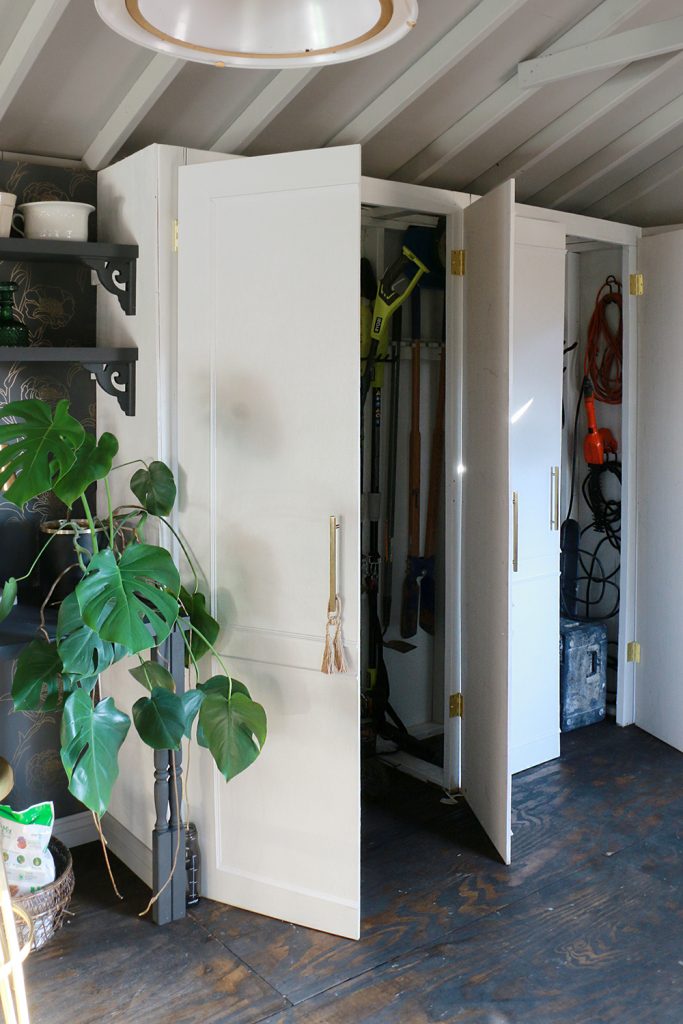 The lawn mower and a couple items will go in a little add-on storage unit behind the shed. That's a project I'll take on in the future. But other than that, the garden tools are exactly where they should be…right here in the potting shed.
She's not just pretty, she's super practical!
She's So Fancy…
But practical can also be pretty! I only spent $230 for supplies to transform the shed, but my One Room Challenge sponsors sent me the most gorgeous pieces to fill this shed with!
Starting from the top down, these Fulton 3-Light Antique Gold Pendant's from Crystorama immediately make a statement. They have such sophisticated charm, how could the rest of the design not follow suit?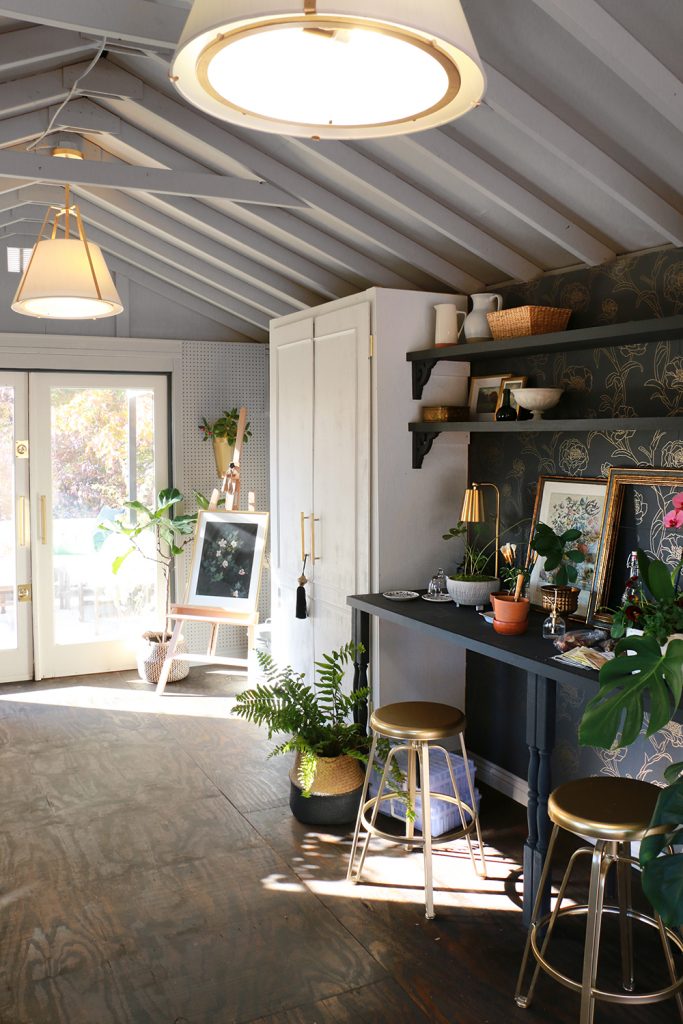 If you look in the corner, you'll notice that the French doors are flanked by these large-and-in-charge gold wall vases from Kirkland's. I can always count on finding unique pieces to make a statement from Kirkland's! It's the perfect vessel to hold cut flowers or foliage from my garden.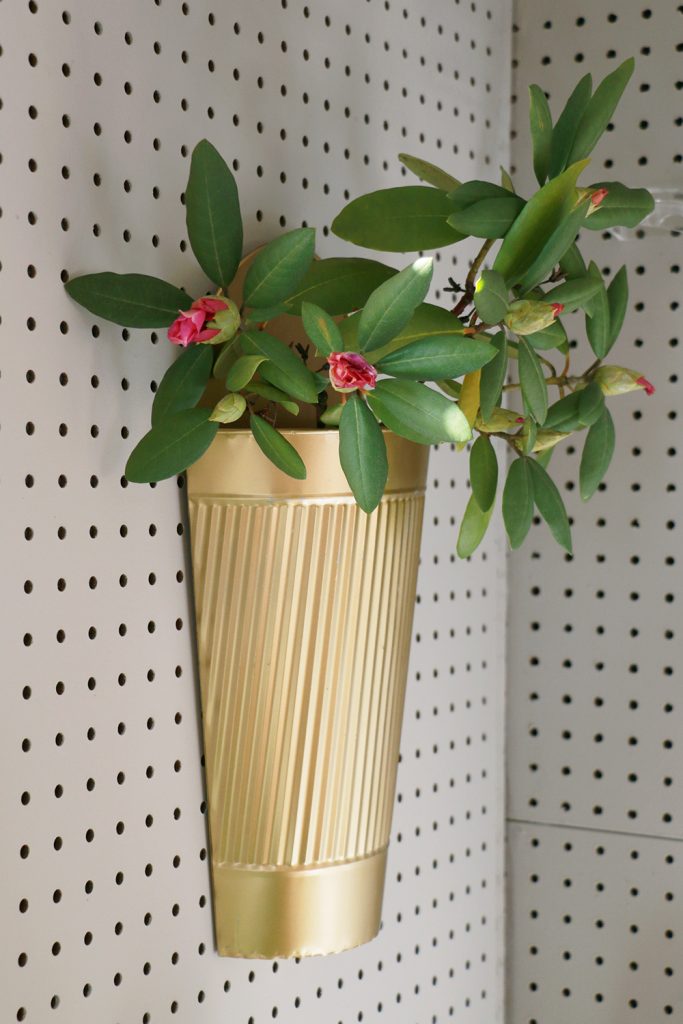 Speaking of bouquets, as far as I'm concerned the garden house will always be filled with plants, flowers, and cut foliage. Which means I need stylish vases around, like this amber colored vase , or the clear ribbed jars on the deck which can be used for bouquets or candles. All items I shopped online from Kirkland's.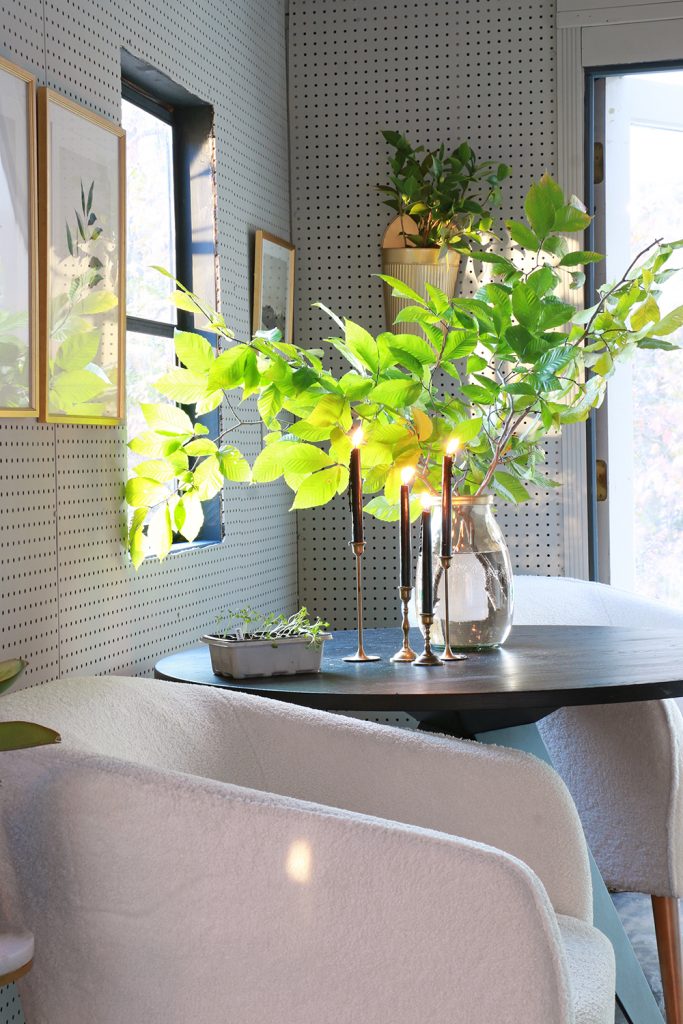 The tapered black candles were provided by Smith Honig, as well as the tassels you see around the space. From the brass top silk tassel on the door handle, to the rustic charm of the jute tassels you'll spot here and there. The jute tassels are actually napkin rings, but it's always a good idea to think outside the box!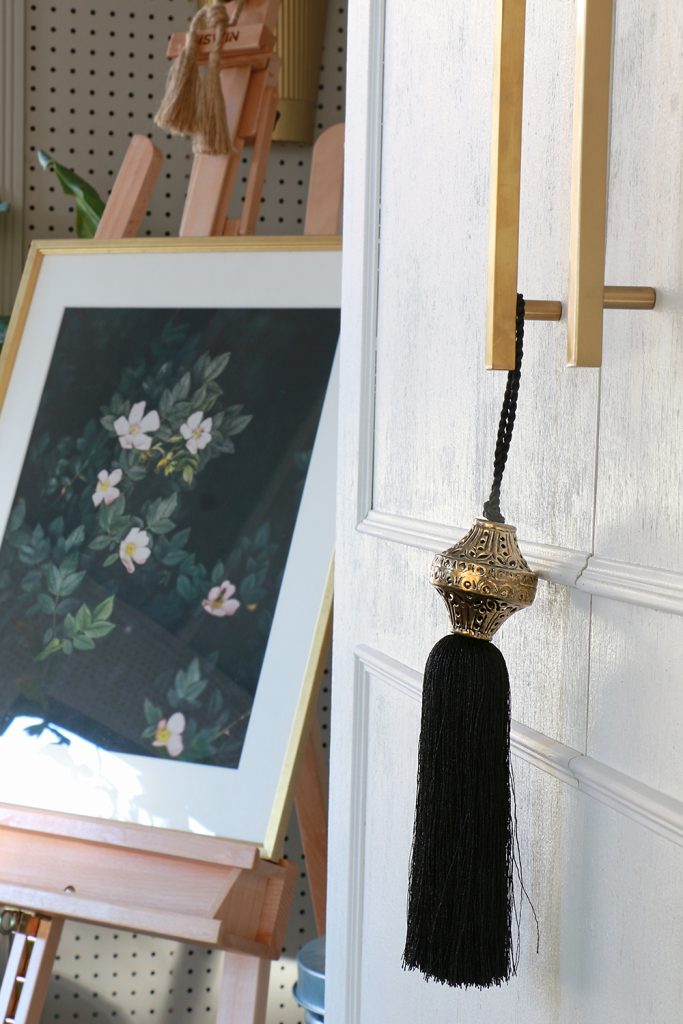 Pop's of Gold For The Win!
You know how much I love all things gold, and these brass + marble table lamps from Kirkland's were speaking to me! Haha!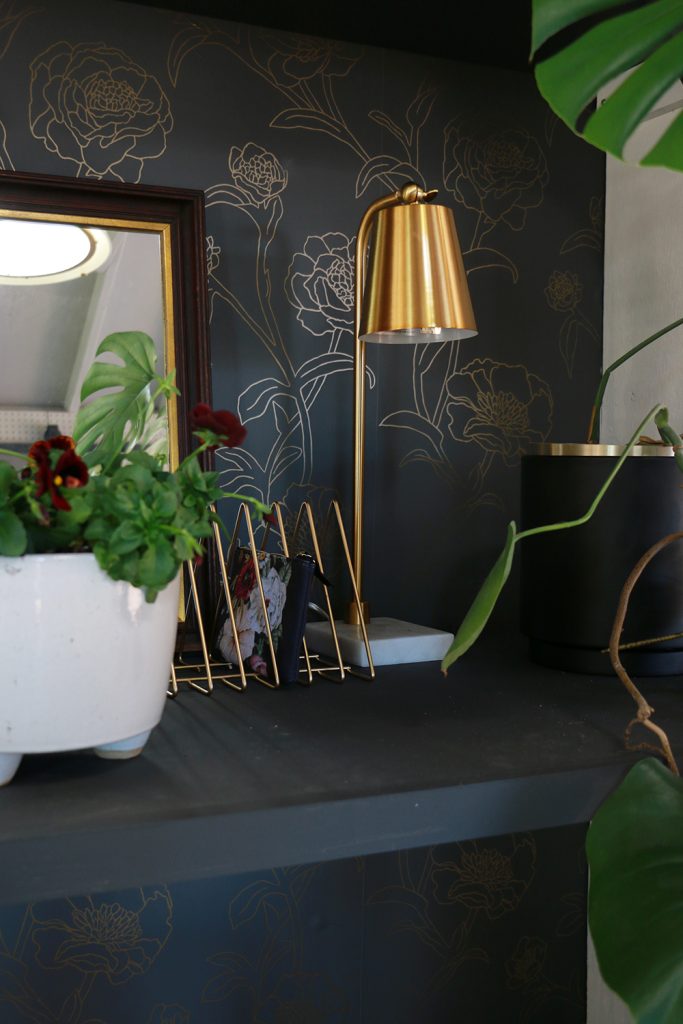 Not to be outdone by the equally stunning brass + gold cocktail tables also from Kirkland's. These little guys are stunning and handy in a living room as a drink holder, but here in my garden house they serve as the perfect plant holder as well!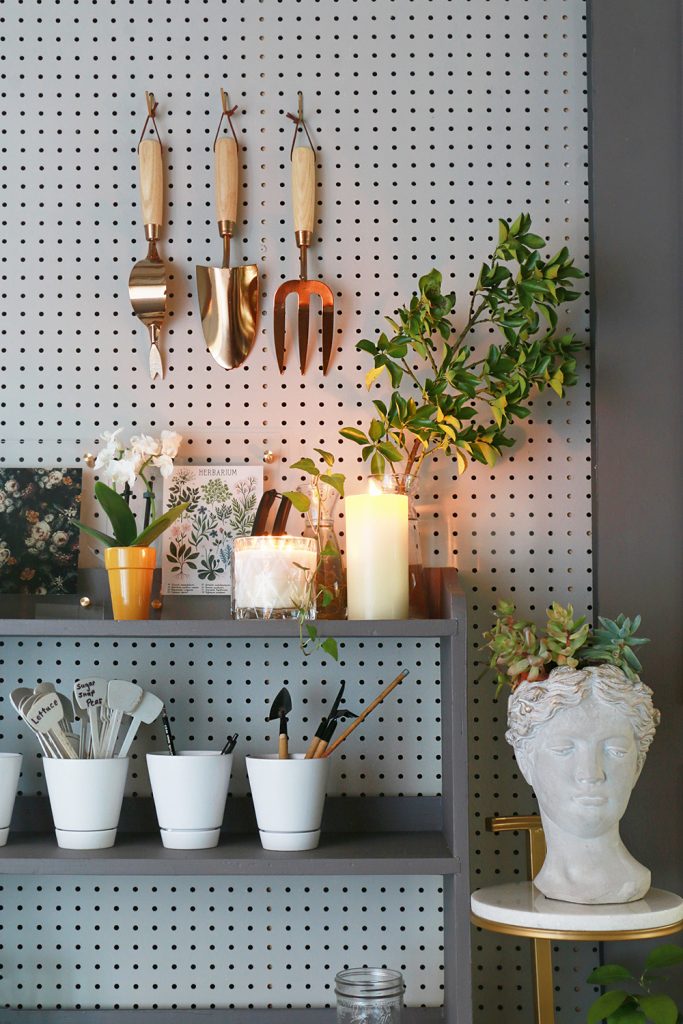 Society6 sent me the most adorable floating acrylic prints for my little shelf. I especially love this little Herbarium artwork, which makes me want to fill this shelf with dried herbs from the garden.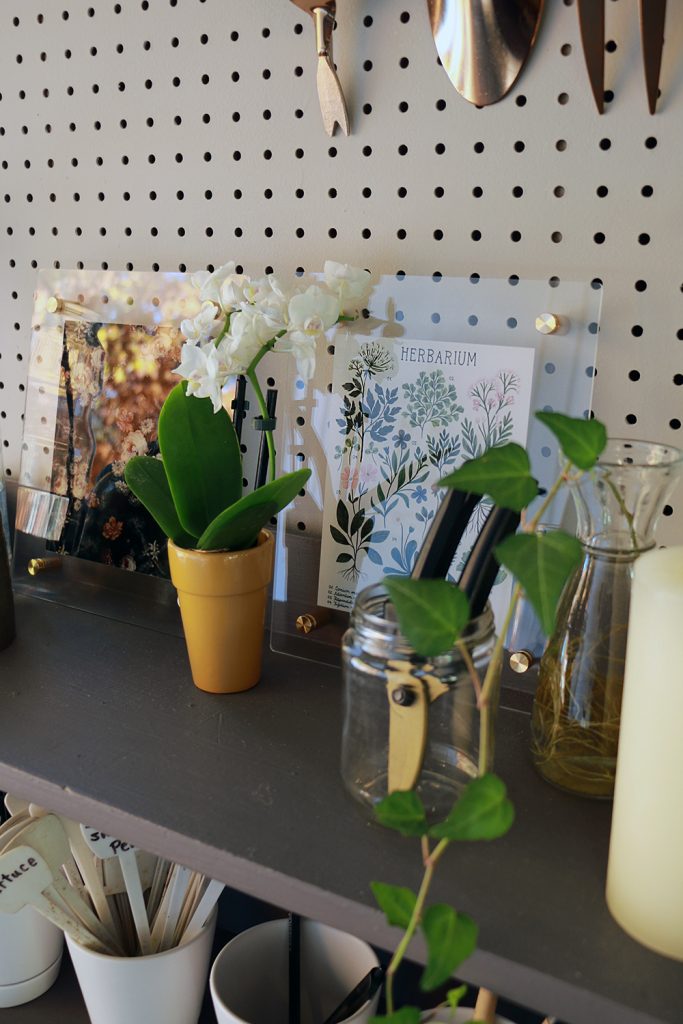 The Details You Almost Missed
It's easy to pay attention to the accessories and furniture pieces, but I don't want you to miss the details that turned it from a shed into a finished garden house.
Moulding makes everything better. No seriously. It elevates design when the architectural details are attended to.
NOVO Building Products provided me with these elegant baseboards so my shed could become an actual room. I am convinced baseboards should always be 4-inches or more for a luxurious effect. They also sent me corbel shelf brackets to add loads of charm to the shelves just above my potting table. I had every intention of adding crown moulding to the top of the storage closets as well, but changed my plans when I added an extra closet.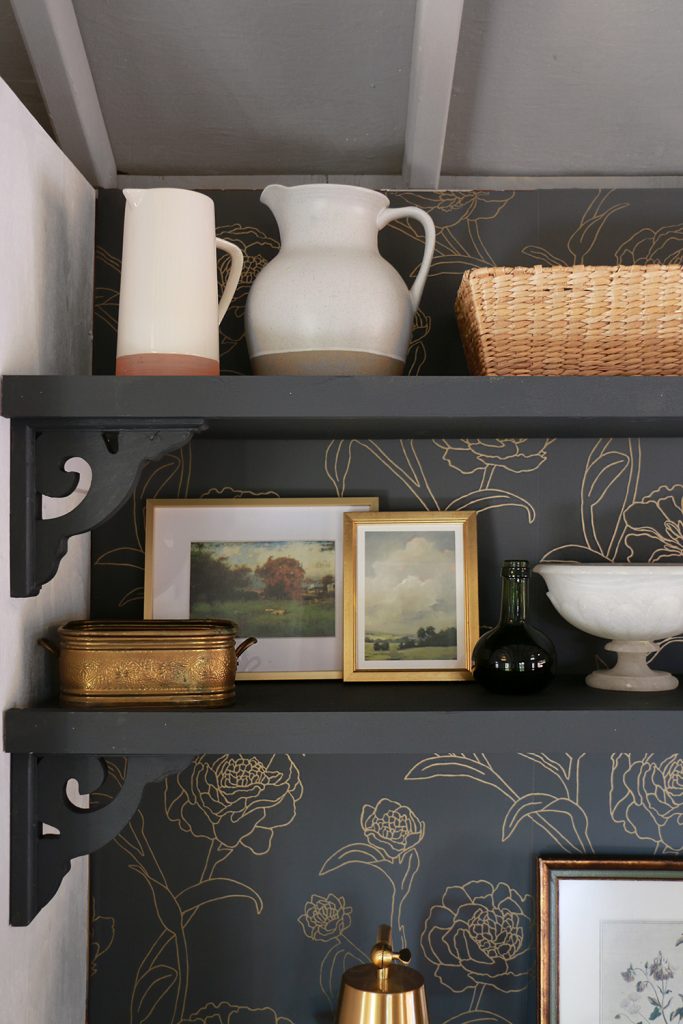 Did you notice the doors on the storage closets? Built from 2×4's and 1/2″ plywood, but jazzed up with a bit of moulding. Normally I would not use 1/2″ plywood for doors (you can see they bow here and there), but I was using as much salvage wood taken from the shed as possible. Plus, buying wood is quite expensive right now so I went with 1/2″ rough plywood instead of a nice sanded 3/4″ furniture-ready plywood. It is, after all, a SHED. Not worth spending an arm and a leg on it.
The Tools That Made It All Possible
I have to give a special shout out to RYOBI, who didn't provide a decorative item, but are also the heroes of this remodel! If they hadn't provided that handy dandy 18V ONE+ 5″ Random Orbit Sander, I couldn't have used rough plywood with such great results! I sanded that plywood within an inch of it's life.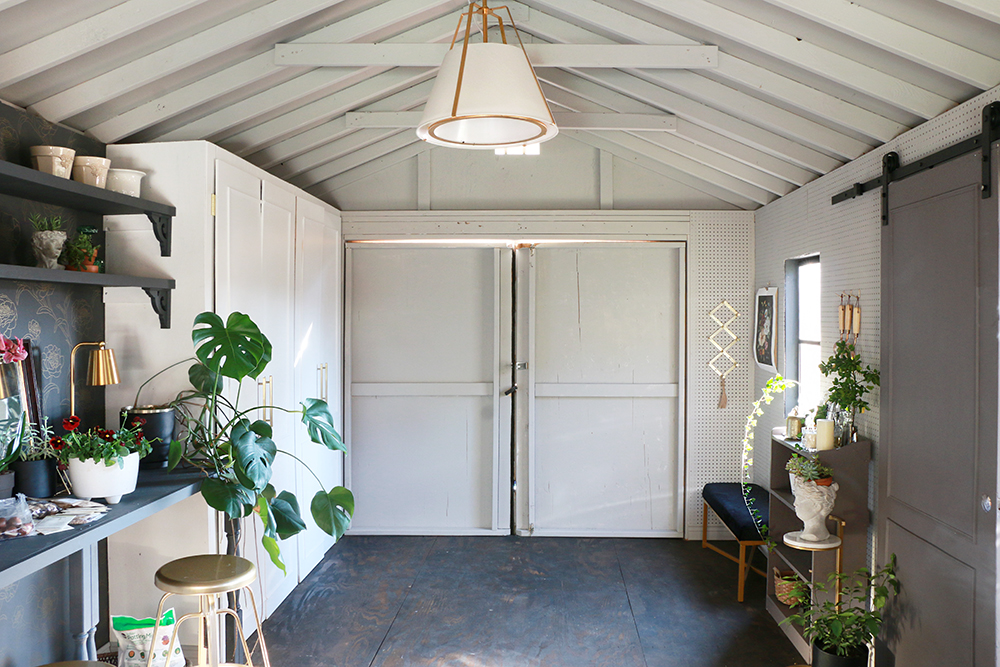 Ryobi also sent me a couple other tools, one being the 18V ONE+ HP Brushless 7-1/4″ Circular Saw, which was used for all the major projects on this shed. I spent many long hours using it in various locations around the shed, and that battery lasted longer than I did. Haha! I was exhausted during this project y'all.
Not Just a Potting Shed
I could have simply tidied up, added better organization solutions, and called it a day. But I'm always looking for ways to edify our lifestyle, and gardening is a big part of a healthy lifestyle for our family.
I'm also looking for ways to encourage my kids to engage in positive hobbies, and two out of three of my kiddoes like art. So why not add a little artists studio to the garden house?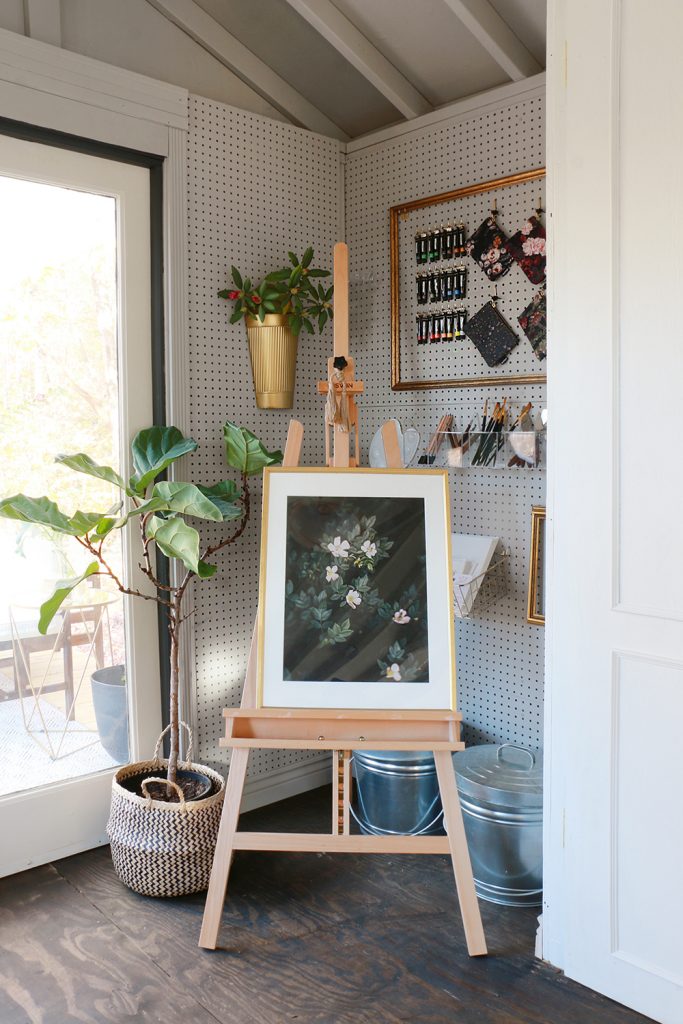 I enjoy painting, but haven't done it in a while. There is nothing more inspiring than scenes from the garden… it has sparked my photography, boutique creation, and even an interest in picking up fine arts again.
The floral pouches from Society6 is an attractive way to store a few other art products on display.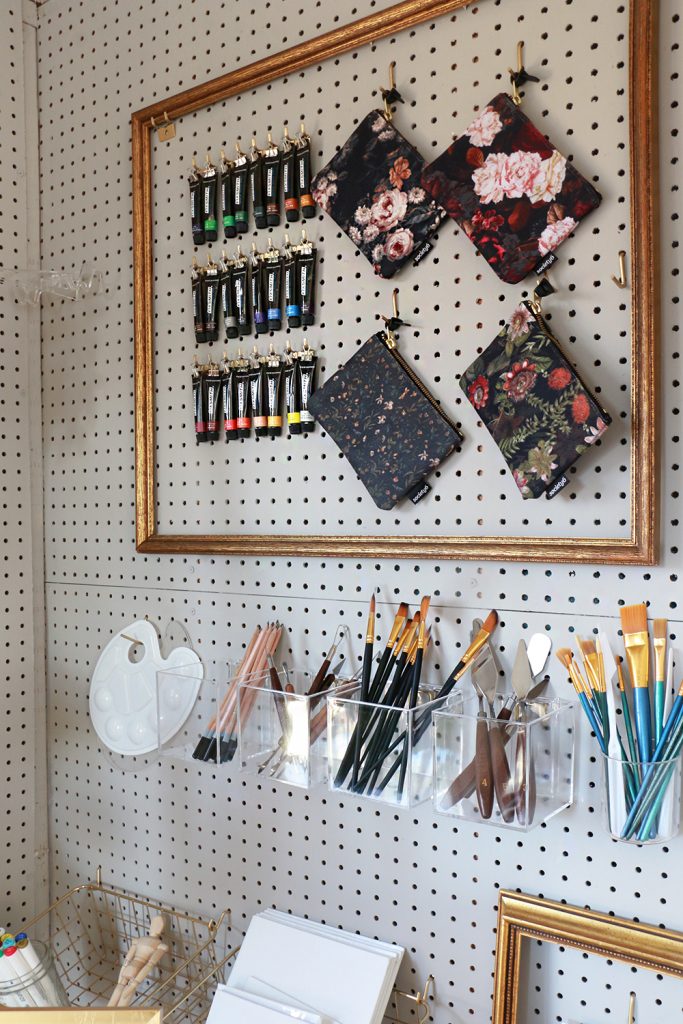 Outdoor Living At It's Finest
As transformative as the interior is, I think my favorite part of this project is actually the outdoor portion. It's where I will likely spend a little time daily after my garden tasks are complete.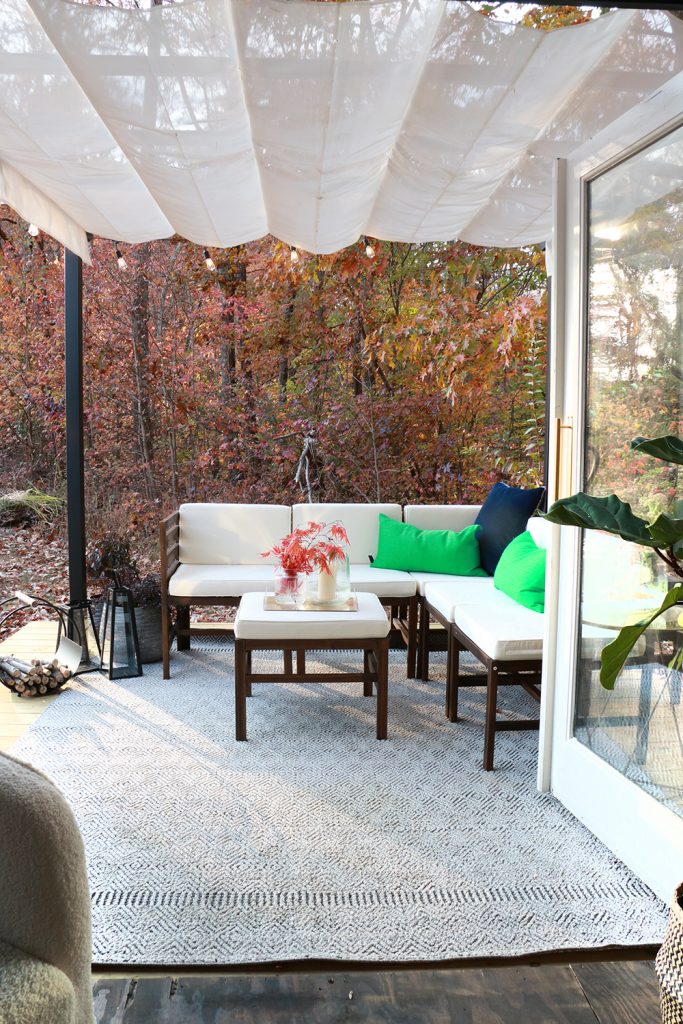 Loloi provided me an amazing outdoor rug, which not only makes the seating area feel complete, but allows me to slide my shoes off and relax in comfort. Loloi has some of the most incredible area rugs, and the softest I have ever touched… If you missed my trip to their High Point showroom a few weeks back, check it out here.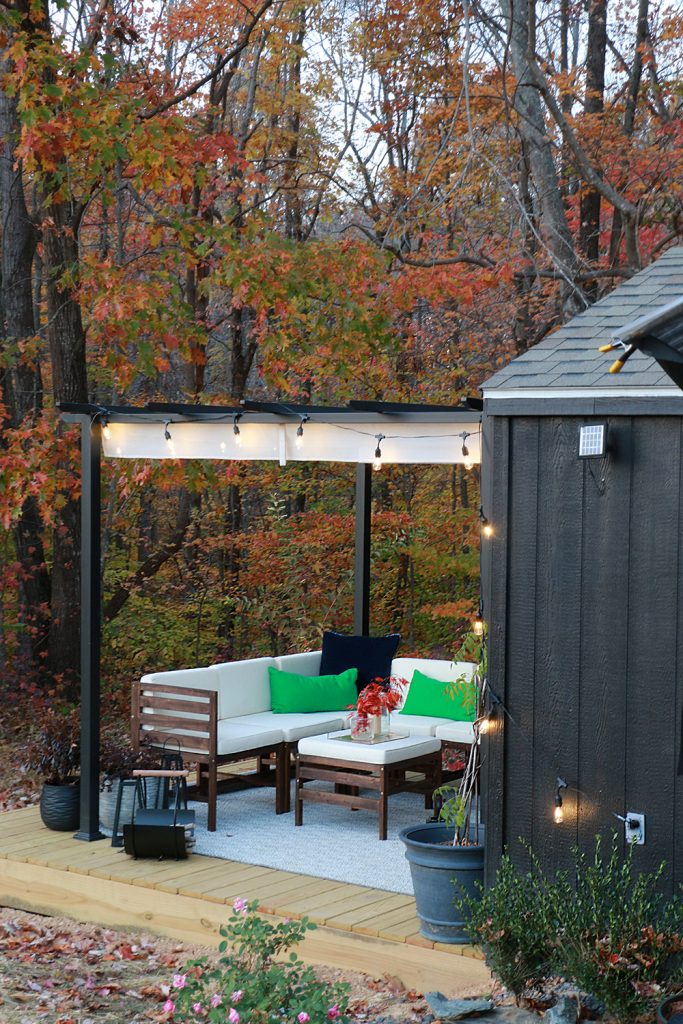 Adding a deck, pergola, and French doors set the stage, but Kirkland's really brought magic by providing this gorgeous Acacia Outdoor Sectional and many of the accents you see out here. There is nothing better than having comfortable seating to fall into after long hours of garden work.
The wavy planters, the metal log holder, and these amazing lanterns add that final touch that make the entire space homey. Special thanks to my fantastic sponsor, Kirkland's, for bringing the deck to life!
Shop The Space
Indoor Area
Outdoor Area
Tools & Building Materials
Follow All The Talented Featured Designers!
Albie Knows| At Home with Savvy | Beth Diana Smith | Eclectic Twist| Erika Ward InteriorsFrom House to Home| G. Lebron Interiors | Goldalamode | Home Made by Carmona| Impeccable NestJeweled Interiors| Joyful Designs Studio| Joy Street Design | Our Fifth House| Peony & HoneyPinch Plate Party | Rebecca Propes | Reem's Design | Saudah Saleem Interiors | Whitney J Decor Media BH&G | TM ORC
Special Thanks To All My Sponsors!
Home Pop | Novo Building Products | RYOBI | Minted | Tempaper | Crystorama | Society6 | Delaney Hardware | SmithHönig| Loloi | Kirkland's


Curious what the greenhouse connected to this shed looks like? Step inside and check out the full greenhouse build here!
If you are lucky enough to have your own greenhouse (or want a little inspiration), learn how to decorate your greenhouse. Of course any greenhouse should be surrounded by an amazing garden and other great garden features…get loads of classy garden inspiration here.