Looking for some greenhouse styling ideas to make your space as magical as it is practical? Here are 15 greenhouse decorating ideas that will ensure you never want to leave your greenhouse!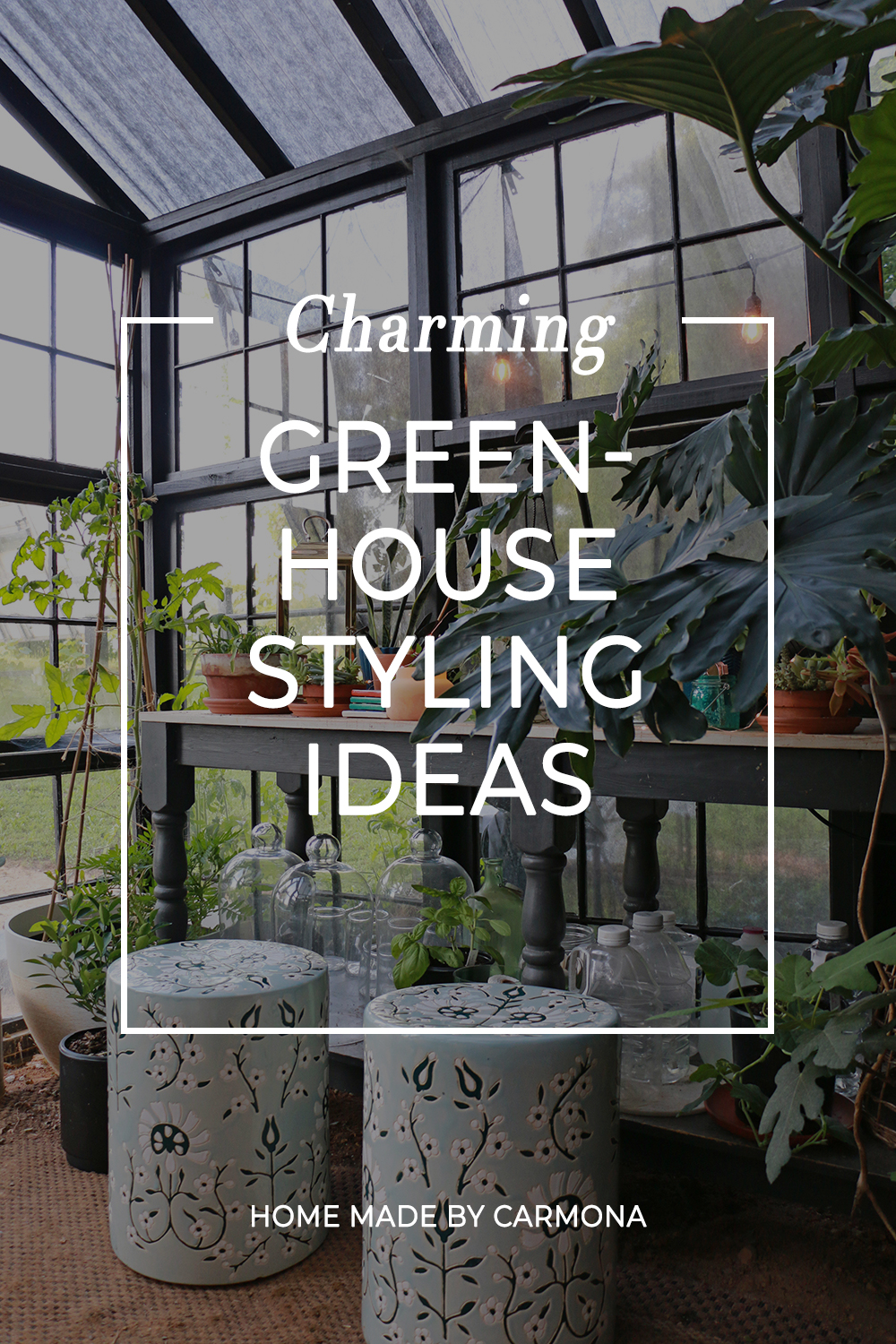 TIP: Wish you had a greenhouse, but it's not in the budget? Build one! Buying a greenhouse kit may not be in everyone's budget, but you can make your own! This one is a DIY greenhouse I built myself using salvaged windows (read how I built it here).
Greenhouses and glass houses seem to be a garden staple in some cooler climate countries, and there is certainly no end to the charm they add to ones backyard landscape.
Whether you have a small greenhouse, the coveted glass house, a room with skylights, or a sunroom, here are 10 amazing greenhouse decorating ideas to make it beautiful:
1. Add Stylish Shade Cloth
In the heat of the summer, shade cloth is necessary to keep plants from getting burned. And while it is quite practical, why not make it a design feature as well?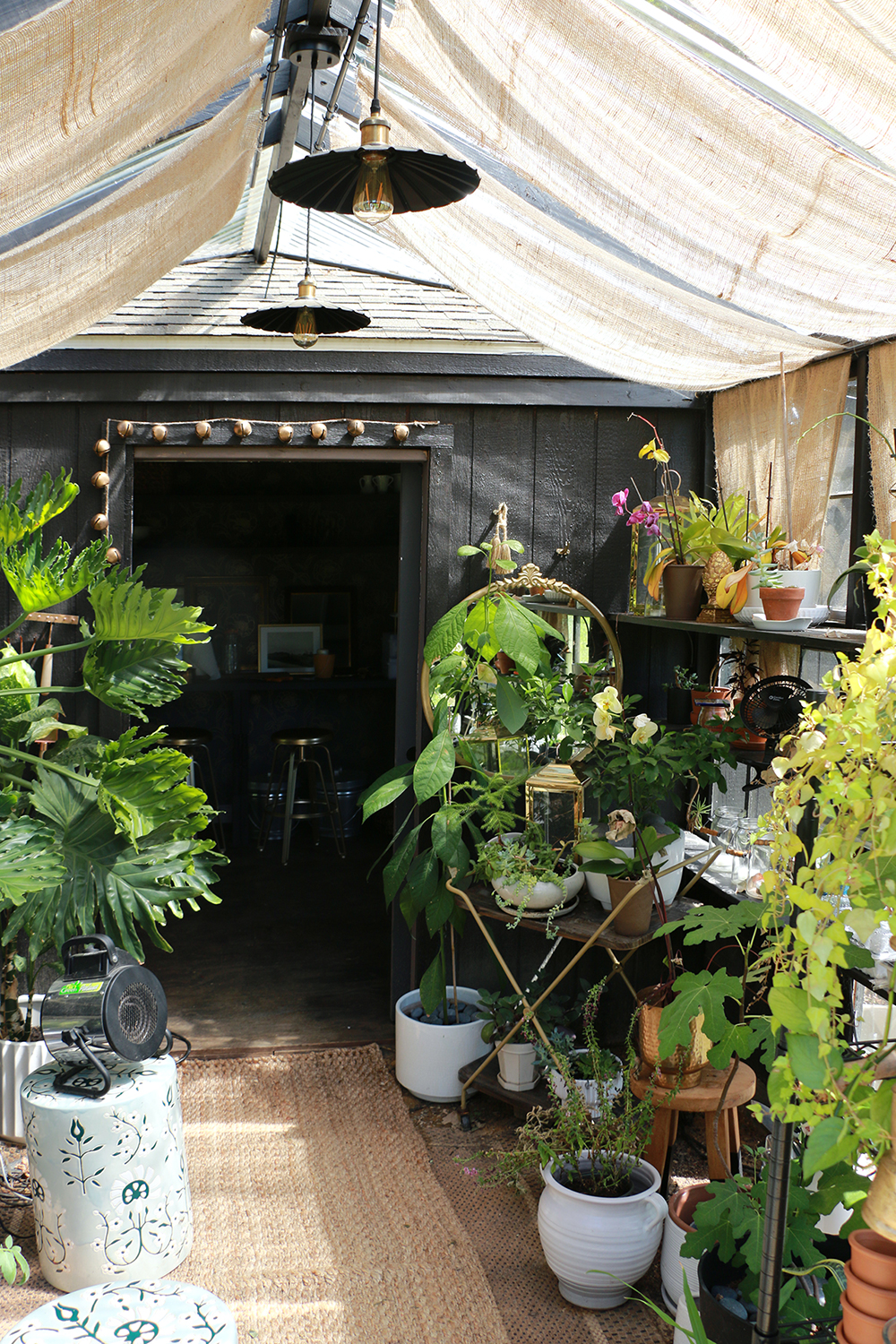 There are a myriad of cloth types to choose from: edgy black shade cloth, light draped sheers for a touch of whimsy, or the rustic panache of burlap.
[Video] How to hang stylish shade cloth (inexpensively):
2. Make It Magical With Beautiful Lights
Nothing makes a space quite as magical as the ambiance of twinkling lights!
Place battery powered fairy lights in lanterns or strung in various nooks of the greenhouse. Hang string lights for that French bistro vibe, and even grow lights can add to the ambiance!
For bonus points, choose the style of ceiling light to add to the beauty and charm of the space.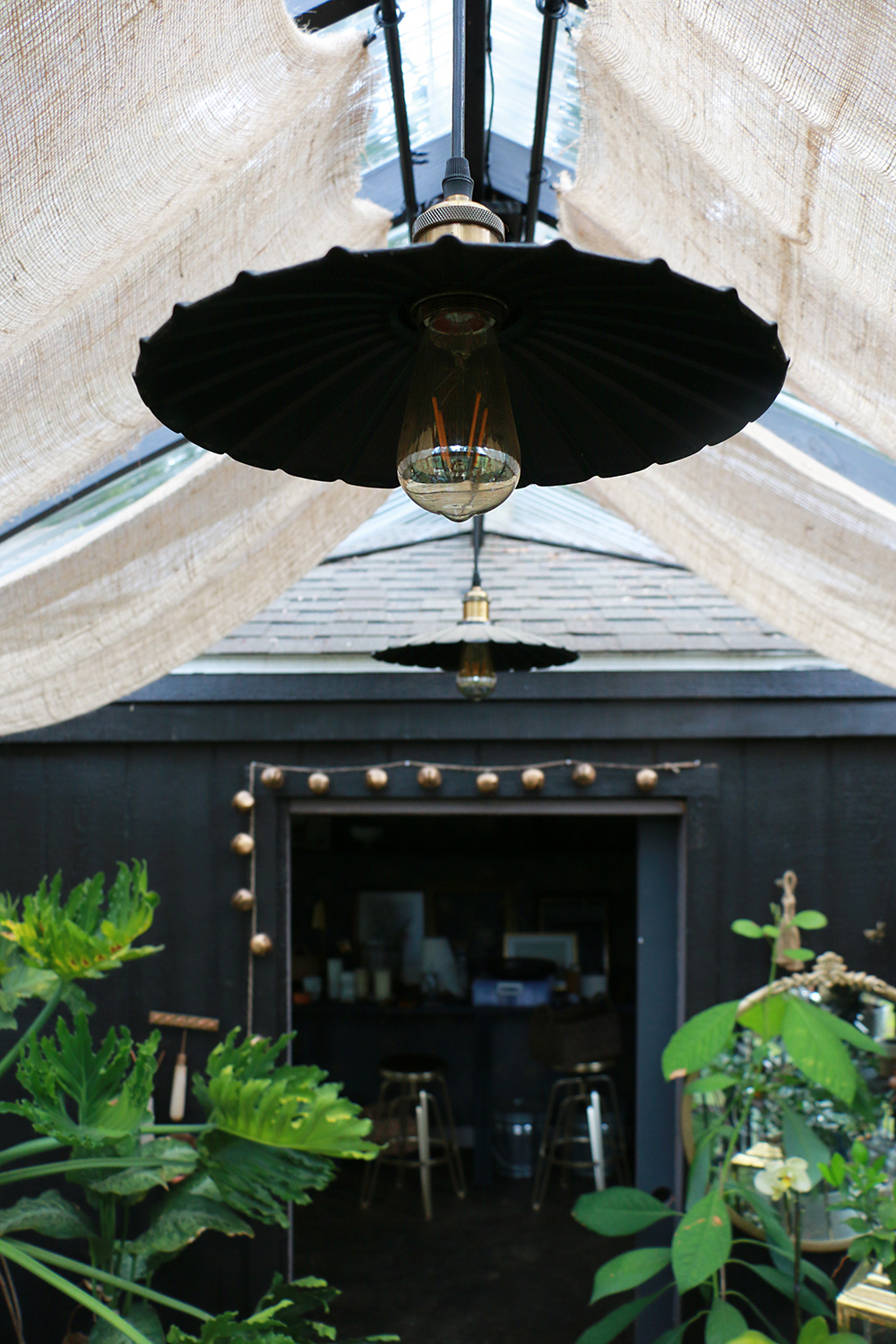 3. Bring Indoor Furniture Out
Employ furniture like bar carts, metal book shelves, and cute shower stools or caddies. They add much needed additional storage space, but give more style options.
Items especially designed to be in a mudroom or bathroom are made with the durability to withstand humidity, water, and dirt.
4. Create Ambiance With Candles
Nothing is more soothing than the warm flickering glow of candlelight. Plus it gives you the opportunity to add personality with a variety of candle holders. Thrifted saucer plates with charming patterns are a favorite, especially when paired with a glass cloche and candle!
Create a collection of candle sticks among the plants as decor in the greenhouse to make it attractive.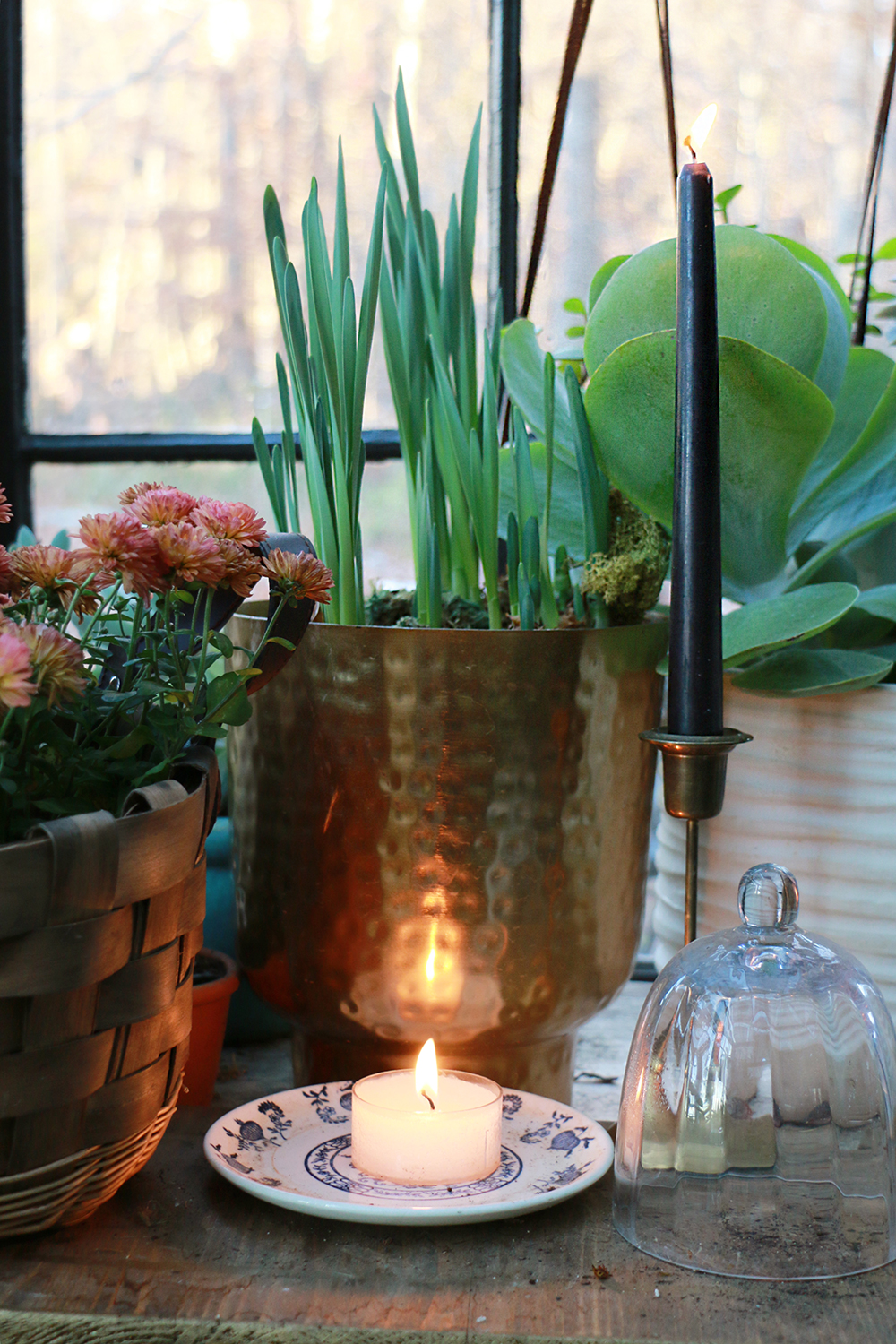 5. Choose Elegant Planters
Add personality and flair with your choice of planters and pots. This is a great way to add pops of color, or simply take the sophistication to the next level.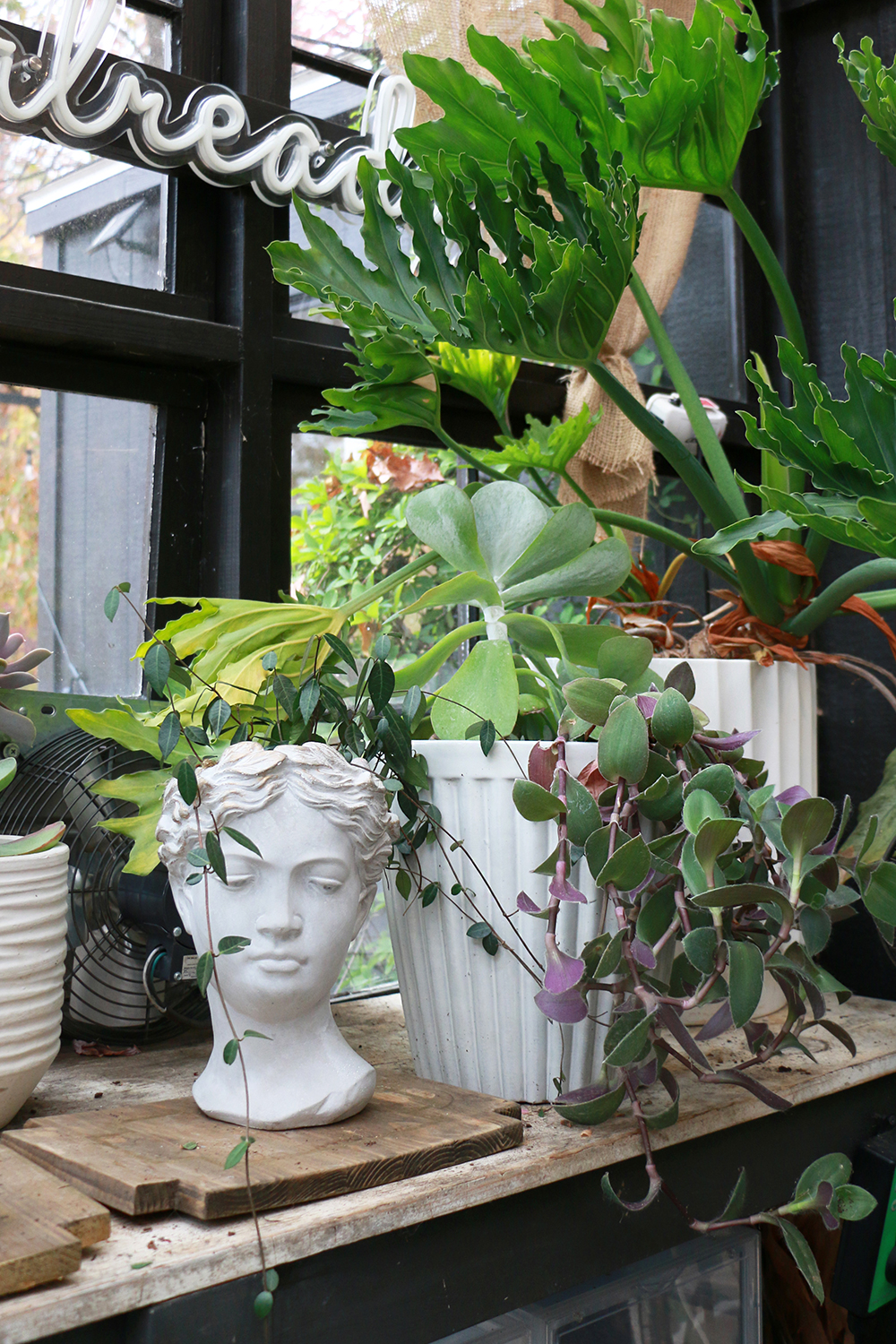 TIP: For a truly custom look, make your own stylish planters like this gorgeous Geode Rock Planter by Delineate Your Dwelling, or these clever No Sew Fabric Shibori Planters by Designing Vibes.
6. Accessorize For Added Charm
We don't often think to add accessories to a greenhouse since they don't qualify as "useful" items. However, as any stylist knows, a space feels curated, homey, and well put-together with a few accessories.
Incorporate items like attractive rain chains, wind chimes, bells, wreaths, and more.
7. Use Attractive "Mulch"
Mulching your plants can help retain water, and keep weeds down. Besides wood chips, add a layer of moss and/or river rocks as mulch. This is a great trick for houseplants as well! This is a beautiful alternative to seeing exposed dirt.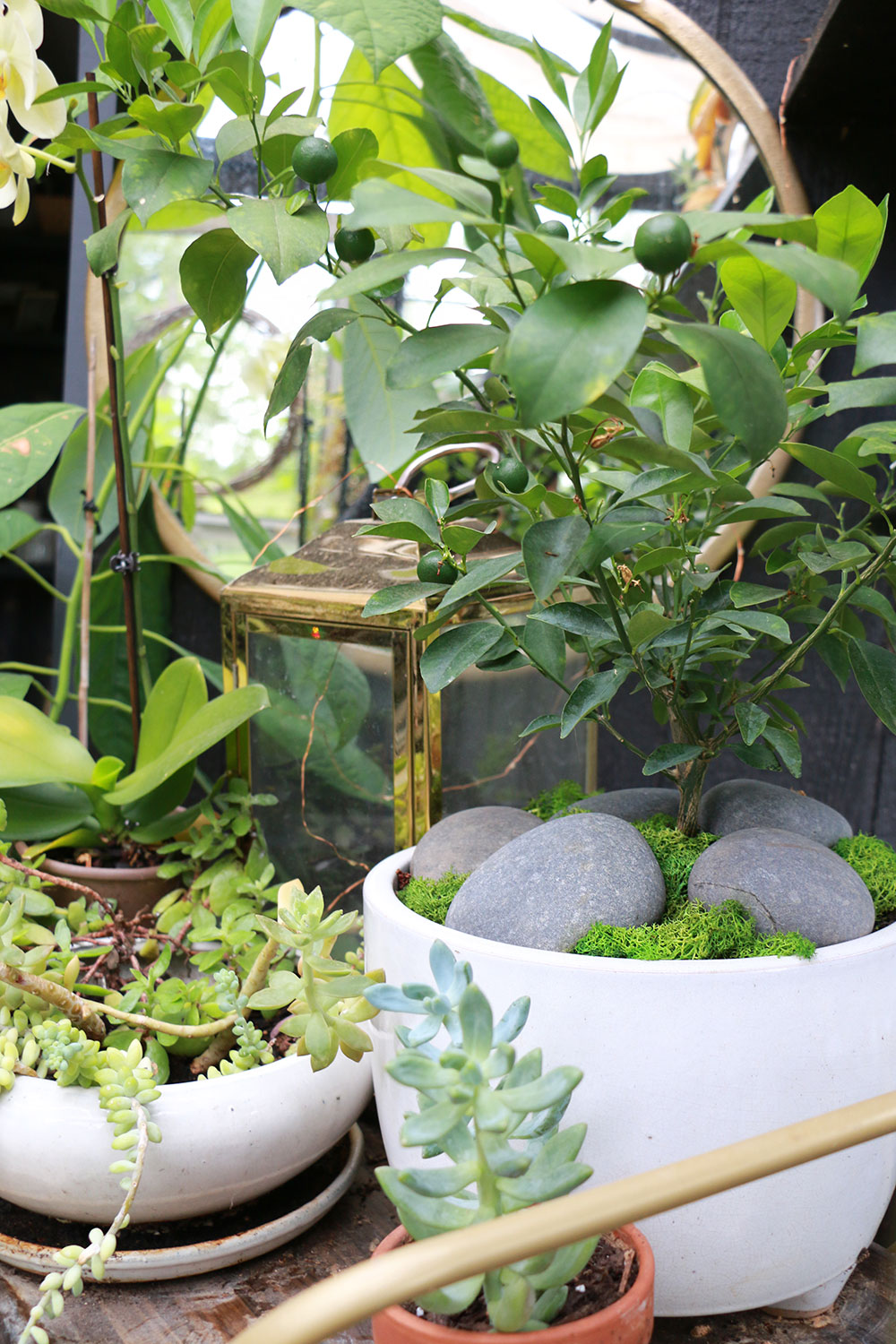 8. Paint The Potting Table A Fun Color
Paint is an easy way to give anything a makeover and add some personality. Give your potting table or shelves a little panache with a color that suits your taste.
You can even spray paint planter pots and stencil on some favorite designs!
9. Use Cute Garden Stools & Stylish Seating
Add a stylish bench with outdoor-friendly cushions to lounge on, and if you don't have the space for it, use a couple of garden stools! Its an easy way to add seating, as well as use of pattern and color in the space.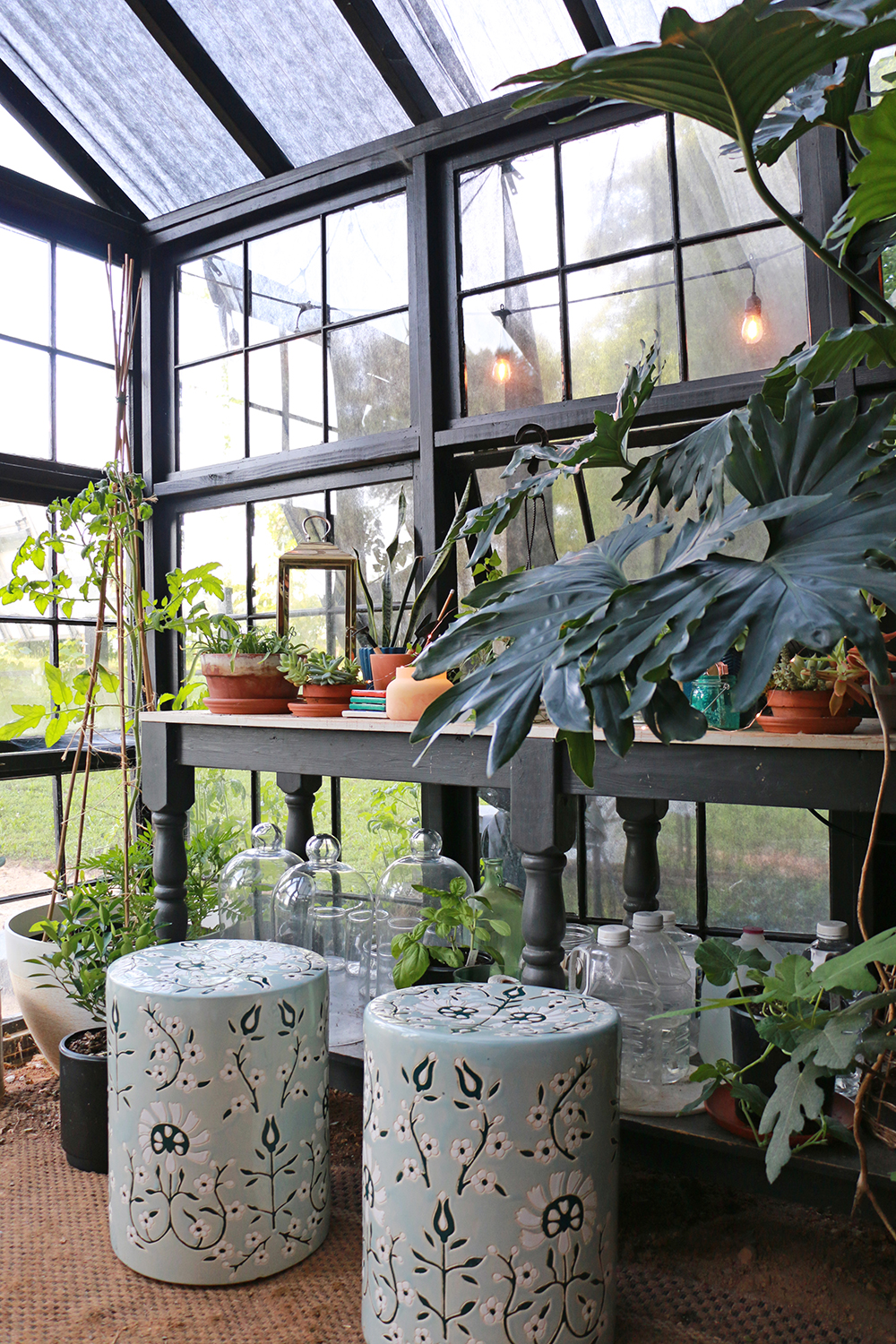 10. Store Garden Knick-Knacks In Style
Practical items can also be pretty, including storage solutions! Use a nice basket to hold garden accessories, or use tins of varying sizes for knick-knacks, etc.
Glass jars and vases can hold garden tags, twine, etc. and still add to the greenhouse decor.
11. Hang Wall Décor Like Mirrors & More!
Don't want to use your valuable shelf space on décor accessories? Go vertical! Use items like neon signs, art, mirrors, and wreaths up on the walls.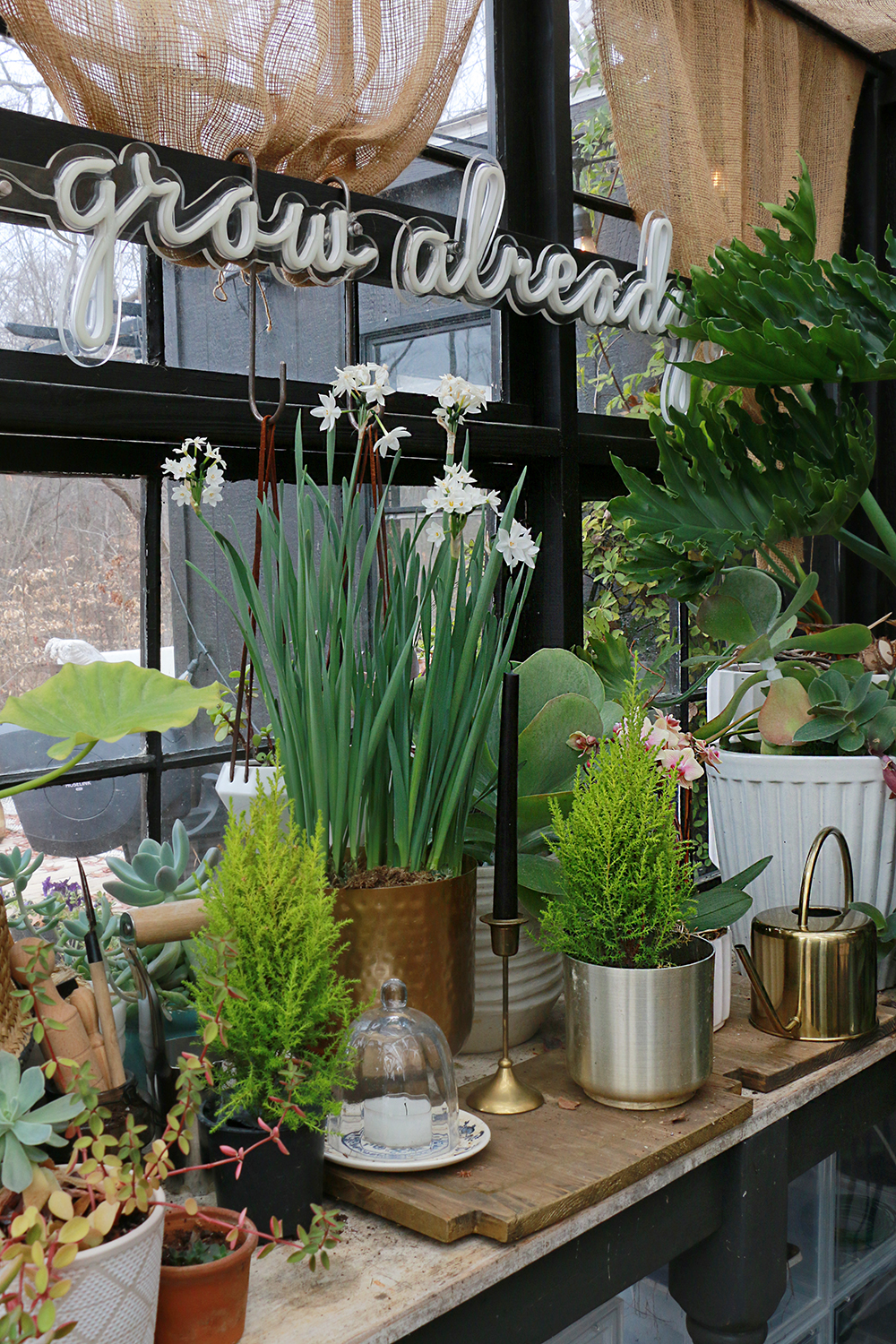 12. Create A Hanging Garden
Hanging plants mean more floor space for even more plants. Plus, there is a certain allure to hanging plants with trailing vines.
Create hanging terrariums from lanterns or geometric planters for succulents, or chose from the wide variety of hanging planters for other plant types.
13. Display Pretty Garden Tools
Like the look of some of your garden tools like spades and forks? Store it on display! Hang it on the wall where you can easily access it for use, or place it in a nice jar on your potting table.
Even practical pieces can have charm and be incorporated into your design!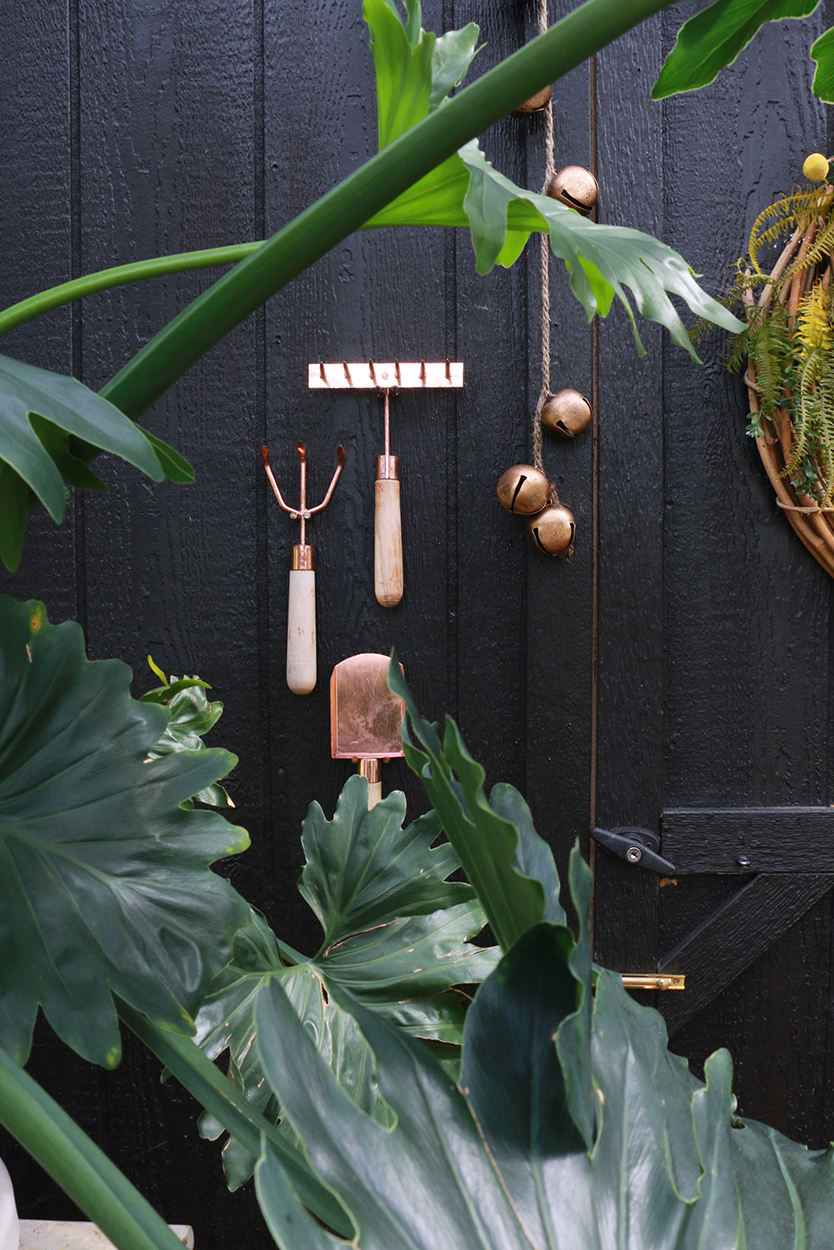 14. Incorporate Both Houseplants, Seedlings, & Garden Plants
Just like the garden, a greenhouse can also benefit from a diversity of plants. So if you are using it solely as a way to start vegetable plants from seed, you might be missing out!
Bring beauty (and even some pollinators) by growing flowers in the greenhouse, and use it as an opportunity to grow more tropical plants that are typically used as houseplants.
Also grow an herb garden inside the greenhouse that you can harvest from year-round.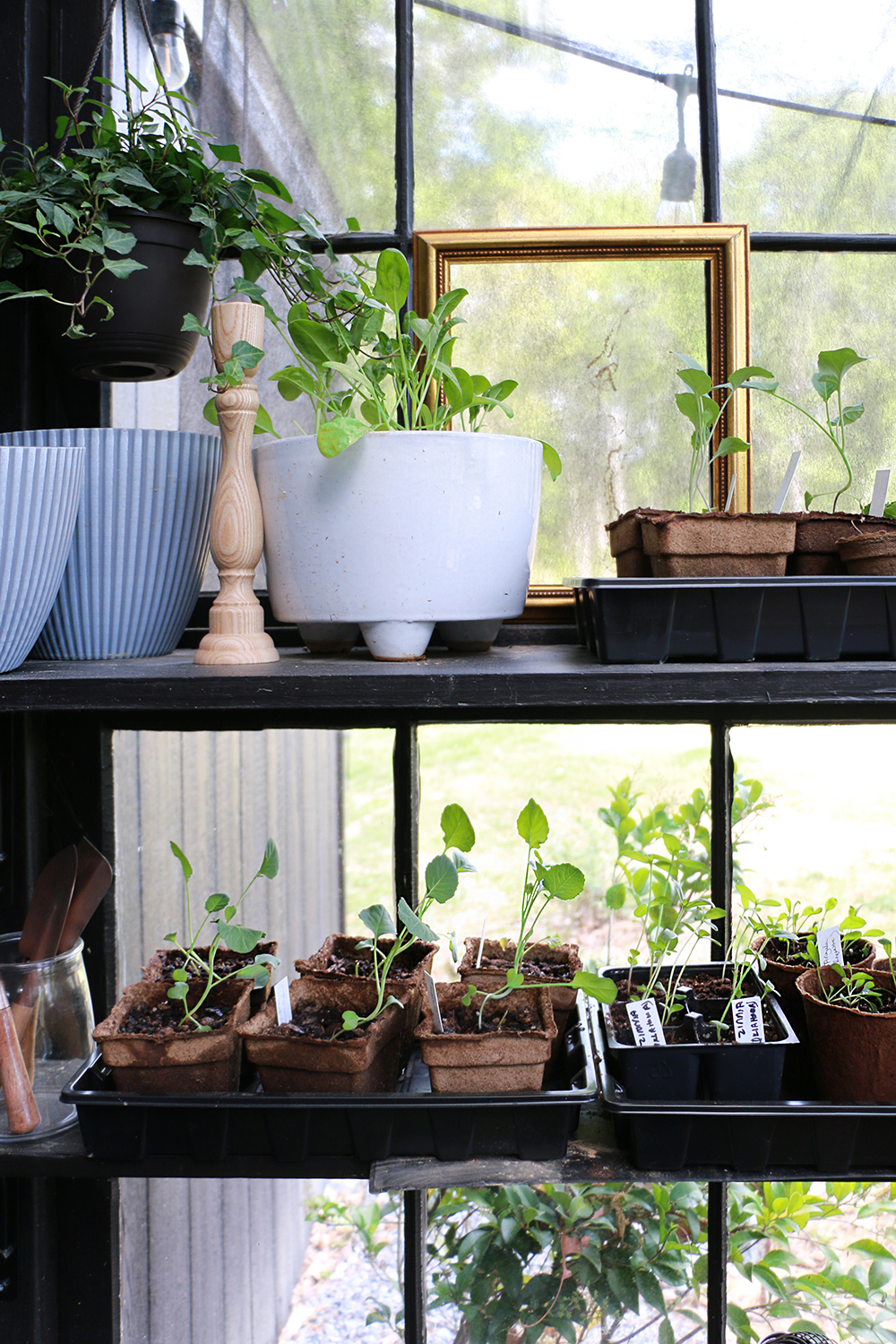 15. Layer Sisal Rugs
My own greenhouse floor is a dirt floor, but no matter what flooring you have, layer on a few dirt and water-friendly rugs. It helps cool it down on overly hot days, and makes it easy to clean the floor by simply shaking out the top layered runners and mats when a spill occurs.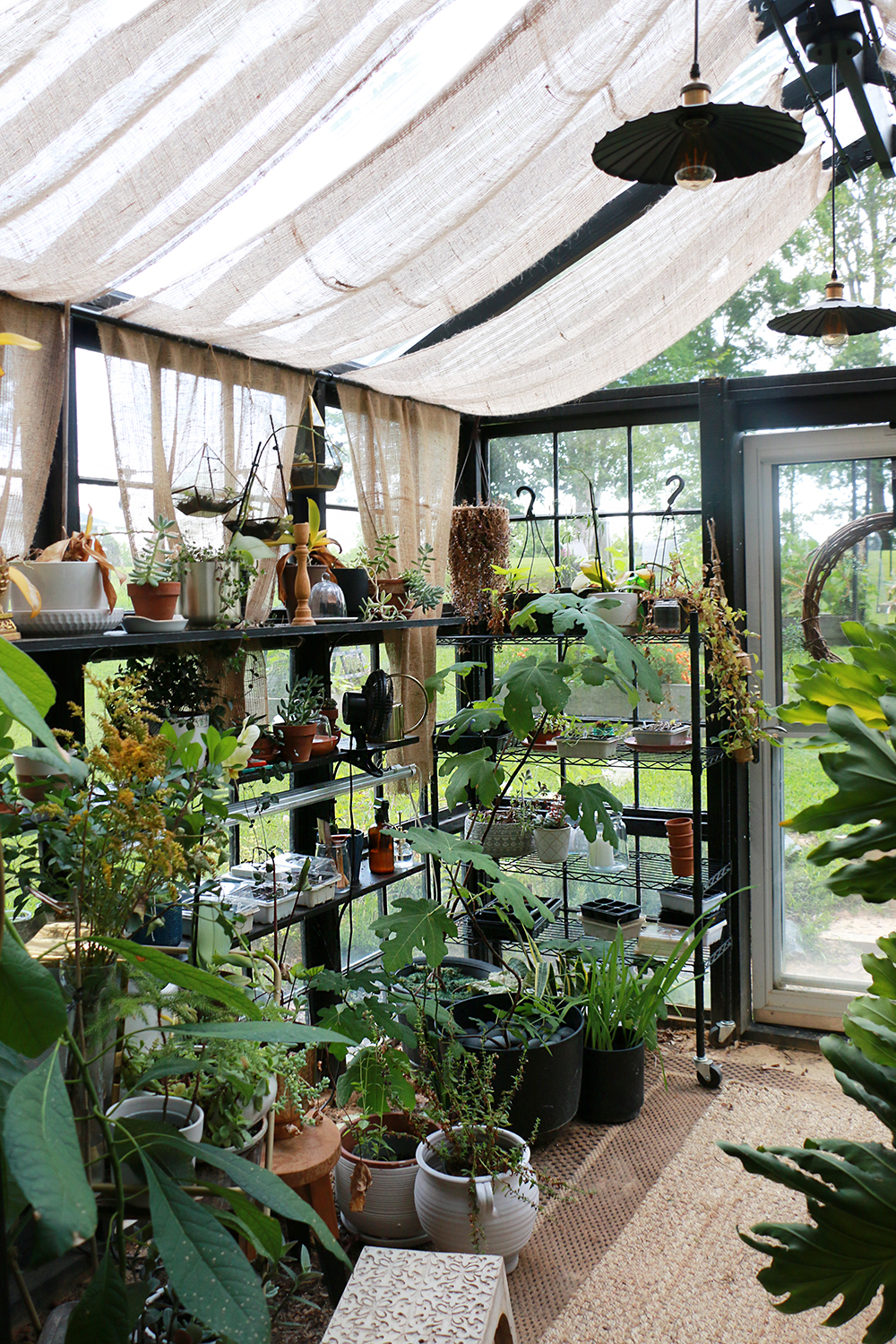 Use these greenhouse design ideas to give your outdoor room as many home comforts as some of your interiors.
With a little attention to detail, your greenhouse will become the perfect place to escape to… a little haven!
TIP: If you don't have a backyard greenhouse, remember that these greenhouse decorating ideas can be used on your covered patio, porch, garden sheds, or any room you get a ton of sunlight to turn into a sunroom!
Looking For Other Greenhouse Ideas?
Find incredible spaces, from lean-to greenhouses, to DIY or kit purchase greenhouses! Follow us on Pinterest for more greenhouse decorating ideas!