I adore this little office nook, especially compared to what it use to be. This closet before became a 'catch all' for junk… it just wasn't the best use of the space, and I hate to waste any square footage.
Today I'm sharing how to turn a closet into an office nook, including an easy hack to create custom bookshelf built-ins above the desk.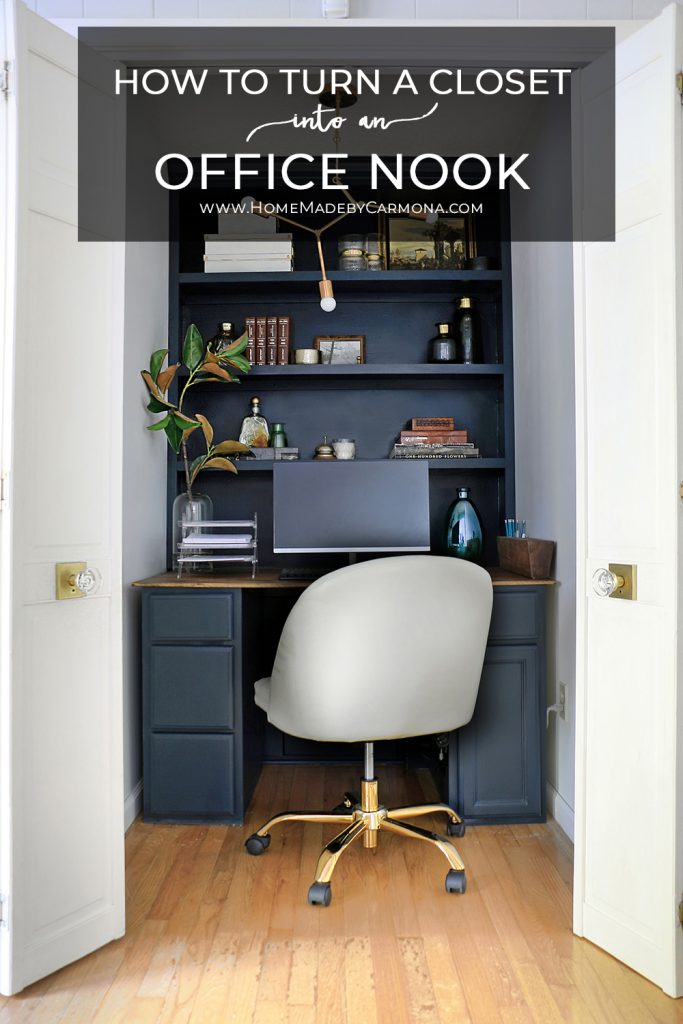 I remodeled this space over a year ago for a One Room Challenge, and I've had so many requests for the details of the space, I decided to revisit this project and share all the details!
This little office nook opens up to my family room, so I love that we can close the doors and hide any office mess away. However it is an attractive enough little nook, that we usually keep the doors thrown wide open.
This space, and the adjacent room made for quite the dramatic 'before and after'. Definitely pop over to my blog post here to check it out…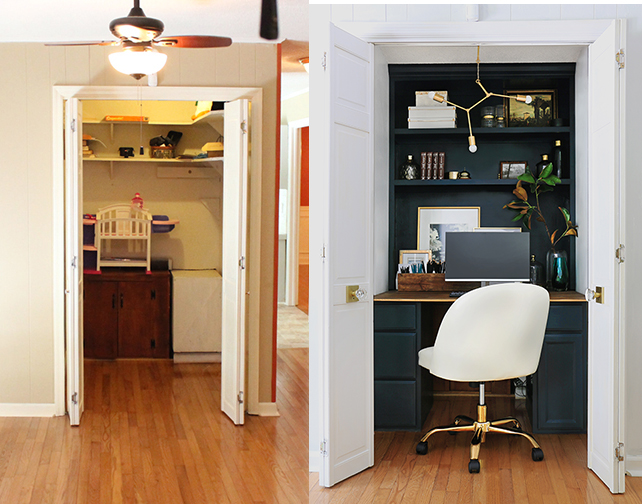 Watch The How-To Tutorial Here (Video):
Watch the tutorial here, and then scroll down to get a few extra details and tips to help you along the process!
Materials & Cut List
For this project you'll need a 1/2″ sheet of plywood (8'x4′), and several pieces of 1″x2″ select pine.
The amount of each item you'll need depends on how big your closet is, and how many shelves you want to add. My closet measures 53″ wide, and I needed four 12′ pieces of 1″x2″ select pine.

Shelves: 1/2" Plywood
-11-1/2" x closet length
Shelf Support: 1"x2" Select Pine
(per shelf)
-(1) closet length
-(2) 10-3/4"
Shelf Front Trim: 1"x2" Select Pine
-closet length, minus 3"
Vertical Side Trim: 1"x2" Select Pine
-(2) height from ceiling to desk
Crown Molding: (optional)
-closet length
Details/Tips You Might Need Along The Way
Now that you have watched the video tutorial above (if you haven't, please do!), here are a few details to help you along the process.
For those who were wondering, the paint color I chose is 'Winter Way' by Behr, and the dimensions of my closet are 53″x64″ …but it is much deeper than I needed.
Faux 'Bookshelf' Build
By now you realize that the "bookshelf" is just a bunch of plywood shelves secured on the wall, and trimmed out to look like a full bookshelf built-in.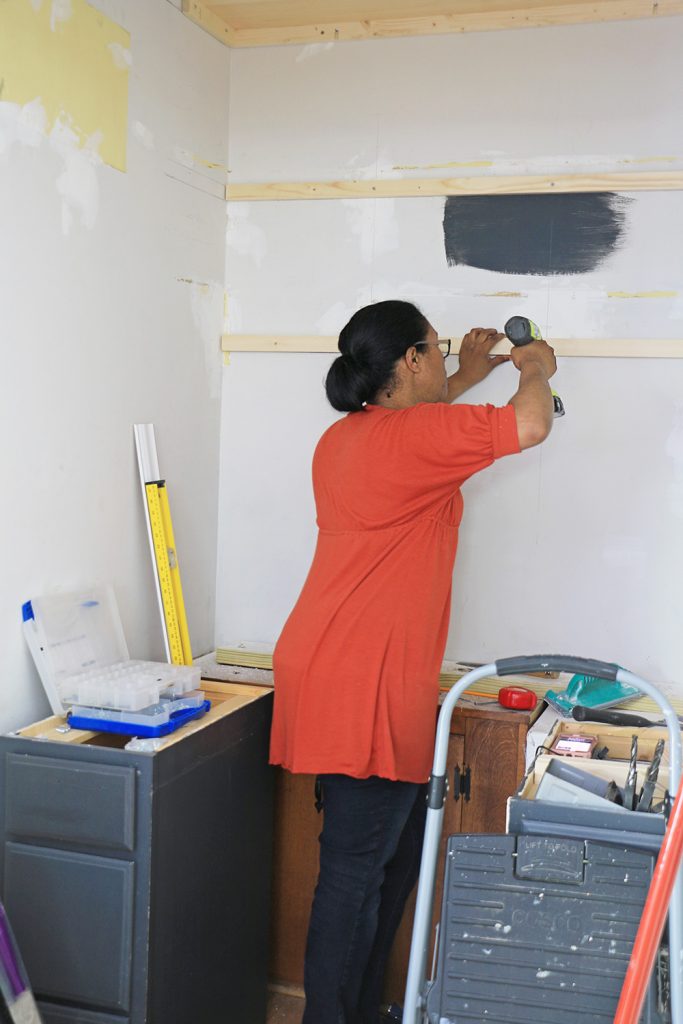 If you paint the walls, and add trim, it will look just like a real bookshelf! But you'll use way less wood than if you were doing a full build.
The key is, once you are done installing the shelf supports, add two vertical pieces of trim (1″x"2 select pine) by nailing them into the 10-3/4″ shelf support overhang. Install the vertical trim from ceiling down to where the desktop will start.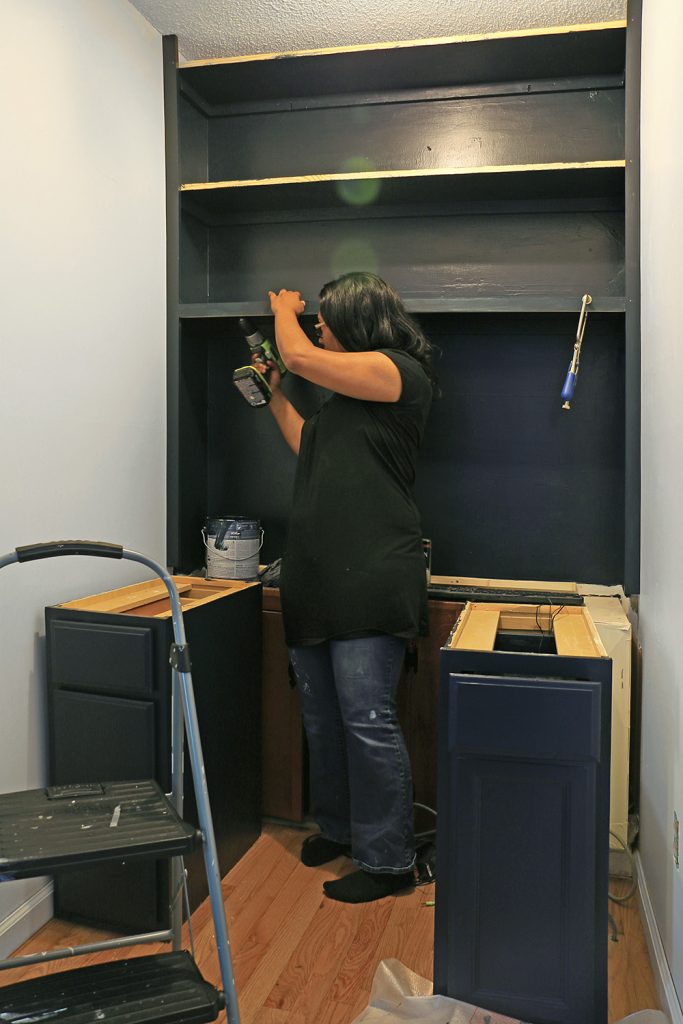 Now you can add the trim to the front of each shelf using pocket holes. And for an extra added sophistication, put a piece of crown molding along the top.
What If I Don't Have A Way To Make Pocket Holes?
No biggie! Just attach the trim using finishing nails from the front. It's a little more tricky to do if you are using a hammer and nails, but still works just fine. Of course, you'll have to fill those nails holes, so it's a bit more work all around.
Creating A Desktop
The desktop is literally just a piece of 1/2″ plywood cut to the width of the closet, and the desired depth. Just remember to extend the plywood all the way to the back of the wall and under the shelves.
Attached an extra piece of 1″x2″ select pine board to where the desk will slide in. This acts as an extra bit of support on the back end for the desk since that plywood is actually overhanging the desk base by a good foot.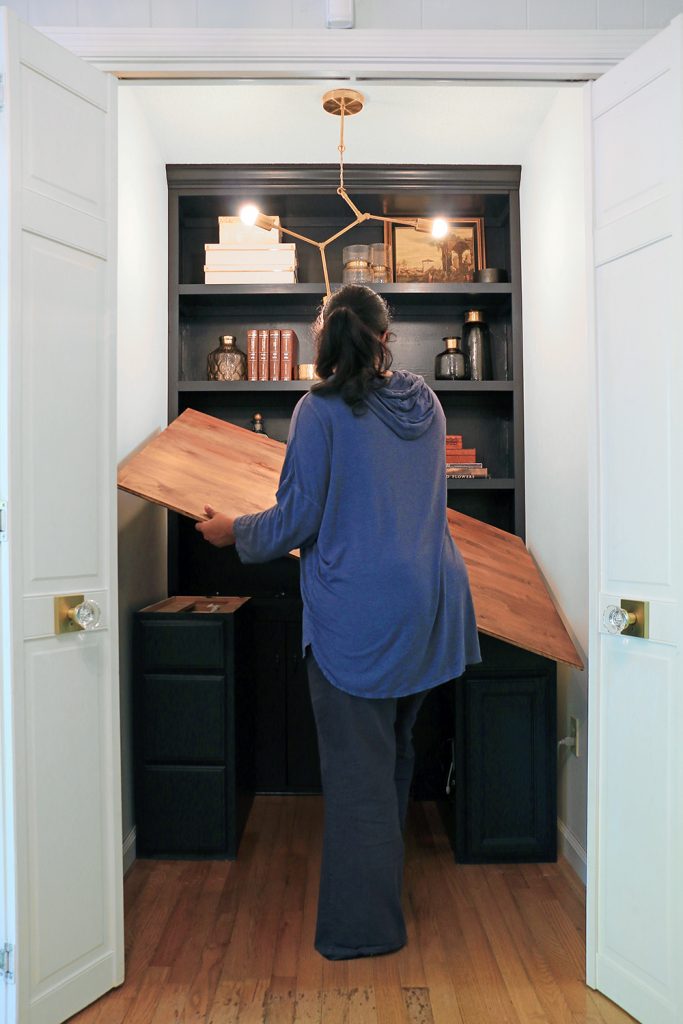 Drill a hole behind where your monitor will sit. Be sure to make the hole large enough for plug ends!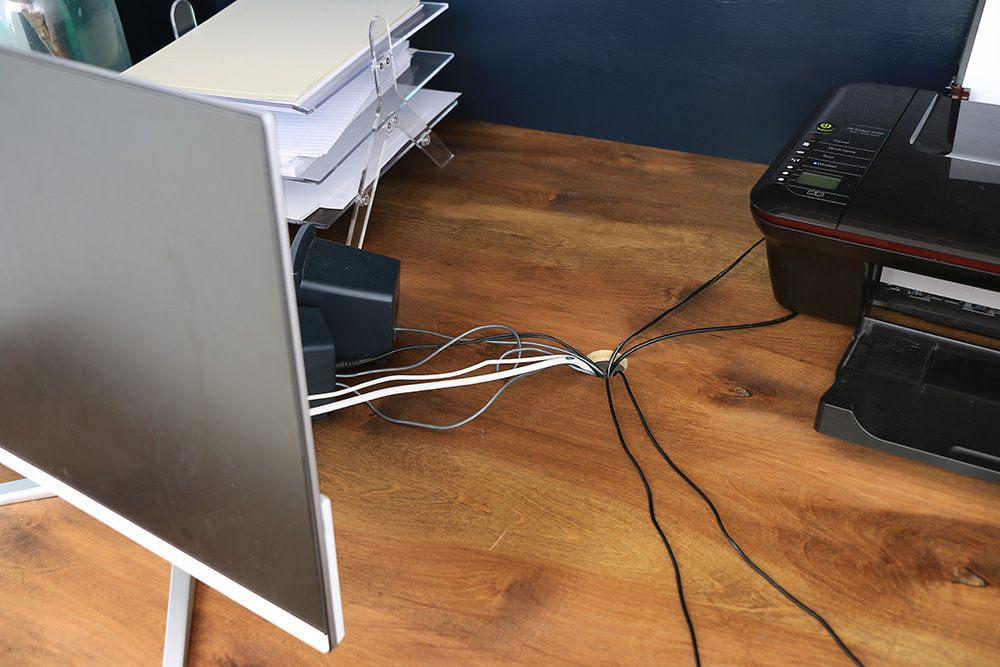 Choosing A Desk Base / Hiding Your PC
I actually salvaged these two cabinet units off the side of the road years ago. But cabinet bases are the perfect heavy duty choice for a desk in your office.
The cabinet with door serves as the perfect place to hide your PC, and keep it off your desktop.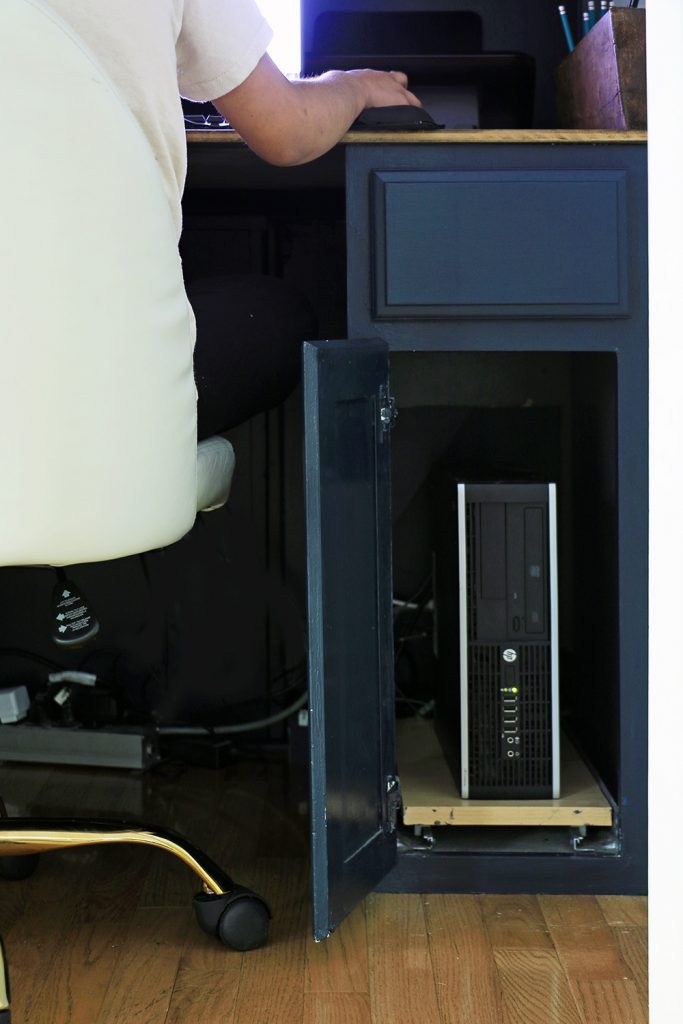 If you are concerned about it being able to vent properly, cut a large decorative opening in the side of the base cabinet. The wires can also extrude from the side in this way, although it is a little more attractive to have the wires come from a hole cut in the back if you can.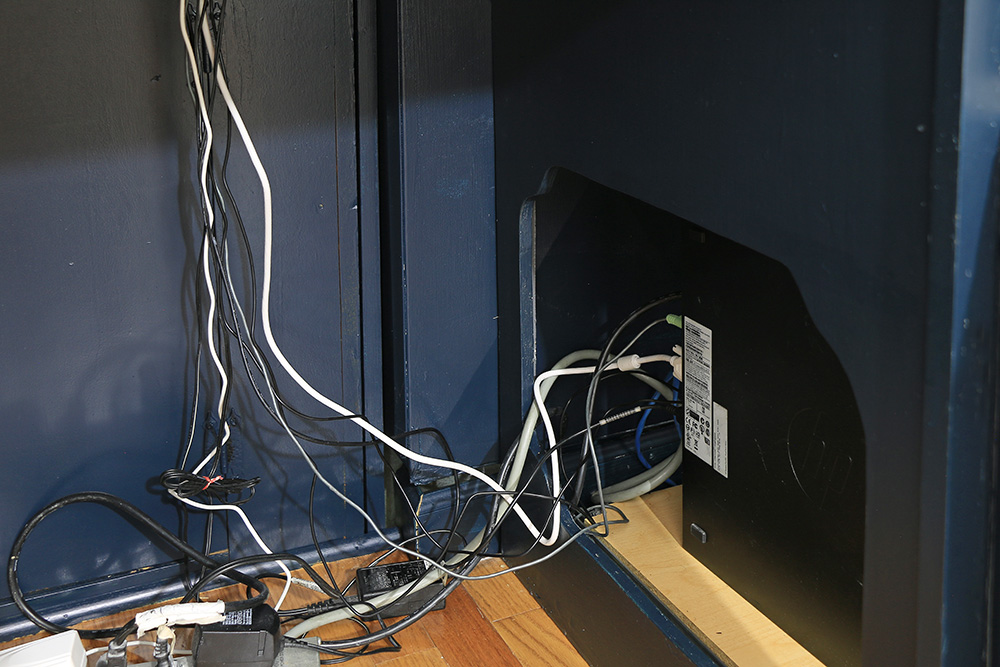 Office Nook Source List
Paint Color: 'Winter's Way' by Behr
Closet Glass Door Knobs: Schlage (Hobson, non-turning, Collins trim, in satin brass)
All glass vases: At Home stores
Wooden pencil holder: Home Goods
Storage boxes: Target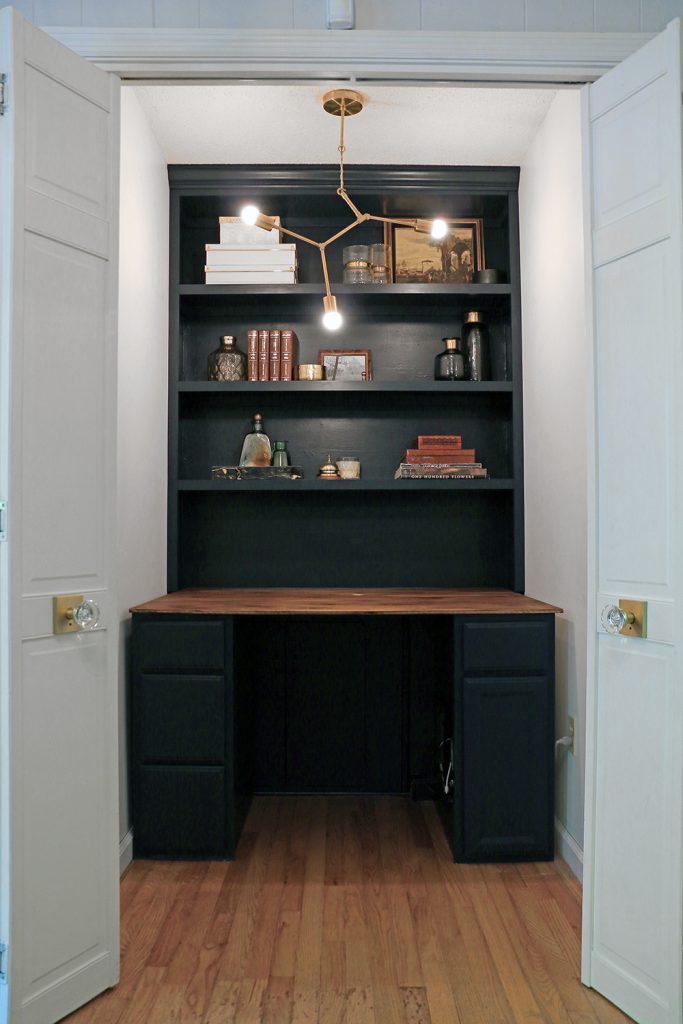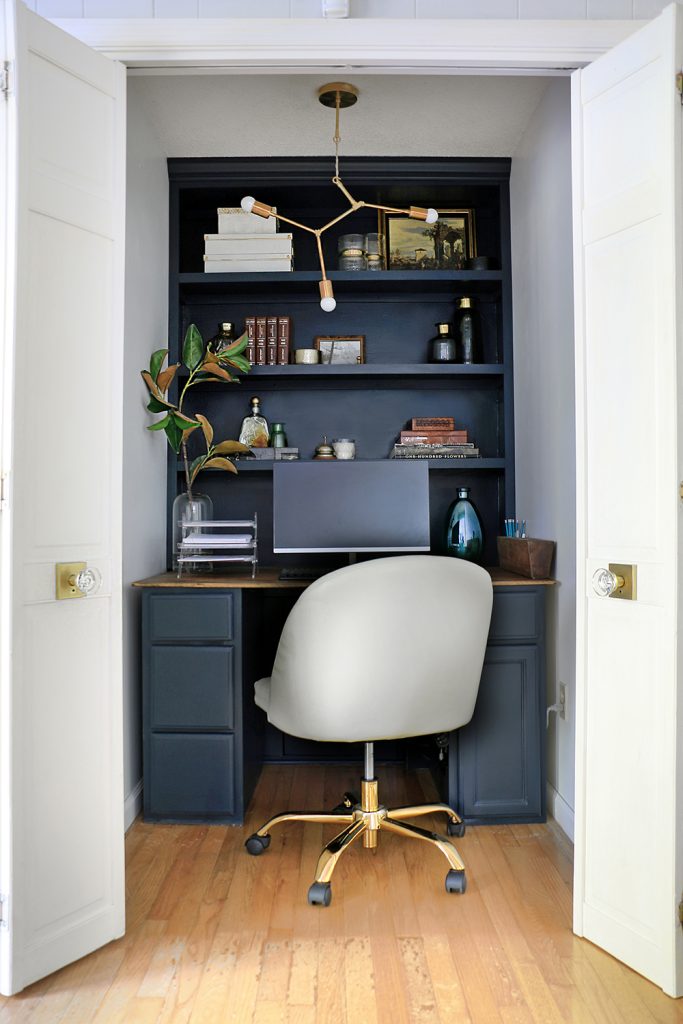 If you turn an office into a closet, or any little cove into an office space, I'd love to see it! Share it with me over on Instagram or Facebook!


[go_portfolio id="decorate_landing_page"]