It is week 6 of the One Room Challenge and the big reveal of my Parisian inspired powder room!
HA! It was more like a 2 week challenge since the first 4 weeks were seriously overbooked. Yes, smart…join a 6 week makeover challenge and then be too busy to do much of anything for the first 4 weeks. Sounds right. But hey, it's a teeny half bath, so I know I could get most of it done at the last minute and still slide into the finish line. That's just how I roll. 😀
However, this tiny little room required more DIY than almost any other space in my house! My fingers are all cut up and sore after a couple weeks of laying flooring, cutting and caulking molding and baseboards, painting, installing light fixtures, plumbing, and more! After this project I'm feeling a little worn out being a solo DIY'er… I will need a week of recover people.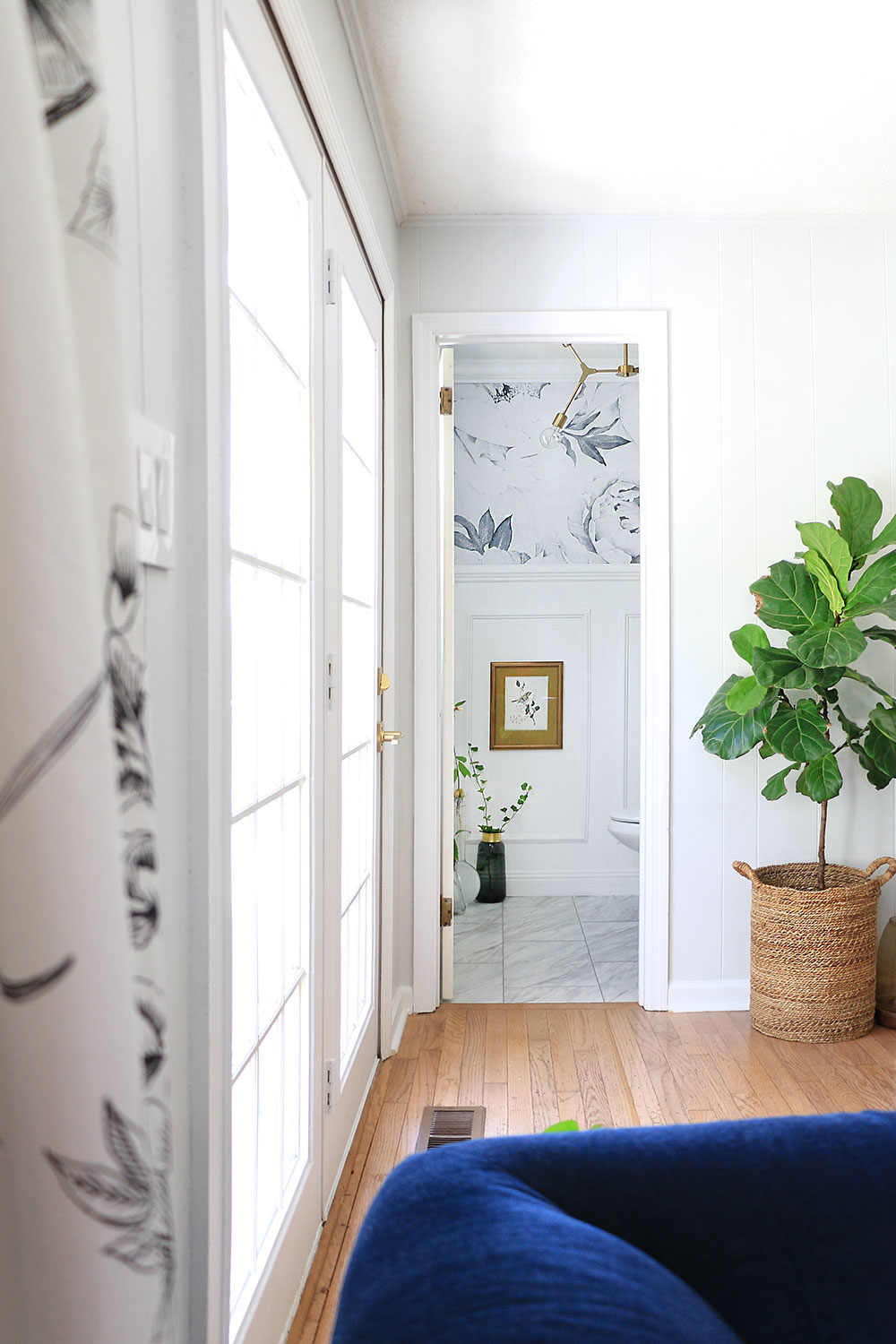 But now, are you ready for a ton of before and after action?!! Come on in…
Keep What You Love, Dispense With All The Rest…
My poor family is always saying "what's wrong with the space…why make it over?" I don't think they get me. Good thing they love this DIY'er unconditionally. Hahaha!
Don't get me wrong, it was a perfectly fine powder room before. But maybe not quite my style. And definitely not my taste in colors. Blegh, red is not my jam. The yellow is cute, but I'm more of a mustard yellow kinda gal. Sorry, byeeeee…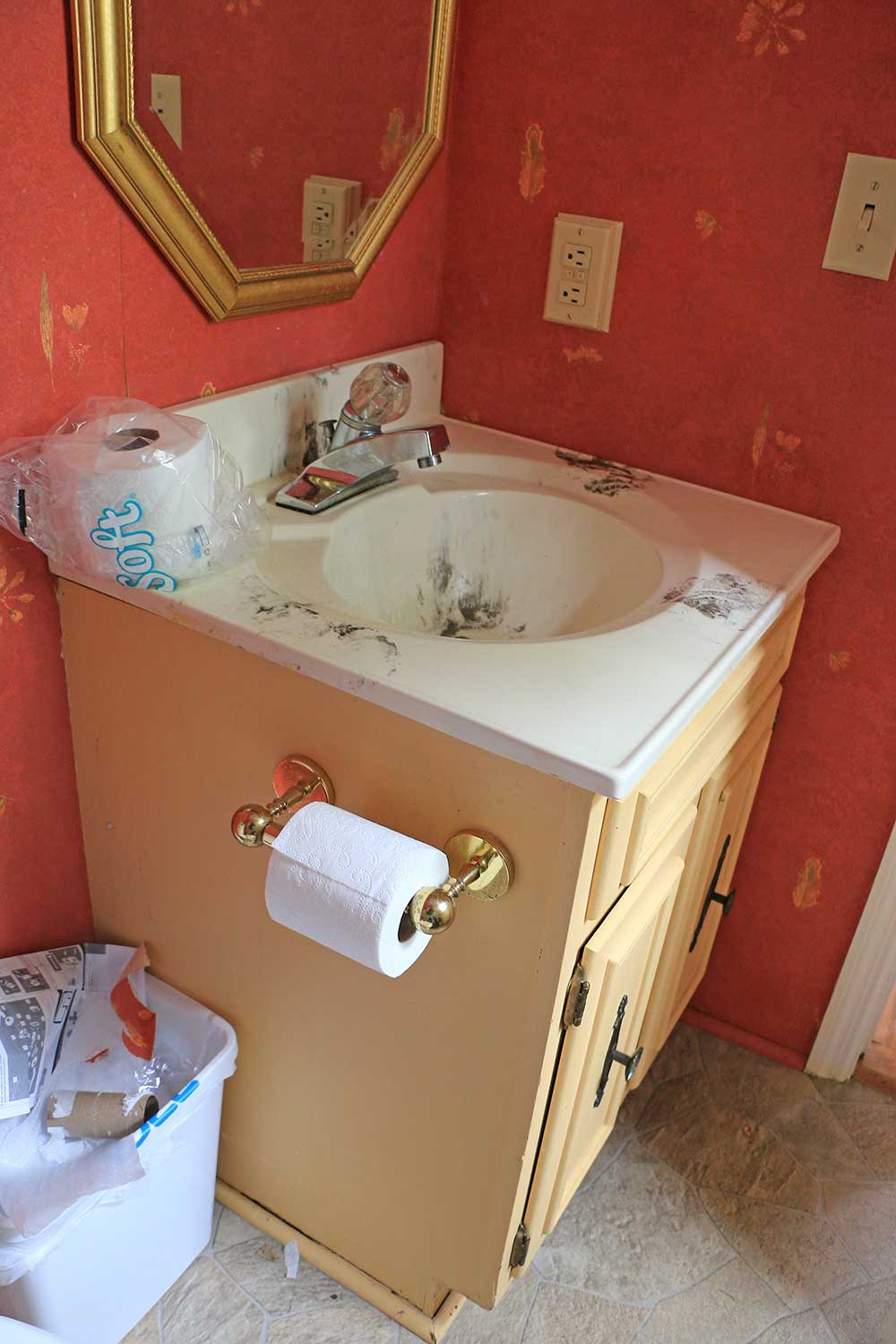 I do, however, love the vanity and the mirror, so why not keep what you love (paint it) and discard what you don't? These pieces would be my jumping off point to go traditional, almost Parisian in style.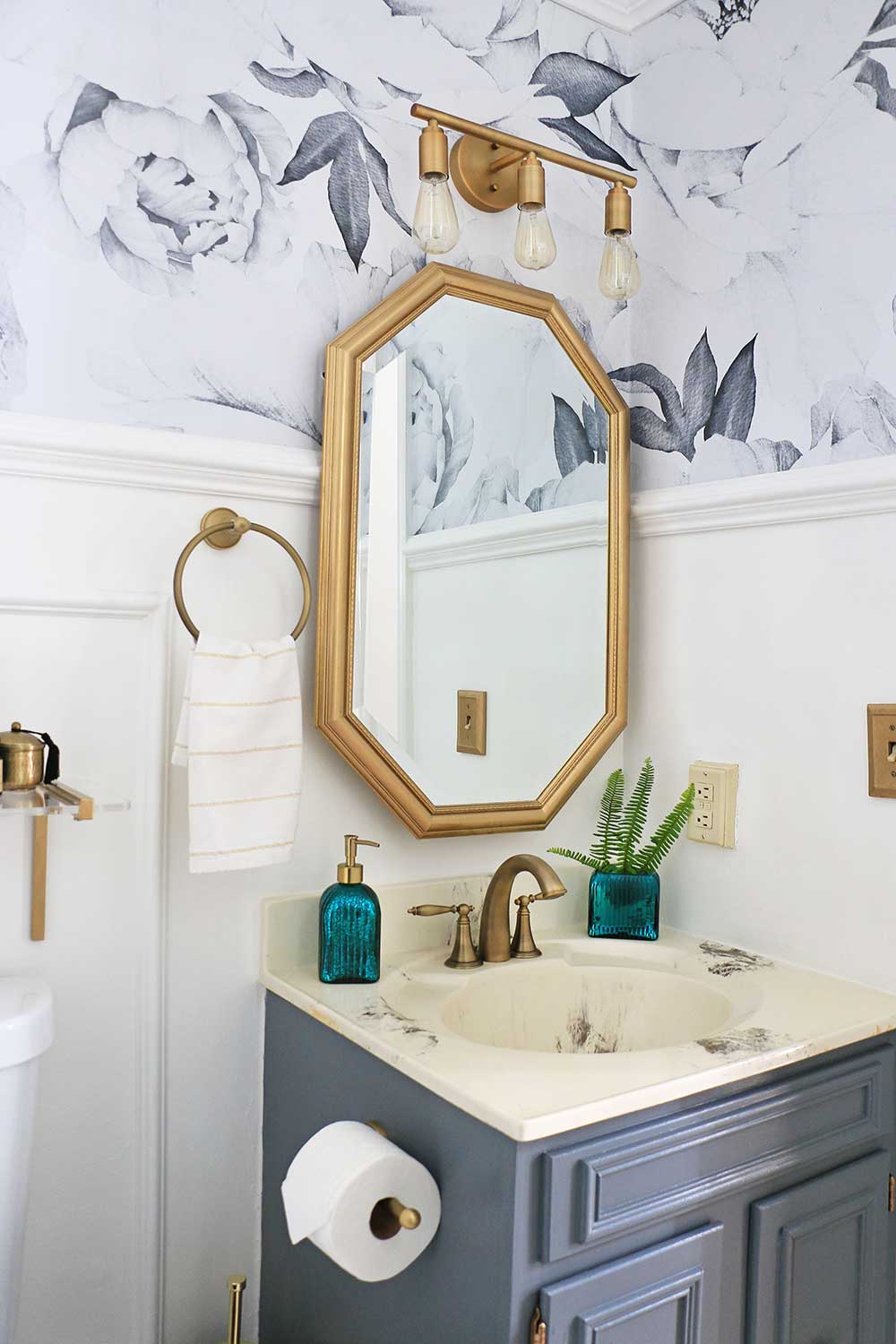 Really I should thank my youngest daughter for forcing me to add this powder room to my to-do list. I had NO intention of getting to it for a while. But then one day while we were peeling wallpaper in another part of the house, my over-eager helper just kept going and peeled off the wallpaper everywhere.
I mean, EVERY. single. room. of the house… Well, her work ethic is impressive. Thankfully I stopped her when I realized she had moved from the hallway, through the downstairs and into the bathrooms. Now I know to be really specific in the future and not just say something like "can you help me peel all the wallpaper".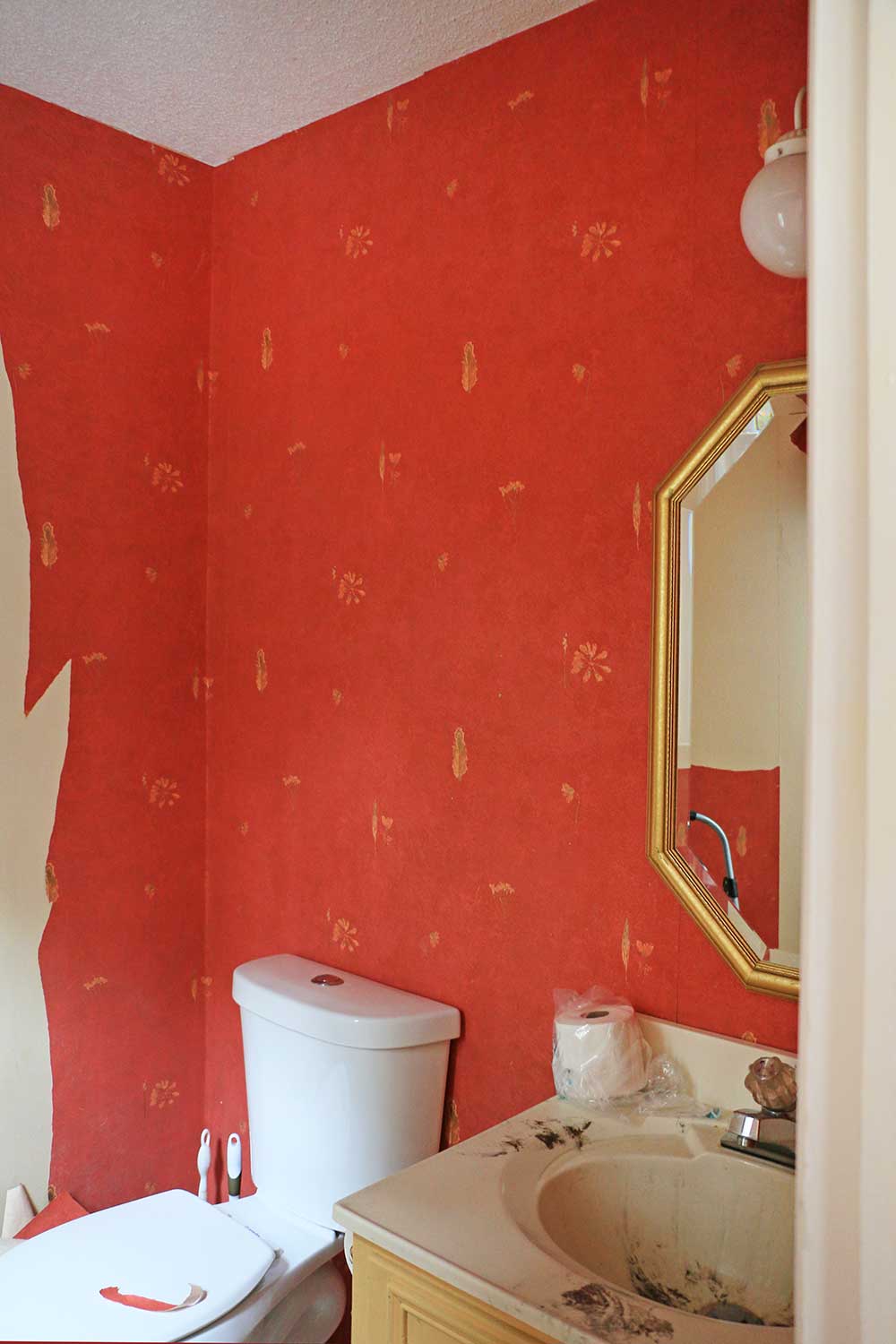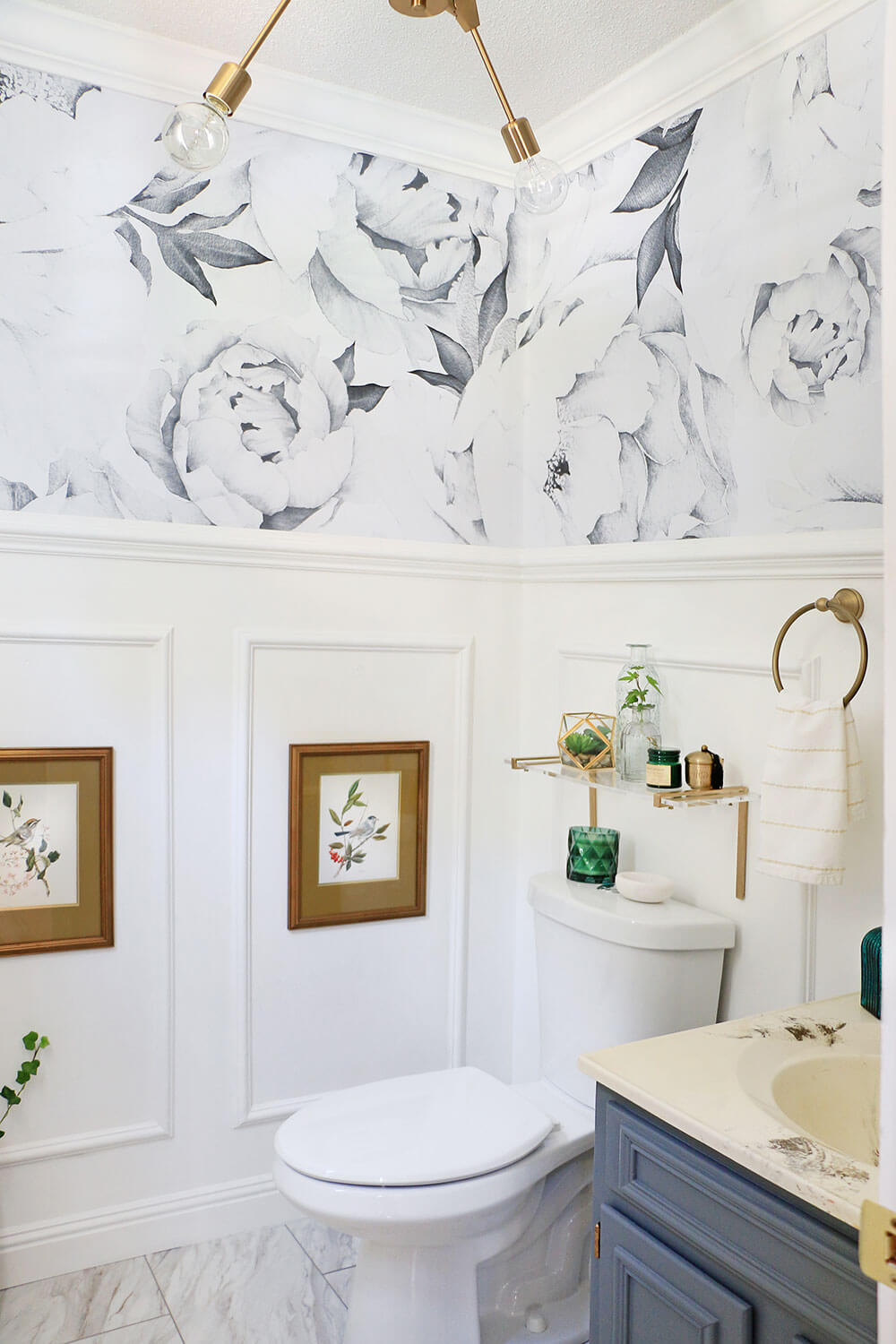 Show Stopper Powder Room?
I know, it's probably weird to want the bathroom in your house to be decorated to the nines. Oh wait, I'm talking to people who love design! Okay good, you're my kinda crazy, you get me.
I figured if there were ever a space all my guests would visit, it would be the bathroom, right? Hey let's get practical here, if everyone is going to see it and spend some time alone in the space, why shouldn't it be attractive?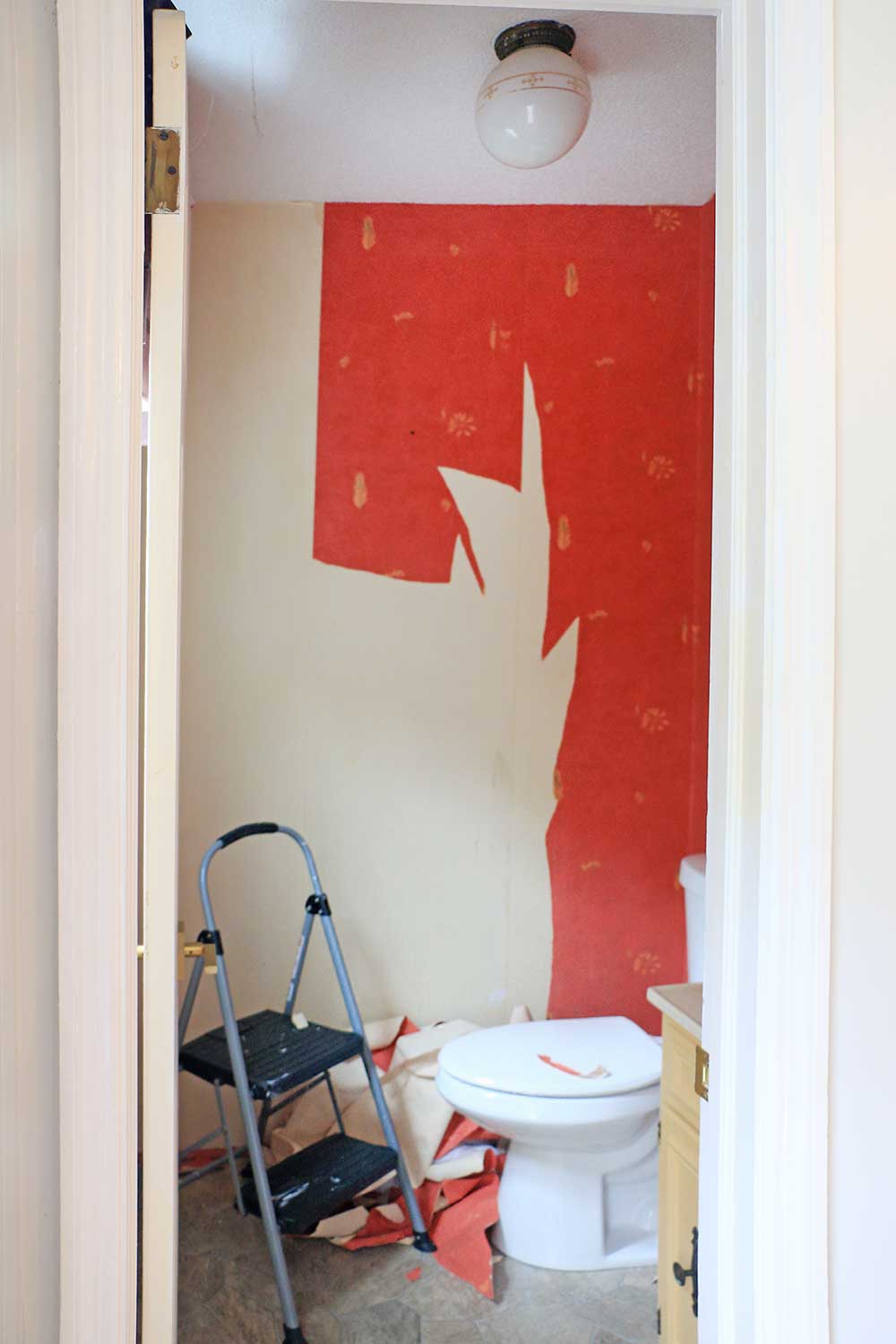 Plus you have to make sure each room flows well into the adjacent room.
The view from my newly made-over family room into the powder room needed to be equally impressive. Before I kept the door shut so you wouldn't see that half-peeled red wallpaper from the other room…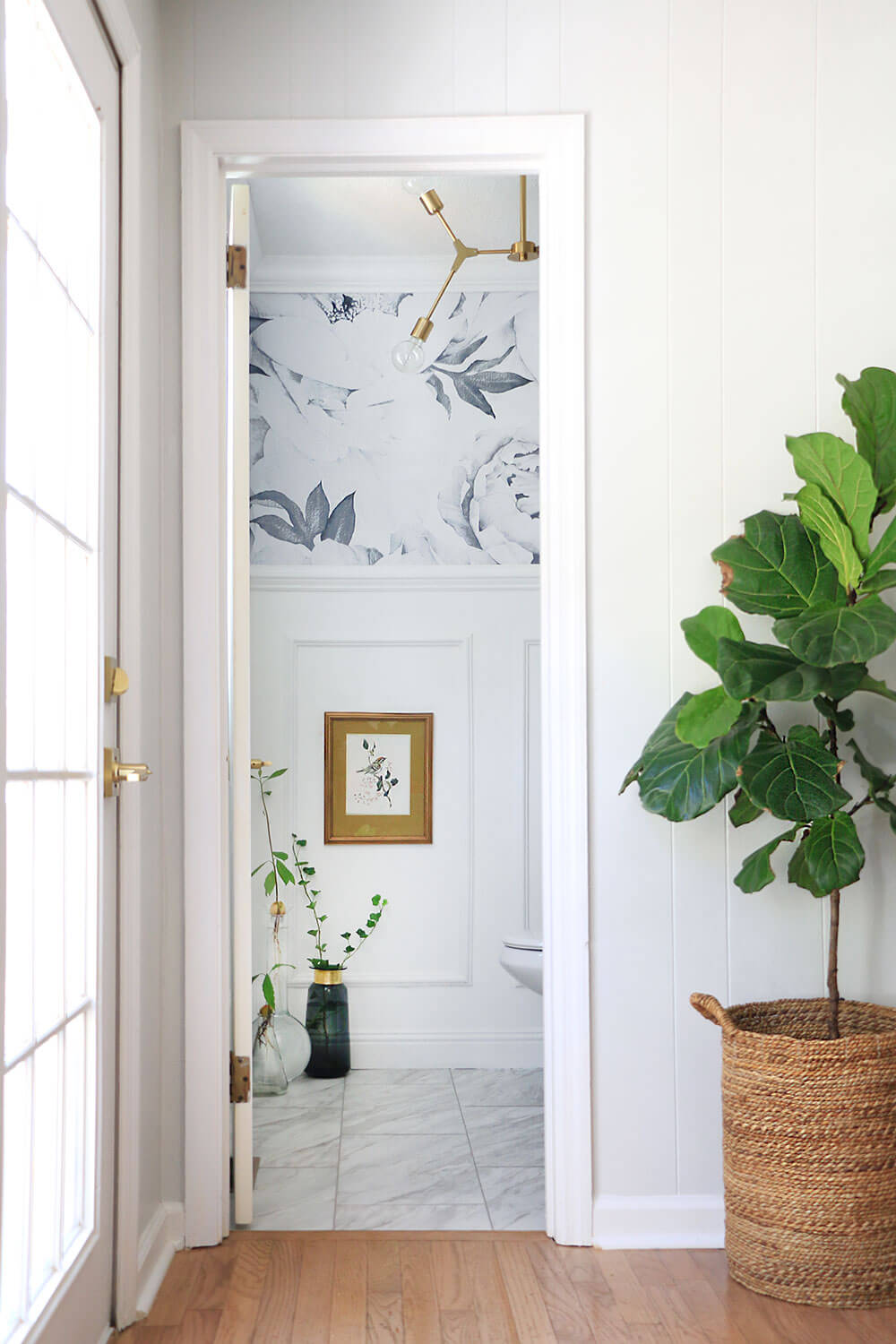 It's All In The Details
When a person walks into a space, they take in the overall affect. But when decorating a space, it's allllllll about the details! And honestly, it's the details that I love in here.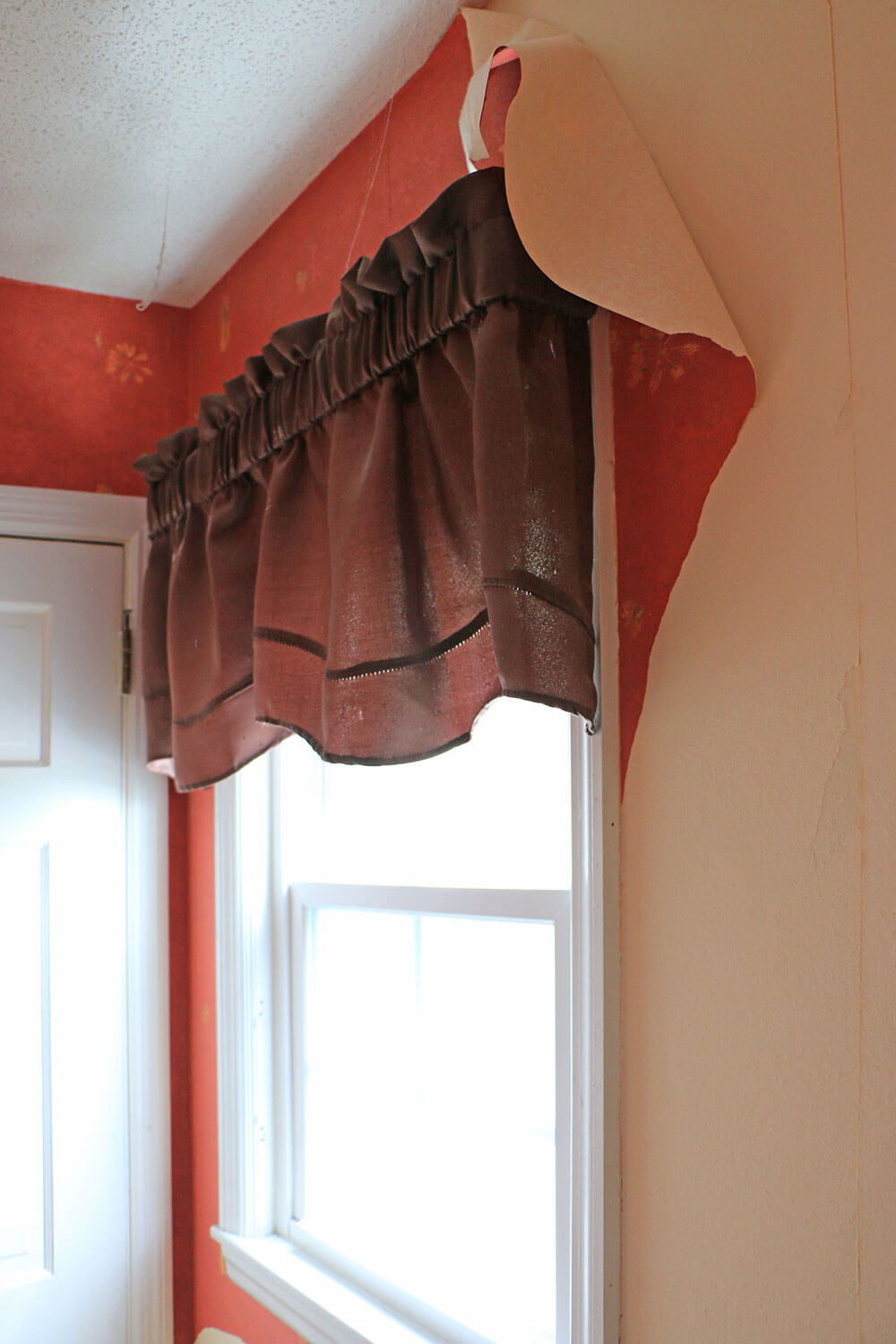 No one looks twice at the switch plate, or the acrylic bar and gold sprayed rings that hold up the DIY cafe curtains. But it is the details that I think makes a space. Those are the things I notice and appreciate myself.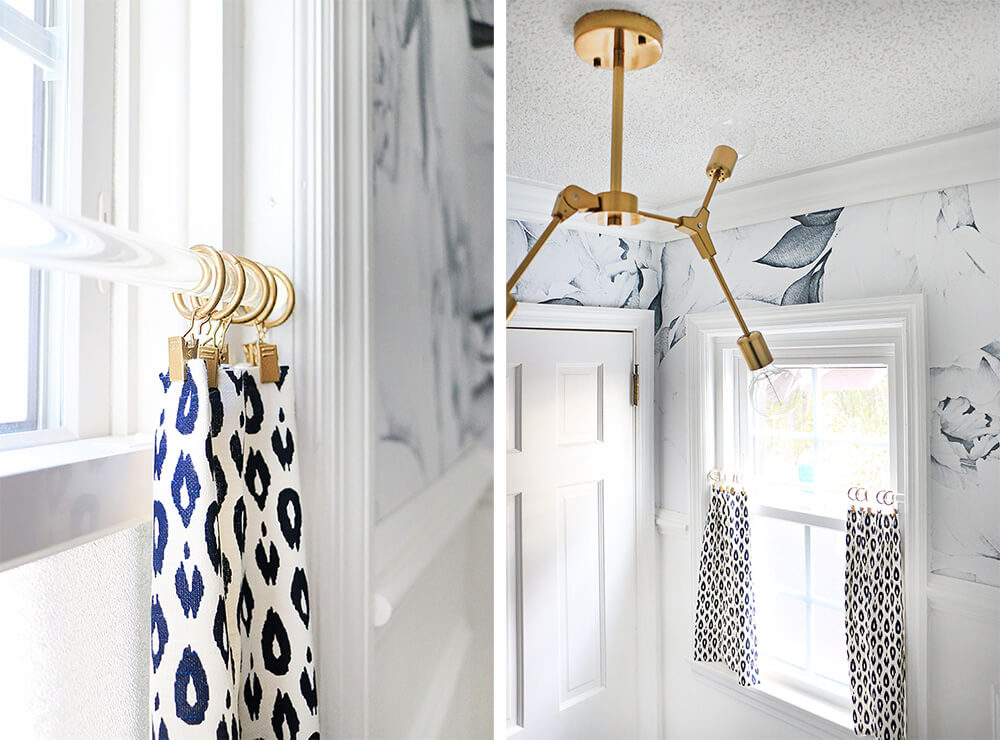 A Budget Friendly Makeover
My goal was not to spend over $800 on this makeover. I failed and spent $1k… The item that took it over the top was the wallpaper, which took half my budget at $400. If I hadn't gone with wallpaper I would have come in well under budget.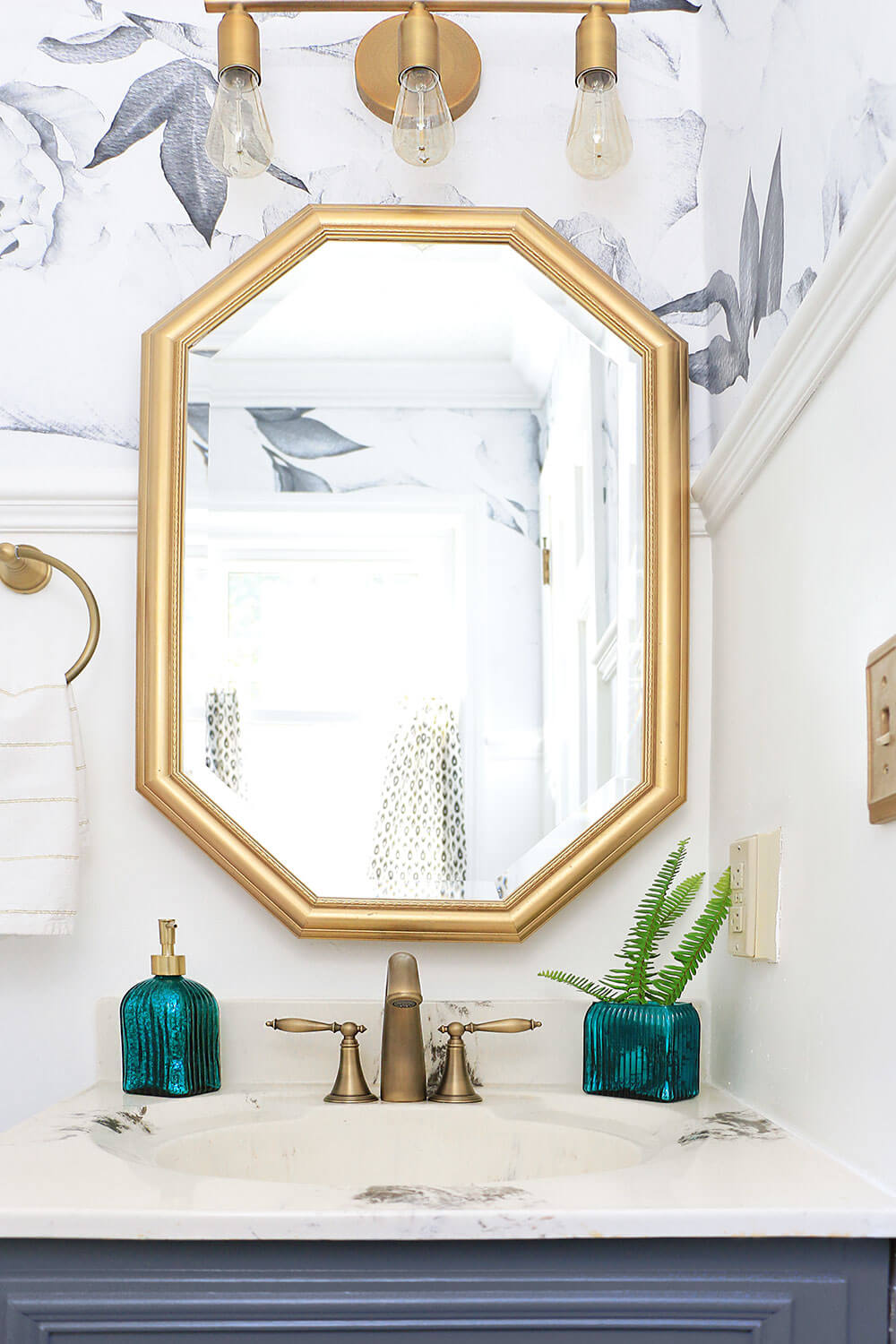 If I hadn't sprung for the wallpaper, there wouldn't have been that wow factor I was looking for. So in my estimation, it was worth it! To help keep the budget down, I ordered only half sized wallpaper. Otherwise wallpaper for this room alone would have blown my budget at $800. Wow, good wallpaper is NOT cheap! That was part of my motivation to add chair rail and molding to the bottom half of the bathroom. Gotta keep those costs down baby!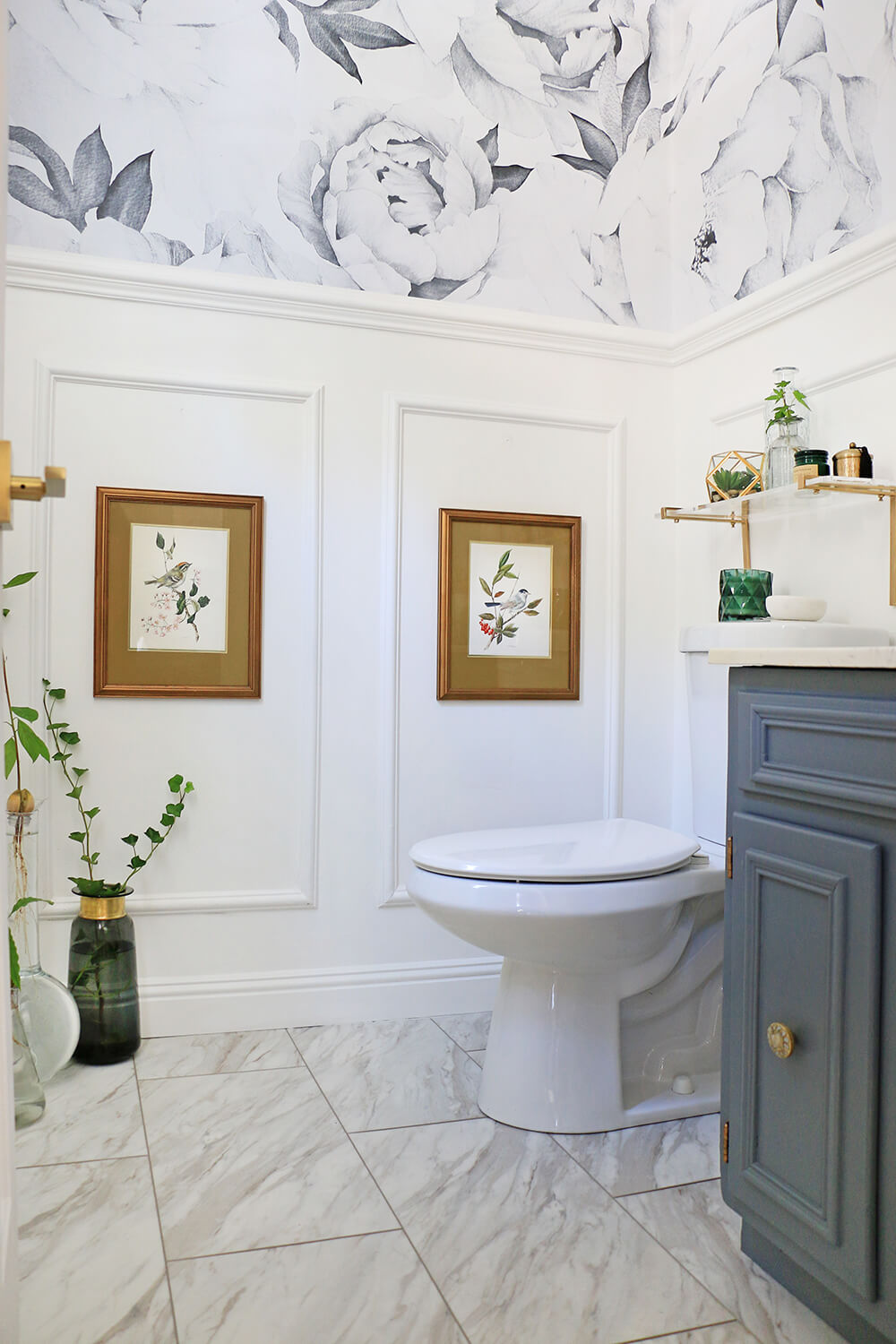 To save money, I went with a luxury laminate tile. Thankfully, these days laminate looks as good as the real stuff! I compared this tile side-by-side with some marble tiles I had been eyeing and shockingly they were pretty similar. Obviously still not the real deal, but nobody is going to look that closely at the floors.
Here is a breakdown of how much everything cost, and where I got it all (affiliate links below):
Wallpaper: Special order Peony wallpaper mural / Simple Shapes / $400
Molding, Chair Rail, Baseboards / Lowes / $130
Flooring / Lowes / $118
Ceiling Fixture / Amazon / $50
Vanity Fixture / Amazon / $75
Brass Faucet / Amazon / $50
Toilet Paper Holder + Towel Holder / Amazon / $13 + $15
Soap Pump + Toothbrush Holder + Wastebasket / Target / $10 + $12 + $20
Wall Art / Habitat for Humanity Restore / $20
Acrylic Shelf (spray painted gold) / Amazon / $38
Cafe Curtain + Acrylic Rod + Rings / Amazon / Fabric scraps from a past project  (Nate Berkus design, Jo-Ann Fabrics) / $20 + $13
Accessories: Candles and jars / World Market, Walmart, Thrift Stores / Already owned
Vanity Paint: DecoArt: Americana Decor Satin Enamels in 'Smoke Grey' / free sample already owned
Vanity Pulls / World Market / $7 ea
White Wall Paint: Behr Whisper White/ Home Depot / Already owned
Door Hardware / Schlage / Donated to me as part of my last One Room Challenge
>Pin For Later<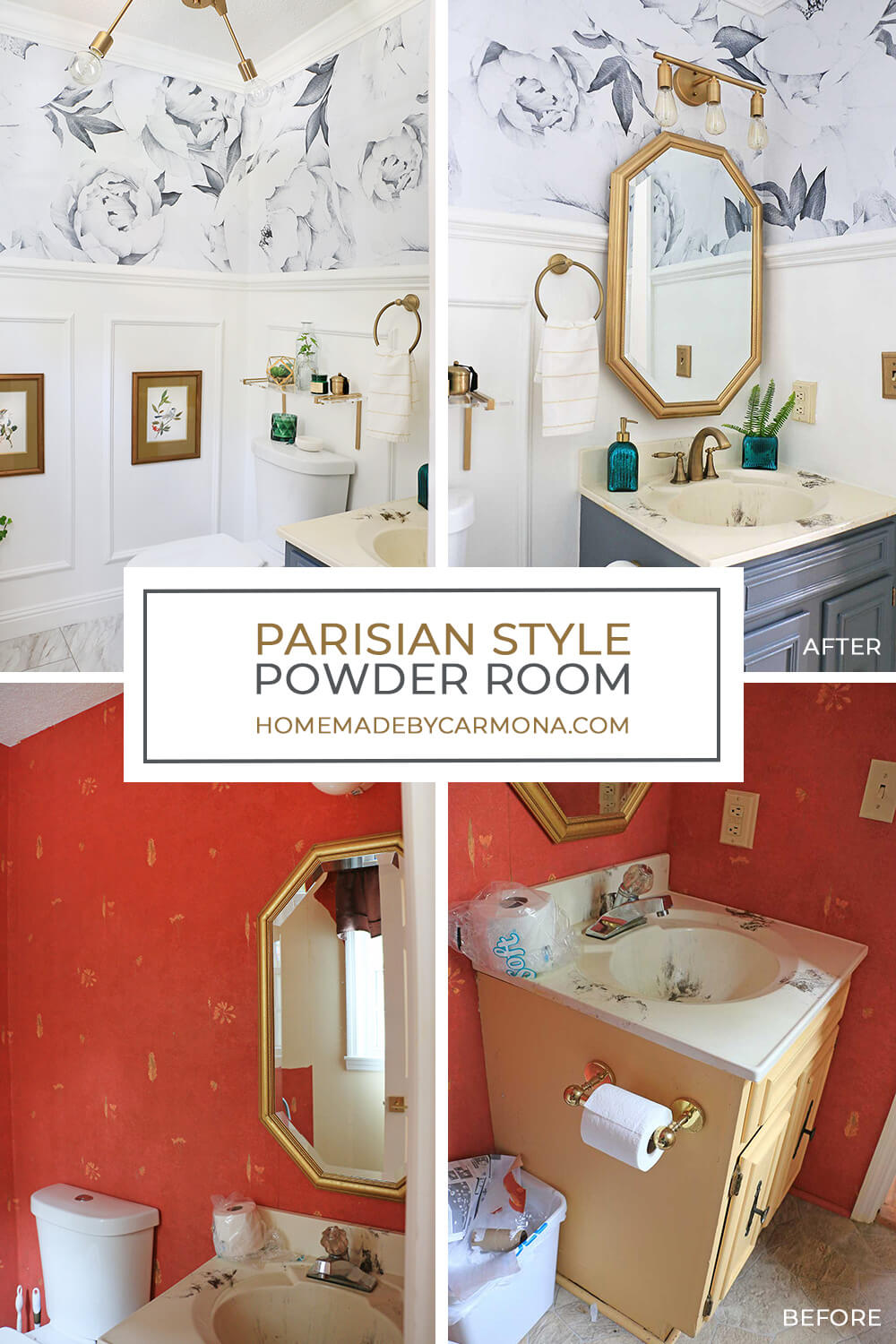 Wow, I can't believe this is it. The powder room is finished, and beautiful. See, this is why I participate in the One Room Challenge whenever I can… In just 6 short weeks you have the motivation and push to have an entirely new space.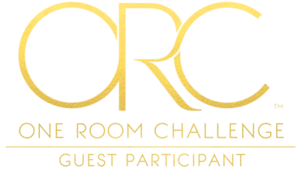 Now, in case you missed all the shenanigans (and details) that made this powder room come together, check previous posts here: