It is week 3 of the One Room Challenge, and I've finally started work on my powder room. Sure, wait until the ORC is halfway over before even getting started…yeah, that seems totally sane.
In case you missed it, I shared the full before and backstory in week 1, and my inspiration for the powder room in week 2.
The Modern Parisian Powder Room Moodboard
On the bright side, I have formulated a plan! I want to embrace some of the existing elements in the space, like the style of the vanity and mirror, and build from there. So I'm thinking a 'Modern Parisian' style powder room might just be the ticket.
While sourcing items for this powder room, these are a few of the items that caught my eye. Will I end up purchasing each of these? No, I don't need 3 light fixtures, or a new vanity and mirror. But these are the things that inspire the whole look altogether…my inspiration / moodboard if you will.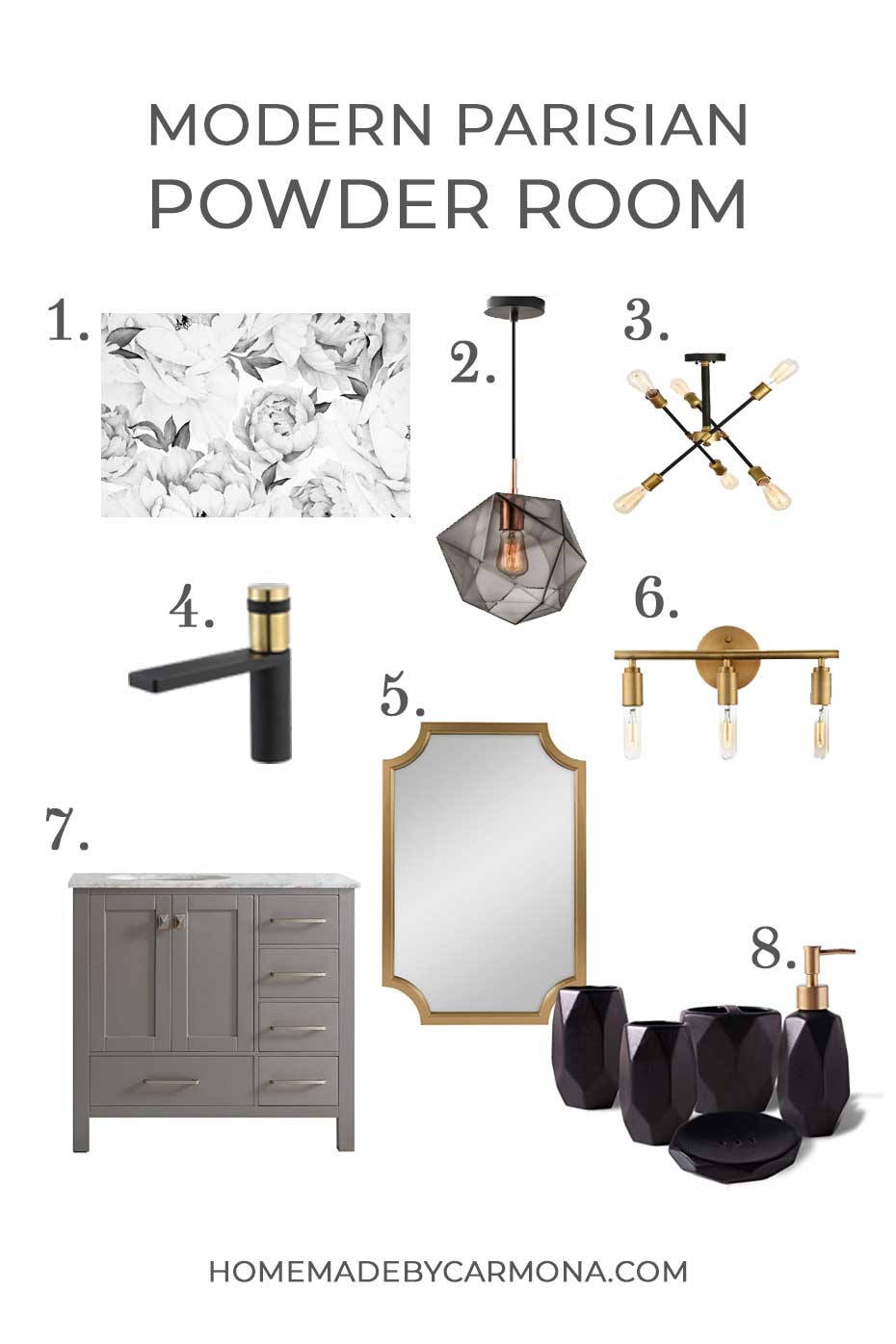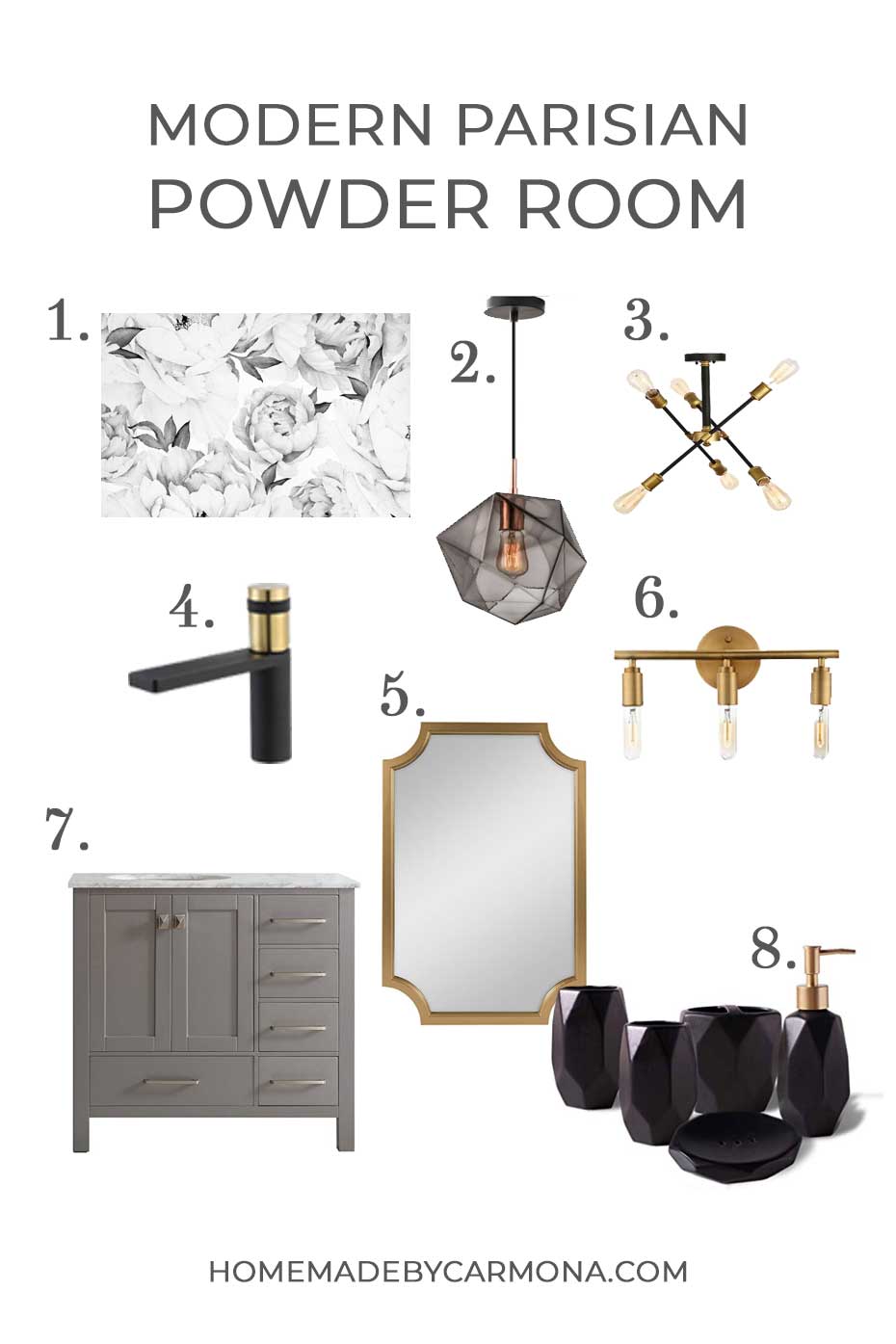 So It Hasn't Come That Far…But Still!
Just to remind you of what it has looked like a year ago, before my kiddo half peeled the old red wallpaper to be 'helpful' randomly one day. Without asking first. Well before I was ready for all that. *head smack* No but honestly, she really is quite helpful…and to be fair, she is the one who finished peeling the rest of this wallpaper.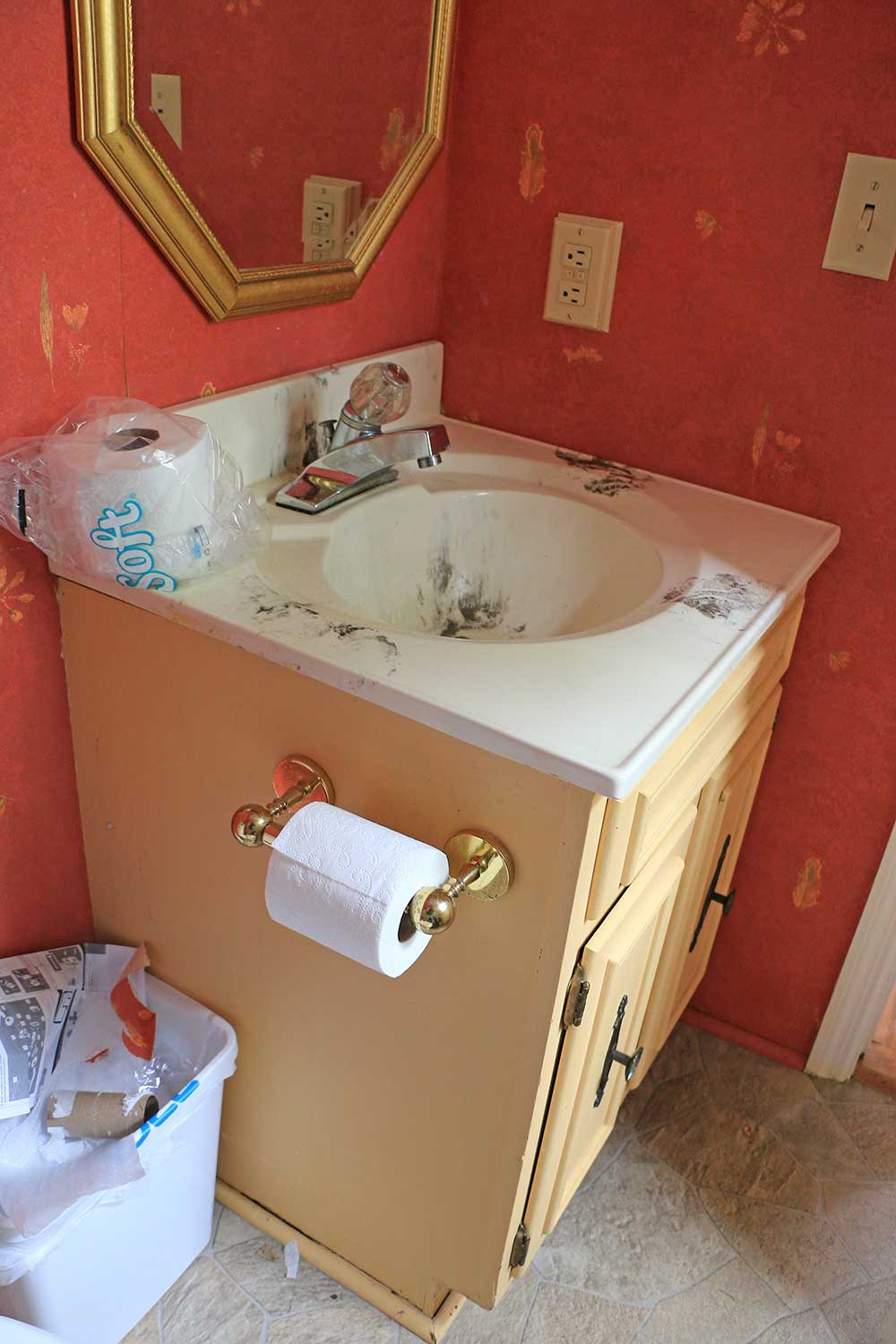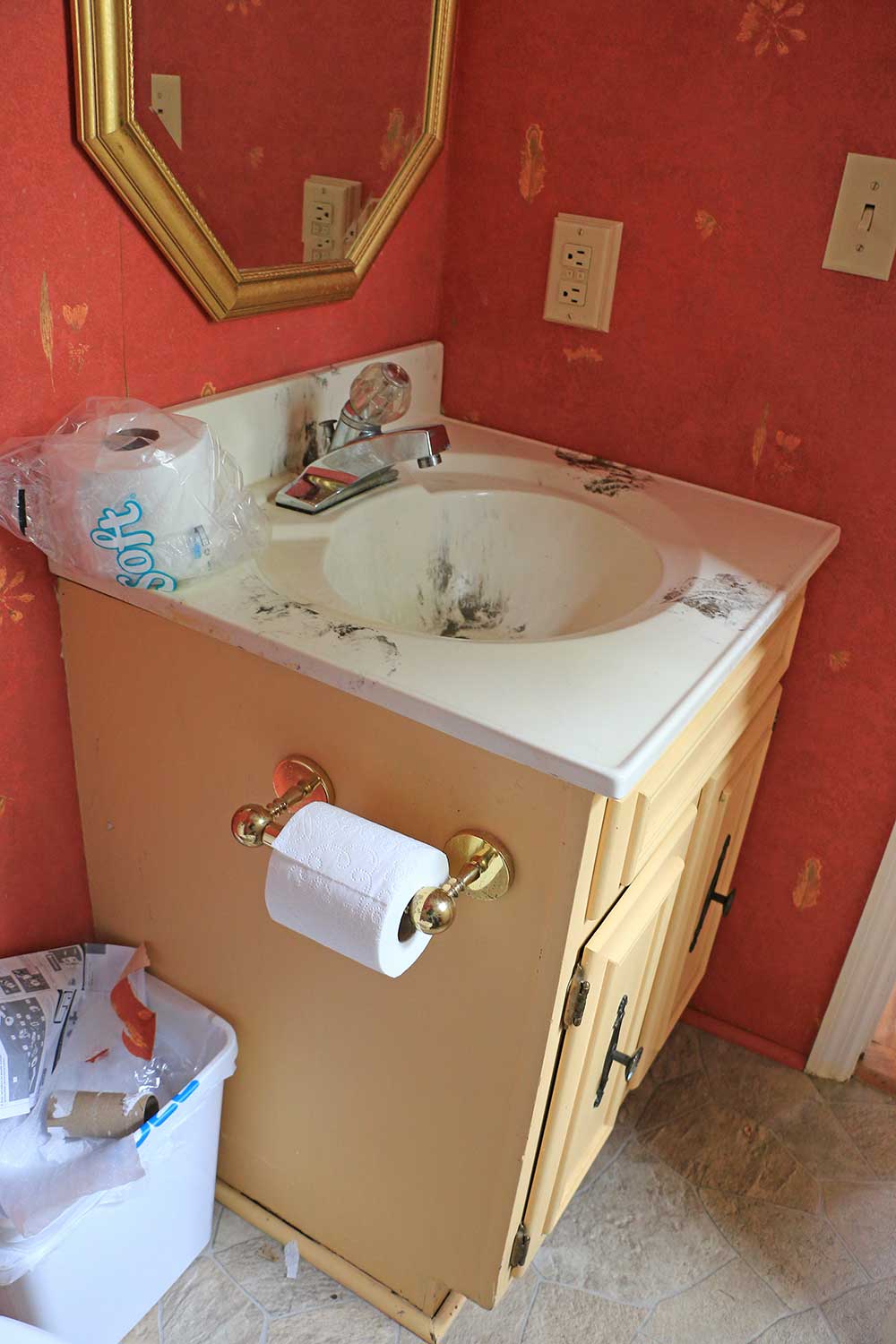 And this is it without the red wallpaper. I wish I could tell you I staged this bathroom with a filled trash bin, and an empty roll of toilet paper, and no place to put a hand towel. You know, just to make it look a little worse than it is for the big makeover. Sadly, I did not. This is just how it looks on the regular. That's gonna have to change ya'all…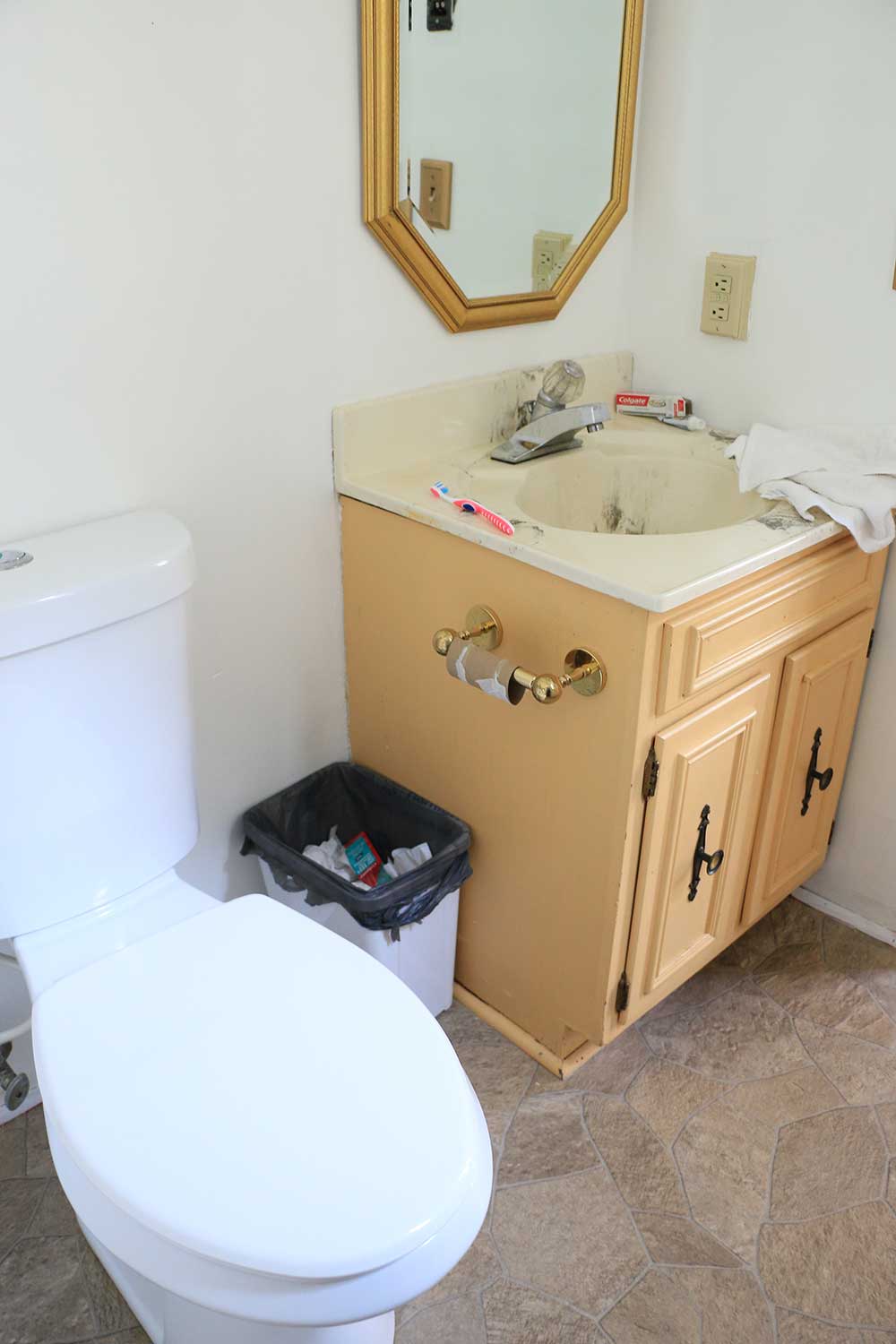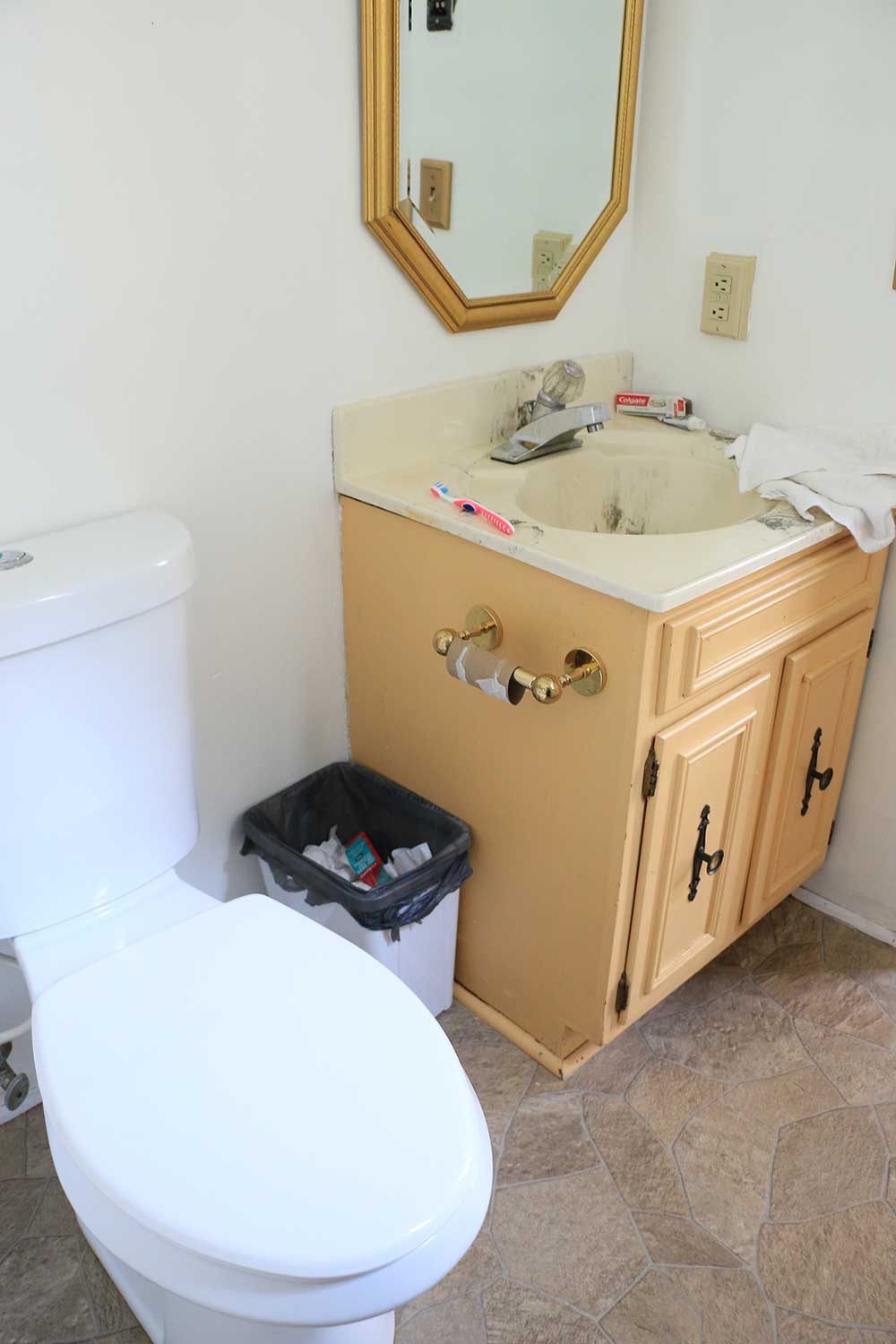 On the other hand, now that the red wallpaper is down, I'm actually enjoying the cute details existing in this room. Kudos to the previous owners for the adorable little vanity, beautiful mirror, and cute toilet paper holder. I just wish they had taken it the rest of the way with a nicer faucet. I don't know what the deal is with that old ugly thing, or the flooring (blegh) but it's got to go.
Progress So Far…Or The Lack Thereof
So far I've purchased the wallpaper, and put up all of three sheets. Because 1. I'm sick as a dog this week. 2. Last week I was spending time with my family who is visiting from California 3. Next week is High Point Market which will be a multi-day event for me and my parents… This is not going well ya'all. On the bright side, my parents are high energy DIY'ers, so I might need to take advantage of that while they are here.
I will say, putting up those 3 sheets on a normal 'non-flu' day would have been a breeze! You have to get that first sheet exactly level, otherwise you'll have a full line of slanted paper, and the slant will worsen as you go. But once you get that first sheet up, it's fairly easy to line up the rest of the sheets. I LOVE the peel and stick…it makes it pretty fool proof in case you need to stick it on a few times to get it just right!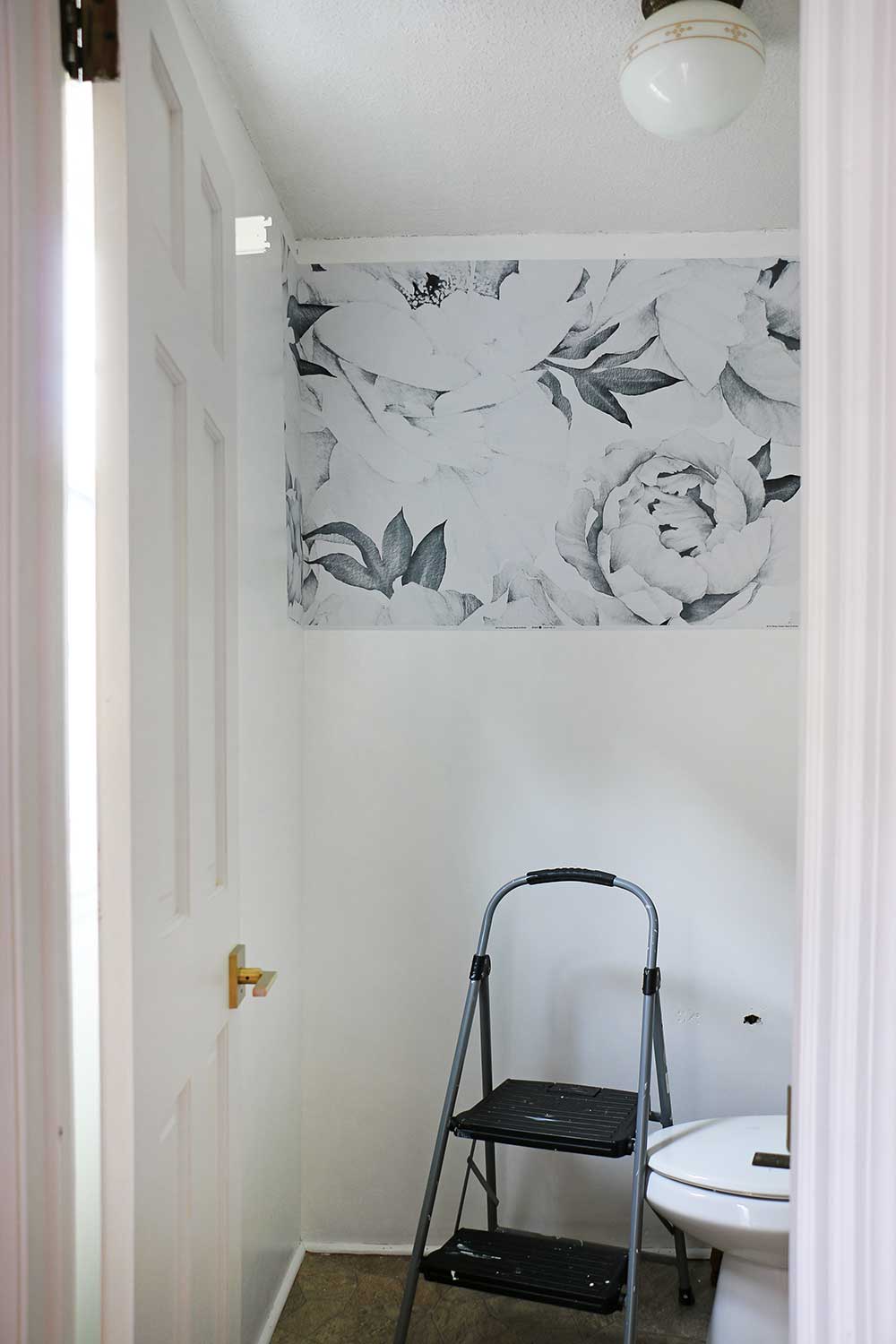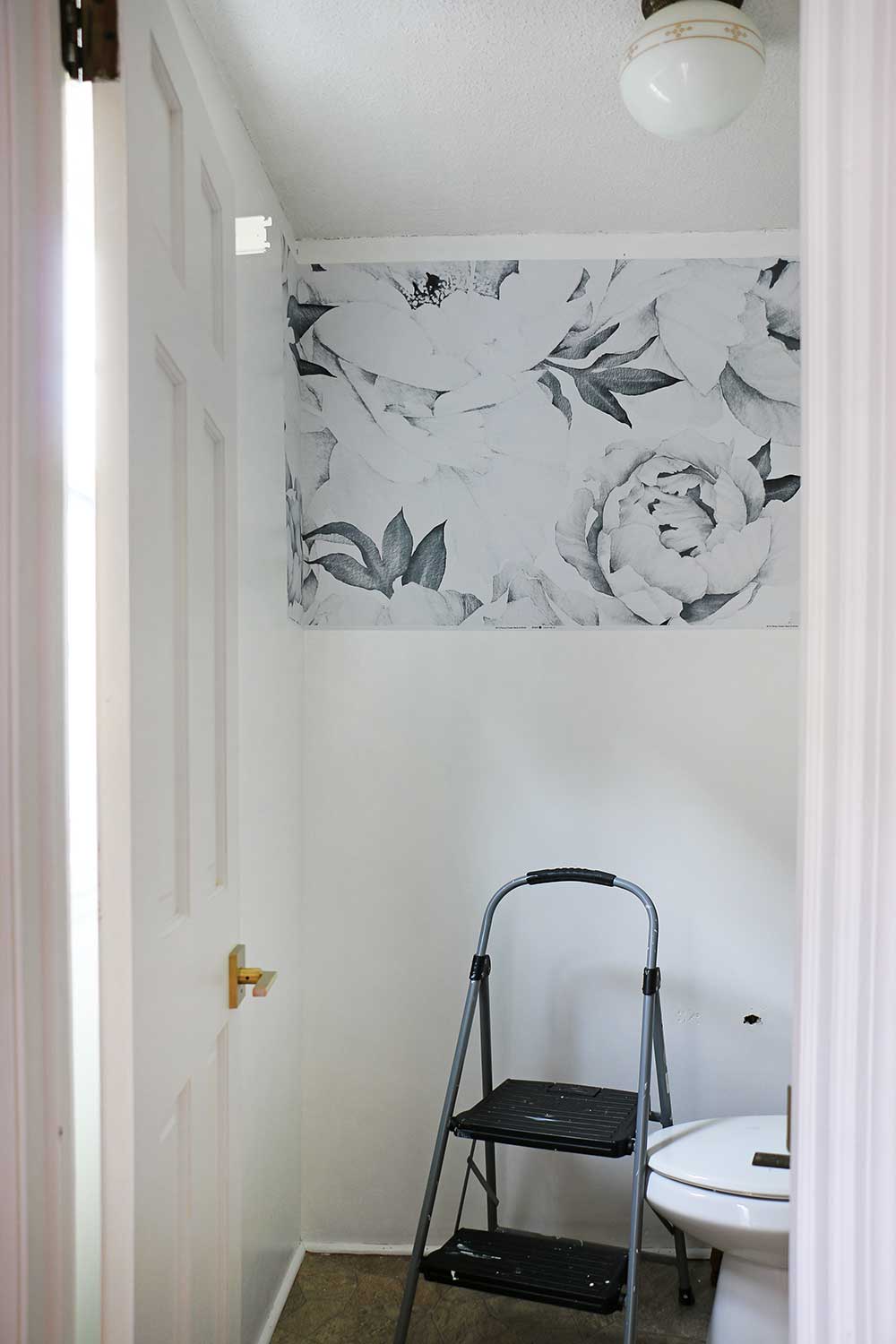 In case you are wondering, I opted to go with some chair rail and a bit of architectural detail at the bottom half of the wall to help save money.
Today or tomorrow I have a few options for lighting arriving, and I'll be sharing those possible options via my Instagram Stories. So please follow me there and help weigh in with your opinion on what looks better!
[left]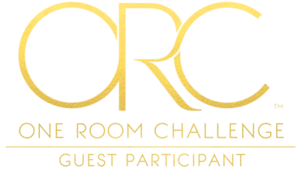 [/left]
[right] Have you taken a peek at my past One Room Challenge projects?
[/right]