Welcome to Carmona Acres! The garden and outdoor spaces on my 16-acre property…
Our outdoor spaces should be an extension of our indoor spaces and receive just as much attention!
---
I'm Ursula! Gardening in Zone 7b of North Carolina
Follow @CarmonaAcres here on the blog and via social media. This is where you'll find tons of tips, how-to's, plus photos and video of the garden and greenhouse!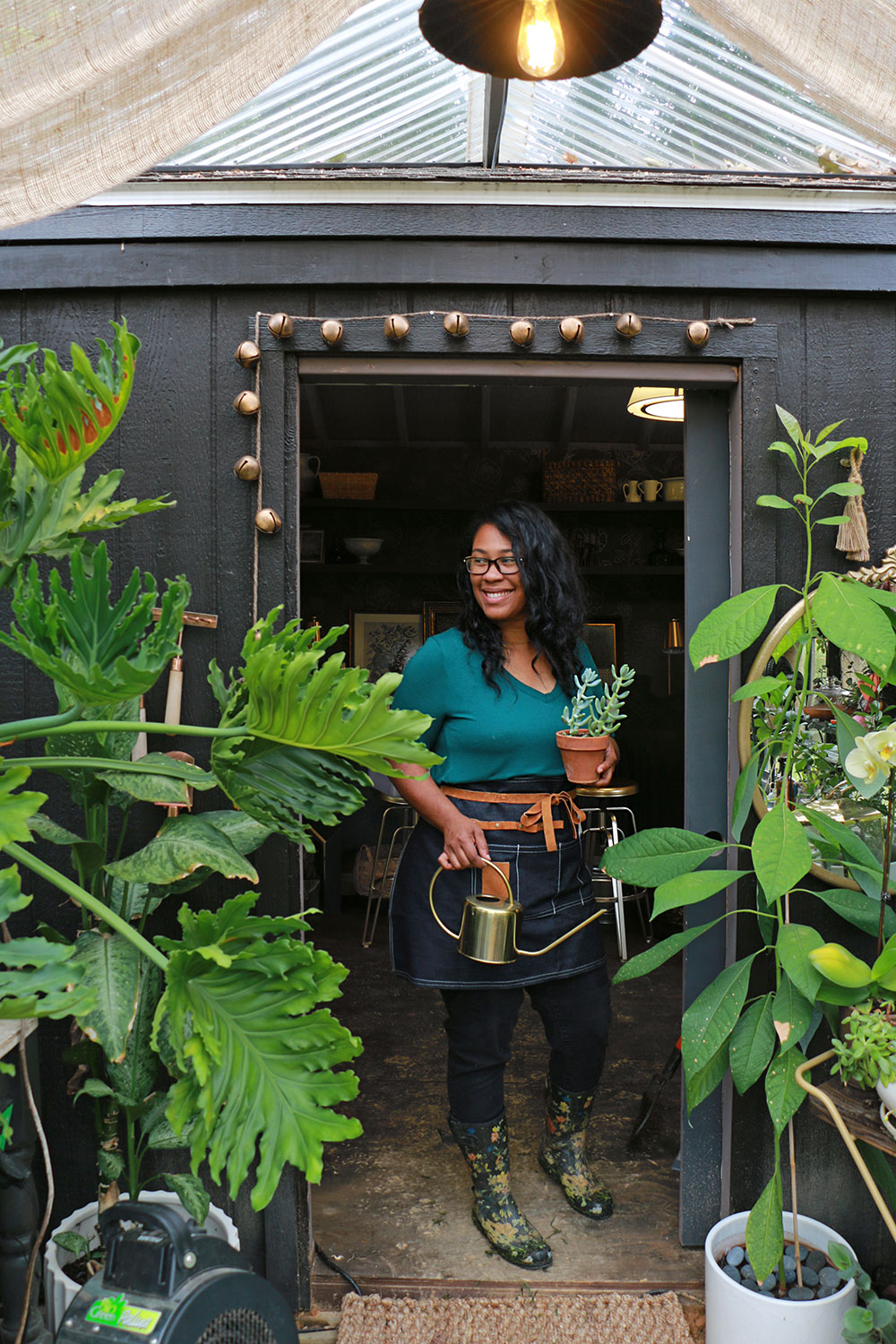 The DIY Greenhouse
The greenhouse is one of my favorite DIY projects to date! It was built using old salvaged windows, and it is a great way to grow year-round. This is where I start my seedlings, and overwinter plants.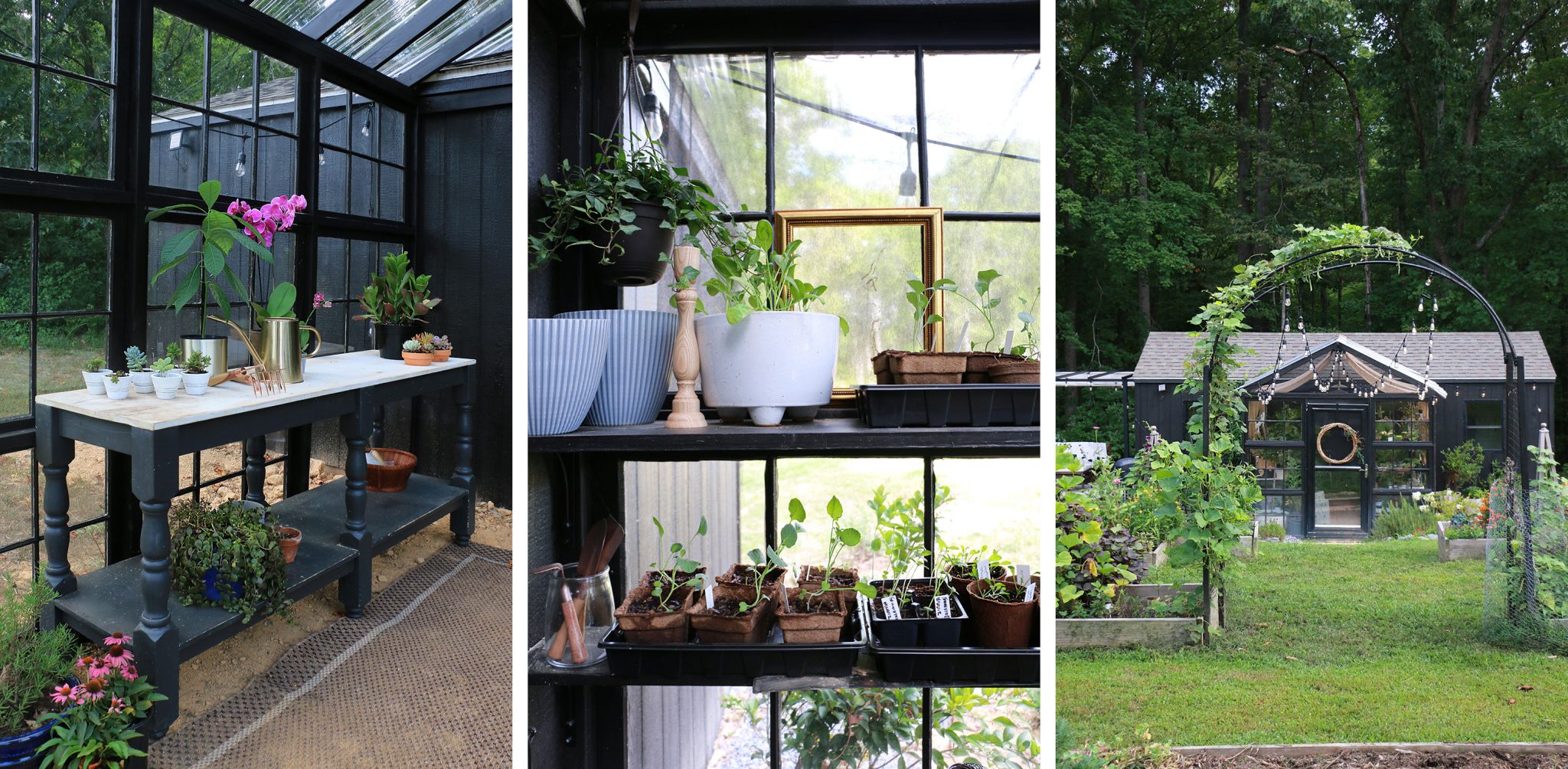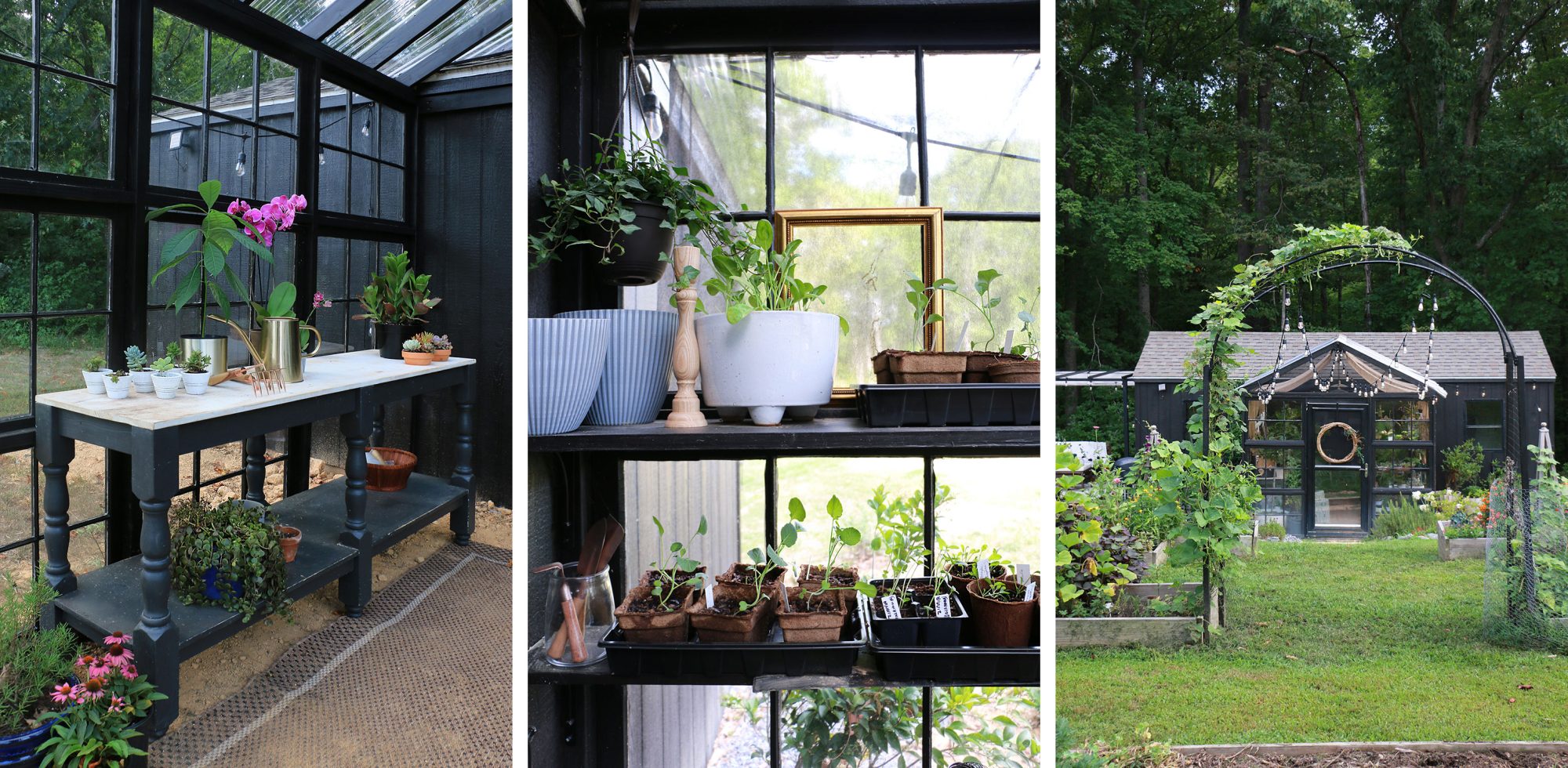 Tap To Shop The Greenhouse

Click the links or titles to shop! Affiliate links below:

Stackable Shoe Box

Seed Cups + Domes

Grow Lights

Fan with Clamp

Greenhouse Heater & Fan

Seed Storage Bins

Shop The Greenhouse:

Seed Starting, Heating, & Cooling: Greenhouse Heater | Greenhouse Exhaust Fan (with timer)| Shelf Clamp Fans | Stackable Shoe Boxes (aka Seedling houses) | Grow Lights | Seedling Heating Mat | Waterproofing Extension Cord Box | Waterproof Extension Cord Cover | Microgreen / Seedling Flats (14.5″x9″ trays) | Seedling Trays (6 cell) | Seedling Trays (12 cell) | Full Seed Starter Kit | Plain White Garden Markers | Outdoor Digital Plug Timer | 10 gallon Grow Bag | 15 Gallon Grow Bag |

Greenhouse Construction: Tutorial + Full List | Black Exterior Paint | Lumber (Walls) | Polycarbonate Roofing | Polycarbonate Roof Ridge |

Greenhouse Décor & Tools: Burlap Shade Cloth | Rolling Serving Cart | Ceiling Lights -Café Pendants |

Harvest Baskets: Black Round Rattan Shallow Baskets |
The Vegetable Garden
While my goal is to turn the entire property into a botanical garden of sorts, there is one particular area where I grow fruits and vegetables… I built raised garden beds, and no-dig beds right in front of the greenhouse/shed, and this is the area where I grow food and herbs year-round!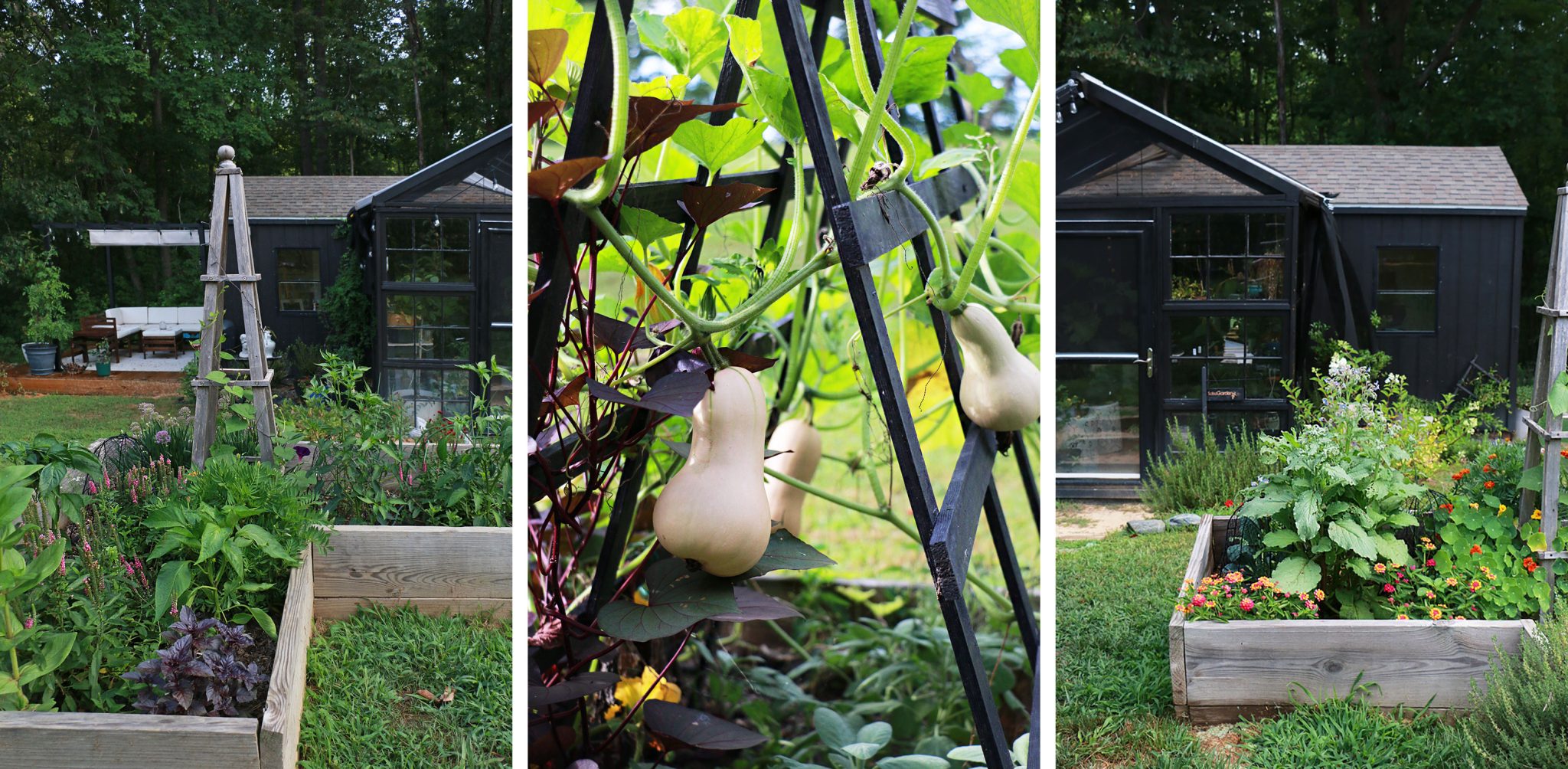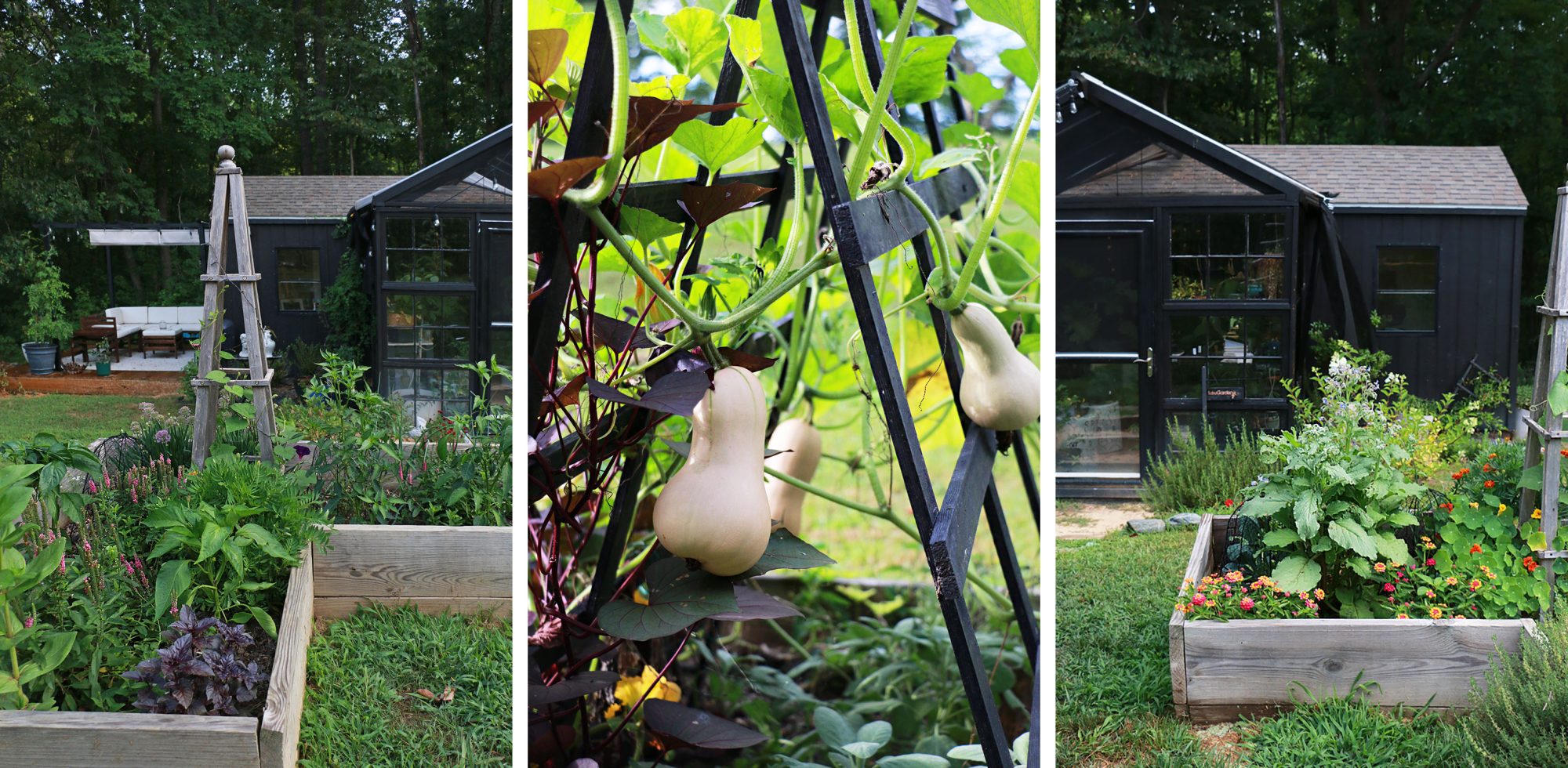 The Potting Shed / Garden House
The Potting Shed is also known as the Garden House or my She Shed and it was a huge DIY project. This serves as a lovely escape, but also an extension of the greenhouse. I pot up plants here, start seeds, and store garden tools and supplies here.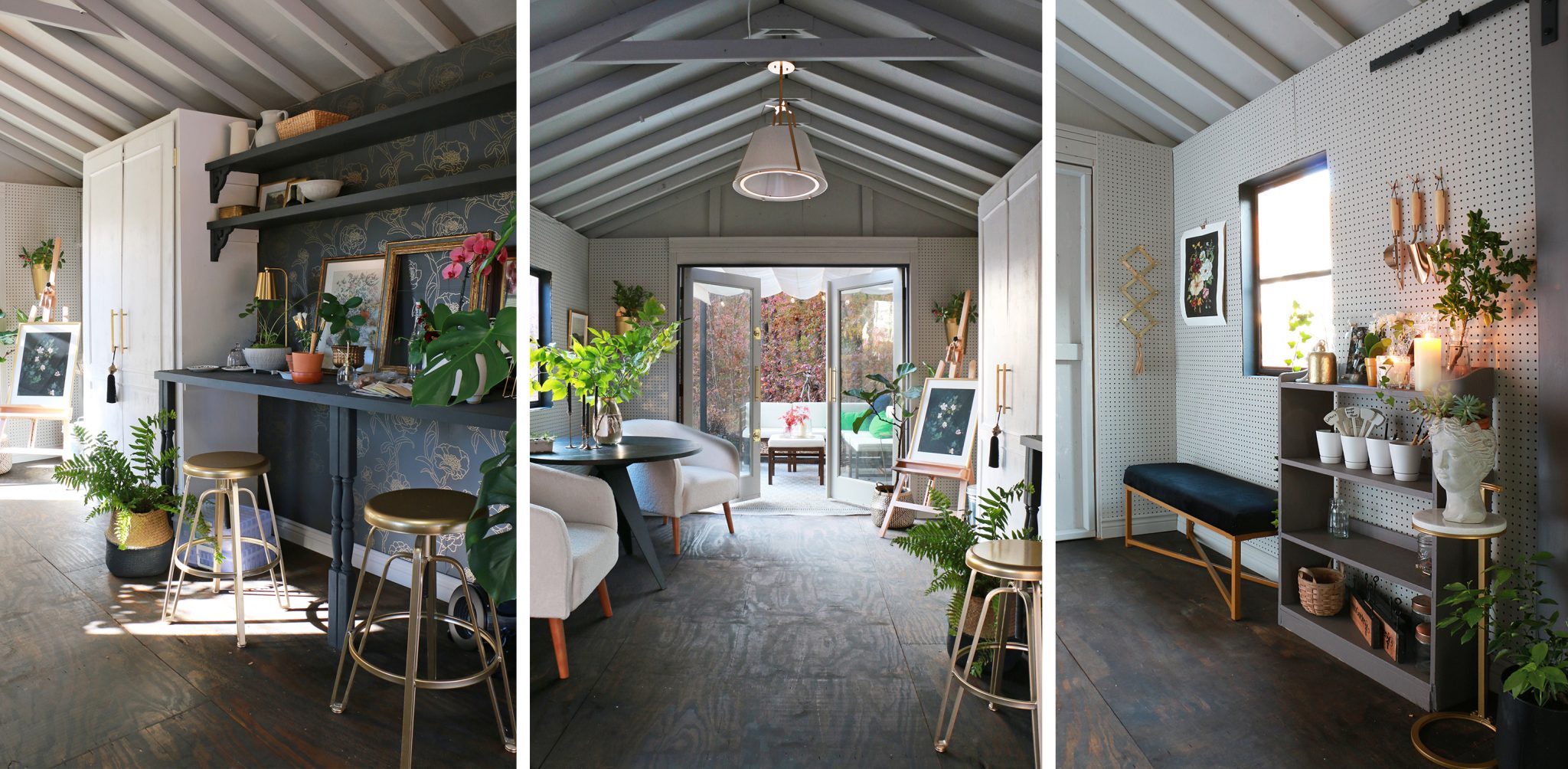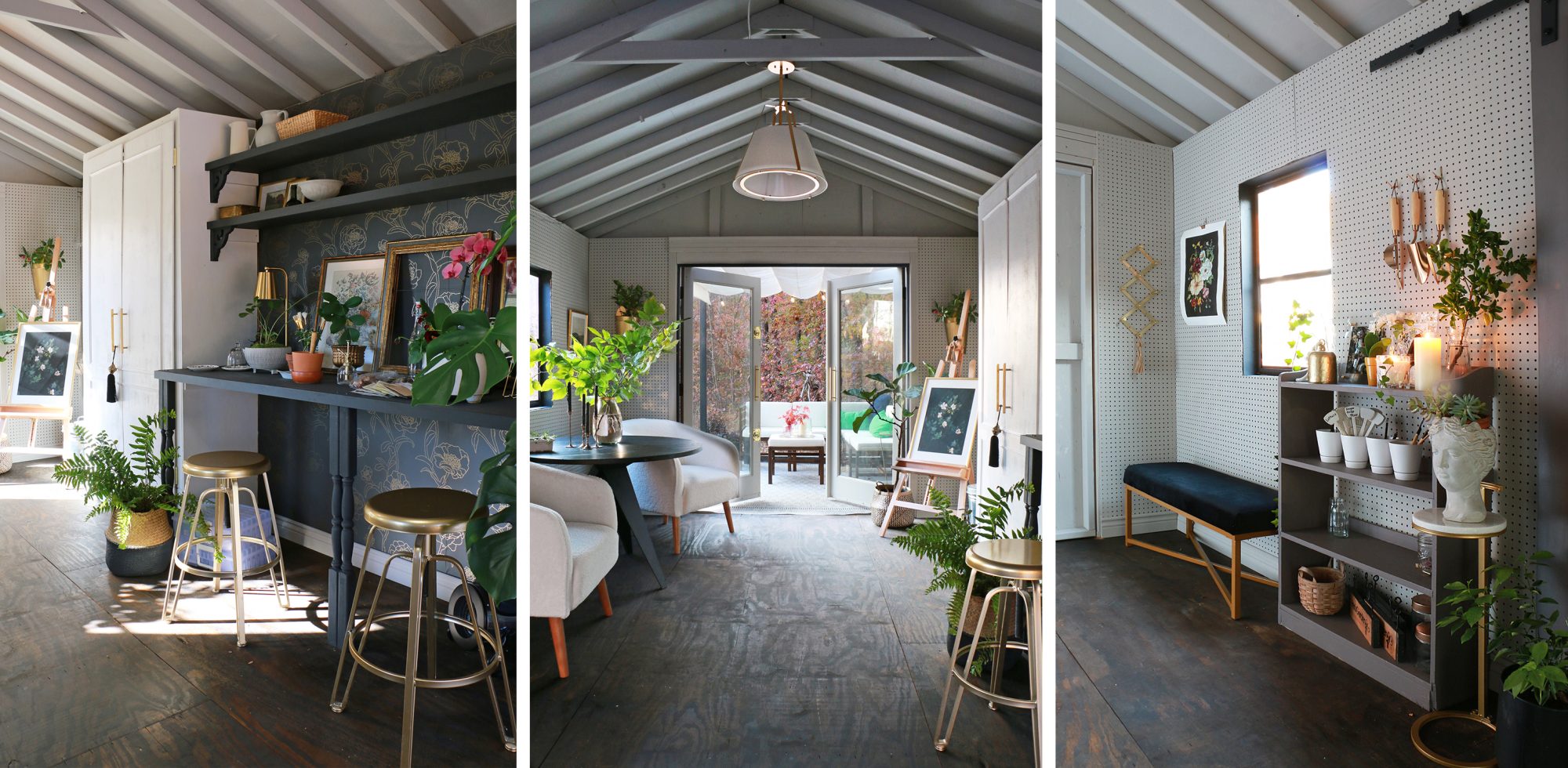 Tap To Shop The Shed

Click the links or titles to shop! Affiliate links below:

Wall Pocket Vase

Outdoor Sectional

Gold Swivel Stools

Gold Garden Tool Set

Seed Storage Bin

Gardening Supplies & Storage: Seed Organizer | Label Maker + Clear Labels| Seed Packets | Gold Garden Hand Tool Set | Greenhouse Heater | Copper Garden Tags

Shed Décor & Accessories: Peony Wallpaper | Gold Pendants (Ceiling Light) | Sherpa Armchairs |
The Sunken Rose Garden
The Sunken Garden area originally started when I leveled the area to add an above ground pool. But we struggled to set up the enormous 40 ft. pool, and eventually gave up. So I turned this tiered area into an outdoor living and dining room surrounded by roses and other flowers! When you have lemons, make lemonade!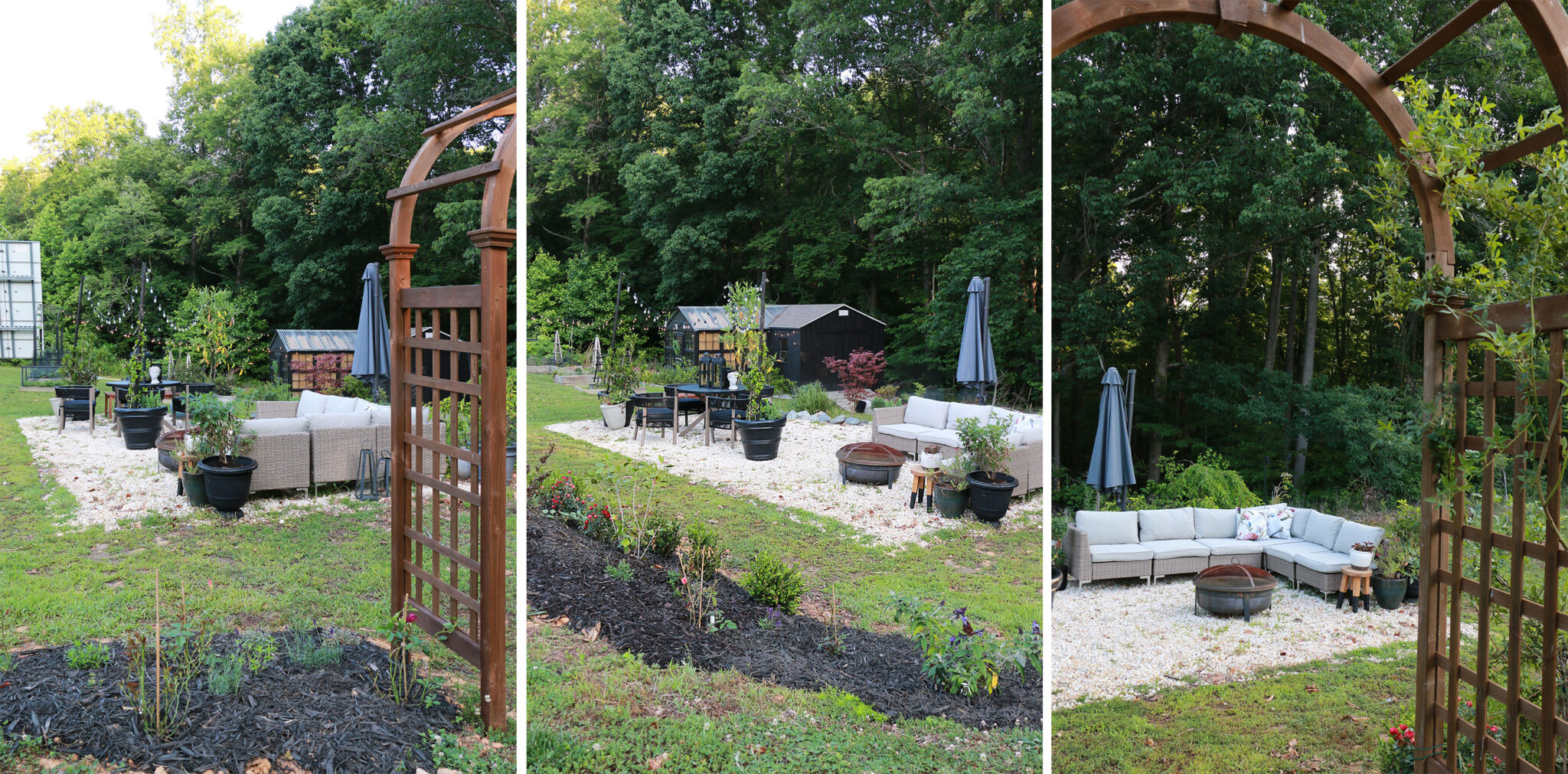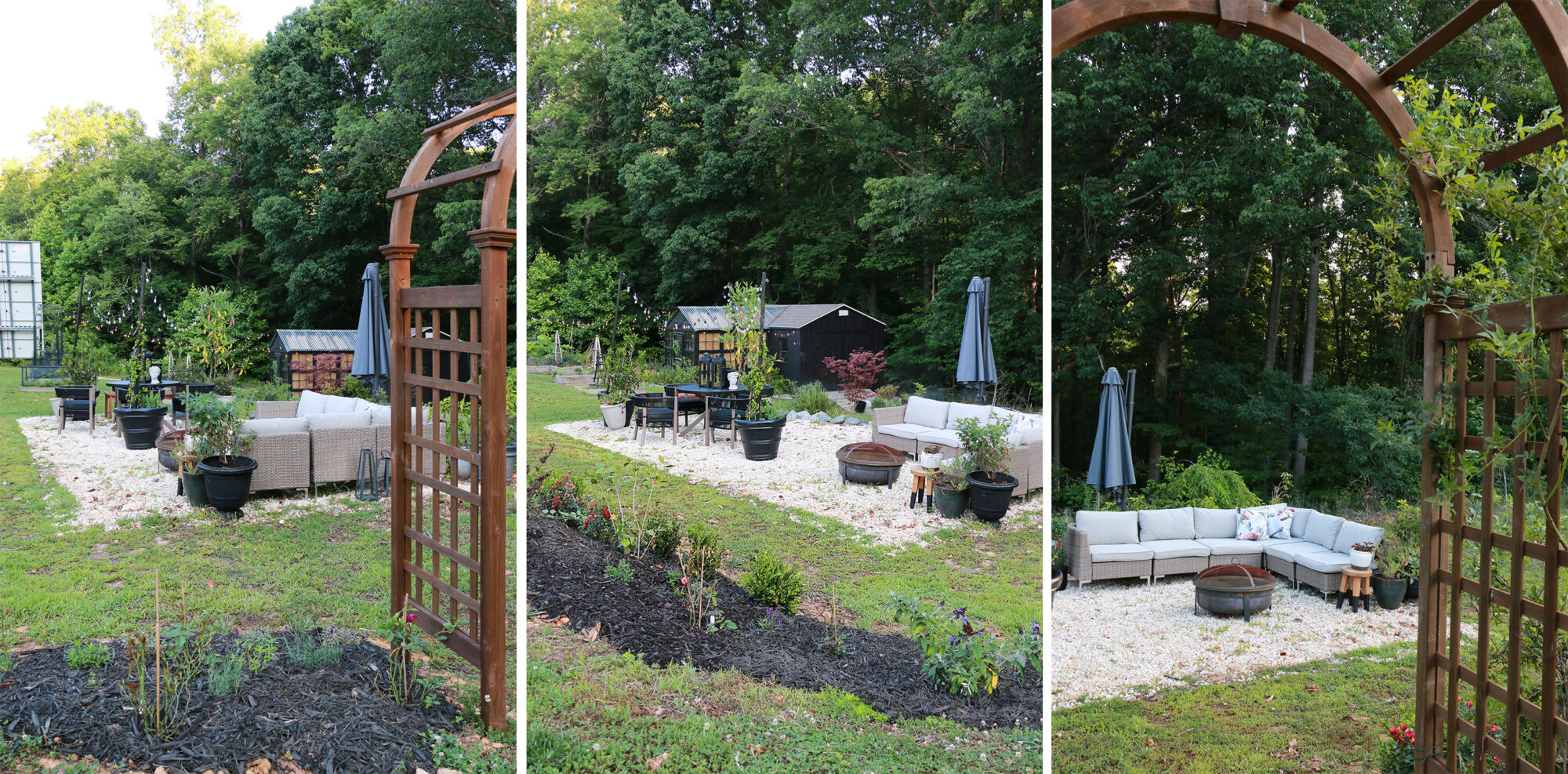 Tap To Shop The Sunken Garden
Outdoor Living Areas
There are quite a few little outdoor living areas around my yard… whether it is a full deck, a portico, or a garden bench, each of these spaces lend itself to enjoying our yard and garden!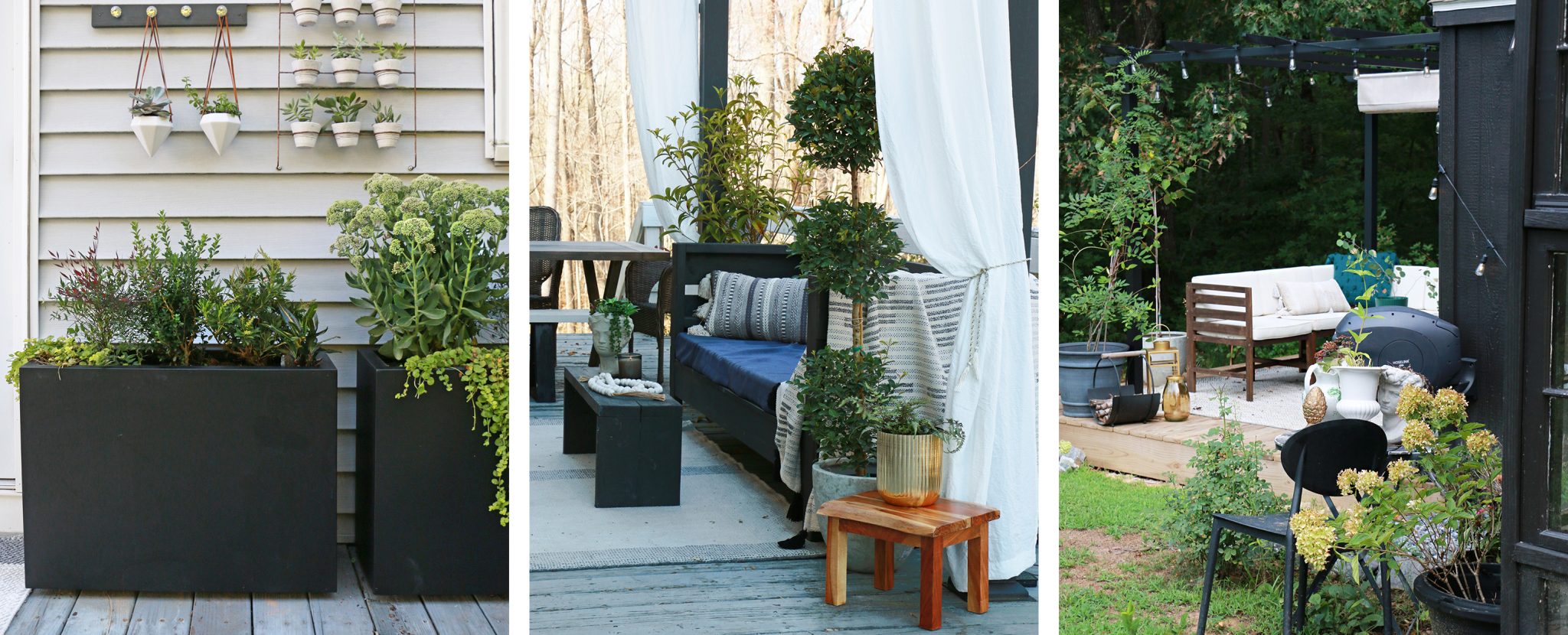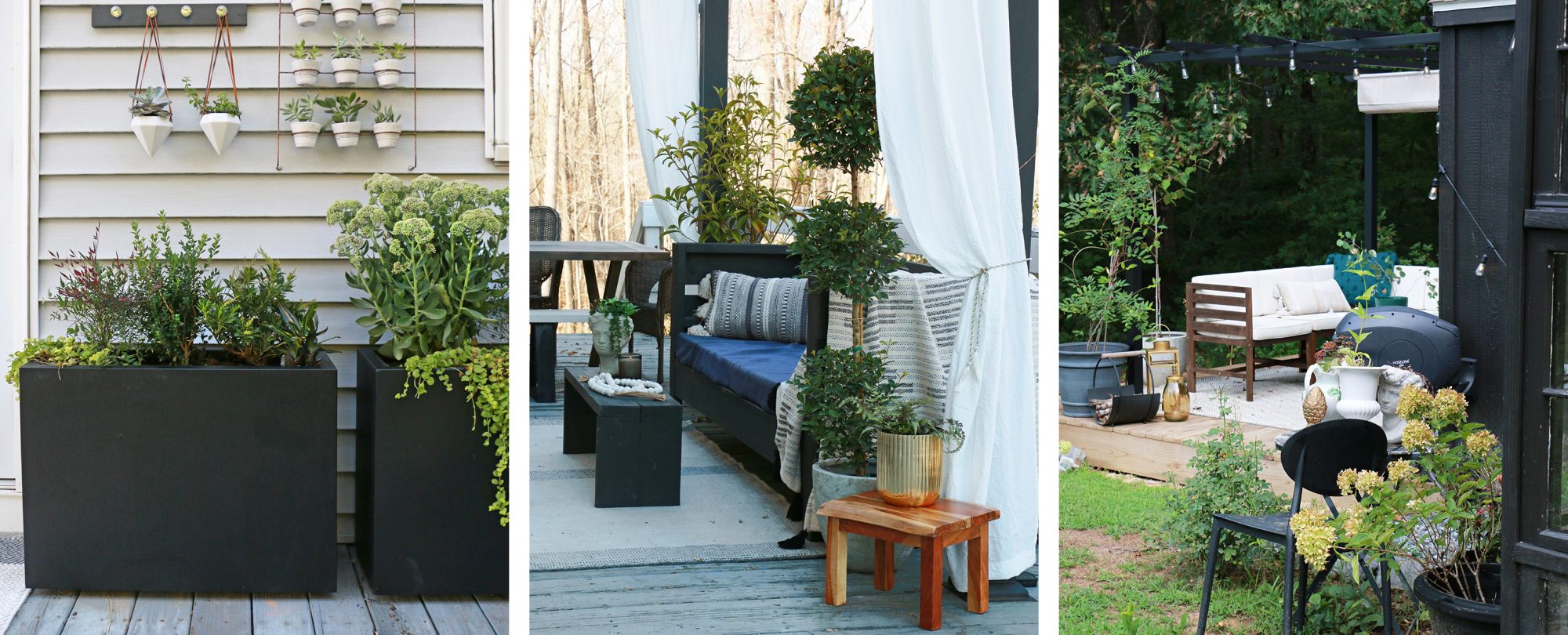 Tap To Shop Outdoor Living Areas
All Garden & Plant Related Posts
Don't forget to follow my gardening adventures over on @CarmonaAcres on Instagram!