I spend half the year being excited for spring! It is my favorite season, and it couldn't come a moment too soon. Then again, sometimes spring needs just a little help to add that perfect pop of color, or bring about some beautiful spring flowers.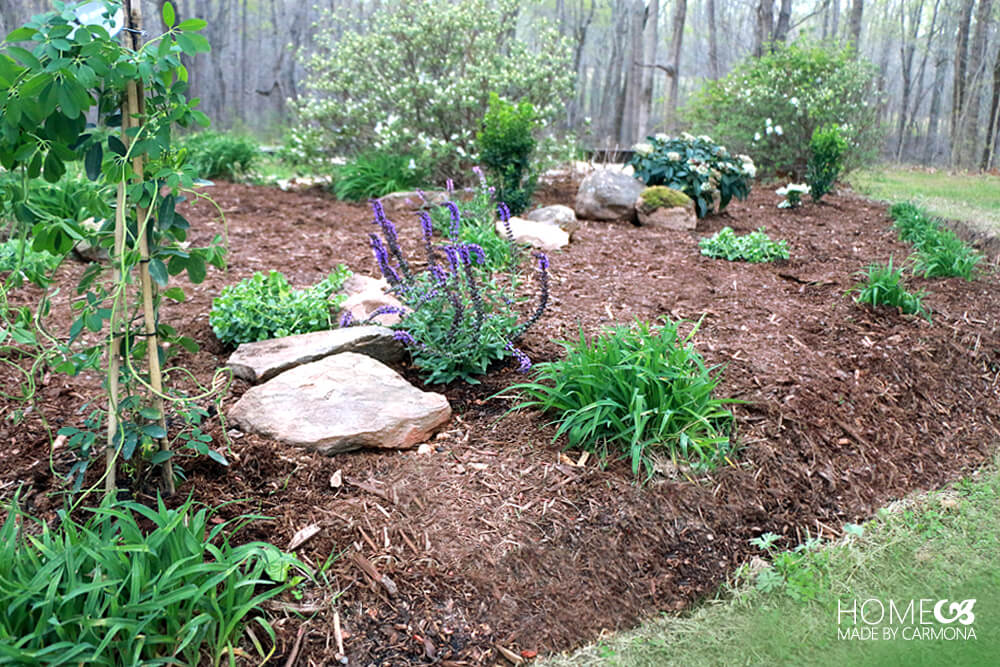 This was exactly the case with my sad little patch off my back deck. So far, all spring managed to produce in my patch was a slew of weeds, and a few spindly bushes and plants. Here's what it looked like just a day ago…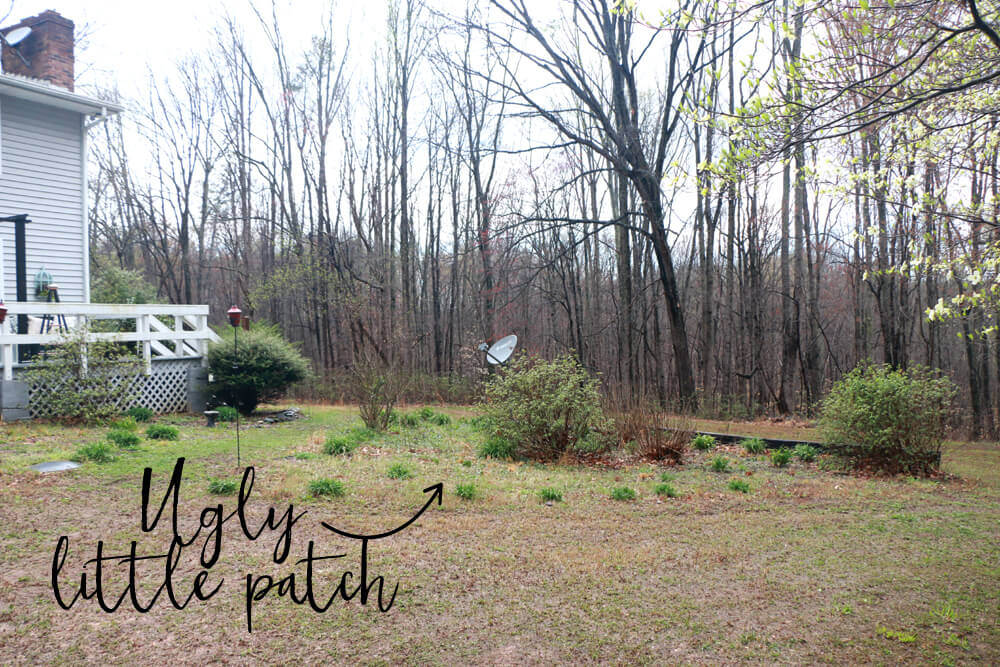 See what I mean? But today it is a beautiful and slightly wild spring garden! Big difference right? I have to say, my friends from Monrovia helped me pull off an amazing little outdoor space!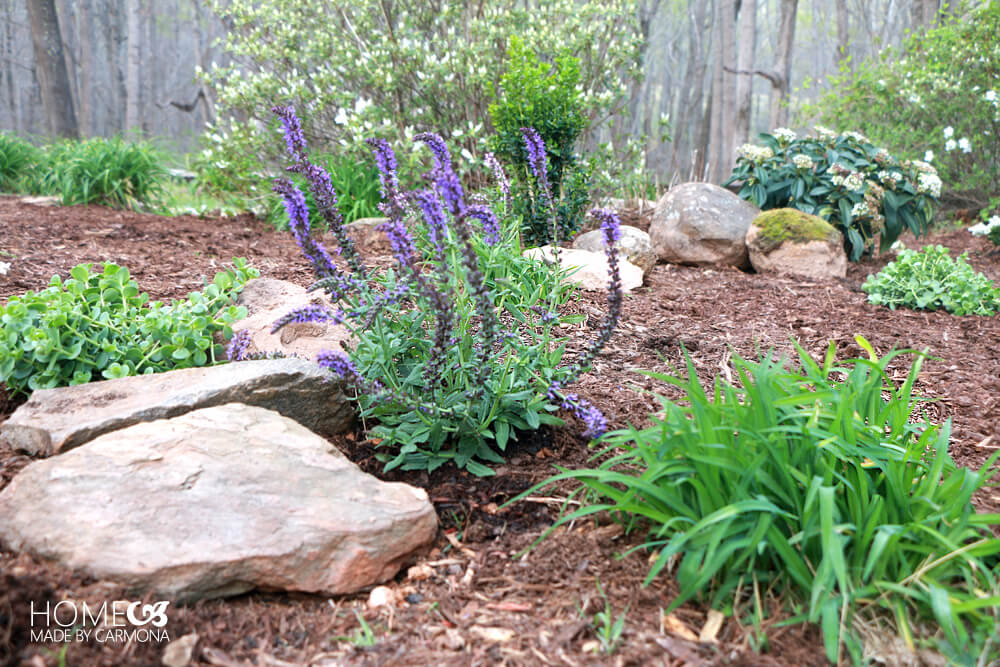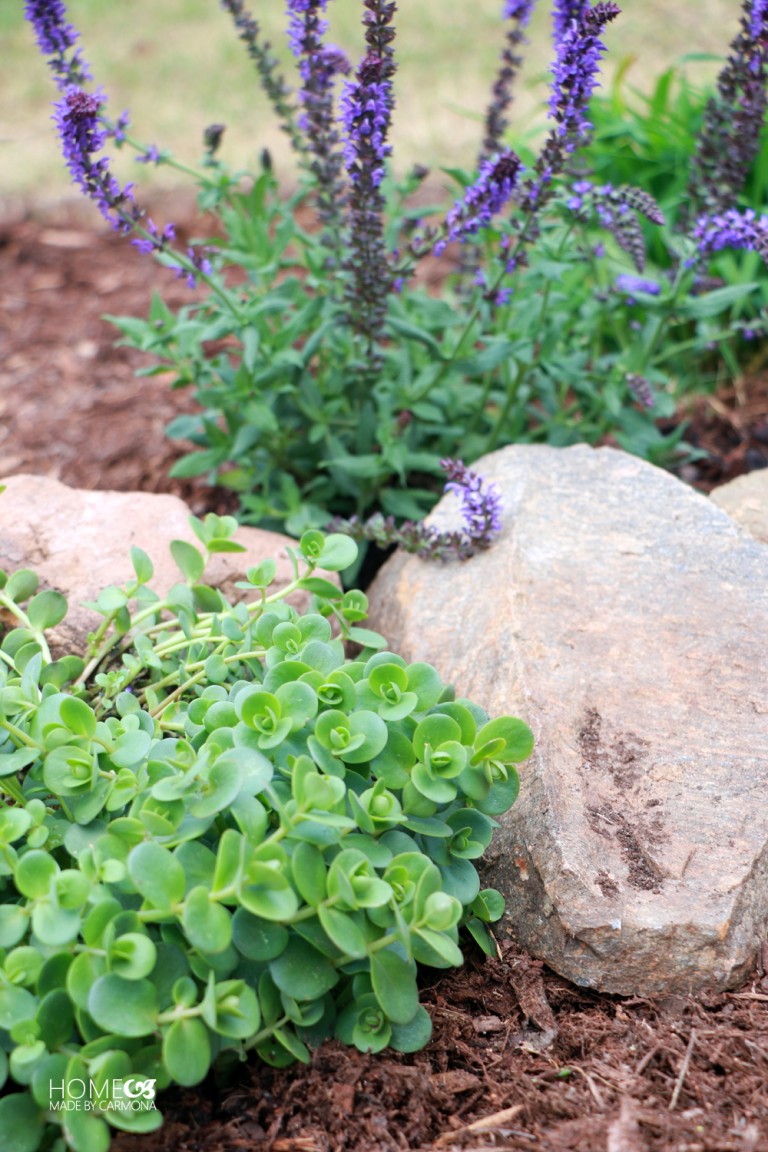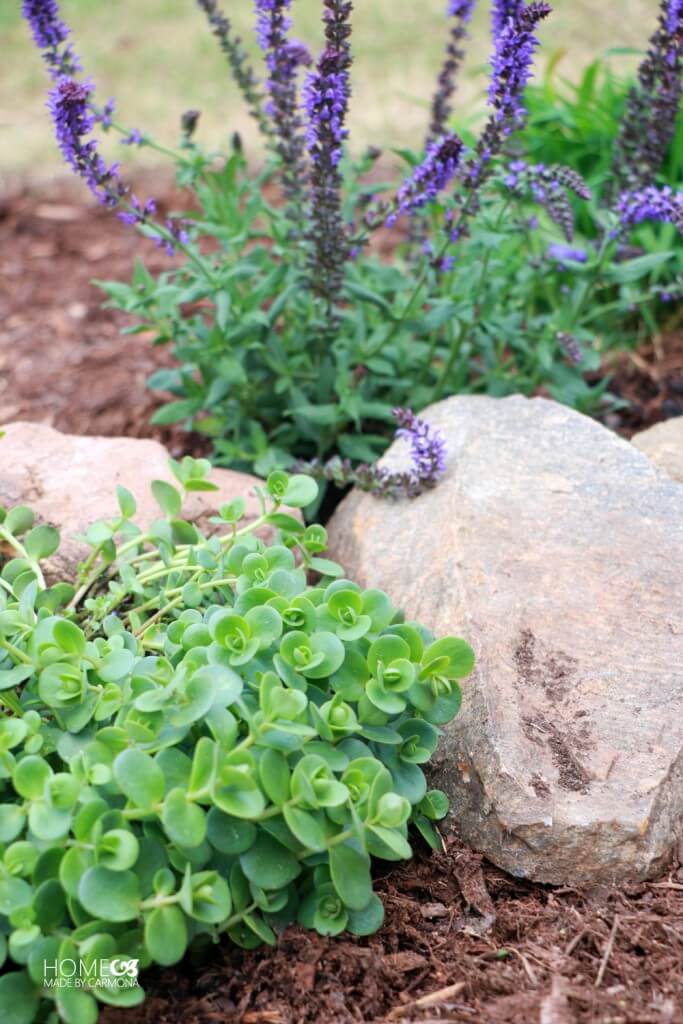 Today I'm going to show you how to create the perfect spring garden to take your yard up a notch…whether you are starting from scratch, or helping a sad little patch along (like my own). Let's get started!

Determine where you want your spring garden to be and outline it with your choice of edging. Whether that is brick, rock, railroad ties, or my favorite free method -ditch edging.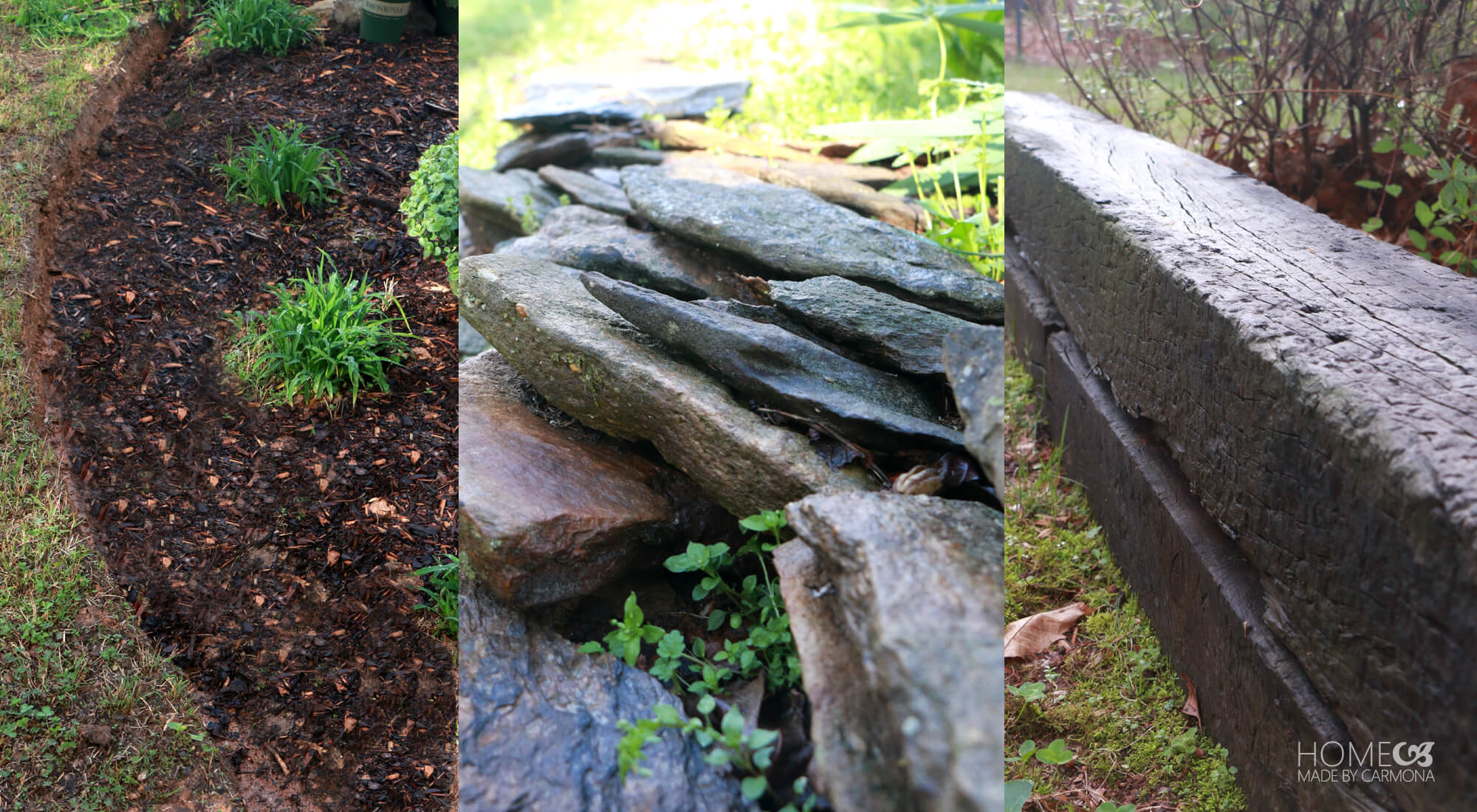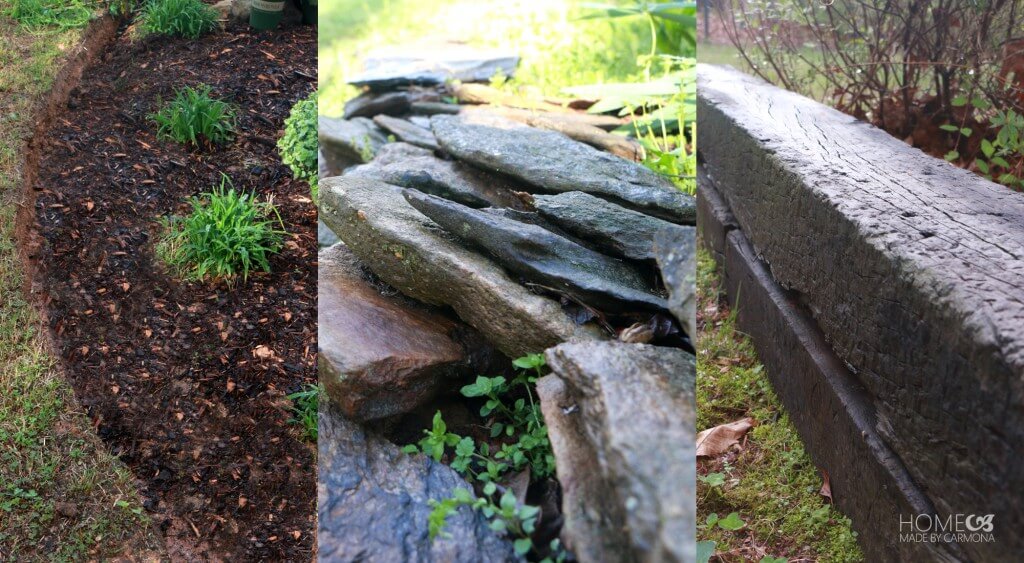 Don't just create an oval or circle, make your shape somewhat irregular to add interest. If you are using the grass edging method I am, use some the dirt you are digging around the edges to add height to the middle of your garden area and create a bit of a mound through the center.

You'll want to kill the weeds or grass by laying cardboard or newspaper down over all the surface area in your garden. If you already have existing plants like I do, simply cardboard around them. Make sure no grass/ground shows through!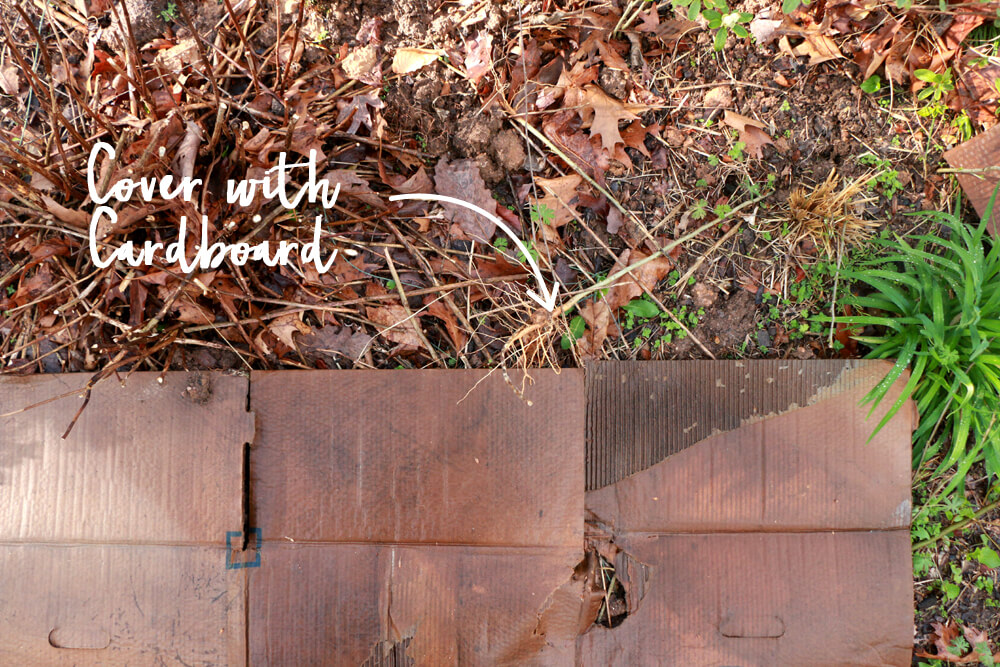 You'll either want to add a fine layer of topsoil before adding your mulch, or add double the layer of mulch (as much as 2 inches thick!)…this ensures the cardboard/newspaper doesn't show through after a severe rain, wind, etc.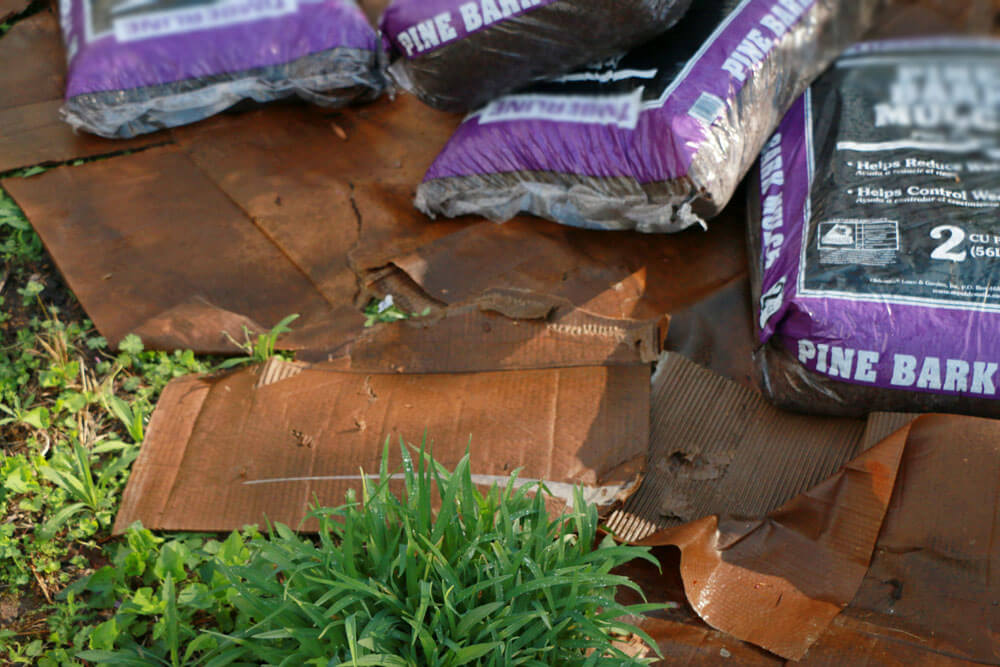 I've chosen a dark mulch so that my plants will really pop!

Quality plants go a long way to keep your garden beautiful. Monrovia's Grow Beautifully® plants have features that give them greater resistance to pest and disease, which means a more natural chemical free yard for us. Not to mention the stunning varieties! Check out all of Monrovia's plants here where you can shop for them online, or just scope out which ones you will want, then run to your local Lowes or garden center.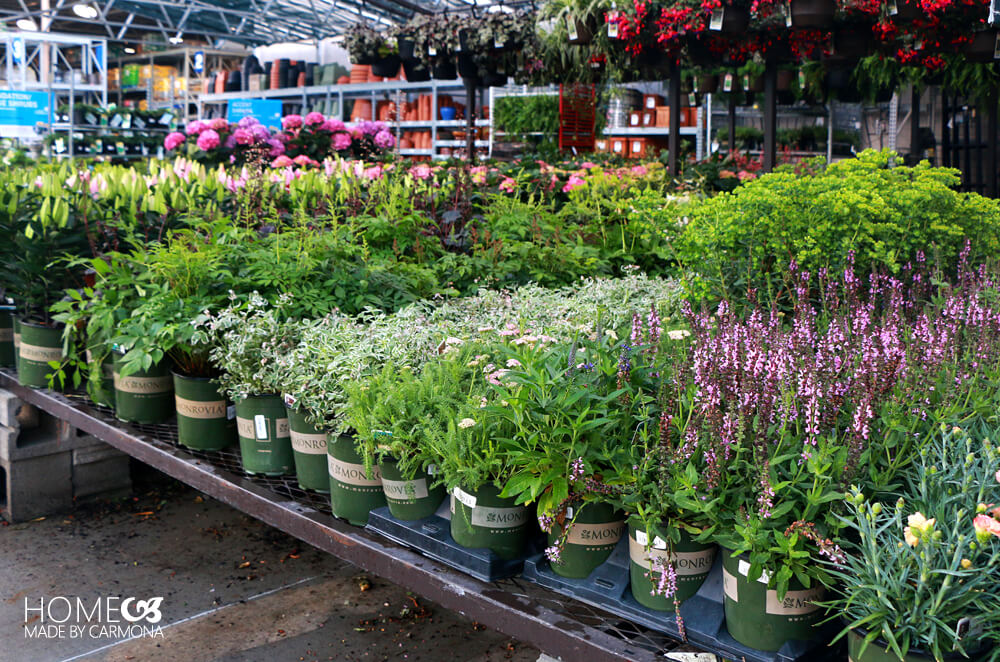 You will want a combination of shrubs, perennials, and annuals to make a well rounded garden that will not only add a pop of color come spring, but look amazing all year long. Also consider a variety of heights for visual interest. Start with larger taller shrubs and plants in the middle and work your way out with the shorter plants.
Just because you get some shrubs doesn't mean it is only greenery you are looking for…I adore the Petite Plum® Ninebark shrub's flowers! This is one of the new 2017 varieties from Monrovia. Check out the entire catalog plus 2017 picks here.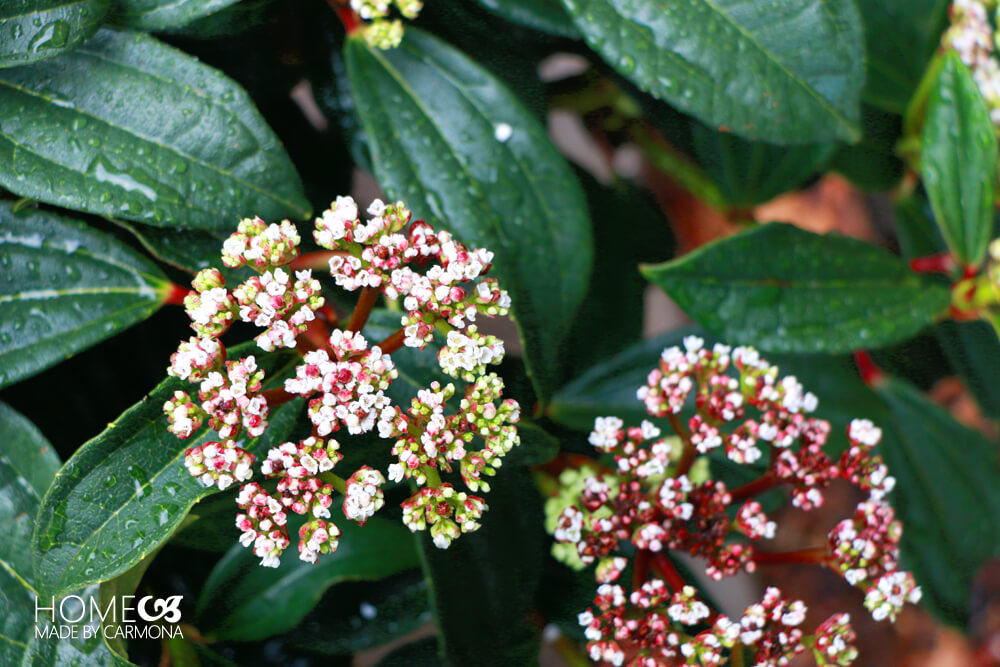 Remember, it's not just about visual interest, some plants work better as companions than others when planted together. If you are not sure which plants go well together, just look at the back of the Monrovia tags on the plants for some great suggestions.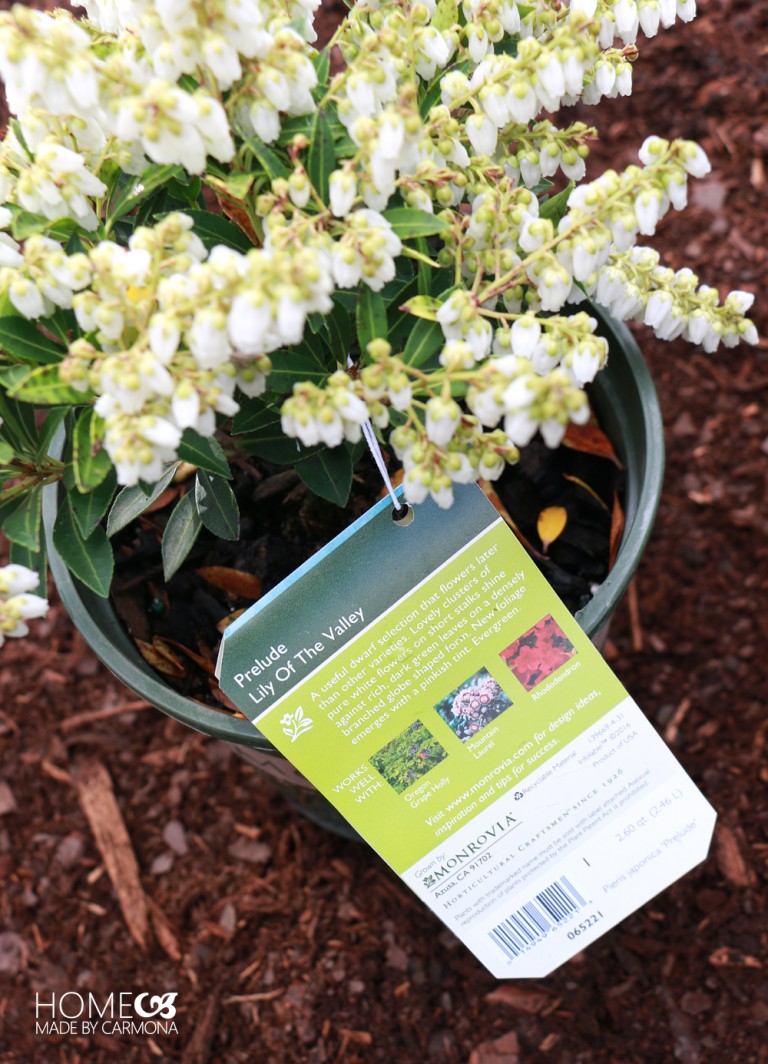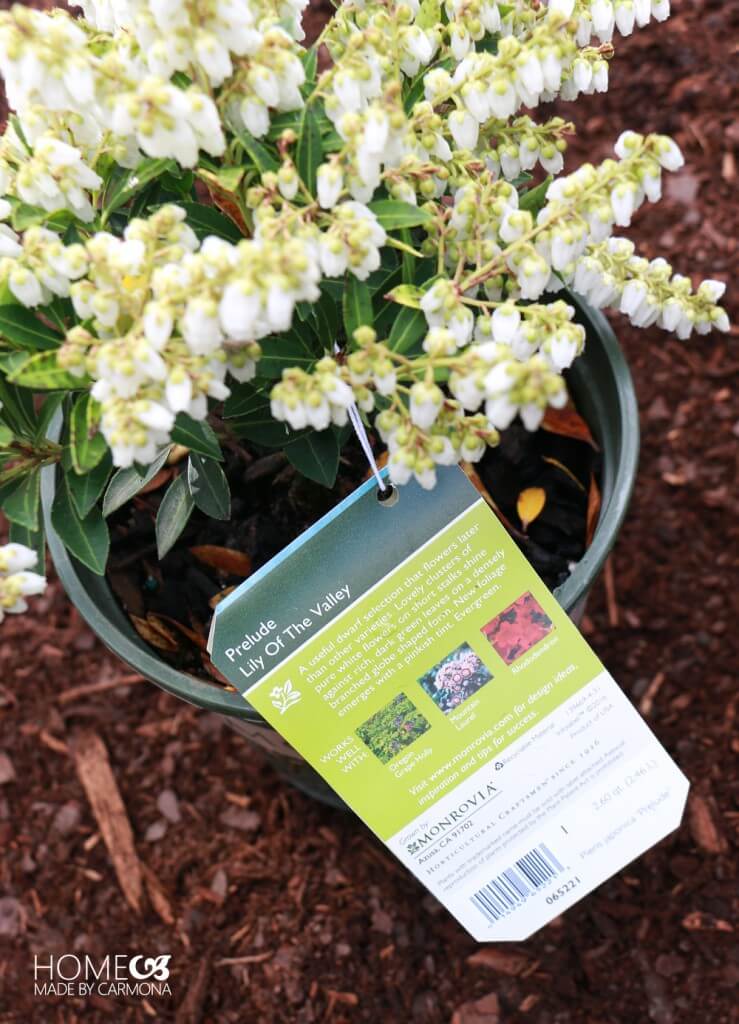 Also keep an eye on the height and width each plant will grow to and give them adequate room to spread. It might make your spring garden appear pretty but slightly sparse at first…don't worry about that, it will fill in as the seasons progress. Plus you can add a few medium-large rocks or decorative garden accessories between a few of your plants to help keep it from feeling sparse until they fill in.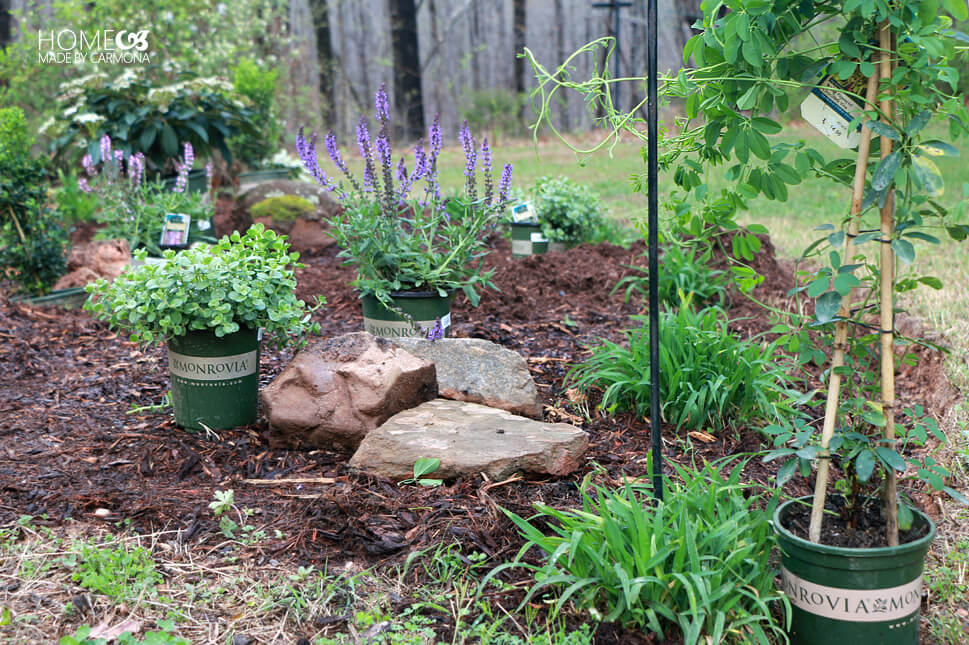 Try your plants out by placing them where you want them before putting them in the ground. You may need to place plants that require full sun alone, and those that could use a little shade (or can withstand half and half) closer to a shrub where the shadow is cast.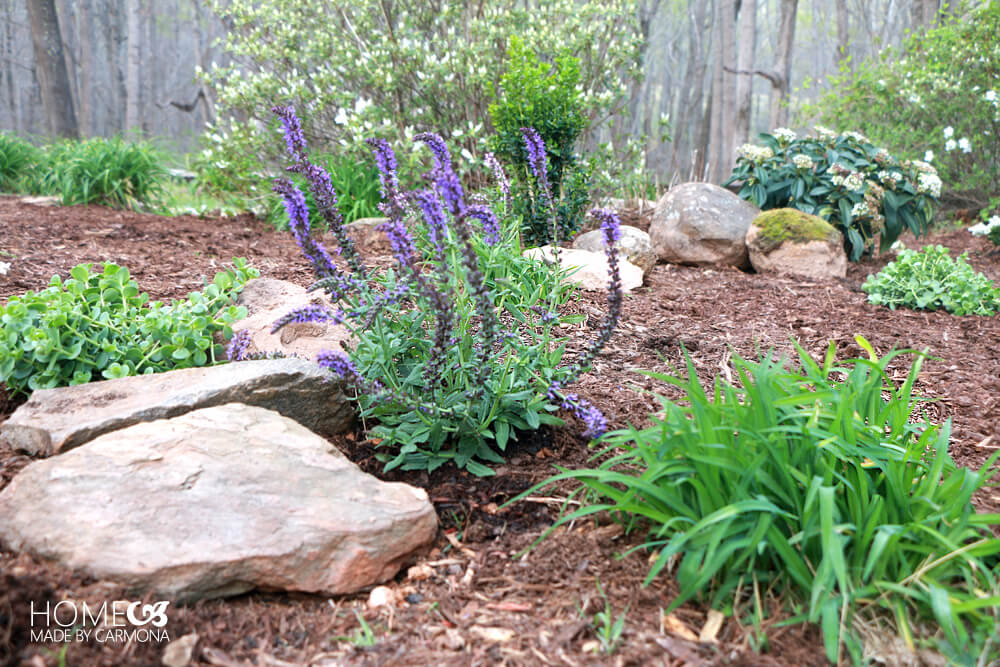 Well, are you ready to take on a great weekend project? Actually, this is more of a one-day project with the right planning! By tomorrow you can have a stunning new spring garden you are proud of, and makes a great focal point in your yard!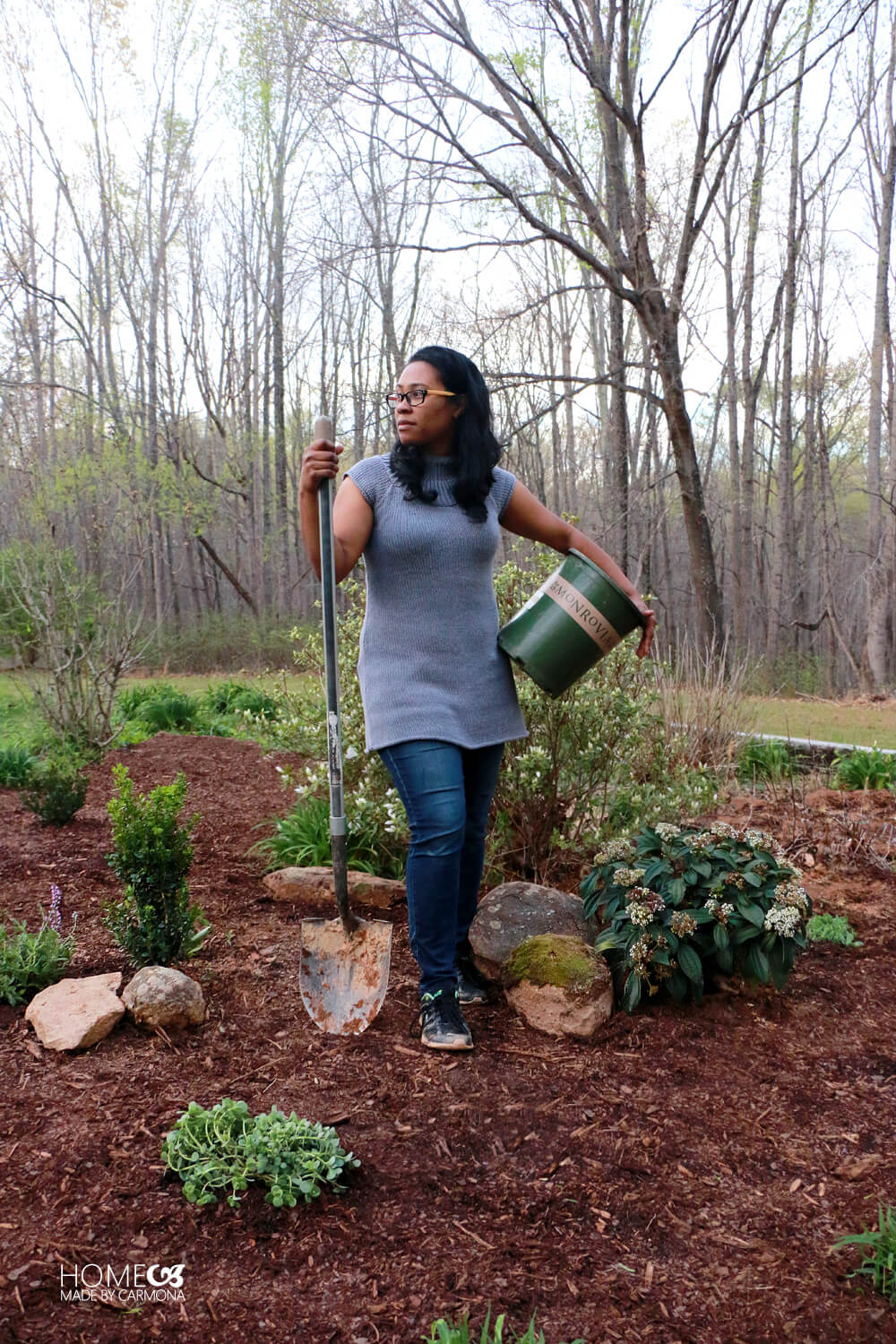 I'm loving how mine turned out!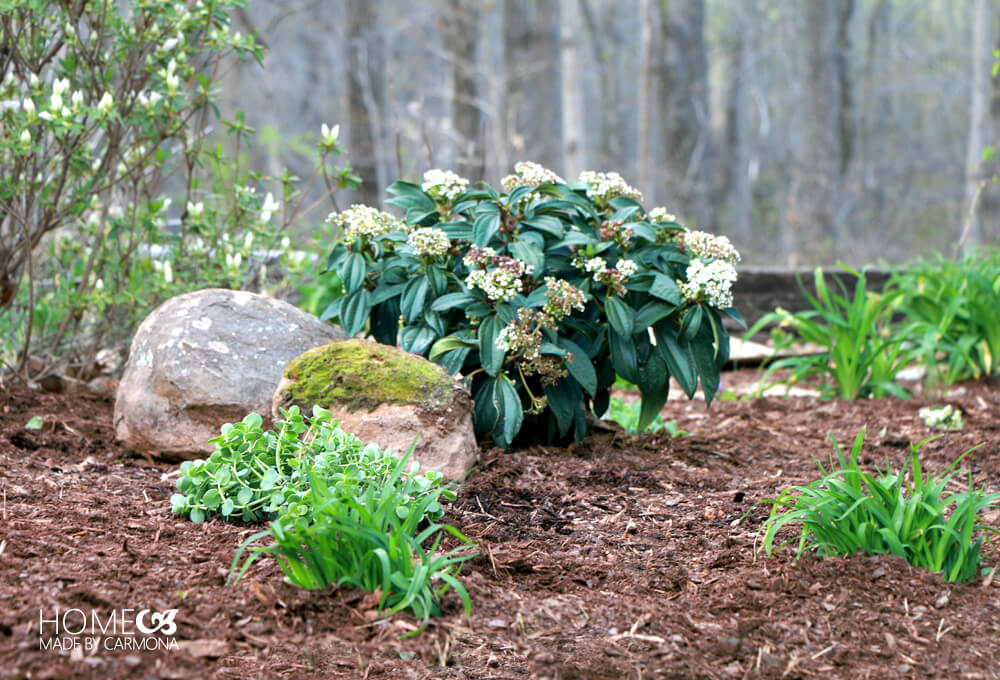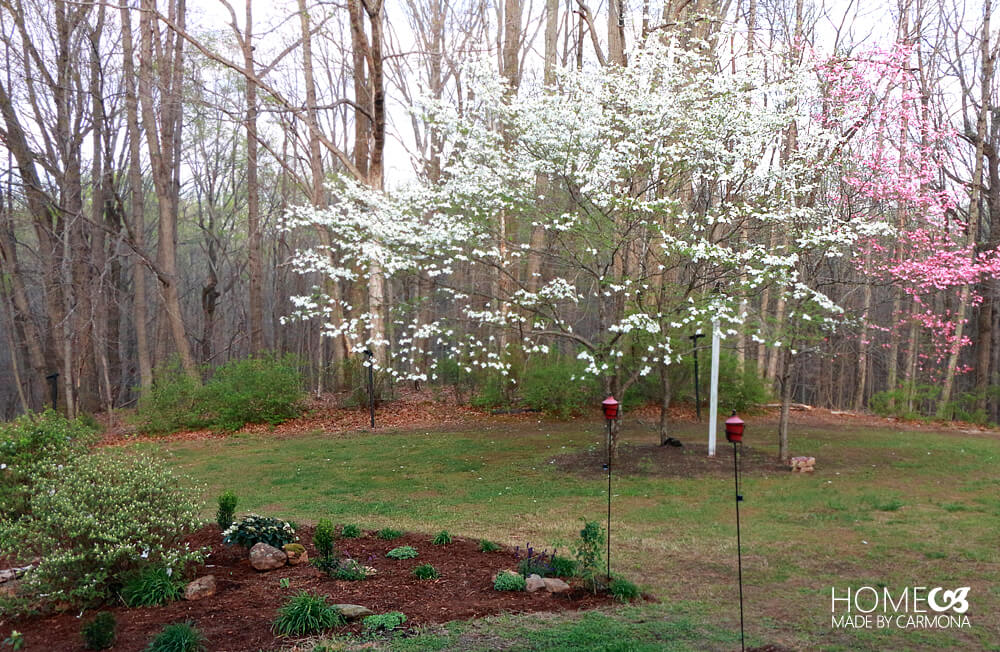 These are my favorites, but you can find more gorgeous picks here.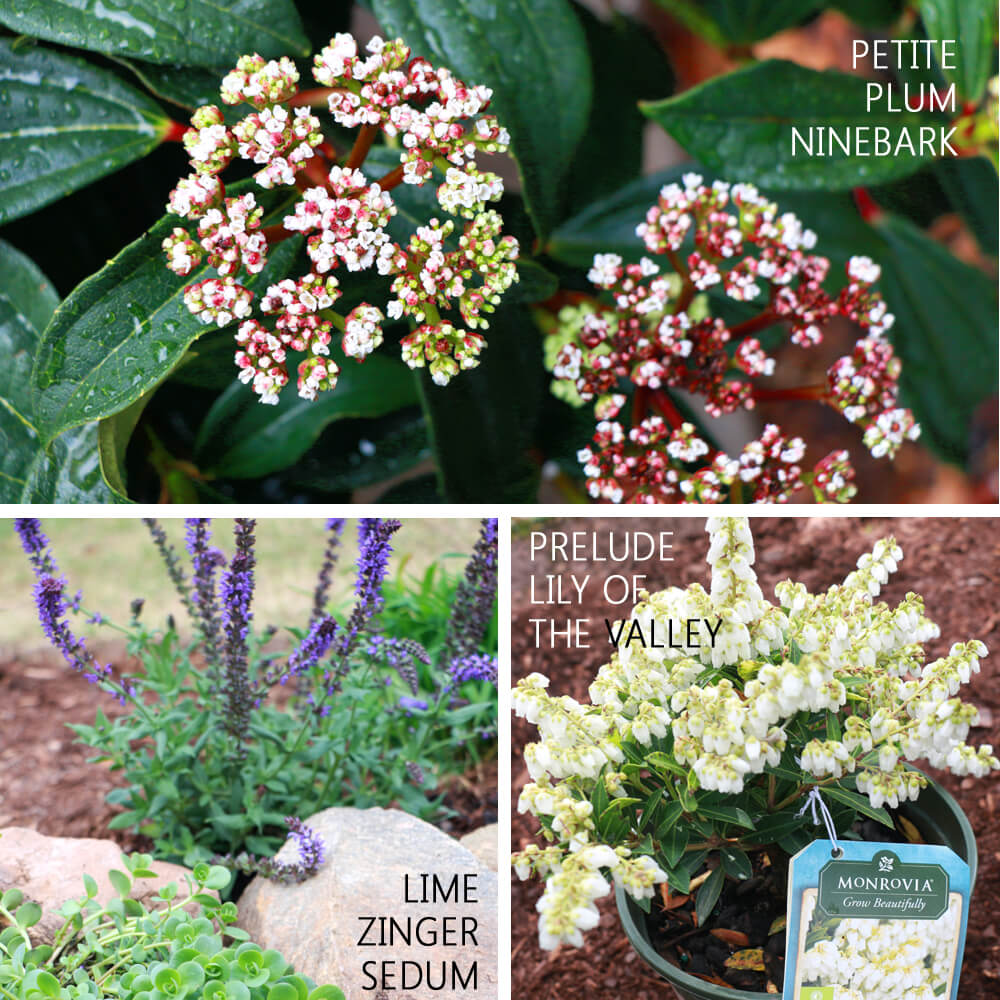 Happy spring ya'all!
*This post is awesomely sponsored by Monrovia! Opinions and tips shared here are my own (cuz that's just how I roll).


[go_portfolio id="gardening_landing_page"]