*This Post is awesomely sponsored by The Home Depot! Woop woop! Affiliate links contained below.
It has been a dream of mine to have a greenhouse in the midst of a beautiful garden for as long as I can remember. It all started as a kid when my dad built me a playhouse in the middle of my own personal little 'secret garden' plot in our yard.
Building a DIY greenhouse and surrounding garden is the stuff my dreams are made of, and I'm SO excited to partner with The Home Depot to turn this dream into a reality!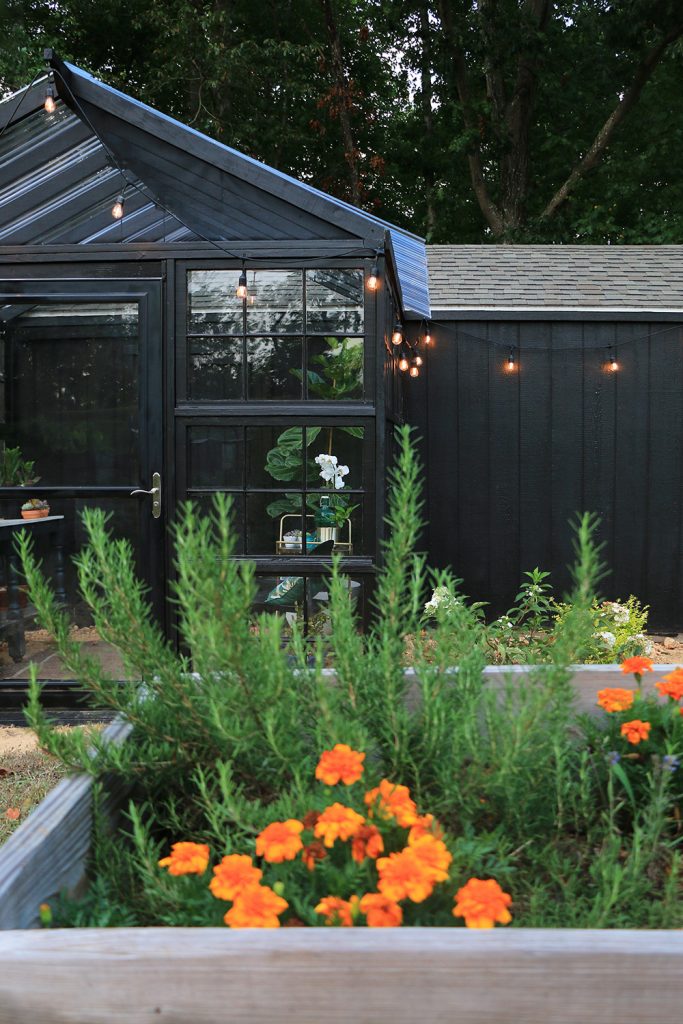 It's crazy to think that 2 weeks ago the greenhouse was just an idea and a plan. While the garden will take a bit more time and intentional care to cultivate, it is all coming together beautifully!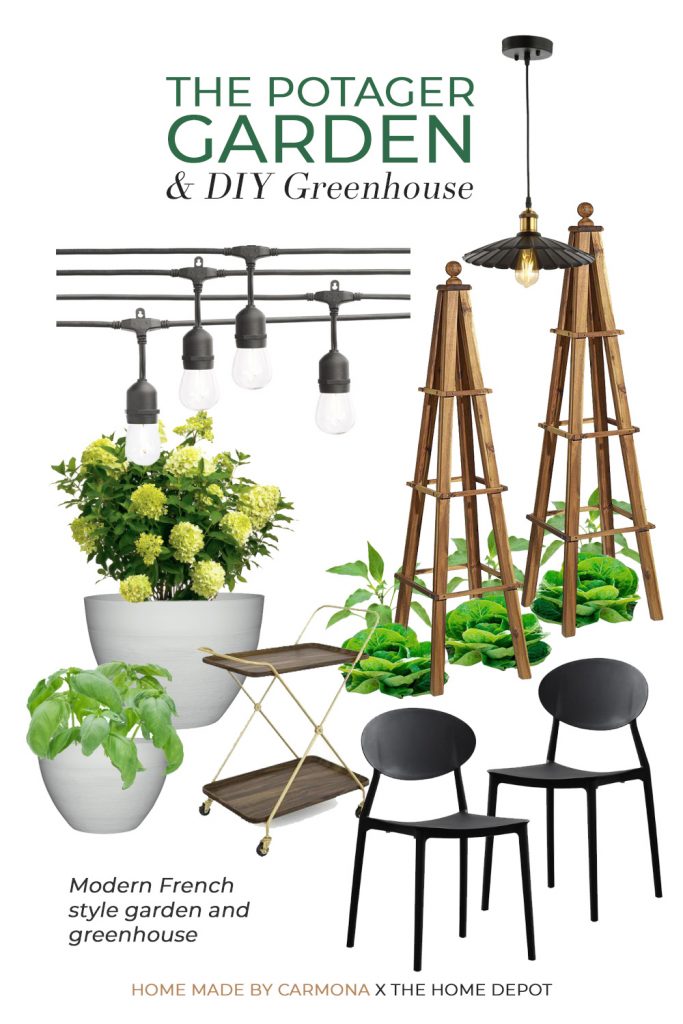 My intention for the garden is to mimic it after the style of the long admired French potager (pronounced po·ta·jé ) garden, and an added greenhouse seems . Potager gardens are kitchen gardens with a mixture of flowers, herbs, and vegetables intermingled. They are as ornamental as they are produce filled, and have all the perks of companion planting to ward off insects and produce the tastiest crops.
The Garden + Shed Before
My 16 acre property is mostly wooded, and the open areas all have gentle rolling acres. Which means there aren't a lot of flat areas for gardening. The spot I ultimately chose has an bit of a slope to it, but I plan to use that to my advantage as the rest of the front yard slops toward it, which means natural water collection. It is also near the solar panel, so I know it receives the necessary amount of sun, and the garden shed being nearby is very practical.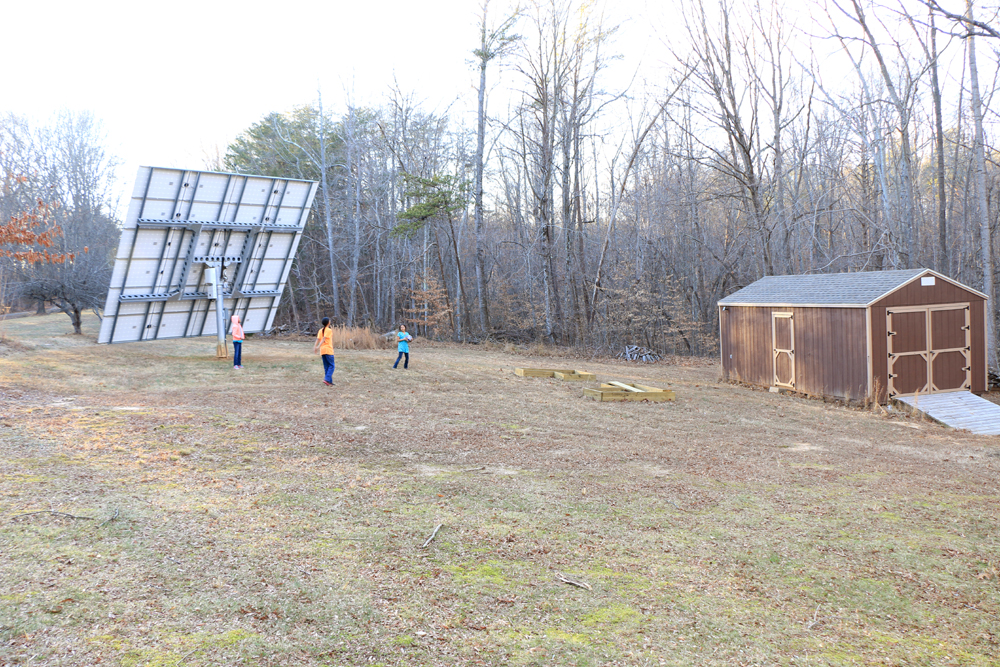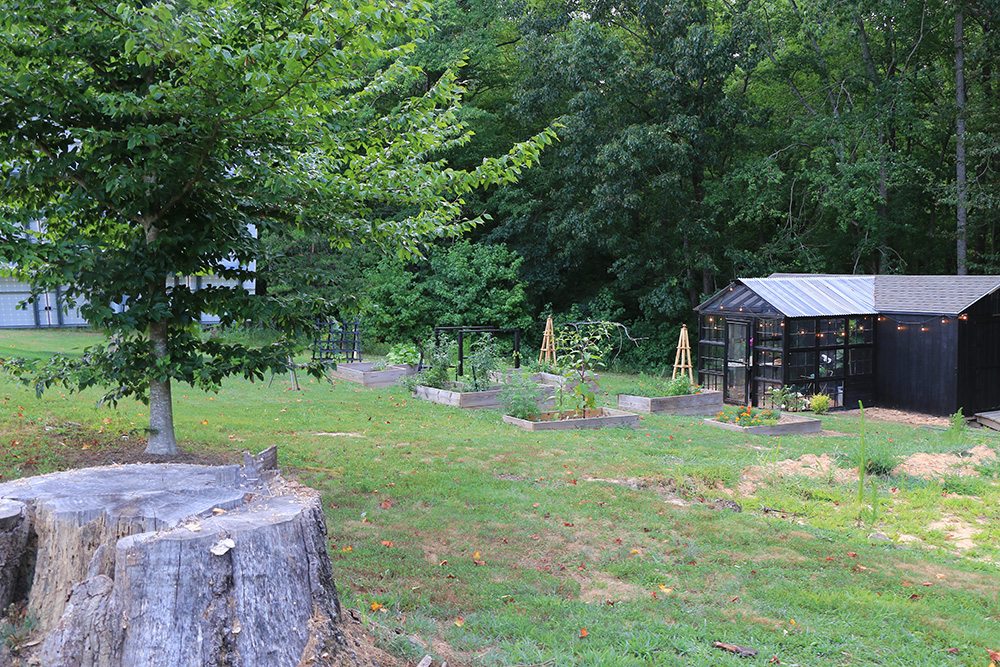 I chose to build the greenhouse out of recycled windows to keep this project budget friendly, and building it onto the existing shed also helped with that goal. It meant less windows and supplies are required since the shed serves as that fourth wall.
The shed also has electricity running to it, which I would tap into for the greenhouse to have lighting, and later on a fan to help vent it.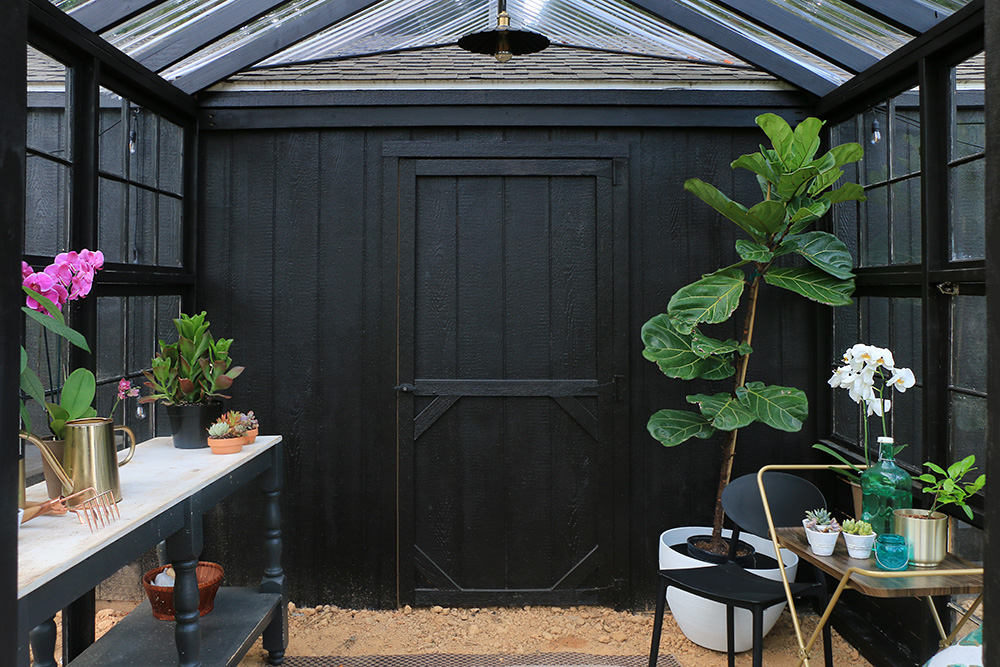 How To Build A DIY Greenhouse With Recycled Windows [VIDEO]
Materials Used (Just Under $1,000)
Building Raised Beds & Terracing
Because my land has a bit of a slope to it, it made the most sense to build raised beds and terrace them to counteract the slope.
These beds are made from non-toxic pressure treated wood…which as I understand, the process to pressure treat is different now than it was back in the day, so it's perfectly safe for plants.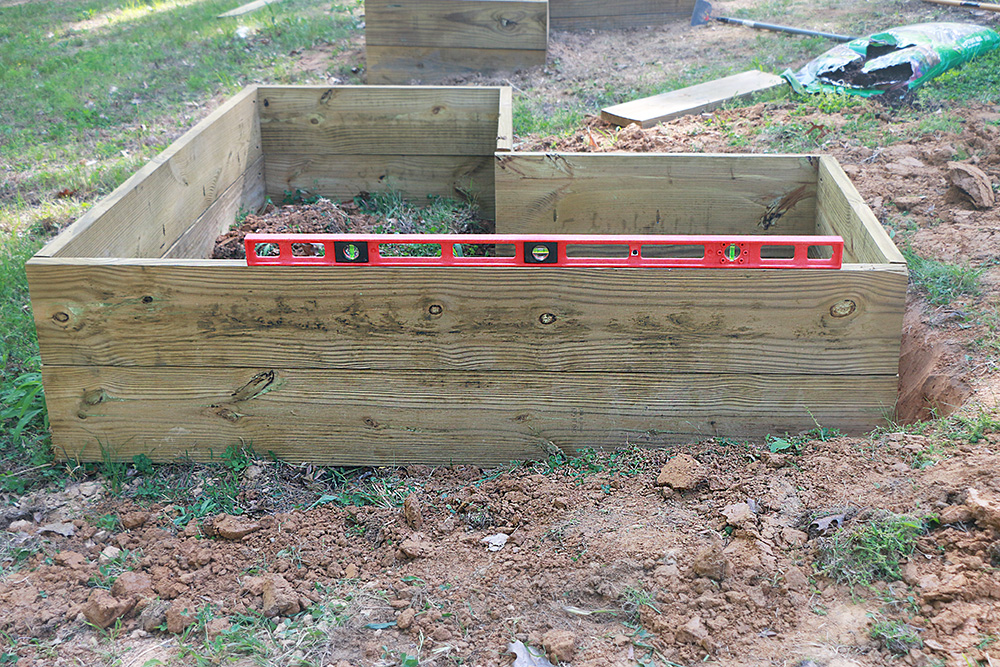 I had the kids place cardboard at the bottom of the raised beds, then filled a third of the bed with rich compost-like soil from the woods as well as a bit of our natural clay soil a third of the way full.
On top of that we added some garden soil from The Home Depot, and a good inch of wood chips. I opted for a layer of moisture absorbing chips, and then a layer of cedar chips on top to help repel insects.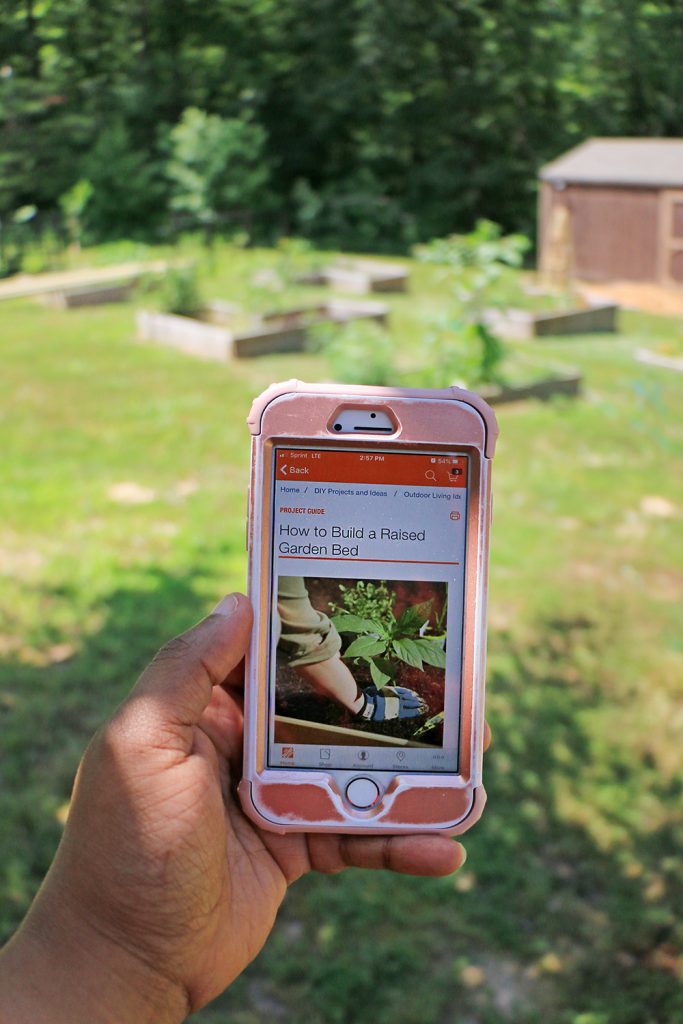 The Home Depot makes know-how for these kinds of projects a breeze with their handy dandy how-to guides found via the mobile app and website. I referenced the How To Build A Raised Garden Bed guide to help me figure out exactly how I wanted to build my beds.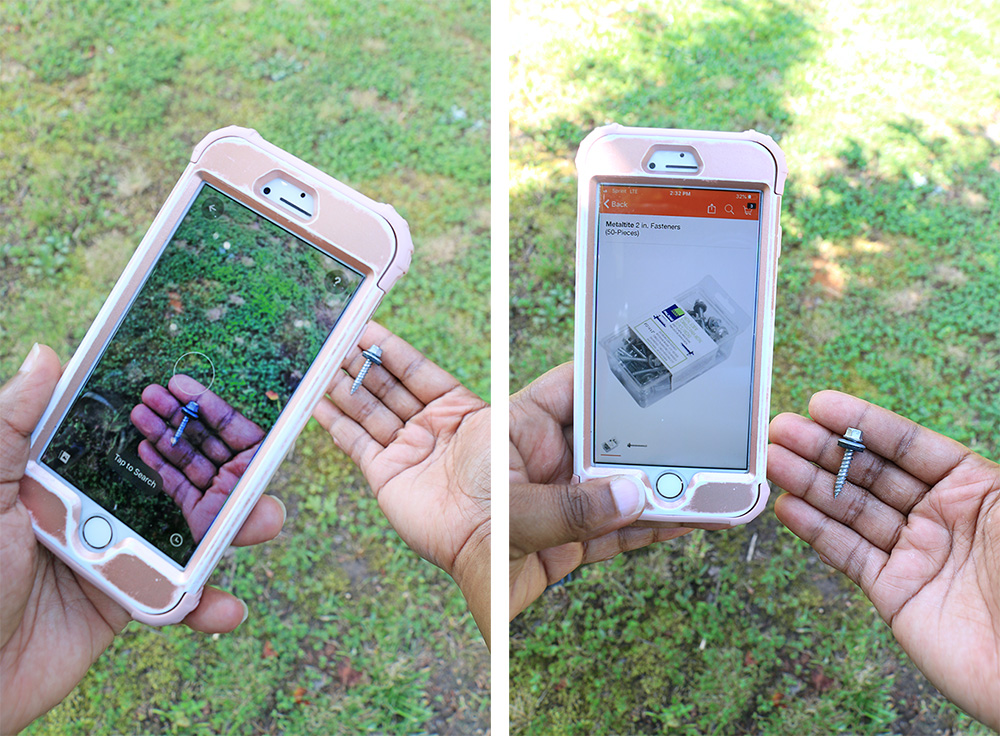 Plus the image search capability in The Home Depot mobile app means if you need a particular part for your project, but aren't sure what it's called, just snap a picture and it will find it for you!! It will even tell you where in the store you can find it…how cool is that?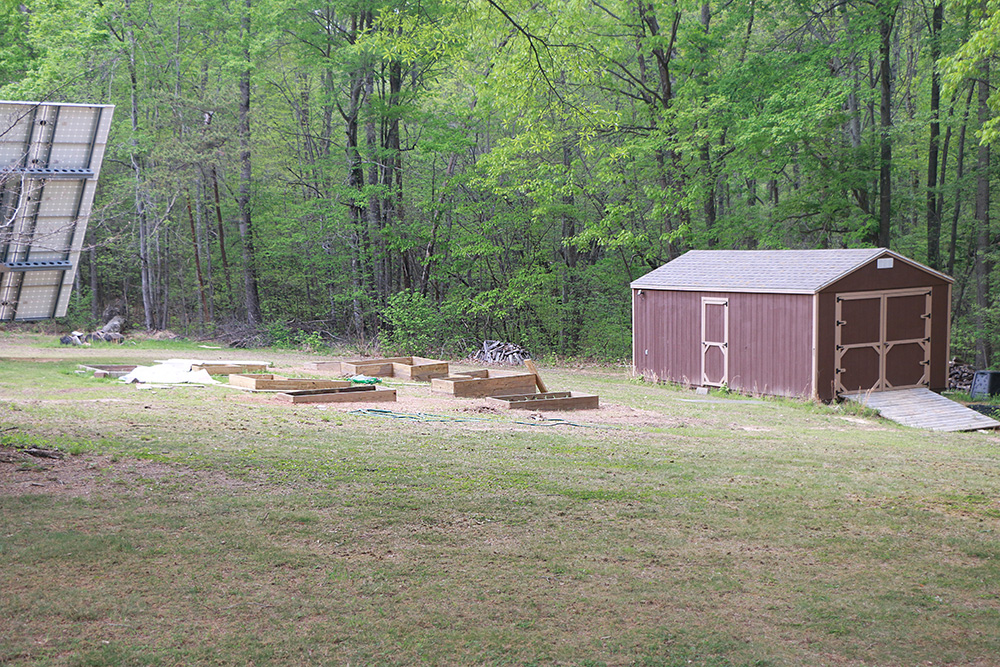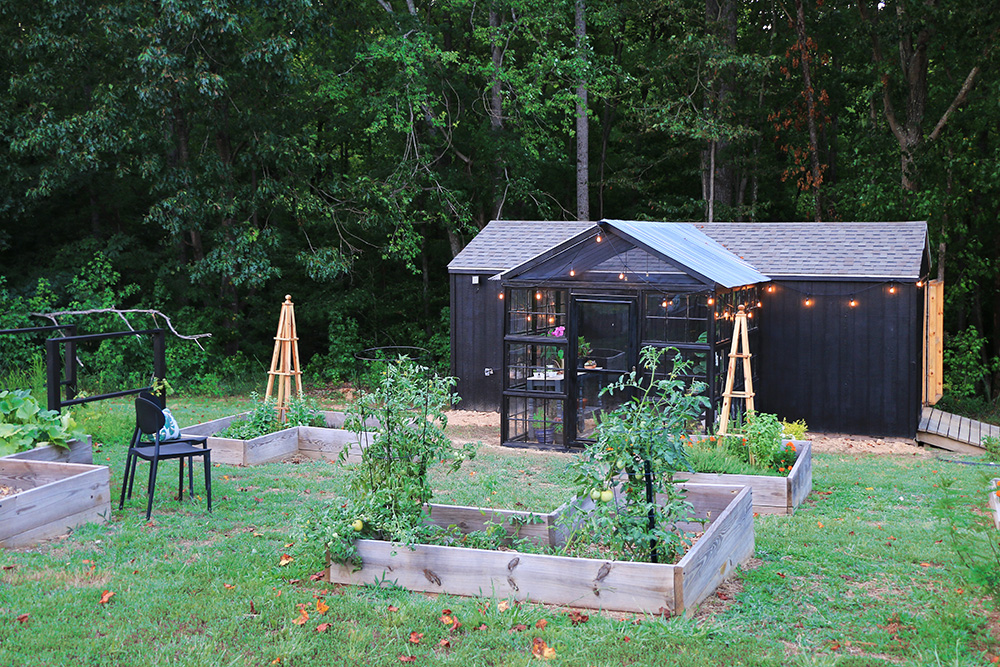 The end result is pretty marvelous! It's both practical when working with an incline, raises it for an easier working condition, and it looks fantastic!
Some beds are double height (at the lowest point), and some are single wood height.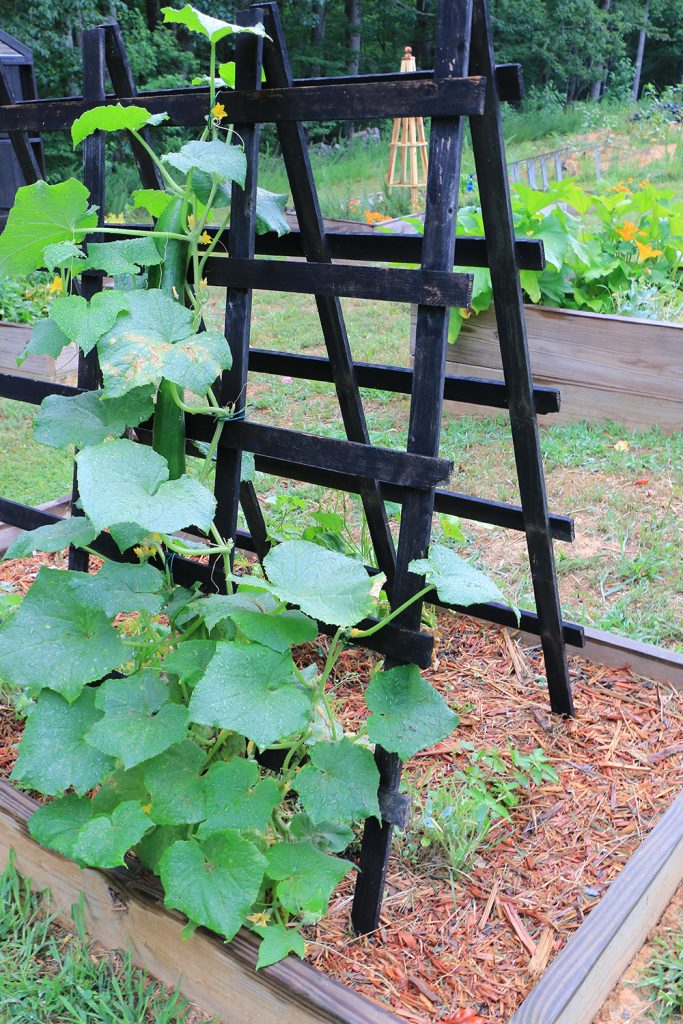 Decorating The Garden & Greenhouse
Decorating a garden area or greenhouse can follow many of the same principles as when decorating the indoors.
Create cozy charming living spaces and seating areas, like I did with these incredibly stylish Westlake Armless Plastic outdoor chairs. I ordered a set of four from The Home Depot online and had them shipped directly to my door. They are perfect for the greenhouse and a couple to keep outdoors, because when they get dirty I can just hose these plastic chairs down!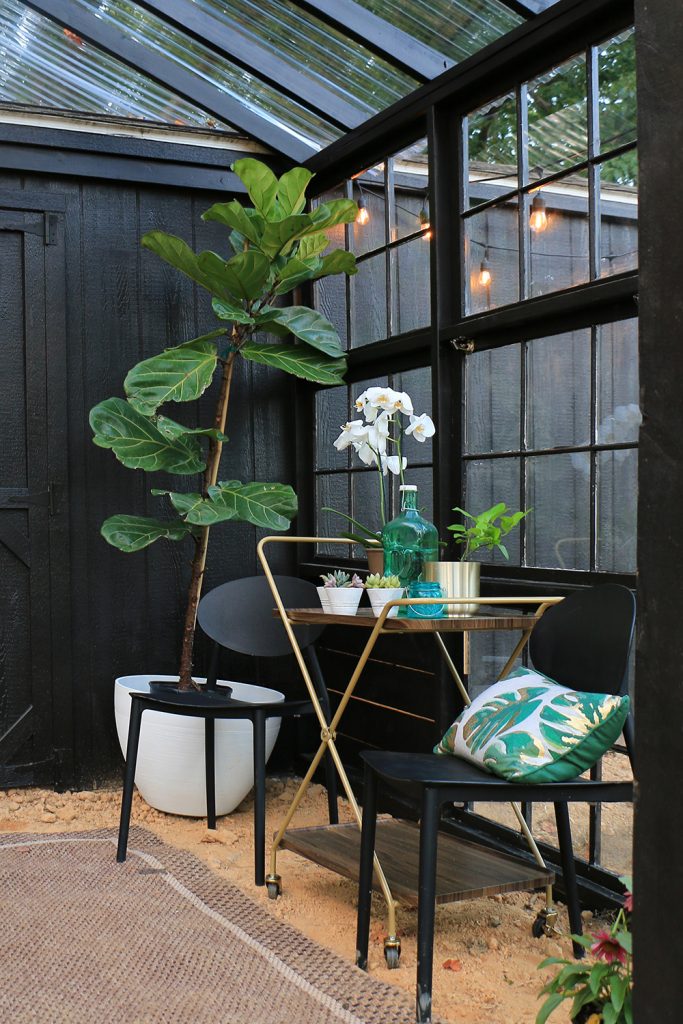 Using a retro styled Rolling Serving Cart made for the perfect side-table in the greenhouse, as well as a pretty plant holder.
Lighting is everything! Yes, even in the outdoor spaces. I'm completely smitten with these Black/Brass LED Pendants in the greenhouse. It gives it such a charming cafe vibe.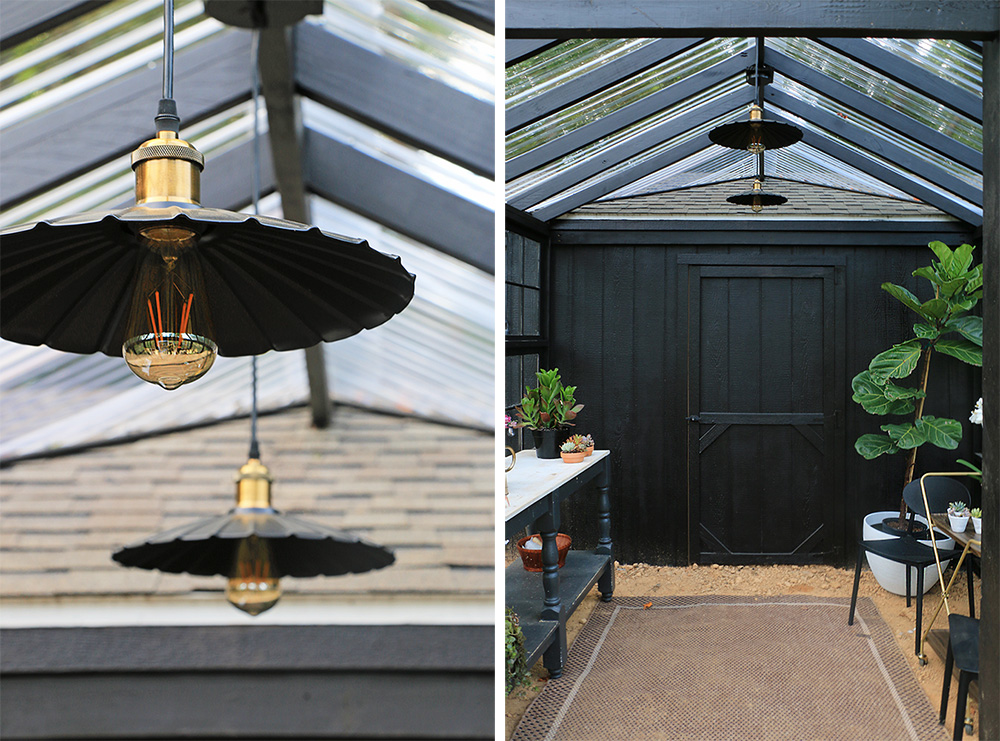 Not to mention the lovely Outdoor string lights that make outdoors perfectly dreamy!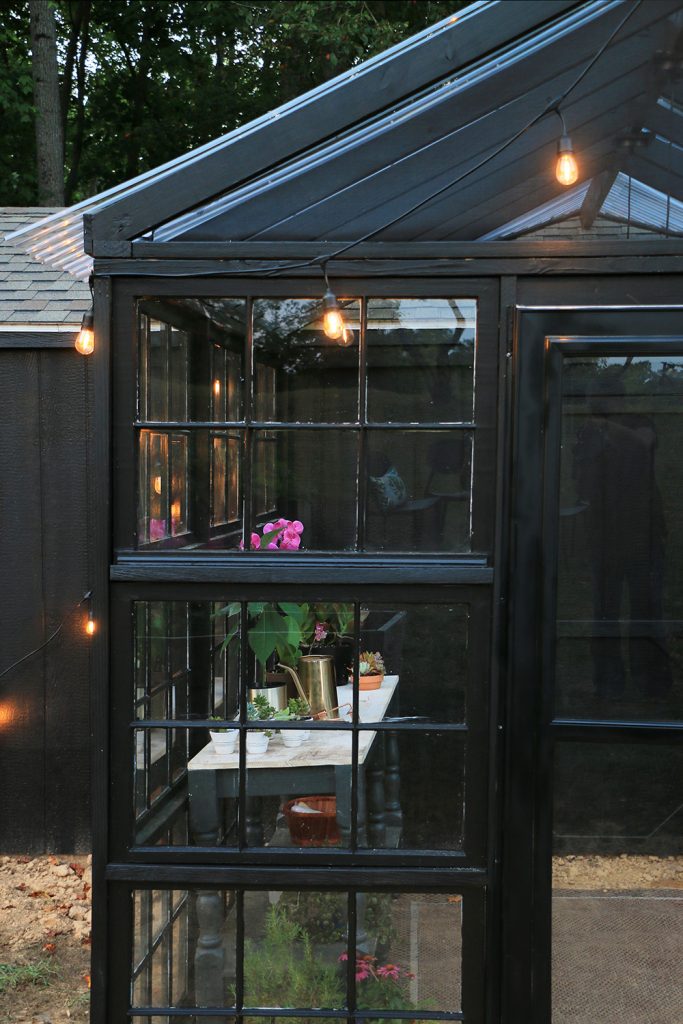 I had a chance to use The Home Depot's curbside pickup option for all my indoor greenhouse accessories, and it was amazing! I never had to leave the safety and cool of my air-conditioned car.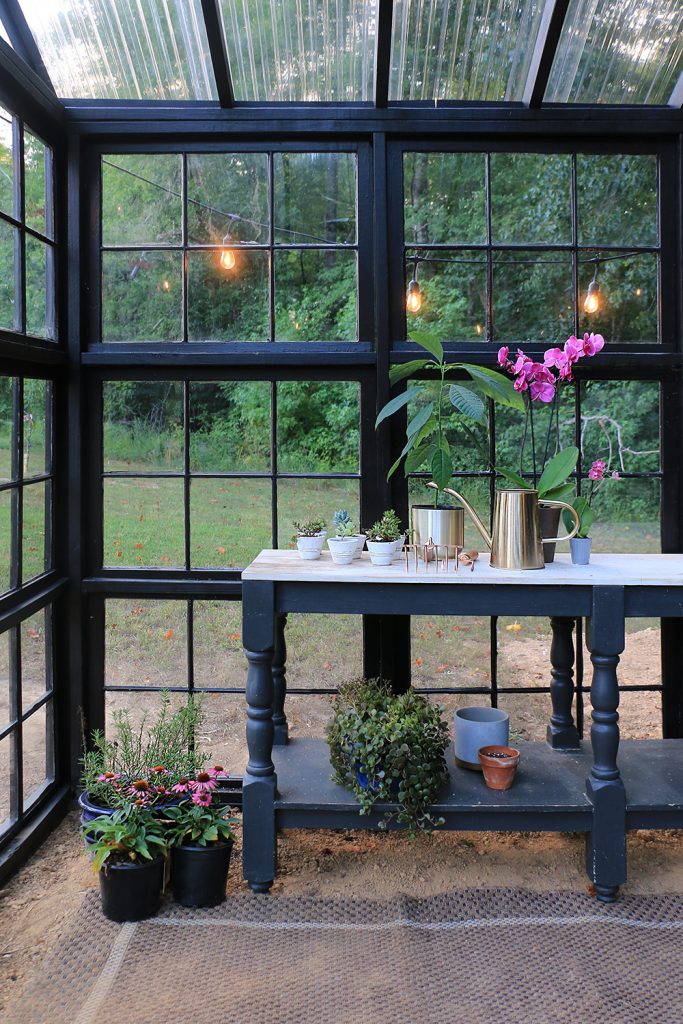 My last outdoor decorating tip, always try to vertical with your decor! In this case, that meant incorporating structural elements into my garden like these Acacia Wood Obelisk's. It just adds a bit of an architectural structure, while being useful for those plants that need a little more support!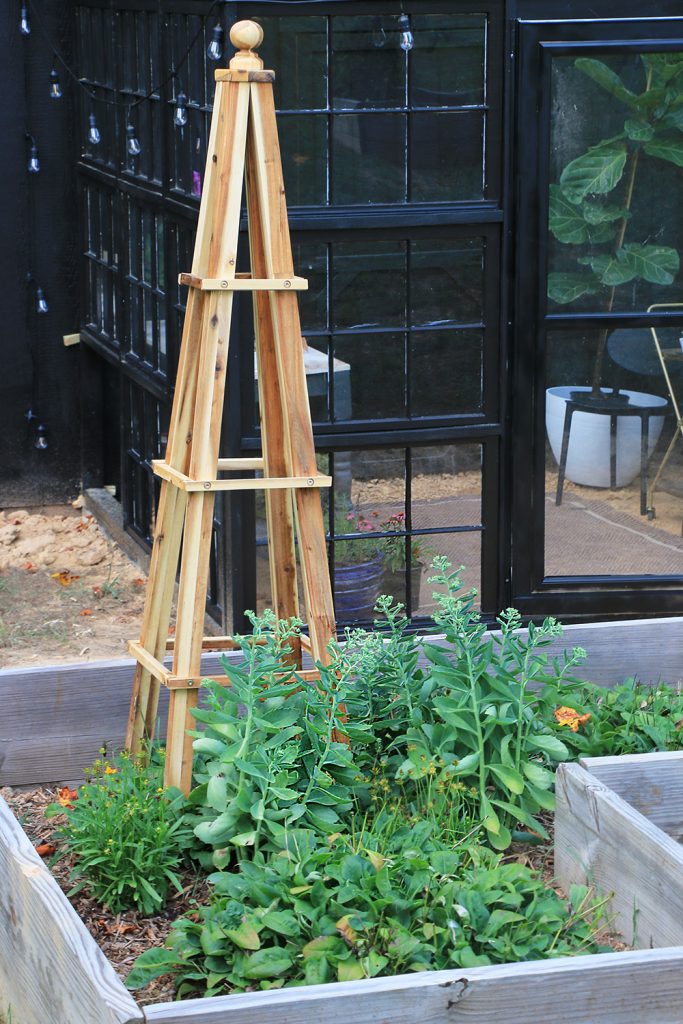 I have several future projects for the greenhouse and garden, but those will have to happen as I have time.
One project I hope to do once the weather cools a bit, is create a herringbone brick floor. Oh I'll still leave some space for growing directly into the ground inside the greenhouse, but how lovely would that brick be along the middle walkway?
Tackling Projects These Days…
My family is spending a lot more time at home these days, and tackling a project like this now just made sense as we spend more time enjoying our own home.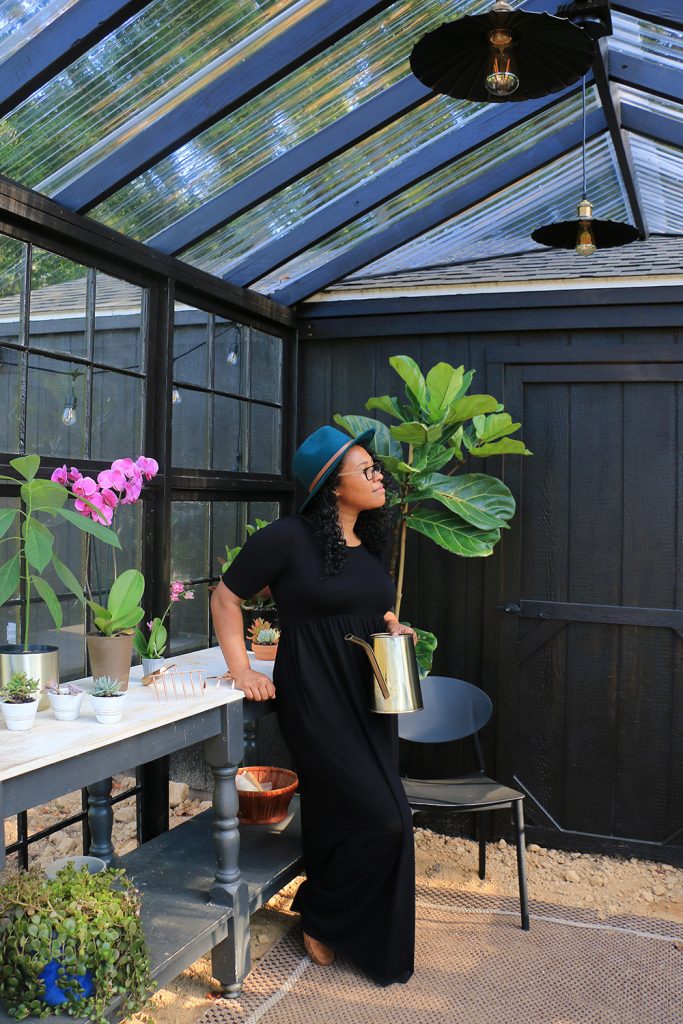 I was incredibly pleased to have a variety of different options like shipping direct to my door, curbside pickup, and even pick-up lockers to help make obtaining supplies for my projects easy and safe.
I hope you guys are inspired to take on those projects you've been dreaming about, and make home a beautiful place for you and your family!

---
*I acknowledge that The Home Depot is partnering with me to participate in The Doer Project. As a part of the Program, I am receiving compensation in the form of products and services, for the purpose of promoting The Home Depot. All expressed opinions and experiences are my own words. My post complies with the Word Of Mouth Marketing Association (WOMMA) Ethics Code and applicable Federal Trade Commission guidelines.


Learn how to create a DIY Herb garden perfect for urban settings, whether you have loads of space or just a little…