People are amazed that I've had so much success growing avocado plants from seed. The old toothpicks over a glass of water method is such a hit or miss, it isn't worth your time. Don't rely on luck, use these tried-and-true seed starting tricks to sprout and grow your own avocado tree from seed!
So far I've had 95% success with sprouting avocado pits with gardener's methods, using the paper towel germination trick to get started. But there are other important factors to consider to improve the odds of starting and growing your avocado seedling into a full tree.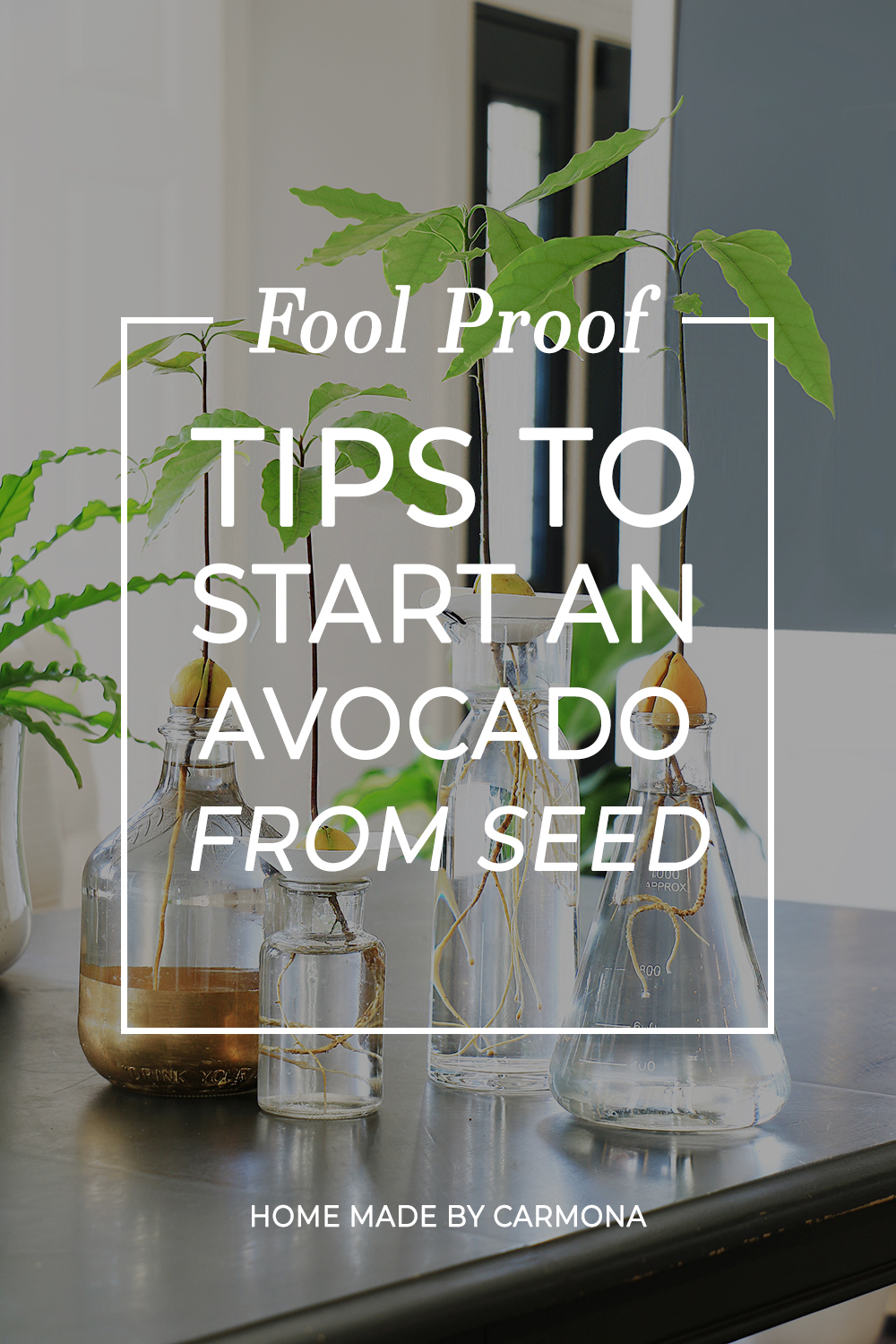 Here's everything you need to know to successfully sprout avocado pits:
#1. Soak The Avocado Seeds Overnight
As soon as you remove the pit from the avocado fruit, clean it and soak it in warm water overnight. If you aren't on well water, use filtered or mineral water moving forward.
Deep soaking the seed removes germination inhibitors (which happens in nature with rain and wind), and provides the moisture levels needed to trigger germination.
#2. Peel Away The Outside Husk
You probably won't be able to peel all of the outside husk at once, but get as much as you can. Don't worry, in the next few steps you'll have opportunity for the husk to soften up and peel more away.
While this step is technically not required, occasionally a harder husk may prevent the root or shoot from growing properly. I had to remove the husk on a couple of my avocado pits because the root couldn't penetrate it and grow straight out the bottom. It rerouted to grow out the side, which you don't want. Give your avocado seed every advantage you can!
#3. Wrap In A Wet Paper Towel
Wrap each seed in a damp paper towel. It doesn't have to be dripping wet, but it should be more than just a little moist, and be sure to use warm water.
#4. Place In An Airtight Plastic Container In a Dark Place
Place the wrapped avocado pits in an airtight plastic container, or a ziplock bag. Set it in a dark warm place, or at least a room-temperature location (just make sure the location isn't cool).
I put mine in a kitchen cabinet where I wouldn't forget about it.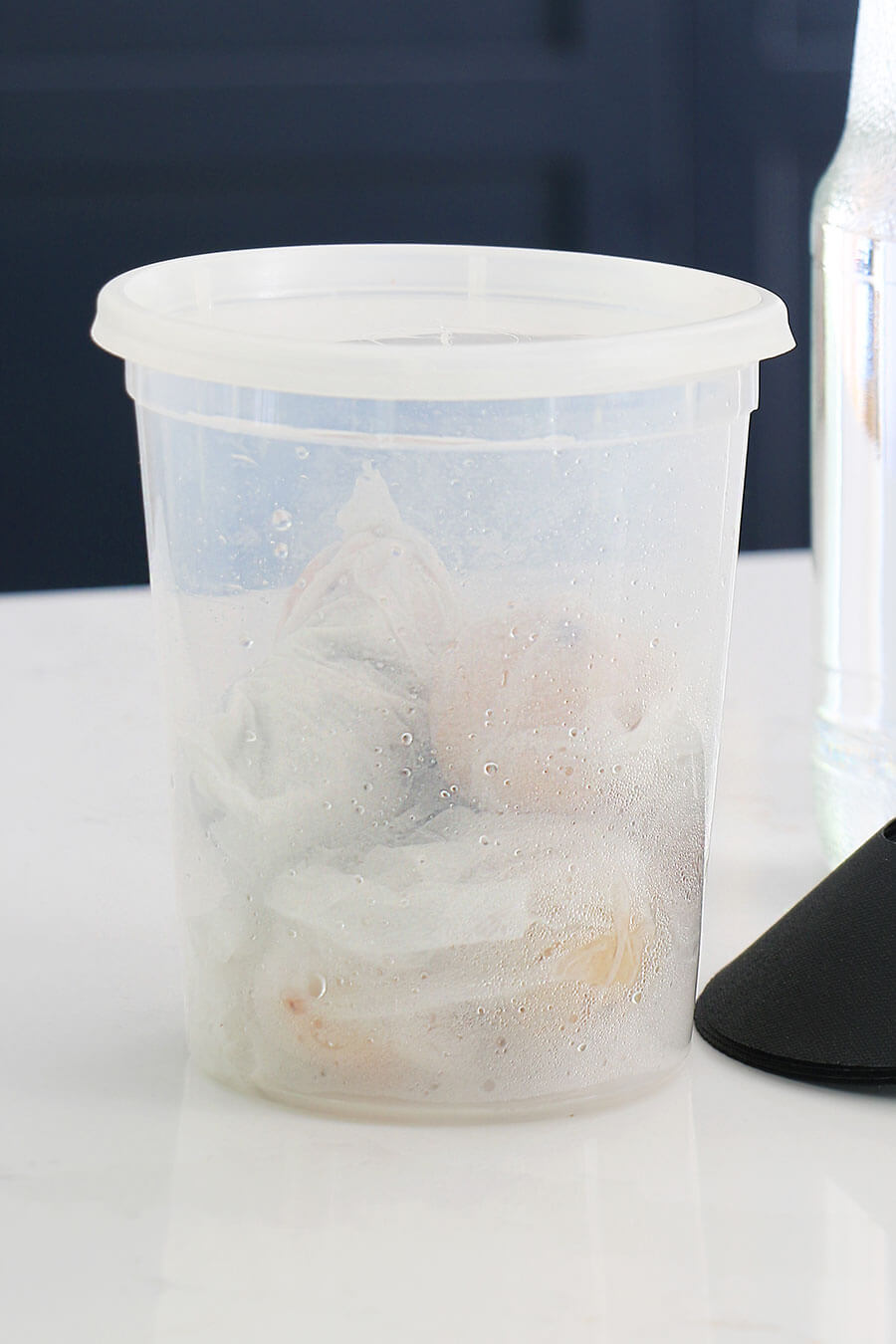 #5. Check Once A Week & Change Paper Towels
Check in on the status of your avocado seeds at least once a week, and rise them off so they don't get mildewy. Swap out the old paper towel with a fresh wet paper towel weekly; this prevents it from drying out, or molding.
During these checks you should be able to peel the rest of the husk off the avocado (bit by bit). Sometimes bits of the brown skin and other hard spots remain, and that is just fine.
Soon you should see the seed begin crack open and a split will appear. That is usually an indication that a root is starting to form and will soon poke out.
TIP: Once you start to see the seed split, wrap the paper towel loosely around it, and lay it so the root can grow unimpeded.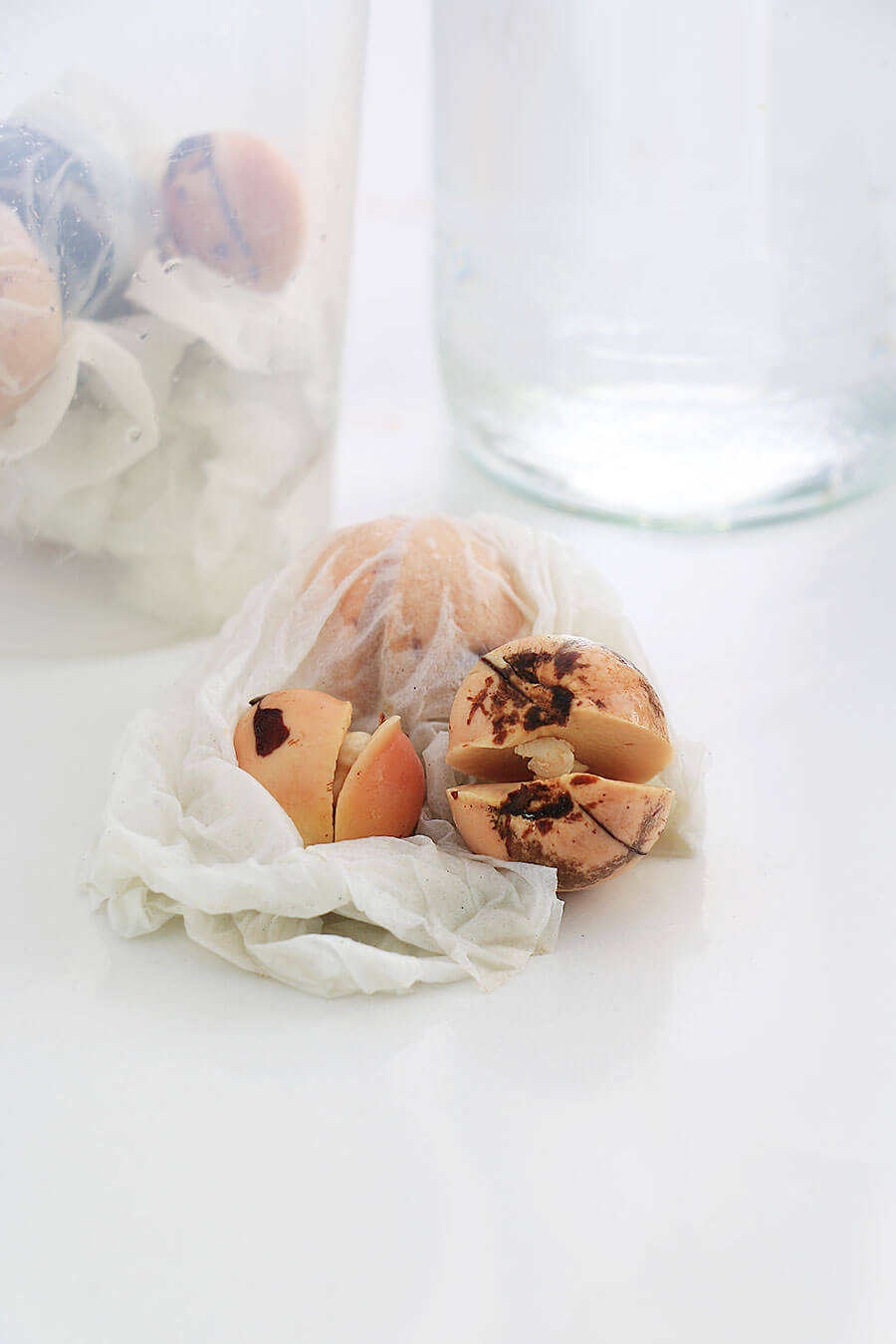 Leave it in that dark warm location until the taproot starts to protrude out the bottom. Don't let the root get long otherwise it will grow bent. It should protrude just outside the seed…
#6. Place On A Jar of Water Once Rooted
Once the root is protruding from the avocado seed move it to a jar filled with well water, rain water, or filtered water if you are on public water, or buy mineral water to sprout your avo seeds. My well water is like magic super sauce when it comes to propagating.
You can use the toothpick method to hold the avocado above the water at this point. Or get a jar with a mouth just wide enough for the avocado seed to sit atop, or use a prop cone like this one I bought here.
Place the broad end of the pit down toward the water, just touching the water. Don't submerge the whole seed, but make sure the root is touching the water. You can submerge the bottom half inch of the seed if needed. In the next week or two you should see the tap root grow down into the water and even send out root offshoots.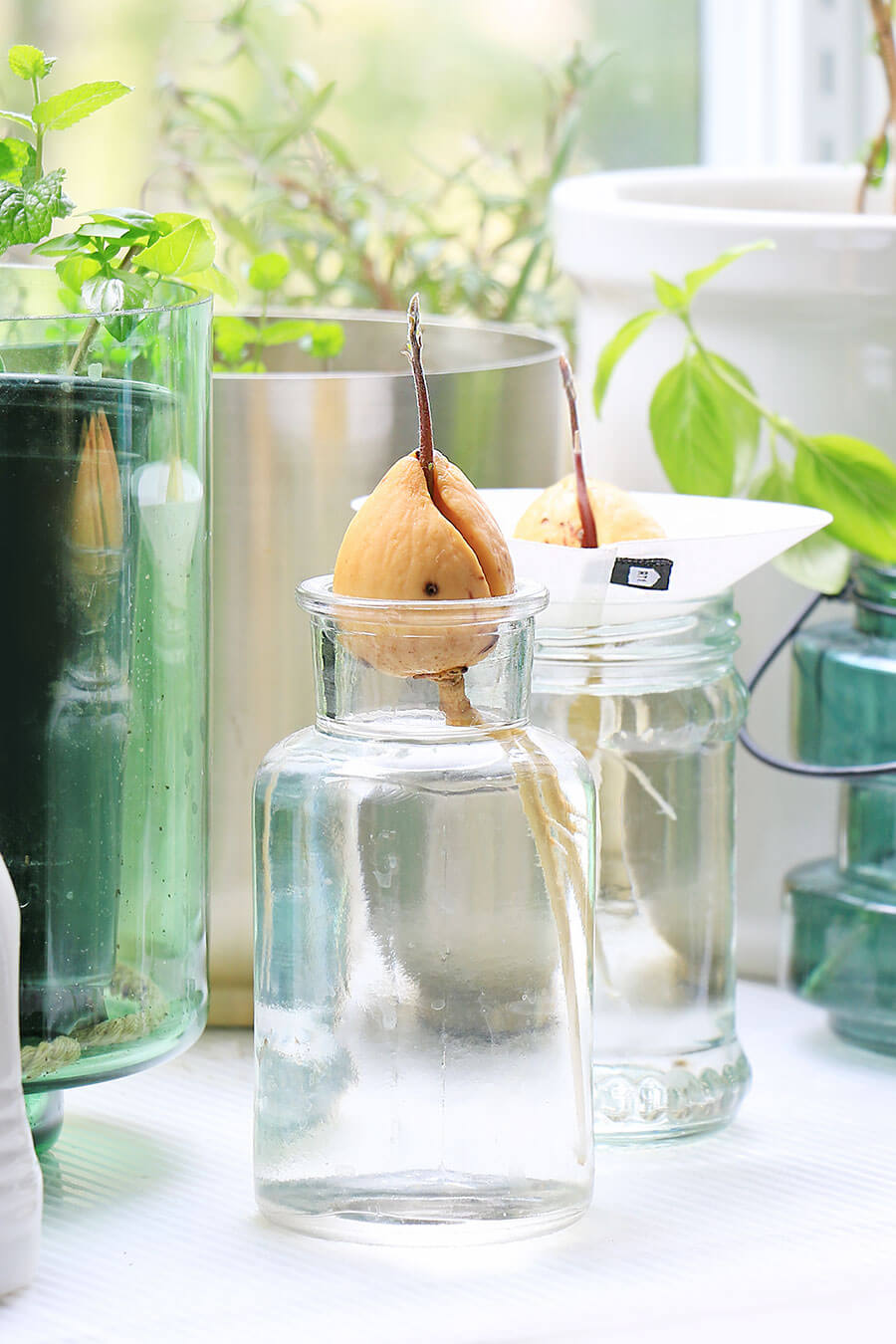 BE CAREFUL! Water evaporates, so keep an eye on those water levels or your root may not be touching water and may dry out. Once it sends roots deeper into the water, you don't have to keep an eye on those water levels to the same extent. At that point, it just matters that most of the root is in water.
#7. Place in Indirect Sunlight In A Warm Location
Be sure to place your sprouted avocado seed in a bright sunny location, but not in direct sunlight. Harsh sun will cause the seed to dry out and leaves to burn.
This is the part that requires a lot of patience… it can take several weeks for the root to take off, and several more weeks for a shoot (stem with leaflets) to grow.
Temperature Tip: Avocado seedlings grow best in 60 – 70 degrees Fahrenheit temperature. So keep it indoors where the temps won't fluctuate dramatically.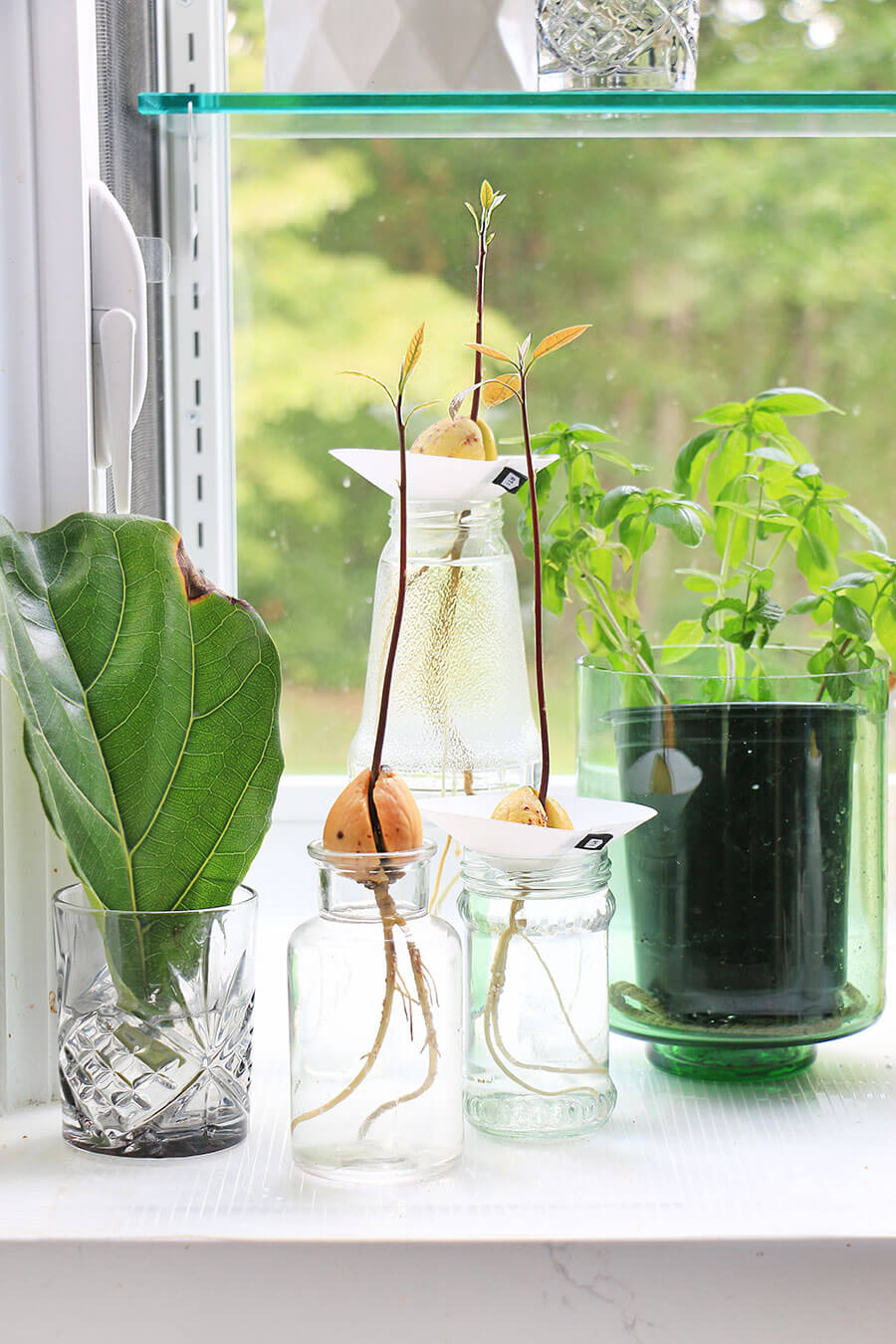 Helpful Care & Growth Tips
Once the roots are deep down in the water it is okay that part of the root is exposed to air. However be careful to not allow the water to evaporate over time.
It may take several more weeks before the shoots finally emerge and you get any leaves. But in the meantime rinse the roots and refill with fresh water if you start to see buildup on the roots. And move the seed to a taller jar once the roots start to hit the bottom. You don't want to stifle root growth.
How Long Will It Take To Grow An Avocado From Seed To Tree?
Typically it takes about 8 weeks from day one soaking the seed, to having roots and shoots with small leaflets. However some avo seeds are late bloomers while others burst on scene, but on average this is the approximate times my various sets of avocado plants have taken to grow. It may also depend on the variety of avocado, so be patient!
Soaking (Day 1)
Seed splits and root is visible inside split (Week 2-3)
Roots grow down into water and branch out (Week 3-5)
Shoot starts to emerge and grows tall (Week 4-6)
Shoot grow real leaves (Week 6-8)
Nice sized leaves, established root system…you have a real plant! (Week 10-12)
3-5 foot sapling (2-3 years)
Moving It To Soil + Plant Care
The seeds sprout, grow, and do well in water for quite a while. But once your plant starts to grow tall (about a foot), it will need the nutrients it can only get in soil.
Use potting soil with a layer of compost at the bottom, and a pot with drainage holes in the bottom plus a drip tray. You don't want the roots to sit in water for long periods of time once it has acclimated to soil…this can actually lead to root rot. Water it deeply and allow the top inch of soil dry out between waterings.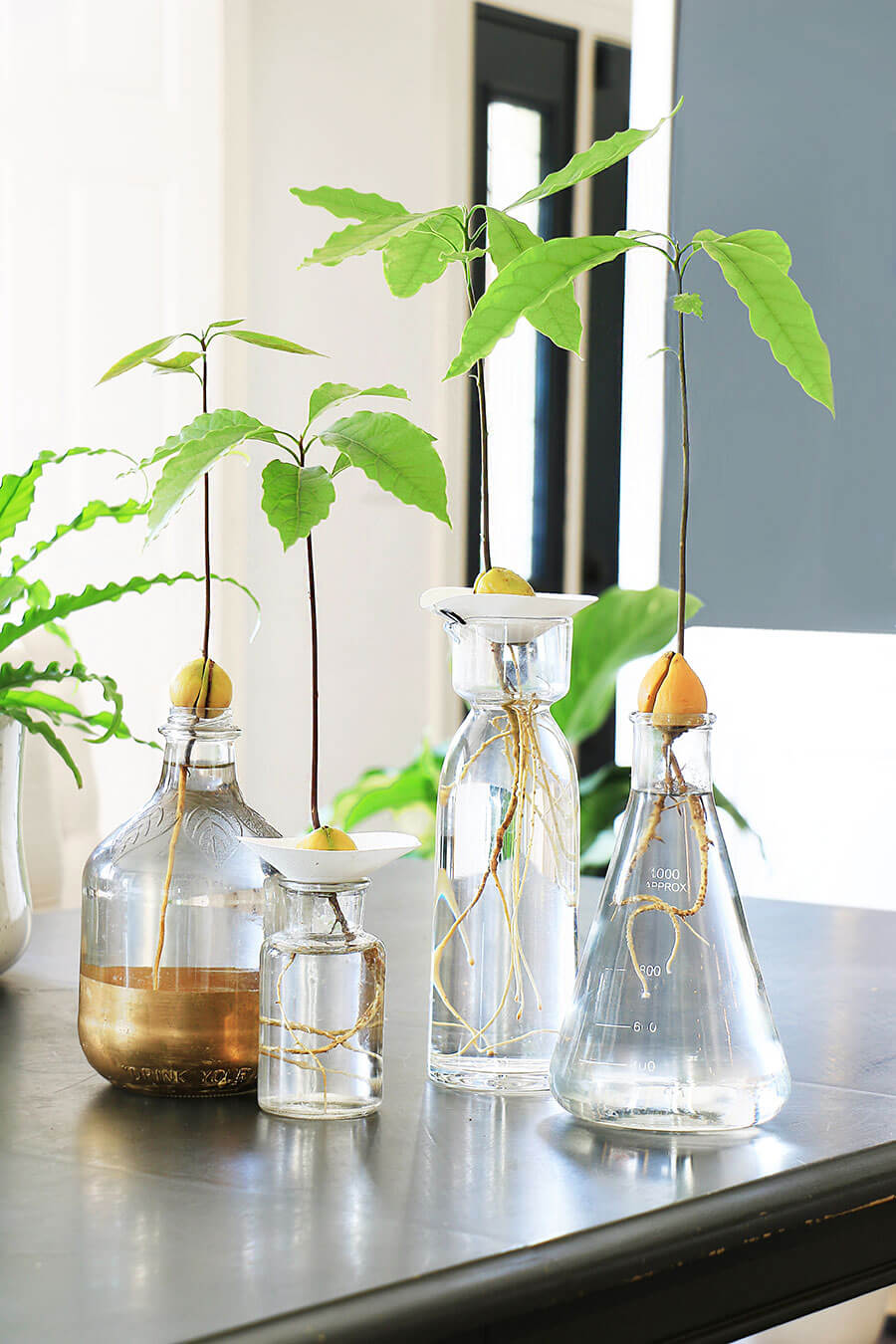 Make sure your avocado plant gets plenty of indirect sunlight. 6+ hours of sunlight if possible. Remember that too much direct sun may burn the leaves, especially while it is young and just getting established. Avocado plants like the sun, the warmth, even humidity.
Fertilize it once per season after the first year of growth with a balanced fertilizer. In the first year, the compost should provide what is needed.
And finally don't forget to transplant into a bigger pot if you want it to grow tall and bushy. Once it is a few feet tall, you can trim the top to encourage it to grow bushier and branch out.
The tall plant on the left (pictured above) is a 3-year-old avocado plant I started from seed. You can see it is tall and lanky (almost 6ft), without branching because it hadn't been topped off. It is just now beginning to sprout future branches. The lower leaves look like when it first started from seed, then at the very top it's leaves are more true to the mature plant of this variety. You can see it has some sun spots from one day when I forgot to cover the greenhouse.
Will An Avocado Plant Started From Seed Ever Bear Fruit?
Possibly. But let's be honest… your chances of ever bearing quality avocados from your little seed sprouted tree aren't as high as most of us hope. Plus it can take a decade to fruit, IF it fruits! Why? For a variety of reasons, like the variety bred, the quality of the seed, and more.
So is it worth my time on investment?
Yes and no… if you are growing for the enjoyment of a free houseplant with the hopes of an avocado tree somewhere down the line, yes. If your primary intention is to get food, it might be better to invest in an almost-mature tree.
The best way fruit bearing avocado trees are produced from a graft, and these can produce fruit within the first year of purchase depending on the maturity/size.
I bought two grafted avocado trees online, one 2 feet, and one 4 feet tall that would have bared fruit in the first year if I hadn't killed it from over-watering. I was a rookie back then.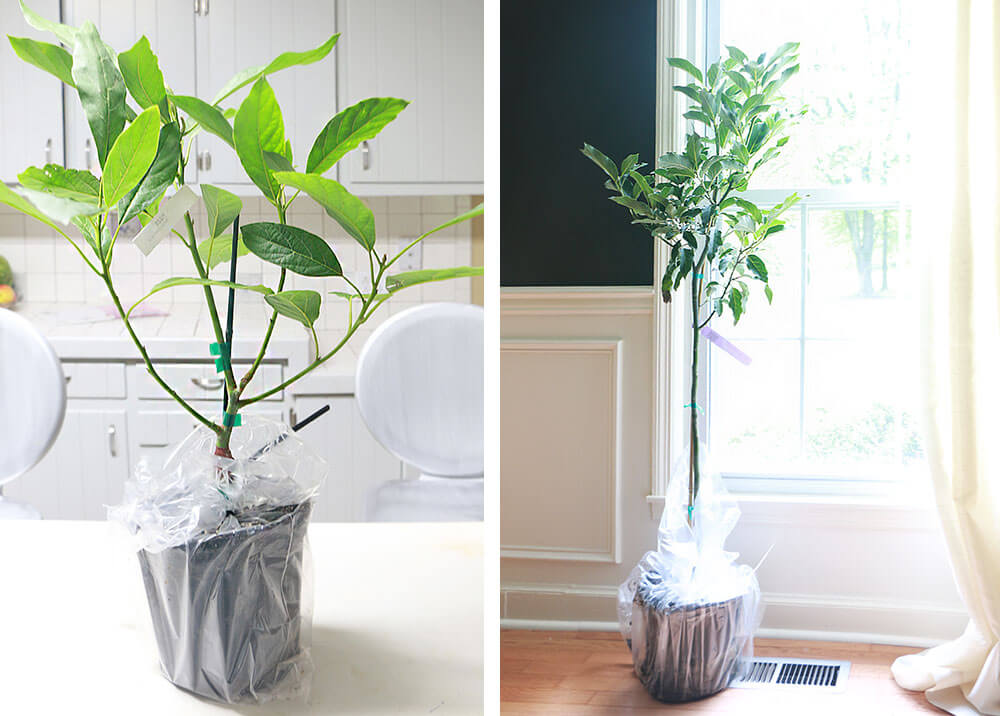 Where To Buy Mature Avocado Trees & Avocado Seed Starting Jars
Avocado Trees, Haas, Cold Hardy varieties, etc: FastGrowingTrees.com
I have purchased a variety of plants (including Avocado trees) from FastGrowingTrees.com and definitely recommend them. Plus they offer a 1 year guarantee, which I wish I had purchased with my avocado trees. If anything happens, you can replace the tree.
Shop Growing Jars & Avocado Propagation Cones (Affiliate Links)
Frequently Asked Questions
The root is growing bent in the wrong direction! What do I do now?

Go ahead and place the seed partially in water (just barely let the water touch the bottom of the root), and hopefully the root will send out other shoots and start reaching for the water.
What if the seed breaks?

That's okay! An avocado propagation cone can help hold it in place, suspended above the water, even without the seed half.
Do I need 2 Avocado trees to produce fruit (a male and female)?

Avocado trees are self fertile, but having another companion avocado tree helps with pollination, and significantly increases your chance of getting more fruit.
Should I grow my Avocado plant indoors or outdoors?

Depends on where you live:

Most avocados prefer 60 – 70 degrees Fahrenheit, as they grow naturally in hot humid countries closer to the equator. HOWEVER you can purchase a cold-hard avocado plant that is bred to do well in cooler growing zones.

If you live in a climate that is fairly temperate year-round (50+ degrees F)(zones 9+), you can grow your avocado outdoors without worrying about the colder seasons. On cooler nights, cover it with a tree protection covering.

If you live in a climate with winter weather, you will want to keep it in a large planter pot so you can move it indoors during the colder months.

Once a tree is more mature, it can acclimate to cooler temps, and do better than a 1-year sapling.
Is It Worth It To Grow An Avocado Seed?

It can take a decade for an avocado from seed to be mature enough to grow fruit, and it might not fruit at all. It depends on a variety of factors.

So why grow it? Well I consider my seeded avocado plants a free houseplant. Think of it no differently than you would think of a Fiddle Leaf Fig tree. This variety of fig tree grown inside my house will never produce actual figs, and it's not the easiest plant to care for, yet we love it in our décor as a sought after houseplant. So if my avocado tree does well over the years and I'm lucky to get fruit from it before my kids have kids, great!

If you are growing an avocado tree for fruit, consider buying a grafted one that is already 3-5 feet tall.
Do I have to dry the Avocado seed before sprouting and planting?

No, you can make your guacamole, and immediately wash that seed and start the process!

The fresher the seed, the better.
How about you? Have you had success sprouting or growing avocado plants? Share with us over on Instagram or Facebook!


Learn how to get free plants or nearly free plants! Both houseplants and outdoor plants!