Learn how to root zz plant stem cuttings in water, and successfully propagate this wonderfully low maintenance houseplant!
If you love free plants as much as I do, the ZZ plant (Zamioculcas zamiifolia) is going to be one of your favorite houseplants to propagate. The ZZ plant is easy to root from a simple cutting placed in water. Plus it makes for a lovely decorative foliage arrangement while you wait for it to root!
This plant is one of my top 5 favorite easy-to-propagate plants which I shared recently.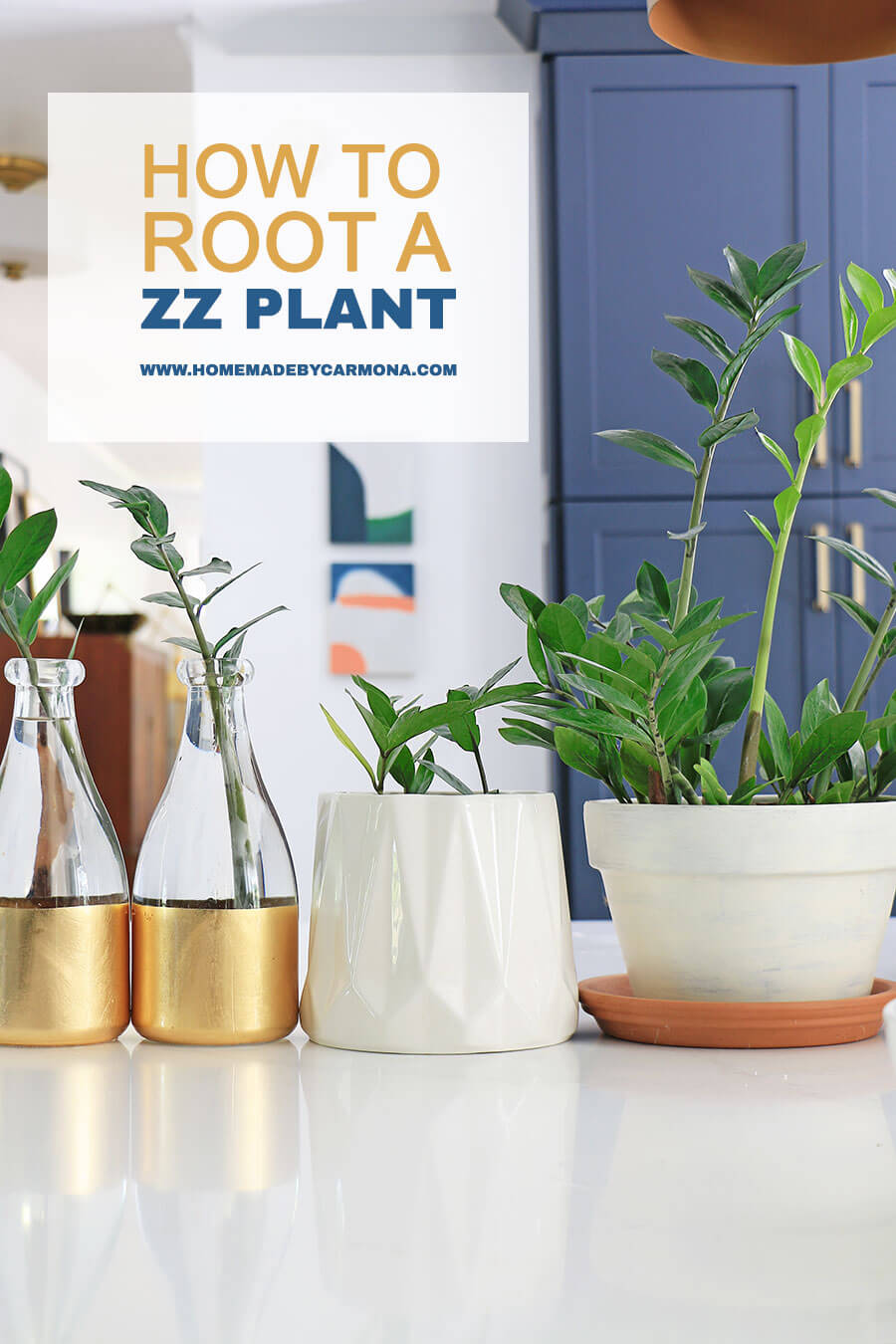 How To Take A ZZ Plant Cutting
If the mother plant is a good healthy plant it will eventually produce beautiful long shoots. The long dark green shoots are my preferred pieces to cut because it makes such a beautiful centerpiece placed in a vase of water.
It is almost like having artificial greenery, but better because it's the real thing. It will sit in that vase for months looking beautiful, and the next thing you know, you'll see little roots growing!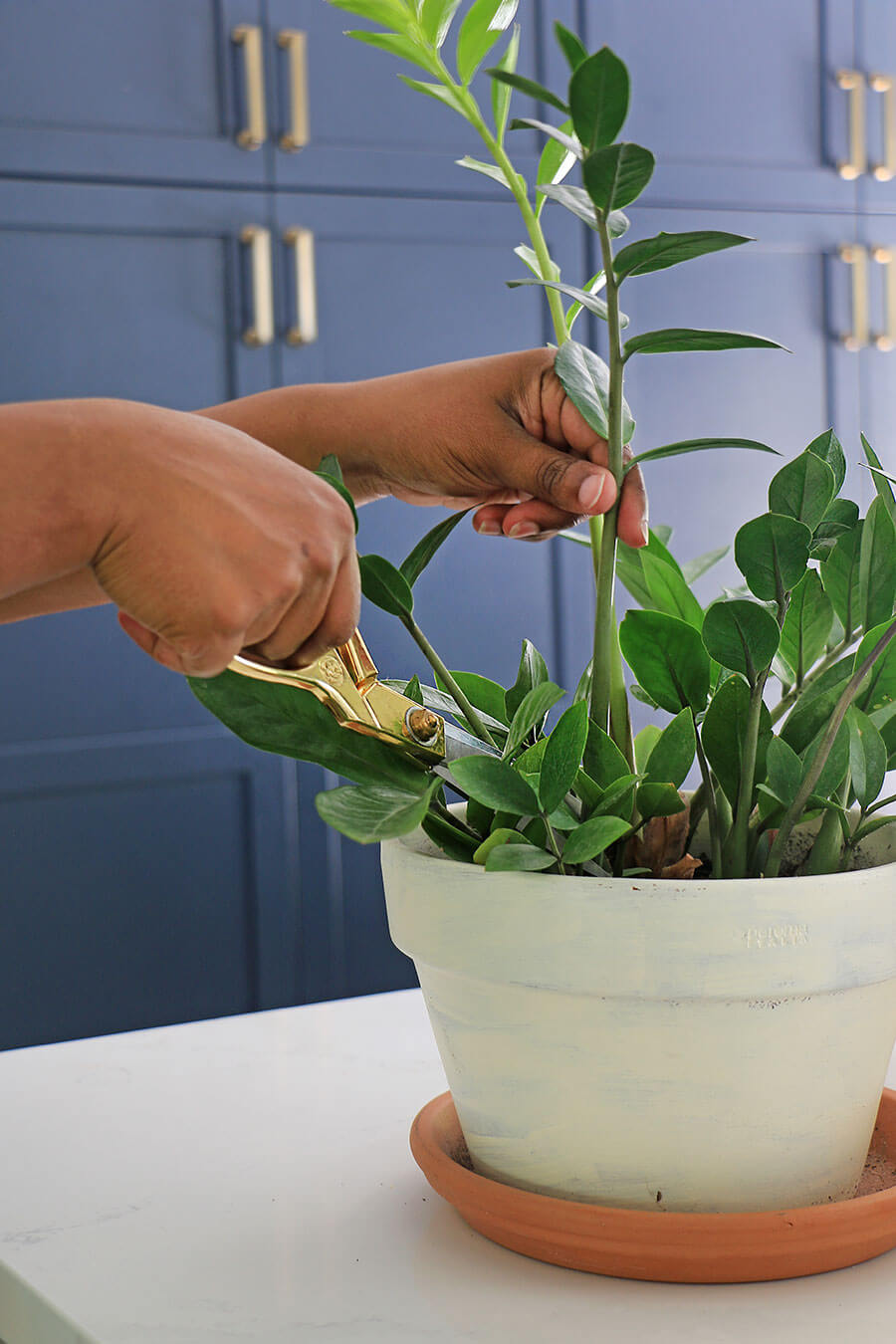 There's nothing to it! Just use a clean sharp pair of scissors to take a stem cutting from a mature zz plant close to the base. I like to get as close to the soil level as possible leaving room for new shoots the zz plant will eventually put out.
FYI: Cutting from the extra long stalks are a personal preference. You can cut from shorter stalks, no need to wait until your plant produces long shoots. As a matter of fact, the shorter stalks might just root faster.
Tips For Rooting In Water
Place your cutting a jar or vase filled with enough water that it won't evaporate and dry out after several weeks. And don't be afraid to submerge much of the stem, it may turn a slightly darkened color, but that doesn't seem to affect it negatively.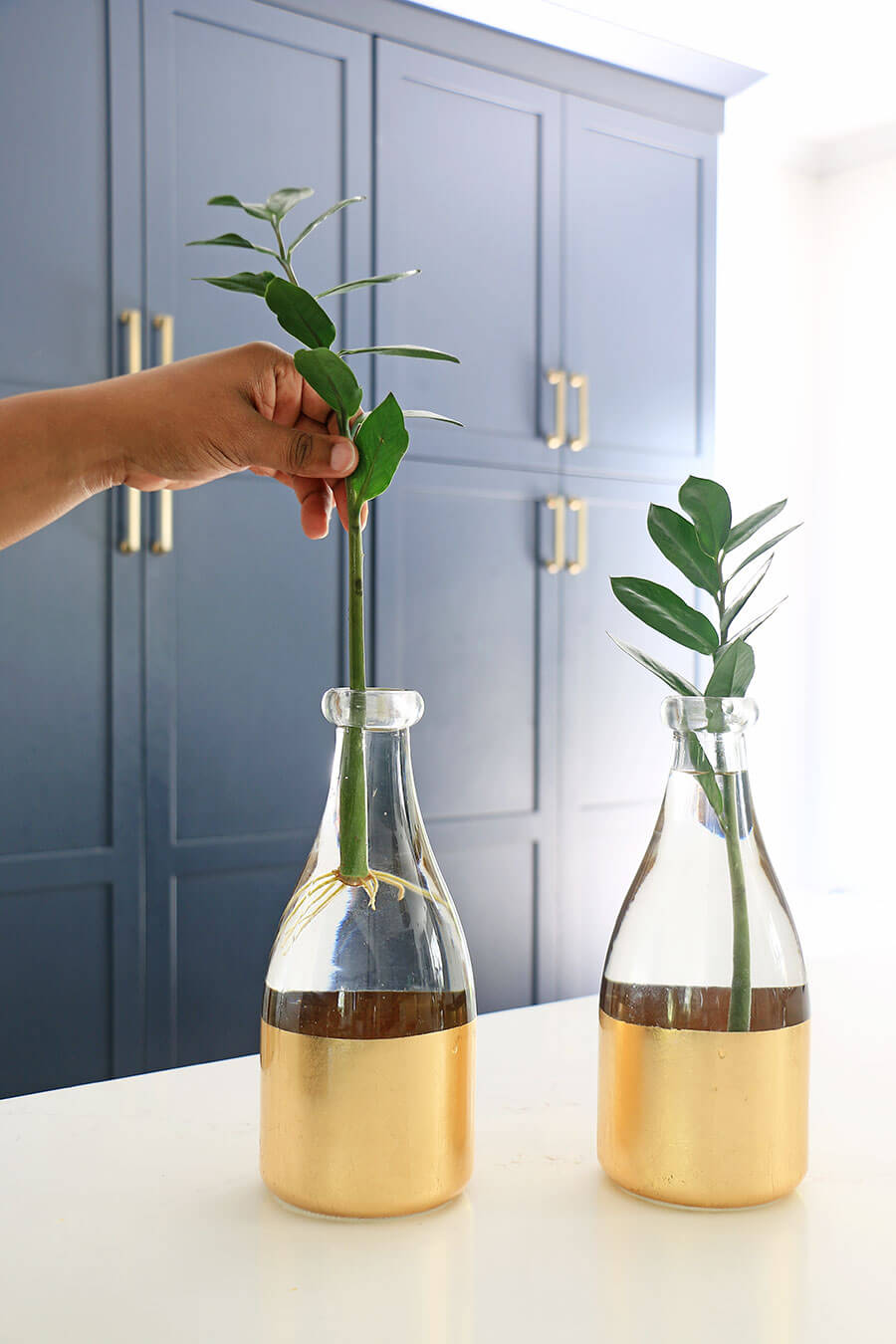 Whatever vase you choose, you'll want to be mindful of the size of the vase opening. Be sure the vase opening is wide enough to take out the rooted stalk without damaging the roots.
No rooting hormone is necessary, just water and lots of time! Change the water if you see it turning a murky or brown color.
Not every stem will root, but I've had success with 80% of mine rooting!
Transplanting Rooted Plants Into Soil
Once your plants have rooted, be patient and allow the roots to grow a couple inches before transplanting to soil. Plant two or three cuttings at the same time so it will round out the planter more. Plus cuttings seem to do better in a grouping of two or three, just place them a few inches apart.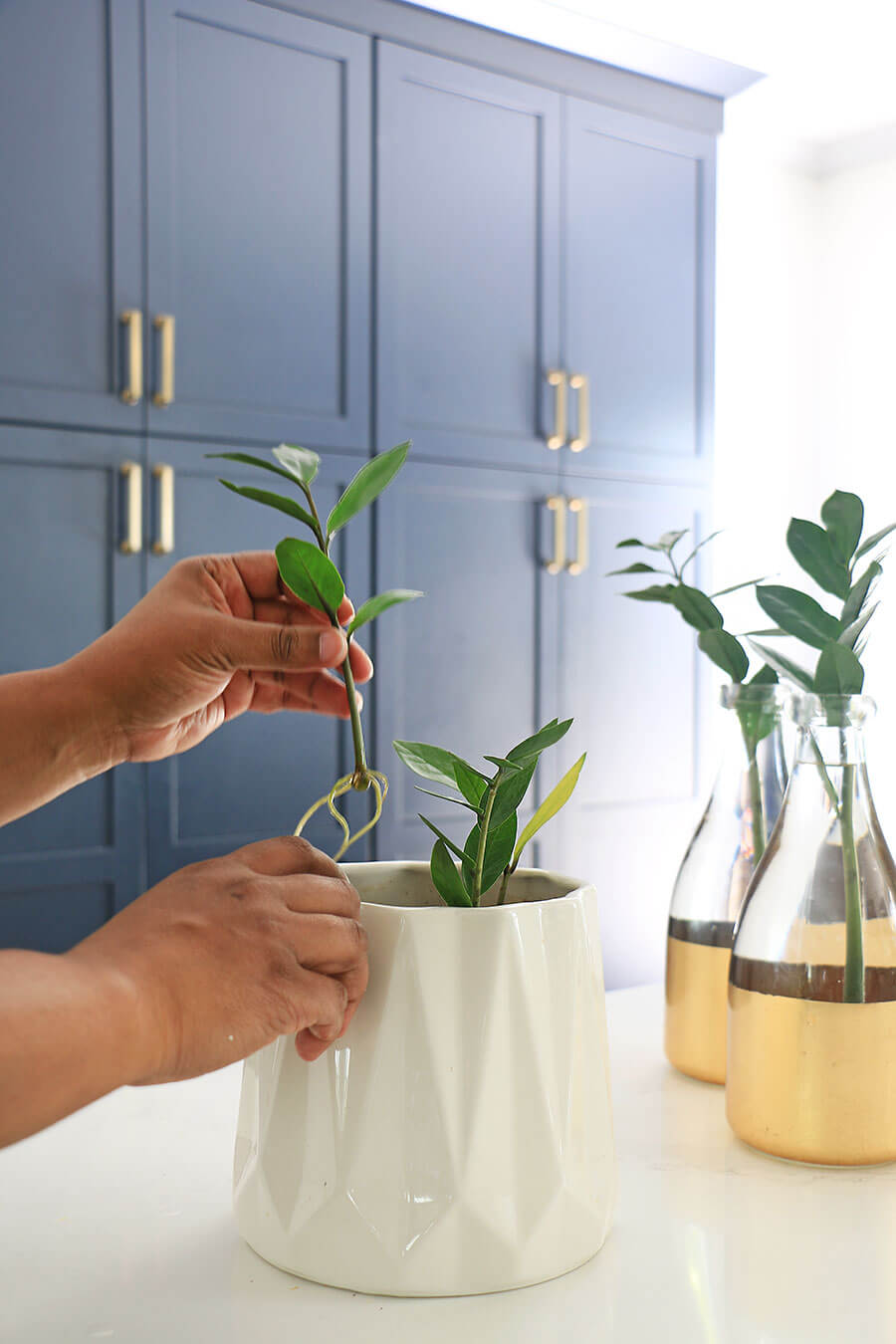 Use a well-draining soil, like a potting soil that contains vermiculite and perlite. Also choose a planter pot with drainage holes in the bottom. This helps prevent root rot which can occur if the new plant sits in soil that too moist or has excess water.
Typically you want to allow the soil to dry out between waterings, which will give you an idea of the watering frequency (most houses this might be once a week). However, the first couple weeks you'll need to water a little more frequently because they are used to being in water.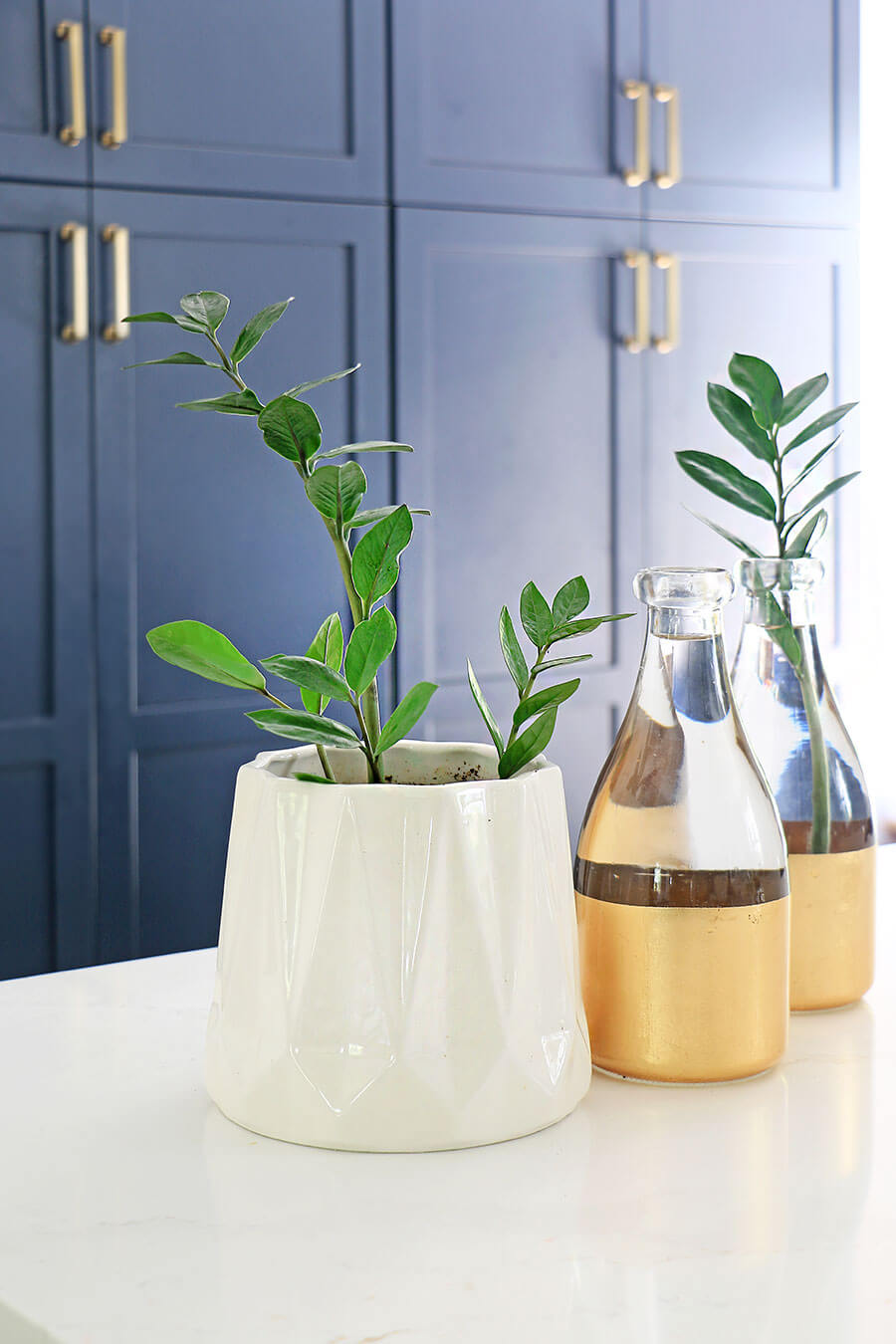 Use a mild liquid houseplant fertilizer when you water, and keep it in bright indirect sunlight. A warm area (around 70 degrees F) is best for faster growth.
If it is placed in low light it will grow very slowly and struggle to get established, but harsh direct sunlight is too much for the young transplants.
Caring For The ZZ Plant
It may take a month or two for your young plants to adjust to soil. And it may take several more months before you seen new growth, but soon you'll see new little zz plant stems sprout and fill out your planter!
Once established these wonderfully low maintenance plants do really well if you set them in indirect light, and water every week or two. And they can even tolerate lower light situations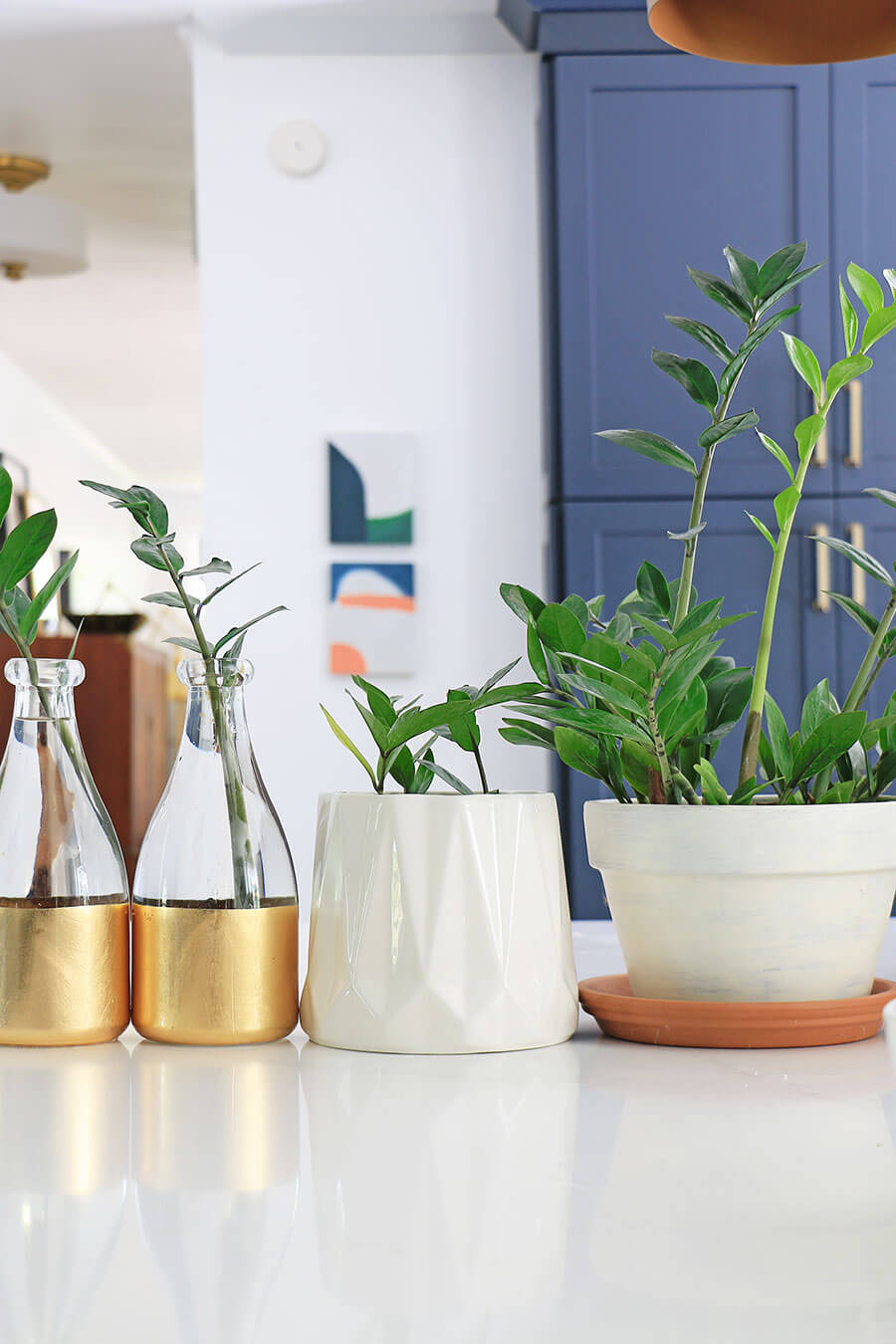 Zz plant propagation is incredibly easy, but it's always a good idea to take several cuttings in case some of them don't take, or a few die off in the process of propagating. It's always a good idea to stack the odds in your favor for successful propagation!
Frequently Asked Questions:
Q. I'm on city water, will that prevent the zz stem from sprouting or affect my transplant?
A. I have heard from people that the tap water in their city caused their plants to suffer due to the higher chlorine content. But this may vary from place to place. You can use bottled water while it sprouts if you are worried. In my personal experience, my well water is great for the houseplants, but the ones I have growing in my greenhouse do even better because I water them with collected rain water.
Q. Why are the leaves turning yellow?
A. It may indicate you are over watering. Make sure the water is draining properly, and don't leave the run-off water in the planter base. Cut off the yellow leaves, and make sure the soil is dry between waterings. Note: Give it plenty of water when you do water…just water less frequently.
Q. Are there different methods of zz plant propagation?
A. Absolutely! You could cut a section of stem with a few leaves for more cuttings from a single stem, and use a little rooting hormone, then place them directly in a potting mix.
Q. Will cutting several stems off my established zz plant hurt it?
A. No. Think of it like pruning… My zz plant begins to sprout vigorous new growth after taking several cuttings.