I can hardly believe it is REVEAL WEEK for the One Room Challenge! I'm finallllllllyyyy finished with my master bathroom, master closet, and nook, and I couldn't be happier (or more tired)!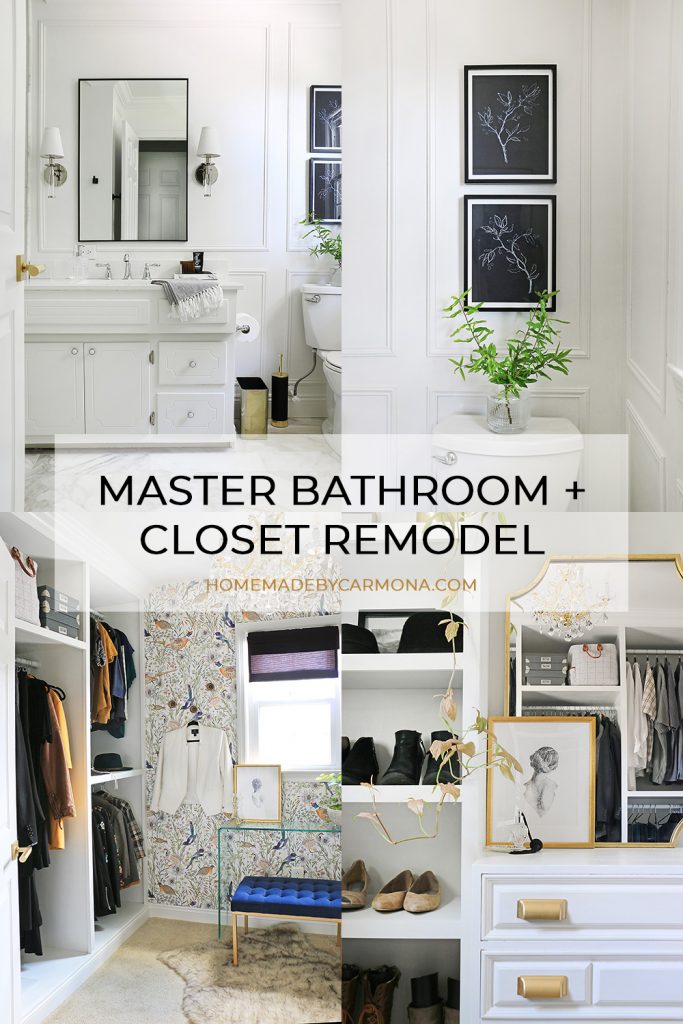 * Special thanks to all my One Room Challenge sponsors! This wouldn't have been possible without gifted items. Affiliate links also contained below.
This was one of the more extensive projects for me, because I challenged myself not to hire any professionals even on the challenging projects, but to execute each and every part of this DIY makeover on my own. While that is usually my method of doing things around here, I knew this project would push my skills to their limits, and I'd have to be willing to do some DIY projects I wasn't used to doing; like running electrical, laying marble floor tiles, and installing wallpaper all without an extra pair of hands.
However, it was all worth it! I stayed in budget doing all the work myself, and challenged my skills. Plus I finally have the master bath, closet, and nook I've been imagining since I first walked through this house almost 4 years ago.
In Case You Missed It: Week 1| Week 2 | Week 3 | Week 4 | Week 5 & 6| Week 7
Remodel Challenges & Goals [Video]
Master Bathroom Remodel
Here is what the master bathroom looked like 8 weeks ago. Ah, look at that special ceiling full of popcorn eating up all the light, and the pinkish sheet vinyl on the floor. Not to be outdone, the lopsided vanity light, and of course who could forget the frog artwork that the previous owners left behind for us, that we just never took down? Special… *cringe*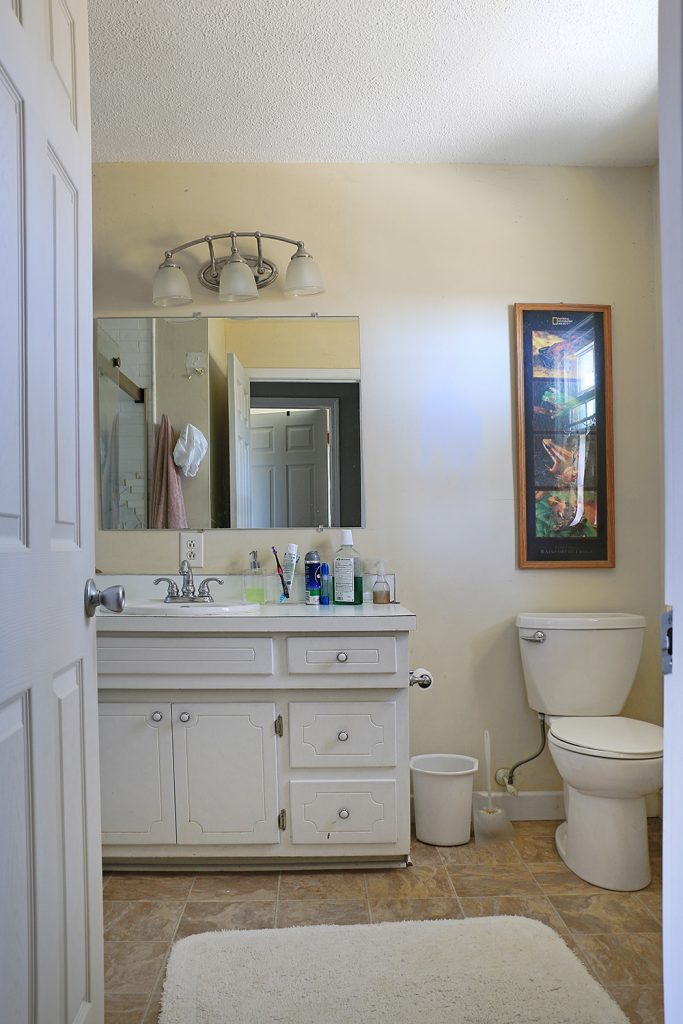 It's hard to believe this is the same room! And yet, none of the footprint has changed, and there is the same original vanity right there… I have plans to reface the front one day, but it will do for now.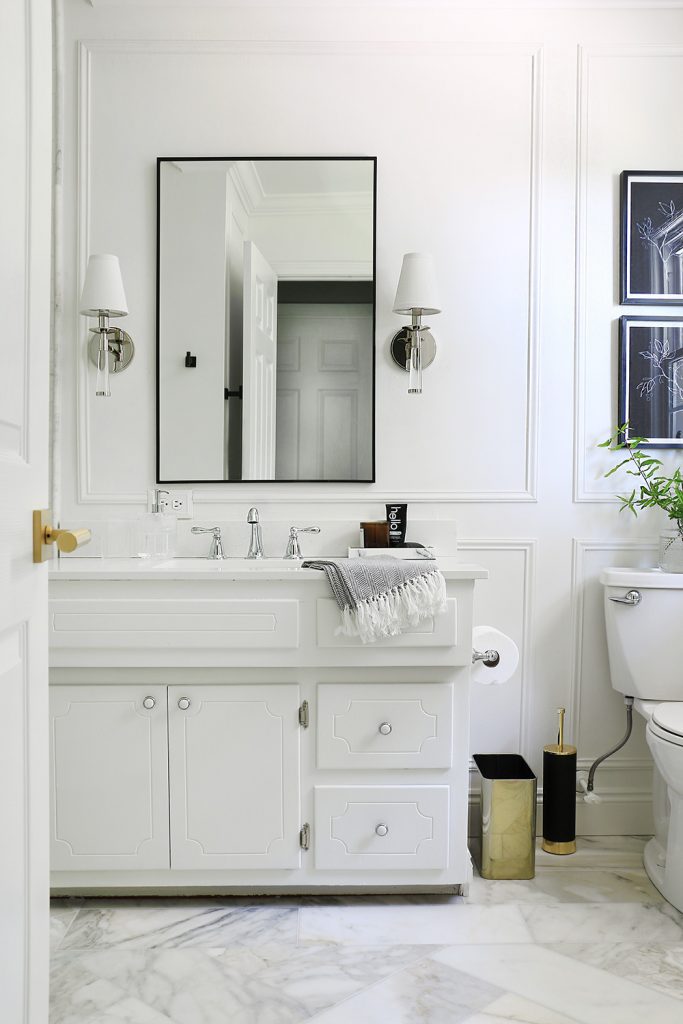 Elevating The Design
I wanted to elevate the design in this room to be classy and sophisticated. Just because it's not the biggest master bathroom doesn't mean it can't be loaded with modern luxury.
To add a luxe look to this bathroom, I went with a honed Marble floor tile from The Tile Shop, in a herringbone pattern in the center, and a border around the edges.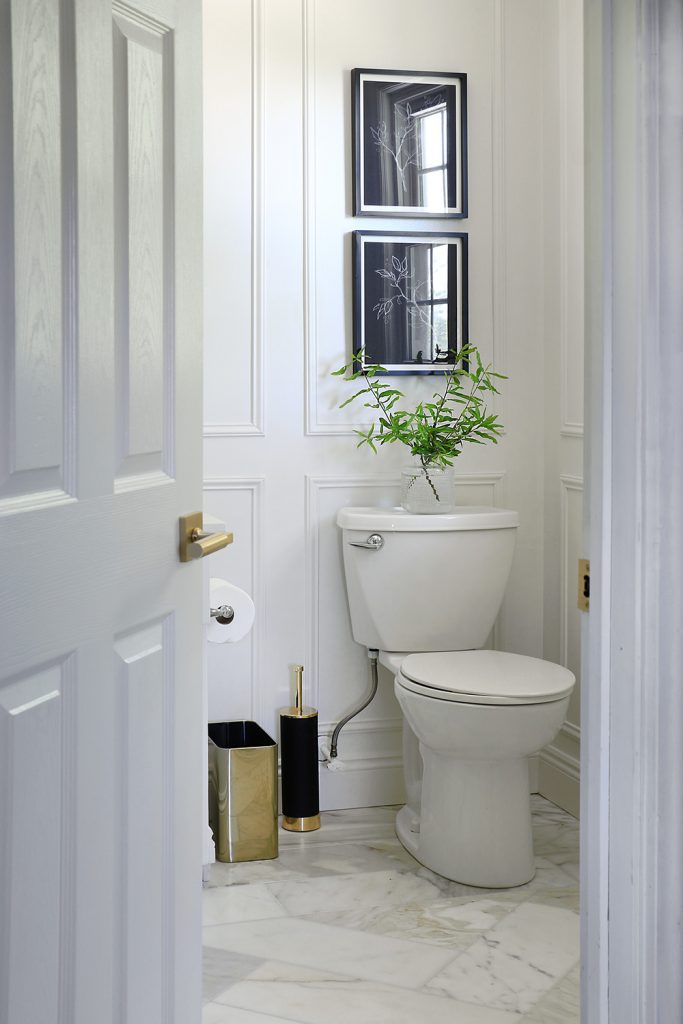 It's All In The Architectural Details…
Just because a space isn't big doesn't mean it can't boast architectural elements.
I love how the shadow box moulding frame the window, and other fixtures in the space. All that stunning moulding from my sponsors at Novo Building Products and their entire family of companies, including Empire Moulding & Millwork. It adds SO much visual interest, and the right crown and baseboards take a room to the next level.
Here is a before and after from another angle so you an see the amazing impact moulding has on the space. This is from the shower looking out.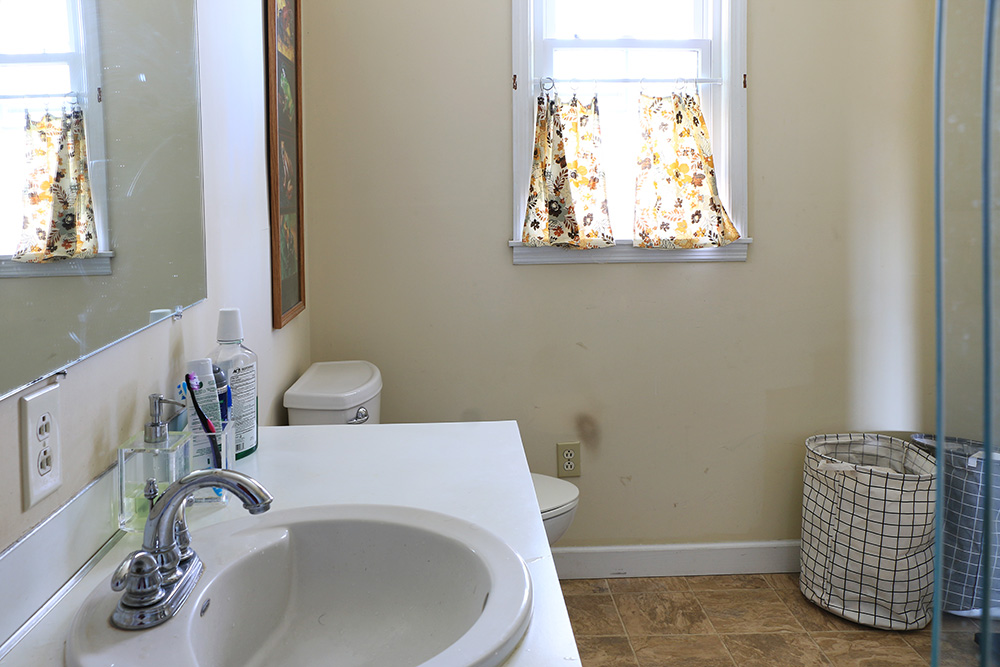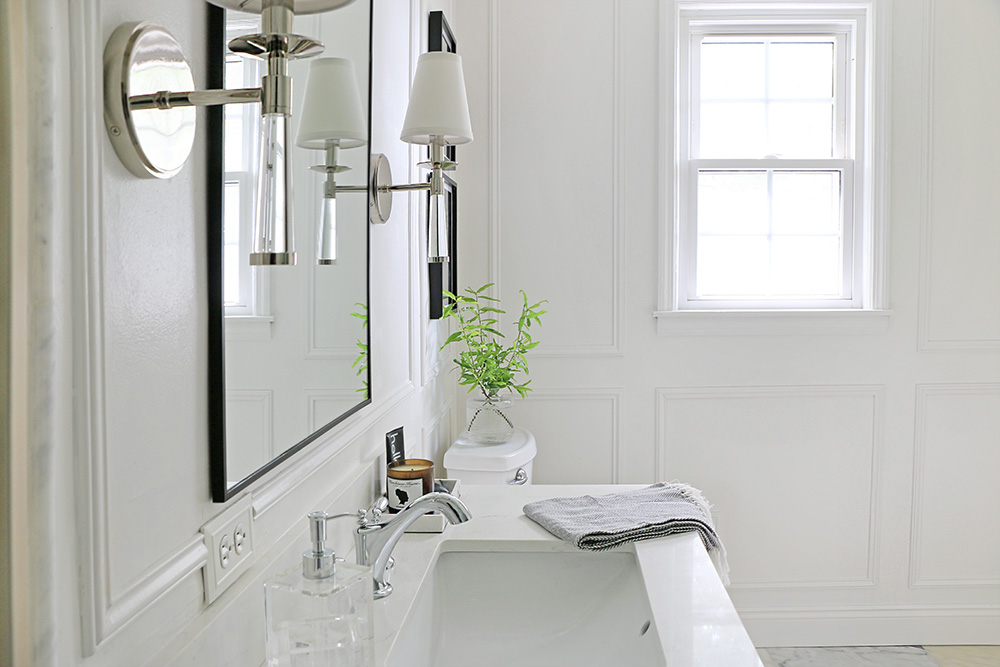 Mixing Metals
I'm usually a brass girl, but when I saw these nickle sconces from Crystorama, it totally changed my direction for the finishes in this bathroom, and I'm in love! Notice the acrylic base of the sconces? It's like the best of both worlds; a little metallic for bling, a little acrylic for modern flair.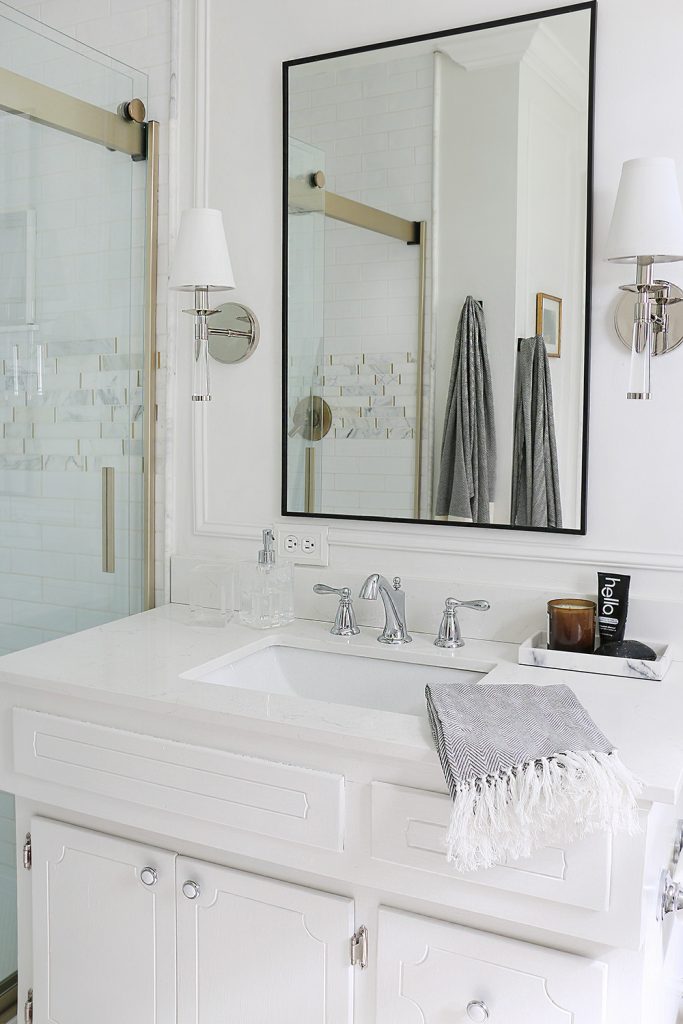 That means I have nickel, chrome, champagne gold, and black metals all in the same space…and if you count the picture frames, I also have gold.
Was I afraid to go so fast and loose with my metals? Eh, I'm usually reluctant to have SO many (all of them?) in one space… Usually you want a prominent finish, and 1-2 max other supporting metals. But sometimes it can work! In this case, the black hooks and mirror are just grounding elements, not truly an additional hardware finish. And I didn't find the gold frames a conflict at all.
Art In…The Bathroom?
I know, I know! I'm putting things in unconventional spaces. Art in the bathroom, a chandelier in the closet… but I live for those unconventional moments!
Plus, walls shouldn't be naked, no matter what room it is in your home. As you can see reflecting in this mirror, I added an art piece to the far wall. In the future I plan to place a small bar cart or storage shelf in that corner.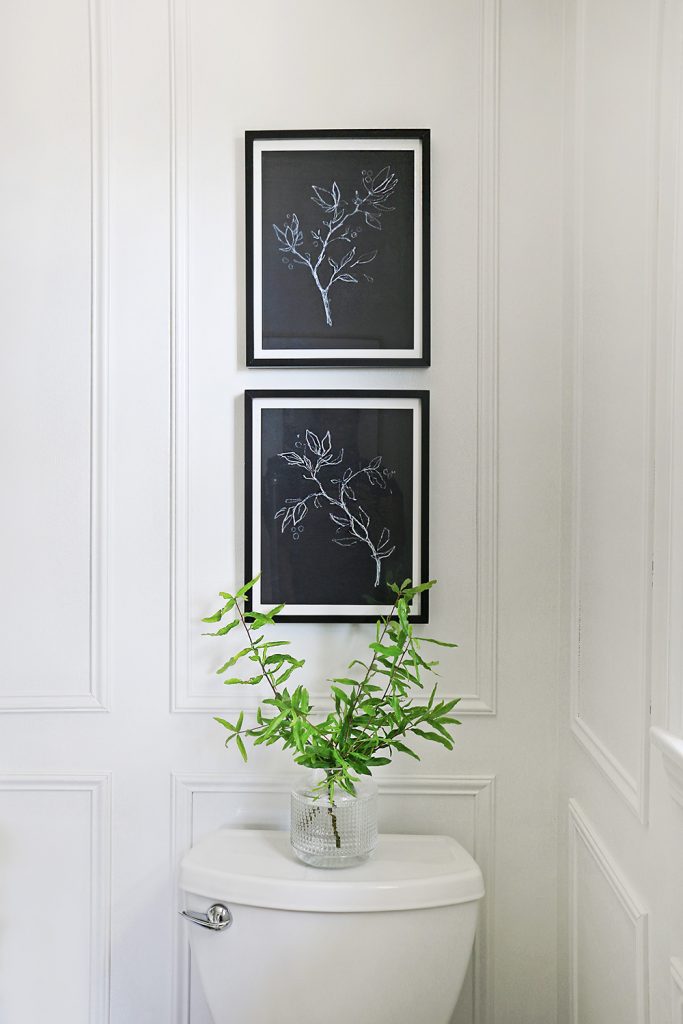 Sticking with the black and white theme, I chose these pretty white charcoal botanical drawings from Minted, by artist Jess Blazejewski. Black & White Botanical #1 | Black & White Botanical #2 were perfect for the space!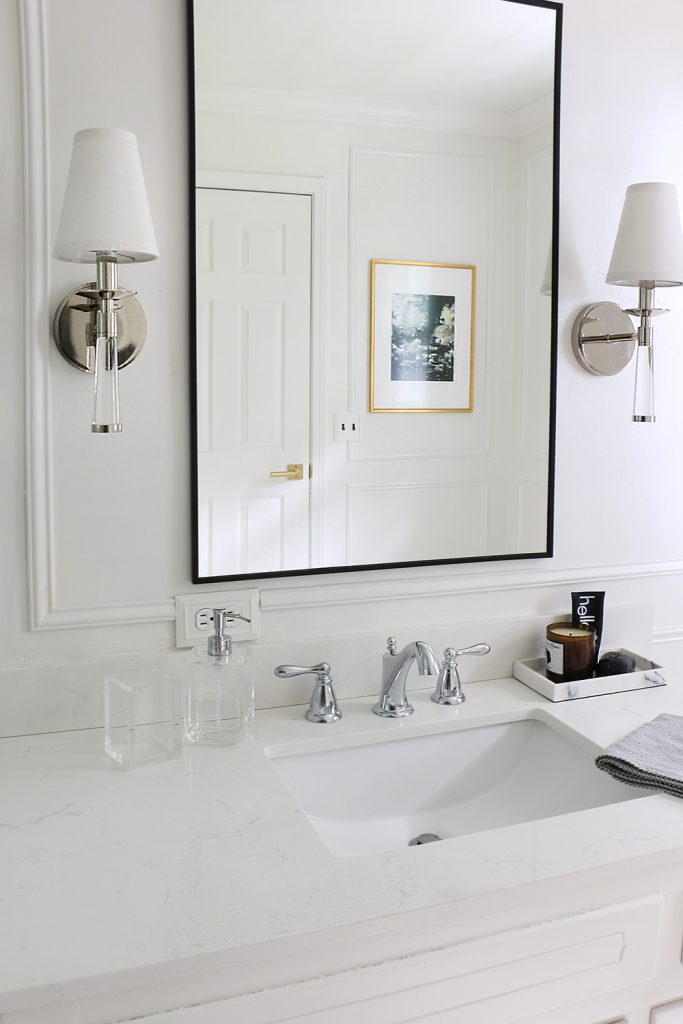 On the wall behind the door, I ordered this pretty little piece from my dad's online art studio called 'Old Shadow Road'.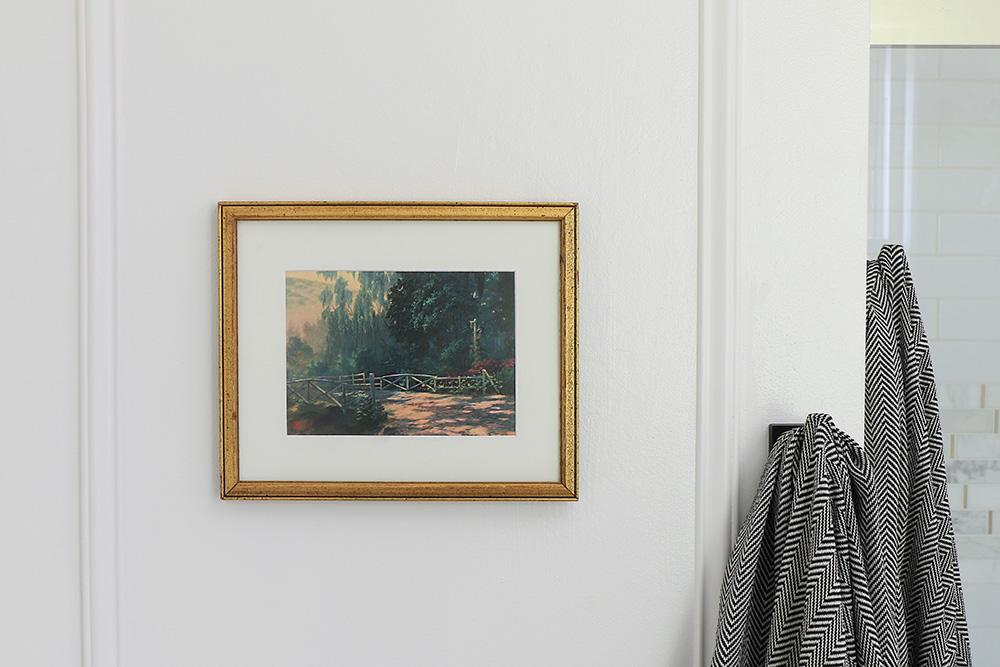 The trick to having art in a moisture rich space like a bathroom is to ensuring the edges are sealed well, and the backing isn't just plain paper, but something moisture resistant. Also make sure your bathroom vents well while showering.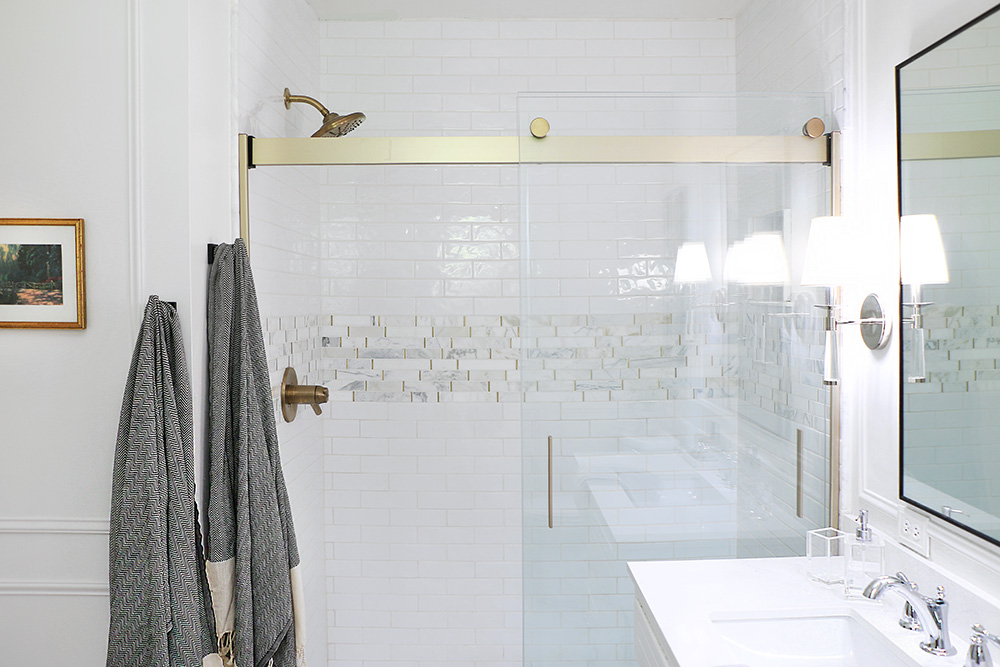 Walk-in Master Closet
8 weeks ago this master closet had very little shoe storage, now it has so much extra storage I almost don't know what to do with the extra space. Before, the lowest clothing bar was SO low that our clothes would drag on the ground, which meant the bottoms were always wrinkled. Ugh, more ironing…
Here is a little before action, to accost your eyes. The popcorn ceiling had to go, and so did the old closet system. The attic access needed to be relocated so my DIY built-ins could go all the way to the ceiling. It was a small narrow attic access, and difficult to climb through anyway.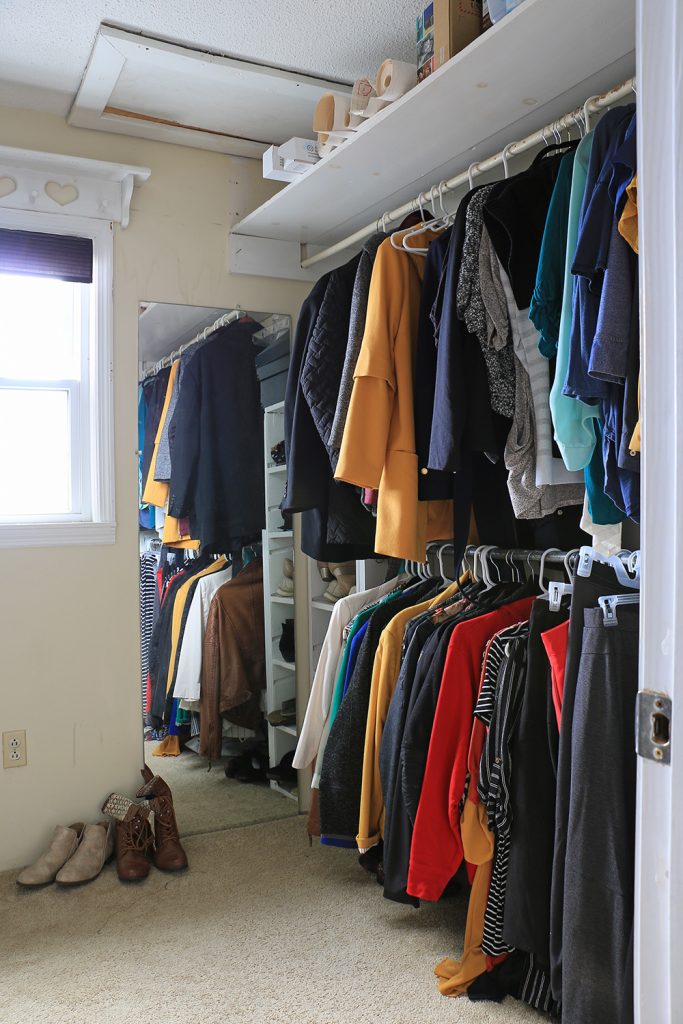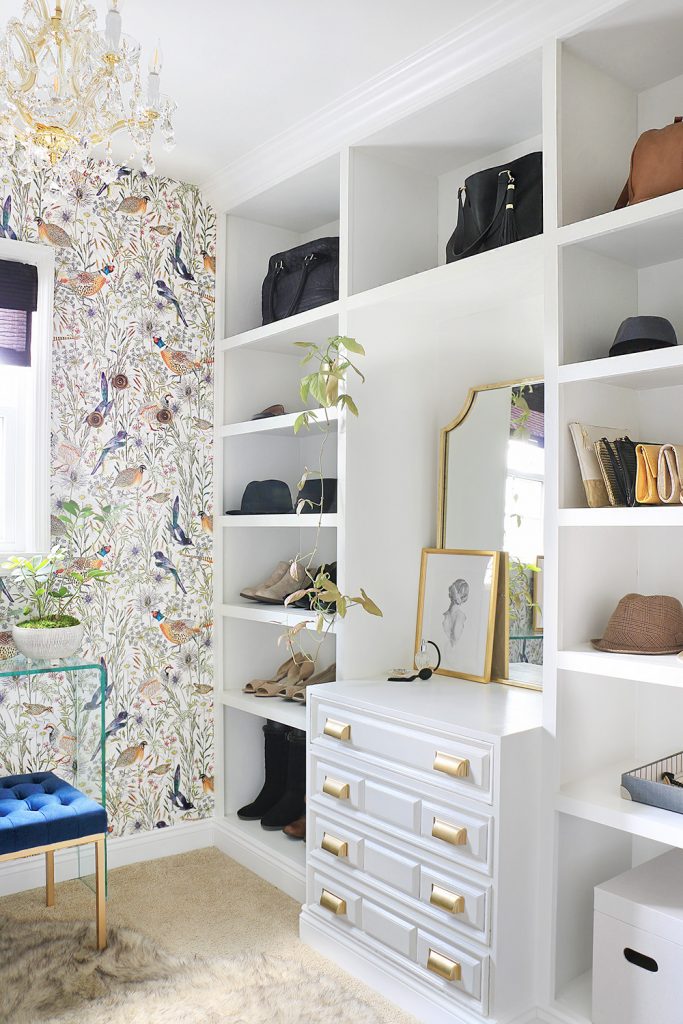 Here is the before and after looking at a different angle toward the clothes built-ins. Rather than a 'his' and 'hers' side of the closet, I opted to make our deeper clothes built-ins on the deeper side of the room, thus balancing the room.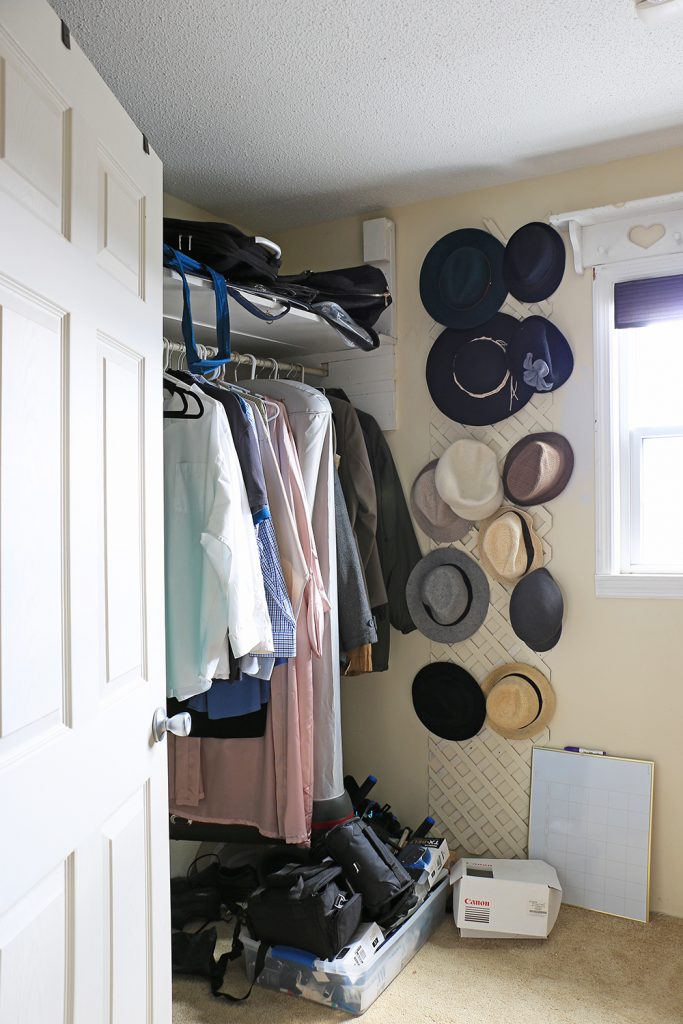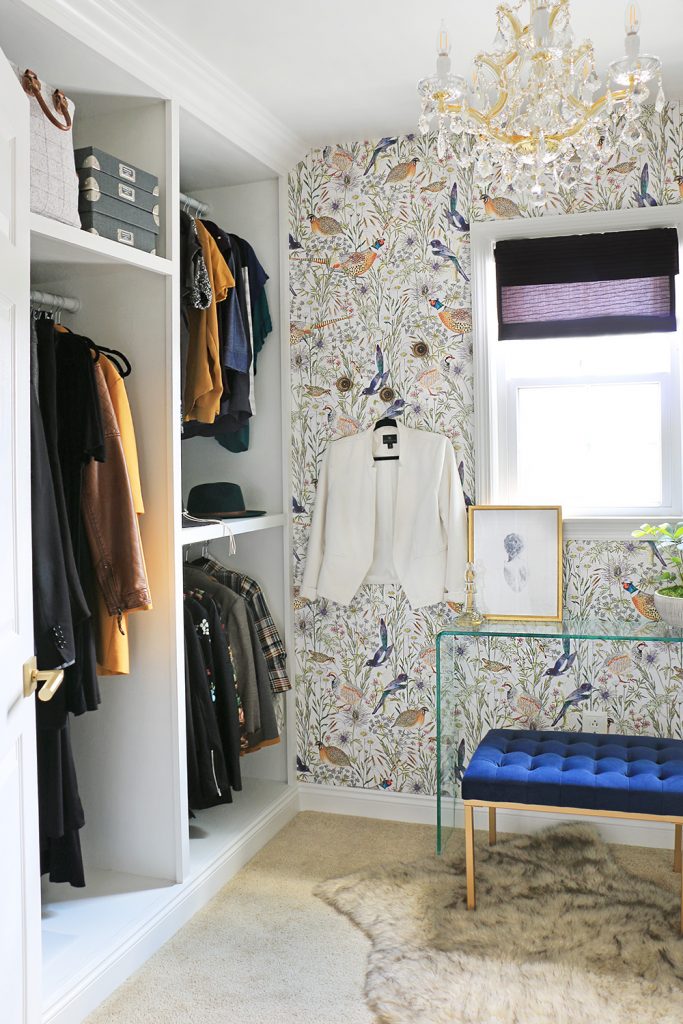 Chandeliers And Things That Sparkle
The first thing you probably notice in the master closet 'after' is the stunning chandelier. I have always loved the idea of a chandelier in a girly closet, twinkling it's light against a row of pretty shoes, and purses.
Strange to put a chandelier in a closet? Hey, why not? It's the quintessential glam light fixture, so I was thrilled when I discovered this Brentwood chandelier from Crystorama. I knew it was the one for my master closet right away!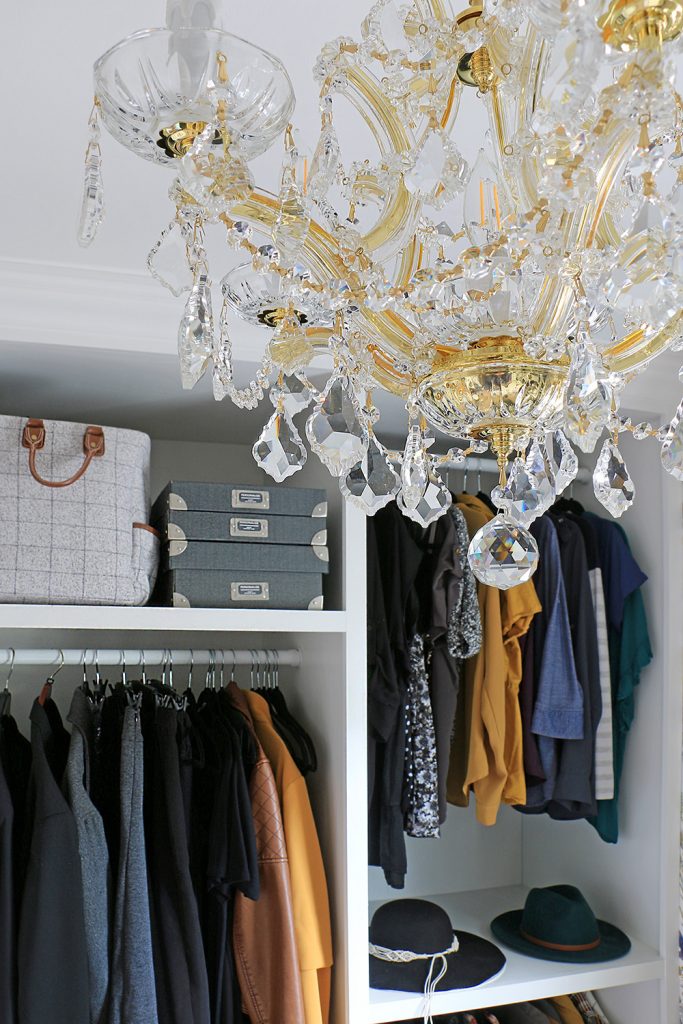 Flooding A Space With Personality
The wallpaper is s whimsical departure for me, but I still found myself drawn to it. This paper is called ' Woodland Birds' by Milton & King, and it really adds a ton of personality to the space!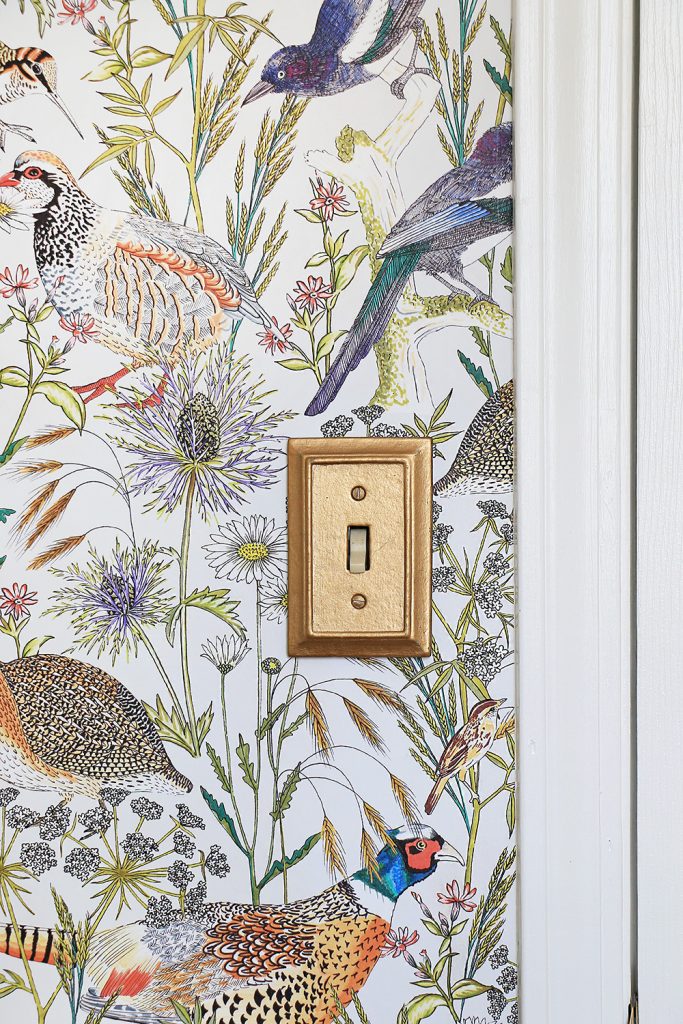 Customizing To Meet Exact Needs
I designed and built these closet units from plywood, and I'm incredibly proud of the workmanship, even if it does have some small imperfections.
Incorporating a thrifted drawer set adds the eclectic touch this room needed, and it meant I didn't have to build drawers from scratch. Shelves are no biggie, but I wasn't ready to take on drawers with such intricate fronts yet.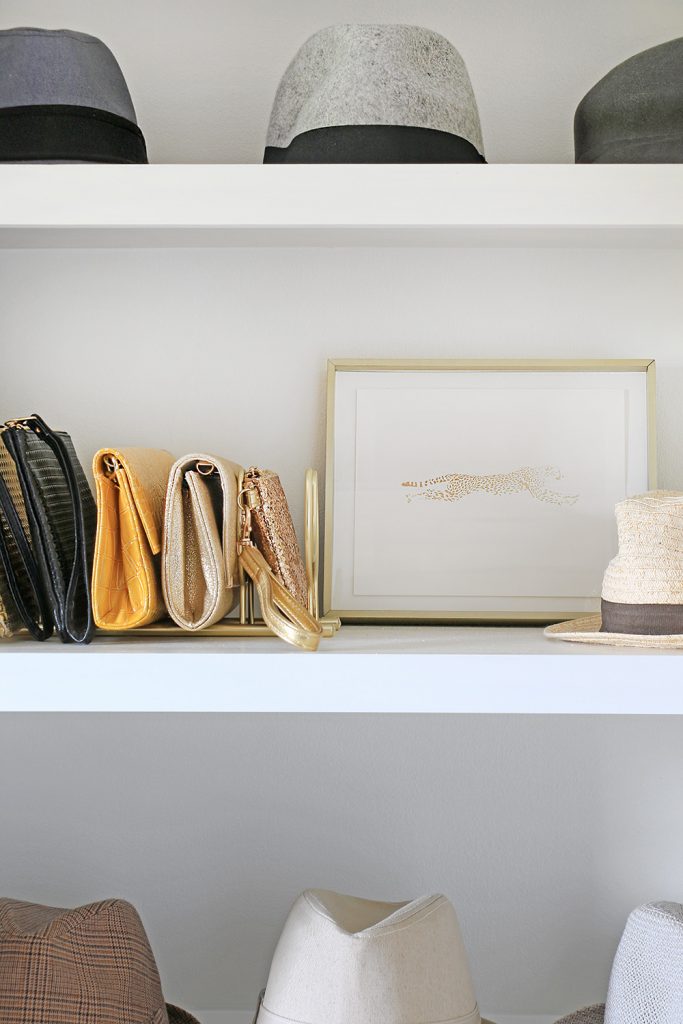 I just love having all of this space, custom made to my exact needs. My hat collection really needed a space to live and grow…hahaha!
Building in a spot for a mirror meant I could reflect the master closet back on itself, which always makes for a pretty moment in addition to meeting the practical needs of dressing. This pretty Gold Scalloped Edge Mirror was from Signature Hardware via Build.com, and I have been eyeing this exact mirror online for quite a while. I'm excited to finally have it displayed in my own home!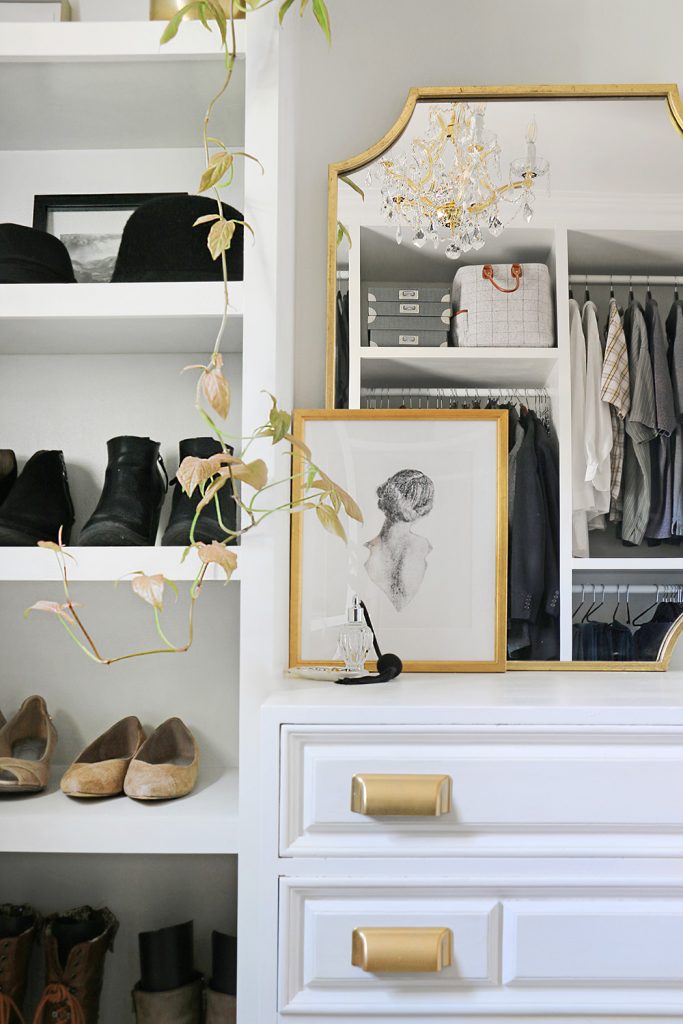 Fun Decor With A Purpose
If I can add a practical element into a room in a decorative way, you better believe I'm going to do it!
These antique style Chalice knobs from Schuab & Company offered me the solution to do just that. Originally the plan was to use them on the set of drawers, but when I saw them in the space I knew it would make for unique decor. It's also a great way to hang clothes, scarves, etc. that are set out to be worn.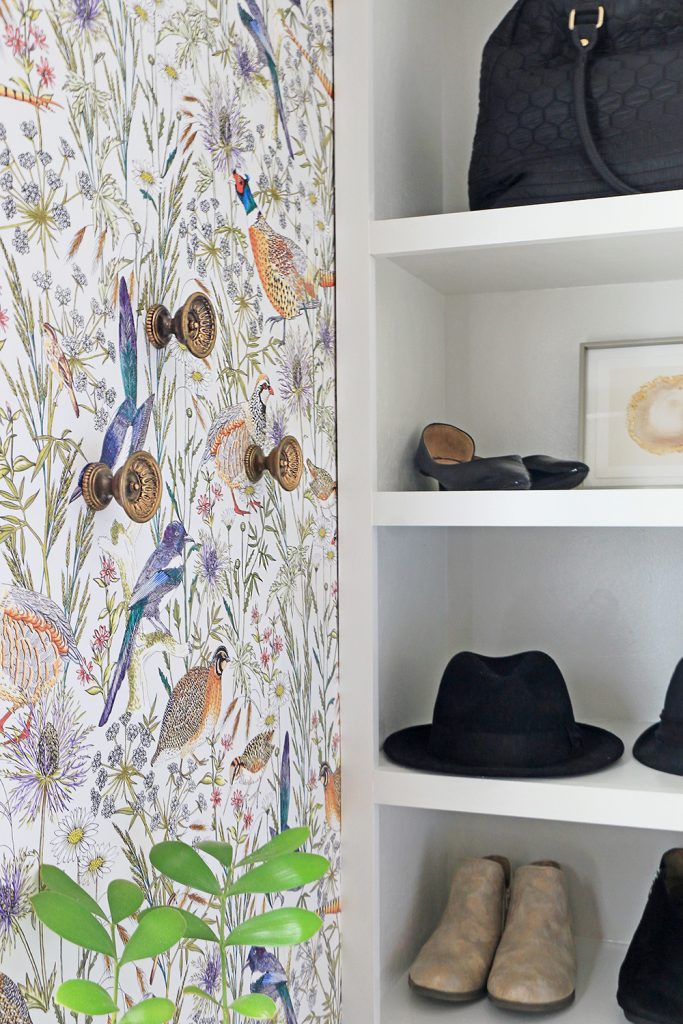 These drawer knobs have so much style with their engraving, they make for a better "hook" than any hook possibly could. The size is pretty big for hardware, so it's perfect as stand-out wall decor.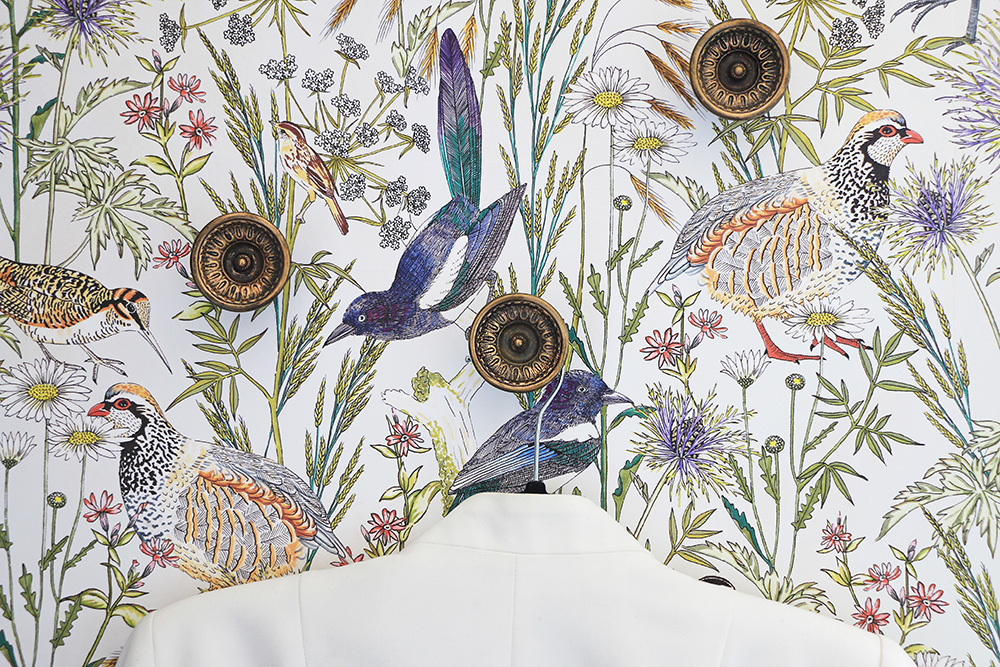 Line of Sight From One Room To The Next…
If you are wondering how these spaces relate to each other, here is a view that might help. This is the closet looking into the bathroom.
I always look from one room into the next, so I've always felt like they were somehow related. Yet I wanted to keep their designs unique.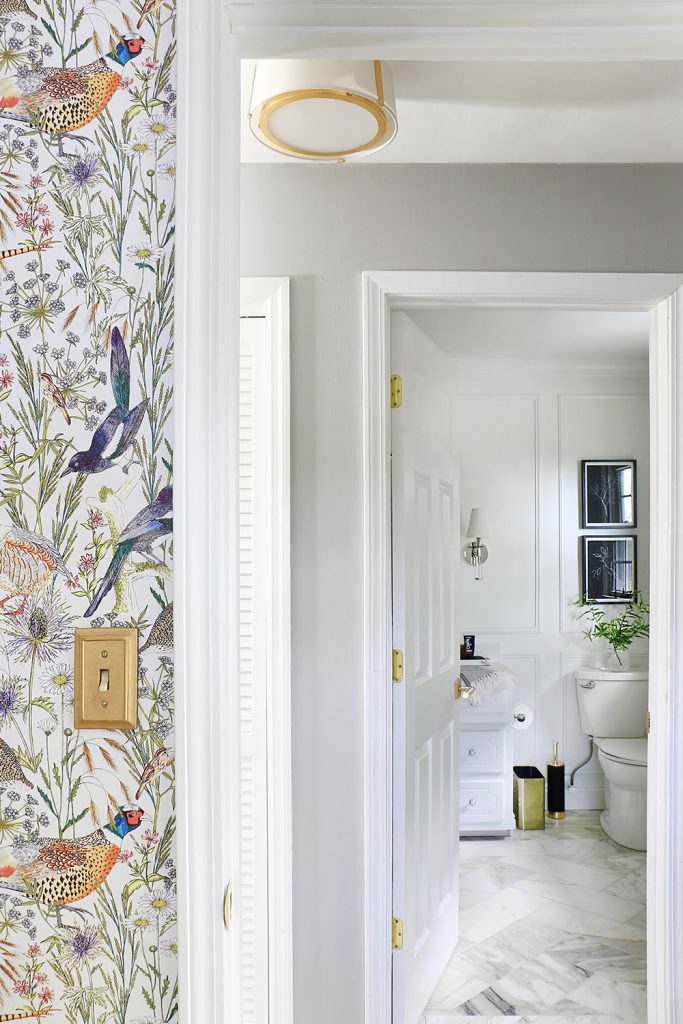 Here is the view from the opposite direction, of the bathroom looking into the closet.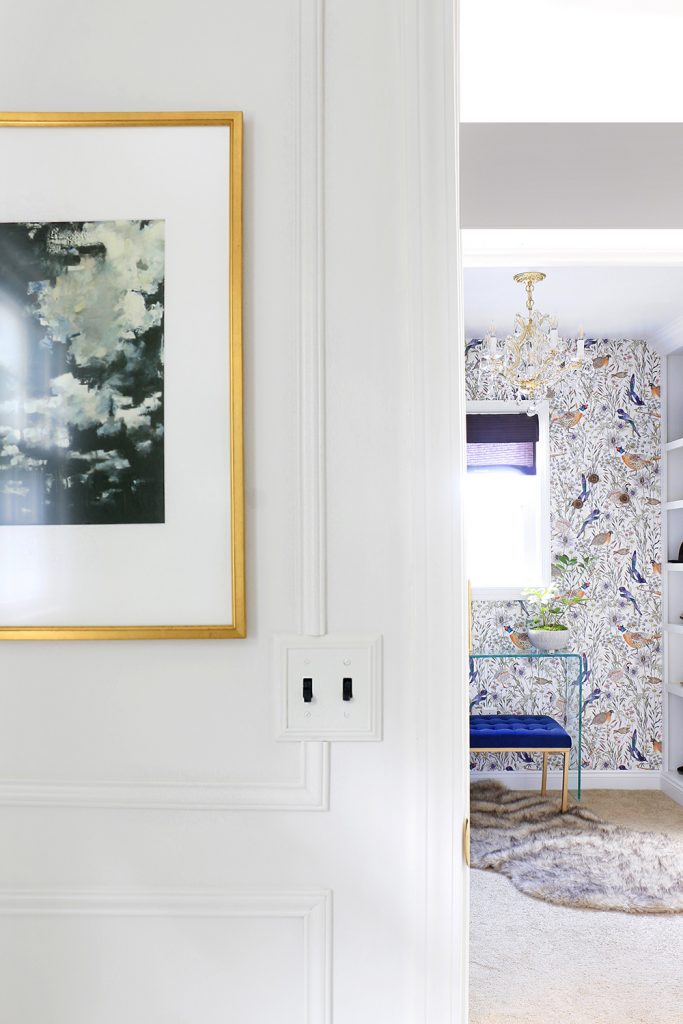 The nook sits right between the two doors, like shown below.
Speaking of the two doors, I bet you've never thought of giving your door a makeover. But that's exactly what happened with a fresh coat of paint, and the most stunning door levers you've ever seen! These are the L-Square Faceted Lever, with Square Rosette in Satin Brass, from ORC sponsor, Emtek.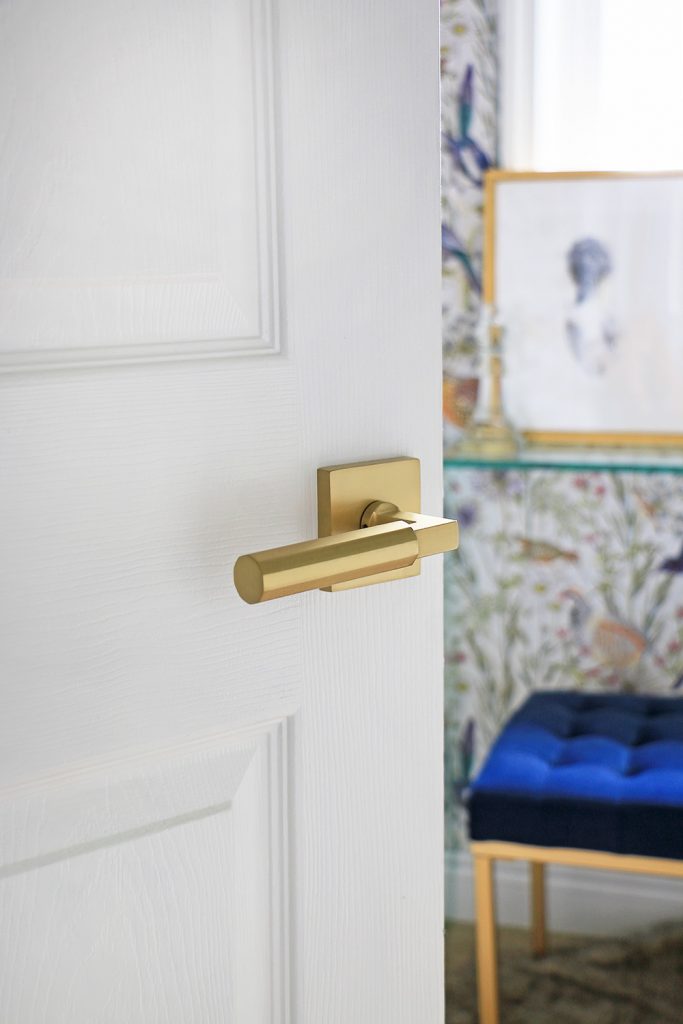 Doors should never be over looked in a makeover. These Emtek door levers add an element of texture, glam, and make an impression of the space before you ever open the door and walk into the room!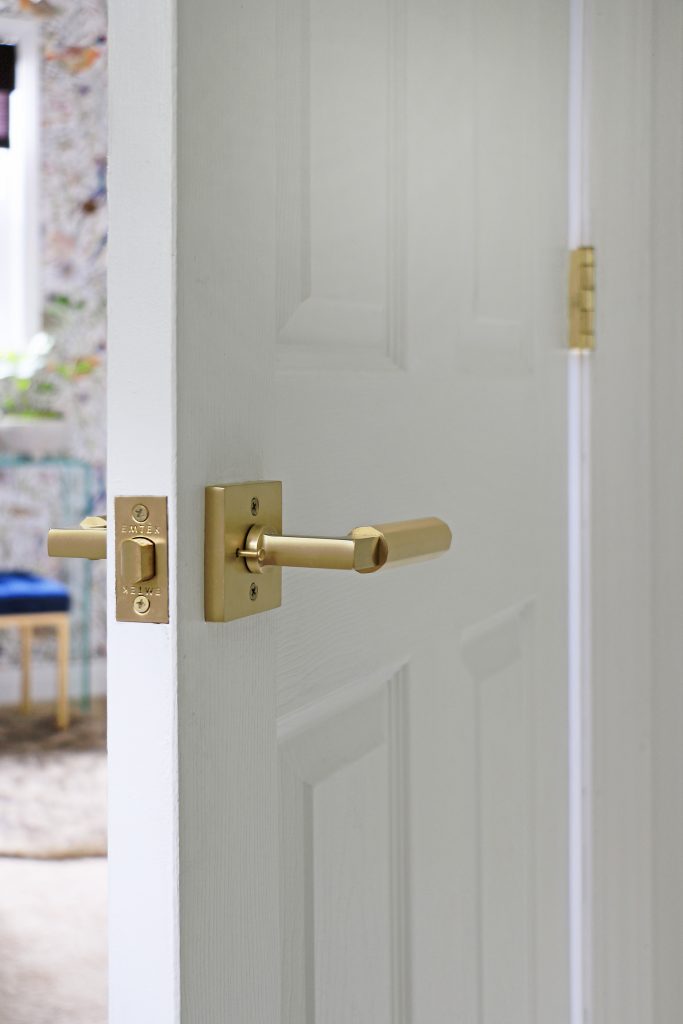 Vanity Nook
At the start of this challenge, I had different plans for the vanity nook. This little space between the closet and bathroom would have been complete with tabletop, mirror, and bench.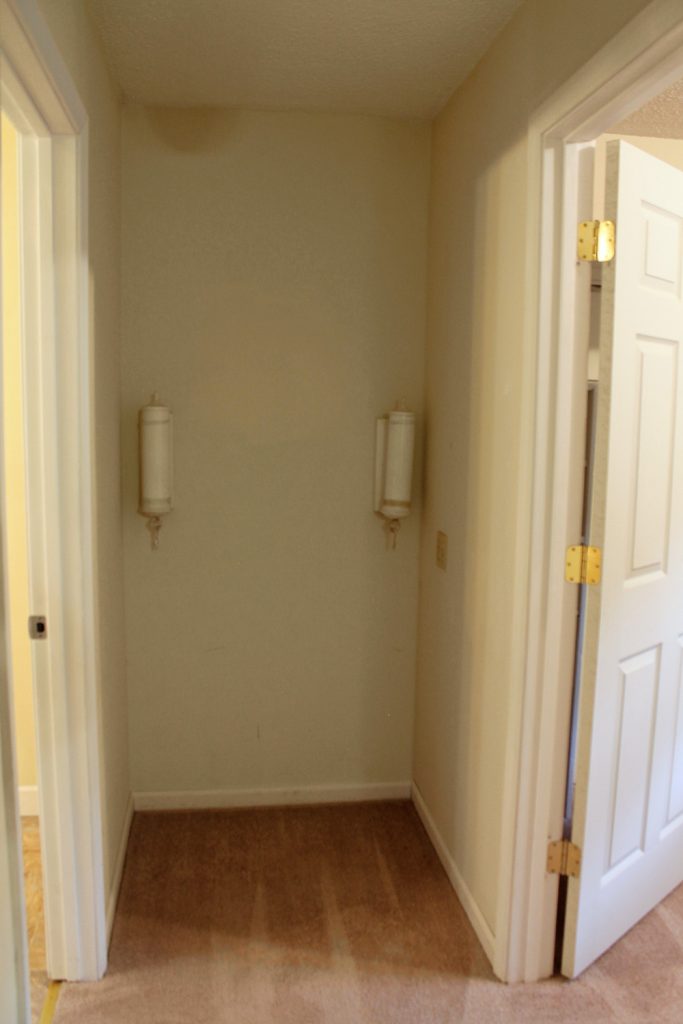 A space I could sit and do my hair when my husband hogs the bathroom on Sabbath mornings before church. Yeah, you heard me honey, I said hog the bathroom (in case he's reading this right now).
But after the wall mirror was added to the closet, I knew I needed a full length mirror somewhere. This beautiful Framed Gold Floor Mirror from Build.com happened to match the sconces PERFECTLY! I guess it was just meant to be.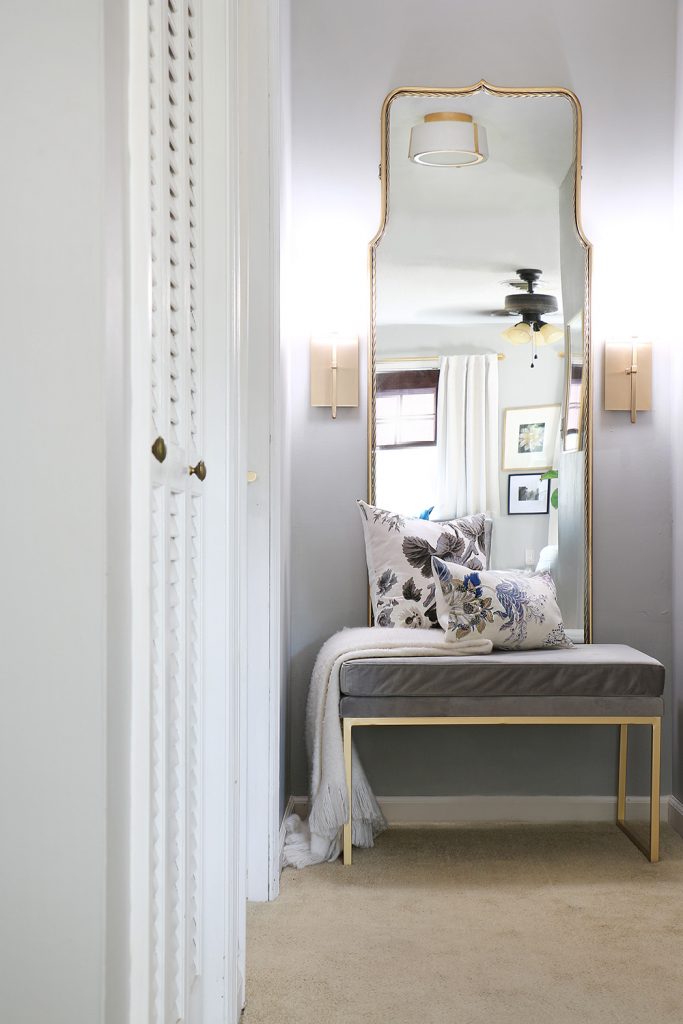 It was a great solution! Even with the bench in front of it, you can see your full head-to-toe reflection. Sure, you have to take two steps back, but the mirror is hung high enough to see your whole body. It's also a great spot to sit and put on your shoes after getting dressed. Yes, there is also a bench in the closet, but when there are two of us getting ready at the same time… you get the idea.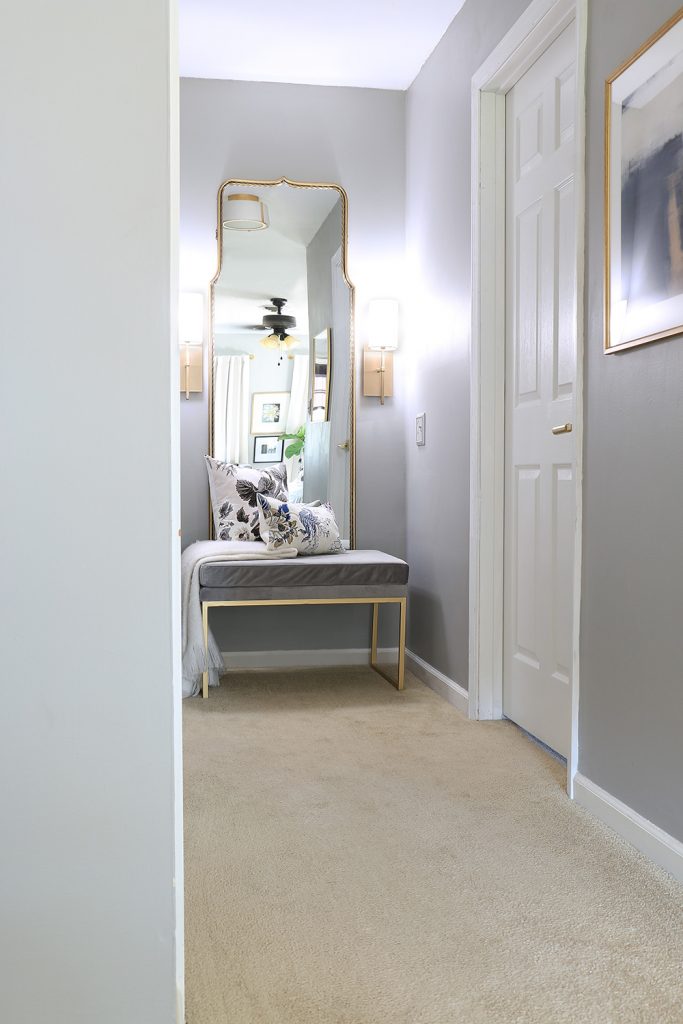 These beautiful throw pillows from SWD Studio adds a little pop of pattern and style. One is actually the Pyne Hollyhock print I've wanted to use somewhere in my home when I first saw it a couple years ago.
The other is the Indian Arbre Hyacinth print, which is new to me, but now I really want to see more of it in my house. They are so wonderfully traditional, but classic and timeless!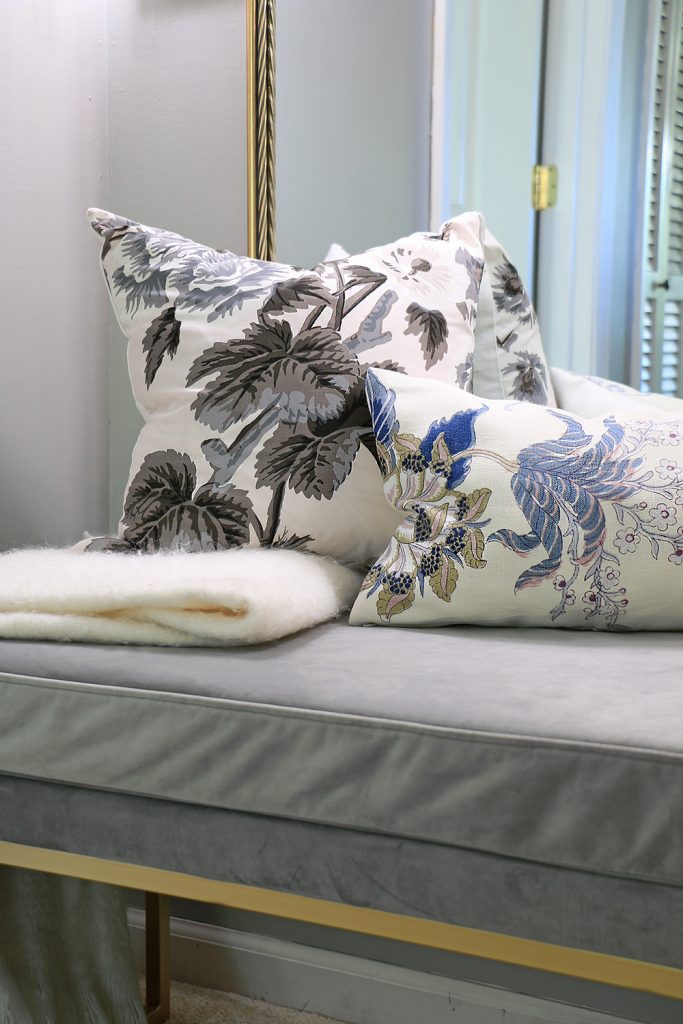 I hope you enjoyed this tour of my One Room Challenge spaces! I'm trying not to over-do it with the pictures in one post (although I think that already happened). So I'll save some of those detail shots for a later date, or to share on Instagram. So if you aren't already following me there, please do for more behind-the-scenes!
Room Sources:
Special thanks to all my ORC sponsors, without whom these rooms would never have been realized! All these items are gifted, and the sources linked below:
See The Reveal Of The Other One Room Challenge Designers
A Glass of Bovino | Beginning in the Middle | Beth Diana Smith | Clark + Aldine | Coco & Jack | Deeply Southern Home| Design Maze | Dwell by Cheryl | Erika Ward | Home Made by Carmona | House of Hipsters | Hunted Interior | Kandrac & Kole | Kate Pearce | Katrina Blair | Liz Kamarul | Veneer Designs | Rambling Renovators | Renovation Husbands | Studio Plumb | Media BH&G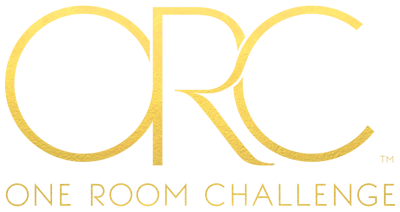 Special Thanks to my ORC Sponsors | Minted | Milton & King | Novo Building Products | Emtek | Crystorama | Build.com | Schuab & Company | The Tile Shop | Wovenbyrd | SWD Studio