The great joy in being a designer is transforming lackluster spaces into moments that thrill the heart.
Every room should have those special design touches that make it function like a dream and feel like a haven.
As a self-taught designer and DIYer, I find great satisfaction in helping others find ways to personalize their spaces and create a home they can love!
~ Ursula Carmona
Style Expert
Ursula is honored to share her tips and expertise in-print and around the web. She is a spokesperson for HomeGoods as their Style Expert, a member of the exclusive HGTV Style Set, and has partnered with many prestigious design companies to bring their product to life.
Featured Designer
Many of these rooms were transformed as part of design challenges. Ursula is a three-time Featured Designer for the One Room Challenge, a finalist in the Home + Gardens Trendsetter of the Year, and in the Domino Design Blog Awards.
The Willow House Project
This 1970's house is set on 16 peaceful acres in the country. A lovely diamond in the rough that needed some updating and a little reimagining.
The Kitchen
The kitchen really is the heart of the home when the family gathers here three times a day with good food, laughter, and lots of emphatic conversation. The renovation opened up the kitchen to the dining room for a cohesive flow between spaces, gave opportunity for a ton of storage, and a large kitchen island.
View Kitchen Before Pictures
The Dining Room
The dining room opens into the kitchen for overflow seating at the island, and makes for the perfect formal or informal entertaining space.
View Dining Room Before Pictures
Formal Family Room & Closet Office
This home has two separate "living room" spaces… This one was turned into more of a "formal" seating space perfect for hosting guests. But it also serves very practical purposes as a multi-purpose room containing the closet office and the powder room for the main floor.
View Family Room Before Pictures
Downstairs Powder Room
With only one bathroom on the main floor, this little powder room would be the primary one used by guests. It was important to design it to be easily cleaned, and attractive!
View Powder Rom Before Pictures
Living Room
The second living room serves more of an entertaining room with it's sectional for lots of comfy seating, TV and gaming consoles, hidden game storage, and board gaming coffee table.
View Living Room Before Pictures
Garage / Workshop
Design can and should extend to every corner of the house, and the garage is certainly no exception! This garage workshop serves a practical function for woodworking, crafts, storage, and more, but is also cohesively designed to be just as beautiful as the rest of the home.
View Garage Before Pictures
Master Closet
To some this may seem like a small closet, to others large. This is our biggest closet to date, and while we don't require a lot of space, we do need that space to be well laid out for optimal storage and organization. Building custom storage from simple plywood made it an inexpensive remodel, and allowed for all the personal customizations!
View Master Closet Before Pictures
Master Bathroom
The bathroom before was quite dingy and in desperate need of an update. It may not be the biggest en suite bathroom, but it was packed with tons of architectural charm with molding, marble floors, and clean white surfaces.
View Master Bath Before Pictures
Laundry Room
The laundry room wasn't even accessible from the house before. You had to walk through the garage to get to a back room where the washer and dryer was housed. It didn't have central air, and it felt like going outside to do your laundry. To solve this problem, we broke through the dining room into this back room, and closed it off entirely from the garage to create a proper laundry room!
View Laundry Room Before Pictures
Kid's Bedrooms
From green walls to green carpet, the kids bedrooms needed a fresh coat of paint, new carpet, and a bit of simple styling to create cozy new spaces.
View Kid's Bedroom Before Pictures
Greenhouse & Garden House
The previous owners had set up a marvelously sized storage shed, and even run electricity to it! This presented an incredible opportunity to add on a DIY greenhouse to the front, and turn the shed into a potting shed / storage shed / she shed in one… affectionately dubbed the garden house.
View Garden House Before Pictures
The Cottage Project
This little house proves that just because a space is small with low ceilings doesn't mean it can't be packed with personality and modern rustic charm!
Cottage Entryway
When your front door overlooks acres of woods and no one around for miles, you let a little light in with an all glass door, and create a bright open airy entry to welcome cottage guests!
View Entryway Before Pictures
Cottage Kitchen
This tiny kitchen lacked functionality and was quite dingy. The smallest tweak of moving the location of the stove/oven, removing the small jutted island and overhead cabinets, immediately opened up the space!
View Cottage Kitchen Before Pictures
Cottage Dining Room
This small room got a coat of moody paint, a new light fixture, and some strategic styling as the dining room. Since then, it has been transformed into a bedroom to house extra guests.
View Cottage Dining Room Before Pictures
---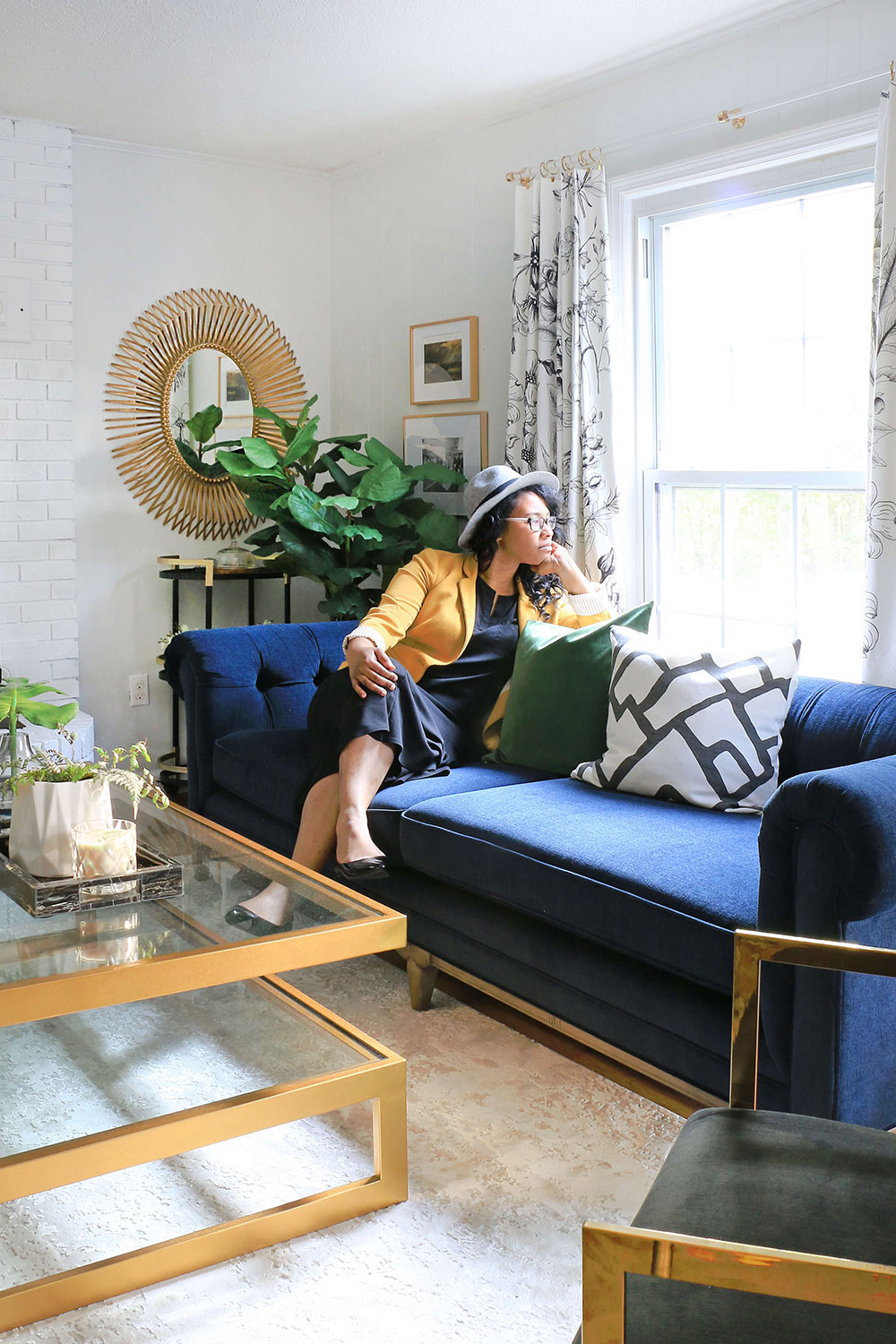 Designer FAQ's

How do I find details like paint color and where to shop products from these rooms?
Visit the Shop My Home Page to see a quick list of products, paint colors, and links to blog posts containing all the details you need.
Does Ursula do custom mood boards and virtual design work?
From time-to-time you'll see posts with inspirational mood boards, and Ursula always links to products so you can re-create the look in your own home. But custom virtual design is not available at this time.
Can I hire Ursula for in-person design work?
At the moment, she is not taking on any in-person design clients… But follow via Instagram to keep up with the latest decorating projects and announcements.