At this point in the One Room Challenge, I feel like I'm speeding along quite nicely! Granted, the hard projects are still ahead that will slow me down considerably in the coming weeks. So I'm going to enjoy it while I can!
This week I am adding some gorgeous architectural details by adding decorative moulding to the walls, and I can't wait!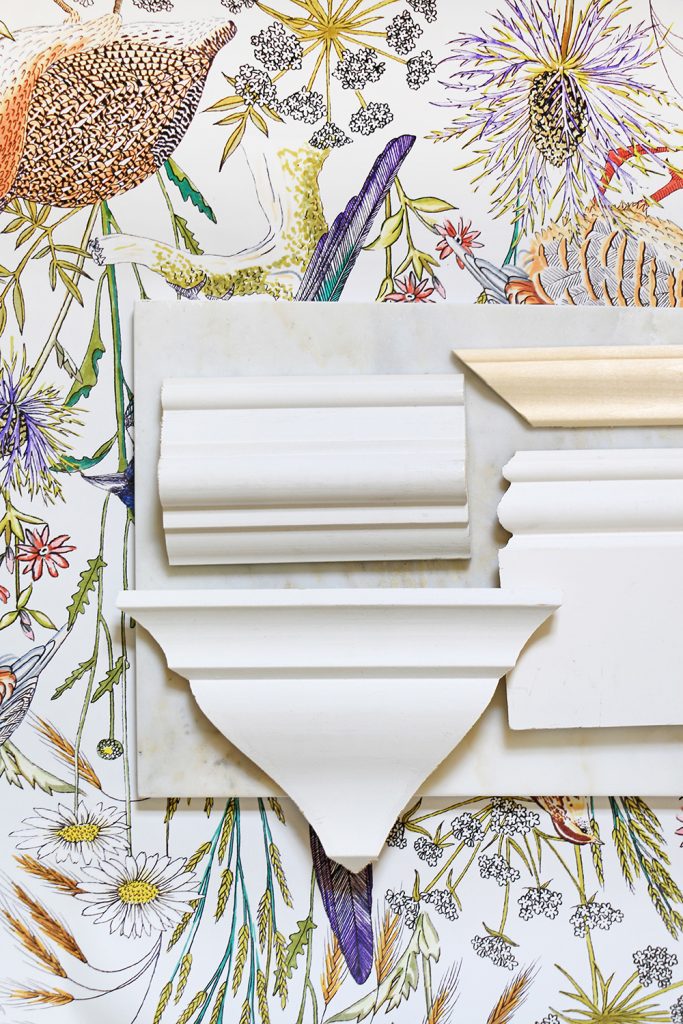 *This project is made possible by ORC official sponsors…today's highlight: Novo Building Products, & Emtek
I always find myself drawn to pictures of rooms that have loads of moulding and millwork. Yes, you can decorate a plain box and make it pretty, but the depth of design and eye-catching, show-stopping, soul-crushingly-good beauty come from incredible architectural touches.
Today is the day I add texture and detail to my spaces thanks to my awesome One Room Challenge sponsor, Novo Building Products!
Adding Architectural Moulding
This isn't my first time adding decorative moulding…that would be when I made-over my downstairs powder room during last Fall's One Room Challenge.
At the time, I didn't have my handy dandy little pin nailer, so I spent time filling holes with each piece of moulding I put up. This time around, no filling holes, and this is breezing by!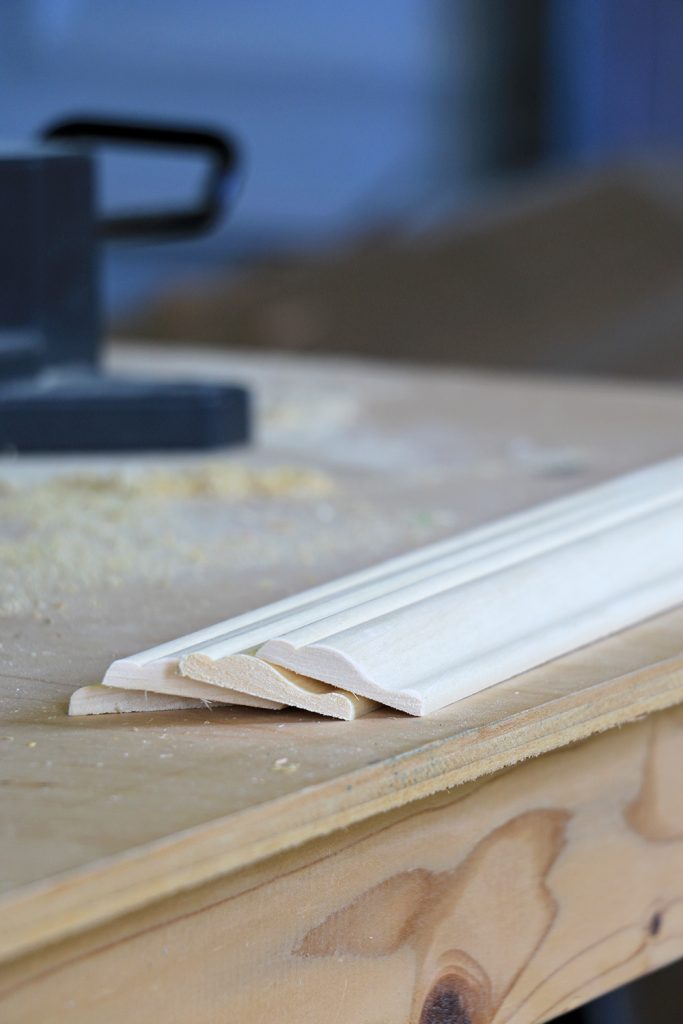 My choice of style for this space was to go with more colonial-styled moulding for a Parisian glam feel. Novo Building Products has just about every style and product profile you could ever desire to choose from!
I went with some classic pieces from the Empire Moulding & Millworks family that falls under the Novo Building Products umbrella. You are probably more familiar with their brand than you think…you may not realize it, but you see their products all the time at Lowes, and The Home Depot too for that matter!
It's Probably Easier Than You Think!
Adding chair rail moulding to walls is pretty awesomely easy. It isn't a science like adding crown moulding is…or feels like it is! Haha!
First I am penciling in where I want the outside edges of my chair moulding boxes to be. Measuring from both the ceiling and wall since neither are particularly level, then using a long level to adjust my line based on those marks, and what is "level" as necessary. A couple measures, and a cut on my miter saw, a little glue, and the pin nailer just makes the process fly!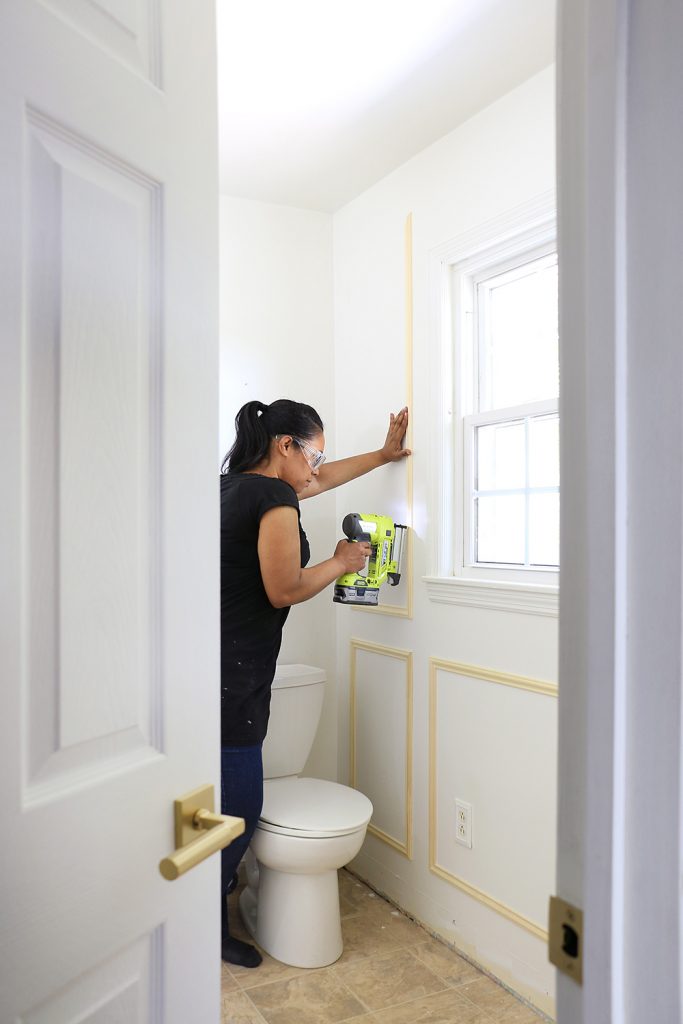 There are a couple small technique tips to consider, so I'm sharing that via a video tutorial for you below.
How To Add Architectural Detail With Moulding [Video]
Isn't the result just beautiful? It makes such a statement!! I'm not done, but parts of my project will have to wait until I finish installing my bathroom sconces. I want to see them in place before deciding how I want to run the moulding on that particular part of the wall.
I also won't be adding the crown moulding and baseboards until after I finish the bathroom floors. I'm waiting for a crown jig to arrive in the mail before tackling that project.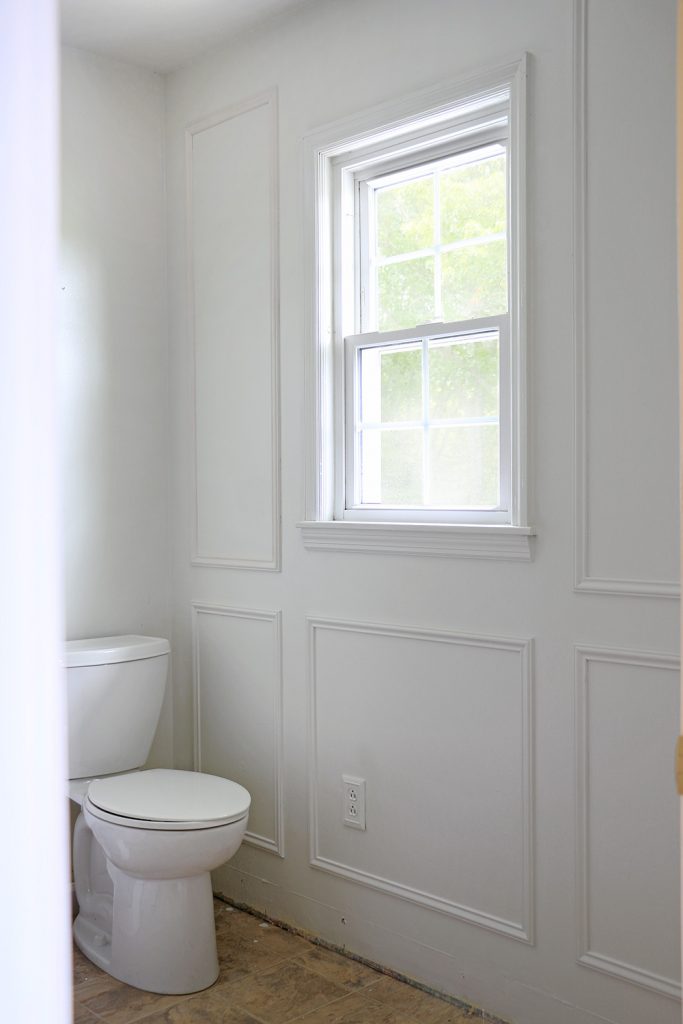 Door Levers That Exude Sophistication
Texture and architectural detail aren't just for walls by the way… have you seen these stunning gold door levers from Emtek? These are the L-Square Faceted Lever, with Square Rosette in Satin Brass, and they are magnificent!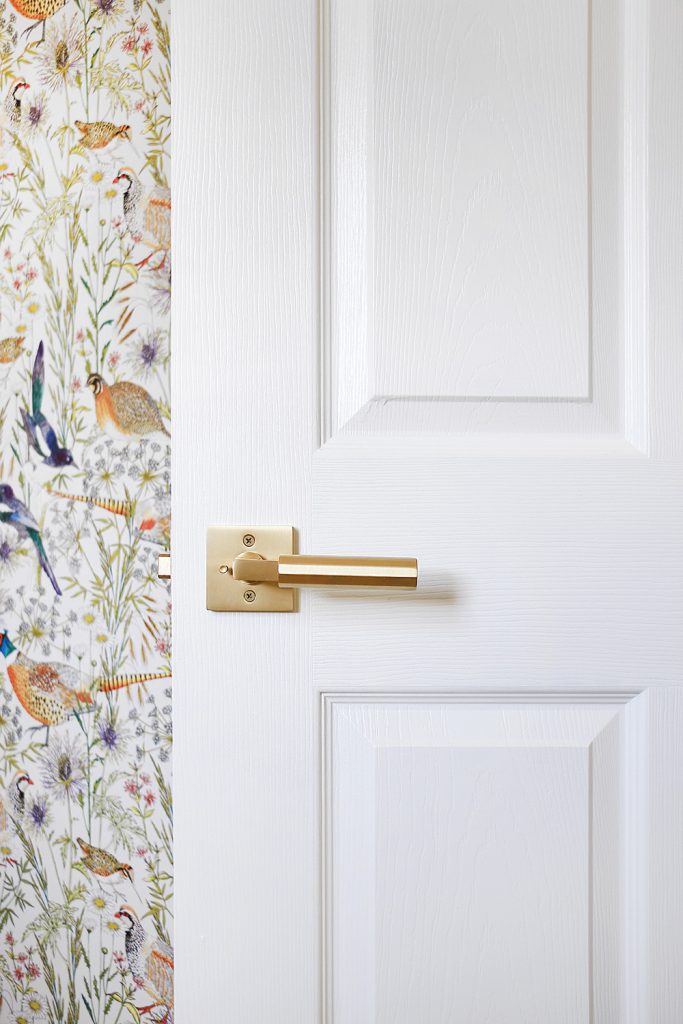 I like the fact that the lever is simple with clean lines, but still has a unique shape to it. It's kind of like a piece of jewelry in the room, isn't it?
Painting out doors and changing the hardware is one of the easiest makeovers you can do in your home. I'm a little ashamed I didn't do this sooner. My doors are so disgusting and grungy (even after scrubbing with a magic eraser sponge), that it would have made everything feel cleaner if I had just added a coat of paint, even temporarily. So here we are, 3+ years later finally getting to it in my upstairs.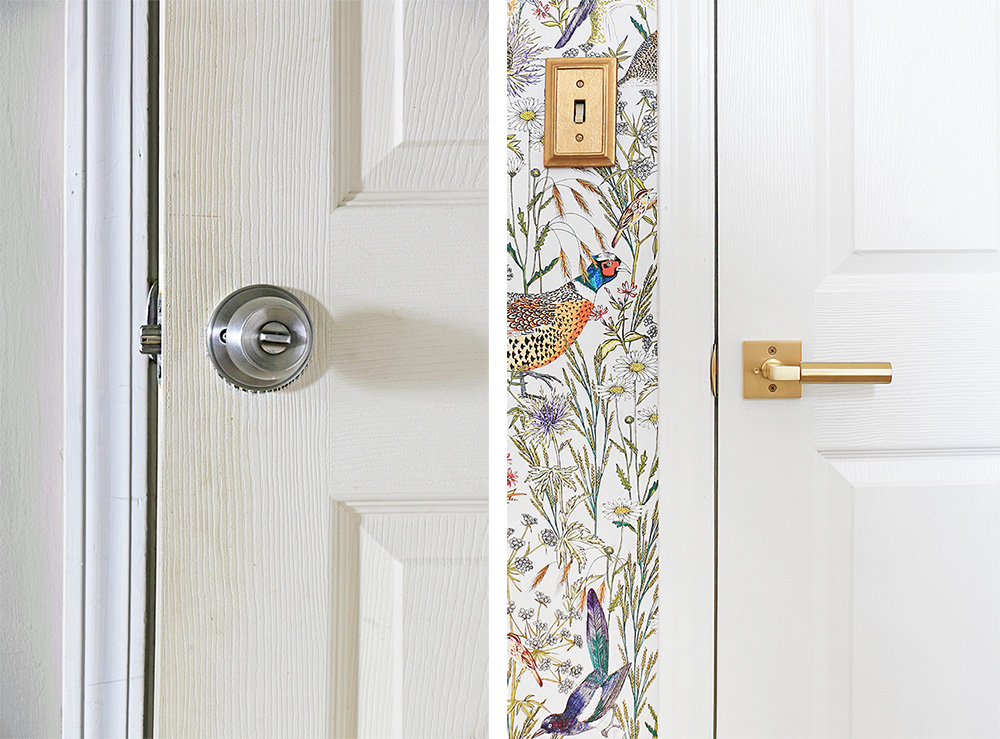 My awesome One Room Challenge sponsor, Emtek, knew about my need for a little TLC in my upstairs spaces, and sent me enough door levers to give every door in my upstairs a little mini makeover! Thanks so much guys!!
So now I'm finally painting all those bedroom and bathroom doors in my upstairs and replacing all the existing construction grade knobs with these gorgeous levers from Emtek.
Switching Out The Old Bathroom Vanity
The old vanity wasn't terribly horrible. It was just a white top, with brown edges that were fraying a bit. So not great, but it didn't gnaw at my soul like the rest of the bathroom did.
Still, it's definitely not nice enough to stay, so I ripped that bad boy off.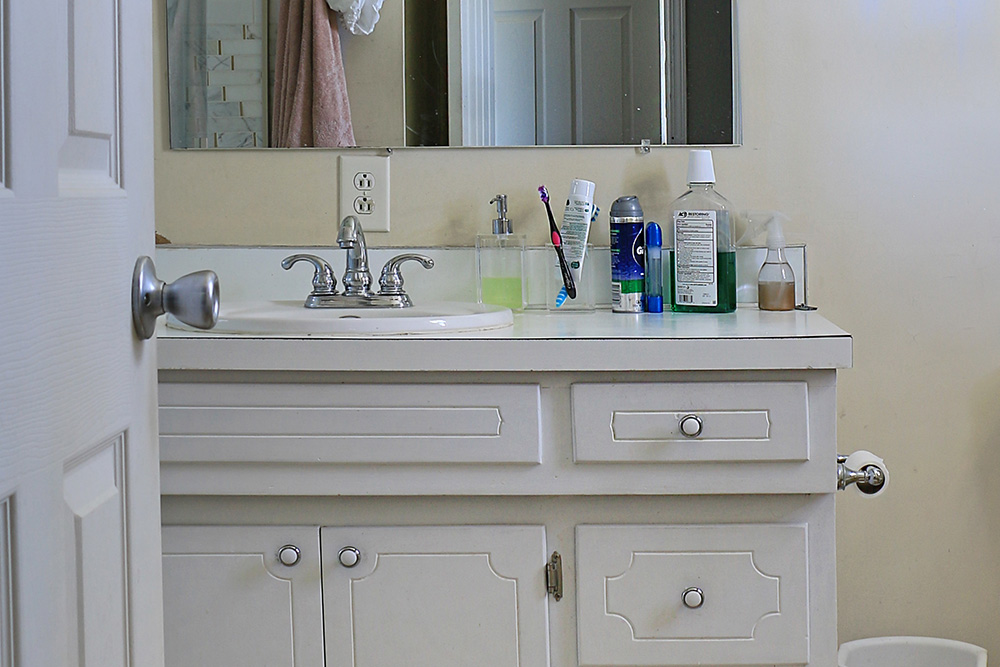 And look what I discovered when I moved the mirror. Ugh…more wall to patch. Eh, it's okay since I have to relocate the electrical for scones anyway.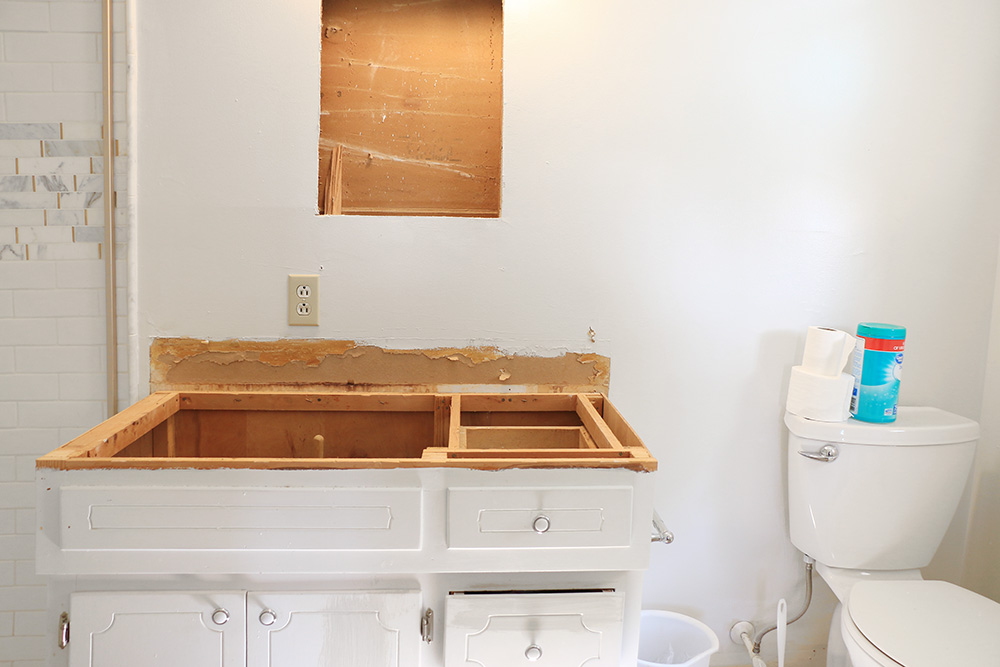 My new quartz vanity is SO MUCH better! I wanted to save the pretty little chrome faucet, but the holes didn't match with my new vanity. So I had to make an emergency run to Lowes and get a new chrome faucet. Eh well. Hopefully I'll be able to use it in a different project.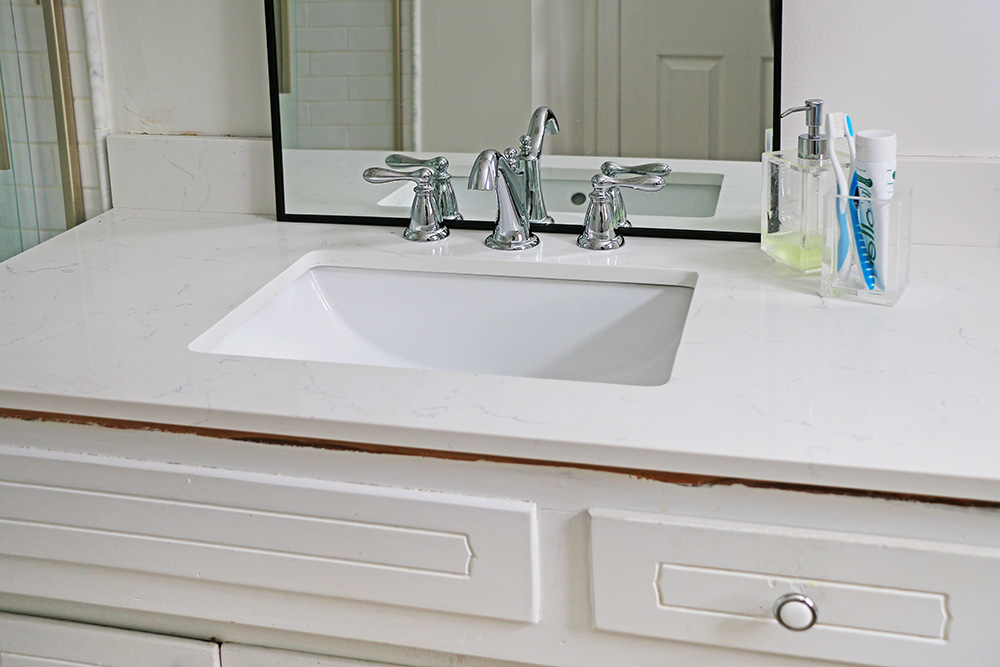 This new counter top looks nice sitting pretty on top of the vanity, but I still haven't quite finished the plumbing. I currently have a "temporary" fix in place, but tomorrow I hope to go out and get the missing piece to do it right.
I thought about painting the vanity this week, but I don't want to choose the color until I get the tile flooring installed and see it all together.
What's Left To Do:
WOW! Am I actually halfway through my to-do list by week 3?? I know, it seems amazing, and I feel like I'm crushing this in record time. But in truth, the last half of this list contains some of the most time consuming types of projects. So wish me luck! I'm going to need it…and lots of time.
Scrape off popcorn ceilings and mud ceilings
Fix crackling walls in bathroom
Prime and paint rooms
Install wallpaper in closet
Replace outlet covers and switch plates
Replace bathroom vanity counter top
Paint doors and add new door levers
Add architectural moulding and trim to bathroom walls
Install light fixtures
Build closet units
Remove carpet temporarily and replace after closet built-ins
Remove toilet and see if offsetting is an option
Install tile flooring in the bathroom and replace toilet
Install crown molding and baseboards
Paint/update bathroom vanity
Build vanity nook 'makeup' table top
Add final decorative touches

So, what do you think about these architectural details in the space? Did you ever consider adding moulding, or think that door levers could have architectural or textural elements??
Are You Following All The Incredible ORC Featured Designers?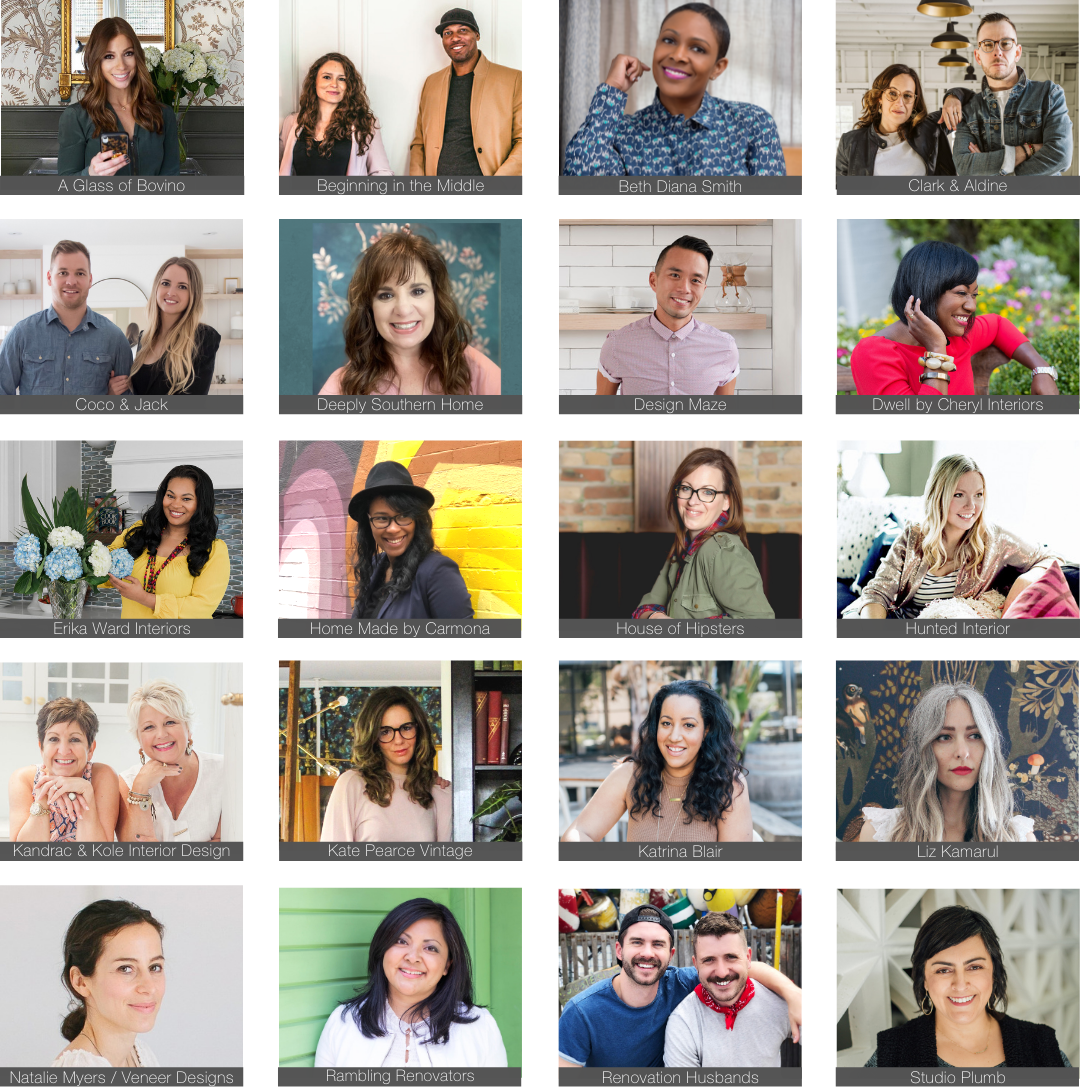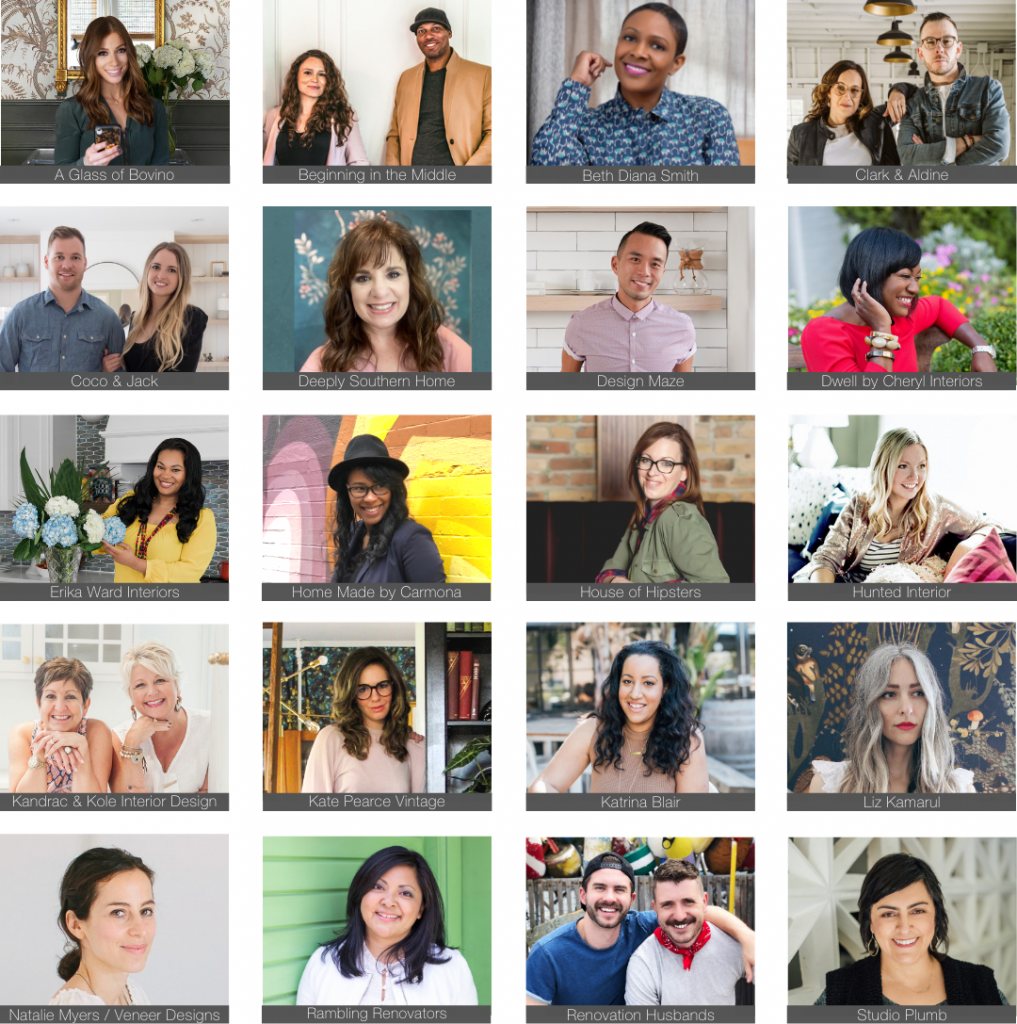 A Glass of Bovino | Beginning in the Middle | Beth Diana Smith | Clark + Aldine | Coco & Jack | Deeply Southern Home| Design Maze | Dwell by Cheryl | Erika Ward | Home Made by Carmona | House of Hipsters | Hunted Interior | Kandrac & Kole | Kate Pearce | Katrina Blair | Liz Kamarul | Veneer Designs | Rambling Renovators | Renovation Husbands | Studio Plumb | Media BH&G
Thank You One Room Challenge Sponsors!
Minted | Milton & King | Novo Building Products | Emtek | Crystorama | Build.com | Schuab | The Tile Shop | Wovenbyrd | SWD Pillows