I'm so excited for this week of the One Room Challenge! This is where I finally install the stunning light fixtures I have looking at and admiring since they arrived quite some time ago.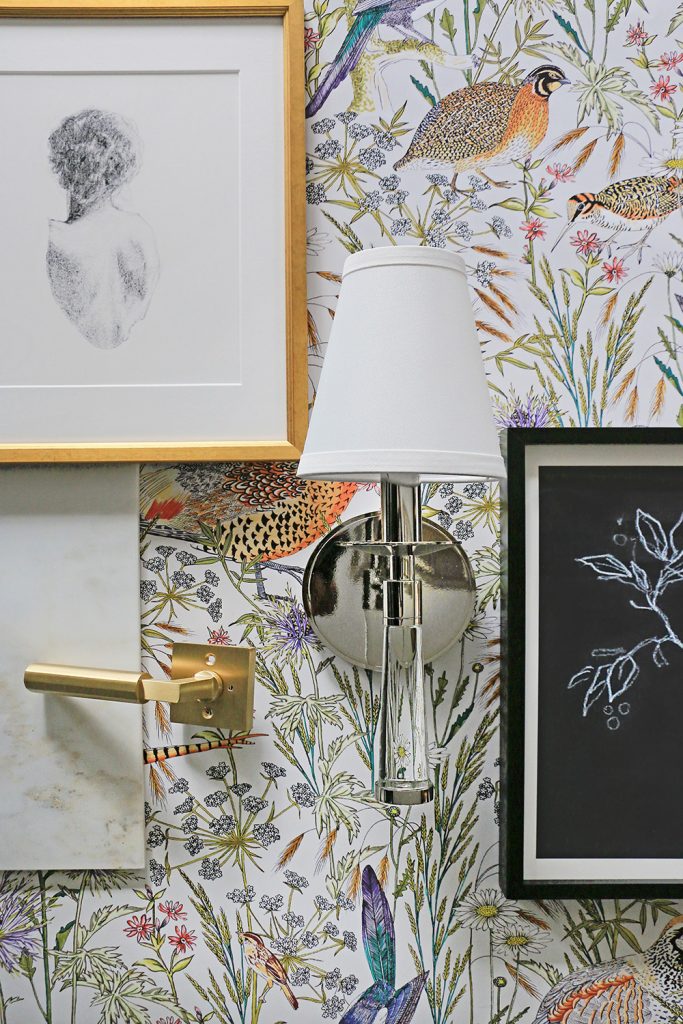 *This project is made possible by ORC official sponsors…today's highlight: Crystorama. Affiliate links contained below
Light fixtures are like the jewelry of the home. They are a great way to truly elevate any space! Any time you can switch out construction grade light fixtures for something a little more dynamic, for the love of mercy, do it!
It is one of the easiest ways to add flair in a room, update a space, and immediately set the tone for the rest of your decor!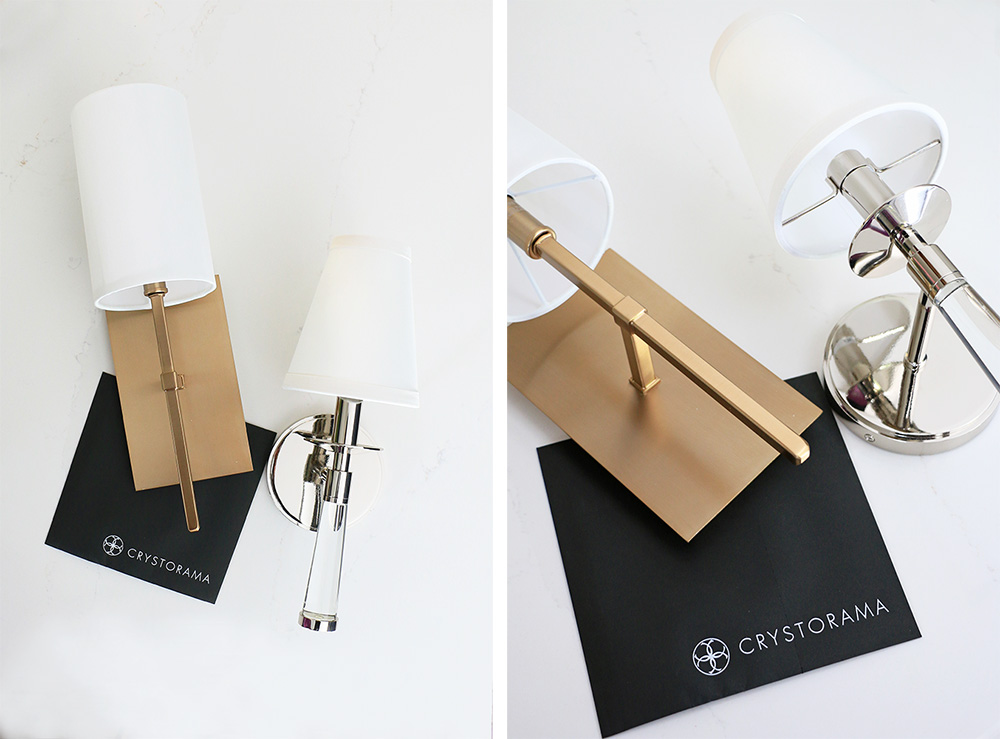 My amazing sponsors at Crystorama provided me with some of my dream fixtures, and frankly it elevated the entire design for the room. I actually went back to my design and tweaked it after looking through Crystorama's online selection. The pieces were so beautifully eye catching and sophisticated, I wanted to ensure the rooms would live up to the fixtures!
In fact, I specifically chose to use only Crystorama fixtures in my One Room Challenge spaces because of the level of sophistication, and attention to unique design and quality you see in their fixtures. It's the stuff dreams are made of.
Did you miss the last 4 weeks? Catch up here: Week 1 / Week 2 / Week 3
How To Choose The Right Fixture [Video]
Choosing the right fixture for your space doesn't always come easily, and I have made my fair share of mistakes!
So I'm bearing all, and revealing mistakes I've made in the past, while showing you my successful choices to help and inspire you as you make decisions for choosing the right light fixtures for your home. Just watch the video below for my best practice tips!
Installing Light Fixtures
I am saving quite the little chunk of change by replacing the fixtures myself. I've replaced 90% of fixtures in my house myself, so I'm fairly comfortable doing it by now.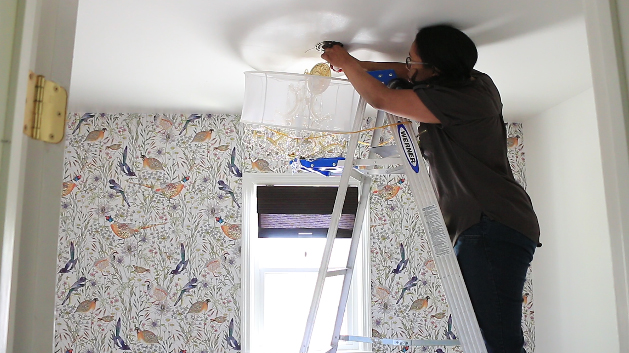 I don't want to say it is an "easy" job, because I would be lying if I acted like it didn't require any effort and didn't make my arms feel like they were going to fall off (I should probably start lifting weights). But ultimately I'm matching colors and attaching wires, it's not rocket science.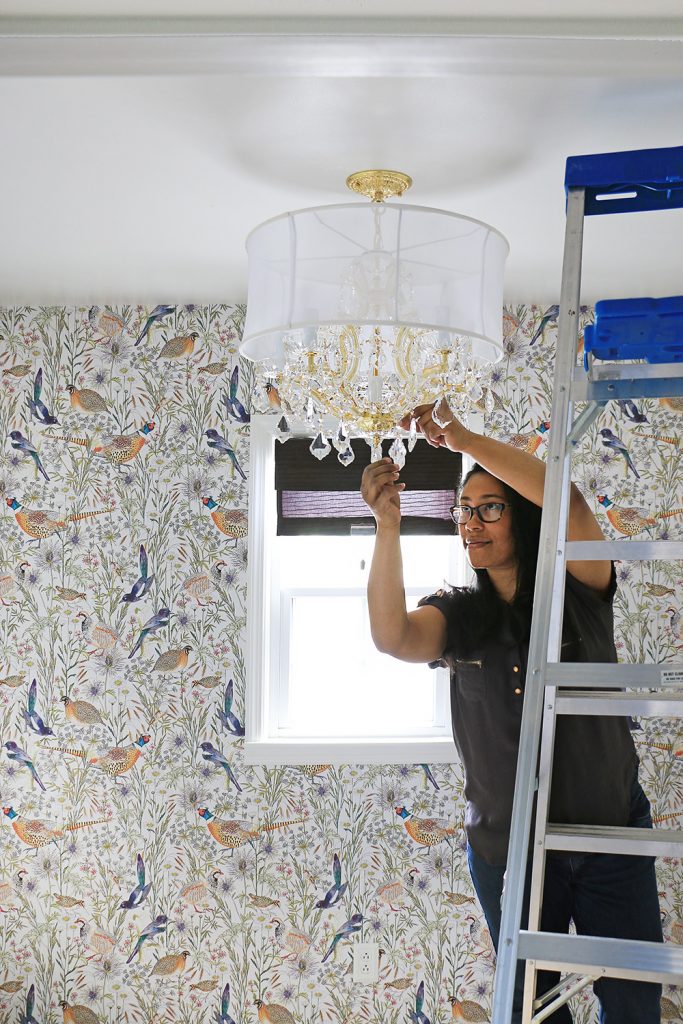 Still, I admit as a solo DIY'er the two jobs I wish I could make my spouse do is plumbing and electrical…I'm not overly fond of those tasks. But since my husband isn't handy and doesn't do DIY, I find ways to do it on my own, and frankly it makes me feel more like an awesomely independent hardcore woman.
Chandelier Dreams
I've wanted a chandelier for soooooooooo many years! Specifically, I've wanted one in my closet ever since seeing an image on Pinterest of a glorious shoe shelf with chandelier crystals casting sparkly lights all over it.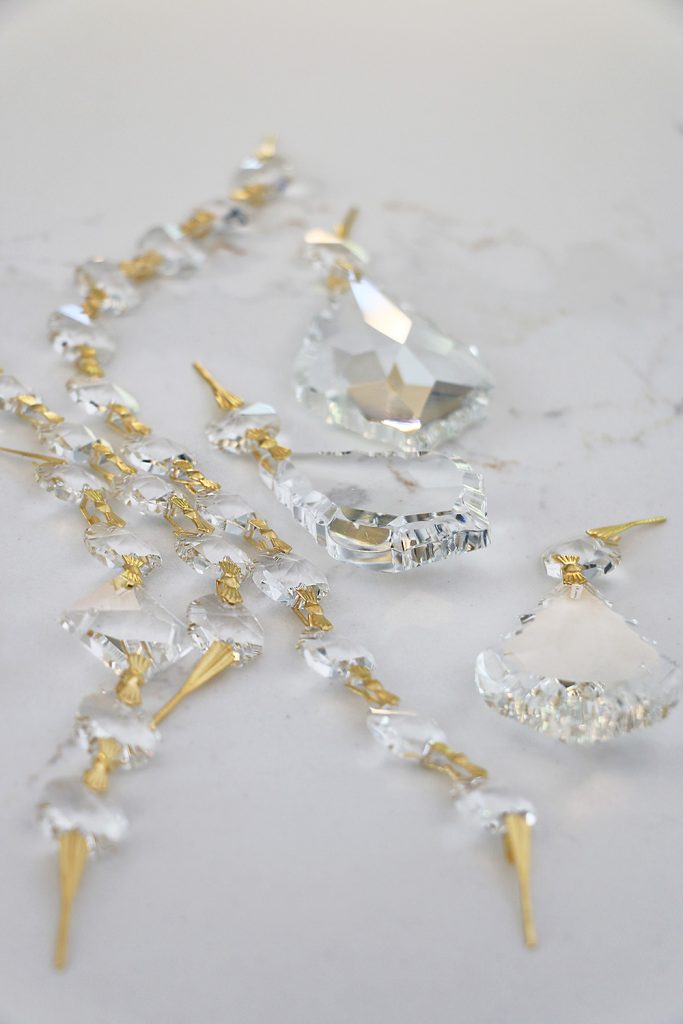 So you can imagine my excitement when I got this stunning Brentwood 6-light chandelier from Crystorama! Isn't it dreamy?? My closet chandelier dream has become a reality!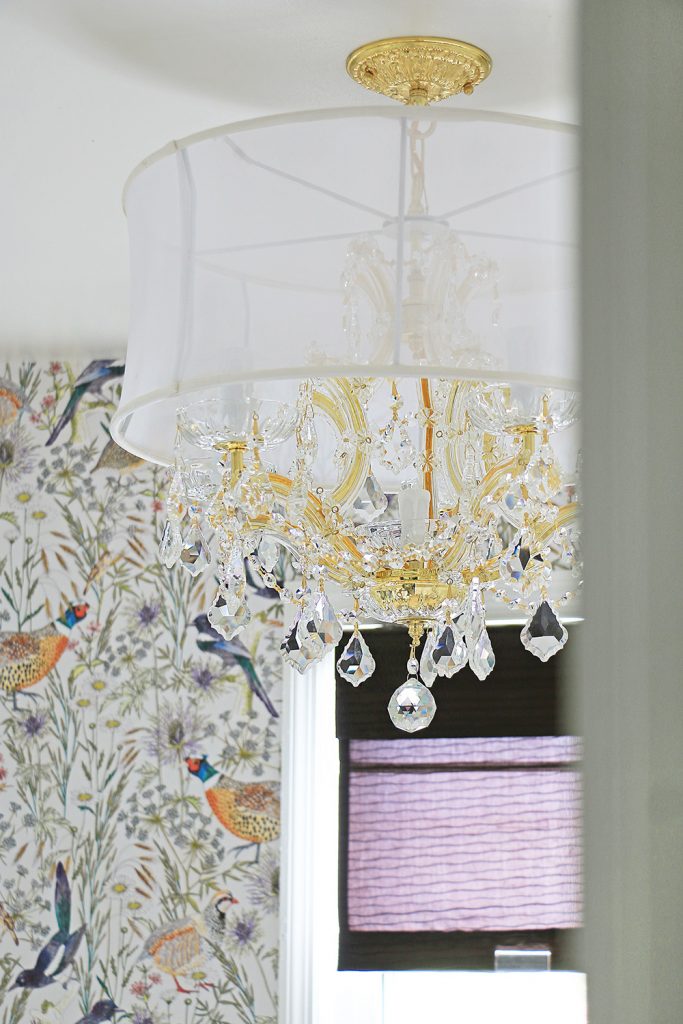 Funny story though…as I was installing the chandelier, I accidentally caused an internal nut to come loose and suspected but was too impatient to test it. So I installed it, then had to take it down when it didn't work and fix my mistake. Then I installed it the second time, but forgot to put the shade back on.*forehead smack*
But once I saw it without the shade, I kinda fell even deeper in love. So instead of taking it down to add the shade again, I decided to go ahead and leave her in all her naked glory.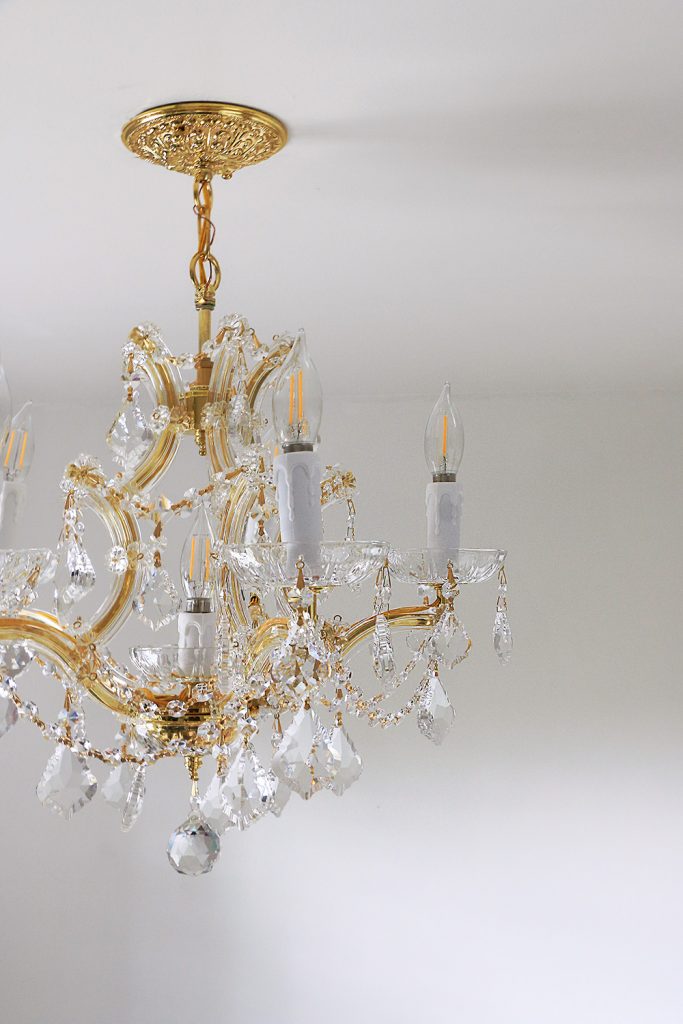 I think this chandelier is gorgeous with or without the shade! What do you think? Would you do with the shade or without?
Vanity Nook Fixtures
My vanity nook just got a major face lift! It's empty except for my two new Veronica aged brass sconces. Let me remind you of what this space looked like when I moved in, because it might seem small to you, but I'm rejoicing at all the pretty possibilities!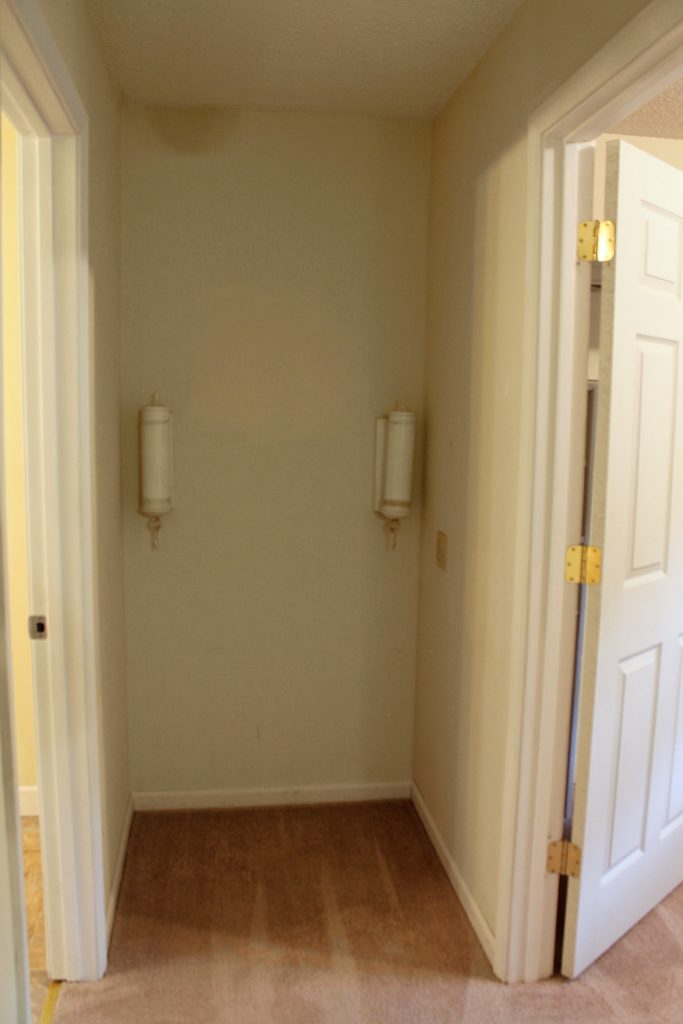 See? Small but mighty changes!! Sorry about the horrible iphone picture above, but at least you get the idea.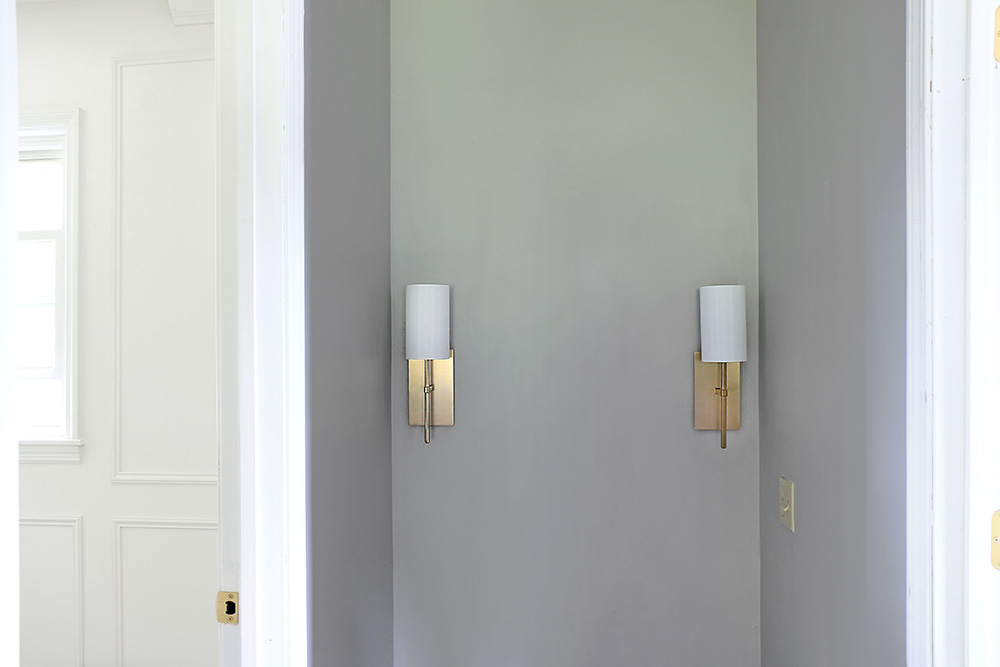 The scary bulb dangling from the ceiling by wires in my nook also got a major upgrade when I swapped it out for the classy and stylish Fulton ceiling light. But I won't remind you of the before this time. You're eyes need a reprieve… Haha!
I still have to install the sconces for my bathroom…but that is going to be a bit more work. I will have to run wiring to turn my single wall light into a pair of sconces on either side of the mirror. That means I'll be cutting into the dry wall, and I admit I might be procrastinating over this task. But at least it will give you something to wait to see until the big reveal in a few weeks!
What's Left To Do:
Uh oh. I sped through weeks 1-3, but this week I could feel things slowing down considerably. My arms were already exhausted from scraping and painting ceilings, then all my projects since then have been vertical, challenging my arm muscles to their limits. Hopefully next week I'll pick up a little speed again, because the remaining projects are no small task!
Scrape off popcorn ceilings and mud ceilings
Fix crackling walls in bathroom
Prime and paint rooms
Install wallpaper in closet
Replace outlet covers and switch plates
Replace bathroom vanity counter top
Paint doors and add new door levers
Add molding and trim to bathroom walls
Install light fixtures
Build closet units
Remove carpet temporarily and replace after closet built-ins
Remove toilet and see if offsetting is an option
Install tile flooring in the bathroom and replace toilet
Install crown molding and baseboards
Paint/update bathroom vanity
Build vanity nook 'makeup' table top
Add final decorative touches


Get The Latest From The Other ORC Featured Designers!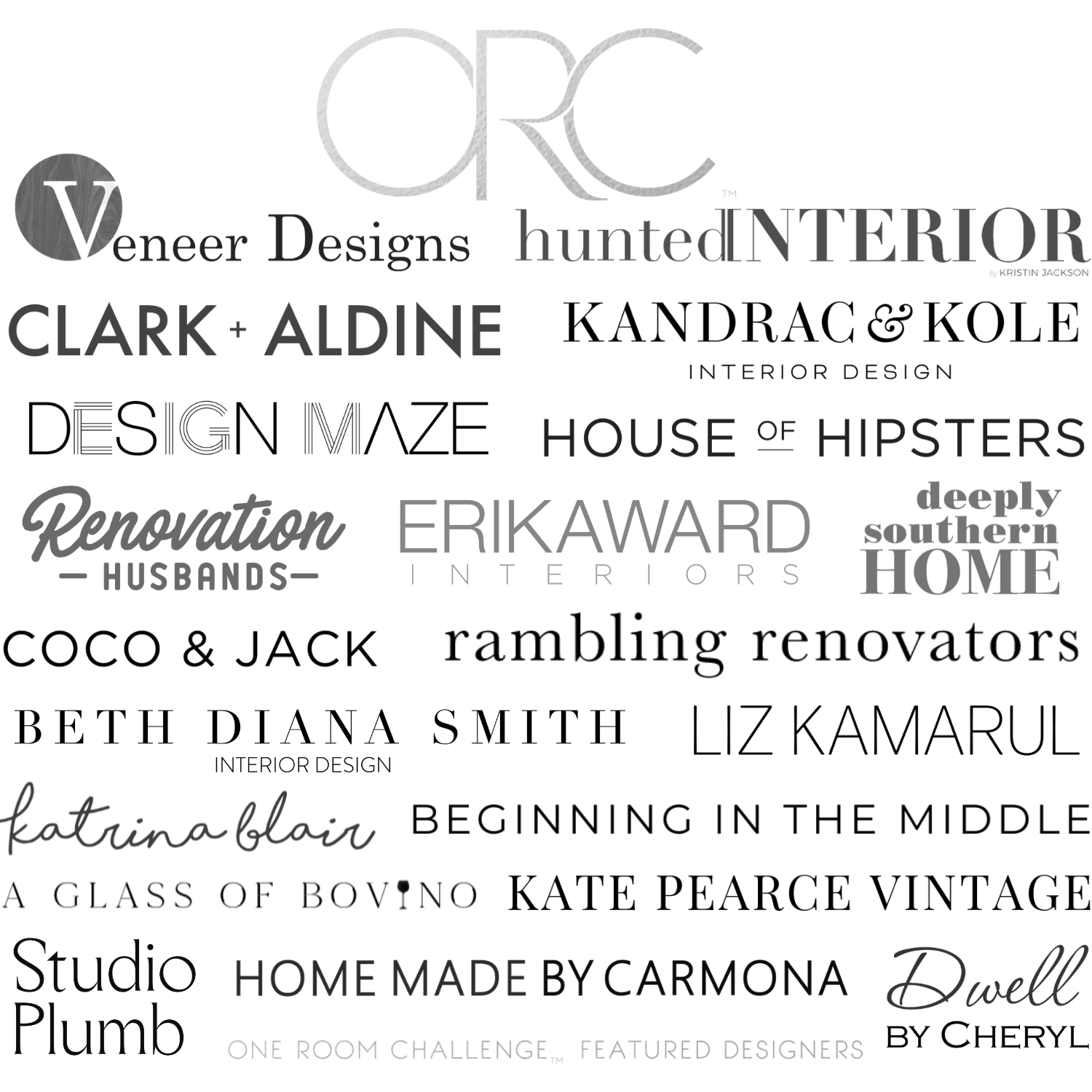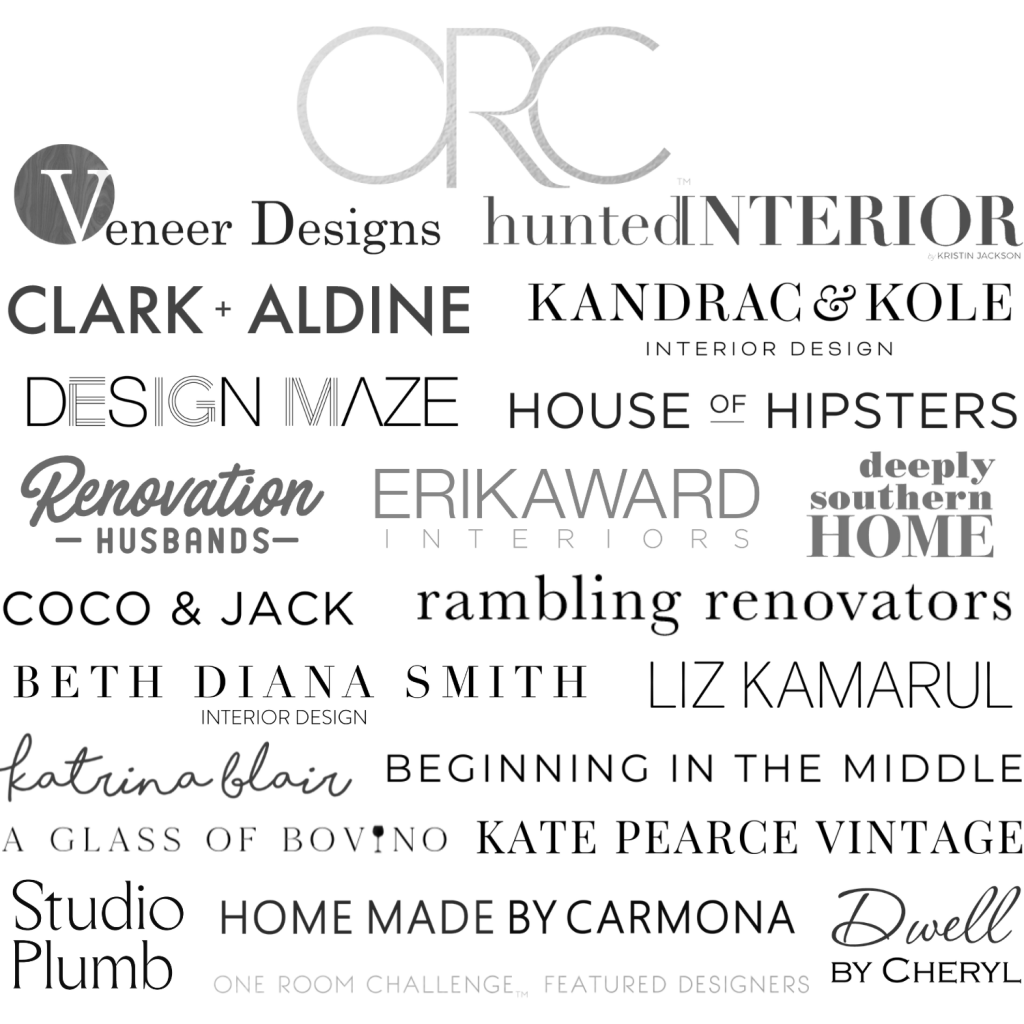 A Glass of Bovino | Beginning in the Middle | Beth Diana Smith | Clark + Aldine | Coco & Jack | Deeply Southern Home| Design Maze | Dwell by Cheryl | Erika Ward | Home Made by Carmona | House of Hipsters | Hunted Interior | Kandrac & Kole | Kate Pearce | Katrina Blair | Liz Kamarul | Veneer Designs | Rambling Renovators | Renovation Husbands | Studio Plumb | Media BH&G
One Room Challenge Sponsors:
Minted | Milton & King | Novo Building Products | Emtek | Crystorama | Build.com | Schuab | The Tile Shop | Wovenbyrd | SWD Pillows