Oh my goodness, one week until the big reveal. You know what that means? It's officially One Room Challenge hell week. Haha! That's the week at least 80% of ORC participants are working their butts off with just a hint of panic as to whether or not they can finish on time.
This week I'm tiling my bathroom and while it is the last 'big' project left, I have so many smaller projects that still have to get done, I'm definitely experiencing that hint of panic.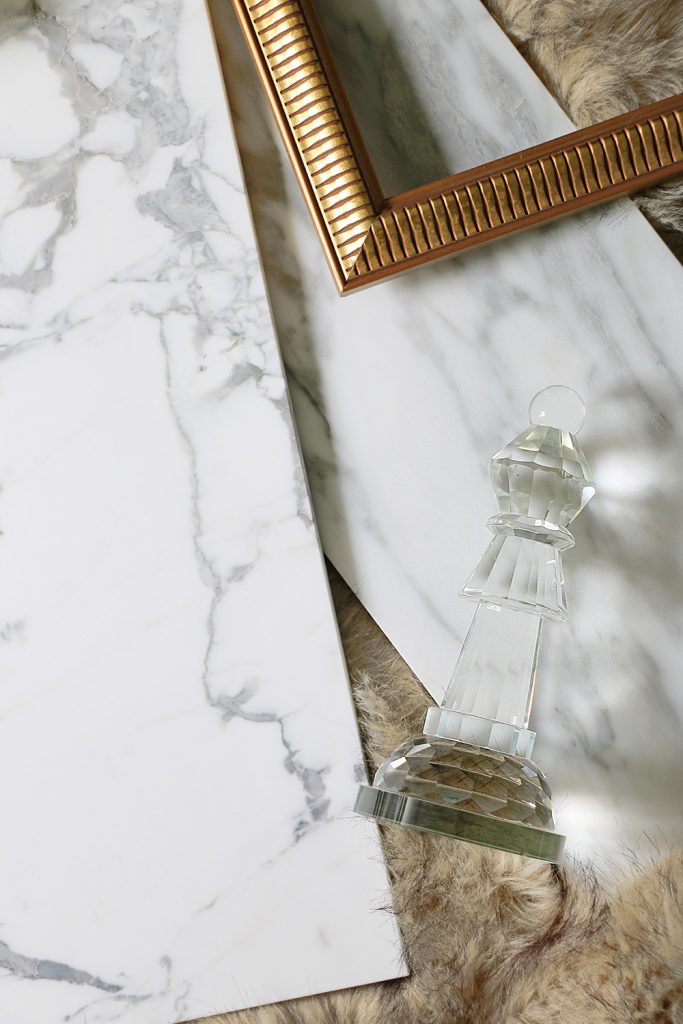 *This project was made possible by ORC sponsors, The Tile Shop. Affiliate links contained below.
Actually, I'm not quite finished with the bathroom floors just yet. They still have to be sealed, then grouted. But this room has come such a long way, it's amazing to see the end right around the corner!
Goodbye Pinkish Beige Flooring
What color even is that?? Also, why would anyone create a floor that unintentionally looks pink and slightly dingy at all times?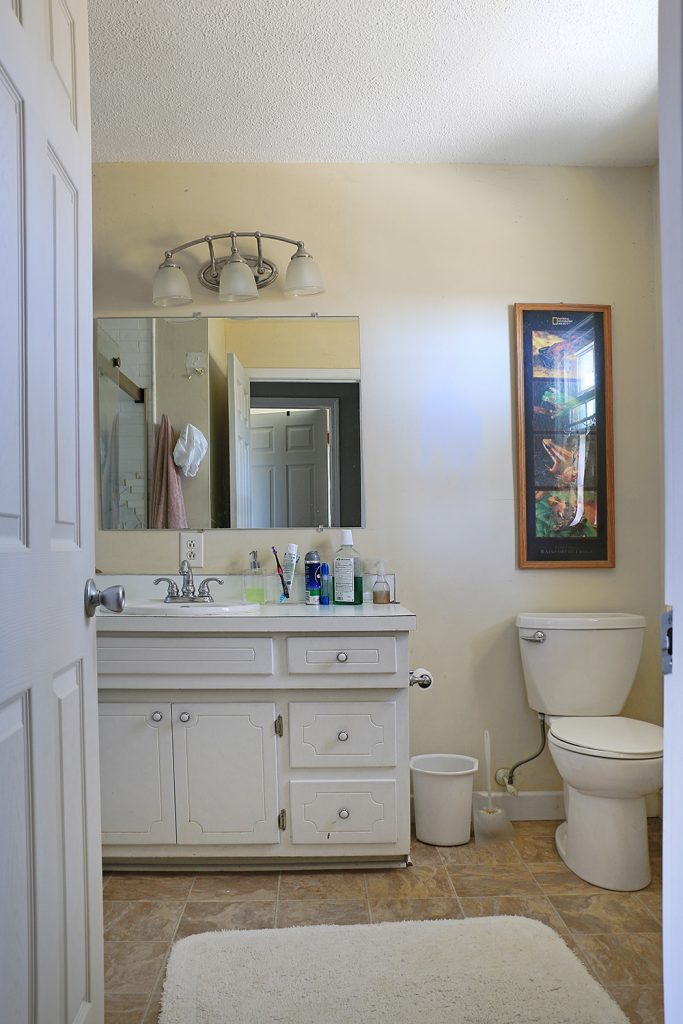 Whatever…I'm not sad to see it go. However I was grossed out to see the bit of mold growing under the toilet. That will have to be remedied before I begin tiling.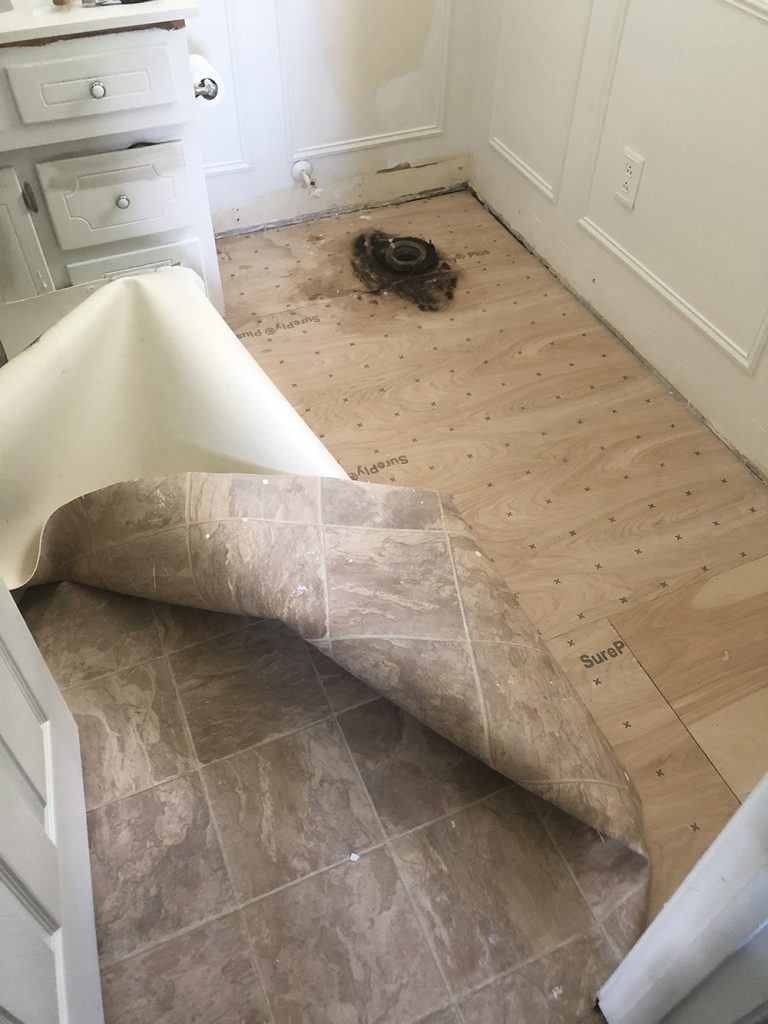 I'm replacing the pinkish colored laminate sheet flooring with these gorgeous Firenza Calcutta Gold Honed Marble tiles. I know, super luxurious, and definitely requires a bit of maintenance. But so worth the effort!
Haha, when I told my husband we had marble floors, he exclaimed "what are we rich now?". Hee hee, no but we get to pretend thanks to my awesome sponsors at The Tile Shop.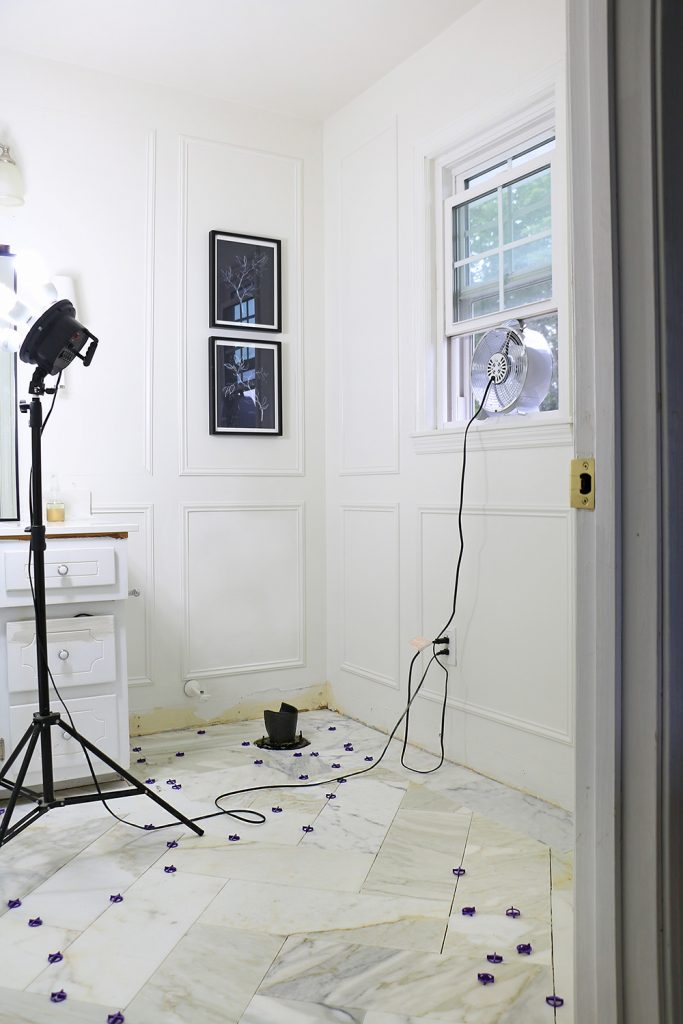 Trendy Herringbone, or The Standard Classy Stagger Pattern?
Does it seem crazy to save the tiling for last? It's usually one of the first projects I do in a space, but I needed to see the rest of the space come together in order to decide on my flooring design.
I couldn't decide whether to go with a classic but safe staggered tile pattern or do my dream herringbone pattern. I wanted to ensure the herringbone wouldn't be too busy with the very wide varieties of tile veining, color, and the design of the bathroom. So I waited until I could see the rest of the space come together a bit before making that decision.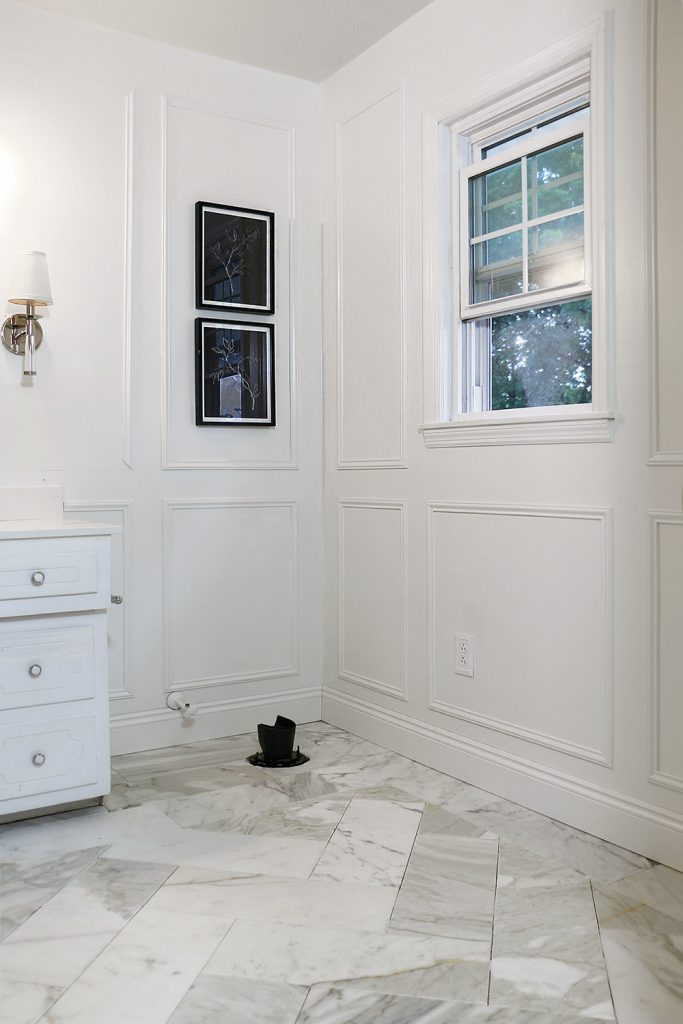 I also chose to add a tile border around the edges of the room before going into the herringbone pattern. Somehow it makes it feel less like a trend and more like a high end classic and timeless look.
Of course, it's marble. A material that has truly stood the test of time, and never really goes out of style.
Tiling FAQ's
This week I didn't have time to put together a how-to video for you. But I thought I could at least share my answers of some of the questions you'all sent me via Instagram and email as I shared my tiling progress.
Of course, I always try to answer each question personally, but it occurs to me that since more than one person has asked the same question, it might be helpful to additionally leave those answers here for all to discover.
So let's get started!
Q. What kind of saw are you using?
A. To cut natural stone like marble, you need to use a wet tile saw. This is my Ryobi wet saw, and it is outfitted with a diamond blade. And yes, I love this baby!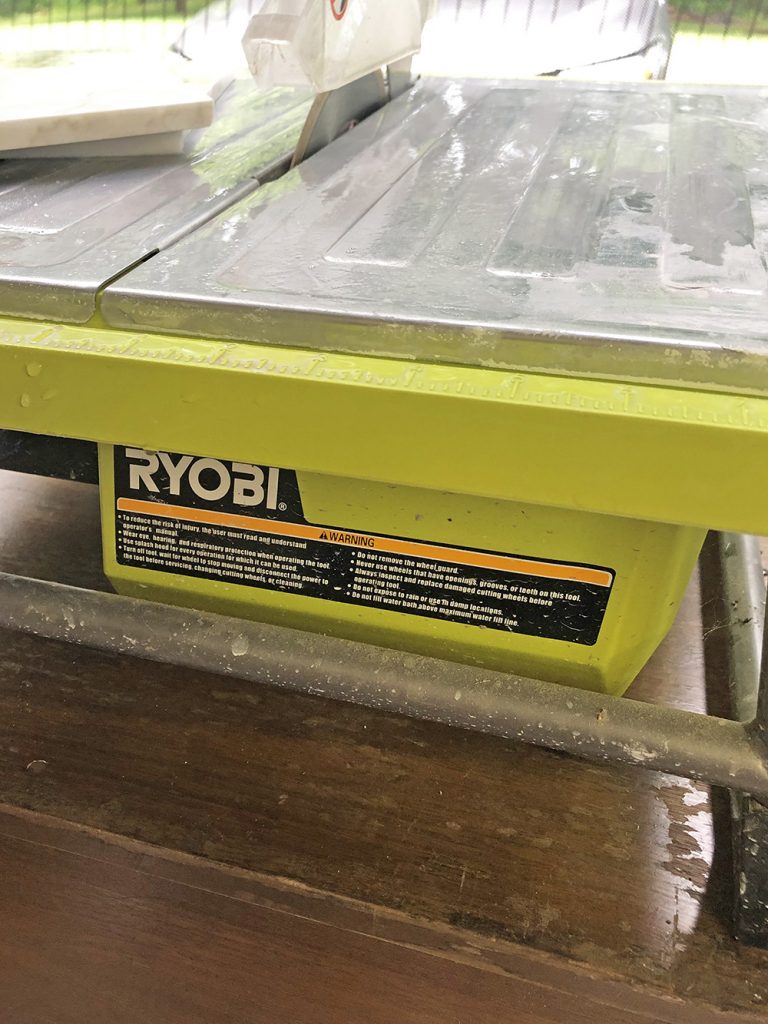 Q. Is it hard to cut natural stone/marble? What should I know?
A. Actually it cuts fairly easily, but when you get to the end of a cut, you want to slow wayyyyyyyyy down because the last little bit of stone tends to break off…specifically when it is a tip like many of my triangle cuts.
Q. How long did this job take you?
A. I'm still working on it now…but I estimate it would have taken a total of 4 days by the time I'm done. And my bathroom isn't big, it's an 8 foot room! Mostly because my body doesn't do well on the floor, so I took longer than usual. It also takes 48-72 hours for the tile adhesive to set, then another 48-72 hours for the sealant to cure before grouting it (so that it doesn't stain the marble), then another 24 hours for the grout to dry! So factor all that additional dry time in for your job.
Q. Are you nervous about having marble on a bathroom floor…won't it stain easily?
A. Because this is my master bathroom, and we are pretty low maintenance people (I don't wear makeup, and my husband doesn't use any special product), we keep the place fairly clean fairly easily. Aka there isn't anything in there TO stain the marble. Never-the-less, I will need to seal it periodically to keep that pretty honed look fresh. And yes, I'm nervous about broken tiles (although these were made for both floors and walls), but fear won't stop me from trying something new! If something breaks, I can replace it…after all, I'm the one installing it!
Q. How did you know you were good enough to cut tiles and take on a job like this?
A. There is only one way to learn…by doing. However my first flooring install was with stick-on tiles, then I tried luxury vinyl tiles in another home, then I graduated to luxury snap tiles, and did some light tiling in my cottage guest house's kitchen… you get the idea. I cut my teeth on smaller, projects that had a similar skill set, and I was finally ready to try my hand at the big stuff. That being said, it's not perfect. There are plenty of imperfections, but I'm okay with that. It still looks great, and they are minor enough that most won't notice. Start small, practice, and work your way up to the bigger projects.
What's Left To Do:
I'm feeling a little nervous because tiling floors are taking much longer than expected (all that drying time I mentioned). And I still have to install my bathroom sconces, crown moulding, and baseboards. That's in addition to a few smaller decorative things… but that's okay, I'll pull a few long nights (as usual), and it will be ready in time for next week's reveal!
Scrape off popcorn ceilings and mud ceilings
Fix crackling walls in bathroom
Prime and paint rooms
Install wallpaper in closet
Replace outlet covers and switch plates
Replace bathroom vanity counter top
Paint doors and add new door levers
Add molding and trim to bathroom walls
Install light fixtures
Build closet units
Remove carpet temporarily and replace after closet built-ins
Remove toilet and see if offsetting is an option
Install tile flooring in the bathroom and replace toilet
Install crown molding and baseboards
Paint/update bathroom vanity
Build vanity nook 'makeup' table top?? (not sure I'm going to bother)
Add final decorative touches
Soures:
Catch The Latest From The Rest of The ORC Featured Designers!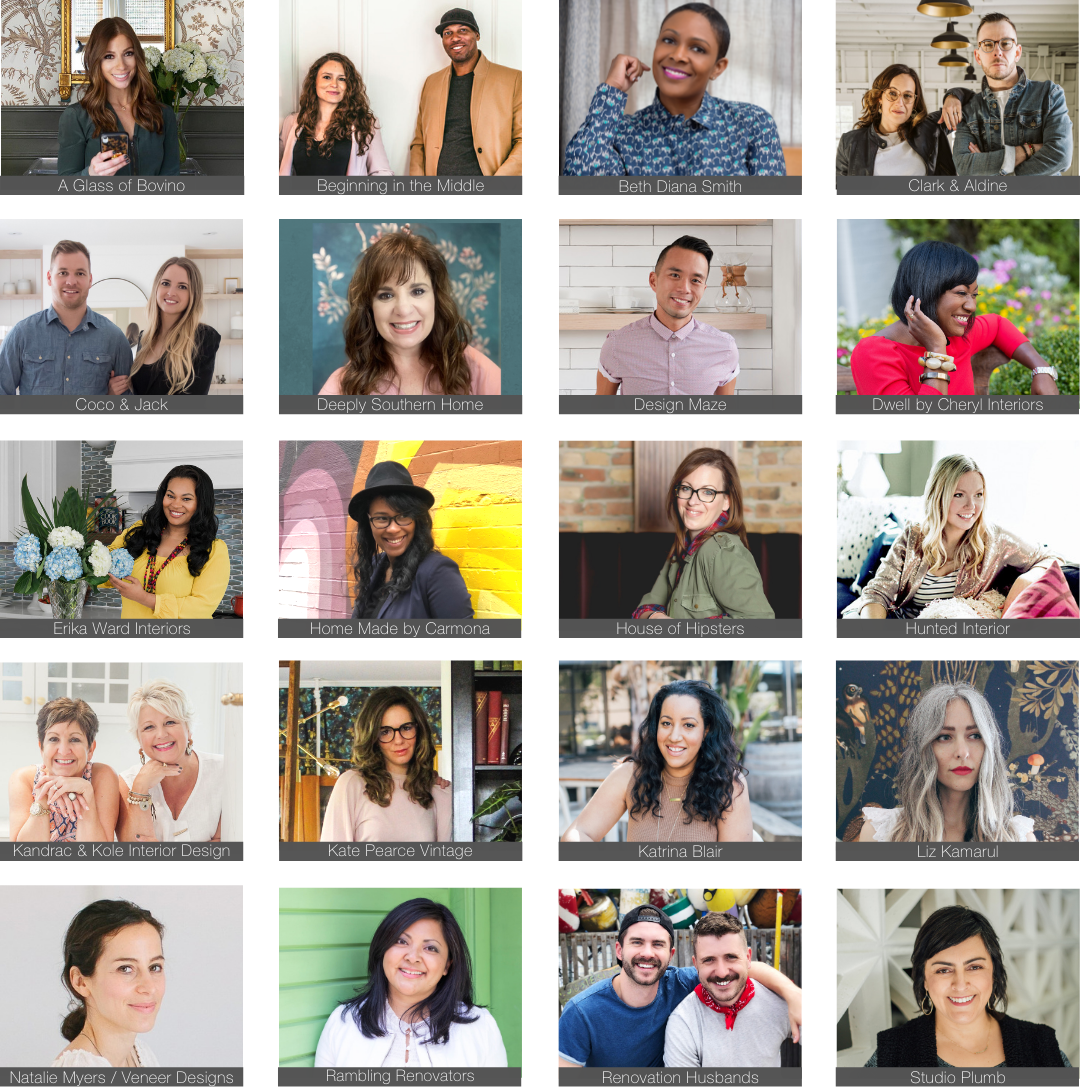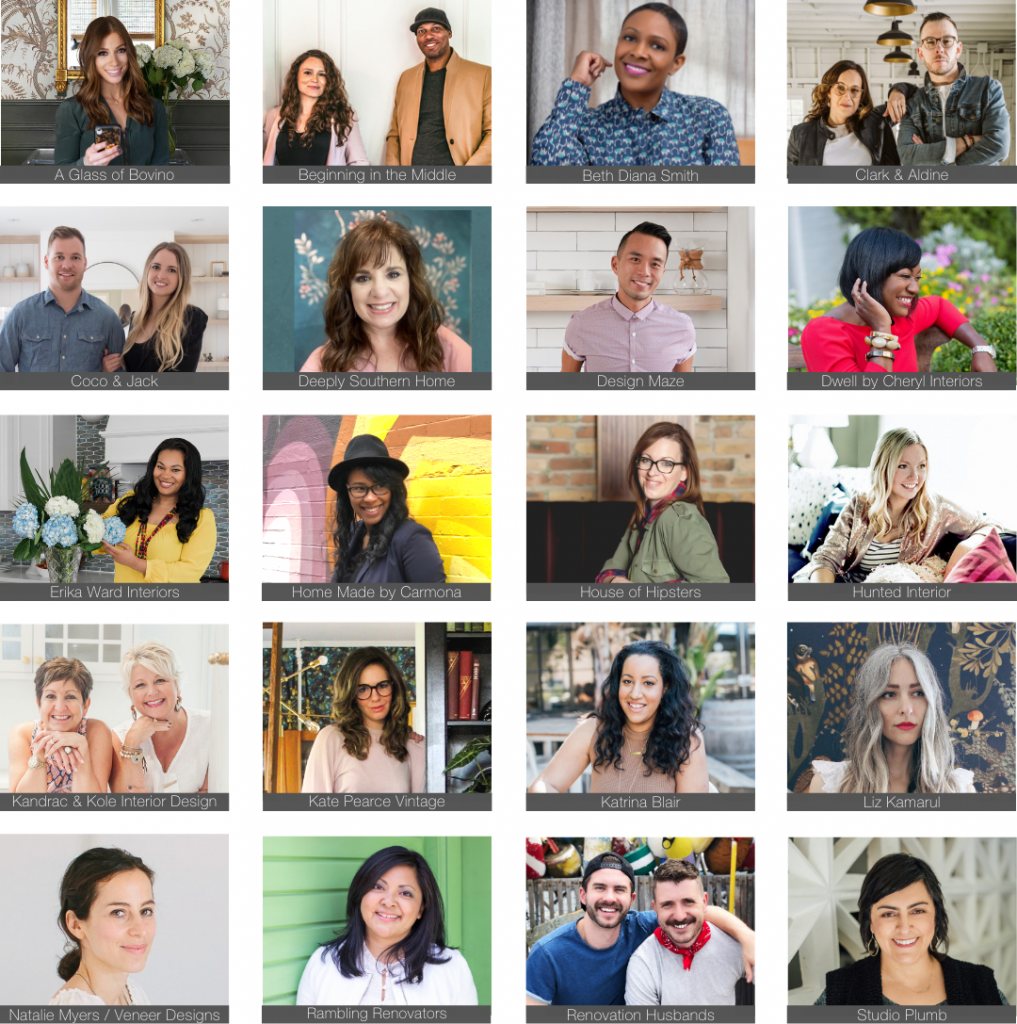 A Glass of Bovino | Beginning in the Middle | Beth Diana Smith | Clark + Aldine | Coco & Jack | Deeply Southern Home| Design Maze | Dwell by Cheryl | Erika Ward | Home Made by Carmona | House of Hipsters | Hunted Interior | Kandrac & Kole | Kate Pearce | Katrina Blair | Liz Kamarul | Veneer Designs | Rambling Renovators | Renovation Husbands | Studio Plumb | Media BH&G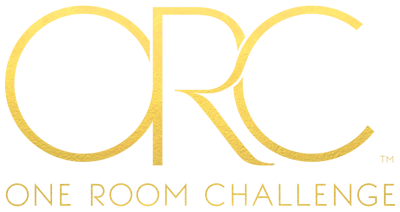 Thanks To My One Room Challenge Sponsors:
Minted | Milton & King | Novo Building Products | Emtek | Crystorama | Build.com | Schuab | The Tile Shop | Wovenbyrd | SWD Pillows
Did You Miss The Last Few Weeks? Get Caught Up Here:
Week 1: Before Pictures | Week 2: Ceiling & Wallpaper | Week 3: Moulding & Millwork | Week 4: Light Fixtures | Week 5 & 6: Building Closet Units