It's time to raise your planter game to the next level! Your houseplants may be the star of the show, but you can still pot them in style.
Find stylish planters and unique planter ideas to display your houseplants.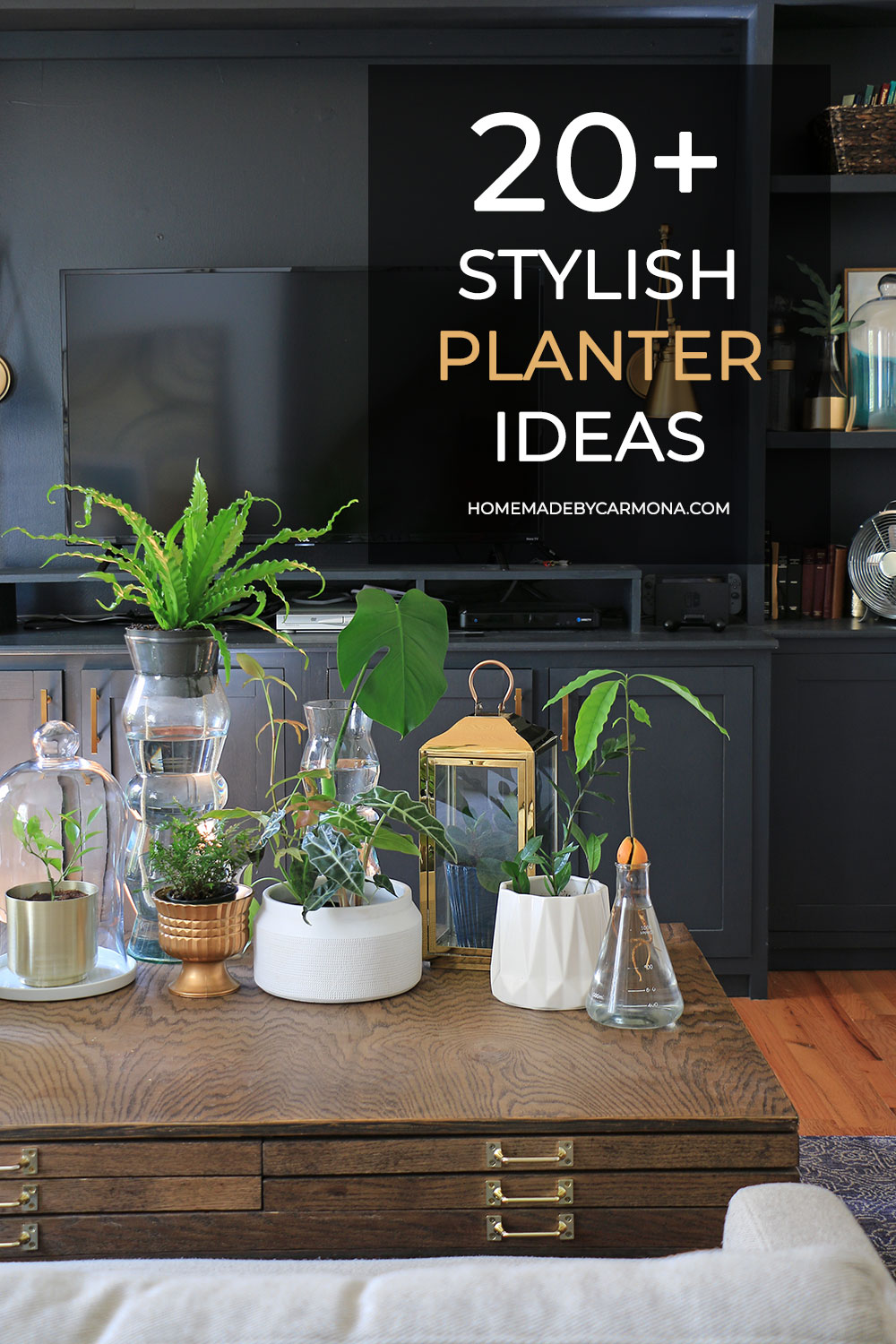 These are not your mama's planters. When it comes to ideas for displaying your plants, there are tons of different ways to show off your favorite plant.
Today I'm sharing over 20 creative ideas for plant containers!
1. Lab Beakers: Cylinders, Test Tubes, & Ball Flasks
There is something classy and eclectic about science tubes used both as water planters and as soil planters! The unique shape makes them an amazing statement piece for your plants.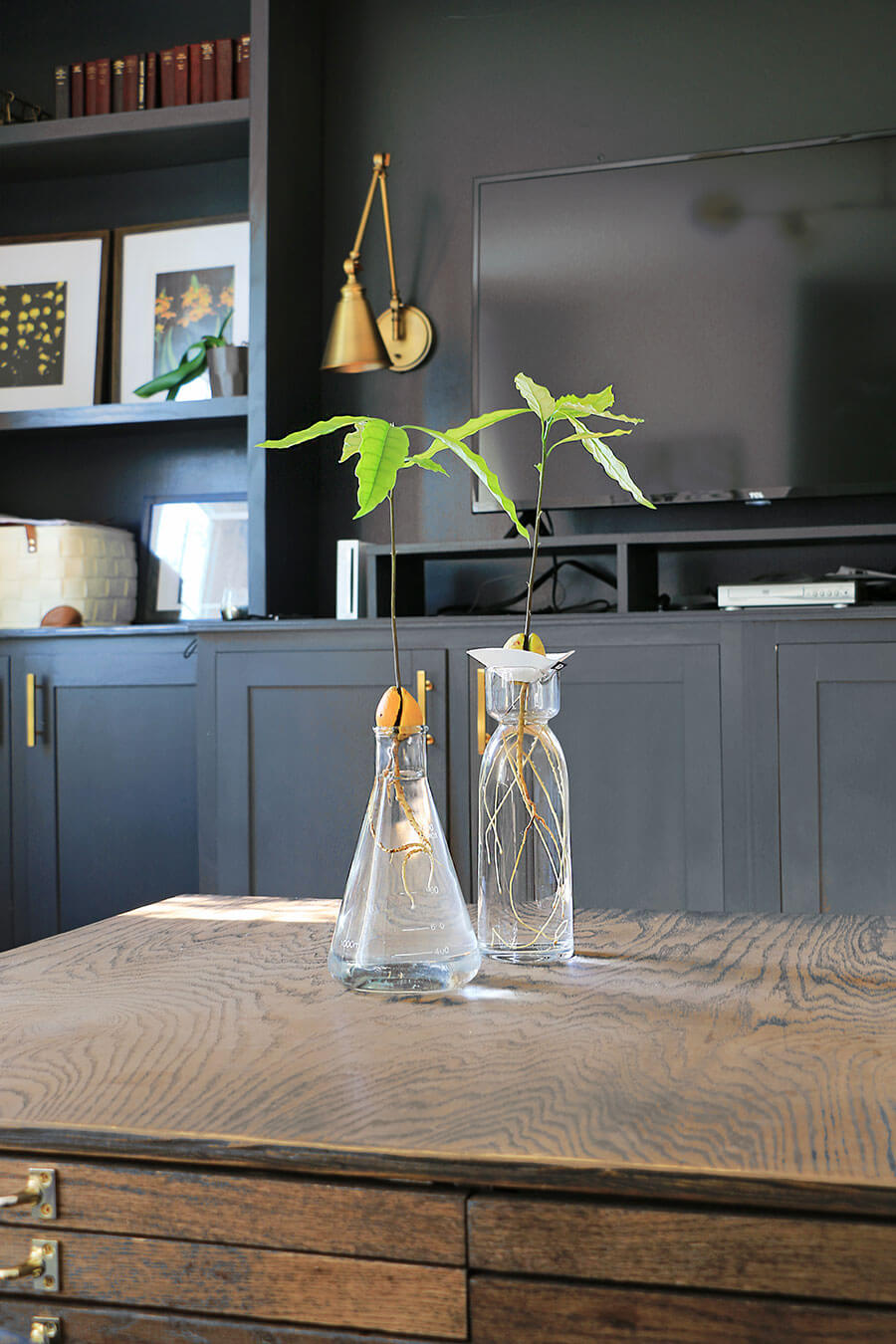 2. Shadow Box Frame
Shadow box frames aren't only for collectibles…remove the glass and secure a planter to the inside rim for a stunning and artistic display!
3. Tall Glass Tubes & Vases
Tall glass vases aren't just great as flower vases; they are perfect for plants that need to stay moist. No more frequent watering, just add cotton string to through the planter base and set it inside your glass vase filled with water.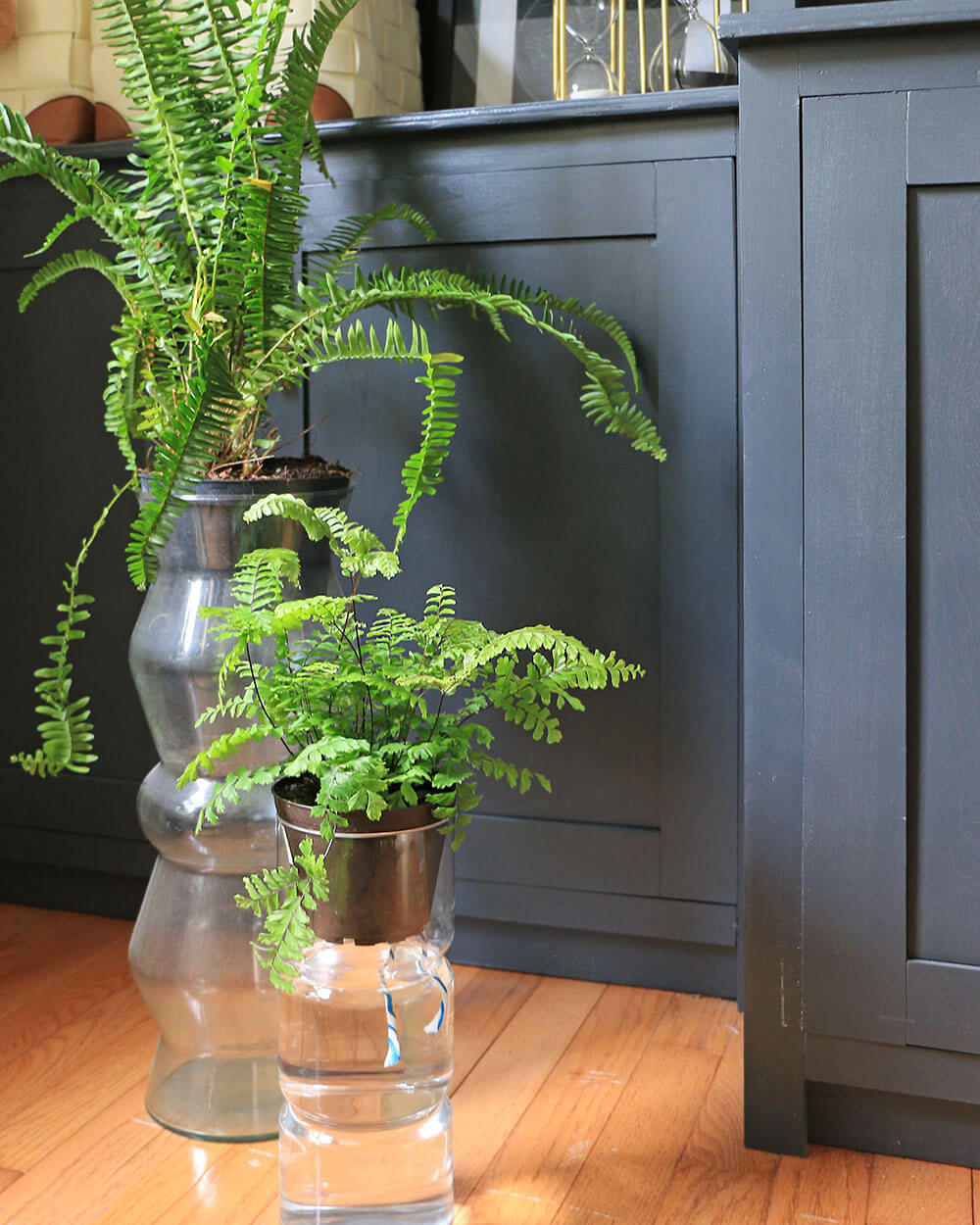 4. Bird Cages
Fill half of a birdcage with peat moss soil and plant succulents in it for a stunning piece of decor.
For indoor use, place contained pots sitting inside a regular round bird cage with houseplants that cascade for a beautiful statement piece.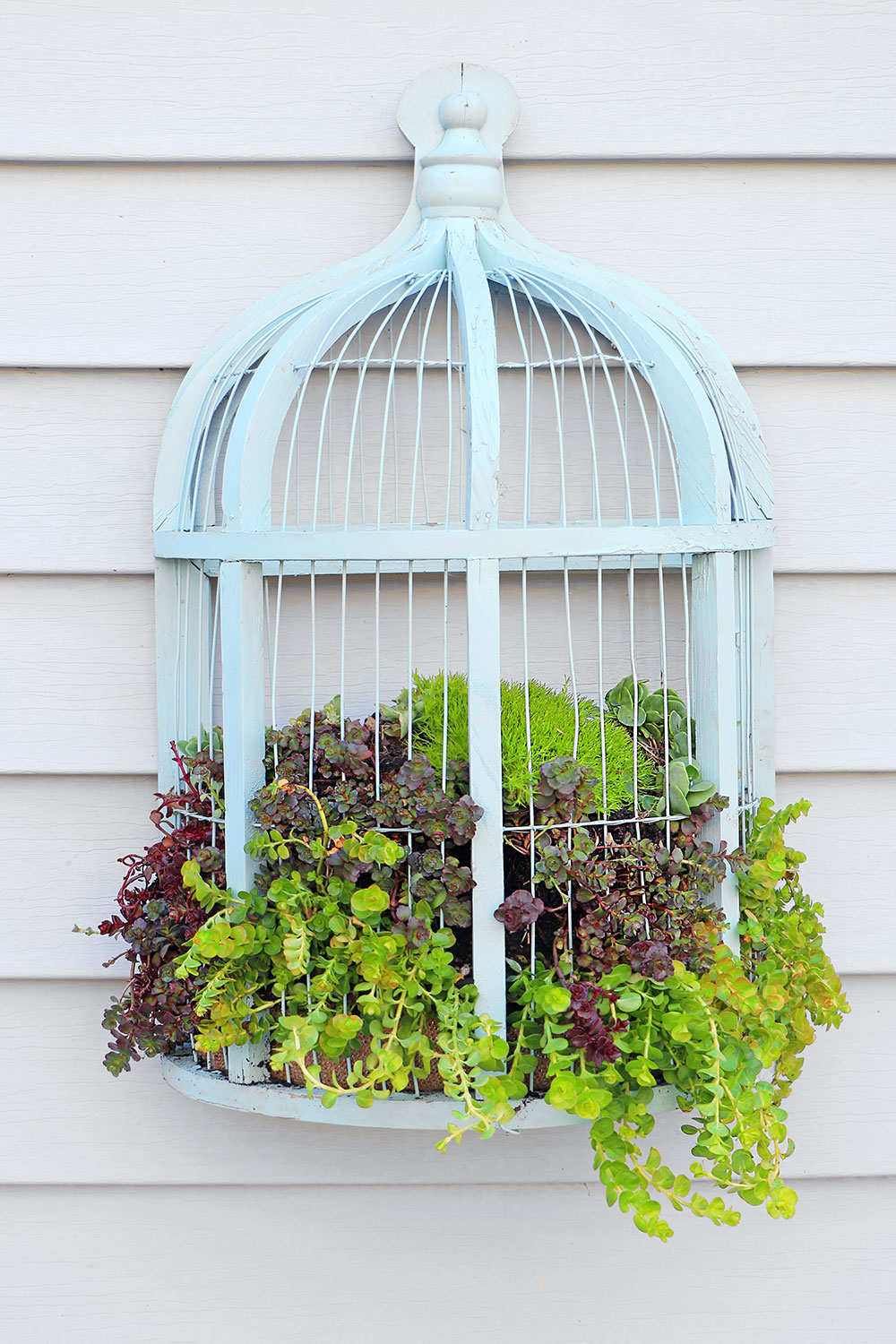 5. Plant In Mugs & Tea Cups
Repurpose household items as plant containers. An adorable mug with a saying you love or a variety of vintage tea cups can make the perfect little display of planters.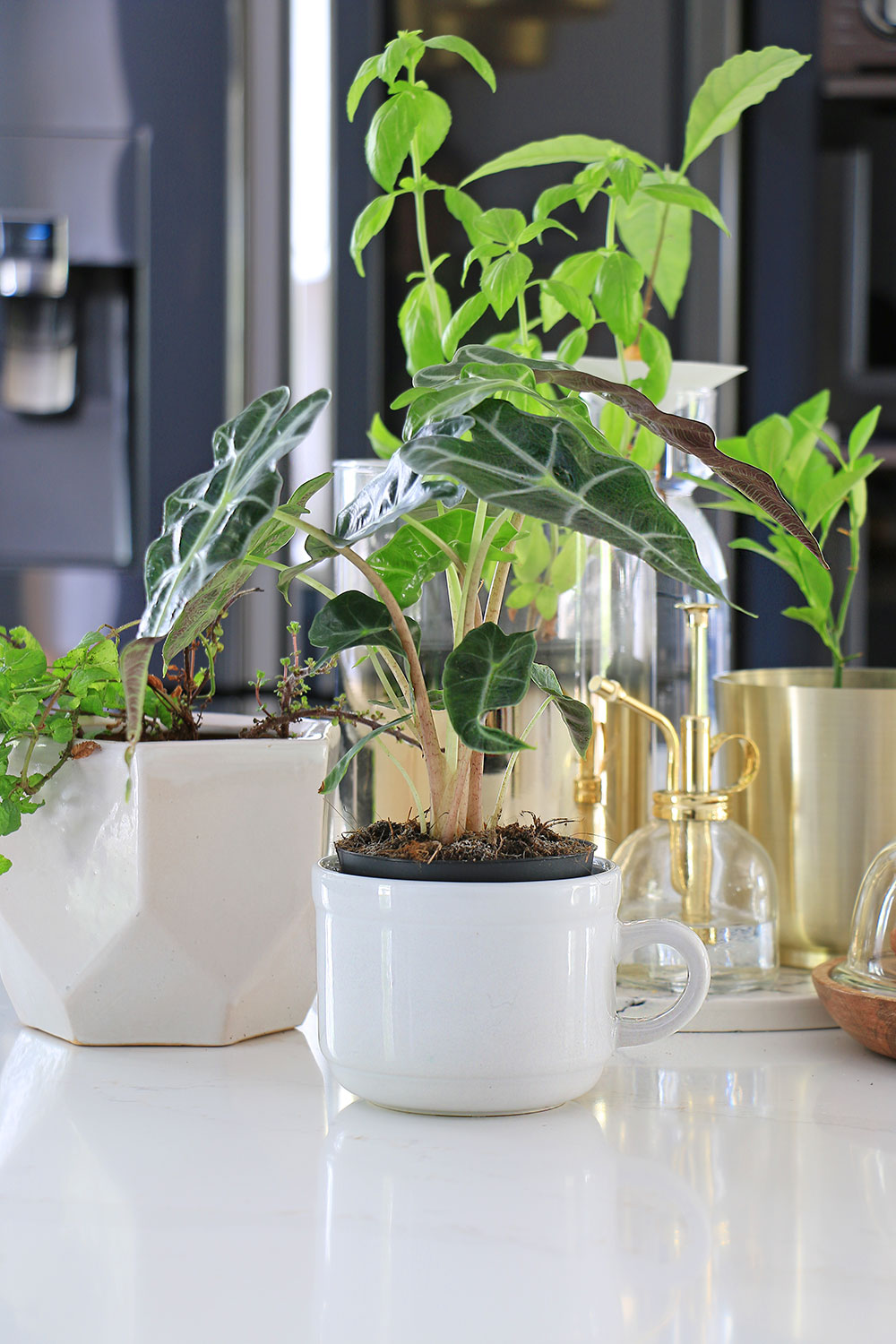 6. Modern Planters
Modern planters designed to be nothing other than planters do deserve mention in this list. Hey, not all planters are created equally! Instead of going for the typical sized or shaped planter, think bigger or better. Planters have now become a big part of interior design and are getting a whole new look. Go for texture, geometric shapes, unique shapes and sizes, etc.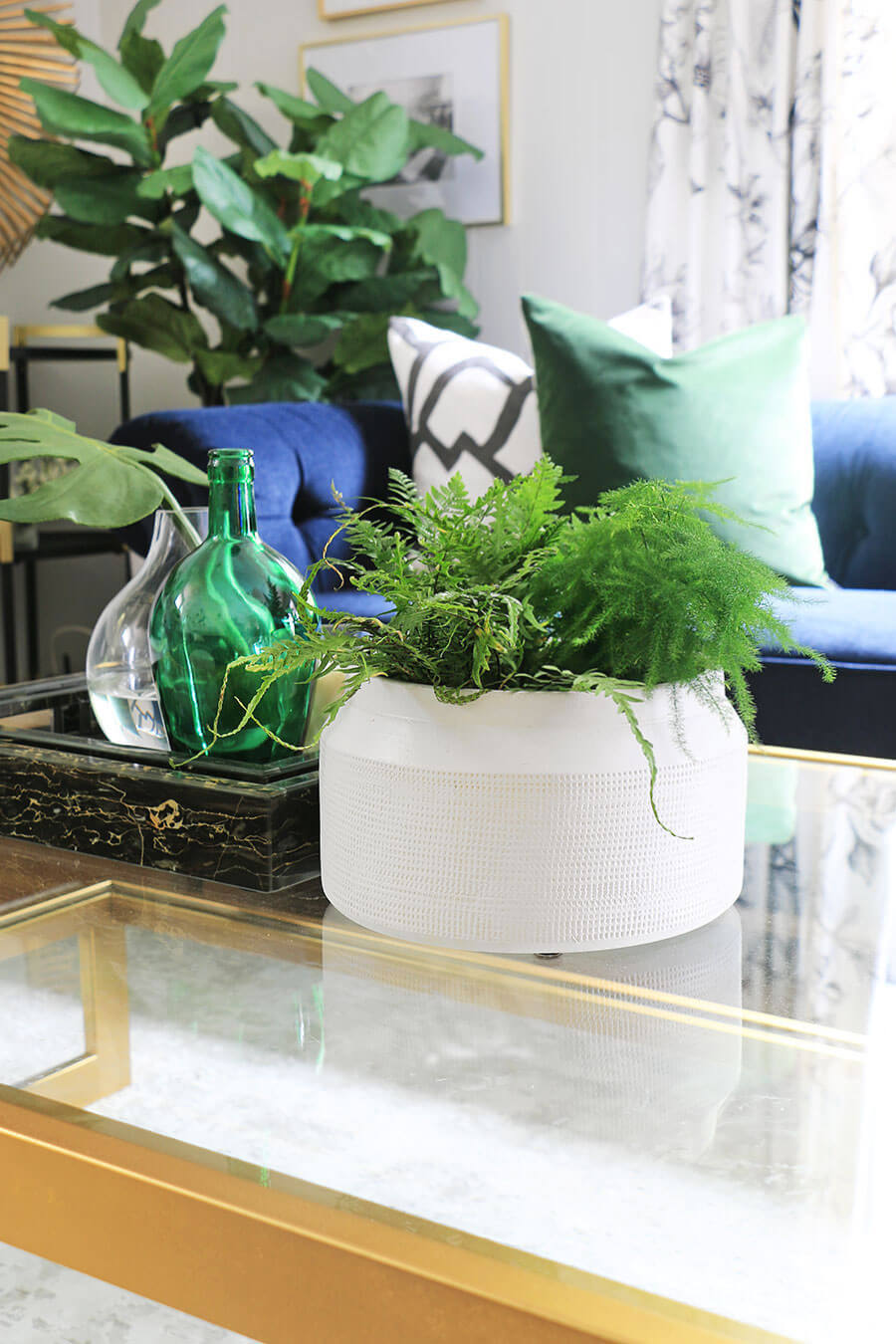 7. Woven & Cloth Baskets
You'll notice the sweet mini woven basket in the background, and the bigger cloth basket/bin holding the snake plant. Yes, typical baskets are gorgeous and work wonderfully with plastic drip trays inside, but go for the unique basket that will make a statement!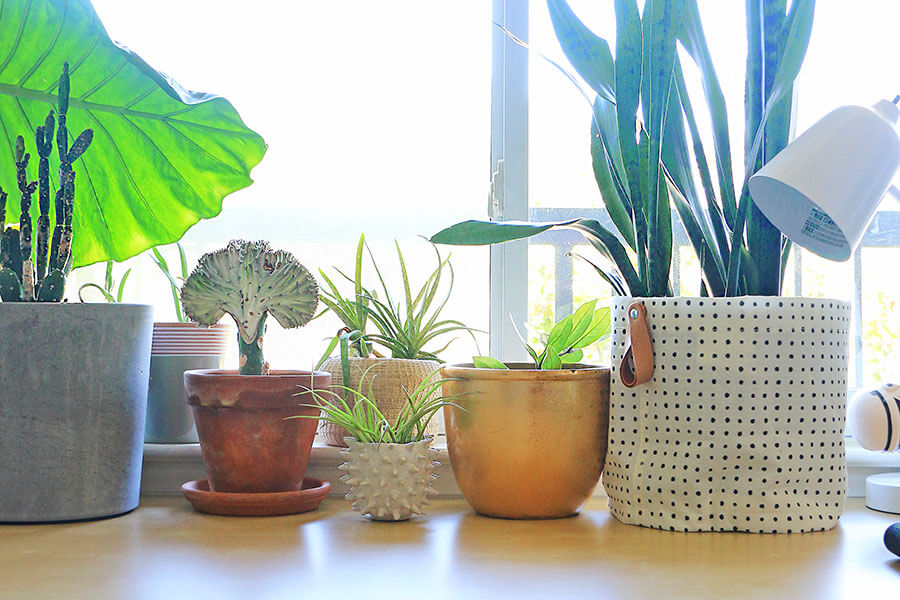 8. Concrete Planters & Concrete Blocks
Making a DIY concrete planter is fairly easy. For a low price you can make a variety of pots in different shapes and sizes, and even paint them.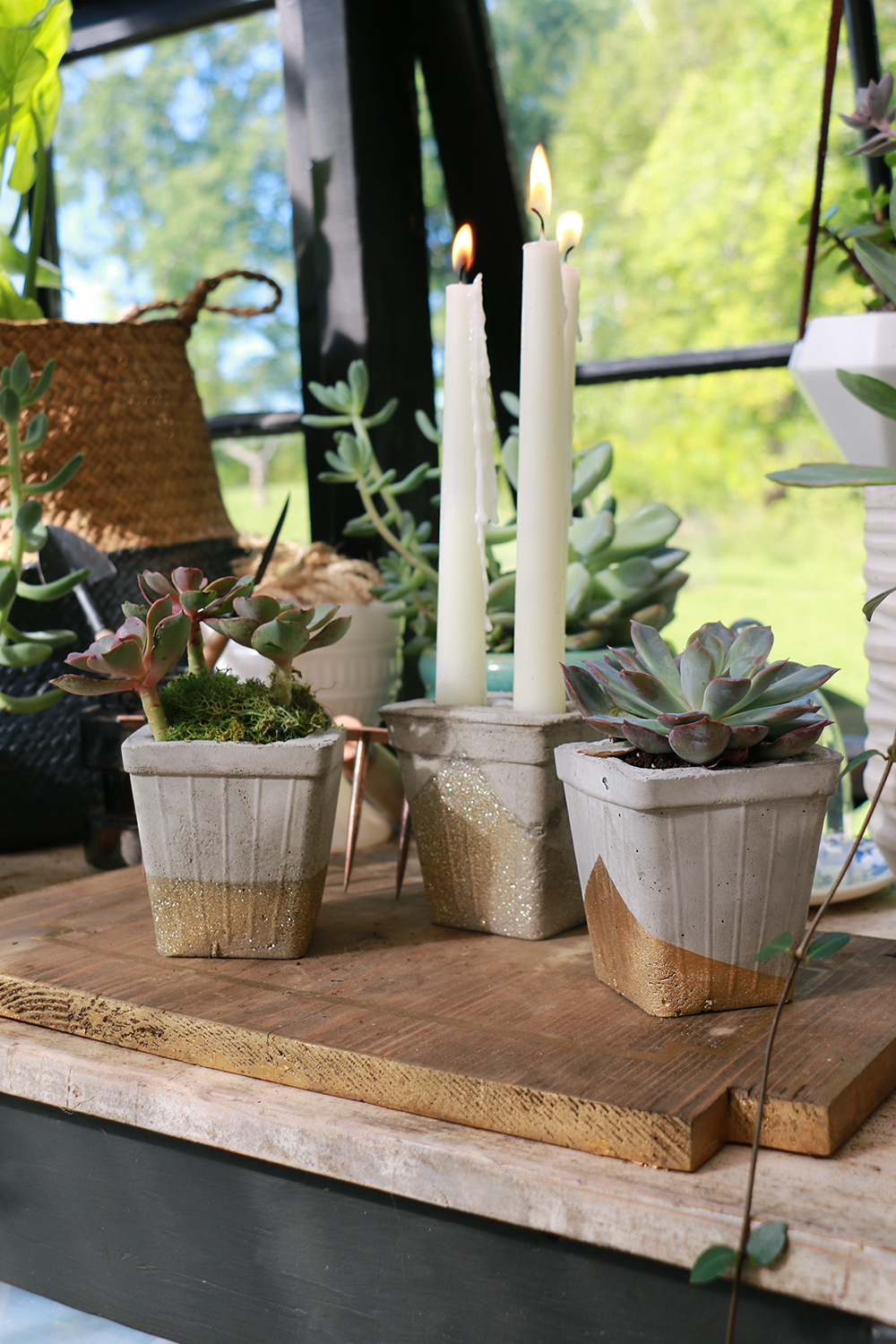 9. Lanterns & Hurricane Lamps
Yes lanterns and hurricane lamps are lovely with candles and flameless luminaries, but how about plantlings that need a little extra protection? Much like glass domes, these make for great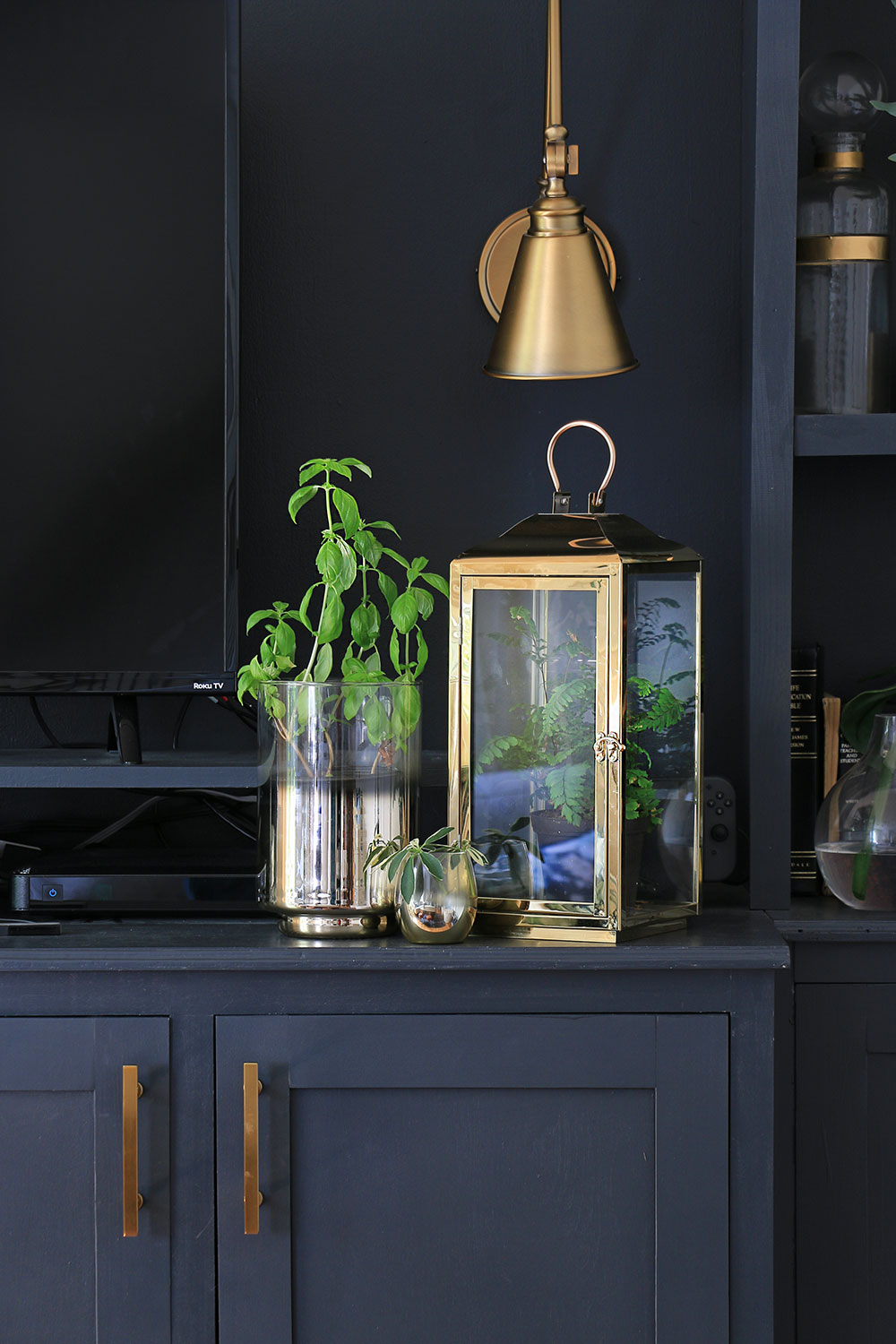 10. Wall Hanging Planters
There are quite the variety of wall hanging planters in different shapes and sizes! These are a great way to turn your plants into stunning wall art.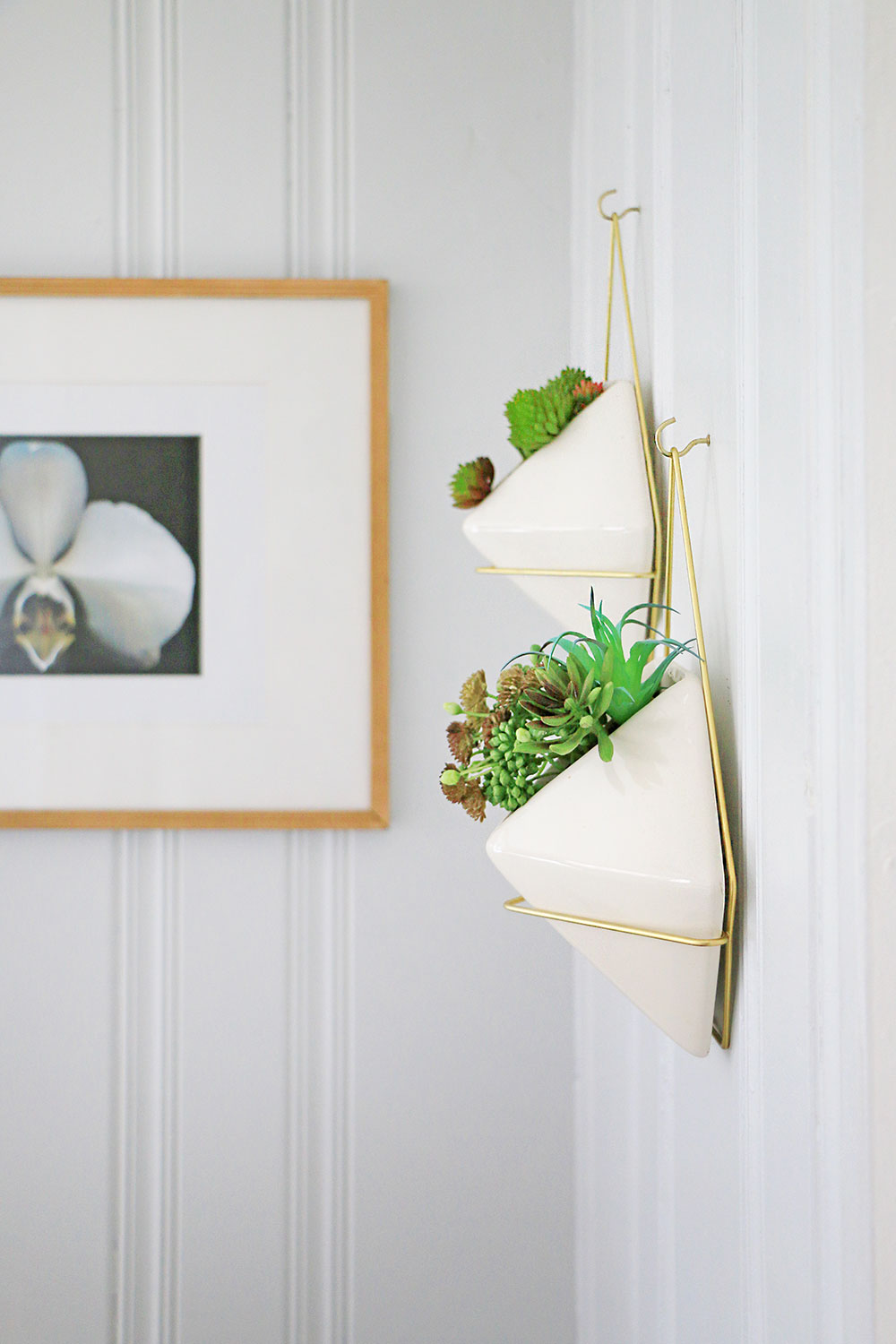 11. Pipe, Conduit & Cool Metal Pieces
Iron or copper pipe can be fitted to create very cool planters with an industrial touch. Fit several together to make a system of planters that are hung on the wall. Also be on the lookout for copper and other metal pieces that can be used in this fashion. I found quite a few thrifted metallic items that no one seems to know the purpose of any longer!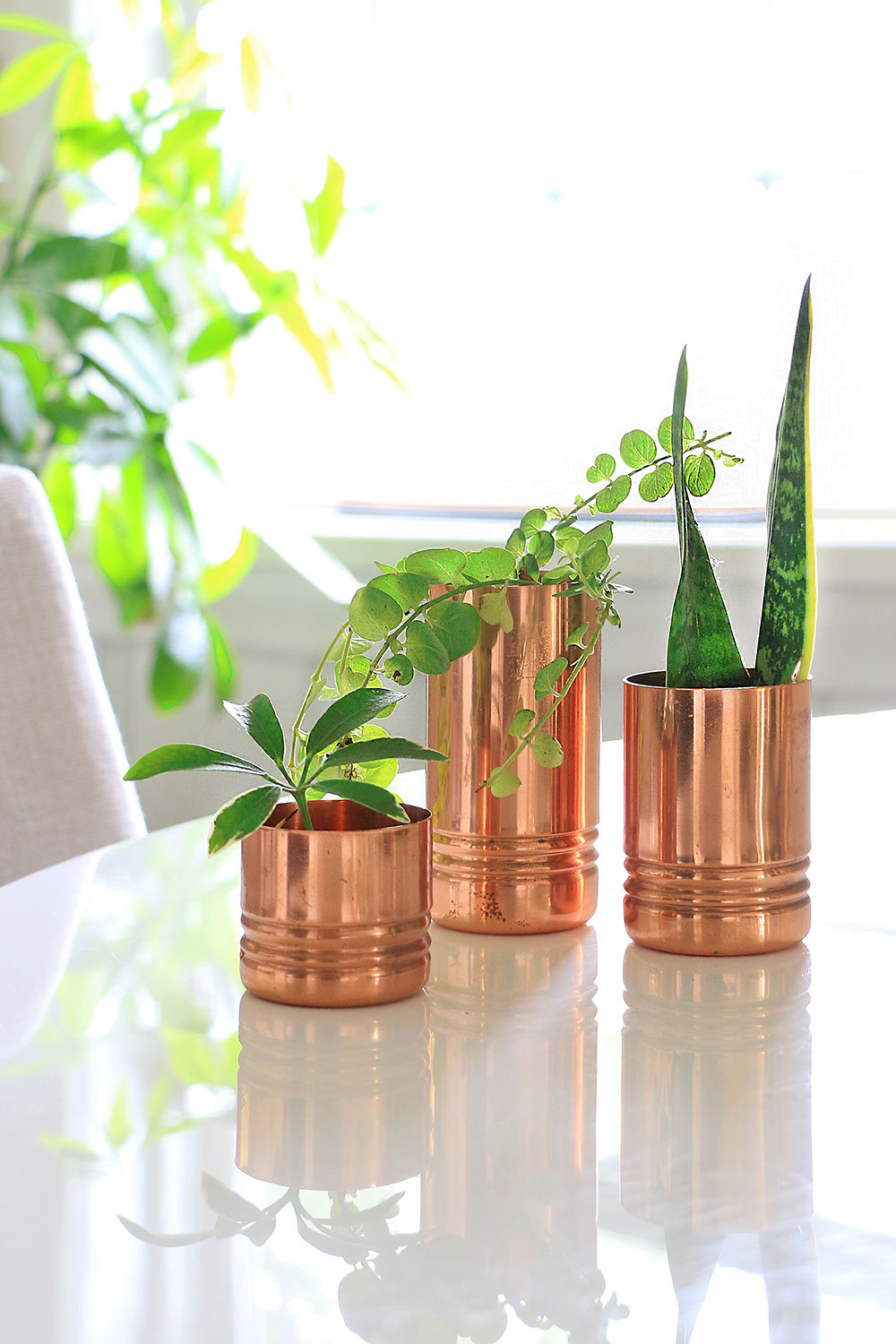 12. Drinking Glasses/ Bowls / Dishes
We don't always think of the everyday dinnerware as something to keep our plants in, but why not? A pretty plate can become a fancy drip tray, and a bowl or glass can become a pot with or without soil!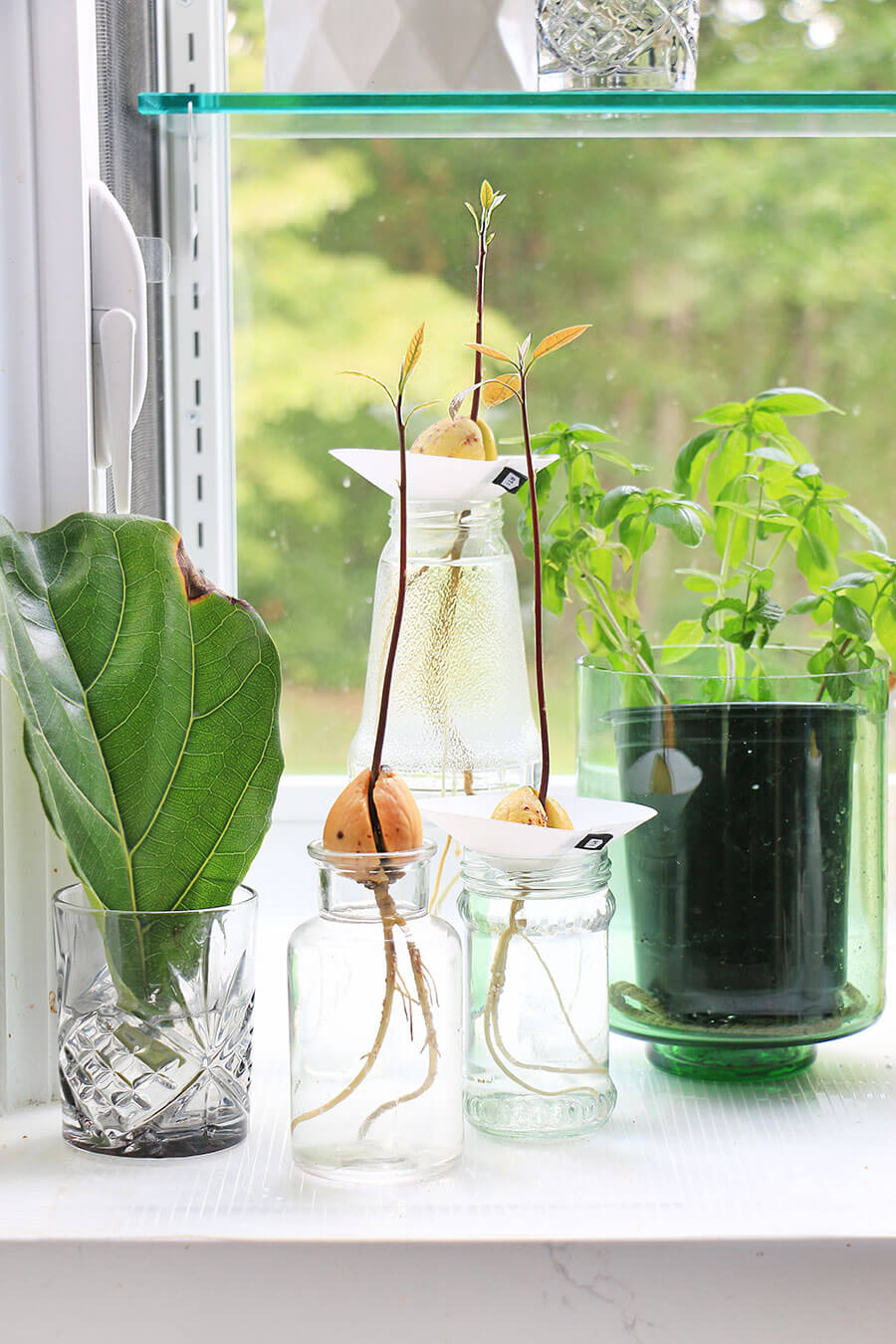 13. Inset Coffee Table
Have an old coffee table with a glass top you don't love anymore? Give it new life by adding a base several inches under the glass, waterproofing with heavy duty plastic, and adding peatmoss and your favorite small succulents.
14. Vertical Wall Planters
Running out of space for your potted plants? Go vertical with with a DIY planter build! You could also buy some vertical hanging wall pockets.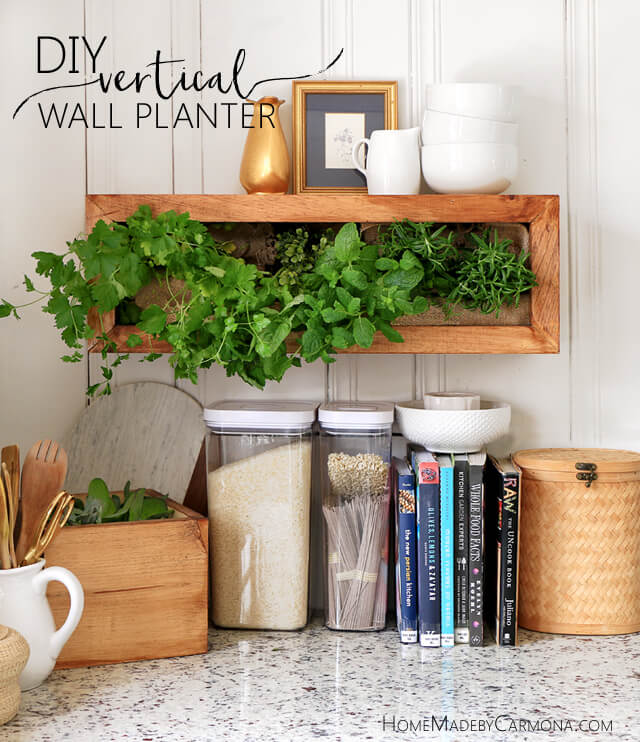 15. Vintage Tins
Vintage style tins are fantastic as decor accessories, so why not as a planter? Add a little charm and greenery at the same time.
16. Tea Light Jars
No need to think large when it comes to plant pot ideas. Something as small as a collection of tea lights can make for adorable succulent planters. A little soil and a few succulent leaves and you can easily start propagating more succulent plants in these little tea lights.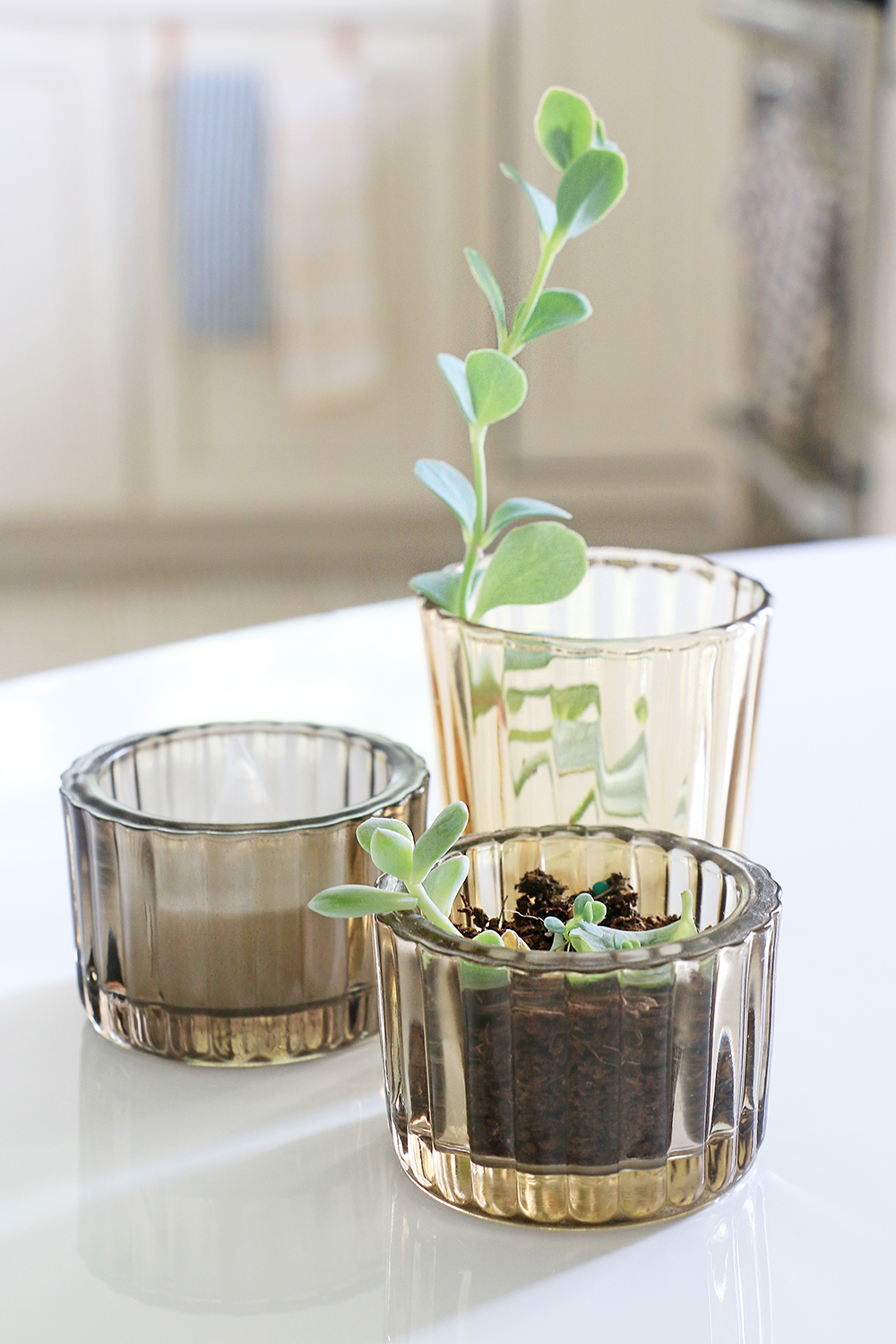 17. Macrame Hangers
This is more of a plant holder than a plant pot. But it jazzes up planters and adds to the design of your home.
Who knew a little bit of twine and cord could go so far toward giving a planter new life and style? Now you can go vertical, hang it from the ceiling, or even hang it from a curtain rod above a window!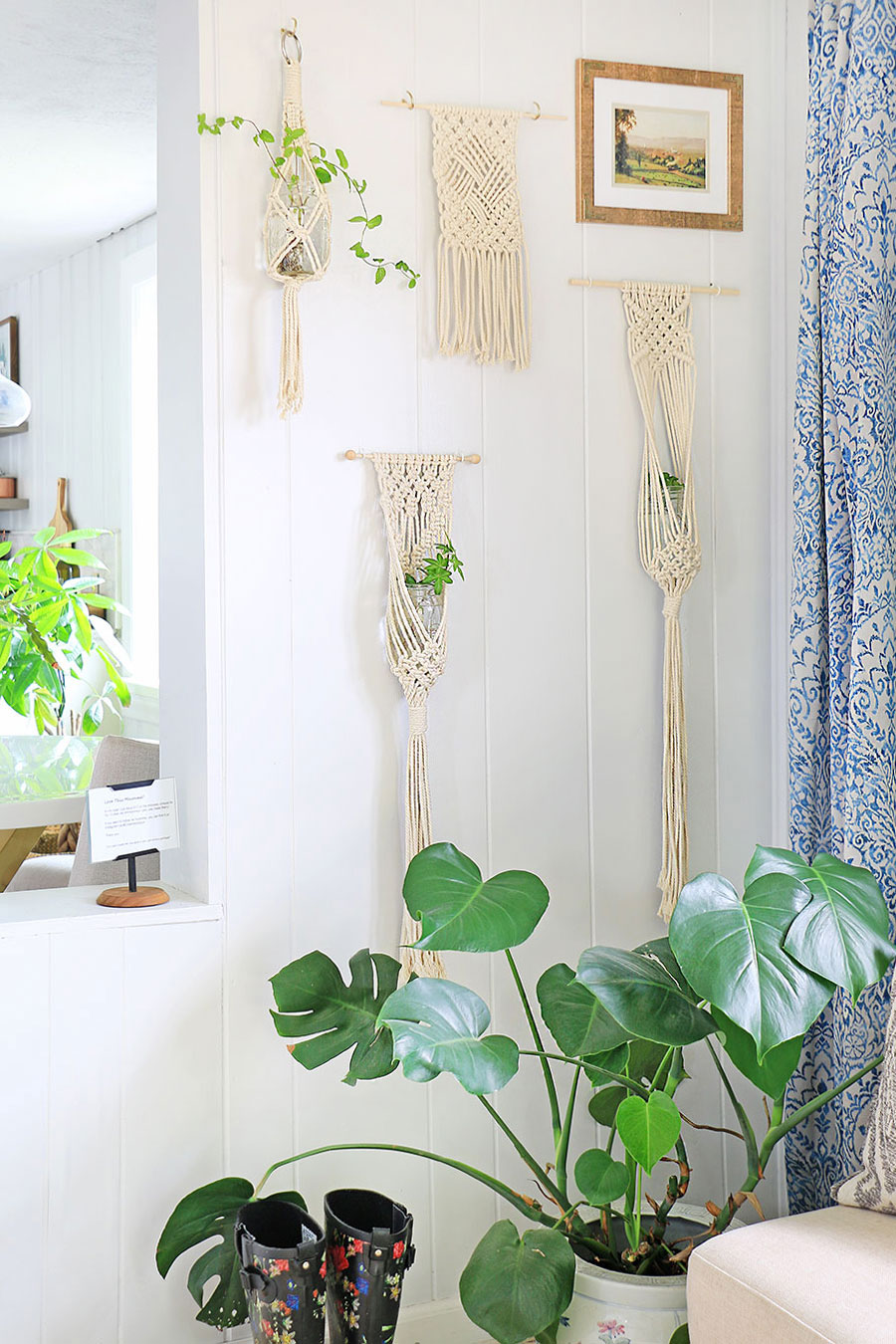 18. Corks
If you haven't seen how cute corks are with mini plants like cacti and succulents, definitely do a search on Pinterest! It is amazing how easily a soaked cork can keep a low maintenance plant like cactus happy and healthy.
19. Wooden Plant Pot Holder
Add a DIY decorative holder for your plant pots that adds a bit of flair as a centerpiece.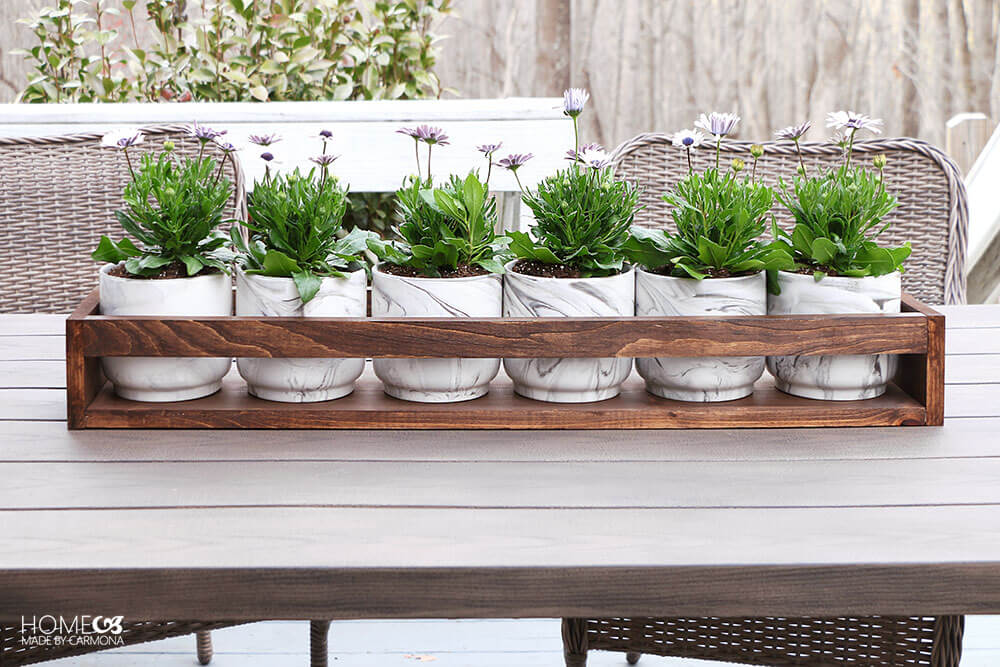 20. Jars
Any and every type of jar can become a great planter! Drill a hole in the bottom using a special bit designed for glass, or add a few rocks to the bottom before adding soil for drainage.
21. Glass Domes
Glass domes are a great way to house those little plants that like a moist tropical environment. Besides the practical purposes, it also adds great visual interest!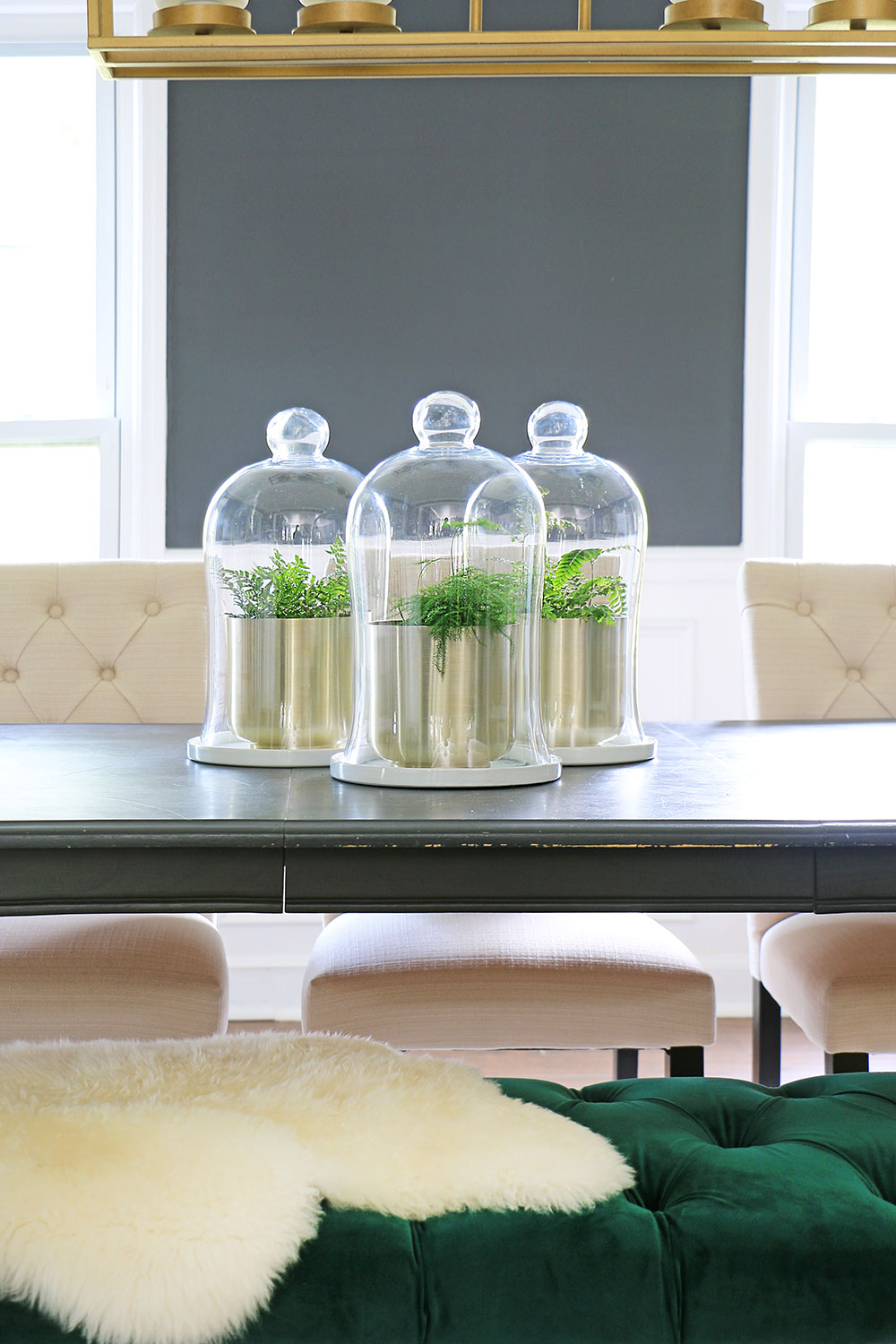 22. Metal Buckets
Metal buckets with drainage holes make for beautiful container gardens, but they also make for cute indoor planters without the holes!
23. Decorative Statue Planters
You can find statues that are designed to be planters, or drill holes in plastic statues and creatures to make your own unique DIY statue pot.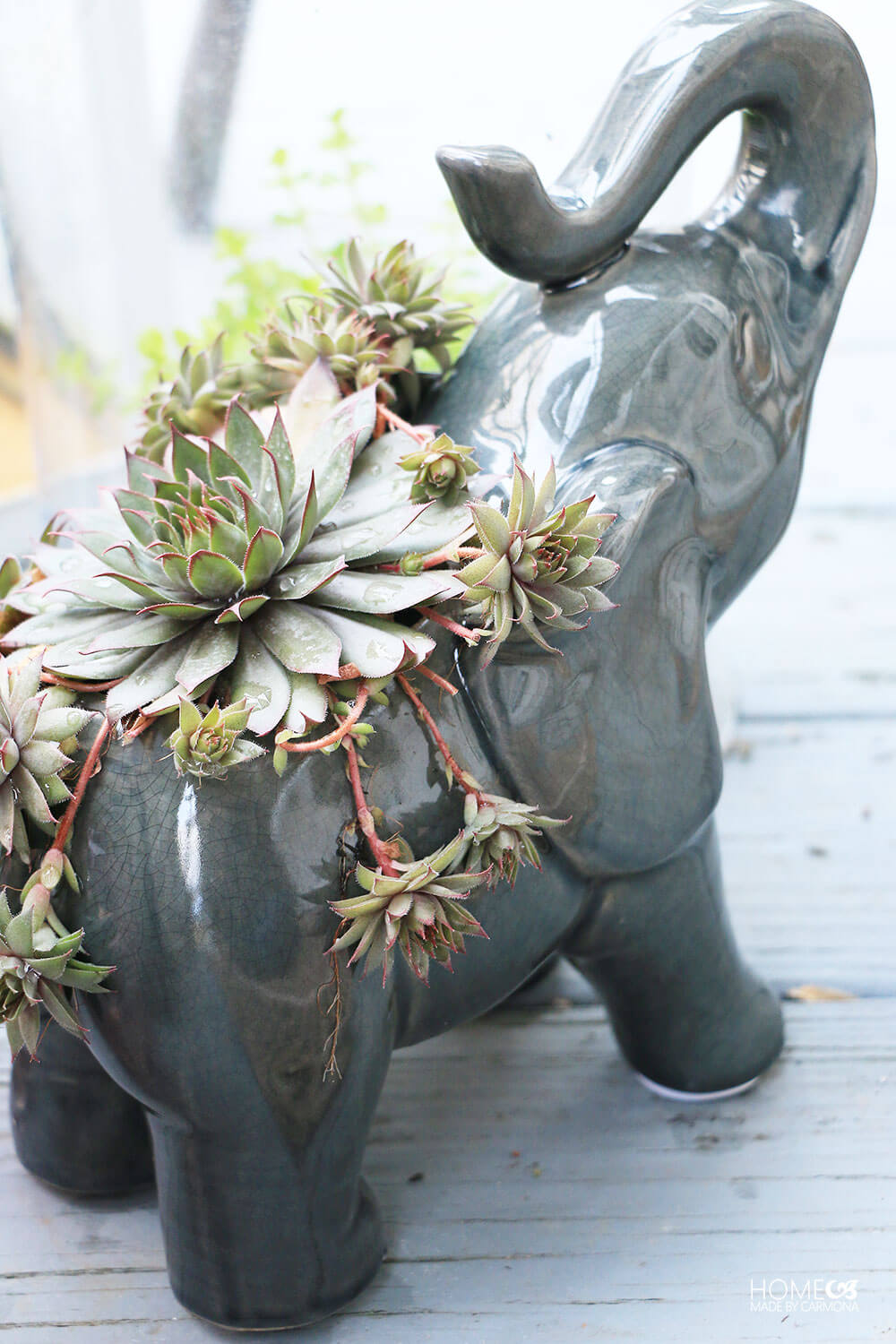 24. Hanging Planters
Metal hanging planters, or hanging baskets are a lovely way to display houseplants without taking up much space.
We often think of these as outdoor planters but they make great indoor plant pot ideas when you use a planter pot inside a basket.
I hope these ideas get you excited and inspired to try creative ideas for plant containers.
Think of new ways to display your plants, both interior and exterior plants.
Like This? You'll Love These!
After spending tons of money on houseplants that promptly began to die the moment they entered my 'black thumb' residence, I decided to propagate my own plants. Check out my tips on Plant Care…
Plant care doesn't have to be a mystery, and "black thumbs" are that way for a reason…usually a valid one. Don't ignore the signs, here's what you need to know.…
Use these simple methods to keep your plants watered while away on long trips and vacation! Vacation watering methods can be easier than you think. Care for indoor plants while travelling…