Create a cute succulent wall planter, but make it maintenance free with artificial succulents!
This stunning statement piece is an easy build, can be customized to any size, and is in a color that beautifully compliments succulents; Bay Blue, the Minwax 2024 color of the year!
This post is awesomely sponsored by Minwax!
Supplies Needed
Here's what you'll need to build this succulent wall planter:
Tools:
Finish nailer
Miter Saw
Long clamps
Lint-free rags
Purdy stain brushes
Cut & Sand Wooden Pieces
The succulent planter frame can be customized to fit any size…simply build and assemble the outer frame to the desired height and width, then measure the space inside to determine the length of the chevrons.
Or use the dimensions below:
Cut List:
Outer Frame -Sides: (2) 1″x3″x14″
Outer Frame -Top & Bottom: (2) 1″x3″x14″
Chevron Shape: (4) 1″x2″x14″ (14″ longest tip to tip)
Small Chevron Shape: (2) 1″x2″x7.5″ (7.5″ longest tip to tip)
The outer frame is cut like normal, but the chevron pieces are cut at 45″ angles using a miter saw.
Sand all the pieces smooth using a fine 220-grit sandpaper.
Use The 3-Step Stain System
Normally you would assemble a piece before staining it, however staining the wood before assembly will make this process significantly easier because there are angled corners that would be hard to stain once assembled.
Use each step of this 3-step system to ensure a beautiful finish!
Pre-Stain Wood Conditioner:
Start with Minwax Water Based Pre-Stain Wood Conditioner. It's important to use this to prep the wood before staining to help prevent streaking and blotching of the stain.
Stain With Minwax Bay Blue:
Often people don't realize that Minwax has a large selection of 240+ color stains, beyond the wood tones we know so well. That's right, you can enjoy wood grain in a tintable color of your choice!
For this project, I'm using the 2024 Minwax color of the year, Bay Blue. It looks amazing with the silvery greens of succulents.
Finish with A Minwax Polycrylic Topcoat:
Don't forget to seal your succulent wall planter with Minwax Polycrylic Crystal Clear Topcoat! That protective finish is important to prevent damage from scuffs and scratches that may occur.
Assemble The Frame
Once the stain is dry, use just a bit of wood glue on the ends that connect, and employ long clamps to hold it in place. Place the foam sandwiched inside the frame. If the foam isn't already a green color, you will want to paint it first so in case any shows through.
Glue the angled pieces together to create that chevron arrowhead shape.
Once the glue dries, nail the outer frame together, then the chevron pieces together at the tips. Finally place the chevrons inside the frame, sitting atop the foam, and nail in place.
18-gauge nails are sturdy enough to hold the frame together, but small enough to not be noticeable.
After the frame is assembled, add d-rings to the back for hanging, and optionally add hooks to the bottom for holding keys.
Add Faux Succulents
Faux succulents make this gorgeous wall décor maintenance free. But if real succulents are preferred, add a backing and coco coir in place of foam.
Faux succulents will have plastic or metal stem that may need to be trimmed, then simply stick them in the foam!
Hang That Beauty!
Your stylish succulent planter will look amazing hanging on the wall, on a fireplace mantel, or even as outdoor wall décor!
Succulent wall décor is a great way to bring a little outdoor greenery inside in a way that doesn't require a green thumb. It's like having a vertical garden that doesn't ever need to be cared for. It's especially perfect for the darker corners of your home that can't support houseplants.
Wherever you choose to place it, enjoy your chic new vertical planter / wall decor!
Like This? You'll Love These!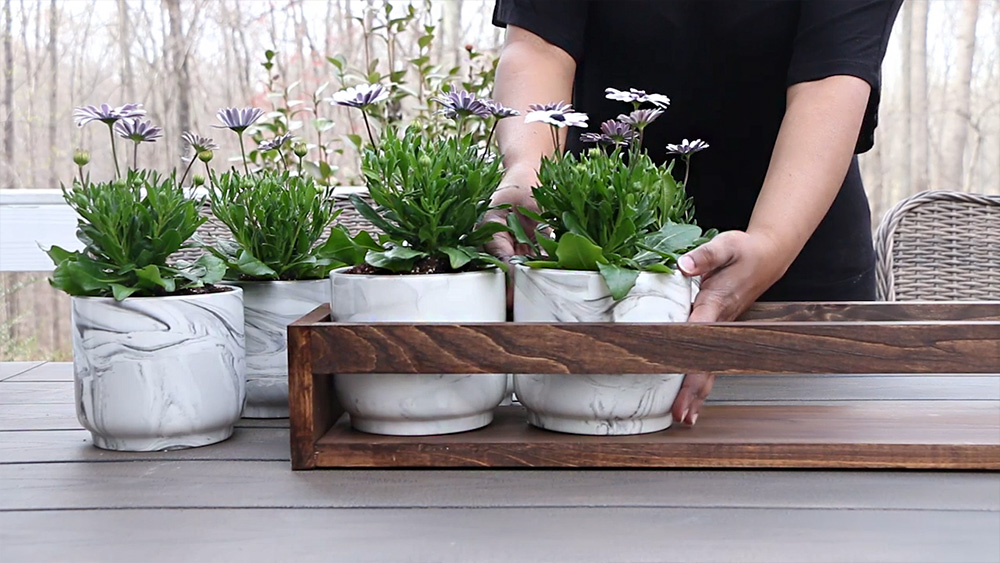 DIY Outdoor Planter Holder

This easy-build plant pot holder is a great way to elevate your outdoor spaces or even use for a centerpiece!