Decorative boxes are a great way to stow smaller items out of sight, and keep surfaces clutter free. Make a design statement using these trinket boxes, but take it up a notch by DIY'ing your own custom look!
Sponsored by our friends at Minwax
This project is a great way to use up scrap wood. But for those who don't want to build boxes, you can purchase fantastic unfinished wooden boxes like the ones pictured below, then skip to step 5 of this tutorial.
Supplies Used
1. Measure + Cut
Scrap wood is perfect for a project like this, but make sure any piece that will show is the same type of wood, or cut from the same piece of scrap. The bottom can be made of whatever wood you like since it won't be showing.
Use a large sliding miter saw (top choice), a jig saw, or a circular saw to make cuts.
Follow the cut list below, or custom make your own based on the size of your scraps. If customizing the size, make the width on the short sides (B) of the box the same as the shortest end of (C). The long sides (A) should be longer than the length of (C) by the thickness of the wood x2 (if plywood, then 1/2″ + 1/2″).
Cut List:
2-Long Sides (A) 1/2″x4″x12″
2-Short Sides (B): 1/2″x4″x6″
1-Bottom Piece (C): 1/2″x6″x11″
Raised Lid: Same dimensions but long and short sides should be 1.5″ height
Simple Lid: Inside piece = same as bottom piece, Outside piece = 1/2″ x I
2. Sand Smooth
Plywood edges aren't actually meant to be shown, so take special care to sand each piece with 220-grit sandpaper, then a 120-grit for a nice smooth finish.
Once assembled, go back over the box with a 120-grit again to ensure all your edges are perfectly flush and smooth.
3. Assemble + Attach Pieces Together
Use a bit of wood glue on each of the edges that will join together, and carefully assemble your decorative boxes.
Use a pair of clamps to firmly squeeze and hold the box together as the glue dries.
Once it is completely dry, drive a small gauge finishing nail at each joining corner. These can be covered up later with box corners if desired. However a small enough gauge nail might not be noticeable after staining.
4. Assemble The Lid
There are two types of lids you can make, a simple box lid, or a raised box lid. Here is how you make each:
The Simple Box Lid vs. Raised Box Lid
The simple box lid (pictured on the left) is made up of a flat piece that covers the width and length of the box. Add a piece of wood that is the same dimensions as the bottom (C) of the box, and glue it so it floats in the center.
The raised box lid is made exactly the same way you make the box, with almost the same dimensions, just with shorter sides. I went with 1.5″ height for the box lid, but you can make it whatever height best matches your latch of choice.
5. Give It A Stylish Color + Finish
Time to give your wooden box custom style! If you purchased an unfinished box, remove any latches and hinges, and give it a light sand before starting the next steps.
Use Minwax Pre-Stain Wood Conditioner:
Brush on Minwax Water Based Pre-Stain Wood Conditioner and allow it a couple minutes to soak into the wood. Wipe off any excess.
This pre-stain wood conditioner will help prevent any blotchiness and ensure a smooth finish!
Select Your Stain Color of Choice:
Minwax has an incredible array of wood hues, and hundreds of custom tintable color choices. You'll have no shortage of great looks to create!
If you love the look of wood-grain along with a great color choice, select semi-transparent color stain. Or go for a solid color stain for less wood-grain.
Add Character With A Colorwash:
Optionally add a layer of Minwax Colorwash Transparent Layering Color in Barnwood Brown to add depth and a slight vintage touch of age.
End With A Protective Finish
Use Minwax Polycrylic Protective Finish for a beautiful and durable clear coat on your new decorative boxes. This will add a lovely mild shine to the boxes, in addition to protecting the stained finish.
6. Add Latches & Embellishments
If you built your own boxes, this is the time to add some stylish latches and hinges!
If you chose to buy unfinished boxes, they came already clad with latches…but you can kick it up a notch by adding on box corners and spray painting the entire set to match.
Enjoy Your Stunning Decorative Boxes!
They are a real show-stopper, and a stylish organizing solution.
Plus, I saved money by customizing trinket boxes instead of buying similar ones, making this project a win-win.
Watch my video of this project on Instagram and get inspired to make your own!
Like This Project? You'll Love These!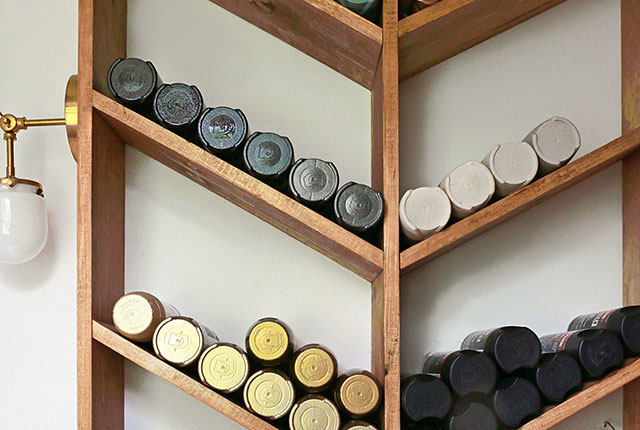 DIY Chevron Pattern Storage Rack
Learn how to build a chevron shaped rack to store anything from drink bottles, to food cans, to spray paint cannisters in your workshop!
9 Important Steps To Refinish Furniture
Before you donate that old piece of furniture, consider giving it a whole new look with these helpful tips to refinish furniture!