Learn how to create a beautiful outdoor plant holder as a centerpiece to your outdoor dinning table, or as decor on your deck!
This easy little project will elevate your outdoor space and add charm.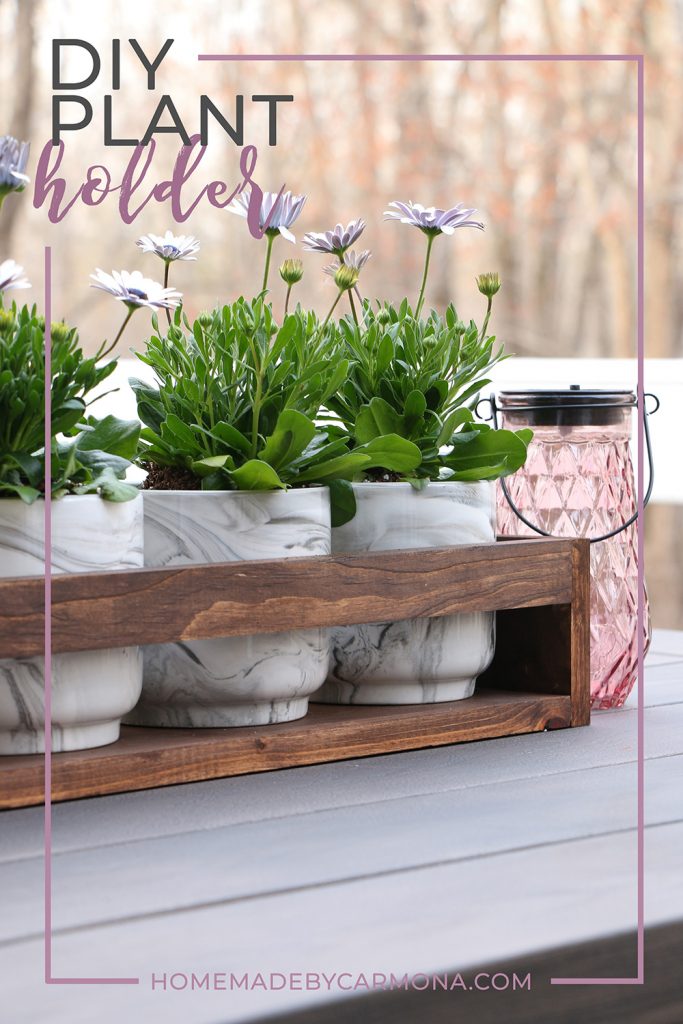 I wanted a way to frame all my stunning planters with their gorgeous marbling. And really, what better way to compliment stylish planters than to create a holder? It makes it easier to move them about, and looks great grouped together as a featured centerpiece!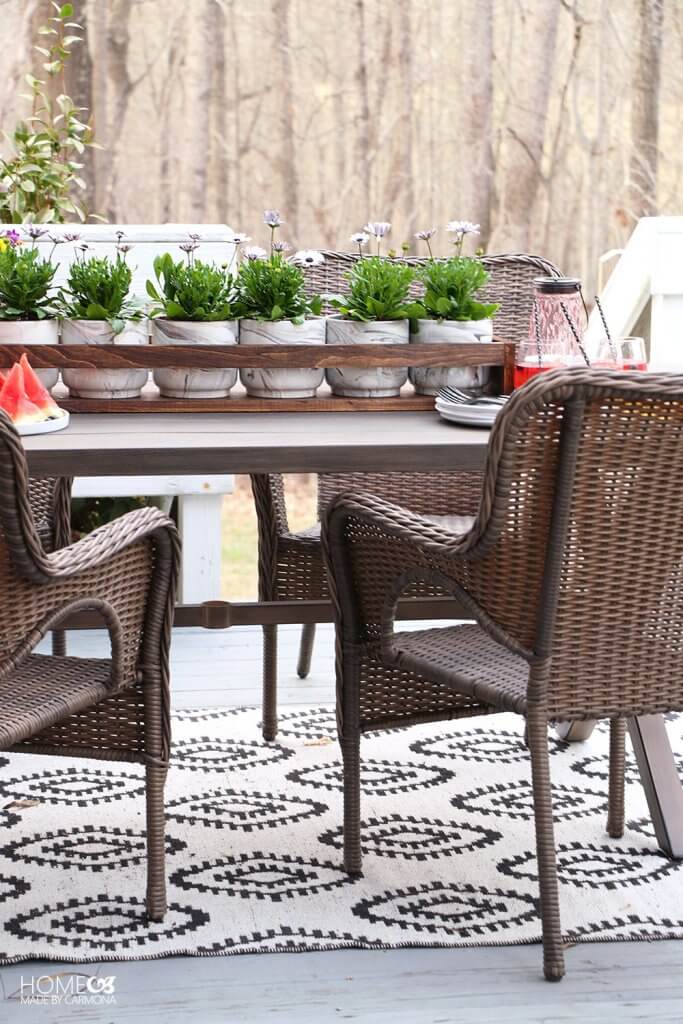 Watch It Via Video…
Some things are just easier shown… But scroll down to reference steps later while in the middle of your build.
This video was sponsored by our partners at Better Homes & Gardens:
Here's What You'll Need:
(2) 3/4″x2″x35-1/2″ wood slats
(1) 3/4″x7-1/4″x35-1/2″ wood base
(2) 3/4″x7-1/4″x4-1/2″ wood sides
(6) 6″ planters
Wood stain (or paint)
>>RELATED: Learn How To Make Your Own DIY Outdoor Sofa
Step 1. Drill Pocket Holes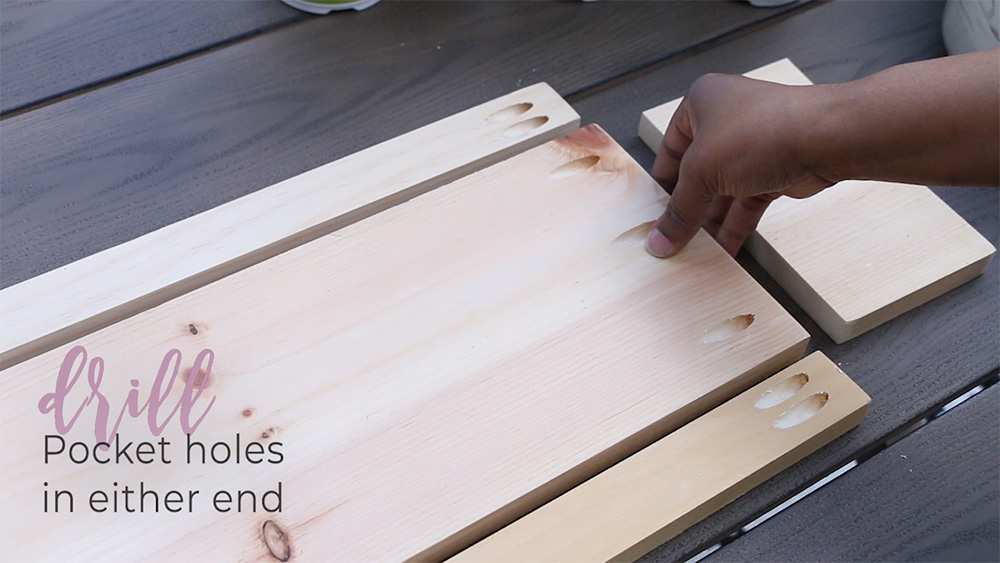 Drill pocket holes in both ends of the 35-1/2″ wood base and slats. Two pocket holes in either end of the 2″x35-1/2″ slats, and three evenly spaced pocket holes in either end of the 7-1/2″x35-1/2″ wooden base.
Step 2. Attach The Sides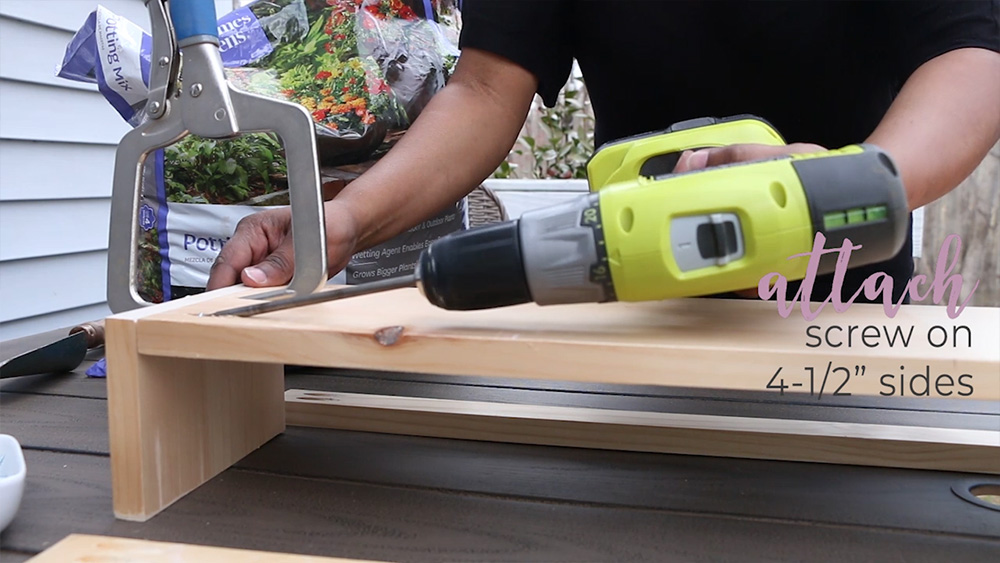 Attach the base to the sides via the pocket holes you just drilled. Make sure the pocket holes are facing down in relation to the sides of your planter.
Step 3. Screw On Slats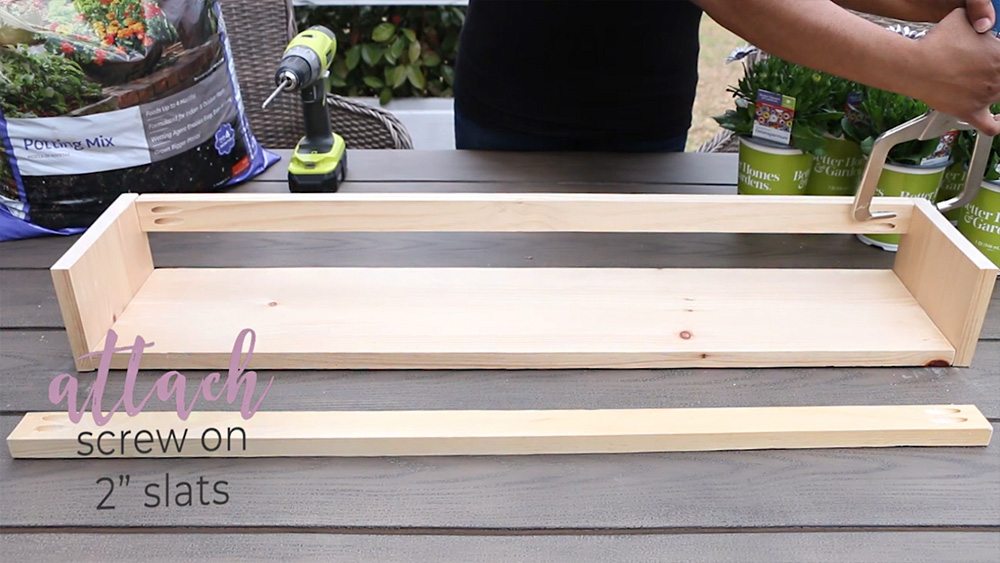 Now add the 2″ slats to the sides with pocket holes facing inward.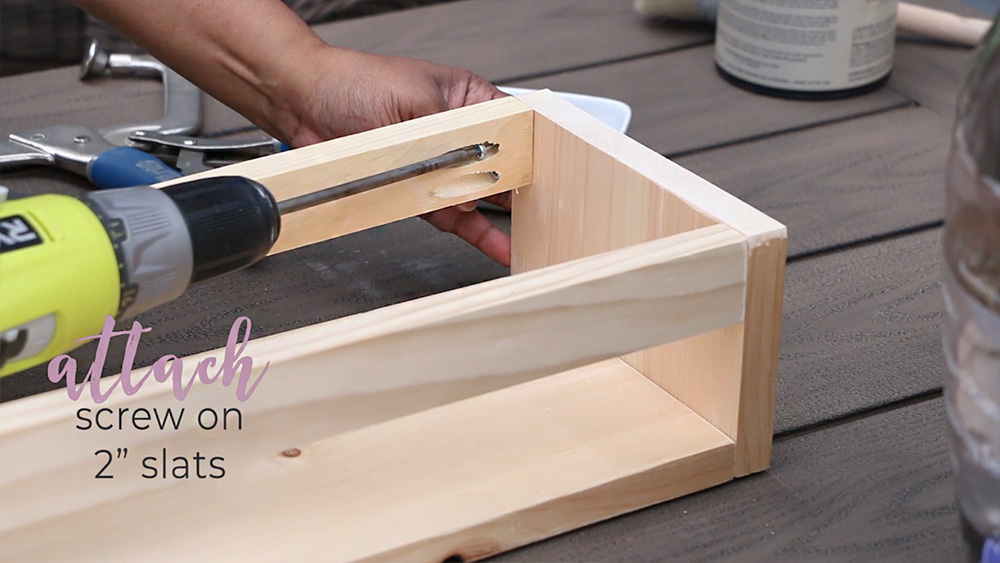 Step 4. Stain or Paint Planter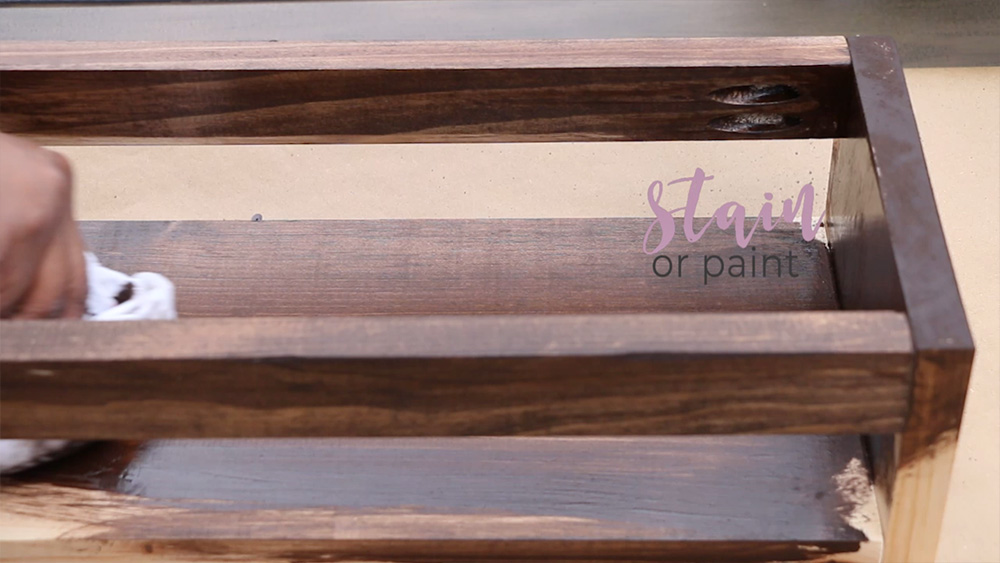 Stain or paint your brand new planter. Make sure you seal it so it will withstand the elements.
Step 5. Pot Flowers & Enjoy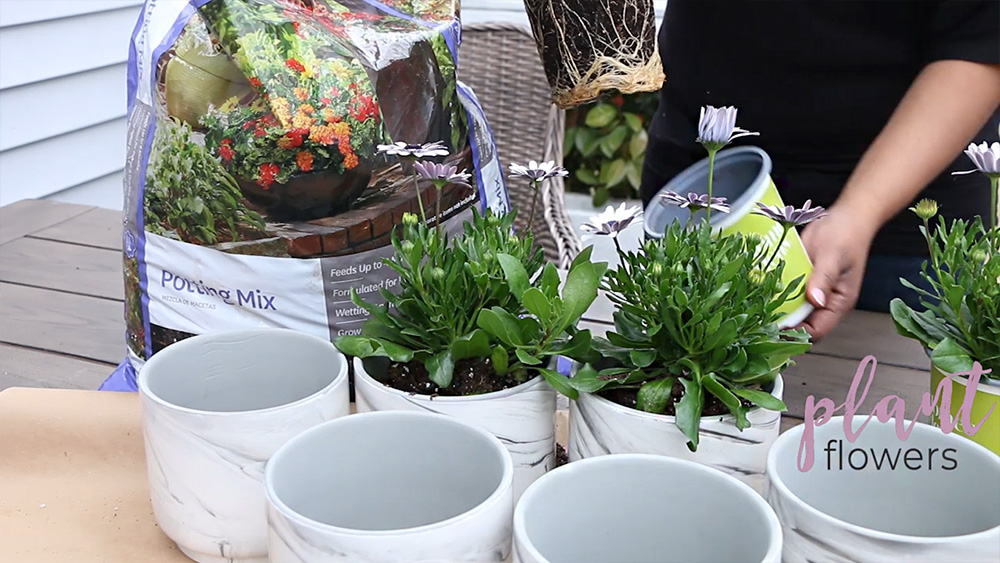 You can certainly customize the holder to be any size you want. I designed this plant holder specifically to fit these 6″ marbled outdoor planters (Amazon affiliate link). Of course, any 6″ planters should work.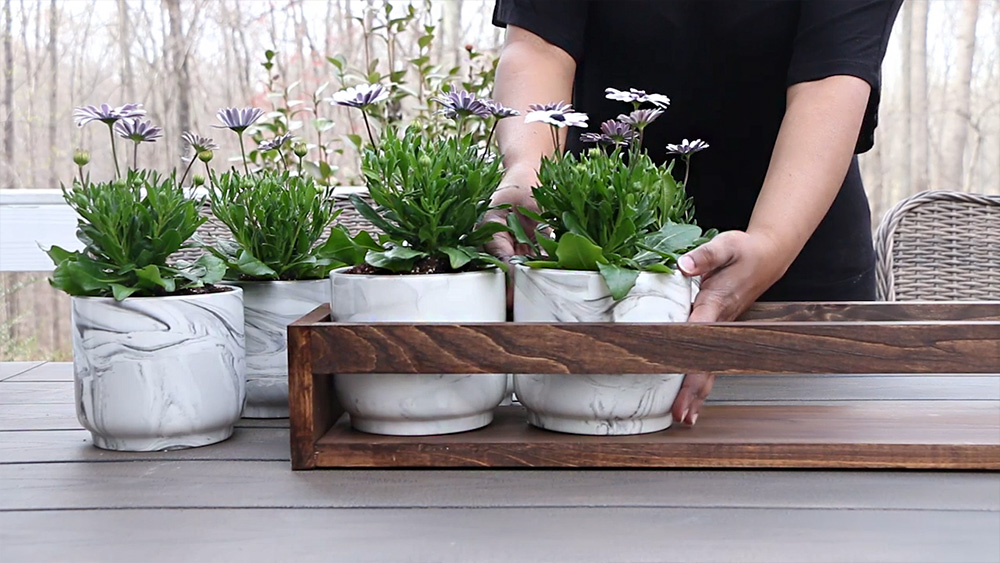 The holder can accommodate up to 6 planters, and spans the outdoor dining table quite nicely!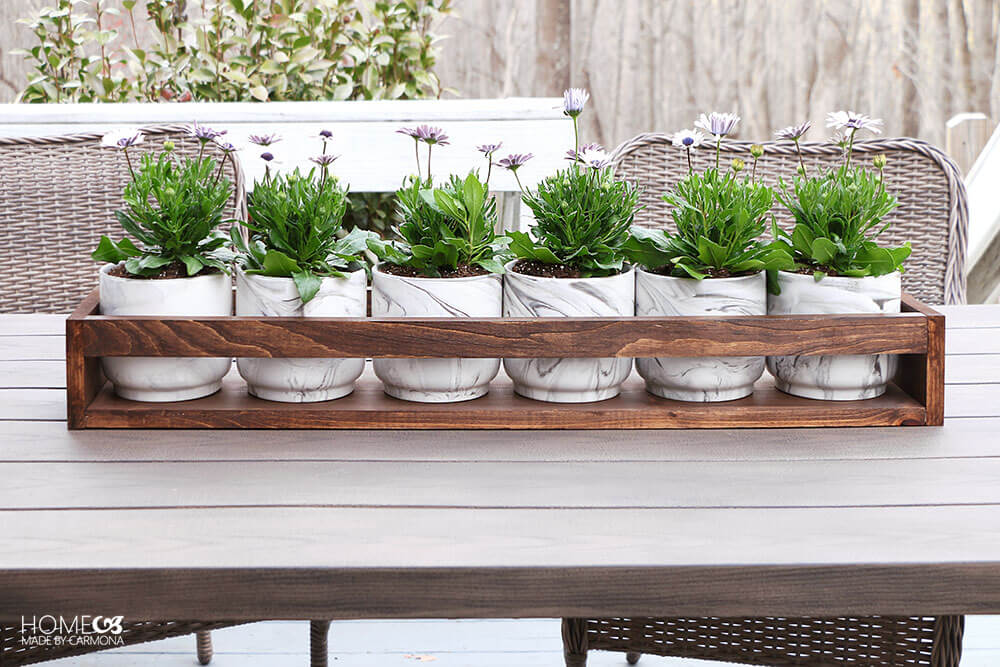 I hope you love this little project, and if you made one for your own deck, please share with me over on Instagram or Facebook. I'd love to see what you did!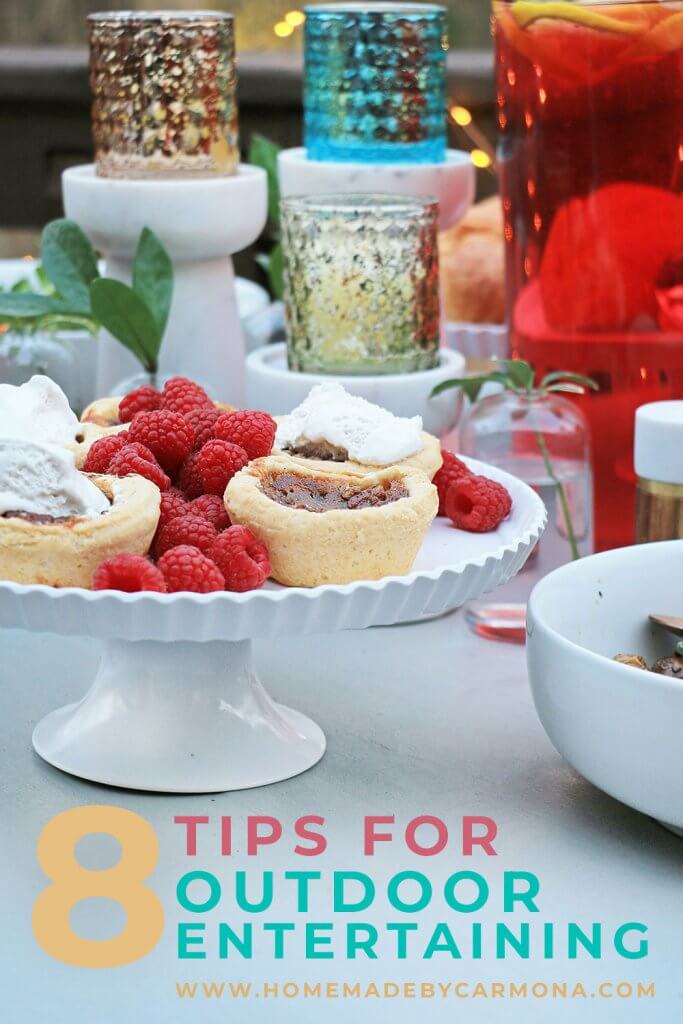 [go_portfolio id="entertaining_tips"]