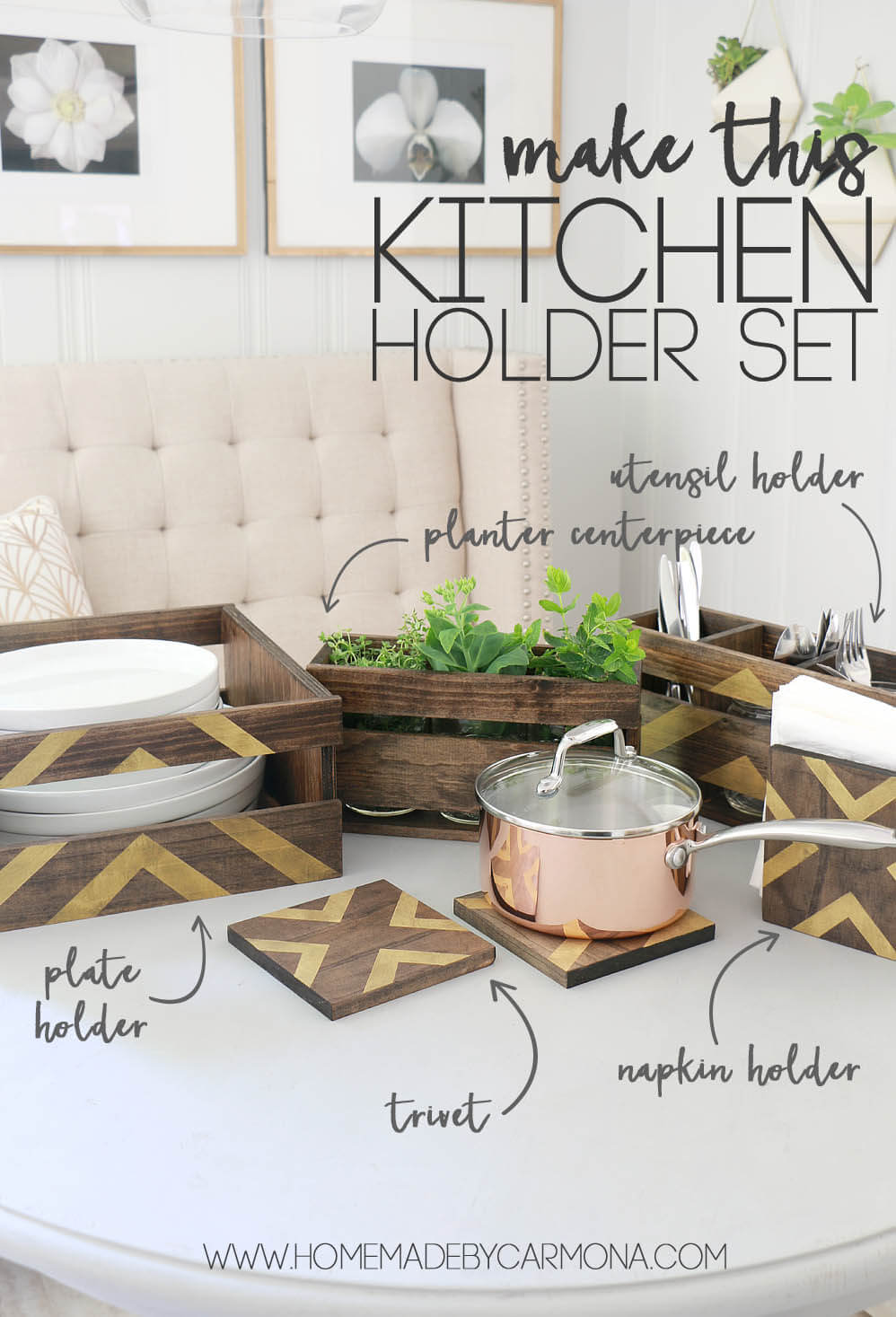 *This post was awesomely sponsored by my peeps at FrogTape®
 I saw it and thought "I could totally make that for half the price!"
I recently saw the cutest kitchen holder storage crate…with a price tag that wasn't so cute. You know how crafters are… I saw it and thought "I could totally make that for half the price!".
That doesn't always turn out to be true (yes, I have bitten off more than I could chew quite a few times…like the unmentionable duvet tragedy…don't ask), but this time I'm happy to report that it all worked out in my favor! Haha!
Anyway, where was I…I got sidetracked by the horrible thought of that duvet…oh right, the kitchen storage crate. I wanted to use it as a dishware holder when I had guests over for a party that was hosted buffet style. Then it got me thinking how great it would be to have an entire kitchen holder set that matched. We're talking utensil (flateware?) holder, plate holder, planter centerpiece, napkin holder, and trivets.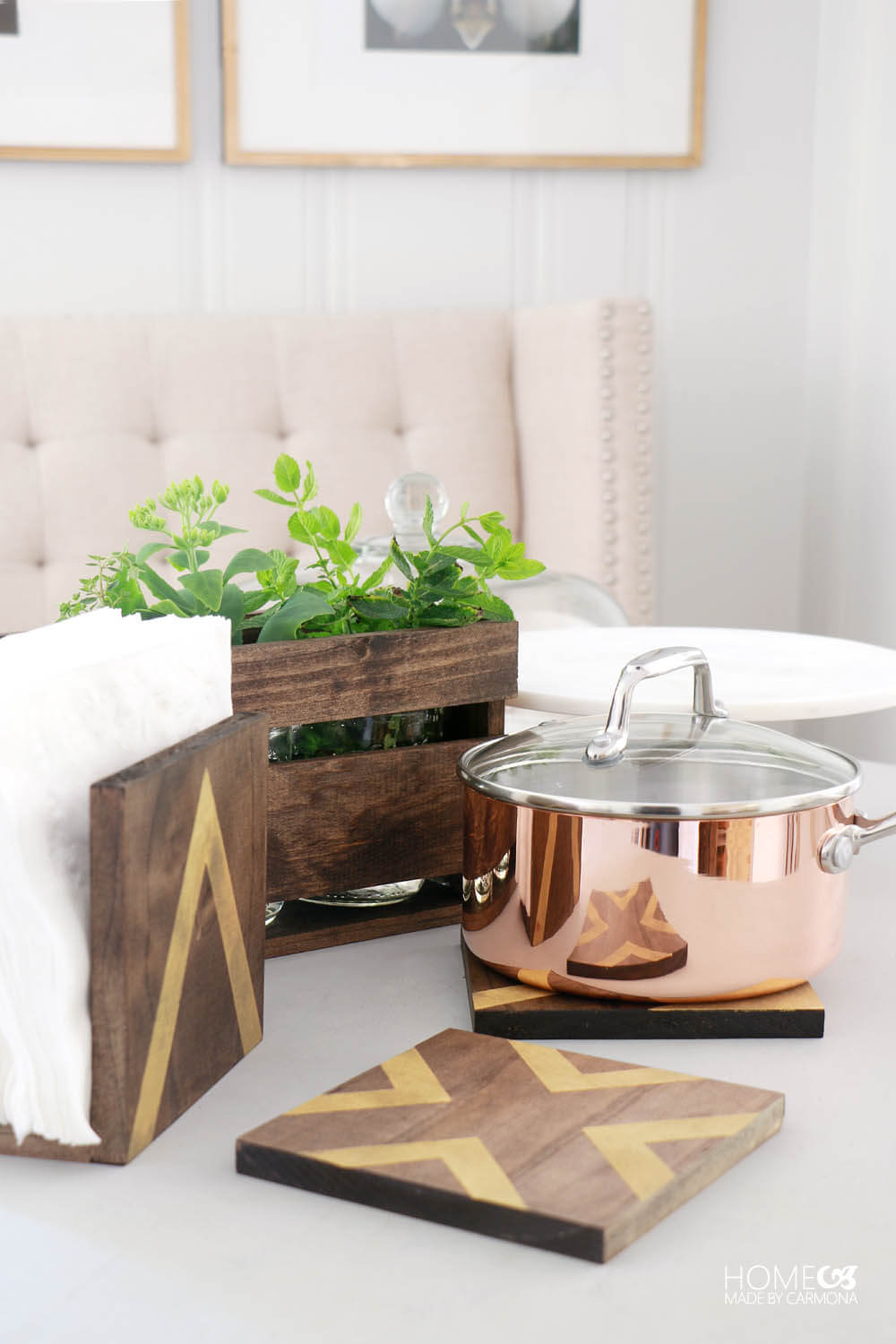 So today I'm sharing with you how I made this entire set! And ya'all, it is so much cheaper than buying it in the store…just say'in, worth it!
This post is sponsored by my peeps at FrogTape®, which (by the way) is the only painters tape up to this task for clean professional paint lines, so grab some before you get started, you're going to need it.
You'll also want to pick up some wood stain, gold patina, 1/2″ finishing nails (or wood staples), wood glue, and craft wood in these sizes:
(1) 1/2″x24″x24″ plywood
(3) 3/8″x2″x24″ craft wood
(3) 3/8″x3″x24″ craft wood
(2) 3/8″x4″x24″ craft wood
(1) 3/8″x6″x24″ craftwood (for Trivets & Napkin Holder)
Ready to get started? Let's rock this!

The plate / dish / whatever-you-want-to-call-it holder is built out of a regular 1/2″ thickness board. Unlike the irregular 3/8″ craft woods (which are both found at your local hardware store…but the thinner wood is slightly pricier in comparison to other wood).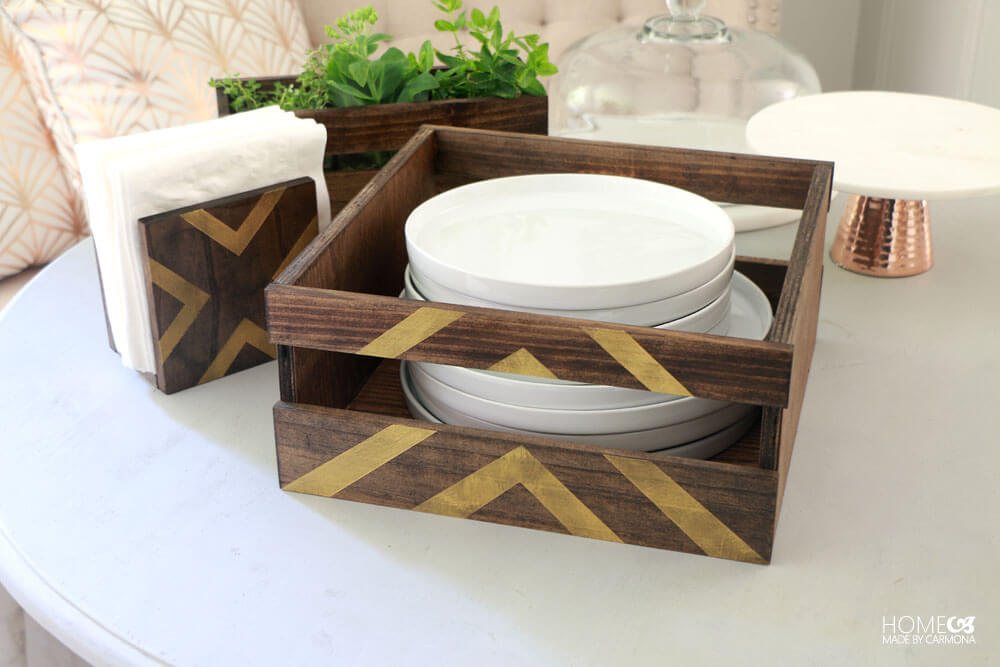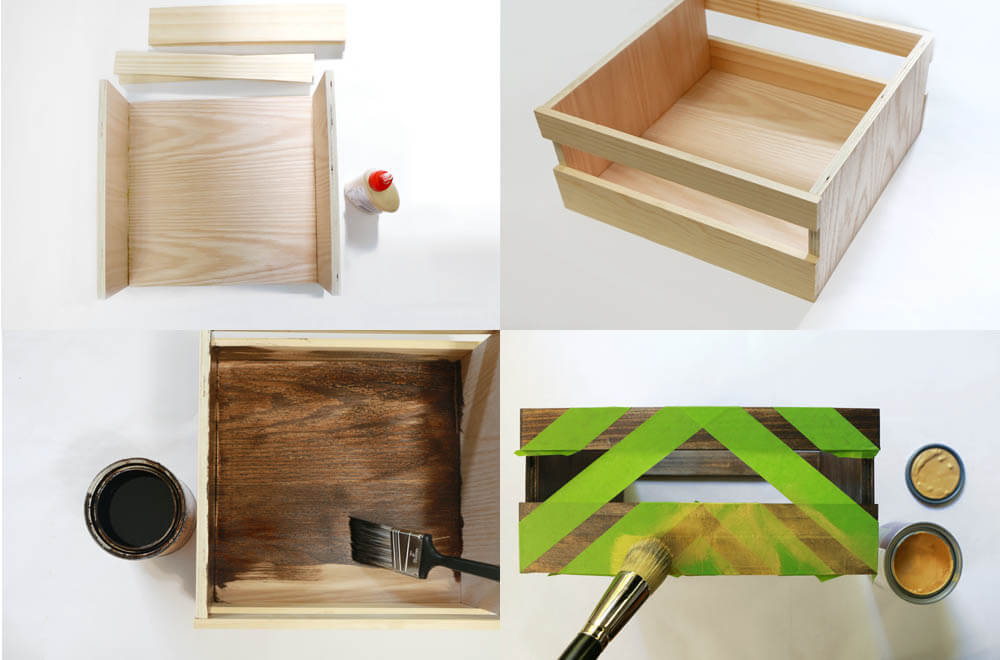 Cut List:
Base: (1) 1/2″x11″x11″
Sides: (2) 1/2″x6″x11″
Slats: (2) 3/8″x2″x12″
Slats: (2) 3/8″x3″x12″
FYI: if your plates are larger than 11 inches, you'll want to custom make your plate holder to a bigger size.
Steps:
Glue the two 6″ sides onto the 12″ base and let dry
Flip on its side and glue the 2″ and 3″ slats to the front. Allow it to dry
Glue the final 2″ and 3″ slats to the back and let the glue dry
Nail or staple all the glued sides together for added security
Stain. Once the stain is dry use FrogTape® to create the design of choice and paint on a metallic patina
Utensil Holder & Centerpiece
The utensil/flateware holder and the plant holder / centerpiece is made pretty much in the same way. Only I added partitions/dividers to the utensil holder. Oh, and a quick little FYI, if you don't love the look of mason jars inside your holder (or think it is redundant), place your bottom slats flush with the bottom of the holder (that open space may look cool, but your forks and knives will slide right out if you aren't also using jars).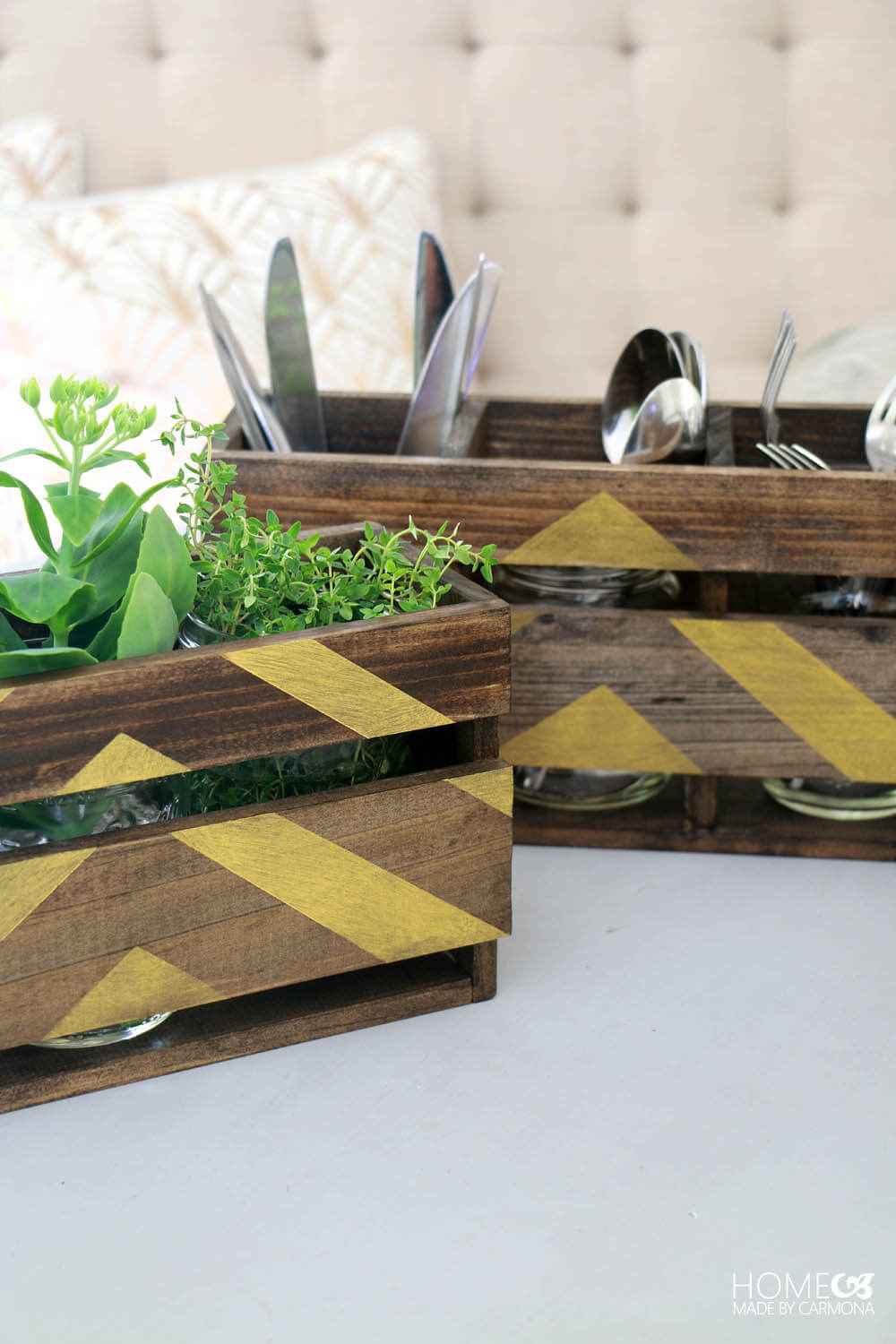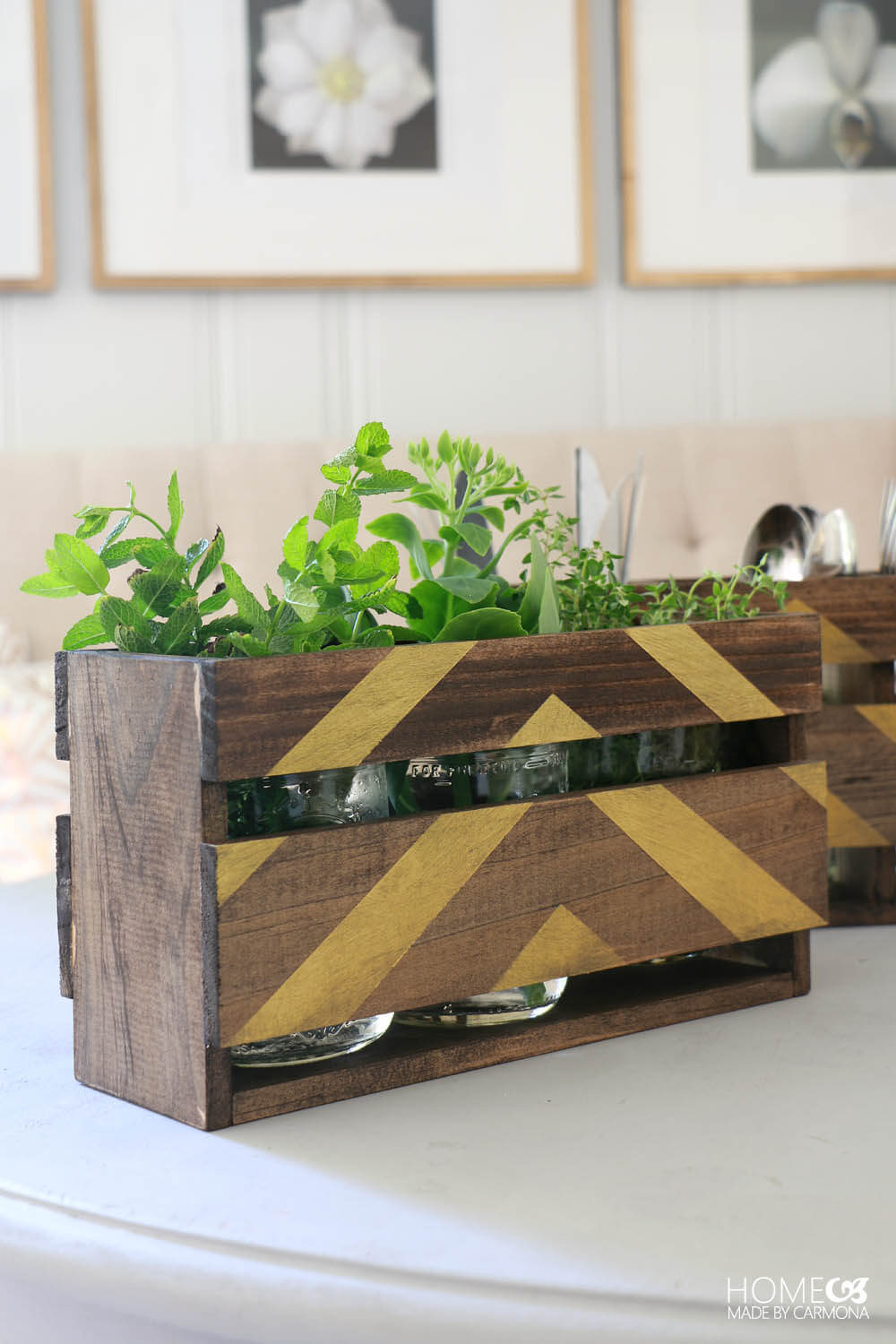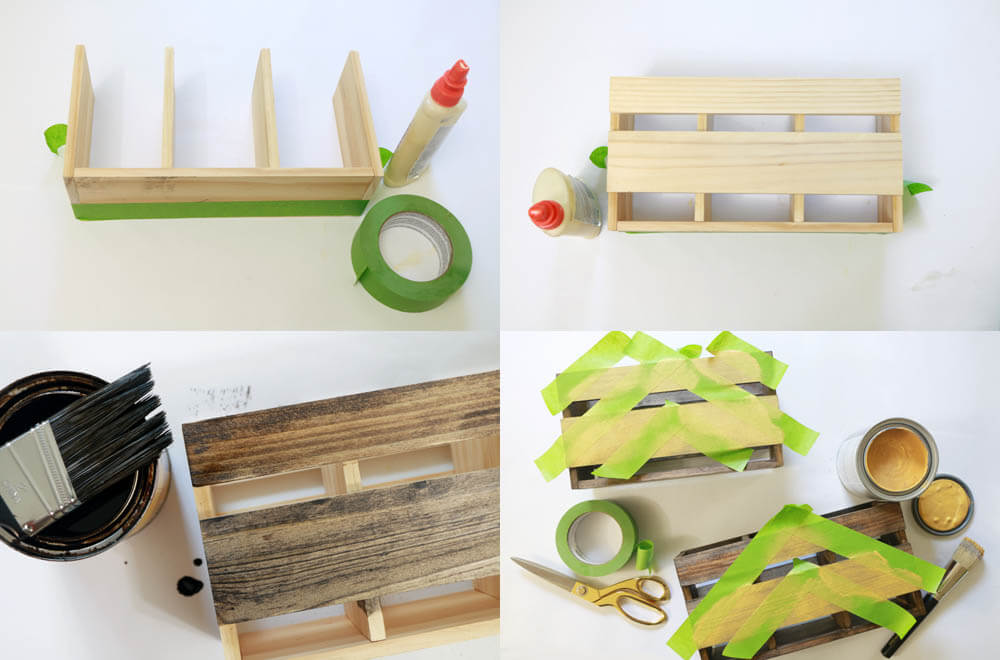 Cut List:
Base: (1) 3/8″x"4″x11-8″
Sides: (2) 3/8″x4″x6″
Partitions: (2) 3/8″x4″x5-5/8″ (optional, used for utensil holder)
Slats: (2) 3/8″x2″x12″
Slats: (2) 3/8″x3″x12″
FAQ: I used a gold patina I found on sale, but yes regular gold paint will totally work. Just thin it out slightly with a little water so it is slightly translucent looking. Sometimes you just gotta roll with whatever is in the craft room… yup yup.
Steps:
Glue the 6″ sides to the 8″ base, use FrogTape® to hold the sides together while drying
If adding partitions (for the utensil holder), also glue the 5-5/8″ partitions
Glue the 2″ and 3″ slats to the the front and allow the glue to dry, then do the same with the back
Nail or staple all the glued sides together for added security
Stain. Once the stain is dry use FrogTape® to create the design of choice and paint on a metallic patina
Napkin Holder & Trivet
These are the easiest to make, and just so awesomely worth it! I mean, look at that trendy style! You could even do a different design front and back without it being overly busy.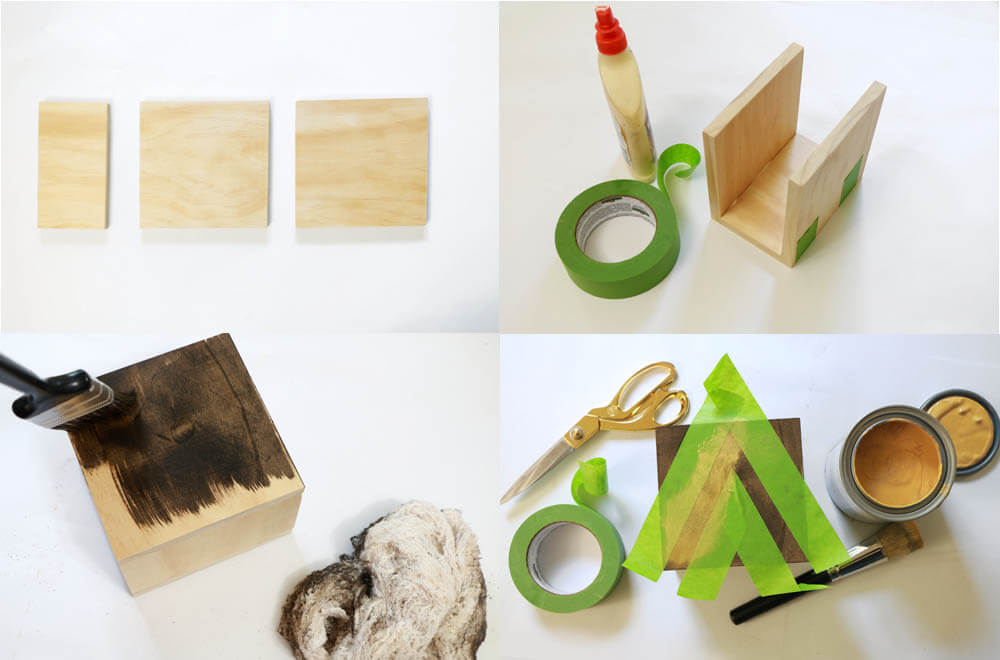 Cut List:
(2) 3/8″x6″x6″
(1) 3/8″x6″x3″ (or whatever size you prefer)
FAQ: No, I didn't sit and measure out where my FrogTape® should be placed to get it exactly centered and make a perfect design. Dude, lazy crafter here…I totally eyeballed it. Just do it. It's all good cutie…
Steps:
I'm betting you get the idea by now 😀
Glue the sides to the base, let it dry, secure with nails or staples, stain, do awesome paint pattern… yeah you already got the idea! Haha!
The trivet is pretty much just two 6″x6″ pieces of wood cut, sanded, stained, and patterned!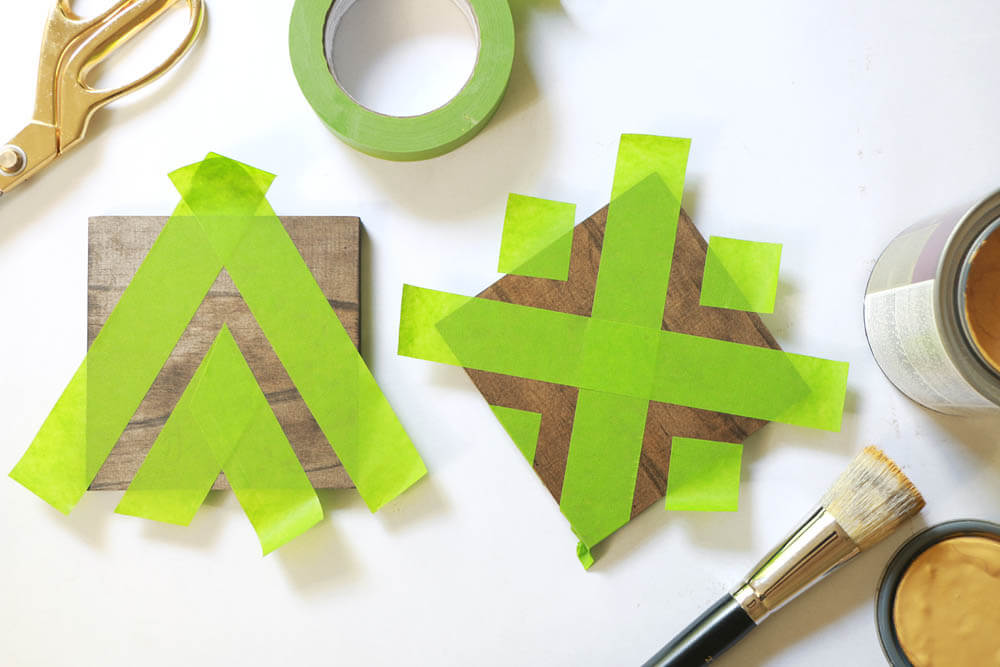 Gah, I love how cute these are for how stupidly easy they are to make.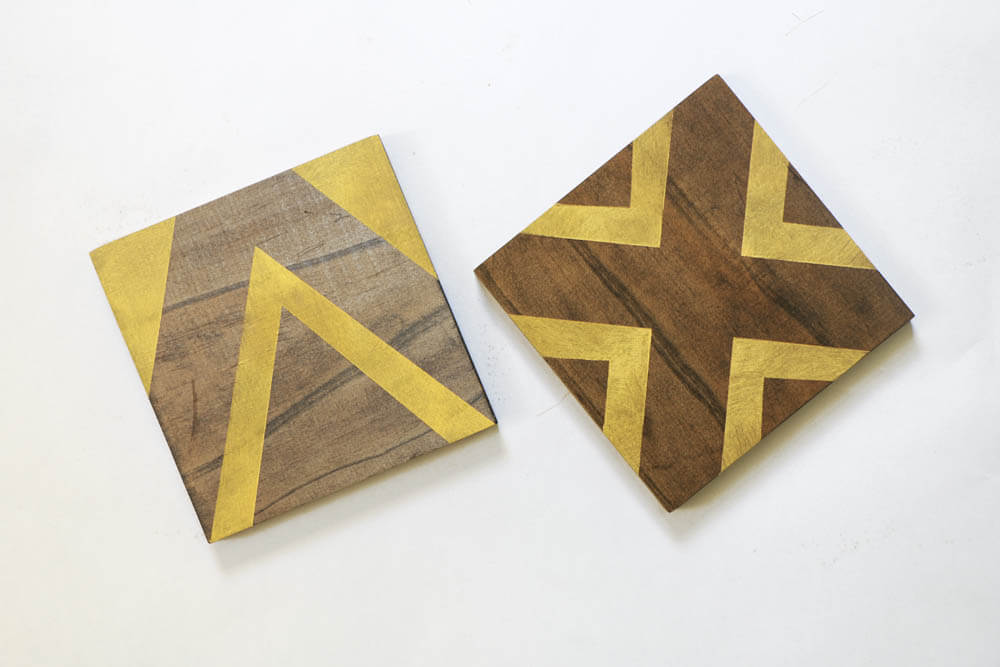 So, what do you think of your new kitchen holder set? Doesn't this make you want to throw a buffet style party just so you can can use them?
I know I know, I'm weird that way. It's a DIY'ers thing…if you are here reading this, you probably know what I mean, or you are married to one who is making you do this. Just wink twice if you are being made to craft against your will 😉  😉  .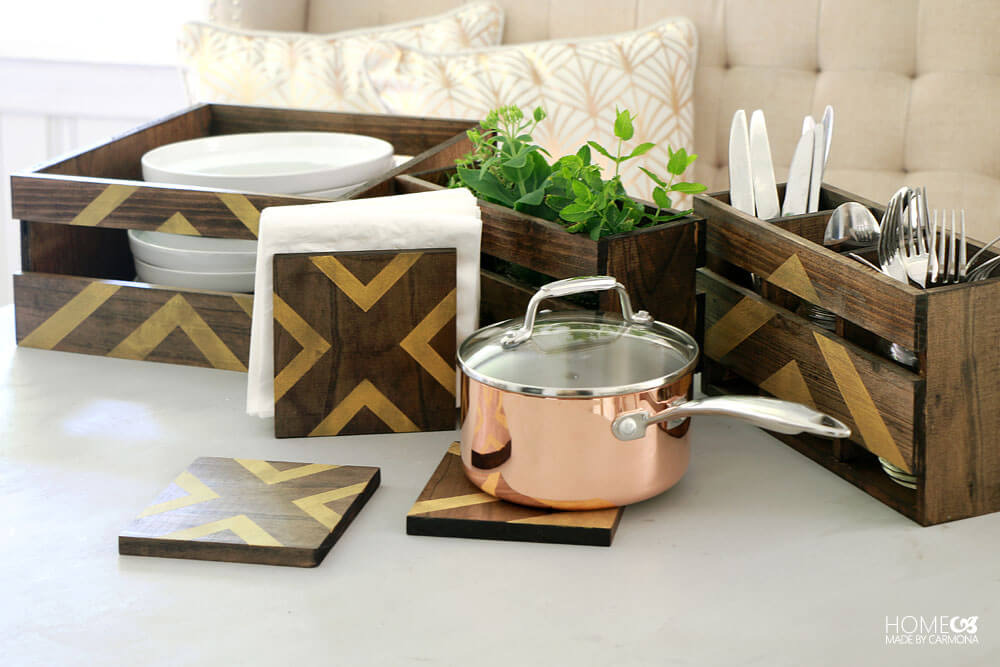 *This project has been brought to you by FrogTape®, seriously the most awesome painters tape in the world. No, they didn't make me say that, and while I was compensated for sharing my FrogTape® project, I share my own thoughts and opinions unashamedly (cuz that's just how I roll).