Learn how to make luxe candle holders from cheap shot glasses!
This DIY project is quick and easy, and will be a lovely addition to your table setting or vignettes.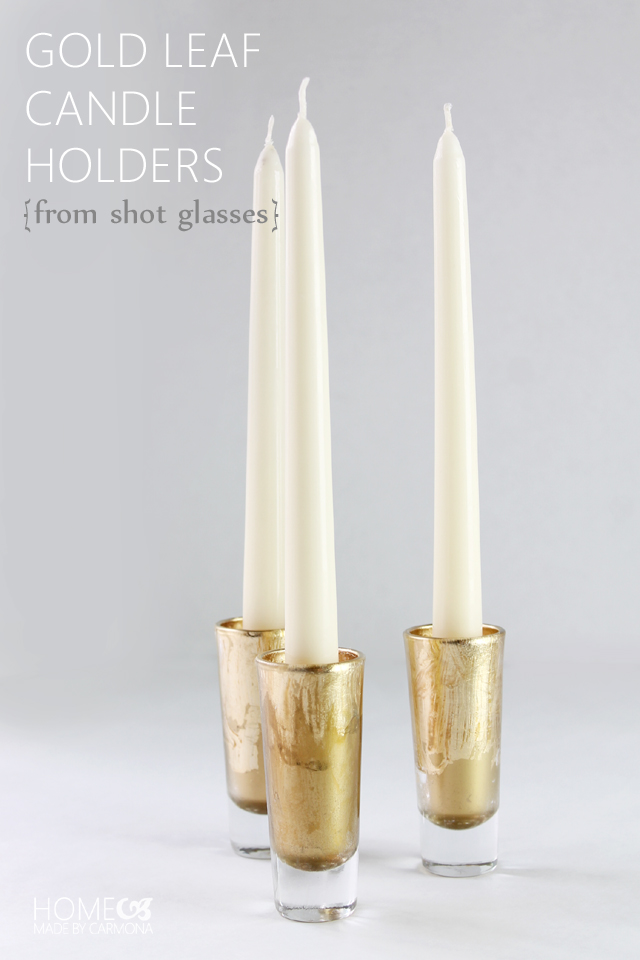 Making Your Own Budget Friendly Candle Holders
I'll be honest, buying just a couple candle stick holders for over $40 is not now, (nor ever will be) in my budget. I had been searching forever for a nice set, and but it turns out that the pretty $40 set was the best modern chic set I could find at that "low" price range. I also spied something similar at a whopping $129.99 for a set of 4. Ok, I know I'm a bit of a cheapskate, but seriously? And no, they weren't made from real gold… At that price, those candlesticks better be able to sing and dance, be named Lumière, and create the feeling of romance between me and my darling beast…ahem husband.
You know what is super cheap and just as lovely as any modern candlestick holder? Some gold leaf, and a pack of $6 shot glasses!
I created my own glamorous dupe version of those expensive modern candle holders.
Craft Supplies Needed
I purchased my shot glasses at Walmart, a pack of 4 for $6, but you can also purchase these materials online here: (affiliate links below)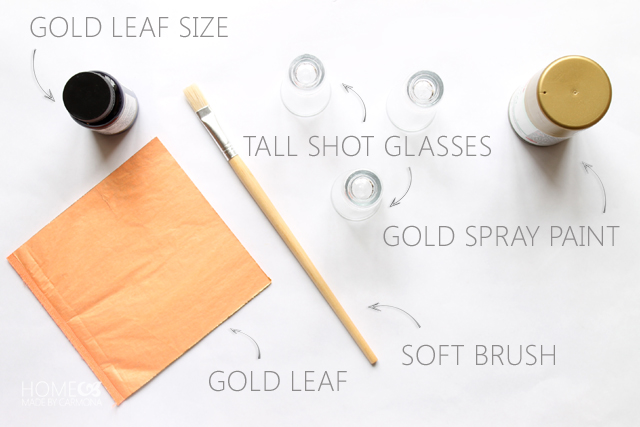 Apply Gold Leaf Paste
Gold leaf adhesive is also known as 'gold leaf size' and can be found at your local craft store, typically alongside the gold leaf.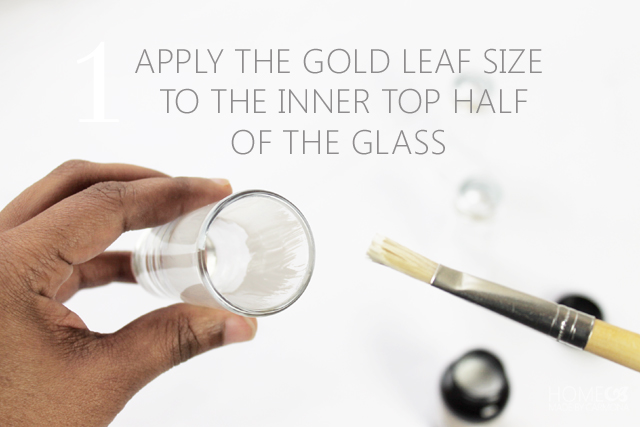 Apply it to the inside of the shot glasses using a small paint brush. Try to ensure a nice smooth application without any drips.
If you want a more organic look, brush on the adhesive sporadically rather than systematically covering every square inch.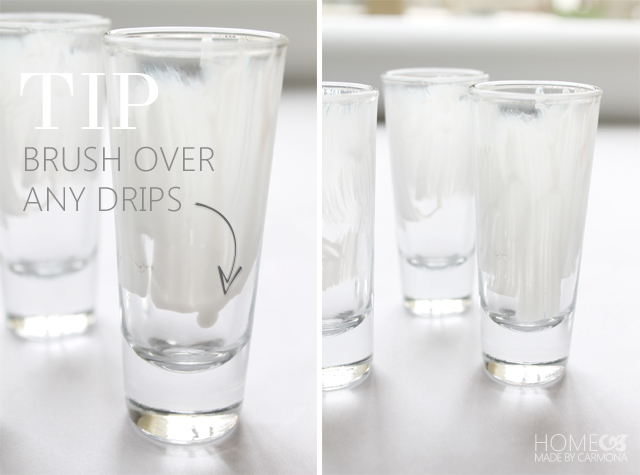 2. Let It Dry & Cut Gold Leaf Sheeting
The adhesive goes on milky white, and needs to sit until it becomes clear. It shouldn't dry completely, but dry just long enough to turn clear, while still being tacky.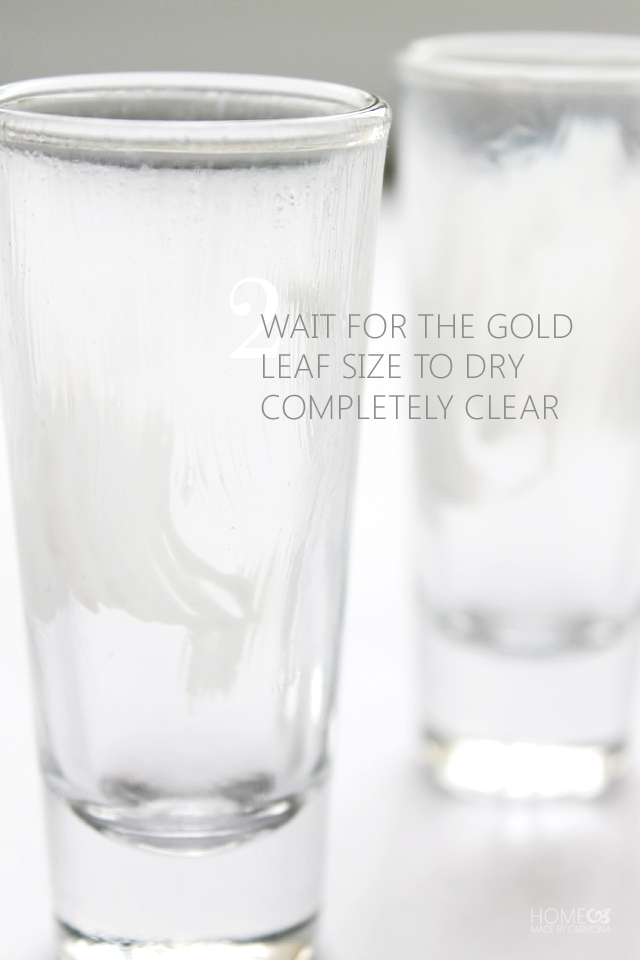 While waiting for it to become clear, take this time to cut a couple sheets of gold leafing into 1-inch by 2-inch pieces. Cut into small enough sizes that can easily slide into the shot glasses. Don't worry about regularity, it won't make a difference.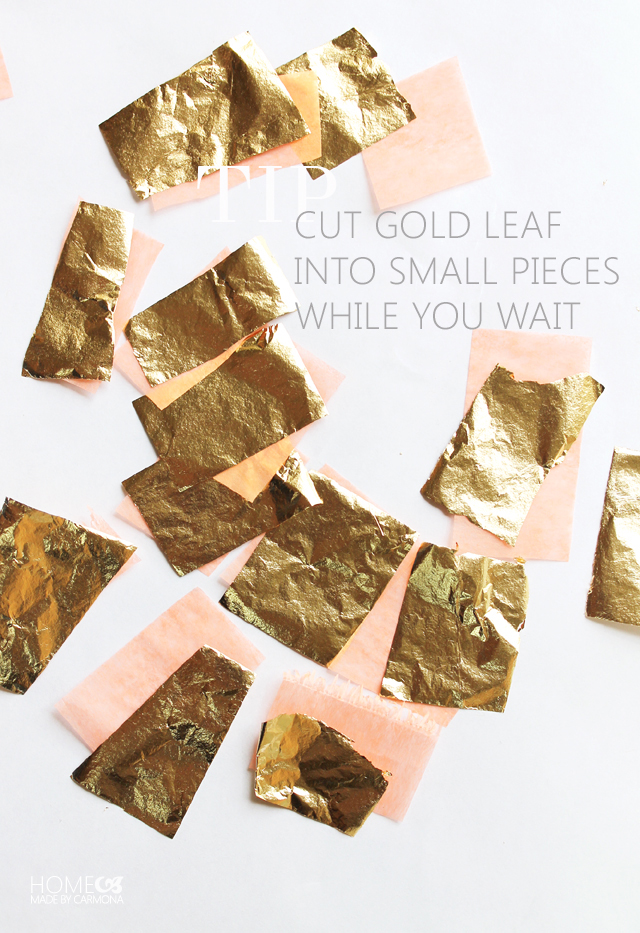 3. Apply Gold Leafing To The Shot Glasses
Remove the backing from each cut piece of gold leaf and lay across your finger to apply it to the adhesive inside the shot glass.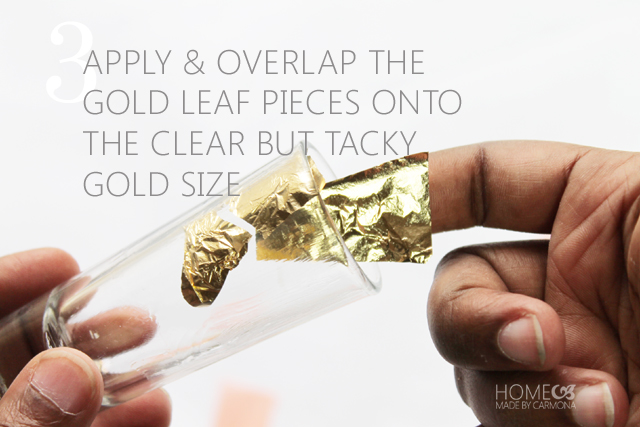 Be very careful not to accidentally touch the gold leafing to the glass while getting your finger positioned, or it will stick where before you want it to.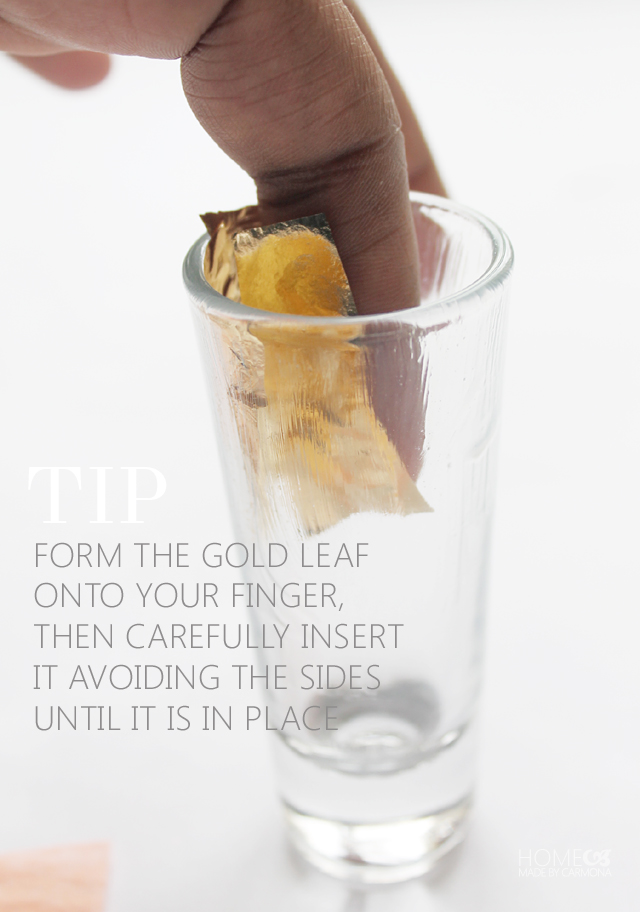 4. Overlay Gold Leaf & Pat In Place
Cover all the adhesive spots with gold leaf, overlapping where necessary. Then gently pat the leaf in place to ensure it has properly adhered and rub any loose pieces with your finger. You'll softly rub it until it is smooth, but don't rub so hard you lift any gold pieces away.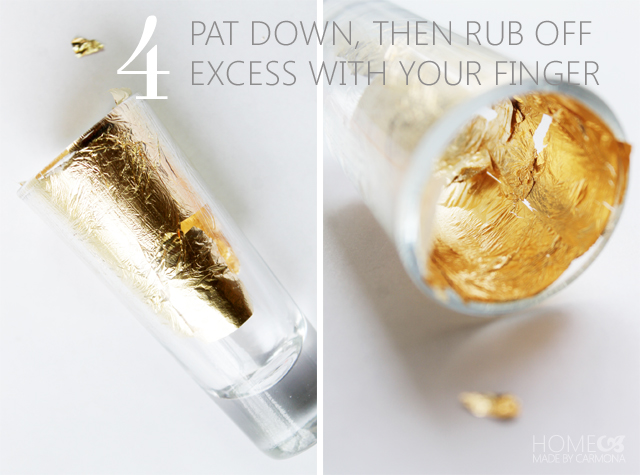 5. Tape The Outside Of The Glass
Tape off the outside of the shot glass, including the top lip.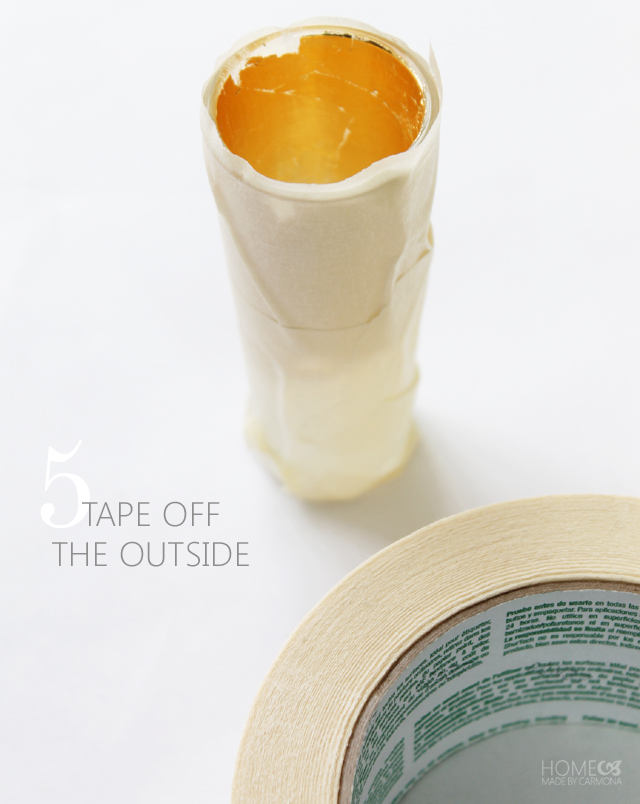 6. Spray Paint The Inside
This step is just to seal the gold leafing in place. If you like the design created with gold leaf and want clear glass showing through any spots the leafing doesn't cover, then use a clear spray paint.
If you want some consistency, use a metallic gold spray paint to seal it.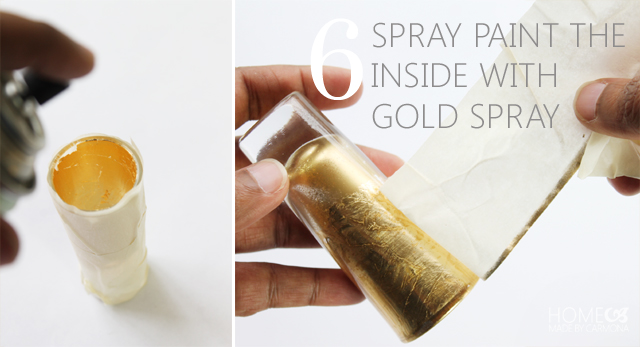 There you have it! The tapered shot glass makes it easy to fit most taper candles of various sizes.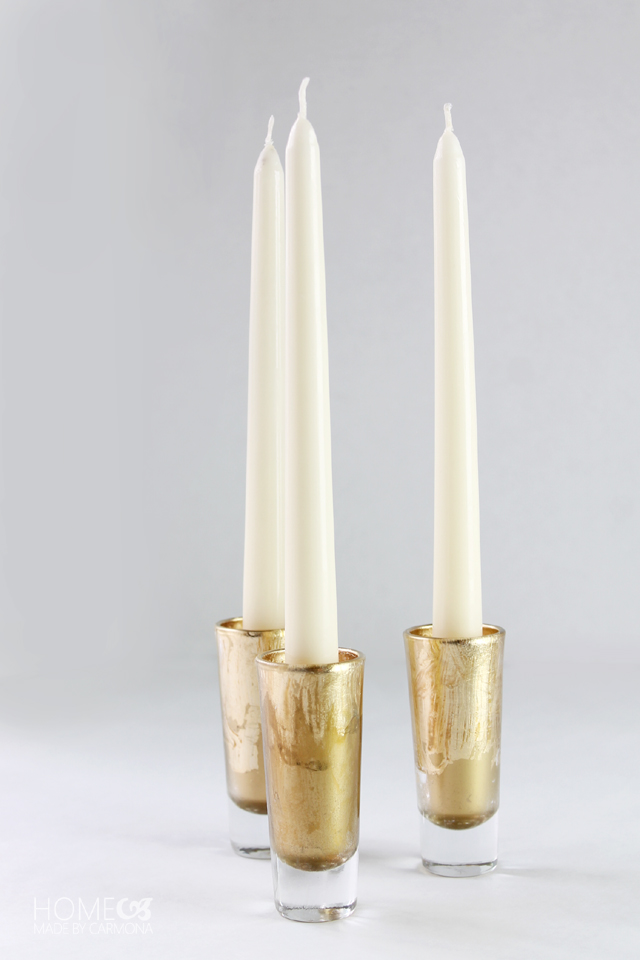 Create Pillar Candle Holders
You can use the same technique to create candle holders for pillar candles using hurricane lamps, mason jars, or other modern styled glass jars.
Zhush up glass tea light candle holders with a touch of glam using gold leaf on the inside of glass, or on the outside of any other material DIY candle holder.
Add An Extra Decorative Detail
Add an extra design element by dropping your shot glass candle holders into larger glasses. Mix it up; use regular cup sized glasses, thin tall flower vases, hurricane vases, etc.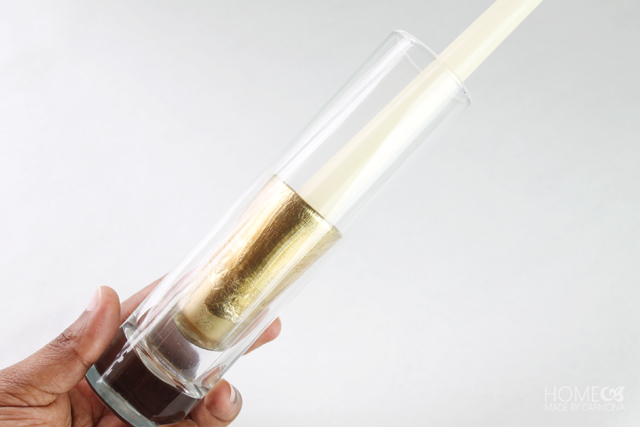 You can even embellish these glasses further with a Sharpie oil-based marker. Draw on x's, crosses, bubbles, or dots.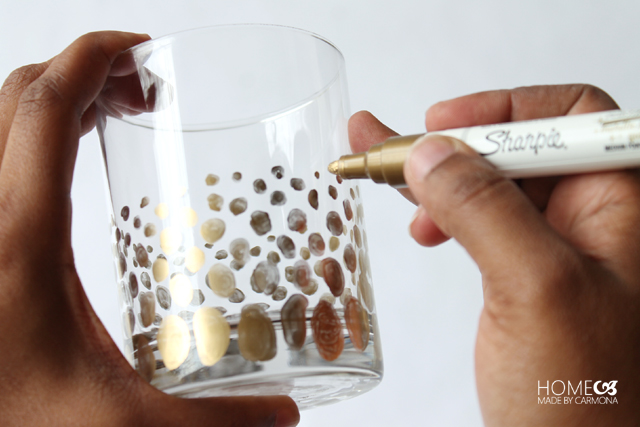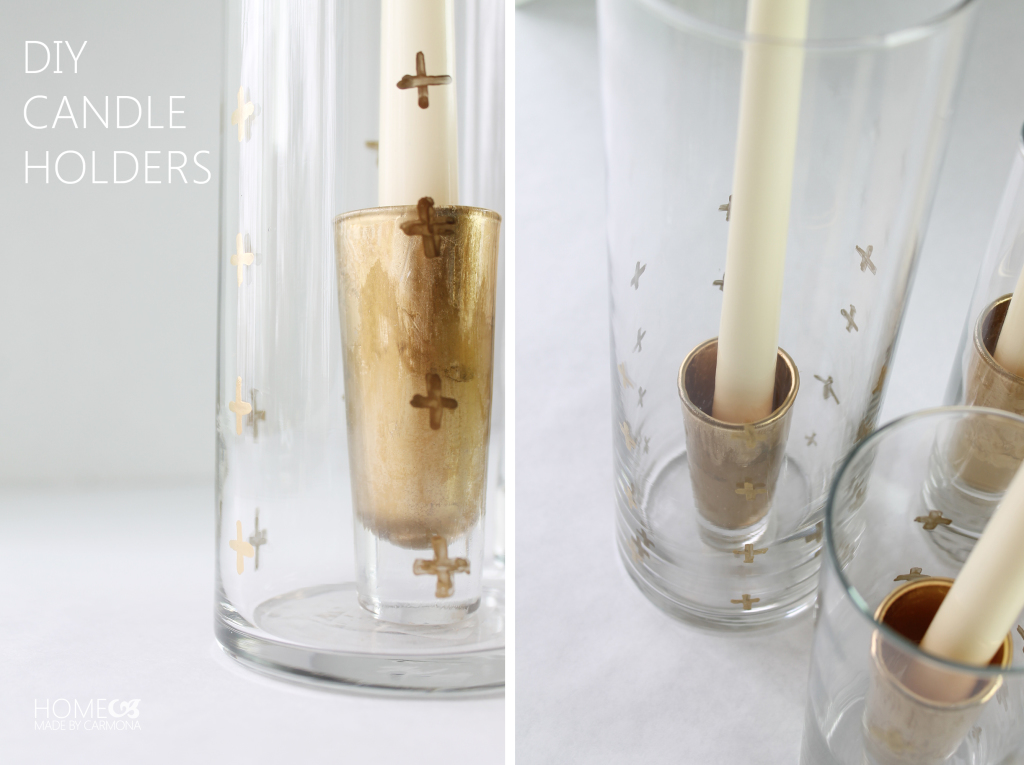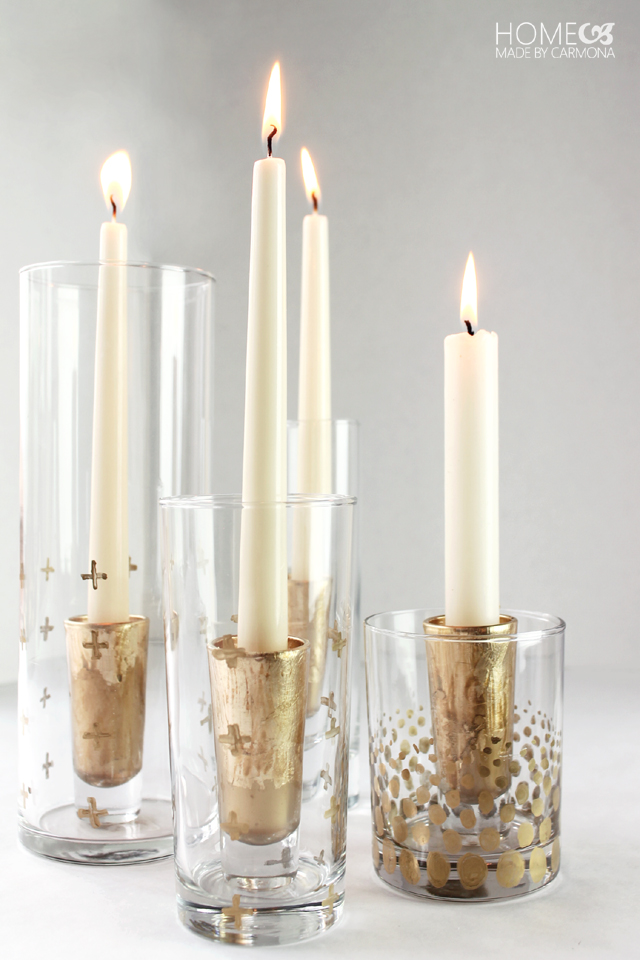 All that glass makes for a beautiful reflective sparkle all across your tablescape!
Any of these ideas make for easy DIY candle holders, and can be made with cheap glass cups from dollar tree or a thrift shop!
Like This? You'll Love These…
Now that you have made your own candle holders, learn how to make stylish wooden DIY candlelight trays to hold them and collect any accidental wax drips.
Make your own pine gel candles that look like floating candles, or turn custom style pillar candles with gold brush strokes for a fresh new look.