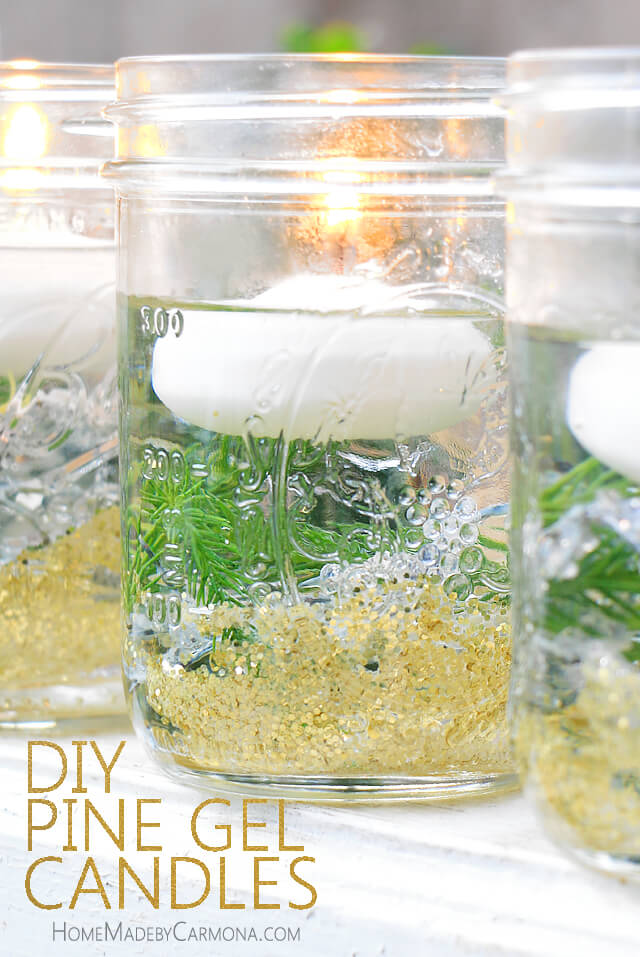 If I could take the wonder of a winter wonderland and bottle it, what would I add to represent each gorgeous elements? Well, a bit of glitter, some sparkly glass or bead garland pieces draped around evergreen pines, and maybe even a candle to represent those mornings curled up by the fire!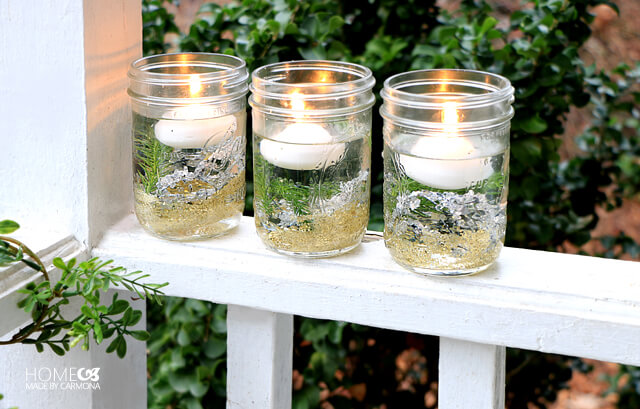 I know it's not the same thing, but somehow making these faux floating candles with everything I find beautiful about the winter months makes me feel like I've bottled the best of it.
Want to make a few of your own before the cold goes away entirely? Here's what you'll need: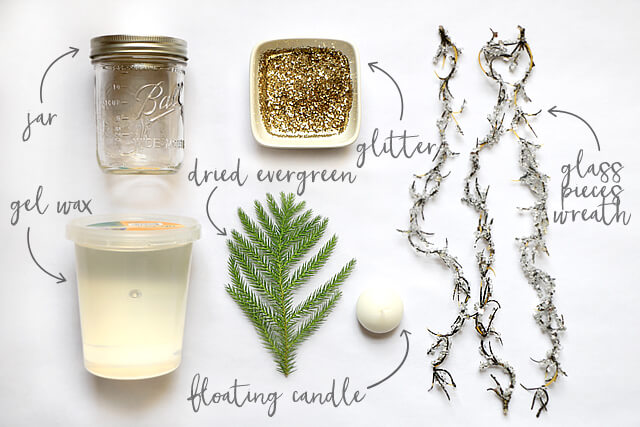 I have listed many of the shoppable supplies below, however I couldn't find these beautiful glass wreath/garland pieces online. I purchased mine at Pat Catan's craft store, however I have also listed a lovely alternative below.
Shop Materials (Affiliate Links)
First things first, you'll want to peel off the sprigs off your evergreen pine branch. Look for a branch that is already dry on the tree. If there aren't any dried pieces, take a branch and set these aside to dry. It may take several days if left to air dry, and don't leave them in the sun while they dry. You can also place them on a cookie sheet in the oven to dry on a low temperature for a few hours.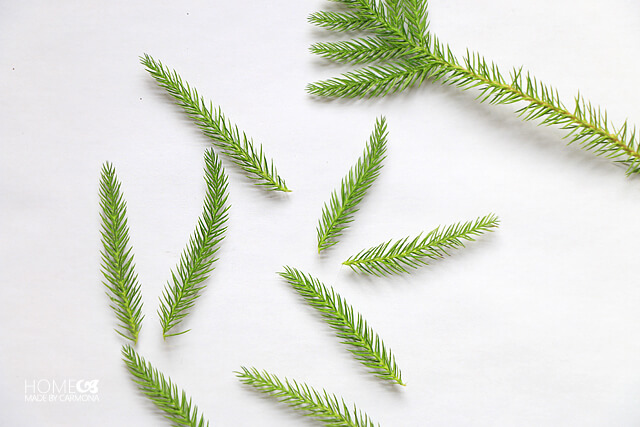 If your evergreen leaves are not completely dry they will turn yellow when the hot wax hits them. So be sure they are bone dry!
Cut the glass wreath/bead garland (whichever you found to use) into pieces small enough to be curled up in the bottom of the jar.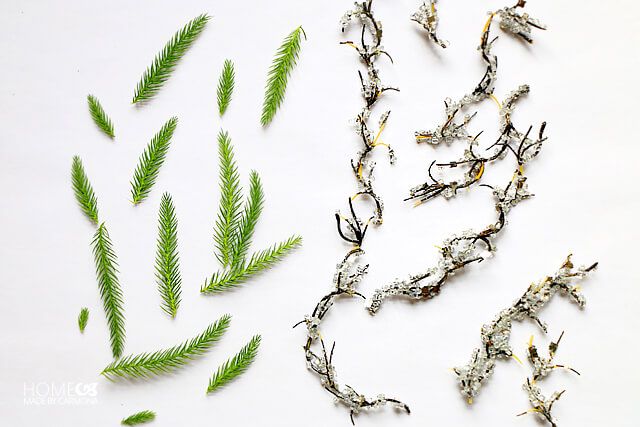 Now we're going to glitter the inside bottom of your jar. You'll need either a bit of Mod Podge, or some spray glue for this part. Add the glue only to the bottom quarter of the jar, pour the glitter into the jar, and swirl the jar until the glitter has spread across the entire glued area.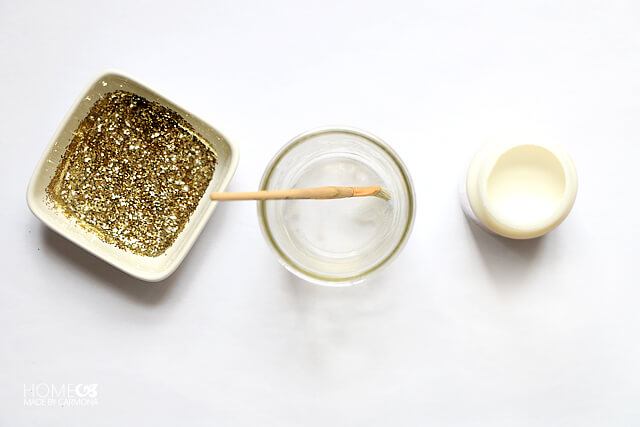 Pour any excess glitter back into it's container, and allow your glittered jars to dry completely.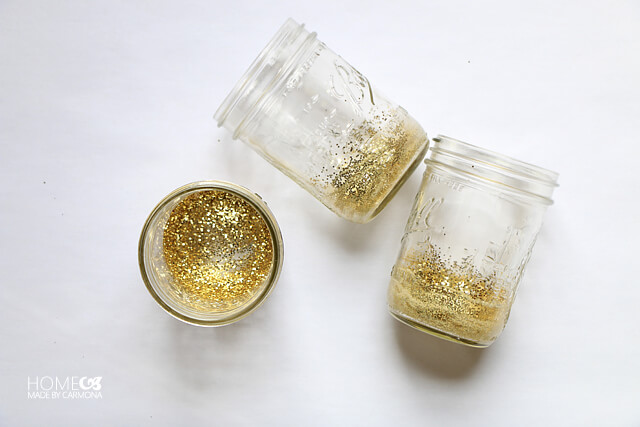 Add your pine and wreath/garland pieces to the jars in whatever quantity you desire.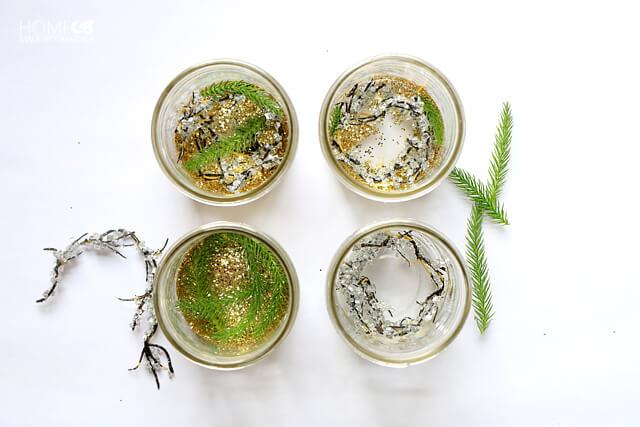 Cut up the gel wax into medium or large cubes and melt in a pot stovetop. Follow the directions provided on your gel wax for melting, this is the time to add scent to your candles as well. Allow the gel wax to cool slightly before pouring into the jars. Pour very slowly so as to not create any bubbles!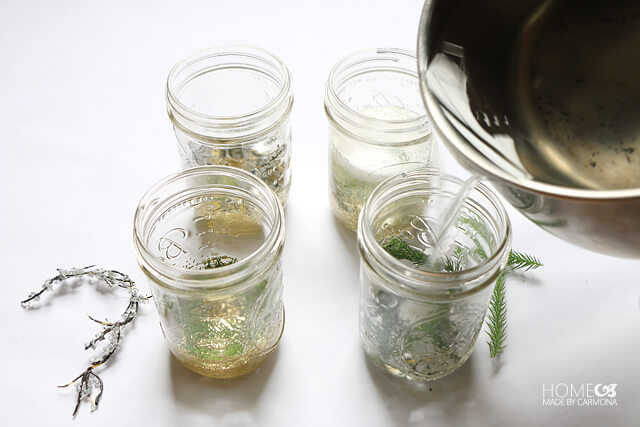 Allow the gel to cool just a little more before placing the floating candles (but don't let it start to set before placing the candles). You'll want to place a butter knife over your jar with a piece of string tied to the center of the knife and to the wick. This will hold your candle in place so it doesn't sink completely beneath the gel wax as it dries.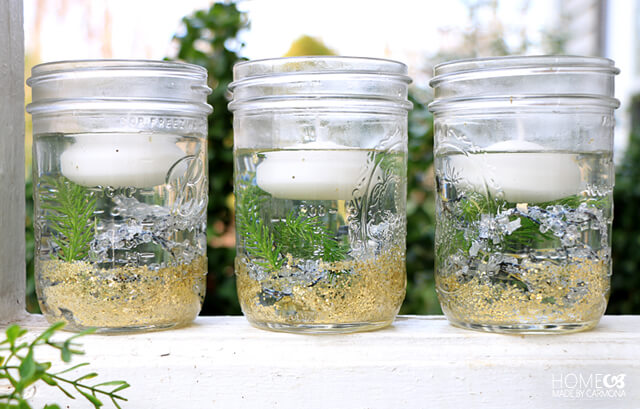 Once the wax is dry (follow recommended drying time on the gel wax instructions), it will be ready for use! Isn't it amazing to see a floating candle that appears to float in water? If you were to try this project with actual water it would not last very long. The glue on the jar and wreath would react with the water and eventually turn white and pieces would float up. This way you can enjoy your candles year round, or even mail some to a friend as a gift!