Learn how to use greenery (plant cuttings) as a beautiful tablescape centerpiece when entertaining. It is cheaper than flowers, but just as beautiful!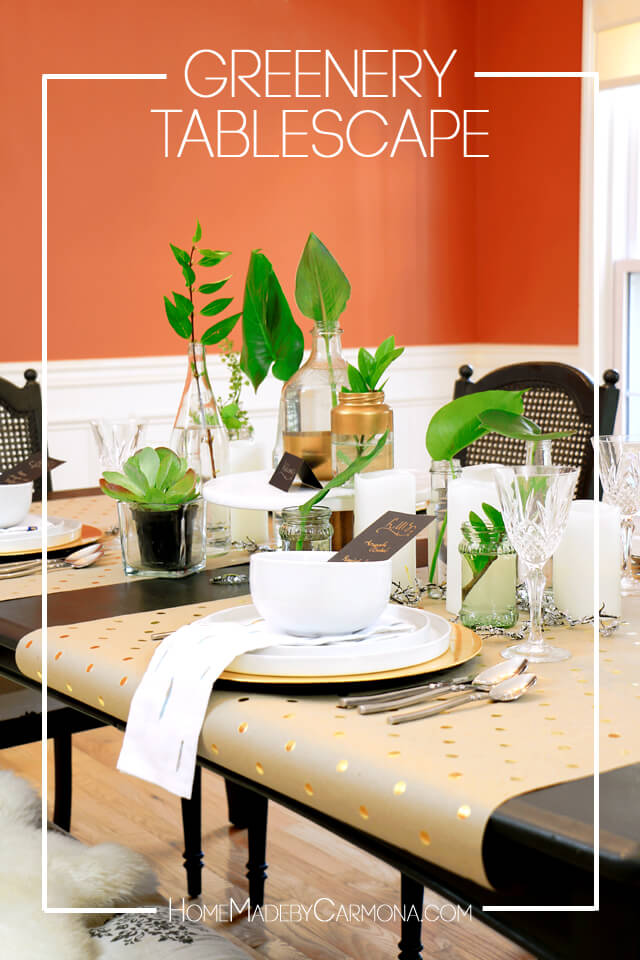 Something about all the gorgeous greenery outside has given me the urge to do something completely different
*This post is awesomely sponsored by Better Homes & Gardens brand found at Walmart. Affiliate links below.
Every fall, right around the holiday season, I find myself creating the same type of tablescape…one sprinkled with white pumpkins, gold painted leaves, and usually some pine cones.
Don't get me wrong, I love it! But this year, as I have just moved into my wooded 16 acre property, something about all the gorgeous greenery outside has given me the urge to do something COMPLETELY different.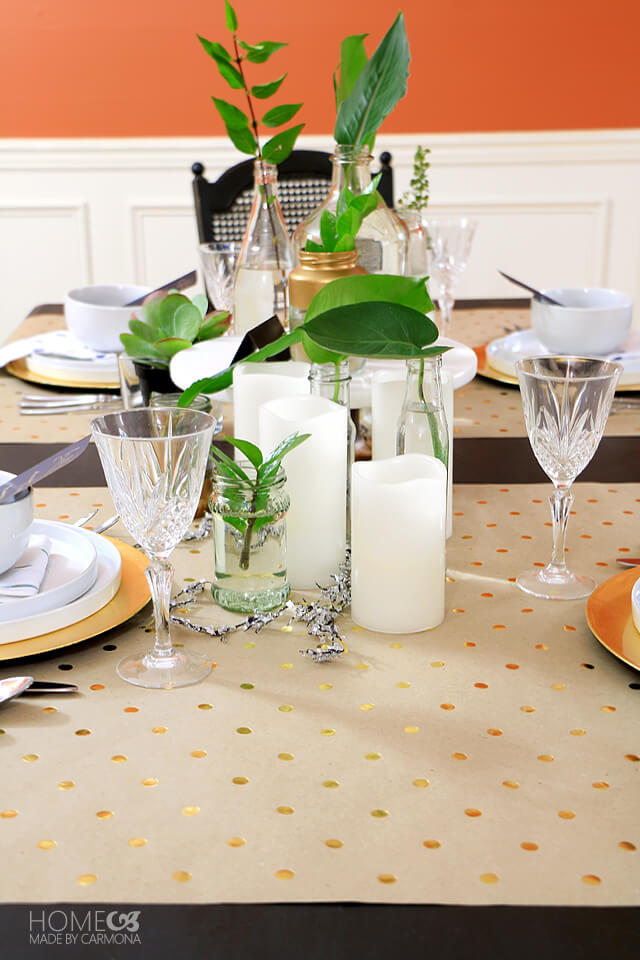 Use Greenery Any Season For Your Tablescape
Let's just say, I'm feeling inspired by all the greenery, and since the leaves here in North Carolina have barely begun to turn color (wow, and so late in the season!), it seems appropriate for a small "We're New To The Neighborhood" dinner party. I may have also been influenced by all the bud vases I've seen floating around Pinterest lately (confessions of a pinning fool).
Start with some simple plant cuttings or even potted plants. Use whatever pretty jars you have lying around the house and clip a few leaves from houseplants or outdoor plants!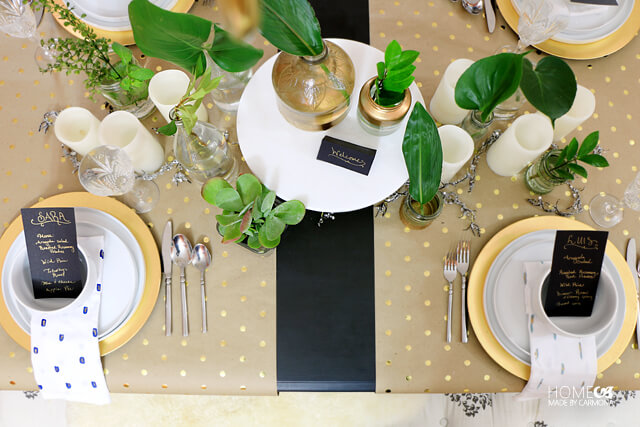 Chose Simple But Classic Dinnerware
You want to let all the greenery shine, so your dinnerware should compliment your tablescape and not overpower it.
I just LOVE this BHG Modern Rim Dinnerware set! Have you seen anything like this before? It's funny, I'm adoring it for the style, but my mom side is even more thrilled that there is a lip so the kids are less likely to spill their food of the edge of their plates. Haha, oh the simple little things that bring joy to a mother's existence.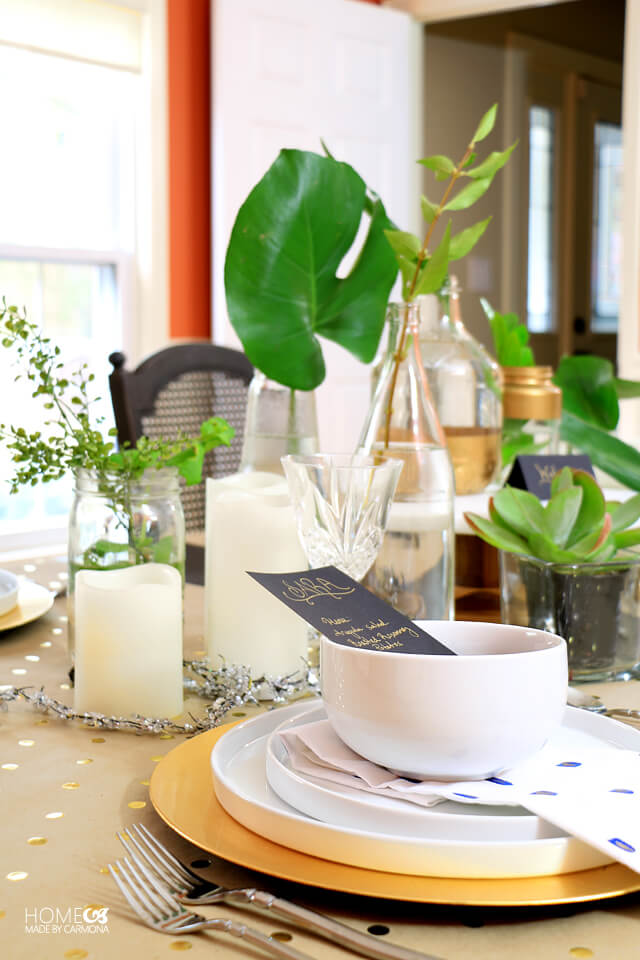 Create Menu Tags As Placecards
I'm using a gold sharpie to write the menu on a black sheet of construction paper. It sits just inside the bowl, and also serves as a place card so my guests know just where to sit.
This really adds a classy and formal touch to your place setting!
Add Metallic 'Sparkle' To Your Tablescape
If you haven't noticed yet, I'm a big fan of adding a lot of metallic hues to any type of decor. Gold adds the perfect amount of glimmer to a very nature oriented setting.
Here I used gold dotted wrapping paper as a base. It also acts as a placemat and can be throw away after use. Then I added a little more gold by spray painting the bottom (or tops) of a few of jars.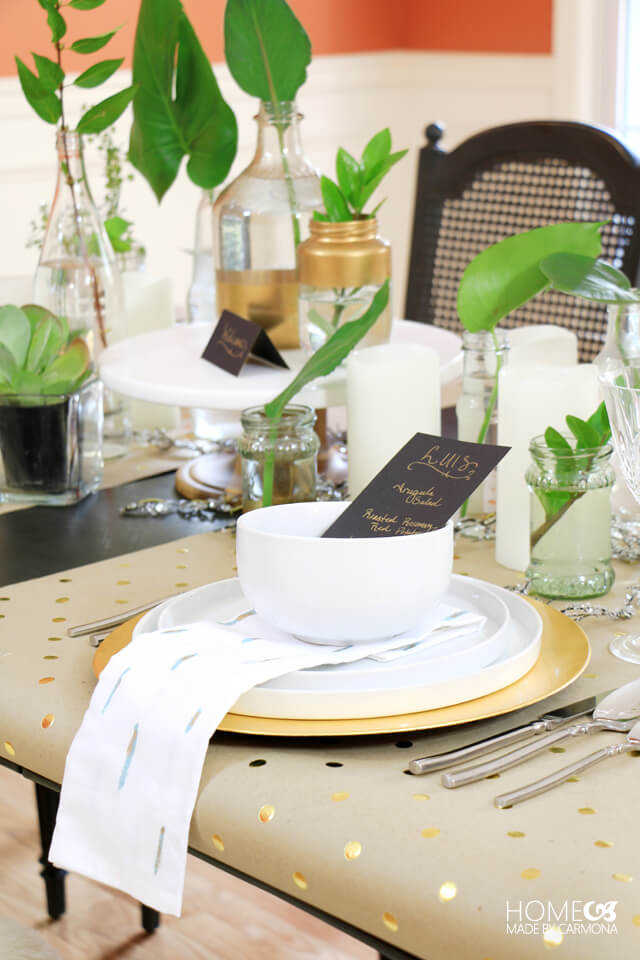 Cute Flatware For Everyday or Dinner Parties
I picked up BHG flatware found exclusively at Walmart, and I'm liking their everyday style. It can also be dressed up to work for a more formal dinner. Hey, not all of us can afford to have a special set of flatware just for fancy dinners. The truth is, my kids would find it and mix it into our everyday set anyway. 😀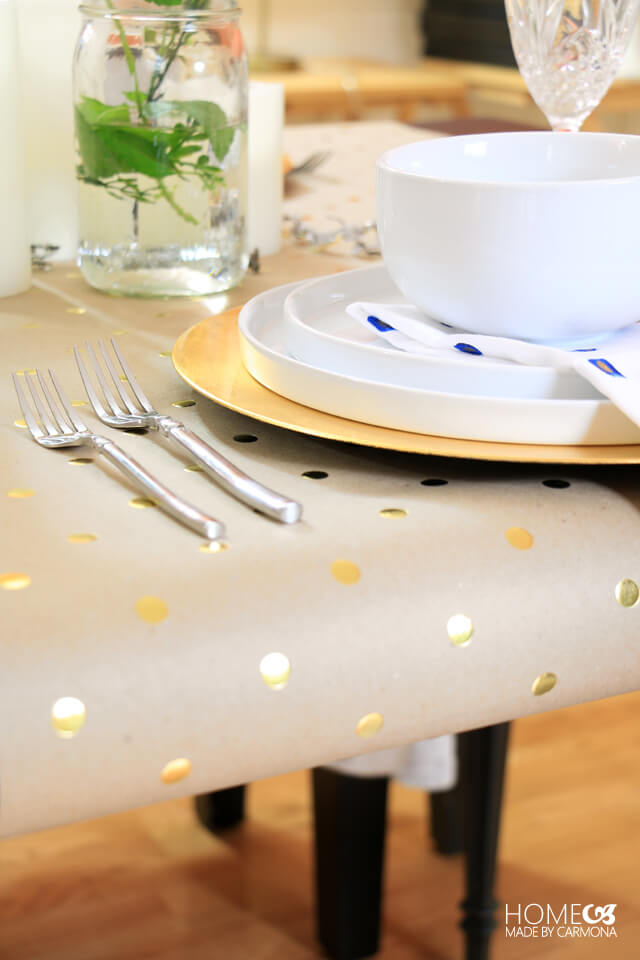 Adding DIY Flair Makes You The Hostess To Beat!
I bought some inexpensive plain white cloth napkins from Walmart, and embellished them with all-purpose fabric paint! Neat right? You can learn more about how to do that here.
Between clever custom touches, such as your wrapping paper table mats, sprayed jars, and DIY cloth napkins…you will certainly be the hostess to beat!
Decorative Finishing Touches
The cake stand is a BHG Acacia Wood and Marble stand, and it is so lovely I wish I had purchased two! I imagine it holding my daughter's delicious carrot caked, topped with a lovely coconut cream sauce dripping down the sides, or how beautiful it will look loaded with honey drizzled fruit…grapes, figs, sliced strawberries, melon. Mmmmm. For this dinner, I'm thinking it will become a platter of various cheeses.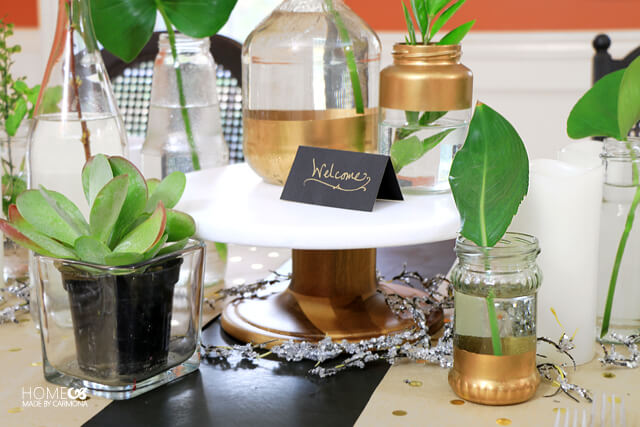 And last but not least, you'll notice that I have been putting these BHG flameless candles to good use all year long! I like that curious little fingers from any little dinner guests won't get burned reaching for a candle since it is a battery powered flameless luminary.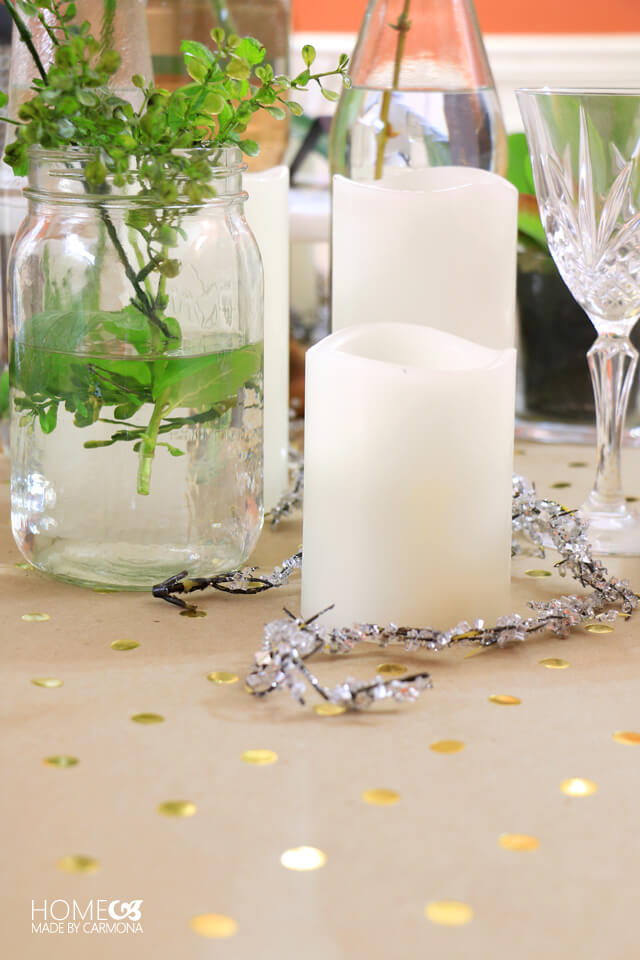 You can set up this tablescape from the day before (which is what I have done), then have one less thing to think of while cooking for your dinner party. I don't know about you, but for me that is vitally important…I don't want to mess up a single dish!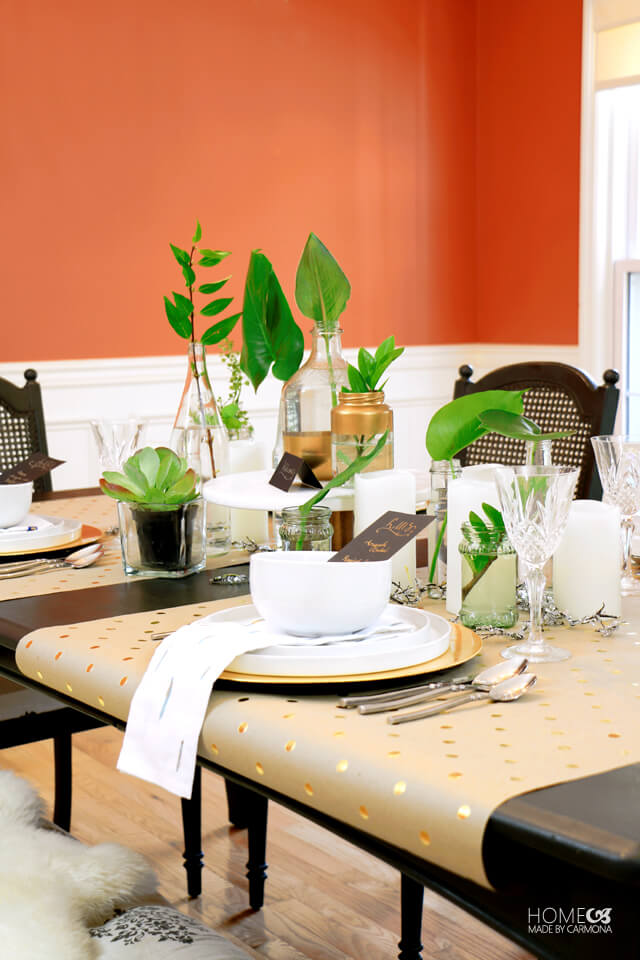 Tomorrows dinner is going to be amazing, if I do say so myself!


[col1]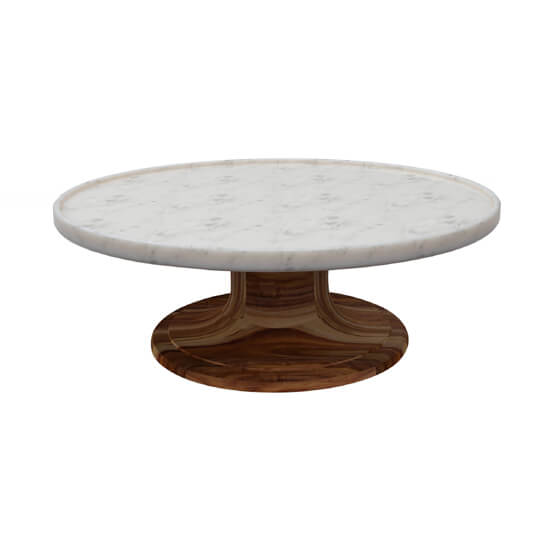 [/col1]
[col2]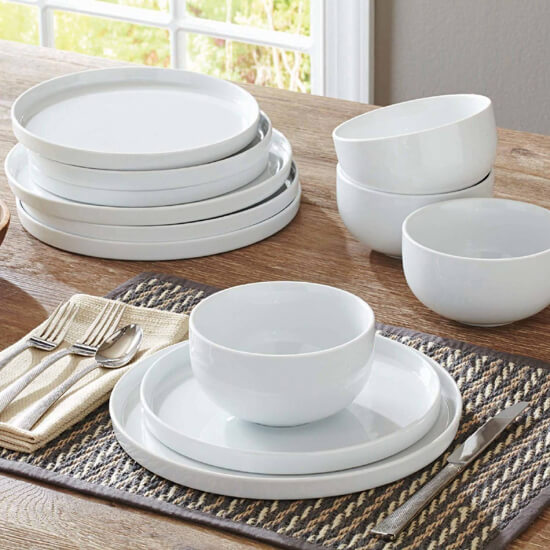 [/col2]
[col3]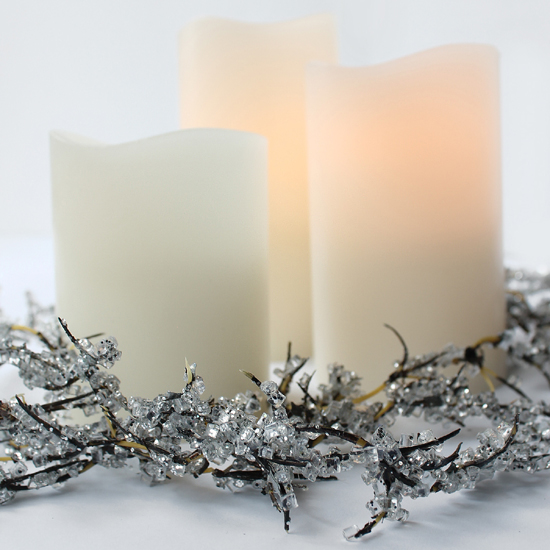 [/col3]
[left]*I am honored (and excited!) to be part of the Better Homes & Gardens Live Better network, and to share a few of my favorite things, projects, opinions, and my own original ideas with you. Thank you to Better Homes and Gardens (carried exclusively by Walmart) for sponsoring this post. Follow BHG Live Better on  Facebook, Twitter, Pinterest, and Instagram.[/left]
[right]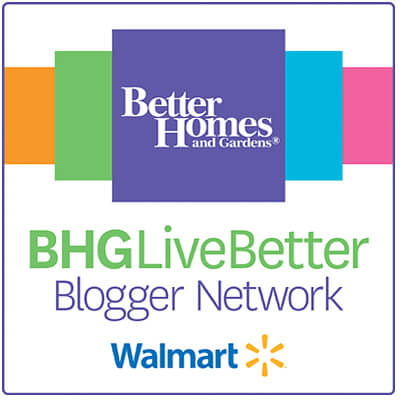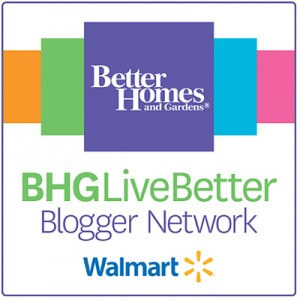 [/right]


[go_portfolio id="entertaining_tips"]