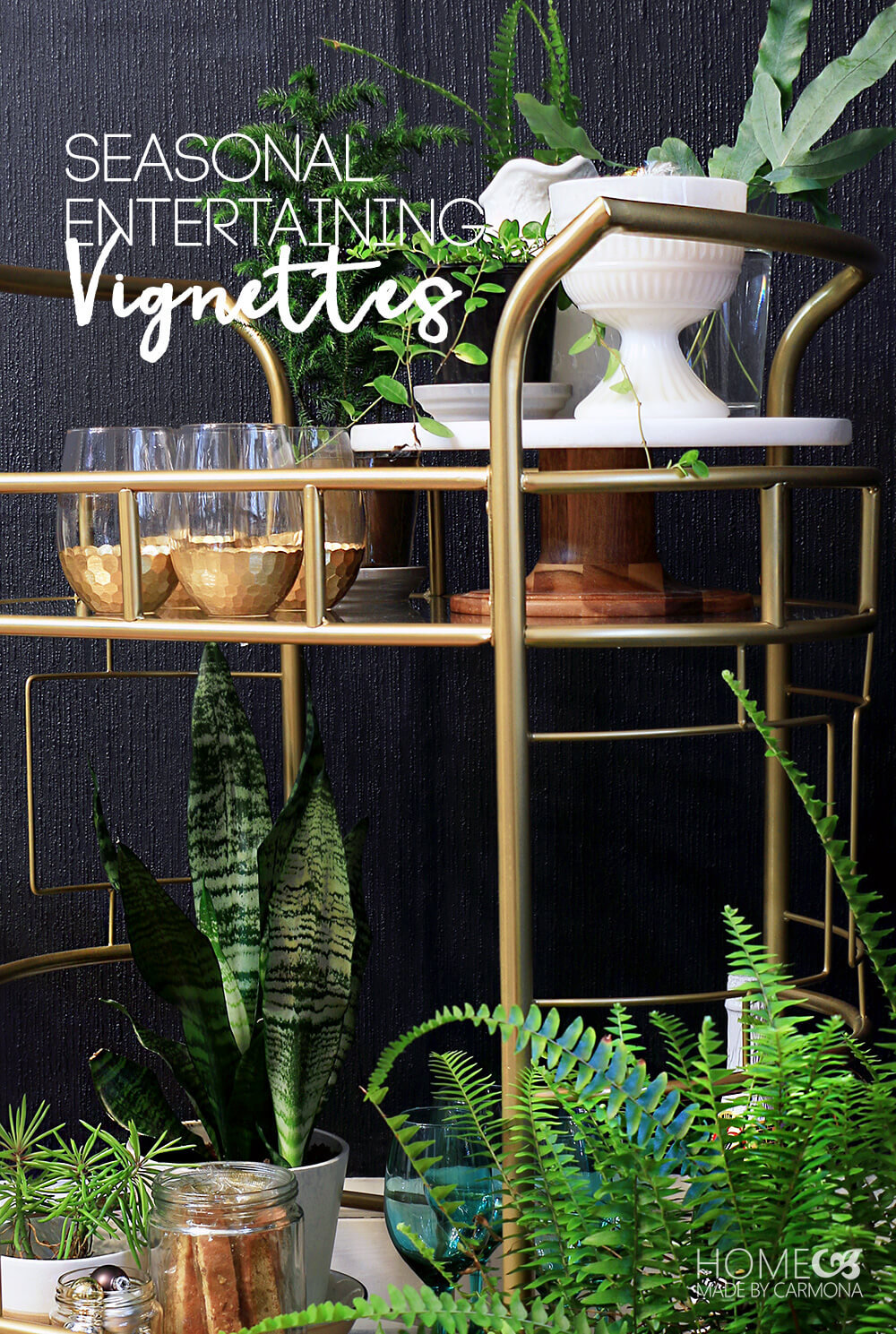 *This post is sponsored by Better Homes & Gardens brand carried by Walmart. Hooray!
Affiliate links below for your shopping pleasure… 😉
The best way to decorate for the holidays or by season is to create small intentional vignettes throughout your home. I'm excited to create a couple small entertaining vignettes for my dining room One Room Challenge makeover. Next week, look out for the final makeover of this dining room, but until then the only sneak peek you get are the rooms vignettes. 😉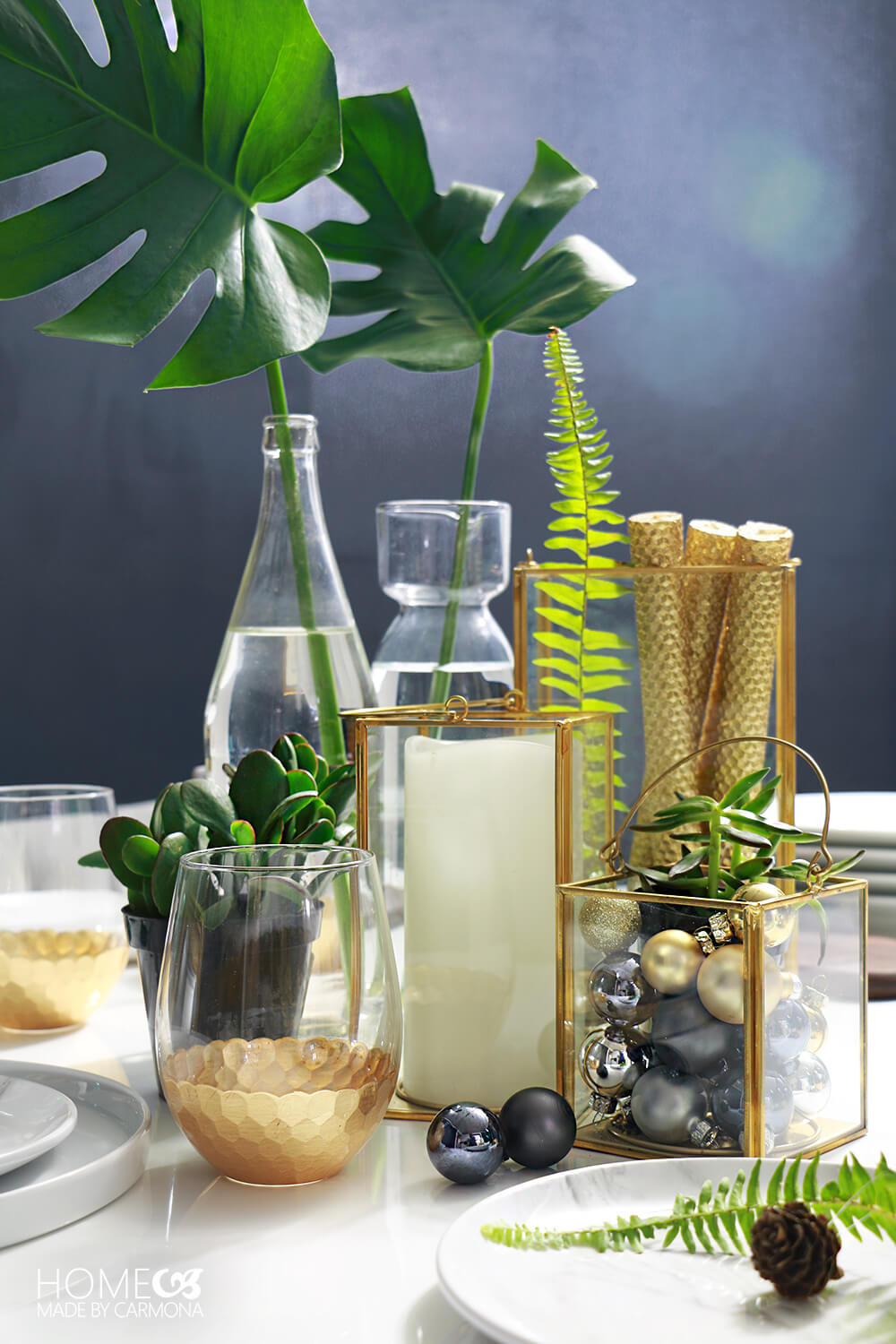 Vignettes are easy to change out by the seasons and holidays, especially those holidays that come back-to-back…you've decorated for fall and Thanksgiving, only to turn around and start Christmas and winter decorating what seems like a moment later. Then with New Year celebration decorating coming so quickly on its heels, you feel like you barely had time to enjoy the last two holiday seasons. It can be a lot of work, money, and less enjoyment than you anticipated.
You've decorated for fall and Thanksgiving, only to turn around and start Christmas and winter decorating what seems like a moment later…
Instead, shop for items that are timeless and can be used year round, whatever the season or holiday. My favorites are everyday items that are stunning as decor when they stand alone, but look even better when paired with holiday pieces.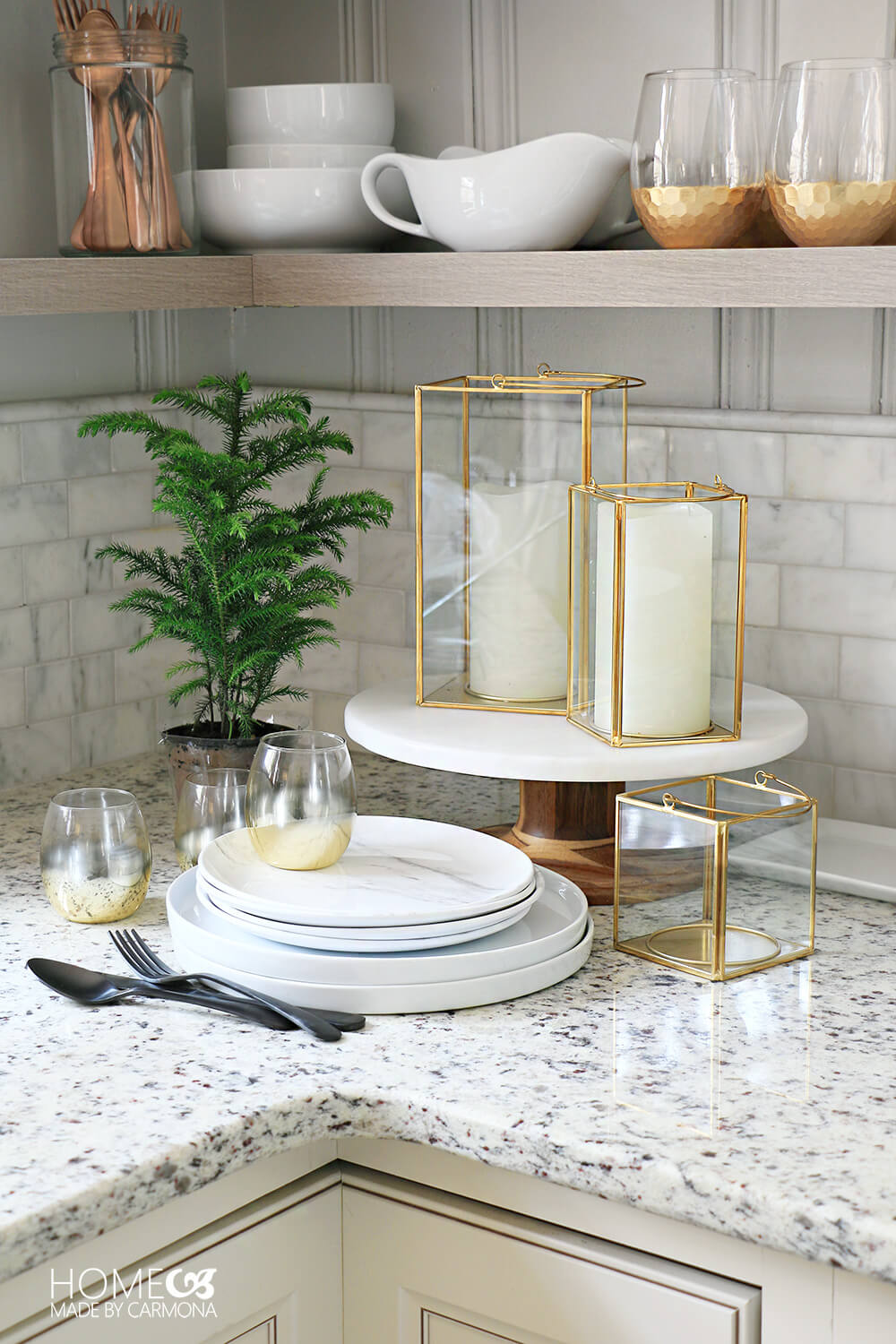 My Better Homes & Gardens acacia wood & marble tray plus the modern rim dinnerware set are my favorite year-round and even work beautifully during the holidays. I did kick it up a notch by recently adding some BHG marble melamine salad plates, those stunning BHG gold honeycomb stem-less wine glasses (found in store), and the BHG black flatware set (also found in store).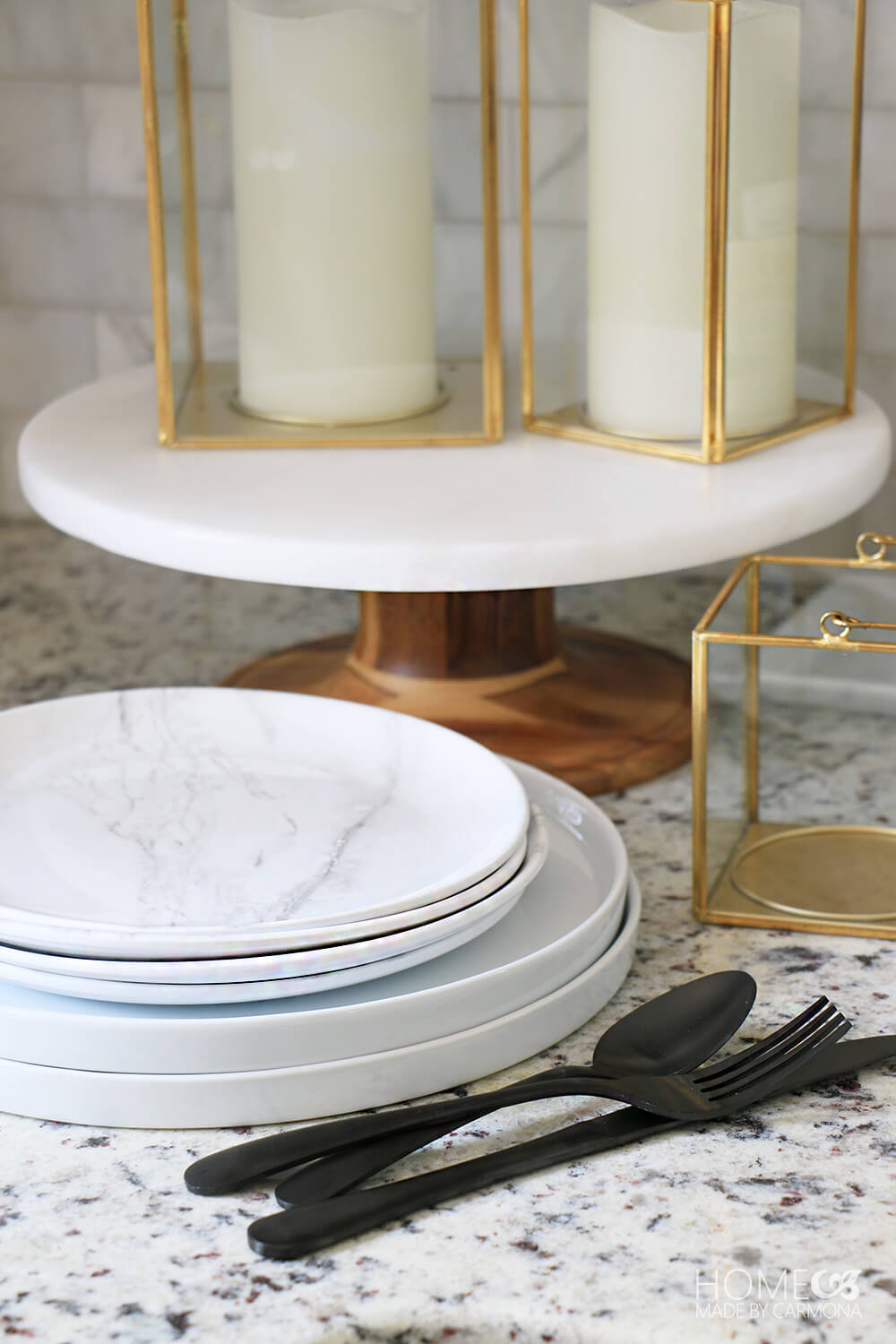 Then there is my BHG gold lantern set and gold votive grouping, they typically live in my cottage entryway but they are going to be temporarily used for my Christmas vignette this year.
Take your everyday timeless dinnerware and decor, and layer in just a few simple holiday specific accessories. It doesn't have to be anything particularly big or fancy…the little things can make a big difference.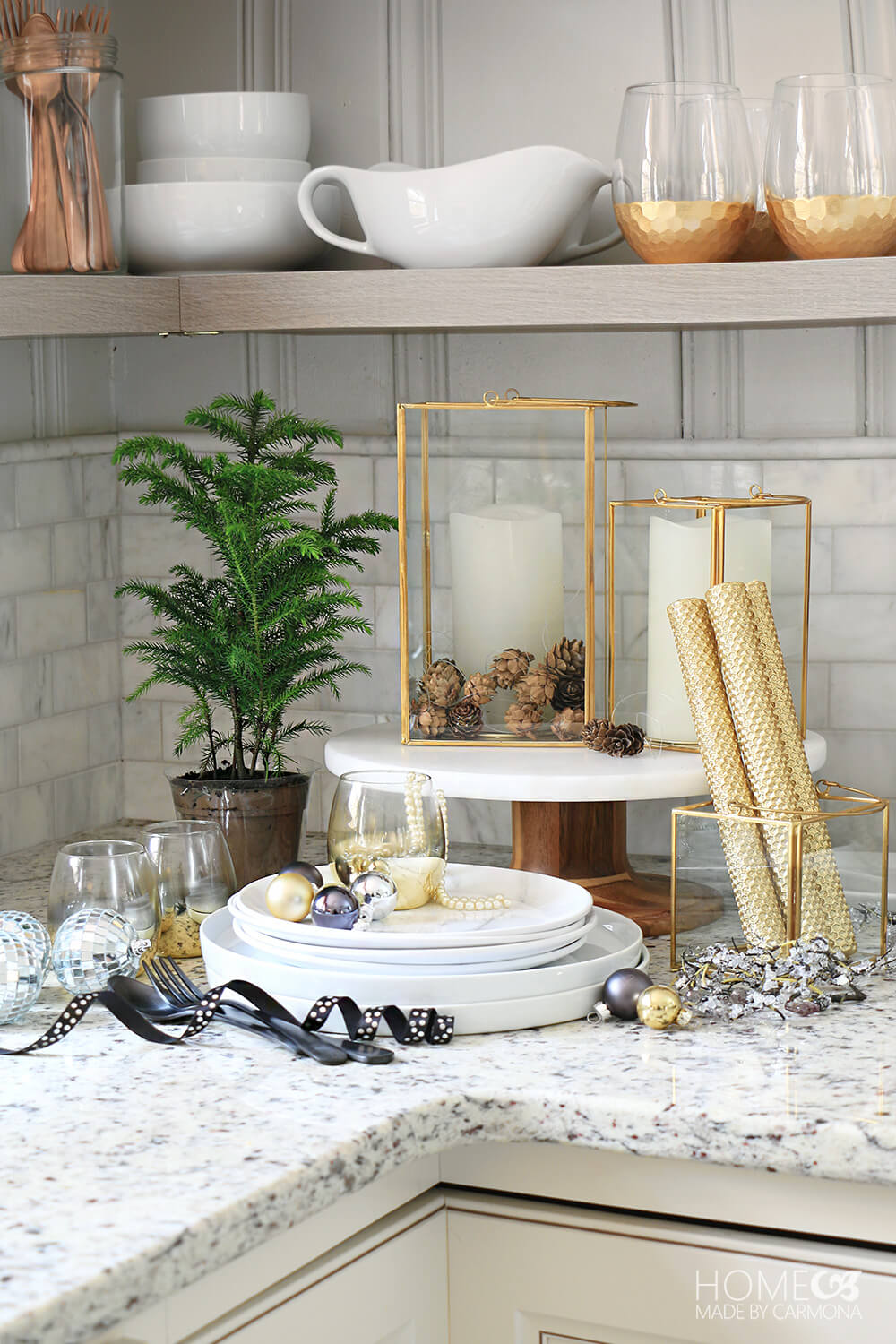 For example, the only truly 'holiday specific' item I added to my tablescape vignette are those Christmas tree ornaments, yet somehow it still has a holiday vibe.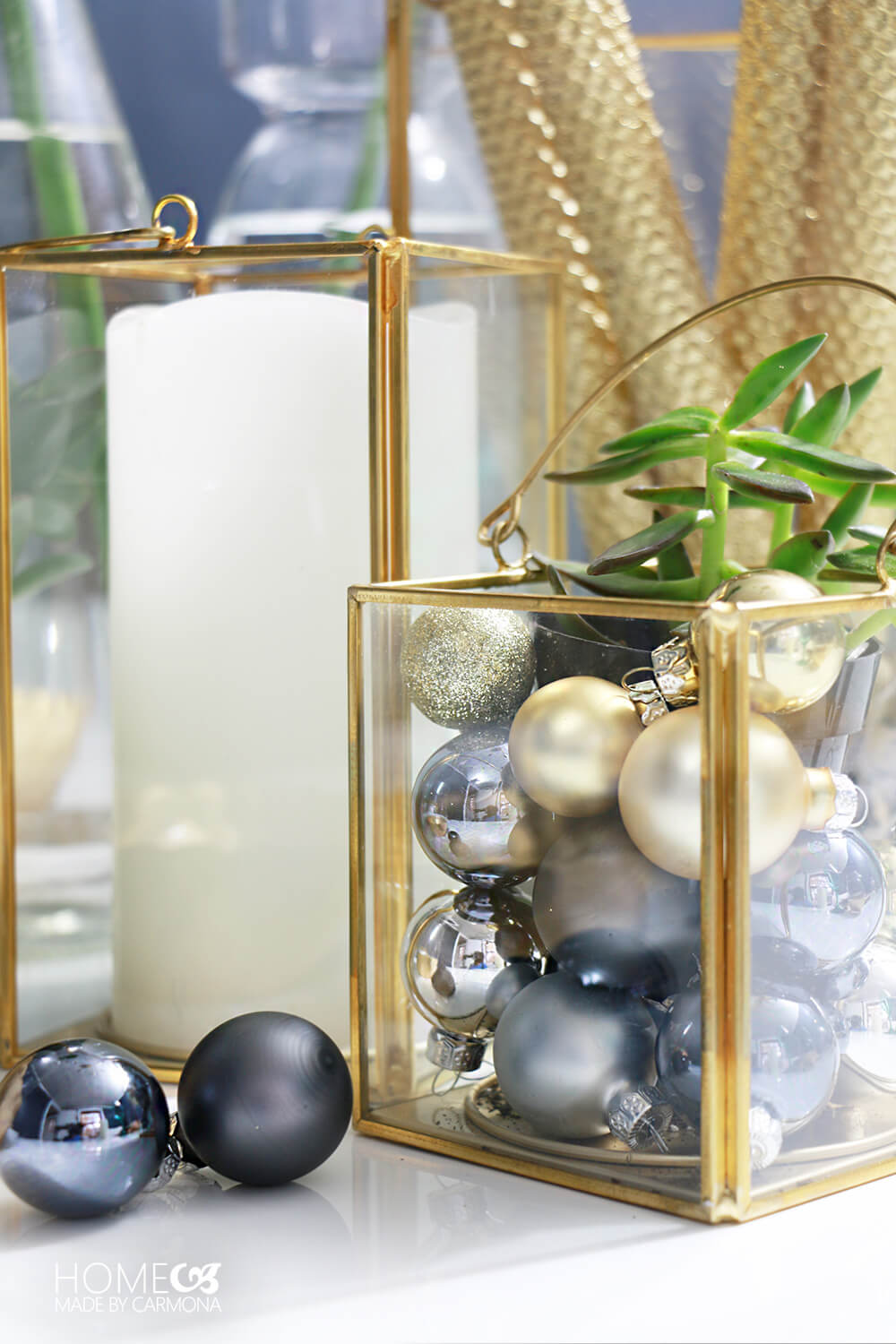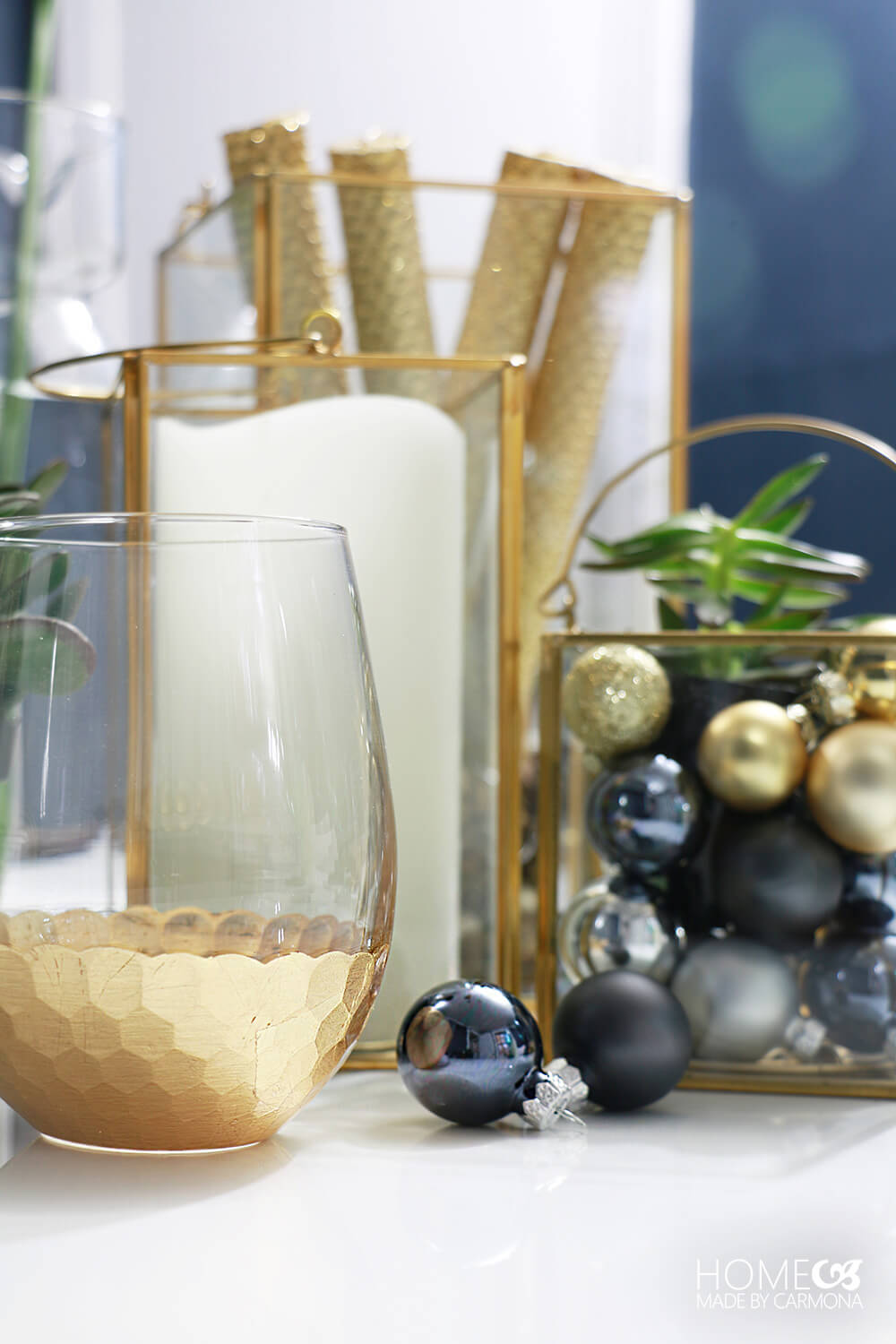 If you aren't a holiday minimalist like I am, it's okay…the same principle applies, keep layering in more until you are satisfied.
If I had to add a few more items, it would be these sparkly extras…but honestly, I still prefer the minimalist feel in the initial version.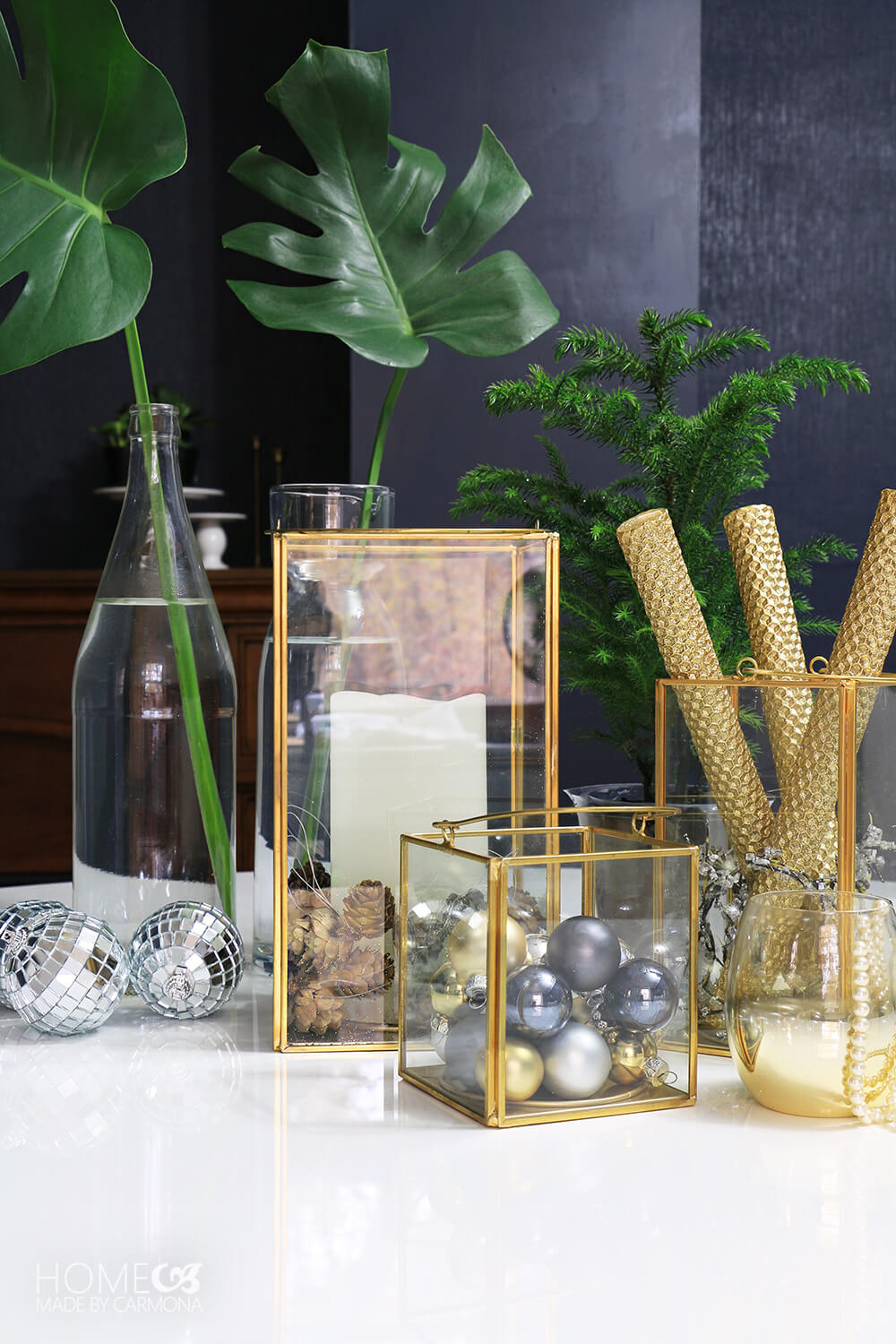 The one area you will want to be a minimalist is when it comes to your wallet and the money you spend on holiday decor. Keep your costs low by using inexpensive craft or nature inspired accessories.
Sometimes just the right set of beads, tree ornaments, and glittery items is all it takes to turn ordinary everyday items into stunning holiday items.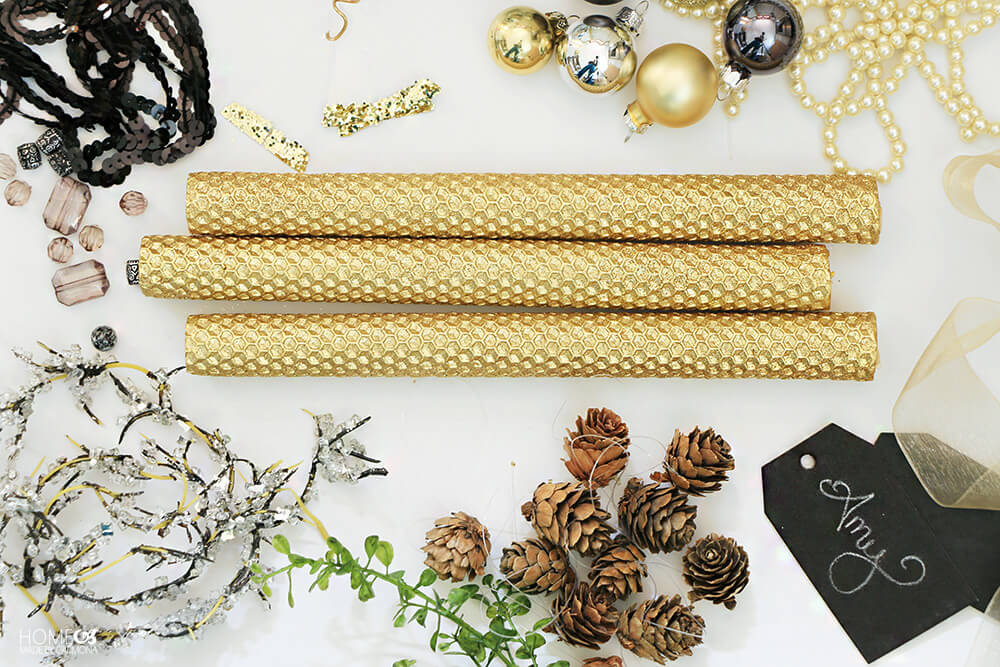 Of course not all holiday entertaining vignettes need to be on your dining table…create entertaining vignettes on a buffet sideboard, kitchen countertop, sidetable (as a tray of goodies for guests), or bar cart.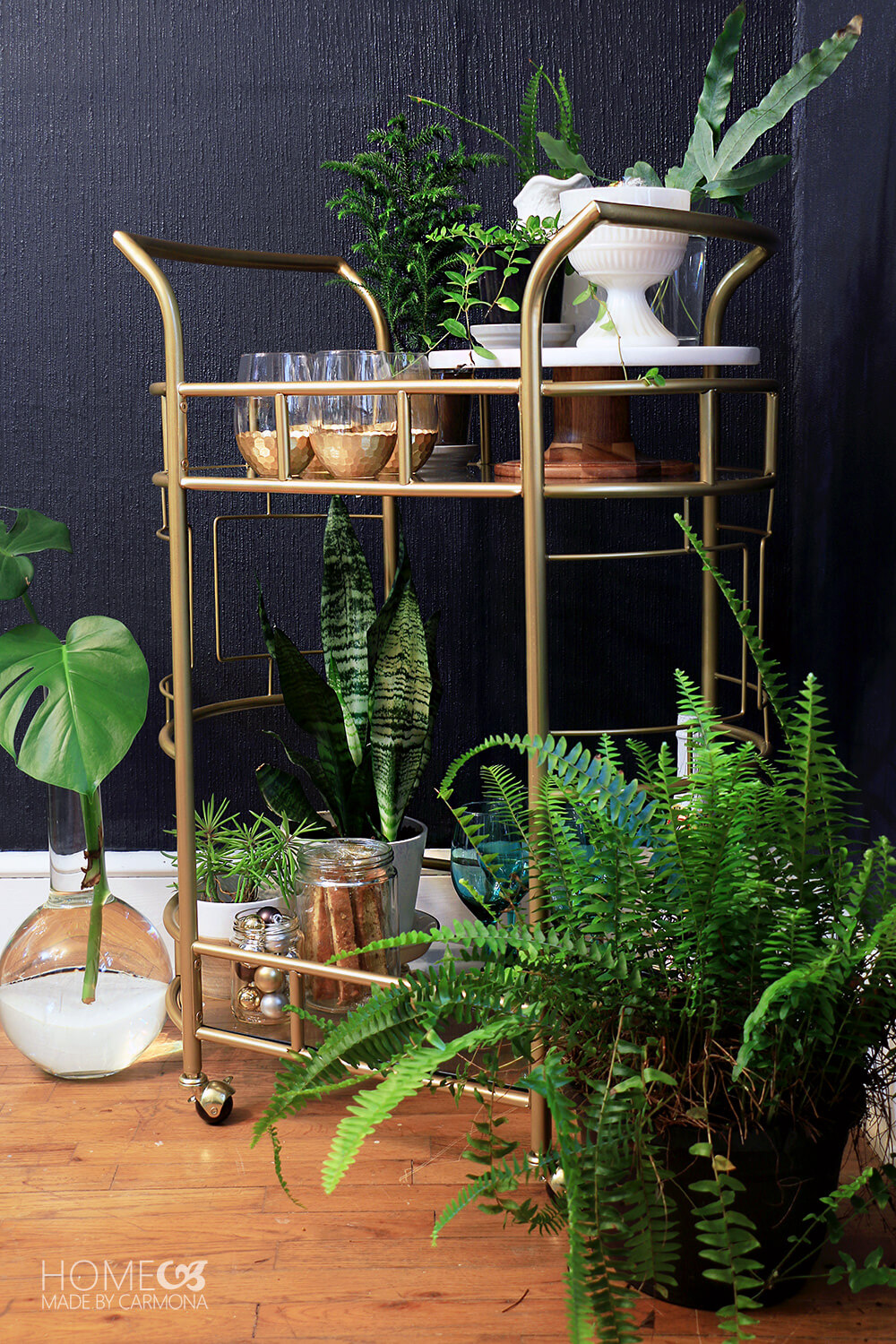 How stunning is my new Better Homes & Gardens Fitzgerald bar cart? It is great in the corner of the dining room! And while we don't drink alcoholic beverages, it is a great place for all our fruit and sparkling drinks to reside during dinner parties, and makes an amazing plant cart outside of special events.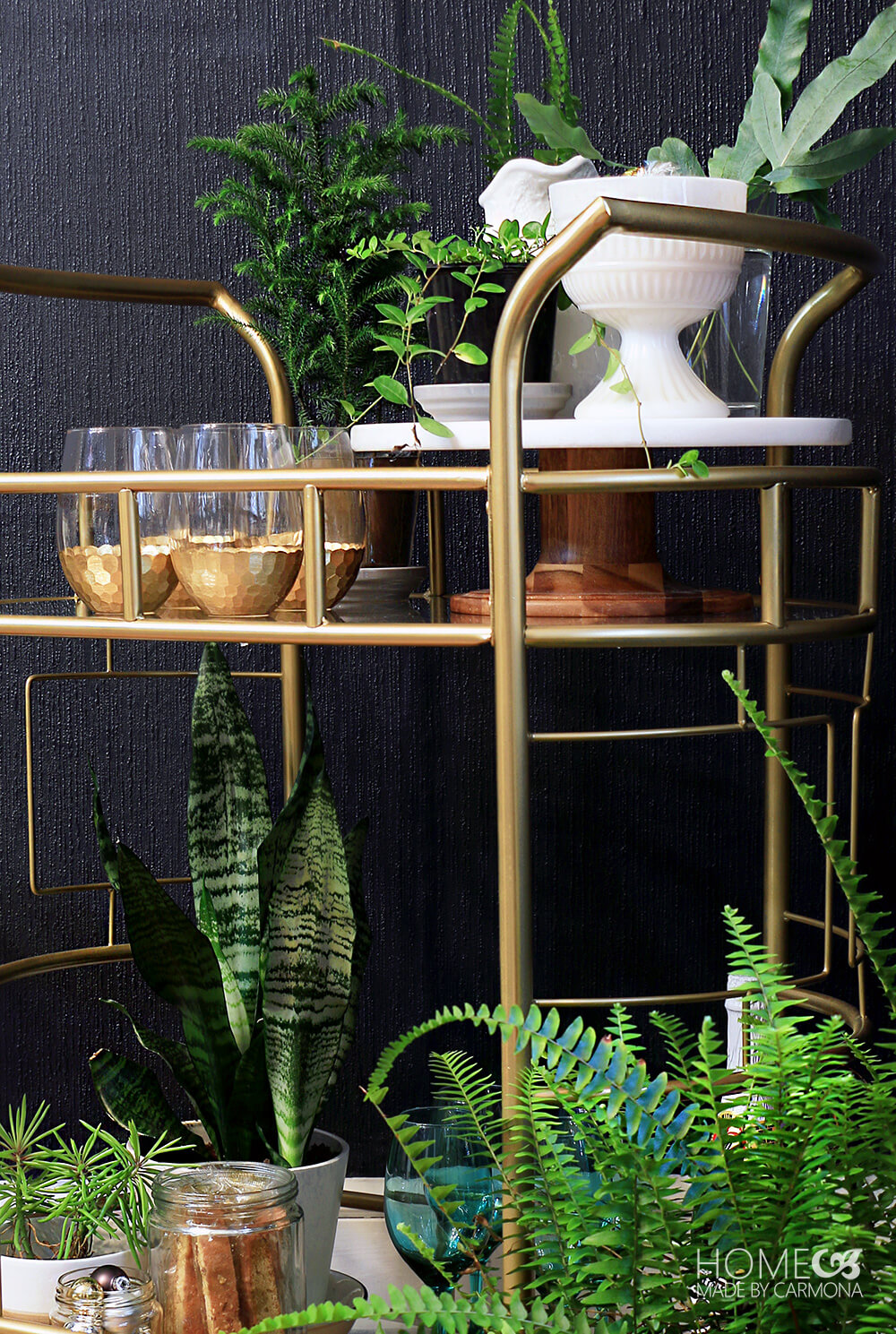 I hope you enjoyed this sneak peek into my dining room makeover, and a look inside my holiday vignette techniques. Yes, I know…you totally thought you would see more of the actual space right? What can I say, I like to keep you guessing! No worries, you'll get the full tour next week.
[left]In the meantime, I'd like to say a special thank you to my friends at Better Homes & Gardens for partnering with me every month on a new challenge, and for being a part of my One Room Challenge! You can find the BHG brand line carried exclusively by Walmart. Follow BHG on Facebook, Instagram, Twitter, and Pinterest.
**I am honored (and excited!) to be part of the Better Homes & Gardens Live Better influencer network, and am compensated for sharing a few of my favorite things, projects, opinions, and my own original ideas with you.
[/left]
[right]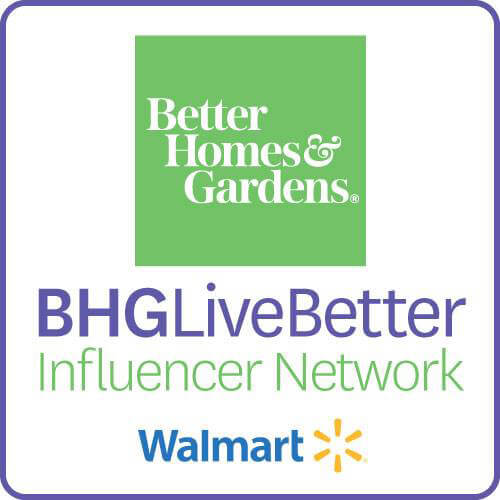 [/right]

[go_portfolio id="christmas_projects"]