Learn how to make this cute color-changing holiday light and brighten up your Christmas Mantel!
With modern holiday trees/mountains, this DIY lamp makes for cute decor! The smart bulb allows you to change the color of the lighting behind the trees, adjust the brightness, or set it on a schedule.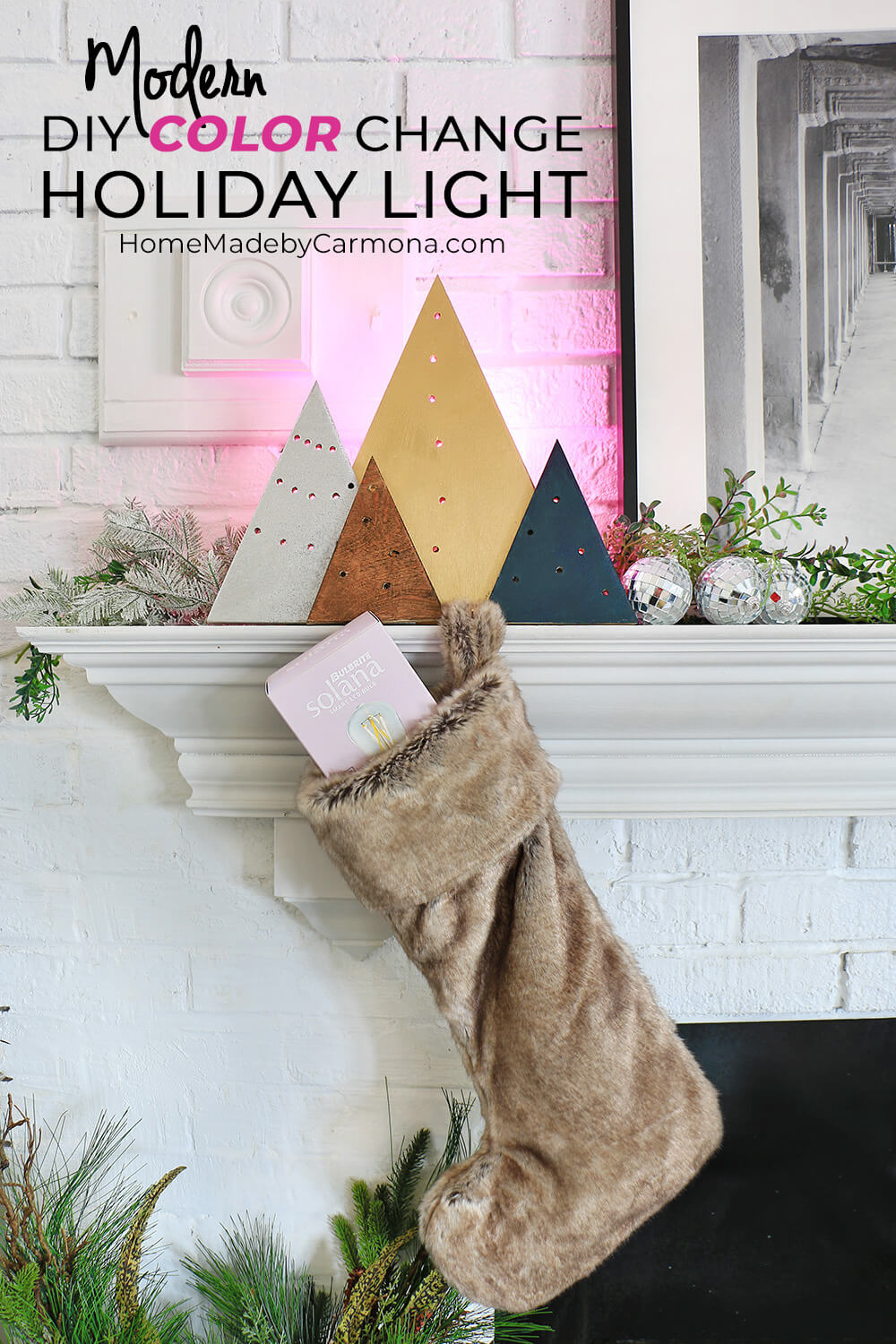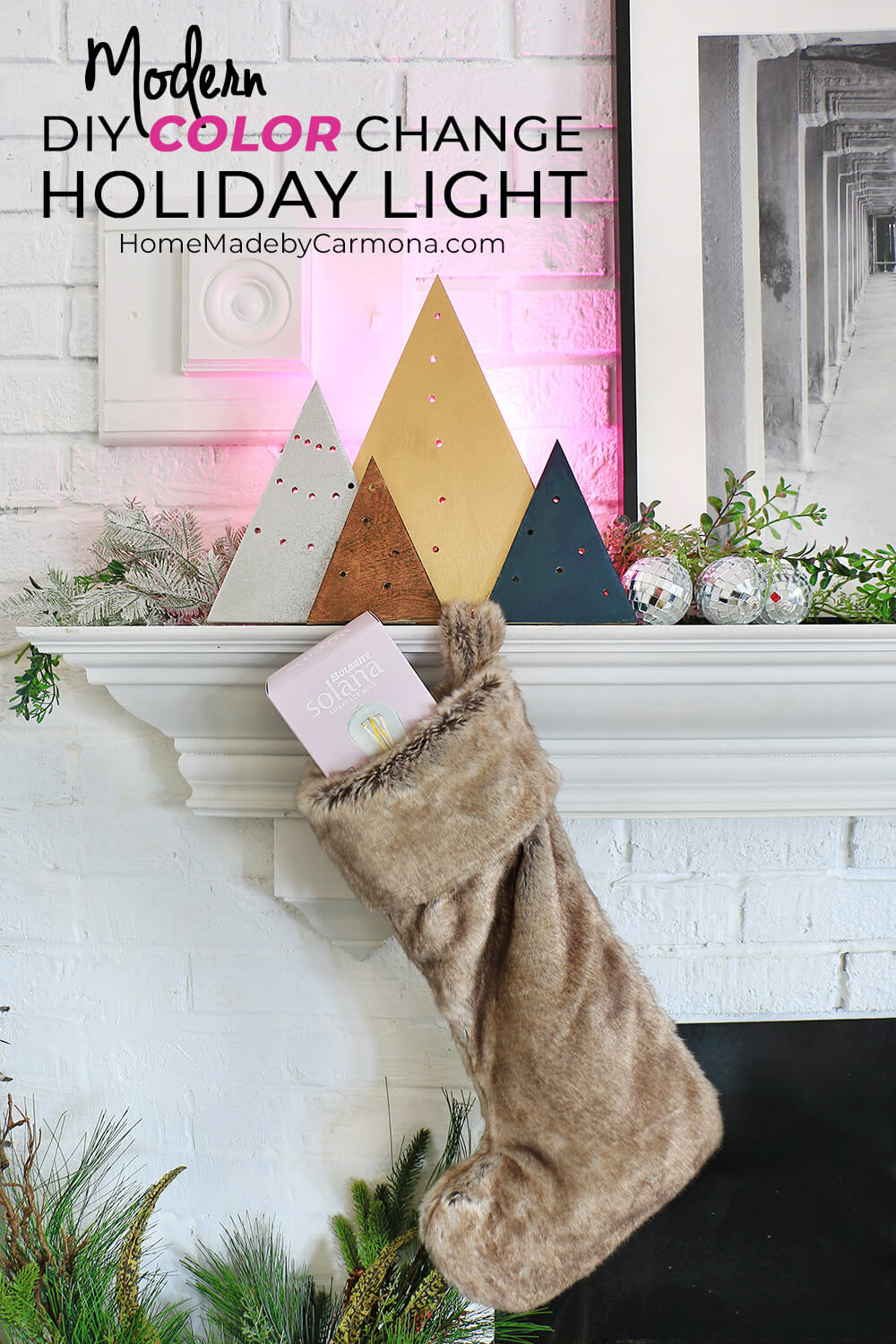 *Sponsored by our friends at Bulbrite Solana™ Smart LED Bulbs
I love the intersection of holiday, DIY, and smart technology! It's festive, it's fun, and you can be proud you made something amazing with your own two hands.
I wanted stylish decor for my mantel, and what better way than a lamp (of sorts) to create incredible ambiance that celebrates the holidays? Modern styled shapes reminiscent of mountains or Christmas trees are both cute, contemporary, and open to interpretation.
Plus, the use of Bulbrite Solana™ Smart LED Bulbs means the lighting can be customized and controlled remotely. One thing is for sure, the glow shining through it and behind it makes for a show stopper!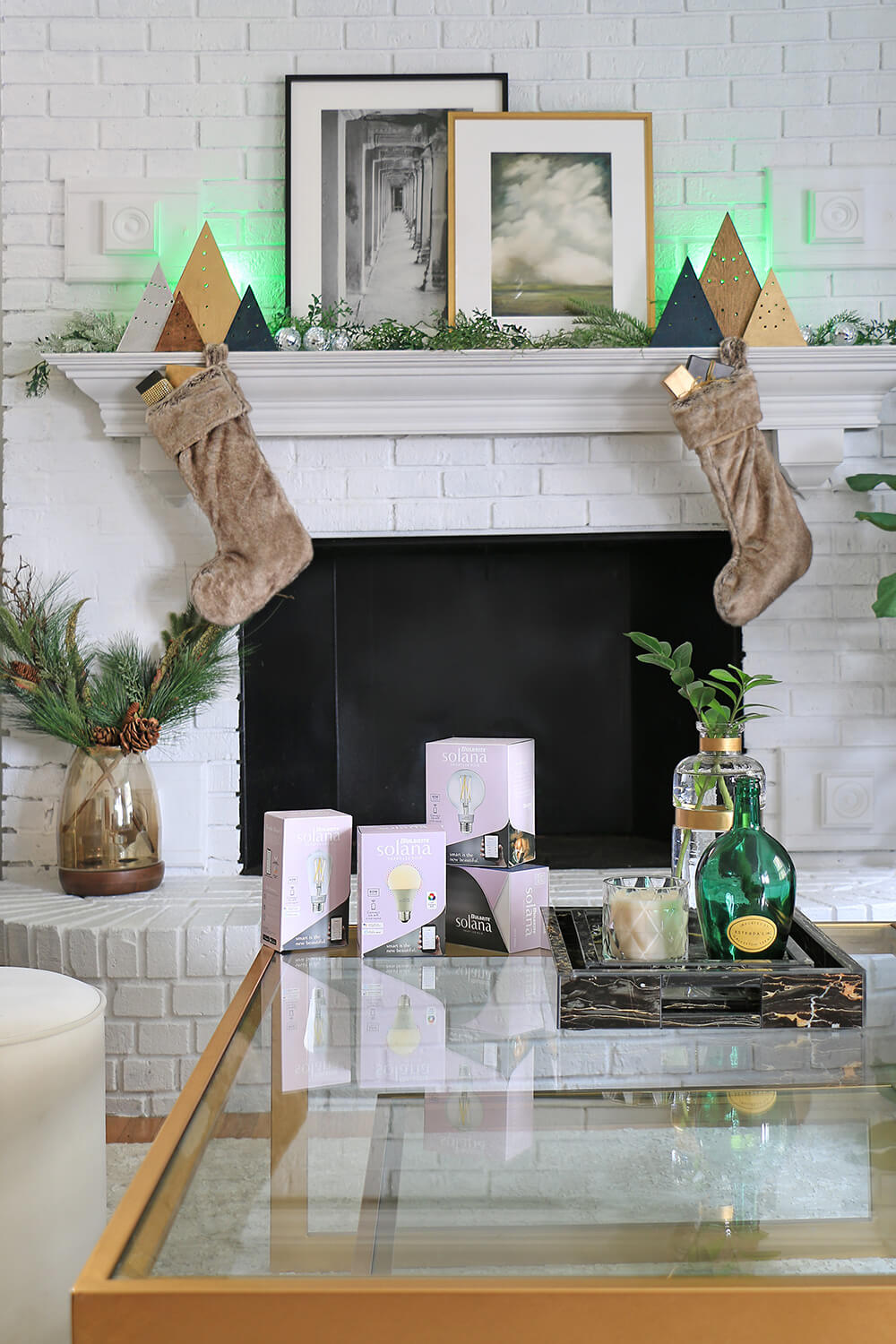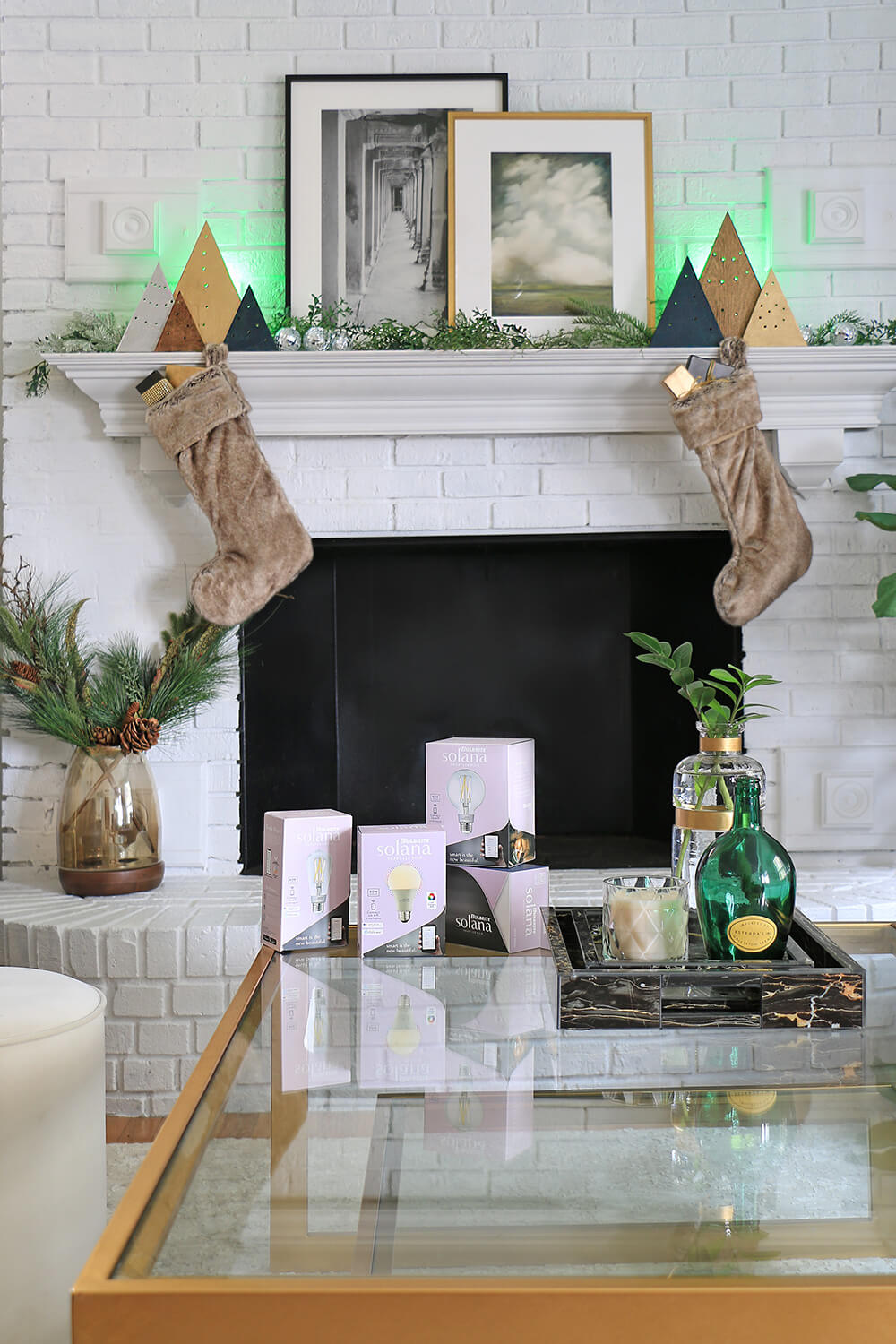 Easy, Cute, Conversation Piece
This DIY project was an easy one using leftover wood scraps, and it only took about 15 minutes to assemble after the paint dried.
Plus, my family was impressed with the very cool smart bulb feature. You can change the color easily from the Bulbrite app on your smart phone to match your decor. There is a wide variety of colors to choose from, or you can keep it a white light as cool or warm hued as you like.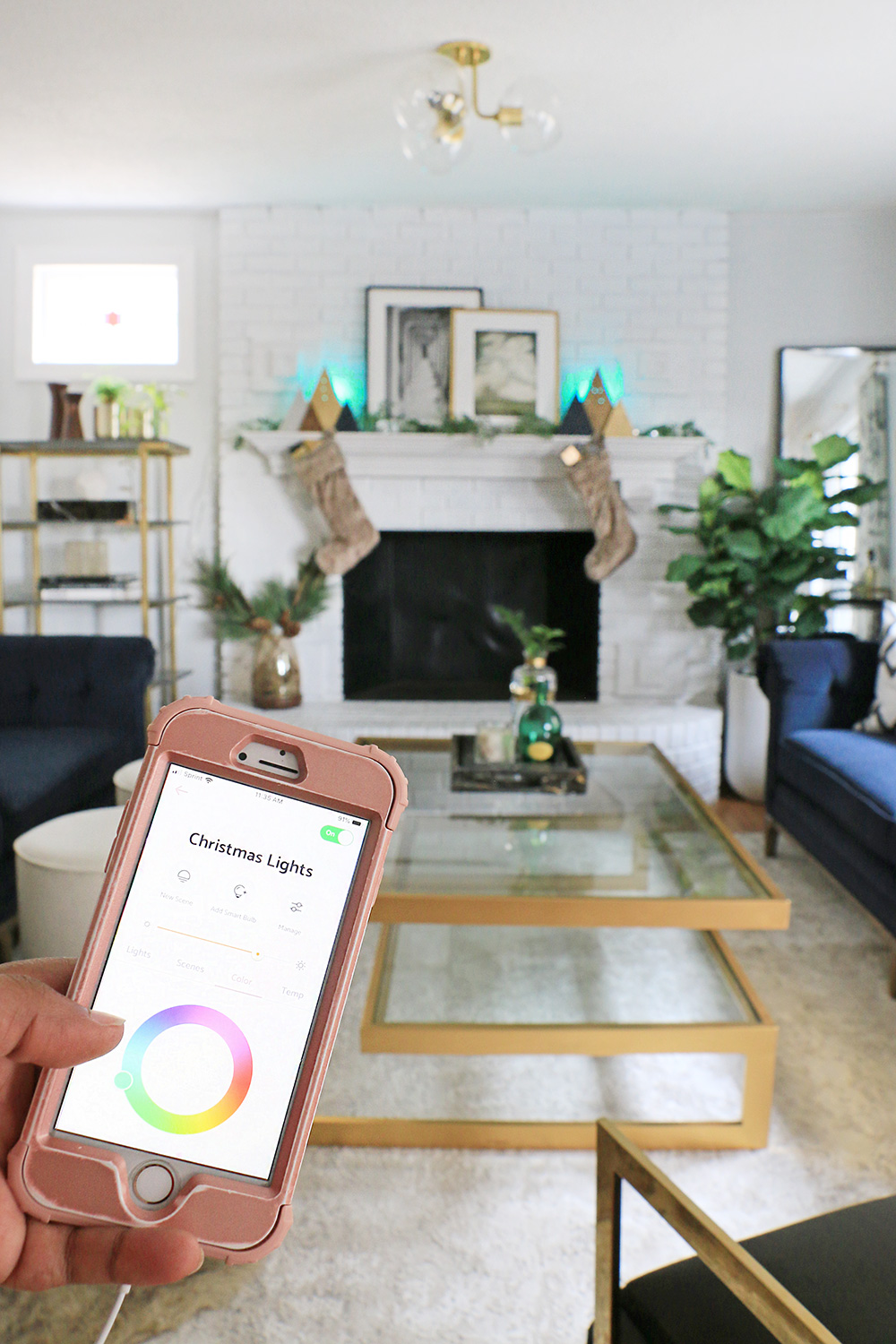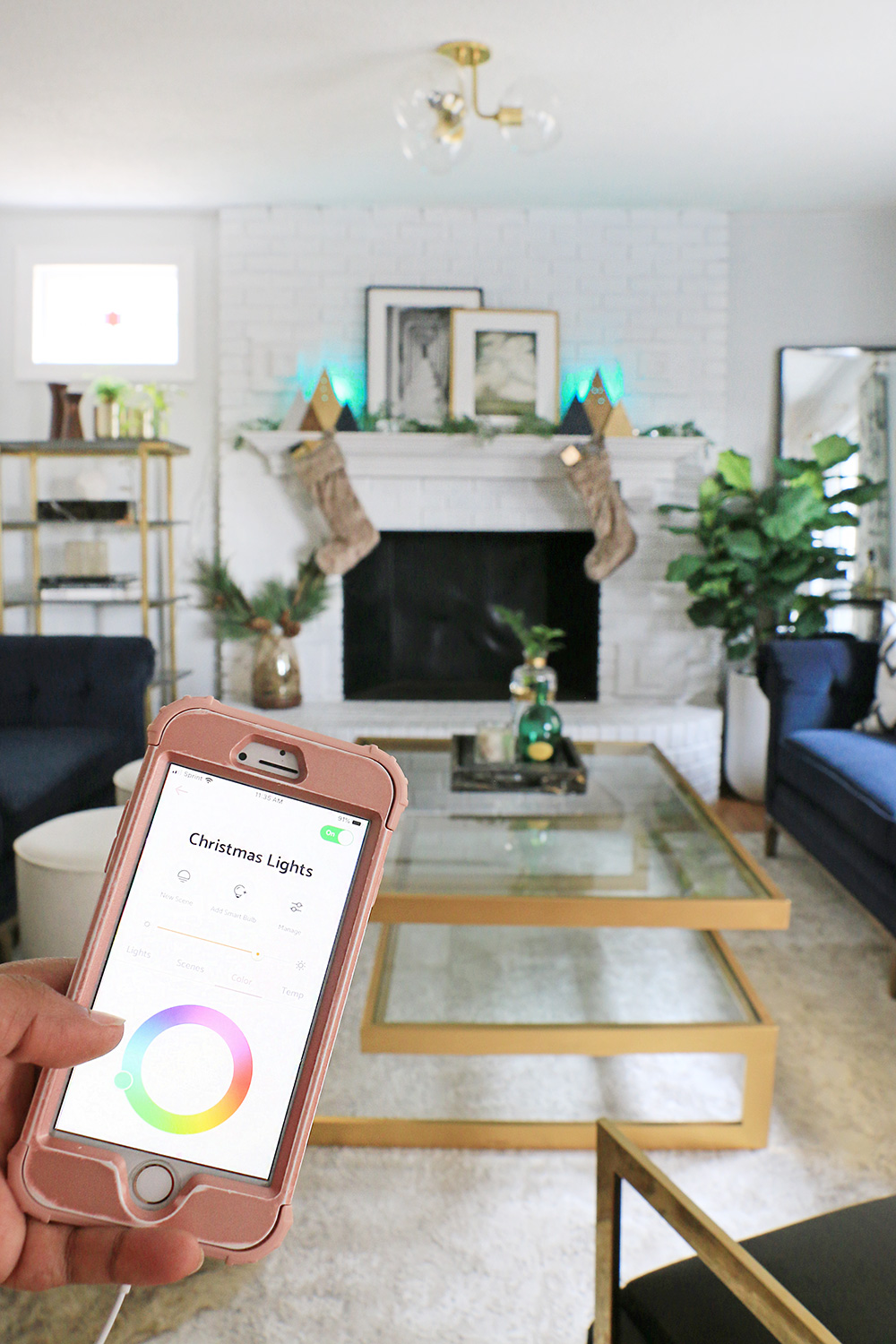 It also helps that you can set it up on a schedule, turn it on and off from you smart phone, or change the amount of brightness.
In our home the smart bulbs have almost become a party trick with all of its features. It's hard to believe you can have smart lighting just by screwing in a light bulb! Now using them to make this amazing project took this DIY to the next level! I'm thinking these smart bulbs might just make for the perfect Christmas gift. This decorative light would also make for a great gift, if I could ever give it up…haha!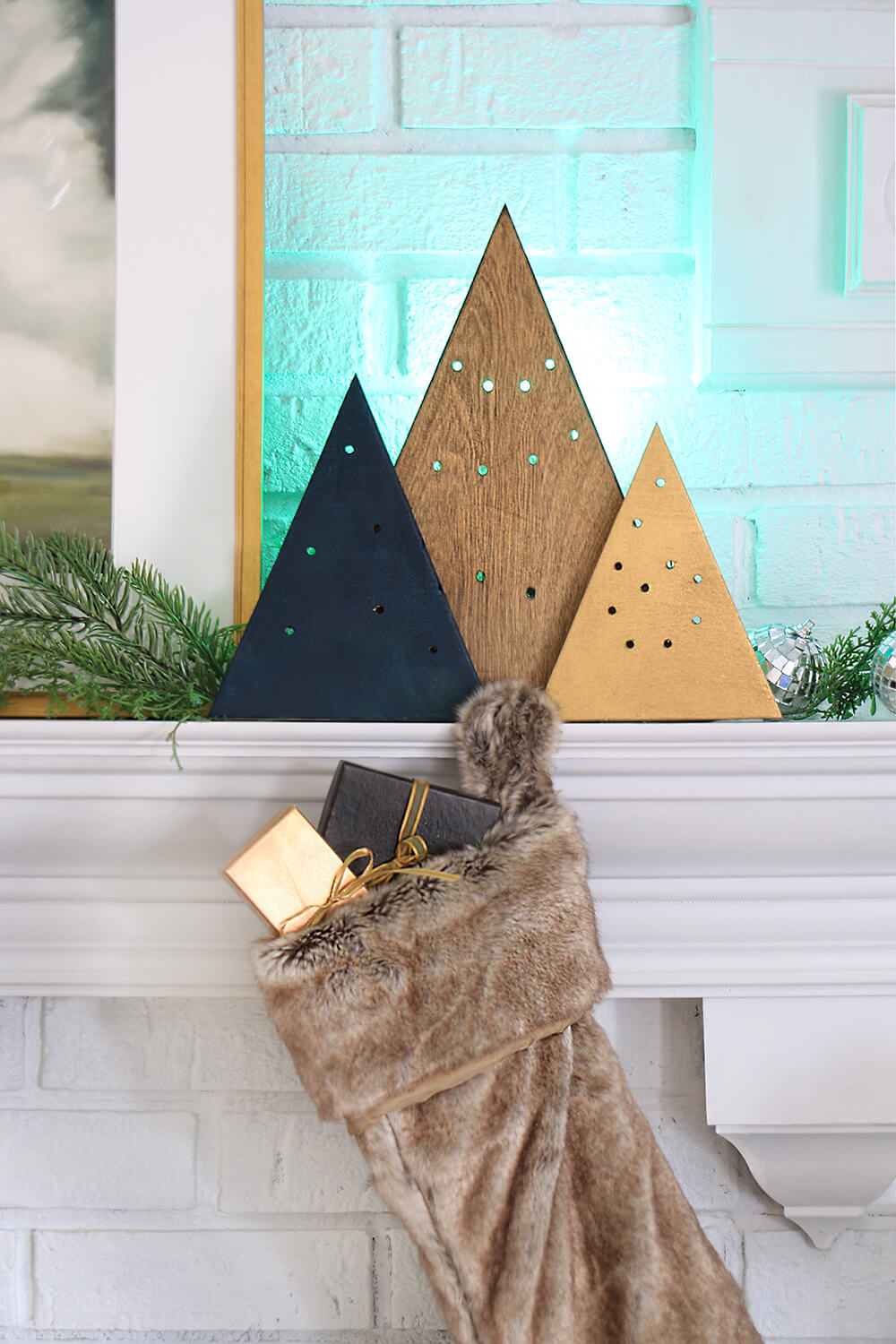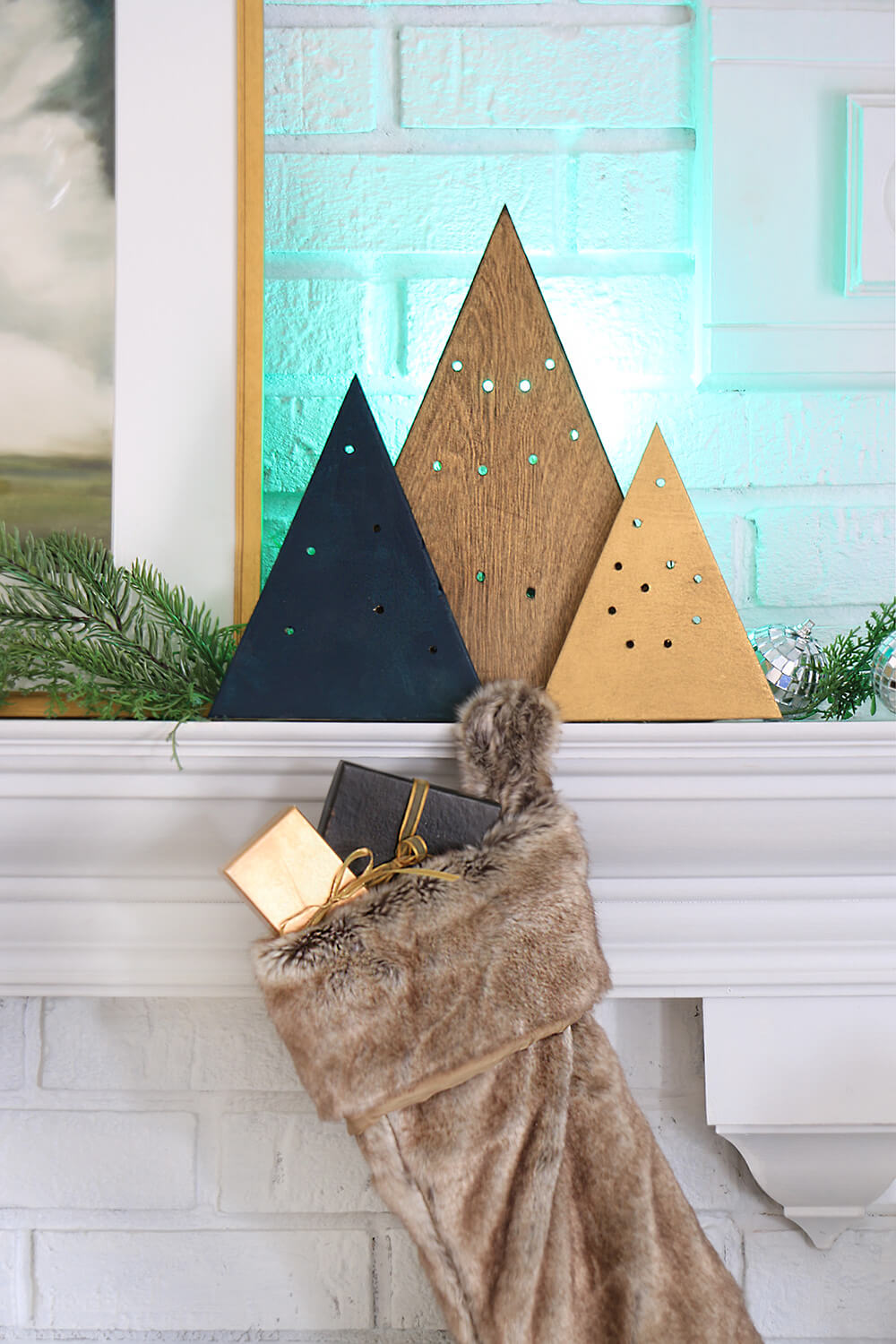 Ready to learn how to make this bad boy?
Materials & Tools
You can probably make this with whatever scraps you have lying around the workshop. Instead of purchasing a lighting kit, you may be able to salvage it from an old lamp like I did. That made this project pretty much free!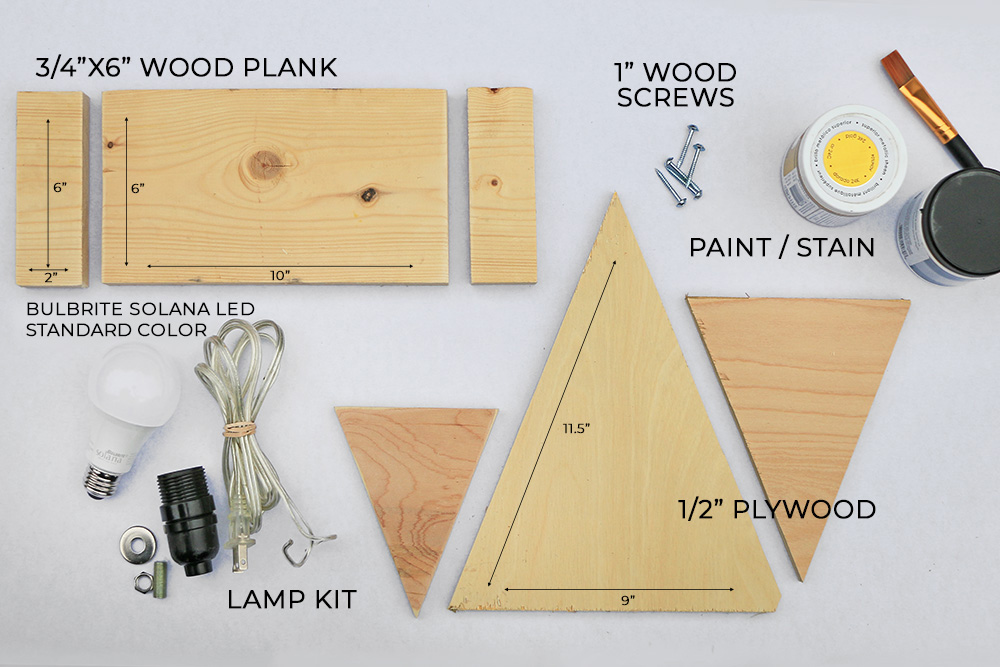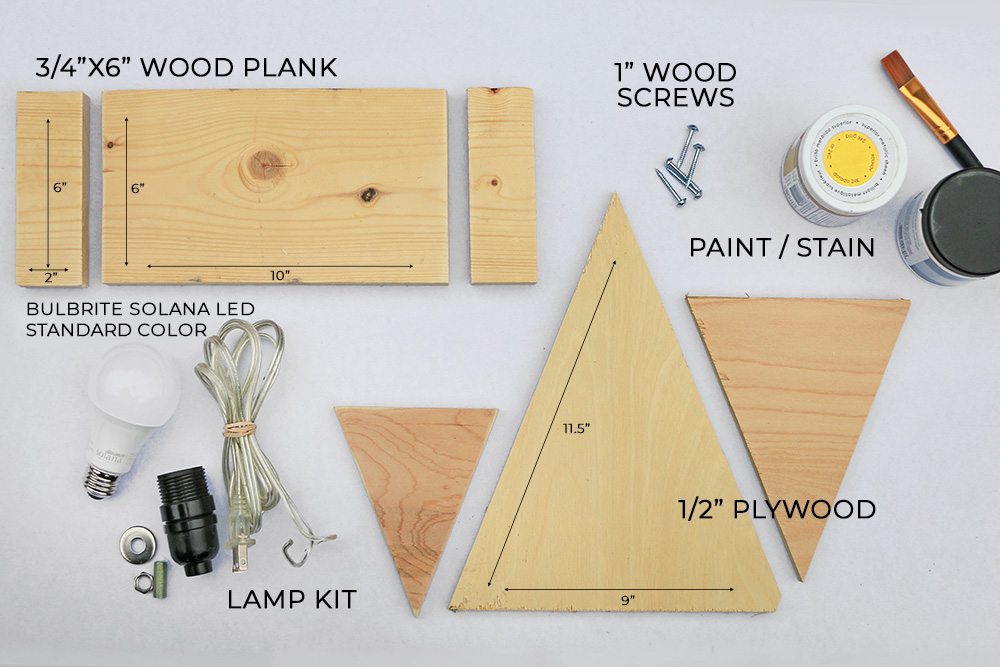 [left]
Miter saw (or jig saw)
Drill
Sander
Paint / Spray Paint / Wood Stain
[/left]
[right]
1/2″ Plywood (minimum 11.5″ x 3′ required)
3/4″x6″ plank (minimum 14″ length required)
Lamp kit
Wood glue
1″ Wood screws
[/right]
DIY Holiday Light: Step-by-Step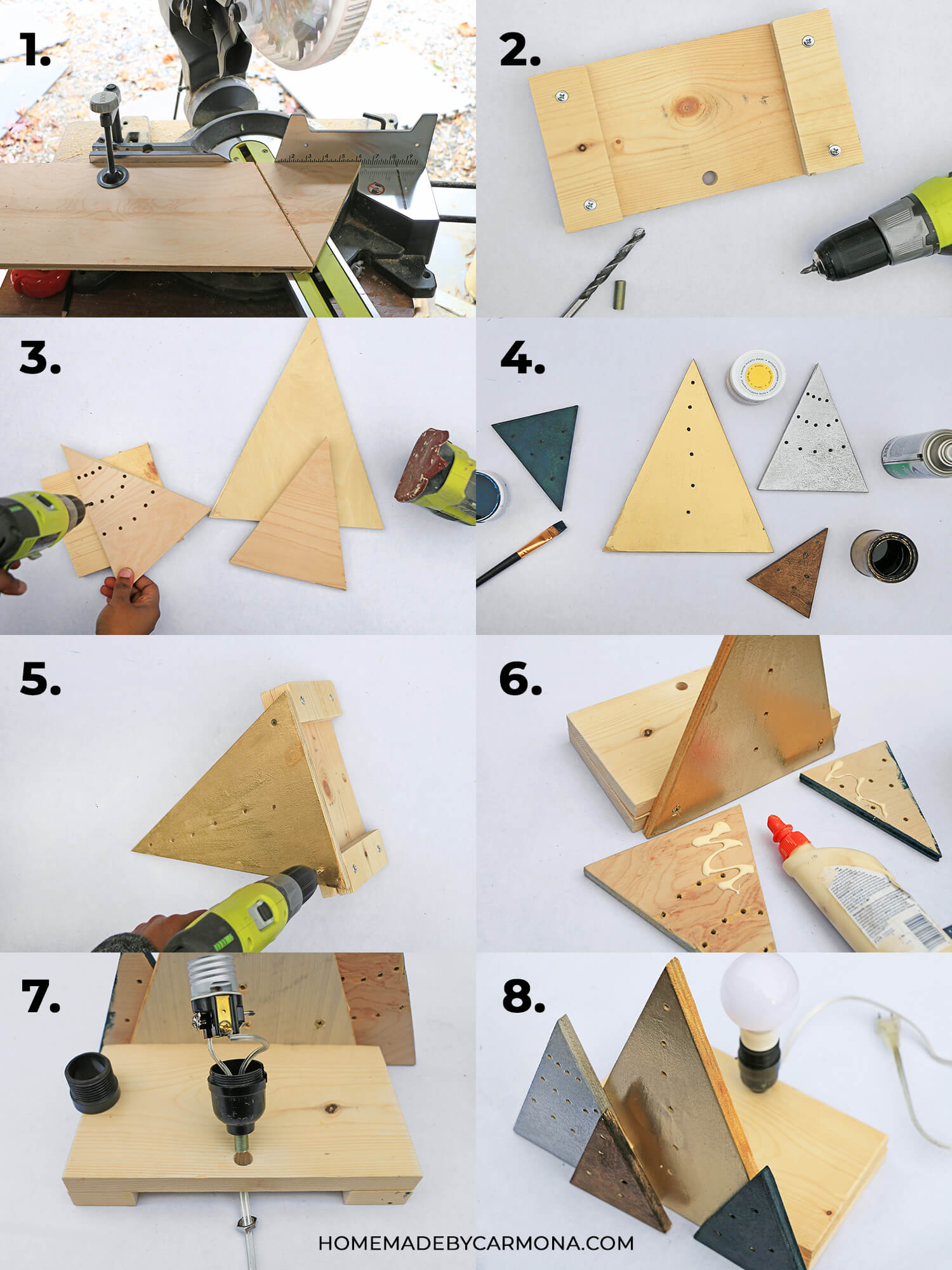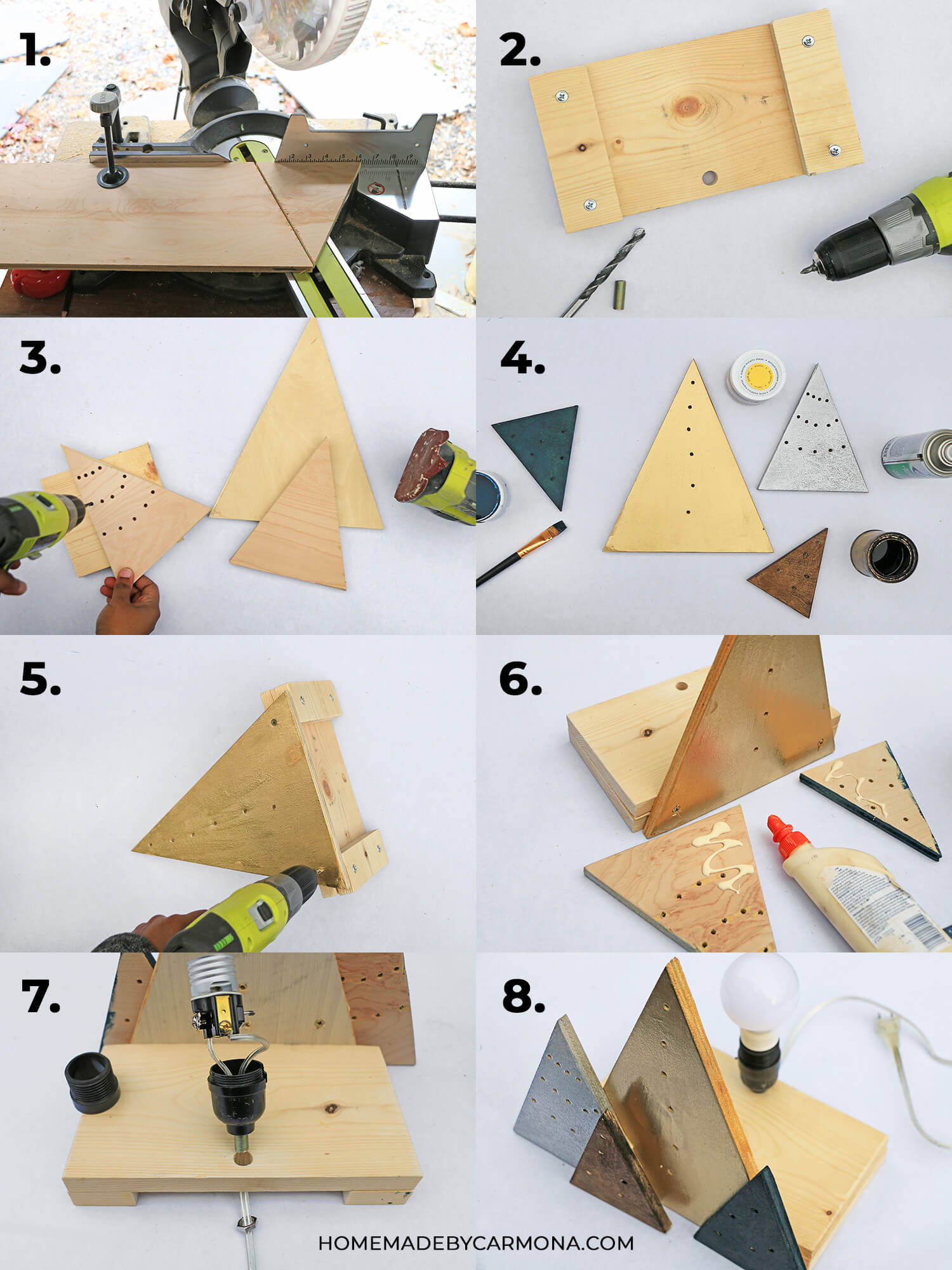 Make Cuts: Cut triangles from plywood with sides at a 30 degree angle. The triangle bottom should be 9″, and the height 11.5″. The other triangle pieces can be smaller sizes. Cut the 1/2″x6″ wood plank into two 2″ pieces, and one 10″ piece. Sand rough edges.
Assemble Base: Place the 2″ wood planks flat on either end of the 10″ wood plank, and screw into place. Drill a hole big enough to fit the threaded metal piece from the lamp kit.
Drill Decorative Holes: Drill holes in the triangles that look like tree lights, or a snow capped mountain top. Sand smooth.
Paint / Stain Triangles: Use your choice of paint, spray paint, or stain for a great finish.
Attach Big Triangle: Screw the largest triangle onto the base. Make sure it is centered, and will be flush with the bottom of the stand when upright. (Bottom of the stand is the side with the screw heads) Set upright when done.
Glue Smaller Triangles: Stagger the smaller triangles and glue them in place onto the bigger one. For a more secure hold, also screw the smaller triangles in place through the bigger one from behind.
Install Lamp Kit: Thread the nut through the plug, and then the plug wires through the hole in the base. Follow instructions on the lamp kit, and finally secure by tightening the nut to the threaded metal piece underneath the base.
Setup Color Bulb: Plug in your decorative light, and screw in the color-change light bulb. Follow instructions in the box to connect it to the app for full functionality. Enjoy!

Other Holiday Decorating With Smart Lights
After seeing my living room decorated for the holiday with this DIY light, it occurred to me that I could easily add festive holiday color to the rest of the house with Bulbrite's color change bulbs. How fun to change the color of the lighting all throughout the holidays, or adjust the coolness and brightness of the bulbs to bring that perfect ambiance?
A few months ago I shared my favorite perks of Bulbrite's smart bulbs. Now I have another fun reason to install them around the house, or give them as holiday gifts!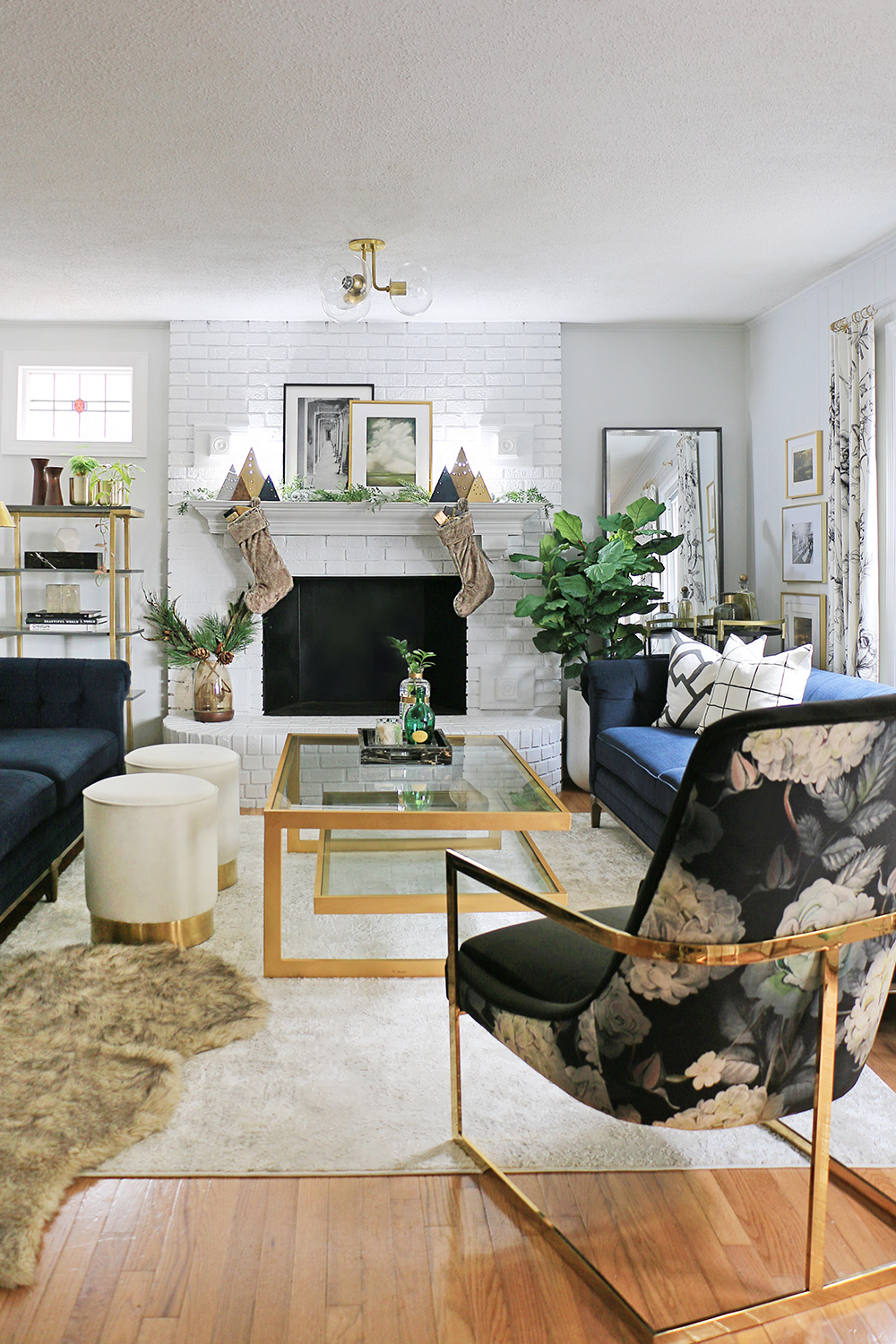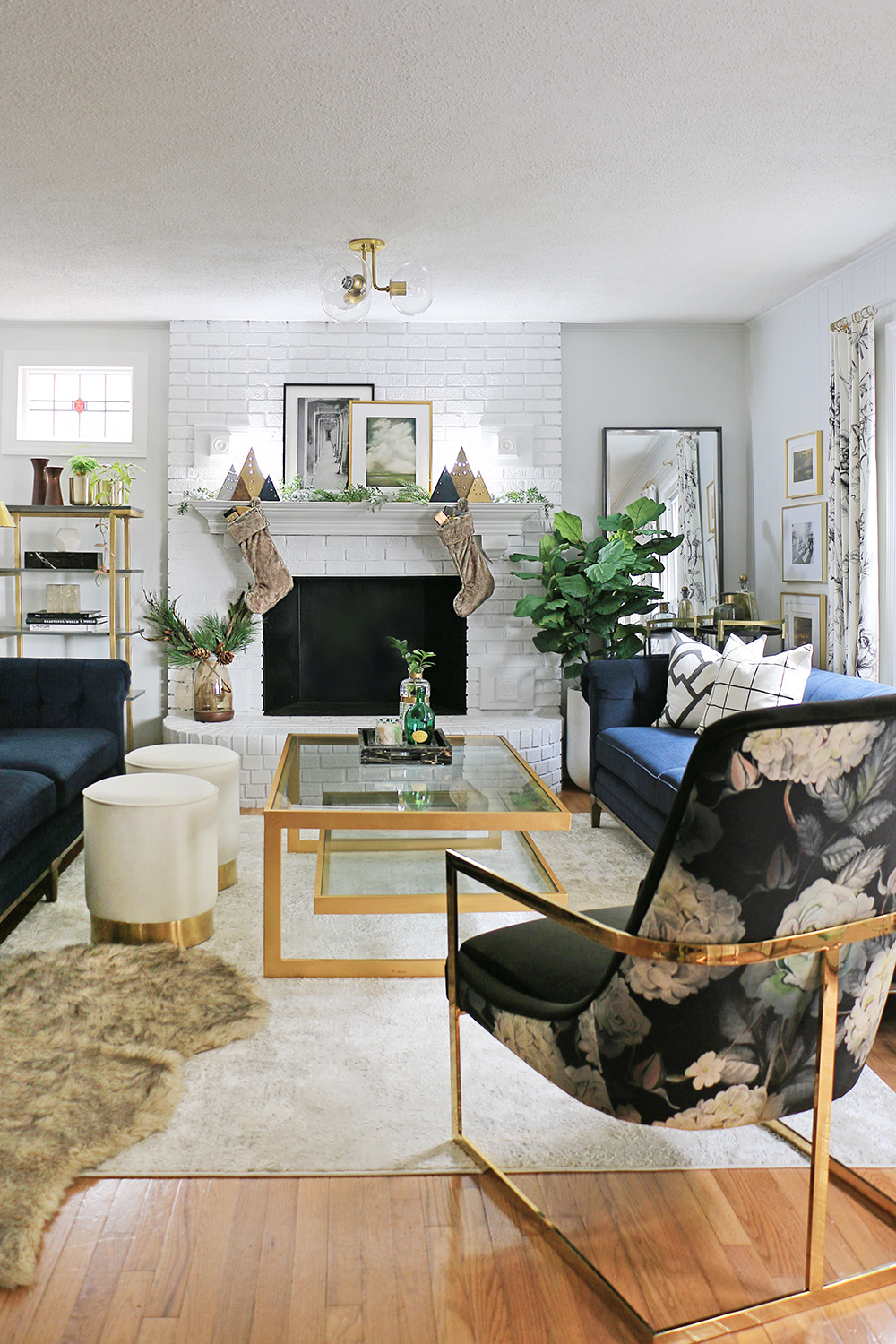 *Thank you to my friends at Bulbrite Solana™ for sponsoring this post! For more inspiration follow them over on their Facebook page and Instagram profile.

[go_portfolio id="christmas_projects"]