It's the most wonderful time of the year, so go ahead and get your Christmas decorating on! Today we're sharing why you should go ahead and get crazy with a tree for every room, even the unexpected ones!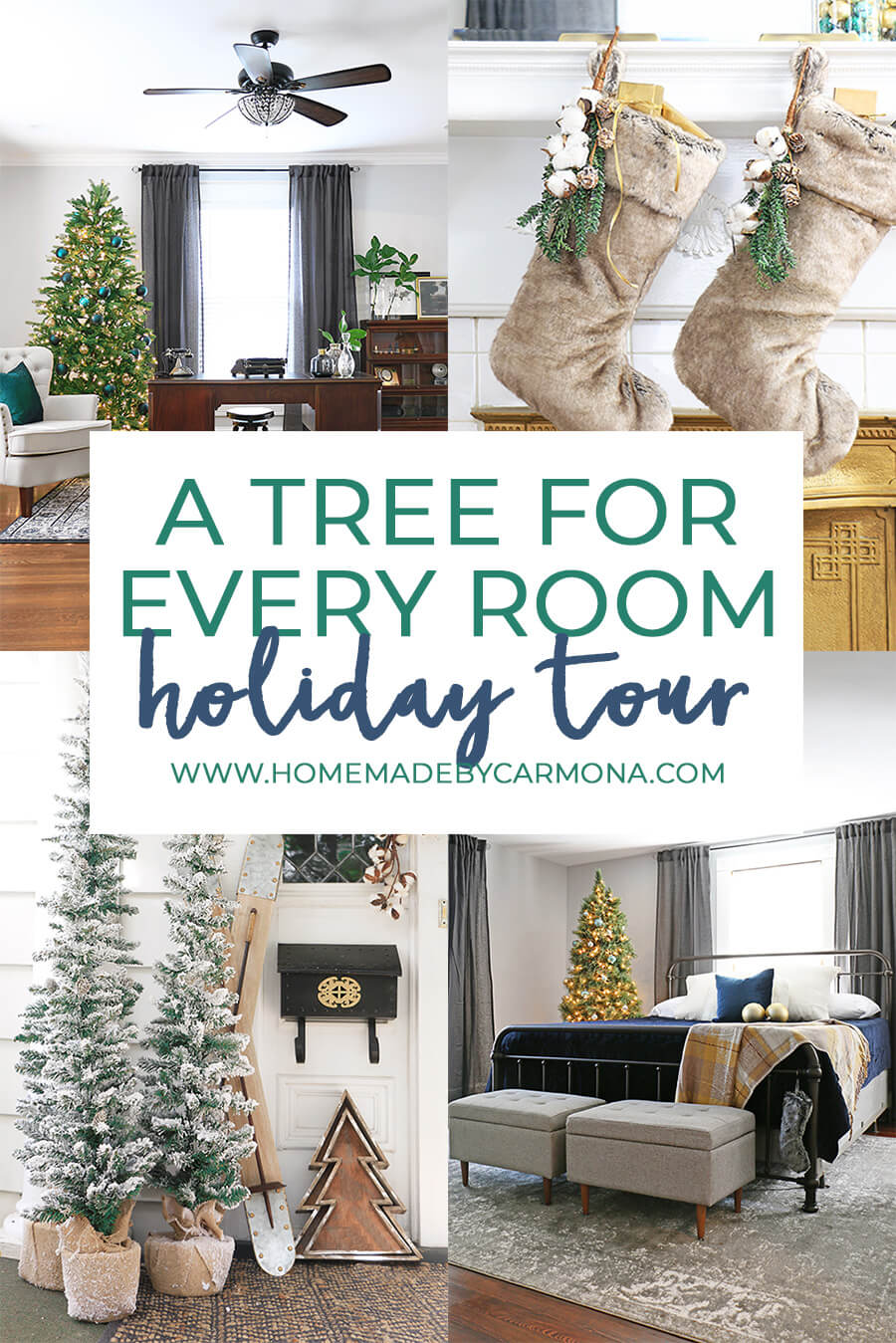 *This post is sponsored by At Home, the home & holiday décor superstore
We're challenging you to re-imagine your holiday décor and think of the rest of the spaces around your house!
Who says the Christmas tree and holiday decorating is only for the family room where you open your gifts? Today we're challenging you to re-imagine your holiday décor and think of the rest of the spaces around your house. Consider adding a tree to the bedroom, the bathroom, the laundry room, etc. Don't they deserve a little Christmas cheer too?
Faith & Josh's Historic Home
I had a blast helping Faith & Josh decorate their stunning historic home for this 'A Tree for Every Room' tour sponsored by At Home.
We're slowly but surely preparing their home for the upcoming Preservation Burlington Christmas tour of homes, and we needed loads of trendy budget friendly décor. The first thing we did was meet up for a big shopping spree to the At Home stores. They seriously have the largest assortment of home décor and holiday items I have ever seen. The first time I walked into my local At Home store, it took me a moment to take it all in. Josh was a total trooper while Faith and I roamed the store like kids in an a candy shop.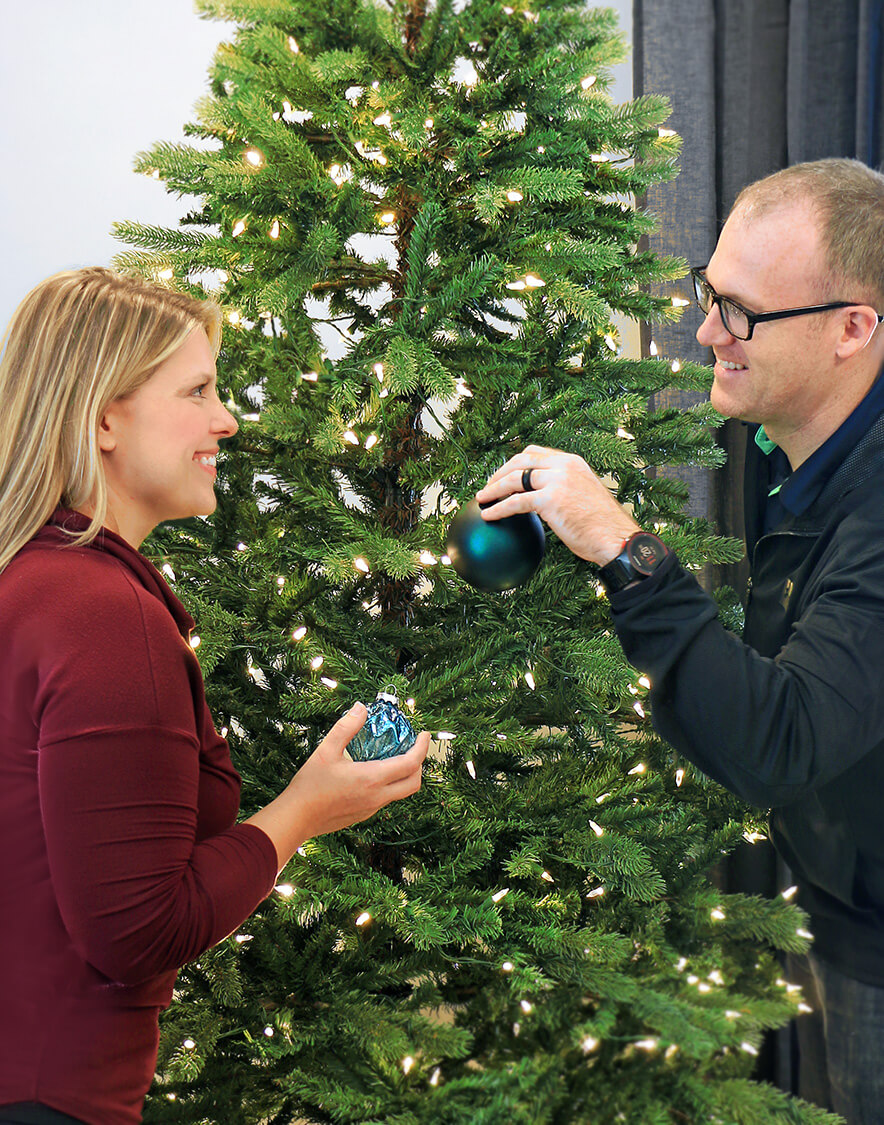 I'm kinda sorta deeply in love with their house. Faith and Josh had just finished a huge remodel throughout the home and it looks stunning but is ready for a little decorating. So our holiday shopping included a few practical pieces to help pull the room together as well as decorate it for the holidays. I think you're going to like these before and after's…they are small but mighty makeovers!
Tree Choice #1: The Office
The office is this beautiful high ceiling front room that you see right after you enter the house. That made this choice #1 for a big beautiful Christmas tree as a feature.
We went with the Spinderella Christmas tree, a 7.5 foot tree that came prepped with lights, spins, and even changes light colors from traditional white to multi-colored with a push of a button! Talk about all the bells and whistles…half your job is pretty much done for you, just jump right to the fun part.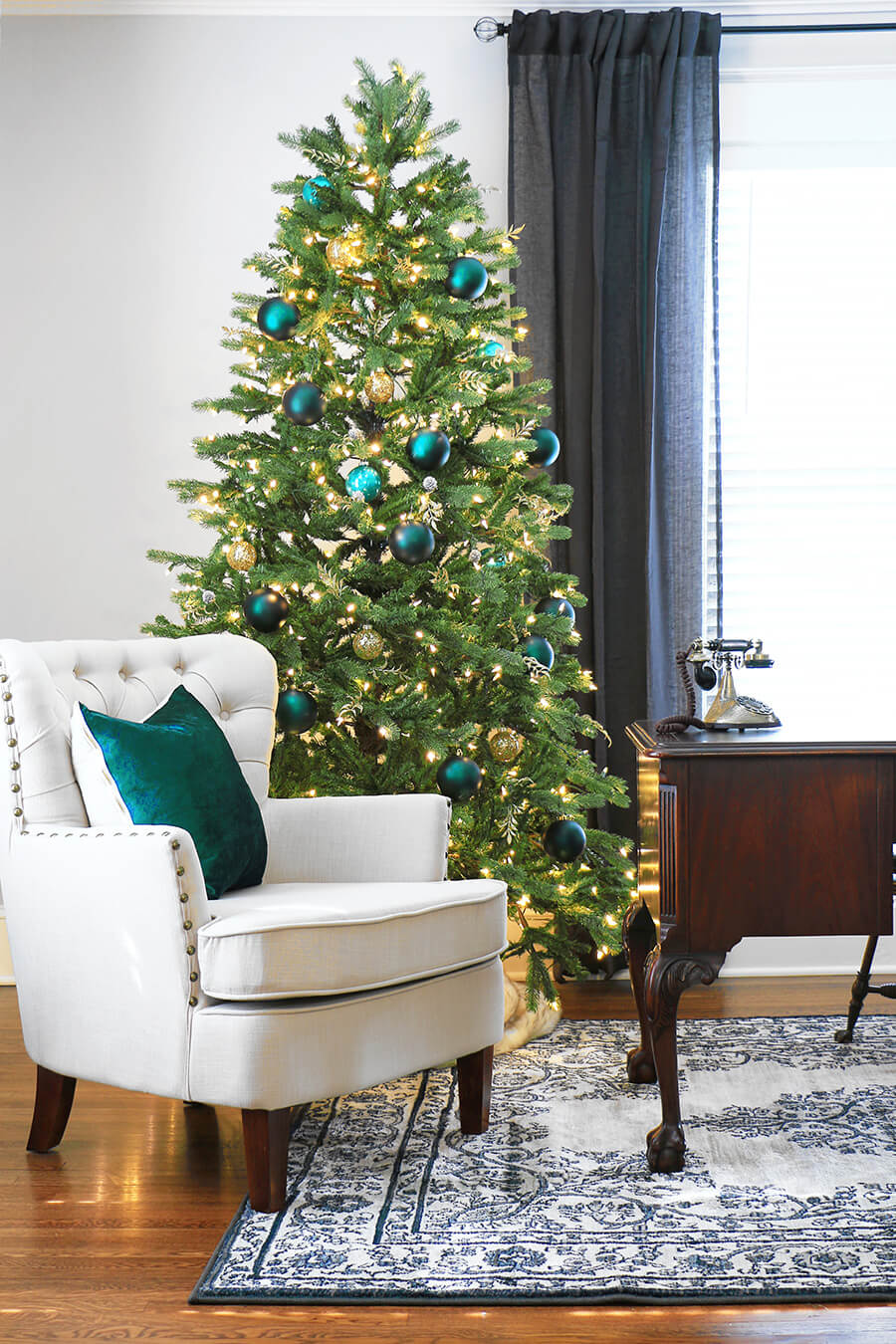 Here what the office looked like before and after our mini makeover.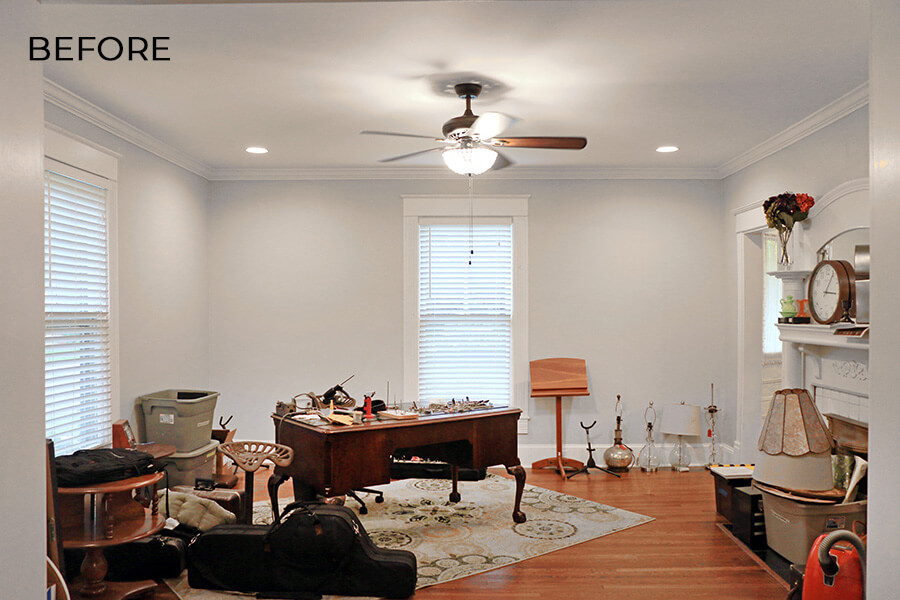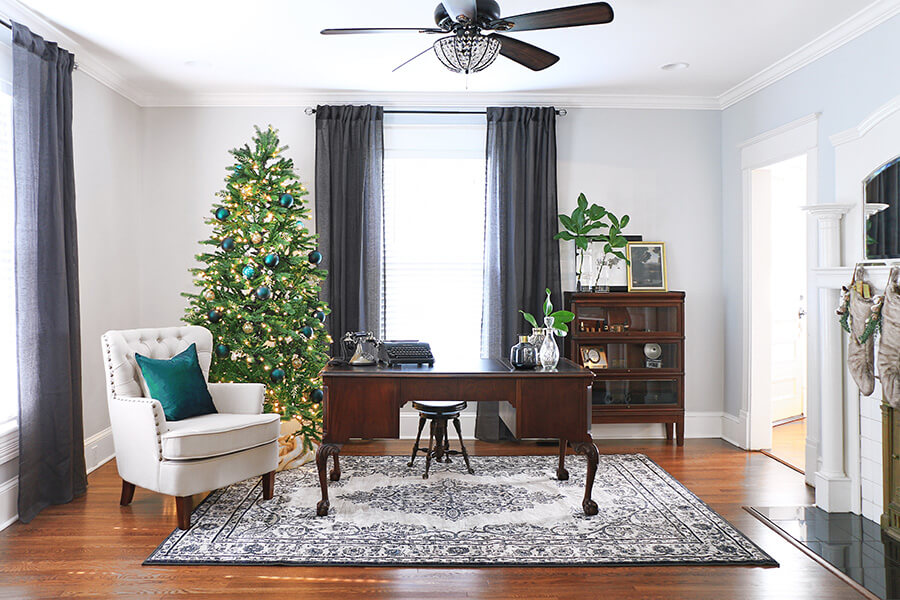 Big difference right? And we aren't even done with this space…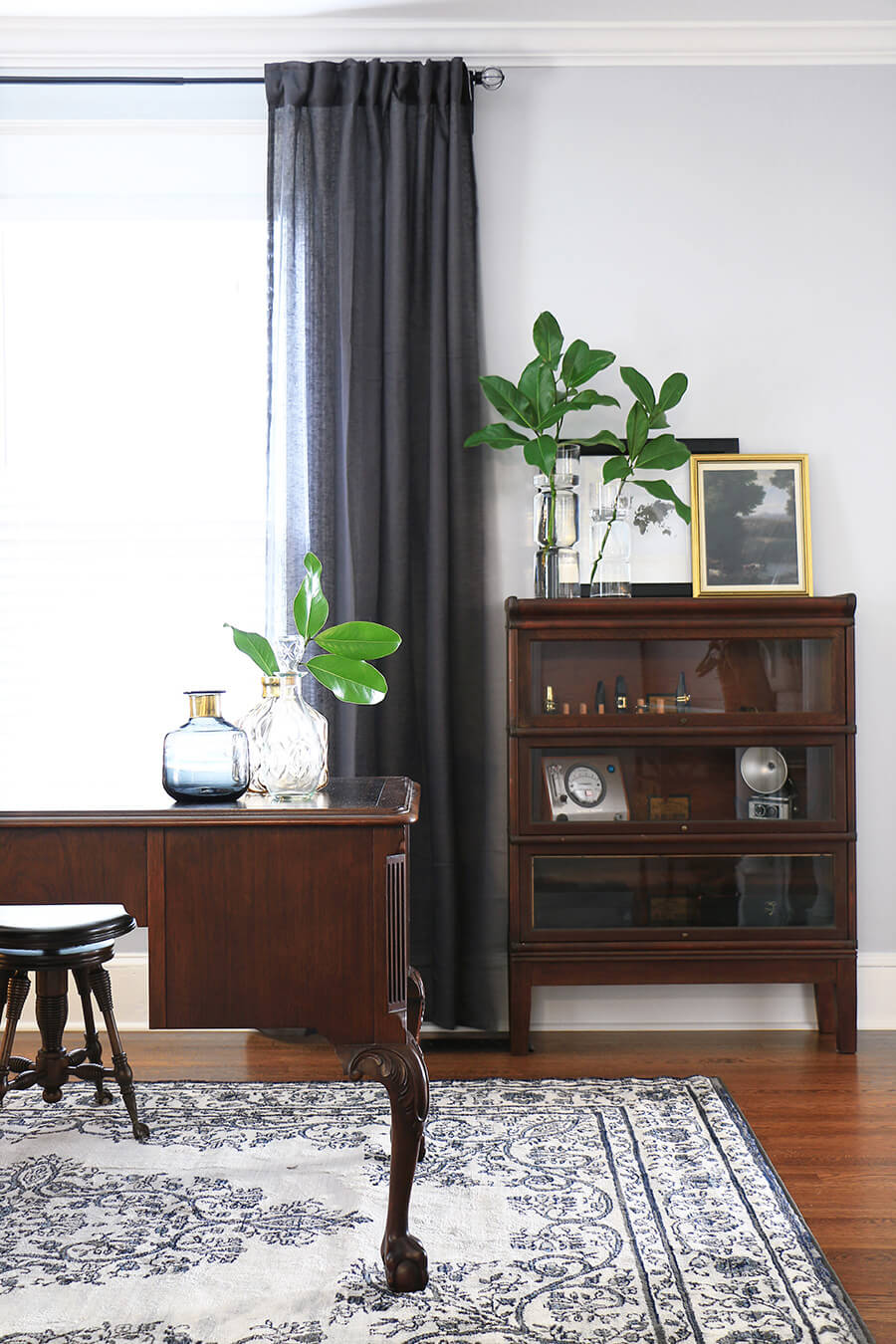 It's amazing what the addition of an area rug to ground the space, an armchair, a beautifully decorated tree, and a few well styled pieces can do.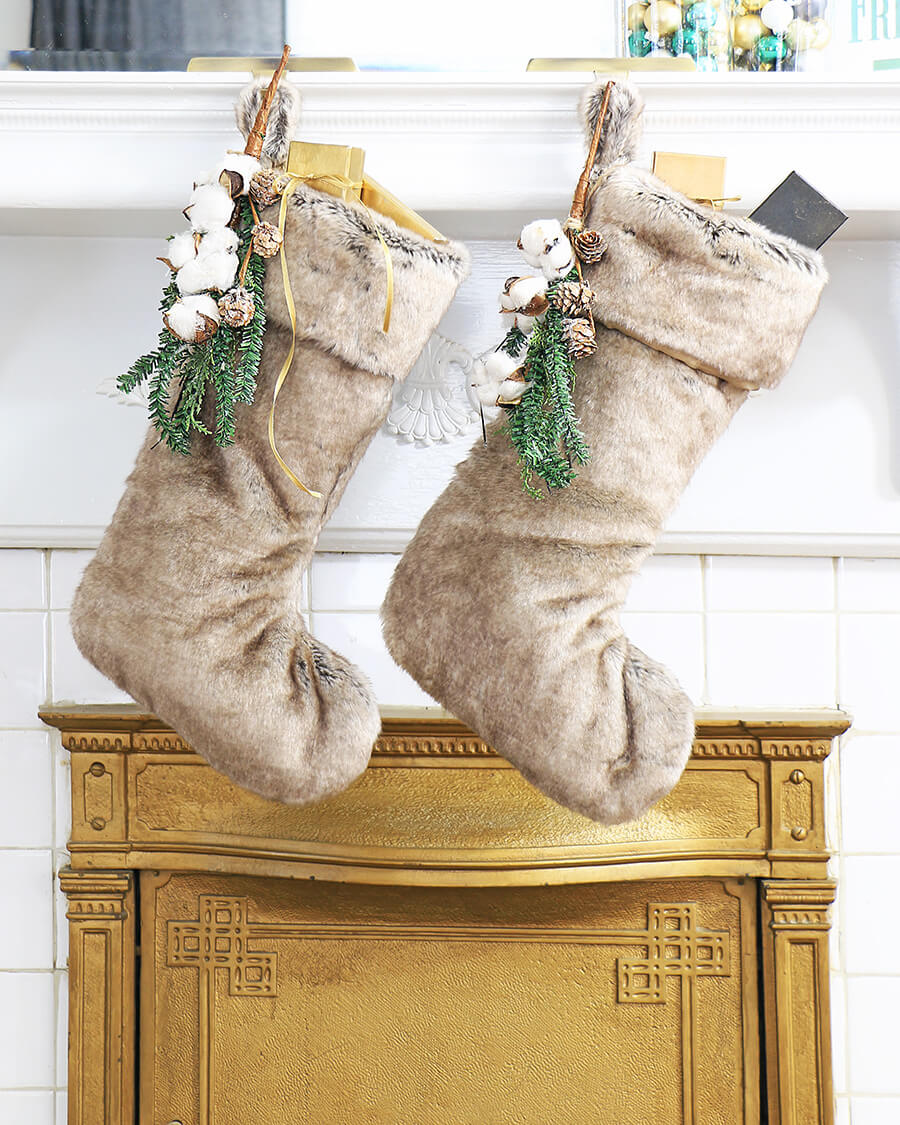 It's not always an entire room remodel that makes a space. Sometimes it's a few well chosen accessories…one of the things I loved about my trip to the At Home stores is how easy it was to shop their huge variety of decorating accessories. I might have gone a little crazy in the glass/vase aisle.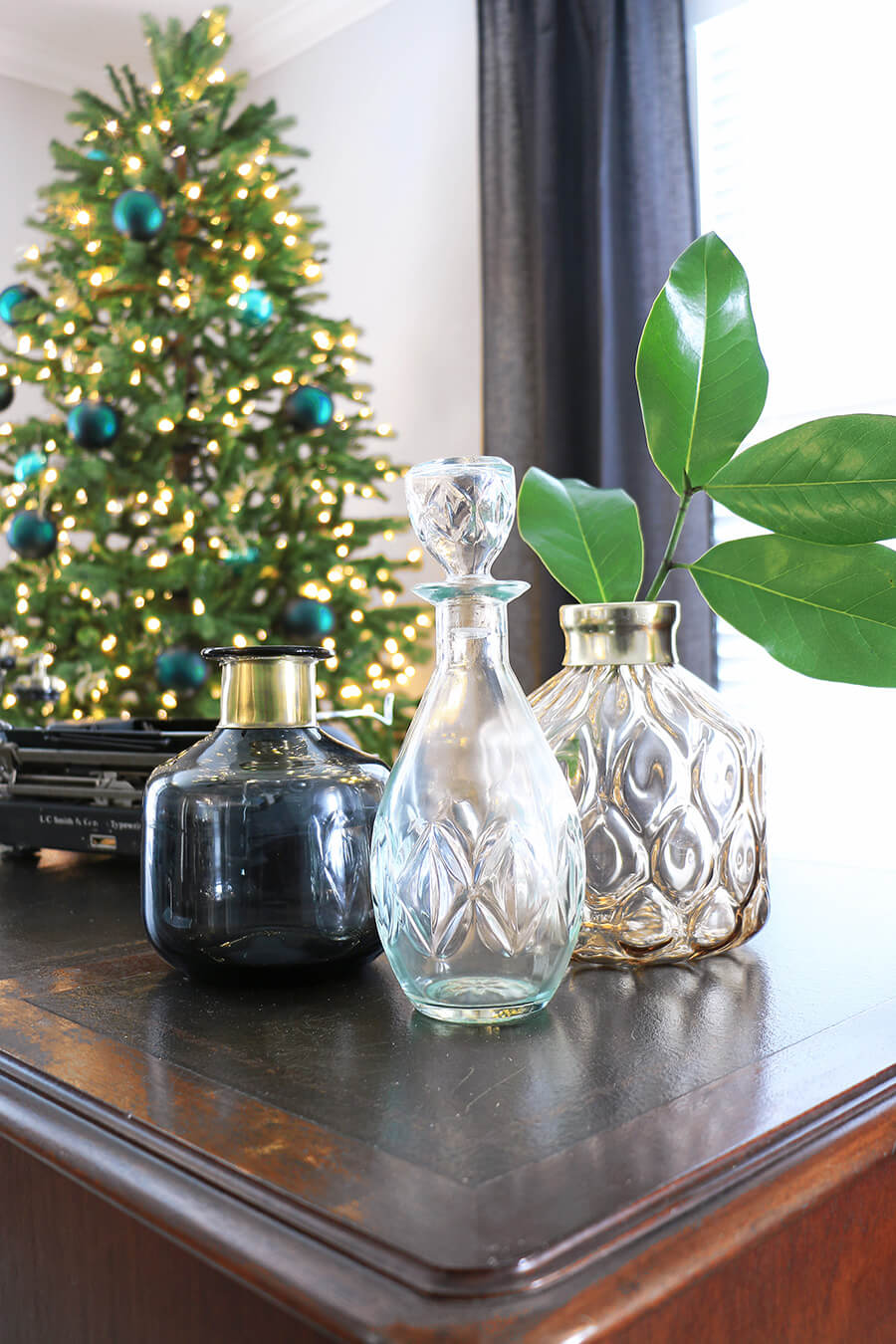 Tree Choice #2: The Bedroom
I don't know about you, but the bedroom is the one place so many of us go to wind down at the end of a long day. That makes this choice #2 for a beautiful tree and a few small but well chosen holiday decorations. I think a bedroom ought to be a welcome and whimsical space too.
Here is Faith and Josh's bedroom before: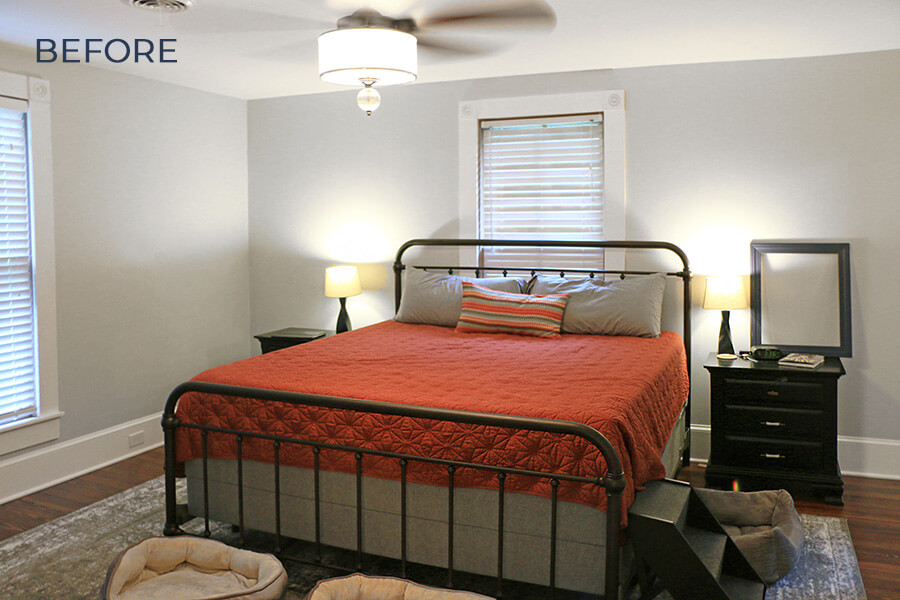 And here it is after! A bedroom is definitely the space you want your décor to be subtle, full of beautiful warmth and coziness, and I think that was certainly accomplished.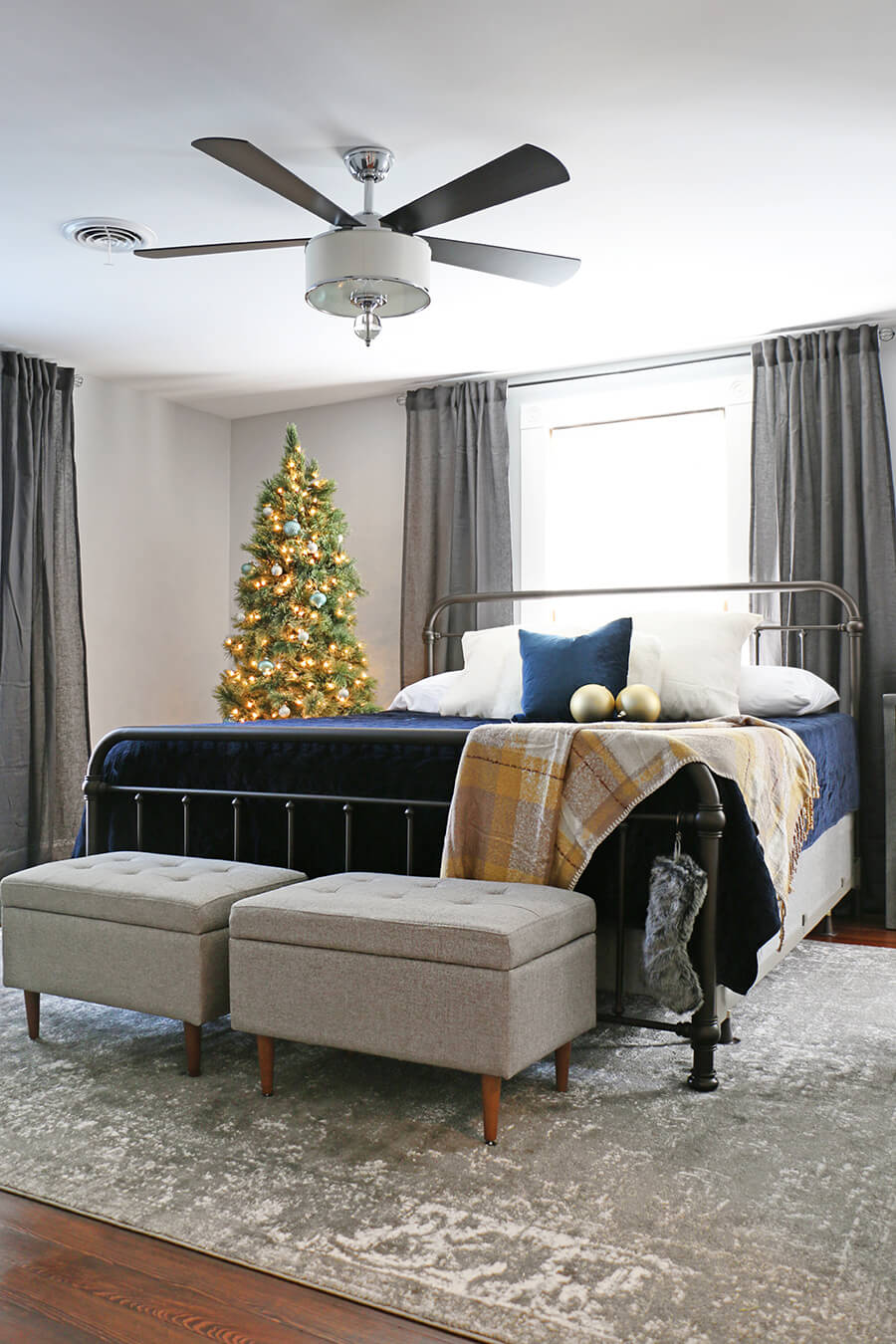 We went with a soft rather than spindly tree, and I couldn't love this choice more! Something this sweet little Bradford Spruce tree makes you feel like you are out in a magical woods.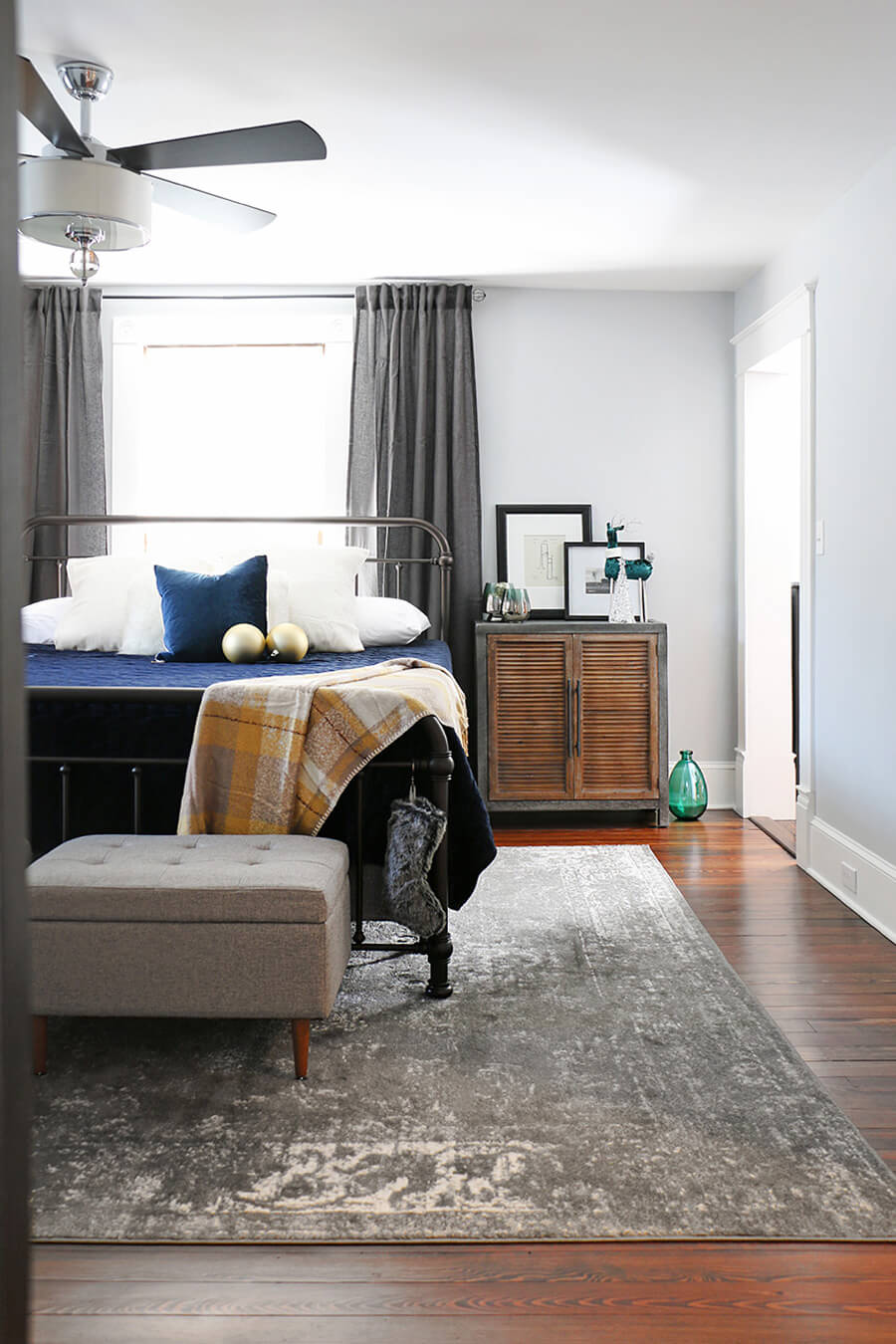 You'll notice we added a few non-holiday related items in the room, but it needed some items such as a proper scale side table, and a few miscellaneous details attended to.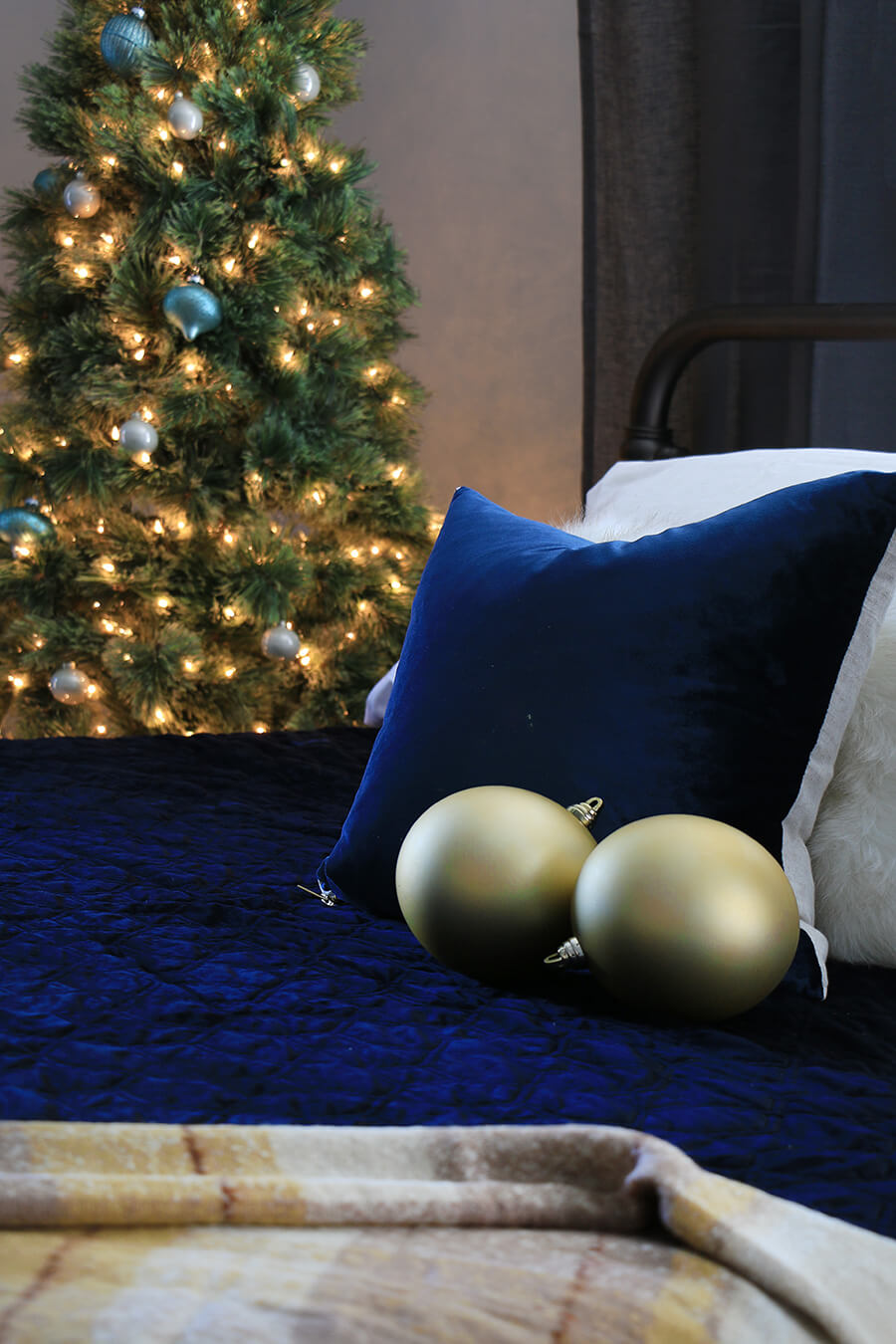 Tree Choice #3: The Portico
Although the homeowners don't usually use this door to enter, the portico is visible from the street, and all the guests who will be touring through their home for the holiday tour will enter through here. We definitely had to do something cute as a first impression.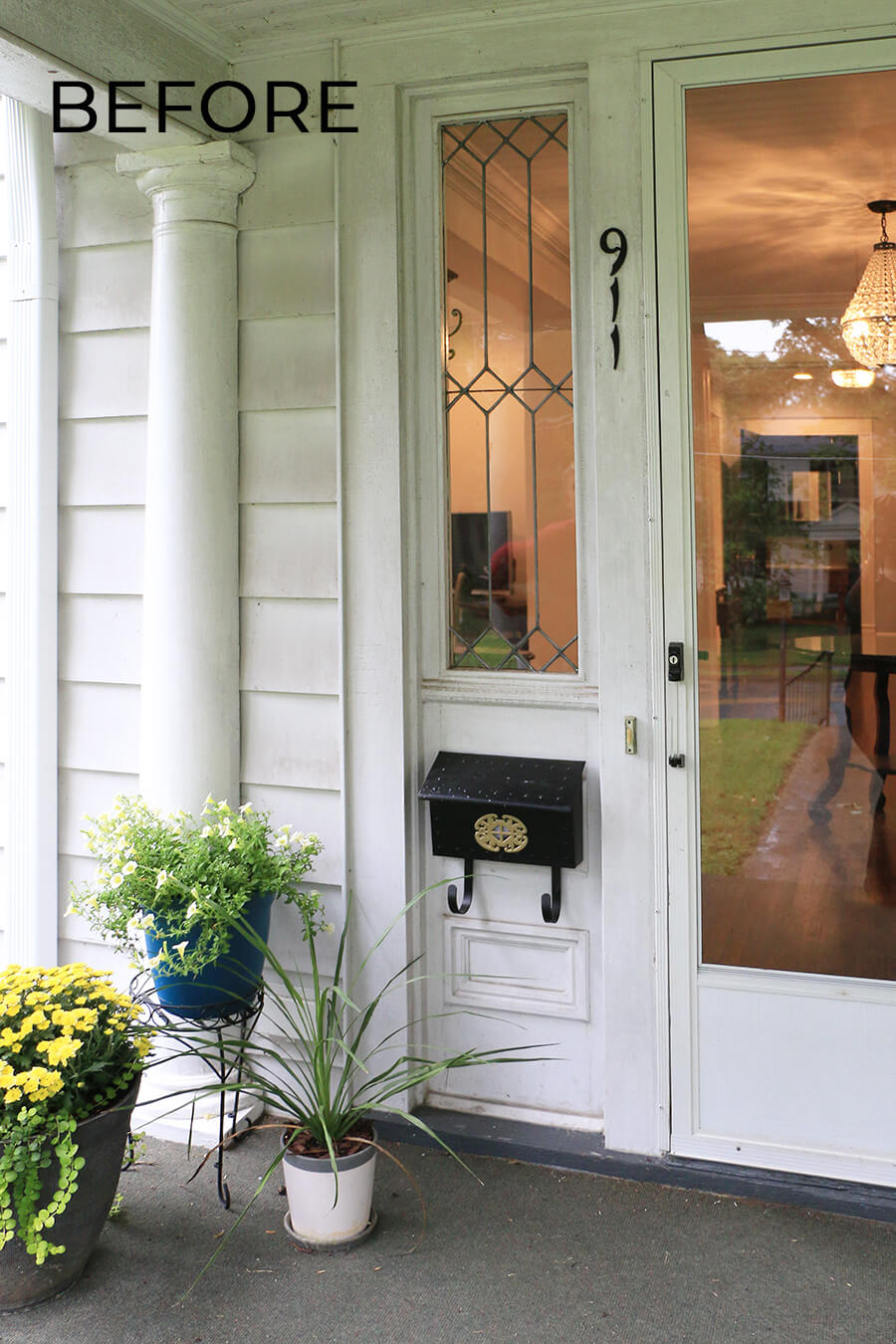 The 3 piece Unlit Greune Flocked Christmas tree set was the perfect choice for the portico. It came in a set of perfectly staggered height trees, and was a nod to the white Christmas so many of us are hoping to have.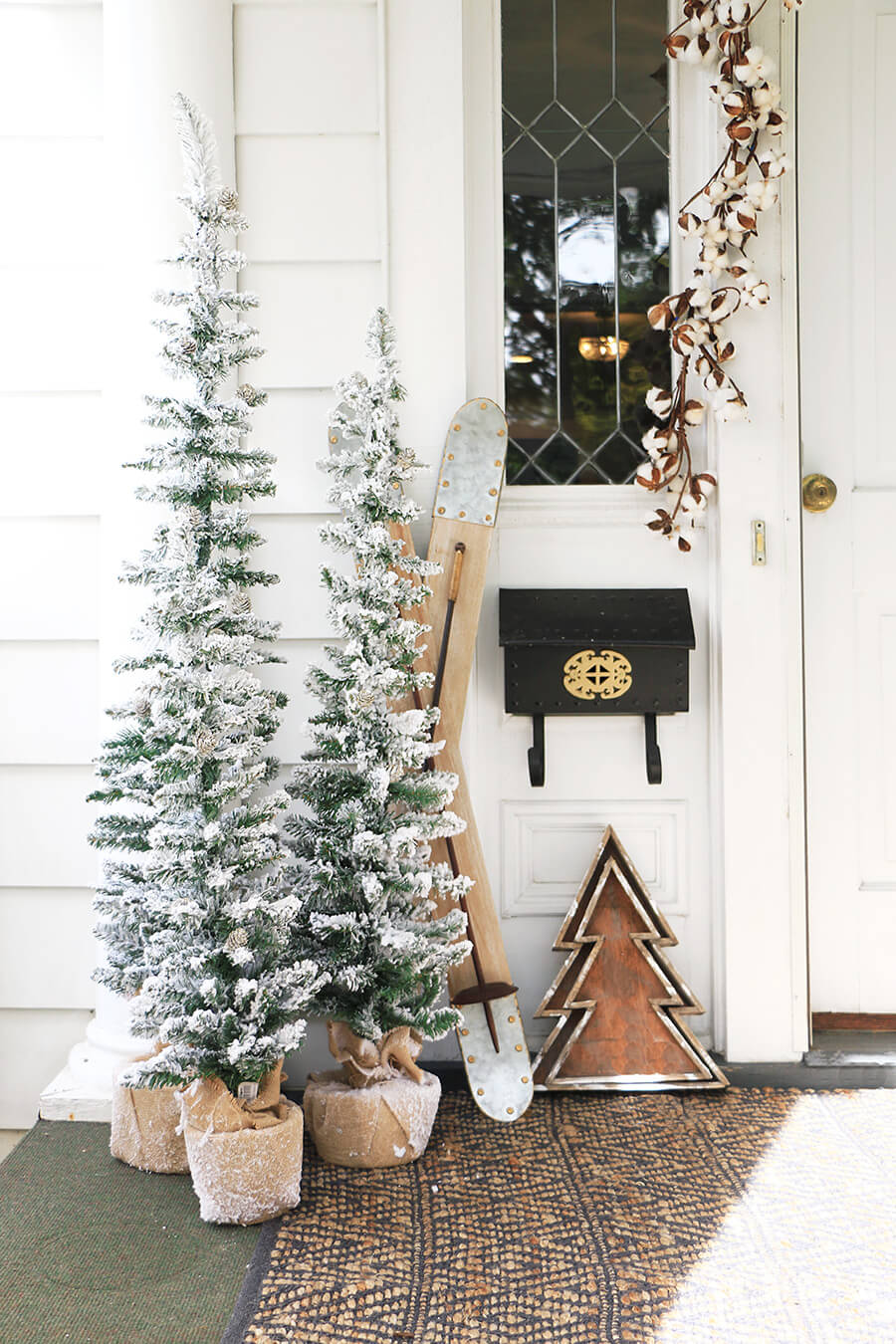 Even if snow isn't here yet, at least we can imagine what it will be like with these little guys out here on the front patio.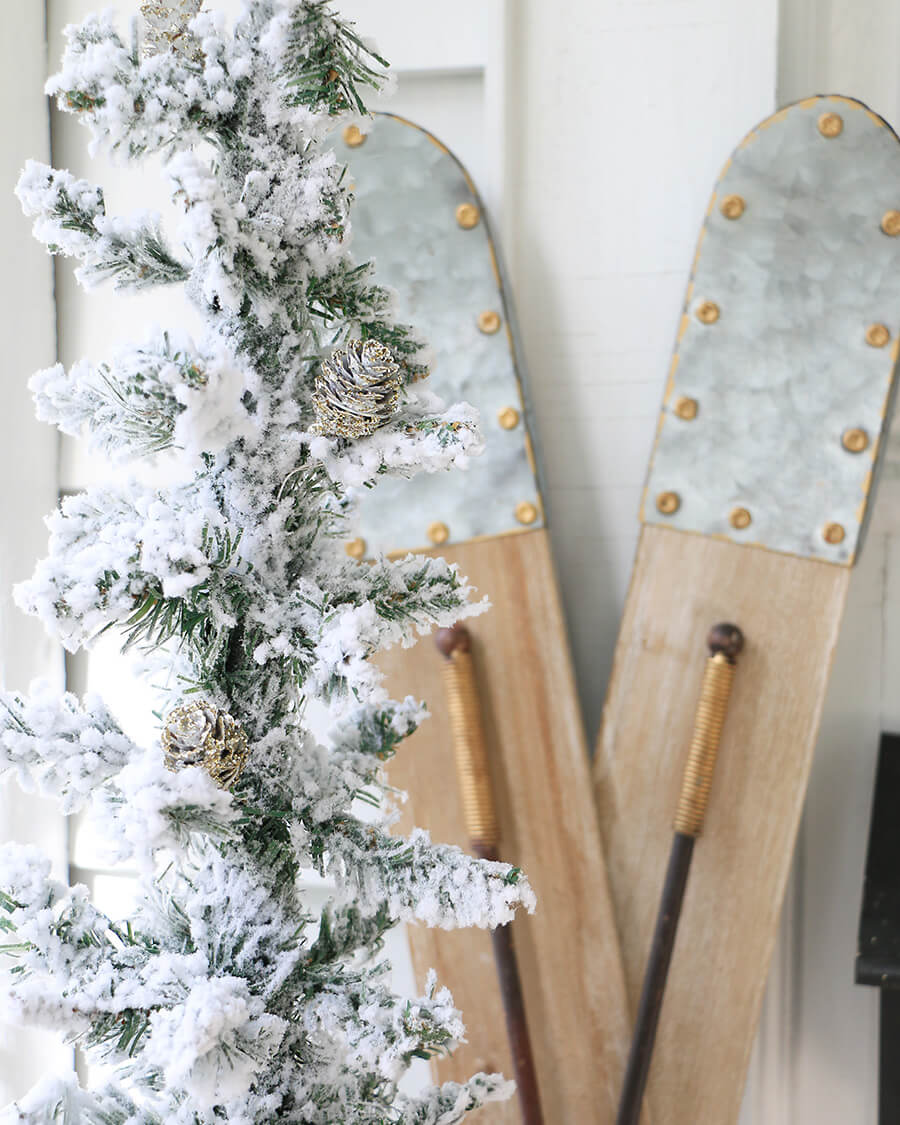 Isn't Faith and Josh's home beautiful? With my own home under construction it has been a welcome distraction to decorate someone else's home.
I hope this mini sneak peek holiday tour has given you a bit of inspiration for your own holiday decorating. If you add holiday décor and a Christmas tree to rooms you wouldn't normally, I'd love to see it! Tag Home Made by Carmona and At Home on Facebook or find us on Instagram so we can see your inspired holiday spaces.
*A huge thank you to At Home stores for sponsoring this post. It has been an honor to join in the 'A Tree For Every Room' blog tours and campaign. Follow At Home via Facebook, Instagram, and Pinterest for more great products and decorating ideas.

[go_portfolio id="christmas_projects"]