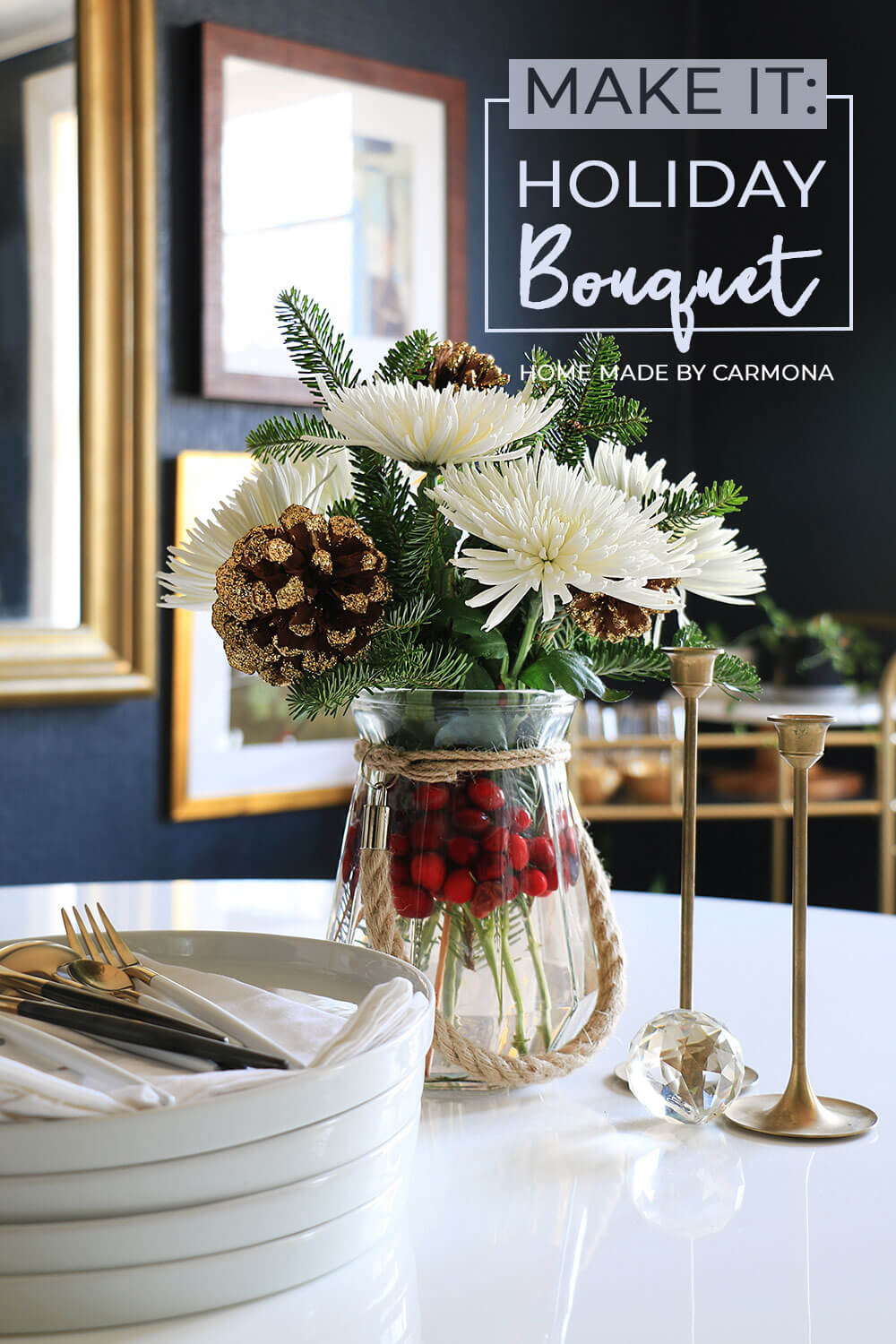 *Affiliate links contained below
My mom called me the other night all excited, "Ursula, I know what those flowers are called! Spider mums…don't quote me, but I'm SO sure they are spider mums. Just check before you change it". "Uh, okay…uh thanks mom? I can't actually edit an insta story though…"
She had watched my Instagram story about how to create this holiday bouquet, in which I mentioned "white flowers". Gotta love moms, they will keep you on point…these are spider mums, not just any old white flower. Well if no one else is watching my videos, reading my posts, and following my social shares, at least I have my wonderful and creative (also detailed) mom! Hahahaha.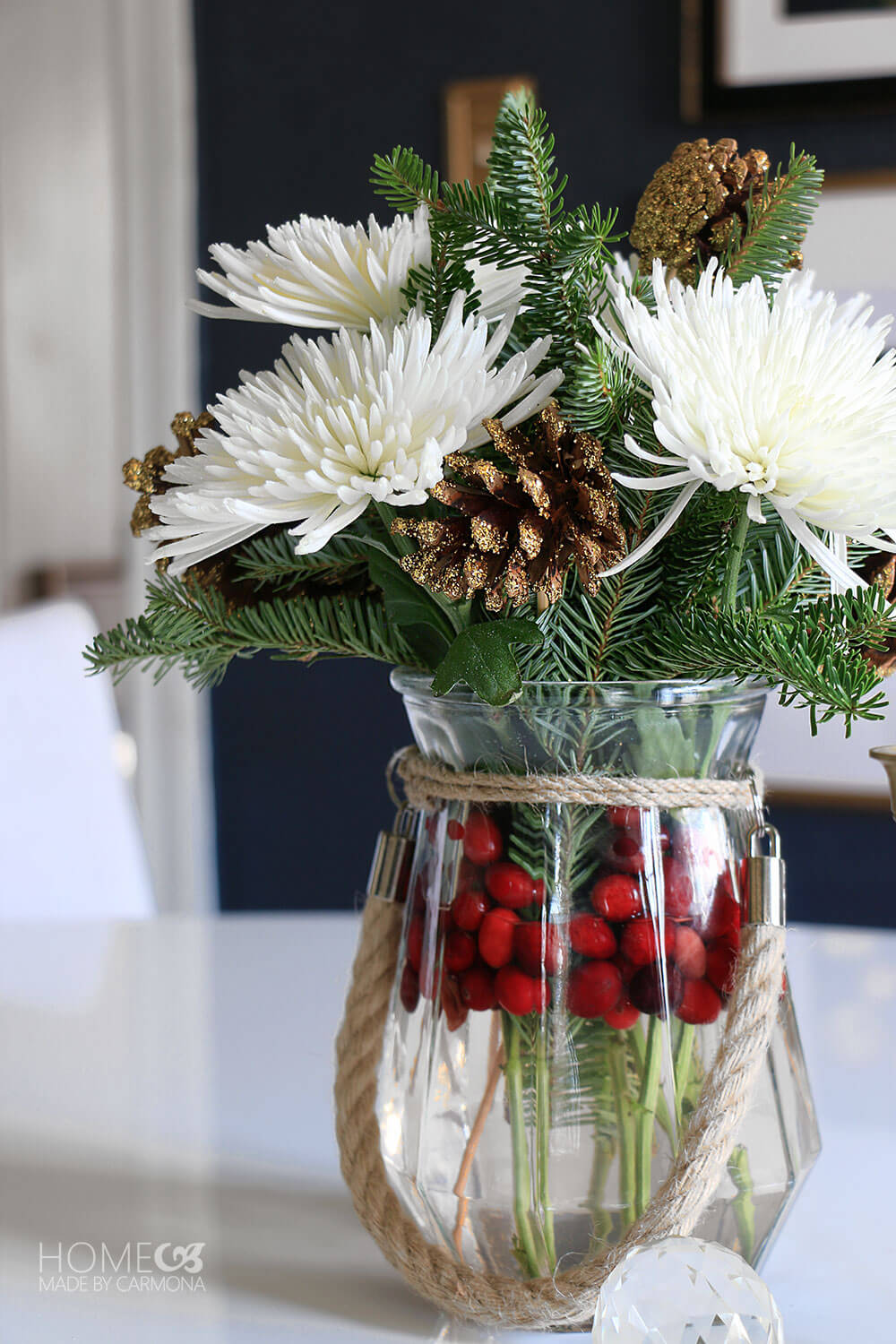 In case you missed my Insta Story, I wanted to circle back and share this holiday bouquet with you. In all your holiday decorating, don't forget to include some live florals and greenery on your dinner table. I think there is nothing more beautiful, festive, (or cost effective) as these particular holiday bouquets. It cost just under $8 to create two bouquets (not including vases), although your costs may vary depending on the flowers you ultimately decide to purchase.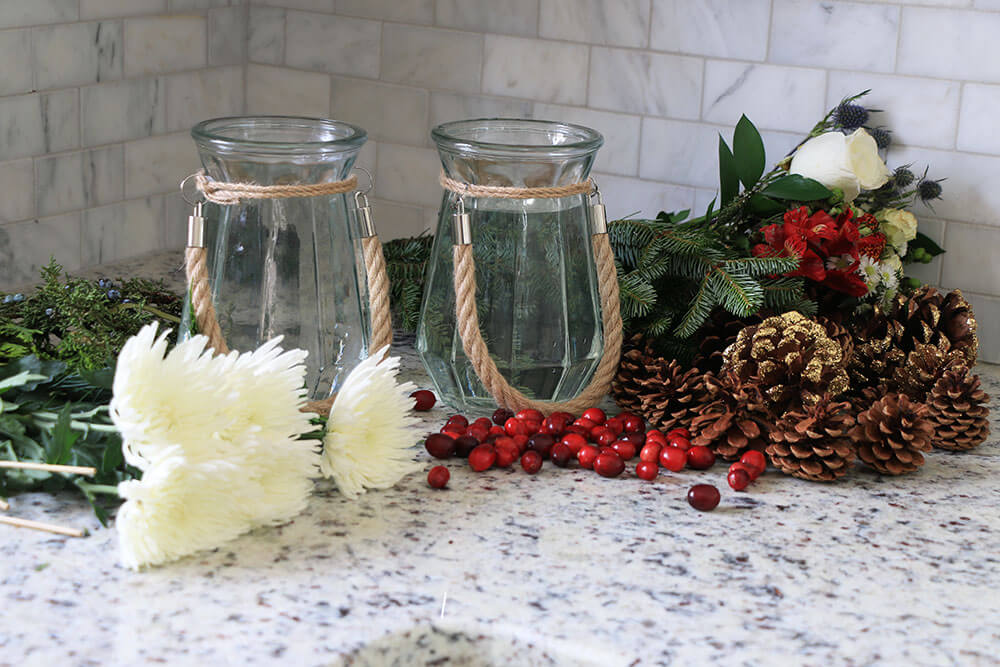 All you need is some spider mums (or any white flower of choice), fresh clippings from evergreen bushes or pine trees, a vase or two, cranberries plus long wooden skewers, and finally some glitter covered pine cones. You can send the kids out to collect pinecones, or you can purchase these cinnamon scented pine cones (they smell amazing!!). You can use spray glue and dip the bottom of the pinecone in glitter.
If you don't feel confident arranging flowers, you can buy a small inexpensive pre-made arrangement. Then just add in some of those freshly cut pine boughs, and skewer some cranberries to add to the arrangement. This takes it from an everyday arrangement to one filled with holiday scents and cheer!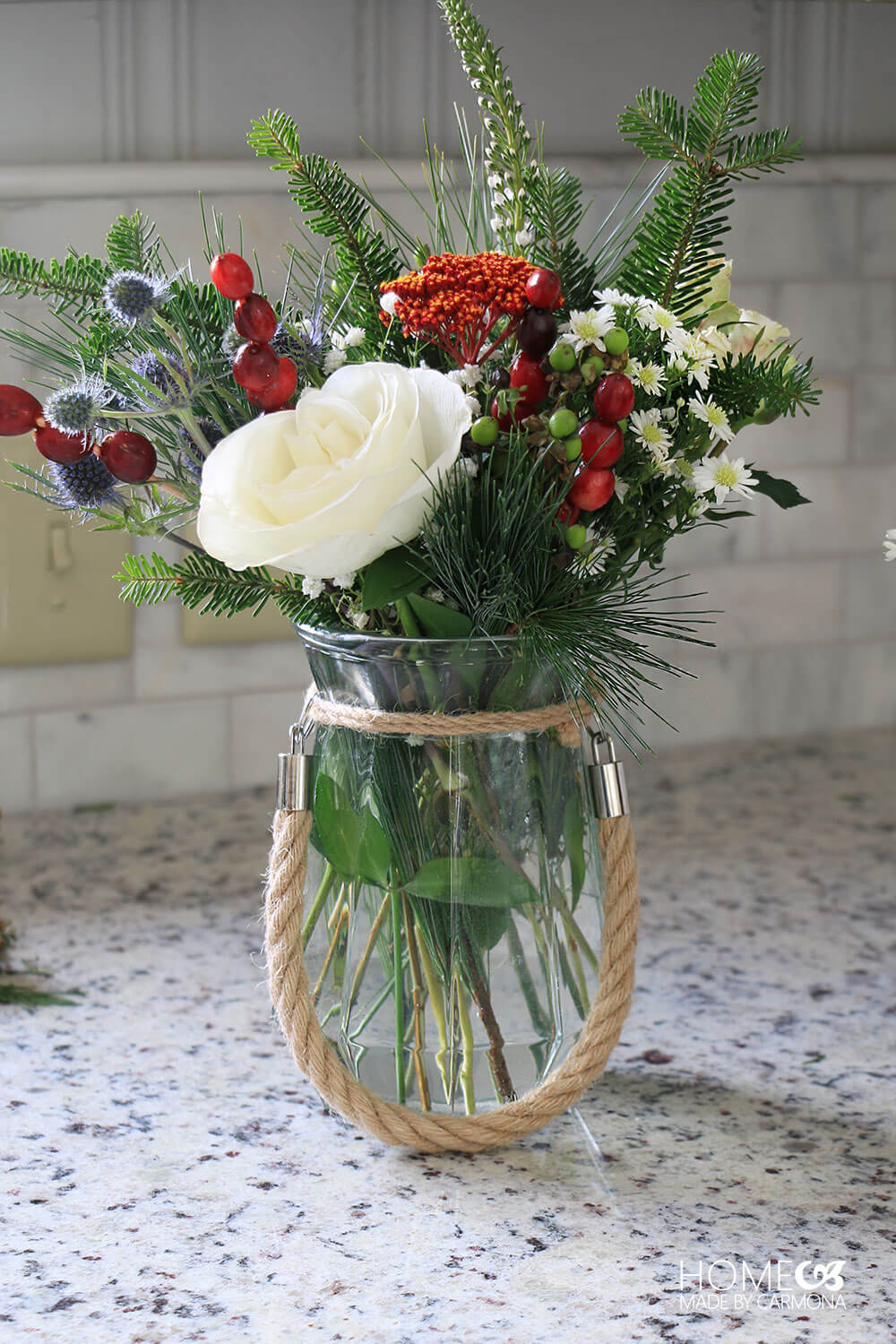 It really isn't too difficult to create your own bouquet, as oppose to buying an arrangement. The one I did with the white spider mums was super easy, and turned out beautifully!
Simply add cranberries in your water (they will float, that is okay). Stagger the height of your spider mums (but still keep the flowers within 2-4 inches of the vase rim), spread them out, then fill in empty spaces with pine tree clippings. Finally skewer pine cones at varying heights to add to your arrangement. Just so you know, pinecones don't really skewer, but you can wedge the tip of the skewer into the tighter scales at the bottom of the cone.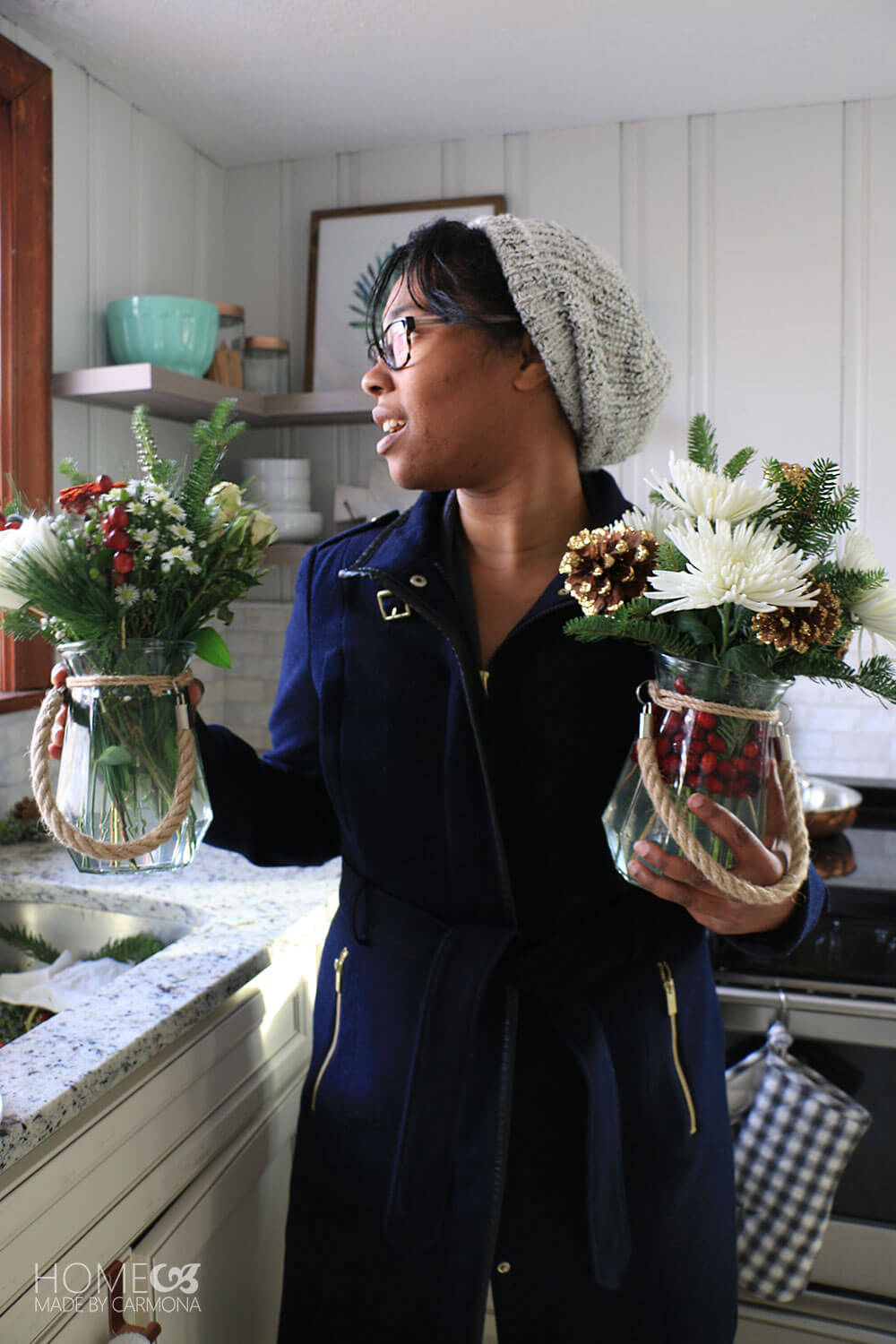 Voila! You just arrived at professional floral arrangement level! Okay well, maybe not professional level…but it will be stunning and everyone will love it. That's what counts. 😀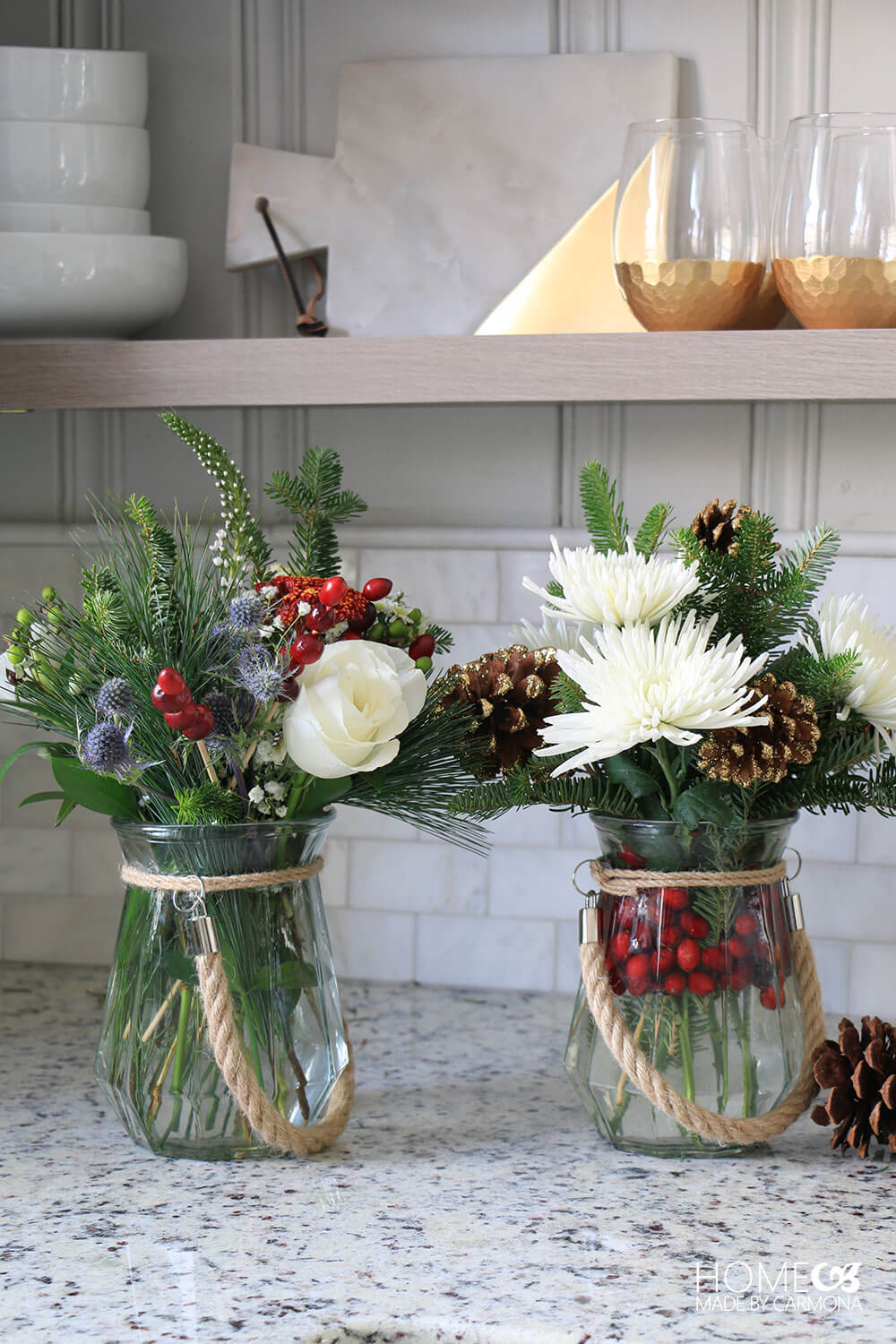 So what are your secrets for setting and designing a beautiful holiday table? In addition to the amazing dinner you are about to throw down, of course… 🙂
I hope you have a wonderful holiday season!
Be merry and bright!

[go_portfolio id="christmas_projects"]