Learn how to make stylish painted throw pillows for just $5! A technique that can apply to curtains, napkins, as well as rugs.
Scroll below to read about how to make these three navy pillows, and get more technique tips on the BHG Style Spotters blog.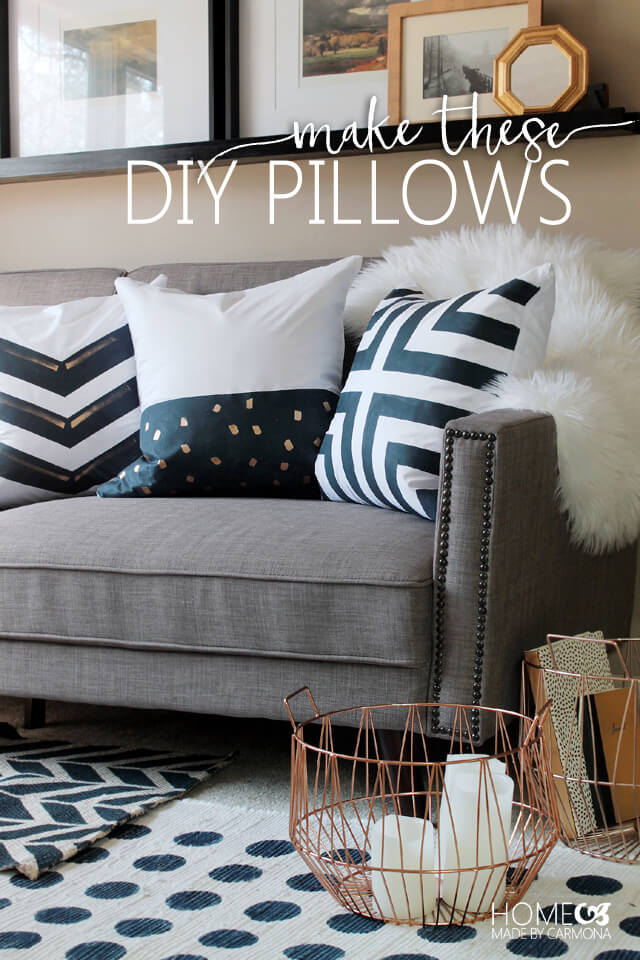 I have quite the obsession with dark blue hues, and it pairs well with my other obsession (gold), so it was a natural go-to for my next set of DIY pillows.
Since my first set of $5 DIY painted pillows, I've been meaning to whip up a batch of navy and gold colored ones. I love the pop of yellow in the original, and the brownish copper was cool, but these colors are where my heart is, so this weekend I finally got to pillow making! If you haven't read my first article, that is where you can find my crazy clever way to make a $1-$2 pillow, and the $2 zippered cover without having to know how to actually sew!
My DIY Painted Pillows & Rugs In BHG Magazine!
In case you haven't already heard me shouting it from my rooftop (and FB), I can hardly believe it, but I was featured in the March issue of Better Homes & Gardens!! Aaaahhh, I'm so honored!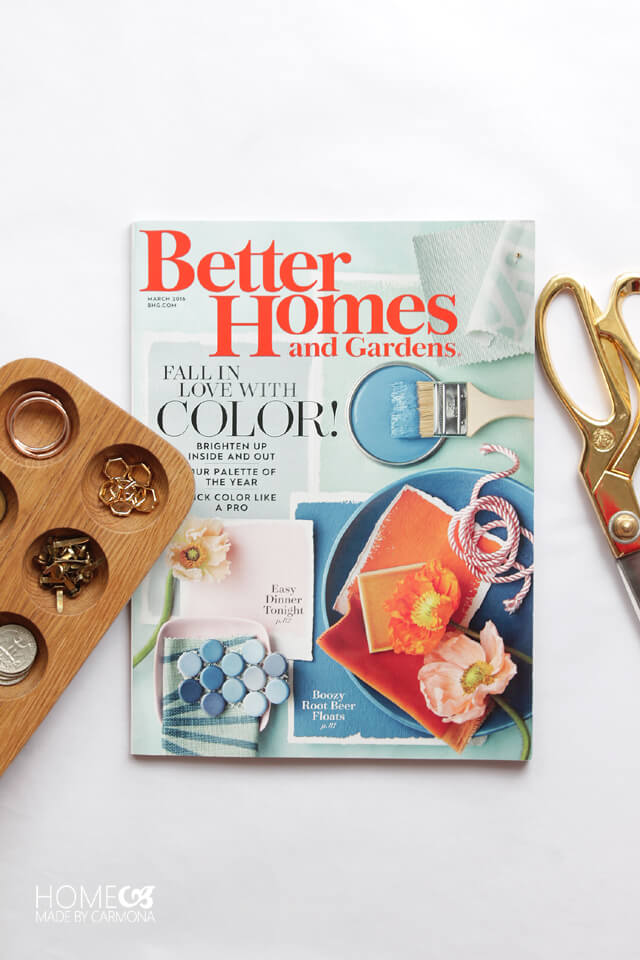 I shared an oldie but a goody project in the magazine on how to paint your way to high end custom rug. In fact, you can see the feature not only in print, but online over at the Better Homes & Gardens Style Spotters blog today! I am over there sharing 5 Tips To Painting A Rug With A Pro Look. The best part? These techniques apply to pillow painting, curtain painting, napkin painting, as well as rugs!
Mixing The Right Paints
First things first! In order to get the particular hue of navy (or any other color) you desire, you'll need to mix paints.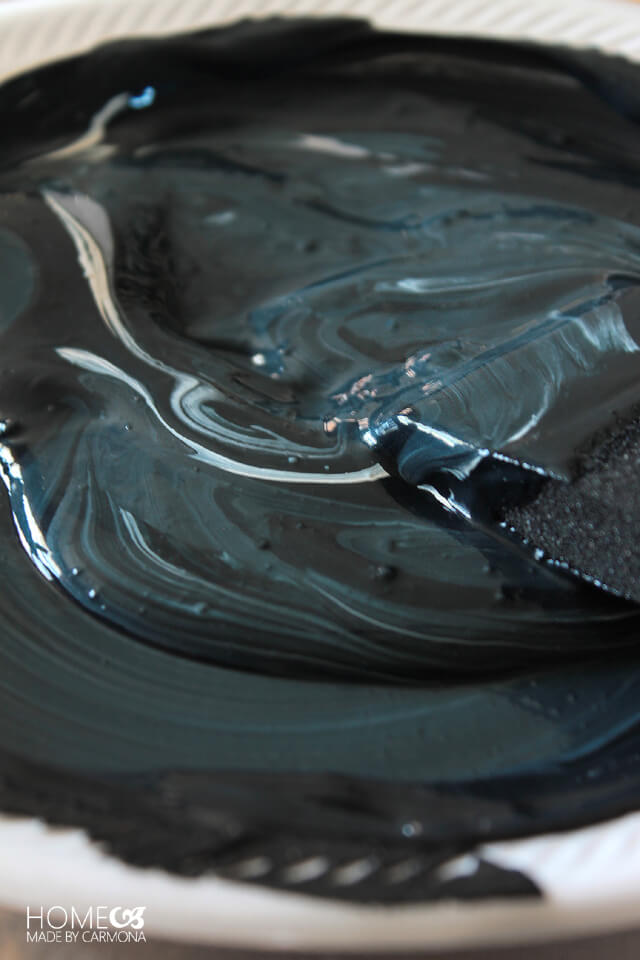 I am using my favorite go-to fabric paint by FolkArt, and mixing it with a bit of their multi-surface paint to get the color I want. Here's what you'll need:

And if you don't already have some, don't forget your Frog Tape, liquid gold leaf, and both the paint brushes and sponge brushes you'll need. Here are the exact paints I mixed to get the gorgeous dark navy hue, with just a bit of color.
[col1]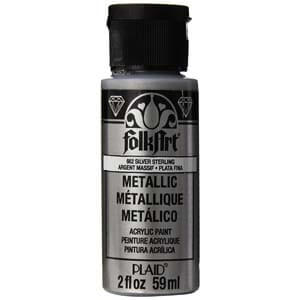 [/col1]
[/col2]
[/col3]
Paint Dipped Design
I love the paint dipped style that has made it's way into every element of decor, and pillows are certainly no exception!
This is easily executed with a single straight line of tape across the middle of the pillow case cover. You could make it a horizontal block or vertical, or even go wild and put it on an angle. You can tape it off at the halfway mark, or two-thirds, or any way you like! Brush your paint on thinly with a foam brush.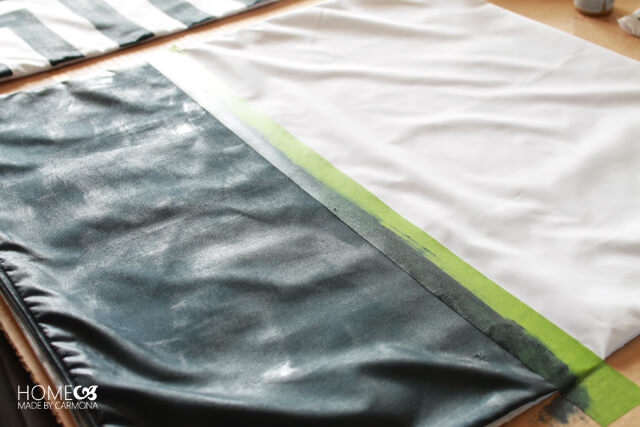 I liked the simple paint dipped style, but if you really want to add some pizzazz, then paint on small dots/smears using gold leaf paint.
Metallic Dots & Dashes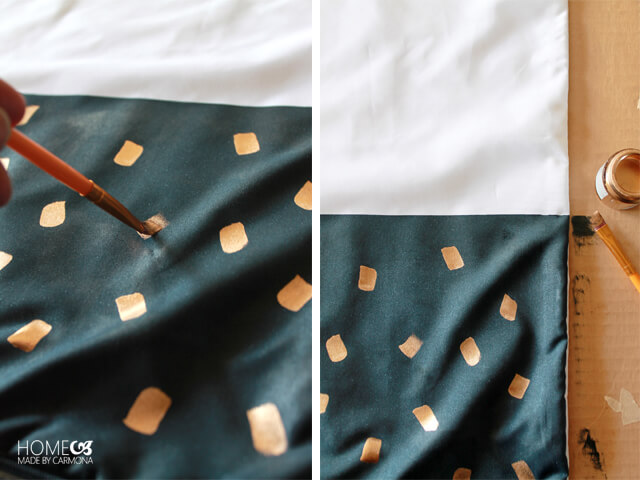 I love the look of gold and copper paint, but it turns out that all the fabric paints I've tried that are those particular metallic hues just don't bring the pop of glimmer you expect. They come out sort of brown or beige (or alternately yellow) with a bit of sparkle (thus being the case with the first set I made).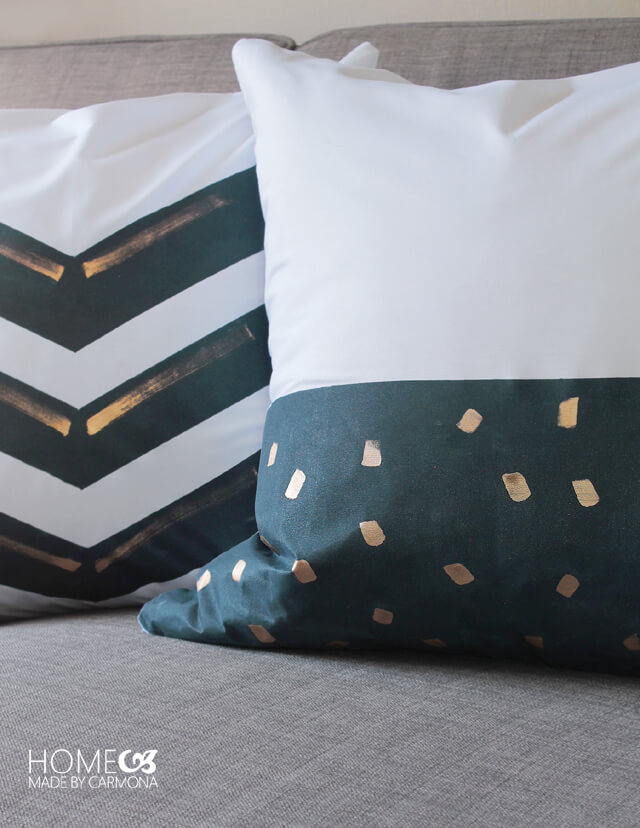 Liquid gold leaf is exactly the kind of metallic sparkle you want, but the tricky part was applying it to fabric in such a way that it wouldn't fade or leave a red-ish pink stain around the outside of every brush stroke (that's what happens when you use it on fabric). The key was to paint it in smaller quantities on top of a fabric paint…then rather than the fabric absorbing the oily pink substance, it had something to sit on top of and bond with, plus hide any residual seepage.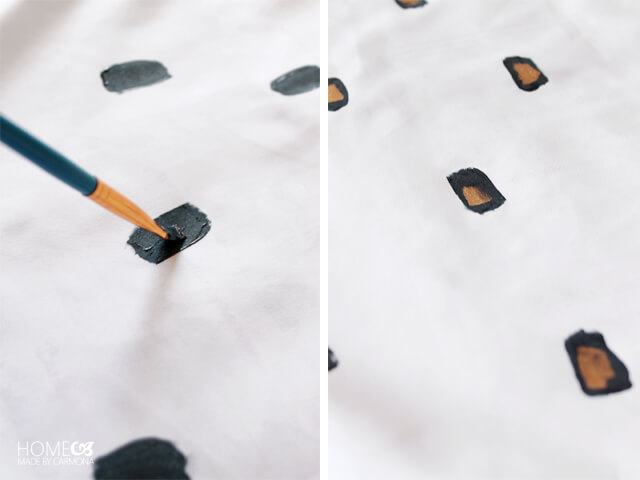 Simply paint a small to medium sized dot / smear, then once it has dried adding a gold leaf paint smear on the center of each navy dot. Easy, and stylish!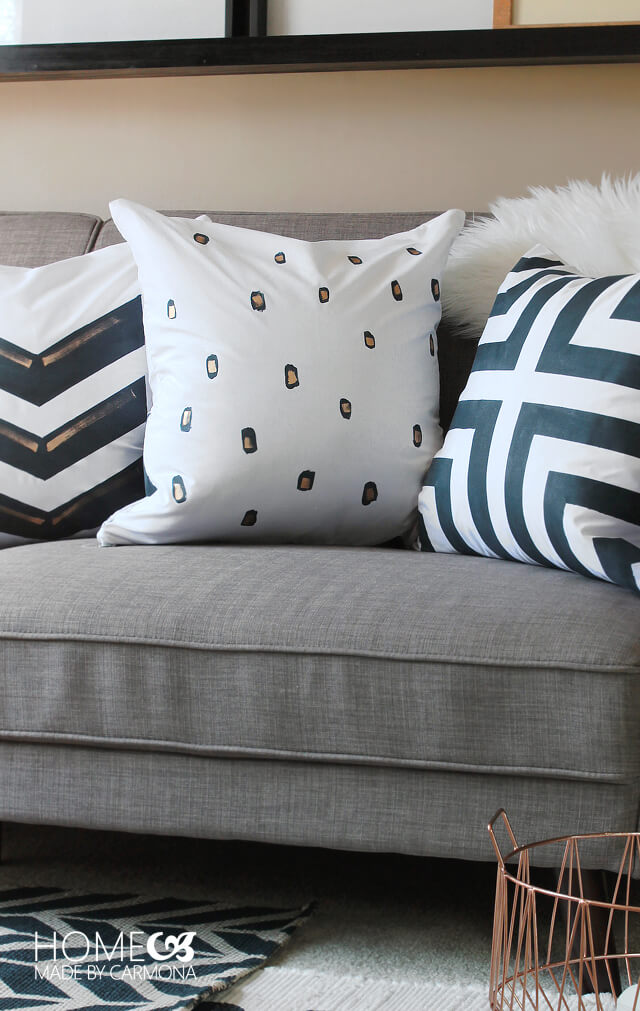 Cross Square
The two on either side of the dot pillow are both designs you'll find in my original post, they are a little more complex designs, but still easy to execute once you know how. The only addition, I added a smear of gold to each 'v' on the arrowhead pillow. You'll find my video tutorial on how to make that design on the original post as well.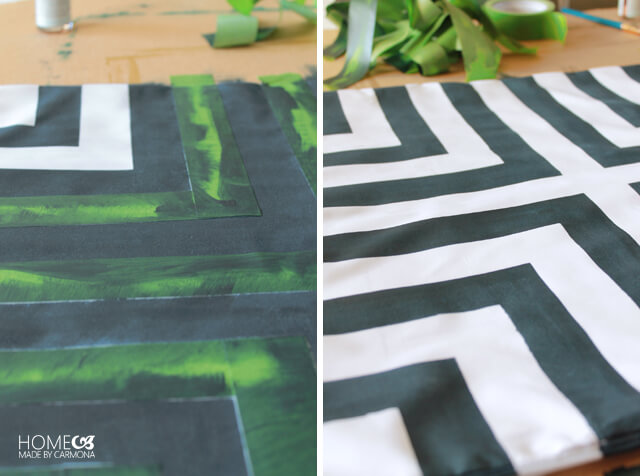 I am loving my new throw pillows! They look more metallic and navy when the light hits them, and the gold leaf really shines too! Then on an overcast day, they still sparkle, but are much darker looking…almost black.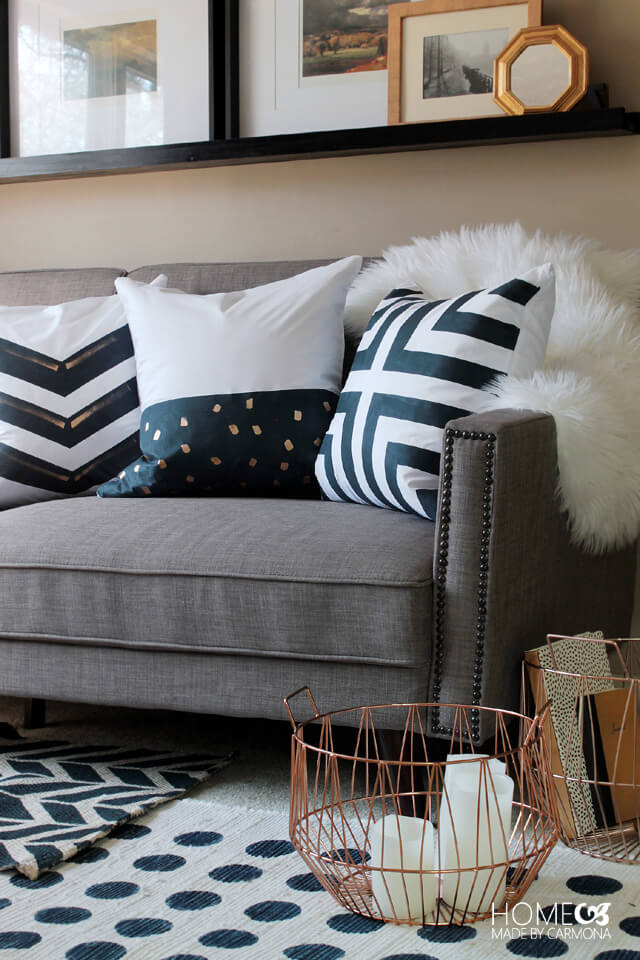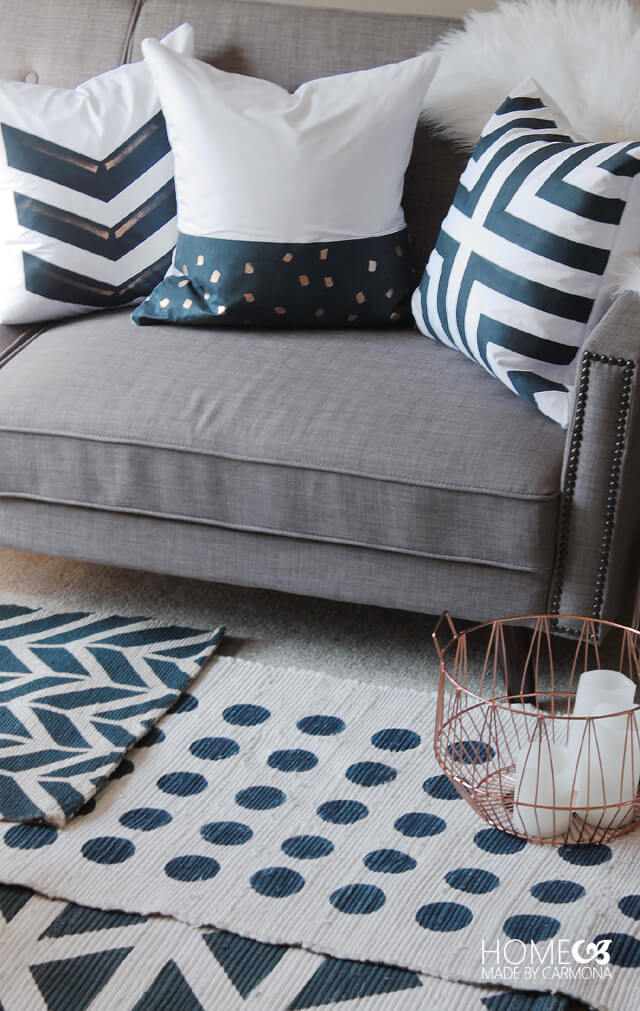 [go_portfolio id="diy_gallery"]