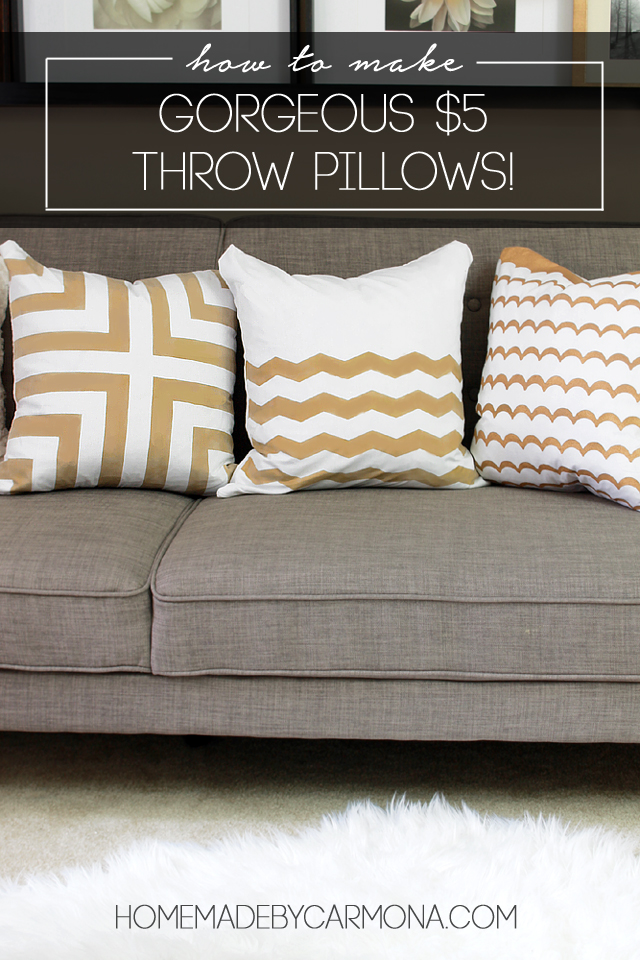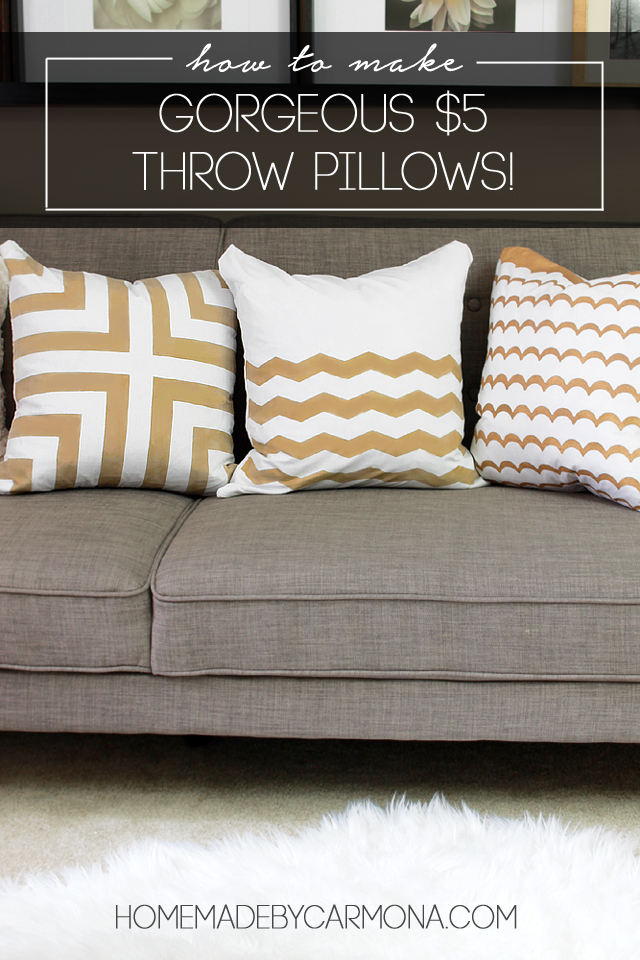 Hey guys, I'm so excited to share this tutorial with you…it is one of my favorite "easy-level" projects and, it all started with some hardcore painters tape called FrogTape. As a matter of fact, this tutorial was made possible in more than one way by the amazing Frog Tape brand of ShurTech; I'm a die-hard fan of their products, so I'm thrilled that they would sponsor this post!
What would you say if I told you I could show you how to make gorgeous contemporary throw pillows for $5 each? AND they were easy to make, AND they were washable (so super kid friendly), AND totally custom! Nope, I'm not dreaming, or cra-cra…I just love throw pillows but am WAY too cheap to spend more than $10 for a pillow. Well ladies and gentlemen (although I have a feeling most of the gents couldn't care less about throw pillows. Heehee), it is possible, and I'll show you how!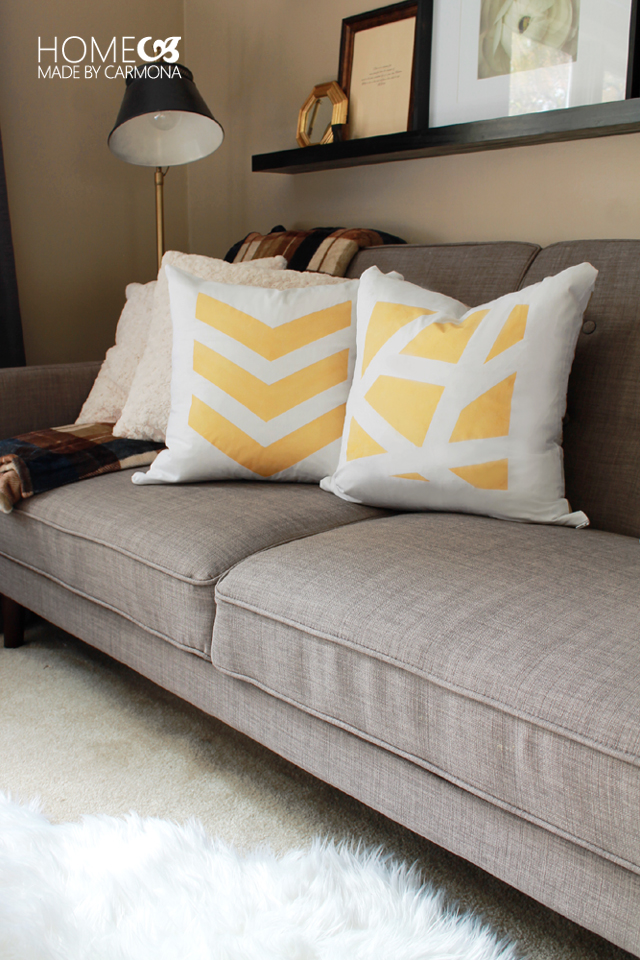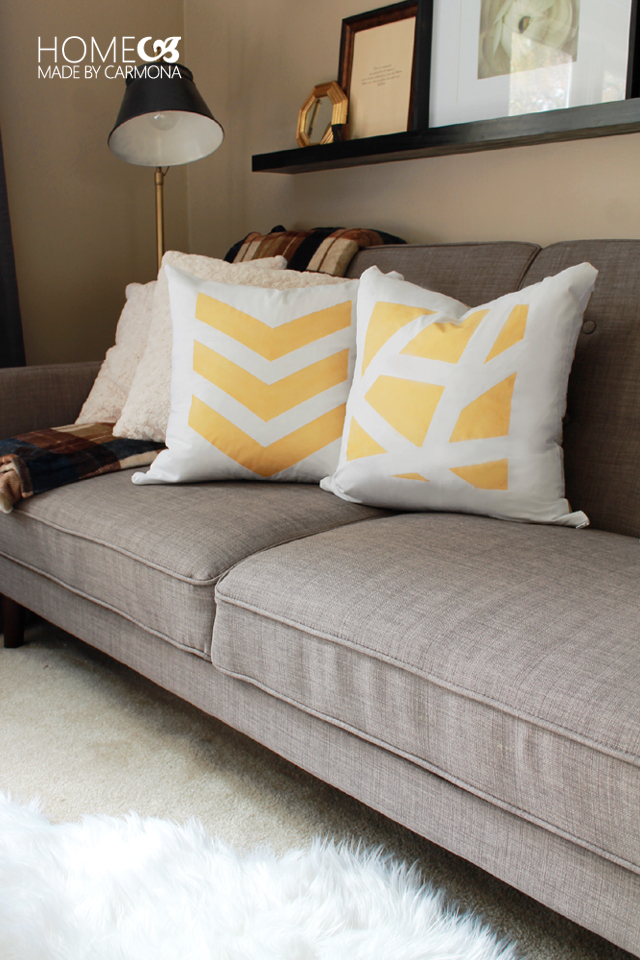 Pull out that FrogTape you have stored in your DIY kit of great products. Well ok, so I'm assuming you have FrogTape, because pretty much every DIY'er does. 😛 If you don't have any, then you'll want to get some because it really is the best painters tape out there for clean lines. I admit, if you don't already have some, that means you'll spend more than $5 on this project…but you'll have a ton of it left, so technically it is only a couple dollars more worth of actual material you are using. Then you'll have it in your arsenal for all the other projects you'll be doing.
Here is what you'll need and how much it should cost. If you don't have these items, I got mine from Walmart and my local dollar store.
Pillow protector (cotton) $1 – $1.27
Cheap dollar store pillow (regular size) $1
Folkart Multi-surface paint $1.99
THE UNDER $2 PILLOWCASE HACK
[line]
All we need is a square cotton pillowcase for under $2…how hard can that be to find? Apparently quite difficult. Sewing your own from scratch is a no go (cost of fabric + zipper is much more than $2). Buying a pre-made cotton pillowcase in 20×20 is a no go (the lowest I've found them is on Amazon for $5, then they jumped to $12).
Here's the solution, and not to pat myself on the back, but it's a pretty good one and requires very little skill on anyone's part! Buy a Cotton pillow protector, which is material + zipper, perfect for a 20×20 pillow, plus it is already mostly sewn for you! See? Brilliant!


Cotton pillow protectors can be found for $1 – $1.27 depending on where you buy it. I found my first three for $1.27 at Walmart, then I discovered some for $1 at Dollar General!
Start by flipping the pillowcase inside out.
Measure the width of the pillowcase (probably about 19.5 inches from seam to seam). Measure and mark so that the length is the same…make a perfect square with the zipper at the bottom.
Cut the top of the pillowcase to make a square shape.
Sew the open seam shut, and reinforce it with a zig zag seam.
Flip it back right side out, and iron well. It is ready for your painted design!
THE $1 THROW PILLOW HACK
[line]
Again, not to pat myself on the back…but sometimes extreme cheapness produces some off the wall smart ideas. 😀 Buy a regular sized cheap $1 pillow from your dollar store (this is the cheapest way to get fabric + fluff in one!). Next cut open one side of the pillow, remove a bit of the fluff, push the rest so it is stuffed down to the bottom. Eyeball to see how much of the material at the open top needs to be cut off to create a square pillow, then flip over the open seam and sew it up!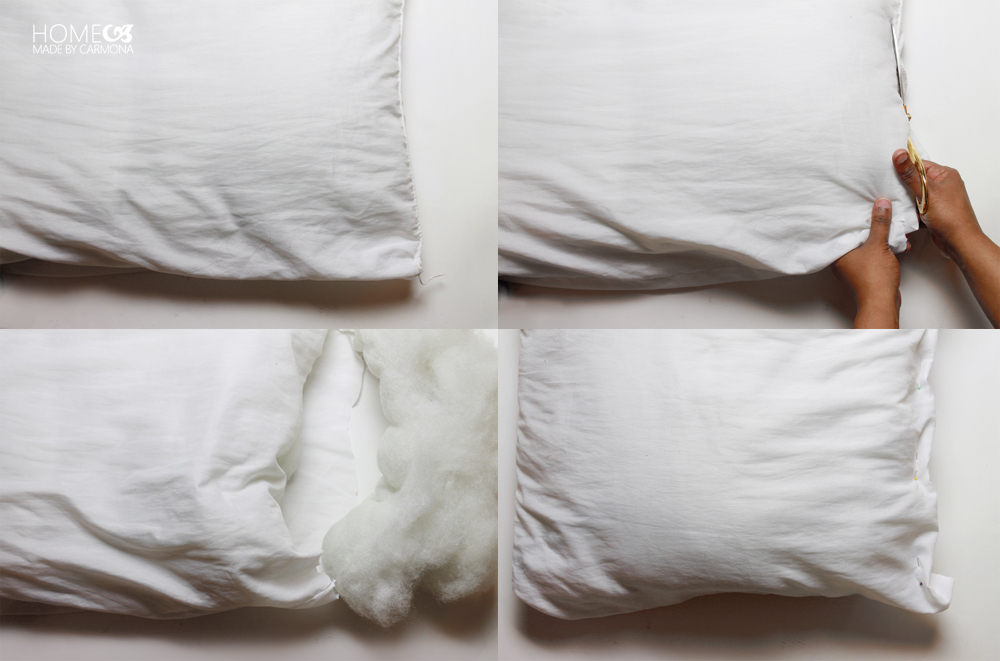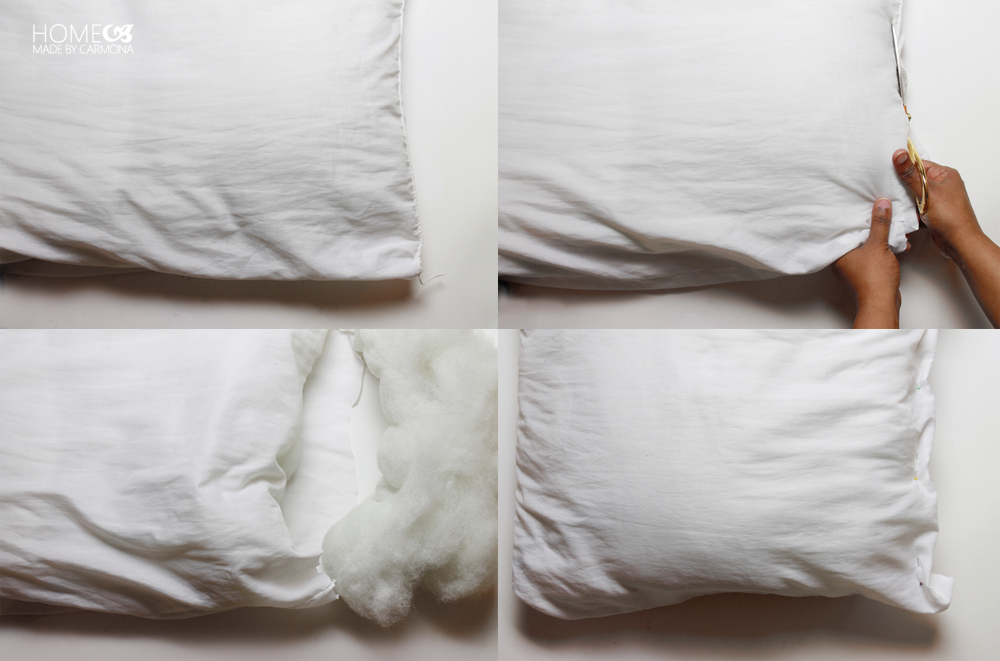 PAINTED DESIGN HACKS
[line]
One of my absolute favorite designs is the easy-to-make Arrowhead design. This design how-to is best shown via video… enjoy!
Another all time favorite of mine is the modern geometric style I spied on Pinterest (and always wanted)!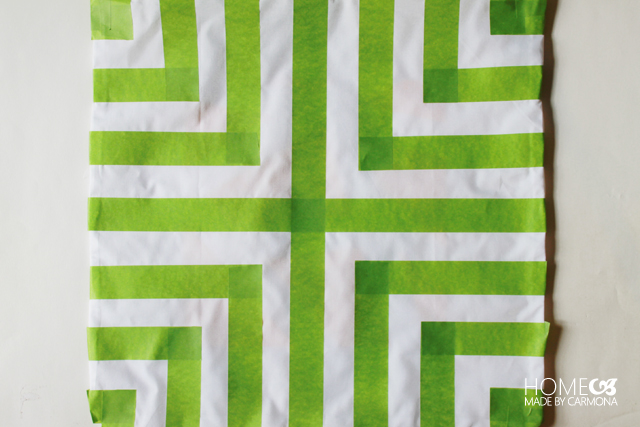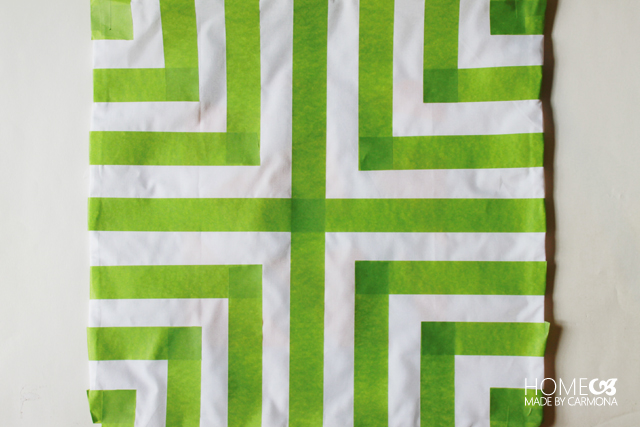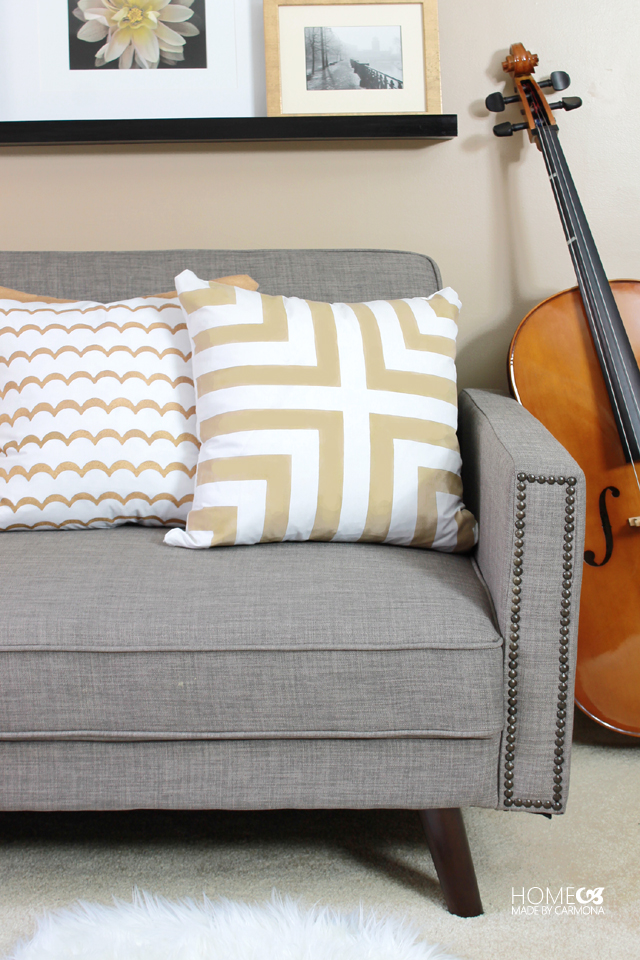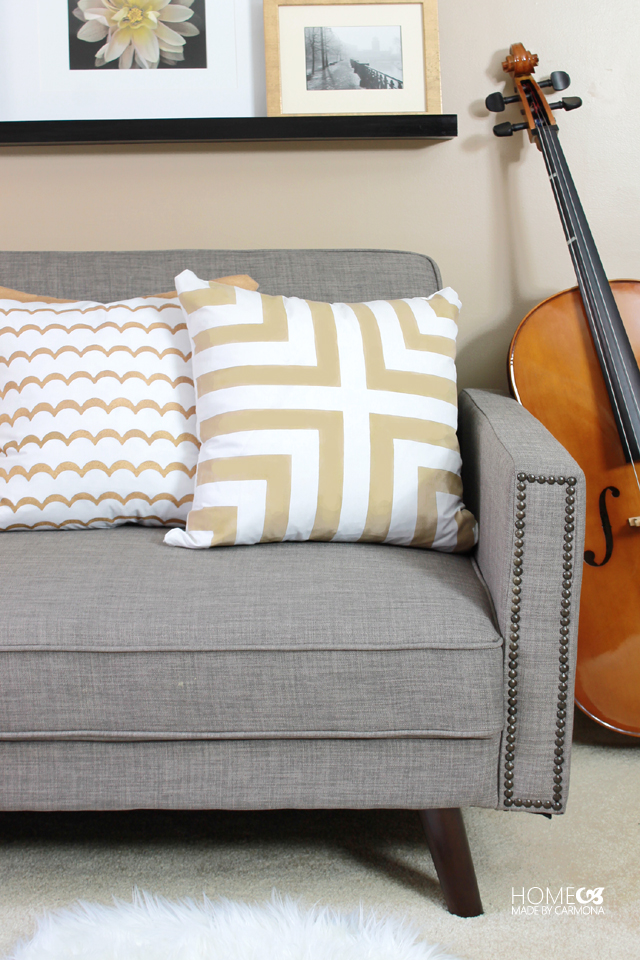 You don't have to stick to FrogTape alone. Use FrogTape's Shape Tape to get those cute contemporary styles you see in all the stores, but don't want to work hard for (or spend and arm and a leg for).
I totally cheated by using Scallop Shape Tape to make this cute design. Since there are lots of little tips on this tape that are easy to mess up using a brush, so I went ahead and used a spray paint. You can buy fabric spray paint, or you can actually just use a regular spray paint…but after it dries, you'll want to wash it in cold water and vinegar, then dry it in the drier. It will be lighter than the cap shows, but still works stunningly well!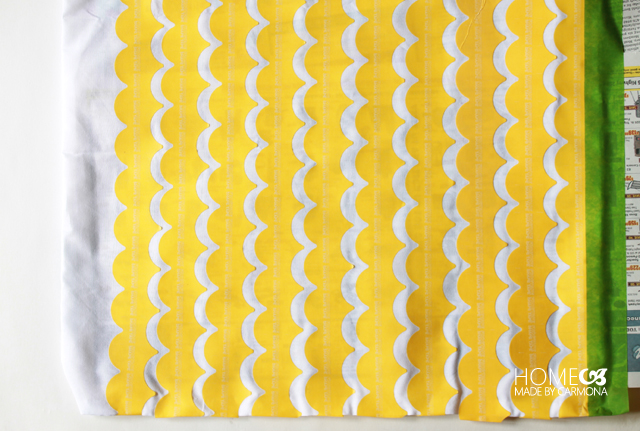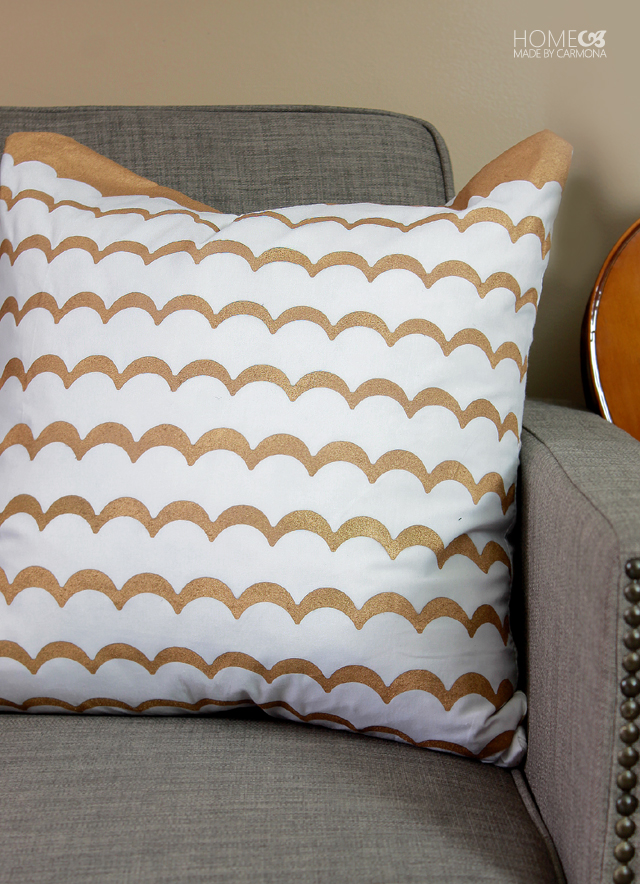 Then there's your random design to create a bunch of geometric shapes. It always amazes me how good it looks even when there is no rhyme or reason to the design.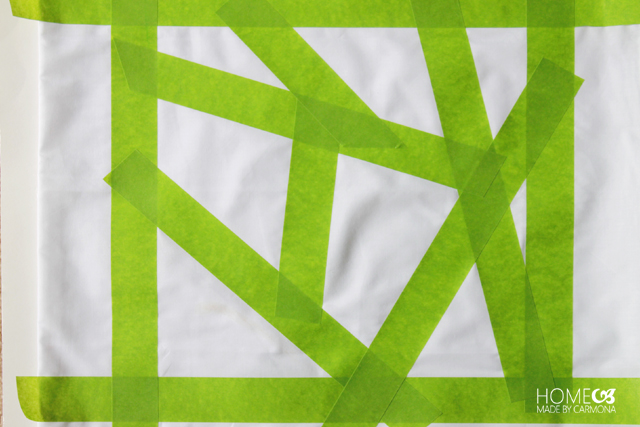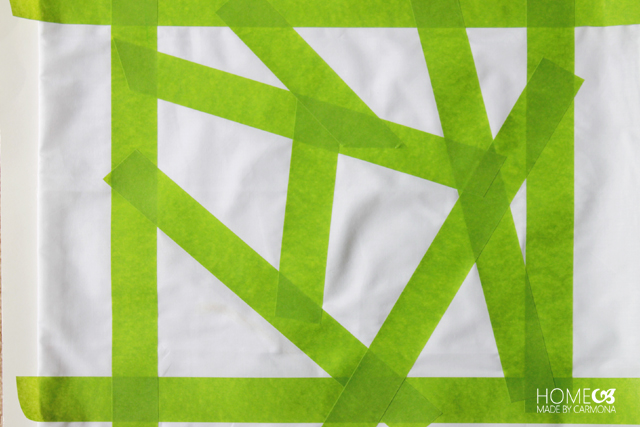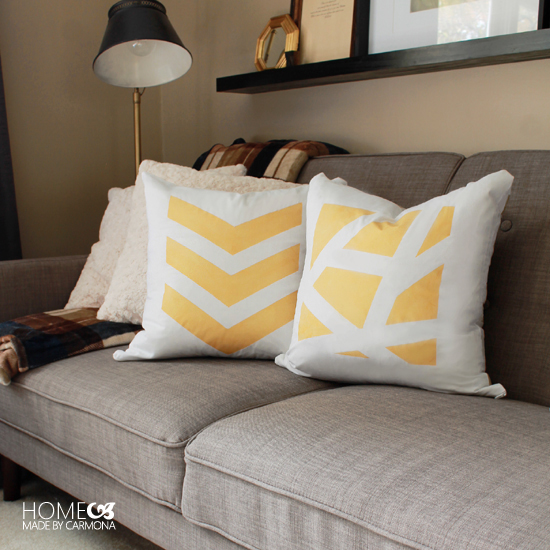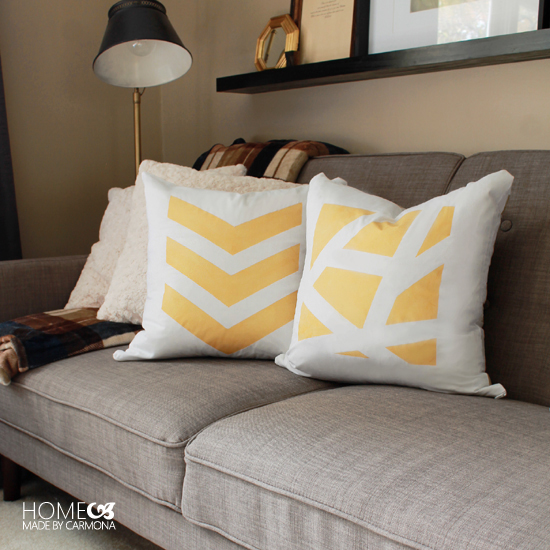 The Chevron Shape Tape, which I painted using gold. Sadly the sun wasn't out, so you can't quite see the gorgeous sparkle it carries.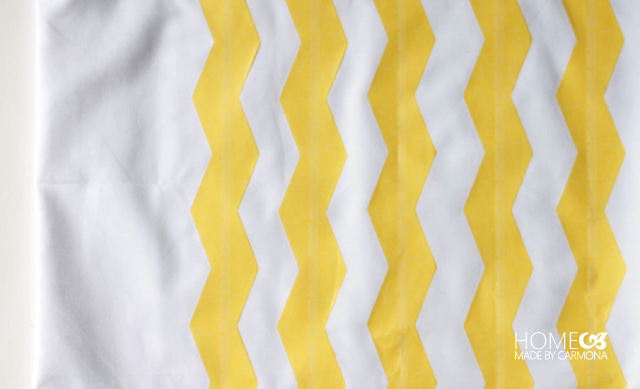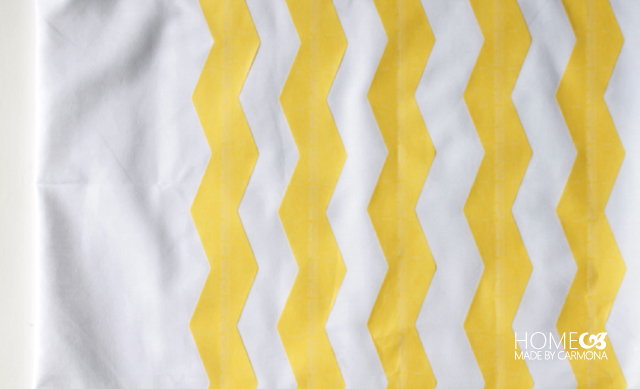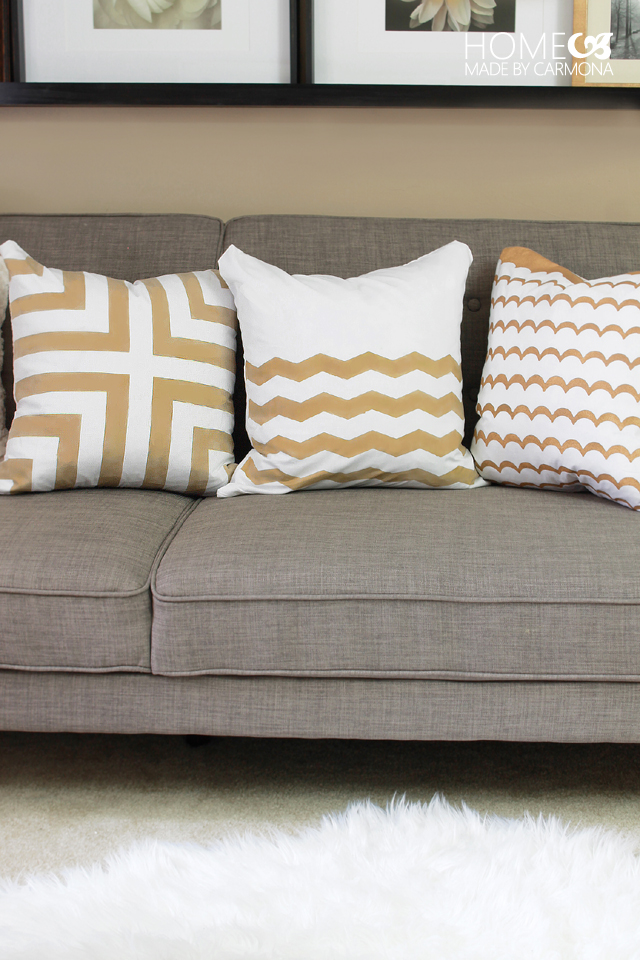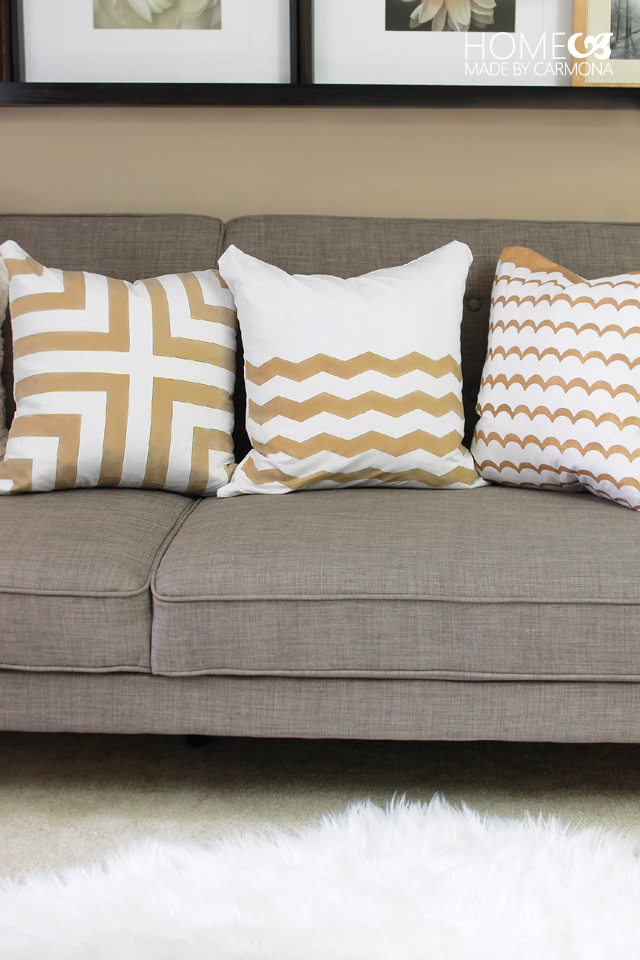 These are just a few of the fun designs I plan to try out. I'm going to be that annoying woman with too many throw pillows now. Just because I can (now that I can actually afford to). No, just kidding, that would make my husband bewildered (he does't know what to do with throw pillows).
I hope this gives you a few ideas of the many many designs you could dream up for your throw pillows!
[line]
*A huge thank you to FrogTape for sponsoring this post. Your product stink'in rocks, and I'm absolutely a huge fan! 
**I received compensation to complete this project for using FrogTape products. All opinions, projects and ideas are based on my own experience.


 [go_portfolio id="diy_gallery"]