Whether it is for 2 or 24 guests here are tips for entertaining in the outdoors without a ton of work or stress!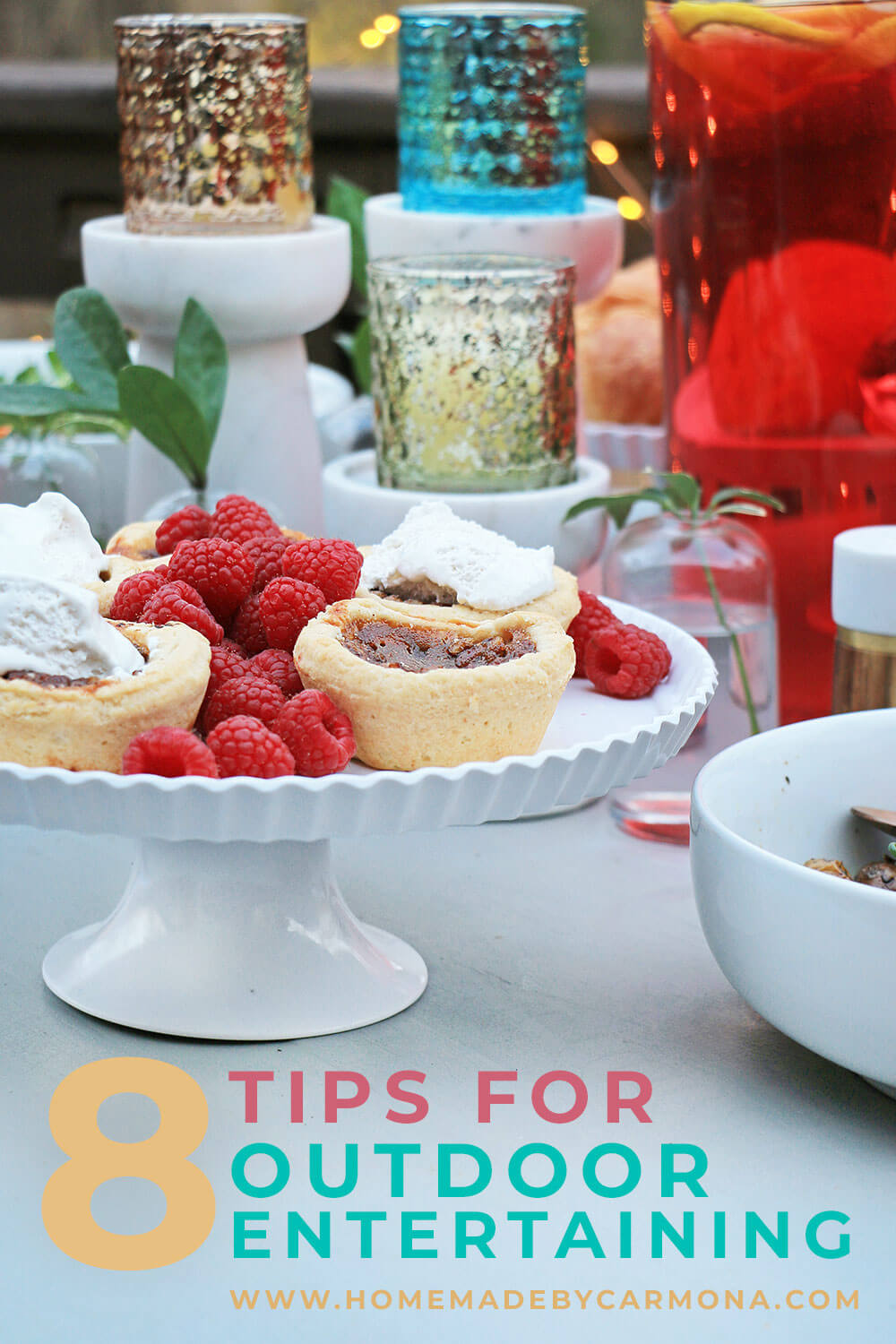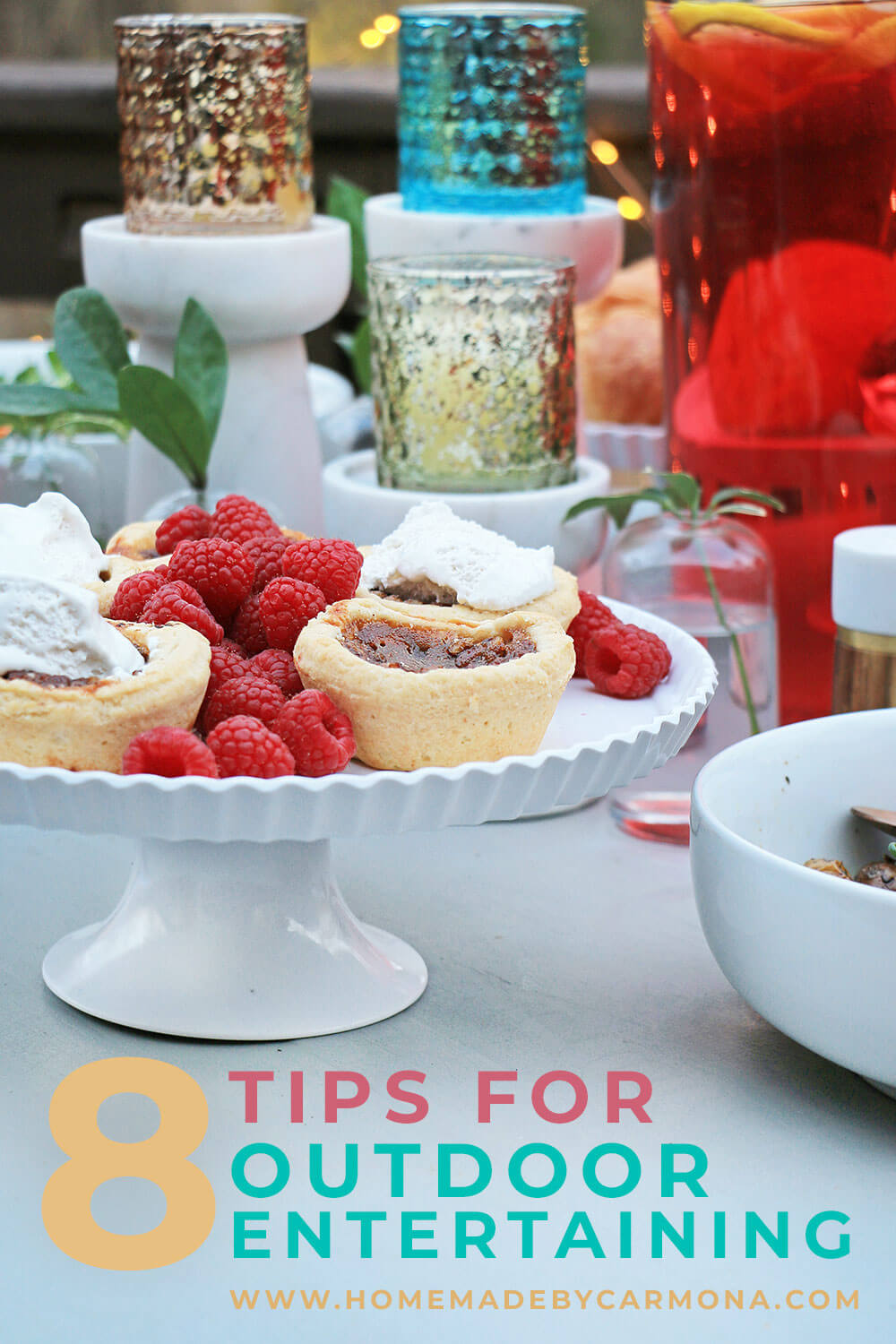 *This post is awesomely sponsored by Better Homes & Gardens brand carried exclusively at Walmart! Affiliate links contained below.
Now that the weather is perfect, it's time to take our entertaining to the outdoors. There is something magical about the warmth of the sun and a cool breeze to temper it, trees towering around us, and a beautiful table set for dinner.
Here is everything you need to know to create that magical dinner without the negatives that often come with outdoor entertaining.


Consider Your Outdoor Entertaining Venue Carefully
Consider factors such as the location of the sun during the dinner and visiting hours. If necessary, add a movable awning or umbrella to keep the glaring sun at bay. Personally I love to host right around that golden hour when the bugs are no longer out, and you won't get more sun than you bargained for.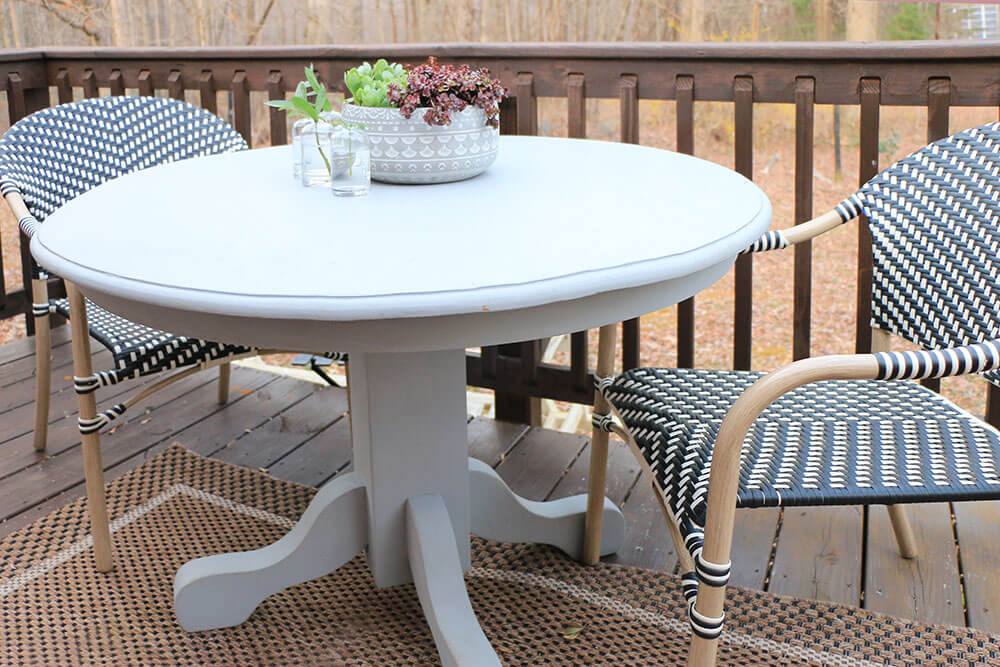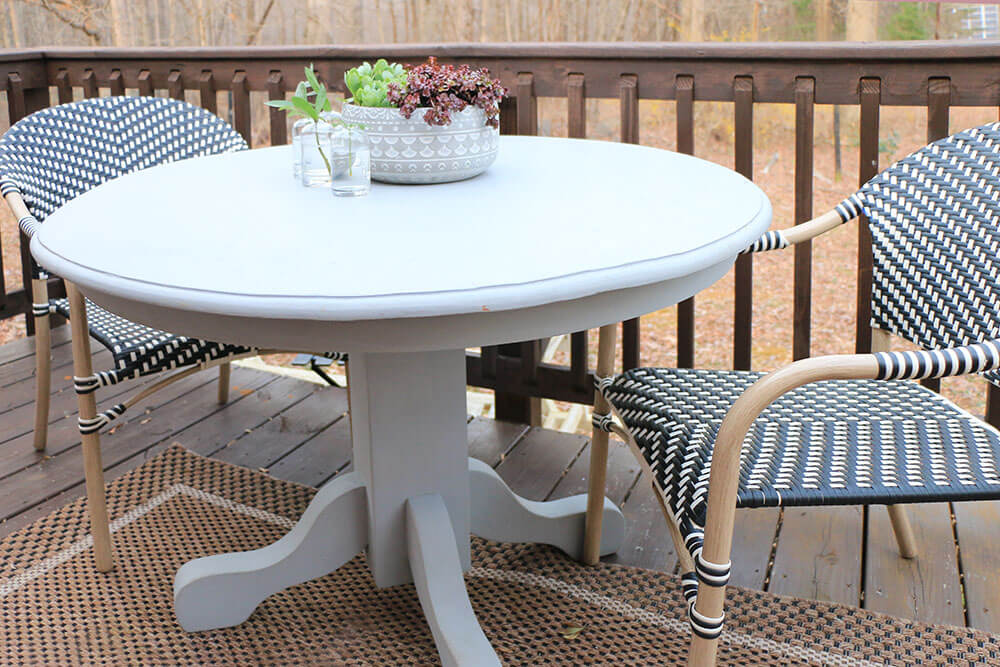 Choose the space best suited to accommodate the number of guests adequately. For my intimate little gathering of a couple great friends a couple bistro chairs on the deck works perfectly!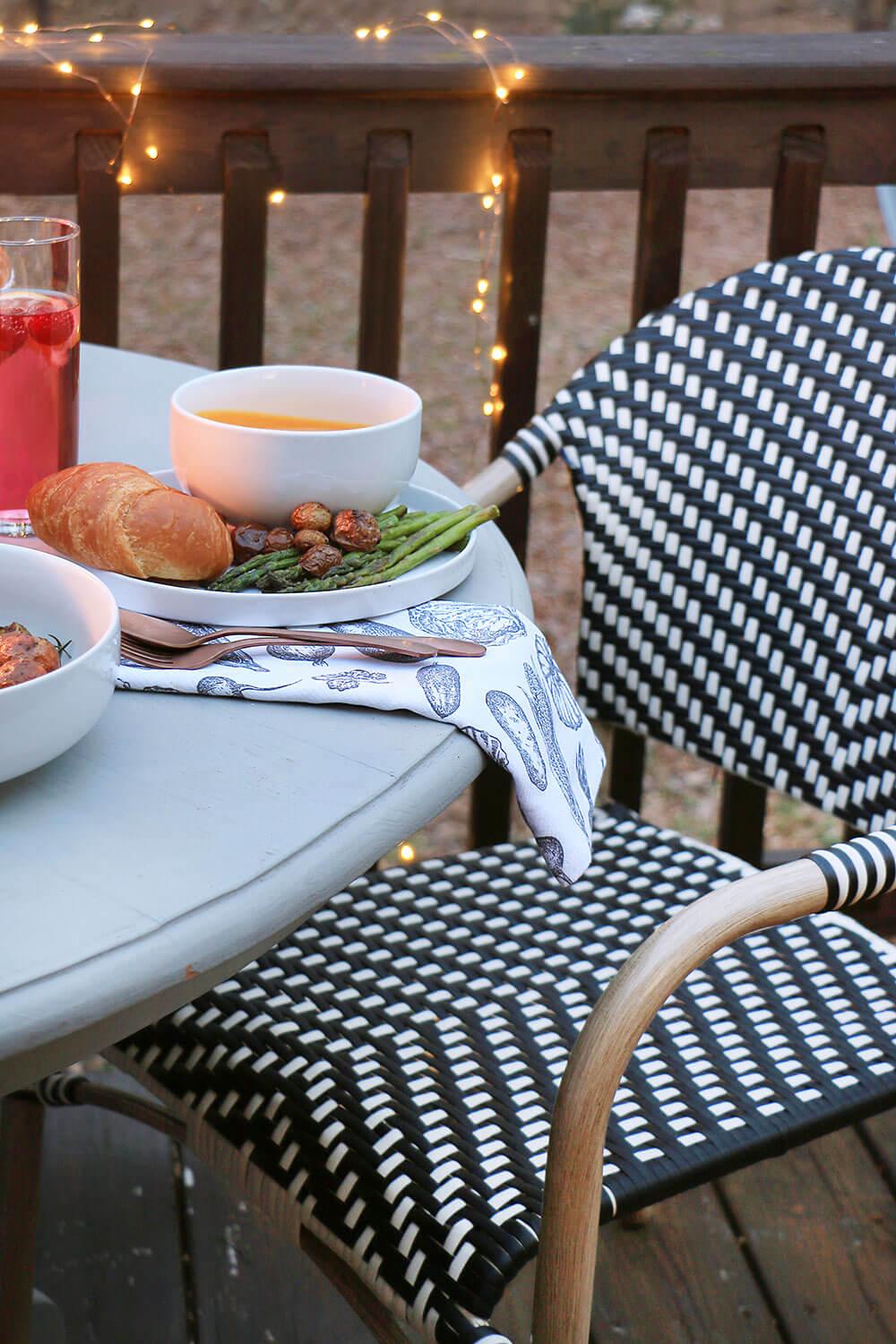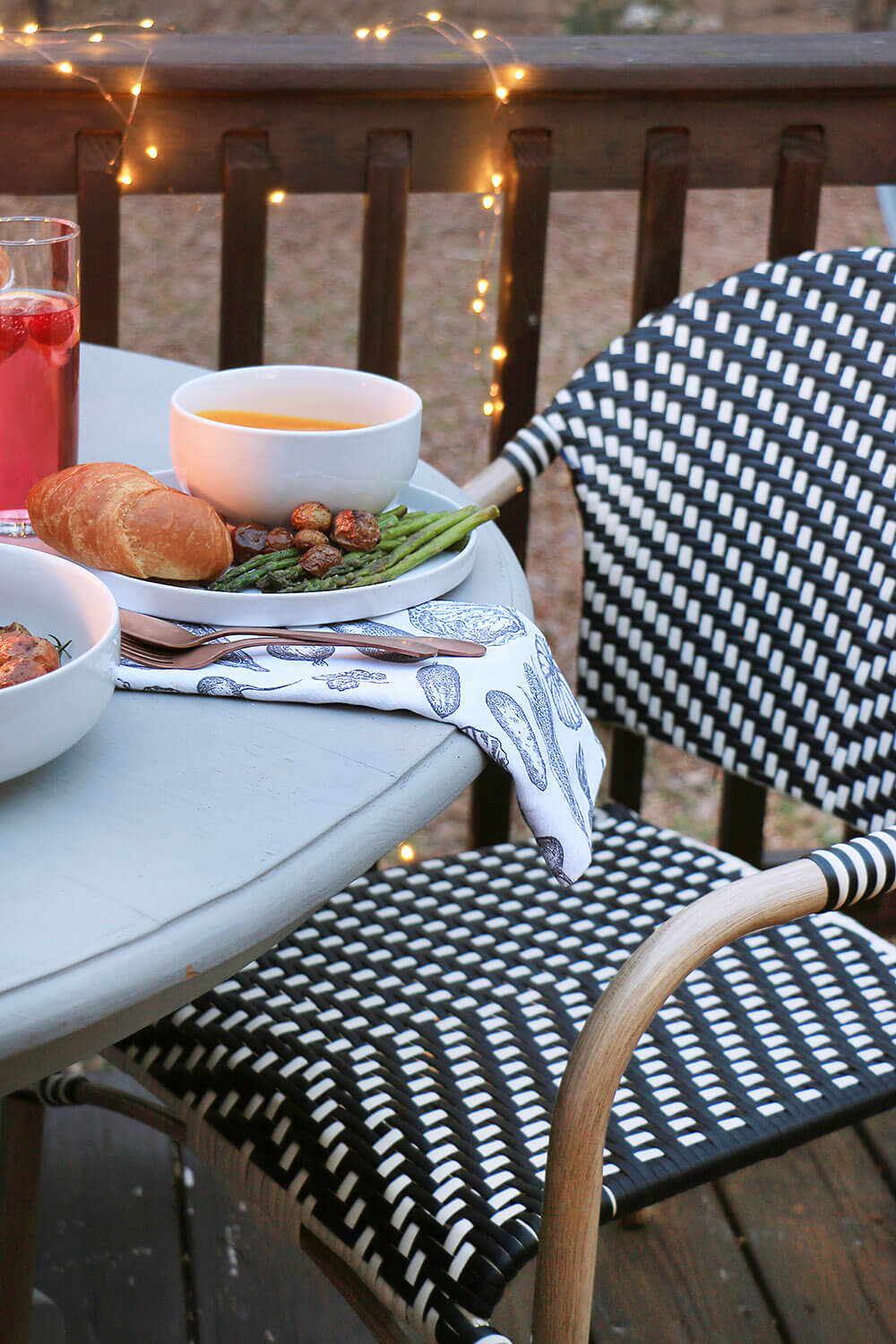 Use Simple Recipes That Wow
One of my favorite go-to menu plan is soup, salad, and sides. This menu is easily customized to fit any season and isn't hard to execute.
My famous butternut squash soup (get the recipe here) is always a hit and a perfect Spring or Summer choice. And adding sides like buttered roasted potatoes, seared asparagus, and a fresh summer salad makes for a quick but tasty meal prep.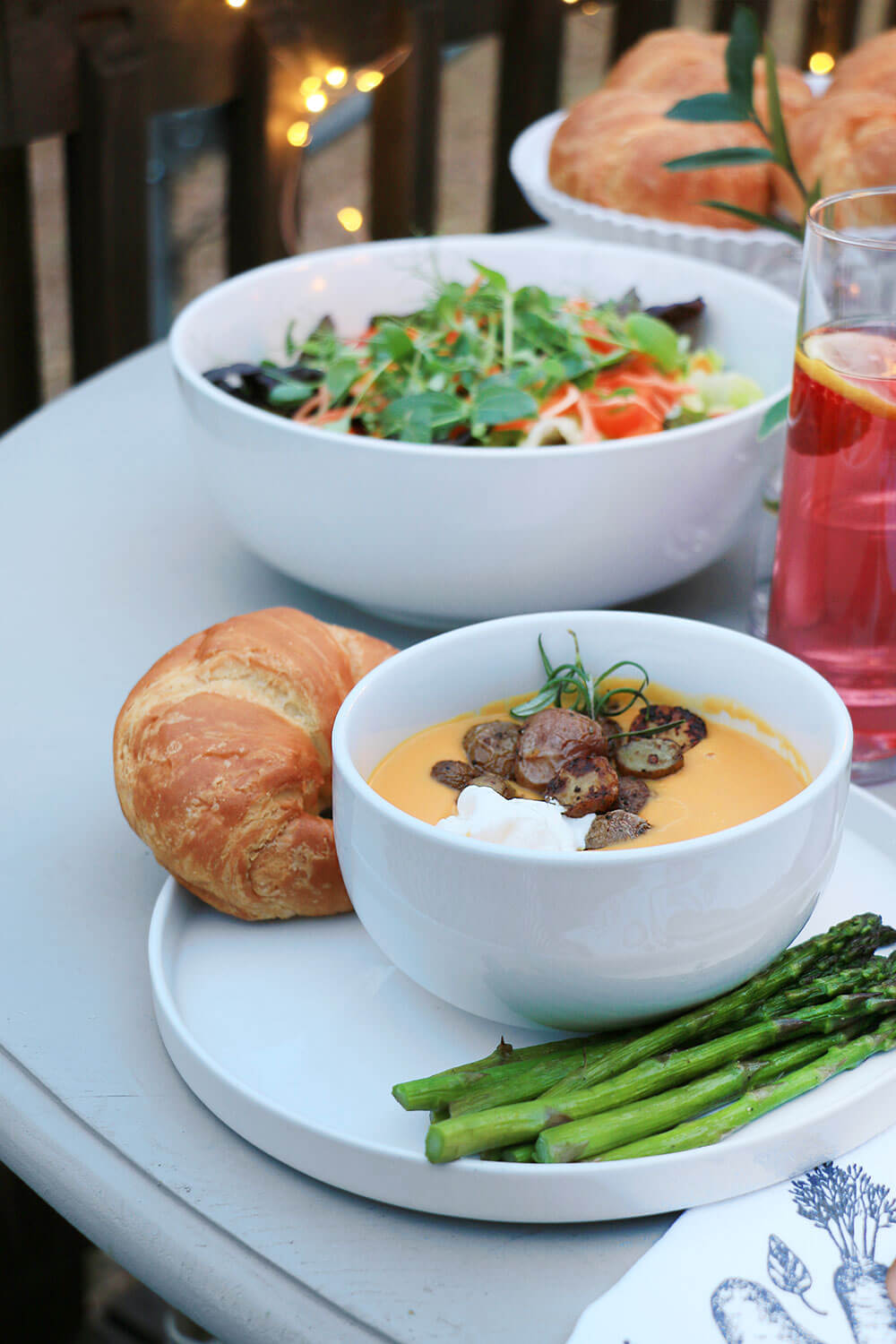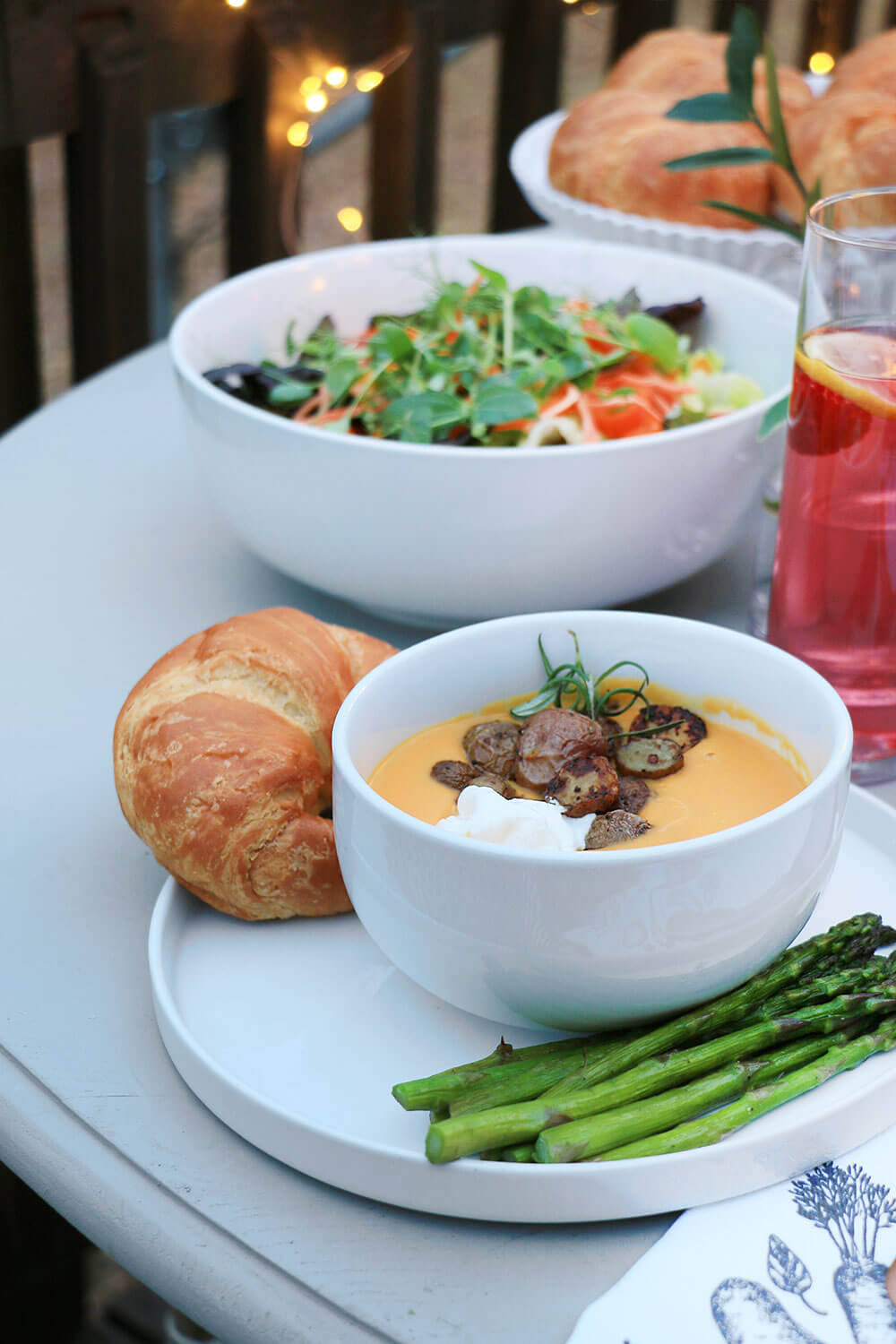 Jazz Up Anything Store Bought
Not everything has to be homemade to be delicious or look special. Dress up store-bought desserts, drinks, and even sides, for a custom look and taste. This will make for less preparation time and free you up to enjoy your evening with guests, stress free!
I added lemon slices and fresh raspberries to add a refreshing tang to some strawberry-cran juice. My dessert is a store bought pecan tort that I placed on a cute cake platter and added a dulche de leche sauce, vanilla bean whipped cream, and the remaining fresh raspberries to. Wow it tasted as good as it looked!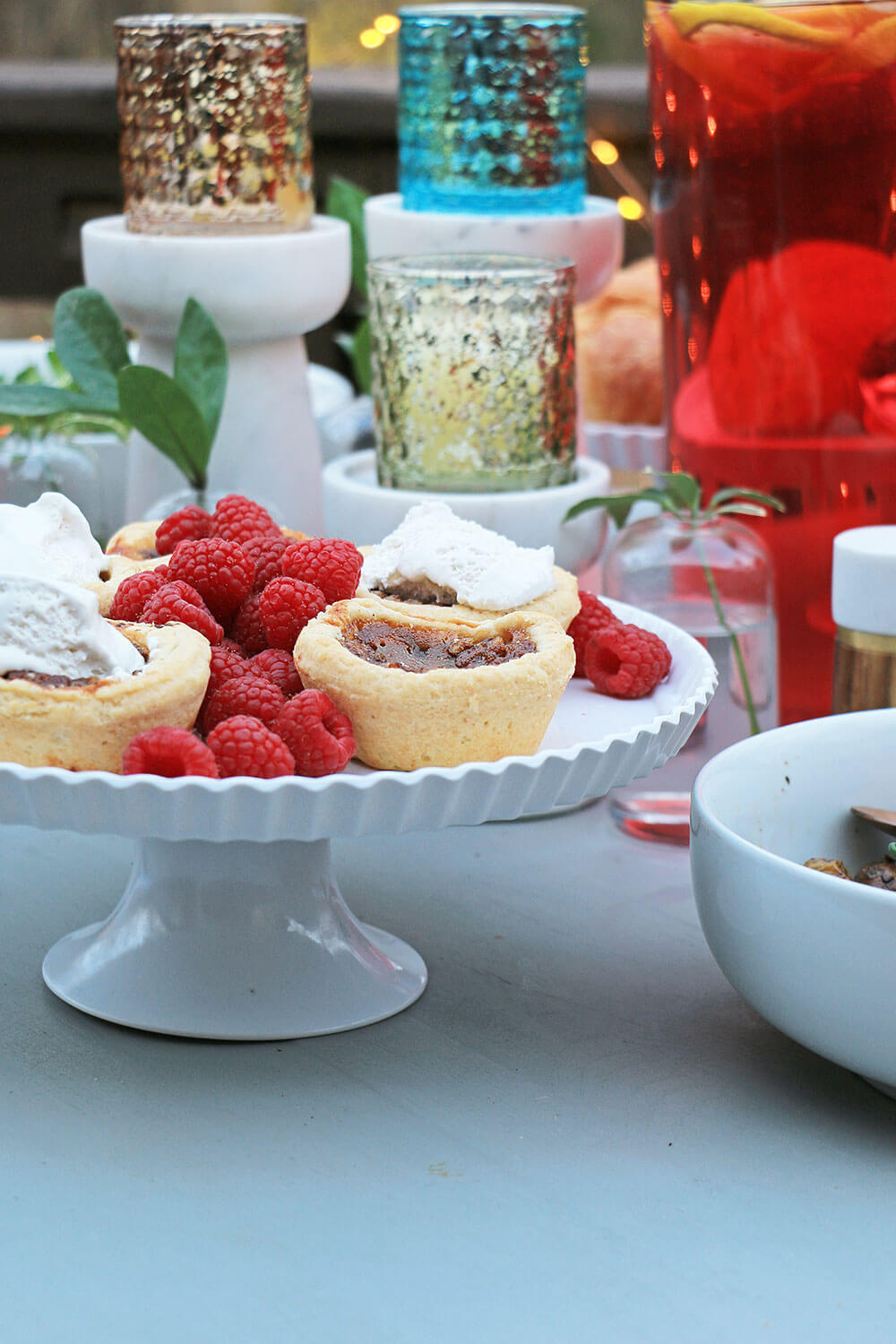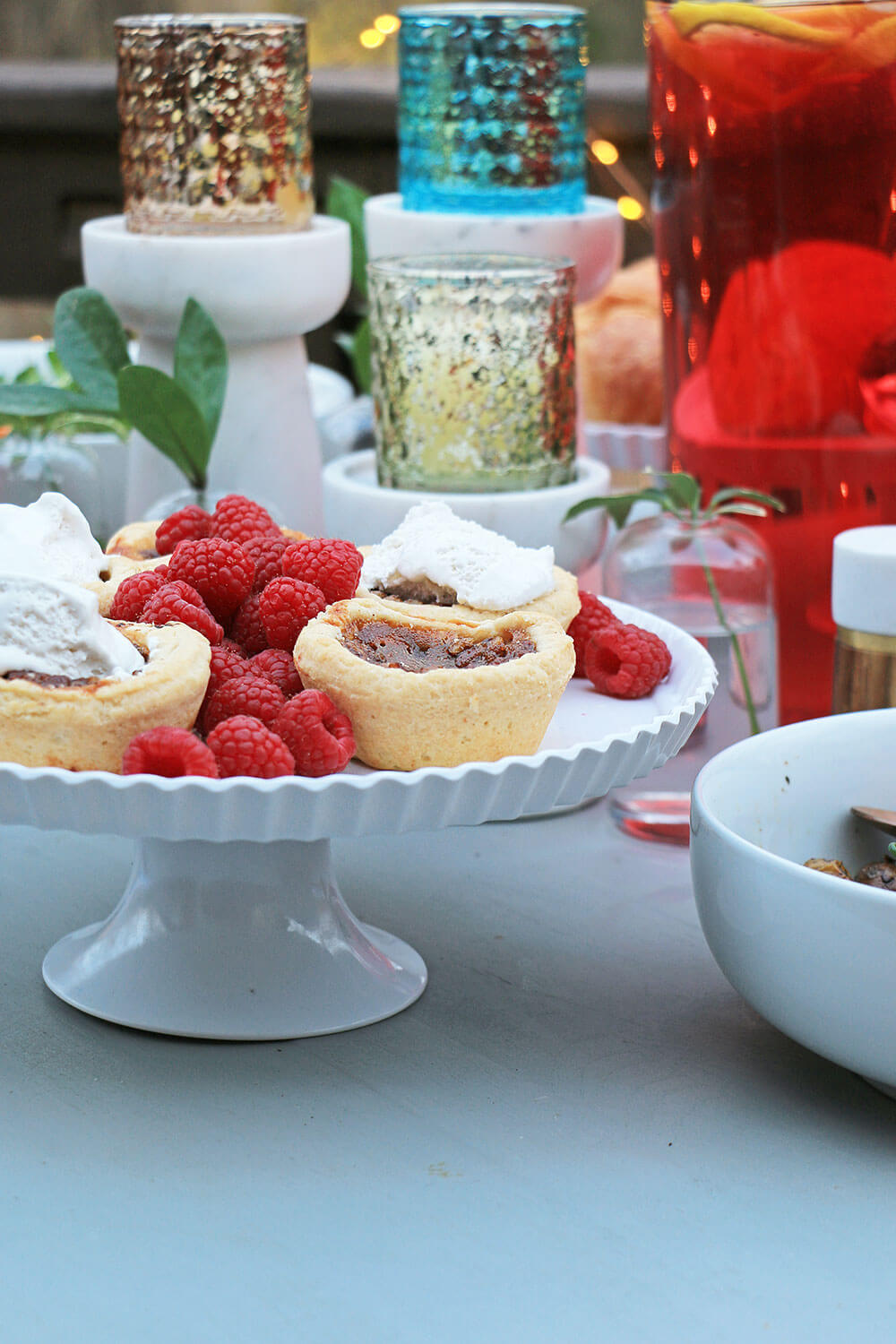 Set The Table In Style
Use tea towels as oversized napkins, stylish dinnerware and utensils, and even choose an edgy pitcher and glass set. Each one of these elements have a practical purpose, but when you choose pieces with style to begin with, you barely have to decorate the table.
Let these practical pieces be 90% of the tablescape so you aren't taking up valuable room on the table.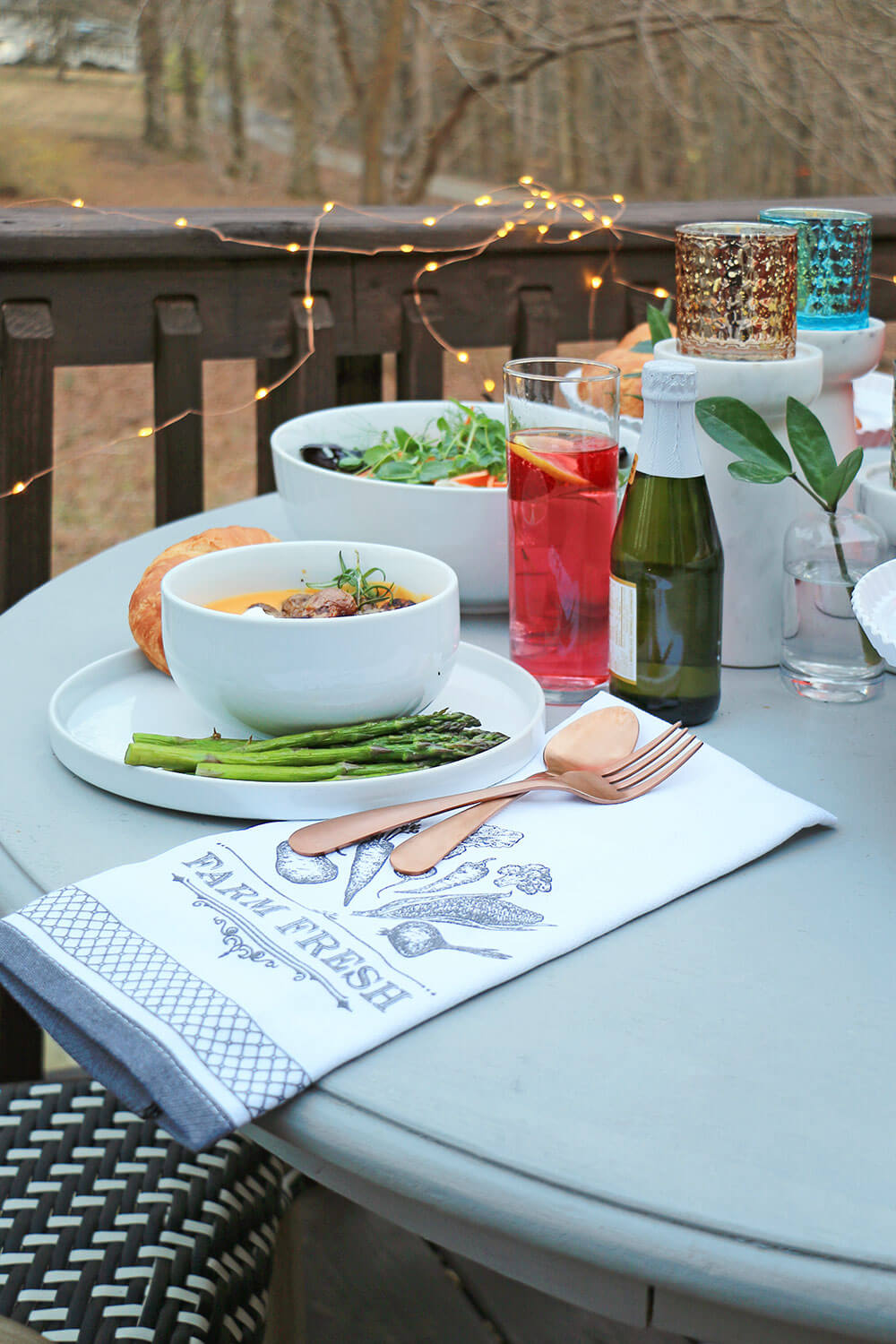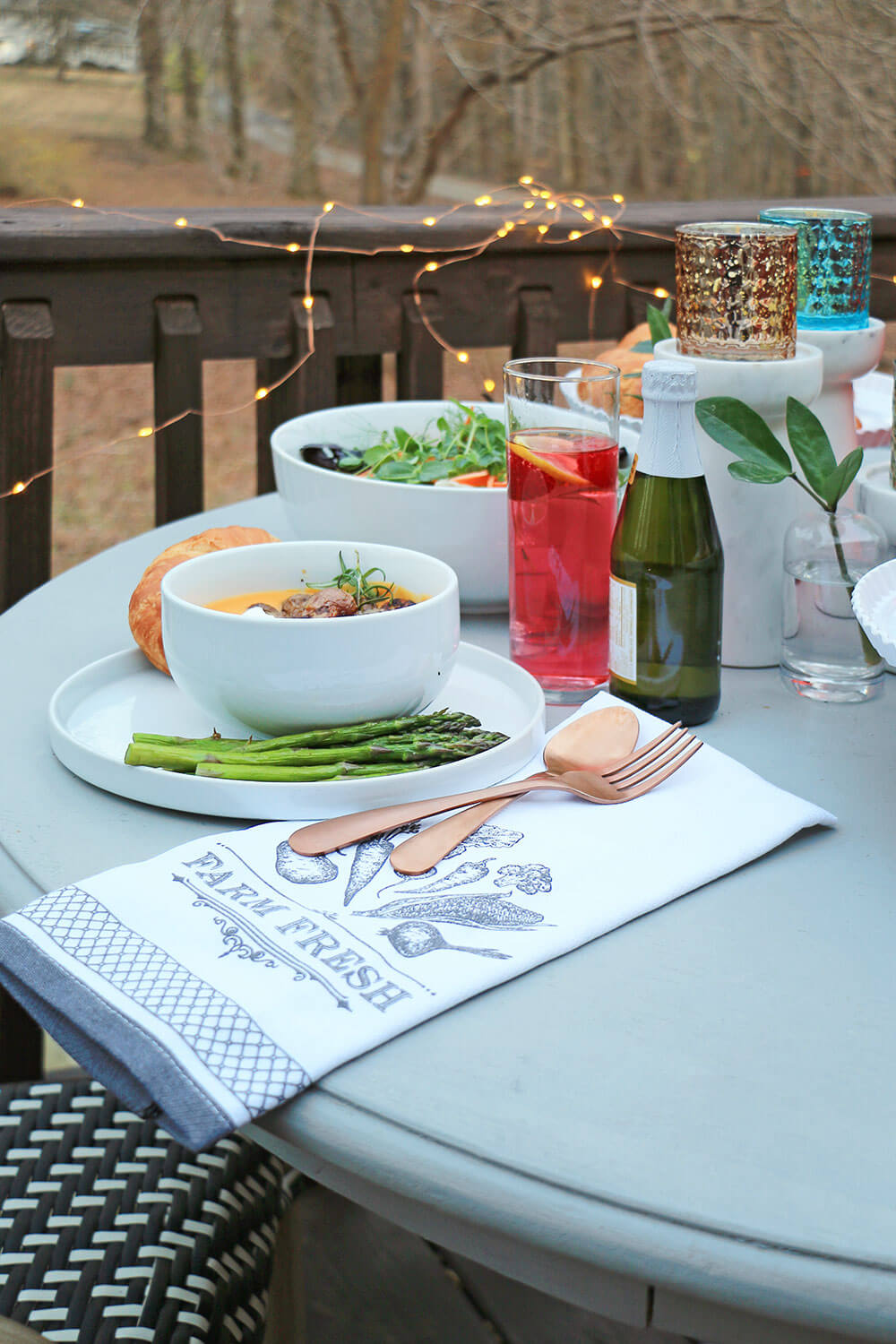 Keep The Insects At Bay
Choose the best time of day to avoid the insects. But also employ citronella candles, tiki torches, and even live bug repelling plants. The great thing about these insect repelling elements? They are actually a nice touch for added ambiance and style!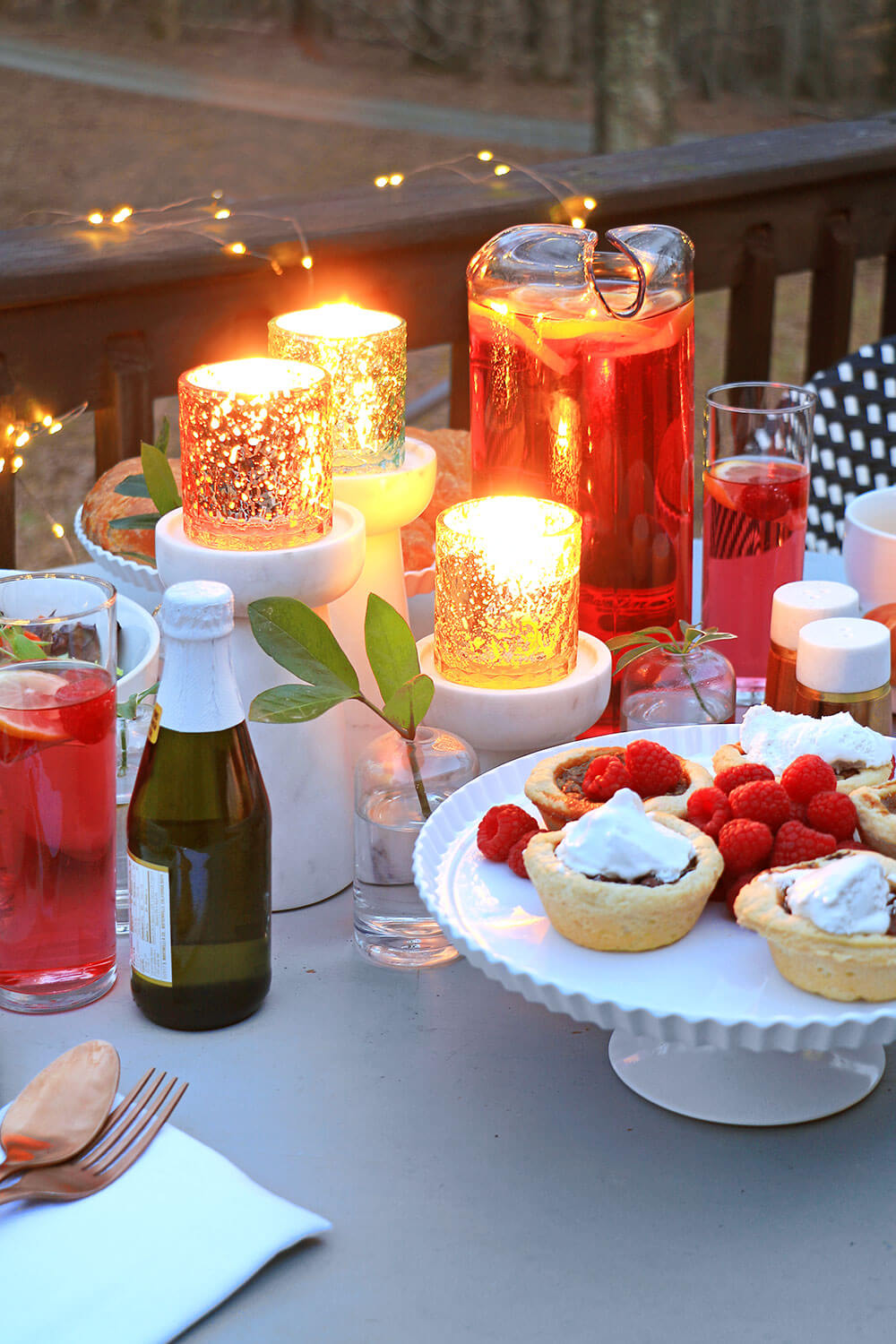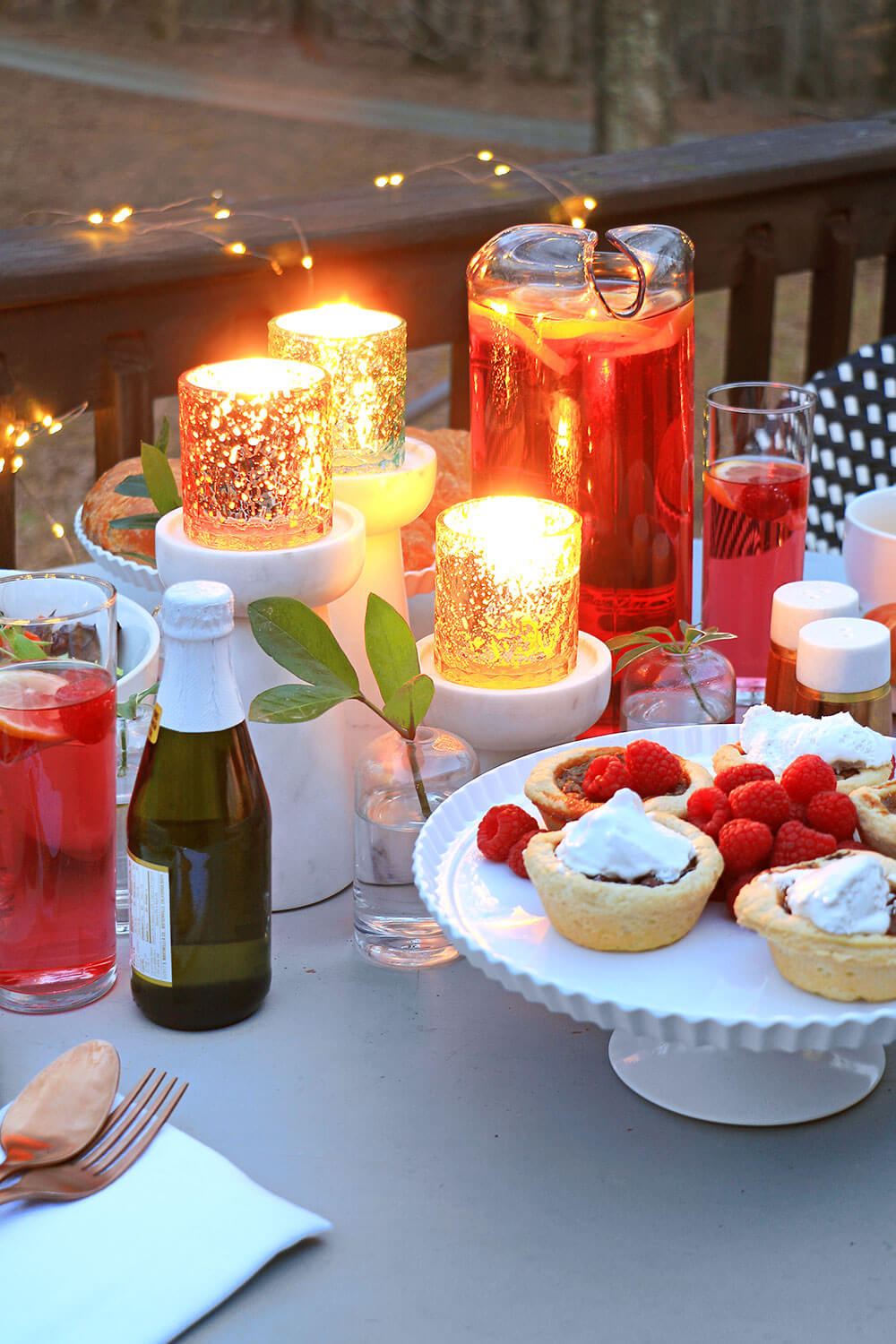 Use netted food covers, glass bell domes, and tea towels over the food to ensure no stray fly or insect ends up in the food.


Add Ambiance With Lighting
Add twinkle lights to your deck railing, candles on the table, and solar lanterns sprinkled around the deck for ambiance.
As the evening draws on, it will just get prettier and prettier out there with the right lighting. Not only does that mean less bugs at that golden hour, but it makes for a magical scene!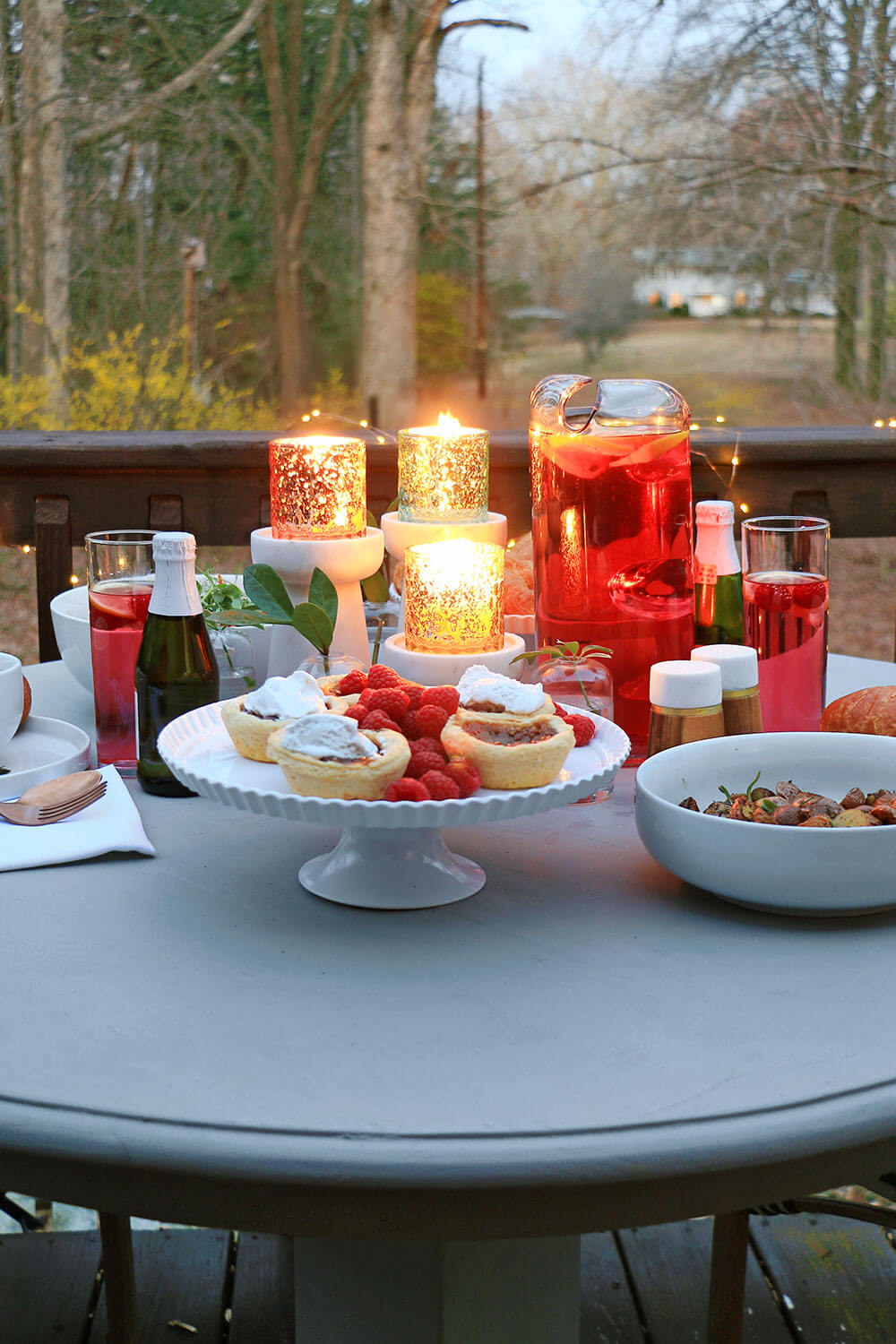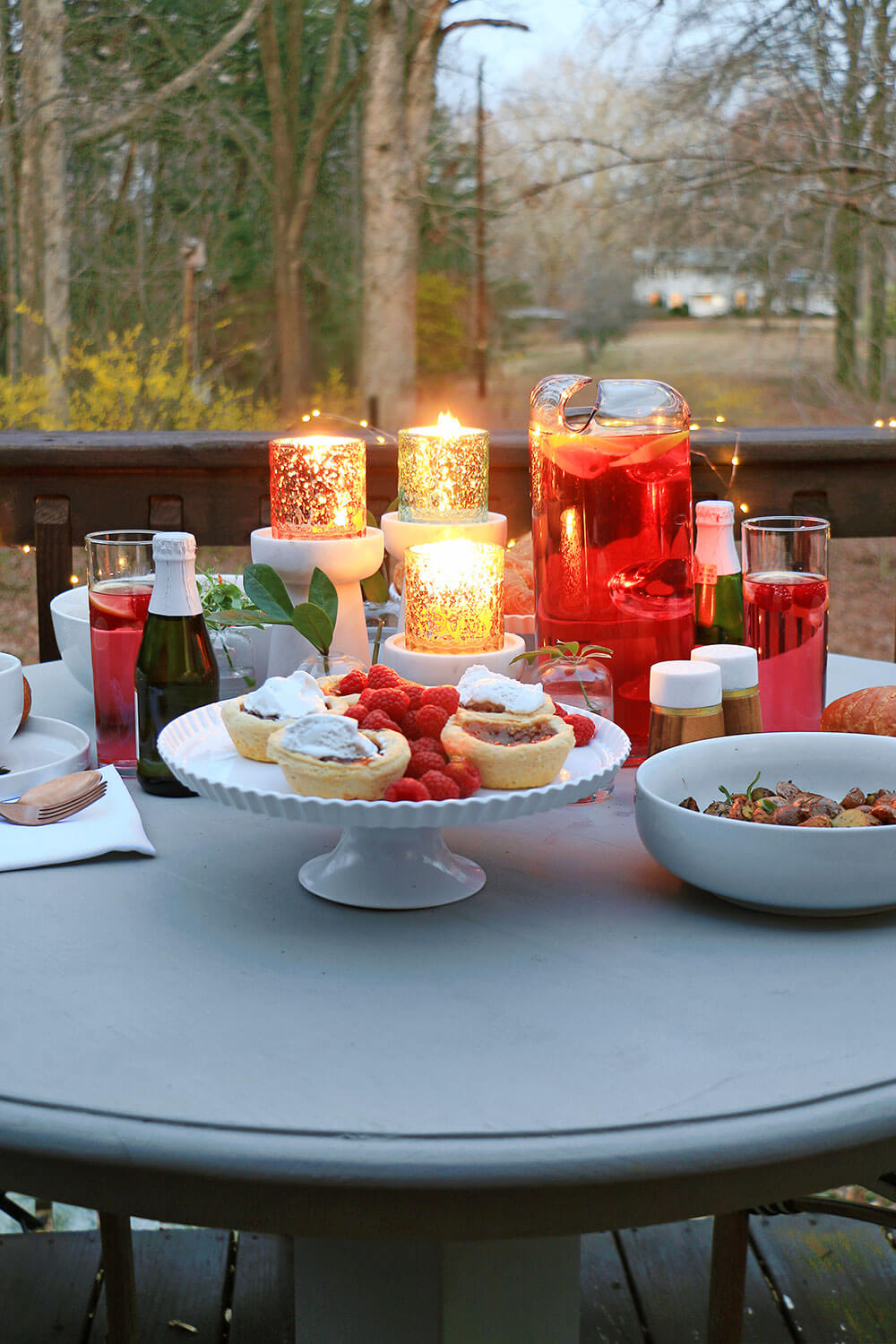 Consider string up cafe lights,or add path lights to planters…but if that is too much extra work, trust me, twinkle lanterns are just as amazing!
A bonfire, or fire pit or fire basin also helps insect repelling and ambiance. Who doesn't love a fire in the outdoors?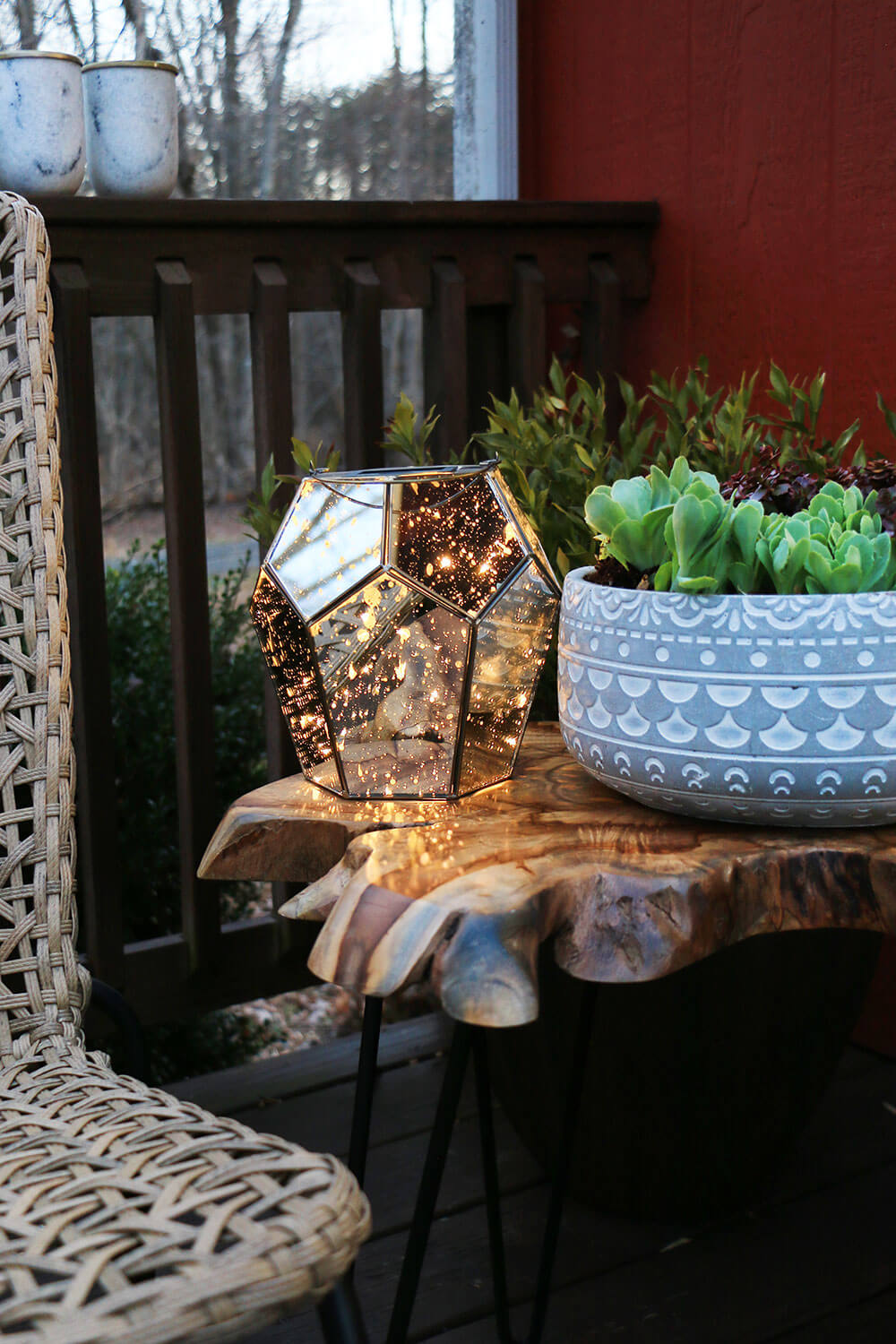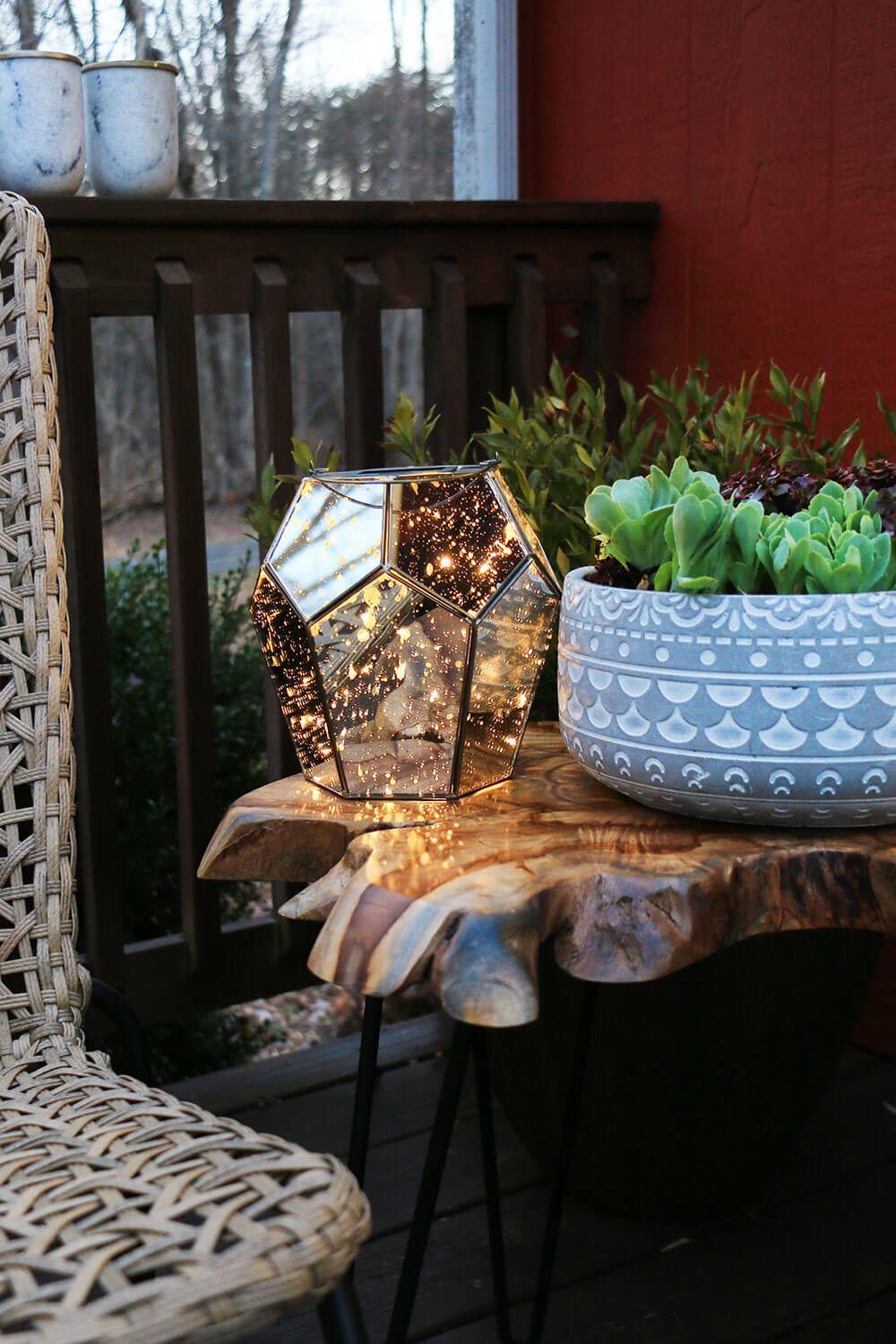 Add Loungy Seating For Catching Up
When having friends over in our interiors, we often move from the dining table to the living room to more comfortably continue conversation. Consider adding that same helpful quality with loungy outdoor seating or sofas for your guests to move to when the meal is over.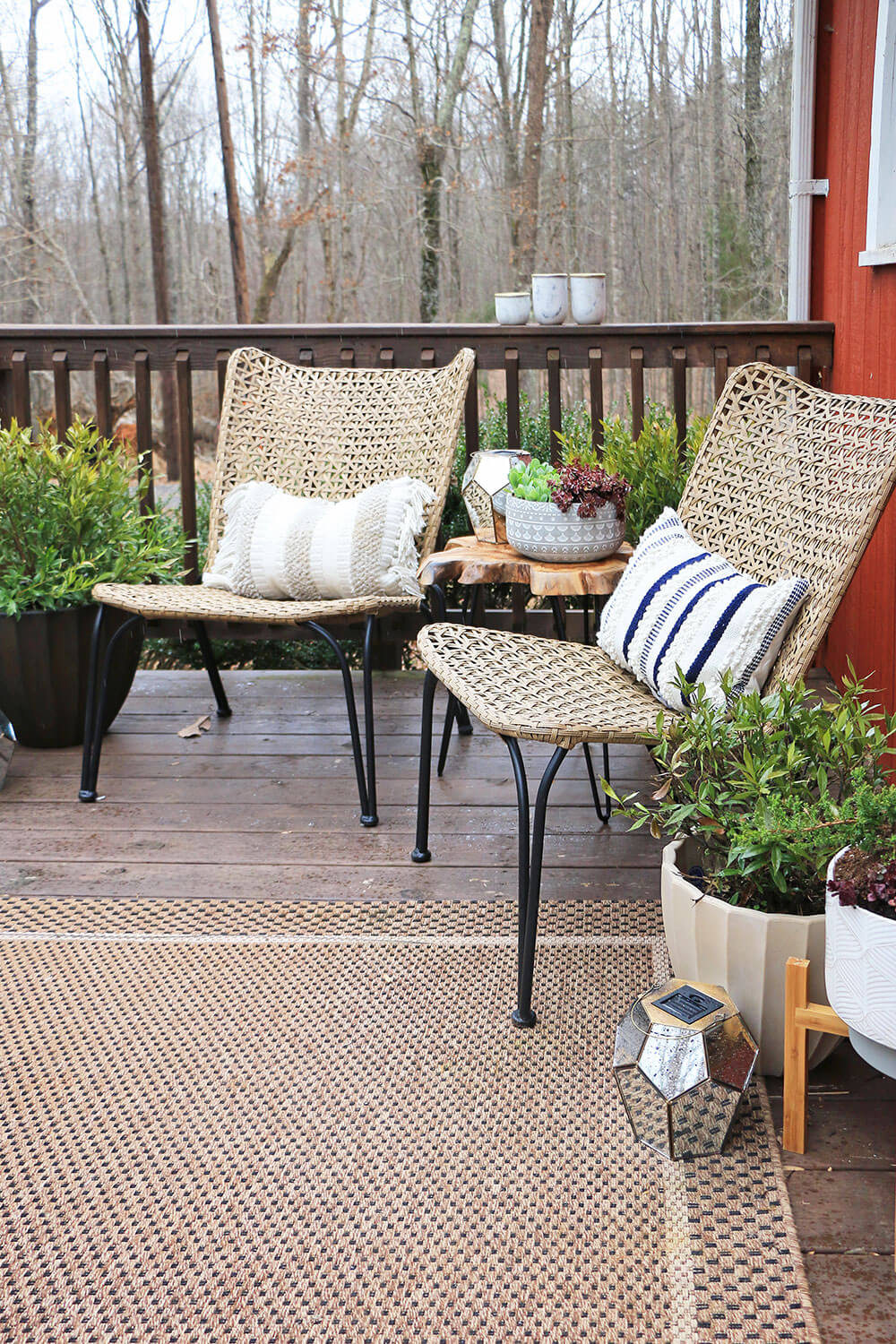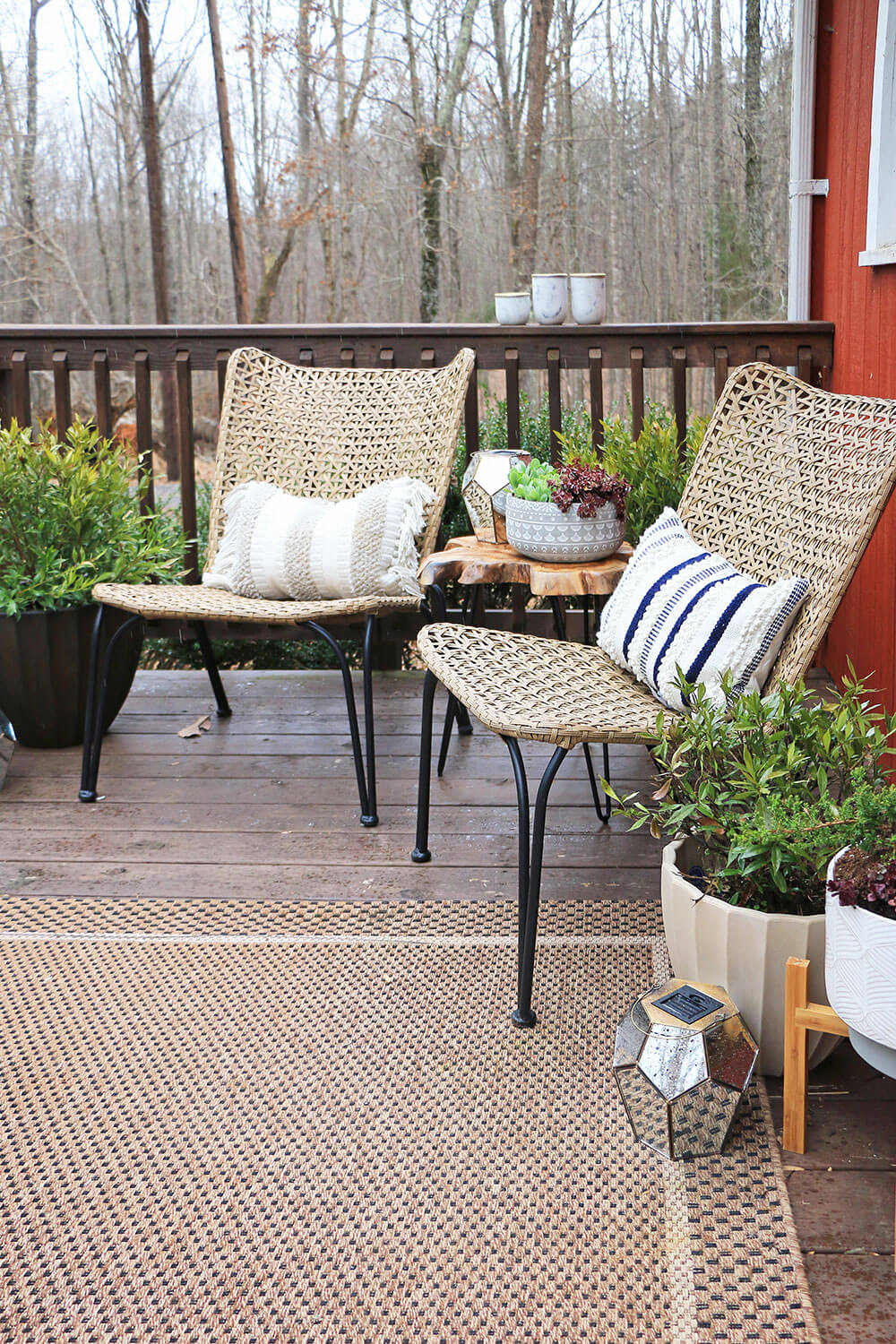 In case you missed my Small Deck Makeover Tips with before and after pictures of this space, check it out here.

Do All Your Prep Work In Advance, Then Relax!
Prep everything you can before your guests arrive, and after they get there don't stress the small stuff. After all, they are here to spend time with you! It's time to be the charming and engaged host.
Nothing is more distracting or awkward for a guest than you rushing around the kitchen to finish making a meal, setting the table, etc. They feel obligated to help, but don't know how. Eliminate that as much as possible by doing everything before hand that CAN be done. For tasks that can't be done until the last minute, make sure each family member knows their job, and you have even thought through which task your guest can easily help with that isn't too much effort.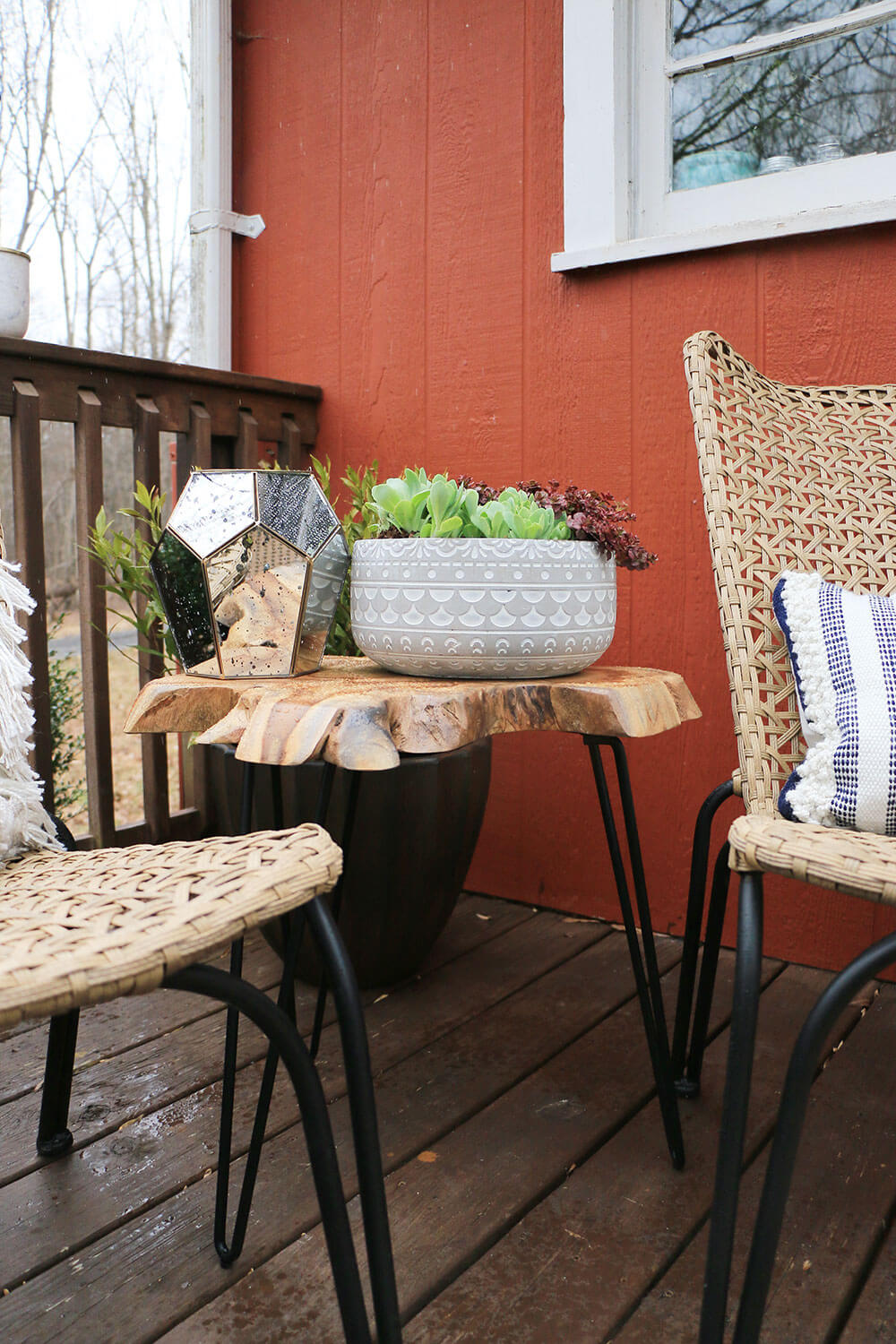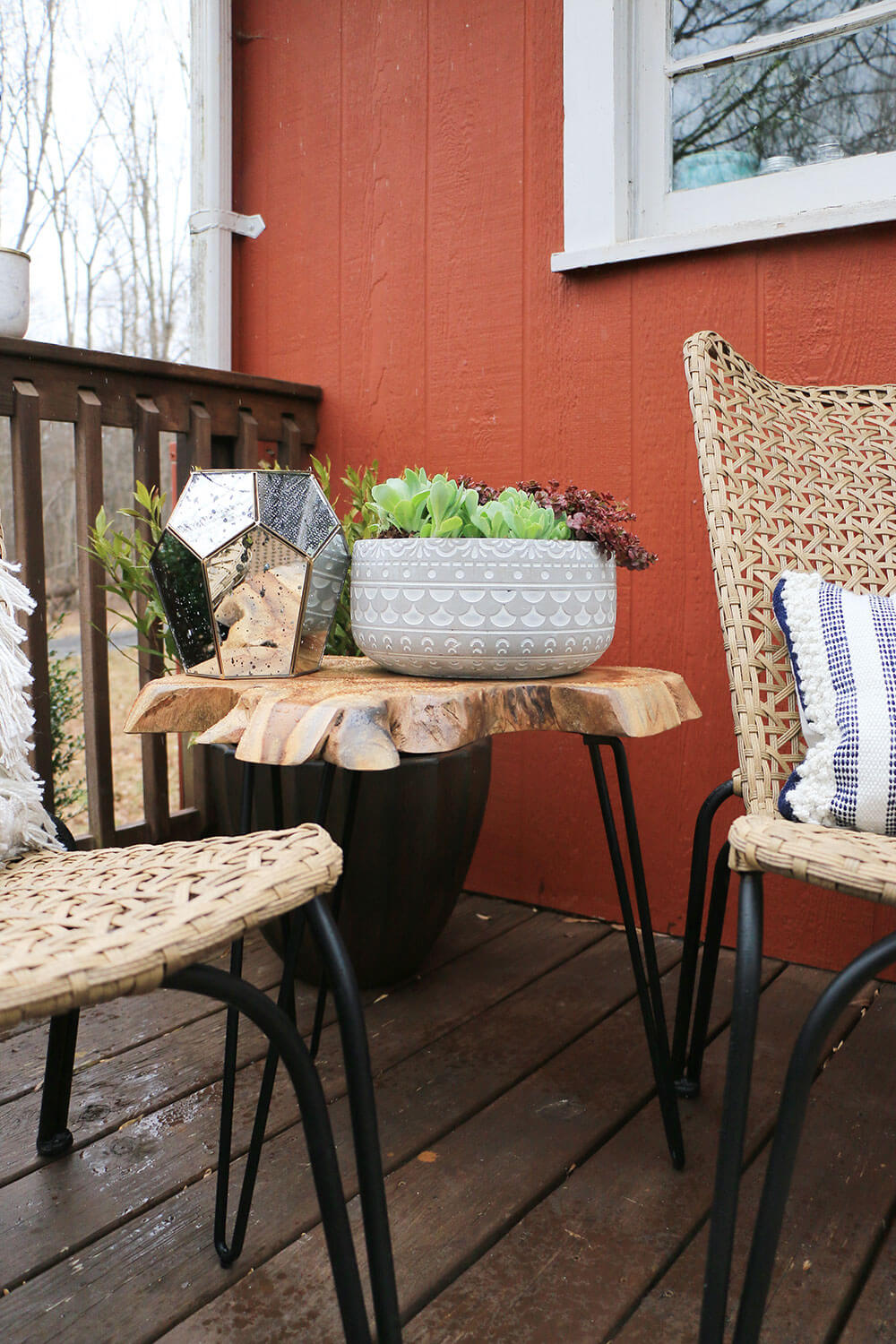 Now sit back and enjoy. You should be able to enjoy your evening with friends just as much as they will enjoy this amazing outdoor entertaining you've set up!


[left]
The Better Homes & Gardens Live Better brand at Walmart partners with Home Made by Carmona every month on a new challenge. You can find the Better Homes & Gardens brand line carried exclusively by Walmart. For more inspiration and the latest line of goods, you can follow them on Facebook, Instagram, Twitter, and Pinterest.
**I am honored (and excited!) to be part of the Better Homes & Gardens Live Better influencer network, and am compensated for sharing a few of my favorite things, projects, opinions, and my own original ideas with you.
[/left]
[right]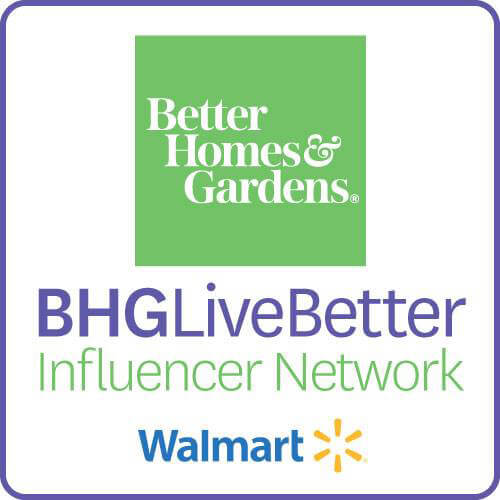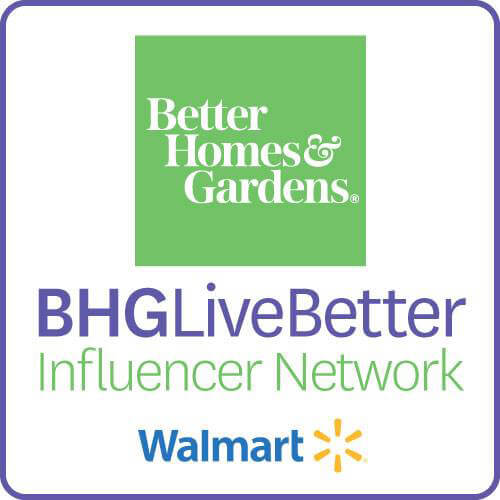 [/right]


[go_portfolio id="entertaining_tips"]