After 5 weeks of working on my family room for the One Room Challenge, it is finally week 6 and reveal day!
I am so thrilled with how my living / family room turned out. That being said, Murphy's law was in full effect from day one of just planning this room. Not a single renovation plan of mine was realized.
It just goes to show that even if you aren't able (or can't afford) to make big changes to a space, it can still be a gorgeous space you and your family will love.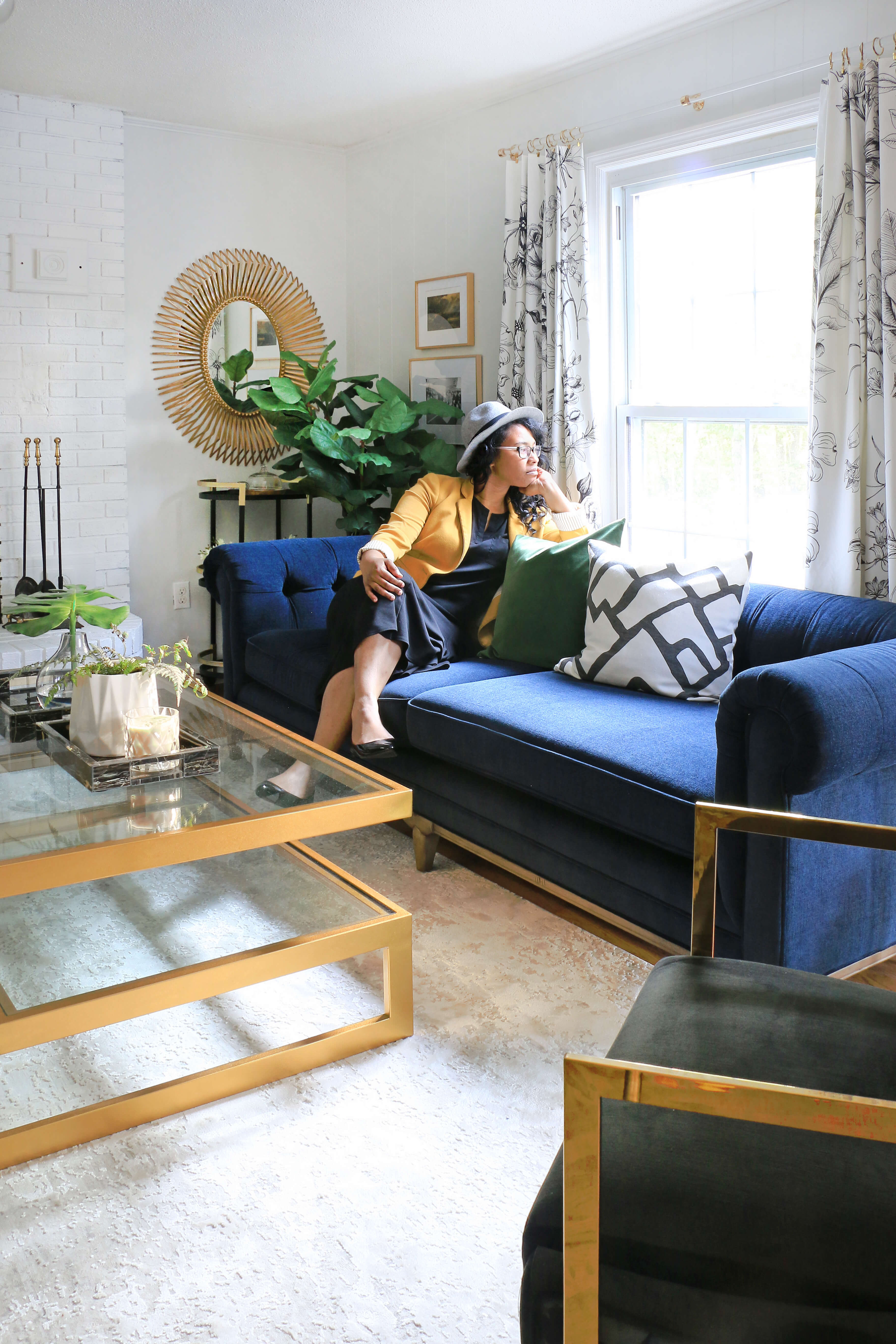 *Special thanks to all my One Room Challenge sponsors! Sponsors are linked below and may contain affiliate links of sources.
Best-Laid Plans of Mice & Men…(+Before Pics)
I had so many grandiose plans for my family room. The original plan was to open up the wall between my two living rooms (why are there two living rooms anyway?), or at least have cased opening with pocket doors. It would have made entertaining large groups easier, and give great sight lines throughout the house. I had also hoped I could install retractable glass doors all along the wall that leads out to my deck. Plus two big beautiful windows on either side of the fireplace to let in more light. Unfortunately I could not find a single contractor available in the first half of 2019…so much for those plans. This room would have to be amazing without any major structural changes.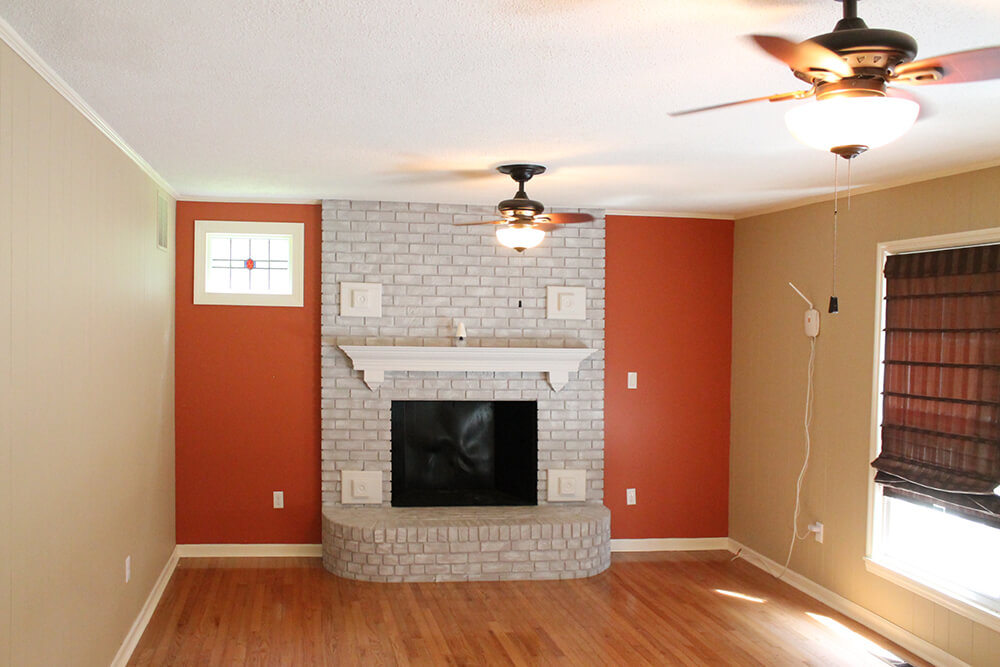 Then I contracted a fireplace company to create a custom stone surround for my fireplace, and that fell apart. I planned several DIY solutions, which one-by-one also failed me.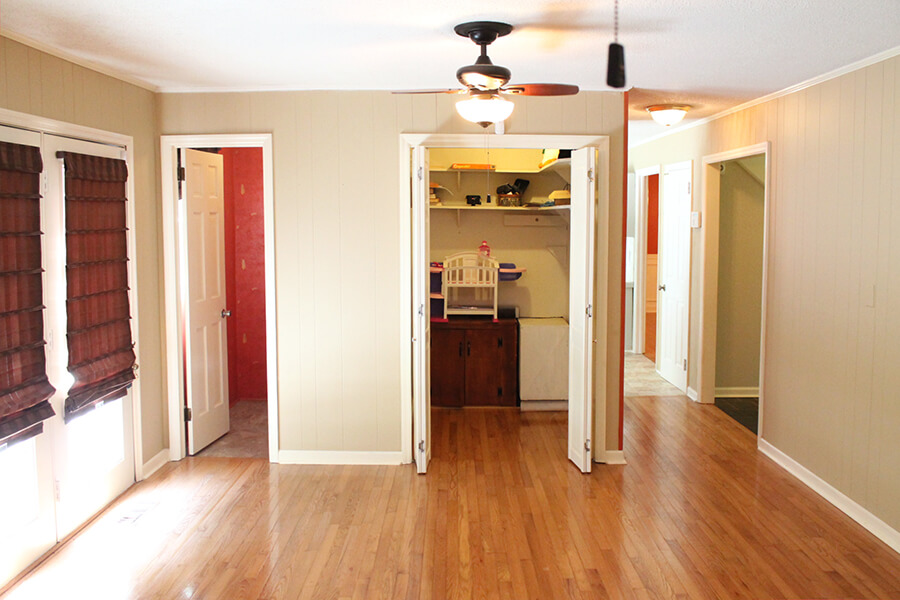 Guys, this makeover was determined not to be an easy one. Or maybe I should say, it was determined to as easy as possible with no new bells or whistles. Haha! And you know what? I'm glad it worked out this way! I get to show you the power of a fresh coat of paint and well chosen furniture can do for a space.
If you want to see the progress and some of the challenges, check out Week 1 / Week 2 / Week 3 / Week 4 / and Week 5.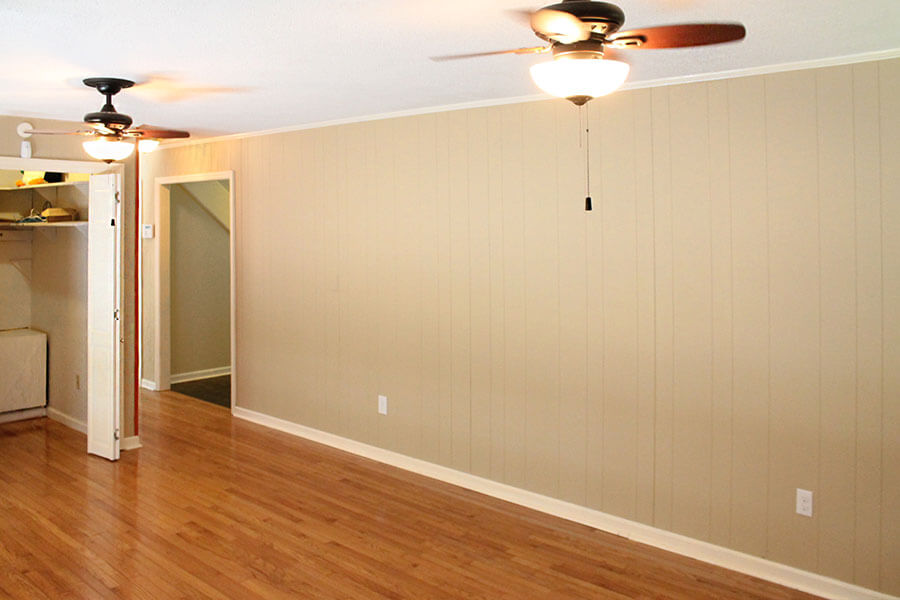 Closet Turned Office Nook
I'm going to start this tour by showing you this odd but good-sized closet that I turned into an office nook. There really was no other place in this house for an office, and for the life of me I could not think of a good use of this closet, so it just seemed logical.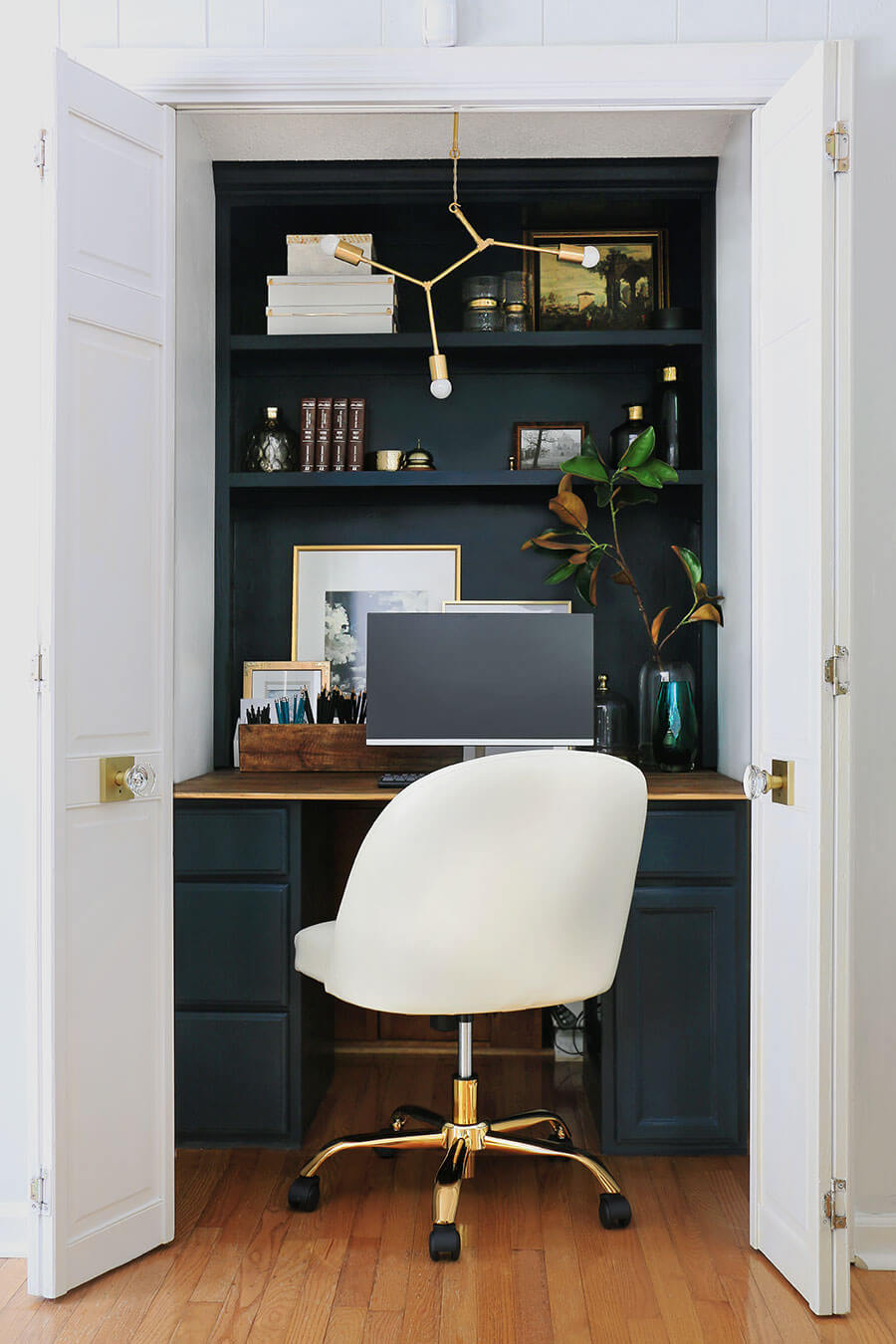 It was easy to tear out the old shelves which were pulling away from the walls, and build new shelves for the back of the closet. I really wanted it to pop and stand out among the rest of the space, while still flowing with the rest of the room. To have them pop and stand out amid the the rest of the space, I painted shelves and desk a dark almost-black peacock color from Behr called "Winter Way". And tell me this isn't the perfect chandelier for this space…it's like a piece of jewelry hanging right in front of the shelves!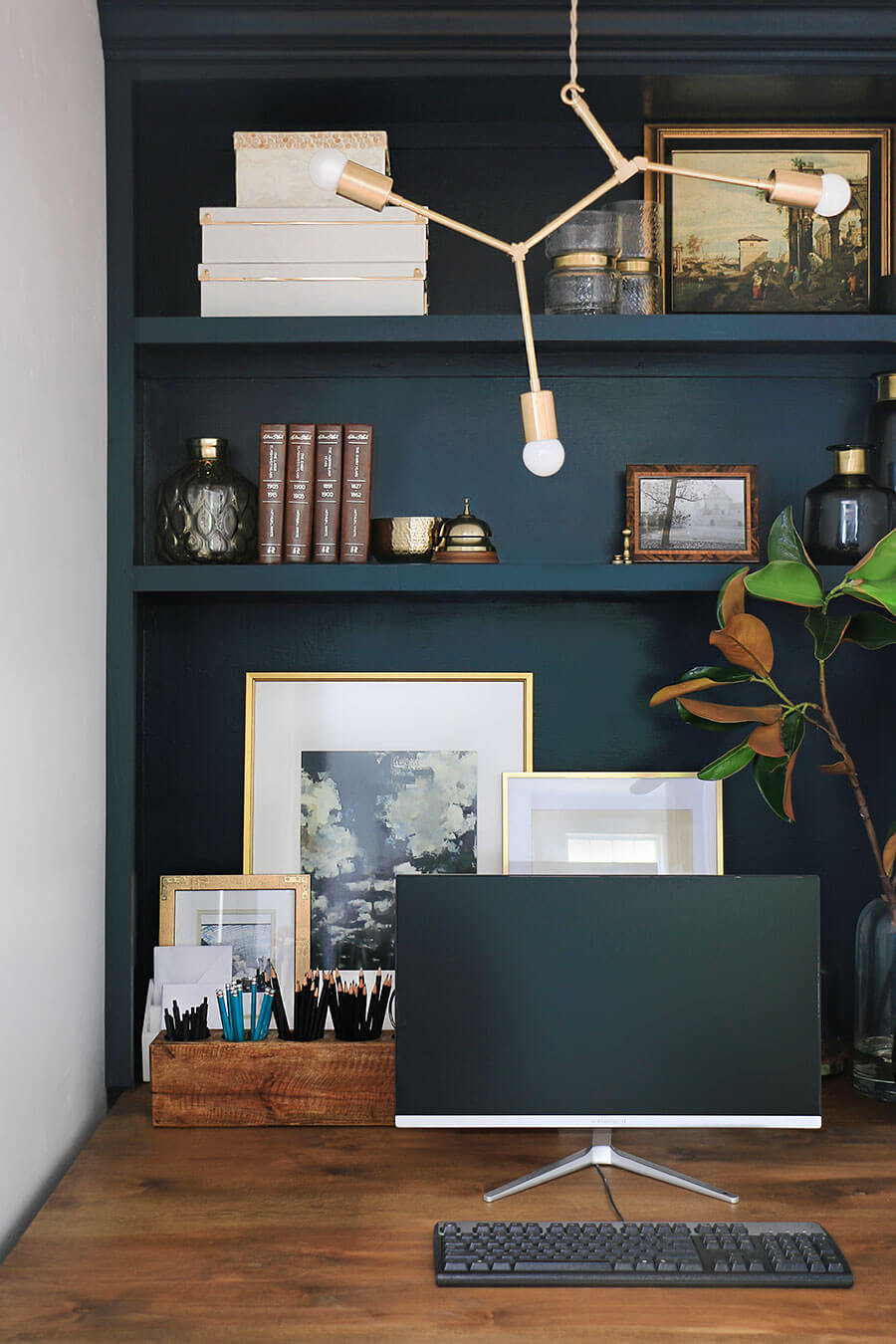 Just because a space is for practical use doesn't mean you can't add a few pieces of eye candy along the way. I added several beautiful pieces of artwork, faux magnolia leaves, and even decorative vases amid the practical must-haves.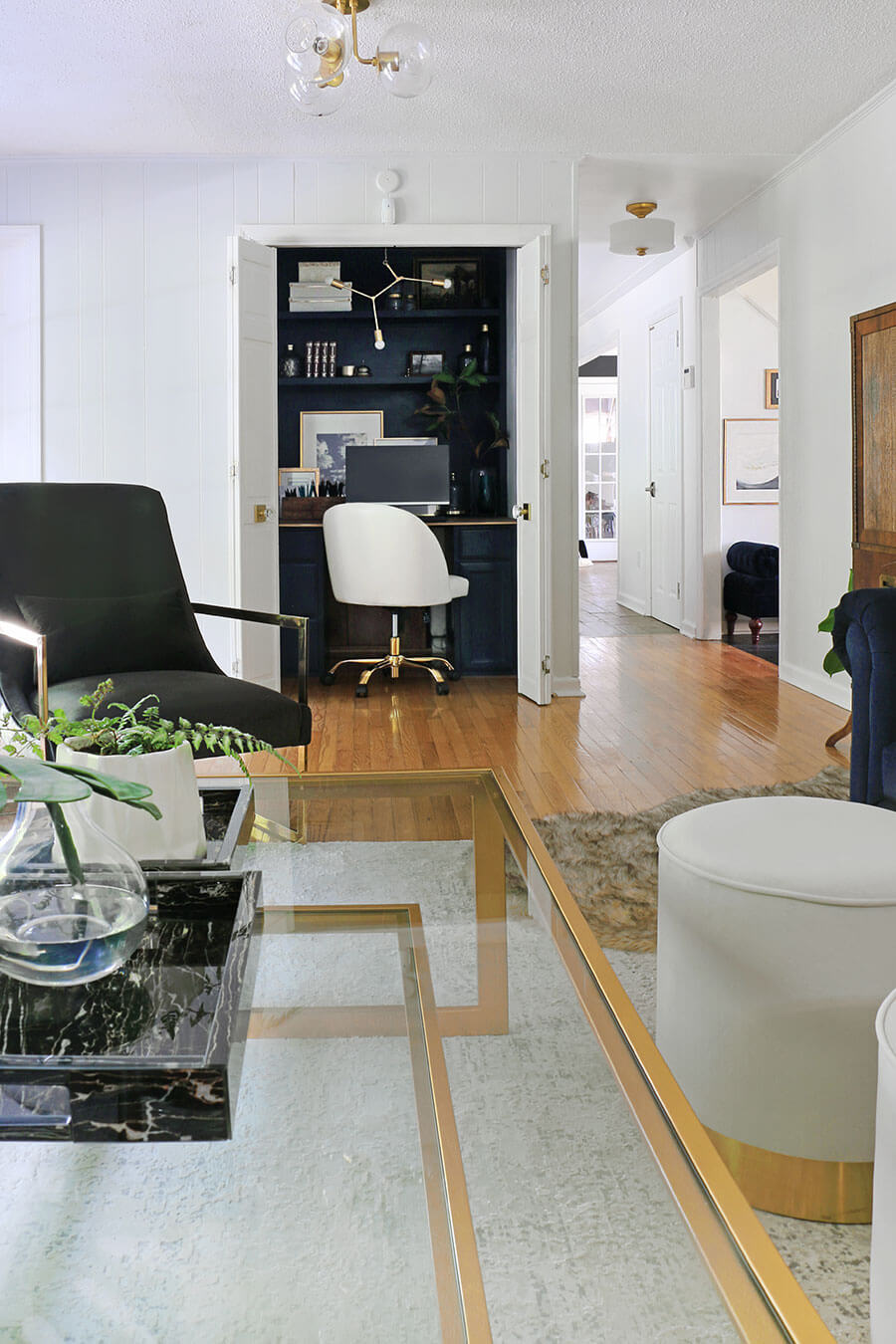 Family Room Uses & Style
The family room is the space where we have family worship together every day. I wanted a couple sofas facing each other so my husband and I (who I usually cuddle up to) could face our 3 darling girls. My husband and I both like to put our feet up, so these classy white ottomans sit on our side of the family room.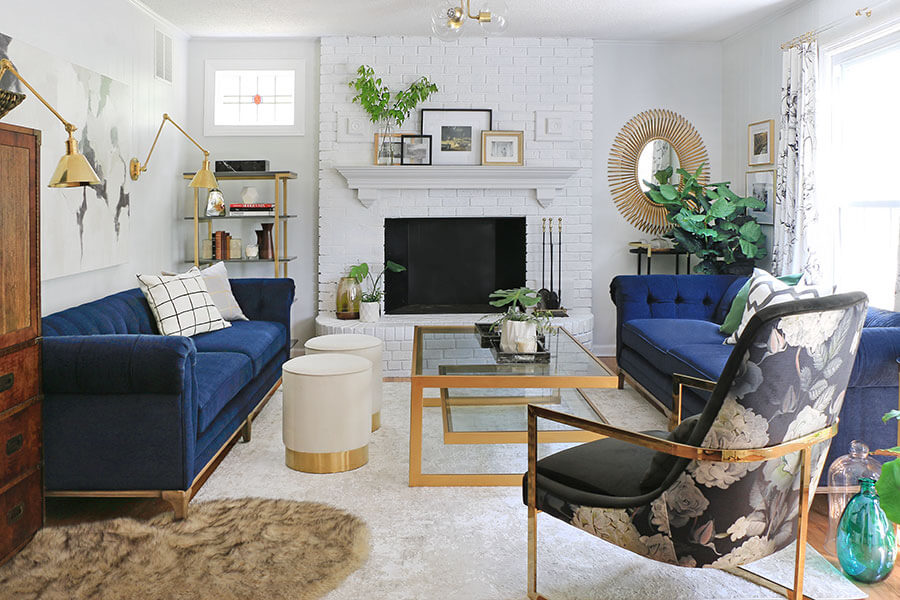 We also entertain guests in this space, so I wanted the possibility of additional seating for multiple people. Between two sofas, two ottomans that could be moved to act as additional seating, that stylish floral armchair, and even the rolling chair from the office, we have tons of seating if needed.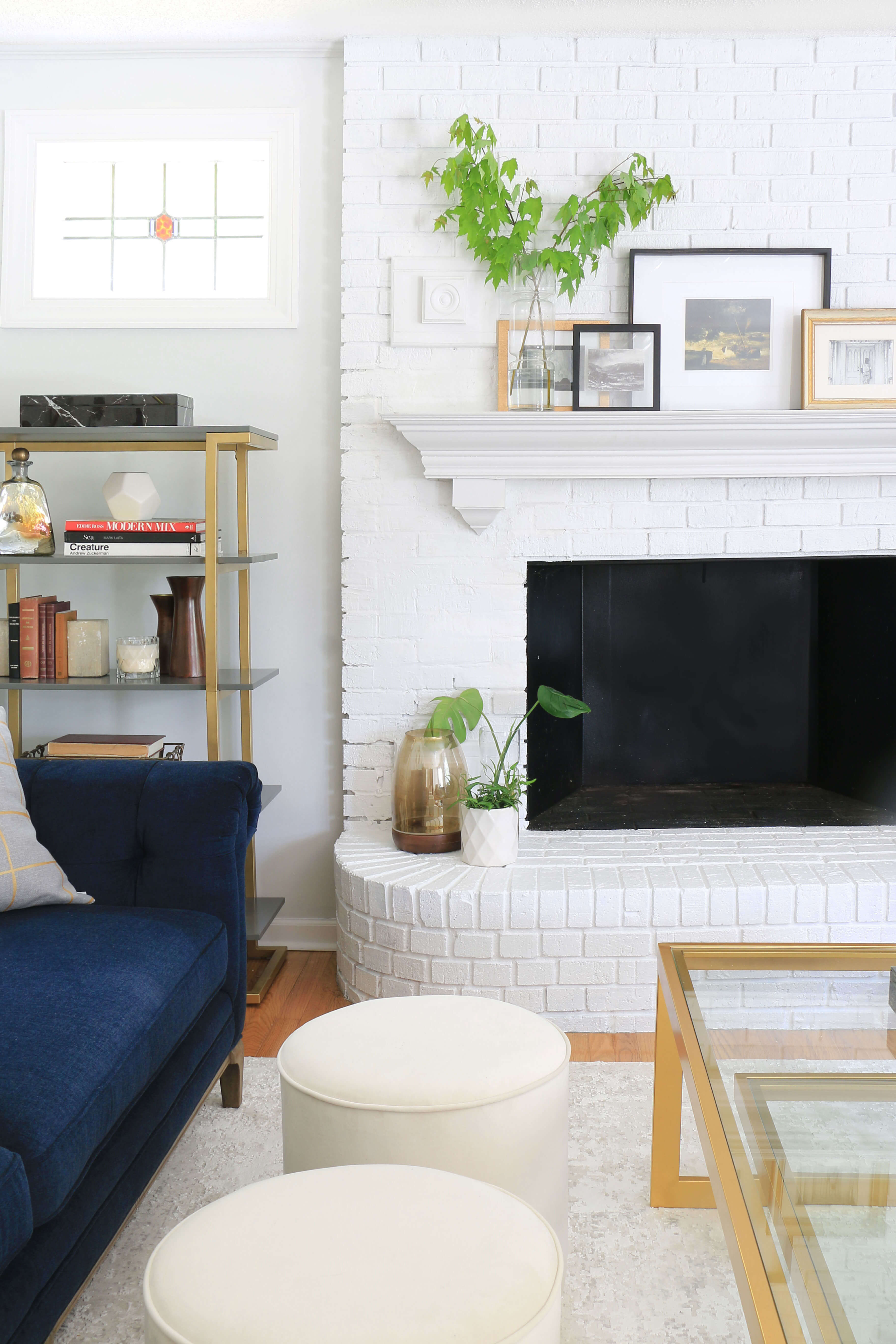 Plus, the French doors in this space open to the deck when we entertain. Being able to connect to an outdoor living and dining room helps expand our hosting area with an even larger group.
Accessories & Design Details
It is the details that really make the space. Every piece is a show stopper on it's own, but together they make for a wonderfully cohesive but eye grabbing space. The acrylic curtain rods, the bold pattern on the curtains and armchair, the metallic gold pops, the geometric shapes in the pillow cases and coffee table… I think you get the idea.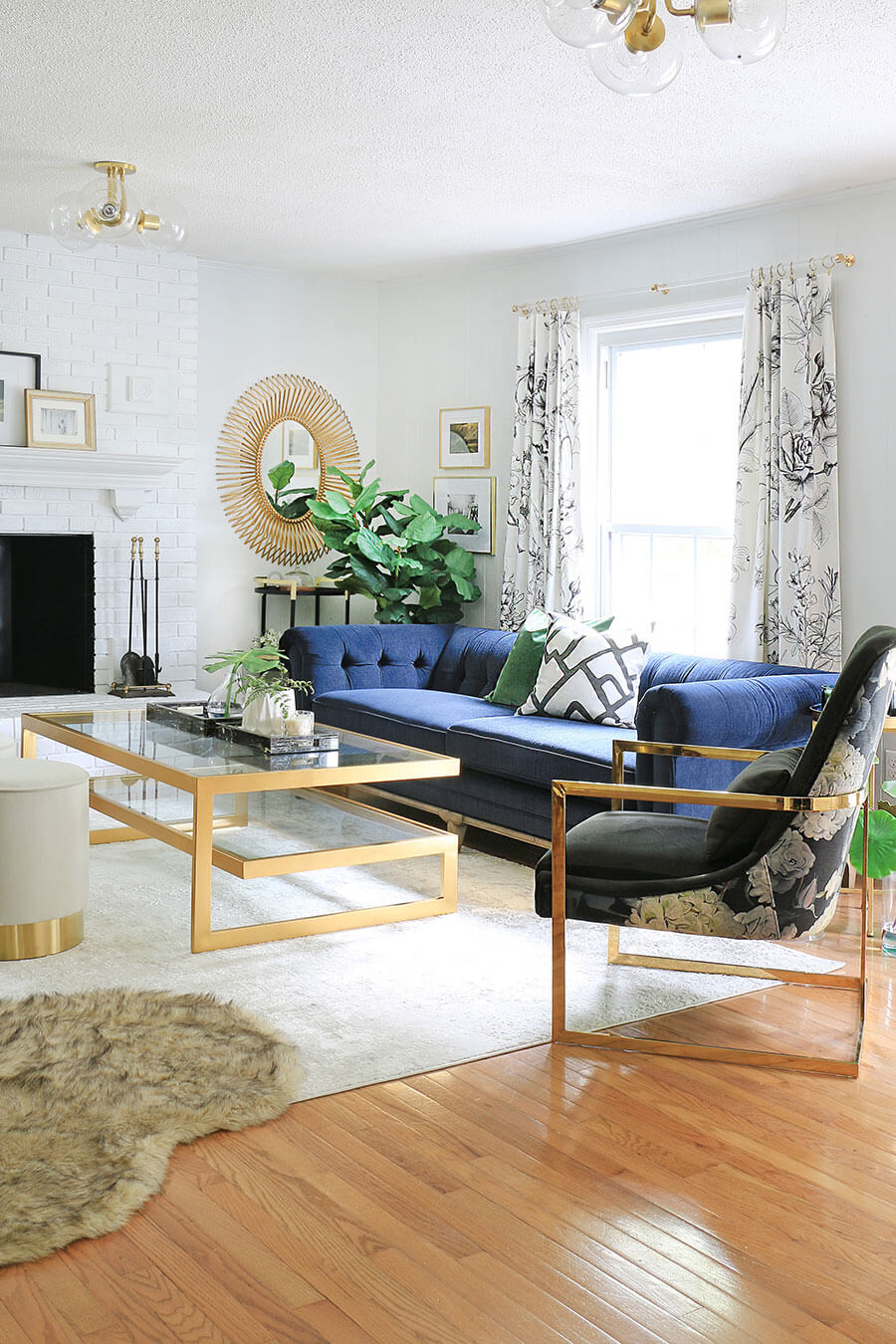 Besides a coat of paint on the walls basically nothing changed in the room. It is purely decorative changes. So don't ever be discouraged that you can't do more in a room. Embrace the things you would rather change, and make it work for you.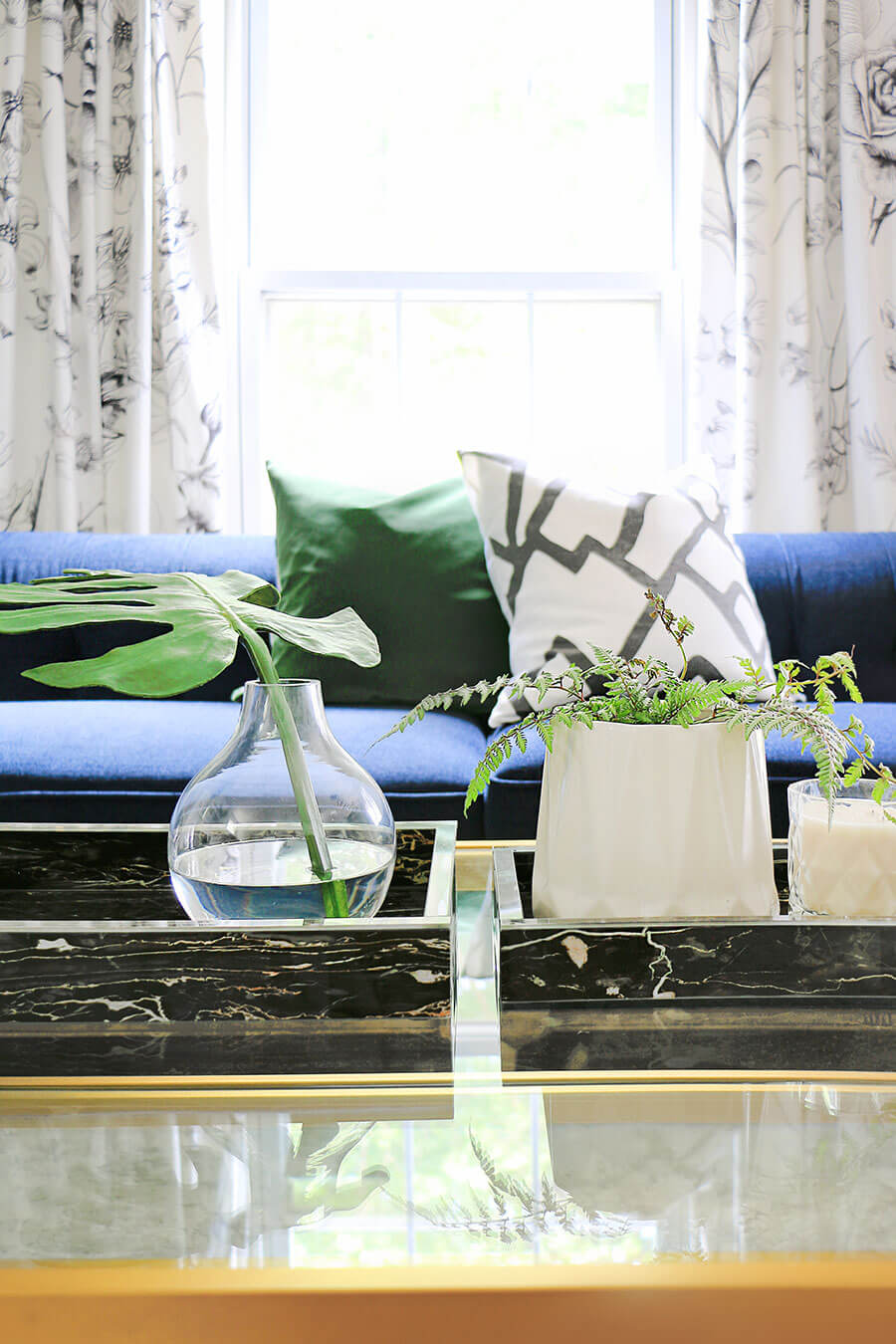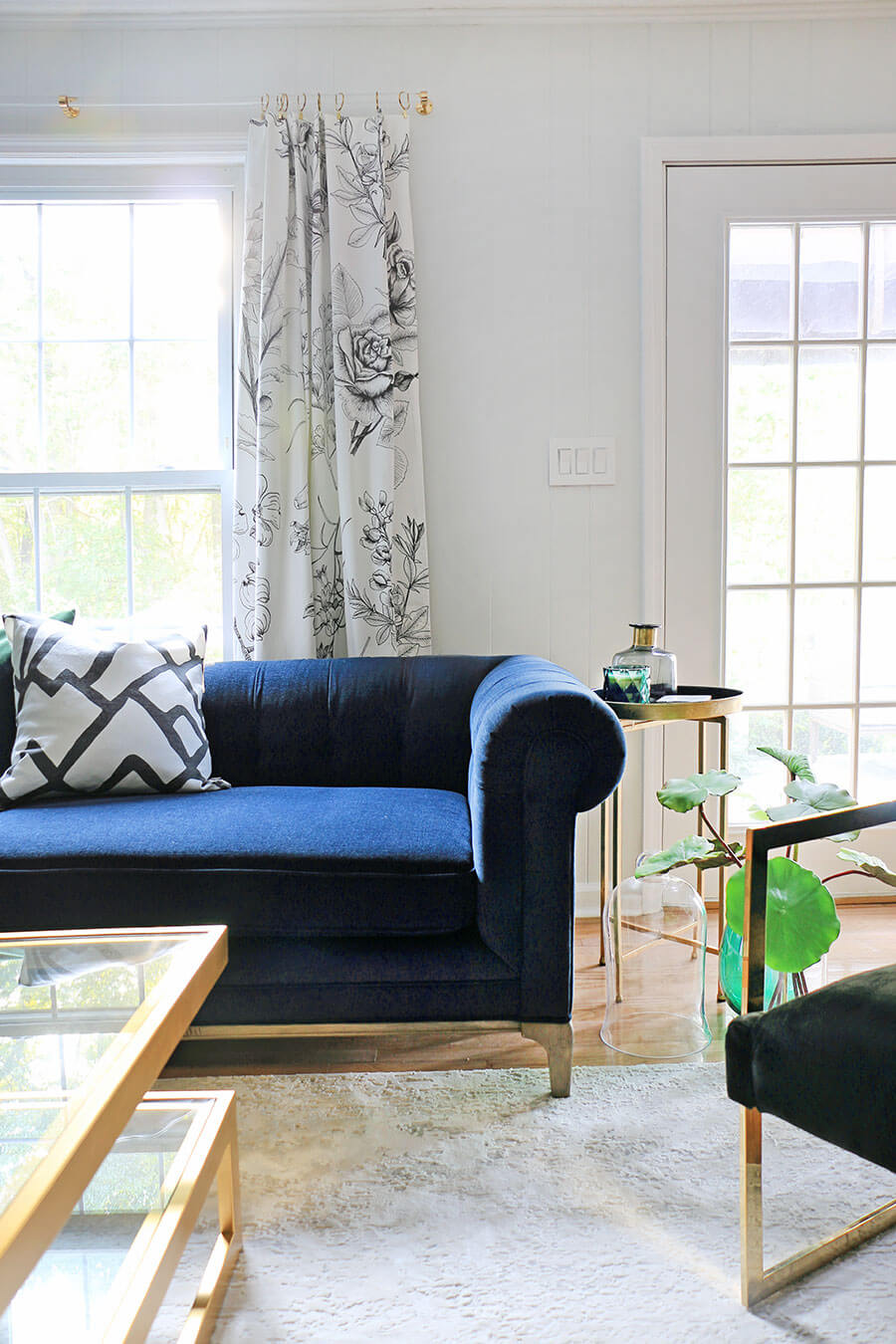 At the end of the day, it might not even matter. Or maybe those will be features you can add or change over the course of time. I could have pushed forward with an option for my fireplace that could take place before the big reveal, but I would rather wait and get exactly what I envision.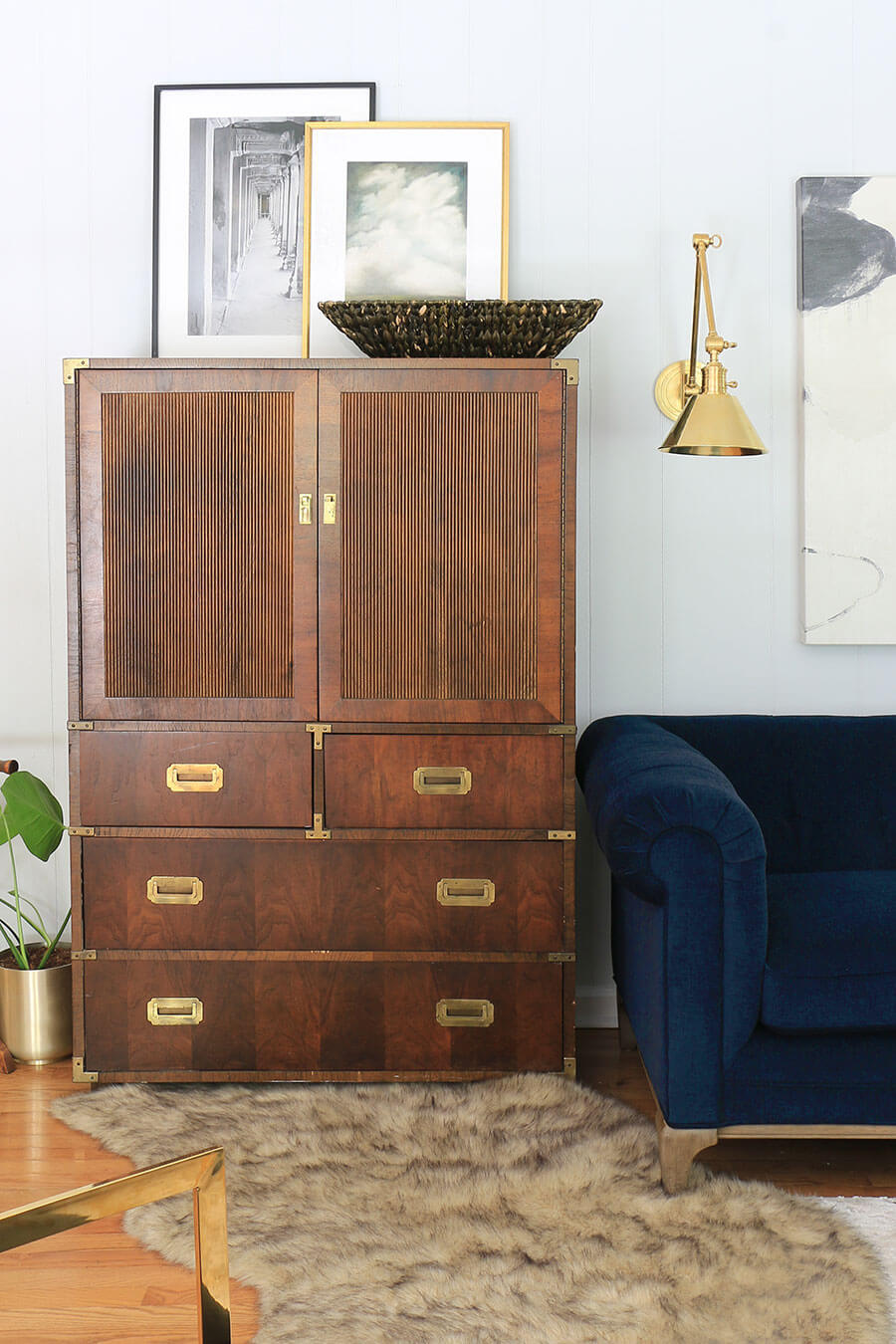 One thing I will continue to work on in this space, is bringing more pieces with character in. Like this campaign hutch I got for free. Or the picture you see at the top of the office bookcase I picked up from a thrift shop. I'm a fan of old things mixed with new!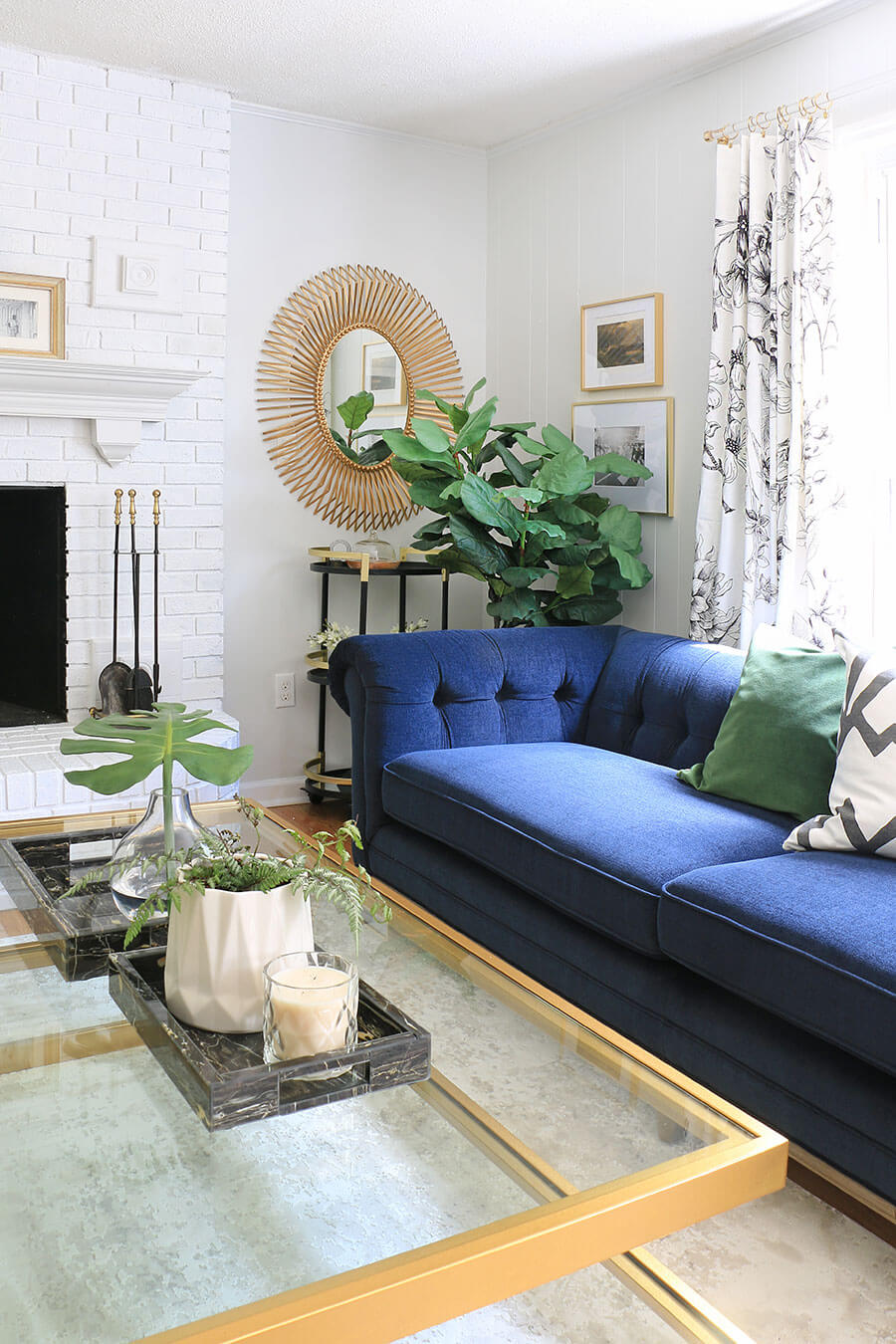 This may seem like a strange detail to mention, but I'm completely geeking out over the gold door hardware on the doors. It's amazing what fresh paint and new pulls can do.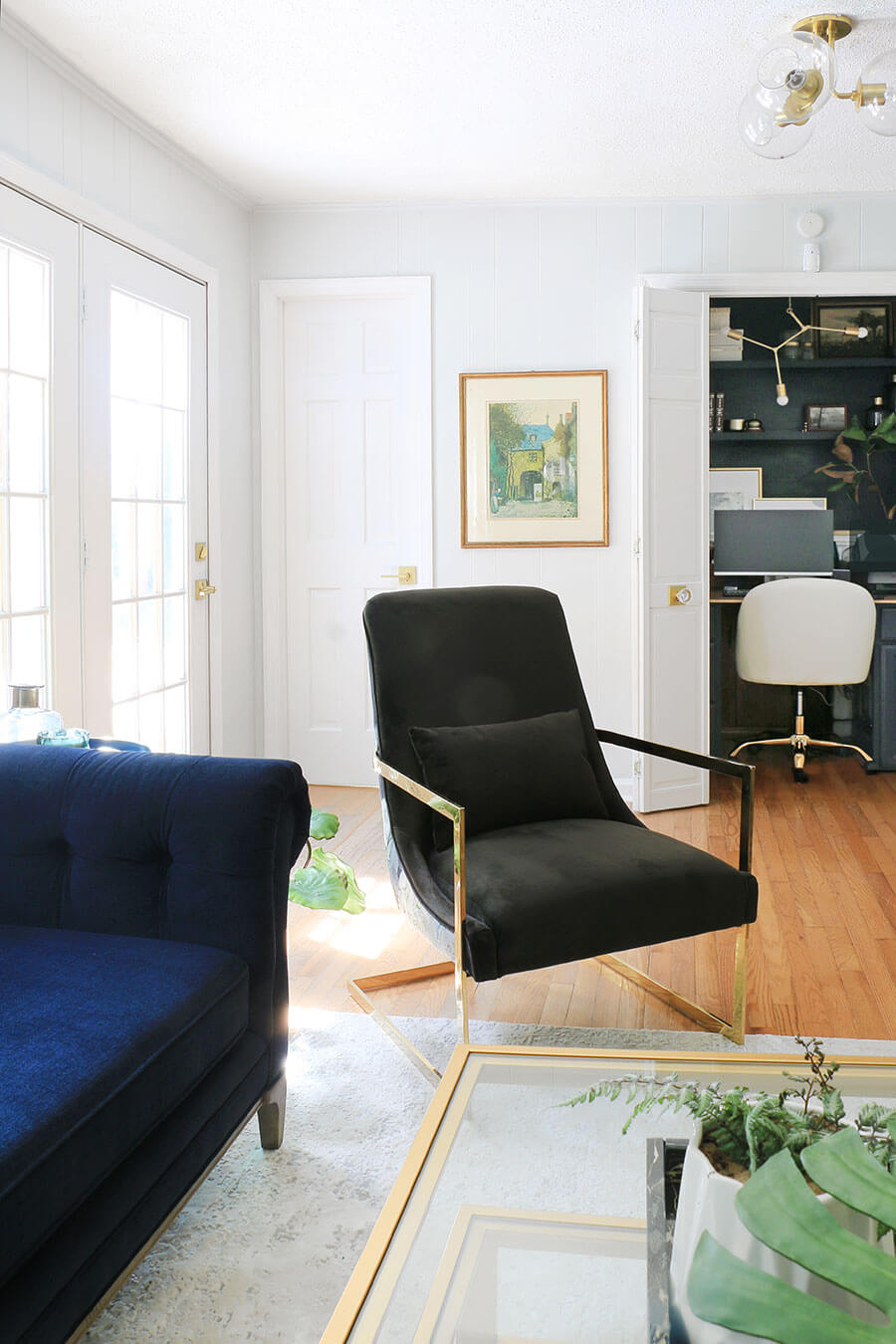 The Source / Shopping List
I know many of you are going to want to know where I sourced each and every item, so I'm going to do my best to link everything here for you. If I missed something you want, let me know!
Lighting
Furniture
Campaign Hutch: Free Facebook Marketplace
Soft Goods & Decor
Accessories & Plants: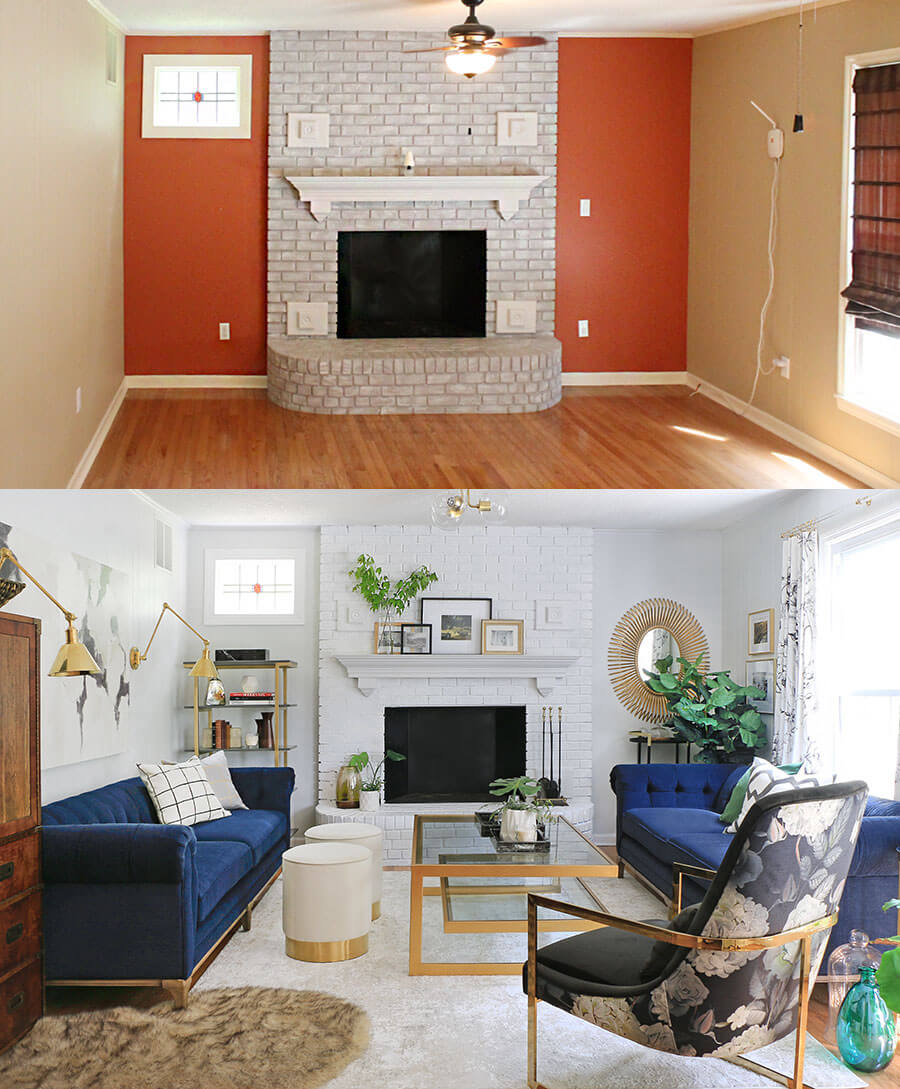 A huge thank you to all my One Room Challenge sponsors who made this space possible!
My One Room Challenge Sponsors
Minted | Lamps Plus | Hudson Valley Lighting | Scout Design Studio | SWD Studio | Overstock | NDI Flowers | Schlage
Check Out All The ORC Designers!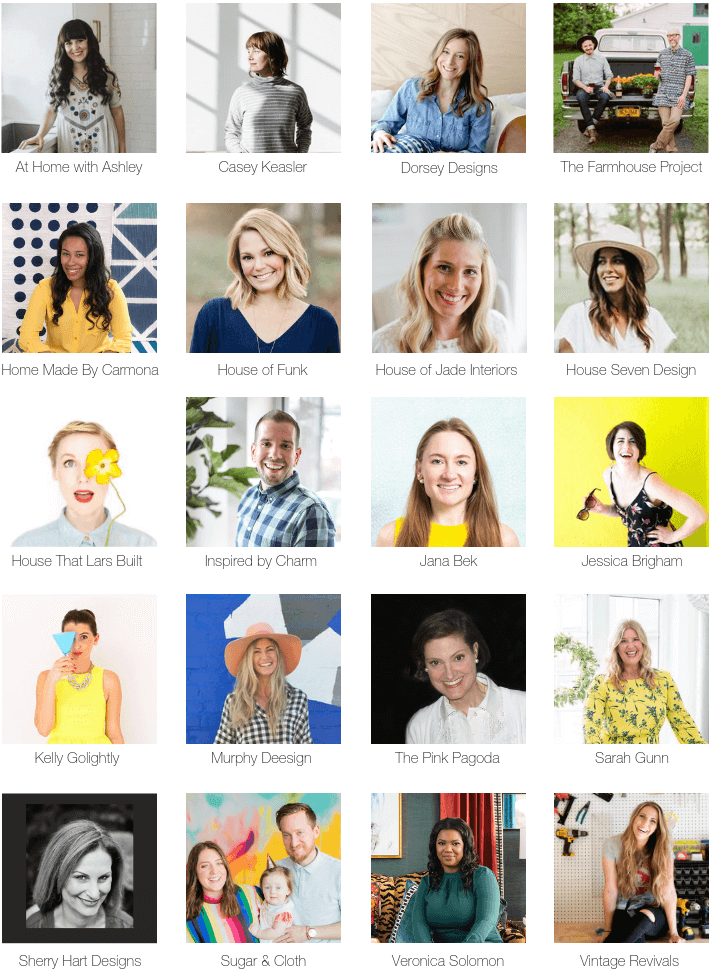 At Home With Ashley | Casey Keasler | Dorsey Designs | The Farmhouse Project | Home Made by Carmona | House of Funk| House of Jade Interiors | House Seven Design | House That Lars Built | Inspired by Charm | Jana Bek | Jessica Brigham |Kelly Golightly | Murphy Deesign | The Pink Pagoda | Sarah Gunn | Sherry Hart Designs | Sugar & Cloth | Veronica Solomon | Vintage Revivals | Media Partner BH&G | TM by ORC