I'm so excited for next week's big reveal of my stylish One Room Challenge space!! Granted, I'm not even close to done yet, so it might be a bit of a nail biter this week.
It is the fifth week of a 6 week design challenge, and if you missed it definitely check out the previous weeks (especially #1) to see what this space looked like before. Plus don't miss the plan and progress.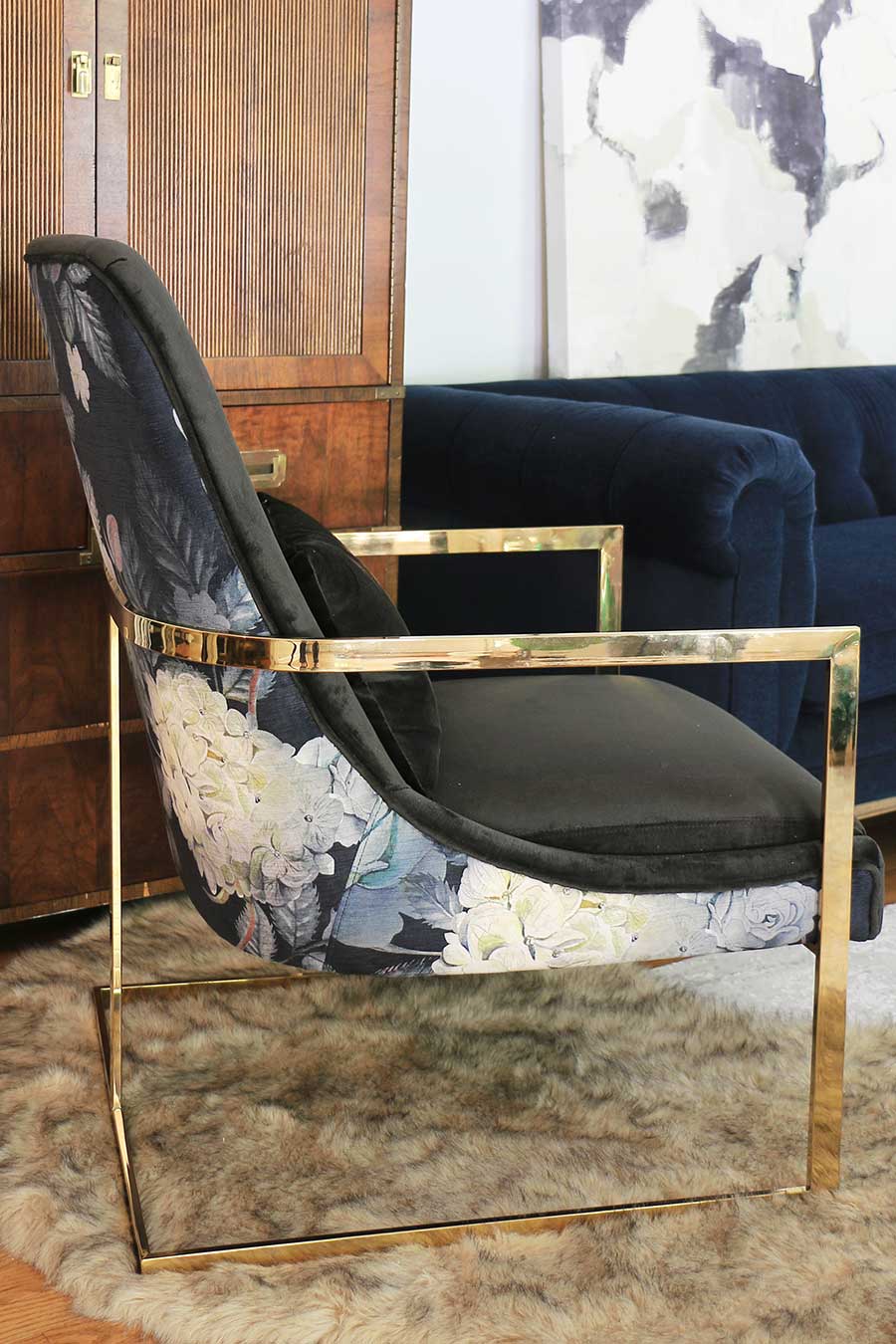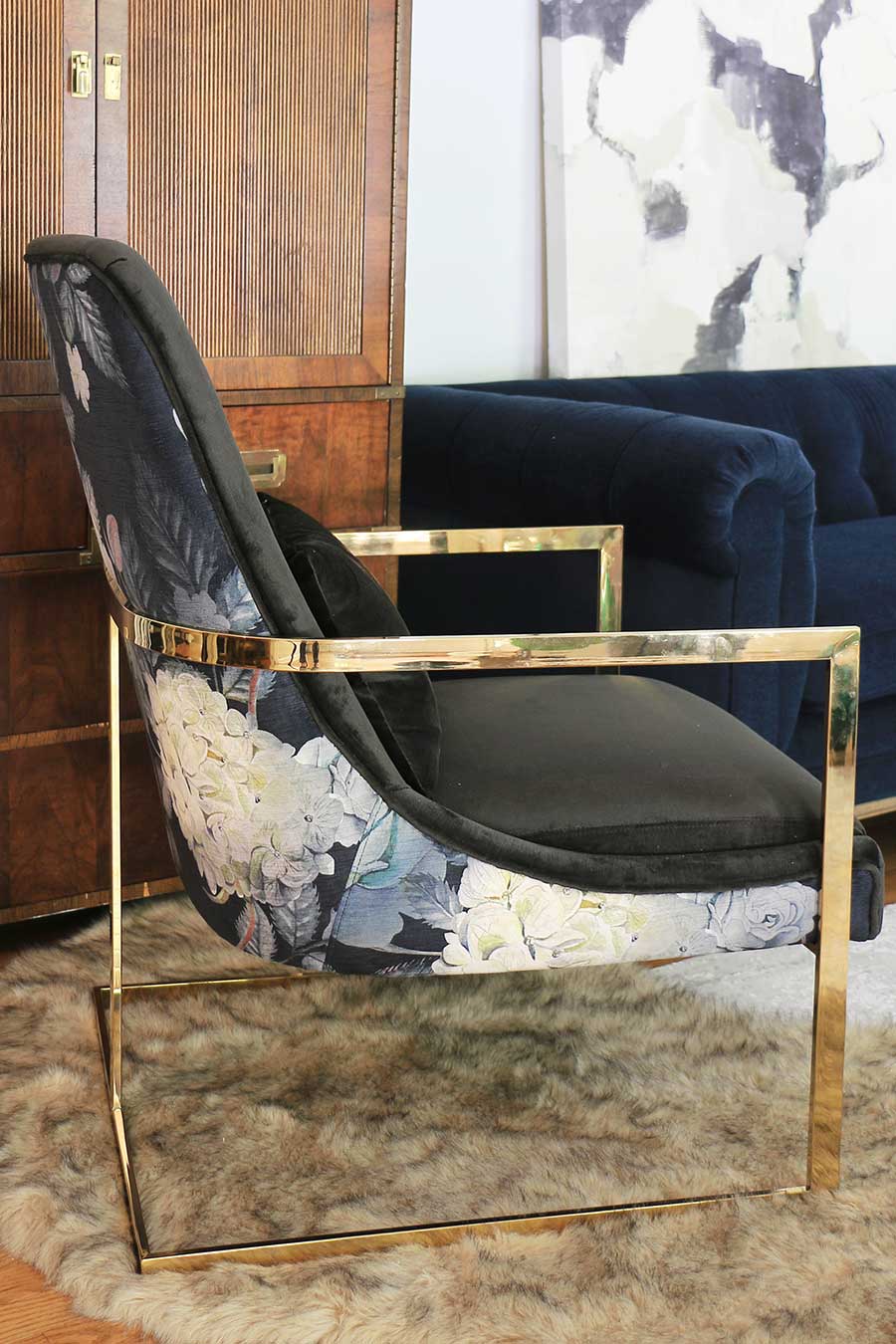 *Sponsored by our friends at Scout Design Studios. Affiliate links contained below.
Stylish Furniture That Makes The Space
My family room isn't particularly big, or particularly small for that matter. It certainly doesn't have wonderful charming features that draw you to it…so when I say that I had to infuse this room with interesting pieces, I mean grab-you-by-the-eye-socket-and-make-you-stare pieces.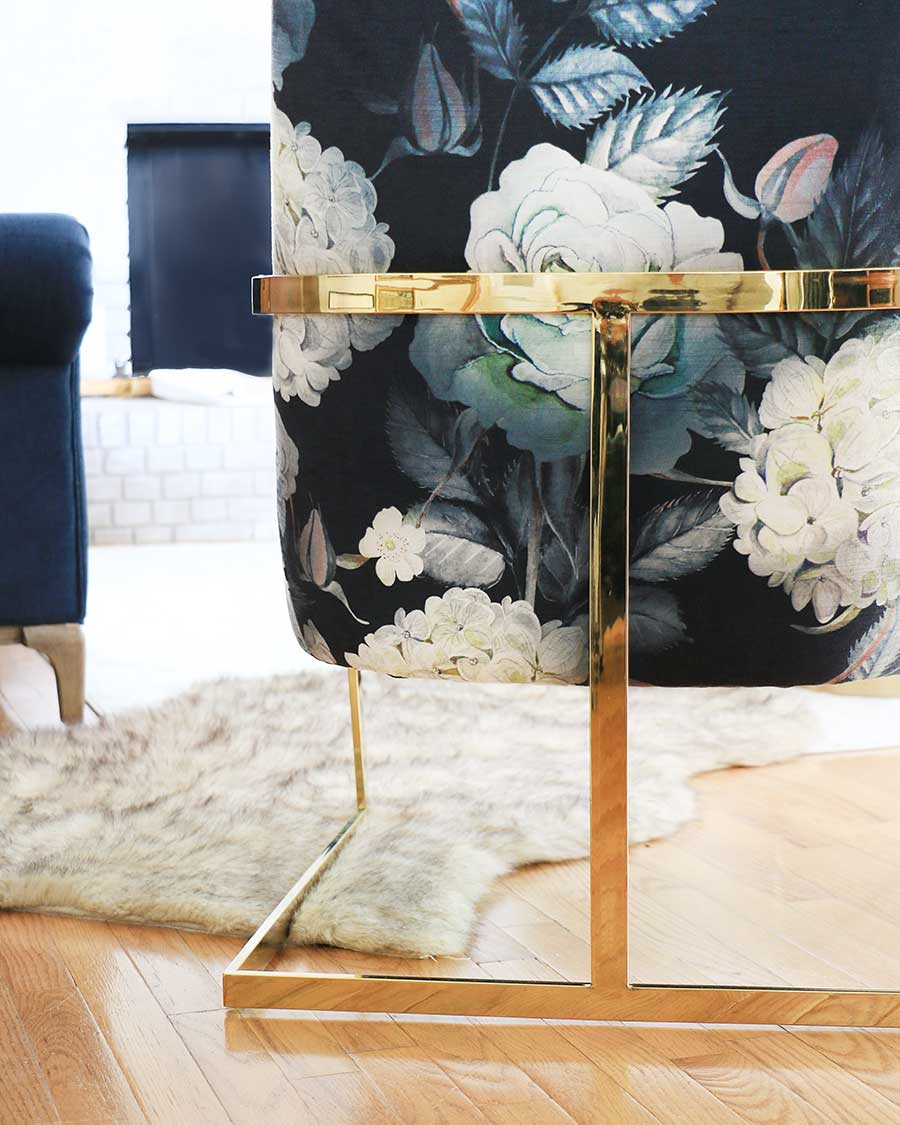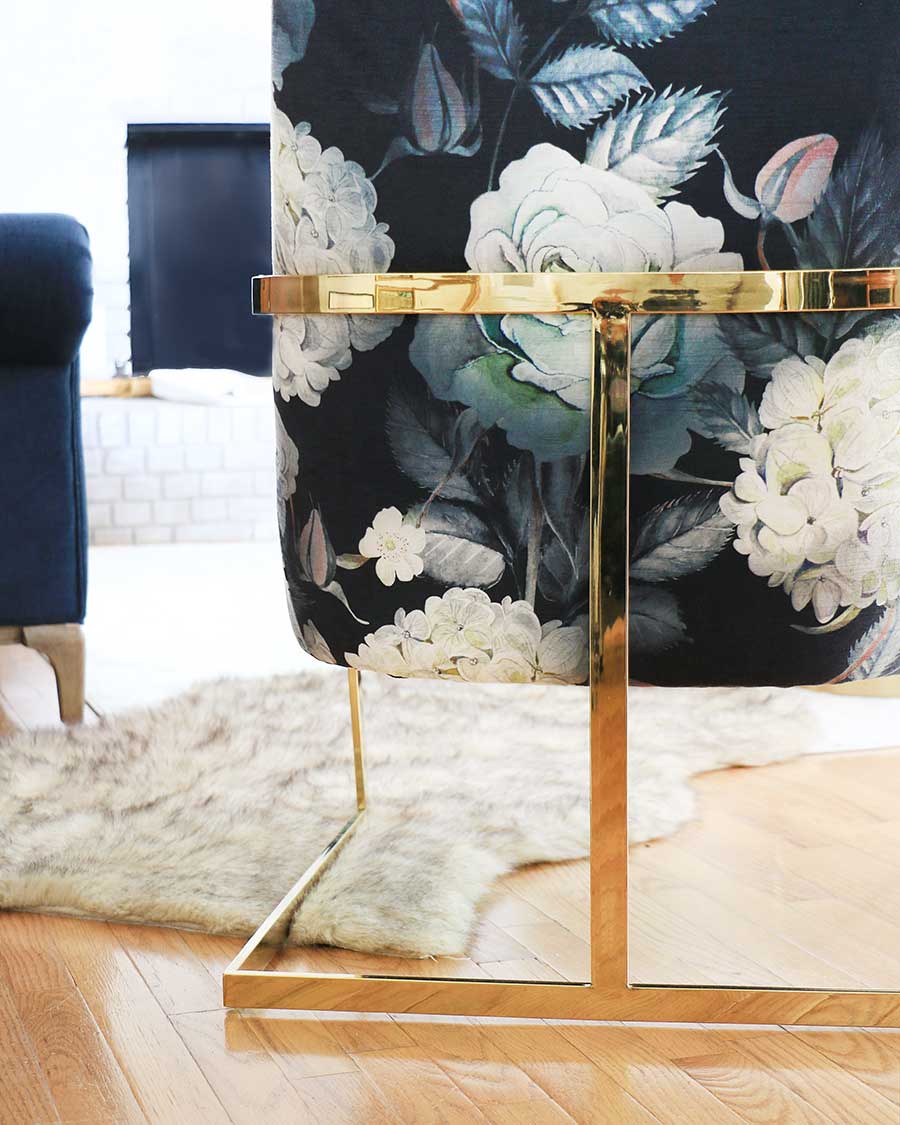 Is this not the most interesting and beautiful back-side of an armchair you've ever seen? When I saw this Morning After Armchair in Floral Upholstery in Scout Design Studio's online shop, I reaaaaaalllly wanted it for the space. You can't imagine how happy I was when they came back and said it was mine if I wanted it.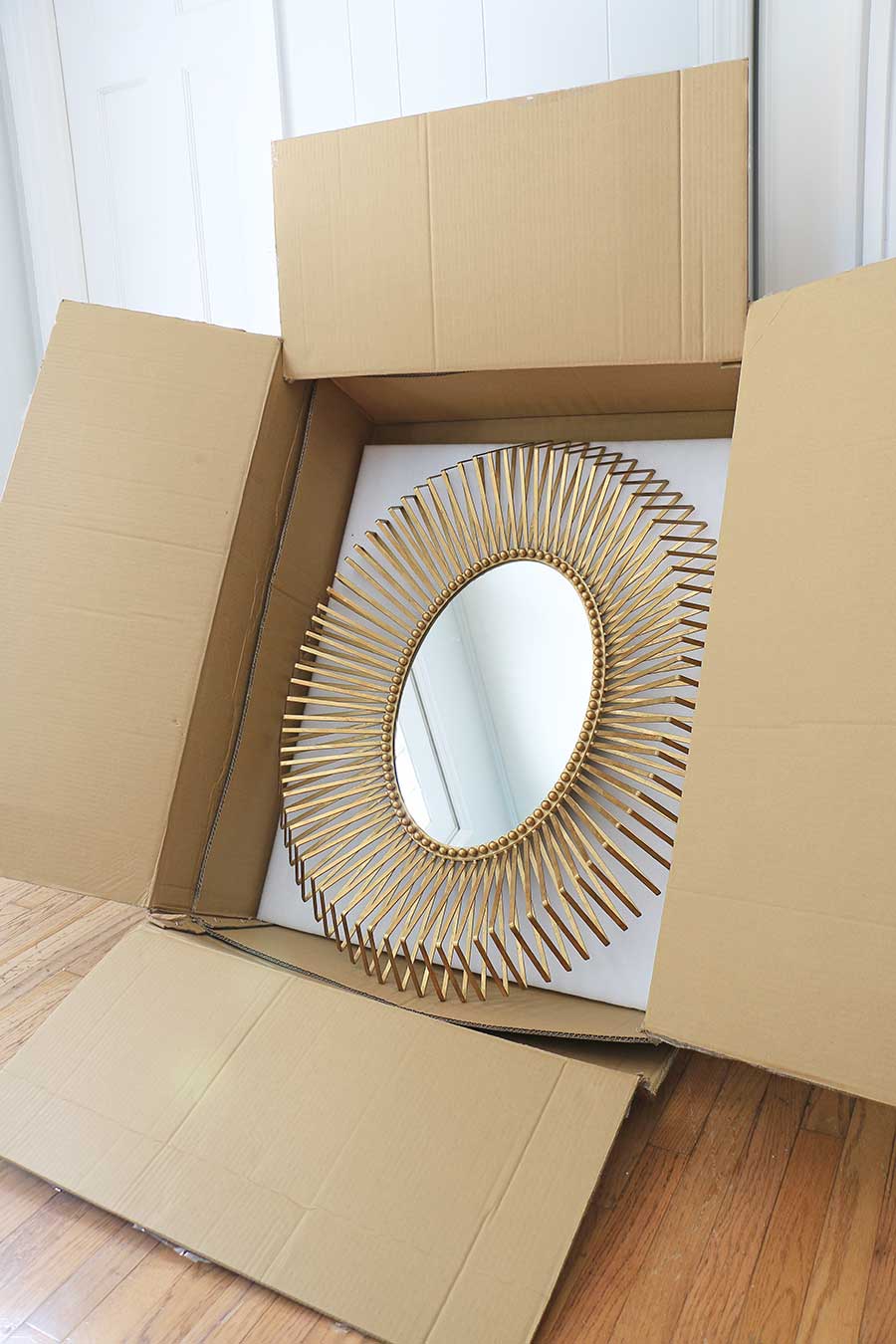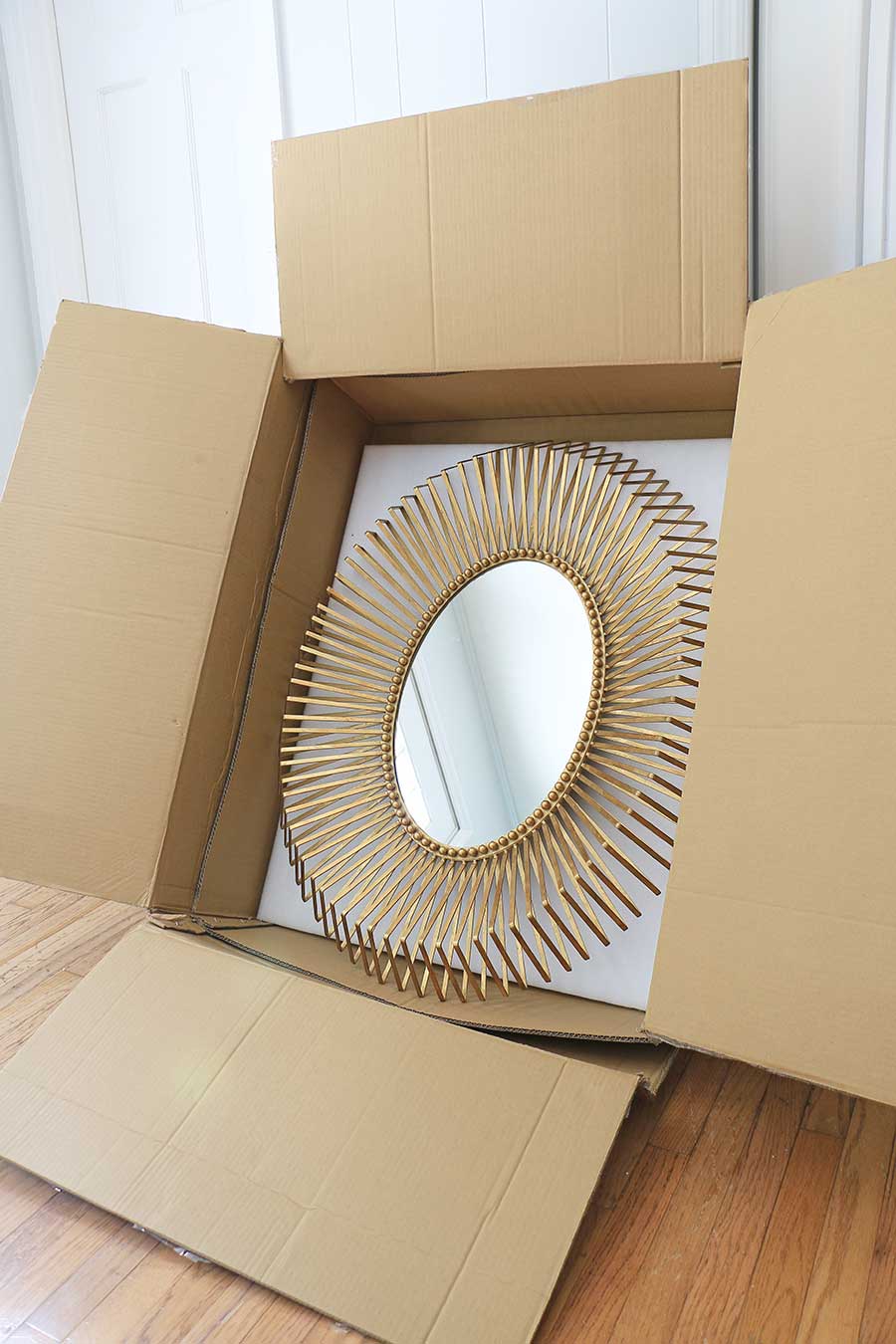 I also got this huge gold Andras mirror from Scout Design Studio. I must have misread the dimensions on it, because for some reason I thought this bad boy was a fraction of the size. When this huge box was delivered, my eyes just about popped out of my head. What a pleasant surprise! Hey, go big or go home.
It's In The Details: Or The Curtain Rods…Whatever.
No one can convince me this room would be the same without these acrylic curtain rods. Haha…who even looks at curtain rods? Me. I do. I bet you will too when you see these up in the space. And it wasn't much more expensive than the boring old bronze ones I bought from Target the other day. Yeah, I returned that thing as soon as I realized acrylic and gold rods of the same length would just be $30 more expensive than the boring bronze ones.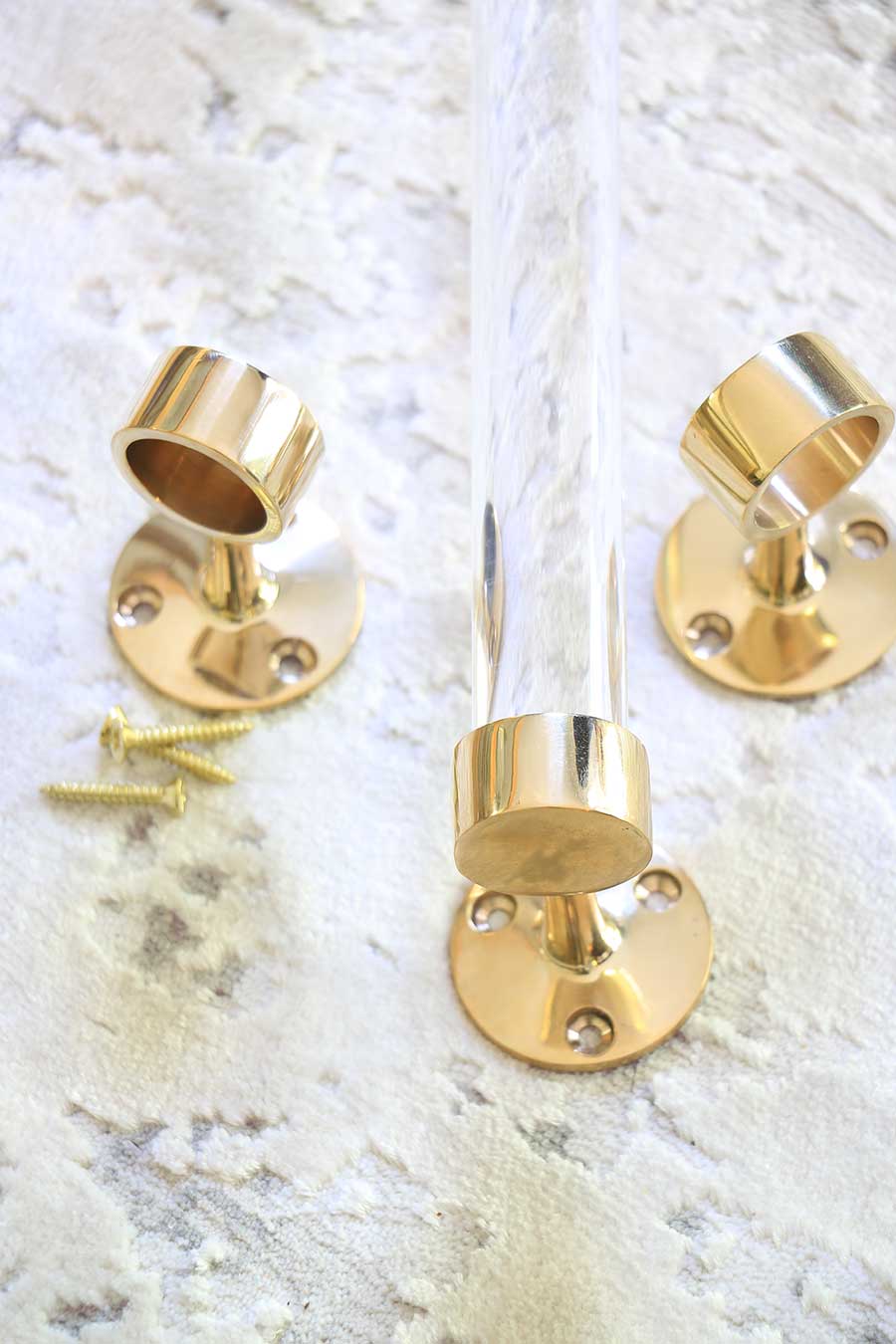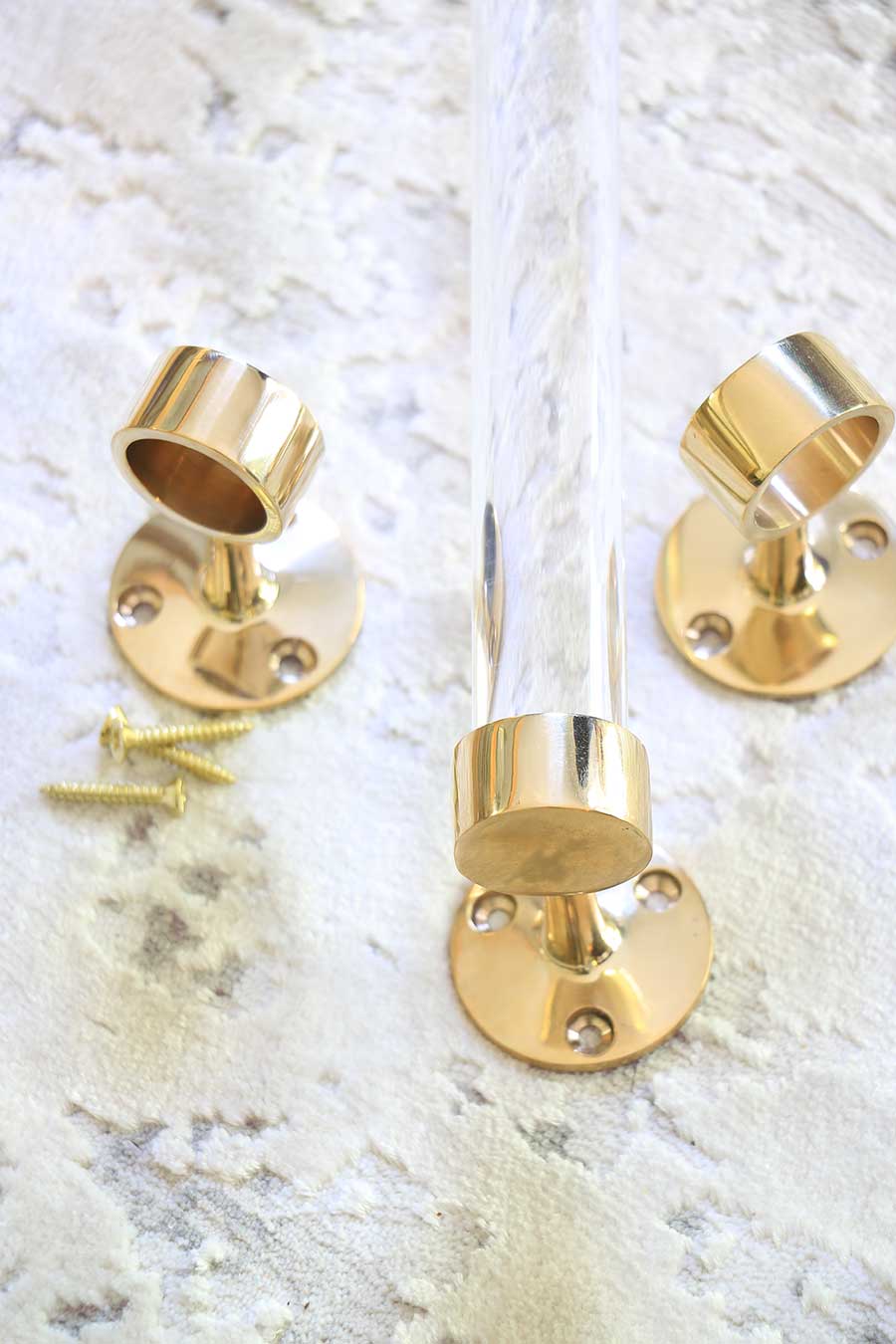 I think this is going to be a fantastic detail, and well worth the extra money. Which, by the way, why are curtain rods so ridiculously expensive in the first place? I found the gold bracket end posts and gold center post on Amazon, and the 6′ acrylic rod here also on Amazon.
Turning A Closet Into An Office
I don't know what the previous owners used this closet for, but it is huge and I think it would work perfectly as an office.
The part of this plan that is crazy isn't using the closet as an office…the crazy part is that I have 5 days until I photograph the finished space, and I'm JUST NOW demoing the office.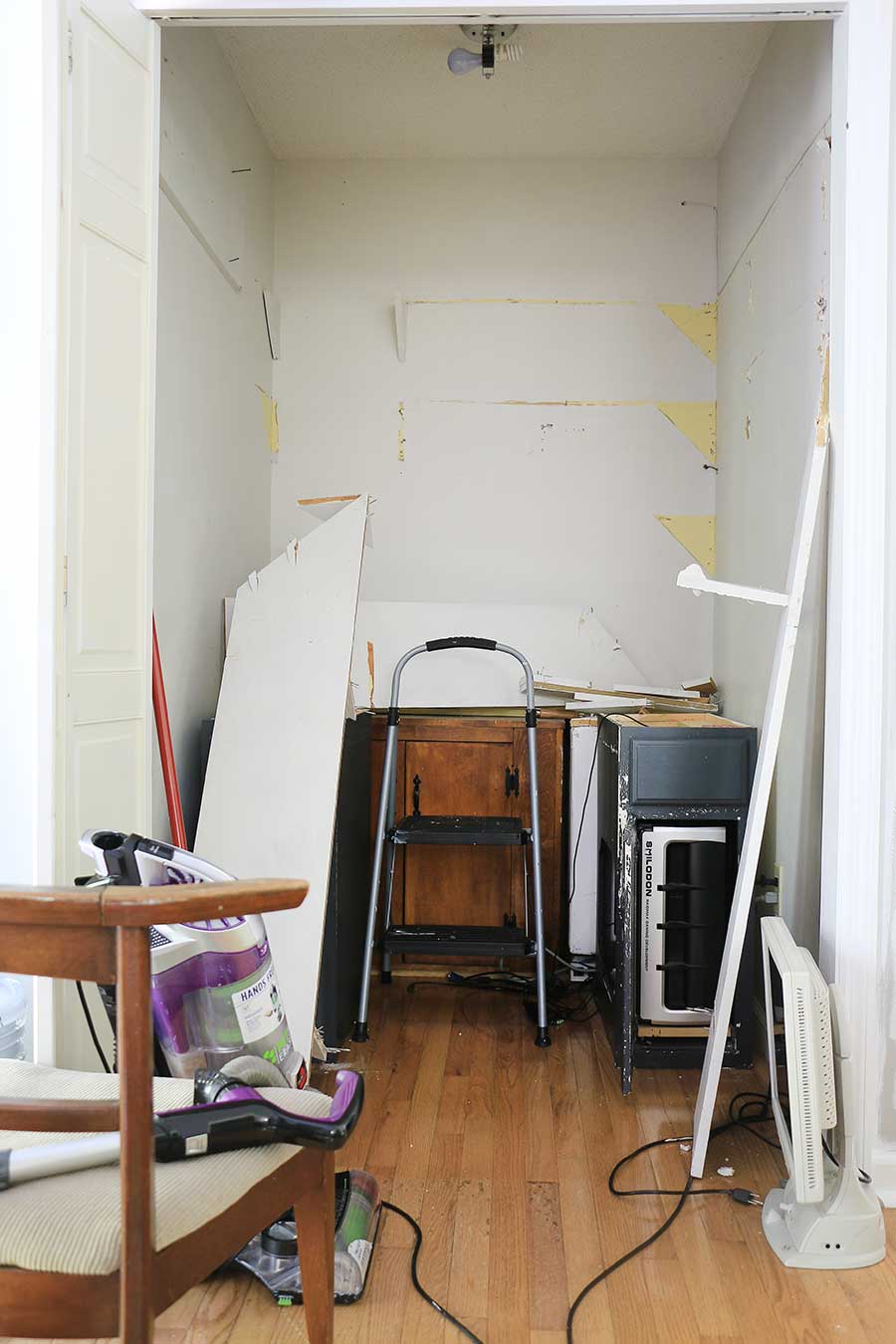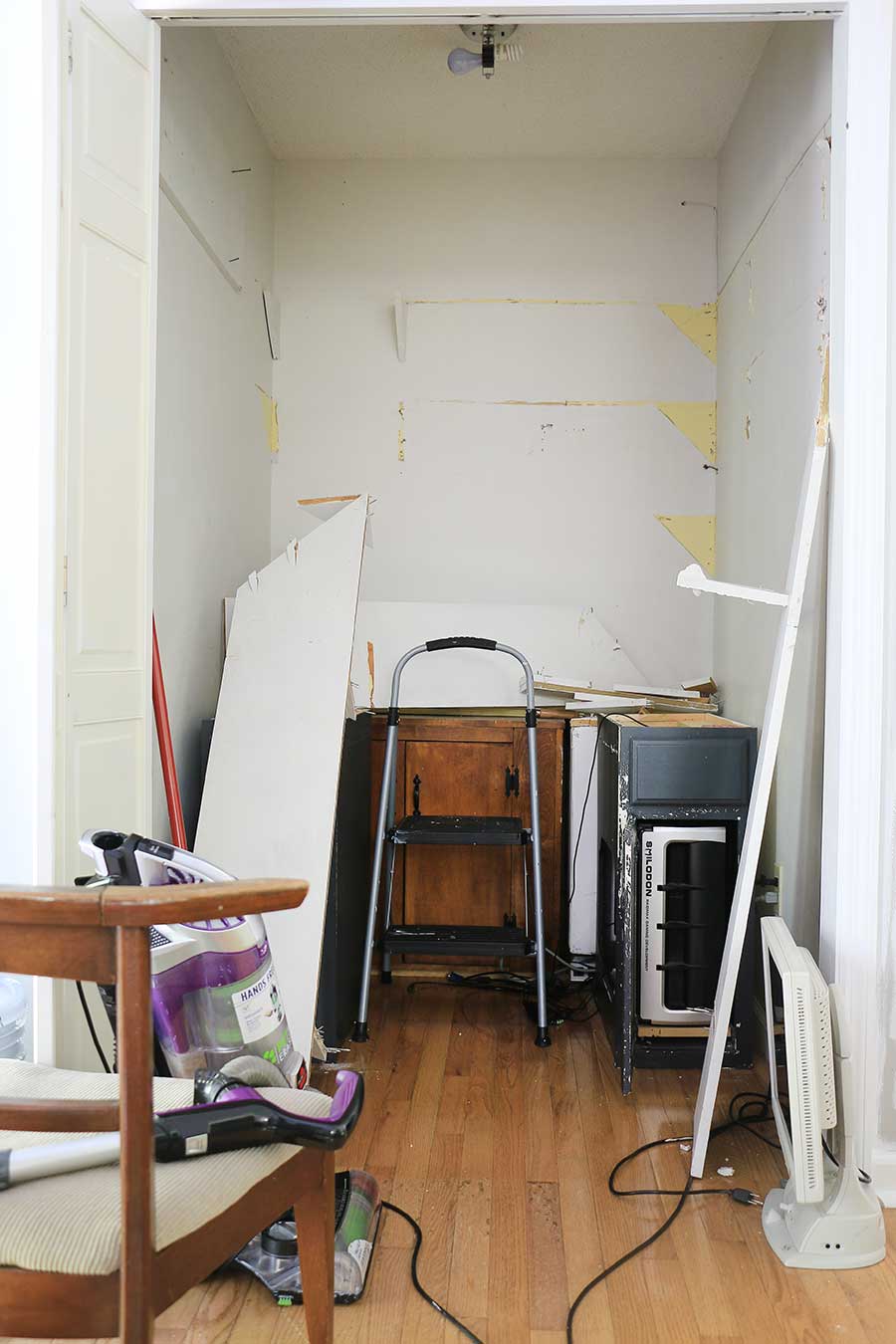 It isn't a huge job. I just need to tear out the old shelves, which seem to be falling apart anyway. Patch the walls, build some new shelves, paint the closet, and finish building a desk. That's it. I think that's it. Oh yeah, install a new light fixture, and then style the space. See, not horribly huge. Just…yeah okay I'm straight crazy.
Why am I starting this now? I just had no time to start it sooner. No that isn't true either. I took two days to spend having fun with my husband and kids. But hey, they are always worth the rush and late nights later.
Well, until next week, and the big reveal. Wish me luck guys!
Check out all the other amazing One Room Challenge Designers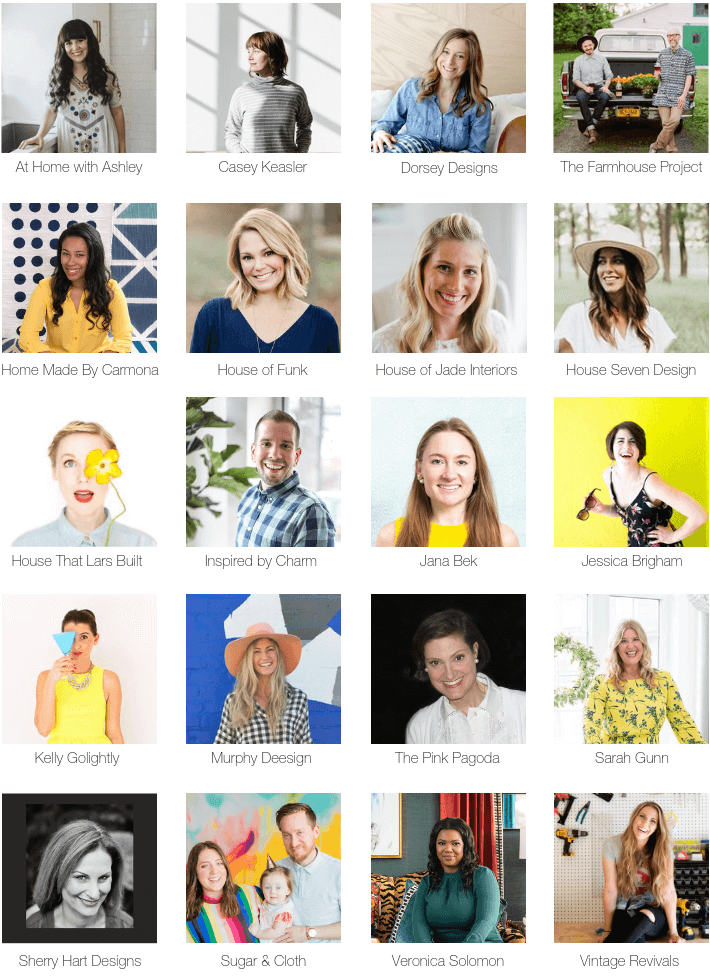 At Home With Ashley | Casey Keasler | Dorsey Designs | The Farmhouse Project | Home Made by Carmona | House of Funk| House of Jade Interiors | House Seven Design | House That Lars Built | Inspired by Charm | Jana Bek | Jessica Brigham |Kelly Golightly | Murphy Deesign | The Pink Pagoda | Sarah Gunn | Sherry Hart Designs | Sugar & Cloth | Veronica Solomon | Vintage Revivals | Media Partner BH&G | TM by ORC
*Thanks to all my One Room Challenge Sponsors…and a special thanks to Scout Design Studio for the gorgeous armchair and mirror!
Home Made by Carmona One Room Challenge Sponsors
Minted | Lamps Plus | Hudson Valley Lighting | Scout Design Studio | SWD Studio | Overstock | NDI Flowers | Schlage


[go_portfolio id="decorate_landing_page"]