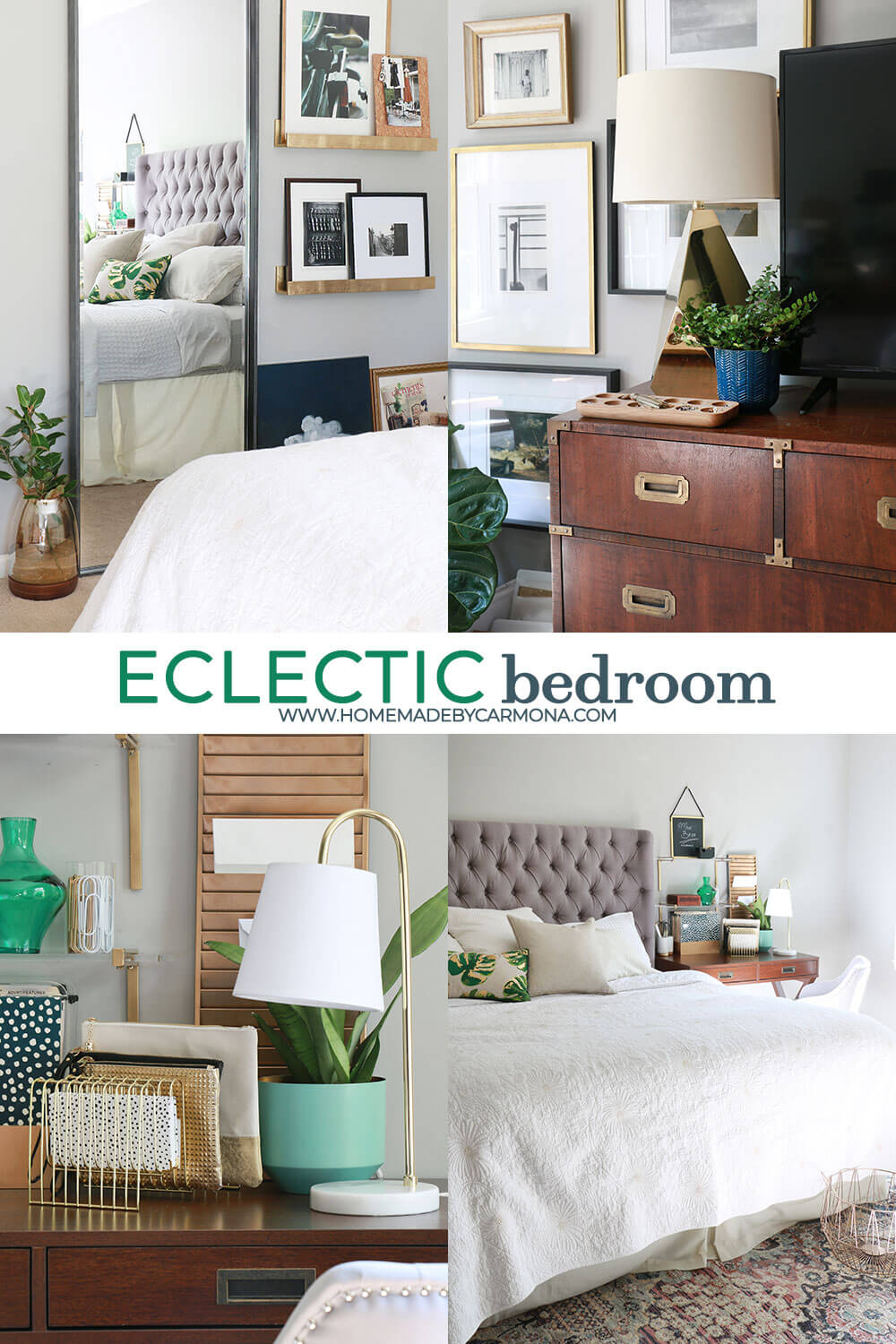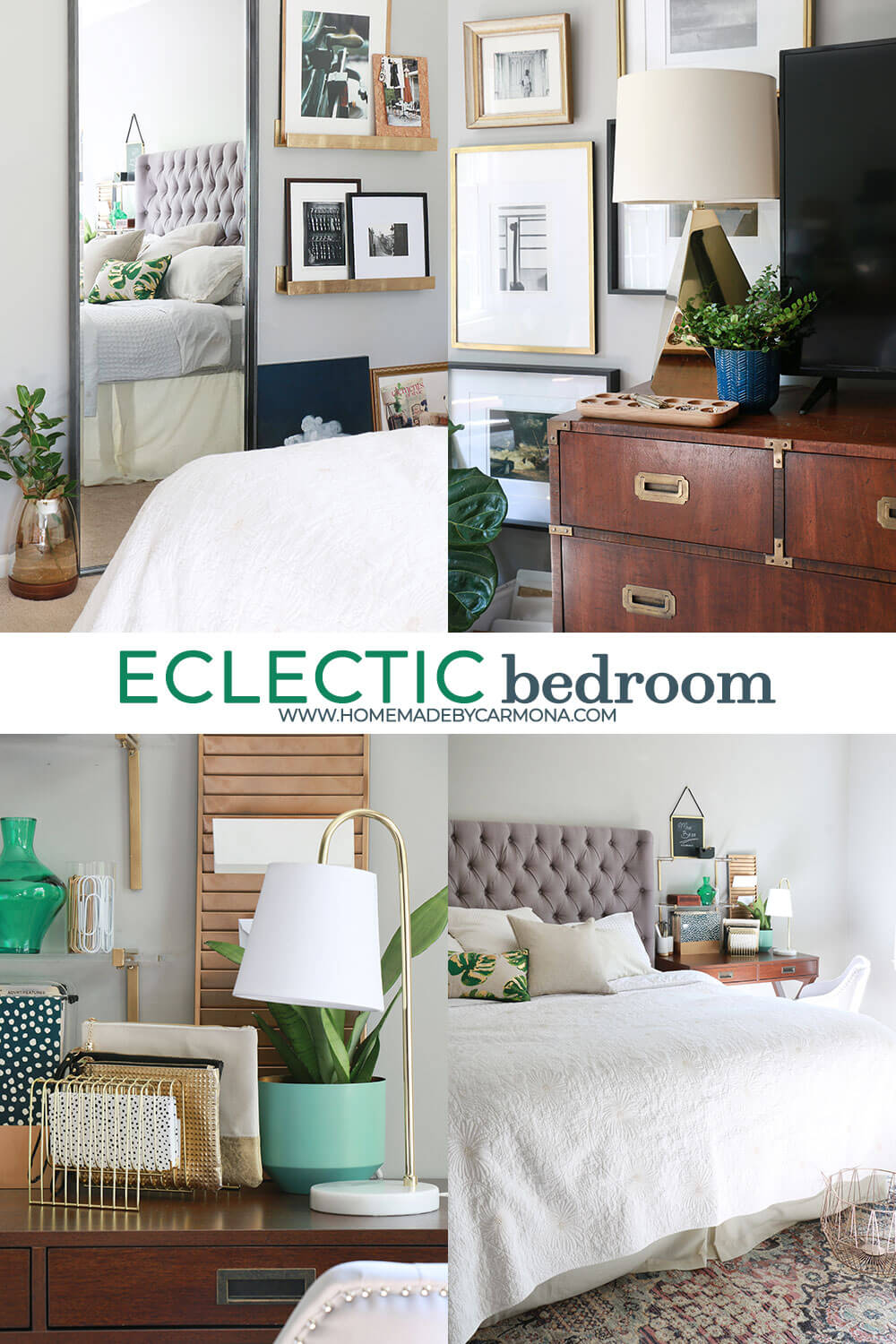 Guys, I can't even.
Wait wait, my bedroom makeover for the One Room Challenge isn't even DONE and I'm over-the-moon already. I'm afraid it isn't going to get done this week or month either.
Happiness with an unfinished room is what happens when you spend almost a YEAR sleeping with your mattress on the floor and with the craziness that is this: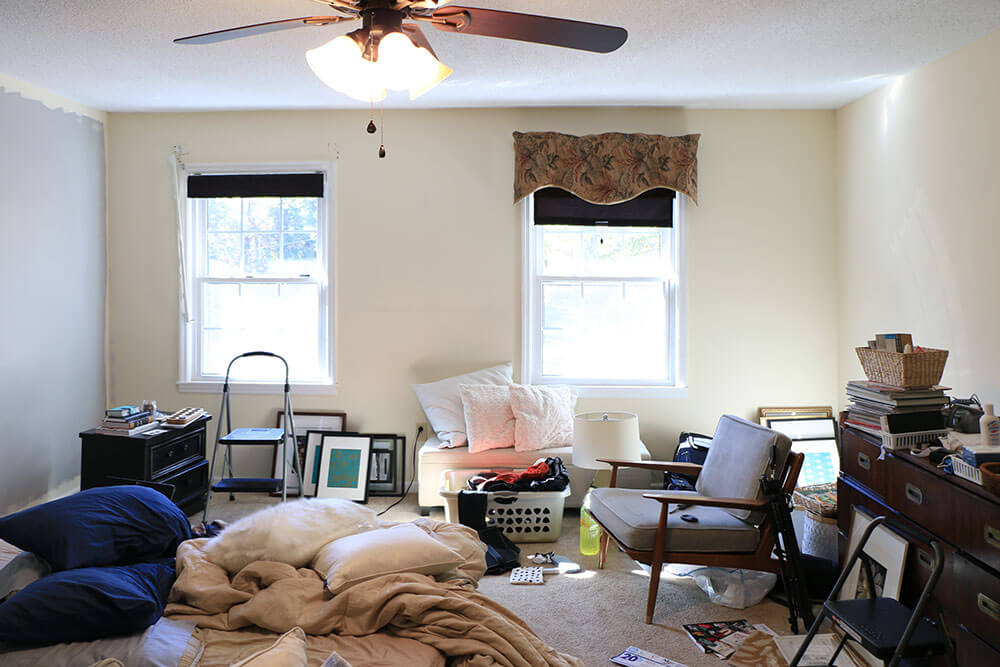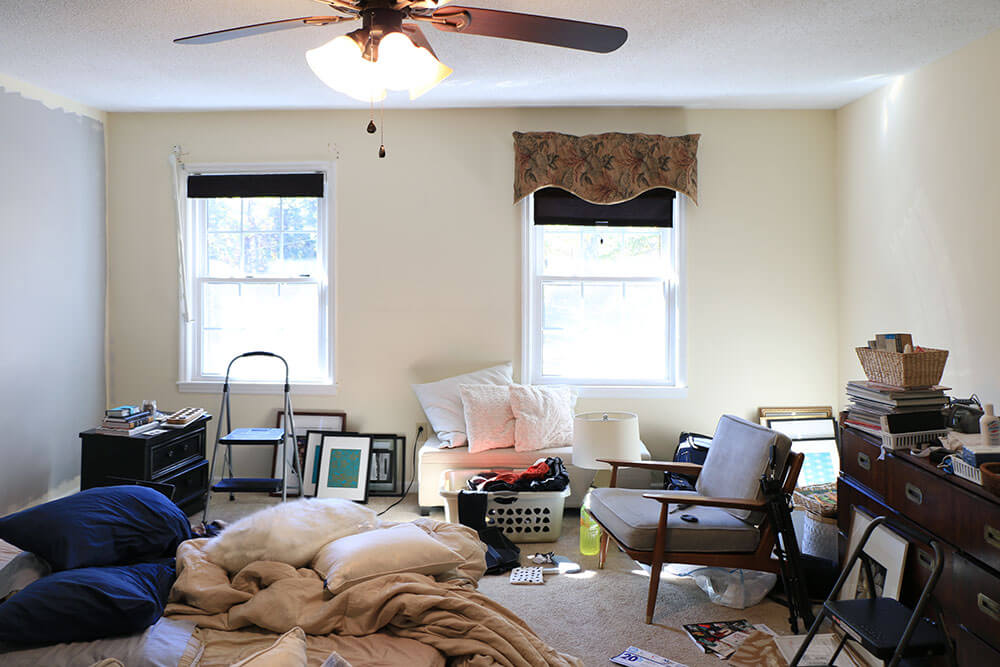 To be fair, that is after I moved everything away from the walls so I could paint. Still, it was total chaos. Any semblance of organization and style is better than this! Haha.
Let's go back to the "not done yet" part. I was so worried I wasn't going to finish in this room by week 6, and I was right. Oh sure, I could get a kitchen remodel from my first One Room Challenge done in 6 weeks, but I can't decorate a simple bedroom? Correct. Haha!
 I was so worried I wasn't going to finish in this room by week 6, and I was right.
Well if you haven't heard my big huge news yet, I was chosen as one of 6 bloggers to participate in a design competition hosted by FrogTape®, and it started just as the One Room Challenge was in it's home stretch, so I had to divert my attention and energy to that. So what you see here is all I have accomplished in this room, and the rest will have to wait.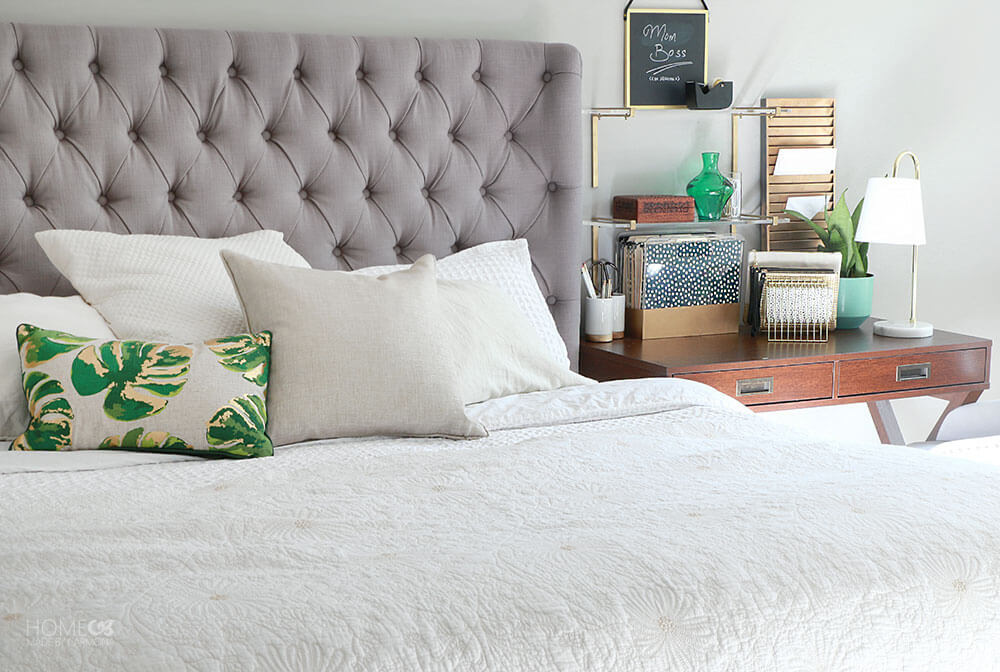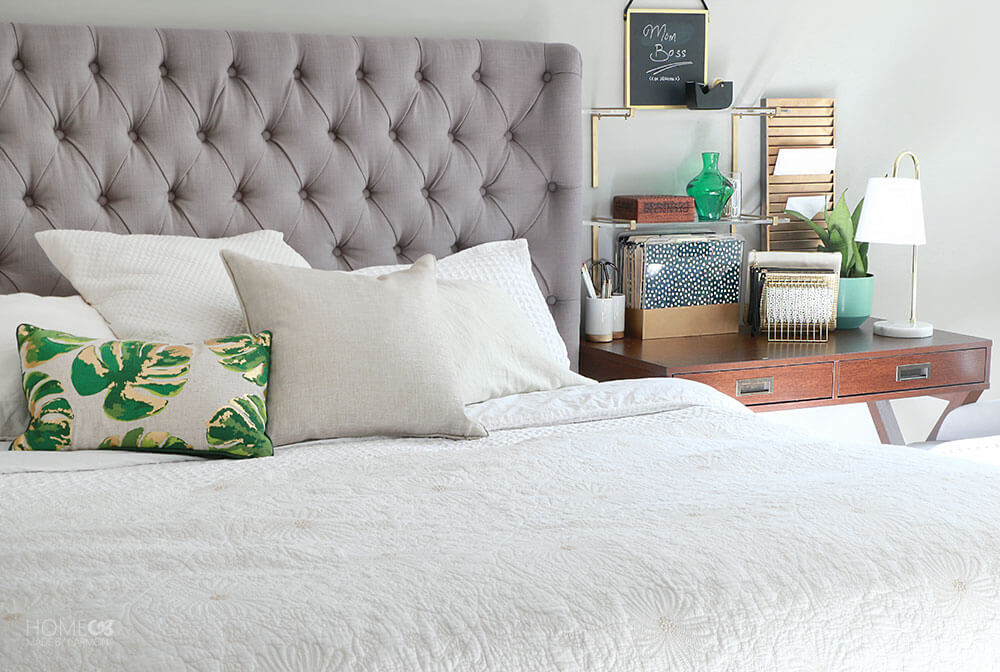 My list of things to do in this room is ridiculously long still considering I've been working on the space for weeks. Gahhh. But let's be honest, design in your own home shouldn't happen all in one sitting if you want to get it just right and save money anyway. So I'm okay with it.
I have all the important functional elements in place, and that's what matters.
A workspace in my bedroom where I can close the door during working hours while the kids are studying was one of my primary needs. Ah this blog business of mine, it requires just a little tiny bit of peace and quiet from time to time. Heheh.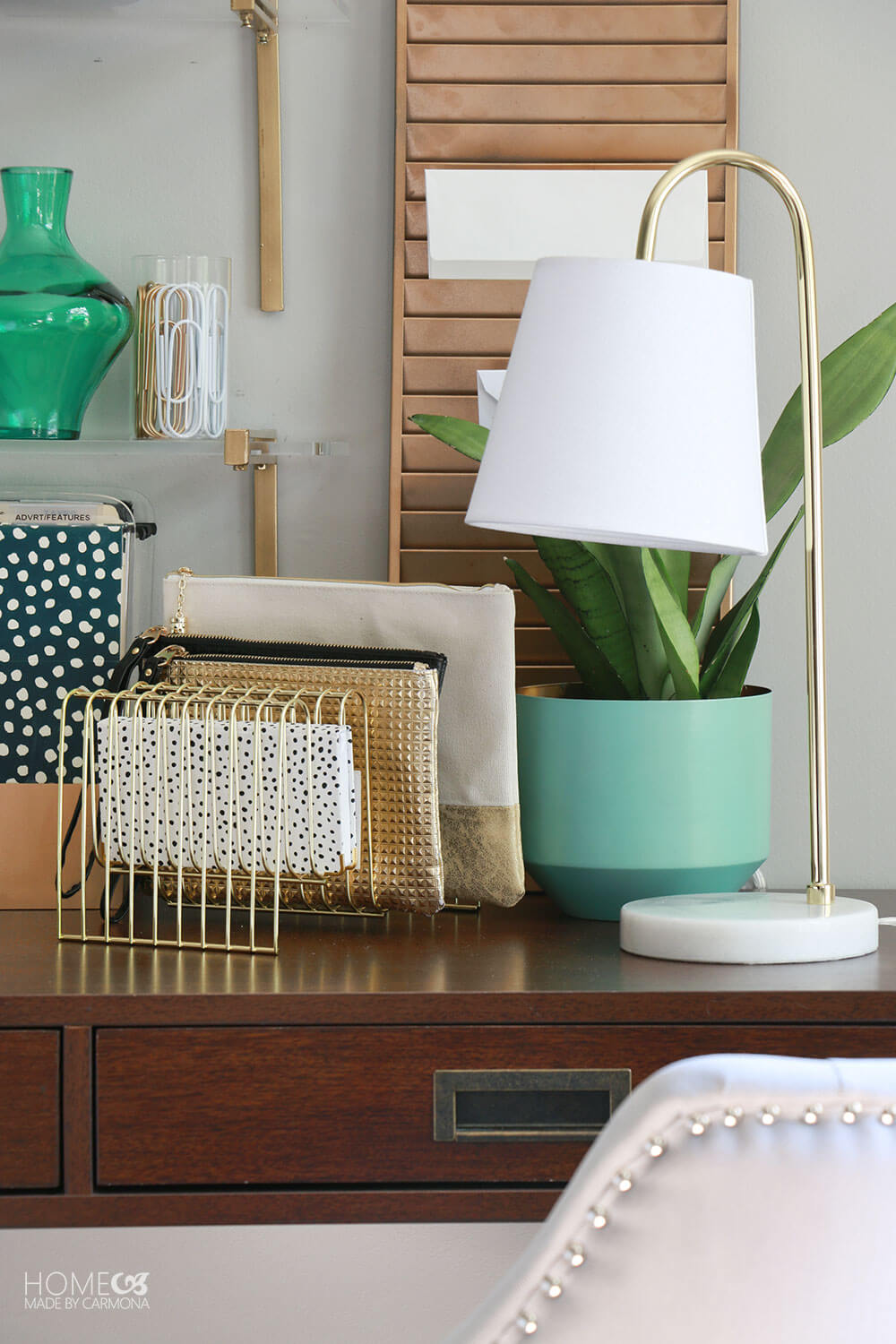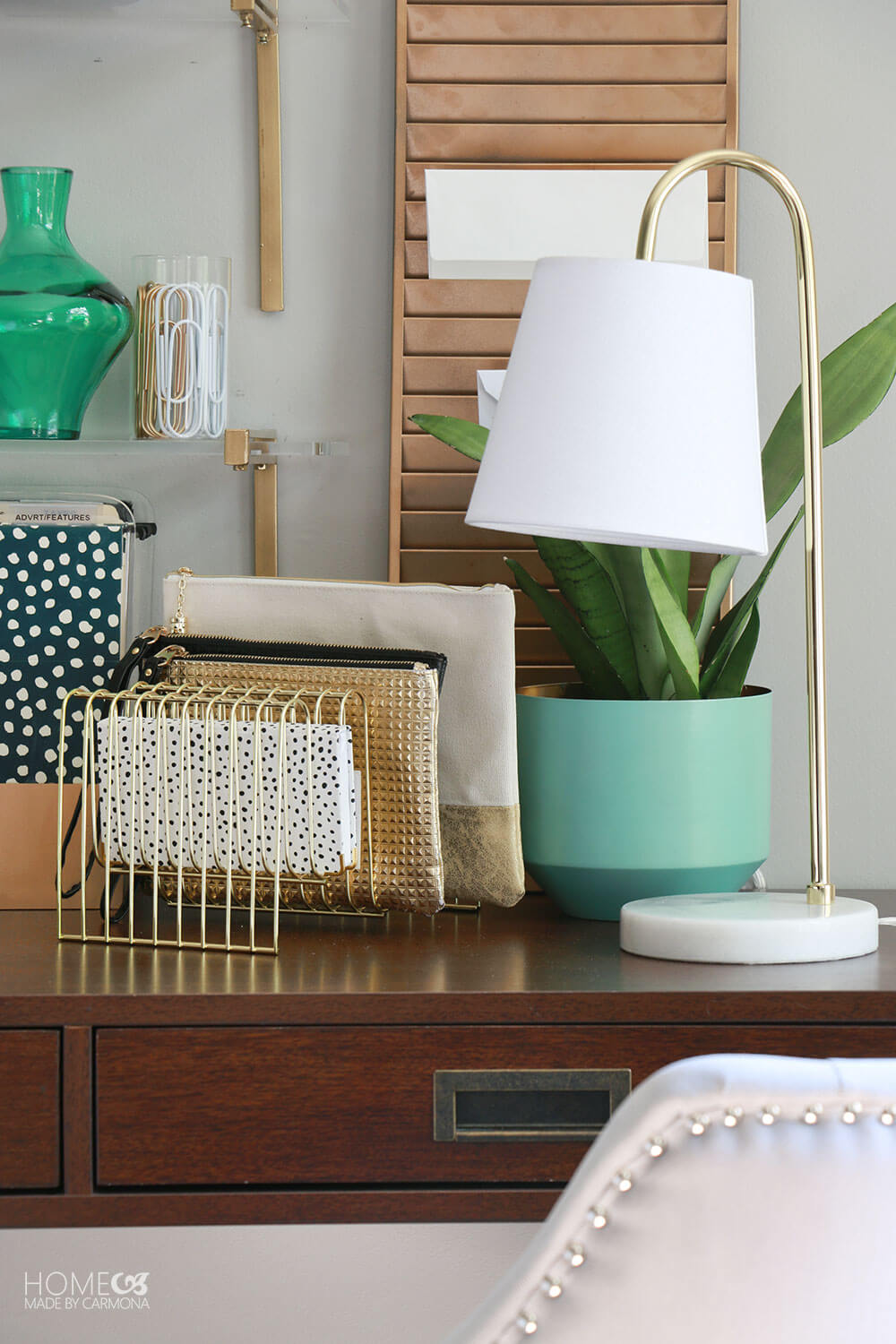 It didn't need to be huge, just a small desk, lamp, and a little space for my laptop and files are really all I required. Plus since my bed is so high up, a desk made for the perfect side table height.
Speaking of the bed, never take for granted being able to dangle your legs over the edge in the mornings. It is great. Clearly I am not cut out for the Japanese  culture of floor sleeping…even with a mattress.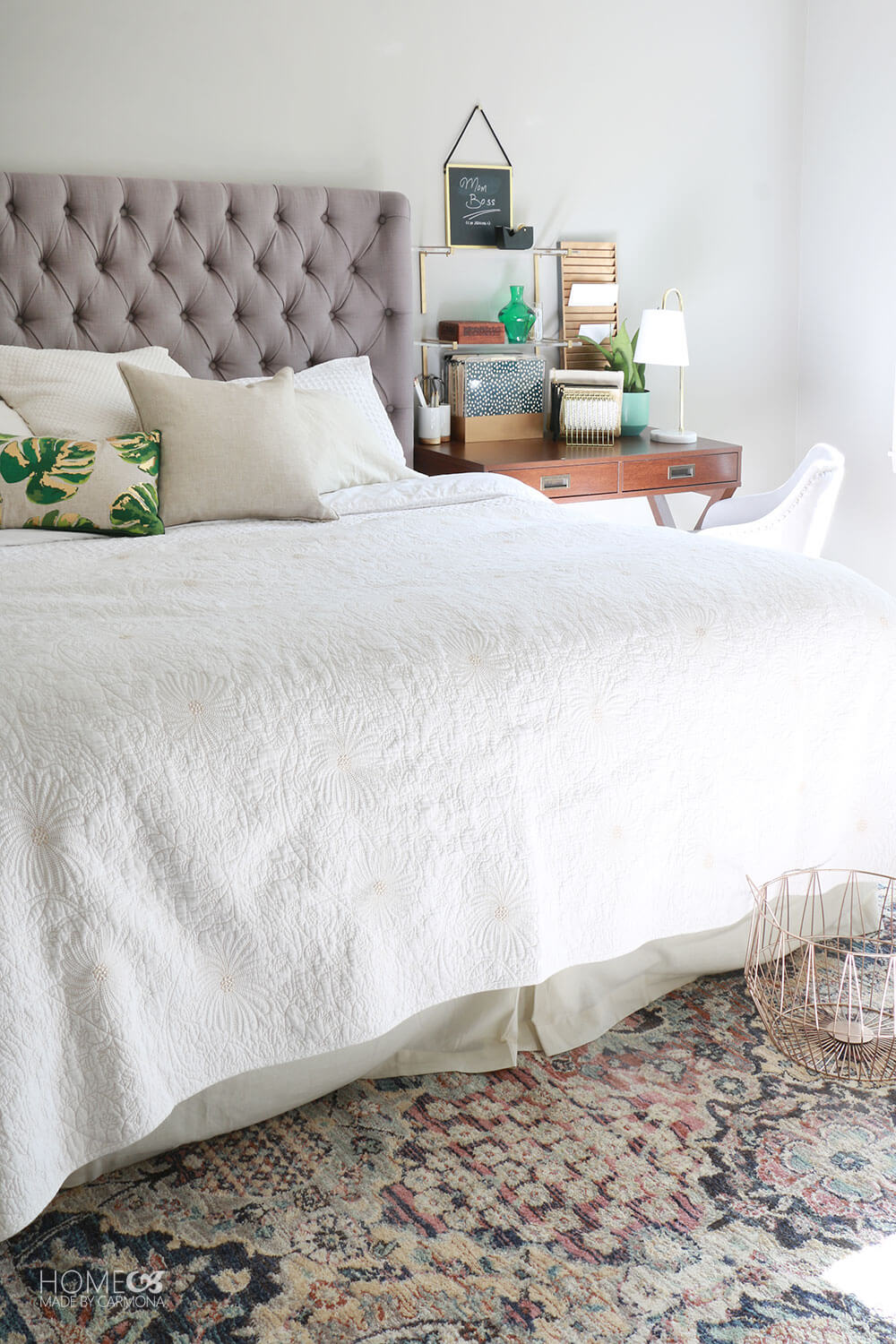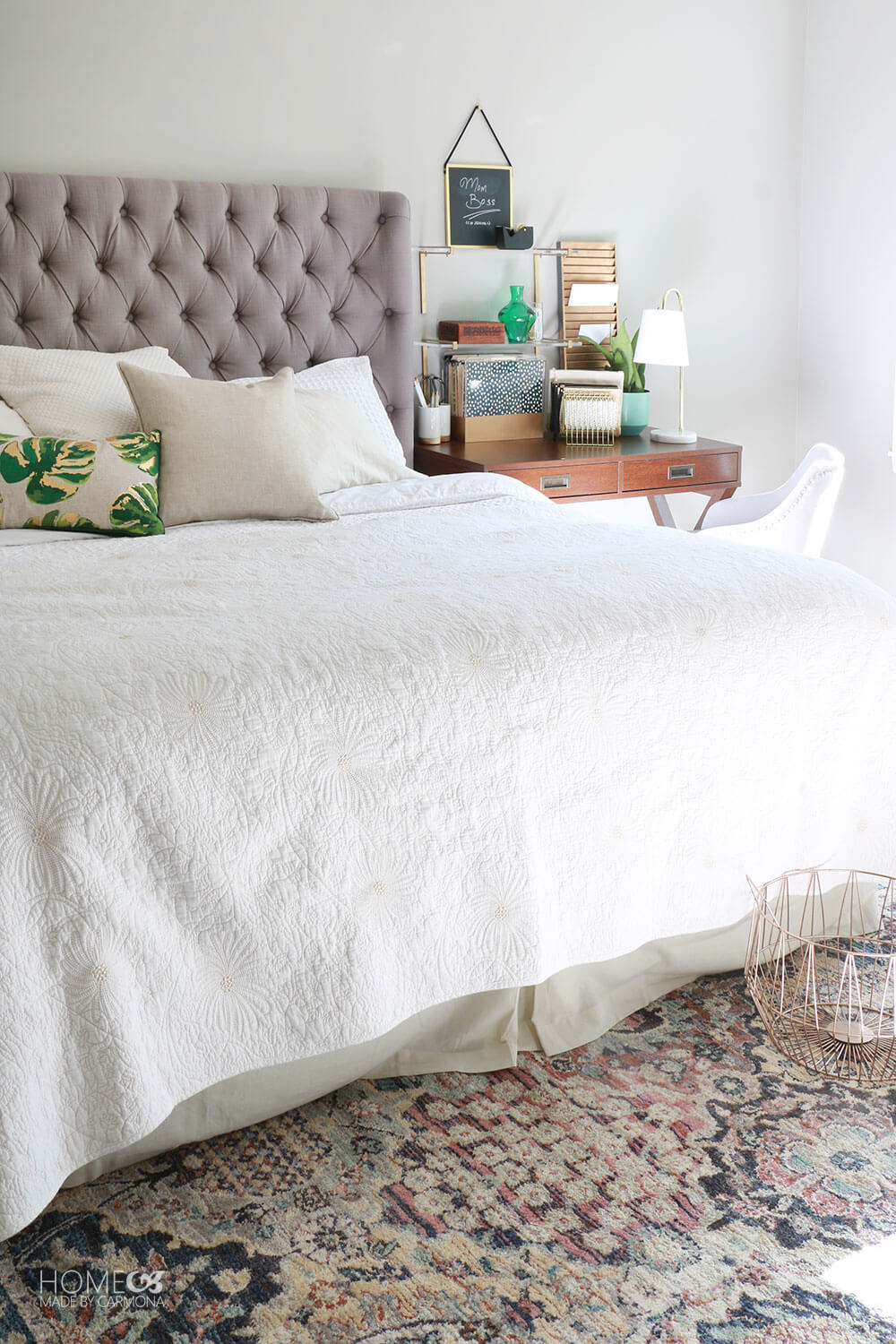 I hoisted this bed up high with an 18″ metal frame, which meant I had to have an abnormally tall headboard to accommodate. Otherwise it would look small and dwarfed behind my bed.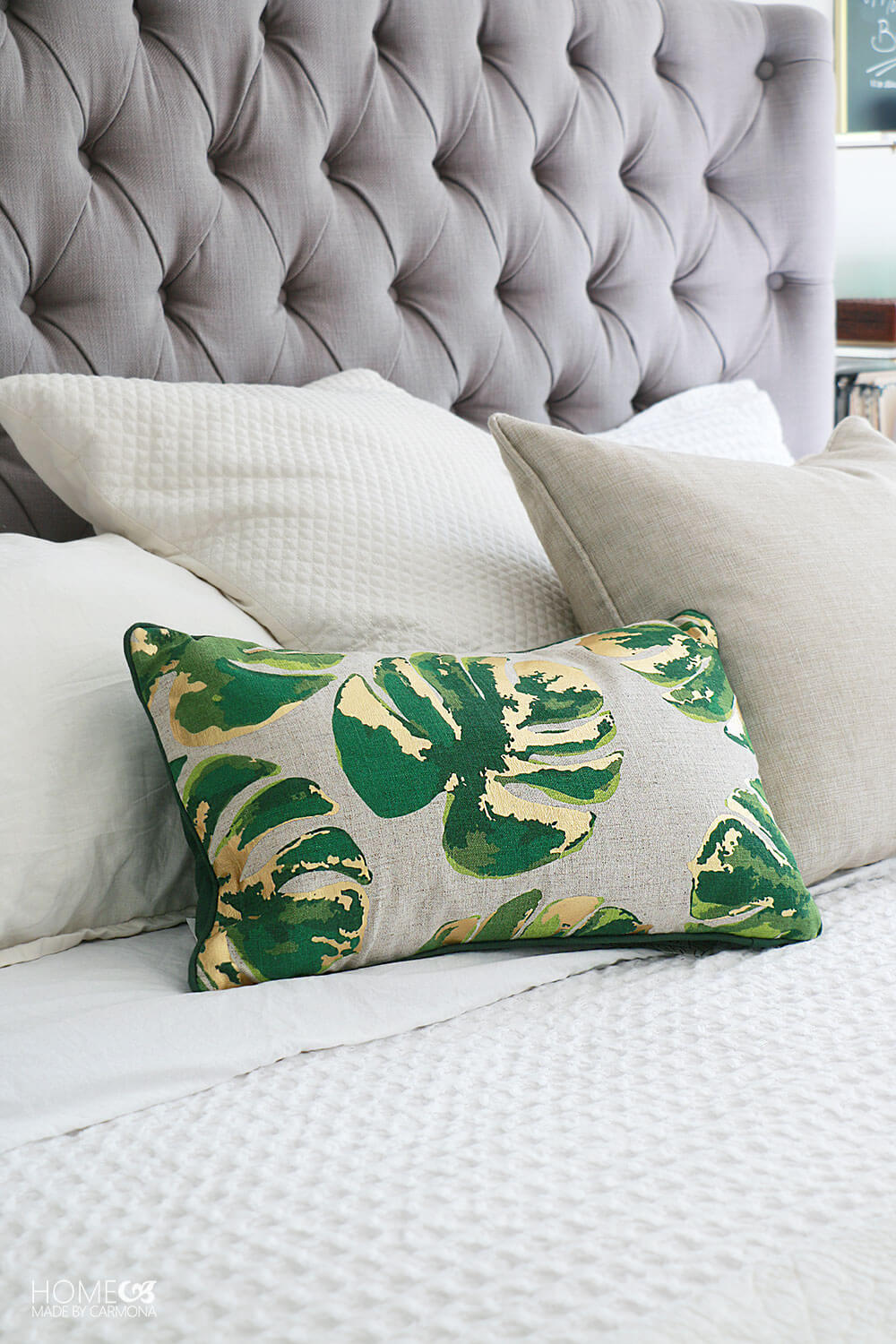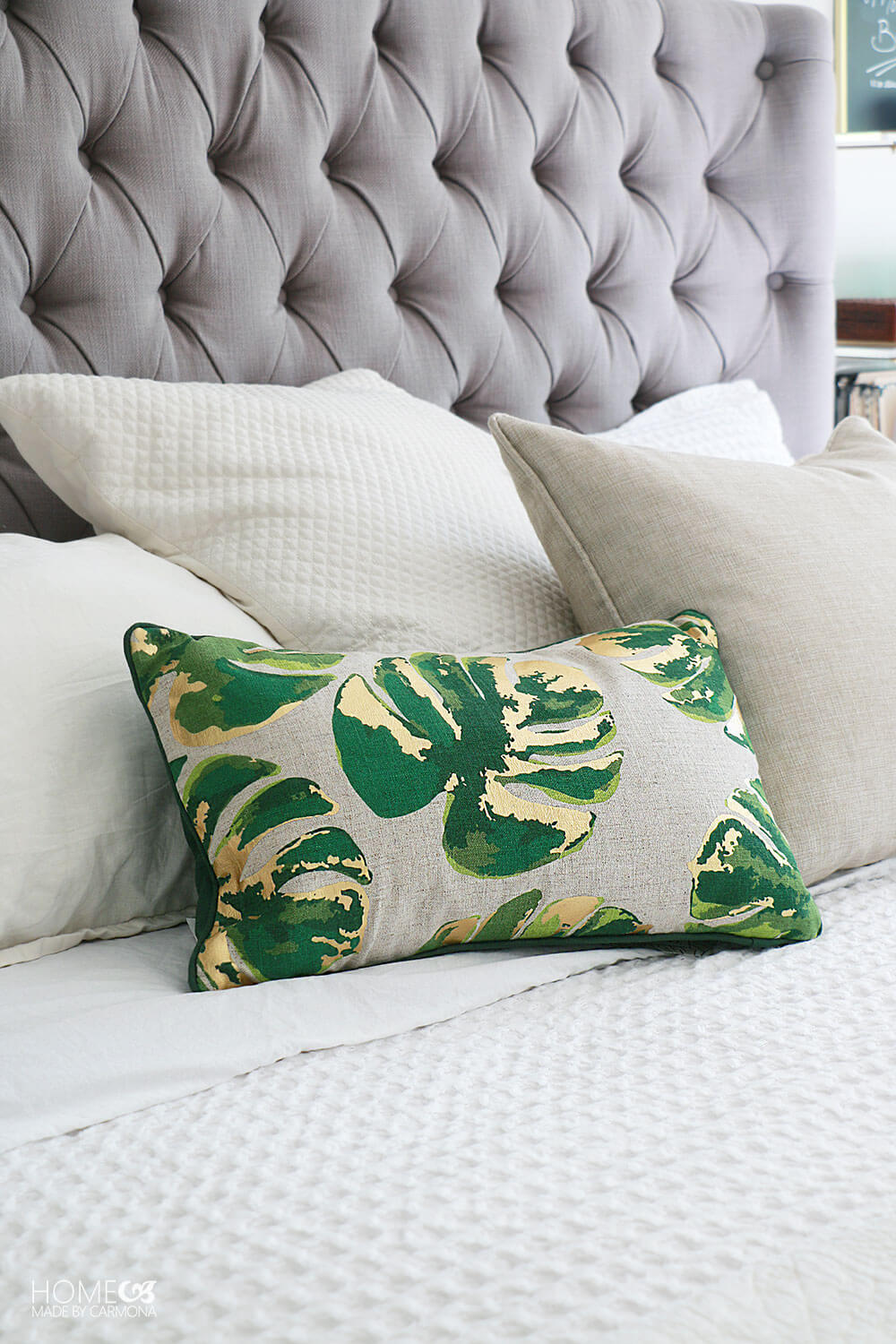 You've seen the desk/workspace on my side of the bed, but you haven't seen my husbands side of the bed because I still need to add a substantial side table (and clean up his junk), but on the wall near his side of the bed is a nice tall mirror and some floating shelves for pictures.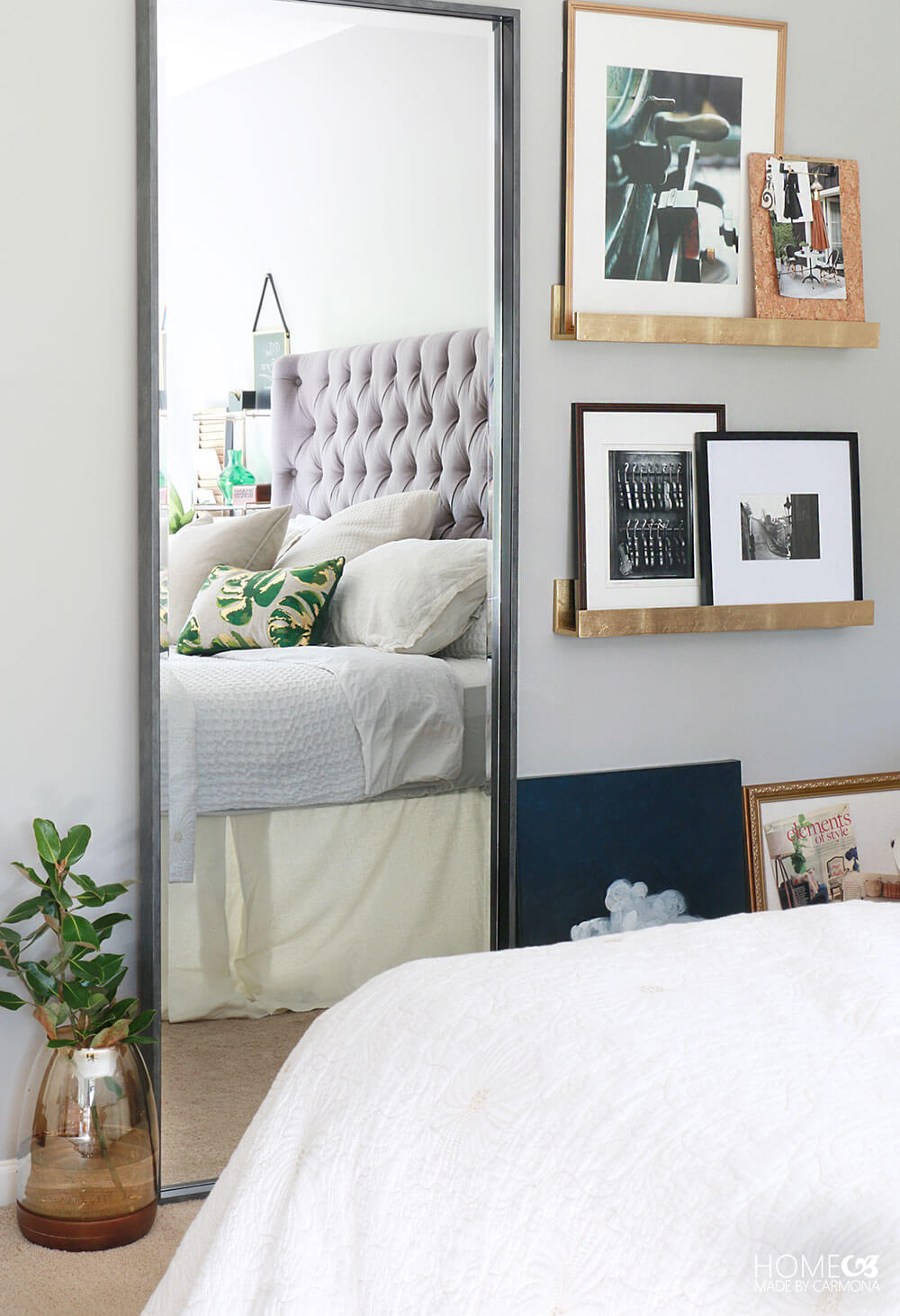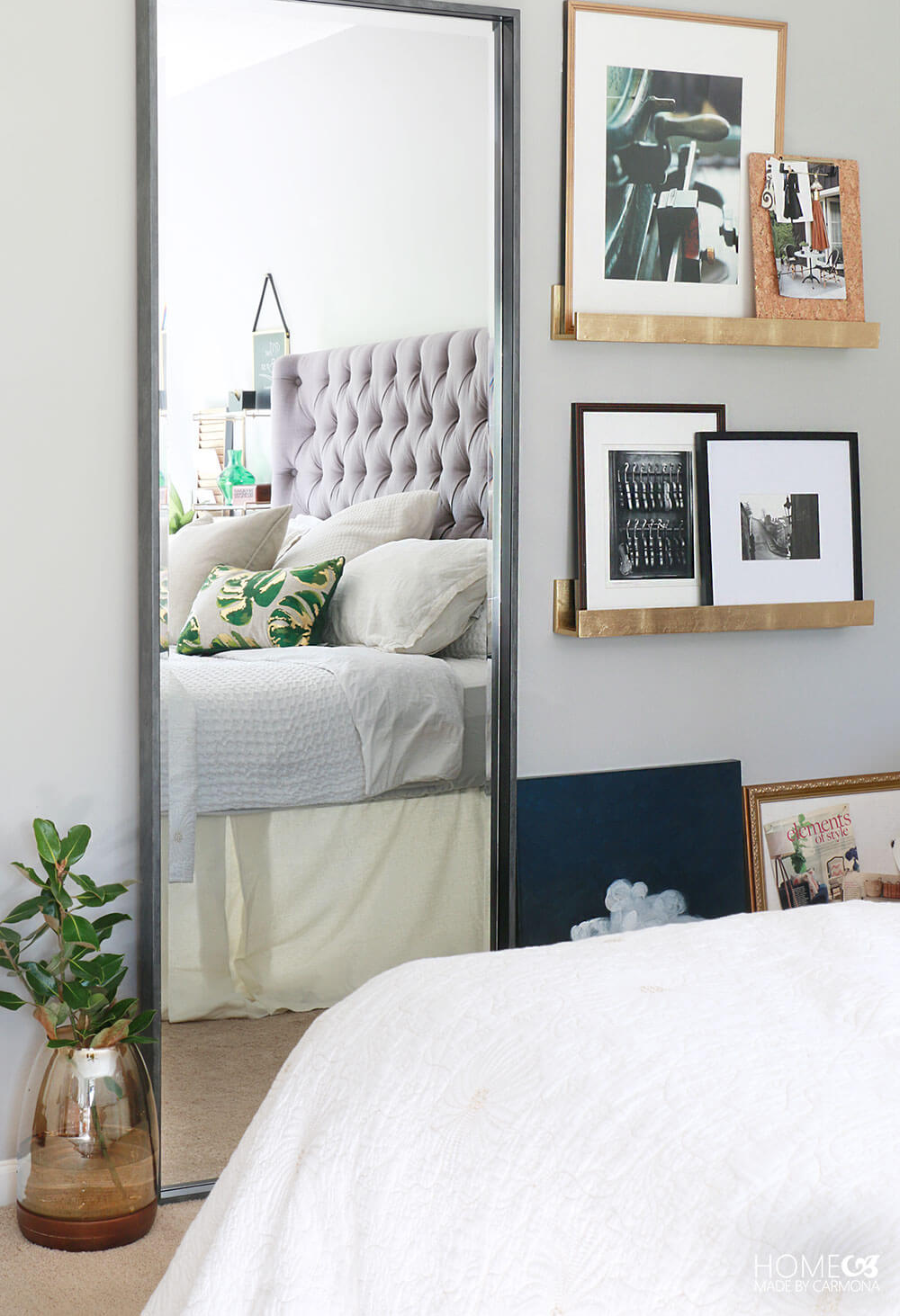 We needed that extra mirror because seriously, how is that every week I have to fight my husband to get a glimpse of myself in the closet mirror before heading out to church?? Honest to goodness, there have been actual times when I went to church without ever seeing more than my head in a mirror. I usually leave yelling "but you're a boy!" to my hubs as he hogs the mirror until the very last second to get that suit and tie just right. I call this mirror marriage saving. Hahaha!
I want to direct your attention to this gorgeous glass hurricane lamp I found at Home Goods, because it isn't a big thing, but I admire it every time I pass it. It's slightly reflective so it grabs your eye every time!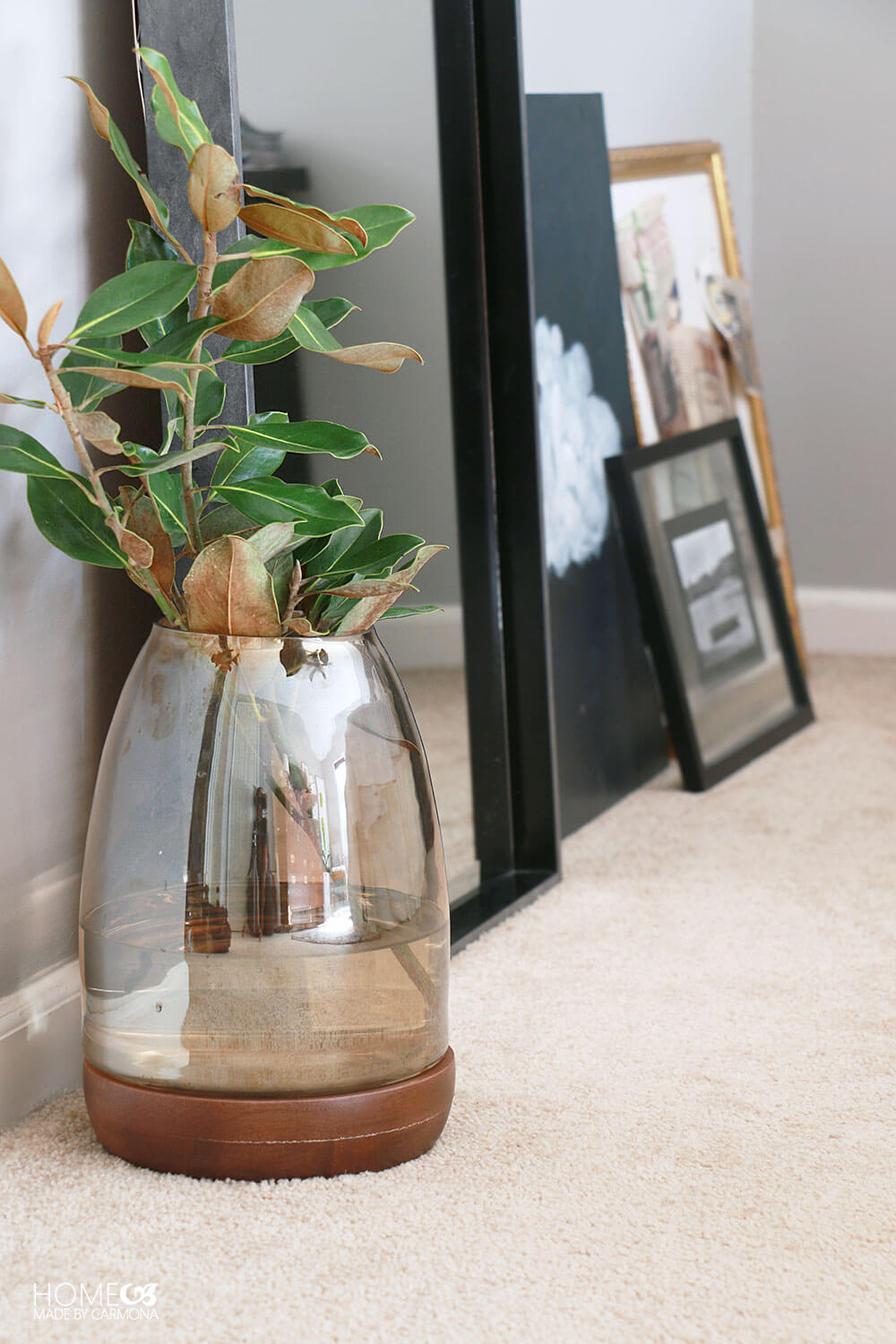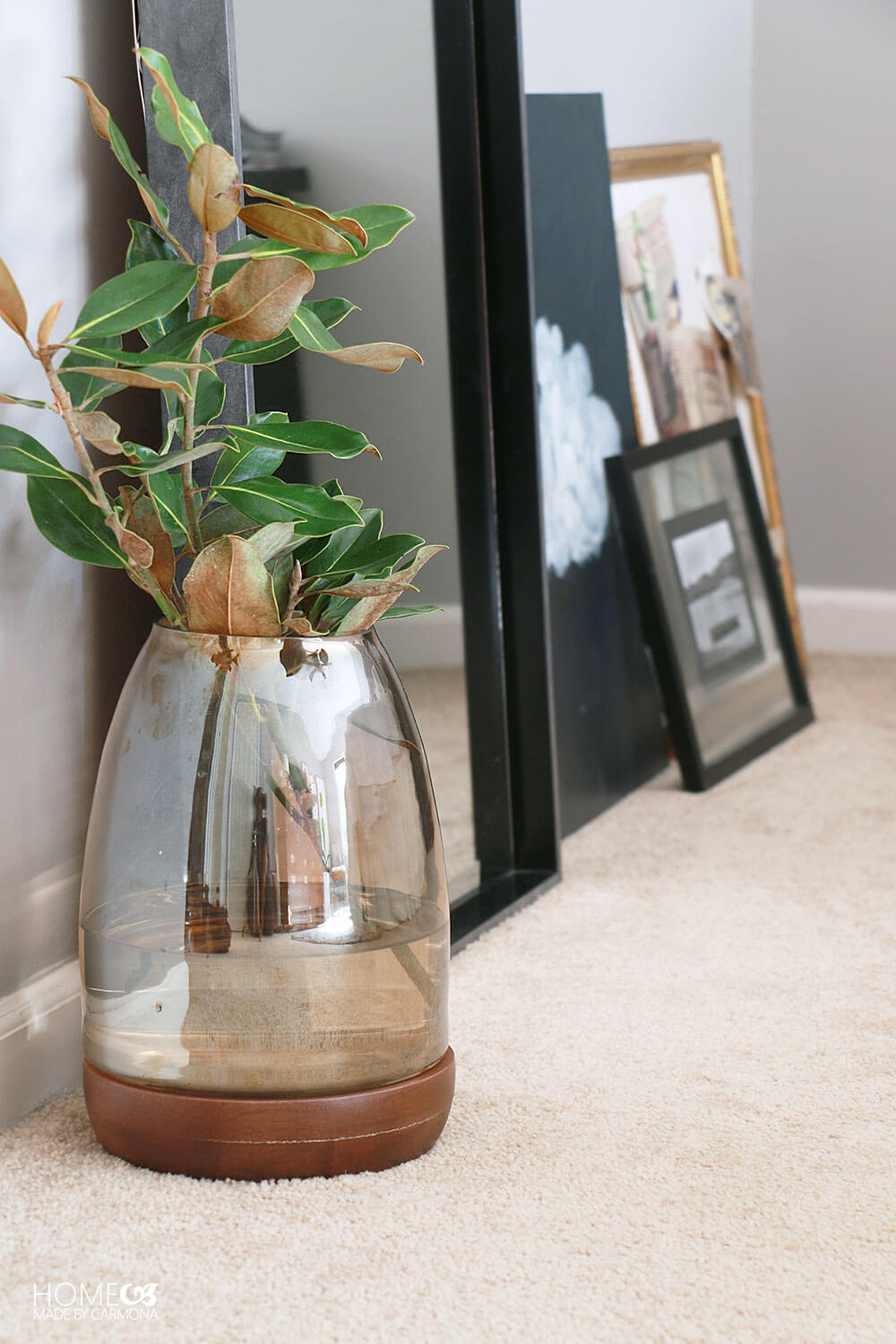 I don't know if this translates in pictures, but it is the little details that make a space feel amazing. Even the floating shelves are reflective gold (which I know I didn't capture in pictures…I wish you could see it in person, or that I was a better photographer. lol!).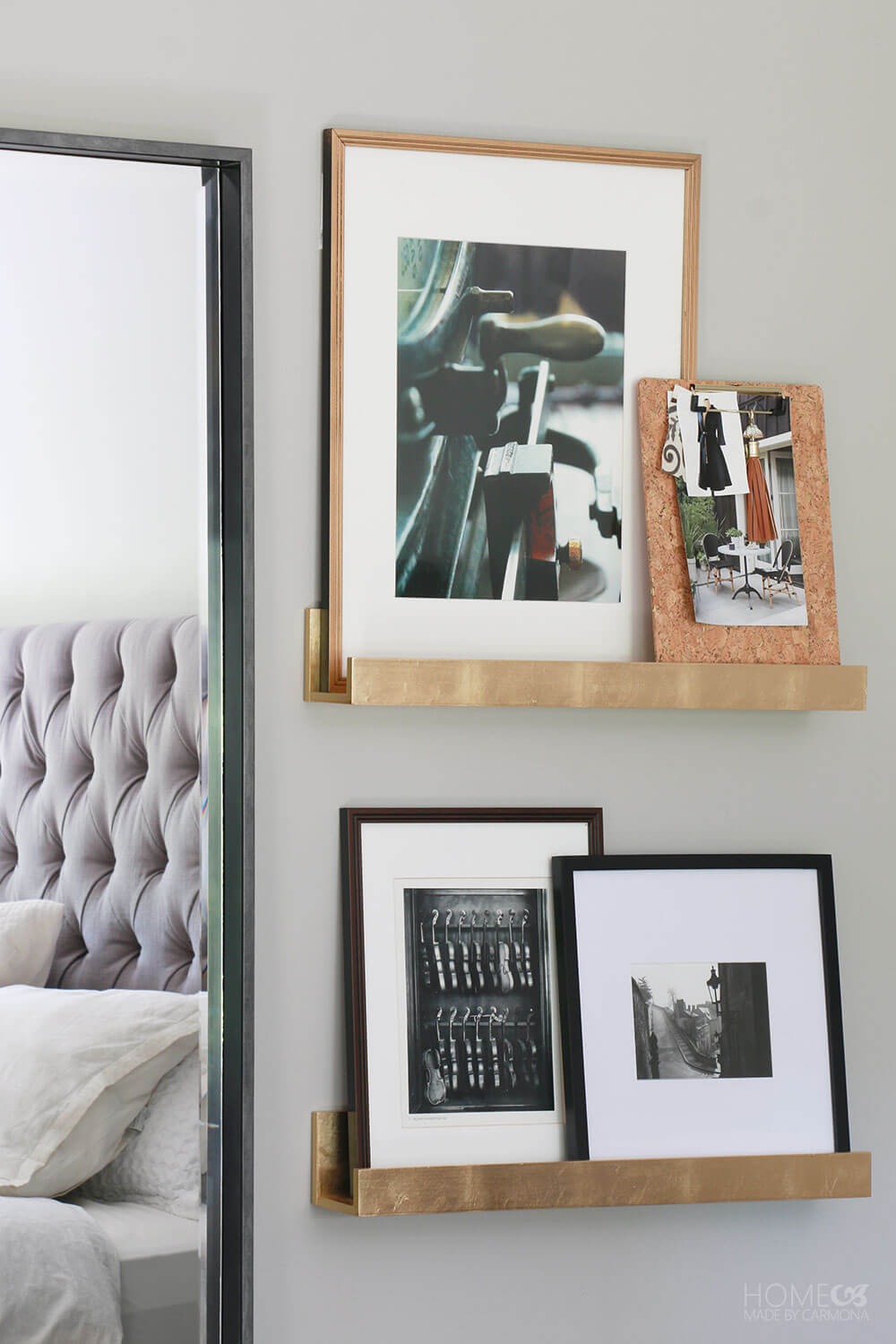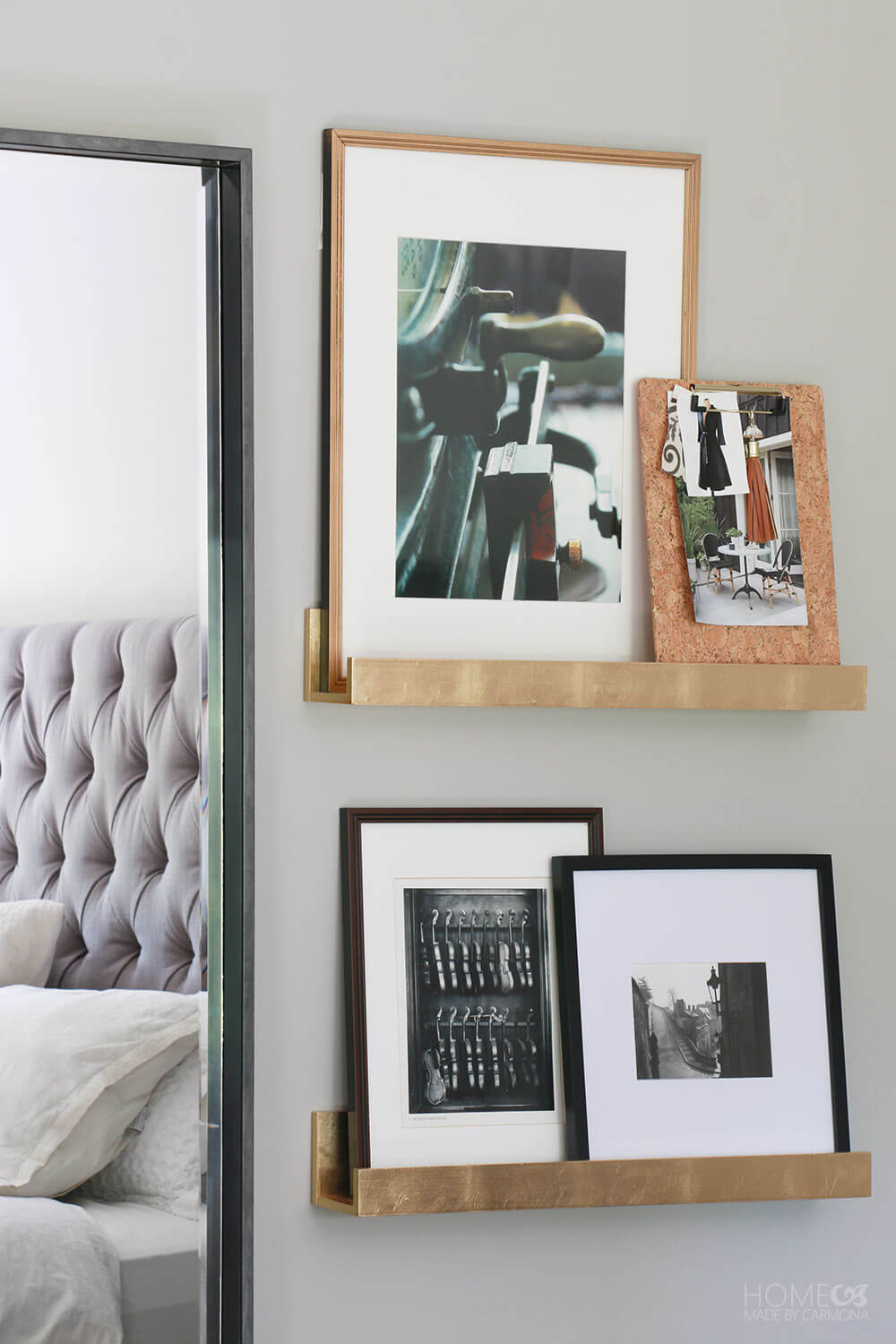 True to Ursula style, I love to have a mood board in every room. Even if it is just a cute cork clipboard with inspirational clippings.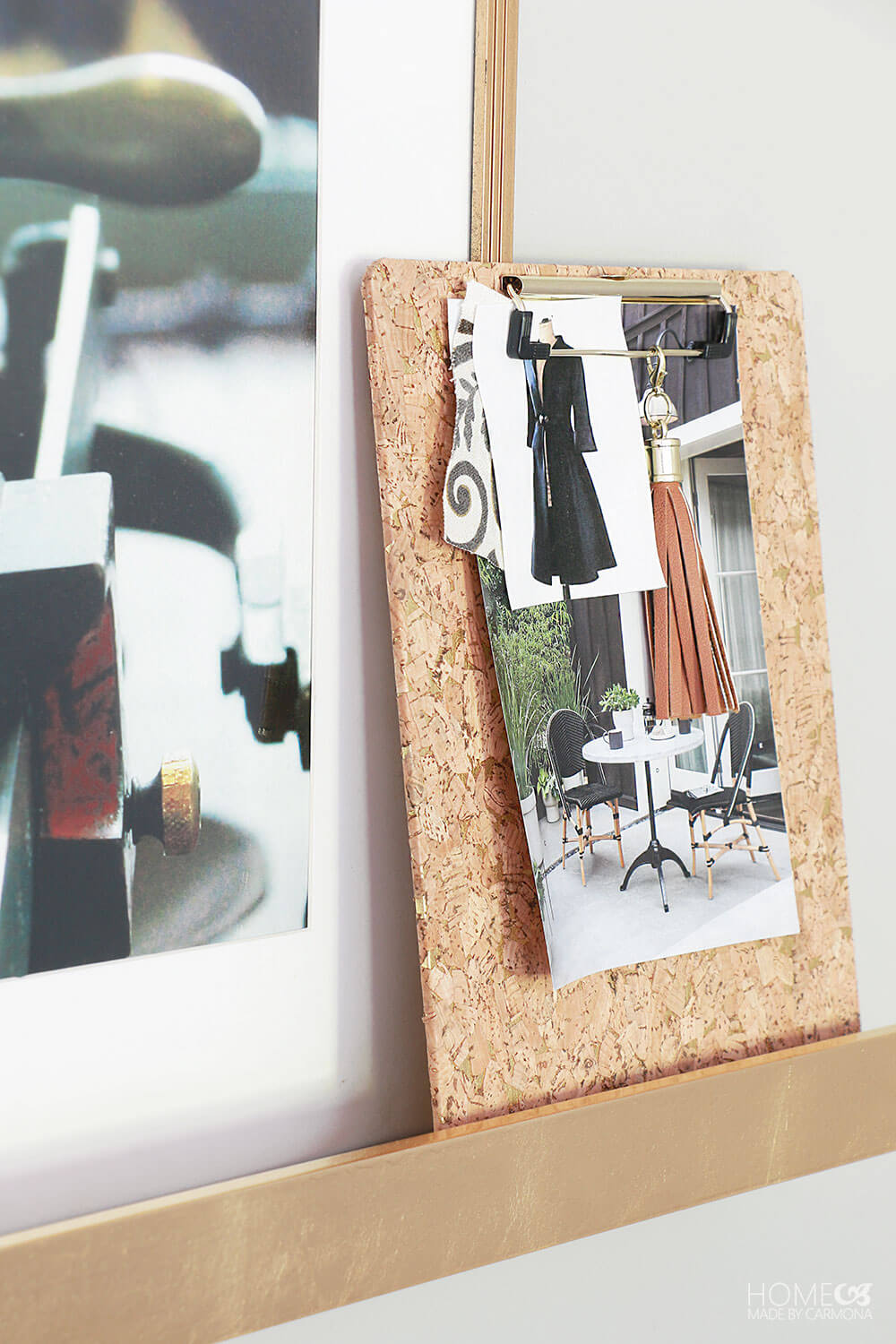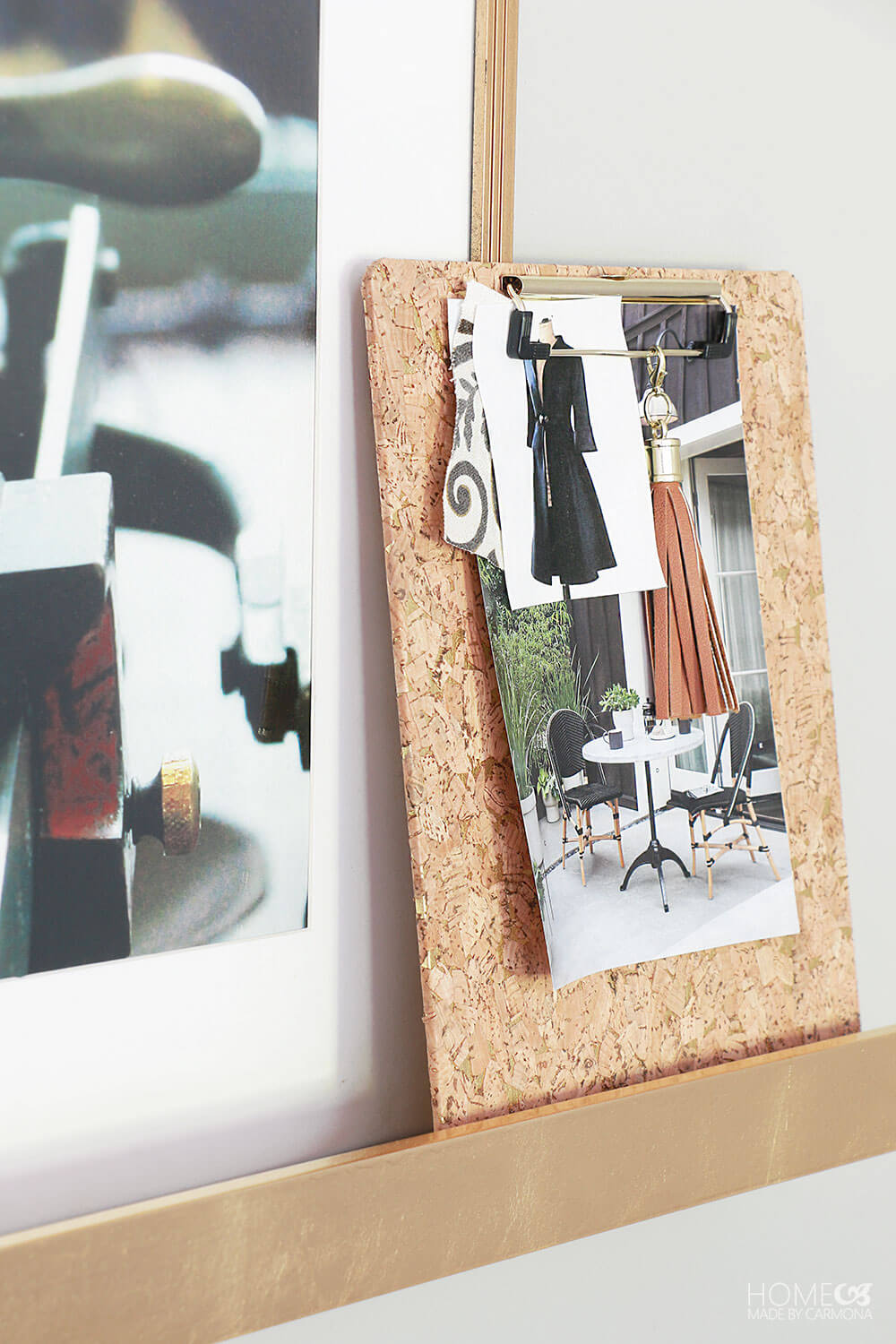 Across from the bed you see the stunning campaign dresser that I got for free years ago. Someone was moving and posted it on a Facebook garage sale page…and can you believe no one liked the style or wanted it? I immediately responded, picked up that bad boy, gave him a little TLC to restore him, and he's been with us ever since. No, it's totally not strange that I am calling my campaign dresser a "he". 😀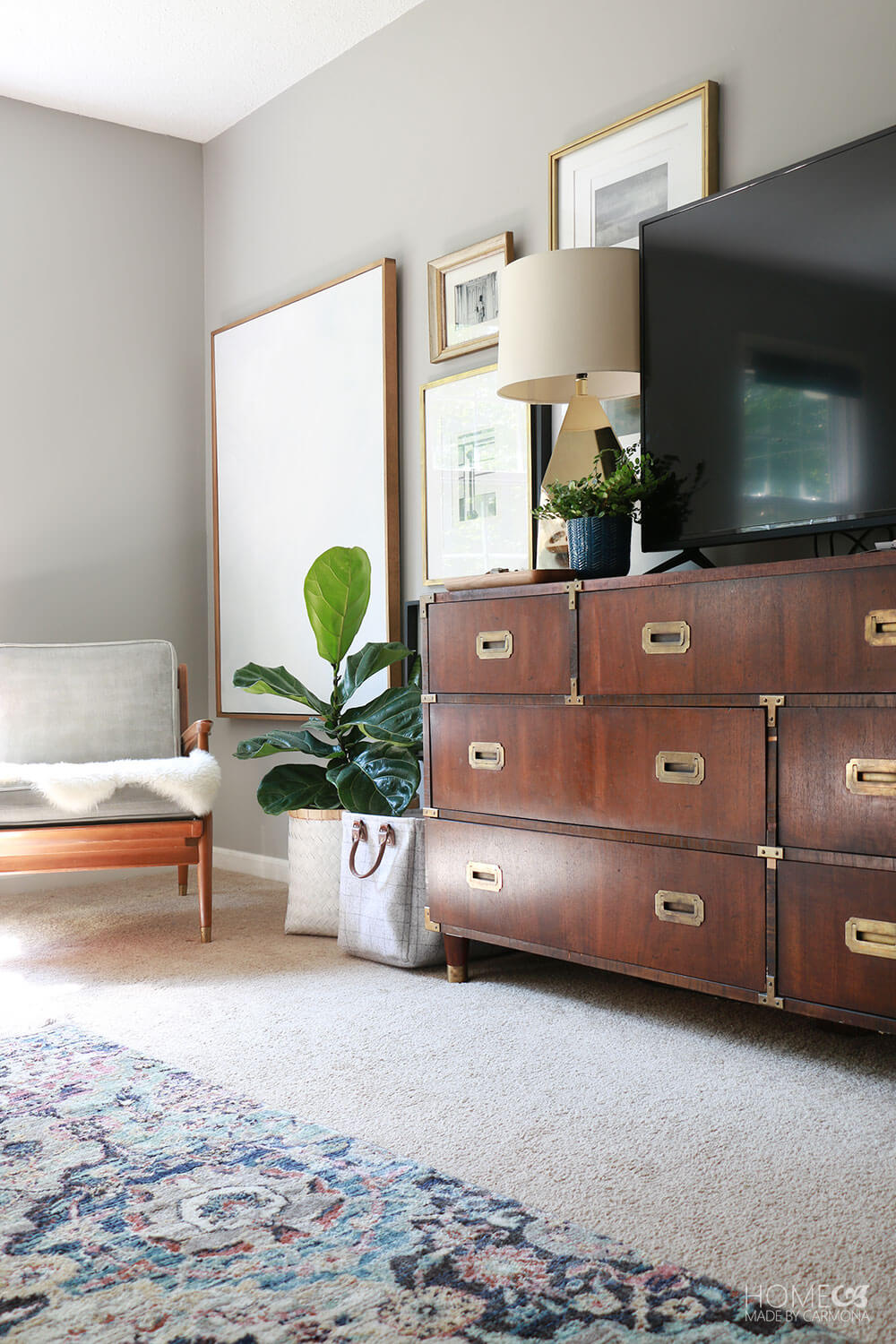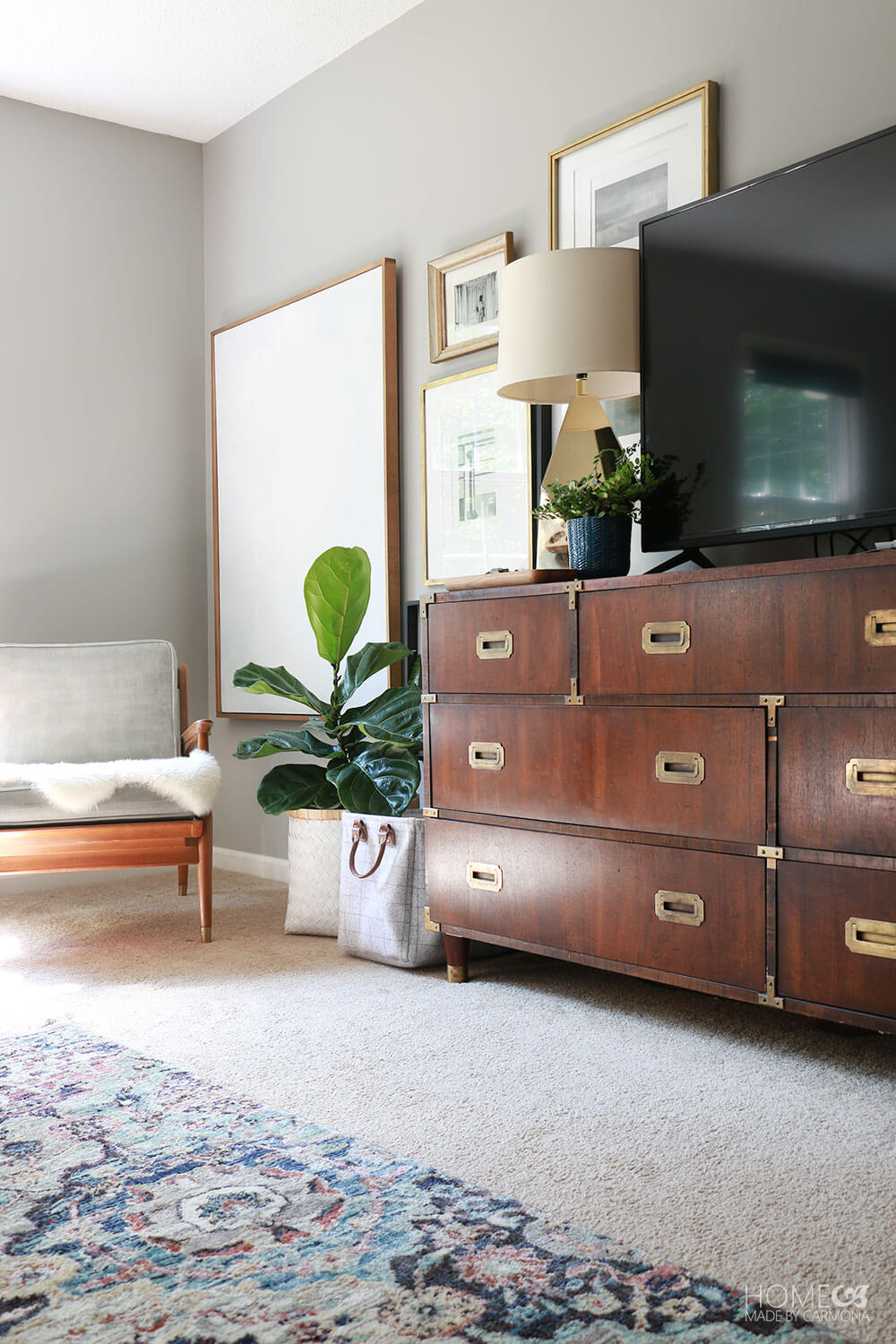 We needed a big piece of furniture sturdy enough to hold the TV. I'm a good wife, I surprised my husband with his first flat screen 58″ TV, although I hate televisions in decor (and in my bedroom). I figured the best way to offset a TV in the space was to decorate around it with a gallery wall.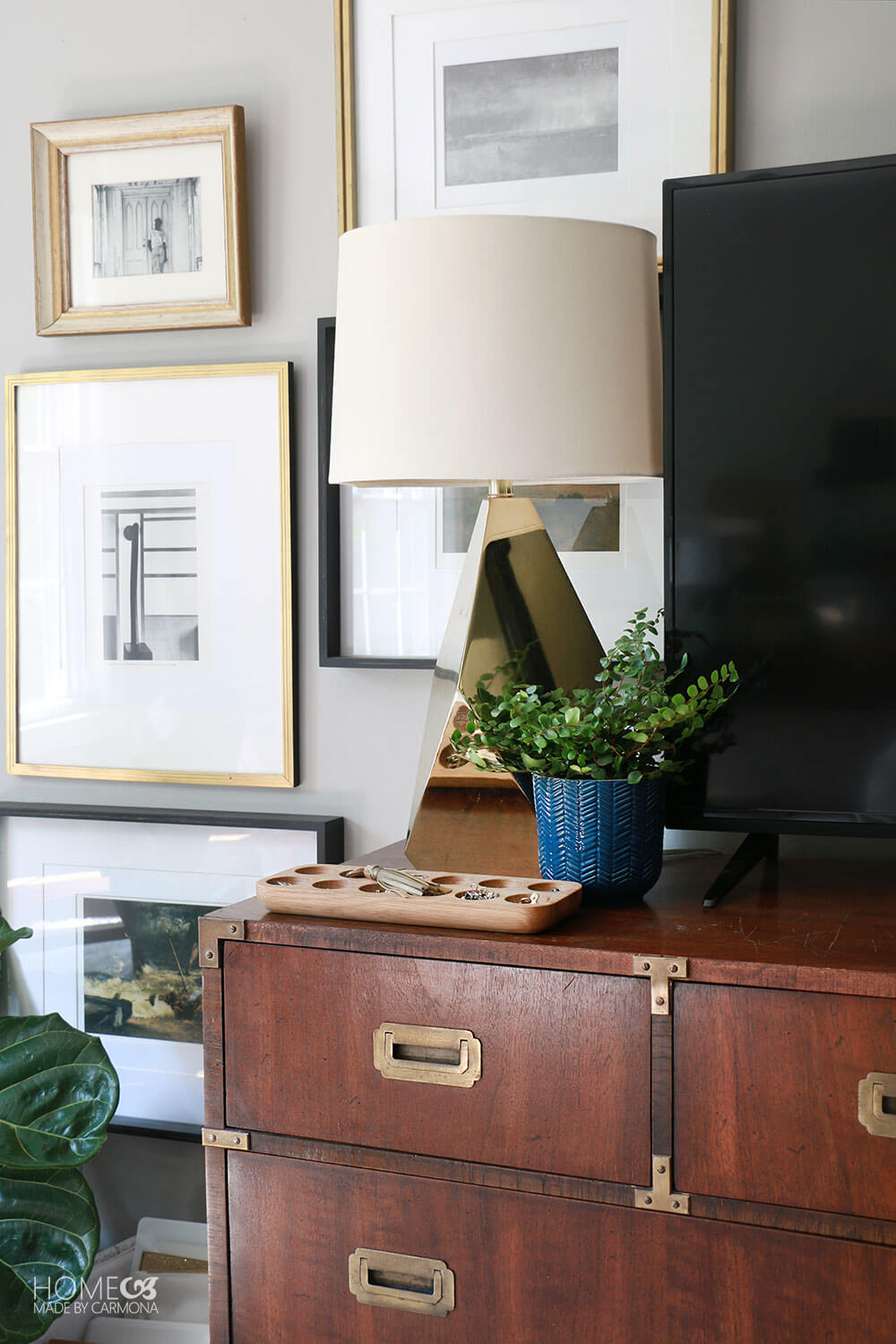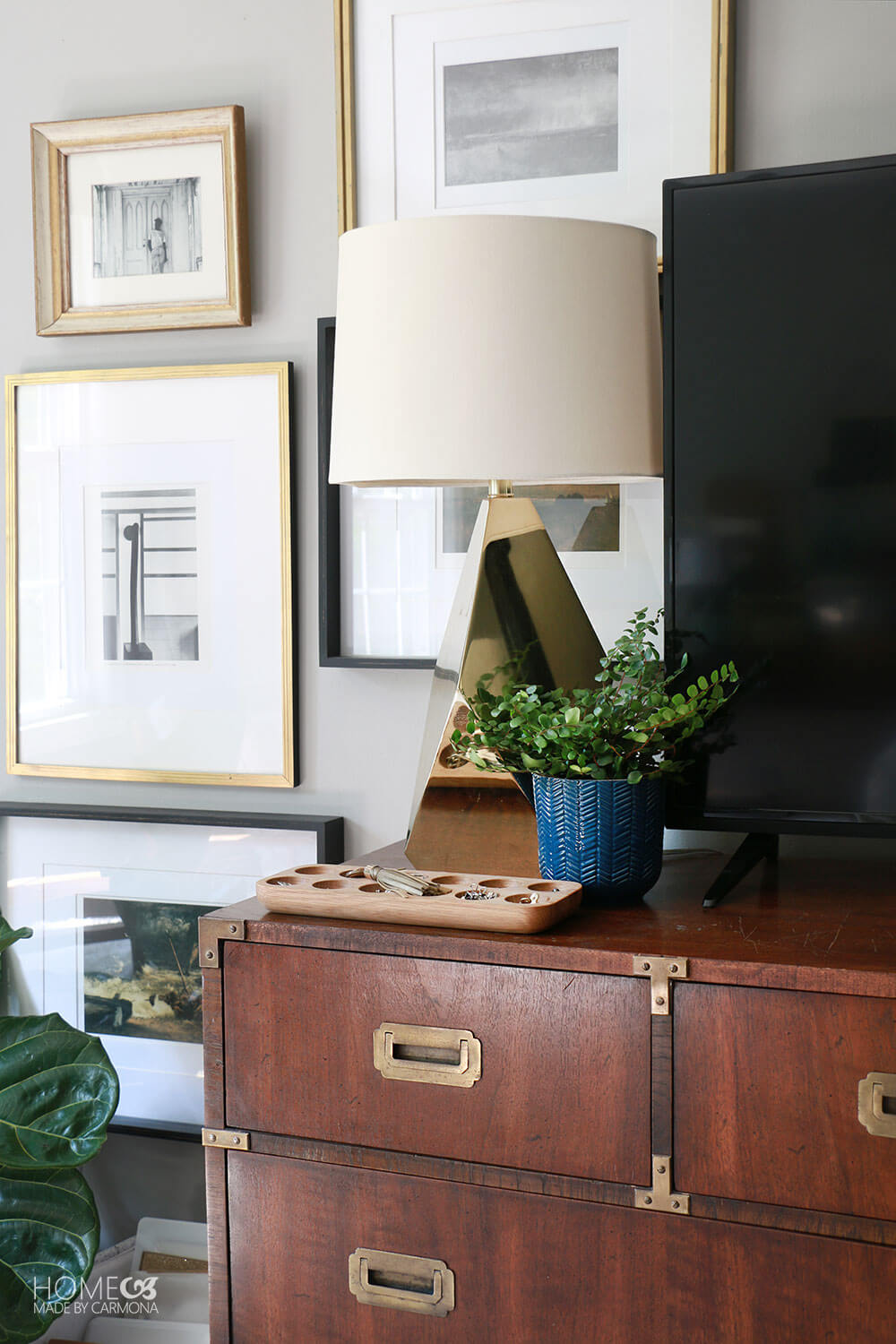 I'm not finished with the gallery wall, but it is a good start. I want to mount the TV on the wall itself at some point and continue the art surrounding the TV on top and across the other side.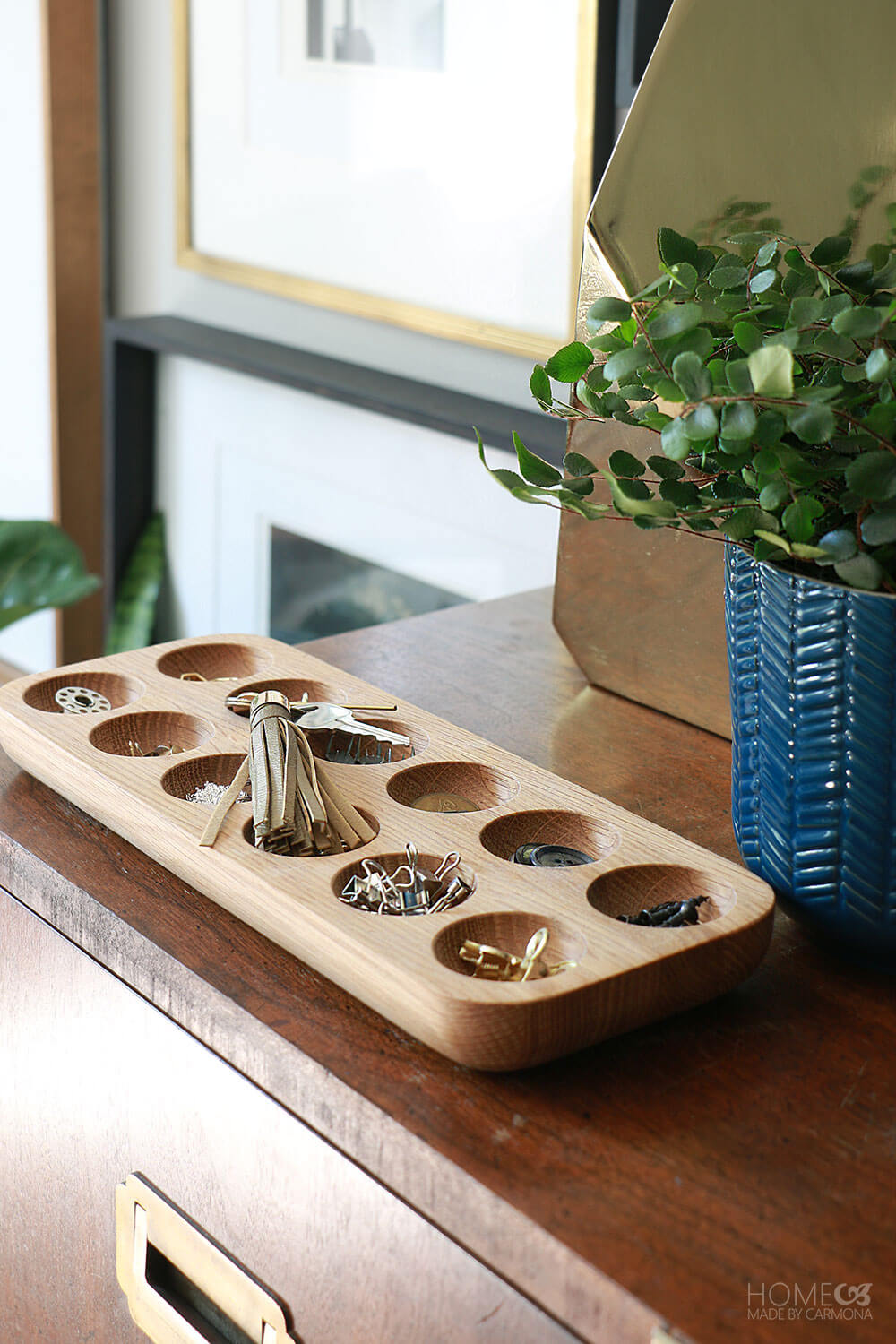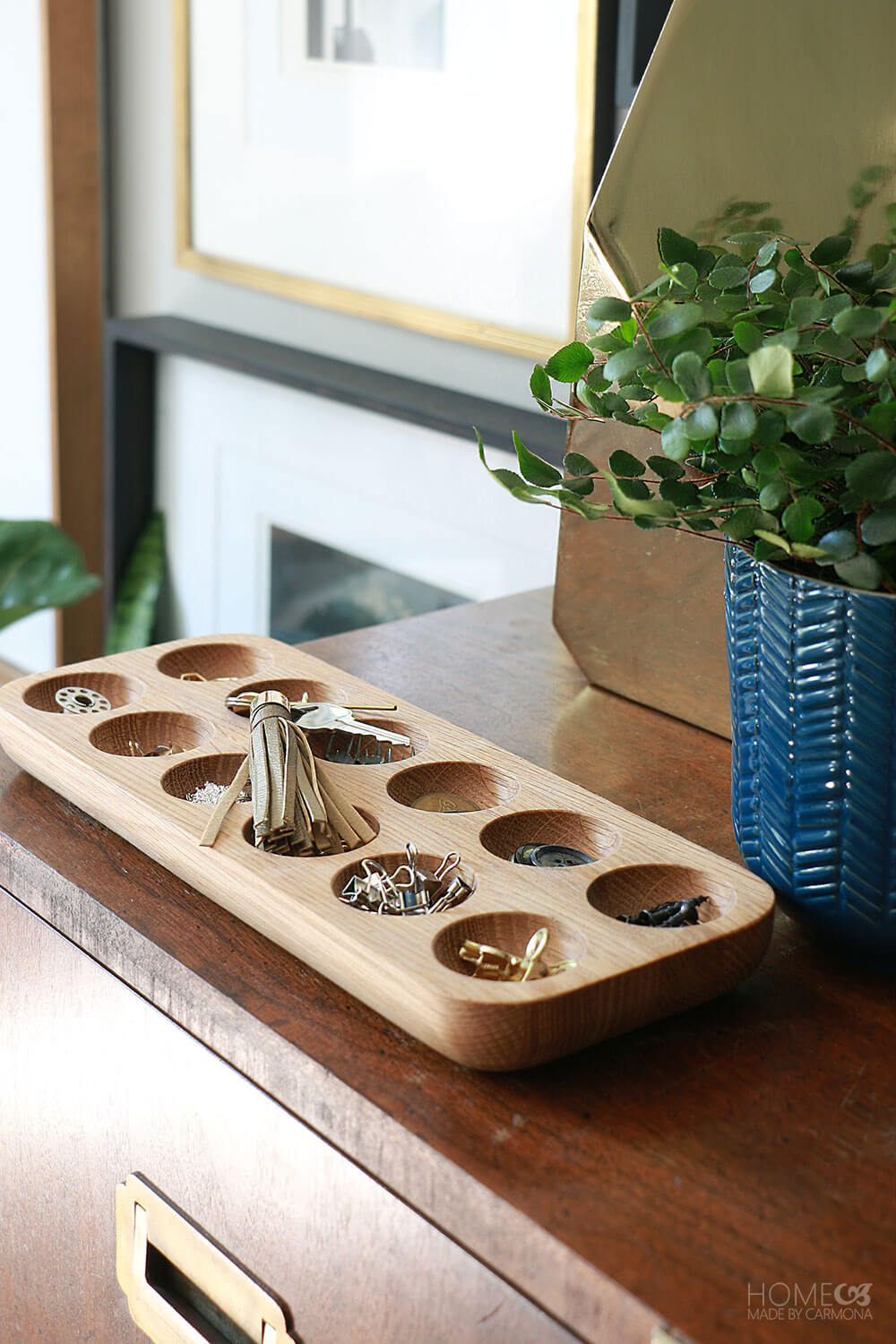 Well, the room may not be done, but it is like a sigh of relief to both my husband and I each and every day. There is nothing that makes me feel more stressed than ugly messy spaces. I love that I now have a bedroom to work, relax, and spend quality time with my husband in that both inspires and soothes me.





[go_portfolio id="decorate_landing_page"]