If anyone knows small bathroom spaces it's me! When my husband and I chose to give up the "Master" bedroom in our house for a private bathroom, it means we moved into the bedroom with the tiniest closet and an itsy bathroom. Ha, if you can really call it a "master" bedroom, or a closet, or a bathroom…it's more like a small square space you have to squeeze into. 😉 See what I mean? Can you believe a shower fits into this tiny space, not to mention everything else we need!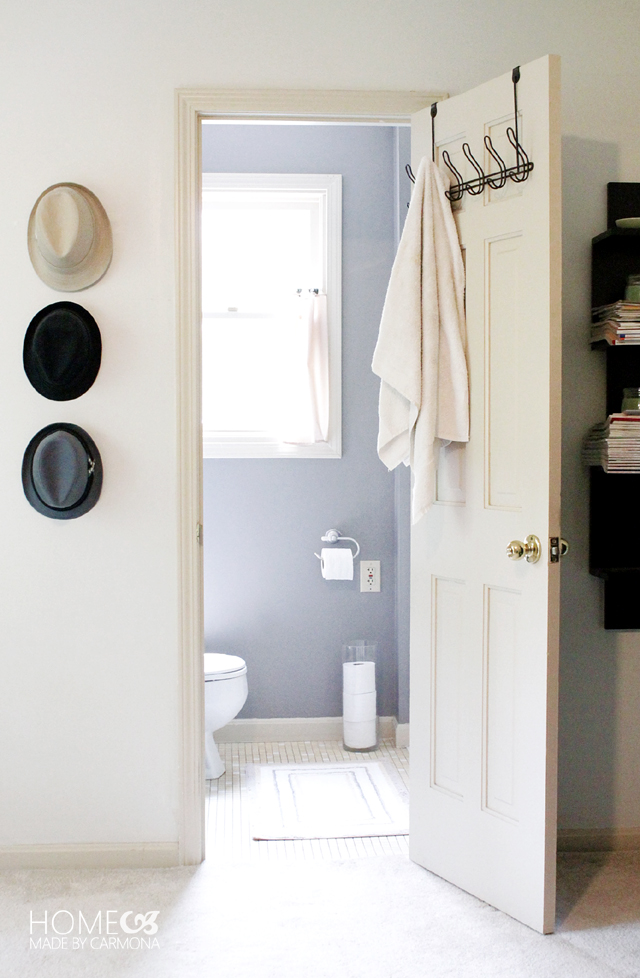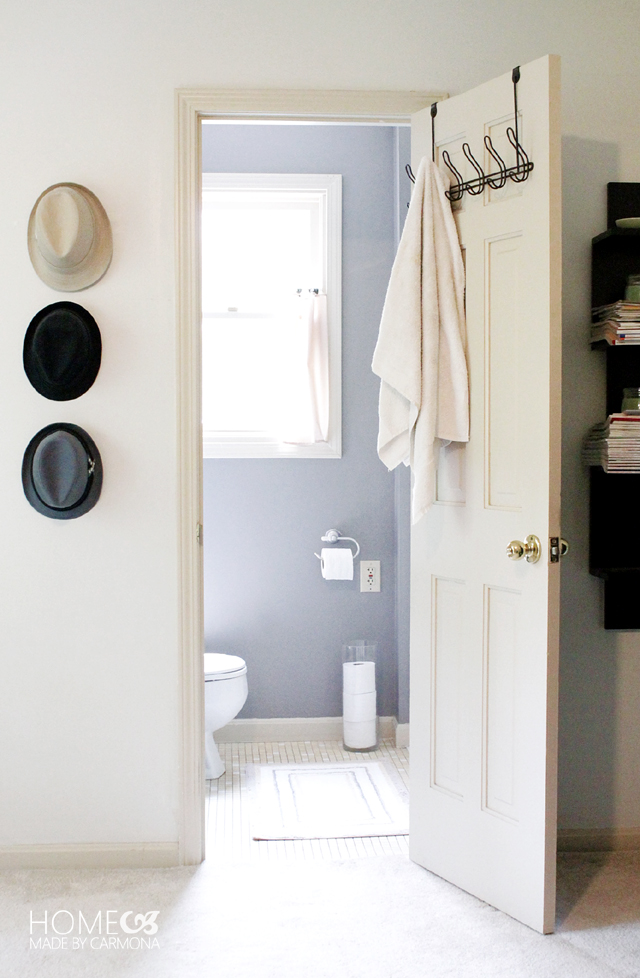 [left]
So when one of my lovely loyal readers emailed me seeking advice for a small space bathroom, well I could identify with the challenge and my heart went out to her! She writes, "My bathroom does not have any shelf space. The sink is mounted to an old dresser (which I fell in love with but now hate). The problem is, I don't know how to organize the space! …Could you suggest something to get me started?"
Here is Monica's dilemma…her storage-less bathroom space>>
[/left]
[right] [pullquote width="250″ float="left"]When one of my lovely and loyal readers emailed me seeking advice for a small space bathroom, well I could identify with the challenge…[/pullquote] [/right]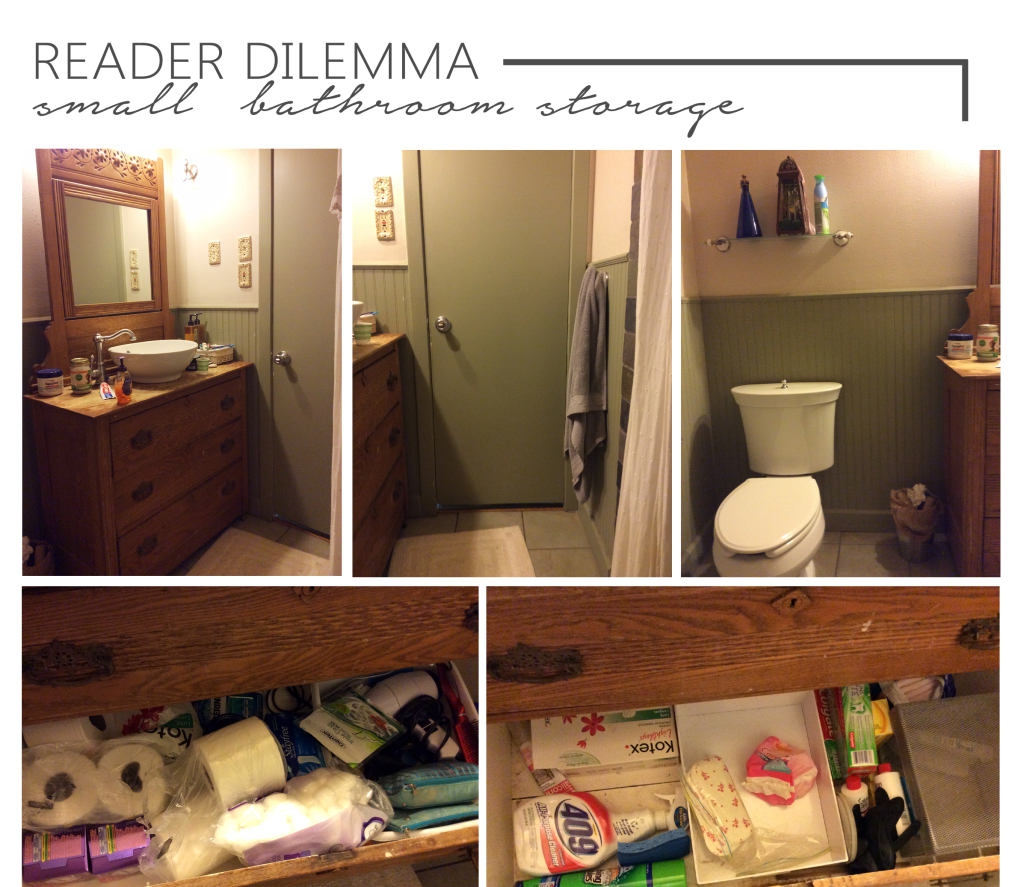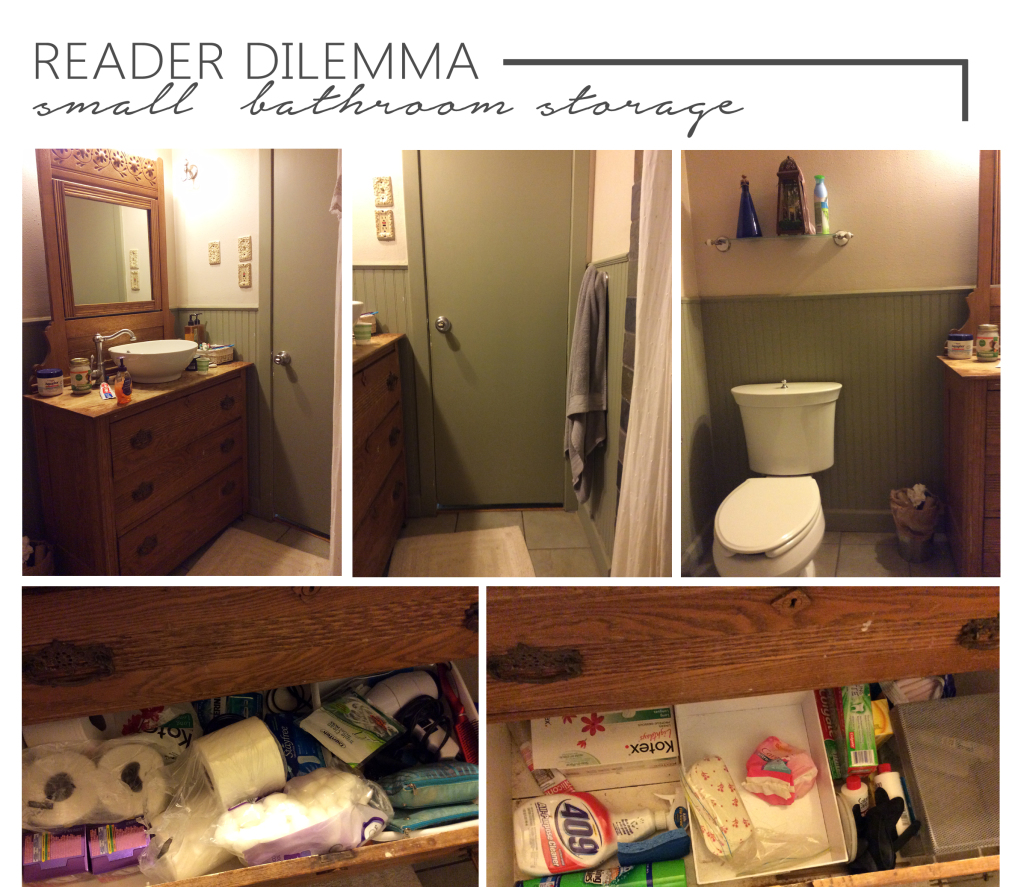 I have a few ideas to help her gain storage and make her bathroom work in her favor…
Bathroom Wall Storage
When you don't have much in the way of storage space you have to make the most of every piece of real estate. Monica has some prime real estate on the wall right next to the vanity & mirror. There are a myriad of possibilities for storage, some a better use of space than others…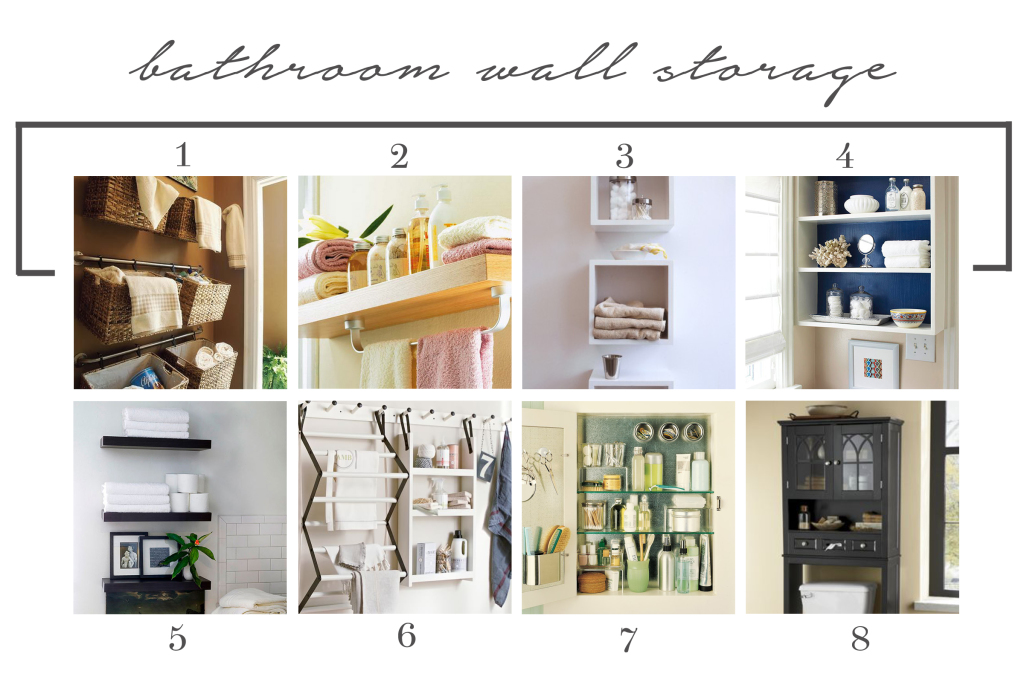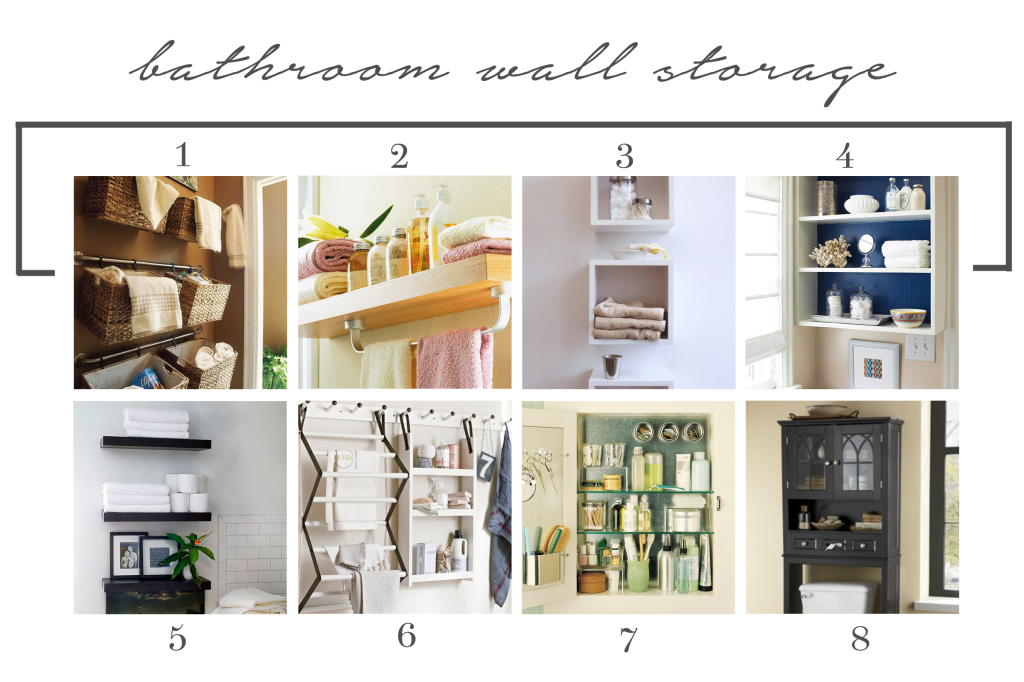 1 | 2 | 3 | 4 | 5 | 6 | 7 | 8 |
Vanity Top Storage
Who says leaving things out on top of our vanity has to be clutter? Gorgeous storage options are practical and pretty. I look for attractive jars and pumps to put everything into…from creams, soaps, lotions and…well everything! It turns MY clutter into attractive clutter.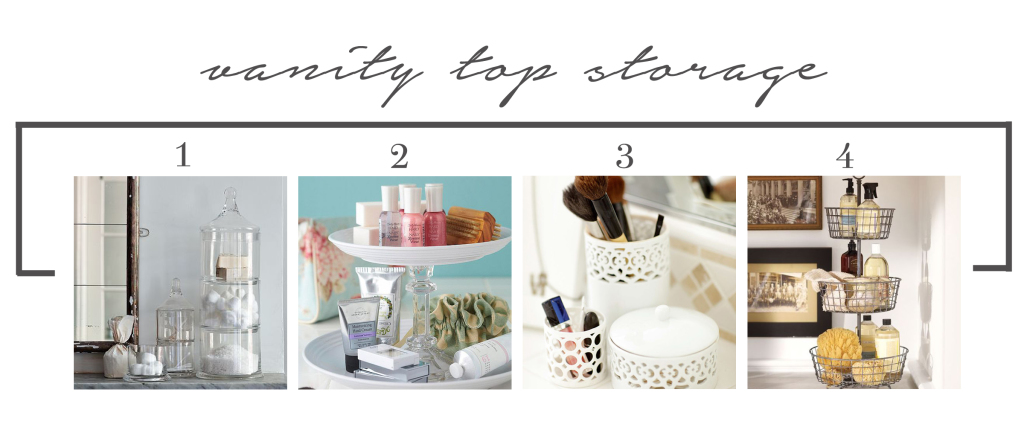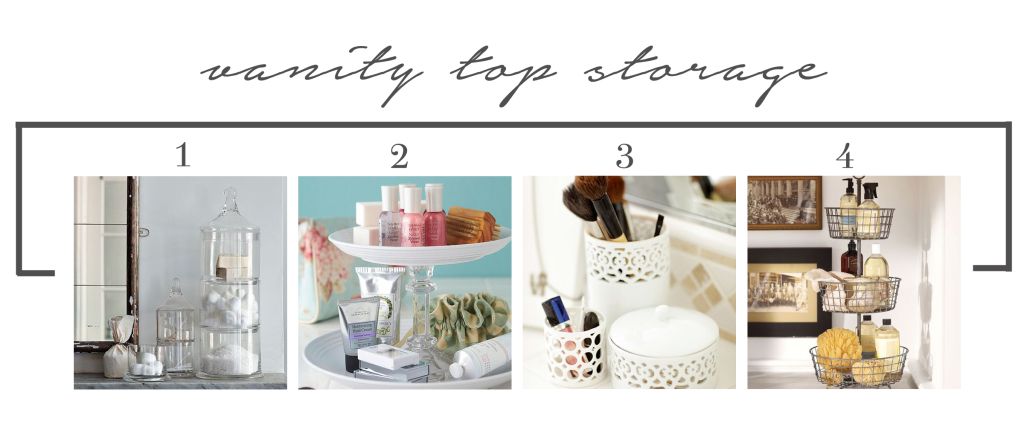 Drawer Organization
Monica has a beautiful reclaimed dresser turned vanity… the difficulty seems to be that in it's unfinished state it is leaving saw dust in its wake. In addition, her initial love of the piece seems to be waning as her need for practical storage increases. In order to rekindle that lost love she once had with the piece it will need to be sanded down and properly refinished… perhaps a solid top to protect the wood around the sink.
Of course a beautiful, easy opening dresser is just one part of the equation! Streamlining what is stored in our small bathrooms is a must, then finding the perfect drawer storage solution is next.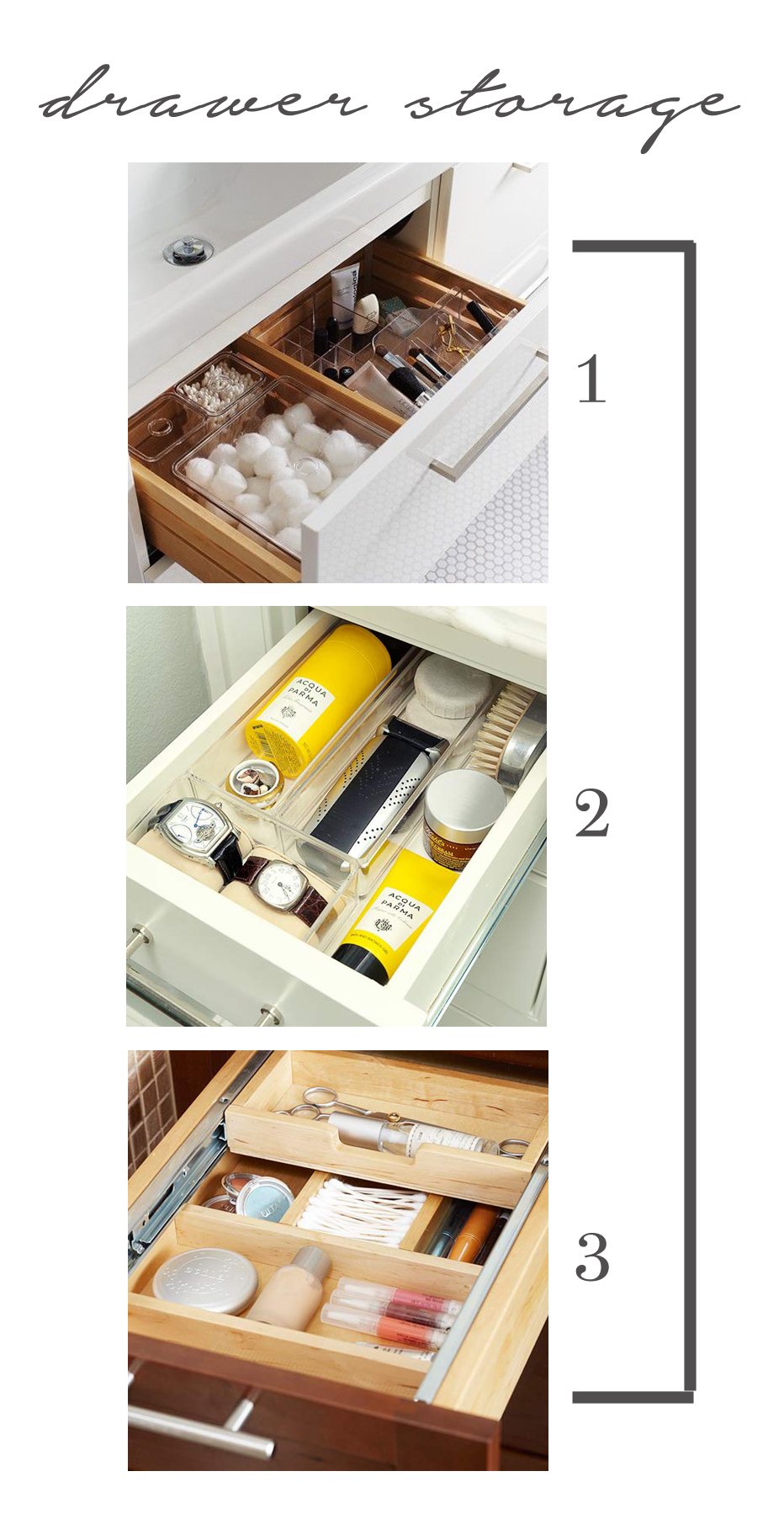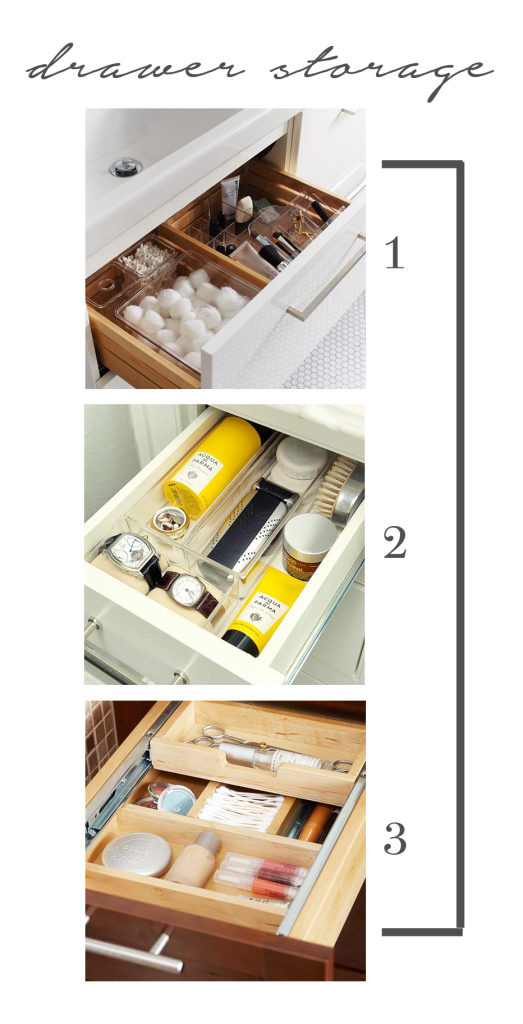 Toilet Paper Storage
Rather than taking up valuable space in our drawers or under sink cabinet spaces, I opted to employ the use of freestanding toilet paper storage. I particularly love the basket option, and I think this would look lovely in Monica's bathroom!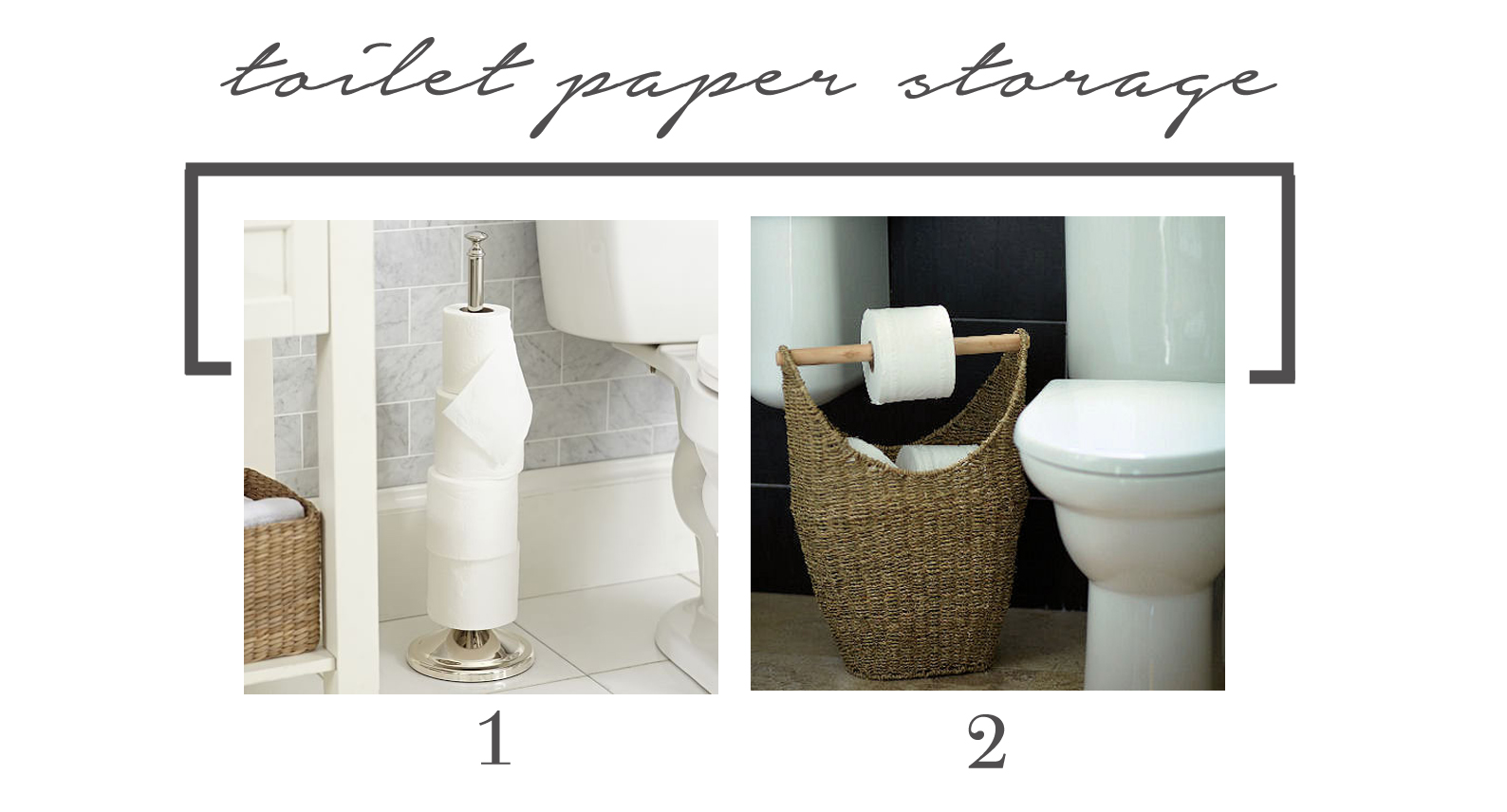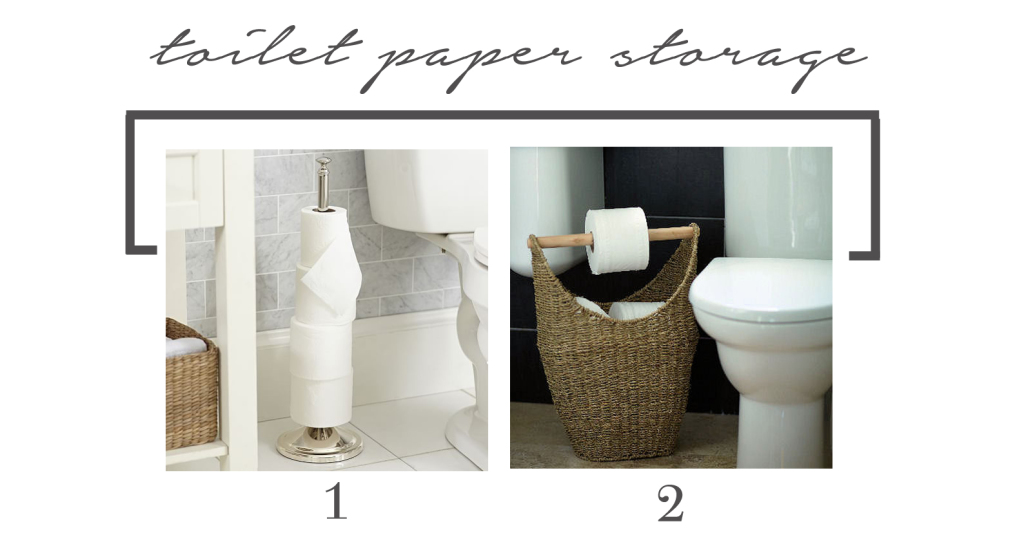 There are so many amazing organization options out there…it is just knowing where to look and crafting a custom plan based on your particular needs. I see a challenge like the one Monica has, and I admit I wish I could go help her tackle it in person! Ah well, I'm wishing Monica the best as she tackles her bathroom space!
Do you have some good advice for those like Monica with with small bathroom spaces and little storage? Share in the comments below!!


Want to see one of my bathroom makeovers? This is my girls Jack & Jill bathroom, which I transformed on a slim budget for a grand total of $83! Don't believe me? See the full budget breakdown and details here.