This post is awesomely sponsored by The Home Depot. Affiliate links contained below.
It is reveal day on our big bathroom makeover! If you have been following along via Instagram, you know that I've been transforming my girl's bathroom week-by-week over on The Home Depot's Instagram Stories!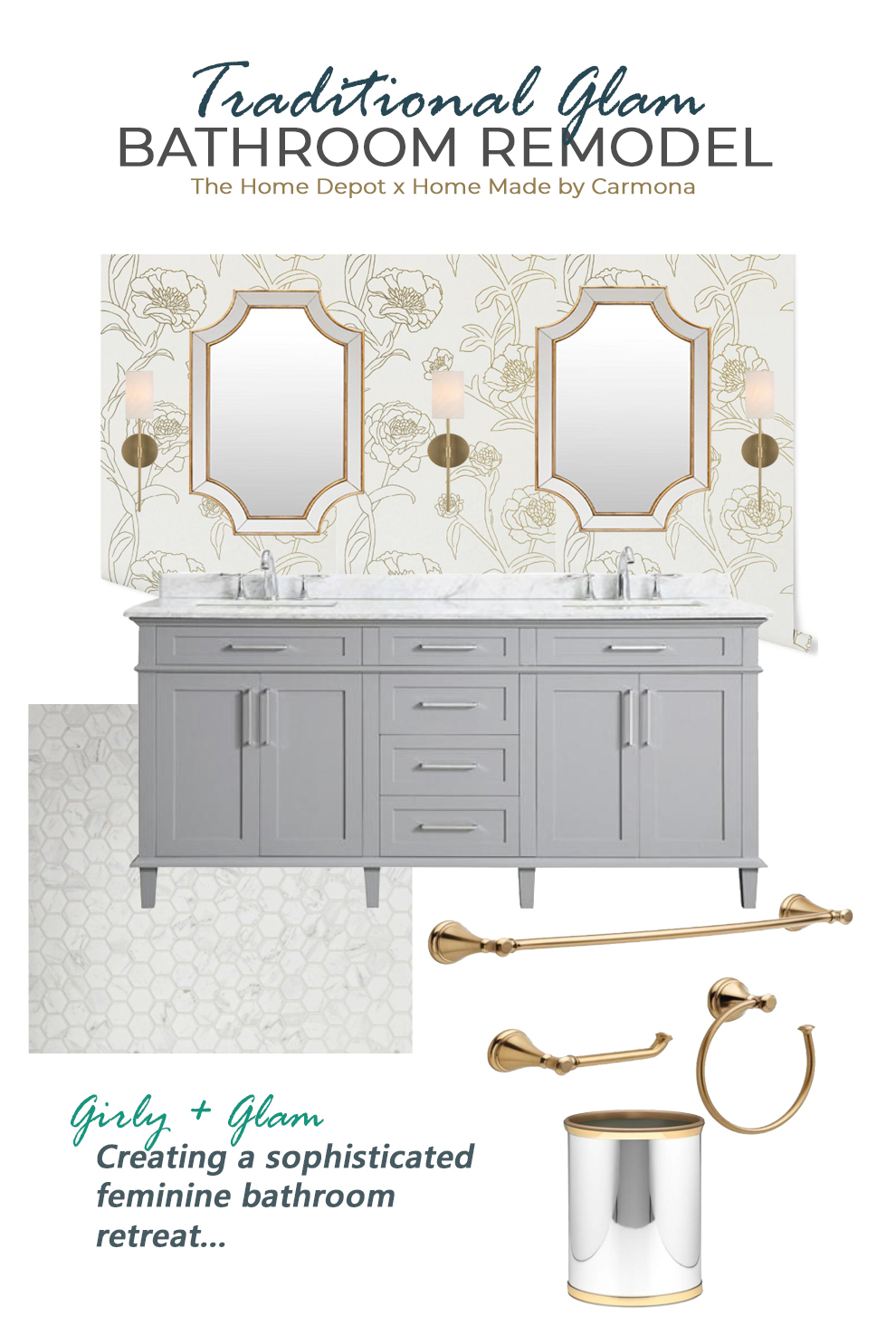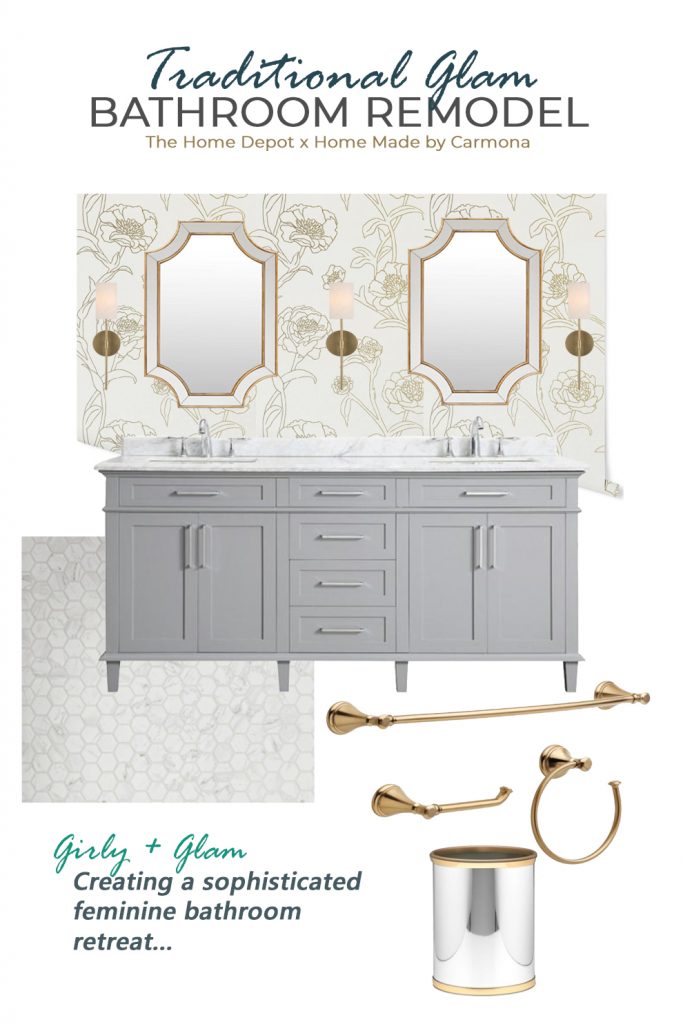 I'm always excited to team up with The Home Depot on transformative projects like this one. But now my girls are just as excited as I am, if not more! As they have watched remodel after remodel, they would always ask when their sad outdated bathroom would be next. I admit, this makeover was quite overdue!
Outdated Bathroom Before
I don't know which is worse, the pink/peach colored toilet & sinks, the weird chain light fixture, or the mirror you can't really see yourself in.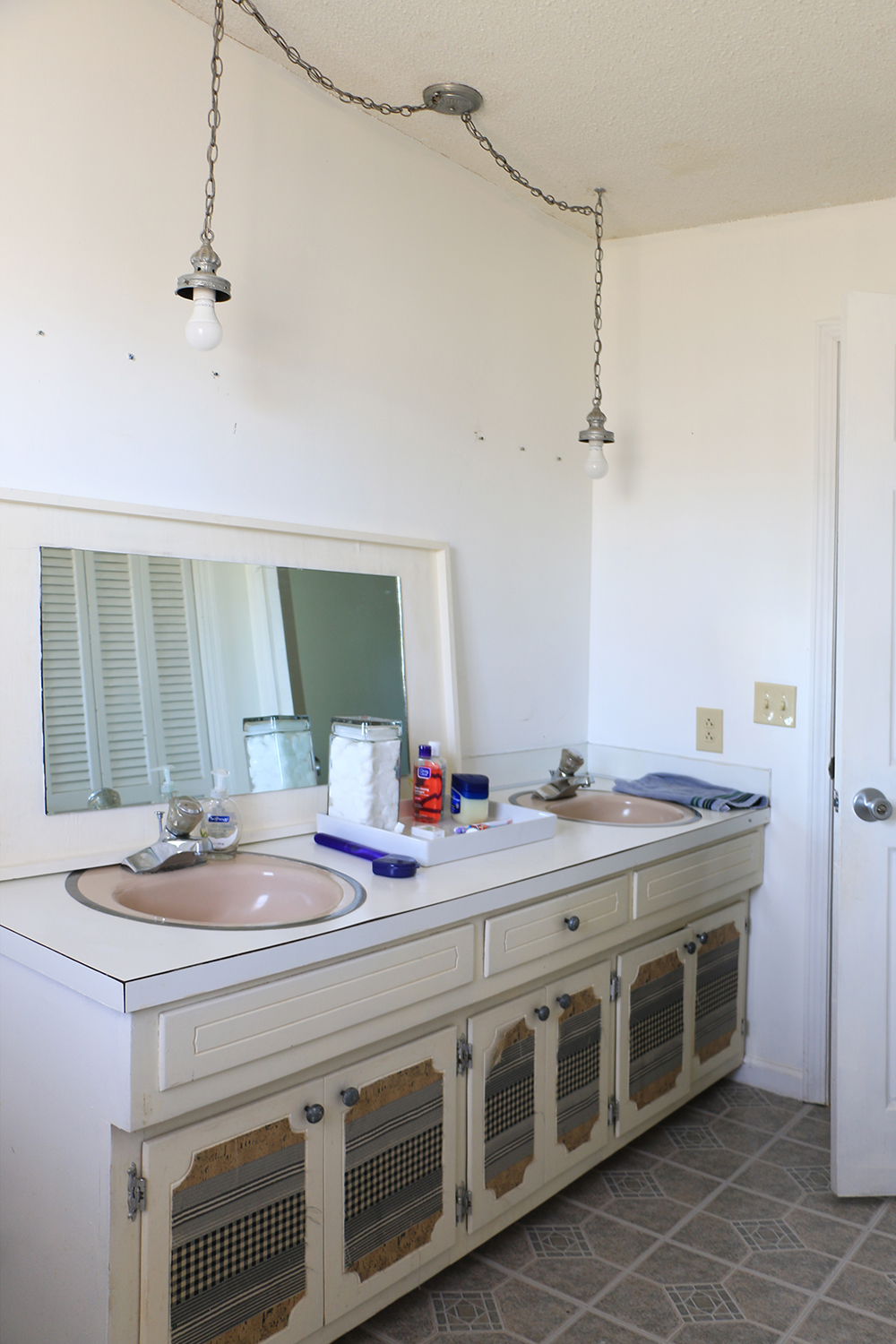 No, wait, it's probably the vanity with it's musty dingy insides… it was so bad my kids refused to store anything in there.
Everything in this bathroom seemed to be competing for most ugly, or most broken.
Starting With A Clean Slate
Not every space requires a clean slate to transform it. In this case, there wasn't anything worth saving, so we stripped it bare.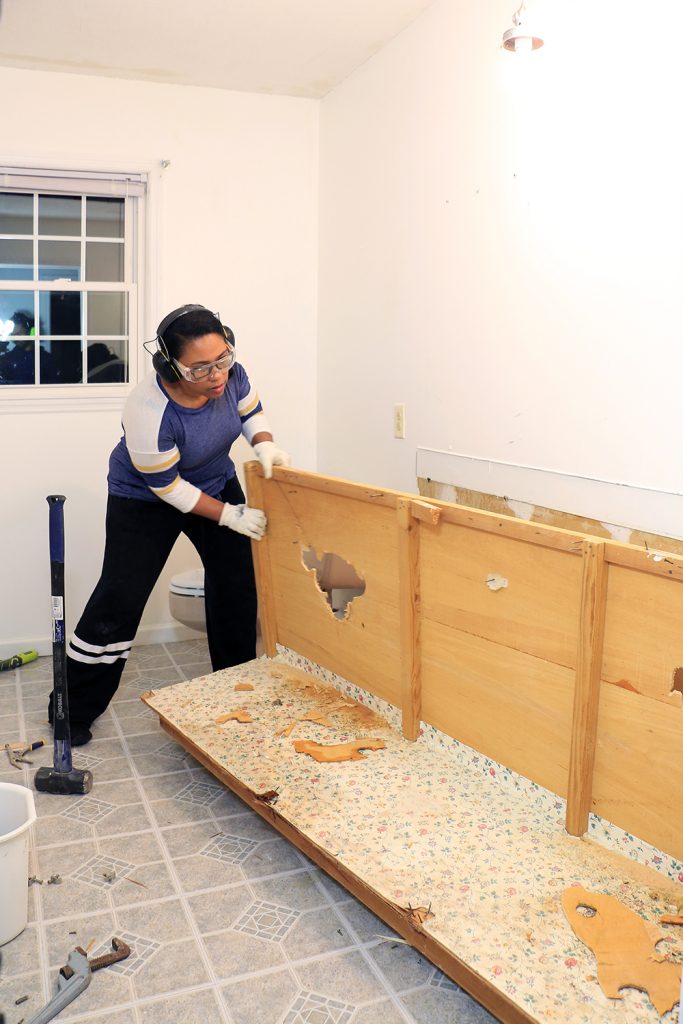 The fun of starting with a clean slate is having a fresh start on style. You don't have to fit the design to anything existing in the room, you are free to make all new decisions!
Because The Home Depot has everything needed for a remodel, from the building accessories to shopping décor online, it makes shopping a cinch.
My secret weapon is to use the Lists function on The Home Depot's website and mobile app. As you peruse the website or app, click the little heart in the corner to save anything that grabs your eye. Then narrow it down by removing the pieces that don't work together quite the way you wanted. It's a lot easier to visualize the design with the items displayed side-by-side in your lists.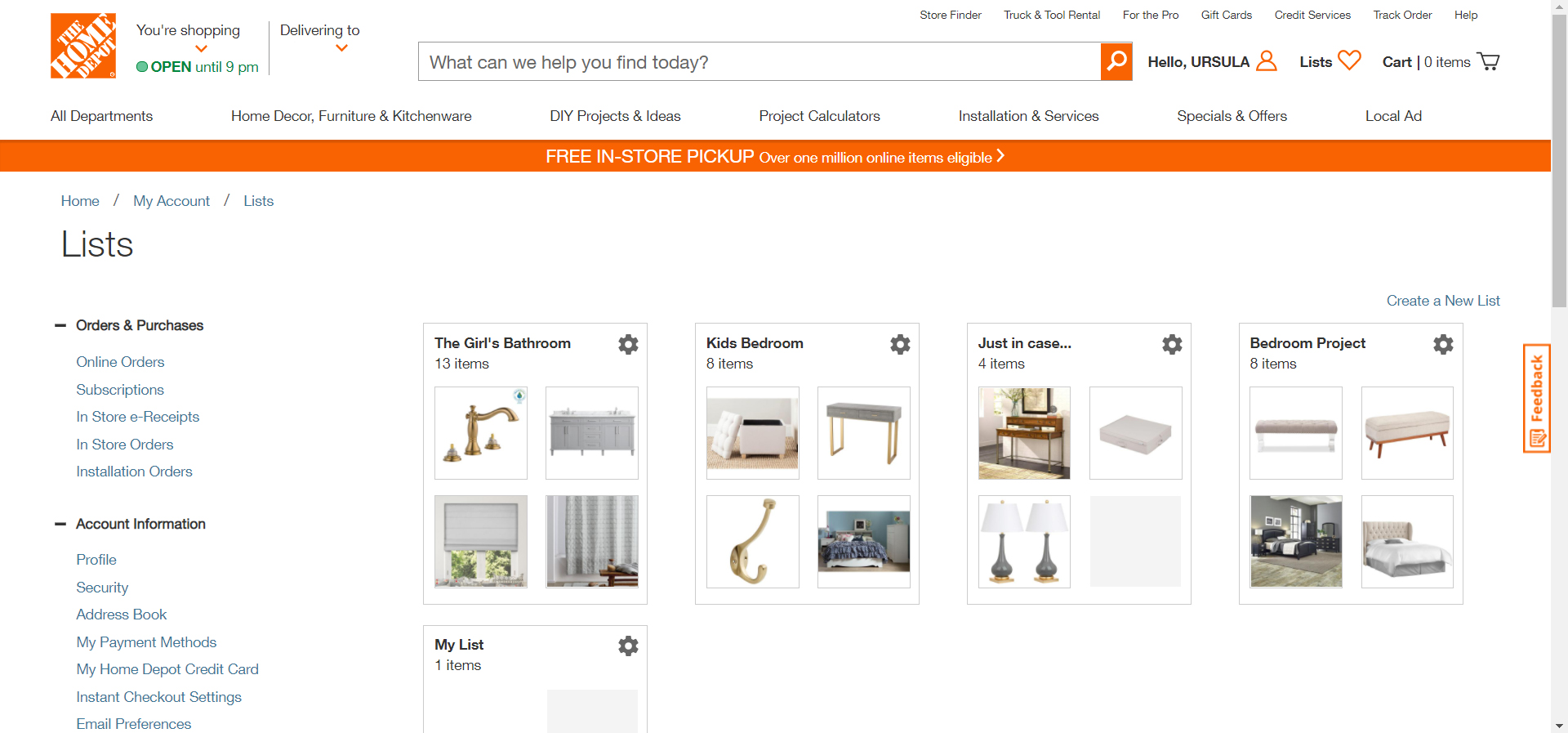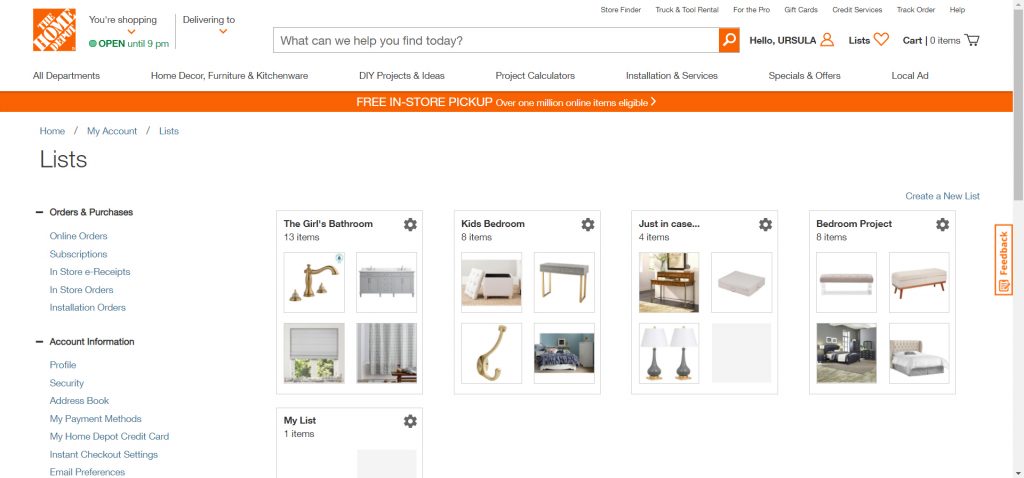 The beauty of creating a private saved list, is that you can quickly and easily move all the items to the cart once you've removed what doesn't work, and perfected your design. You also get to see how much your total renovation is going to cost in a single shopping cart, which helps stay on budget.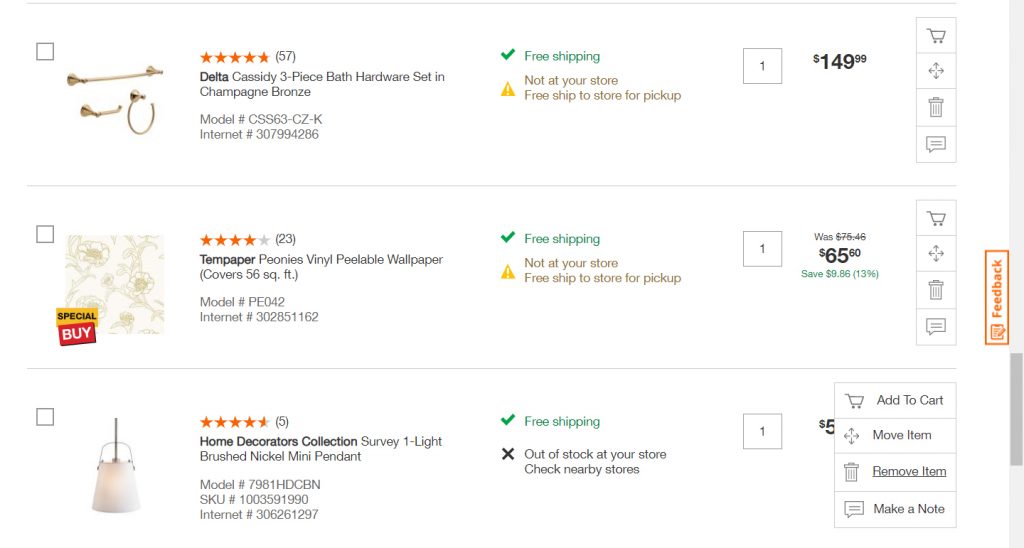 Once you move your final pieces to the cart, order it all online, and have them shipped right to your door! Or choose ship to store and take advantage of the curbside pickup option, or any of the other awesome options like the storage lockers, etc. The Home Depot has a variety of options, and free shipping on thousands of items.
I had all of my items shipped right to my door…everything from the flooring, to the vanity, to the decorative details!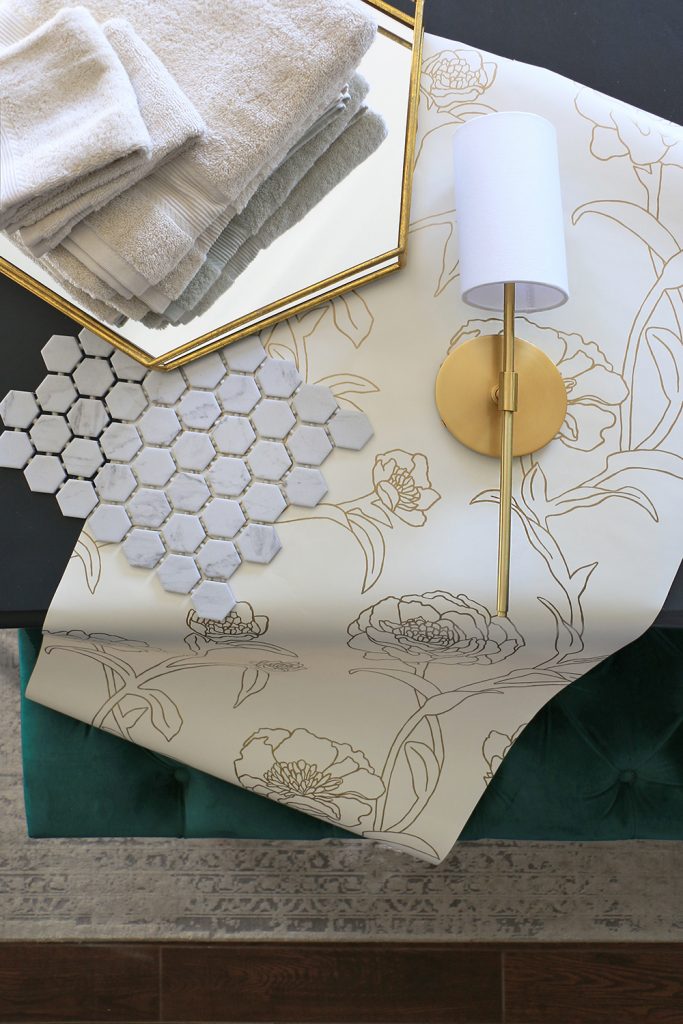 Ordering The Right Amount
For the DIYer it's easy to second guess yourself on a big project like this one. So I have one more tip to help you during the ordering process…
The Home Depot has project calculators online and via the app to help ensure you get your order right.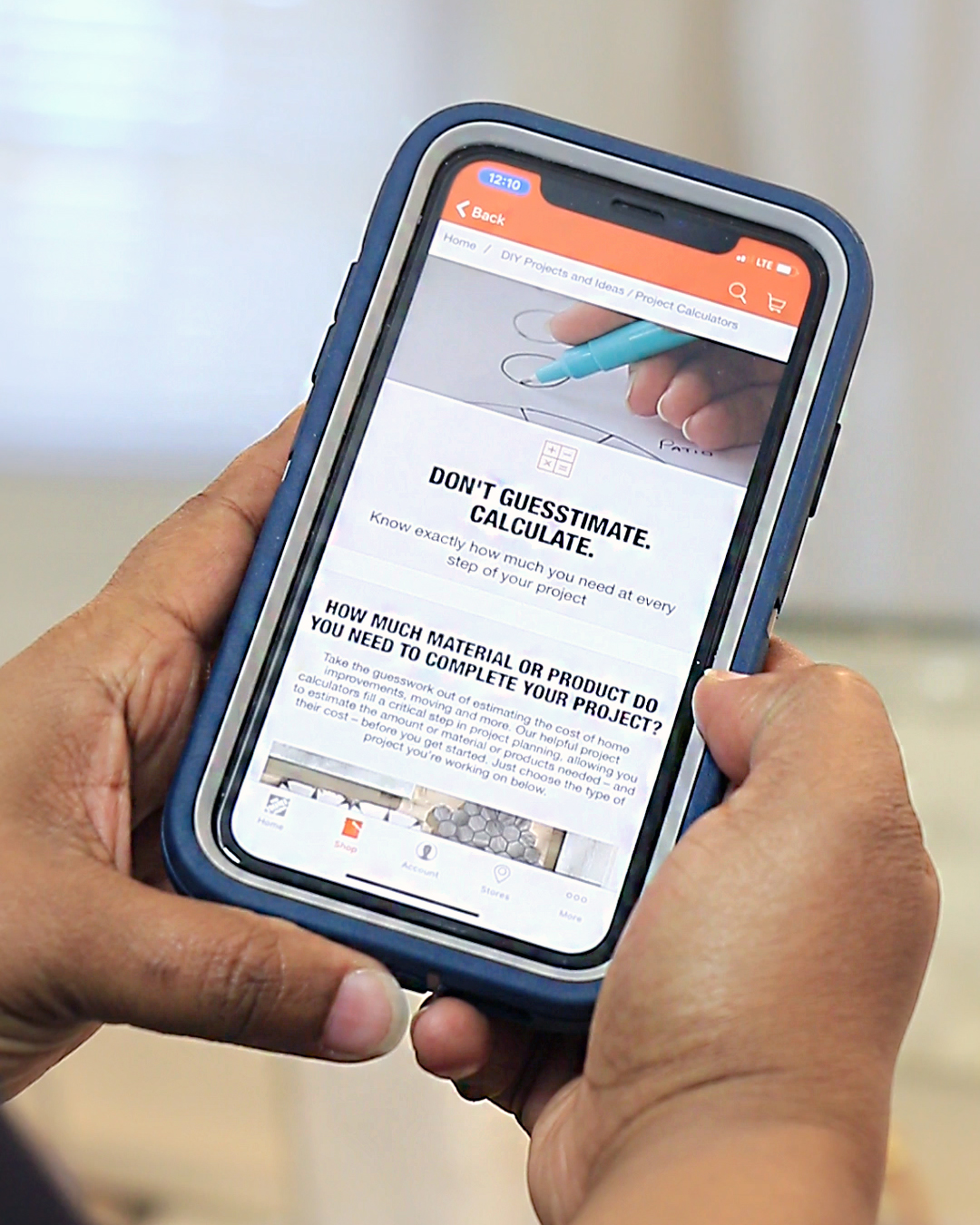 For this space I used the tile calculator to ensure I was ordering the correct amount of tile needed, and the wallpaper calculator to properly calculate the amount of rolls to order.
You don't want to get nearly to the end of your tile laying and realize you are just short. Then have to make a run, or order more… Trust me, that's me allllllllll the time. Just do things the right way from the outset and save yourself the frustration; always order a little more than needed, and use The Home Depot project calculators to help get it right the first time.
Bringing It All Together
As a long-time DIYer, I love trying new things and learning new skills. But I get that it's not for everyone… Whether you do it all yourself, or hire out the labor, watching a remodel come together is wonderfully exciting!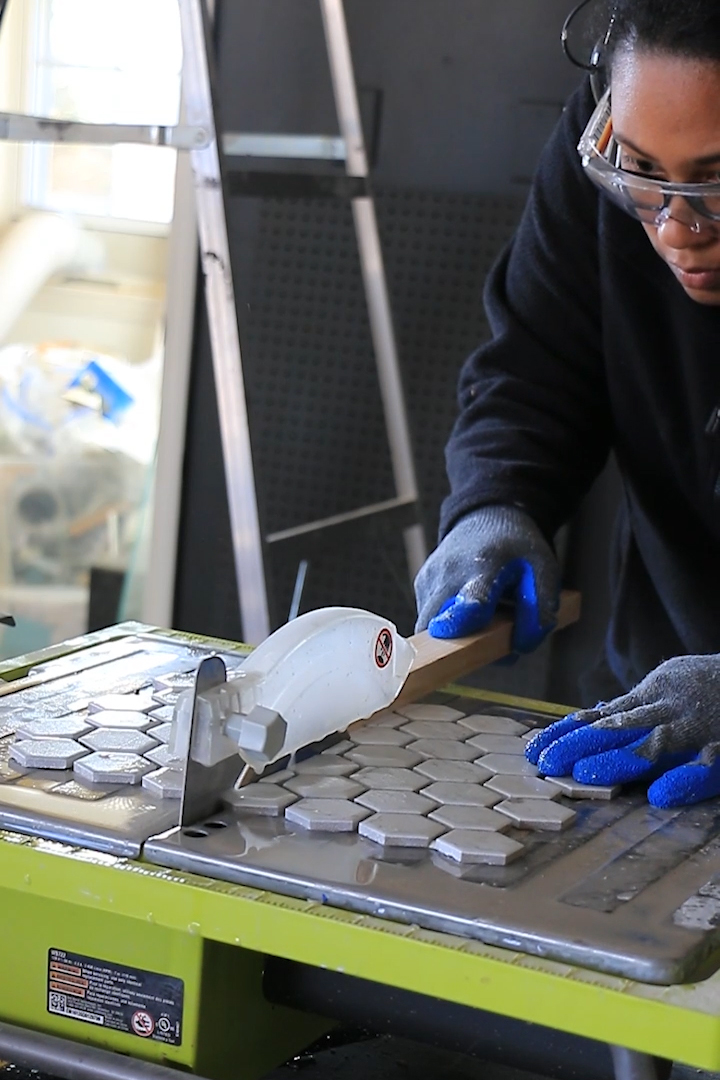 My first goal was to give the girls a hardy flooring that could take a beating and still look amazing. I selected a hexagon patterned tile, which happens to be an easier tile to lay if you are a novice at tile laying.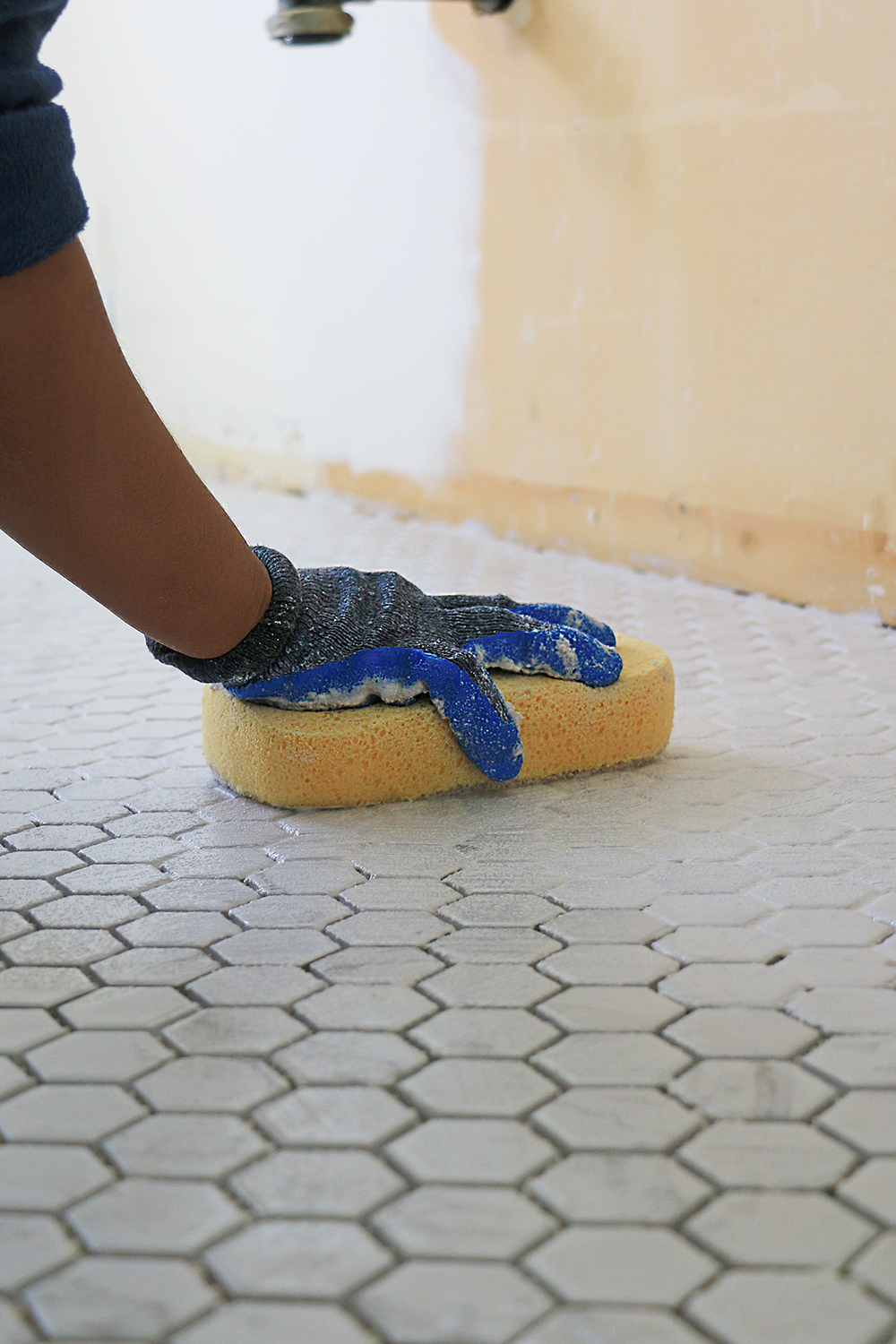 Every room could use a show-stopping pattern, and in this room I opted to go with a gold metallic wallpaper. It is sure to add that feminine glam touch the girls want to see in their bathroom. This particular paper is a peel & stick variety, which makes it an option for renters as well as homeowners.
Yes, even if it has to be temporary, you can add big design to your spaces! Relegating it to one wall kept things simple, away from the shower, and made it a feature wall.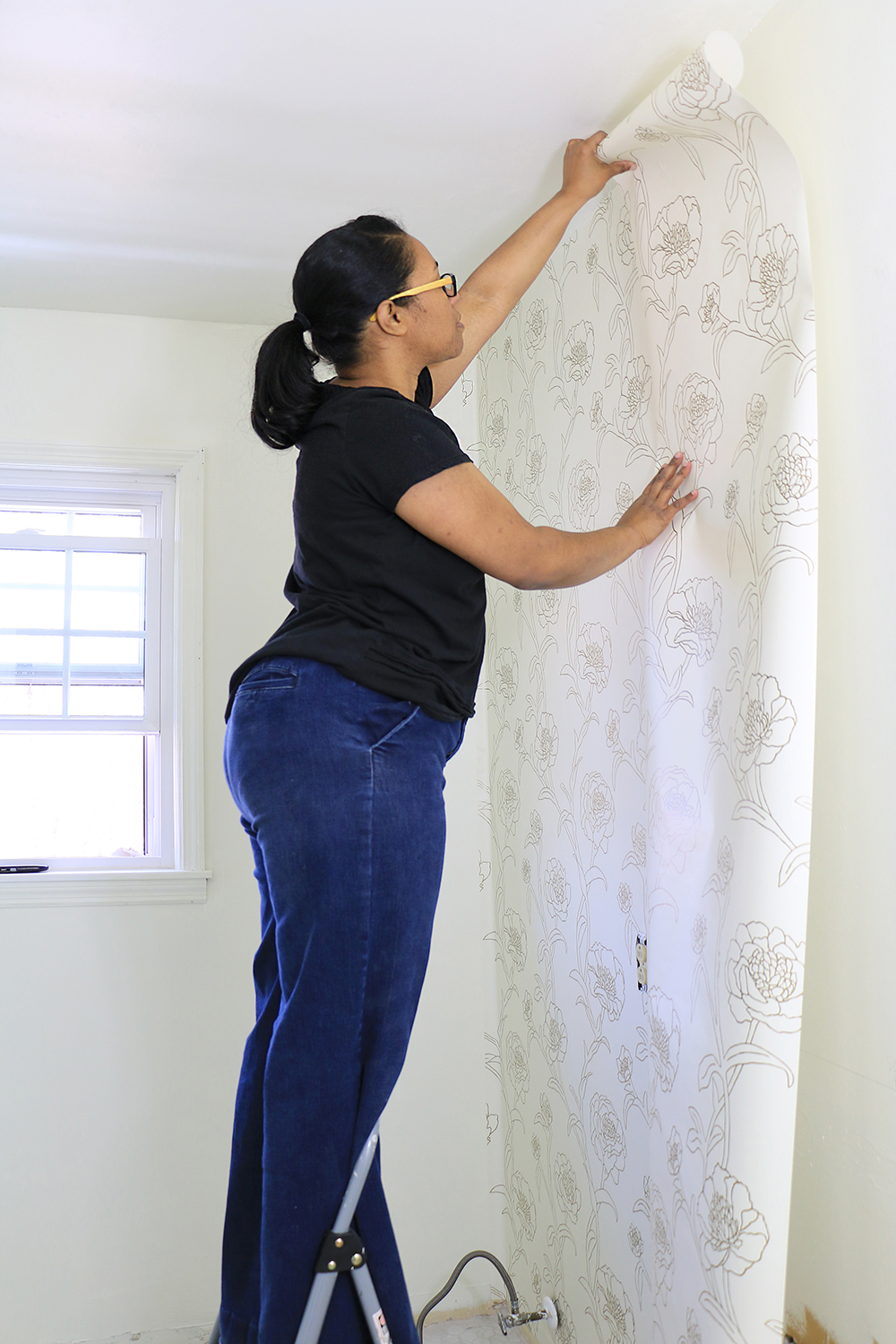 If you missed any of the process and want to watch how it all came together, go check it out here at The Home Depot via Instagram.
Before & After
By now I should know better, but I'm always surprised that so much can change with just a few projects, and well chosen furniture pieces.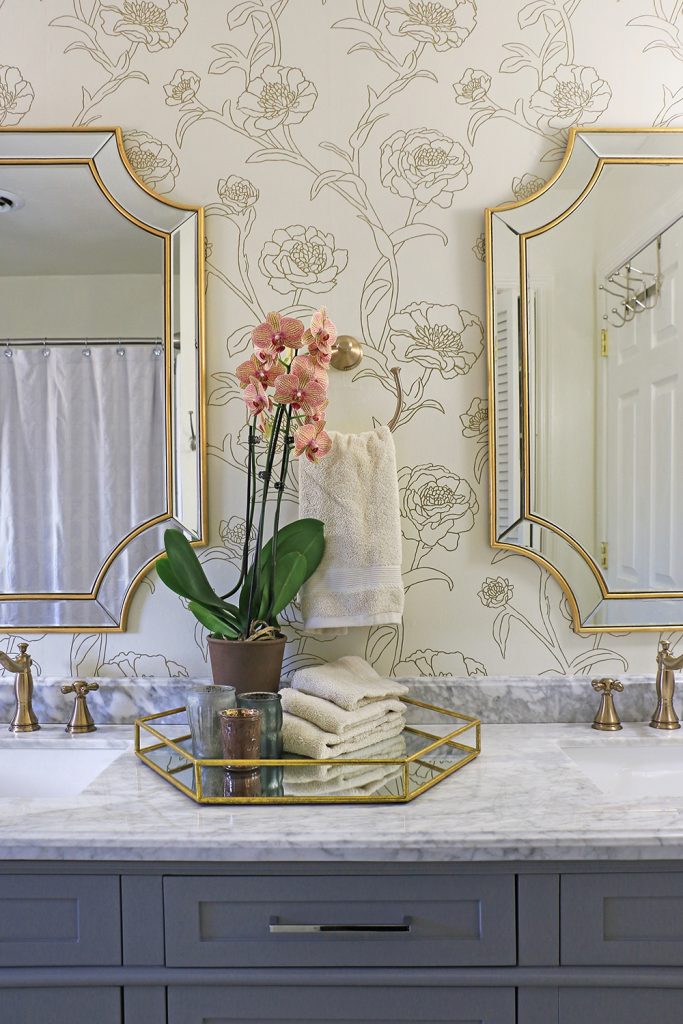 The biggest players in this room are the new vanity, the wallpaper, and the flooring… oops, and the new toilet! How could I forget the ever 'taken-for-granted' toilet? Especially when the previous one didn't flush properly.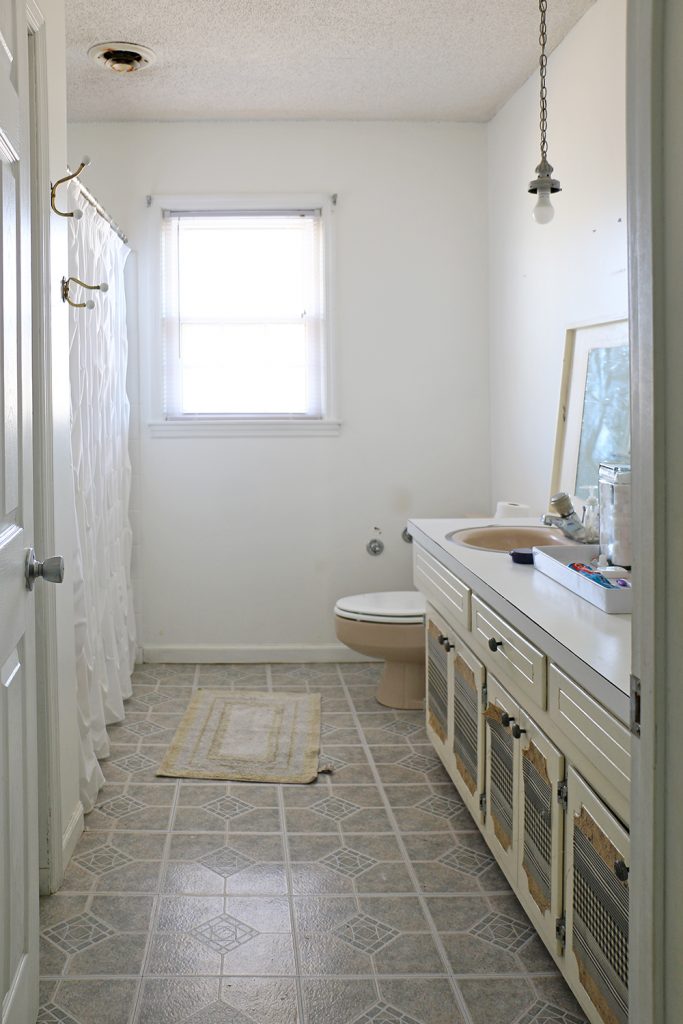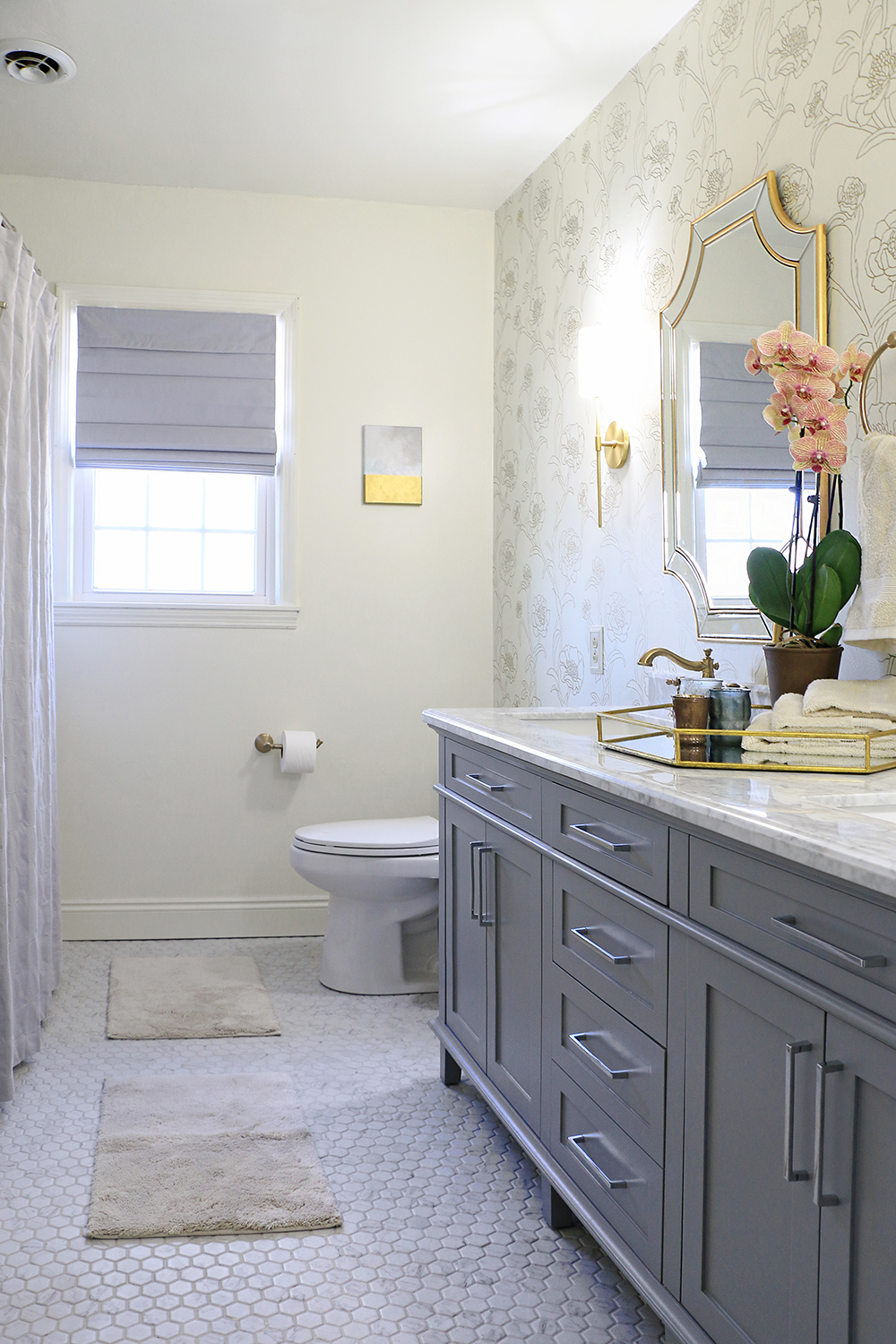 Not to downplay the ever important decorative details, but those are the easy changes. They make a huge impact, and if that's all you can improve in your own space, it's well worth it!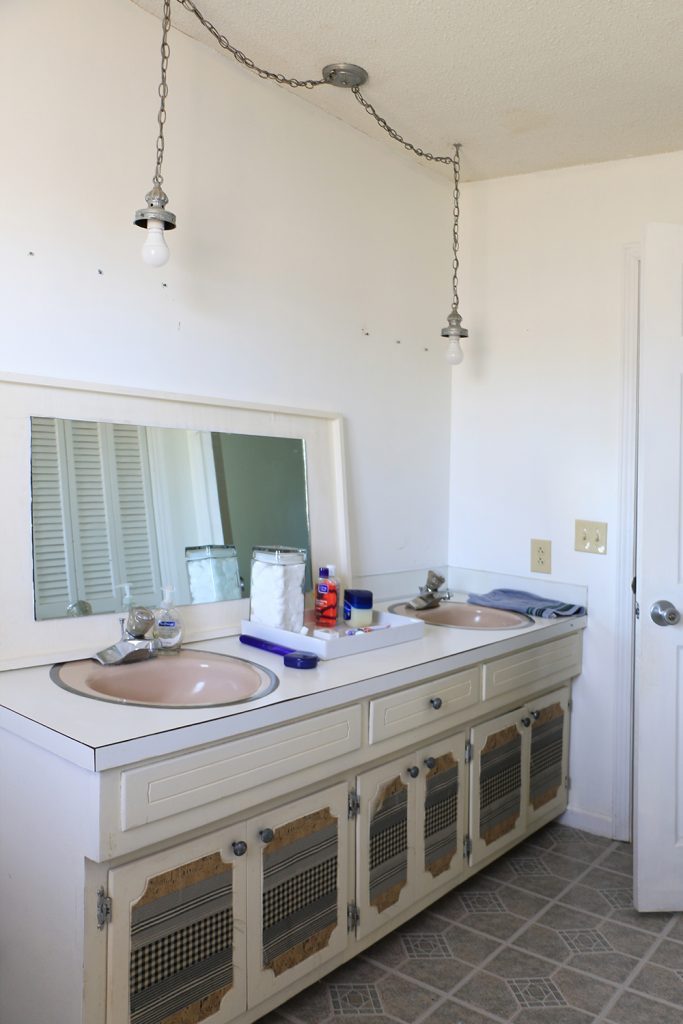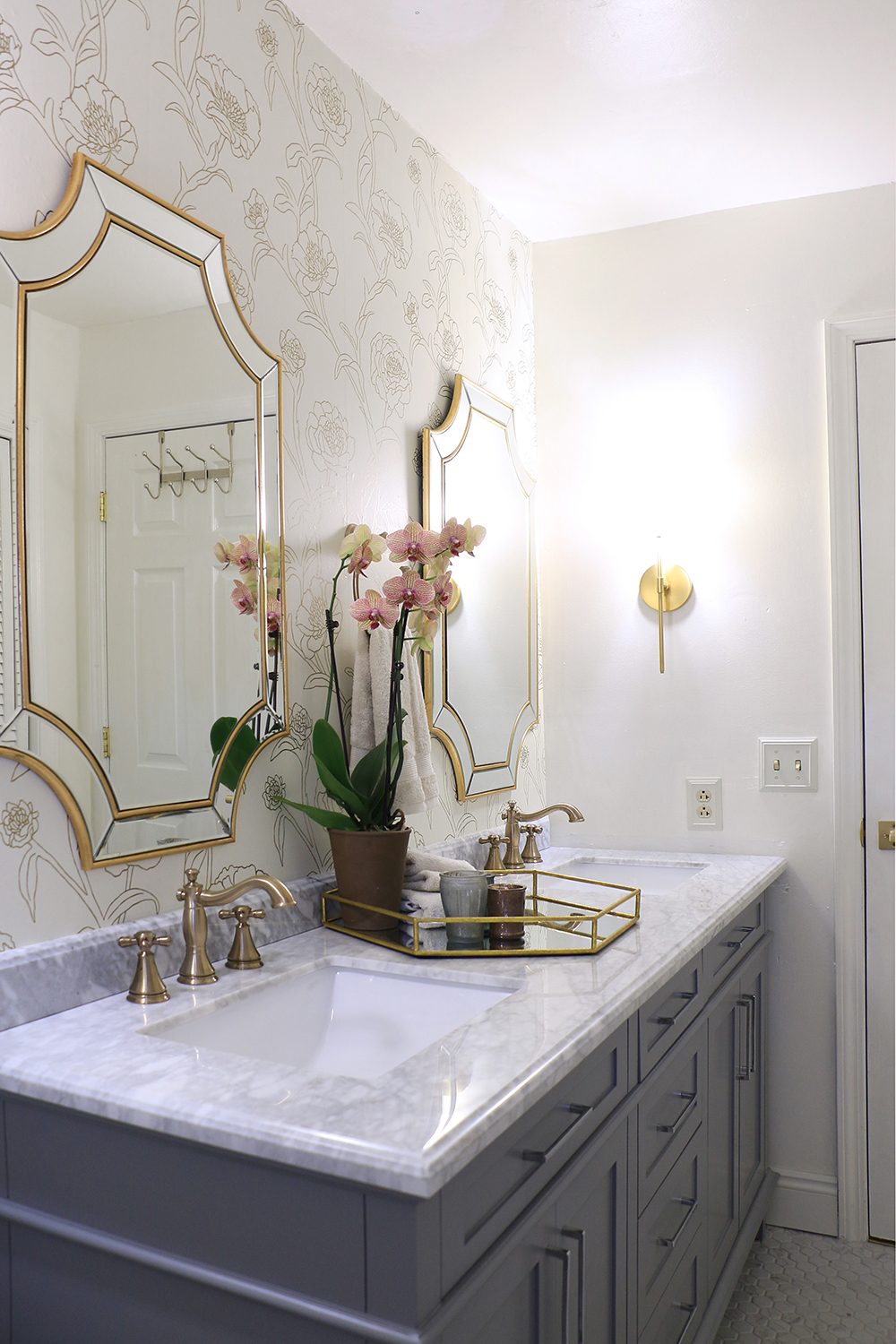 Everything in here is specific to the sweet girly glam look for my daughters. And as a mom, I am pretty in love with the practical bits. The soft close drawers that means no more banging. The plush towels and towel hanger right near that sink that will keep wet hands from dripping all across the room before finally being dried. You get it…the practical things you miss when they aren't there, but take for granted when they are.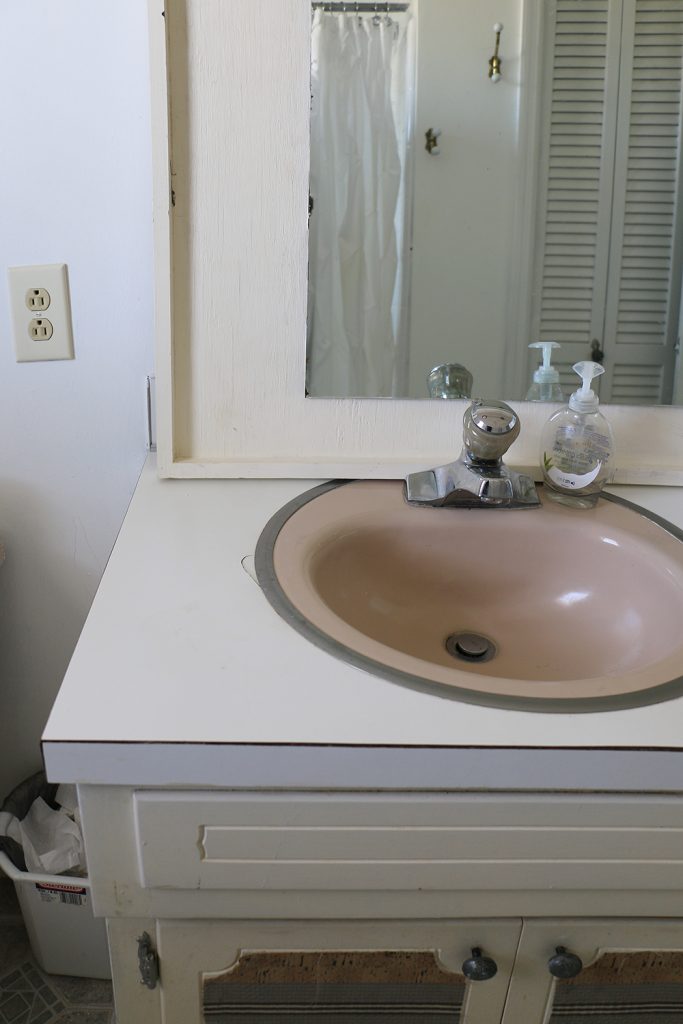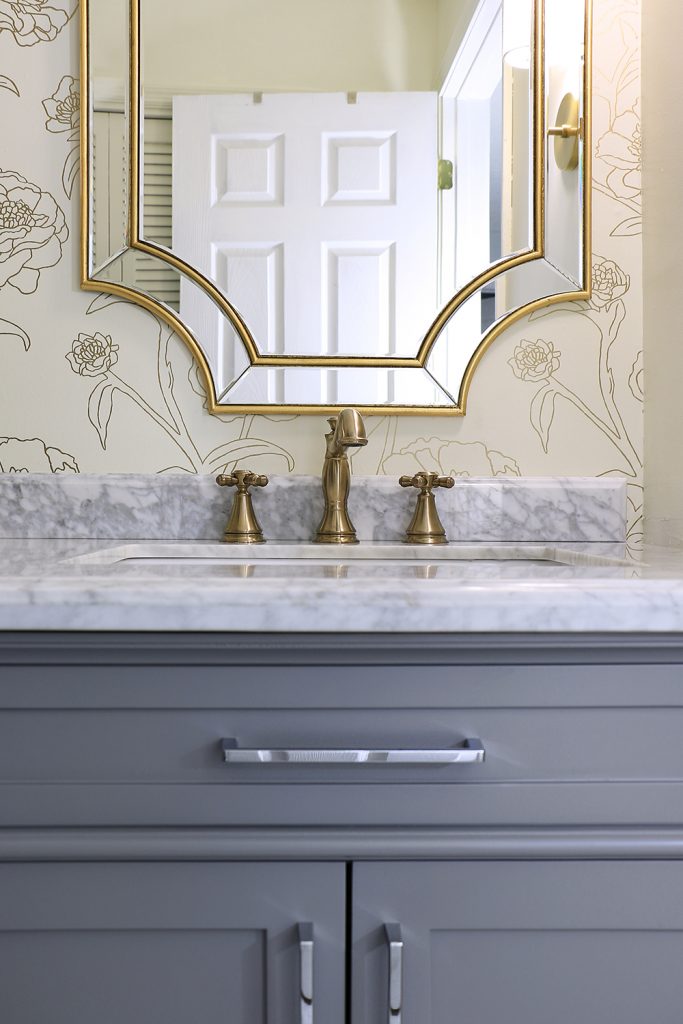 Even the toilet is amazing! No more peach/pink colored toilet that you have to hold down to flush. And you can't bring an ordinary toilet cleaning brush or trash can into such a beautiful space, so these chrome wrapped trash can and brush even bring a little sophistication to the space.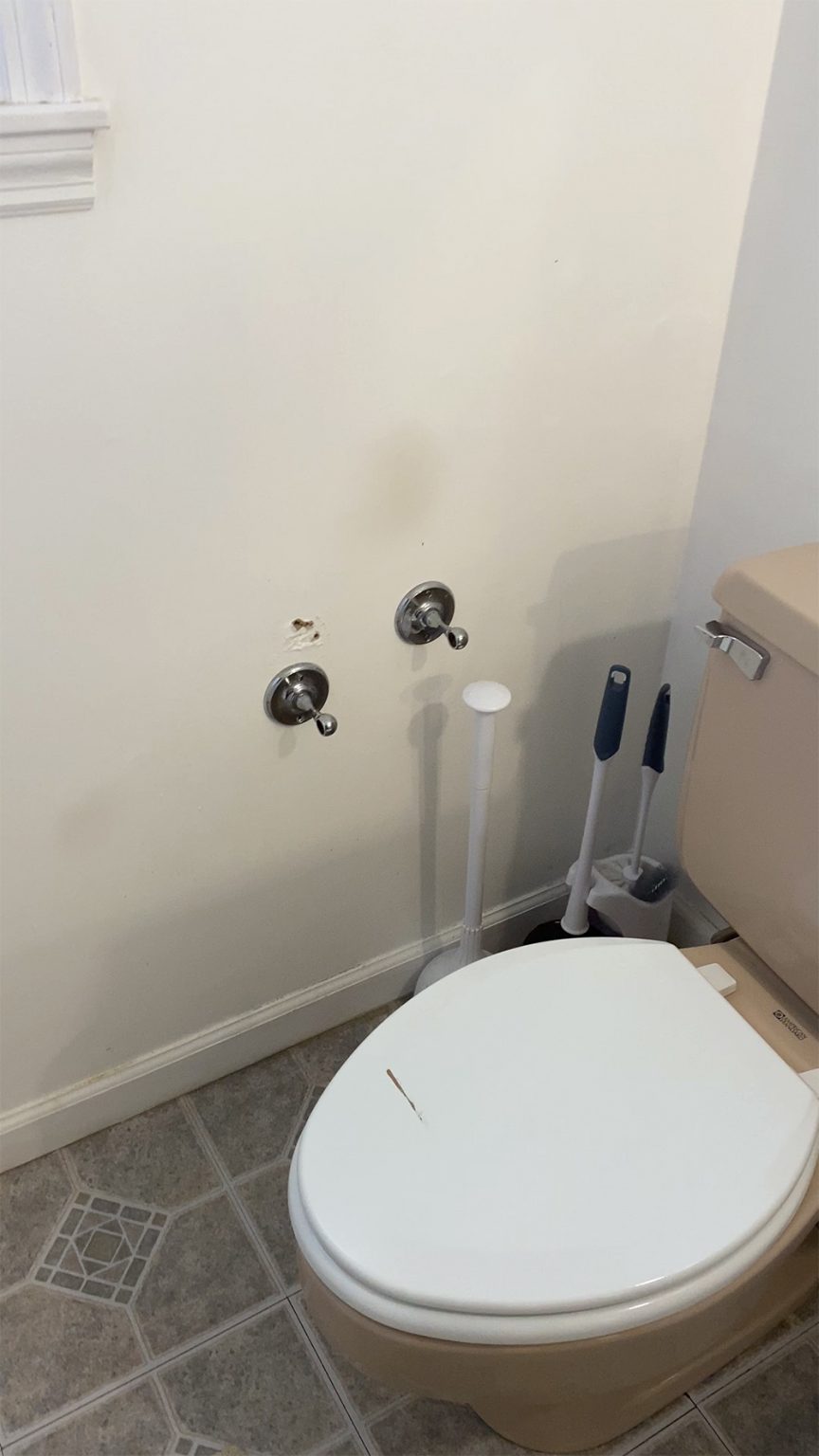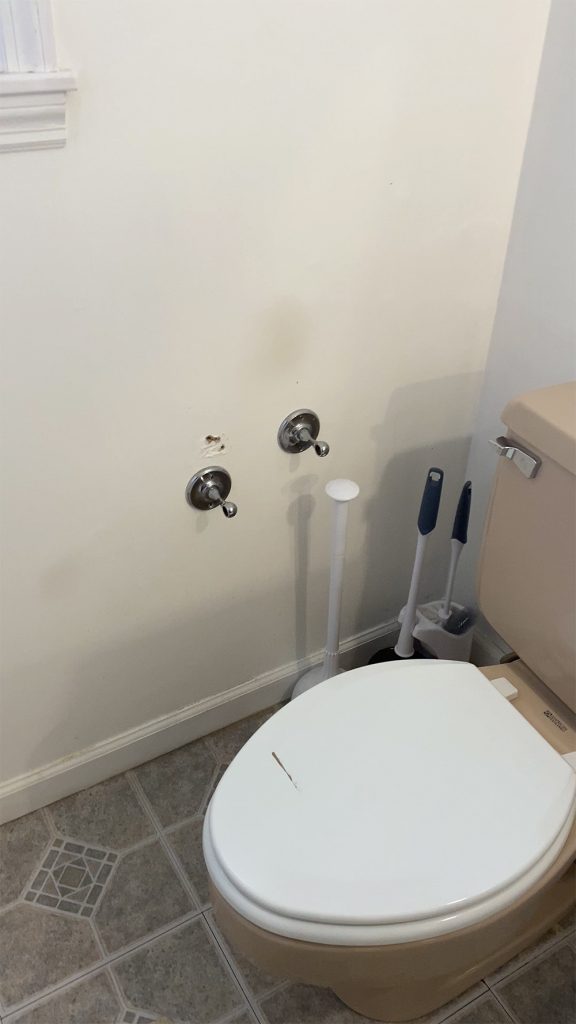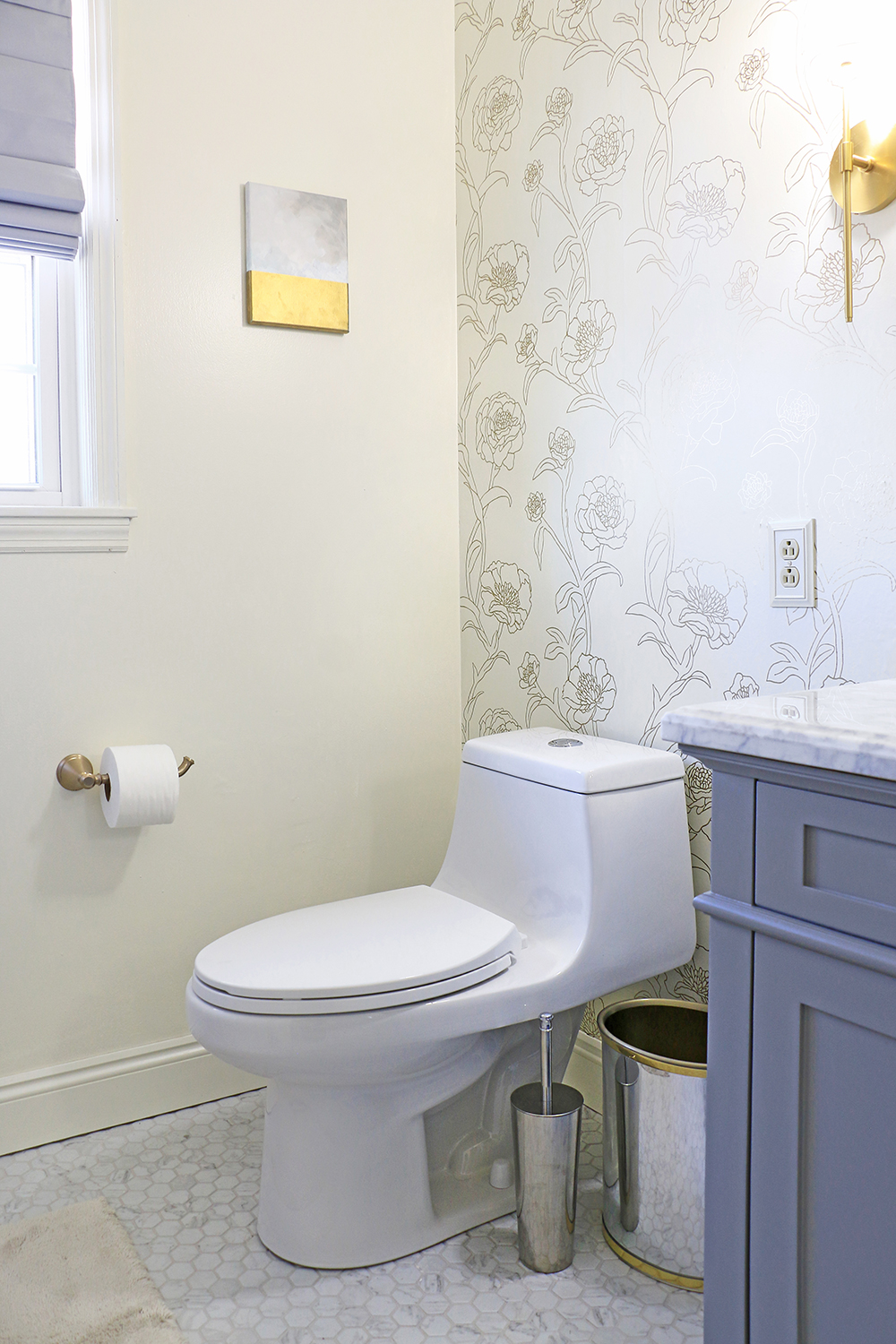 What do think? Would you take on a bathroom remodel yourself?
I don't know about you, but I think this was worth the effort, and my girls love it too!
Shop The Bathroom


If you liked this project, be sure to check out my other Doer projects in partnership with The Home Depot. Like beautiful and cozy Library update: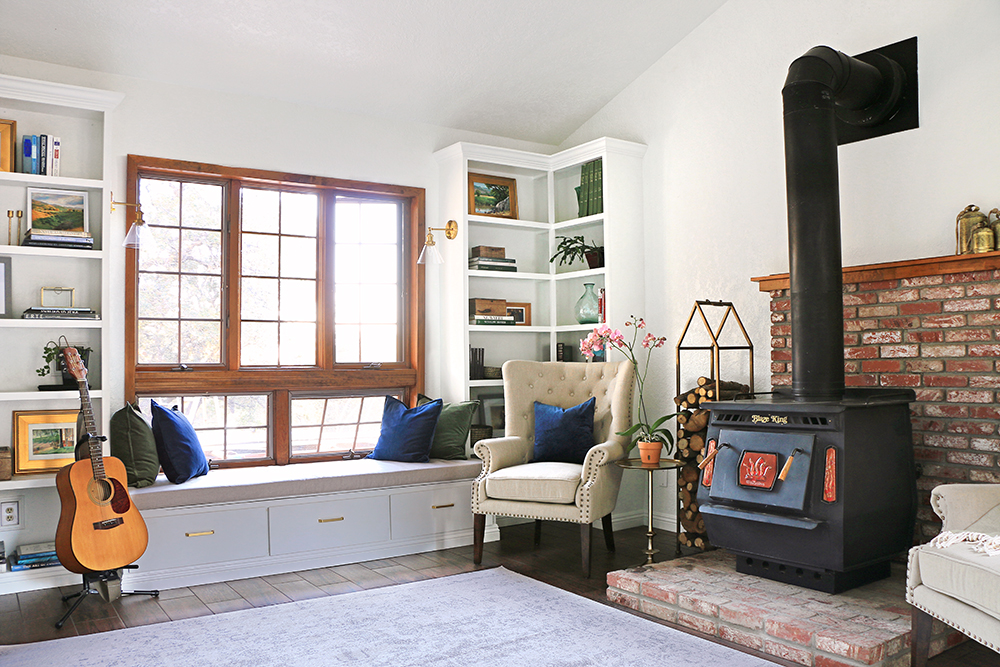 *Special thanks to The Home Depot for sponsoring this project! We couldn't have done it without you. I acknowledge that The Home Depot is partnering with me to participate in The Doer Project. As a part of the Program, I am receiving compensation. All expressed opinions and experiences are my own words. My post complies with the Word Of Mouth Marketing Association (WOMMA) Ethics Code and applicable Federal Trade Commission guidelines.