*This library refresh is awesomely sponsored by The Home Depot! Woop woop! Affiliate links contained below.
In my opinion, nothing is more cozy than a library with a wood burning stove! But my parent's lovely library needed just a bit of a refresh to make it everything it could be…both from a practical standpoint, as well as decoratively.
In just a few weeks time, we transformed this space in my parent's California home in partnership with The Home Depot, and we couldn't love it more!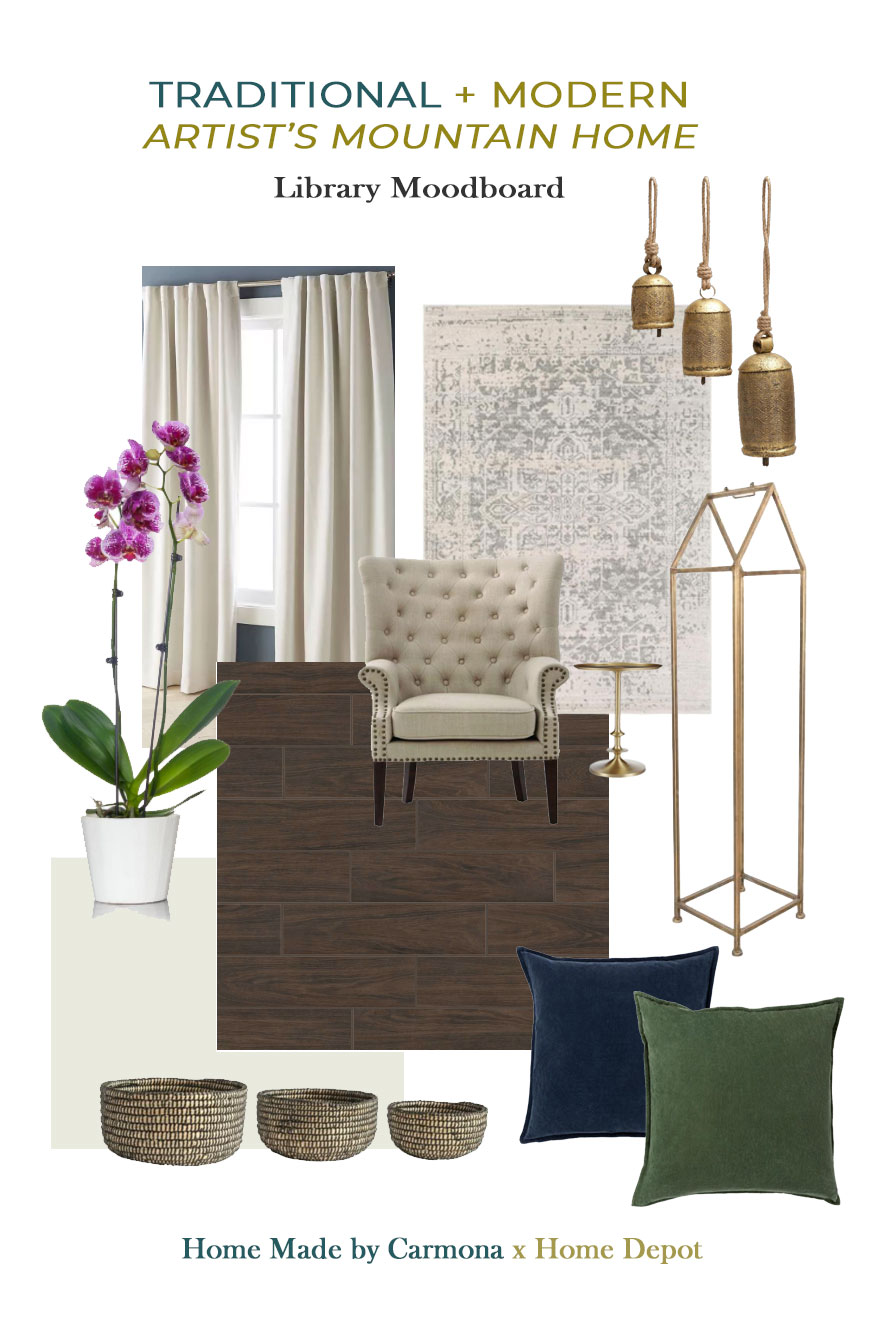 The library is already a cute rustic space, but I wanted to bring in a little more charm and comfort. I also wanted to infuse the space with contemporary traditional pieces to add a level of sophistication.
I searched for inspiration on The Home Depot's website, and found some beautiful products to order for the Library. The perfect jumping off point to creating a cozy library!
The Space 'Before'
The library really needed bookcases that would make good use of vertical space, and show off the amazing arched ceilings. Preferably something that had a built-in look. The existing cheap pre-fab bookshelves were starting to sag, and it was time for them to go.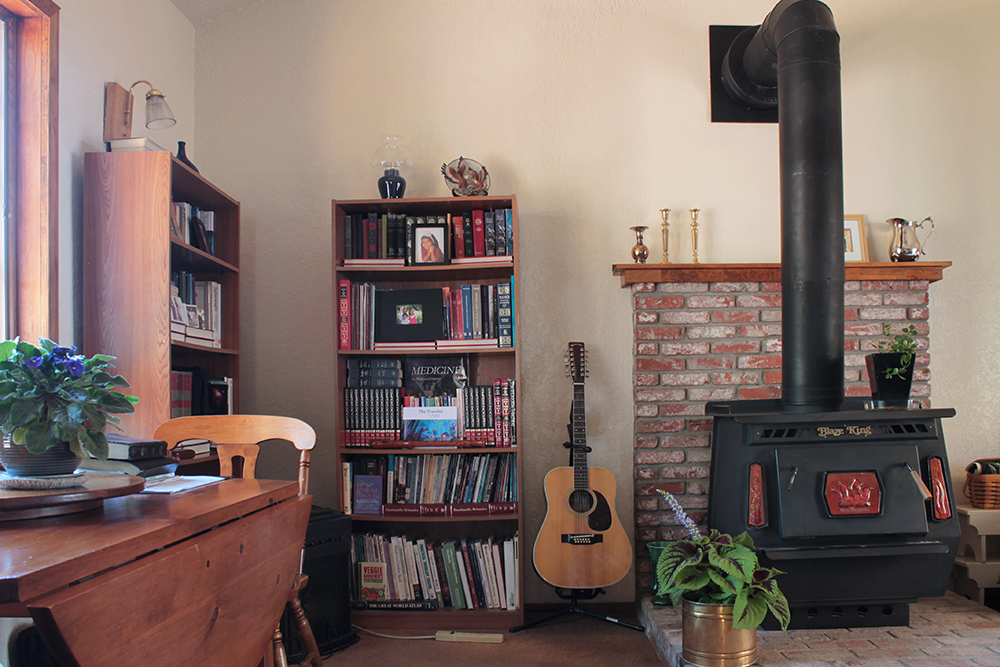 The wood burning stove sometimes left embers that burned the carpet, so the carpet would also have to go. This stove is what my parents use to heat the house in winter, so this room is a pretty important space.
My goal was to maintain the things that already work for them in the room, but improve on it.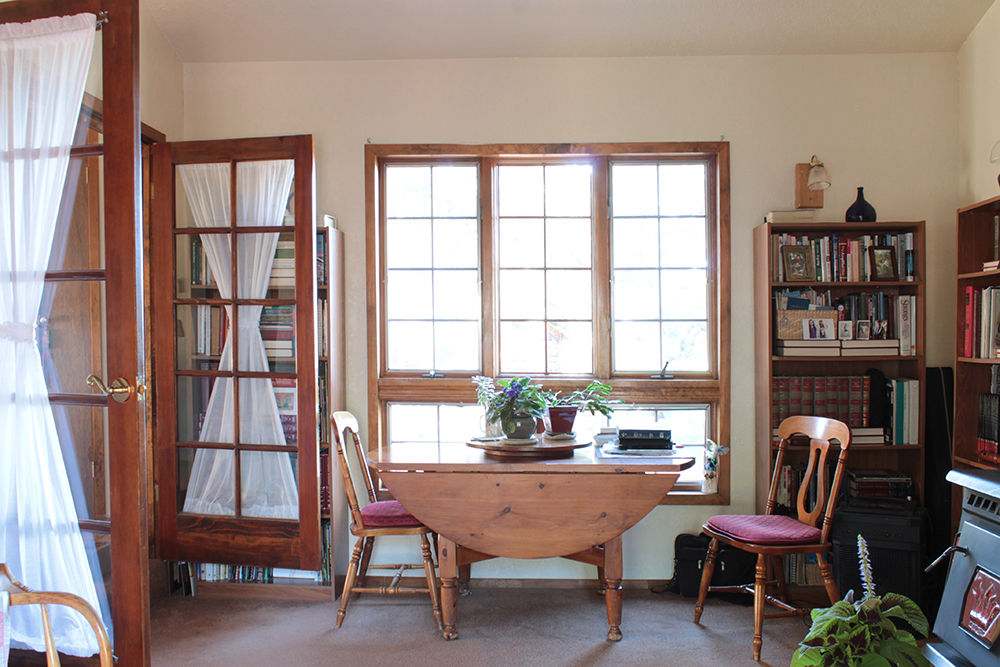 Cross Country Decorating Challenges
I live in North Carolina, and my parents live clear on the opposite coast in California. That meant a part of this project would have to occur from a distance. At least until I could fly out and work on building the bookcases for the library.
Managing a project from a distance certainly has it's challenges, but using all The Home Depot's fulfillment options made it easier.
I made good use of The Home Depot's Buy-Online, Pick-Up-In-Store (BOPIS) options. Everything from the curbside pickup option, to the pickup lockers makes getting what you need easier, and safer.
I could order items online from across the country, and my mom would make a quick pickup at her local store as soon as it was ready.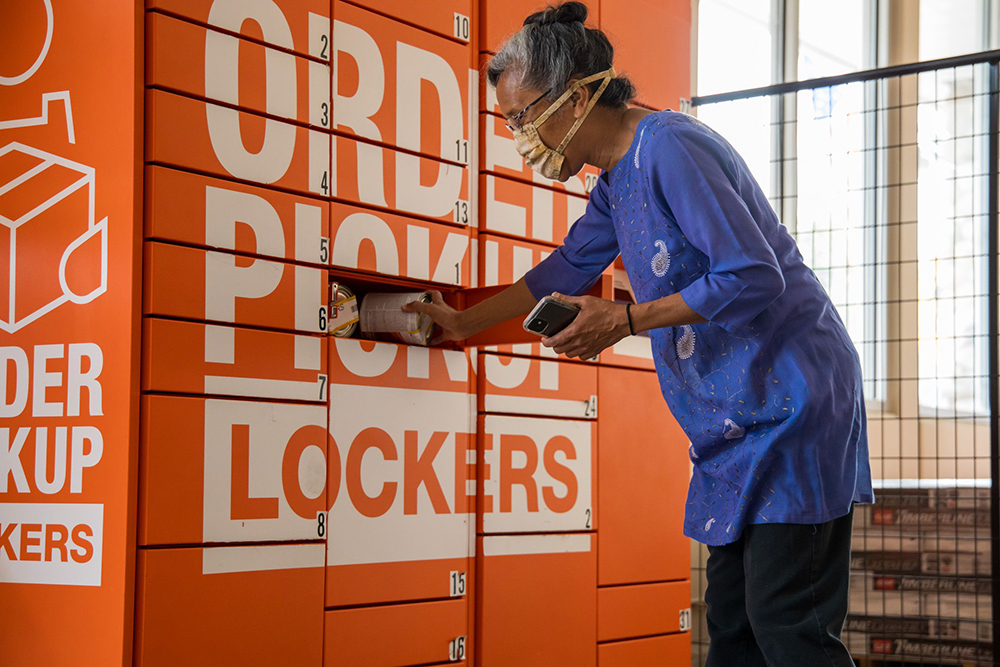 In addition to the pickup lockers, we used the curbside pickup option, which meant you never had to leave your car! Talk about convenience!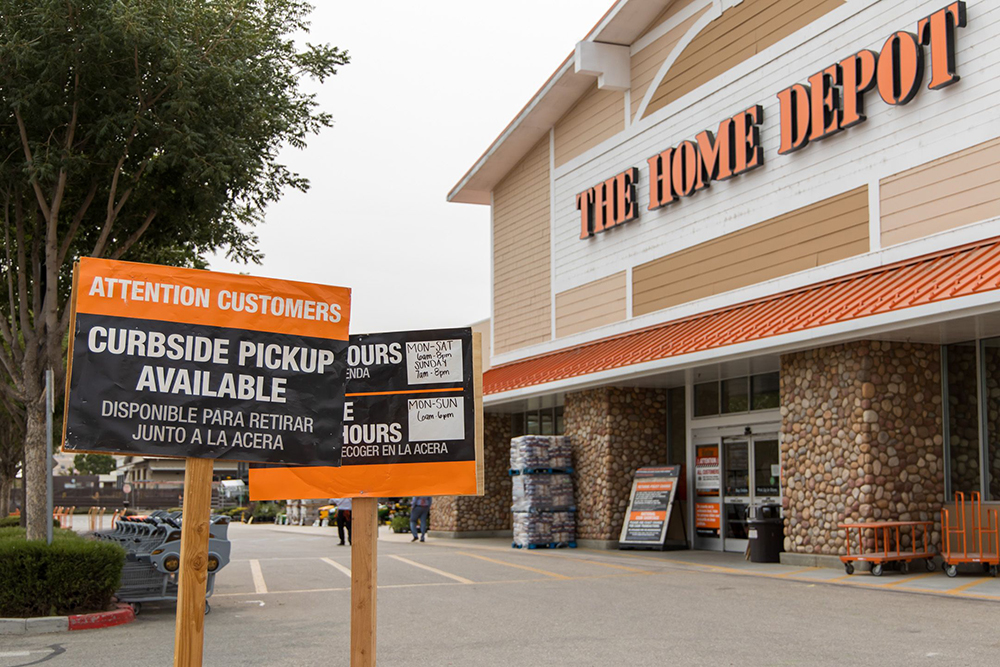 Many of the bigger items I had delivered directly to my parent's home, which was incredibly helpful. Thank goodness The Home Depot has flexible delivery options, plus free delivery on over a million items online. It made our lives a whole lot easier.
Flooring Installation
This would already be a big enough project, so I had The Home Depot handle the flooring installation.
Because the wood burning stove would sometimes leave charred marks on the carpet, we went with a ceramic wood-look tile throughout the space.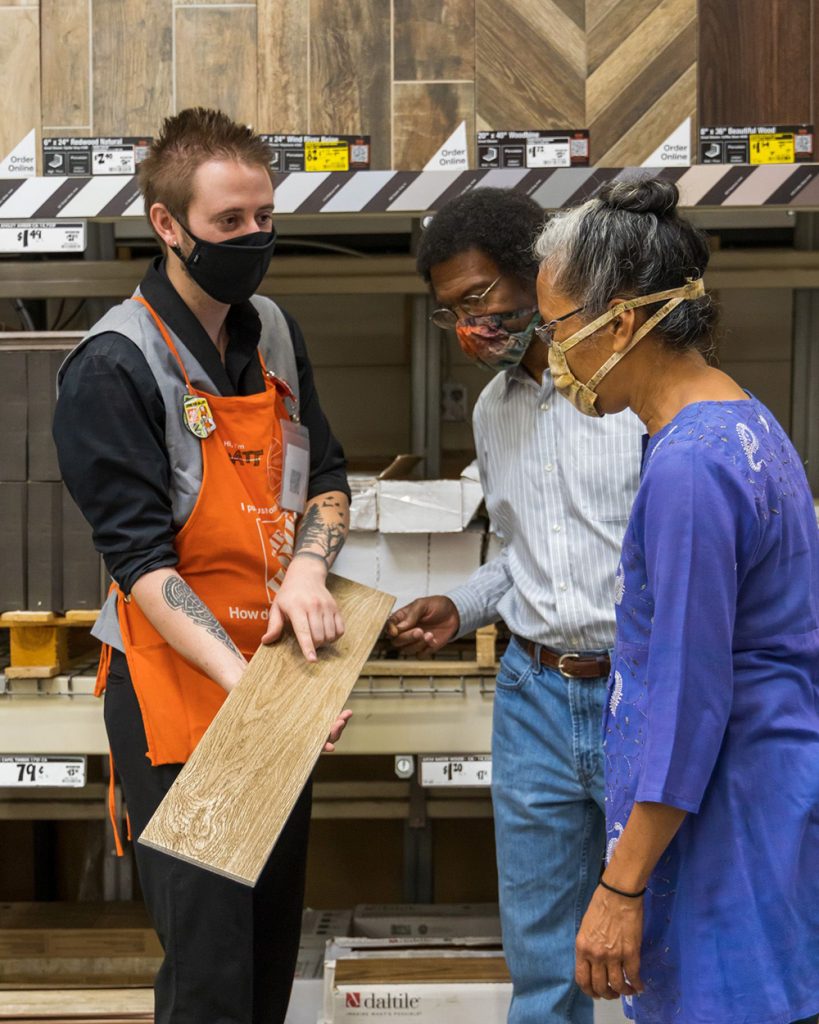 I have something very similar in my home, and I LOVE how easy it is to maintain. They are beautiful, and take whatever messes my kids throw at them. Not to mention the fact that if there is a water leak, or embers are sputtering at it, no damage will occur.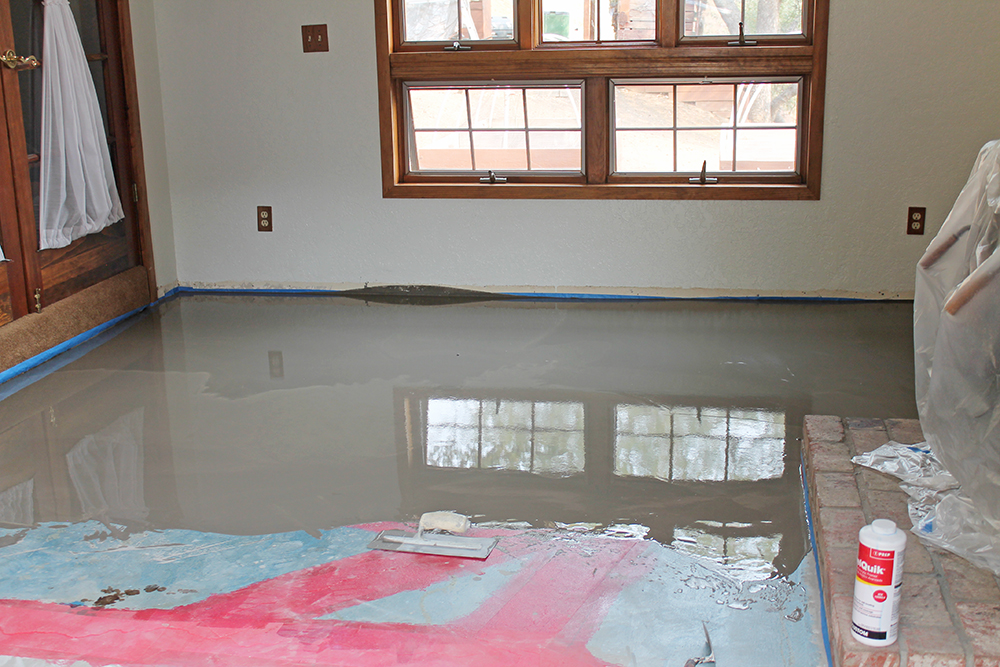 Of course, nothing comes easily, and the installers discovered a long large crack in the cement slab that had to be repaired and leveled before the flooring could be installed.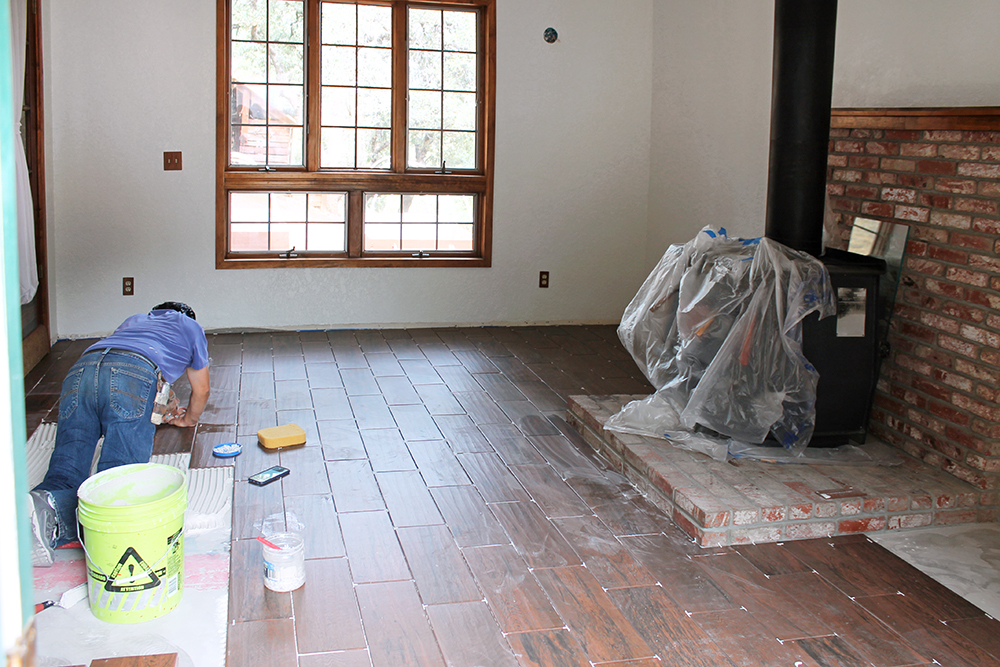 But as soon as that was done, the beautiful new floors were installed in just a couple days!
As a matter of fact, it finished right in the nick of time. I flew out in just in time to see them completing the last row of tile.
Custom Built-ins
It was important to improve the bookcase situation in the library. After all, what is a library with dwarfed bookcases? My job while there was to build taller, more stylish bookcases.
I decided to keep the same general layout, but utilize more vertical space. Additional storage would be incorporated into a large window seat with pullout drawers beneath. Trimming it all out with nice baseboards and crown moulding would elevate the room.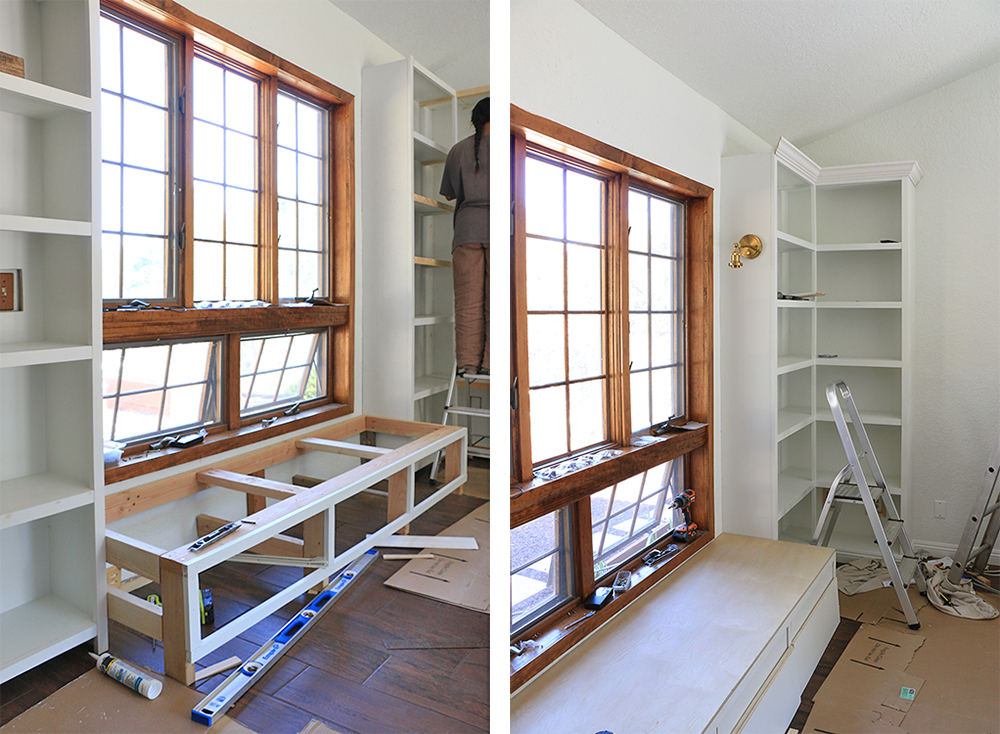 Honestly, I have never built a window seat or a wrap-around bookcase before. So it was a bit of a challenge to figure out. Thankfully I had my brother and dad to help me plan and build this unit. Granted, we are all novices at building…which means if we could do it, you probably can too.
A good bookshelf build to start with (if you are less experienced), are these simple shelves I made for my office. But if you want to create an L-shaped shelf, make sure you have a plan for adequate shelf support across the back and front. That was our primary challenge building the wrap-around shelf, and ultimately we had to add an extra support to the front, and along the underside of each shelf.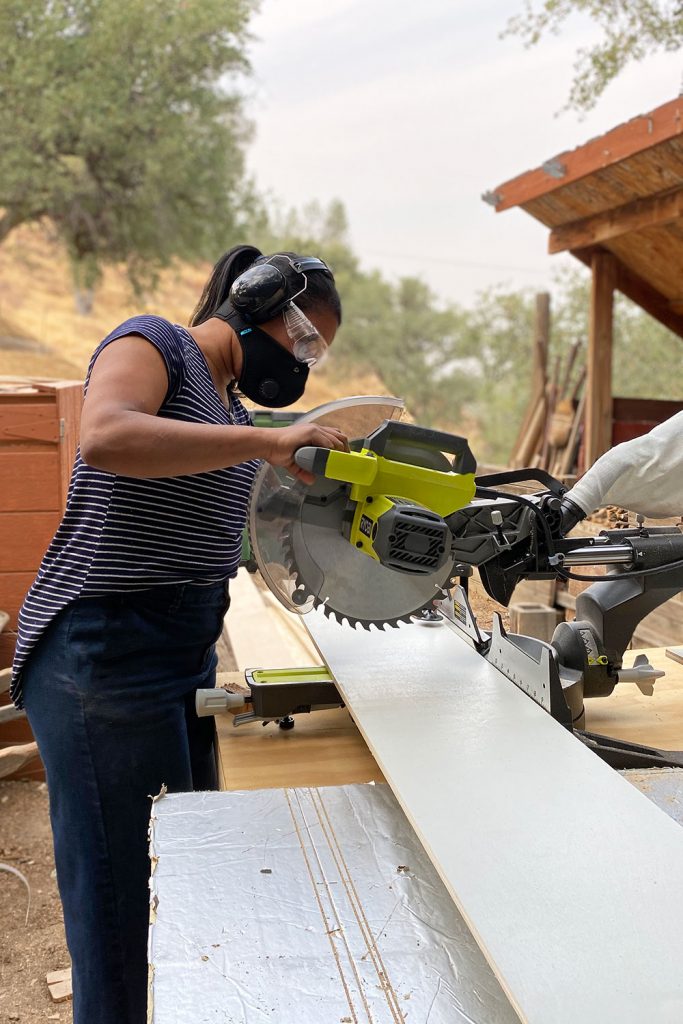 Because of our inexperience, we frequently sent family members on Home Depot runs for overlooked supplies. Finally, we wised up and started using The Home Depot's mobile app to locate the item we needed. Then when sending someone on a run, we could use the product locator to know if our store carried the item, and exactly which aisle and bay that product was in. It made life easier for us, and the people we sent to pick it up.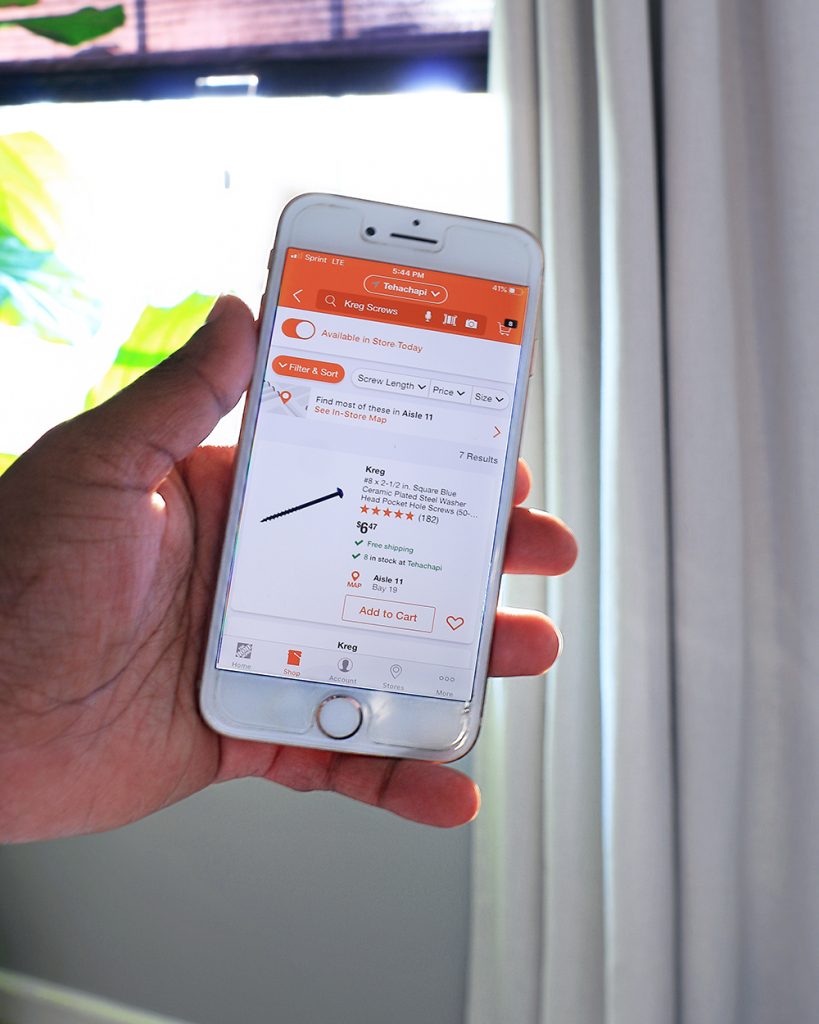 Library Reveal
While there were many "adventures" along the way, we are all very pleased with the outcome! We also learned a lot along the way…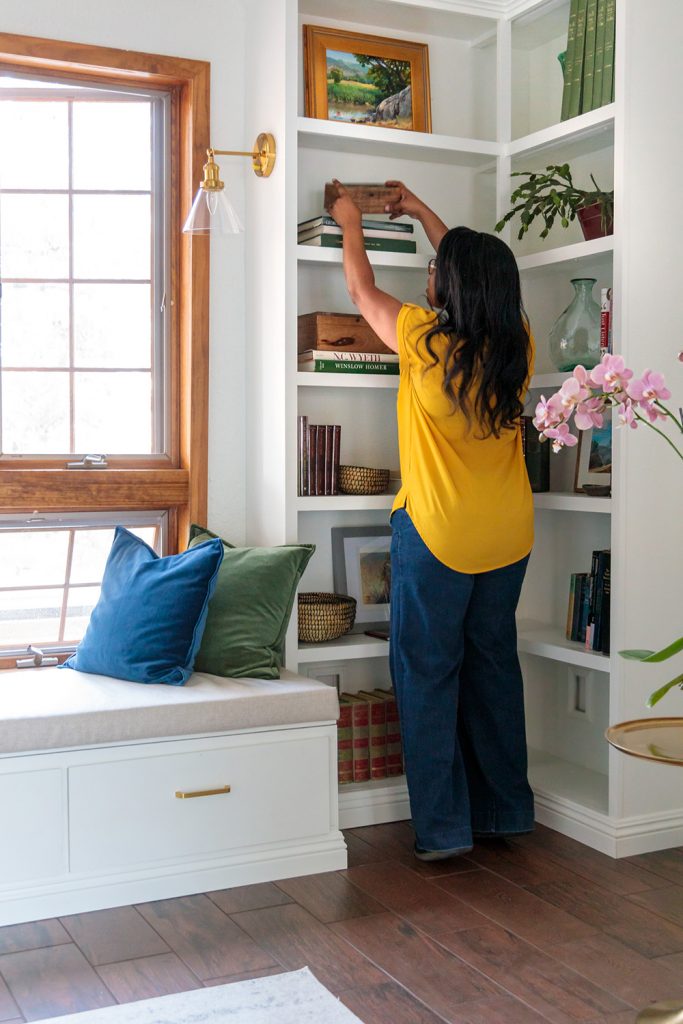 I got a pair of very comfortable high-back armchairs for the room. It was very important to choose seating that an older person would have no trouble lifting themselves out of. My mom and dad often acted as honorary children to the seniors in their community, taking care of and entertaining them.
All the primary choices for this space were very practical per my mom's request, but in no way missed out on style.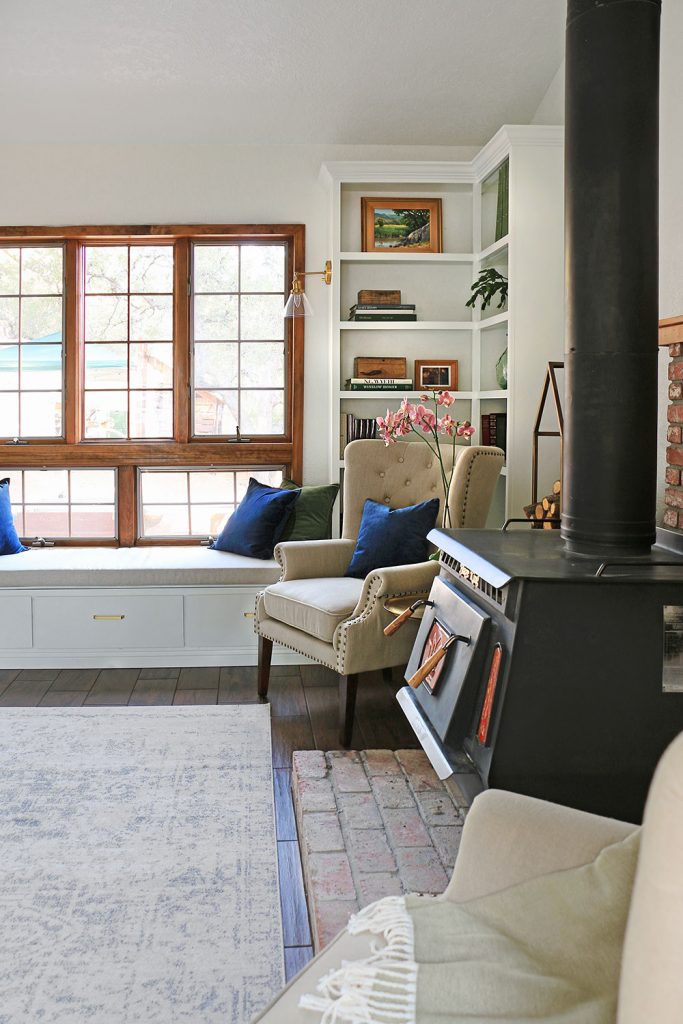 While we built the bookcases to be filled with my parent's extensive reading collection, I love that we could incorporate my dad's fine art. Each shelf measured just over 13-inches… this allowed for books of all sizes, and some smaller pieces of Donald Towns Art prints to grace the shelves.
Remember that table that sat right in front of the window before? It only allowed two people to sit together and enjoy the outdoor view.
As a matter of fact, this room had a serious lack of seating, which made it solely a storage space. Not ideal for entertaining…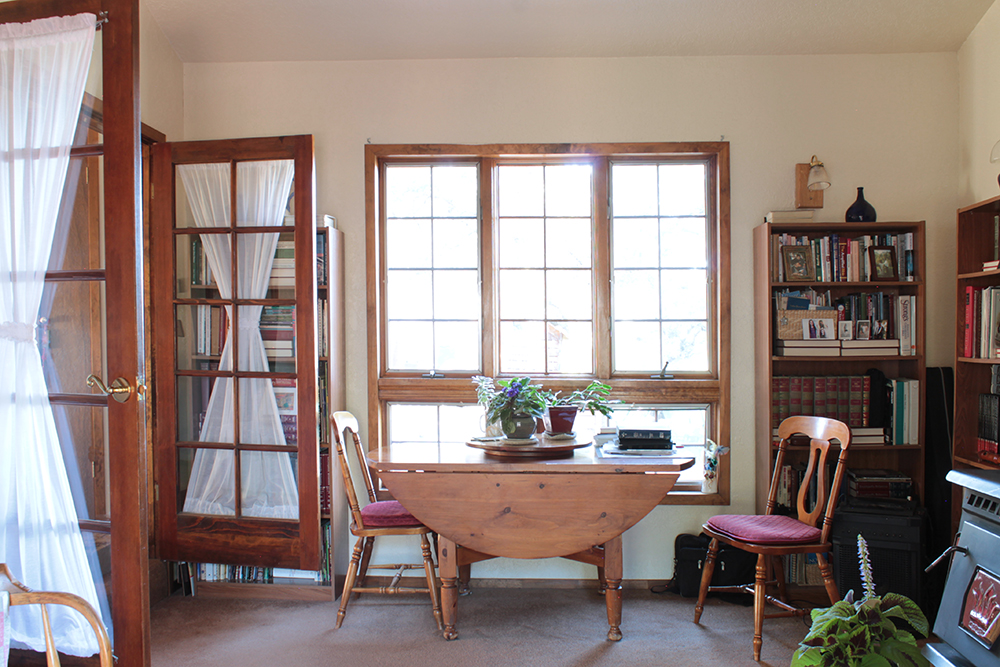 With a window seat, several people can lounge and enjoy that view, plus it provides more storage beneath!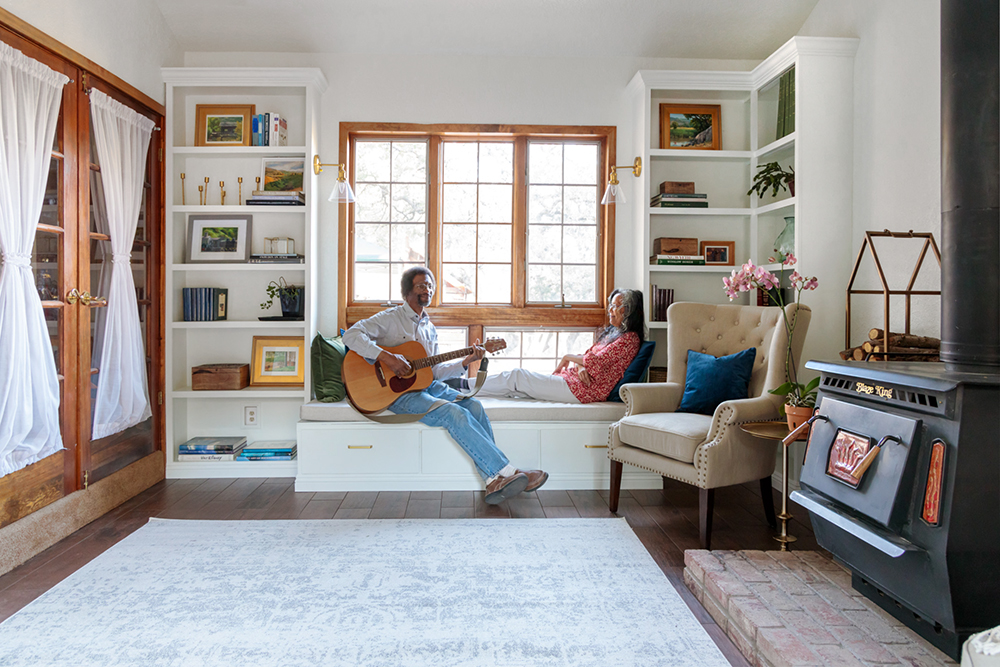 A second armchair on the other side of the wood burning stove provided even more seating. And the beautiful brass firewood stacking frame gave them a charming way to store wood for the stove.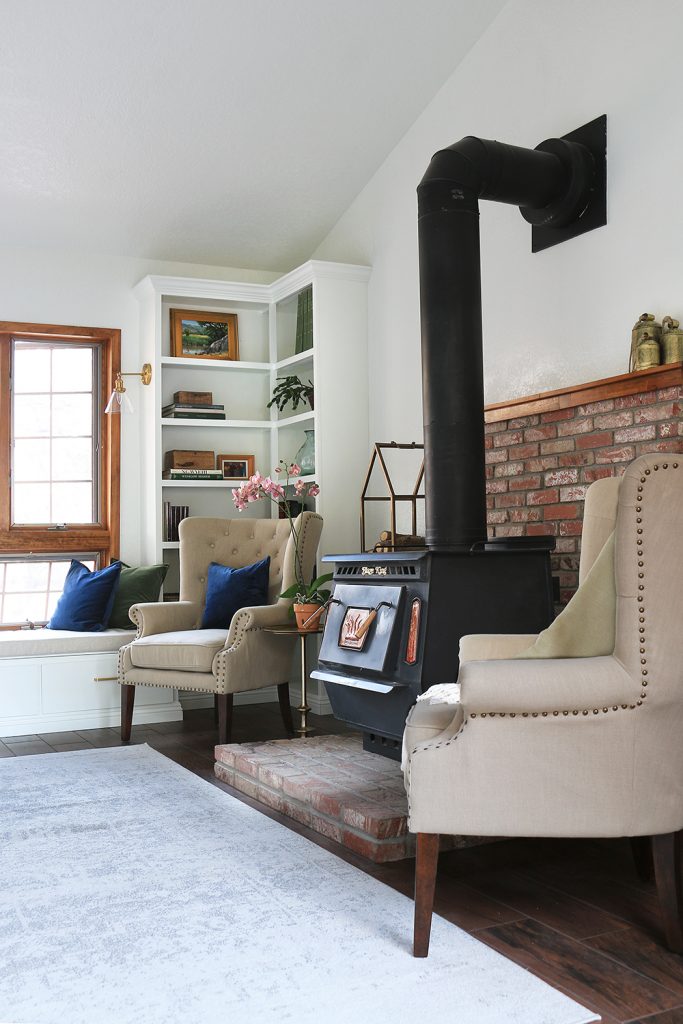 The entire makeover is in essence a simple straightforward design. One that my mom and dad can add to over the years. I image a few pieces of dad's art on the walls, and curated pieces they love added in the future.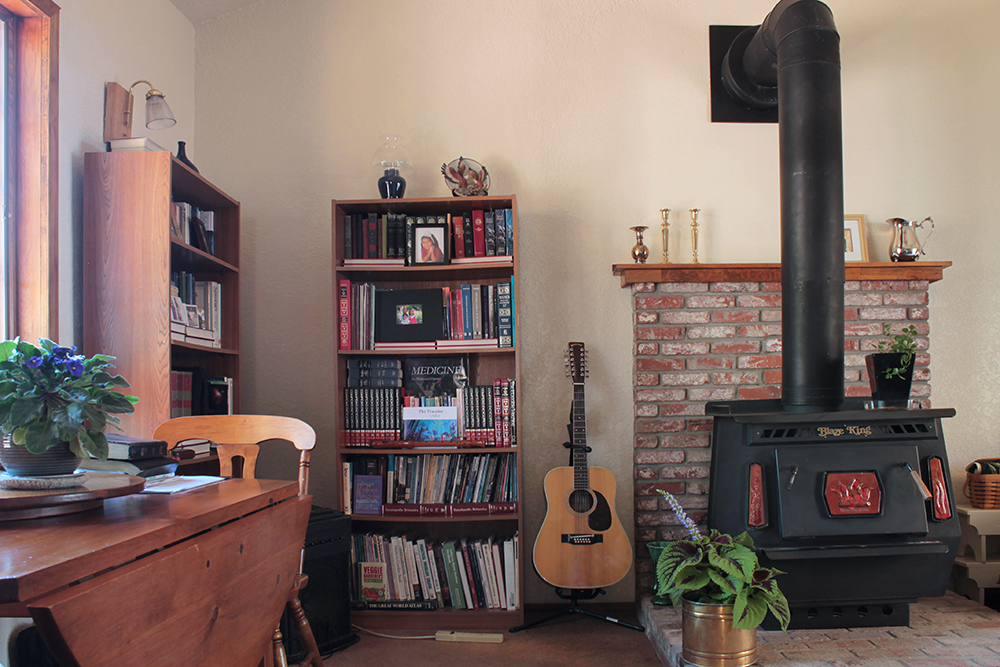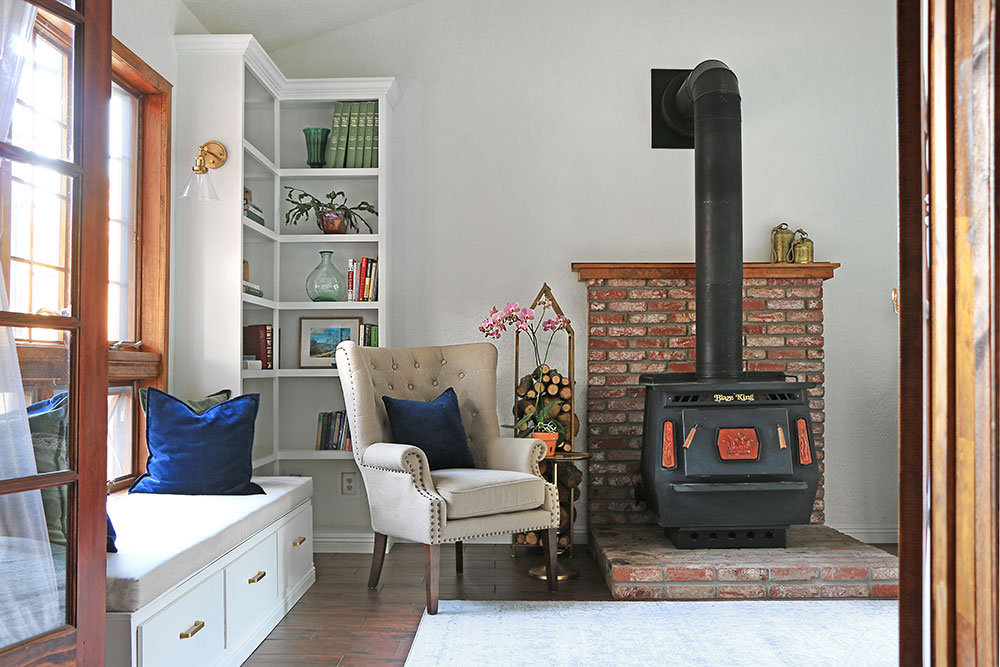 But for today, they finally have a space they can entertain, or just enjoy a nice cozy fall evening with a crackling fire, and tea by the window.
Shop The Room


If you liked this project, be sure to check out my other Doer projects in partnership with The Home Depot. Like this incredible DIY greenhouse made from recycled windows! Get all the details, and the full tutorial here.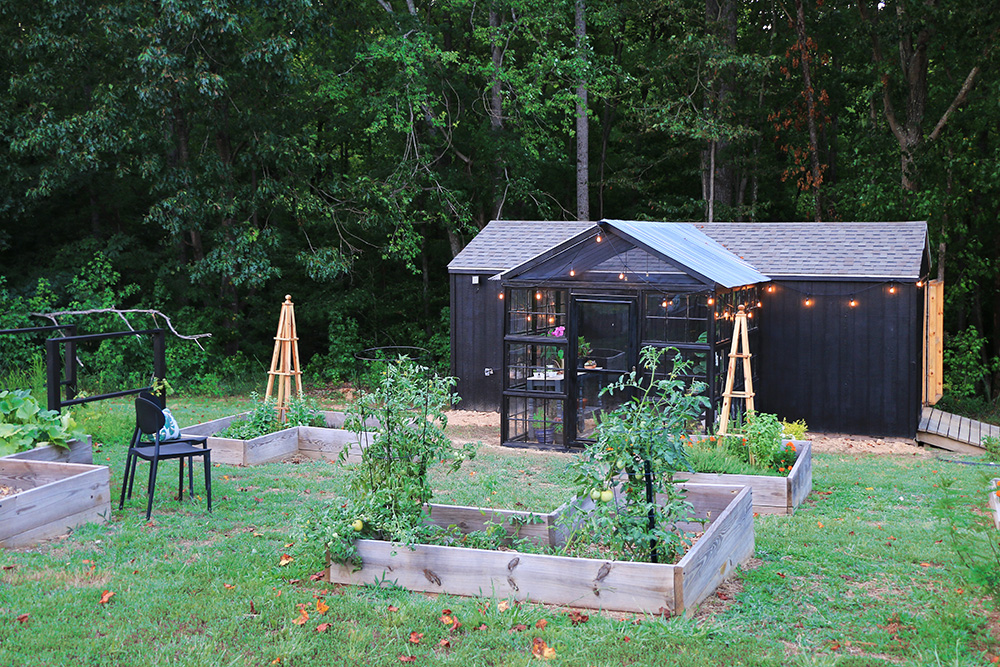 *Special thanks to The Home Depot for sponsoring this project! We couldn't have done it without you. I acknowledge that The Home Depot is partnering with me to participate in The Doer Project. As a part of the Program, I am receiving compensation in the form of products and services, for the purpose of promoting The Home Depot. All expressed opinions and experiences are my own words. My post complies with the Word Of Mouth Marketing Association (WOMMA) Ethics Code and applicable Federal Trade Commission guidelines.