Our top picks for modern door knobs and levers, and vintage-style door hardware that make a stylish statement!
Something as simple as a door handle can make a difference in both function and design in a room. We often overlook door hardware, but maybe it's time we give our doors a quick and easy makeover!
*Shopping affiliate links of our favorite door hardware picks below!
Exciting features like smart locks on your entry door make losing keys a thing of the past, and interior hardware can affect how easy it is to open a door as well as how high-end a room feels.
Door hardware just might be the most underrated part of interior design, but can have such an impact! With a few small changes, you can have the best dressed doors out there.
Interior Door Hardware Picks
We'll explore exterior options below, but let's dive into some of our favorite interior door knob and door lever options first!
TIP: Typically you'll be using the same interior door handle throughout your home, although you can change things up between floor levels, or for a featured room. So be sure to choose a finish and style that works from room-to-room!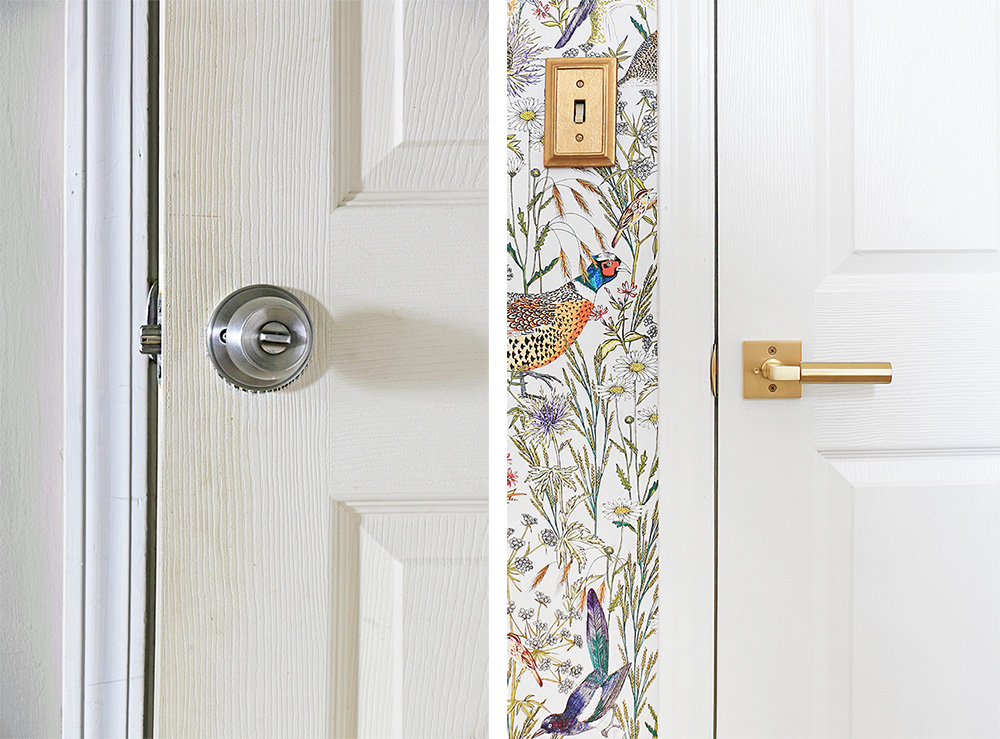 Classic Modern Door Handle Picks
Modern door knobs and levers come in a wide variety of styles and finishes, so there is something out there for everyone!
Remember that you can usually choose a lever or knob style, then choose which backplate (aka rosette), then the finish, then whether it is right or left facing.
Vintage Style Door Handle Picks
Looking for new door knobs that have the same charm as antique door knobs?
Crystal door knobs are some of the most popular for historic homes. But the big difference in style comes from your choice of backplate and finish.
For a more Victorian or traditional look, you might choose the more ornate styled rosette. But if you want a cross between a more modern door knob and an antique door knob, you can combine styles! Choose a hardware company that has options to mix and match the various styles of levers/knobs and rosette.
PROS & CONS: Levers Vs. Knobs
Should you go with door levers or door knobs? Knobs are round and must twist to open, and levers are the L-shaped handles that jut out.
Door levers are easier to open with full hands, but if you have toddlers or pets you don't want to get in and out too easily, this might not be the solution for you.
I also find that on occasion a piece of clothing or long purse will unexpectedly catch on the edge of a lever.
From a design perspective, levers are a bit more modern with a wider range of design options to choose from. However a knob is a classic and less likely to have mechanism issues develop over time.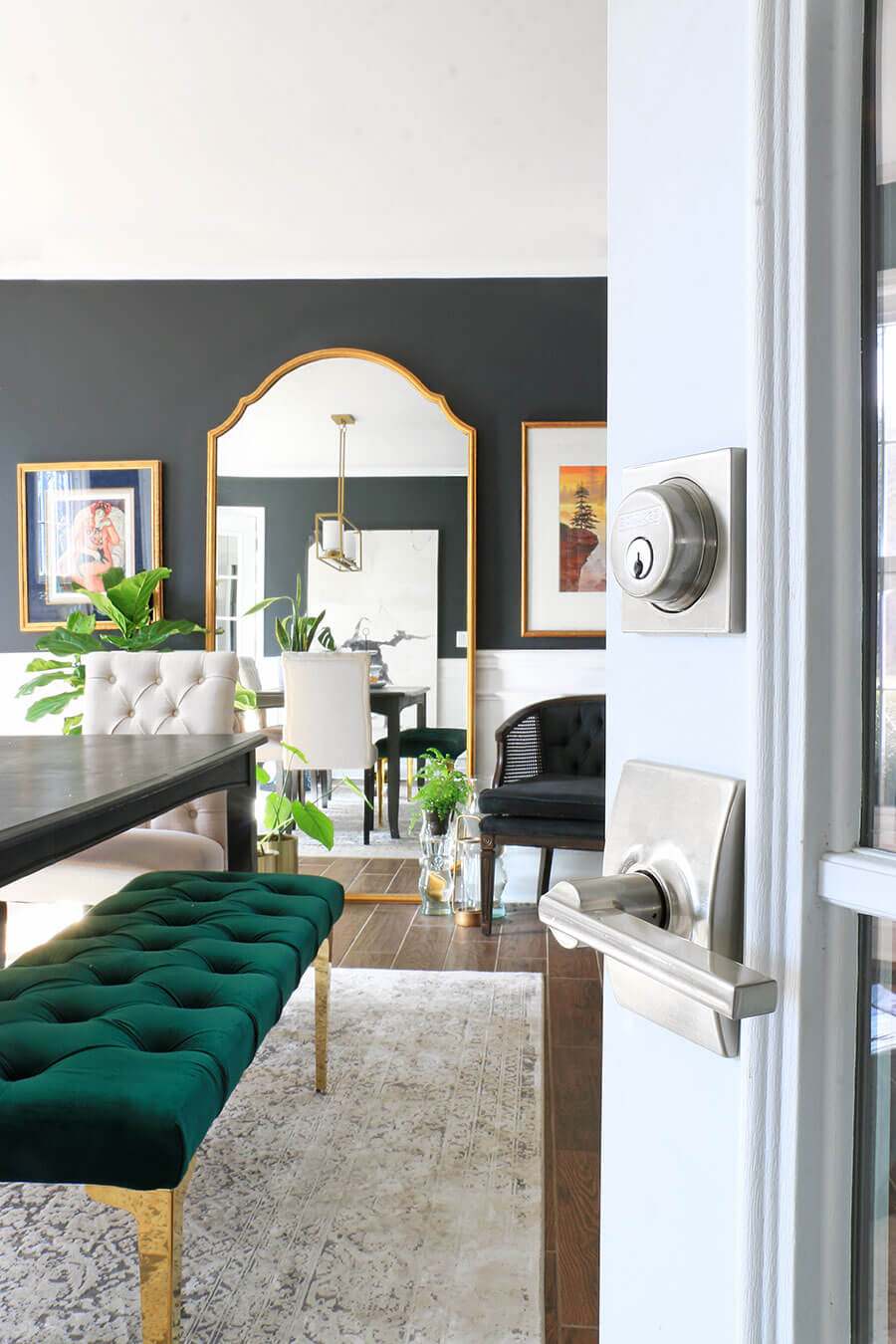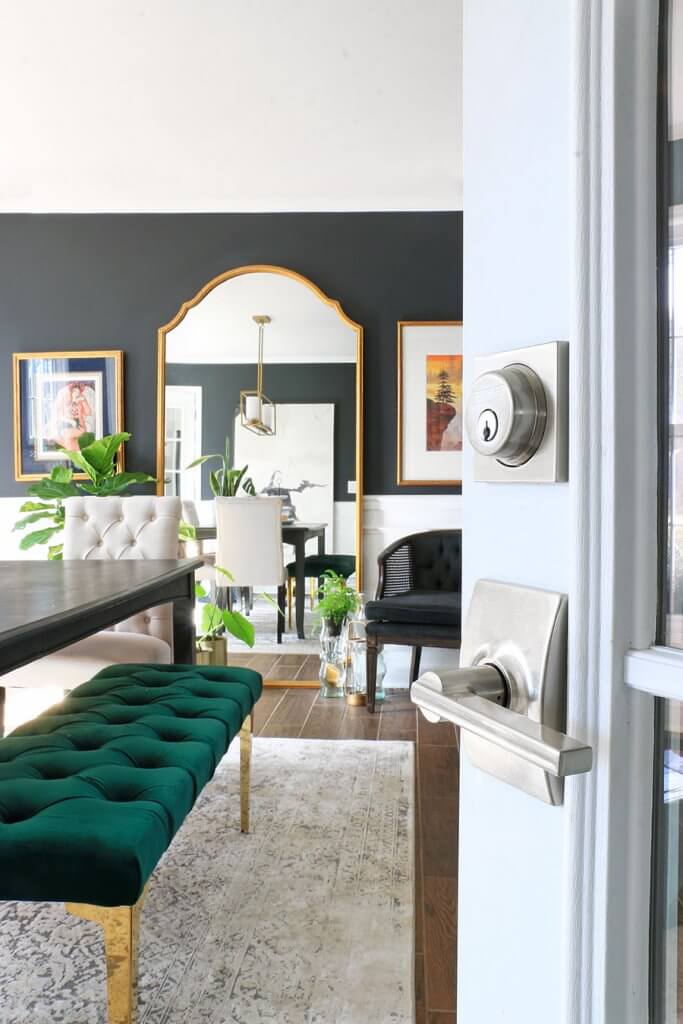 What Is A Dummy Knob?
These 'dummy knobs' or passage handles are door handles that either don't turn or don't lock, and are designed for areas like closet doors. They are primarily decorative knobs, but that doesn't mean they don't have function!
I installed two Schlage glass door knobs on my closet office as a way to easily open and close the doors while making a statement.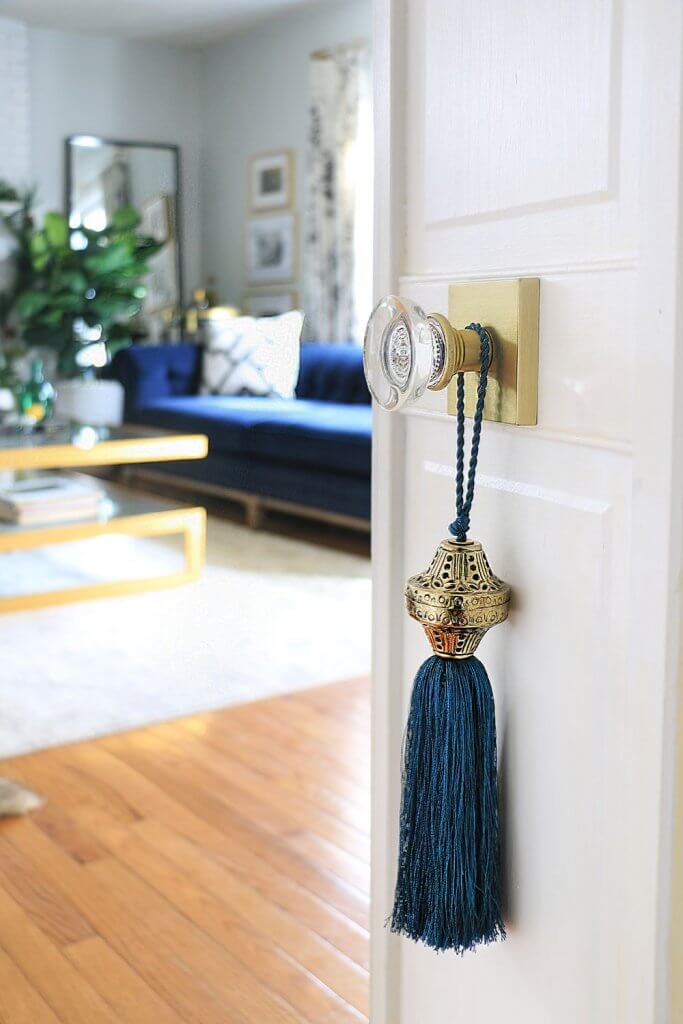 Exterior Door Hardware Picks
Contemporary exterior door handles should stand out against the color of the front door and are a great way to set the tone for the style of your front porch.
TIP: When replacing an exterior door handle, be sure to measure carefully before choosing a new set! Drilling a new hole in an exterior door usually not a good option.
Smart Lock Keypad Picks
The real perks of contemporary door hardware are the smart functions that make life easier! Never have to dig a key out of your purse again!
These stylish keyless smart locks mean you can give temporary access to a friend or family member without having to give them a key. Give each their own unique code, or some locks have an app that allows you to let someone in from your smart phone.
Which Door Hardware Finishes Are Best?
Wondering which popular door knob finishes are trending, and which will stand the test of time?
Most companies carry door knobs and levers in a variety of finishes, from satin nickel, to chrome, brass, unlacquered gold, black, oil-rubbed bronze, and beyond!
Here are a few tips to get you started:
Satin versus Brushed: Each of the metals below likely come with a satin version, a brushed version, or even a glossier version! Satin will be glossier than it's brushed counterpart, but not the glossiest option.
Nickel: Nickel has a warmer more yellowish tone than Chrome, and satin nickel is currently trending over the cooler chrome of the past.
Chrome: This finish has been around since the 1920's, made a big comeback in the 60's and 70's, and is being replaced by it's warmer nickel version.
Brass & Gold: Antique gold and unlacquered gold may be trending, but variations of gold/brass are here to stay. It has been around for a long time, but whether it is brushed, polished, lacquered, unlacquered, etc. will mean the difference between trending or not. Rose gold and champagne gold have a more coppery hue, but were a short lived trend that will likely come and go with time.
Bronze: Oil-rubbed bronze is a great solution when you want a dark color but nothing quite as harsh as black.
Black: Matte black is a great solution when you want low-key modern style that will be around for a long time.
New door hardware is like the jewelry of a room, it is the final touch that brings it all together for an amazing finish!