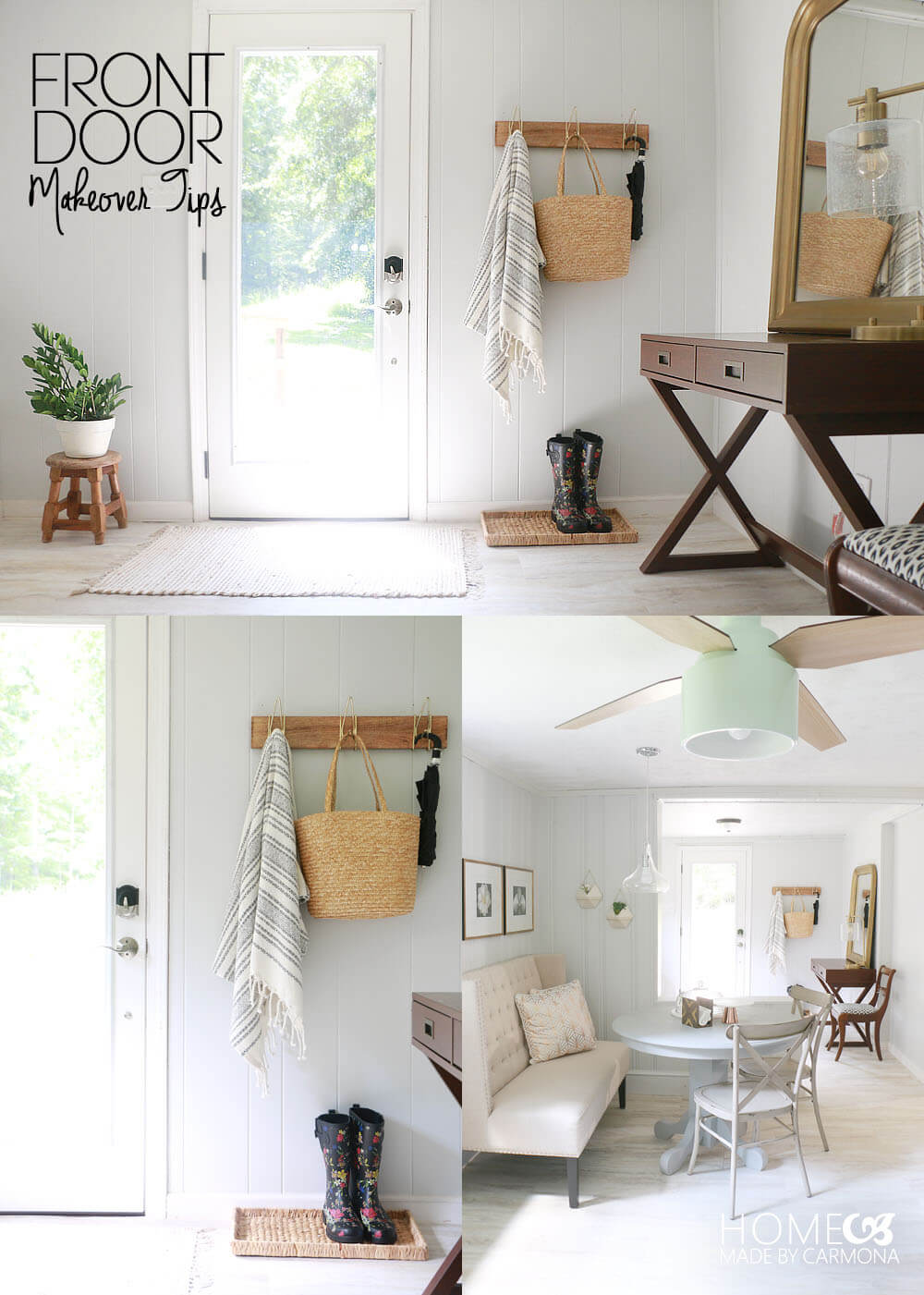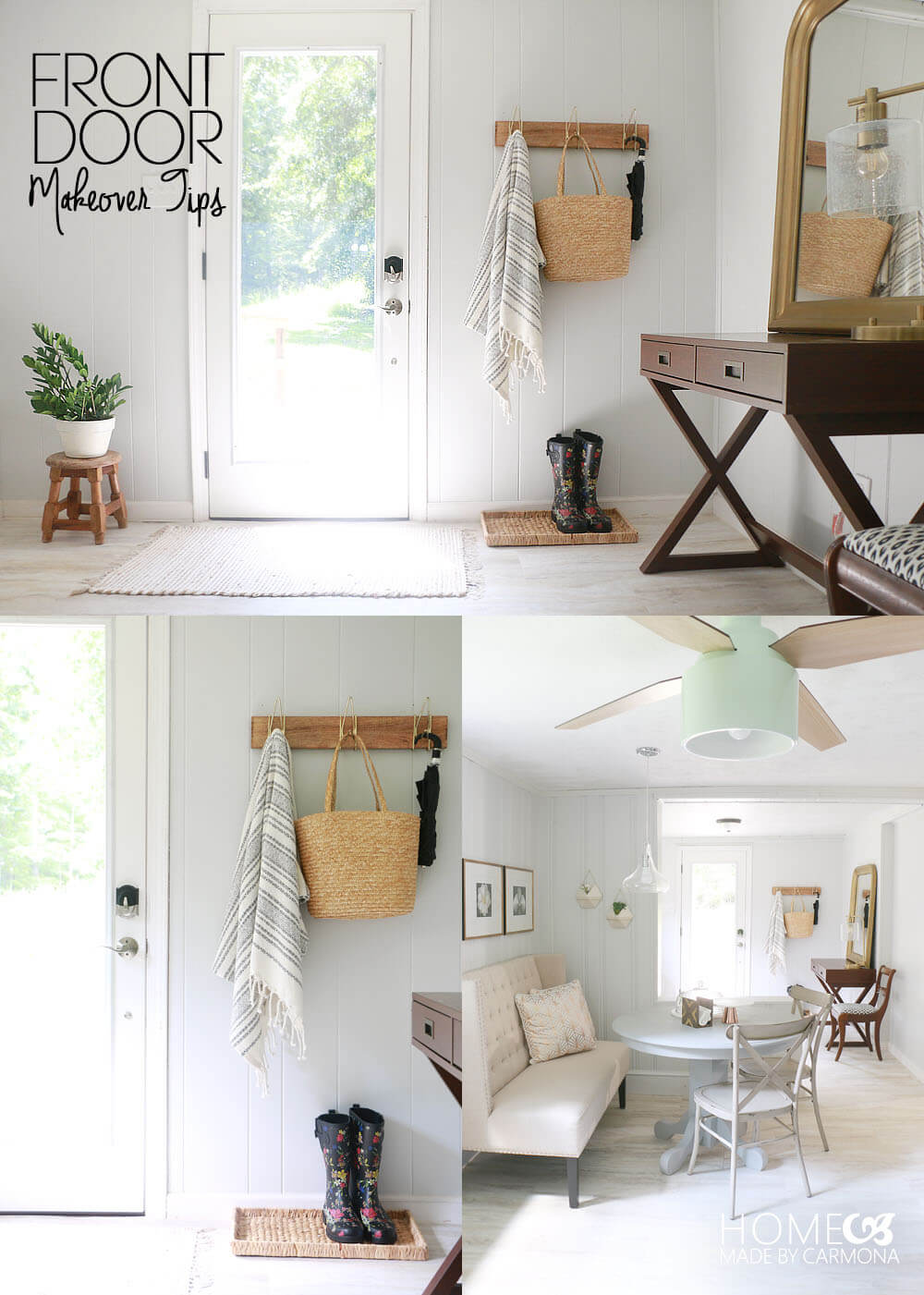 *This post was made possible by Schlage! *awesome sauce*
There are 3 things that always instantly transforms an entry, both from the interior and exterior…
The front entry on the guest cottage left much to be desired, both the interior and the exterior.
The living room is looking great, the kitchen is stunning, one of two bedroom's are completed and stylish as ever… but why in the world would I leave the front entry, the first thing my guests see, a blank slate? I figured this was one makeover I should get done before putting my guest house up on Airbnb.
There are 3 things that always instantly transforms an entry, both from the interior and exterior:
A new front door
Updated door hardware
A few small & simple decorative accessories
Want to see what I mean? Here is this front entry from the exterior before and after.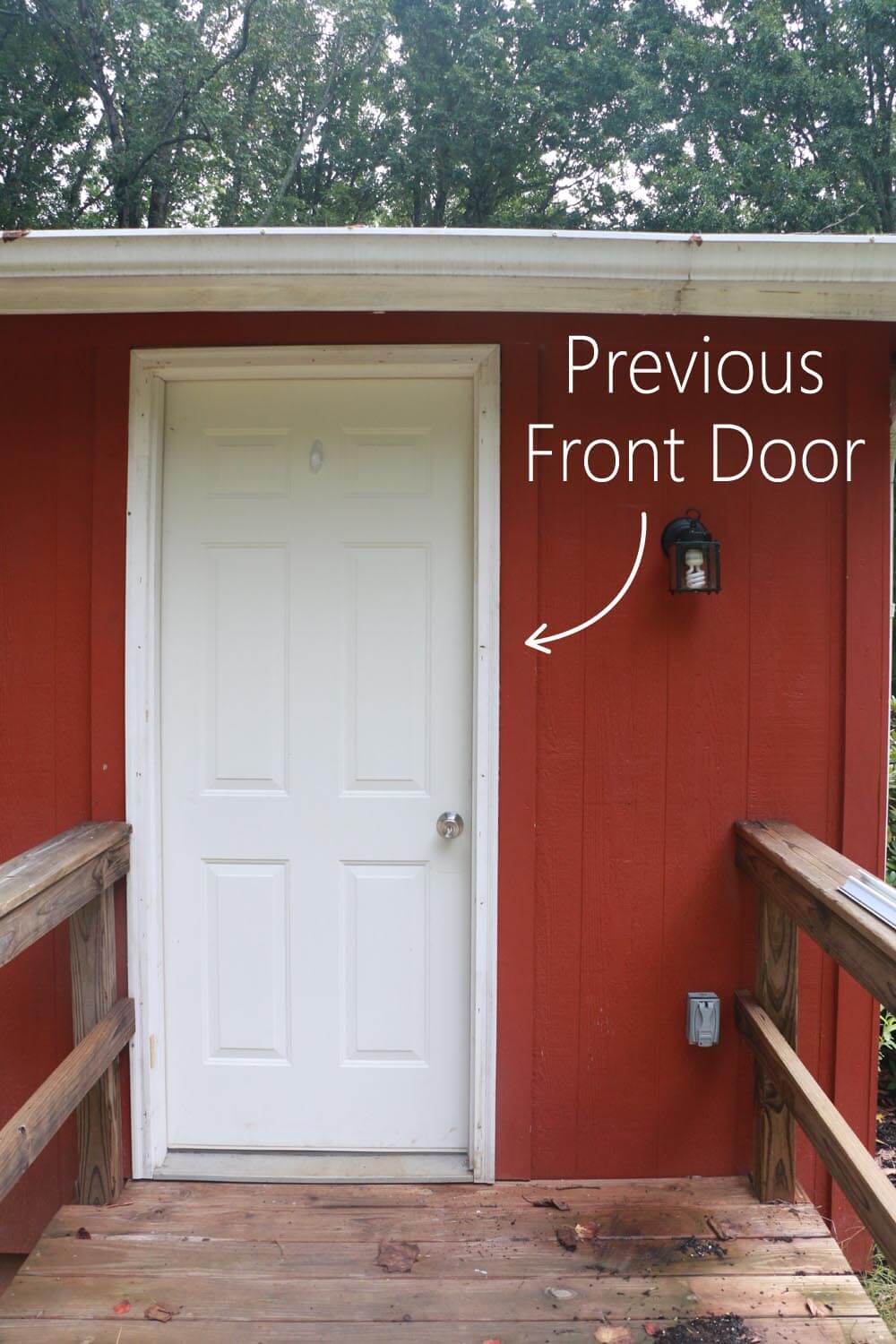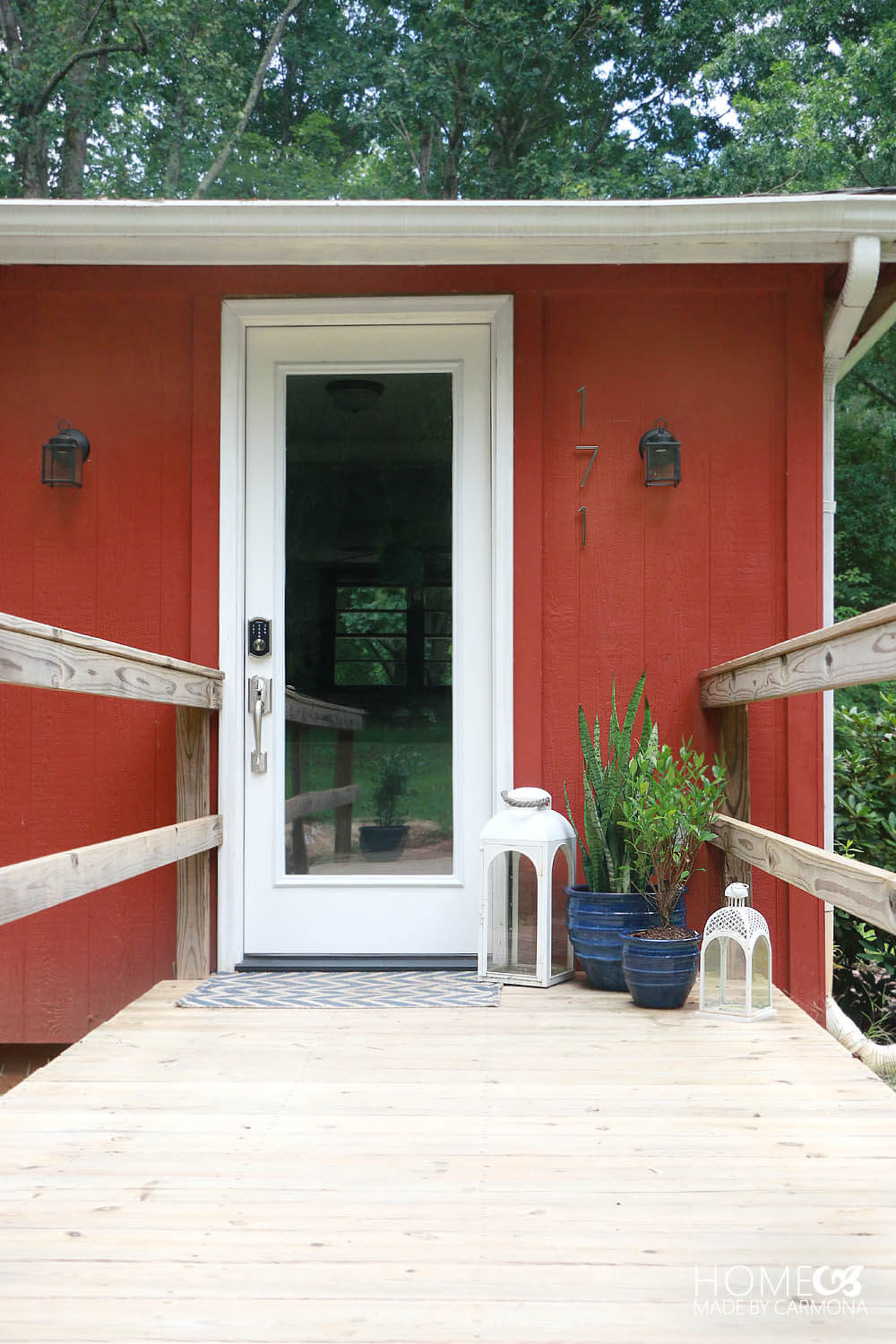 Then here is the same front entry from the interior before and after.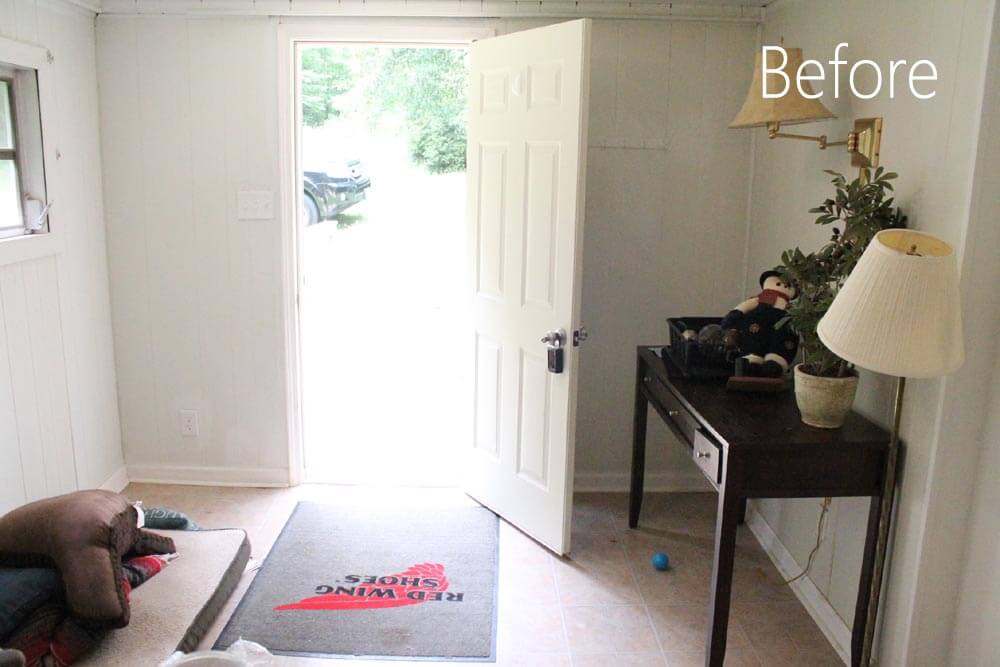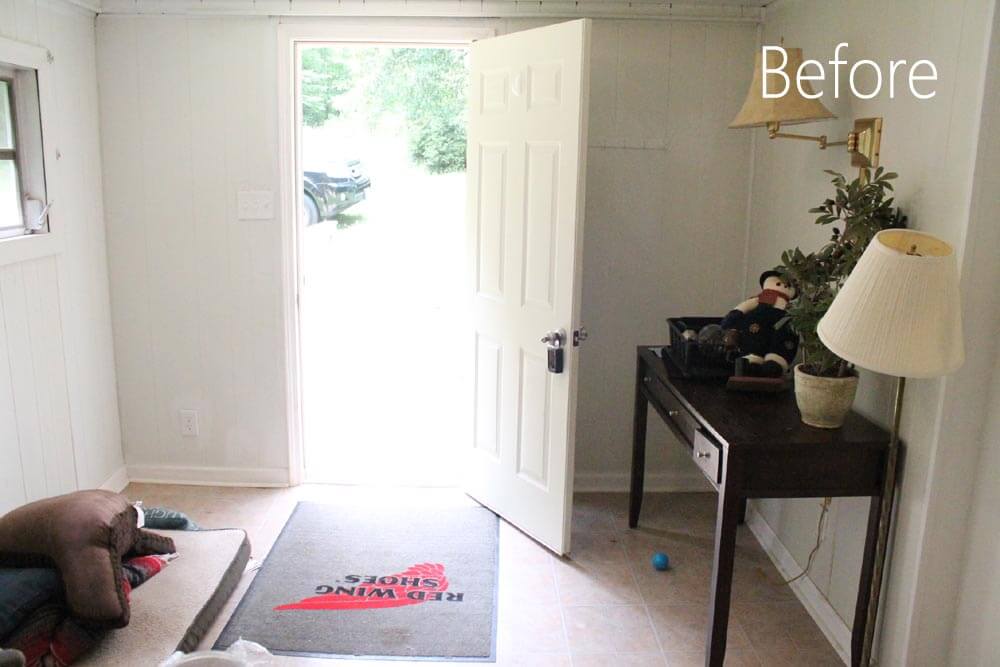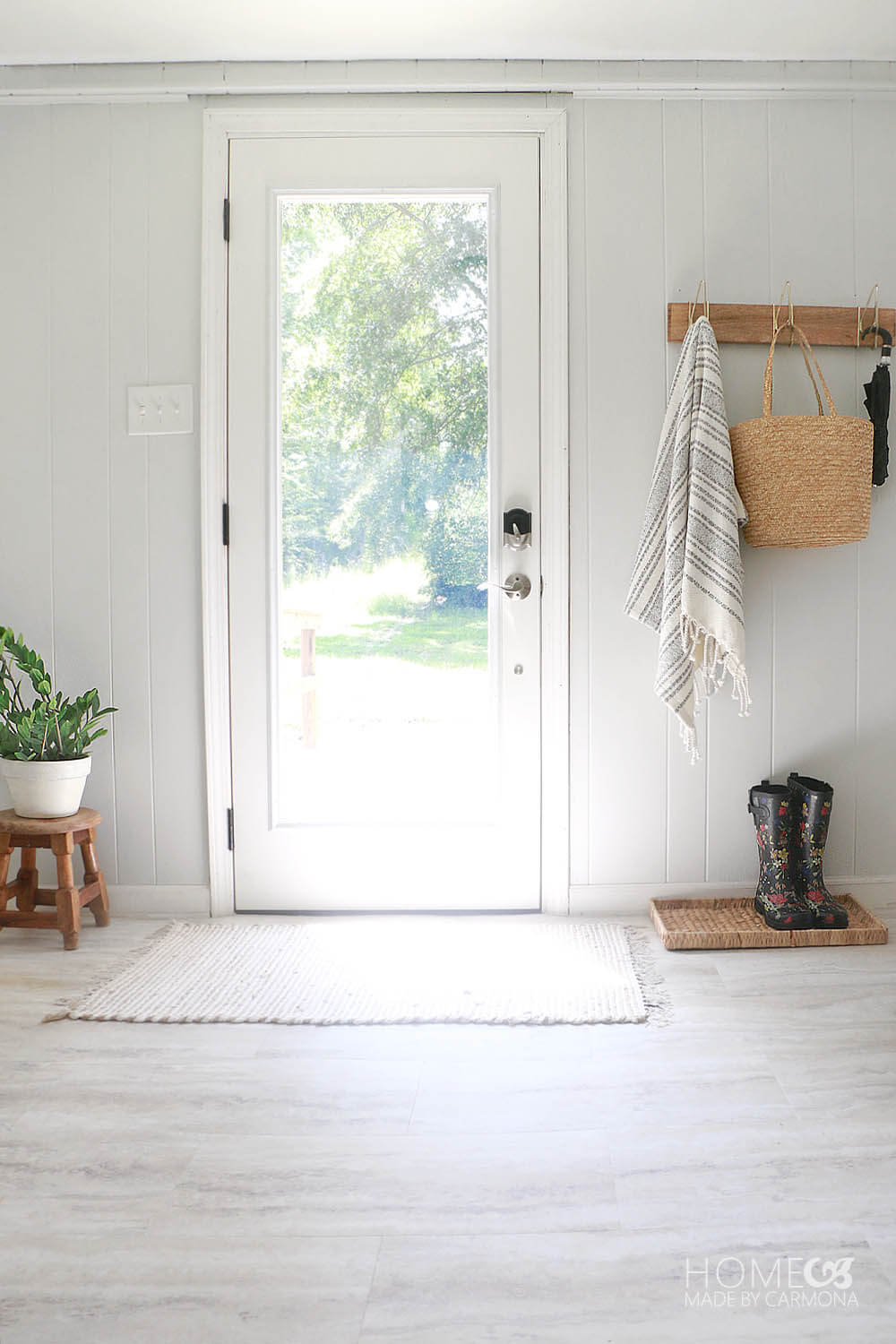 Isn't it amazing what just a few changes can do? It's not a major remodel…I didn't tear out any walls, replace any exterior siding, or even stain the deck.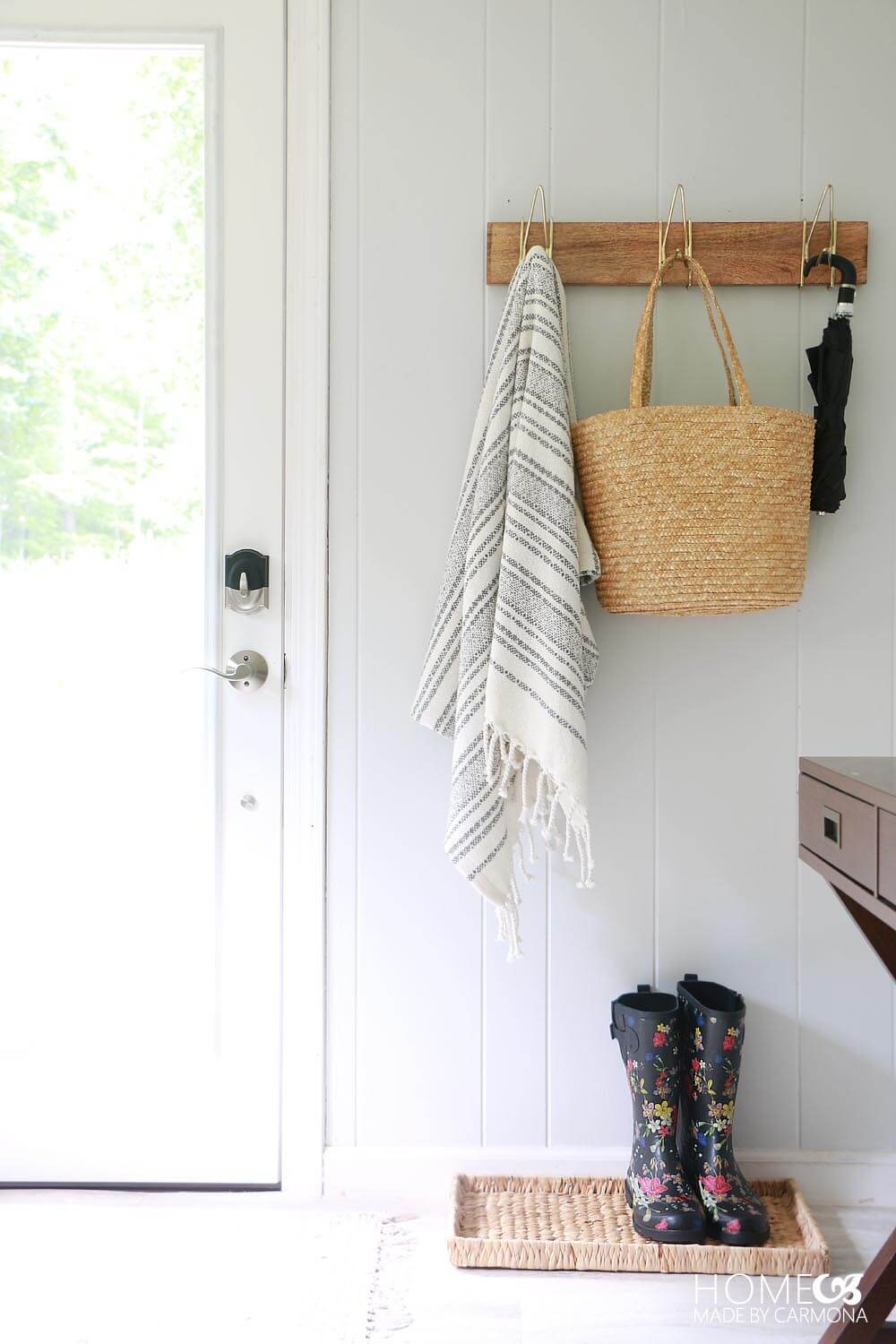 However, a simple but stylish glass door let in a ton of light and immediately updated the space. I wanted guests to be able to see who comes to the front door, and really enjoy the beautiful outdoors. Our road is a private road with woods all around for miles, so why not give every opportunity to see the gorgeous greenery? Plus, I would have missed this pretty sight right outside the cottage door if I hadn't switched to glass. I watched this little butterfly from inside the house the entire time I nailed down the interior door trim.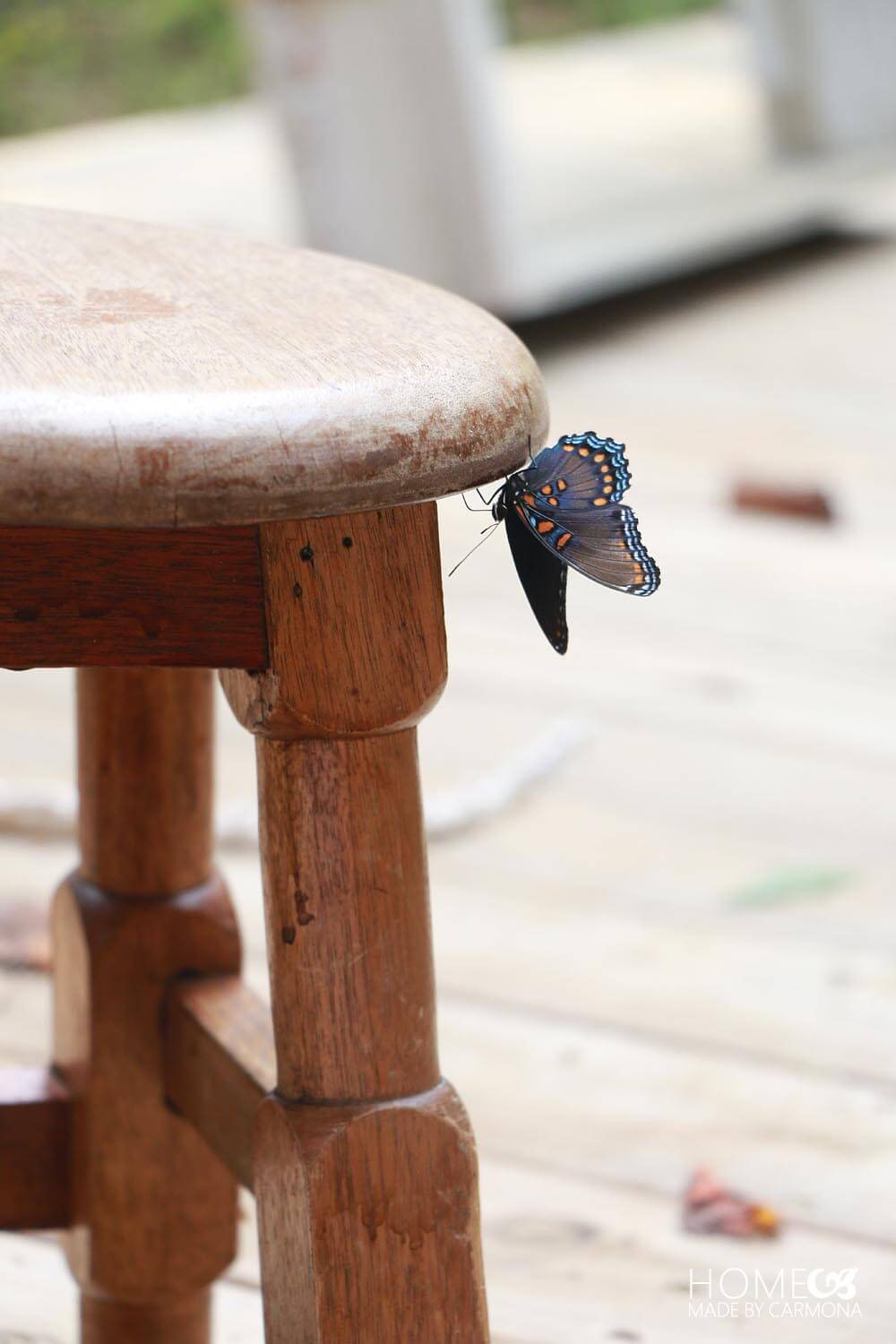 There was one really important feature I knew I wanted for the cottage to make check-in easy for my Airbnb guests…a Schlage Keyless lock. How much easier would it be to just punch in the provided 4-digit number rather than meeting them at a certain time with the key? Check-in could happen whenever it is convenient for them.
Not to mention the huge update it automatically brings to the inside of the house and to the curb appeal!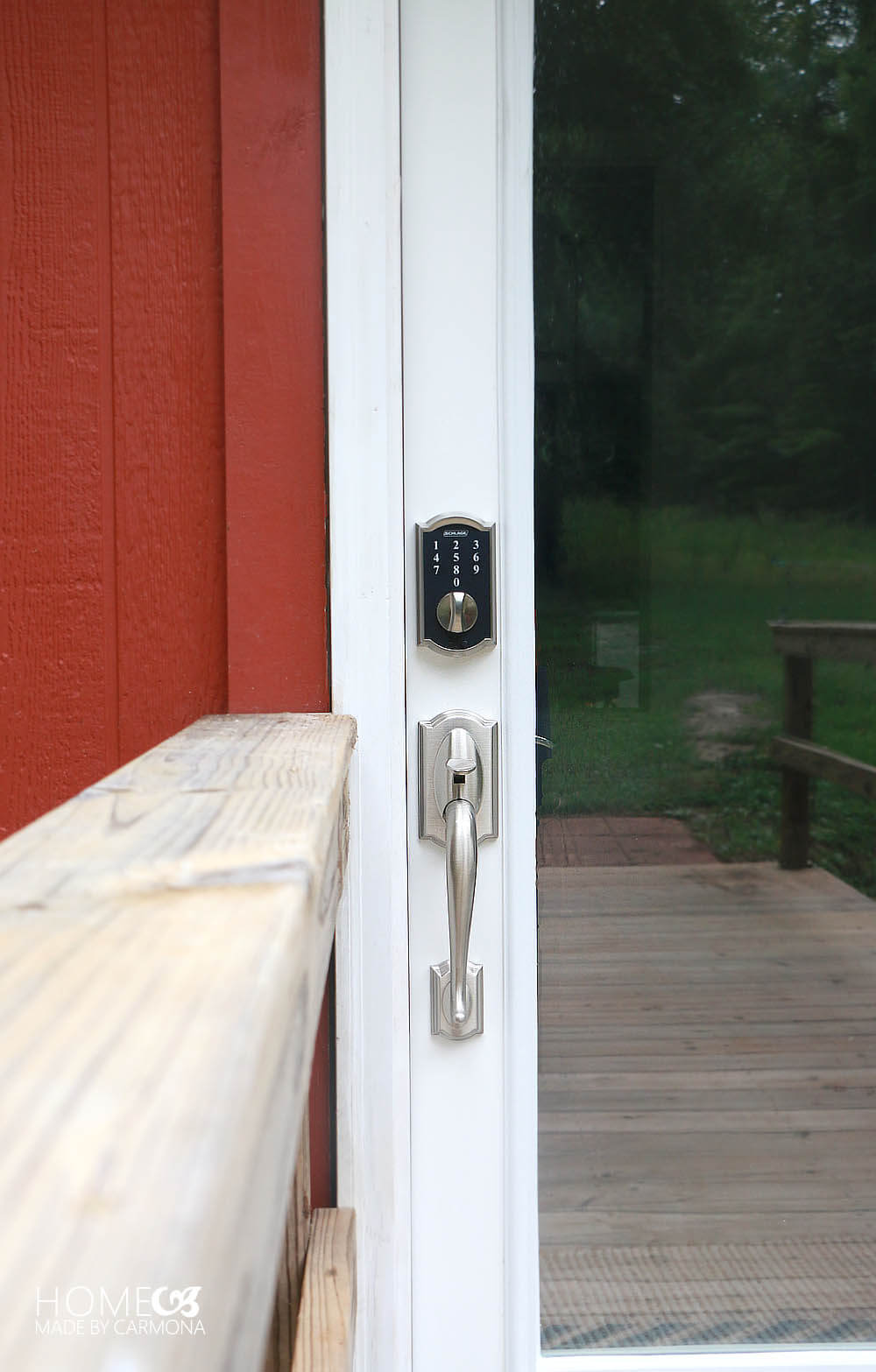 A year ago I don't think I even knew about keyless locks as an option, and certainly would have never considered them something I could afford to have. Then I moved to this house in North Carolina, and inherited my first keyless lock. The previous owners had this Schlage Keypad Lever installed, and wowza I was hooked!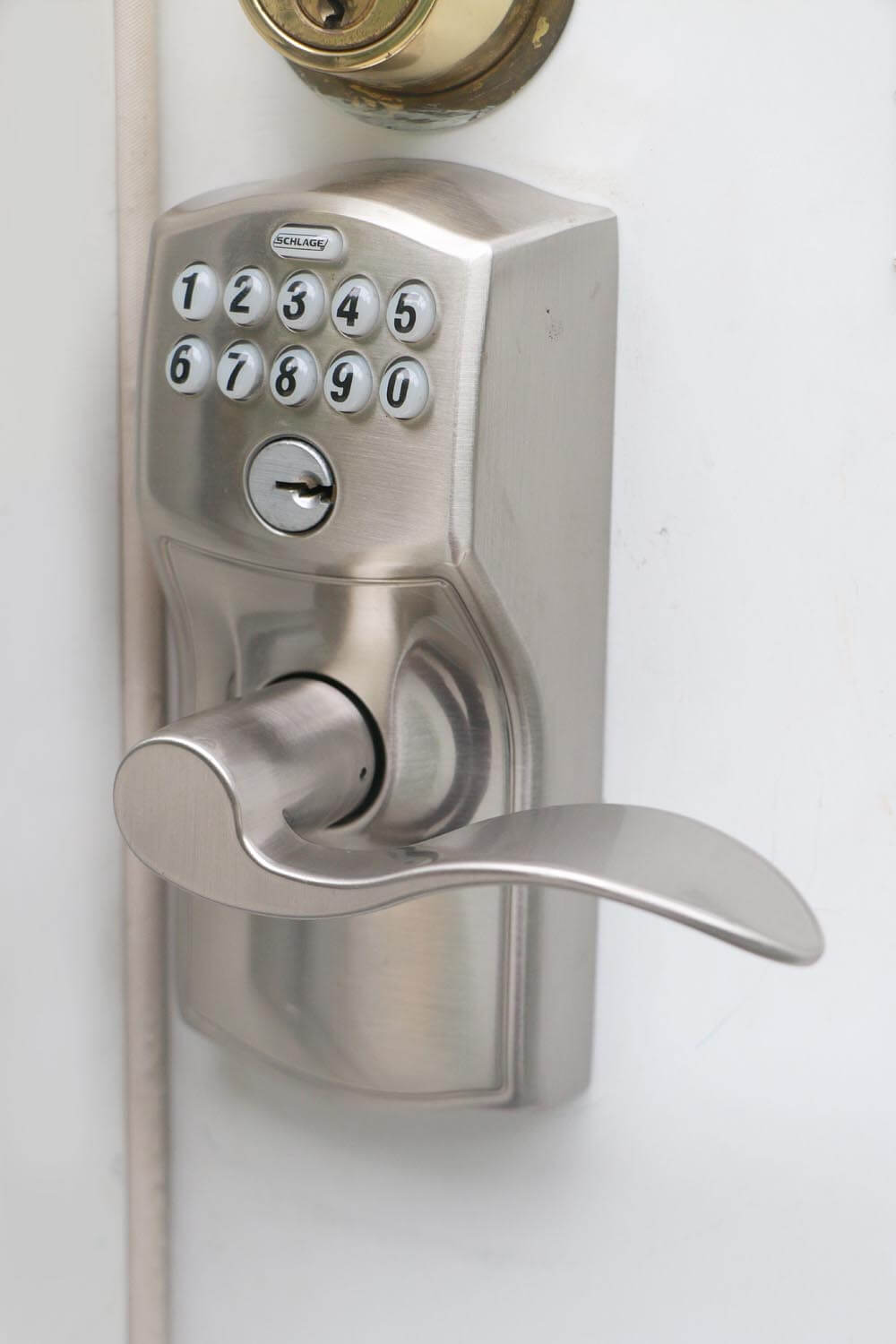 Instead of carrying a bunch of house keys, or giving the kids a key (at their age that wasn't going to happen), any member of the family could easily punch in a code and have immediate entry into the house. Sounds like no big deal, but every time the kids run ahead and open the door rather than waiting on me to fumble through my bag for the keys, dropping grocery bags on the ground, I feel thankful. Our door has FlexLock, which means with a flip of the inside lever the door can lock automatically, or not. Another amazing feature I'm always grateful for! Too many times the kids (and sometimes even I) forget to lock the door on our way out, and with an automatic locking system I never have to worry.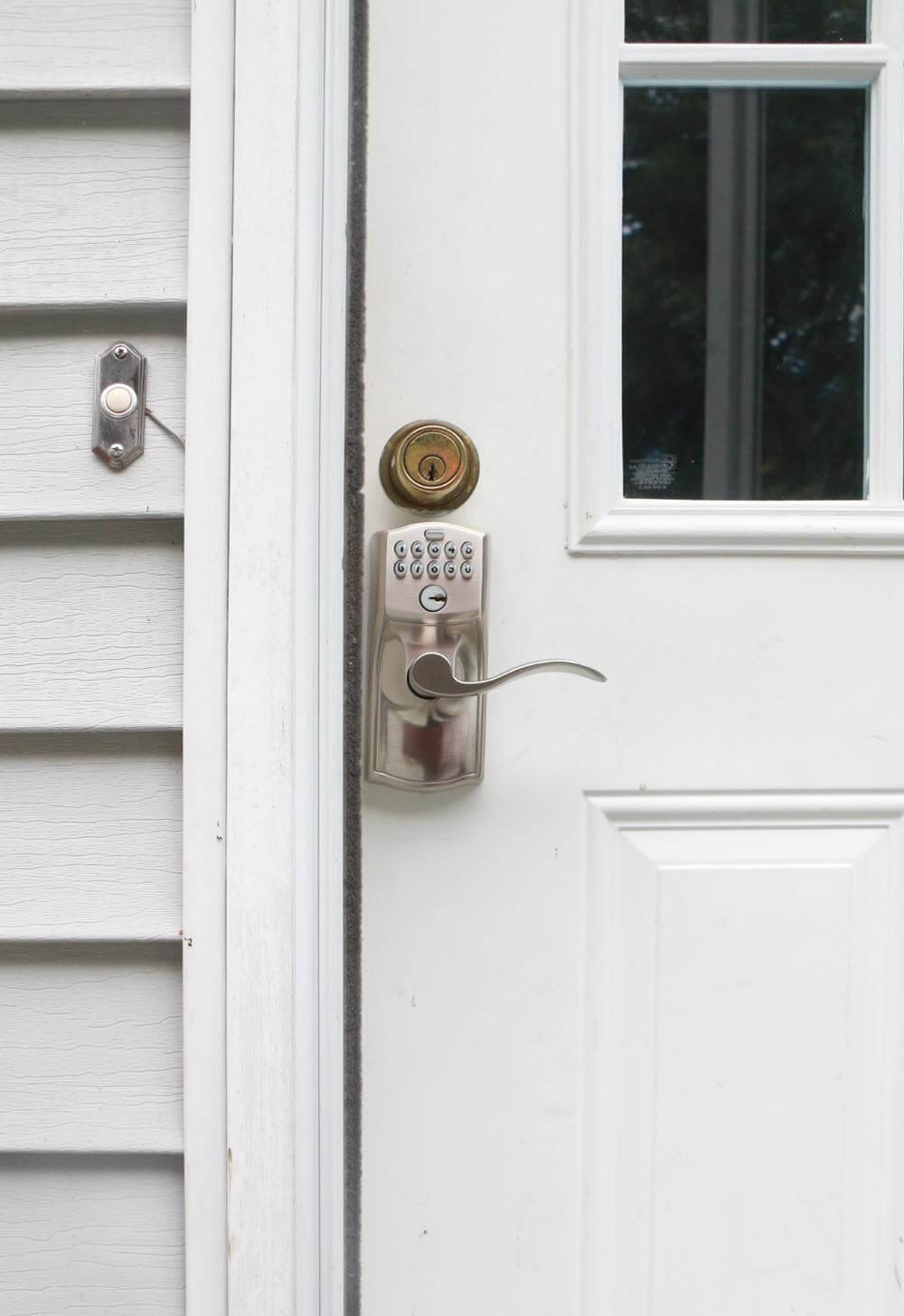 The keyless entry was a must-have for the cottage, and I can re-program a new code for each guest, and have one master code for me and my family to easily enter to clean up before and after guests. I choose the Schlage Touch Keyless Touchscreen Deadbolt (in Camelot trim) for the cottage, but I almost went got a Schlage Sense which also allows you to open the door with your smartphone from anywhere!


I am going to link to the two I own and the one I want via Amazon for those who want to purchase it online, however there are a ton of awesome features and styles to choose from with the various keyless locks, so definitely take a look at their website before you purchase or make your final decision. You'll feel like a kid creating their Christmas wish list. 😀
[col1]
Click this link to buy on Amazon (w/ alarm)
Or click the image to view on Schlage website
[col2]
Click this link to buy on Amazon
Or click the image to view on Schlage website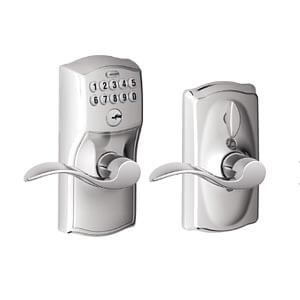 [/col2]
[col3]
Click this link to buy on Amazon
Or click the image to view on Schlage website
For final curb appeal I added a couple potted plants, some decorative lanterns, house numbers, and a door mat. Inexpensive decorative items pull together the space to finish the look the brand new door and hardware gave.
And for the interior I simply pulled a few existing pieces into the space, added a mat and some hooks. Granted, I did put down new flooring back when I did the kitchen and eating nook remodel earlier this year. Remember this before?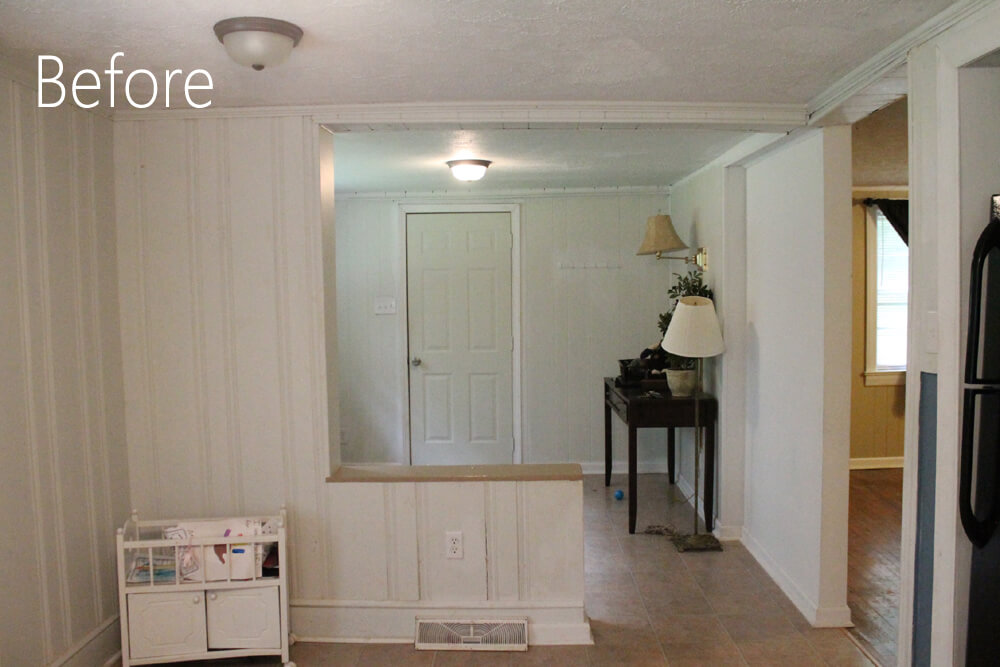 This space is now filled with light and is a beautiful sight from the kitchen. Can you believe how much light there is? And notice that the 'after' photo does NOT have the lights on. I mean, c'mon…that's awesome.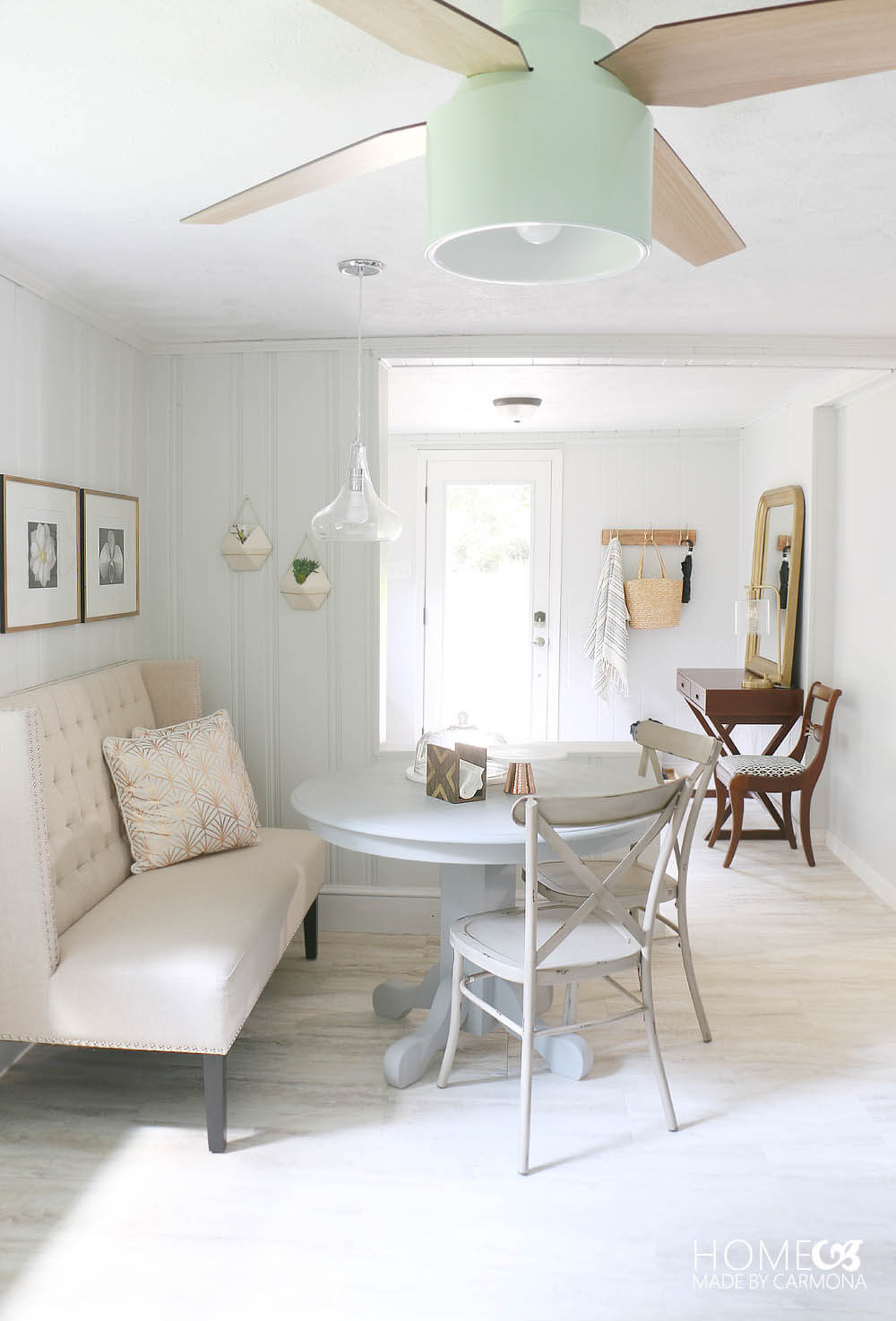 Sure, there are other things I plan for this space, but how amazing is this before and after? Guys, now all I have is the dining room left and I'll be ready to put this bad boy up on Airbnb!
Tour these other cottage room makeovers: Kitchen | Living Room | Kids Room
>>PIN FOR LATER<<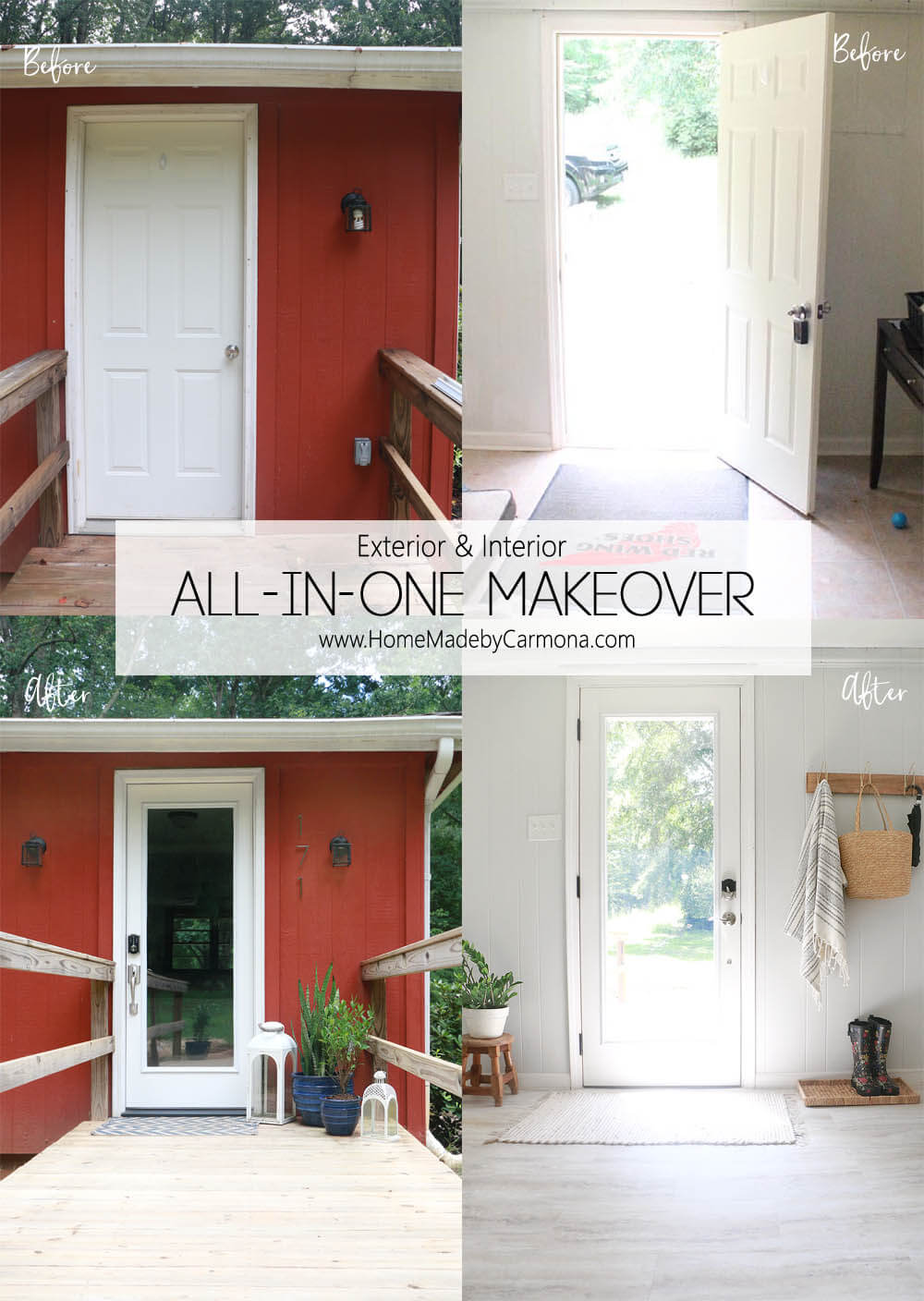 *This post is awesomely sponsored by Schlage. All opinions shared are my own honest views (cuz that's just how I roll).


[go_portfolio id="decorate_landing_page"]