Watch this twin bedroom go from bad to fab in a few simple steps!
Budget rooms can be beautiful after all…a few carefully chosen items is all it takes.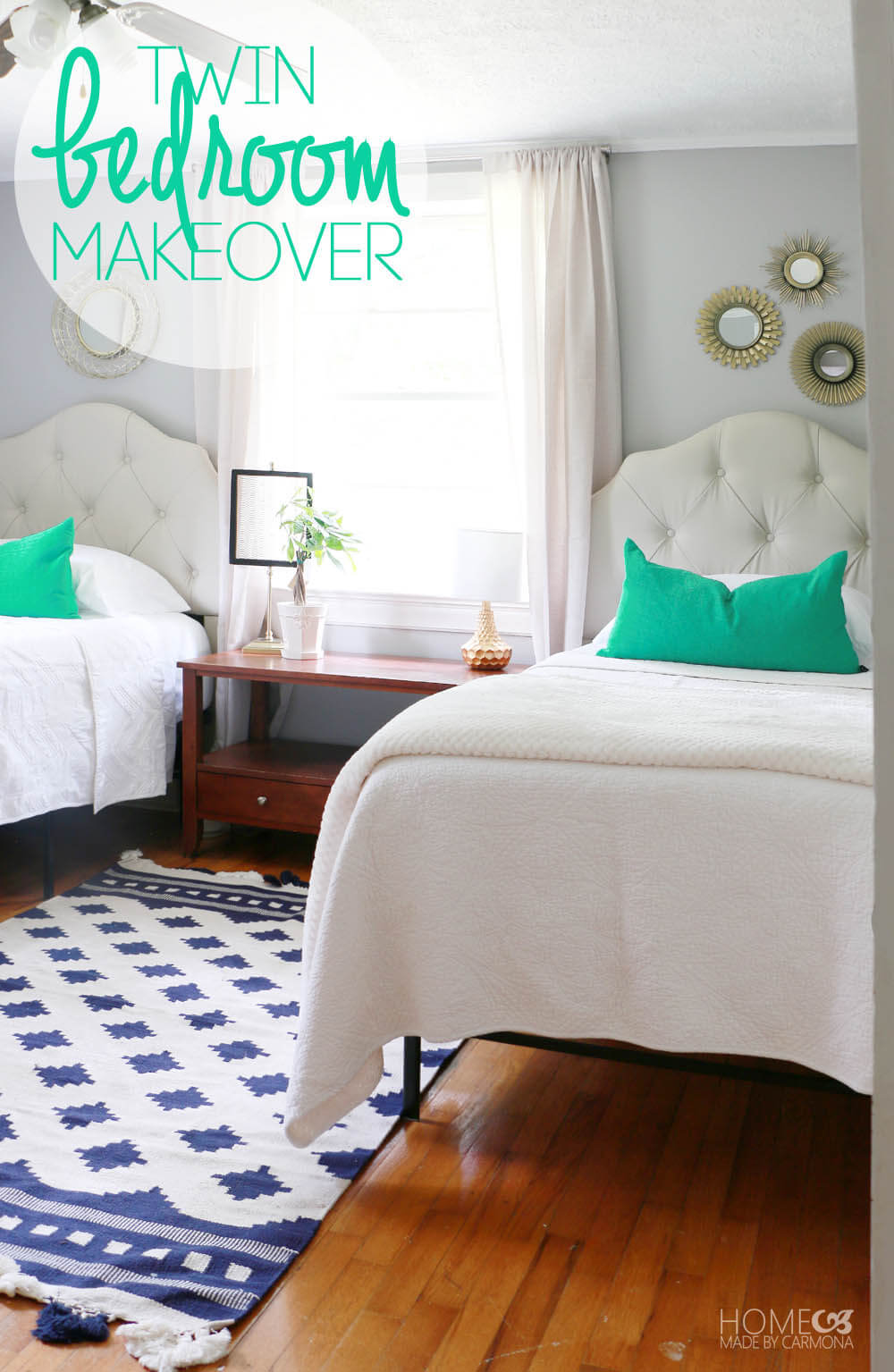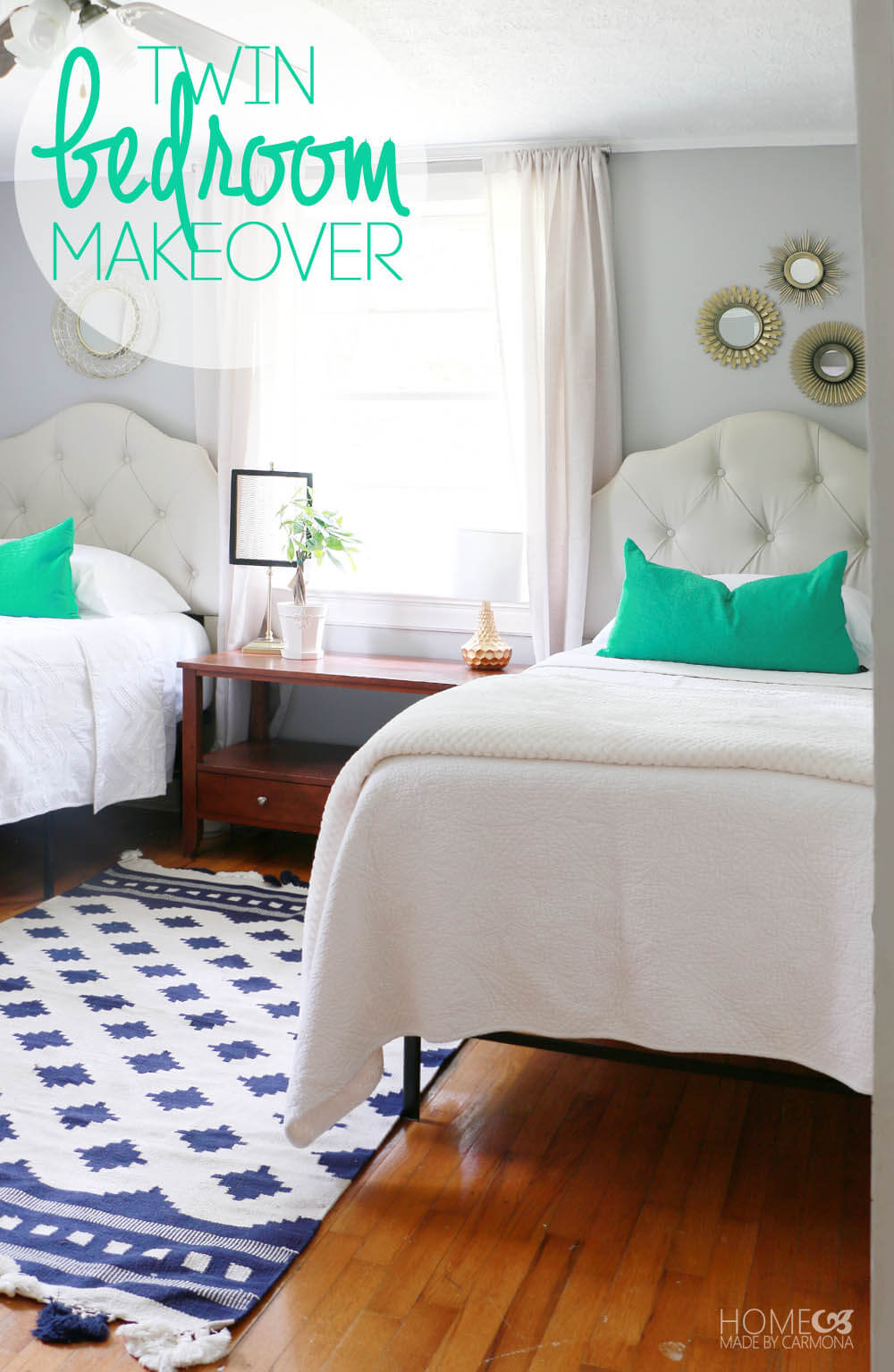 *This post is awesomely sponsored by Better Homes & Gardens brand, found exclusive at Walmart. Woop Woop! This post contains affiliate links.
As a mom to three girls I have apparently been bitten by the "cutesy" bug.
Gender Neutral Twin Bedroom?
Okay guys, I'm super excited to share this before and after project out at the cottage. Although, I've discovered that I can no longer design a gender neutral room. What in the world?? As a mom to three girls I have apparently been bitten by the "cutesy" bug.
I wanted to create a room in the Airbnb/guest cottage that would be perfect for two kids (or just two people), whether boy or girl. Somehow, some way, like it had a mind of it's own, it took on a girlish tone, but oh well. I love it and don't regret a single one of my choices!
Never Paint With Garish Red…Just Don't
Before, this bedroom was painted a rather unattractive color of bright red. Why, I will never know…I guess someone who lived here before really liked their bright red because it was in the dining room of the main house too. I understand wanting to add a little pop of color, but the bedroom should be relaxing, not over stimulating.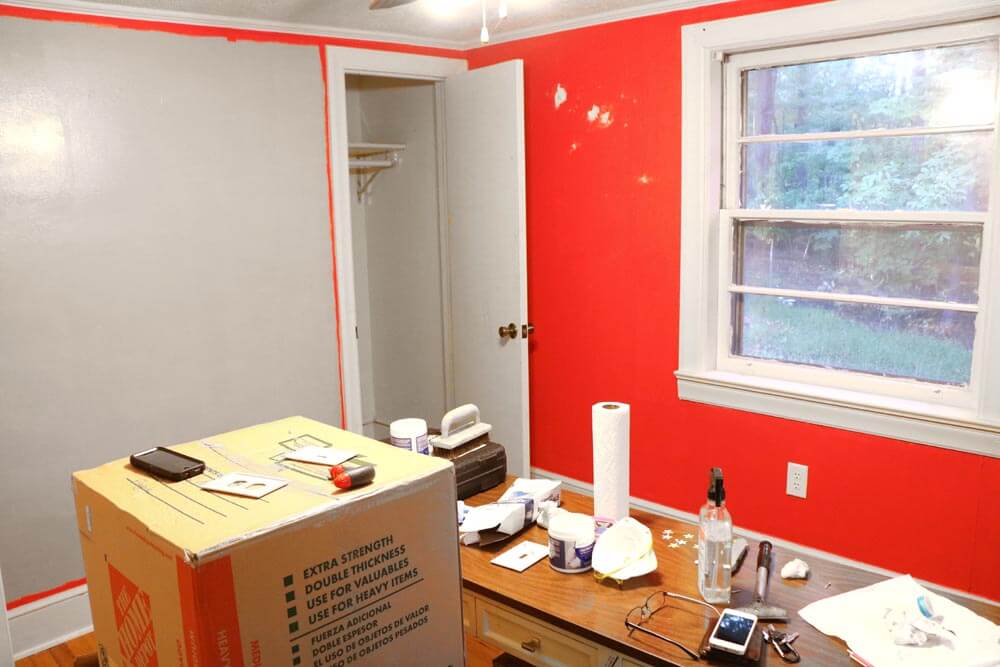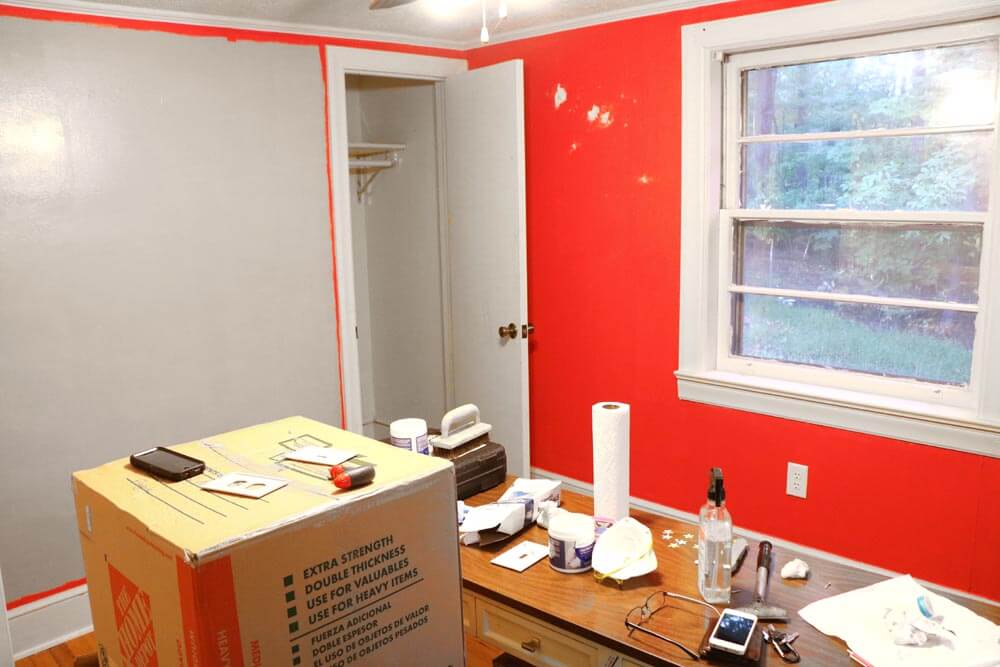 Big Style With Just A Few Budget Pieces!
I love how easy and cost effective this before and after makeover has been. No joke, A coat of paint a couple new beds, and a few small design pieces. Dude, I was kind of shocked myself that it could look so good with so few items.
I had an old TV stand I had found years ago at a thrift store. It got a bit wobbly and banged up over the years, but it was just the right height to sit under the window, so a bedside table it is!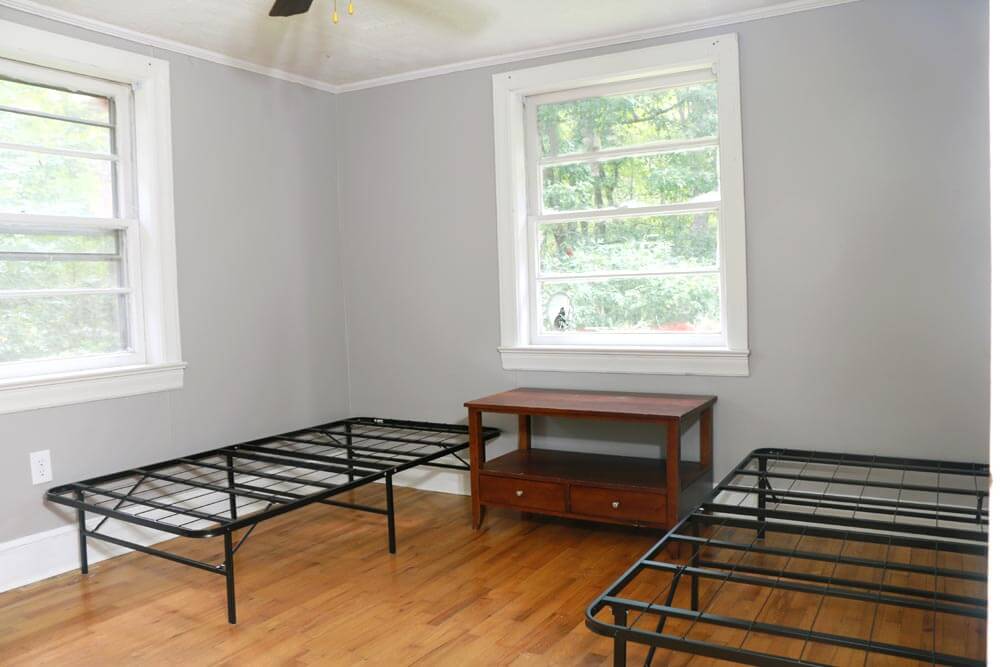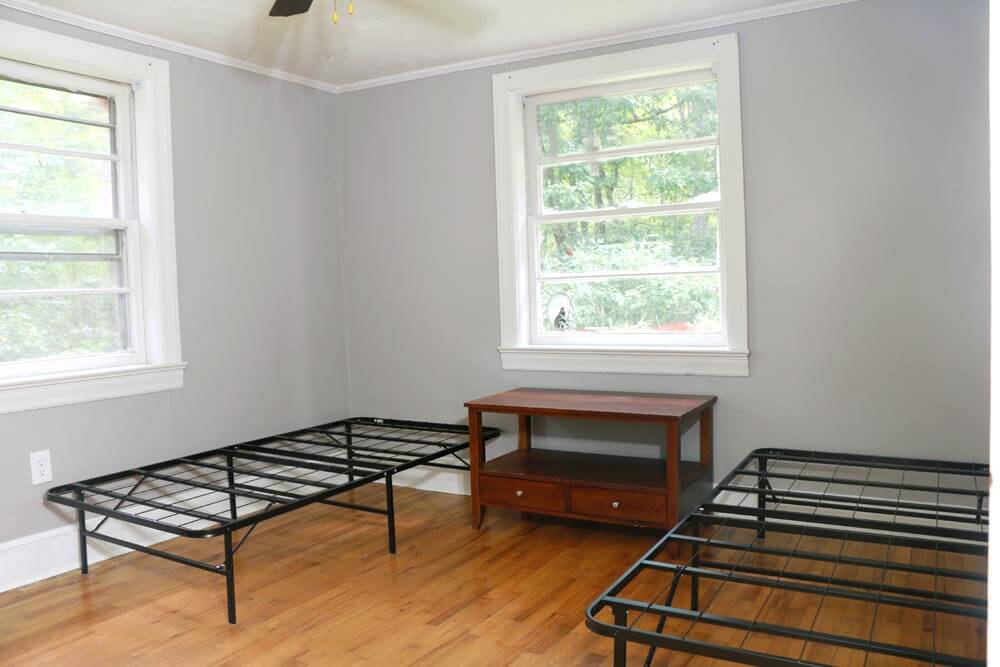 I ordered two 14″ plateform metal bed bases, two Better Homes & Gardens 12″ Memory foam mattresses, and two super cute Better Homes & Gardens Upholstered Headboards, all from Walmart.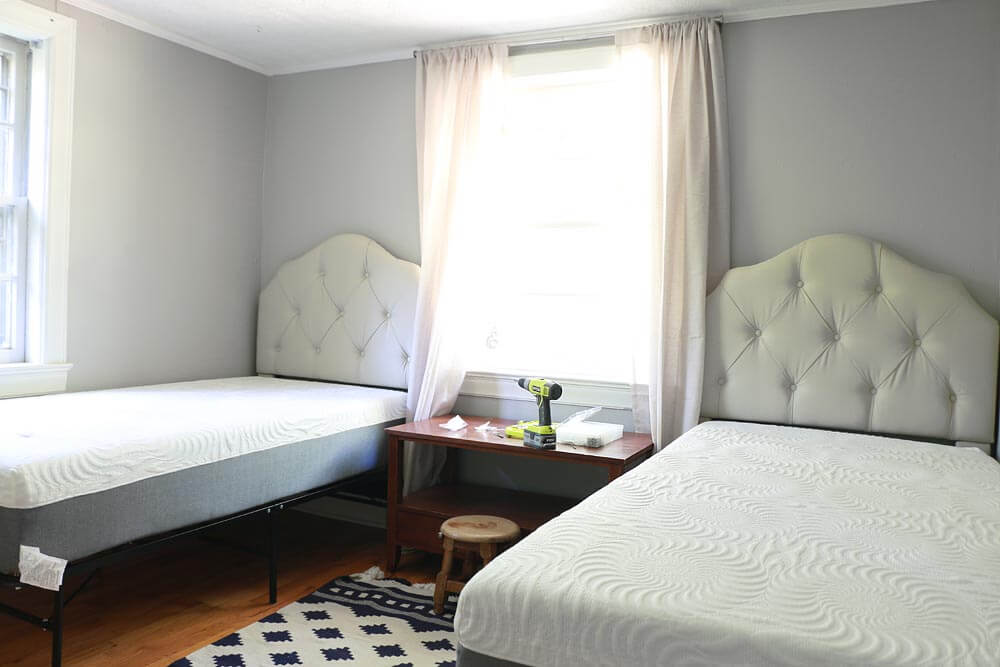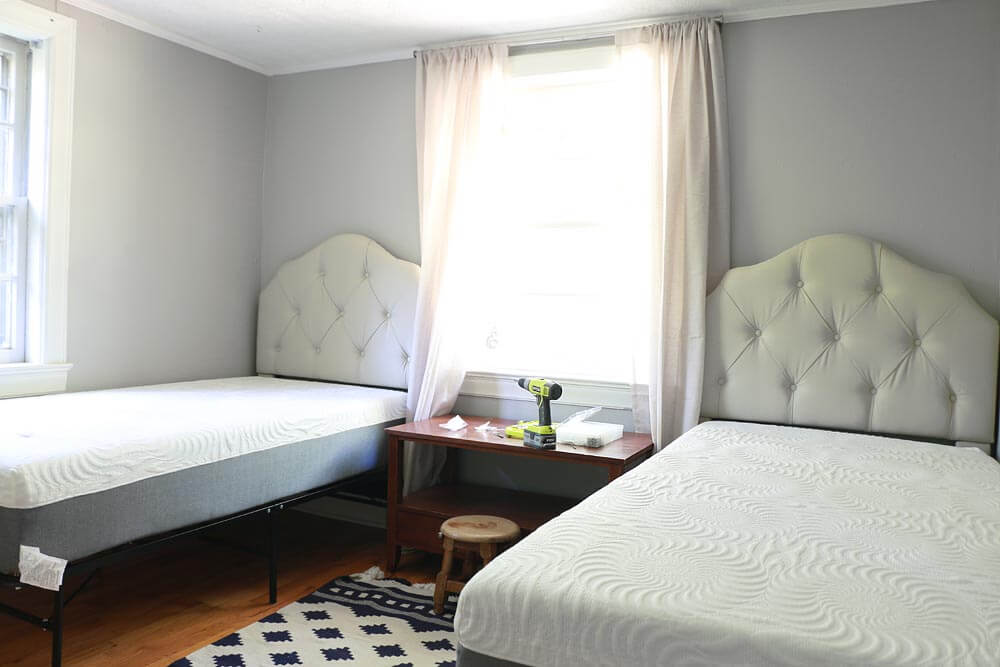 Can you believe these BHG mattresses came rolled up in a box? Nuts right! They are so comfortable, tall, and just the right level of plush versus firm…it is hard to believe they could be compressed down to that fairly small box. And in case you were wondering, they don't require a box spring at all! They are incredibly comfortable, and quite high (well just right really) with the 14″ metal platform bases.
I have guests coming in a couple days with their two teen girls (perfect to really test out the room!), so beside the paint job I knocked this space out in just an afternoon.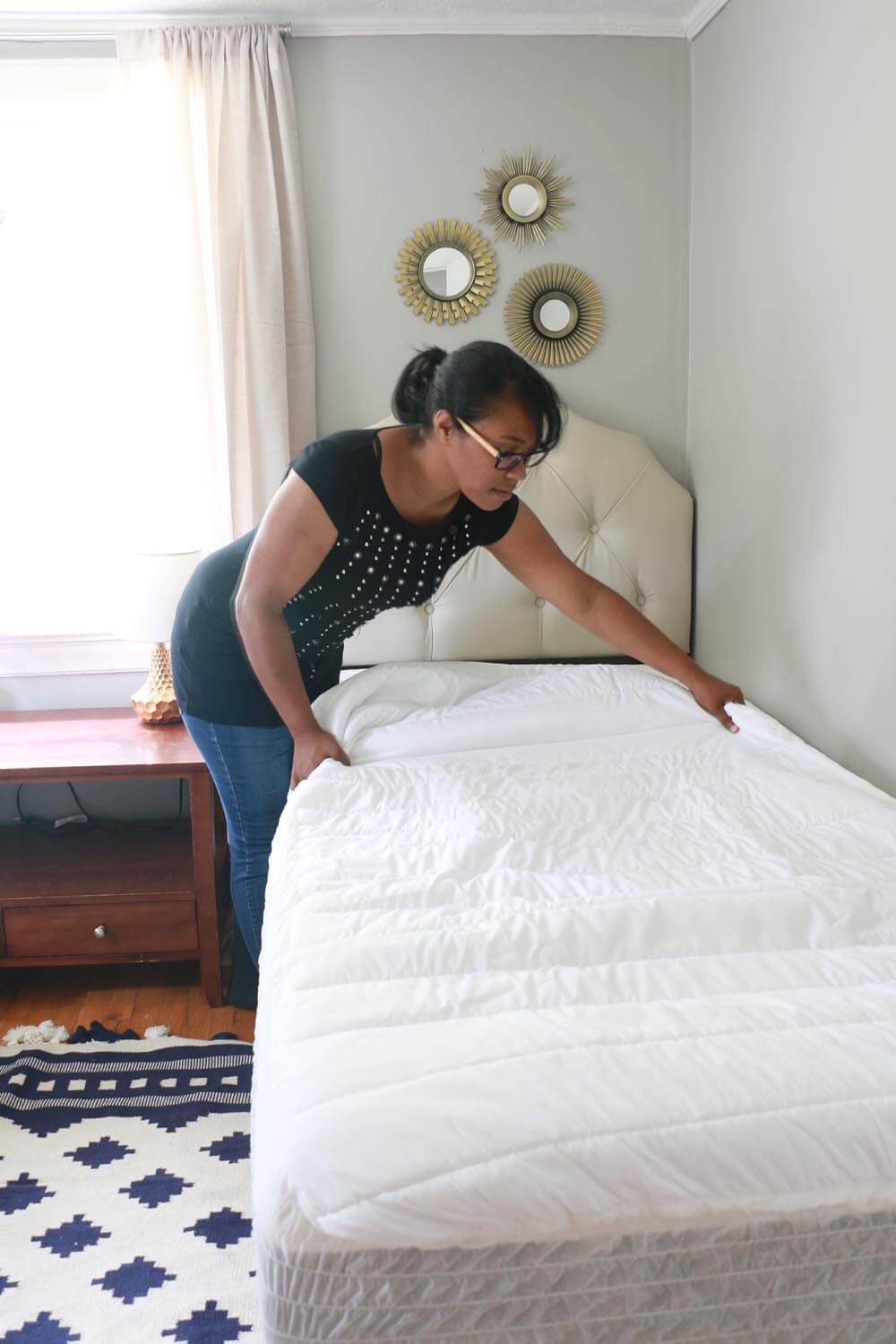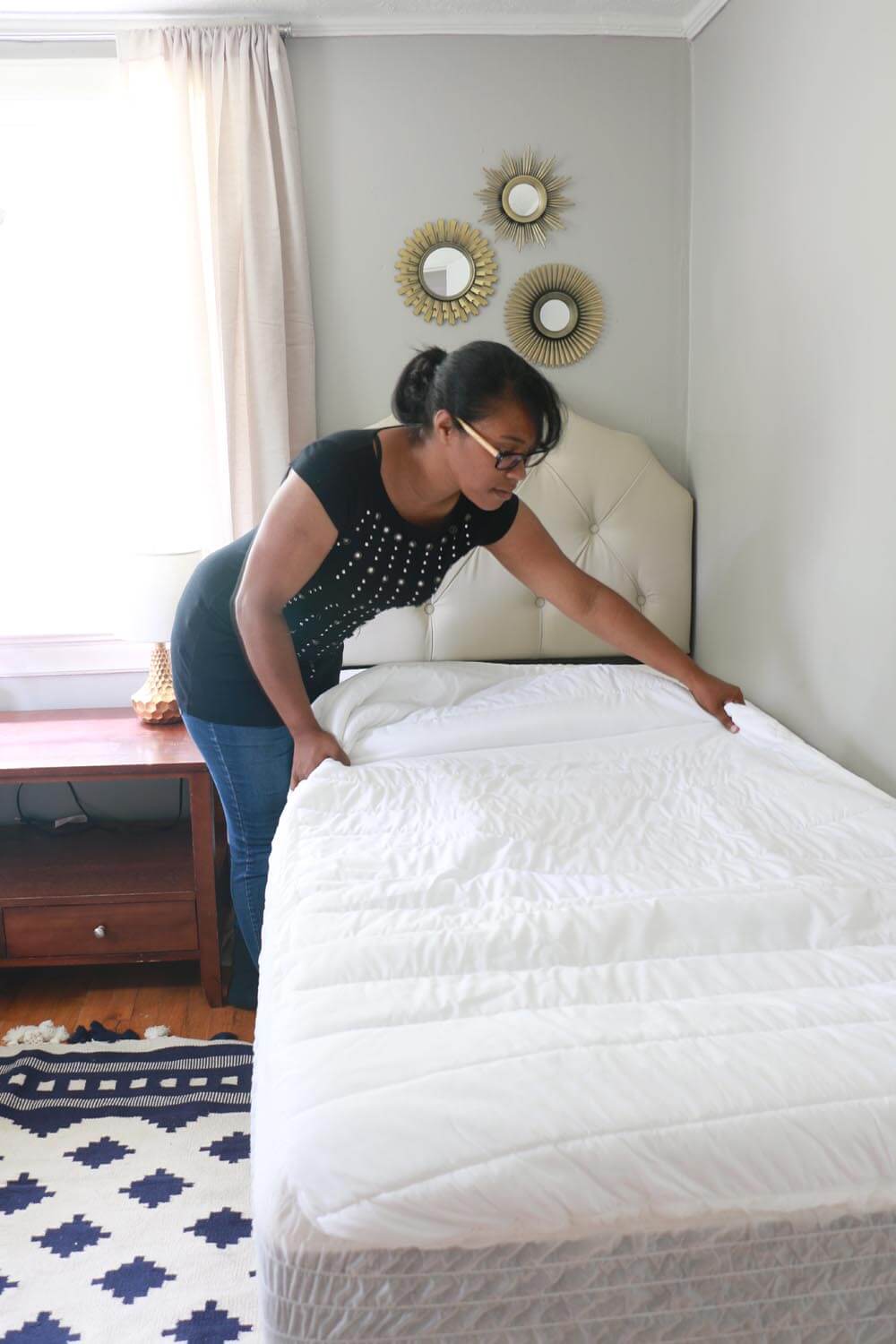 Once I got the beds set up (yep, even the mattress pad and sheet sets are the exceptional quality BHG brand), and the Better Homes & Gardens textured sheer curtain panels, I knew exactly what accents I wanted to use in the space.
Accessories Make A Space
I had this BHG mirror set in the dining room of the main house, but it wasn't quite the right scale in there…so I dashed up to the main house in a spark of inspiration, and wow! Isn't it perfect above the bed?!! Anything else would have been too big, but the scale was perfect.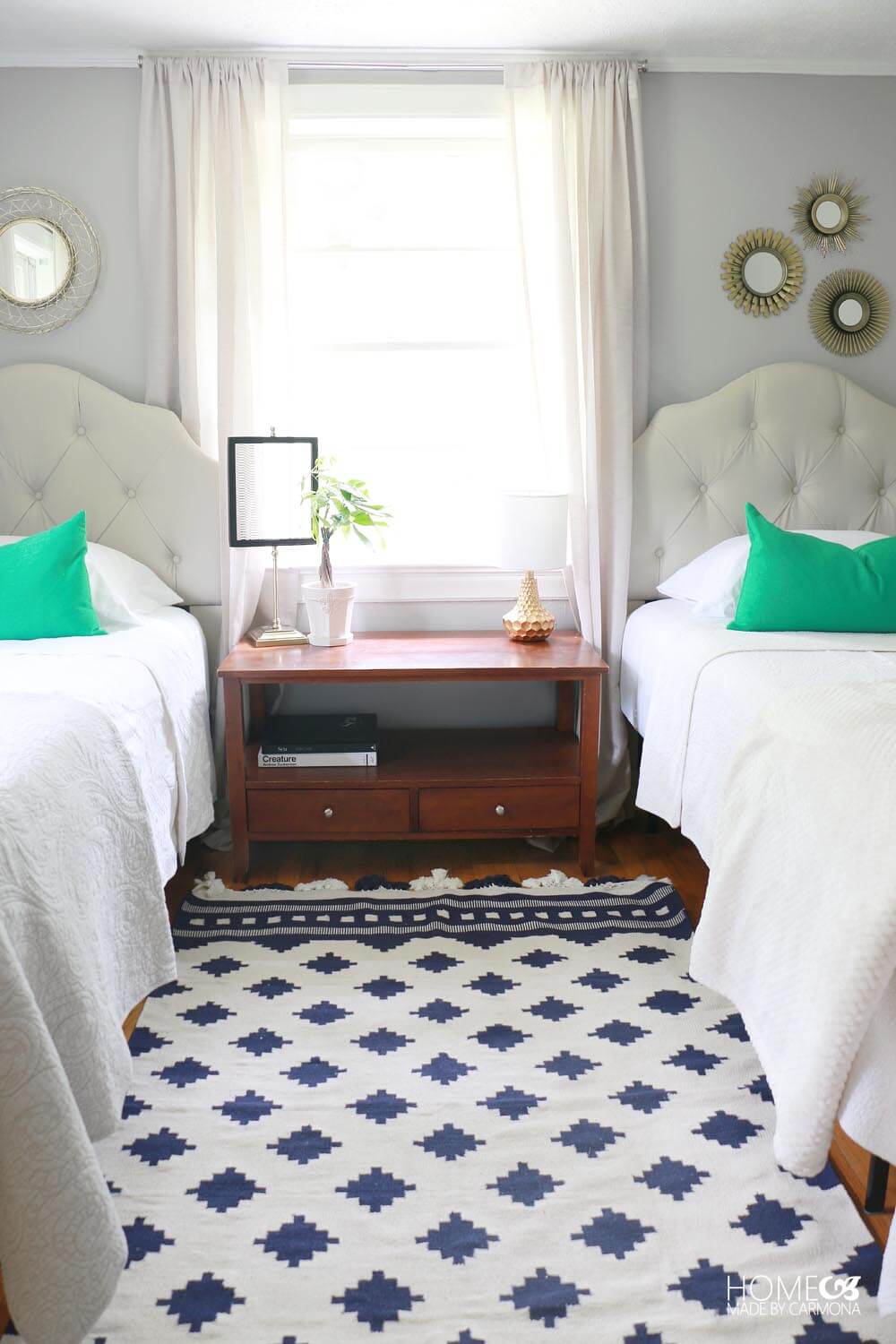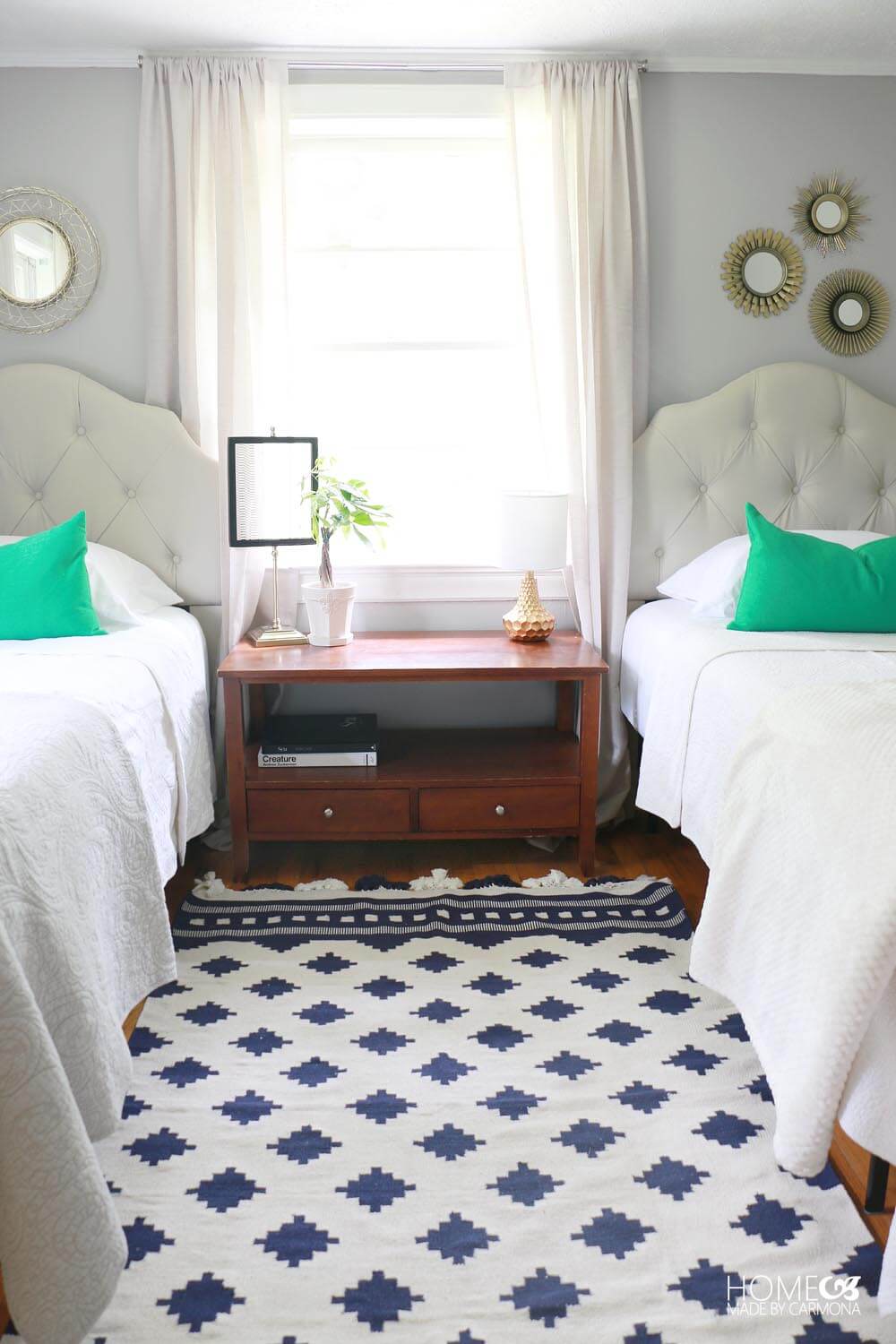 I thought some blue and green accents would be lovely with the little hits of gold too.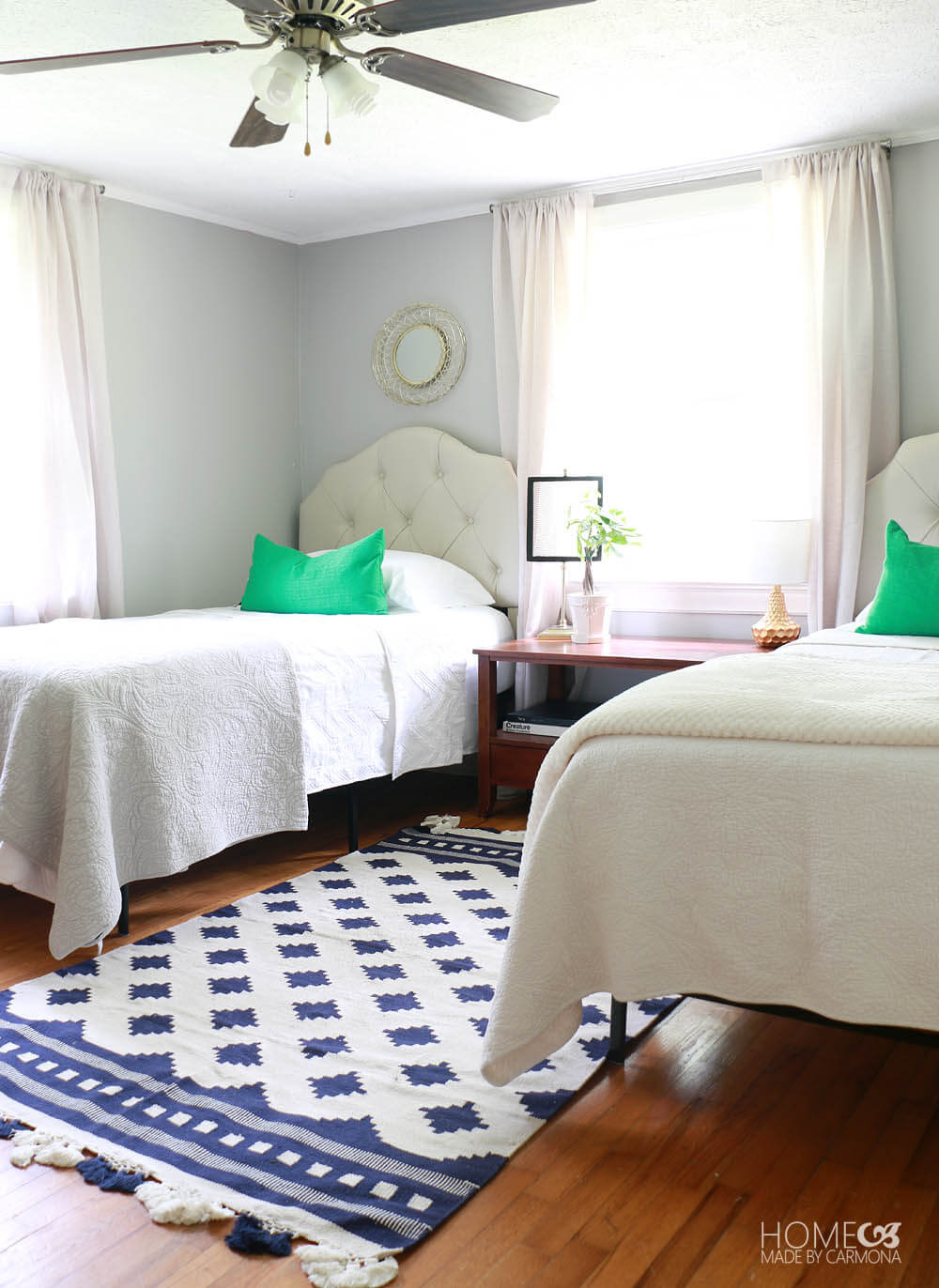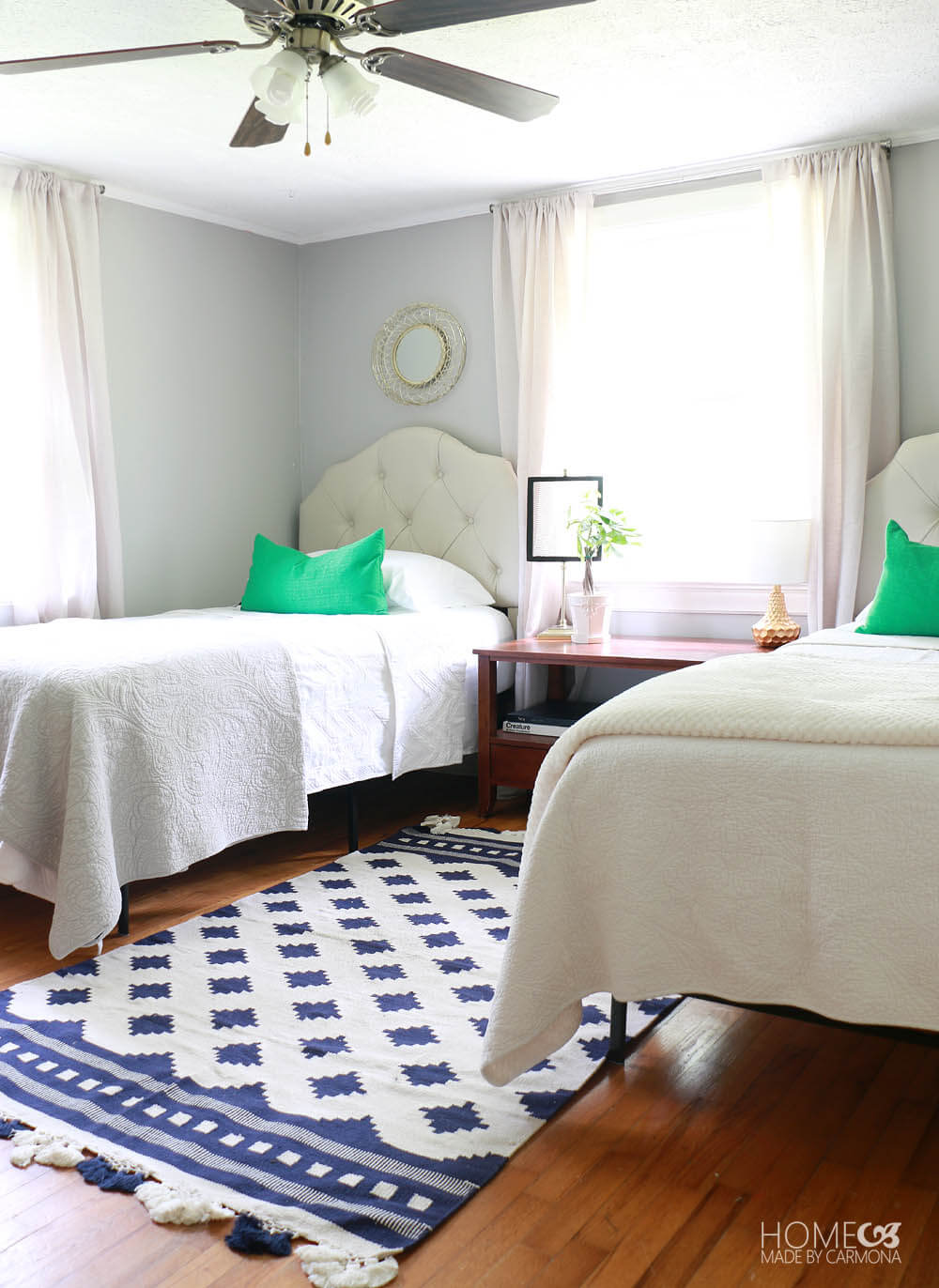 I keep walking past this room to catch glimpses of it, that's how much I love it! 😀 Maybe I should have done this makeover in the main house. But I have a feeling the girls have their own ideas for their bedrooms.


In time I plan to update the ceiling fan, and do something awesome with the closet, but until then, I think this twin bed bedroom is ready to receive guests! Maybe I'll be able to meet my self-imposed deadline of getting the cottage up on Airbnb before the end of this month.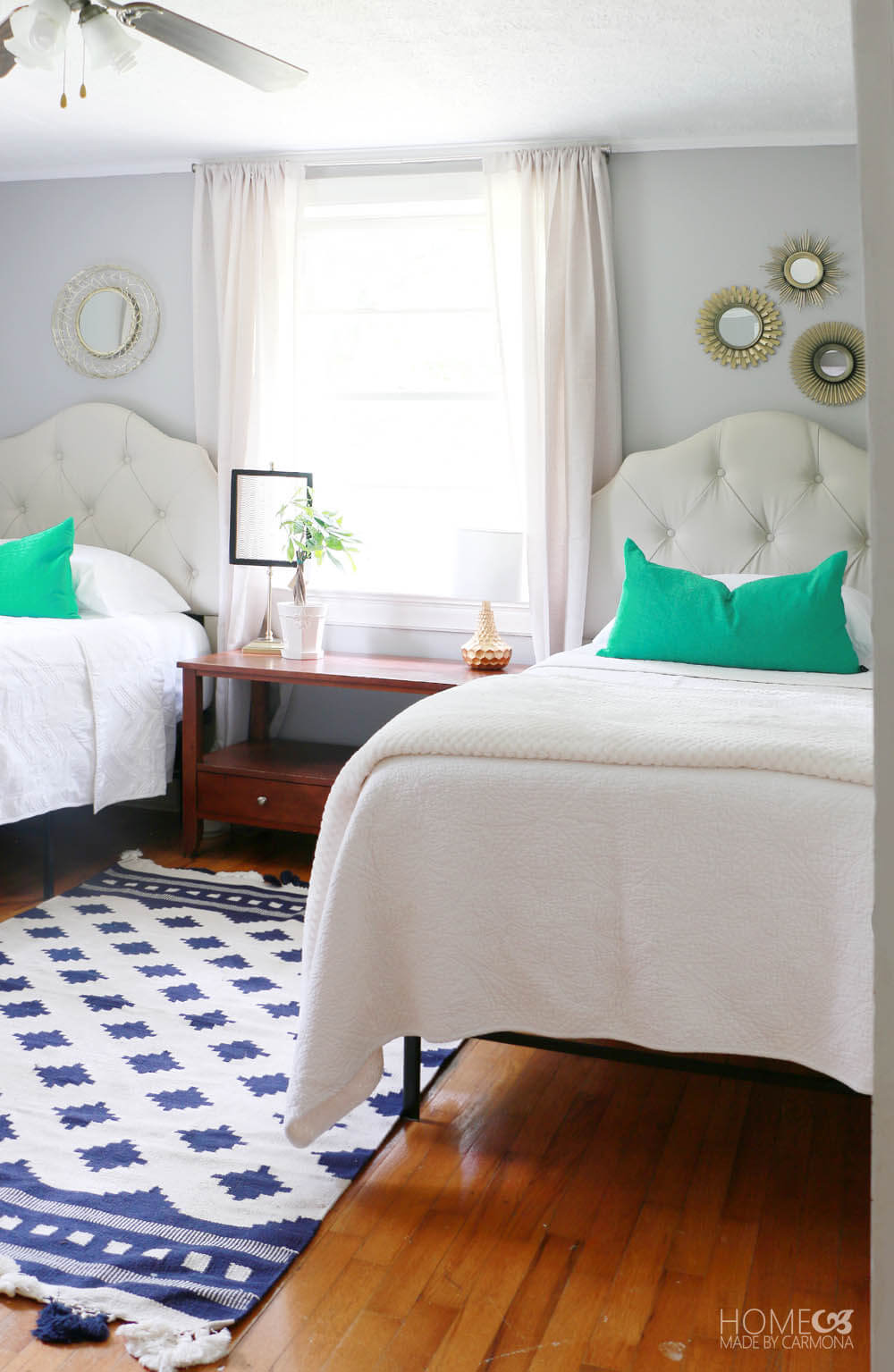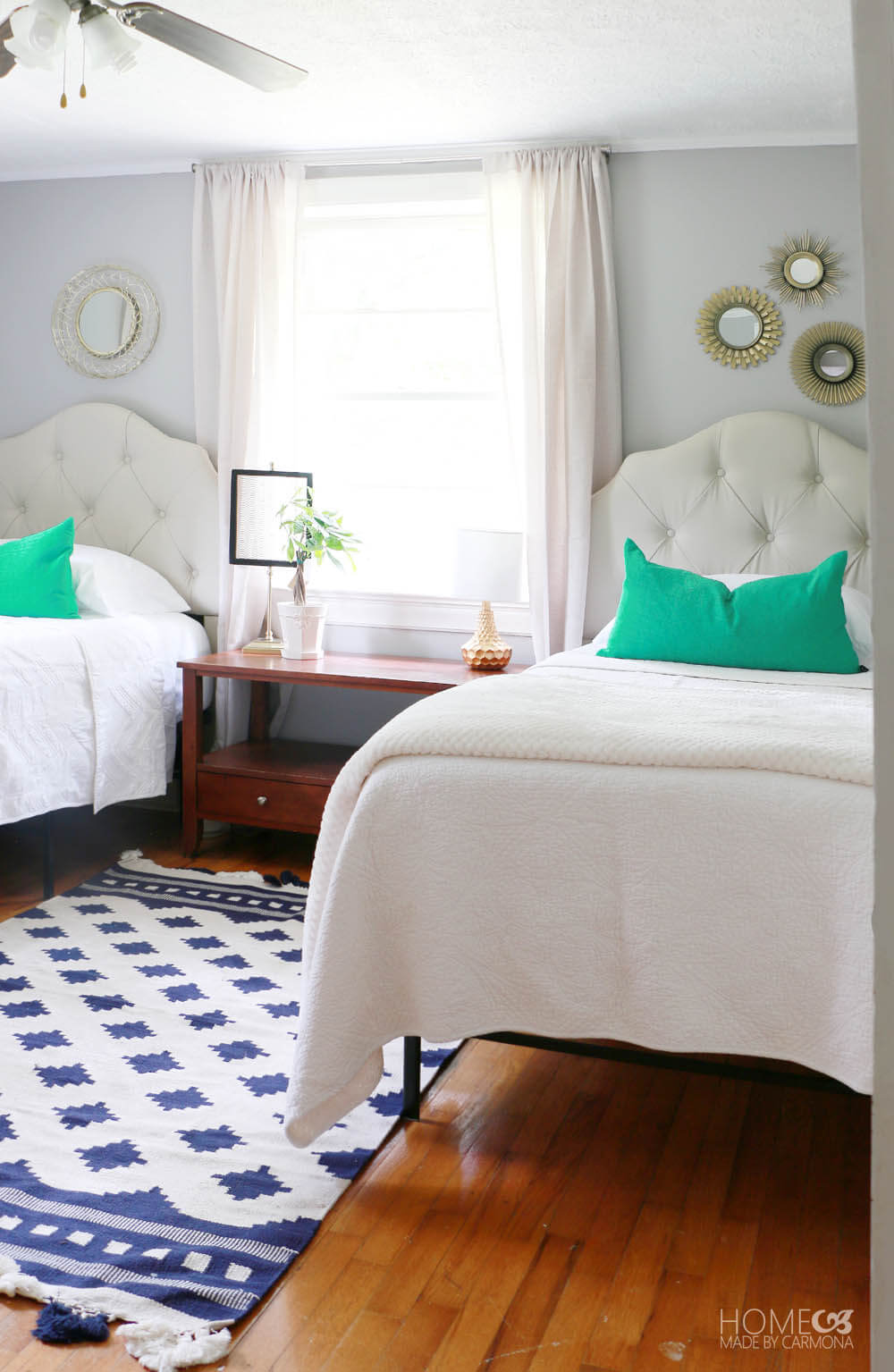 So what do you think? Would you stay in this cottage if you were passing through the area? Check out my cottage living room makeover, and the cute cottage kitchen makeover.
[left]*I am honored (and excited!) to be part of the Better Homes & Gardens Live Better network, and to share a few of my favorite products, projects, opinions, and my own original ideas with you. Thank you to Better Homes & Gardens at Walmart for sponsoring this post. Follow BHG Live Better on Facebook, Twitter, Pinterest, and Instagram.[/left]
[right]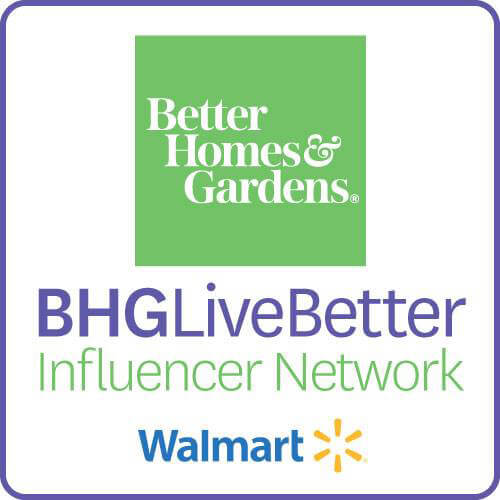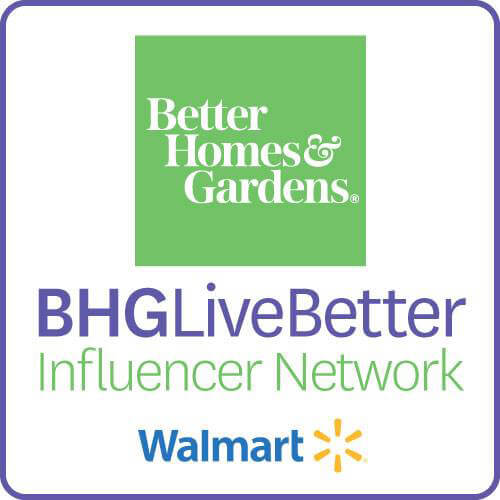 [/right]


[go_portfolio id="decorate_landing_page"]