The piano is often the odd piece of furniture in the room. Necessary when you love playing music, but doesn't always fit well into a space.
We've got 10 amazing examples of spaces that have worked it perfectly into their decor and even made it a focal point!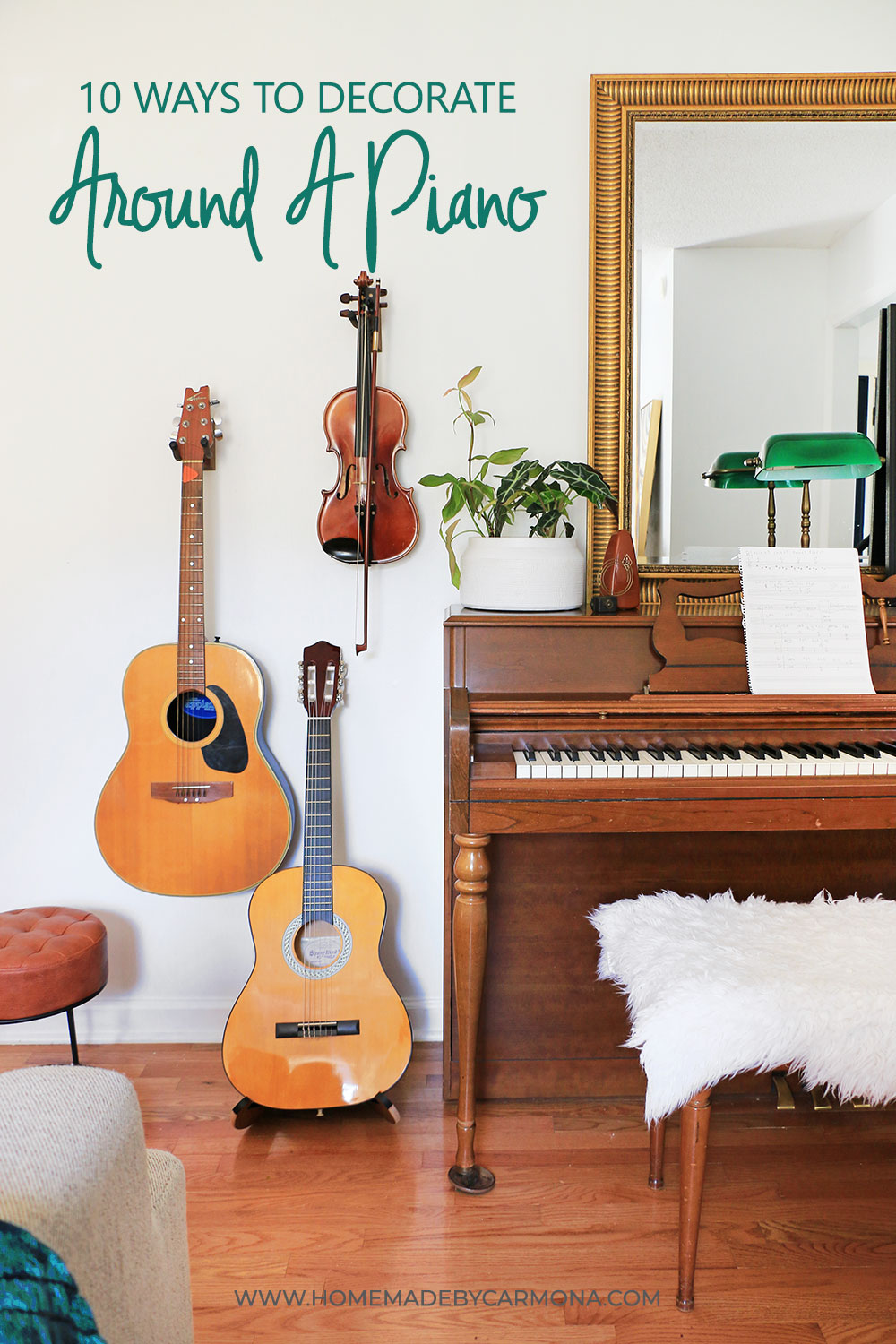 Each space demonstrates what a little care and thoughtful decor can do. We're crushing on these spaces for a lot of reasons…everything from the accessories, to the art, to the plants and beyond. But who knew an instrument could become the greatest piece in the space?

Make It A Showpiece
The decor around the piano may be minimal in the home of Helen Rice (as shared by Anne Street Studio), but there is something appealing about the open base where you can see all the strings, and a simple plant cascading down the top.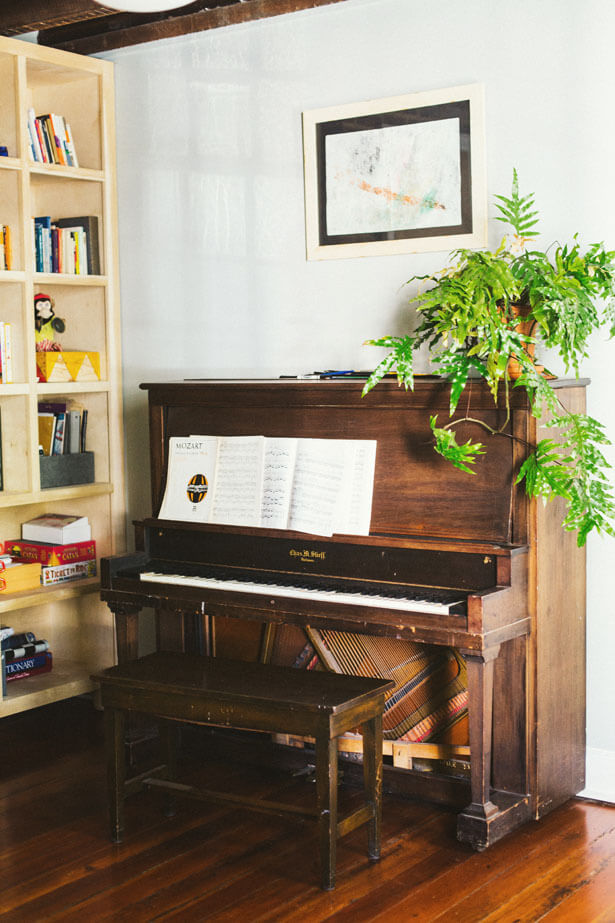 Add Textural Elements
We're loving all the use of texture via the lambskin, plush rug, throw pillows, and geometric lamps. Also, don't be afraid of the process! In this blog post, Megan of The Blush Home allows us to take a peek into her living room and the process of decorating around her piano.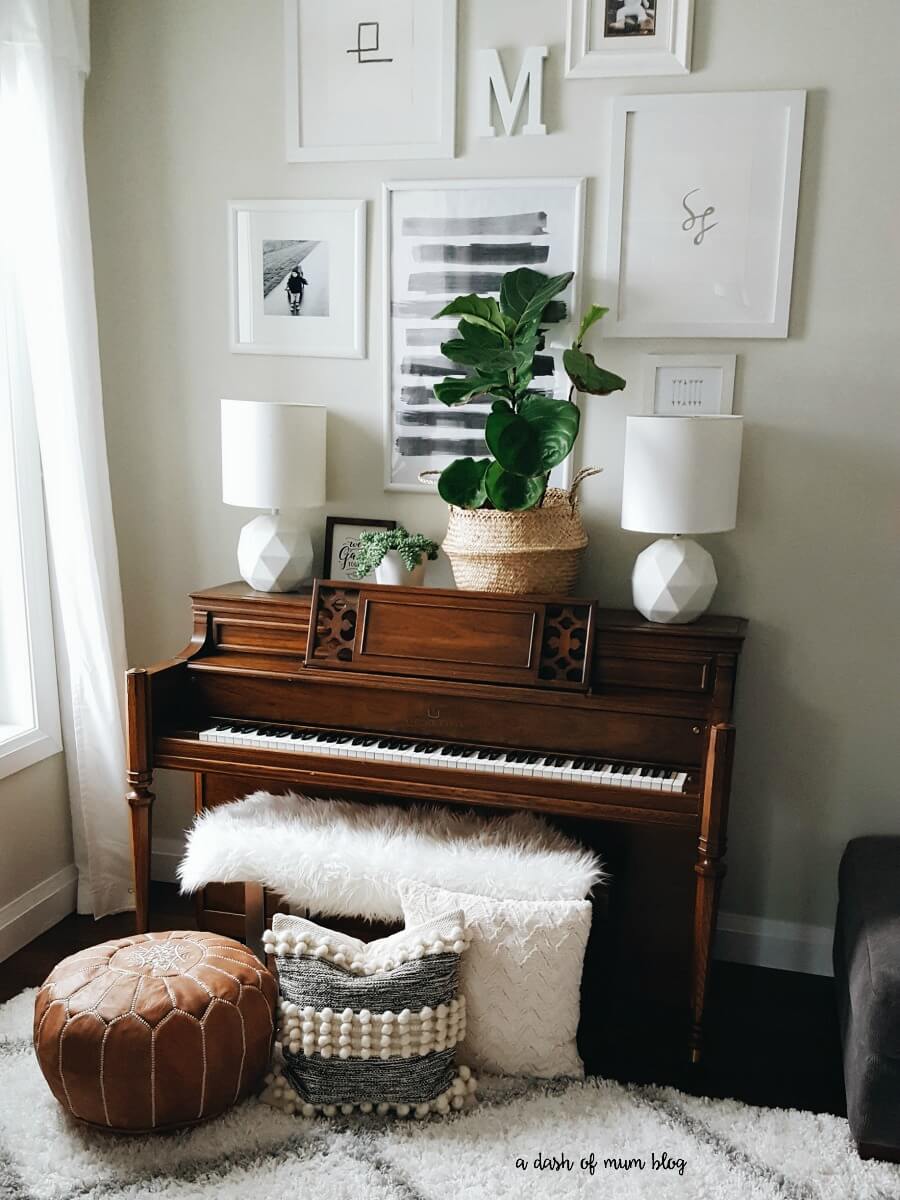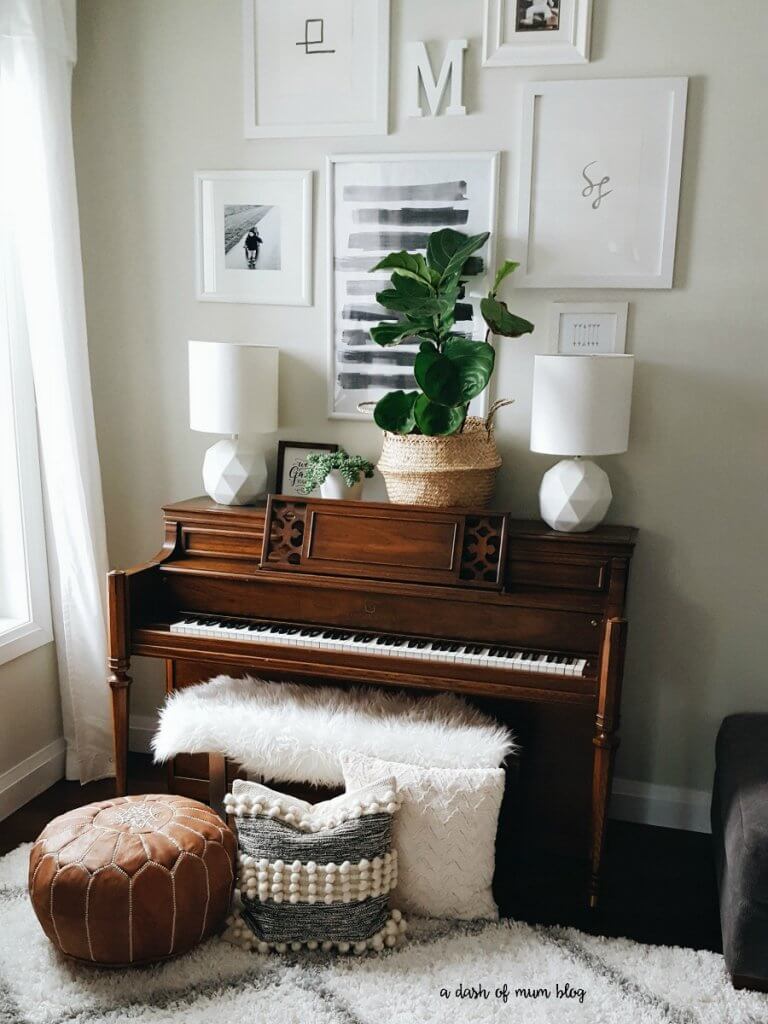 Decorate Immediately Adjacent Areas
Don't neglect the areas immediately adjacent to the piano. The clever use of two rattan poufs styled nearby adds to the charm of the space. And the floating shelf is a genius way to add a display in addition to anything sitting atop the instrument! See more of this stunning space on Kristina Lynne's blog as she goes into detail about her piano styling.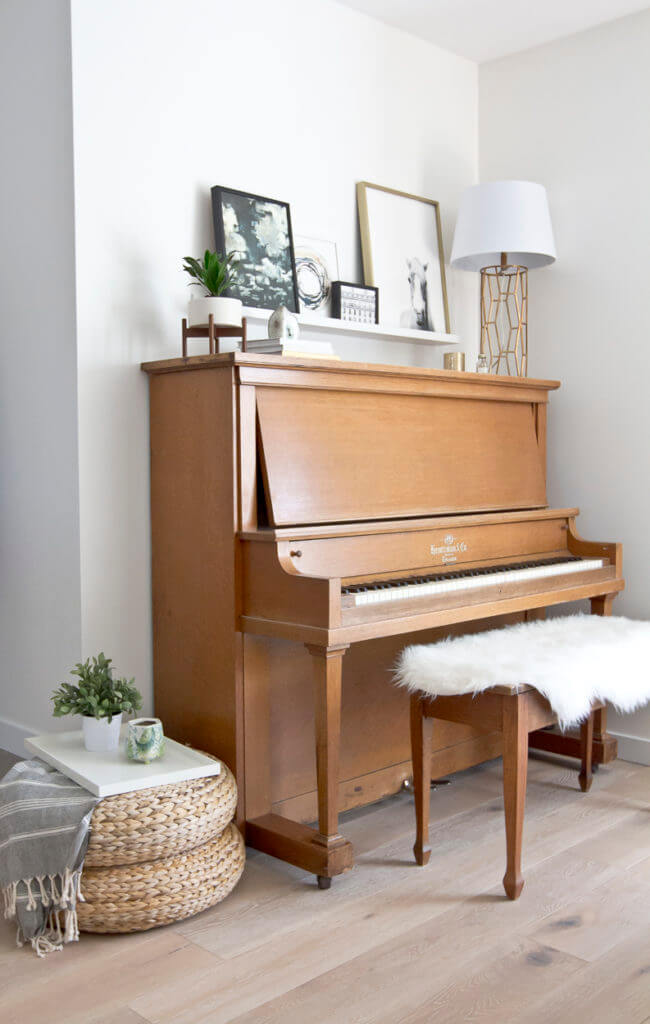 Make It Pop Against Dark Walls
The home of Emily Clark has been a source of inspiration for years, and this room is no exception! The beautiful mahogany wood really pops against the black walls, and the family photo gallery wall really gives visual interest. Plus this space gives us permission to use a light other than a piano lamp which makes for a great statement!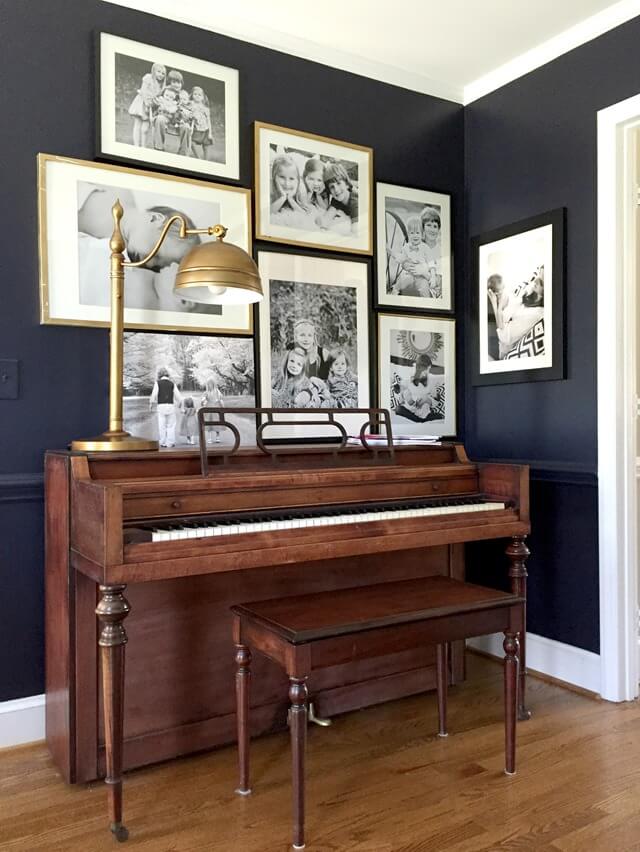 Accessorize It
Creating a balanced arrangement of artwork, greenery, and accessories makes the piano a focal point in a room. This stunning perfectly styled space by Lauren Conrad (as showcased by My Domaine) gives us inspiration for days!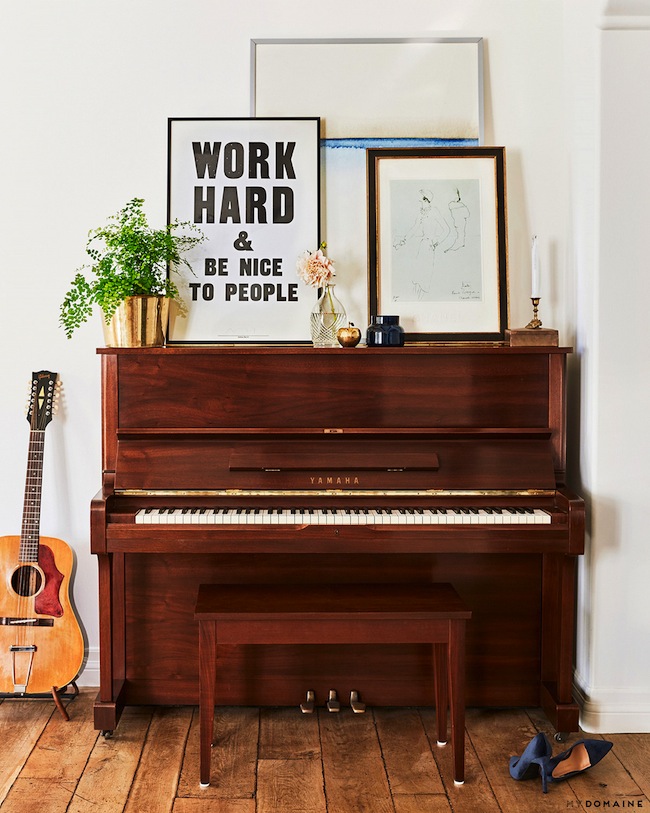 Paint It & Add Metallic Accents
Jessica Garvin's styling is less about what is around the piano, and more about the piano itself! Try making it a focal point in the space by giving it a color that makes it stand out from the rest of the room! And take note of those gorgeous brass accents.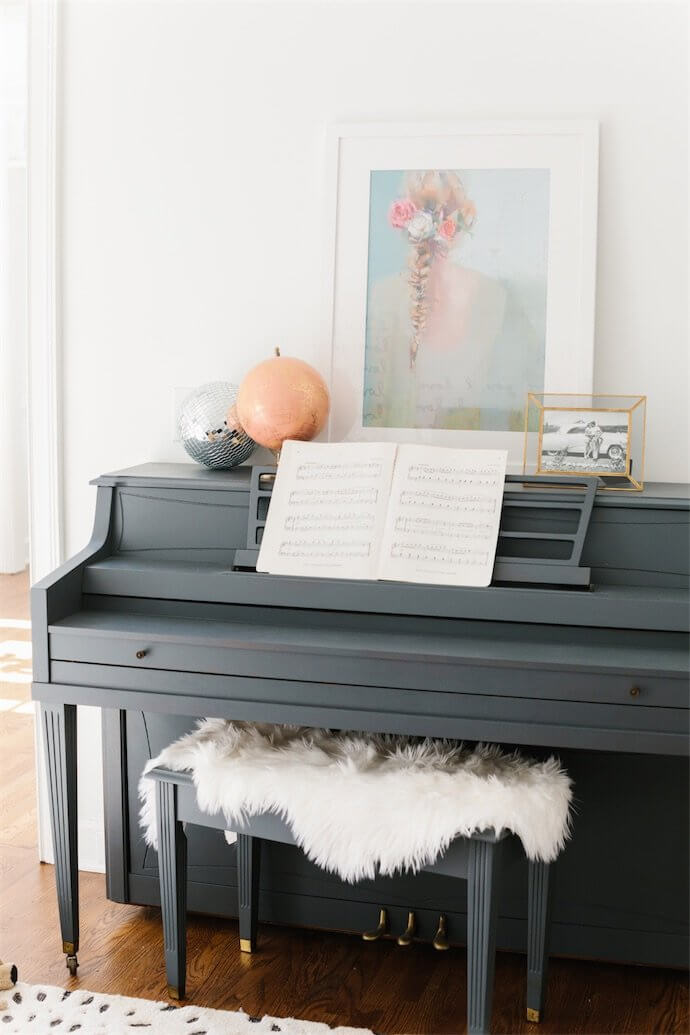 Add Moldings & Art To Direct The Eye
The architectural columns and wall molding give a stately look and help direct the eye to the piano as a focal point. Of course all the finer design details executed by Helen Sturesson and that gallery wall in blows us away!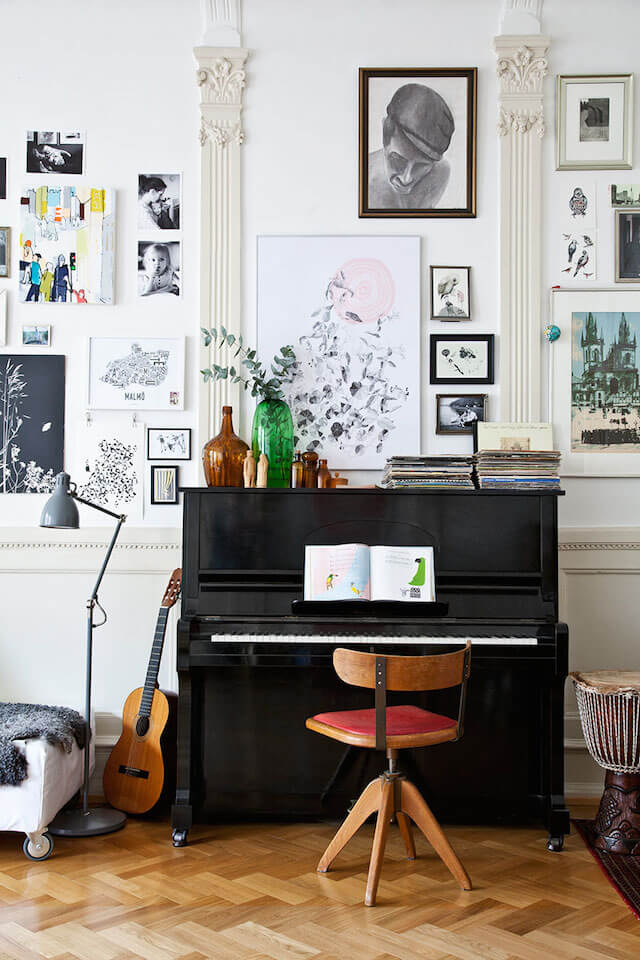 Put It In A Cozy Nook
Have a little nook? Why not put an instrument in there! The Home of Hanna Nunn (as toured by 91 Magazine) goes to show that it's okay for your piano to steal the show and make for a cute little nook.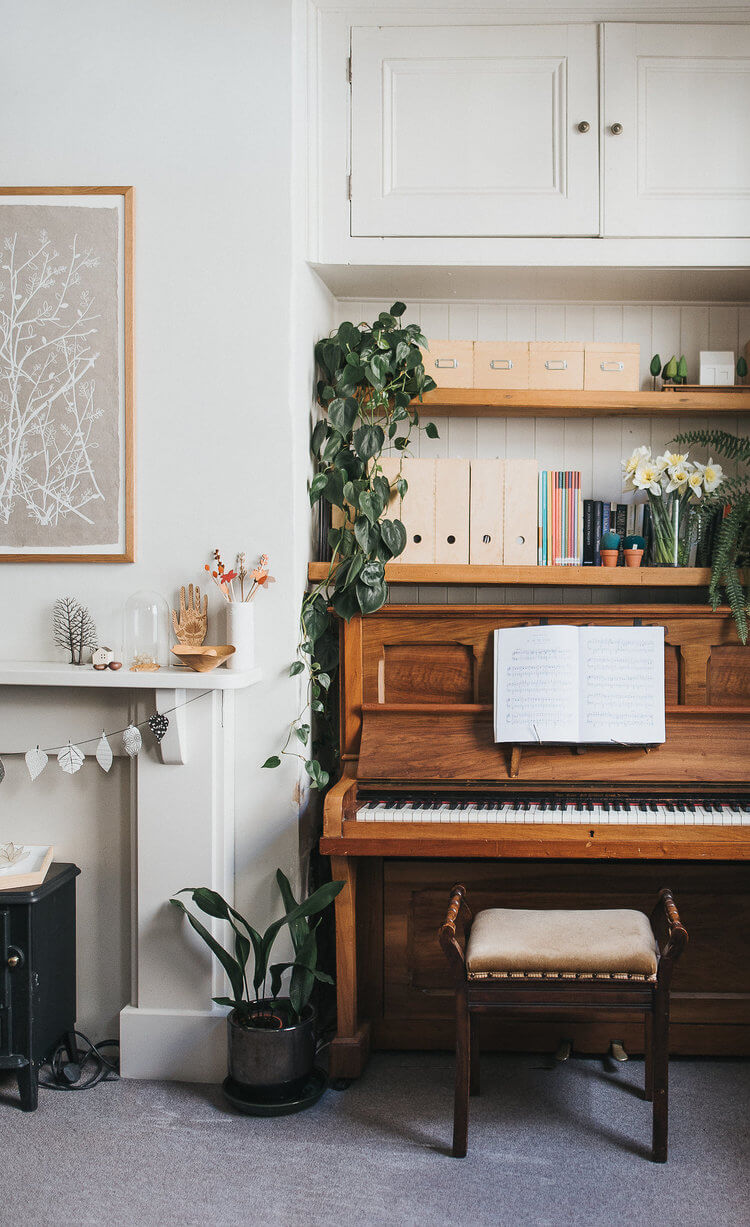 Add Simple Unique Pieces
Not all styling has to be big or busy as demonstrated in the home of Grace Rosenstein (via Cottages & Gardens). Add a few well thought out pieces scaled perfectly to balance the piano. We love the unique bench, large scale art, and earthy accessories!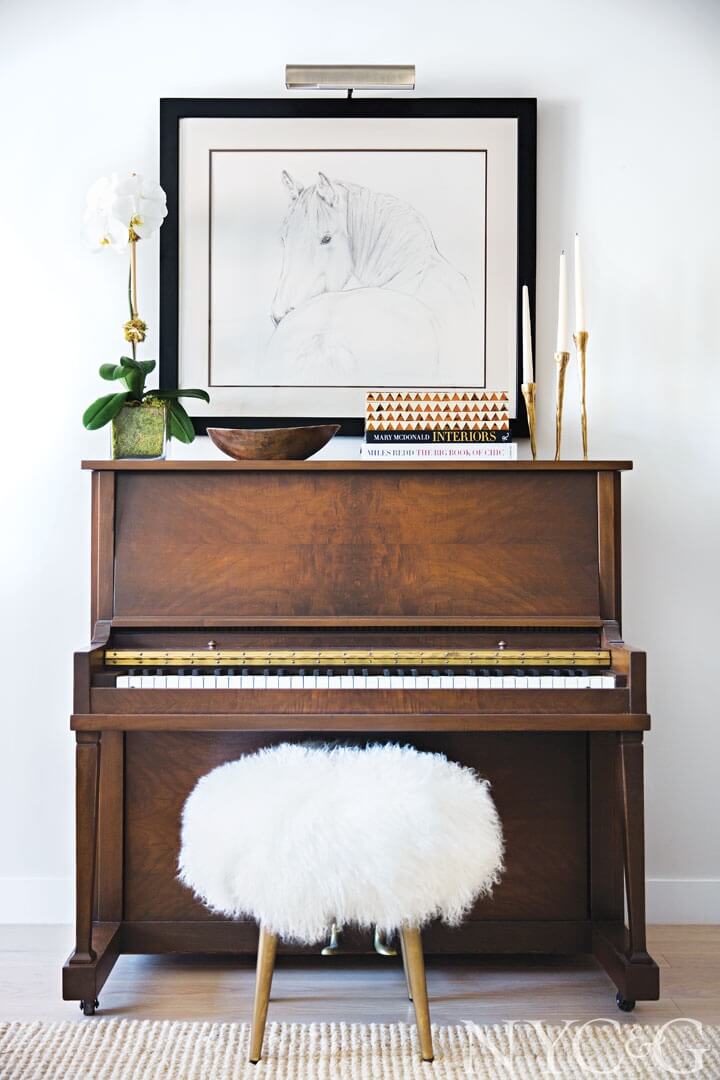 Hang Other Instruments Around It
Finally I thought I would share my own space. While it is a work in progress, I loved the idea of creating a music corner. Hanging our guitars and violin around the piano makes it easy to access, encourages us to practice, but also adds to the wall decor around it.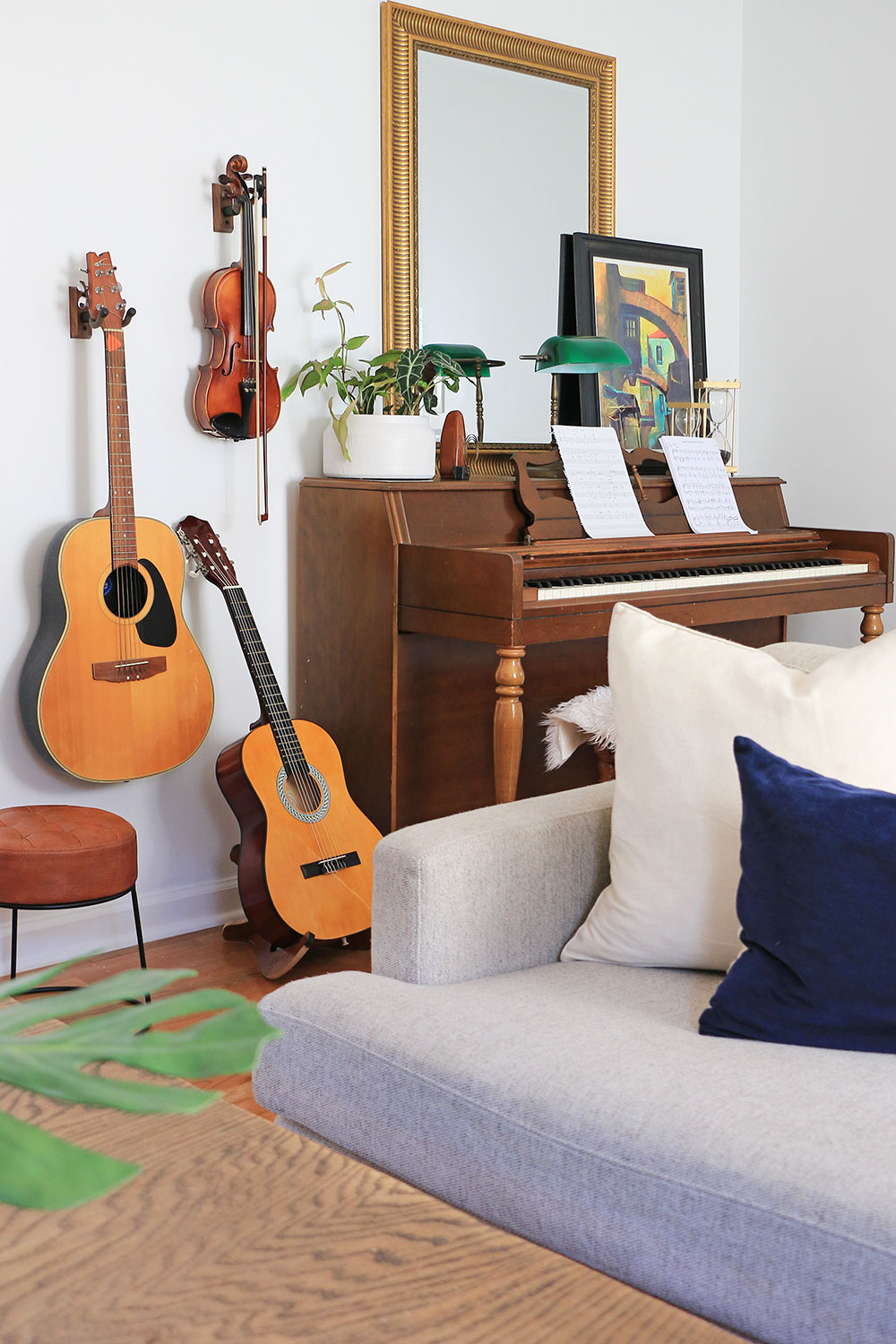 Want to see more amazing music rooms and inspiration for piano styling? Follow my Pinterest board Music Rooms | Piano Styling!


Love decorating ideas? Check out this post on 8 Stylish Ways To Protect Your Furniture.