With a little bit creativity you can redecorate an entire room on almost nothing! Style on a budget using these tips.
Just because you are on a bare bones budget doesn't mean you can't have a beautiful and stylish home. Like this dramatic living room makeover on a slim budget.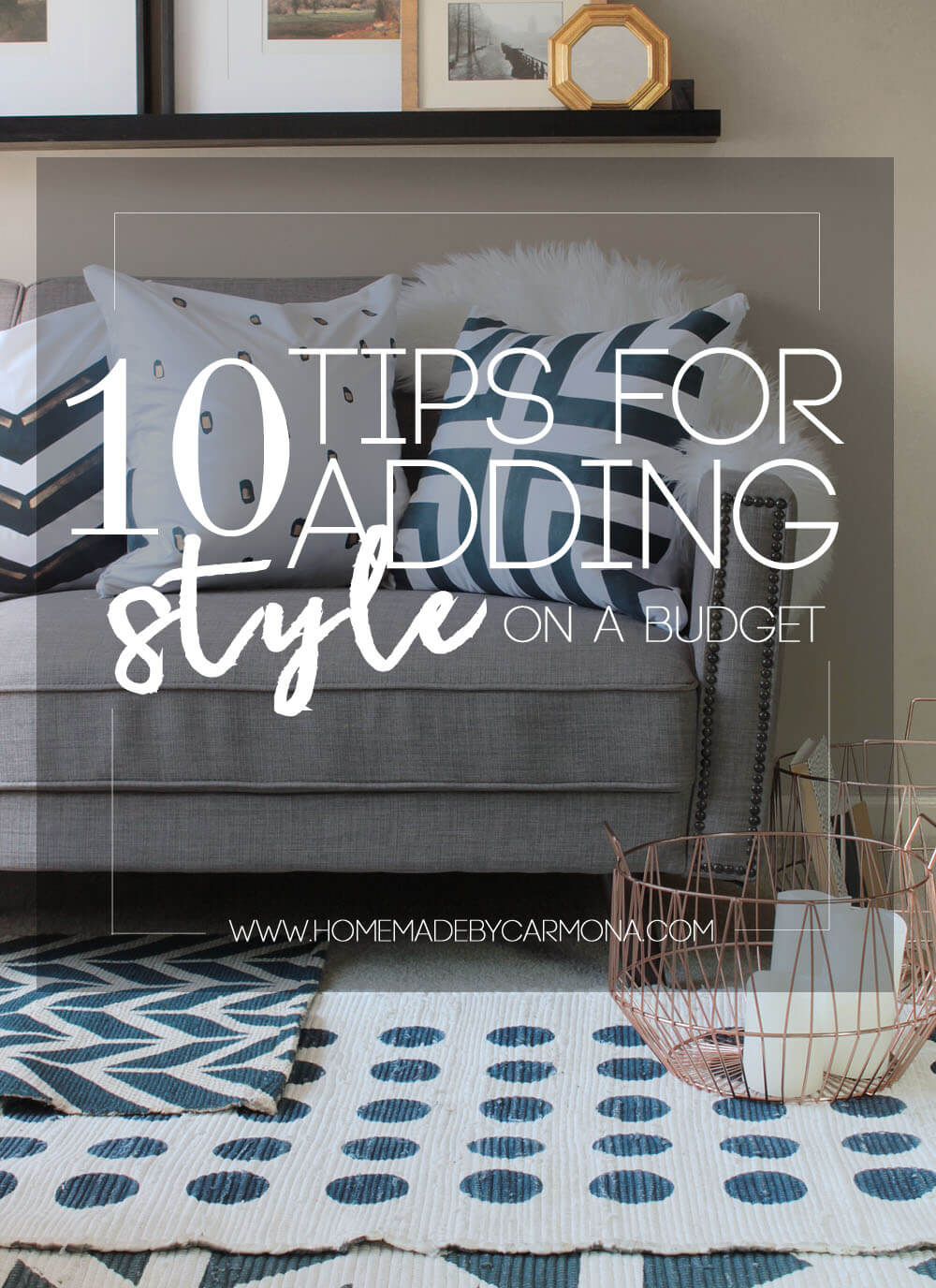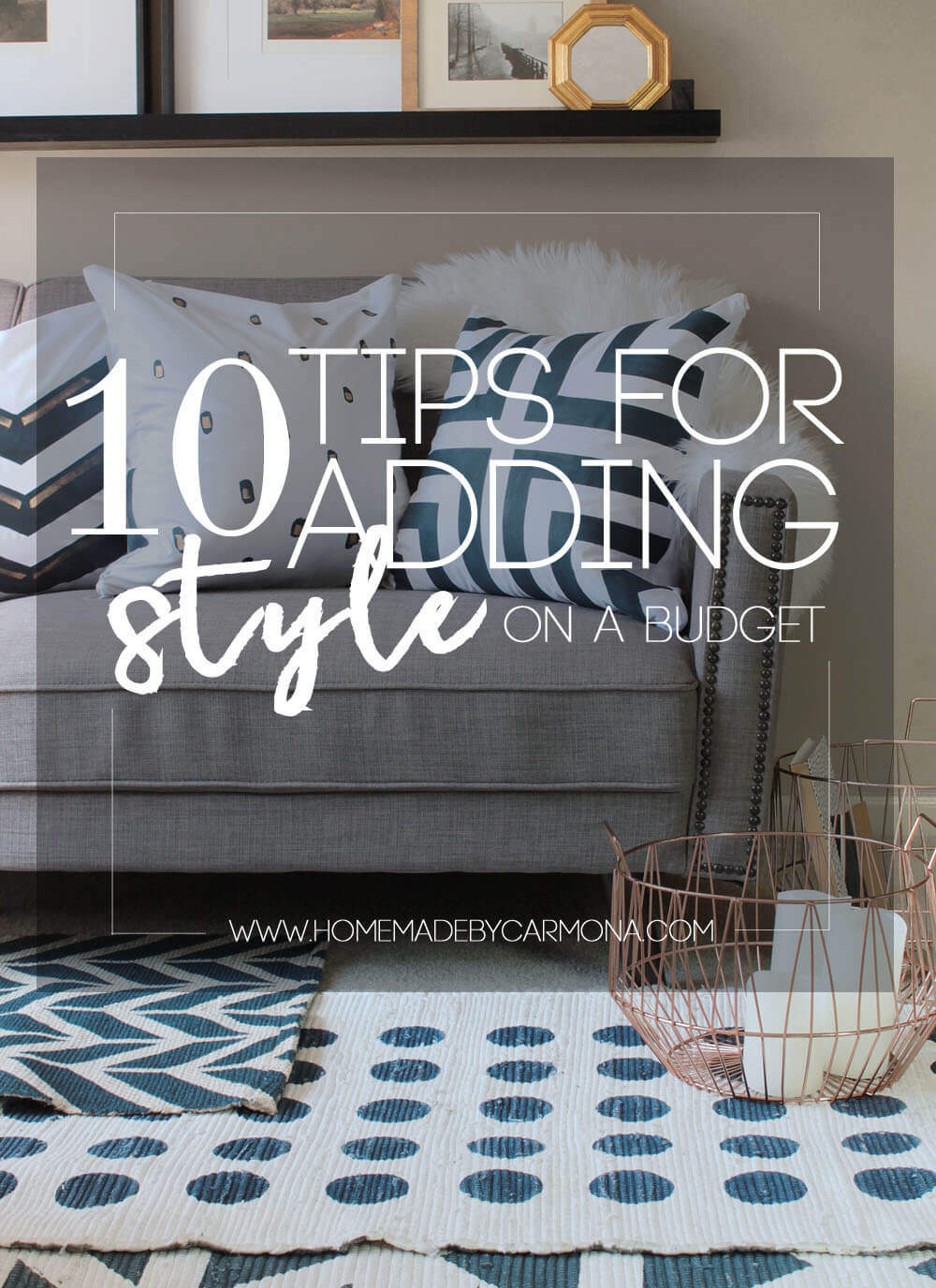 *This post is lucky to be sponsored by FrogTape®. Ooooh yeah!
Style On A Budget
Trust me, I've spent a lot of years pinching my pennies, and spending almost nothing when it came to decor. That meant learning to love what I already owned and updating freebie finds to look as good as new.
As a matter of fact, with a little bit of creativity, and a lot of elbow grease, you can redecorate an entire room on almost nothing. Just the cost of a little paint, and a few supplies, and you won't even recognize your old ugly spaces.
Refresh Your Walls
Paint is a powerful force in any makeover. And the great thing is, it doesn't cost a lot of money. However you like your spaces, light or dark, neutral or filled with color, paint will go a long way to create your desired style. I enjoyed this room both ways…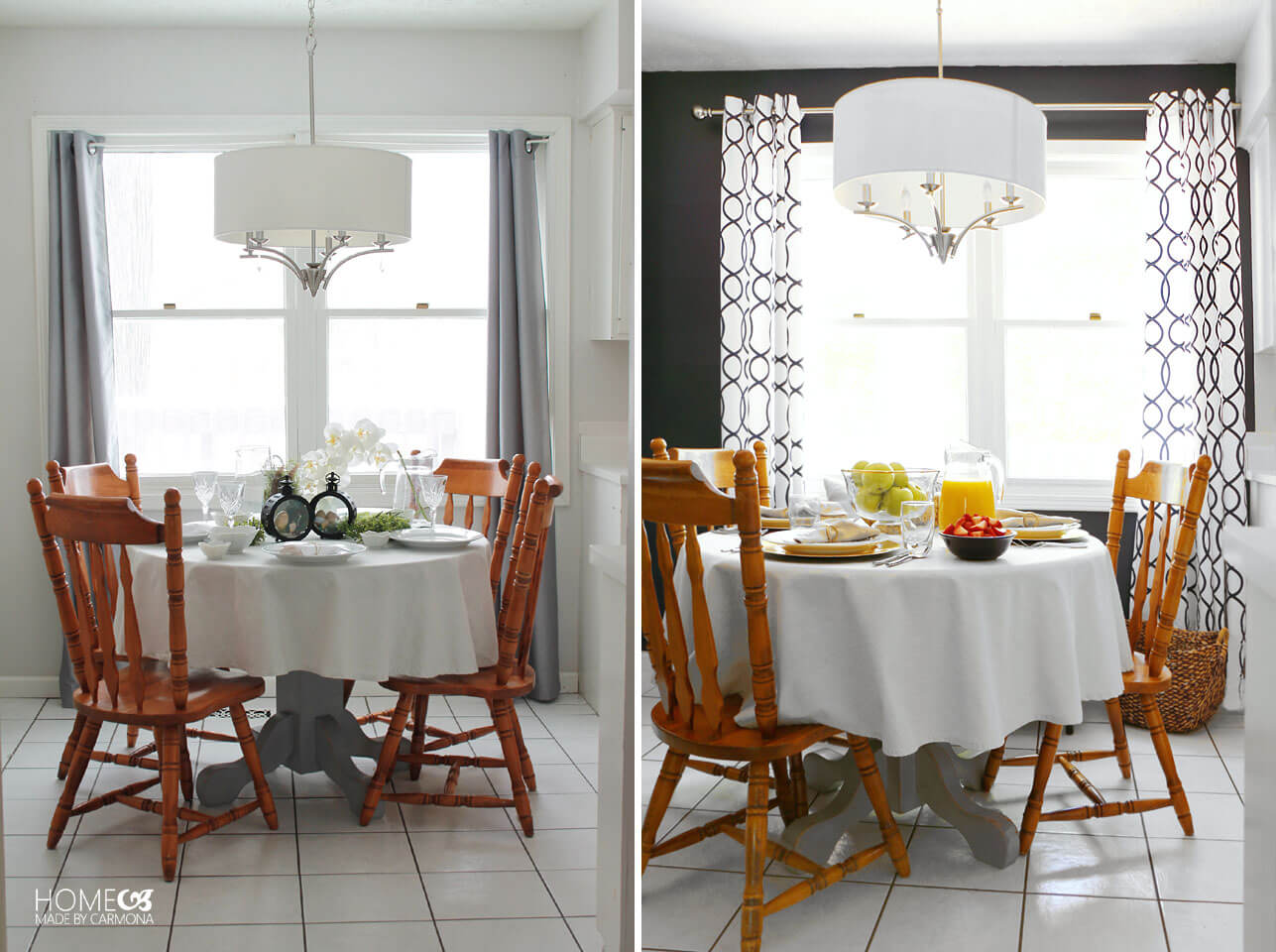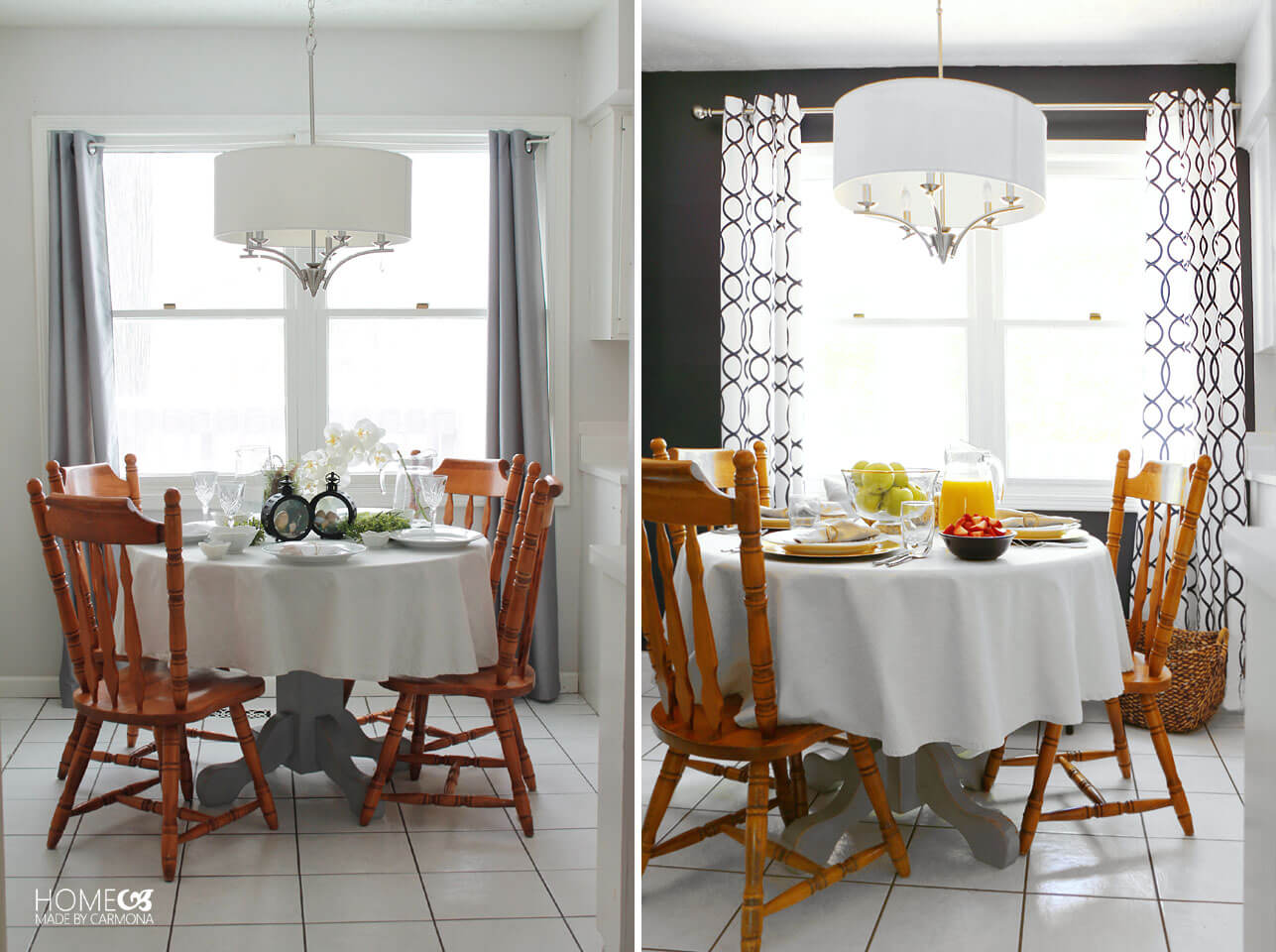 Whether you are doing a regular paint job, or adding some design to your walls using FrogTape® or even stenciling your walls to look like wallpaper, the impact can be dramatic.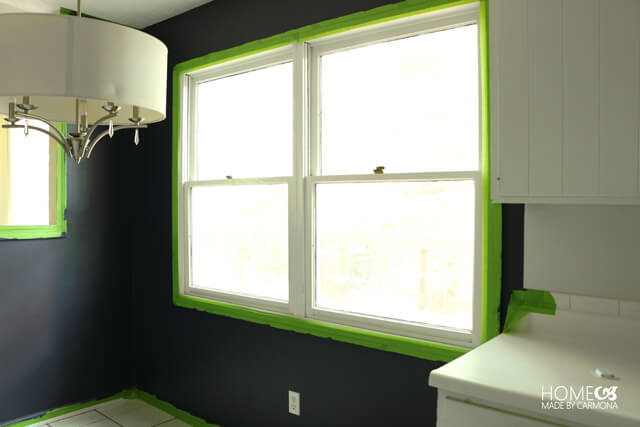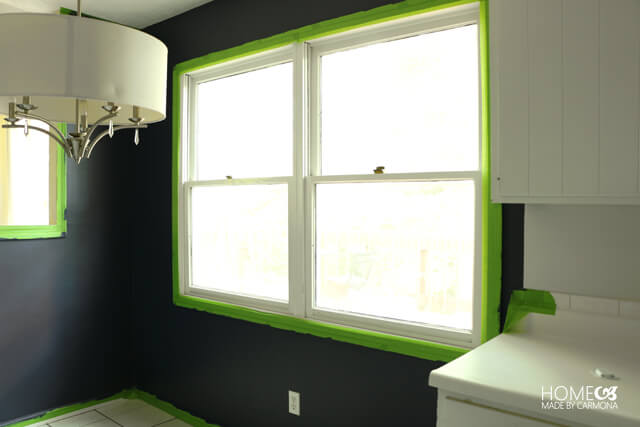 Money Saving Tip: Look in the mis-tint section of your store for gallons of paint that are marked down (sometimes 50%!). Someone else's mistake or color regret could be your win! Remember, mis-tints aren't only ugly color mistakes, sometimes it is a return, or the color wasn't exactly the right hue for some other customer.
Paint A Pillow Cover
Walls aren't the only thing that can be updated by being painted. Did you know you can paint on fabric too?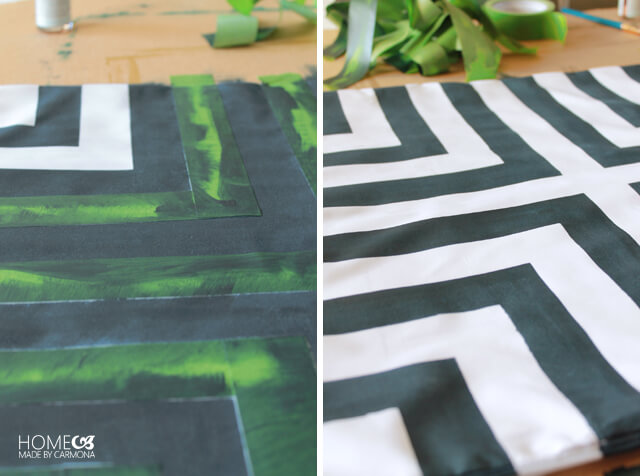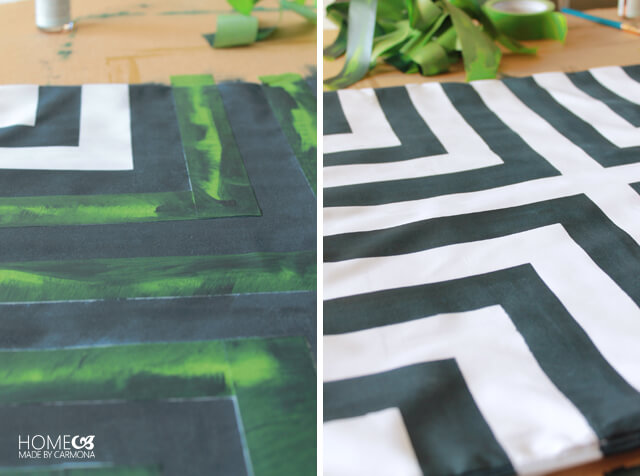 I like to add design and style by changing out the throw pillows in a room, but throw pillows can cost an arm and a leg! Instead stylize a plain throw pillow with all-purpose paint. A tube of paint typically costs under $2, and you can paint several pillows with just one!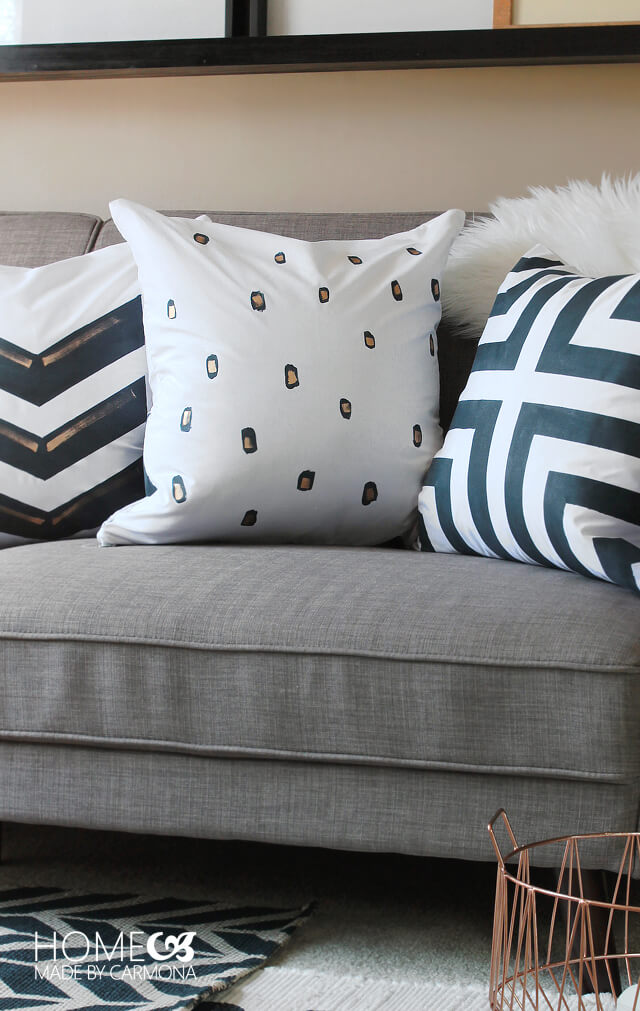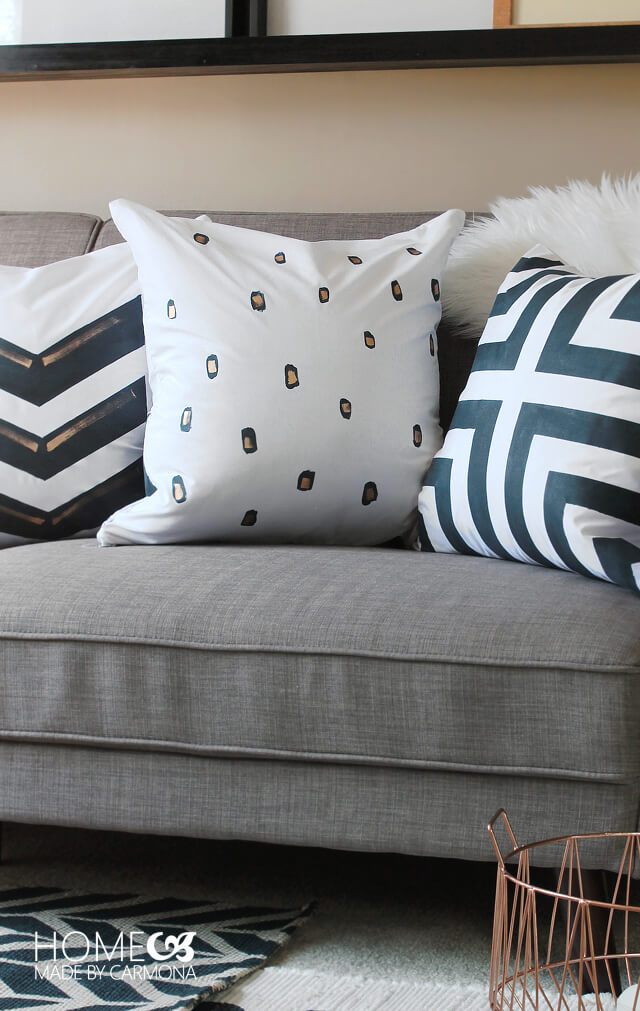 Money Saving Tip: Don't buy a throw pillow case and insert, it will cost more than a normal throw pillow! Instead use my DIY instructions found here to turn your bed sized pillows (use the ones that went flat) into a throw pillow.
Paint A Rug
While you are busy painting pillows, use that same all-purpose paint and whip up some serious style for that plain rug you own. Create new designs using FrogTape® , or you can  bring life back to an old faded rug! Learn how to paint fabric here.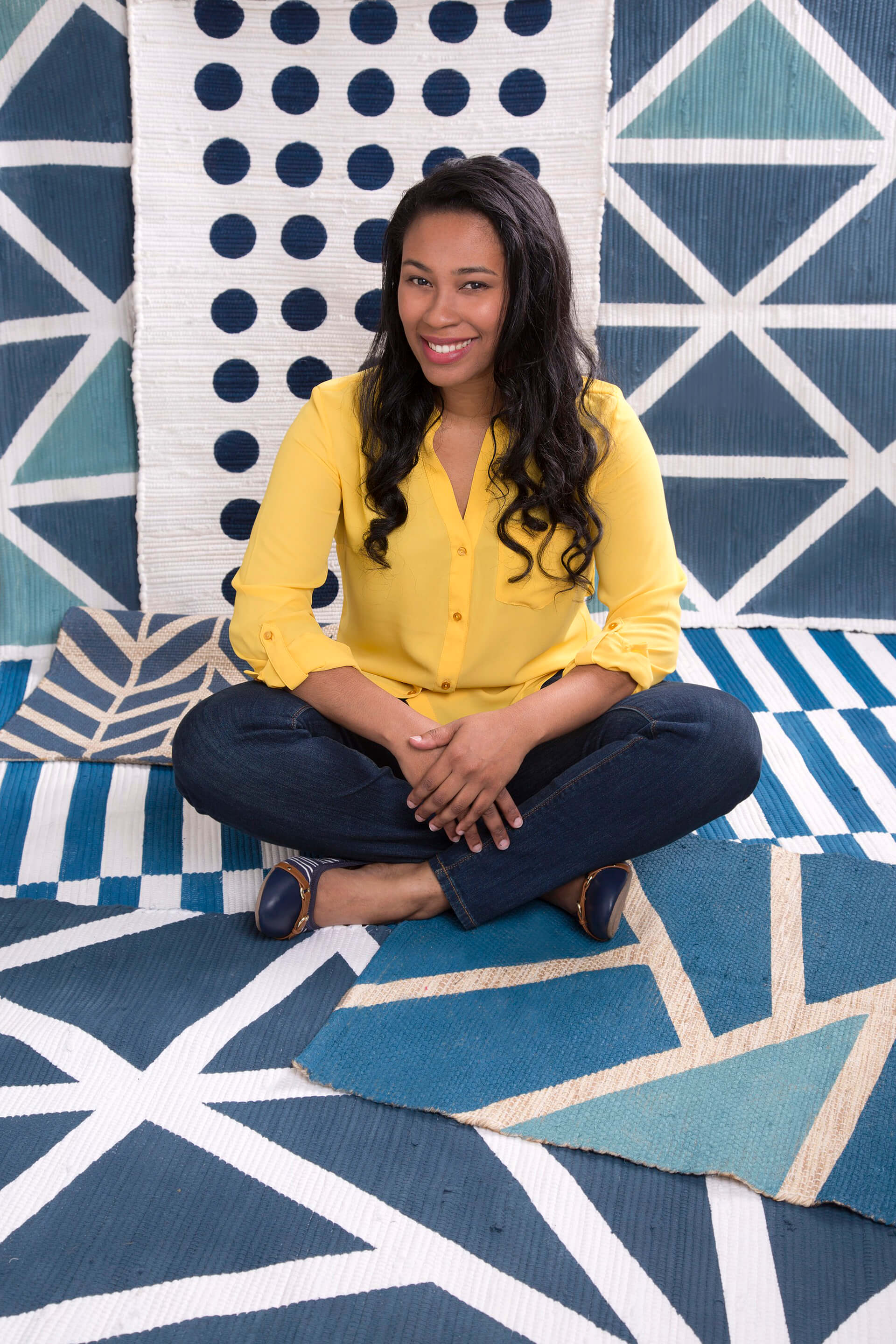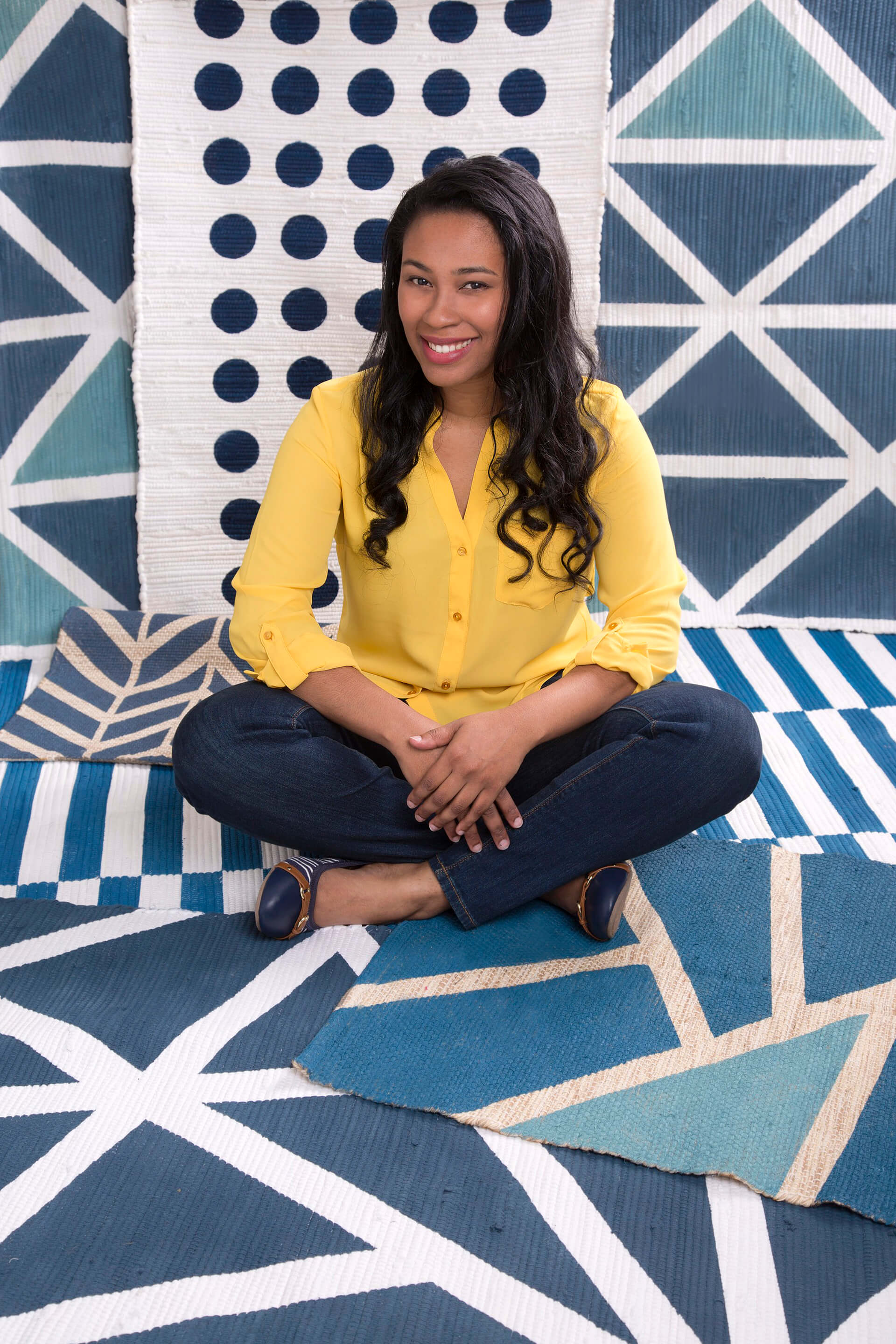 Money Saving Tip: Don't have a plain colored rug to paint? Look for ugly designs that didn't do well and end up being sold cheap, often the back side will be plain white…paint and display that side of the rug or mat with the ugly design face down! Sometimes (depending on the design) you can even paint over it.
Make Your Own DIY Art
I love a big ole gallery wall, but it can become expensive fast. Why spend big bucks on a fancy print when you can make your own modern art with just a little bit of FrogTape® and some paint? I have great tips for making a variety of art types here.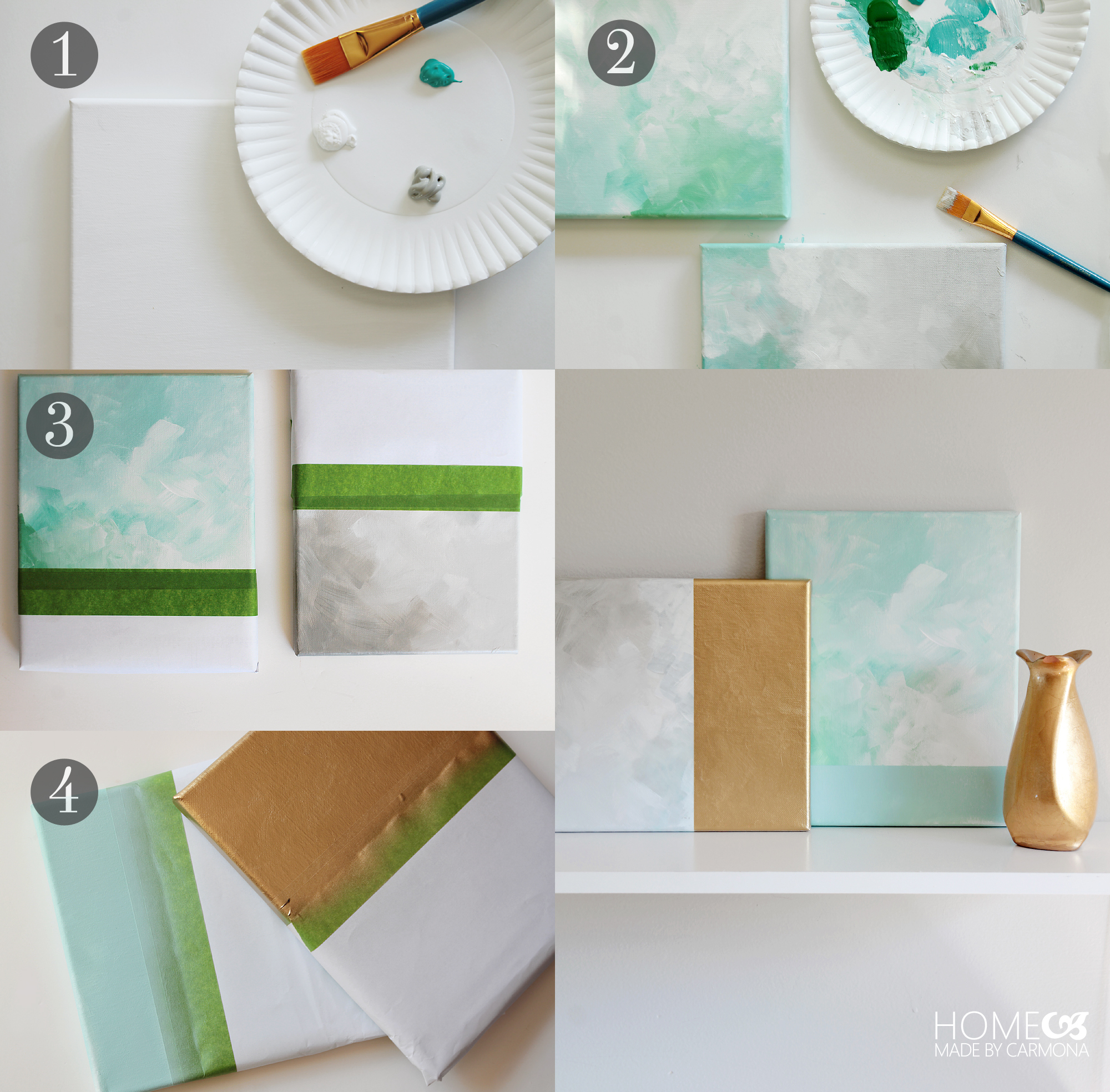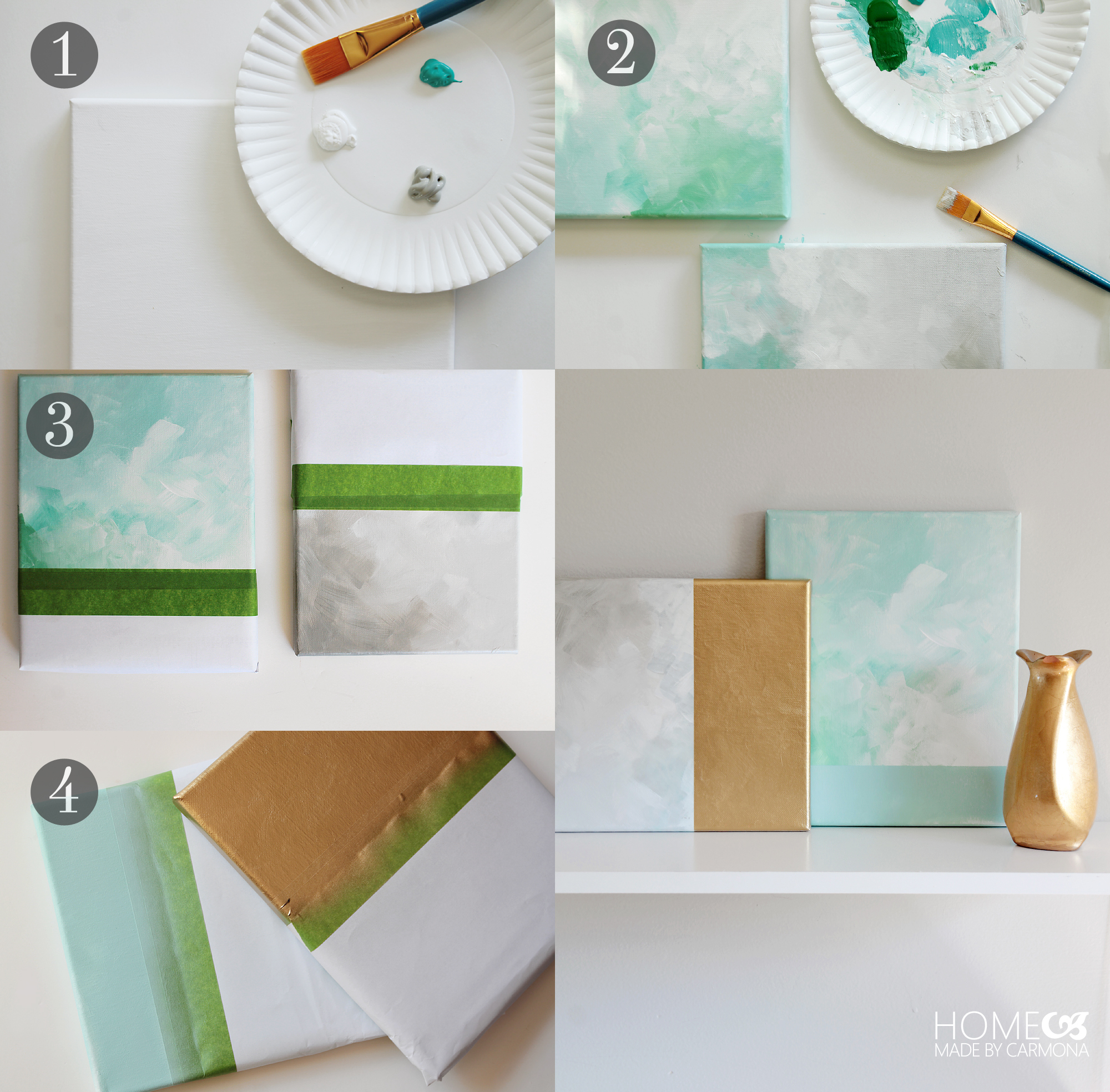 Money Saving Tip: Don't buy new frames, buy thrifted old frames and give them a paint job. Or make your own floating frames for canvas art.
Give Your Light Fixtures & Lamps A Makeover
Are your upright lamps starting to lean funny, and your ready to trade them in for something a little more trendy? I have all the instructions you need to turn that same unsightly leaning lamp into a cute shaded floor lamp! So the next time you are tempted to throw an outdated light away (floor, table, or even ceiling), think twice…you may be able to give it a paint job, add a shade, fix it's quirks, and presto! New light!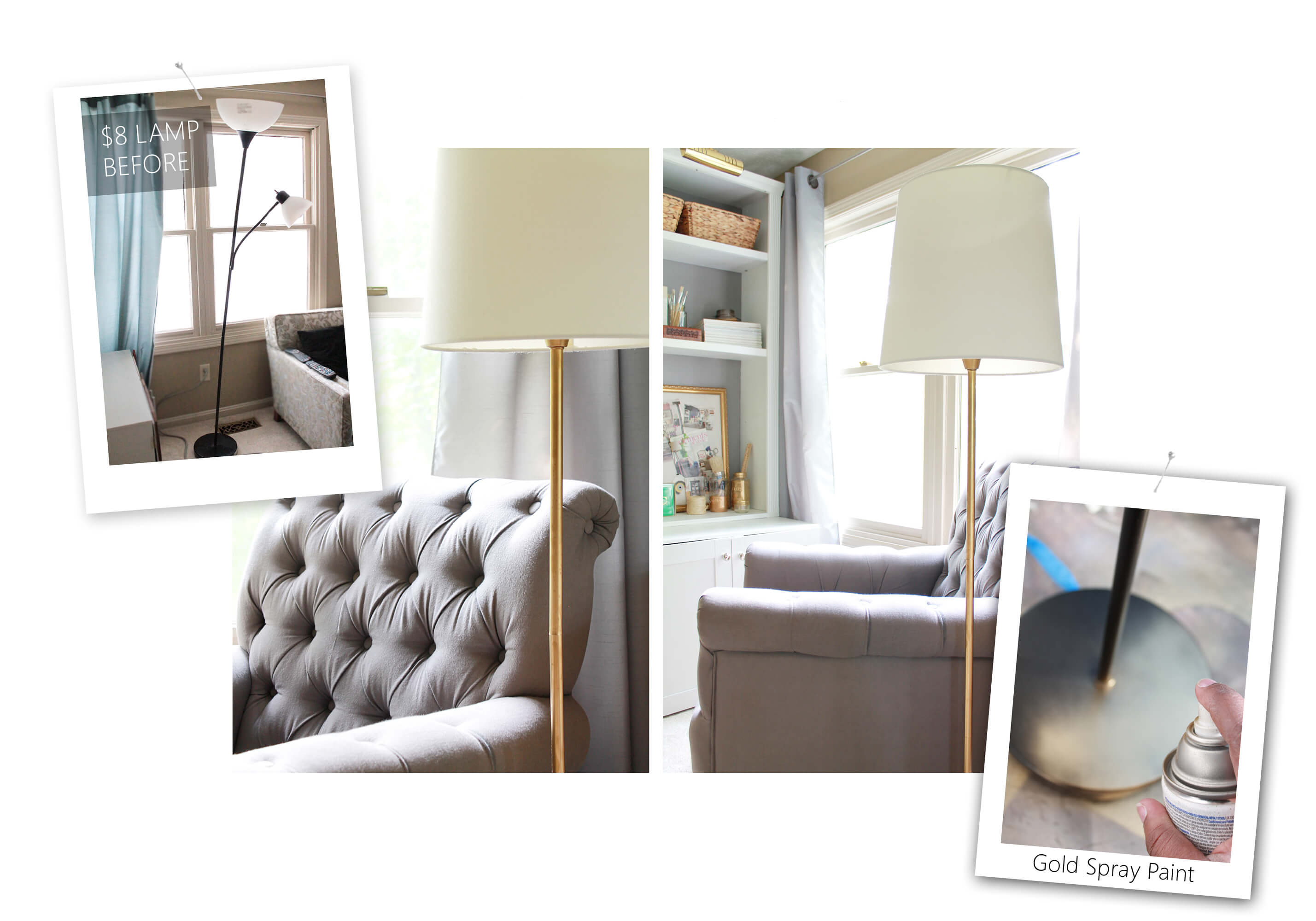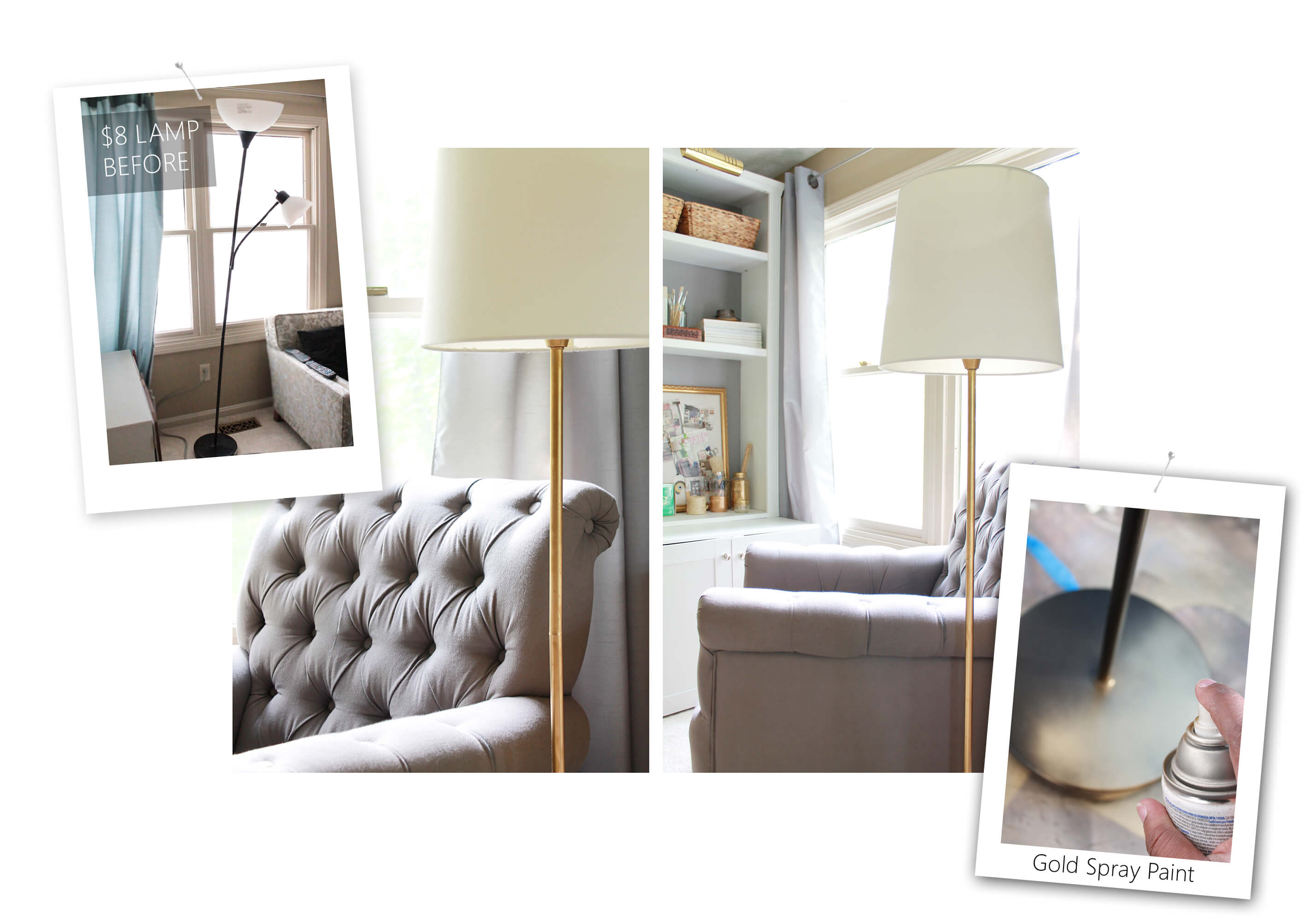 Money Saving Tip: I have even purchased those dorm-room-like lamps on purpose to transform them into floor lamps. It is often cheaper than a floor lamp (I've seen them at Walmart for $8), and a plain thrifted lamp shade (or even a new lamp shade) makes the price a much better value to DIY it.
2nd Money Saving Tip: Want to make a DIY lamp but the lighting kit is too expensive? Go buy a really ugly lamp from the thrift shop for a few bucks (one with a modern cord), and take it apart for the lighting parts. Then go make your own base!
Stylize Existing Storage
We all get tempted from time to time to buy that cute latest design of something-or-other. For me that is baskets, bins, and other types of storage. Rather than run out and buy yet another cute storage bin to replace the perfectly good set I already have, I give my storage containers a refresh so I can fall in love with them again. Isn't it amazing what a little FrogTape® and some paint can do?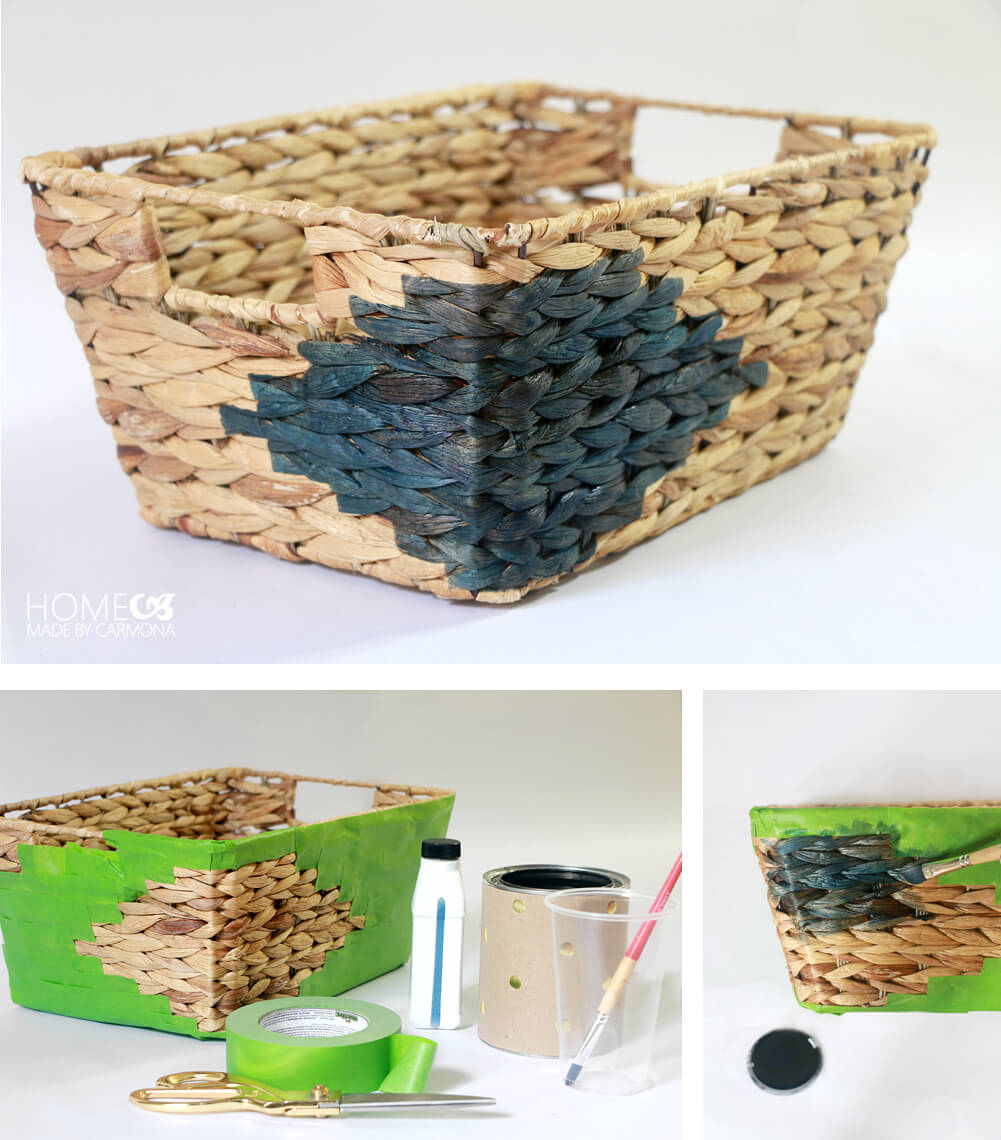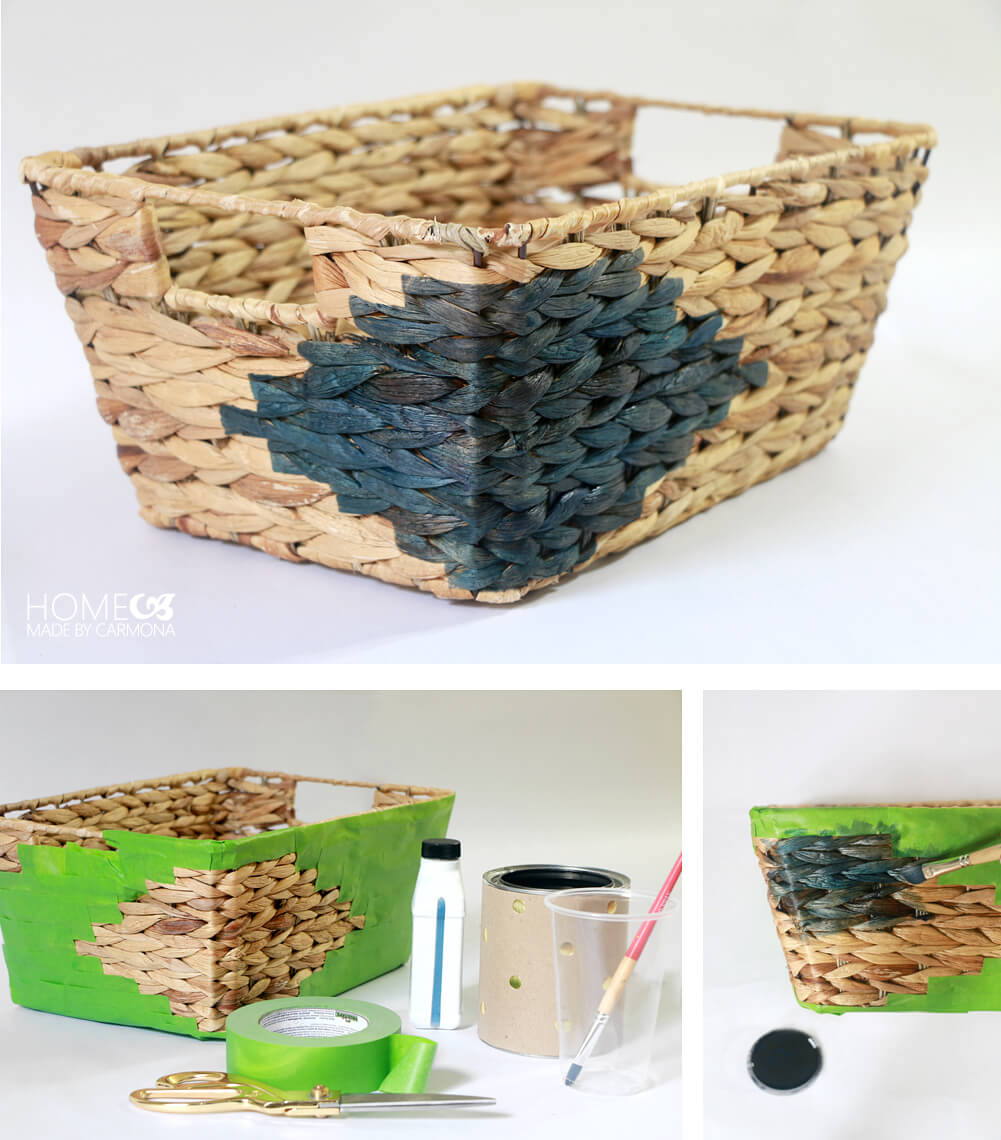 Money Saving Tip: If you are really DIY savvy, try making your own wire baskets from my instructions here, or if you prefer wooden storage crates you'll love these and they are easy to make!
Update Chairs & Armchair
Of course we can't talk about budget transformation projects and not talk about updating your existing furniture. Painting or re-staining a wooden chair can give it a whole new style.
Paint isn't just for the wooden part of the furniture. Give the upholstery on an old chair a new lease on life using chalk paint and these techniques.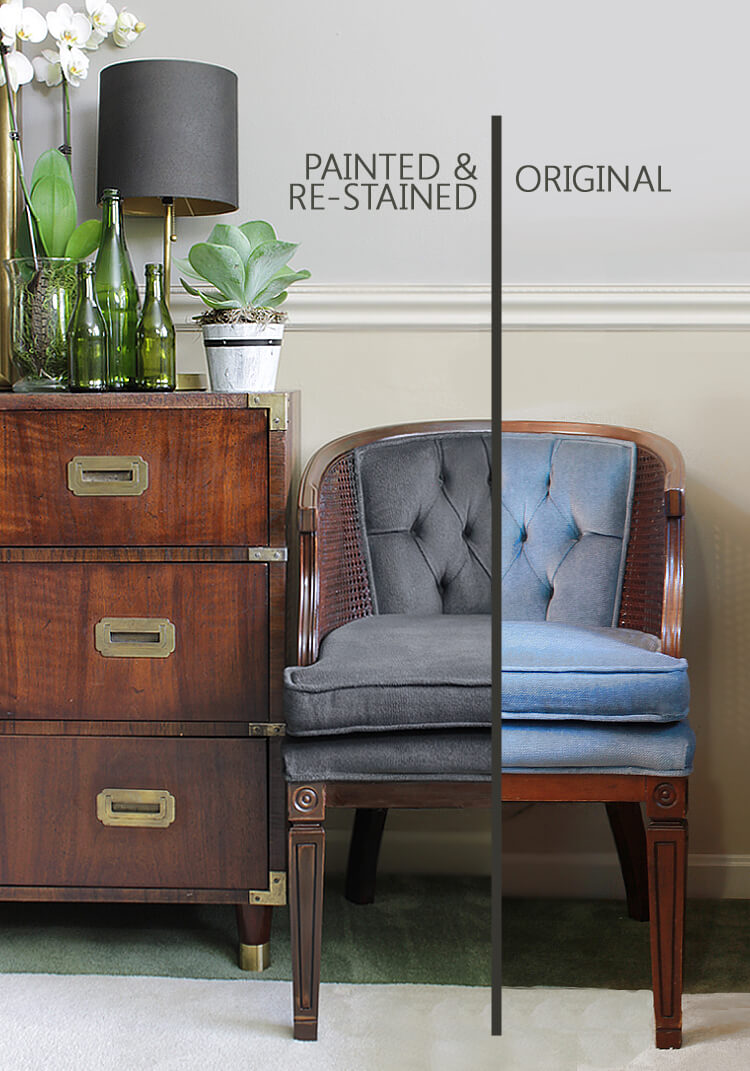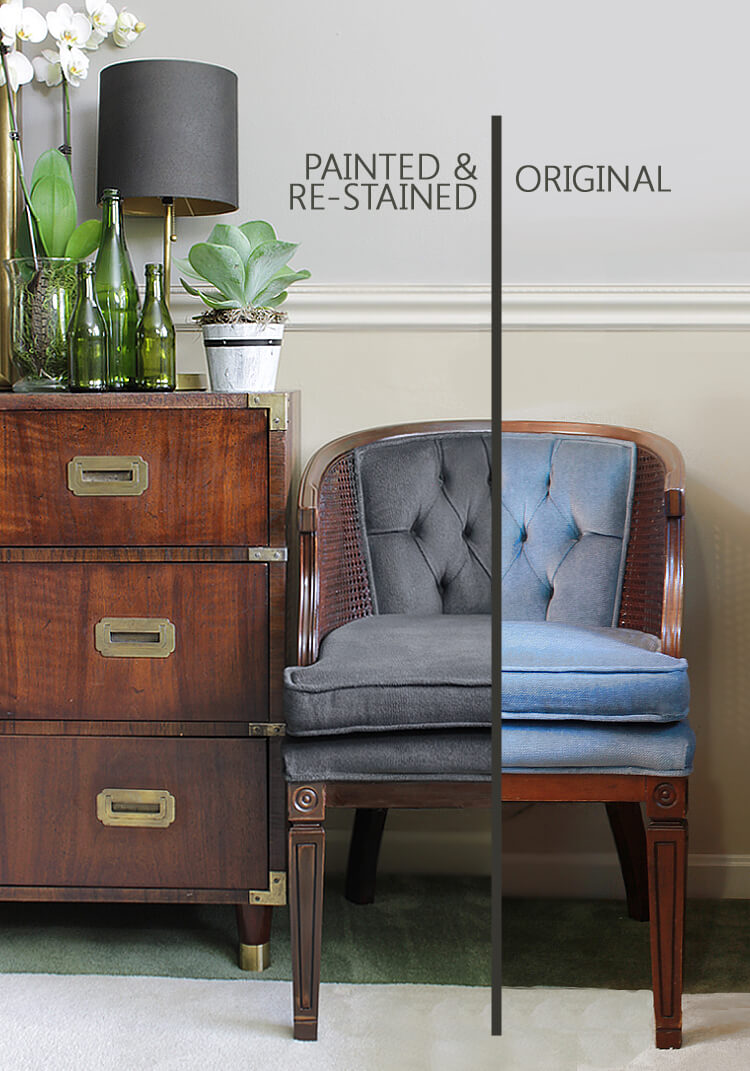 Money Saving Tip: Don't be afraid of roadside furniture finds or thrifted furniture. While I don't tend to pick up ones with upholstery, I do snatch up anything I can remove and replace the fabric. Such as this little chair that got a big makeover and even some added style.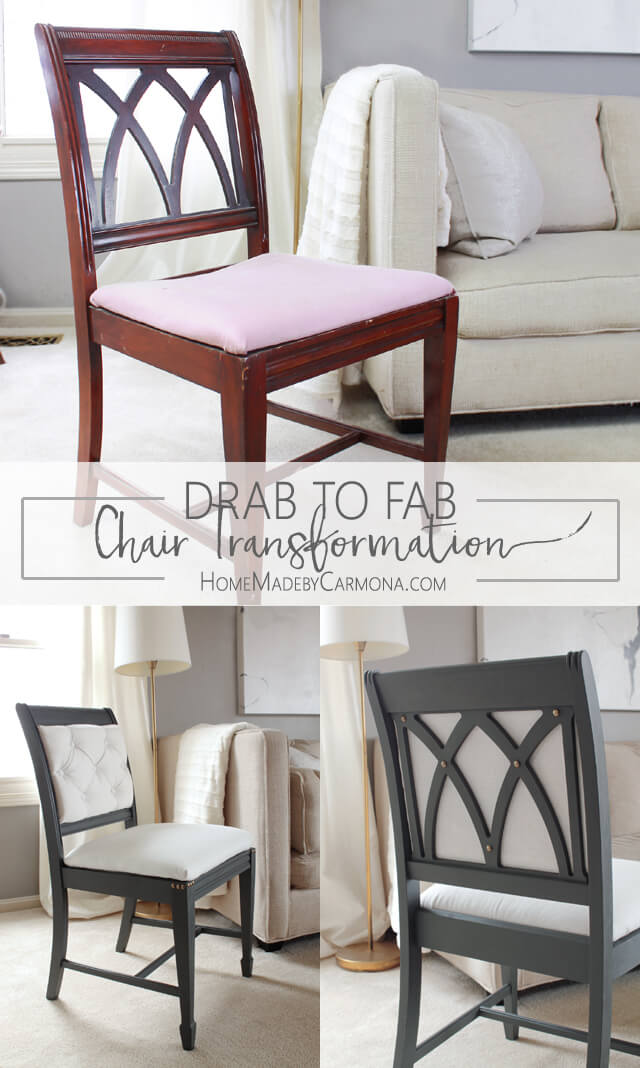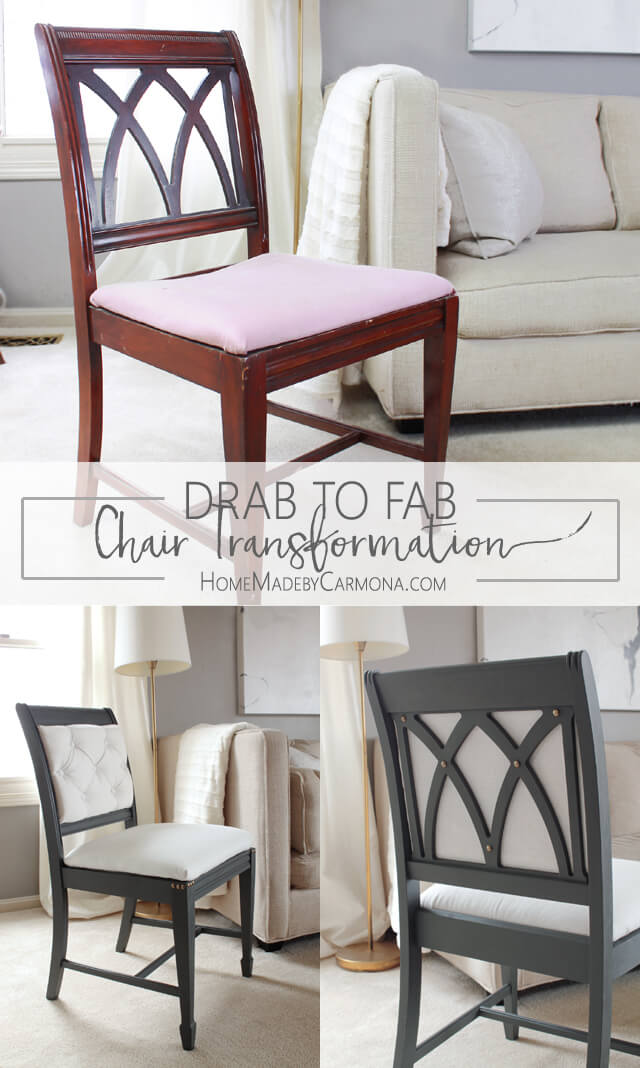 Refresh Outdated Furniture
Sidetables, dressers, and other furniture can also get a big update with small changes. Even if you are not looking to change the color of a dresser, a fresh white coat can take it from dingy to darling in a heartbeat. Just swap out old pulls for new ones to refresh the piece.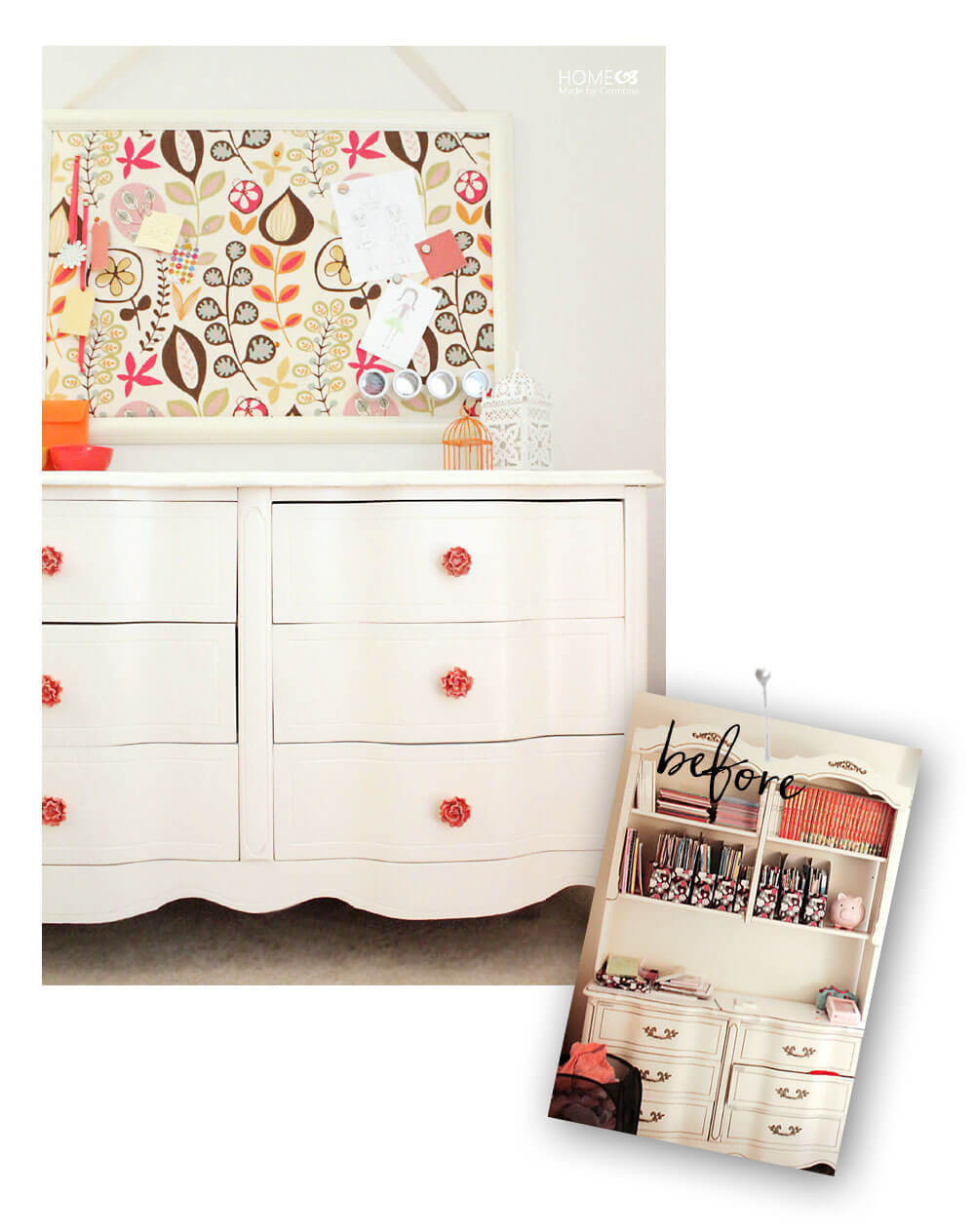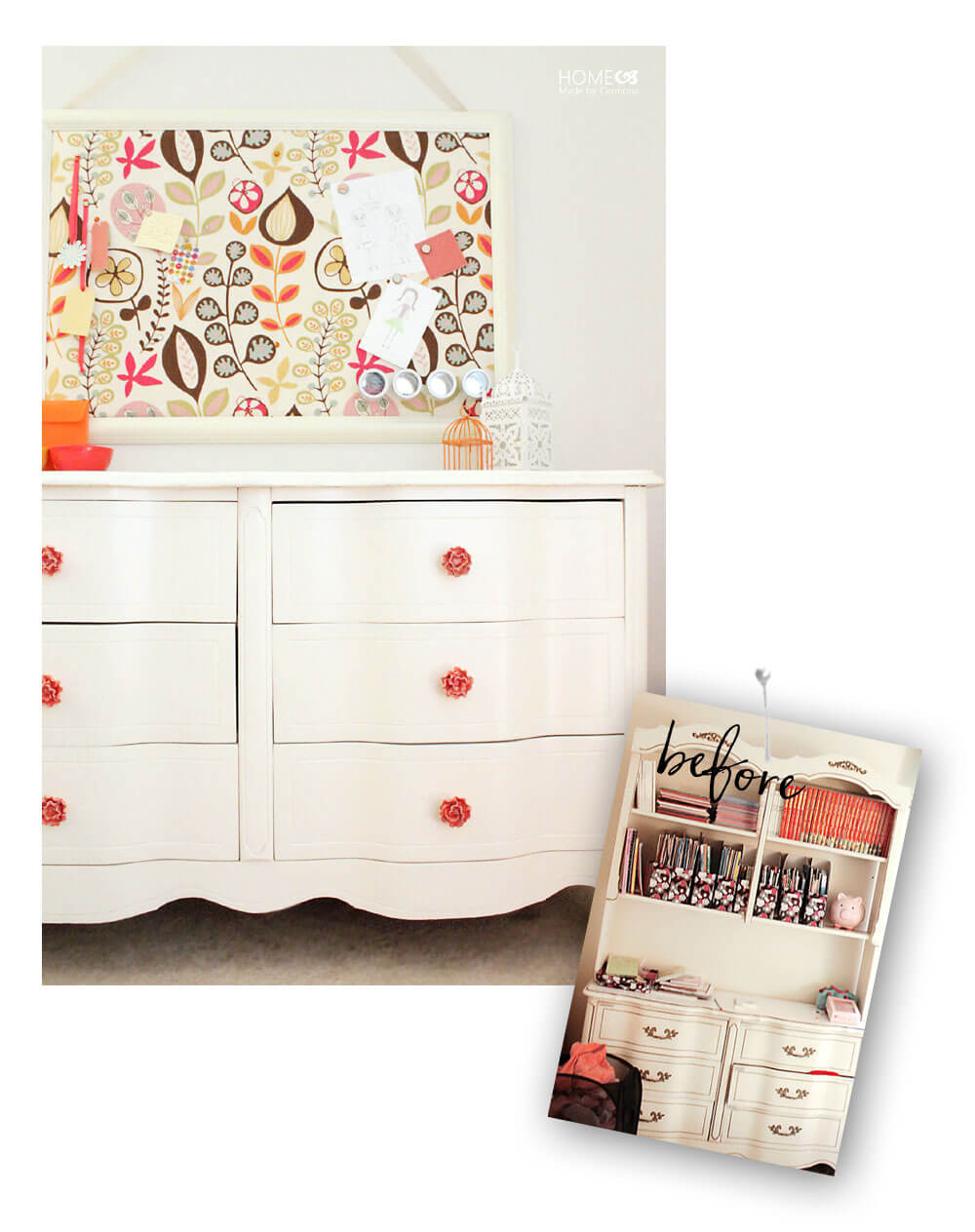 2nd Money Saving Tip: Before springing for new knobs and pulls for a piece of furniture, try giving the existing hardware a coat of spray paint and see if you like it.
Create Decorating Accessories
Decorating accessories can help give a room makeover a finished look and feel. However those little odds and ends can start to run up. Instead use what you already have to fill in the space. Upcycle old jars into a cute flower vase/pencil holder/makeup holders. Paint old trays for a new look. The ideas are endless!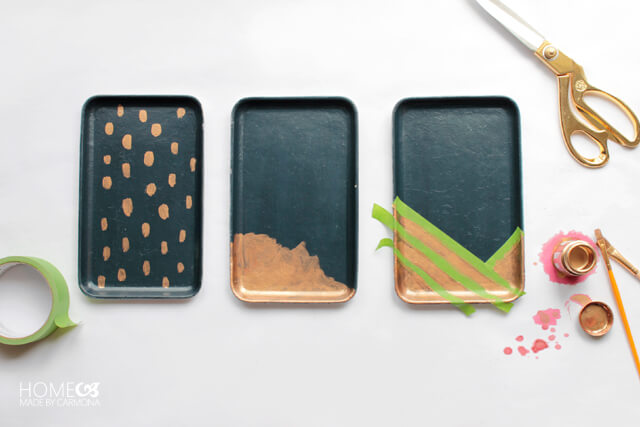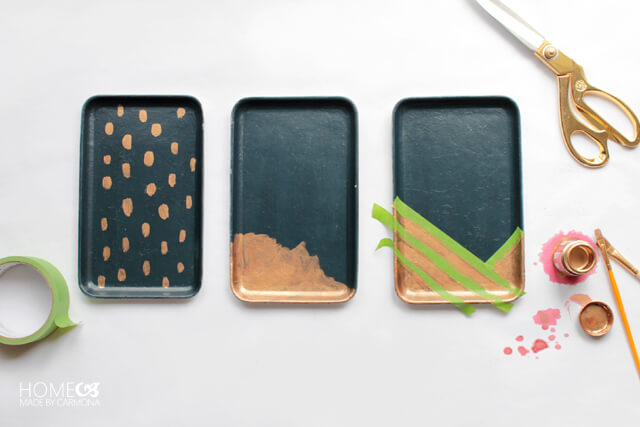 Upcycle or DIY Old Pieces
Sometimes you can use what you have to create something entirely new. Like this IKEA Rast hack…two dressers stacked on top of each other, and shelves added to either side created an amazing built-in style wardrobe for way less!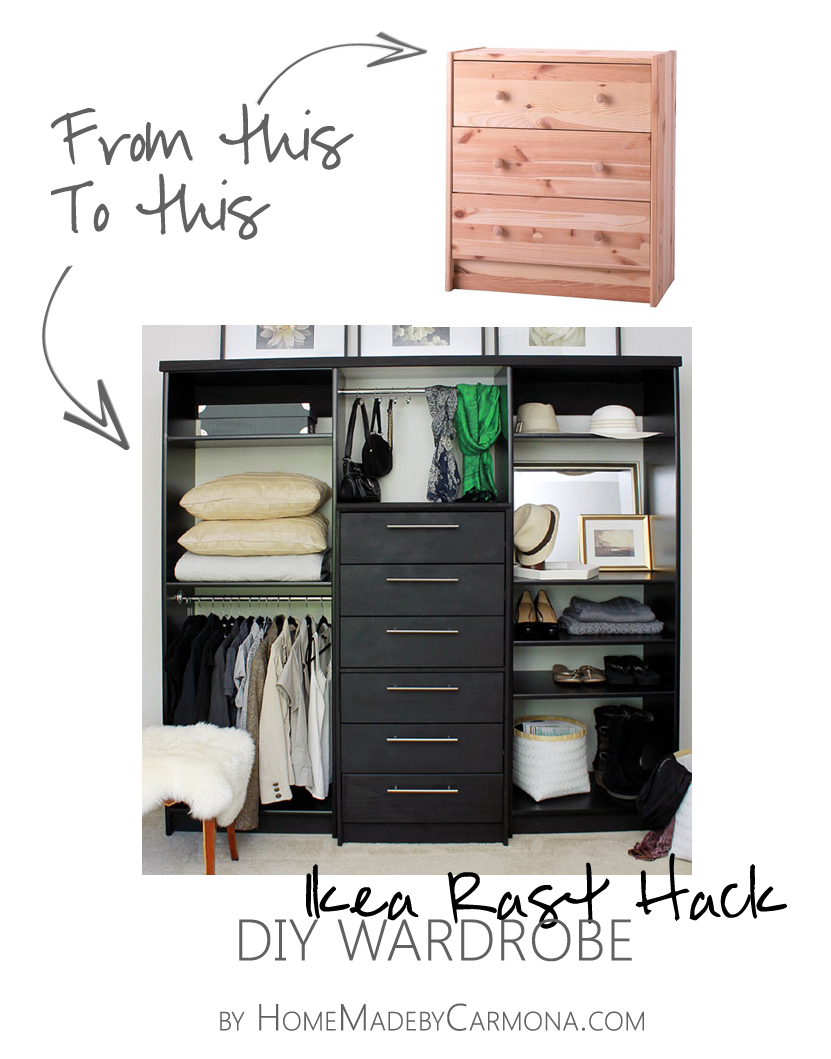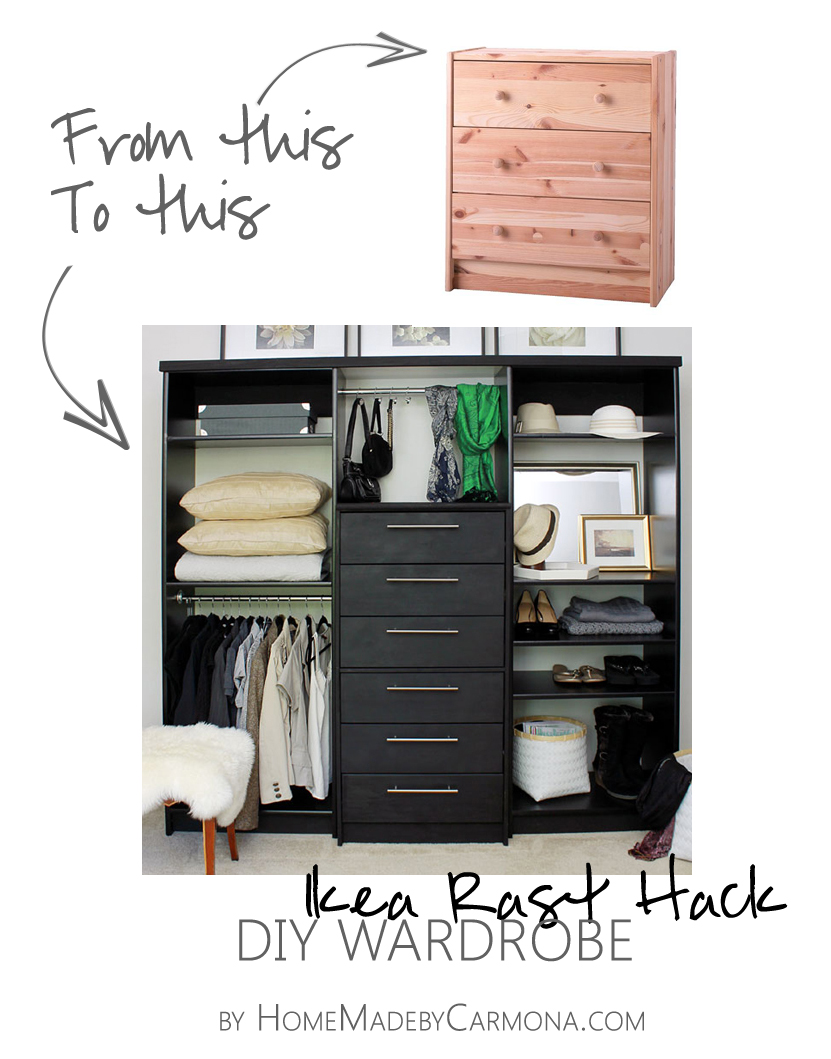 Can't afford to buy it? Why not DIY it! That has always been my philosophy, and it has served me well.
Once all these items are made over in your room, there will be little left that hasn't been transformed by you! It will be an entirely new space that you can fall in love with all over again.
I hope this gives you a few ideas to style on a budget as you work to makeover the spaces in your home.
*A special thank you to FrogTape® who awesomely sponsored this post. I have been compensated for the post, but all thoughts, projects, and opinions are my own…as always!


[go_portfolio id="diy_gallery"]