The last couple years I've had the privilege of speaking at a few different Home + Garden shows and expo's. This weekend I'll be speaking at the Cleveland Home + Remodeling Expo, along with a great lineup of speakers…including Jonathan & Drew Scott from HGTV's Property Brothers, Matt Fox who you'll remember from HGTV's Room by Room, and Deek Diedricksen from Tiny House Builders.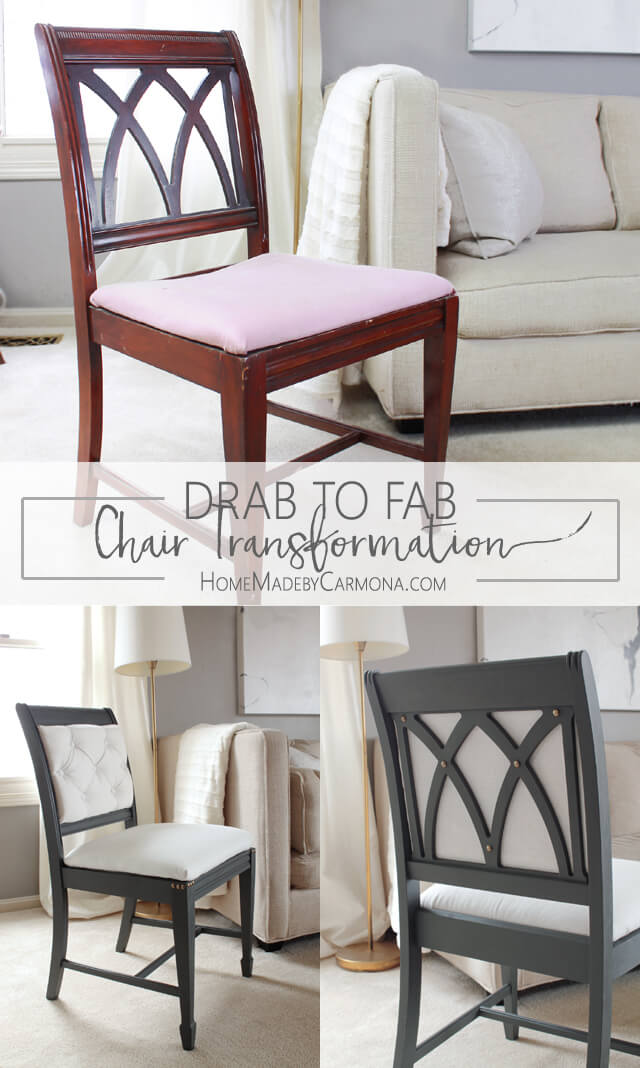 The Expo also asked me to participate in their Drab to Fab challenge where several bloggers/businesses volunteer their time to each transform a thrifted chair, then Expo visitors can vote for their favorite, and if they like it also bid on it! The proceeds go to Habitat for Humanity, so it is fun project with a great cause!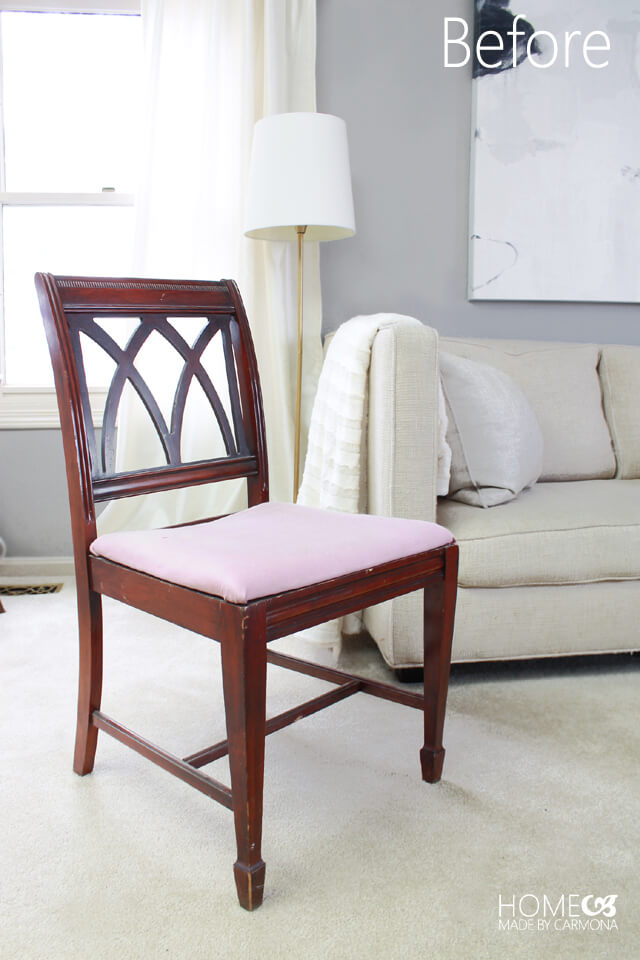 This is the fancy little chair I found to transform. It was a $20 find from this amazing salvage shop I discovered in Mentor Ohio, City Salvage & Design. That place was magical! It's a good thing I didn't discover it sooner, otherwise I'd be a lot poorer with the truck loads of items I'd probably bring home.
Ready to learn how I transformed this bad boy?
I admit, I hate to paint such a pretty cherry wood, but with all the knicks and scratches it is a good option. I'm starting with this beautiful grey Vintage Farmhouse paint I also bought from City Salvage & Design.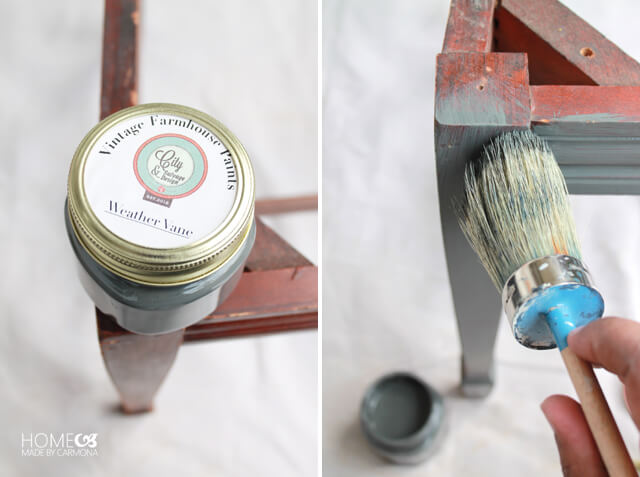 Typically I would distress the finish a bit for a nice farmhouse vibe, but I don't know what style of home this chair will be going to live in, plus if they have children it is likely to obtain some "roughing up" naturally. I'll go ahead and finish it off with a furniture wax.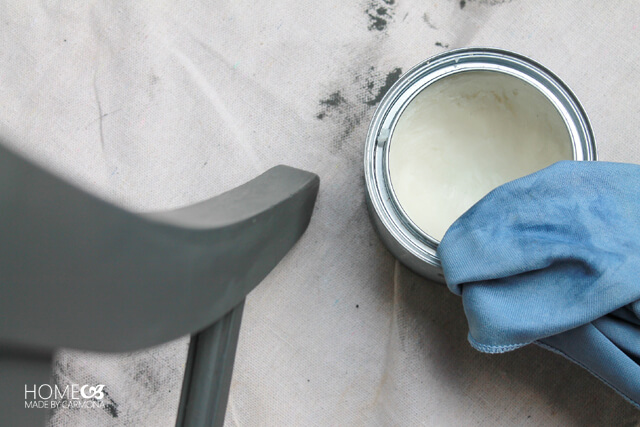 The original wood seat was water damaged, and cracked. I cut out a new seat bottom from some plywood, and a thin 1/4″ plywood piece as a chair backing.
A twin sized egg crate mattress foam for $11 makes for great padding, especially since I'll be tufting a back for the chair.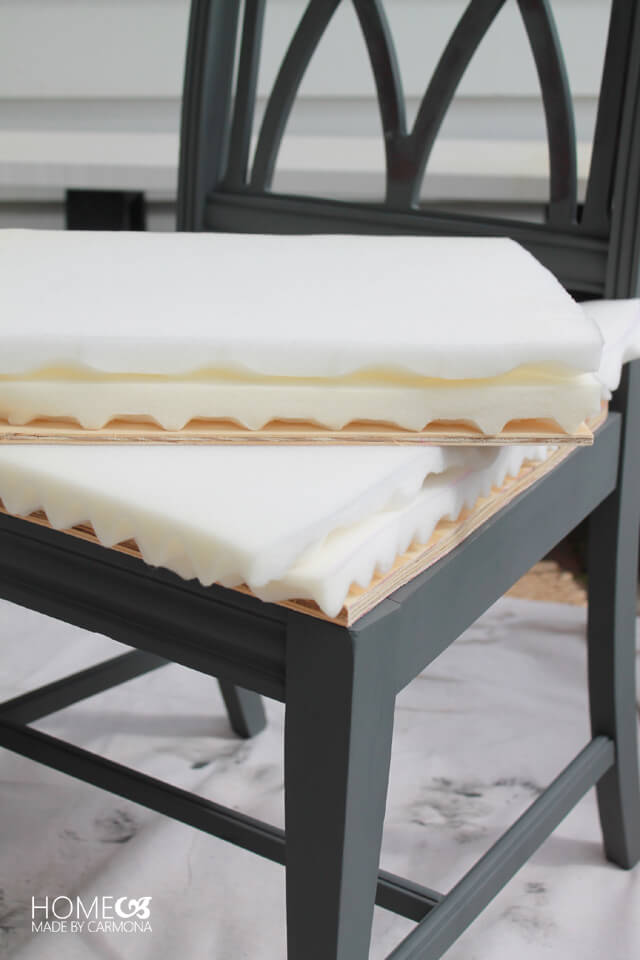 In order to create a diamond tuft on the chair backing, I need to create a template on the thin plywood sheet I cut for it. As I usually do when making a template for diamond tufting, I used a pegboard over top the plywood to mark where each hole should be to make up a diamond.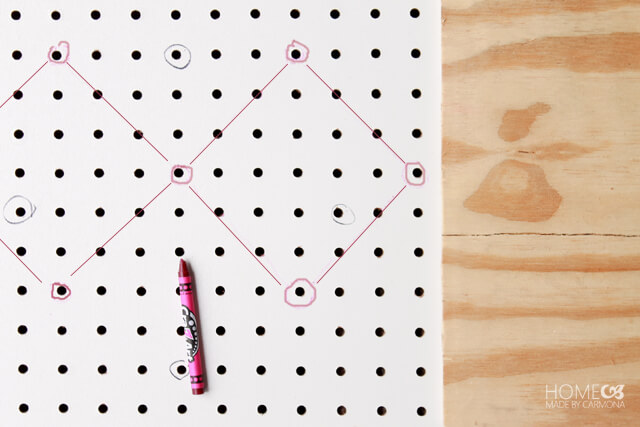 When I made my diamond tufted headboard, and a diamond tufted dining room bench, I drilled holes through the wood. This time, since this tufted chair back will show through the design on the back of the chair, that isn't going to work. So instead I'm attaching screw eye hooks to each mark to do all my threading from.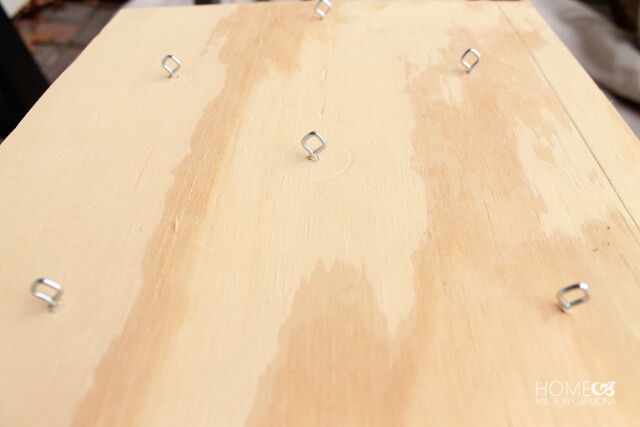 Now just to cut my material to size that will go over the egg crate mattress foam.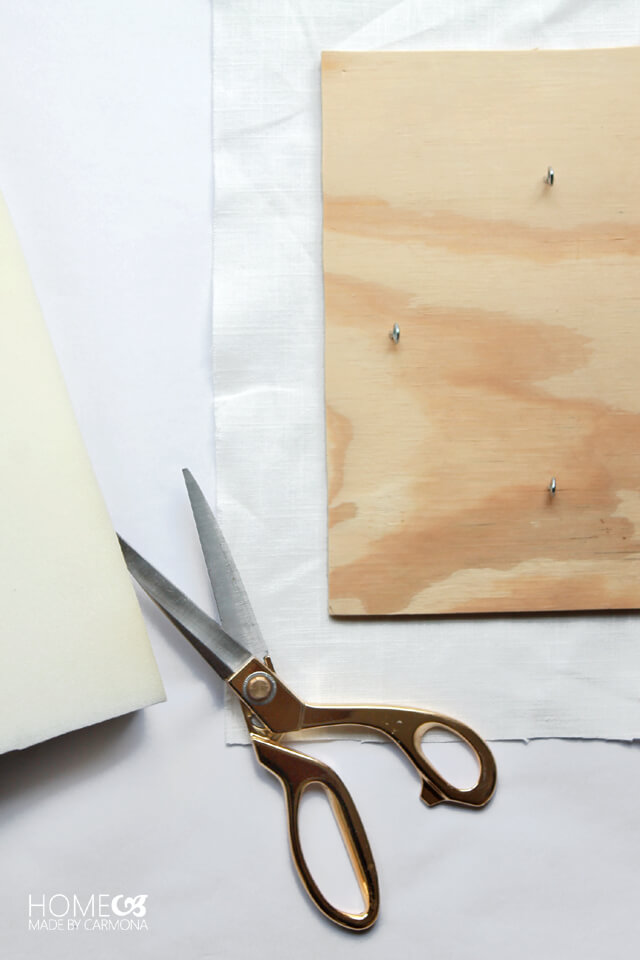 For the tufting task, you'll need waxed thread, and curved upholstery needles in addition to your covered buttons. Want to learn how to cover buttons? Check out my full tufting tutorial here.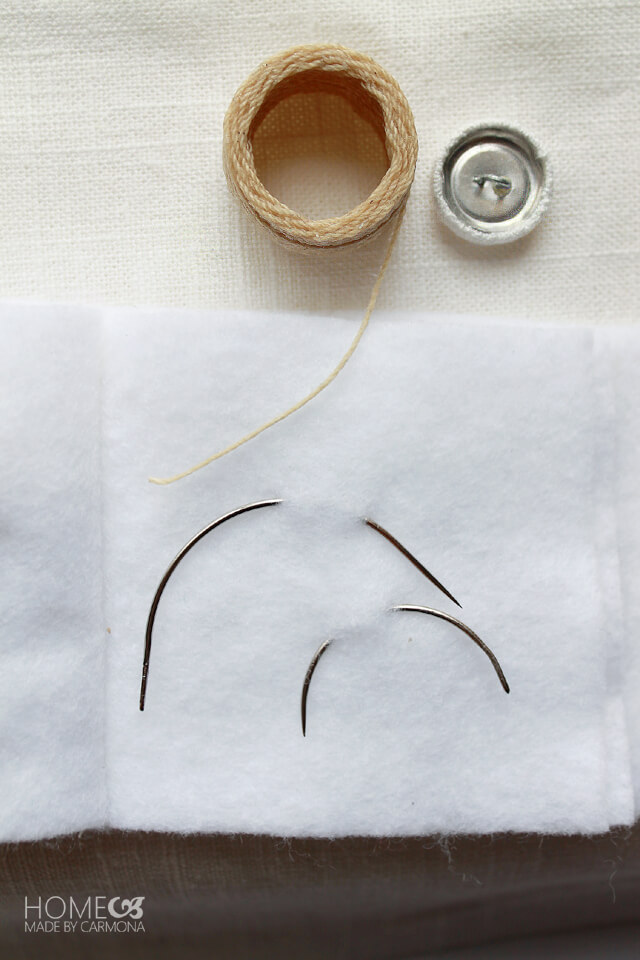 I use the curved needle to thread through the eye hooks.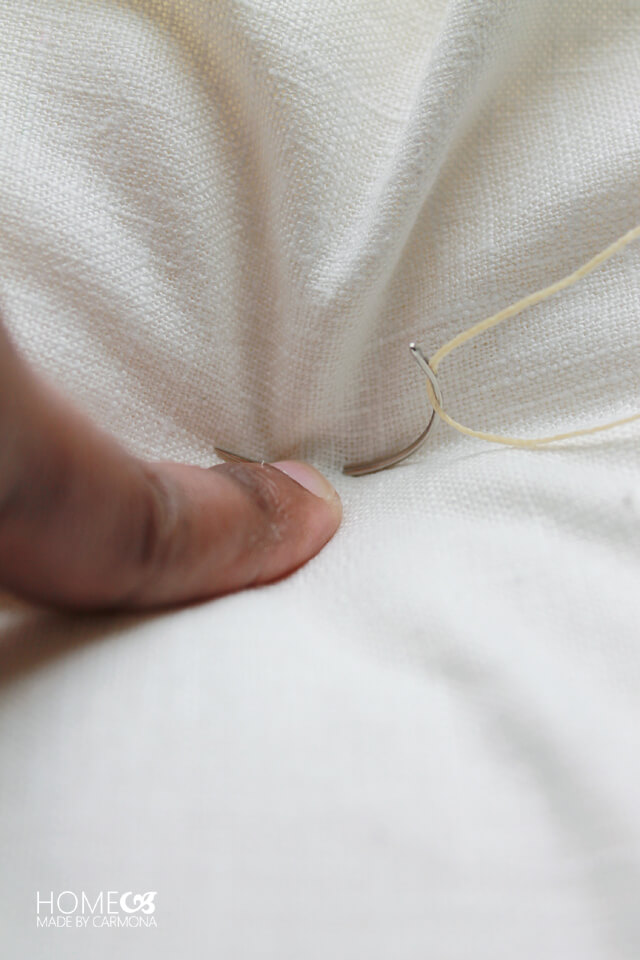 Pull the needle through, then one of the thread pieces as I remove the needle.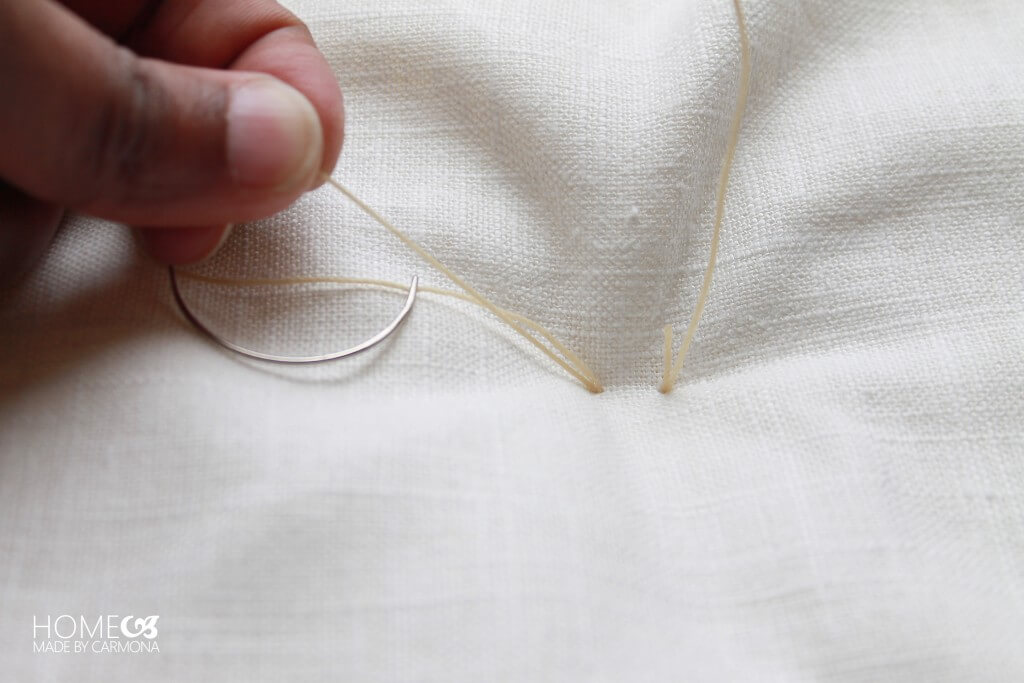 Place the button through one side of the thread, then tie it off several times on either side. Finally clip the excess thread.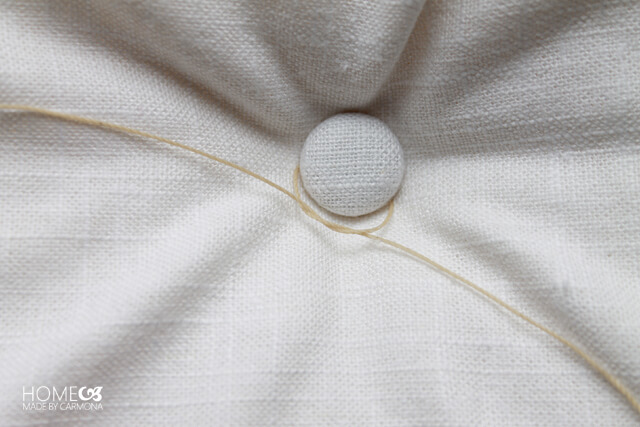 The tuft lines will come naturally as you add each button. I simply pinch them to add a little definition as I go.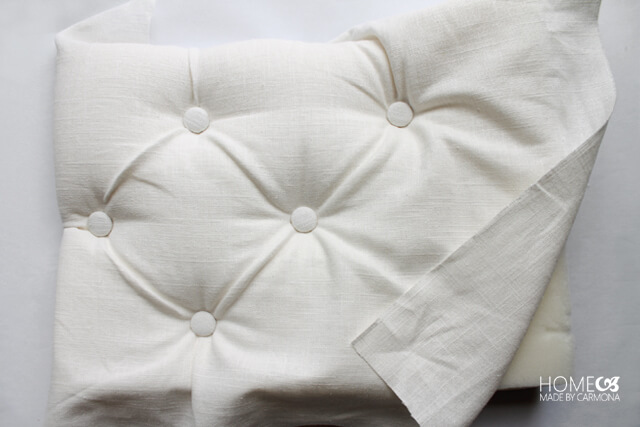 Once the tufting is done, I flip it over on the back and trim any excess fabric.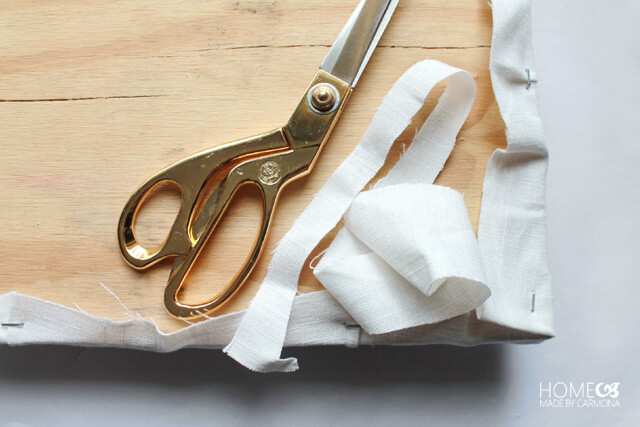 I needed to staple a fabric backing in place since this tufted inlay will show through the design on the back of the chair.
I won't go into detail about how I wrap the chair seat itself, since I'm pretty sure there is a much better technique than the one I am employing. My gift wrapping skills aren't half bad, and I think they come in pretty handy here…however this is an area I admit I could use the extra technique and practice.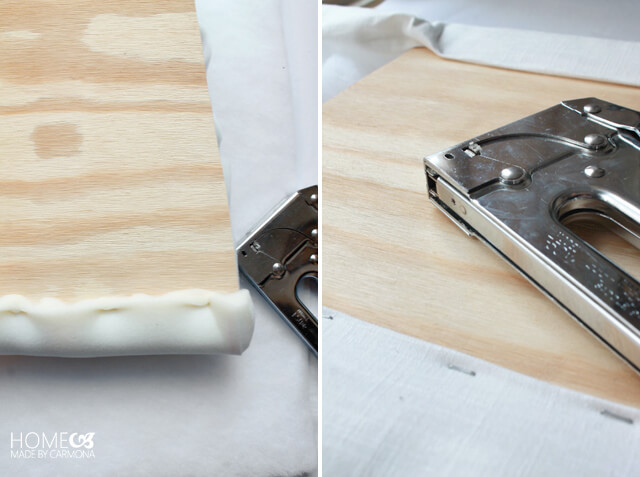 The last thing I did was embellish the chair with a few decorative nails to cover up the nails to attach the inlaid tufted piece, and voila!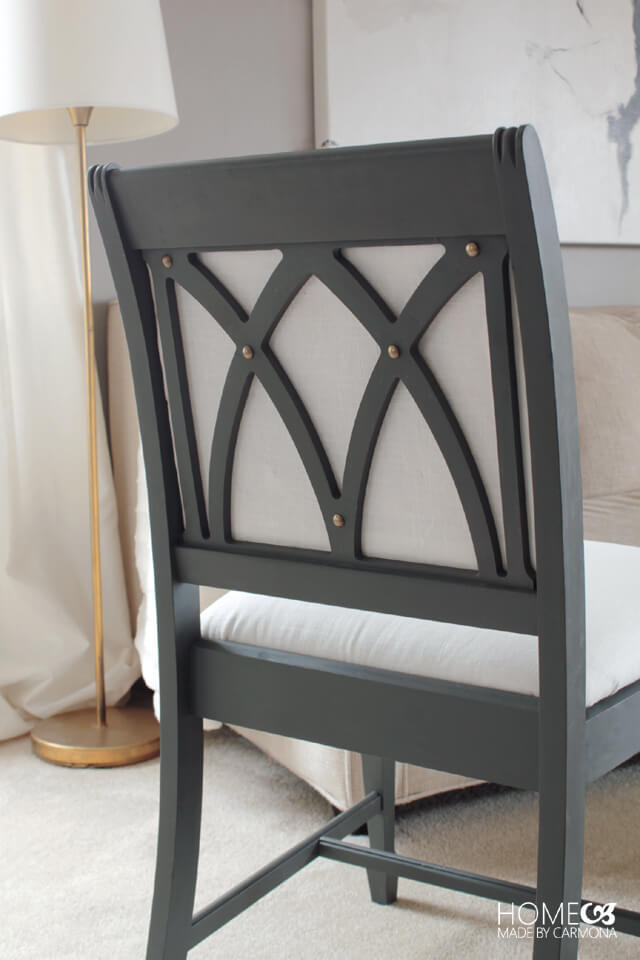 Not half bad right?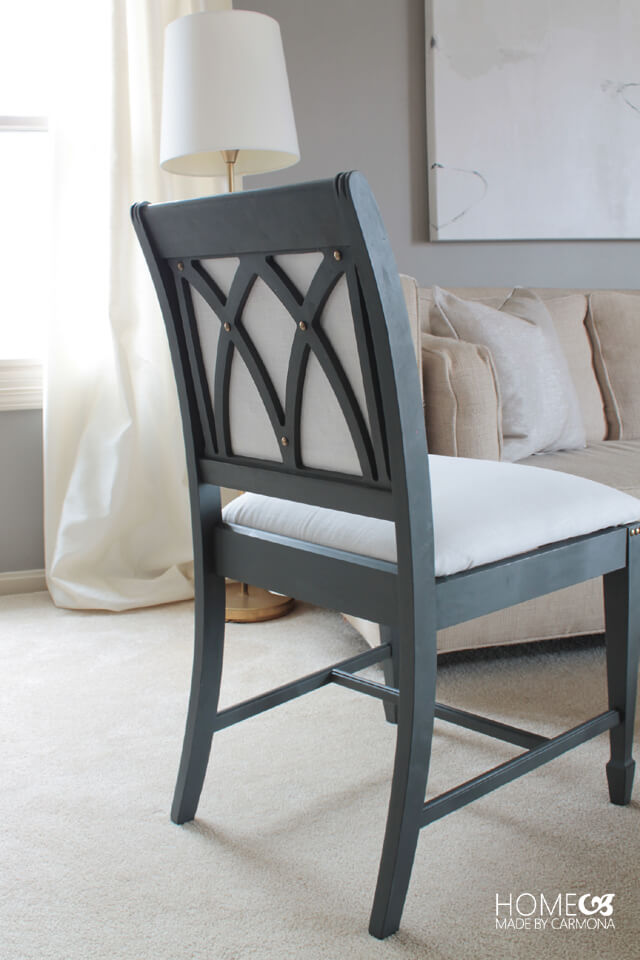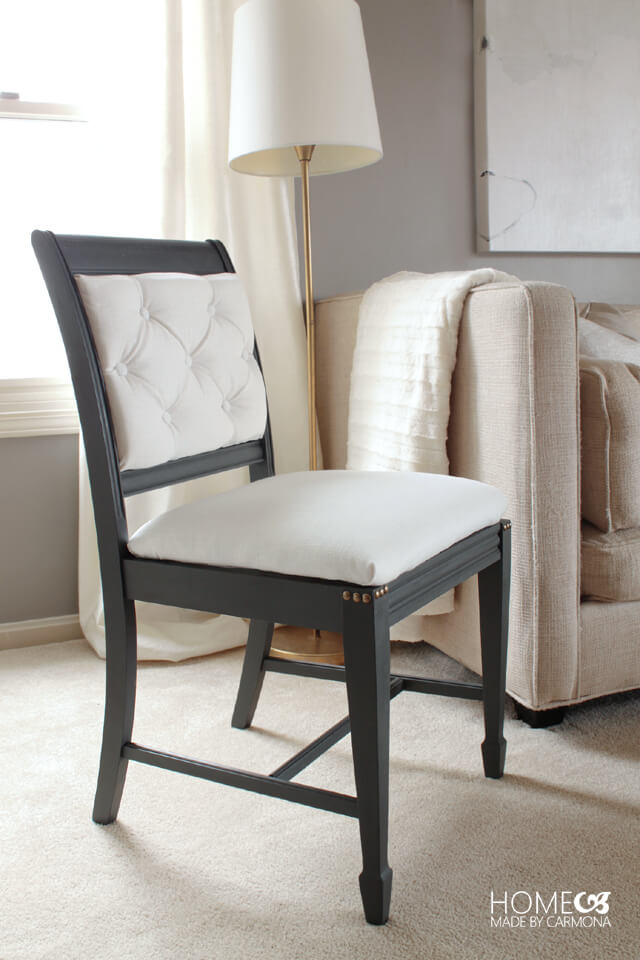 It cost me under $30 total materials, and about 1 hour of work (not counting drying time).
Hope to see you voting for this little guy at the Home + Remodeling Expo! Don't forget to come here me speak on the main stage at 3pm Friday, and a repeat at 3pm Sunday (March 18th & 20th). See you there!


[go_portfolio id="diy_gallery"]