Before you run out and buy a new piece of furniture, consider saving a few bucks and transform outdated furniture for a whole new look!
Whether it is an ugly old chair handed down by great aunt Margie, or a desk that has promise you went dumpster diving for, learn how to update furniture with creative solutions.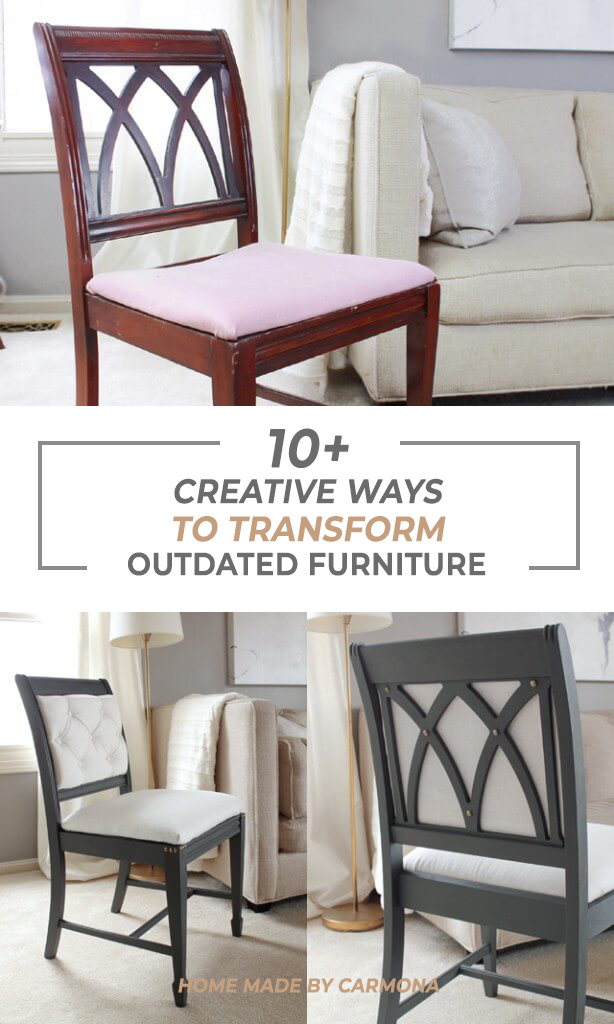 Get inspired from these impressive before-and-after furniture updates, and learn how to make old furniture look amazing with these 10 furniture makeover ideas!
1. Paint The Upholstery
Looking to modernize outdated furniture without spending the money to re-upholster it? These days you can paint your upholstery for a whole new look, and without breaking the bank!
There are lots of ways to do this using fabric-specific spray paint, all-purpose paint, or even chalk paint! A little paint can go a long way!
Learn important tricks to paint upholstery with Annie Sloan chalk paint>>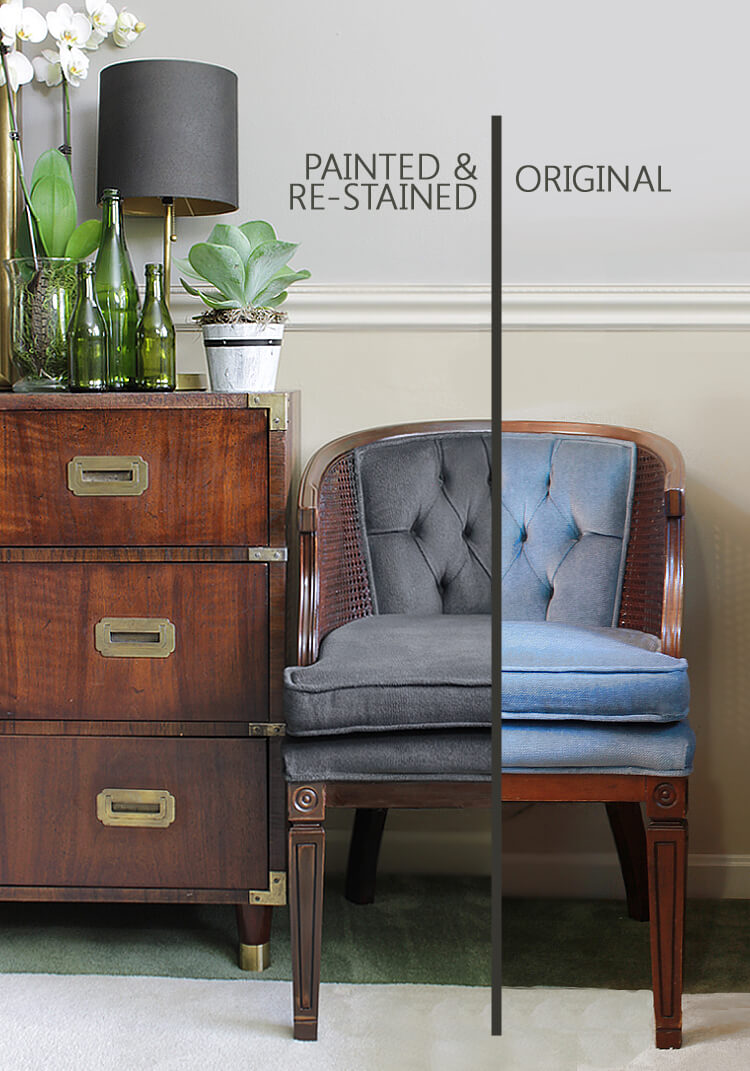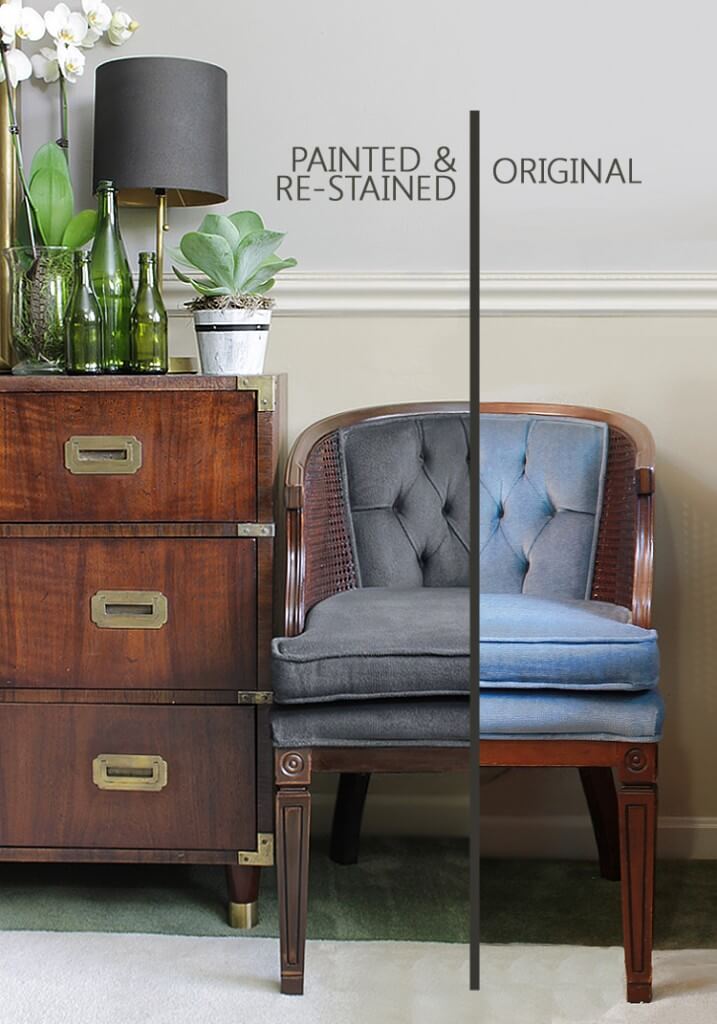 2. Modify For A New Purpose
Sometimes all a piece of furniture needs is a bit of de-construction to become a whole new piece. An old hutch can be turned into end tables and bedroom furniture with a little creativity.
In this case, as lovely as this vintage hutch was, we needed a large bedside table and loved the look of the campaign dresser. Cut off the top of the hutch, add a top, and we had the perfect dresser for the perfect space. This furniture update was more for function since it was amazing before, but now it serves an immediate need as the perfect oversized bedside table.
Get smart tips for restoring a campaign dresser here>>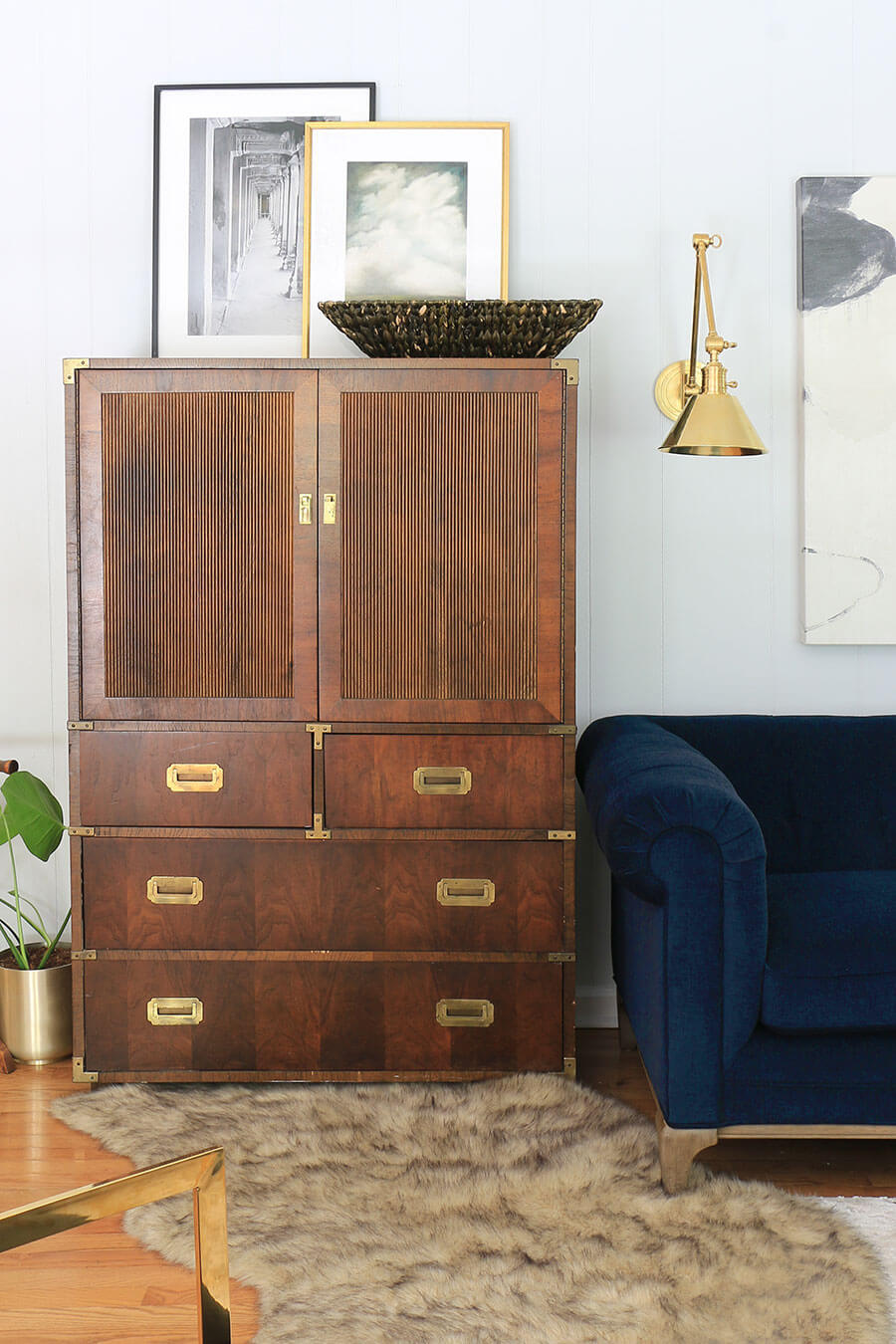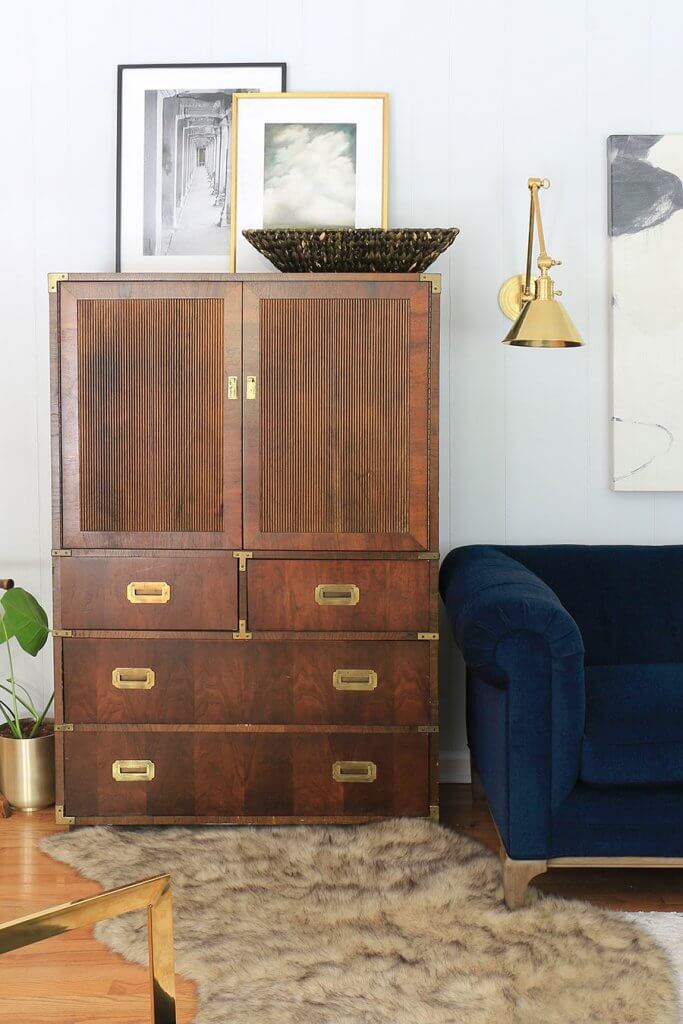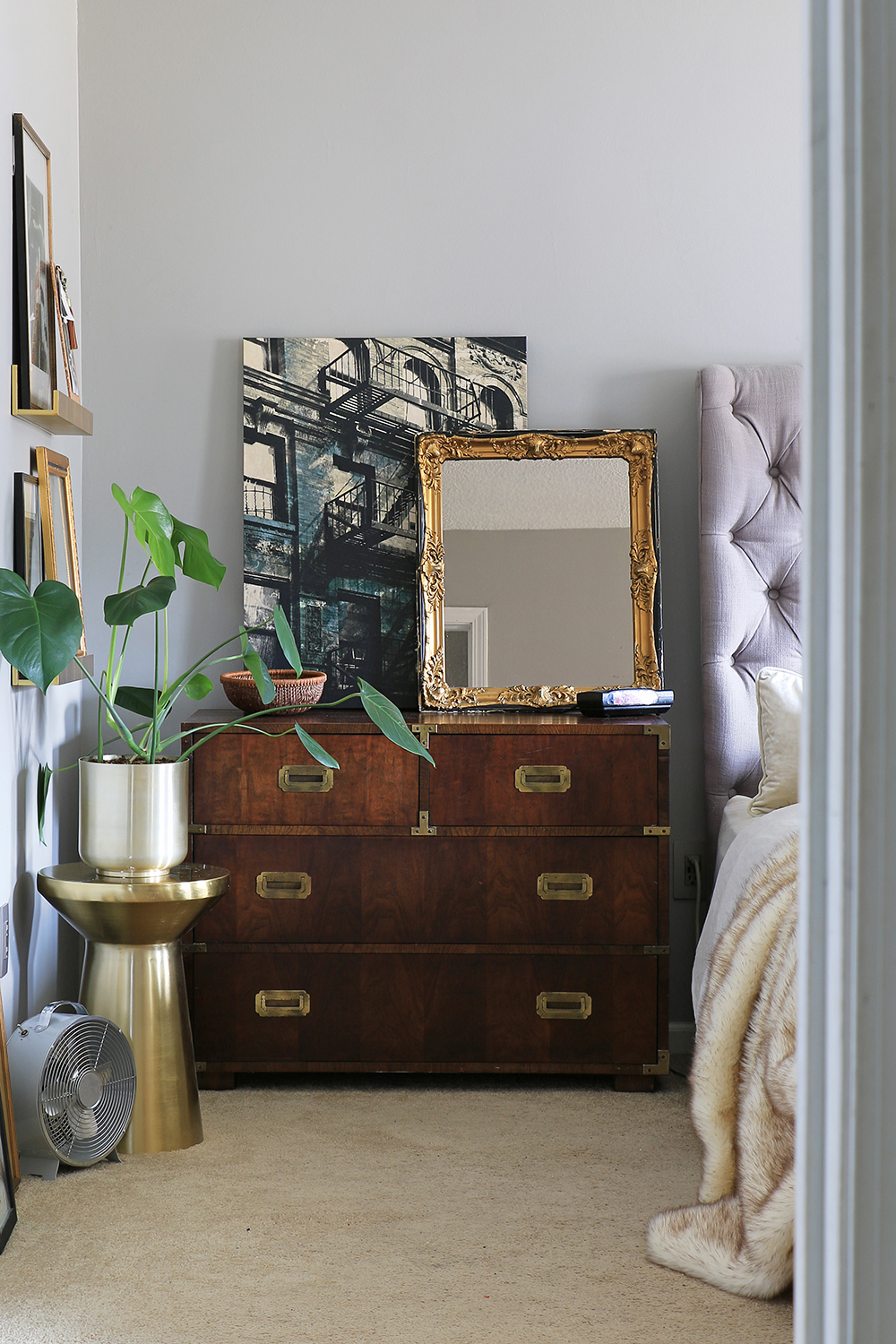 3. Add-On To The Piece
Furniture makeovers sometimes mean adding on to a piece for better fashion or function!
A plain set of DIY storage cabinets got the ultimate upgrade with bookshelves added to the top for even more storage, new hardware, and a coat of paint.
See the full living room reveal & base cabinet makeover>>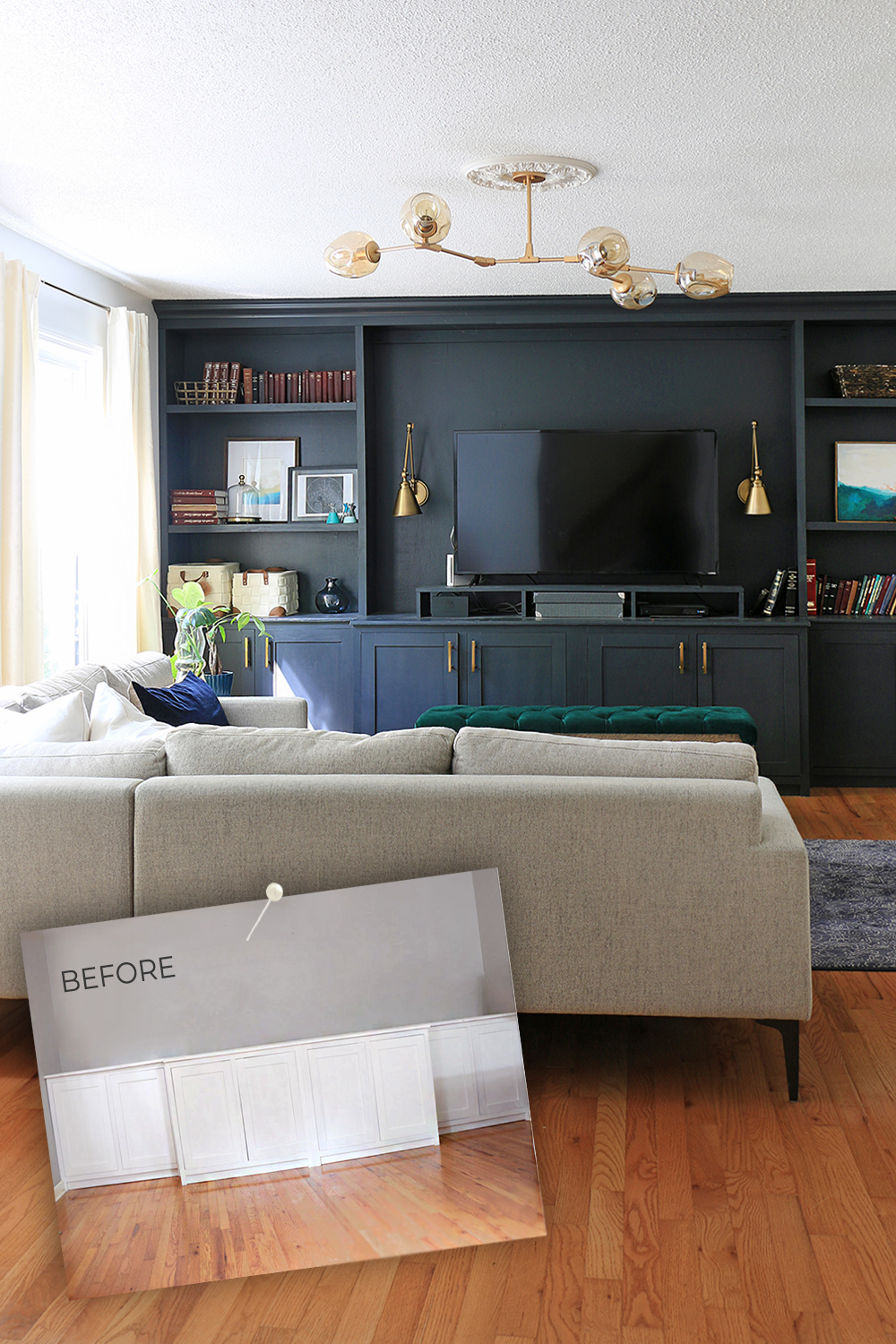 Another example of an add-on might be adding a hutch to a set of drawers, or a brand new backing to the base of an old chair.
4. Have It Reupholstered
Sometimes an old piece needs new upholstery to be immediately modernized! Reupholster it yourself, or have it done professionally, but be sure to find the full cost before diving in. Materials, labor, new hardware, any fixes, etc. to see if it is worth the effort.
This is a great way to update dining chairs, armchairs, an old bench, or even an entire sofa!
Step-by-step tutorial on how this chair got a makeover>>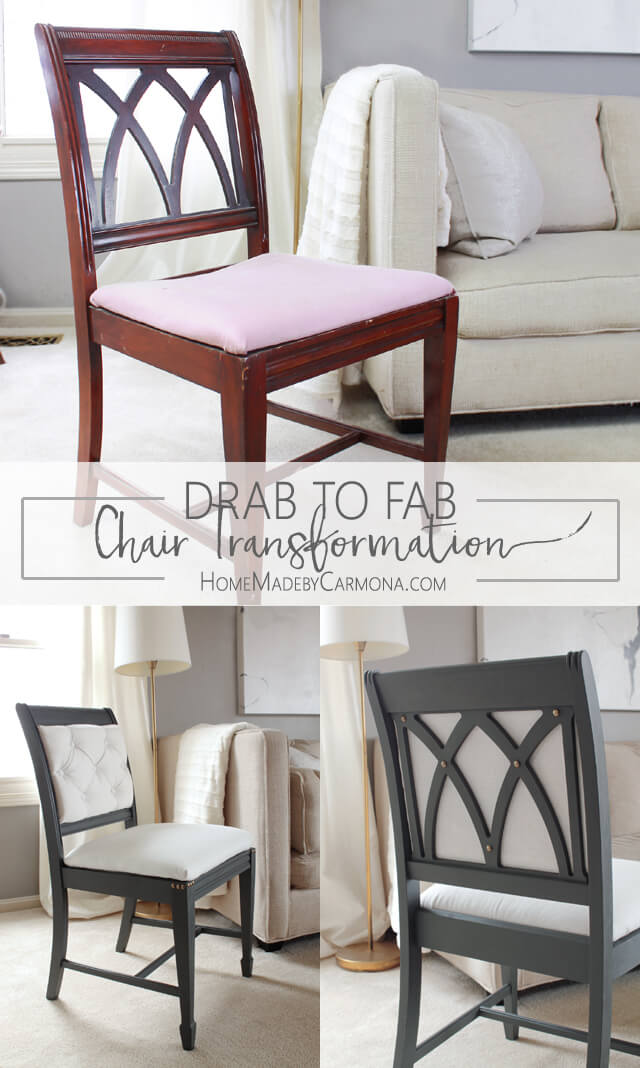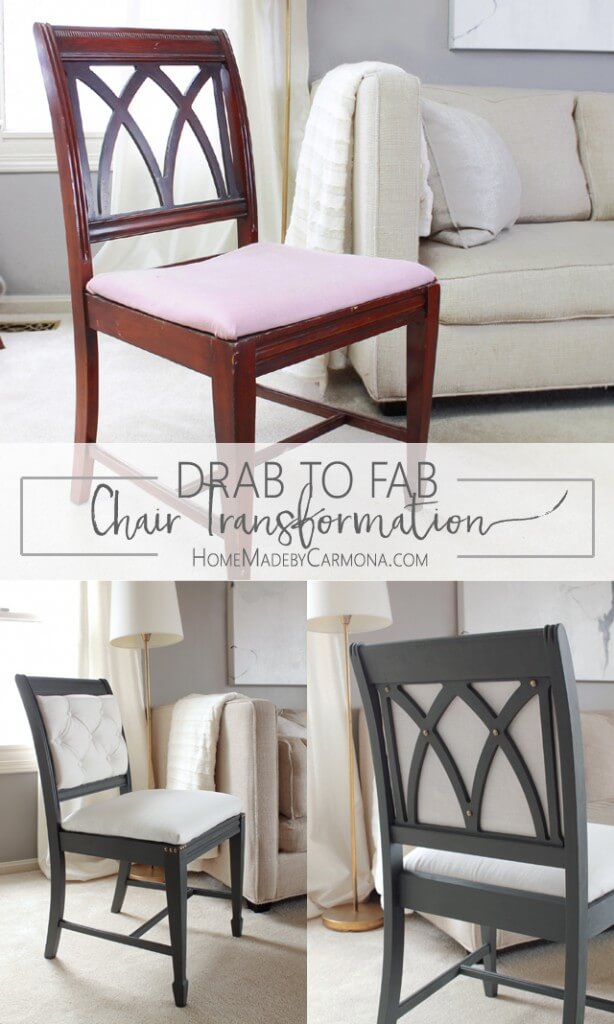 5. Give It A Fresh Coat of Paint
Paint furniture for an easy transformation that gives new life to old furniture pieces!
Paint is always an easy furniture flip hack to transform outdated furniture in a weekend. It might take a little prep work like a light sand. Perhaps a primer if painting over stain or a veneer, and your top coat of choice. Chalk paint is a great option for beginner DIY furniture makeovers.
Plus, it is a fantastic opportunity to add a bold color for statement pieces. Repaint furniture for custom style, or to hide irregularities and imperfections, or wood filler on pieces that needed a lot of extra TLC.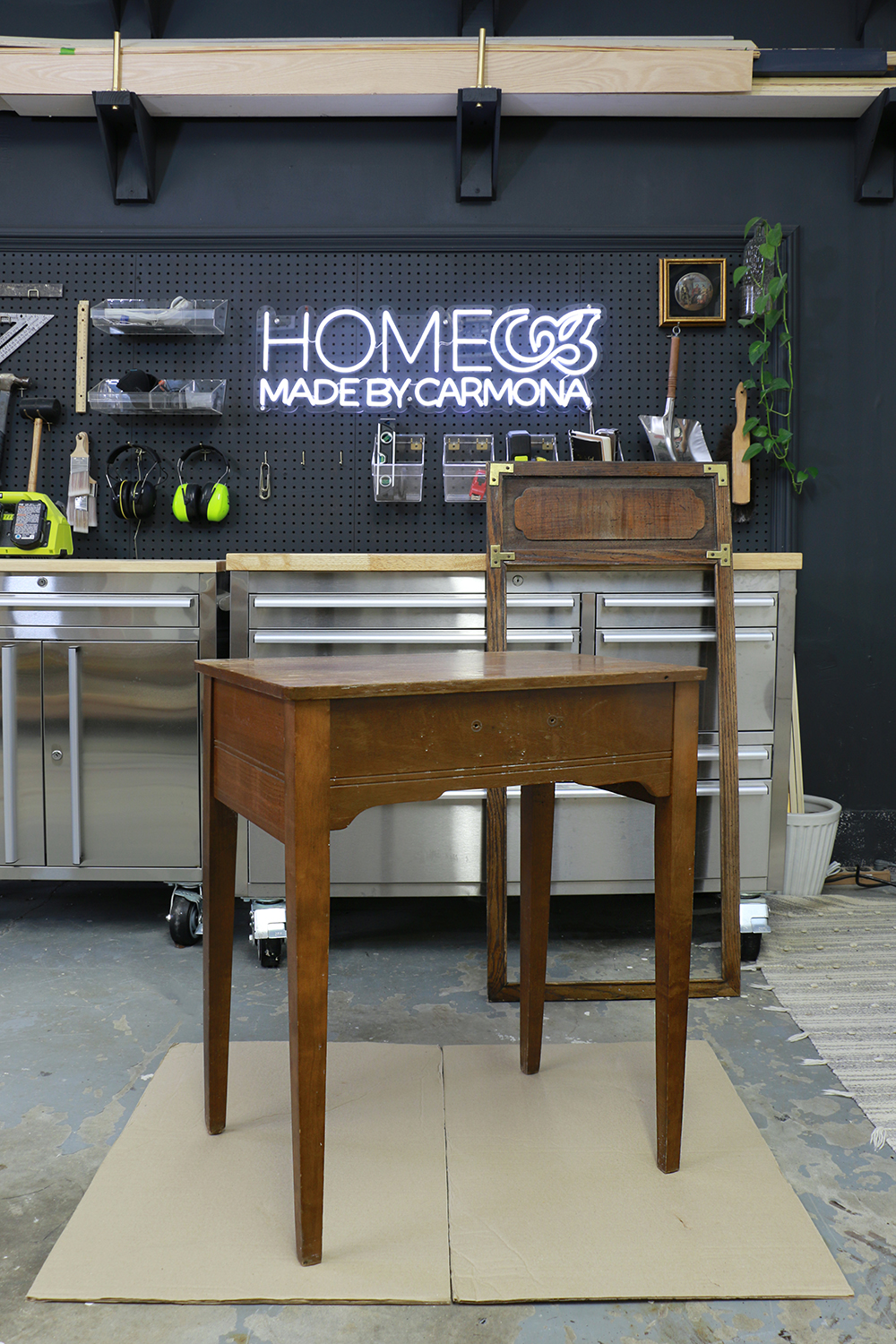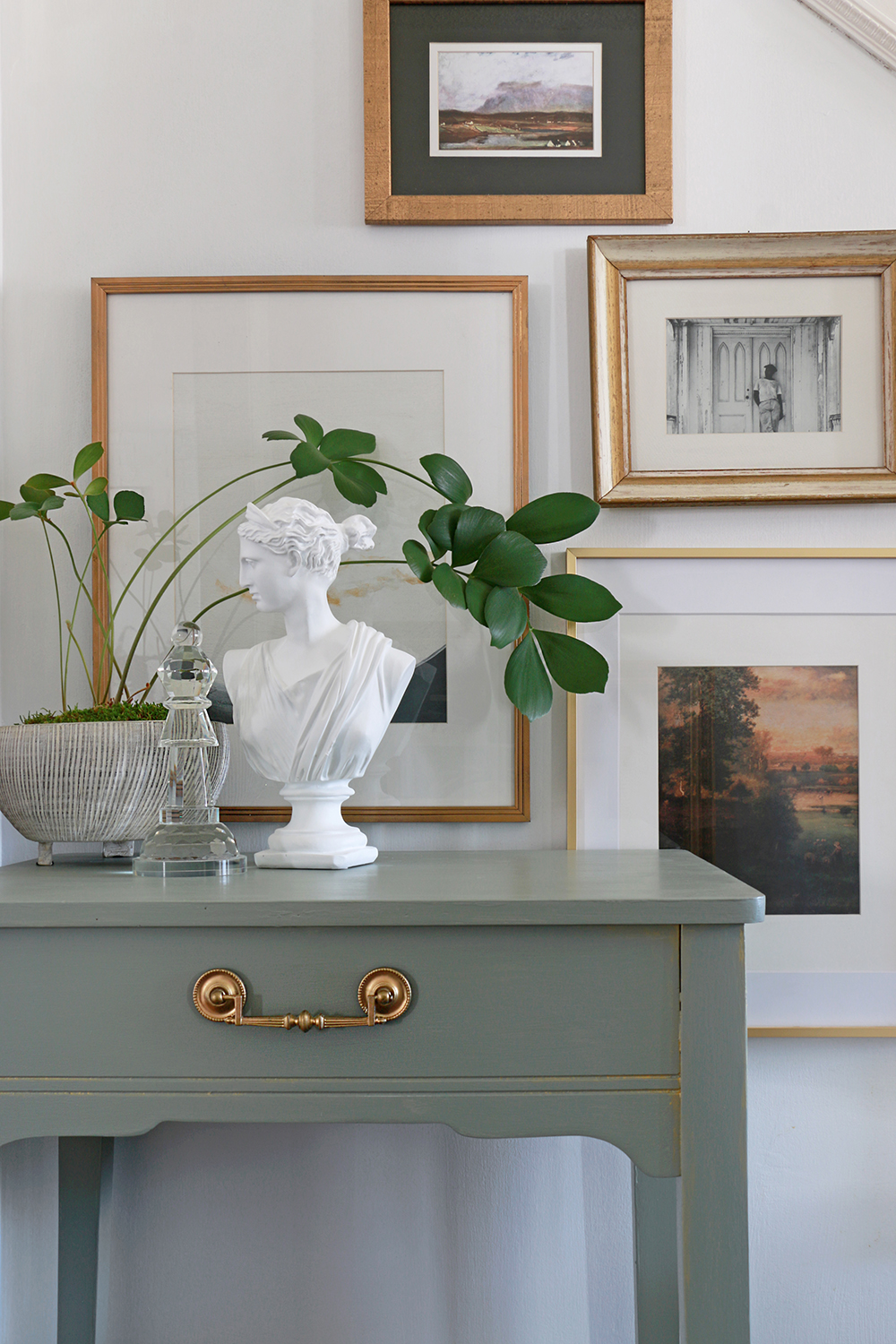 6. Refinish Furniture (Strip & Re-Stain)
If you love the look of raw wood grain, or have a piece of antique furniture you don't want to paint over, and the wood finish needs a little help, strip and stain to restore furniture.
Refurbishing furniture requires a bit of elbow grease, and possibly lots of sandpaper, but end results is a fully restored piece of furniture you'll love for years to come!
Be sure to seal and protect the piece with a clear coat of polyurethane, or a clear wax.
Learn how to refinish furniture for a whole new look>>
7. Add Stylish Legs
Maybe that piece you scored off Facebook Marketplace is perfect, but not quite the right height for the use you have in mind. Get it off the ground by adding legs!
This is also a great way to give an old chest of drawers, or a loveseat, a modern look.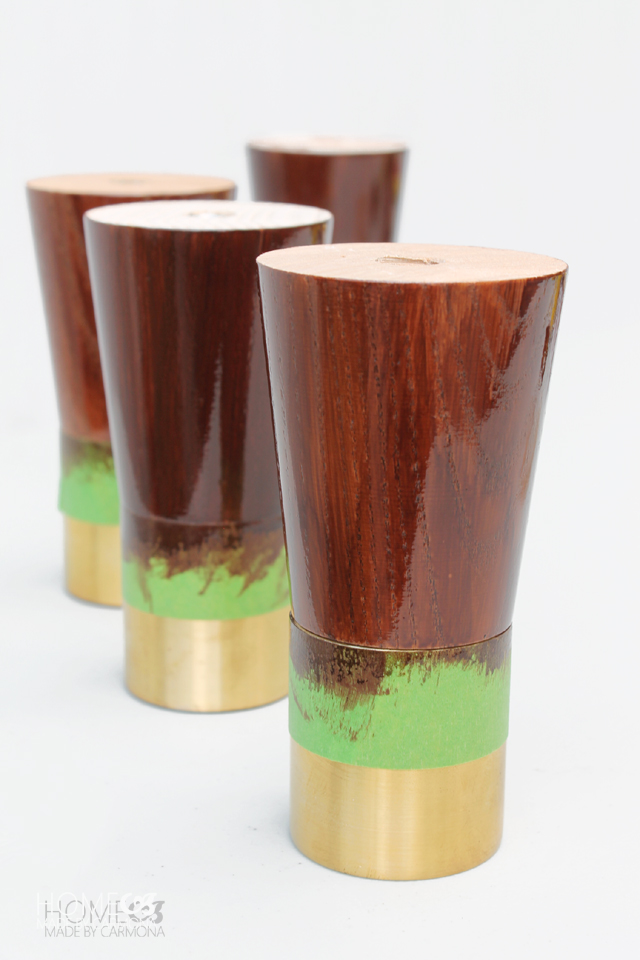 8. Swap Out Knobs / Pulls
Switch out old hardware for updated handles and pulls.
And if you love the shape but not the finish, spray paint old pulls, or use a bit of rub-n-buff to update the hardware!
This furniture makeover took an old storage unit from ugly to sophisticated in a single afternoon.
See the full before and after>>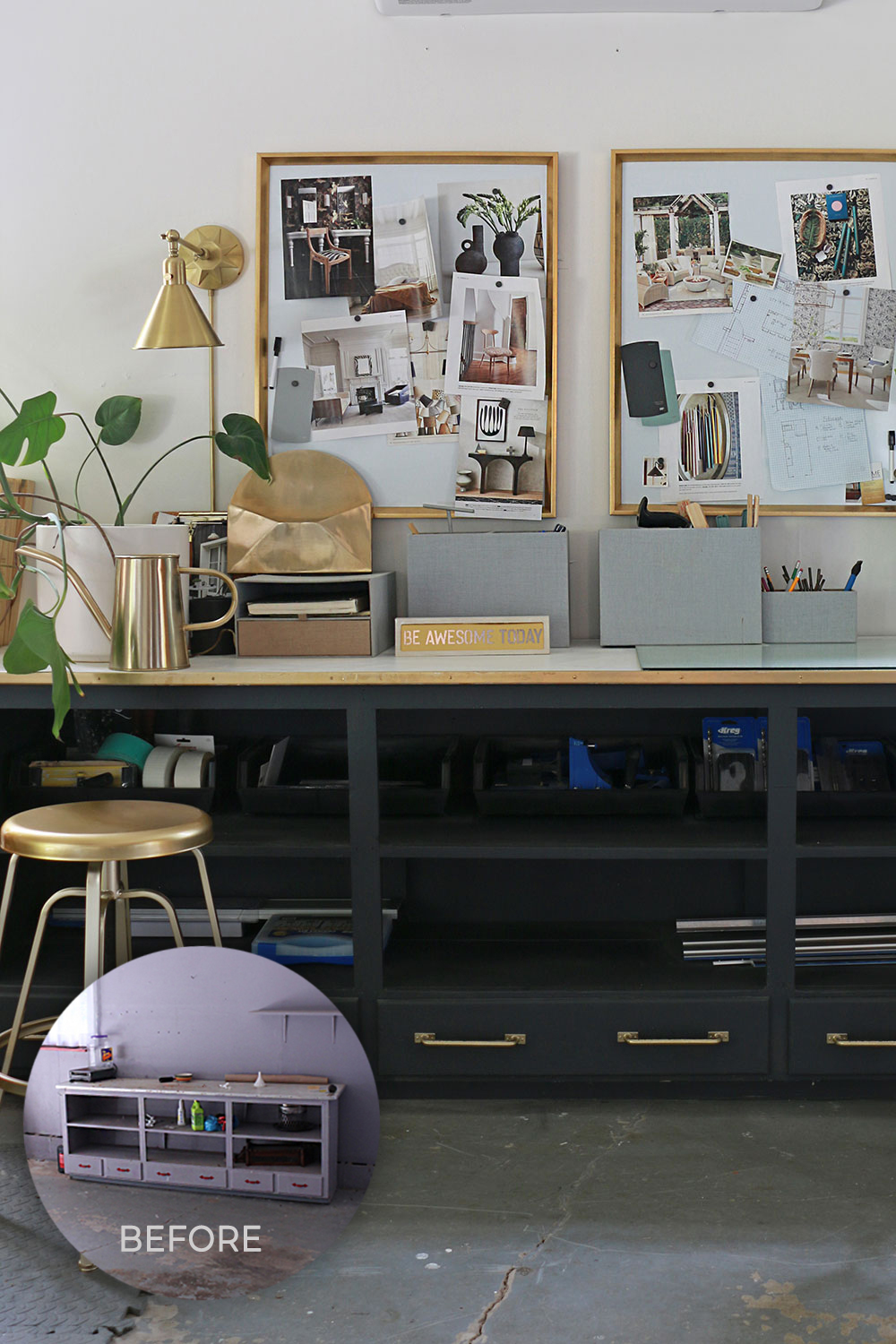 9. Integrate With Built-ins
Don't have a place to set that special piece from your grandmother, but don't want to get rid of it? Incorporate it into some built-ins for a whole new lease on life!
Customizing built-ins is a great way to honor the history of a house by incorporating a period piece built in.
Or use this method to keep your renovation budget low by using a thrift store piece in your diy project. Not every piece has to be DIY furniture you built from scratch… you can save big bucks on materials by hunting garage sales for cheap pieces.
See the full closet before and after>>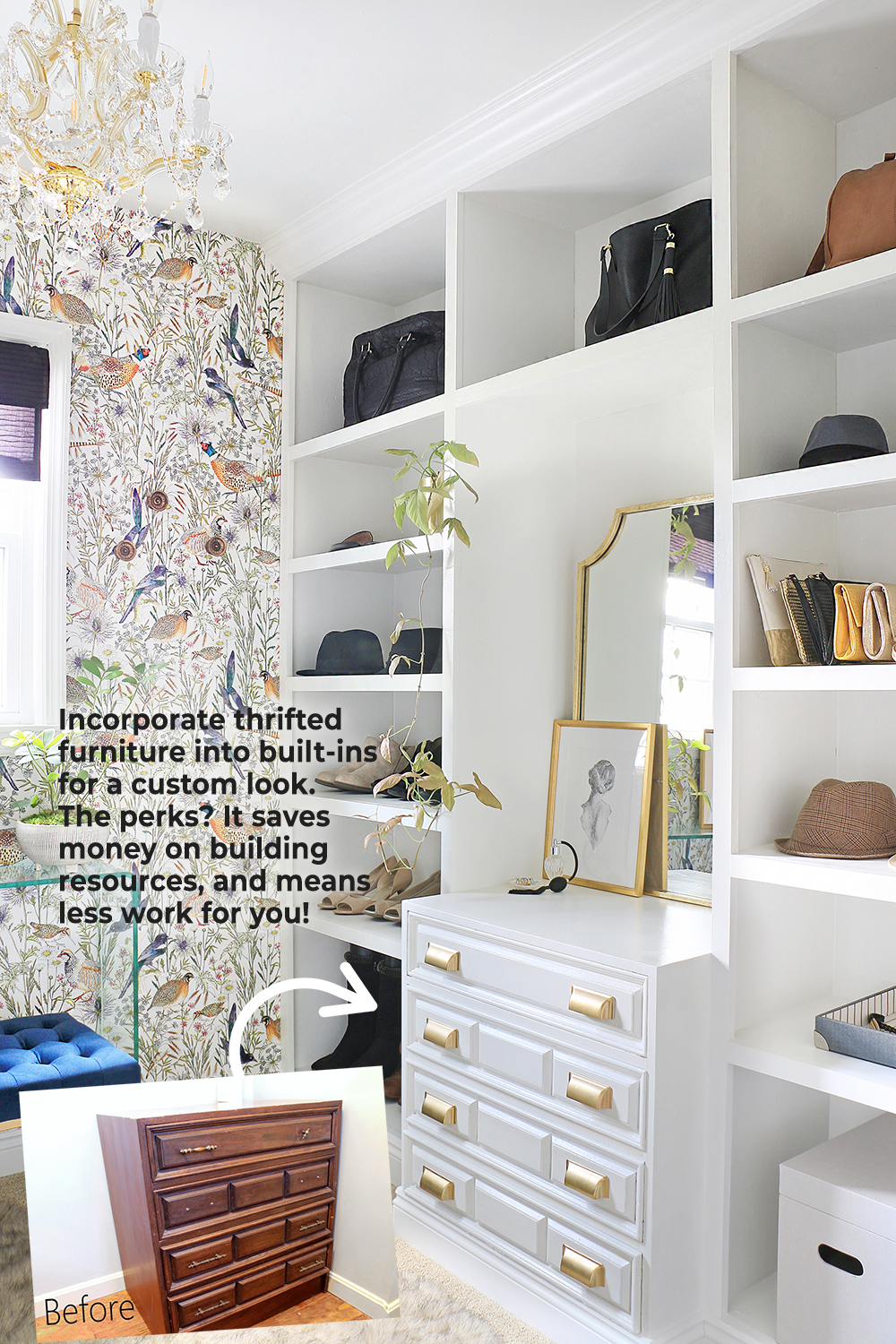 10. Add Embellishments & Hardware
Embellishments can come in the form of stencils or painter's tape to make custom designs on the front of your wood furniture. Or embellish by adding decorative wood appliques, or campaign dresser hardware for a mid-century modern vibe.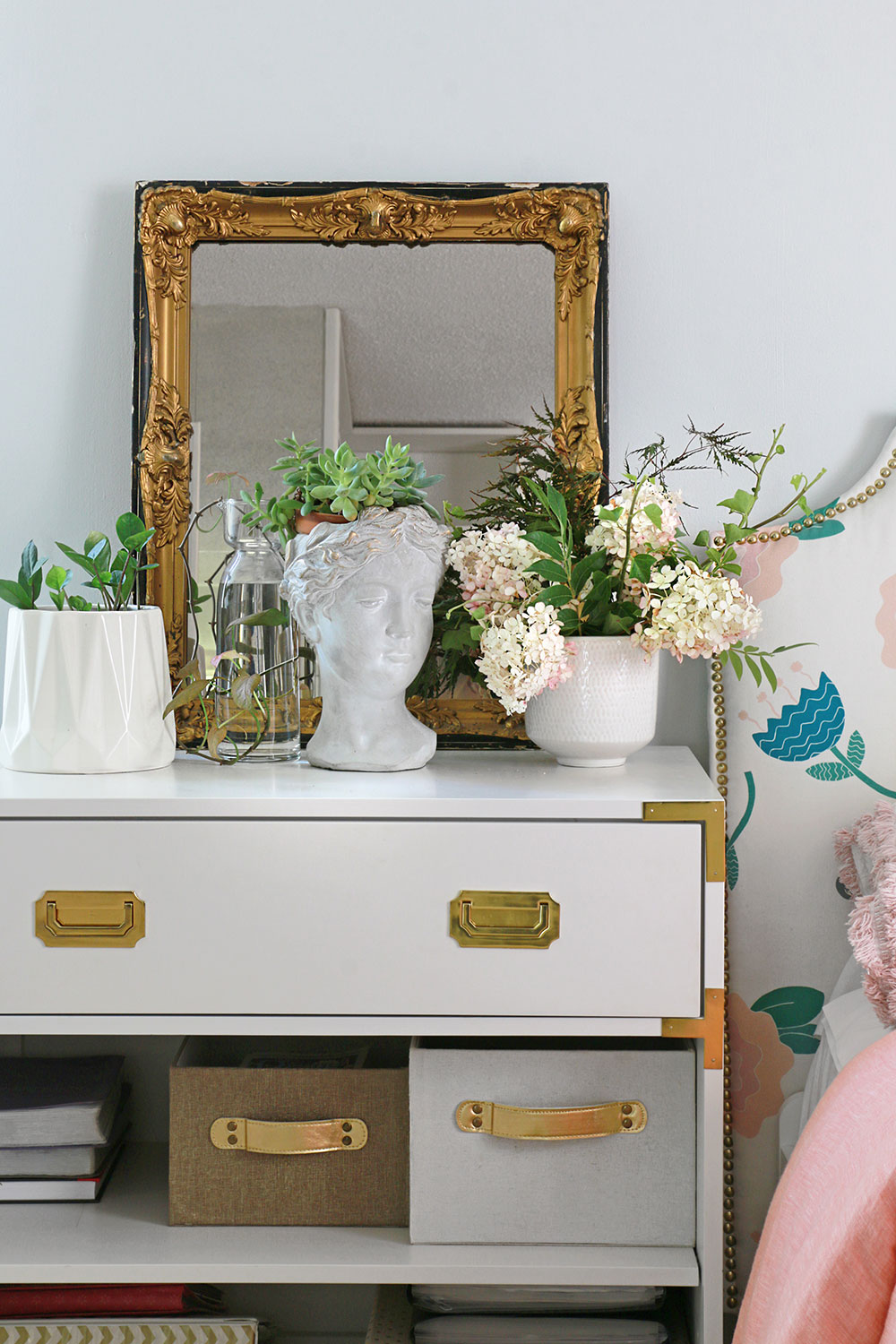 Looking For More Inspiration To Update Outdated Furniture?
Get a ton of inspiration, ideas, and tutorials on furniture flips and many clever ideas on how to redo furniture.
Explore our Pinterest board to help you update furniture for a new look! Find tons of step-by-step ideas to transform outdated furniture.
Pin These Furniture Ideas For Later!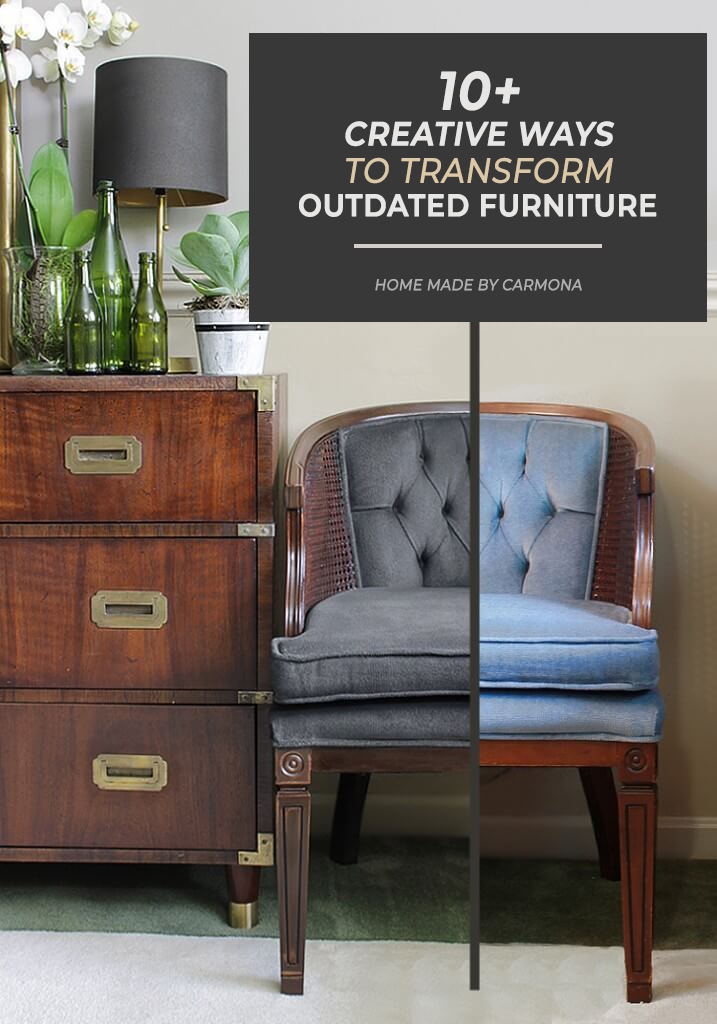 When To Update Furniture & When Not To
Wondering when to transform outdated furniture versus when to say goodbye? Here are a few tips to help make the decision!
1
Does It Have Good Bones?
If it is made from cheap pressed wood, it will likely fall apart sooner and might not be worth the investment to make it over. If it isn't a lot of time, money, or effort to give it a glow-up, then okay.
2
What Is The Projected Cost?
Always count the cost for every project… Including your precious time and effort! Will it cost less to buy new (and will you get the same quality/value)? Then consider saving for the right piece.
3
Do You Love It?
Emotional connection to a piece can be quite strong, even after it has outlived its usefulness. If it is important to you and your family, you can find clever ways to work it into your home!
Like This? You'll Love These!
Check out this dresser makeover using Annie Sloan chalk paint, or follow this beginner's guide to refinishing wood furniture.