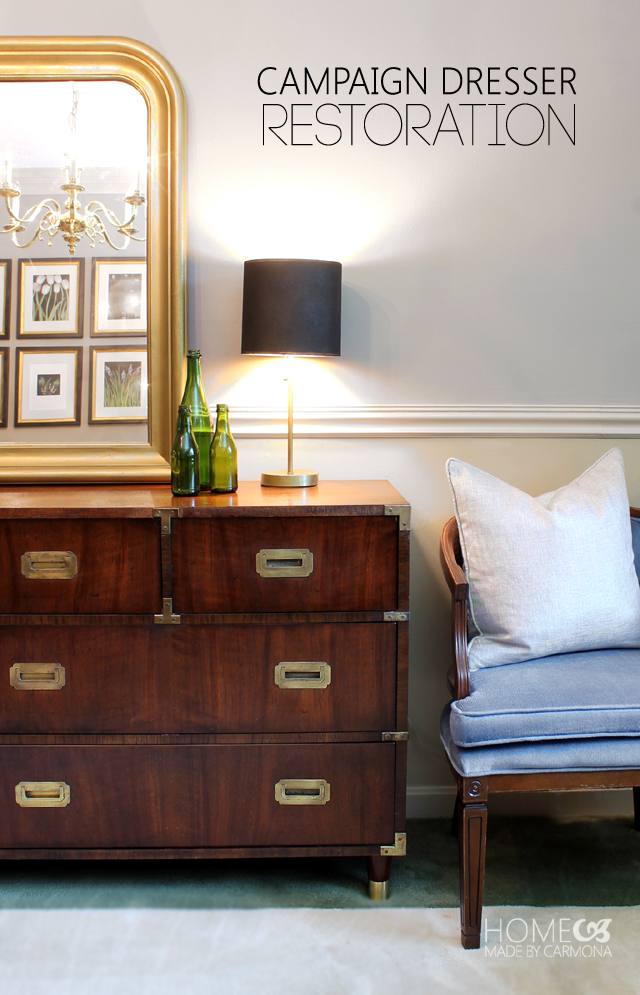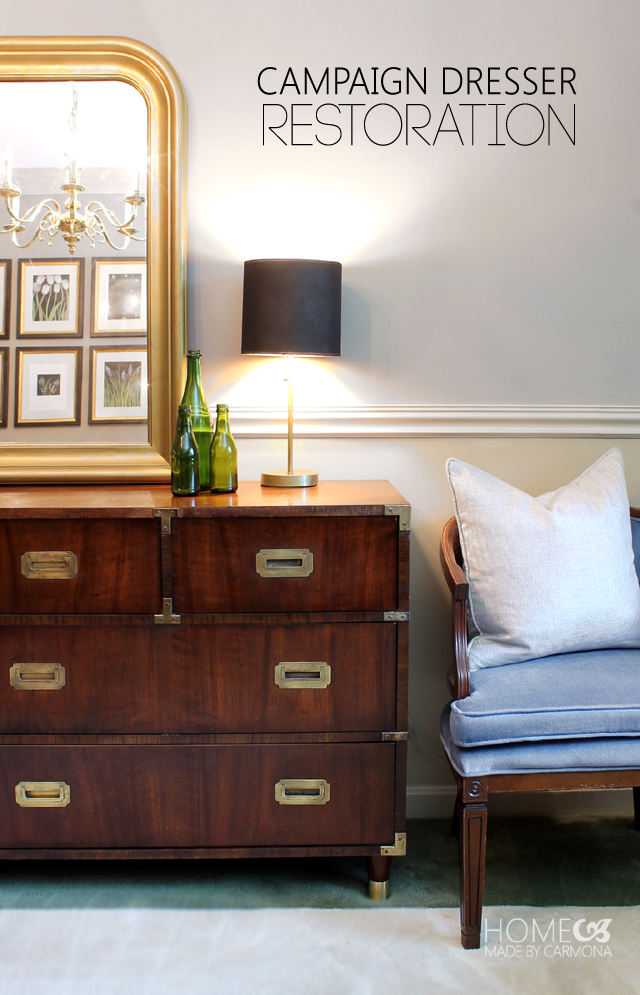 My eyes just about bugged out of my head. There it was, listed right there on my local Facebook garage sale group; the one type of furniture I dared not dream I would ever own. The gorgeous, expensive, long coveted campaign dresser! And can you believe it? It was FREE! What the what??
[left]Somebody's very hasty move was about to be my dream come true! And it wasn't only the one dresser, but an entire bedroom set with two mirrors and a hutch to boot! Oh happy day! Two people were promised the pieces, but didn't show up to collect, so much to my hearts delight the owners told me if I could take them all away in the next 30 minutes they would be mine. Friends…let me tell you, I am not a speeder, and I had no one to help me come lift these big boys…but I booked it down the highway in my little-van-that could, and determined that sheer willpower would help me move them into my van.[/left]
[right][pullquote width="250″ float="left"]First up on my to-do list to revitalize this lovely piece was to add some legs and lift her up off the floor. Prettypegs is this amazing Swedish company with an incredible assortment of furniture legs where I found the perfect set![/pullquote][/right]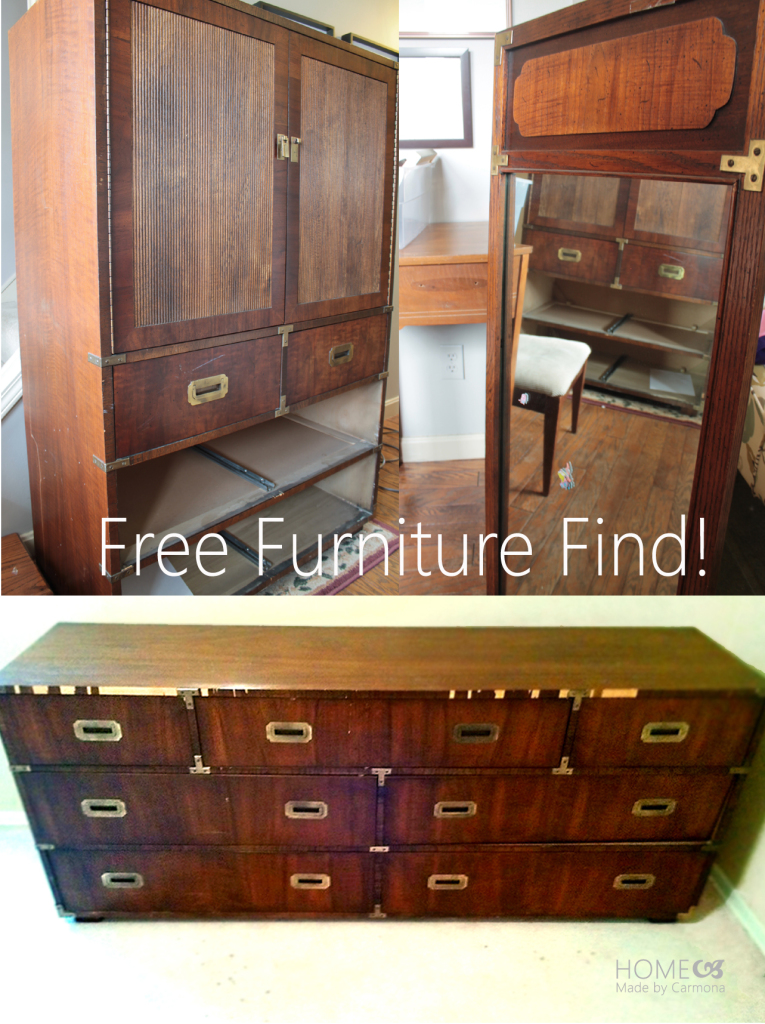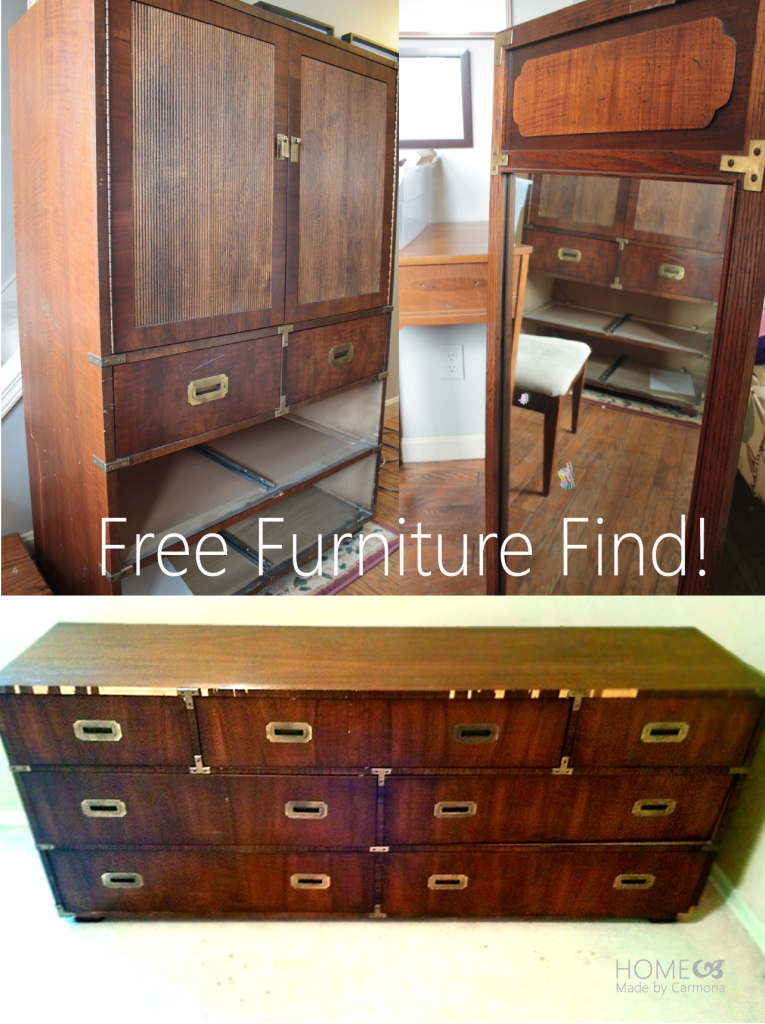 The dresser was quite beat up and would require some serious tender loving care. So first up on my to-do list to revitalize this lovely piece was to add some legs and lift her up off the floor. Prettypegs is this amazing Swedish company with an incredible assortment of furniture legs where I found the perfect set. I found just the set of legs to bring style and a better height to this campaign dresser. Say hello to Estelle 120 in teak!
Quick side note: Oh my goodness ya'all, Prettypegs coffee table collection is to die for! Nope, no one told me to say any of this, I'm just officially a huge fan. 😀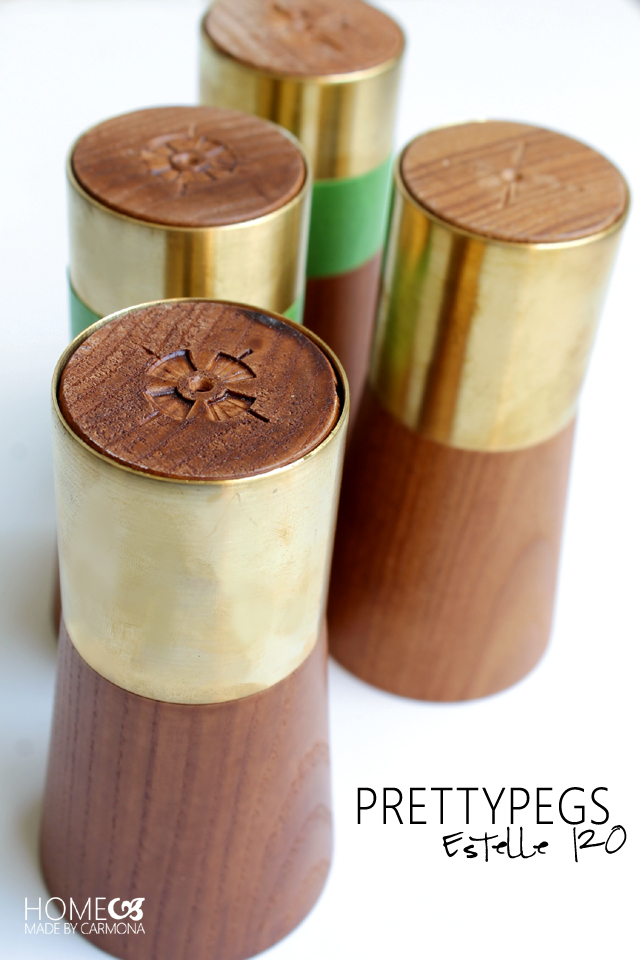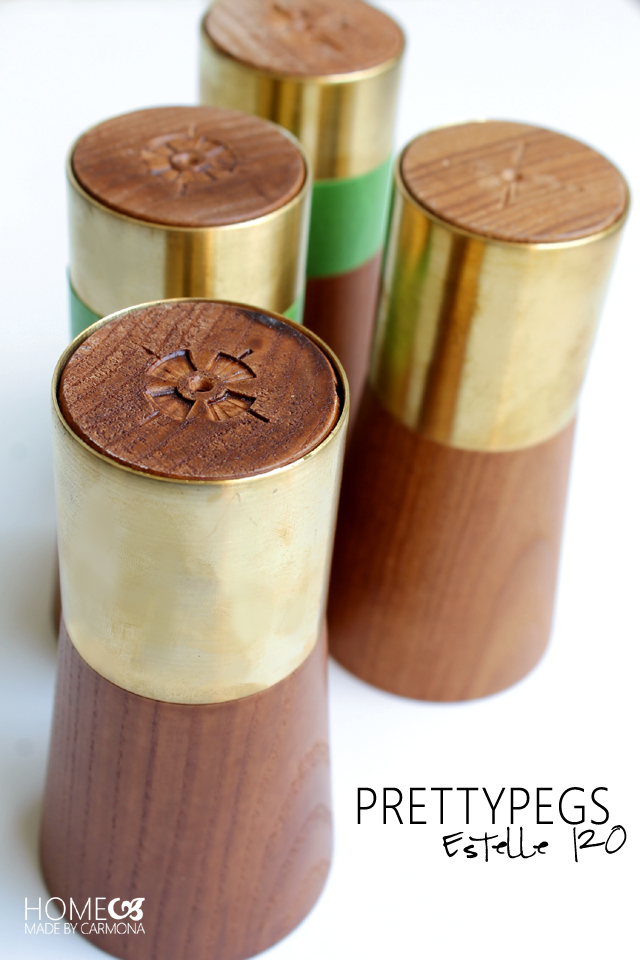 I considered painting the campaign dresser, but that dark wood was just too lovely to paint, and I knew it would shine once I restored it. So I was going to have to stain these sexy little furniture legs to match (which was really too bad since I adored the teak finish!) The brass toe on these legs would be gorgeous next to the brass campaign hardware…a match made in heaven!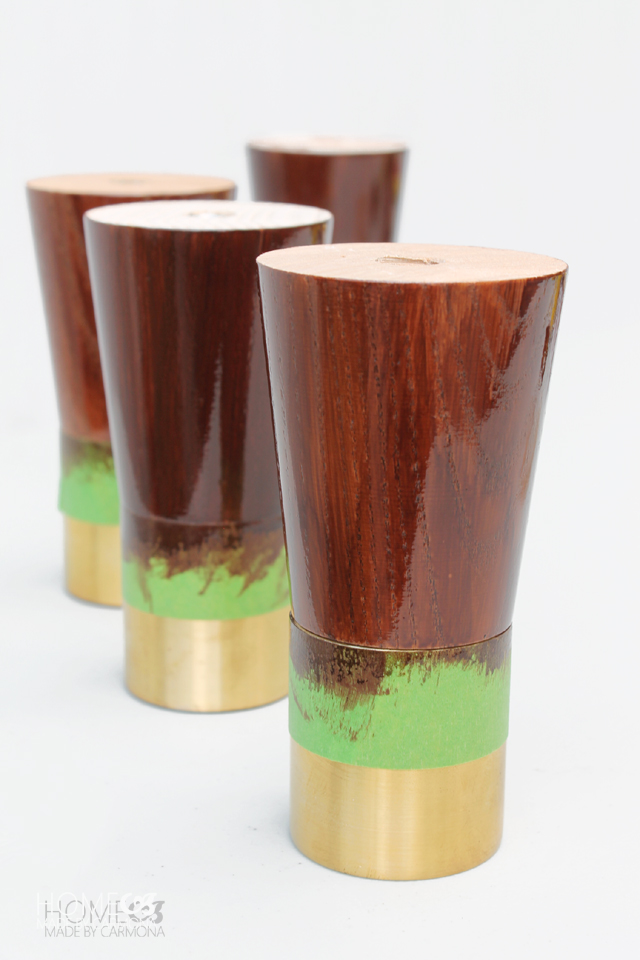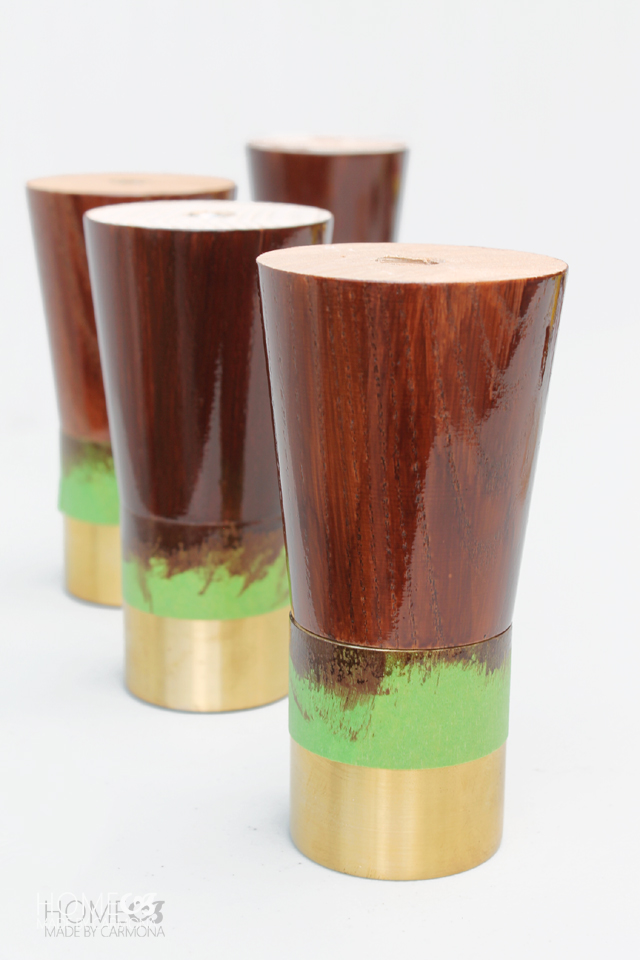 I simply tapped off the brass fitting, and stained it using a dark walnut stain from Minwax. Attaching the legs would be a cinch since the universal fitting plates very simply screwed on to the bottom of the dresser. I didn't even measure, just eyeballed where I thought each leg should go…I recessed them about half an inch so the fitting wouldn't show.
While the legs were drying, I used this same stain to "color in" any gouges. I had to chip away the ledge at the top, and having no idea where to find a matching edge band tape I decided to stain it as a temporary solution. After a couple coats no one would be the wiser without careful examination of the piece.
[left]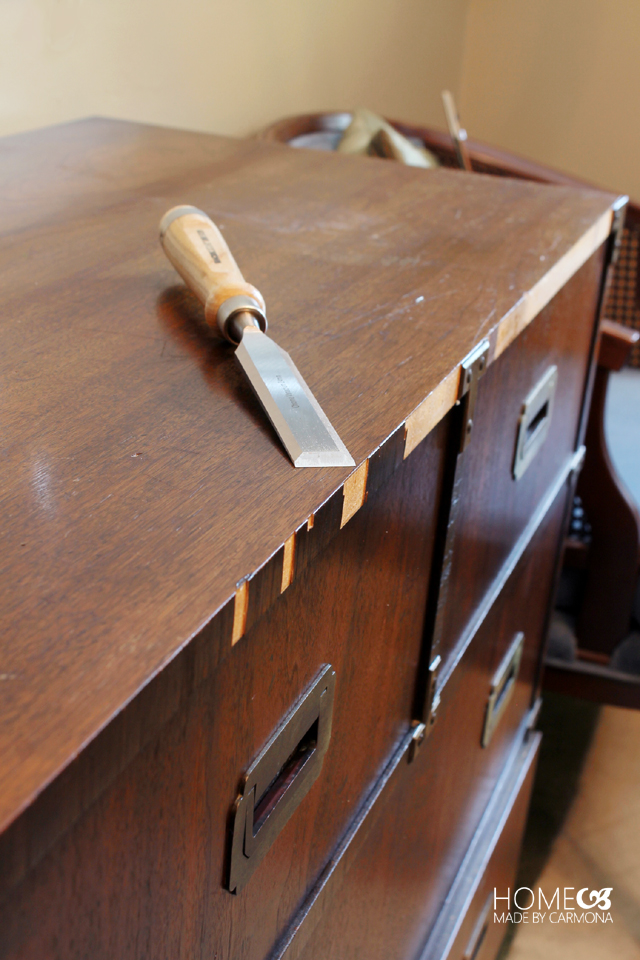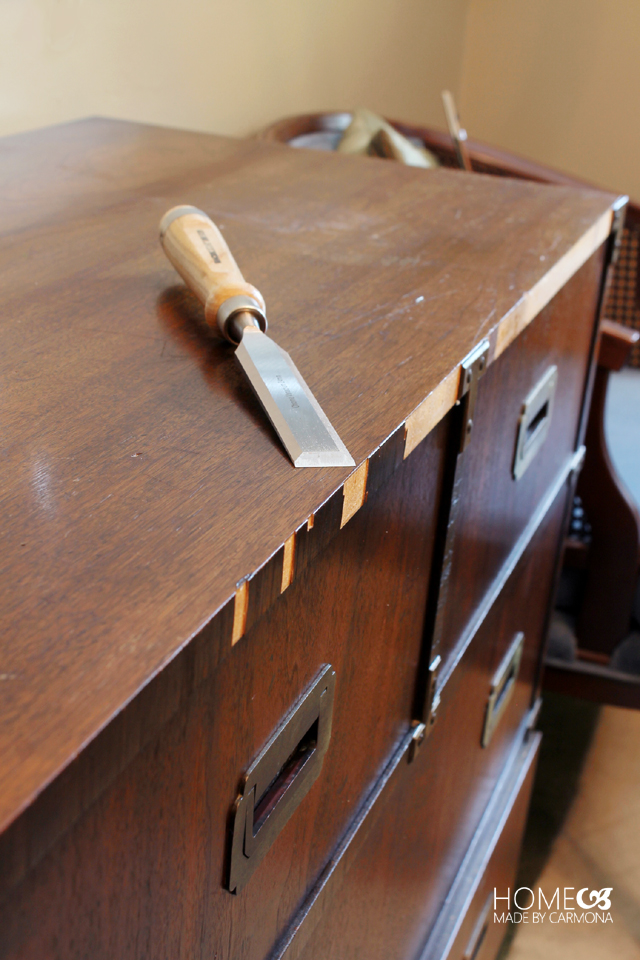 [/left]
[right]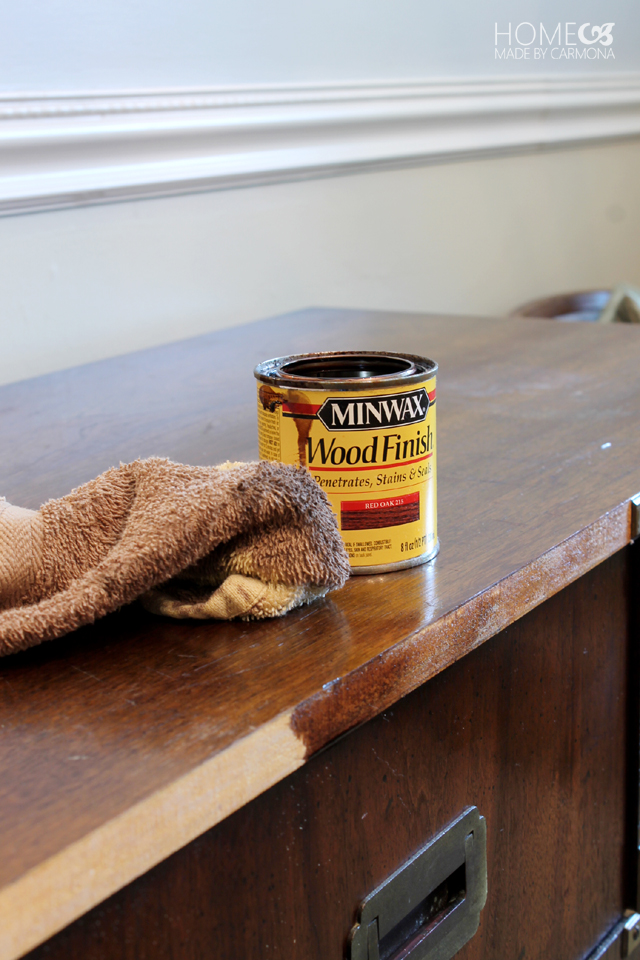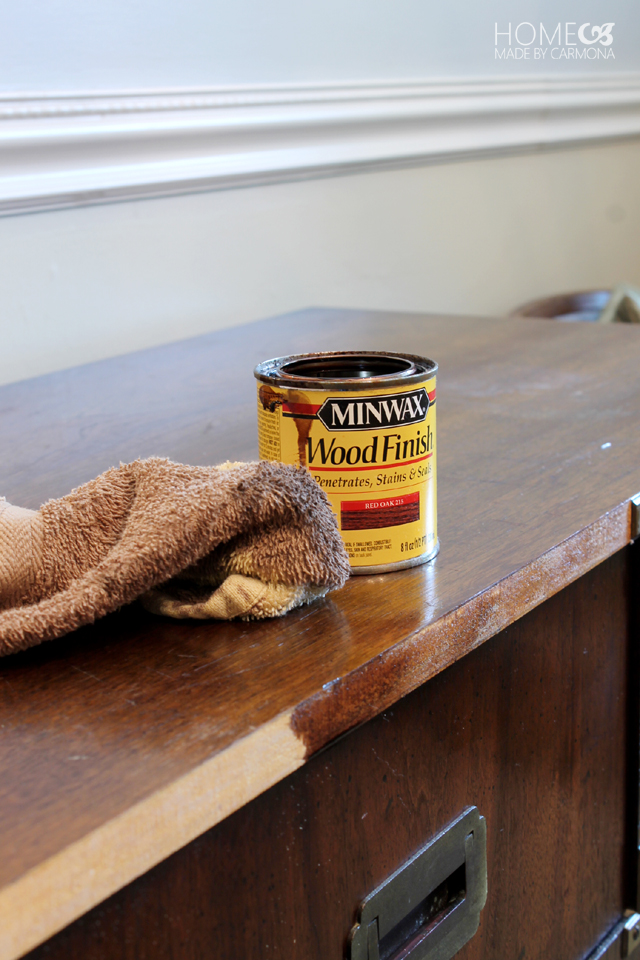 [/right]
Time to get to work on making the brass fittings on this dresser shine! I discovered I could not remove my fittings without pulling off the wood, so I would have to polish them while still attached.
First I tried Brasso metal polish, letting it sit on the fitting for a couple minutes before buffing them. You could definitely see a difference! However they weren't getting to that same hue as the beautiful brand new legs from Prettypegs. It was time to improvise… I happen to have some soft cleaner from Bar Keepers Friend that I often used to clean copper…I had not idea what it would do on brass, but it was worth a test. This worked very quickly to bring a bright shine! I would caution you to test whatever you decide to use on a small back corner fitting first, some of my fittings immediately shone, while a few came out a slightly splotchy due to the rust (see pic below). The Bar Keepers Friend soft scrub did a great job bringing out that brass colored sparkle, but I could see that it is very harsh on the fittings and should be use gently (a little goes a long way). Whereas you can see below that the actual brass cleaner on the right still left that dull greenish hue on my pulls and fittings (even after 3 separate cleanings!).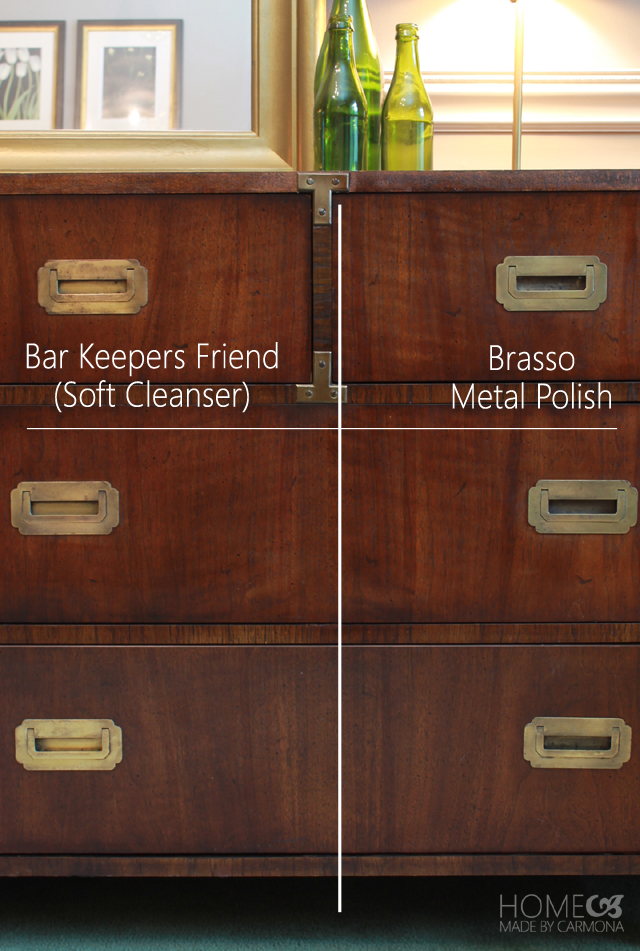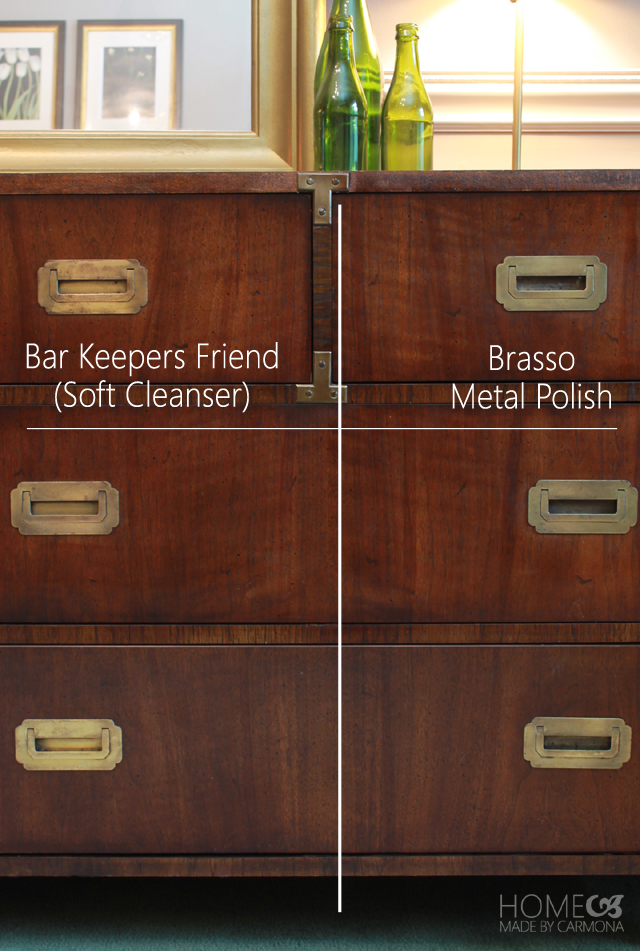 After cleaning up all the pulls and fittings using the Bar Keepers Friend soft cleanser, I cleaned up any residue that got on the wood with water, then polished the whole dresser using Old English polish for dark woods. This healed any residual scratches, or areas where the wood was starting to look dull.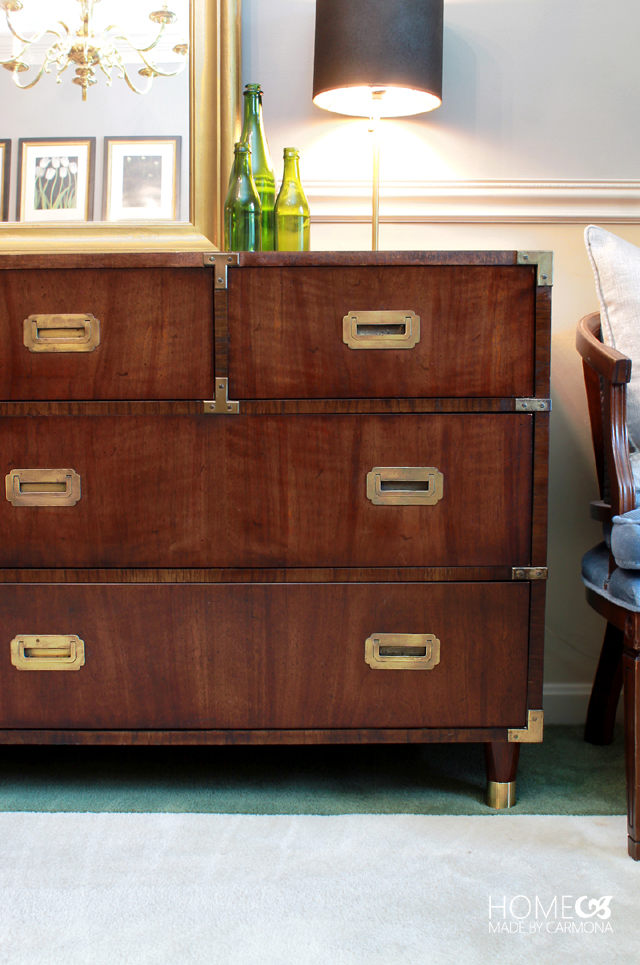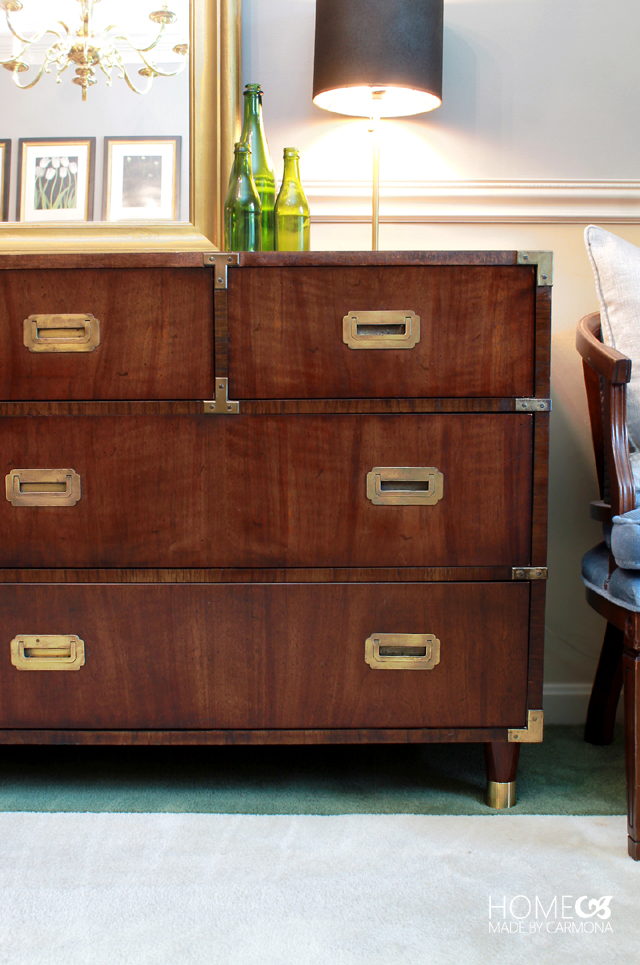 I love having a beautiful all-wood stunner on my hands! I often paint wooden pieces that don't match the space, but this baby just needed a little TLC to restore it to it's original glory.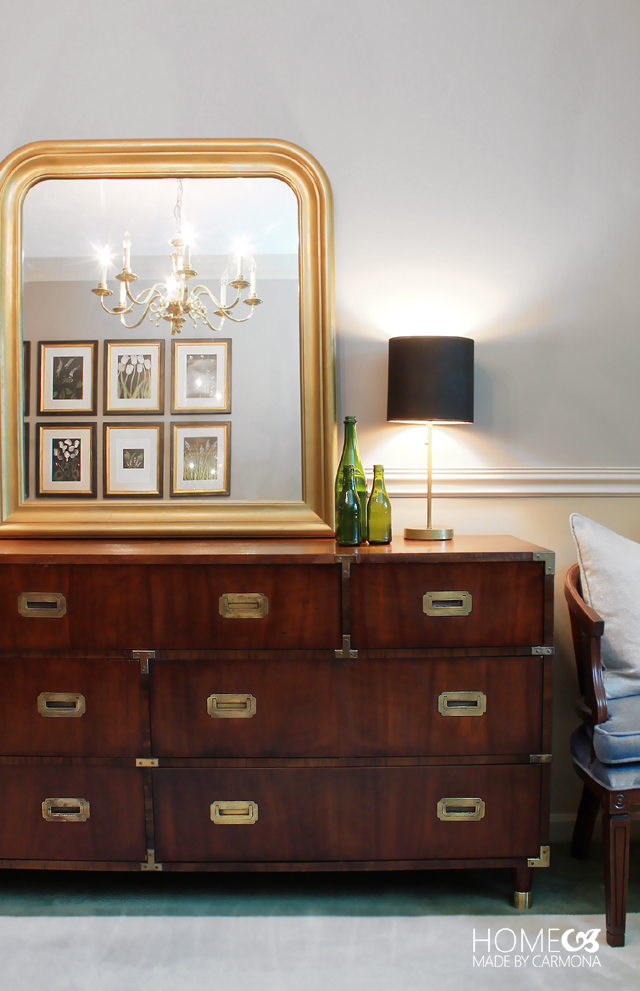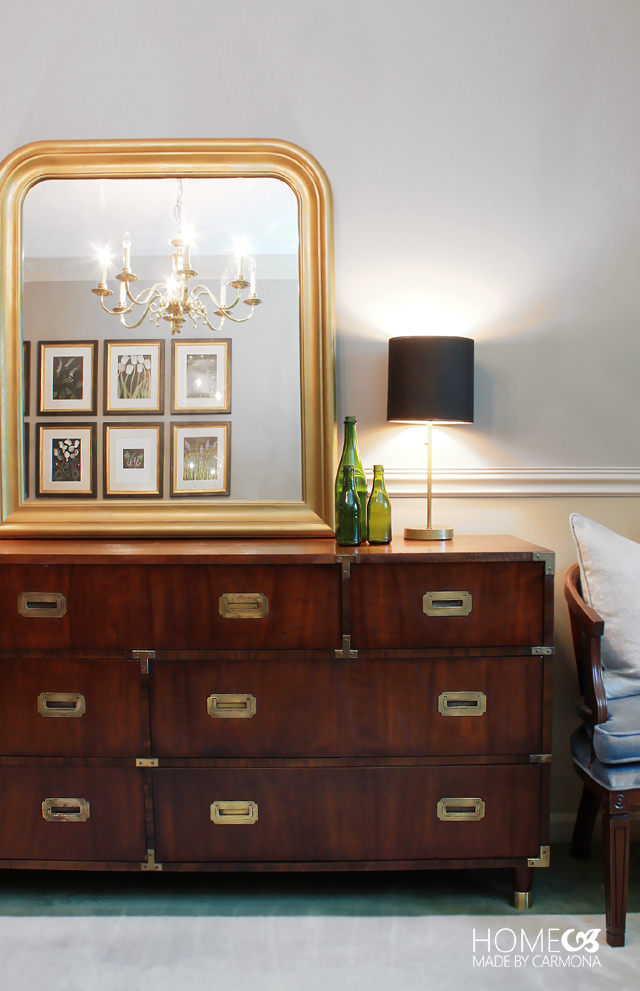 If you think that is the end to this story, I assure you it is not! The crazy thing about restoring this piece is that it took me about 30 minutes of active work, and during the 10 hours of drying time before I attached the legs I lost my mind and gave the entire dining room a makeover. Yes, the entire dining room! Once I dragged that campaign dresser into the space (pre-war), I suddenly saw the space for what it could be and was so inspired and motivated I worked for the next 10 hours to make it happen. But that is a story for another post…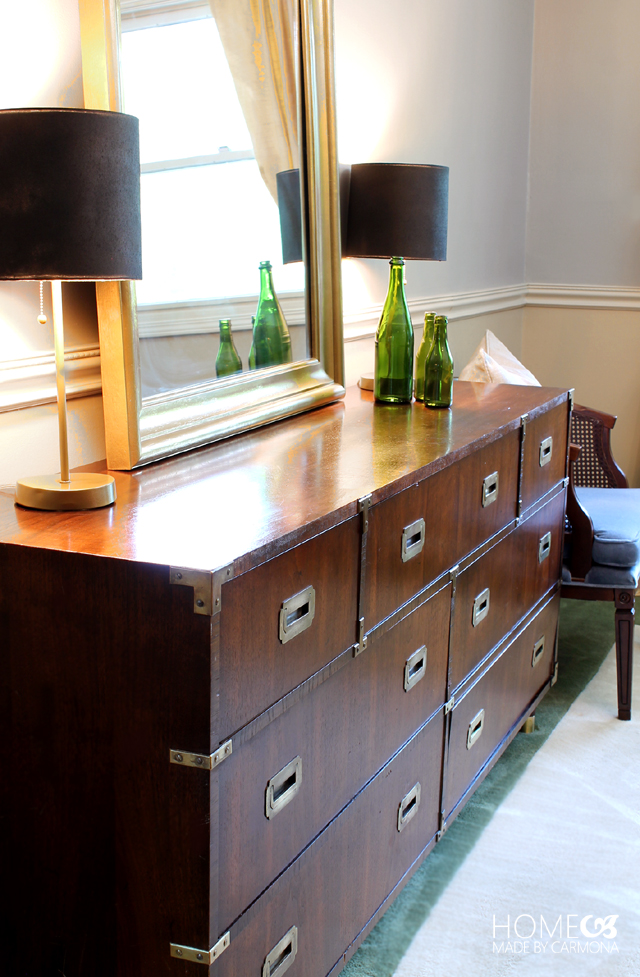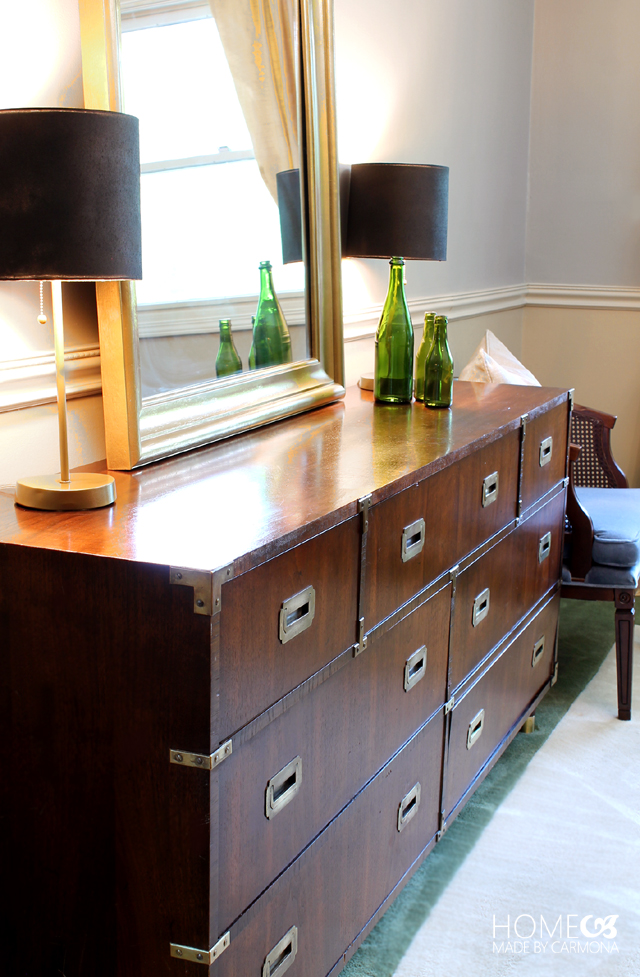 See the rest of this makeover where a mismatched dining room set got an incredible makeover, and a little blue armchair got a sophisticated makeover by painting the upholstery (can you believe it!??!).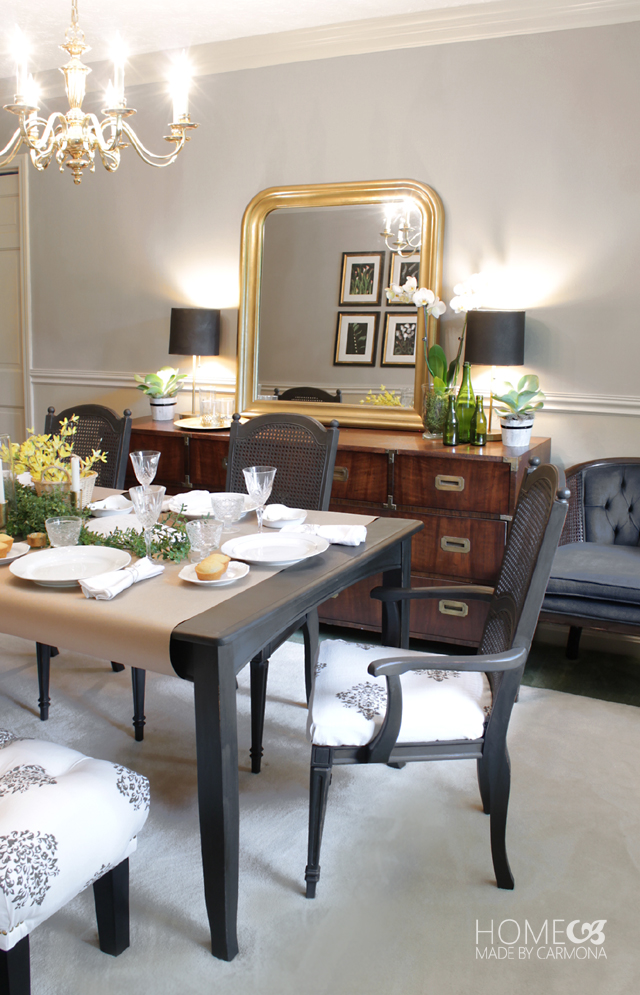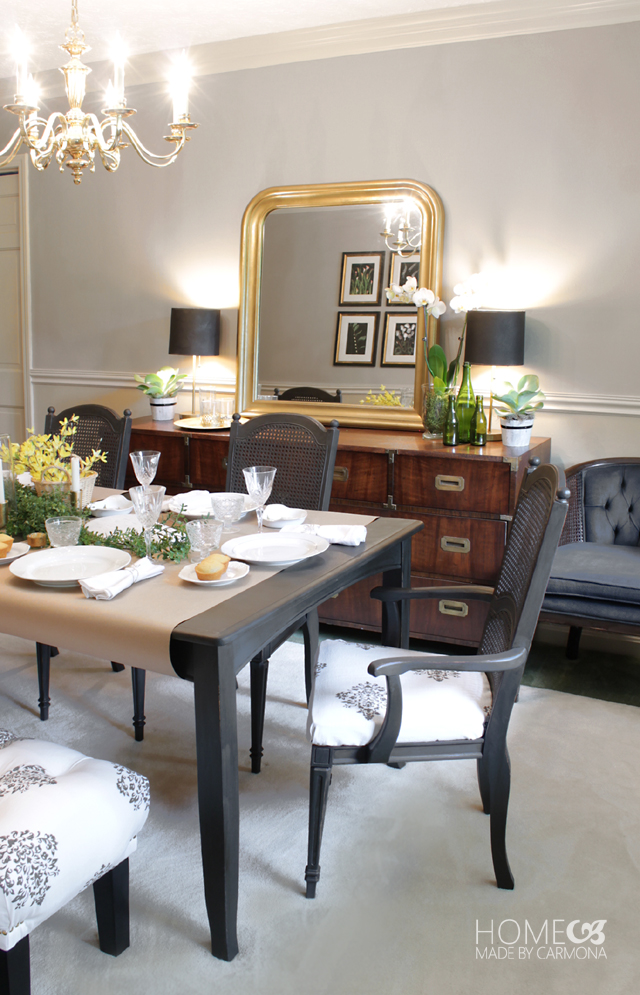 I'd love to know what you would have done with this campaign dresser to fit in your own home? Would it look better sanded and re-stained in your home, or painted? What color? Have you refreshed any amazing furniture pieces in your home lately? Let us see by sharing via social media with the hashtag #HMCmaker . I love seeing my readers employ those mad skills! 🙂
I'd like to say a special thank you to Prettypegs for graciously gifting me these stunning legs! As you all know I don't make recommendations lightly, but there is a slew of easy and stylish DIY projects just waiting for you (and me) with the drool worthy assortment you'll find there! I follow Prettypegs on Facebook, Pinterest, and Instagram for inspiration and to see their latest and greatest. Trust me, you'll get some great ideas…


[go_portfolio id="diy_gallery"]