It is only our second week of working on what I have affectionately dubbed the Artist's Mountain Home project. It is my parent's rustic log house in the mountains of Southern California, and I've wanted to decorate this home since I was a kid!
This week we're ready to start a few small updates in the master bedroom, and I'm learning to embrace the bit of rustic charm contained in this home.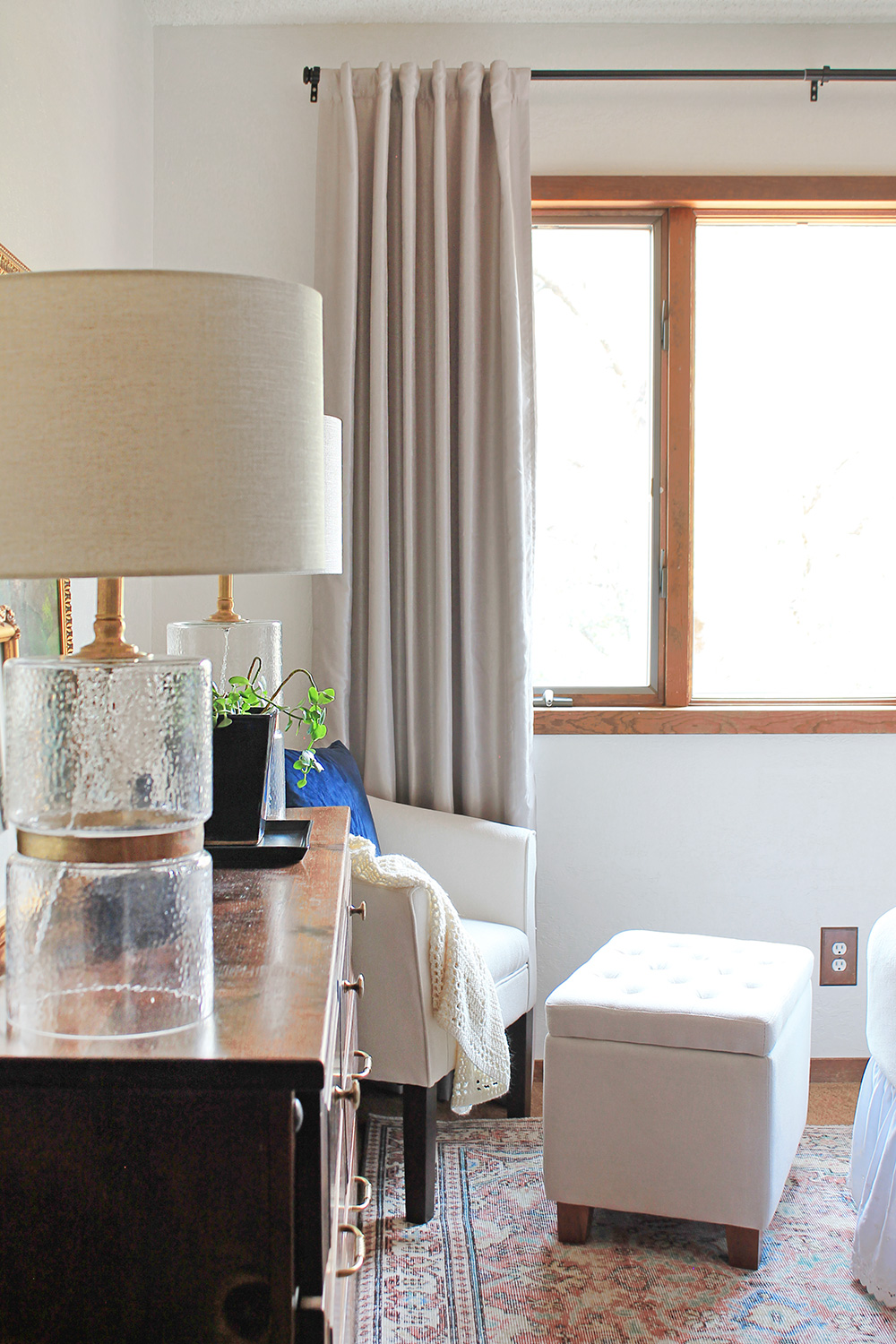 *This week's featured sponsors of the #artistsmountainhome remodel are Wovebyrd, and Huck & Peck…woop woop!
So far we have only executed a few small inexpensive changes in the living room… but this is going to be a multi-month, multi-room makeover, and that requires patience and careful planning. Especially since they are in Cali, and I'm all the way on the opposite coast in North Carolina! Until I can get there, they will have to do all the prep work.
This week we're starting with just the bedroom dresser area and window wall. Then in the coming weeks we'll decide what we want for the bed and side tables.
Bedroom Dresser Area Before
Some of my earliest memories are of this dresser with hutch-like mirror over it. I remember my mom getting ready for special events combing out her curls in this mirror, I remember poking about the mysterious little boxes and jars that held pretty things and pretty smells.
It's a special piece of furniture when it has the power to bring back nostalgic memories… fortunately (hm, and unfortunately) nostalgia has never prevented me from realizing when a piece has had it's moment, and when that moment is over. We will keep the dresser which has tons of rustic charm, but the hutch top will be saying it's goodbye's.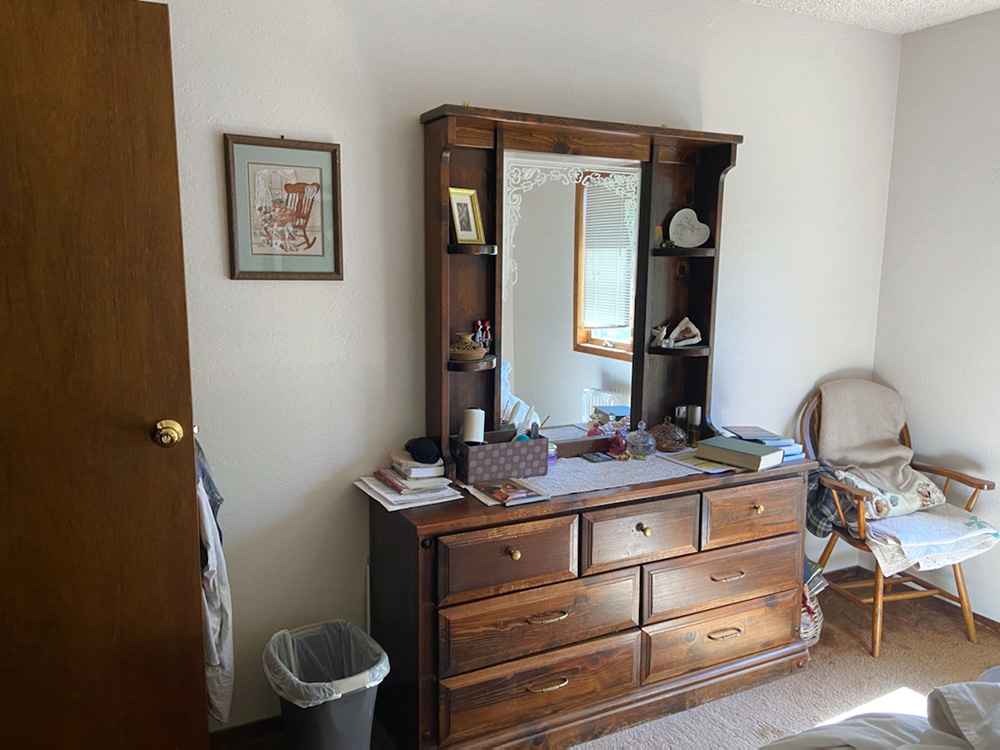 Diagnosing The Problems:
This space had a bit too much wood in it…don't get me wrong, I love wood! But a room can't always visually support too much of any one finish. So we need to bring just a bit of balance, and losing the hutch top will help a bit. I would also paint and trim out the doors if my parents would let me.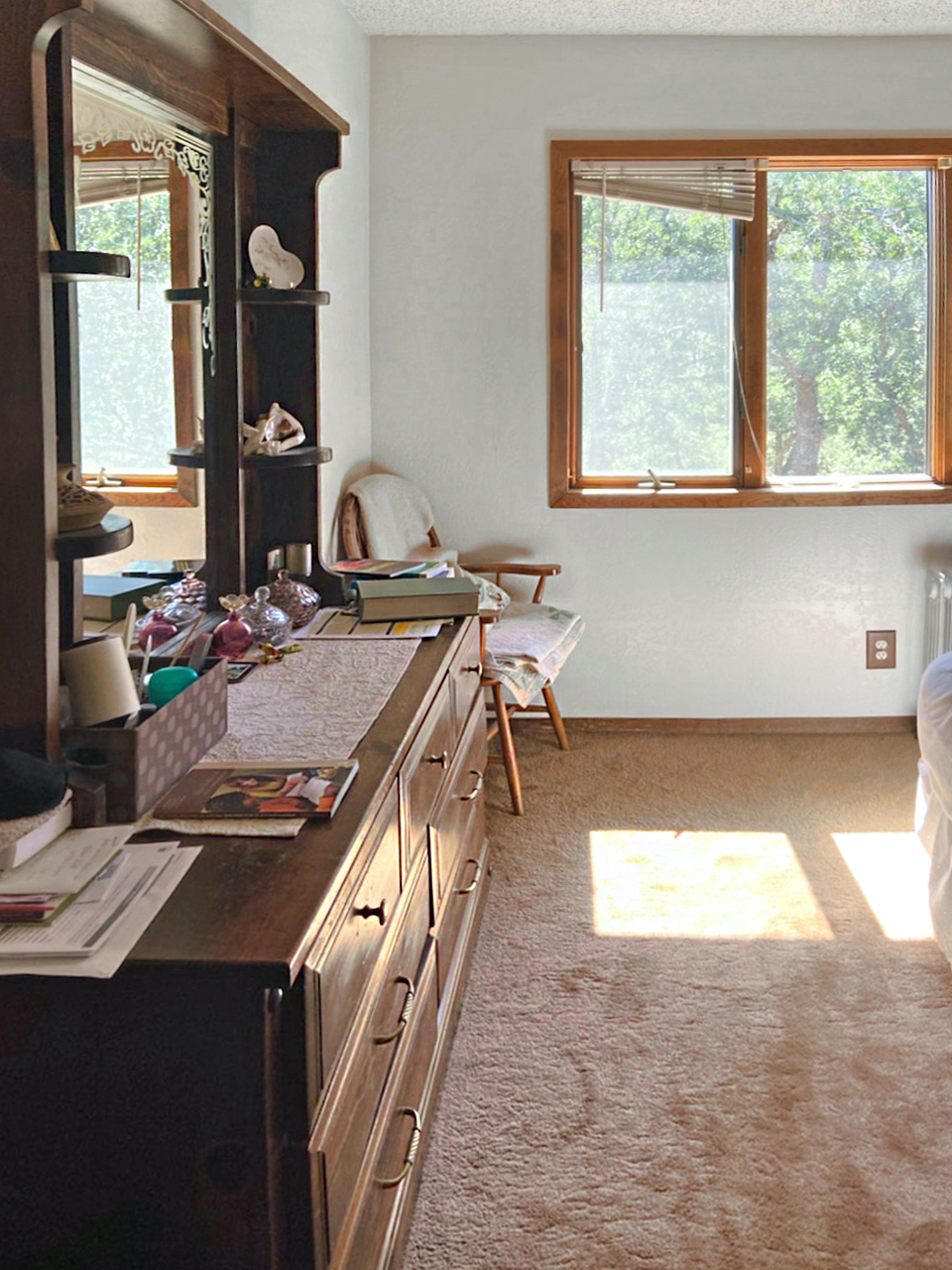 The room also needs just a little less brown, and a bit more color, so we will be testing a few different area rugs in here. We'll also bring more color in through my dad's artwork, and some well chosen accessories.
It is obvious those particular blinds aren't doing my parents any favors, so they also have to go. Adding light blocking drapes are always an easy update to any space and a great style option.
Comfort, Function, And Seating With Style
Did you notice that little wooden chair that used to be in the corner? I wanted to give my mom and dad a softer space to land when getting ready in the morning. But it was also important the chair was tall enough and firm enough for things like putting on your shoes.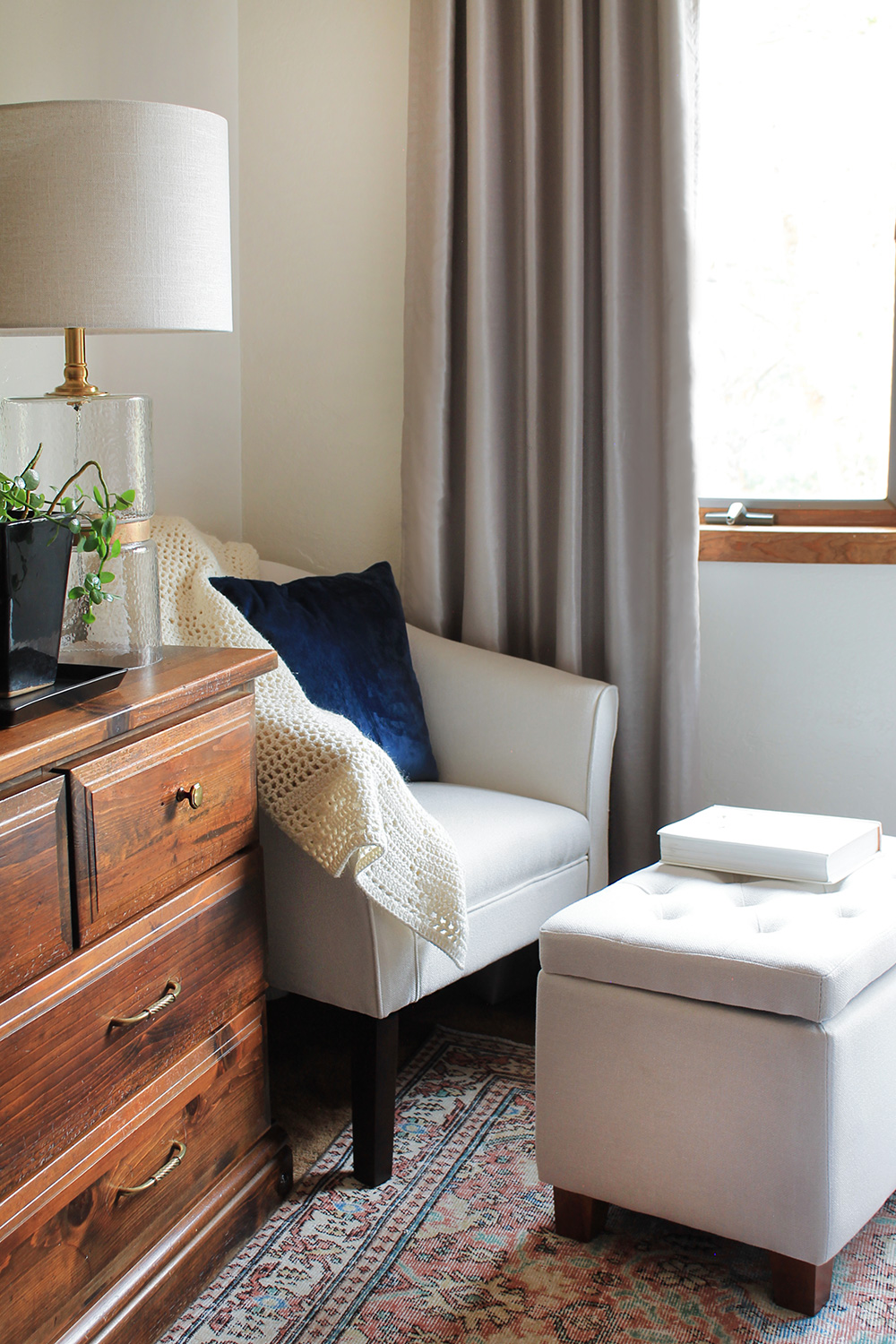 This Classic Barrel Accent Chair from my friends at Wovebyrd caught my eye. It was the right size to fit in that corner, and added both comfort and texture with it's lovely upholstered finish. This classic piece could go in a space that was traditional, modern, rustic, or in a variety of design styles and look just as amazing.
Any time you can add more storage to a room, go for it! I opted Wovenbyrd's Tufted Top Storage Ottoman to act as a footstool with extra storage!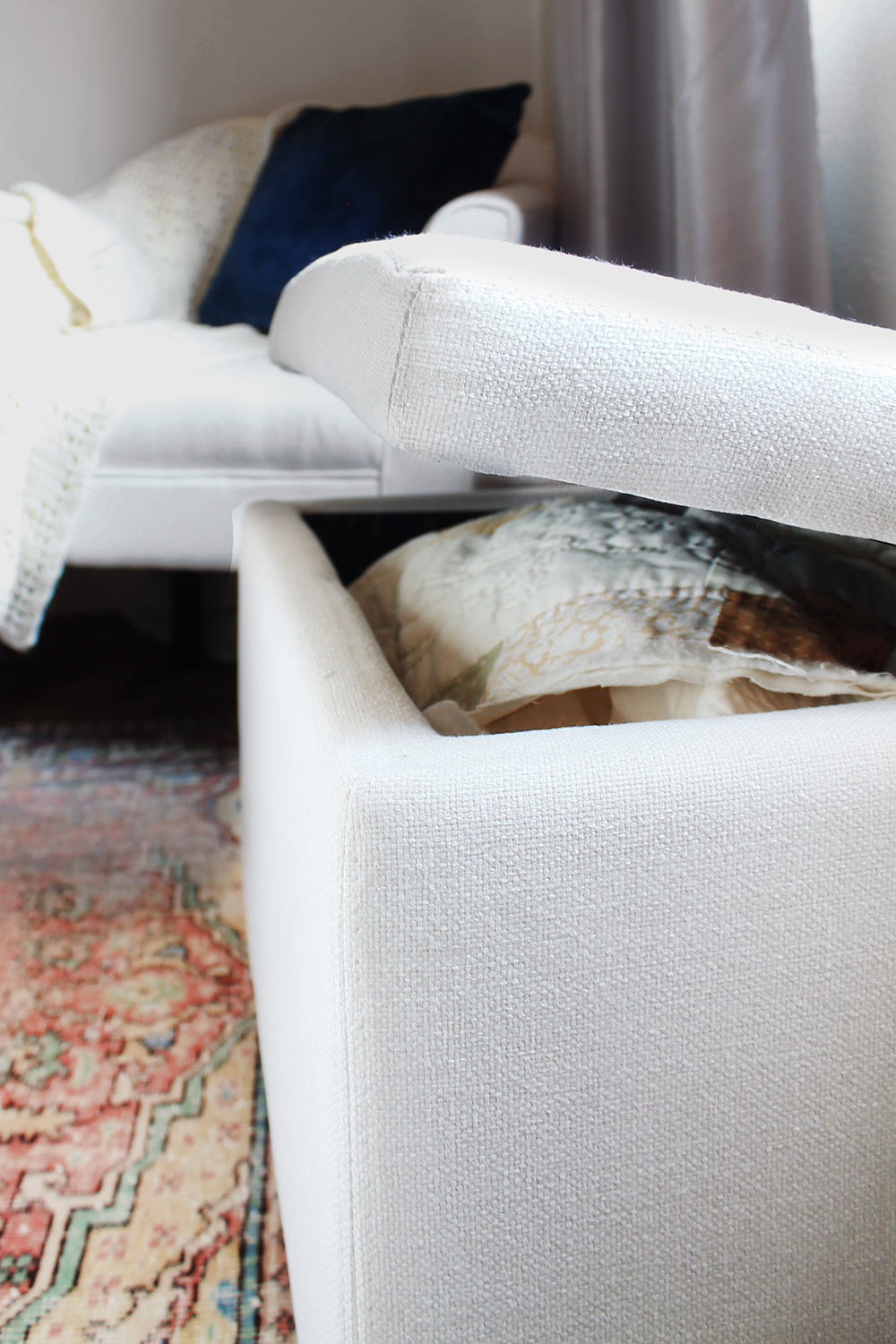 Stylish Lamps For Function & Fashion
Removing the dresser's hutch means room for a pair of stylish lamps to light the space. This bedroom has no overhead light, so my parents relied on a floor lamp to do the job.
These gorgeous Brass & Glass Table Lamps from Huck & Peck are the perfect stylish pieces for the space. Now the corner seating can be used for dressing or as a cozy reading nook with proper lighting.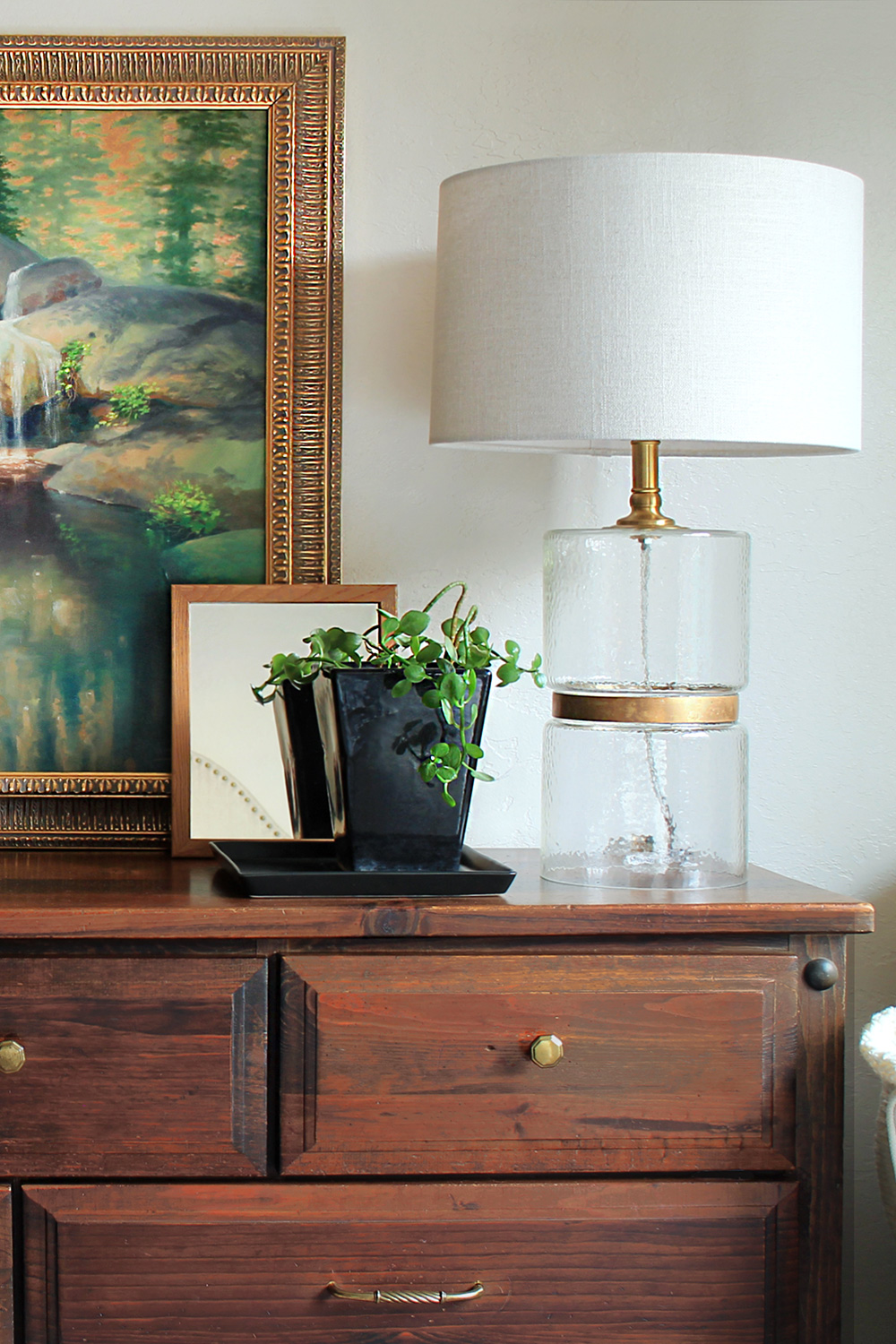 Never underestimate the power of proper lighting when designing a space. Beautiful bright spaces during the day, and warm cozy spaces at night are all about lighting for ambiance and function.
Huck & Peck have an amazing selection of lighting and beautiful decor for every area of your home. But these particular lamps drew my attention from the hammered glass, to the elegant brass touches, to their quality linen shade! Now I just need to find the perfect mirror to compliment them…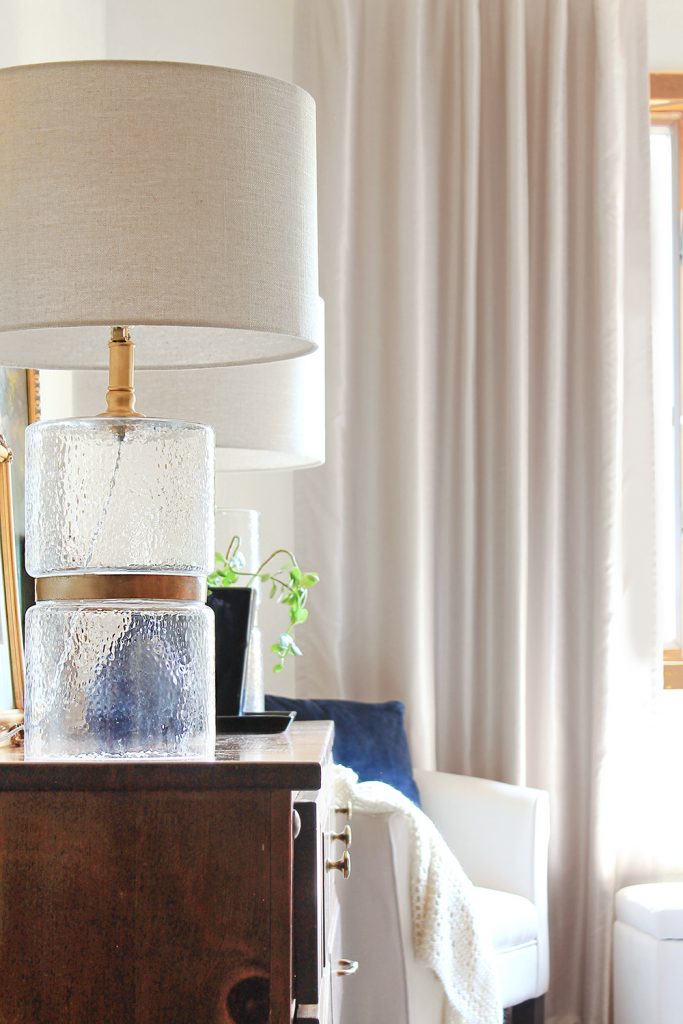 Wait, No Mirrors For The Dresser??
Oh trust me, the dresser WILL have a mirror! I found several gorgeous arched top mirrors in a beautiful Parisian vintage style. However none of them are currently in stock…nary a one! *cue the weeping and gnashing of teeth*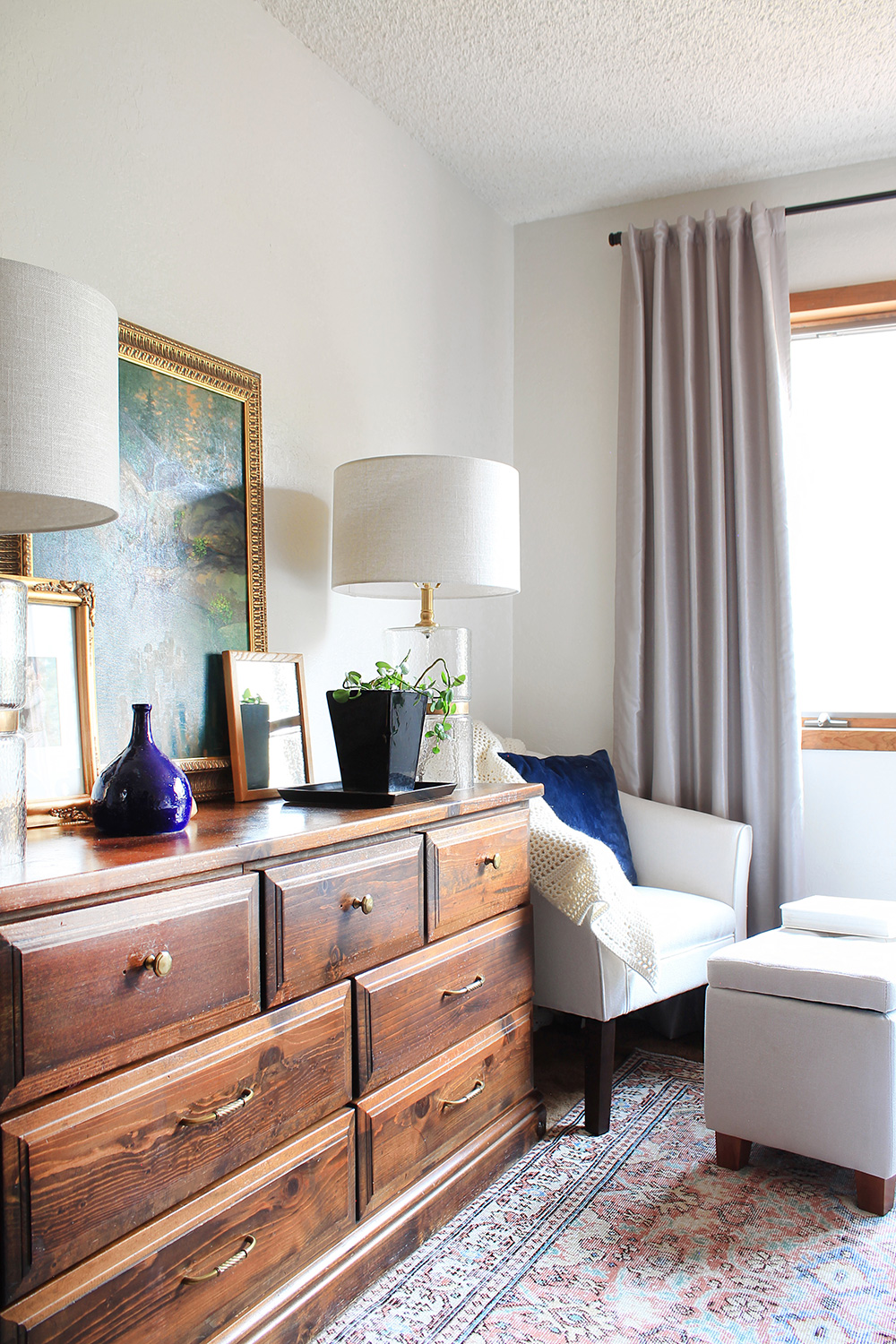 The decor shortage happening right now is really putting a kink in my design plans. This small town doesn't have the biggest supply of goodies via Facebook marketplace, the thrift shops are still not open due to Covid. Now I'm struggling to find the right pieces online too!
So, we will have to revisit this space again in September or October when some of the desired pieces come back in stock. In the meantime, I'm showing off this space with dad's artwork, and this is my absolute favorite piece!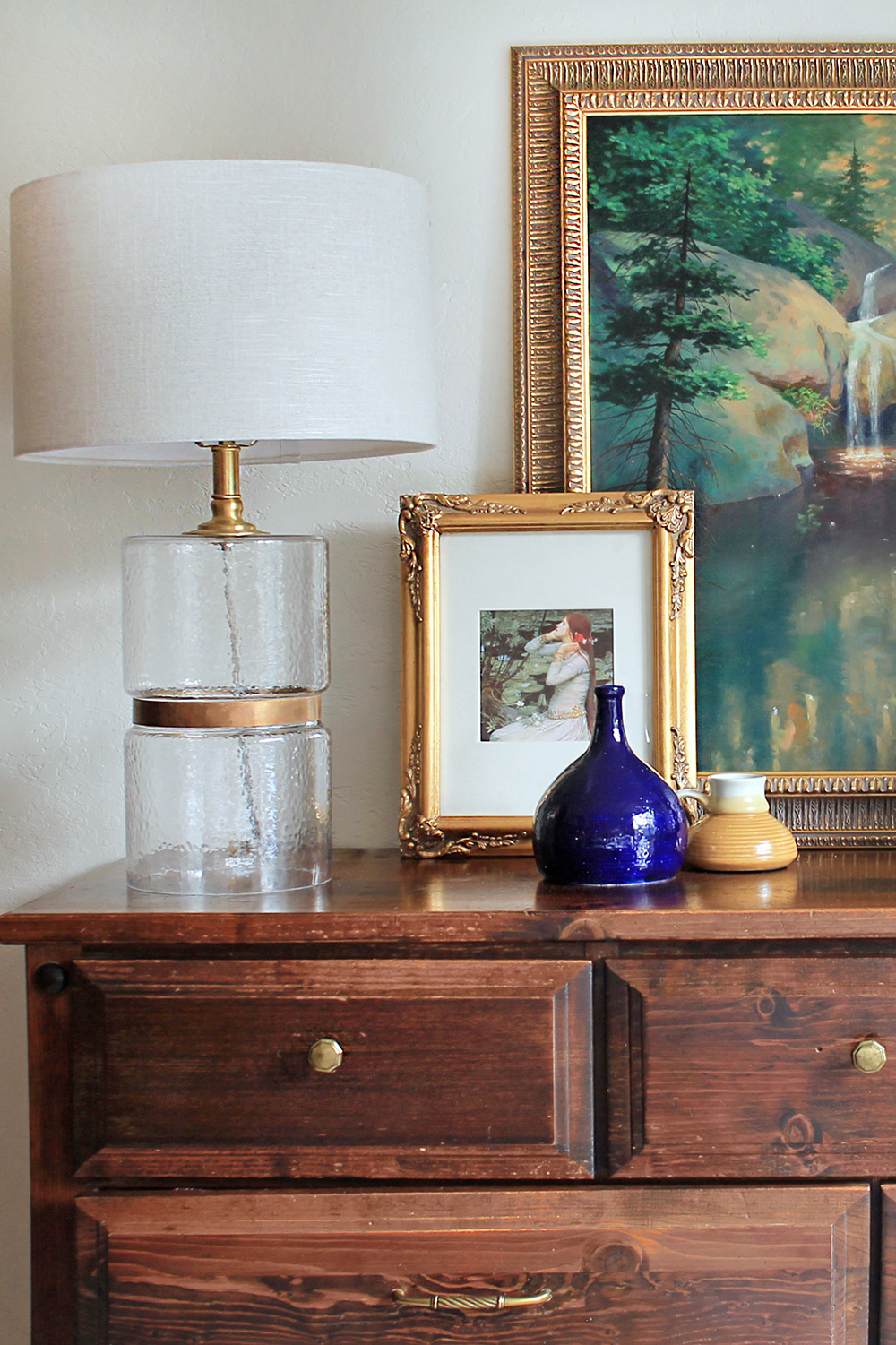 Next Steps For The Dresser & Bedroom
Ultimately my desired overall style is a contemporary traditional look, but sometimes you just have to be willing to embrace the process. The bit of rustic charm that naturally exists in this house shouldn't be obscured, but touches of it should be integrated into the overall look of the design.
That being said, once we bring in more modern traditional elements, we'll see if the dresser integrates naturally, or if it needs just a little bit of a face lift.
So while we definitely have more to do in this room, this is the perfect start…Wish us luck as we continue this makeover! And I'll keep you all updated as we go.
*Special thanks to Huck & Peck for gifting those beautiful lamps, and Wovenbyrd for gifting the armchair and ottoman. We have amazing sponsors who are helping make this remodel possible…