We can't all afford a full scale remodel, but that doesn't mean you can't dramatically update your home on a humble budget. This dated living room got a quick update anyone can do in a day…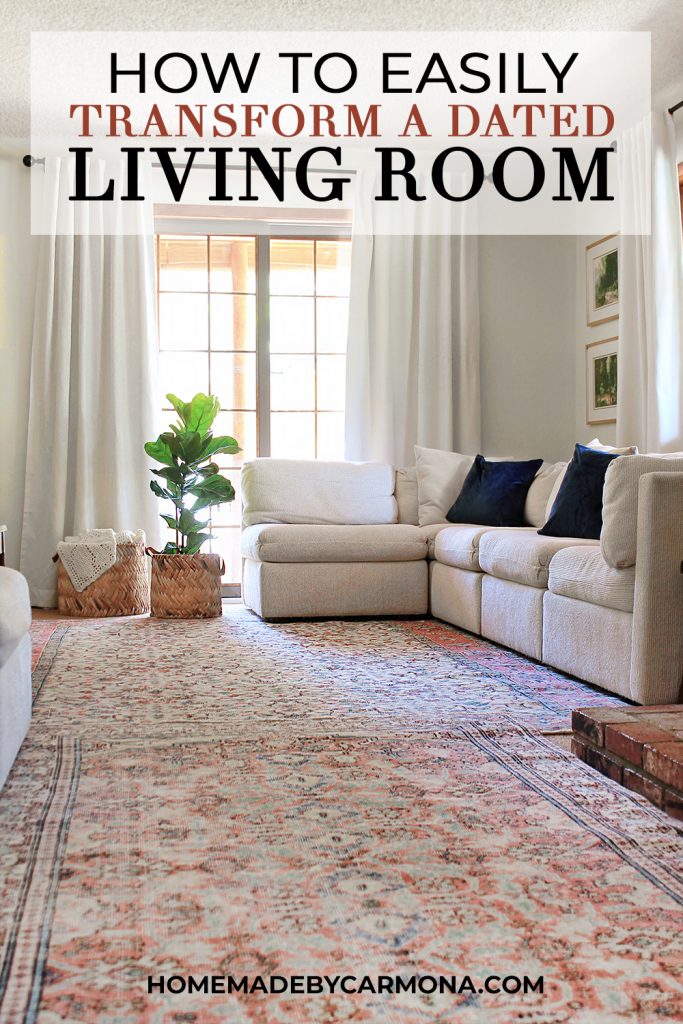 *This post is awesomely sponsored by Revival Rugs
I'm very excited to decorate my parents home over the next few months. They have great taste, but no budget to transform their space. Not to mention, they still have all the same furniture I played on as a kid…it's definitely time for this house to get a fresh new lease on life.
The 'Hero' of the Space
Changing out the brown carpet and outdated flooring throughout my parents house just isn't in the budget. Re-carpeting is a HUGE expense…but thank goodness for the power of a well placed area rug!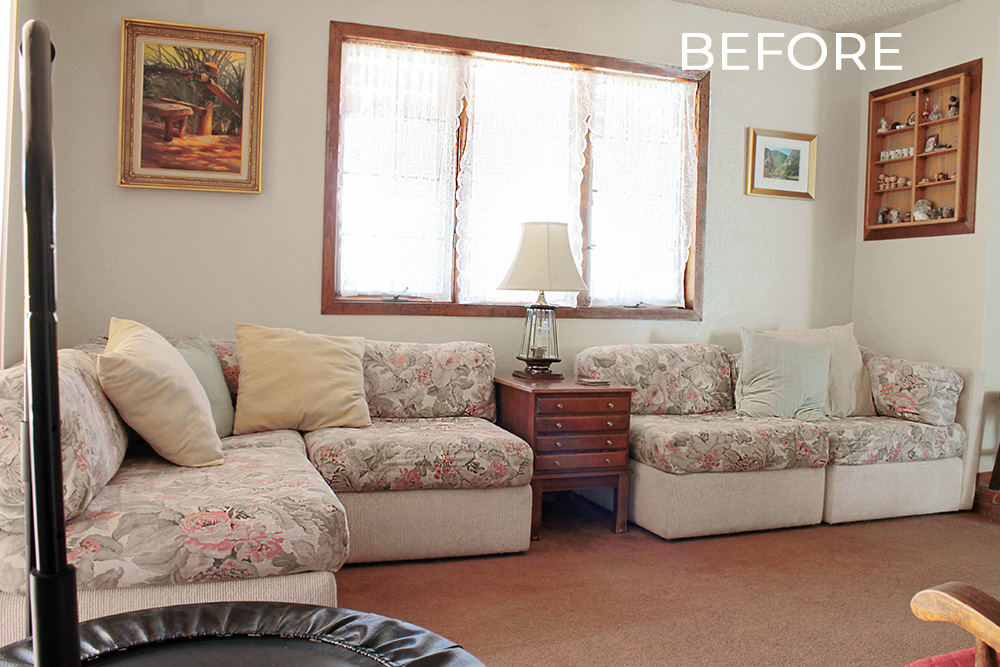 It's obvious to see that these two area rugs from Revival Rugs really are the hero of the space. We were able to add a pop of color, pattern, and texture in one fell swoop by starting with a beautiful area rug from Revival Rugs.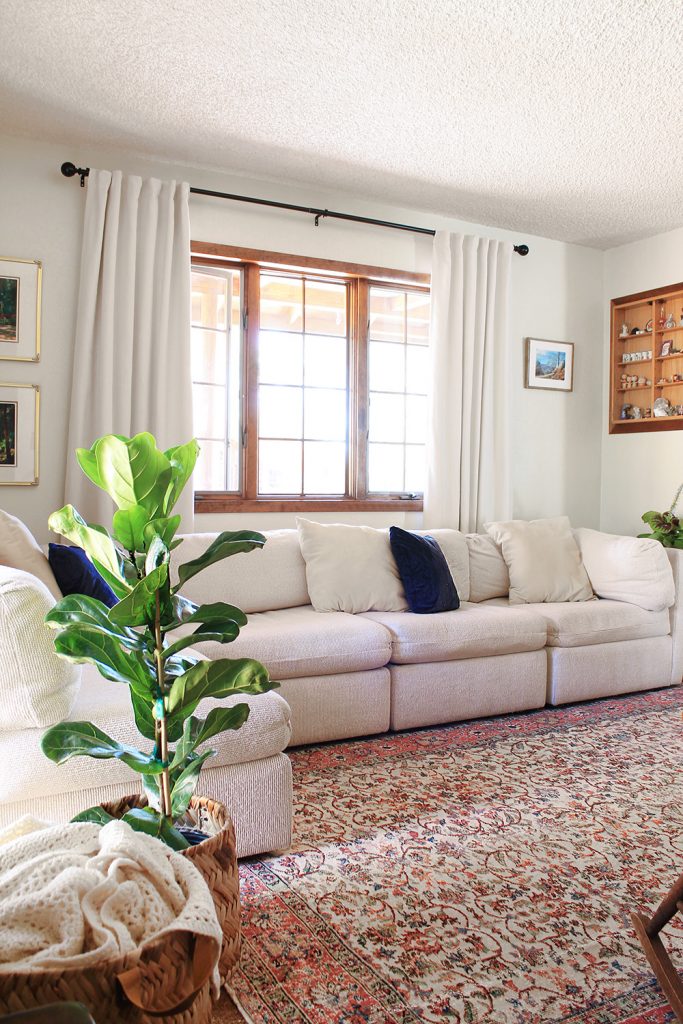 We went with this lovely Rinus vintage oriental area rug from Revival Rugs for the seating area. And the Prescilla vintage area rug layered at the edge to cover the entryway…never be afraid to layer area rugs!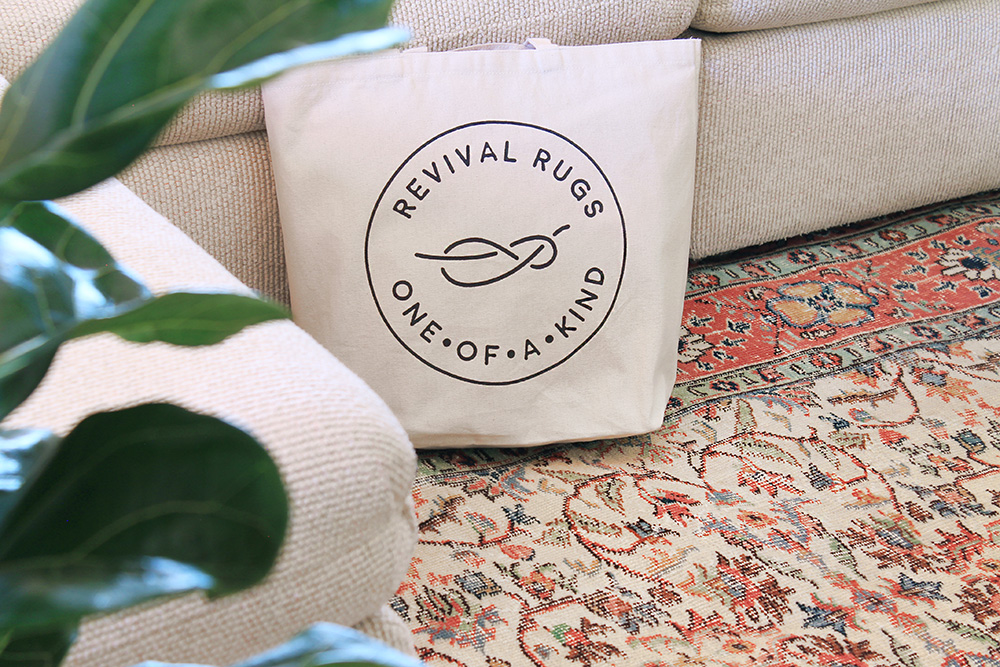 There were so many lovely one-of-a-kind area rugs to choose from, but this just fit the space beautifully.
I know how frustrating it can be to find reasonably-priced, good quality rugs, so I was incredibly pleased to learn about Revival Rugs. They work with artisans across Turkey and produce quality hand-made rugs at great prices.
The How-To's for Re-imagining Spaces
Out with the old, in with the…old? How do you freshen up a dated living room without spending a fortune, buying all new furniture, re-carpeting the room, painting the walls, etc?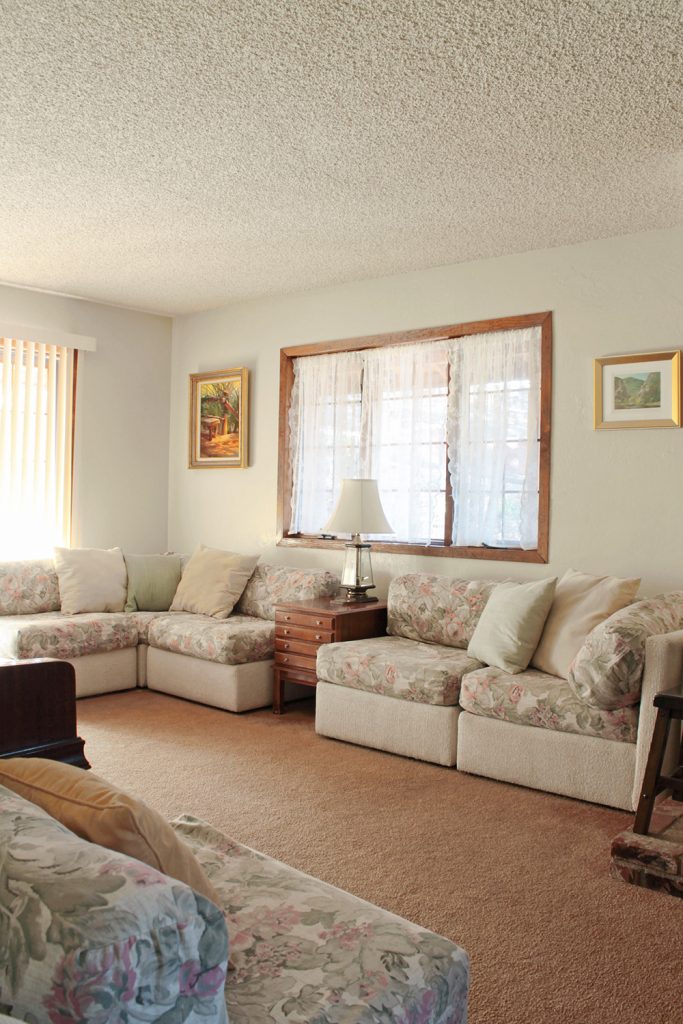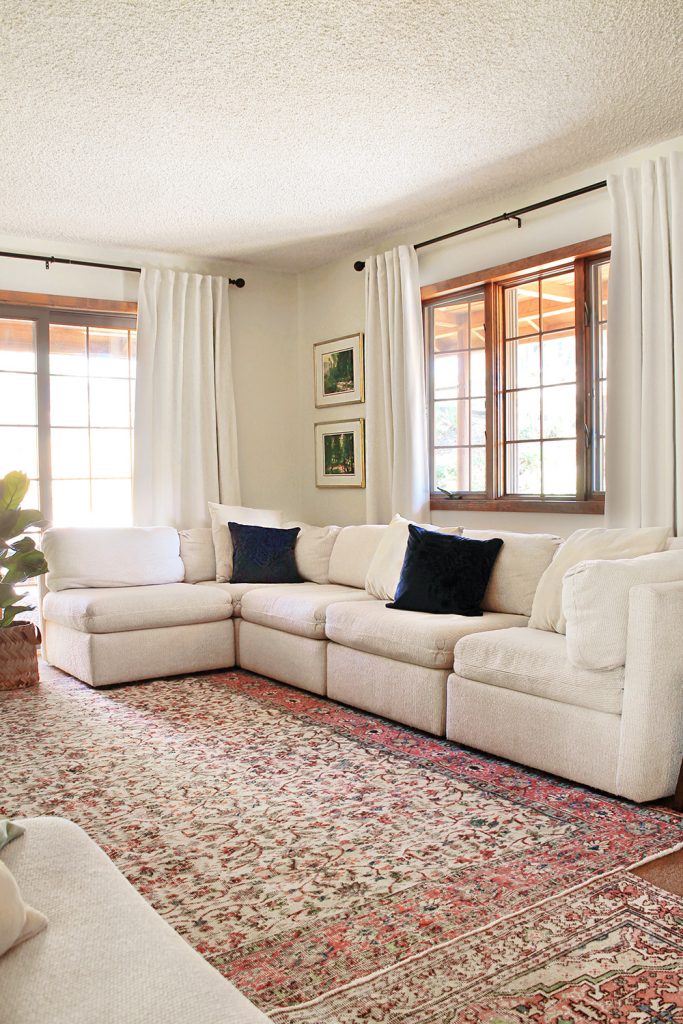 As you can see from the before and after shot not a lot was changed, but somehow the space feels much more contemporary in design.
Anytime I refresh a room on a budget, I carefully attend to these things:
#1. Start With A Stylish Area Rug:
Sure, if you have outdated carpet or other flooring type, you wish you could just redo it, but that is a HUGE expense and not always in the budget.
Instead, layer beautiful large area rugs in the room. Yes, even on top of carpeting! Area rugs help define a space, and bring an immediate undeniable style direction. So whether your existing flooring is outdated or not, start with the right base!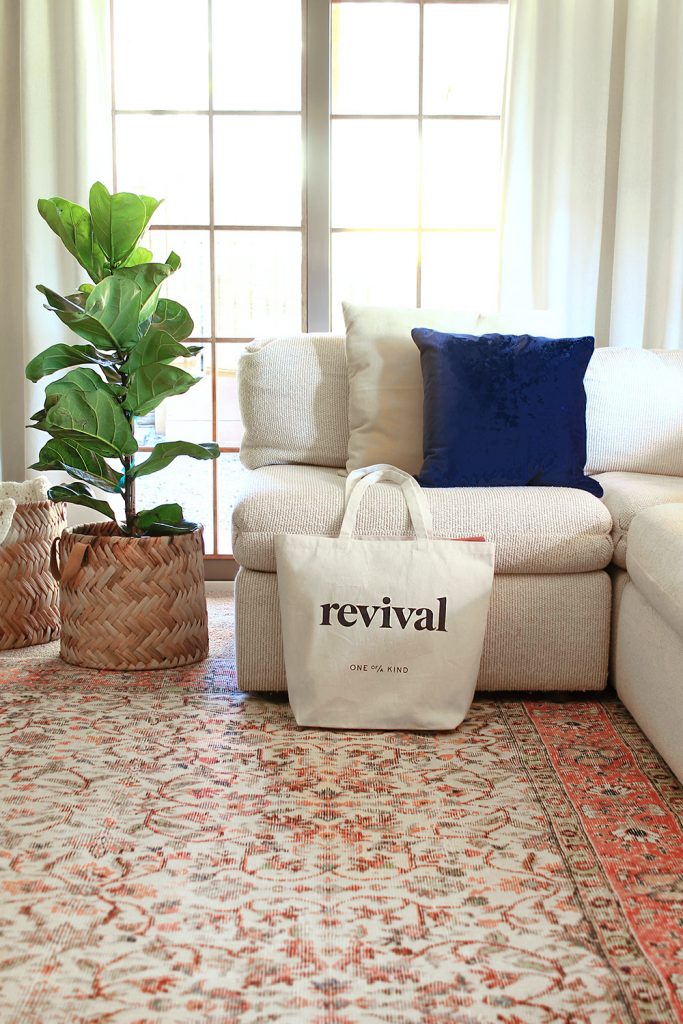 #2. Simplify & Declutter:
This isn't true for everyone, but maybe 80% of people can make their spaces look better just by simplifying or decluttering. Too many different items in a space just looks and feels like chaos. I'm not talking about maximalism as a design choice…that is a very intentional collection of curated items that make a space look and feel decorated. I'm talking about random pieces that don't compliment each other, just placed in a space for practical reasons, or because you didn't know what else to do with it.
In this particular room, no decluttering was necessary. However the couch covers needed to be removed to simplify and update the design.
#3. Let The Light In & Re-Frame Windows Properly:
A light bright room feels fresher than a dreary one, so make sure your window covers aren't hindering the light during the day. I went with room darkening curtains they can close when they need to, but they can throw open and let all the light in during the day.
Always hang curtains several inches above the top window frame, and the rod should be spaced wide on the window (about 10 inches on either side of the window). Remove outdated window covers, even on French doors.
#4. Accessorize:
A few well chosen throw pillows in an accent color, some pieces of art hung on the wall (at eye level), and a houseplant can do wonders!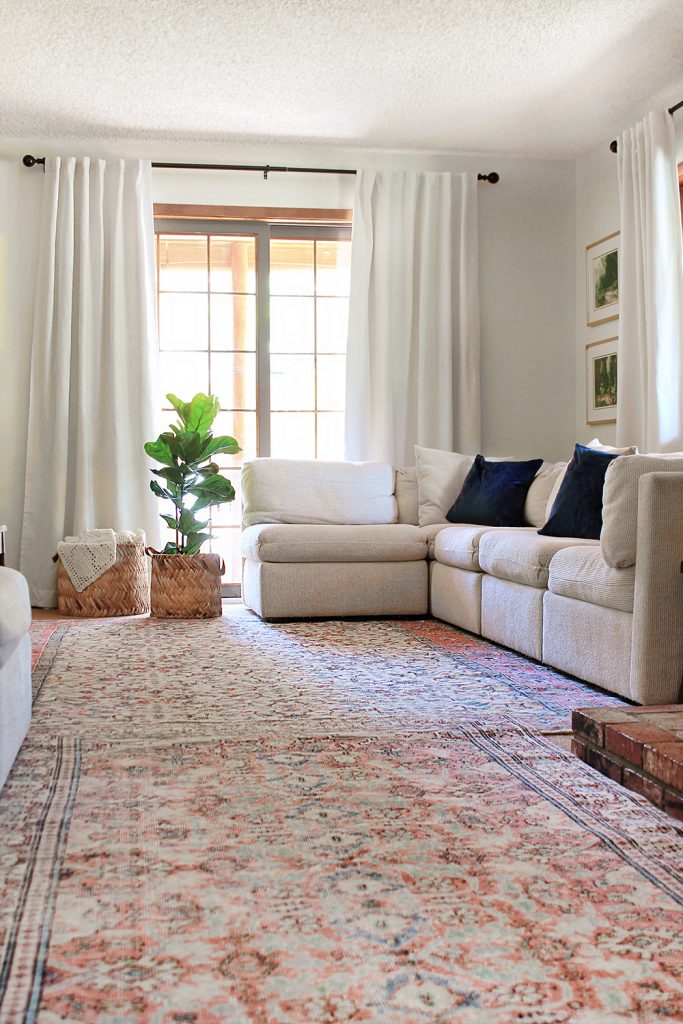 I hope this inspires you to refresh your spaces, even if you have a dated living room that needs a little TLC.
If you choose to add a beautiful Revival Rug to your home, be sure to use my special discount code: CARMONA10
*Special thanks to Revival Rugs for gifting us with these stunning area rugs. You can follow them on Facebook and Instagram for the latest.