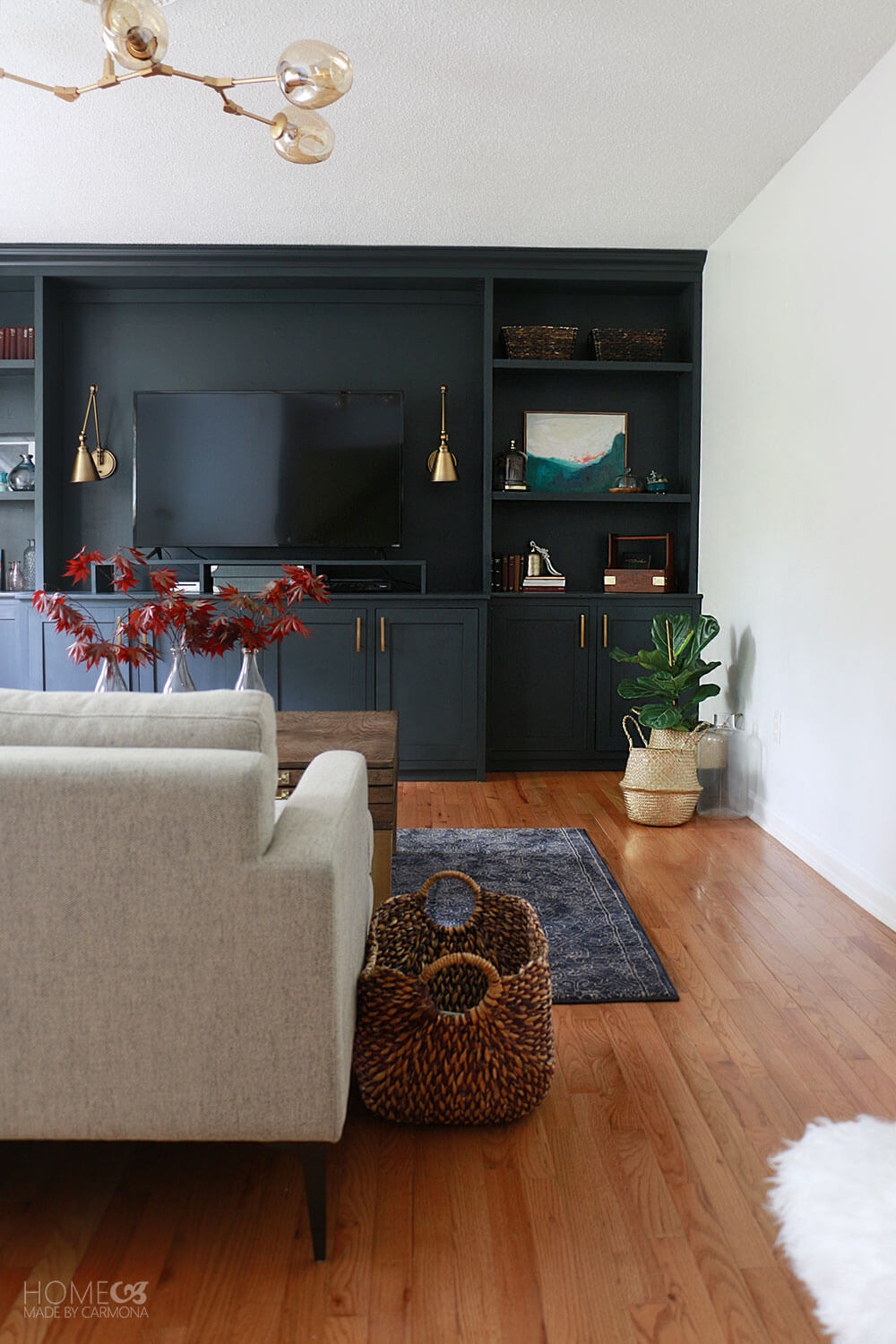 *Thanks to FrogTape® for sponsoring this amazing project! Somebody pinch me…
It's finally here guys. REVEAL DAY!!!
The last 3 weeks (actually 2 weeks for me…) has been filled with bone tiring work to transform my living room for the FrogTape® Paintover Challenge!
I'm competing against 6 amazing bloggers (who I actually adore) in hopes that I can win $10,000 on behalf of my charity of choice; ADRA, an amazing organization that responds with aid during crisis and daily helps the less fortunate around the world. Plus the winning blogger gets a spread in HGTV magazine (eep!).
In case you missed my first post , let me remind you of this room before. This is it right before we moved in. It had  avocado green walls that were stained and gross.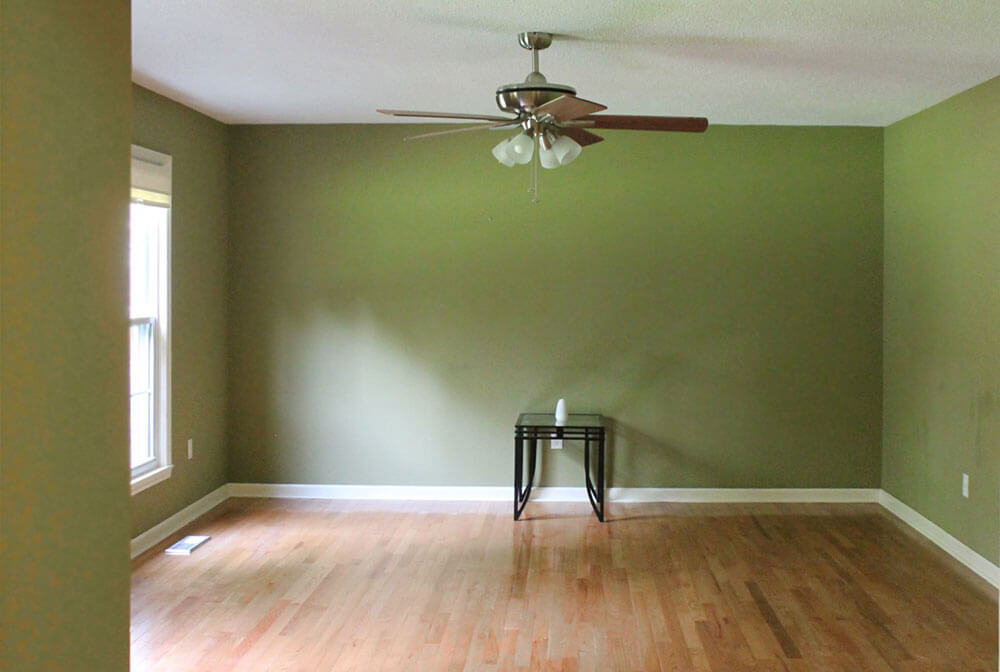 Then we moved our things in, and a just a few months ago I attempted to improve it slightly by painting the walls, building some storage cabinets, a TV console, and a coffee table. It was still not an attractive space to be in, and when I entertained I always felt a little self conscience that there were no decorated rooms in my main house. I had spent the entire first year living here decorating the guest house so I could rent it out on Airbnb to the neglect of the main house.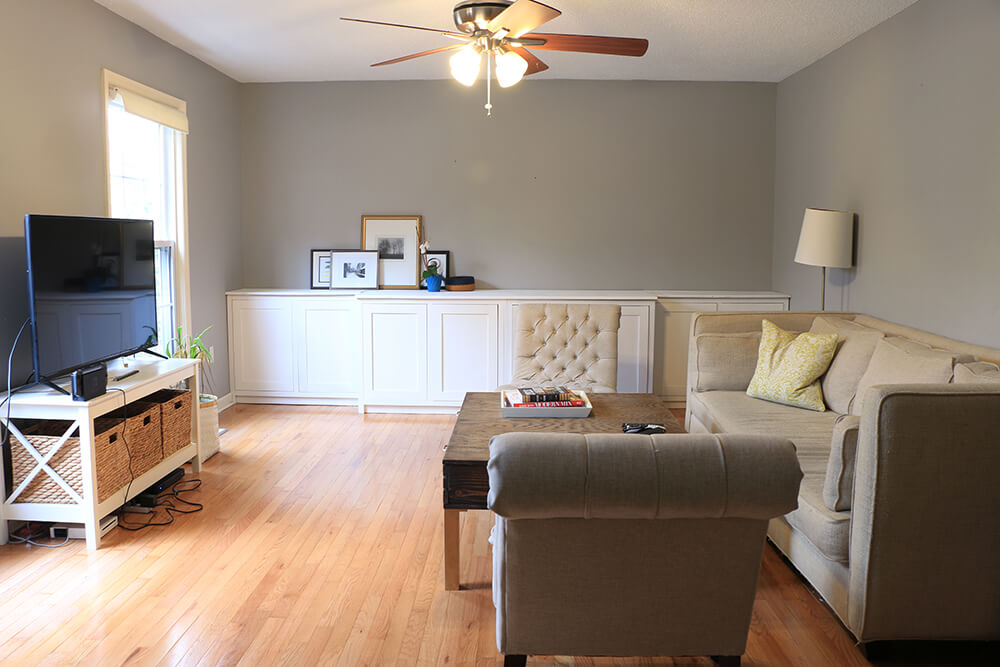 Well now I am SO over-the-moon to have my dream living room to entertain guests, play games with my family, and generally spend quality time.
So finally it looks like thiiiiiiis (this is the part where you 'ooooo' and 'aaaah'…haha):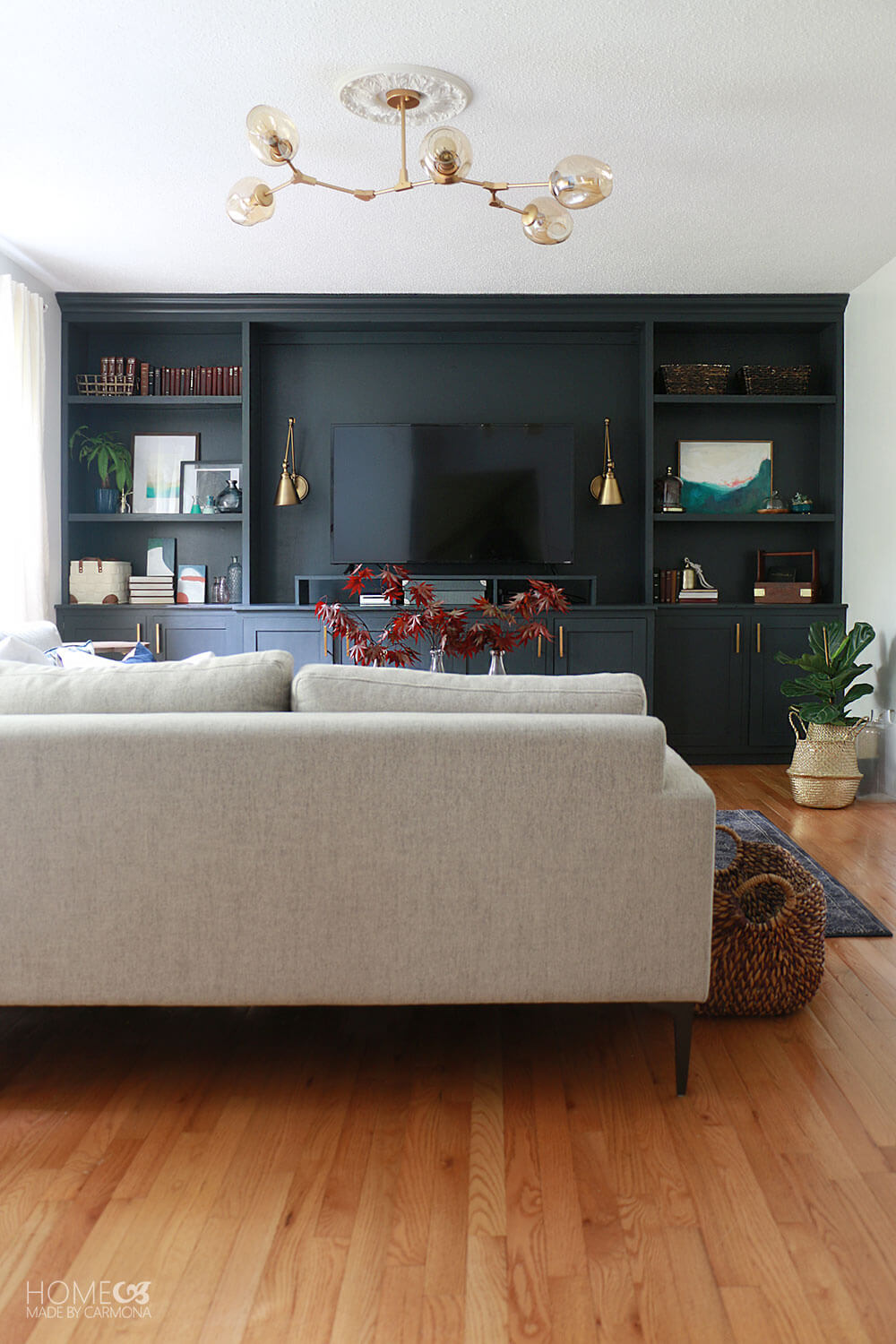 I was given a $1,000 budget, and boy it was harder than I thought to decorate a living room with that amount. I had to use a few existing items, including the sectional from my den (because who are we kidding, a new sofa would have taken up the entire budget).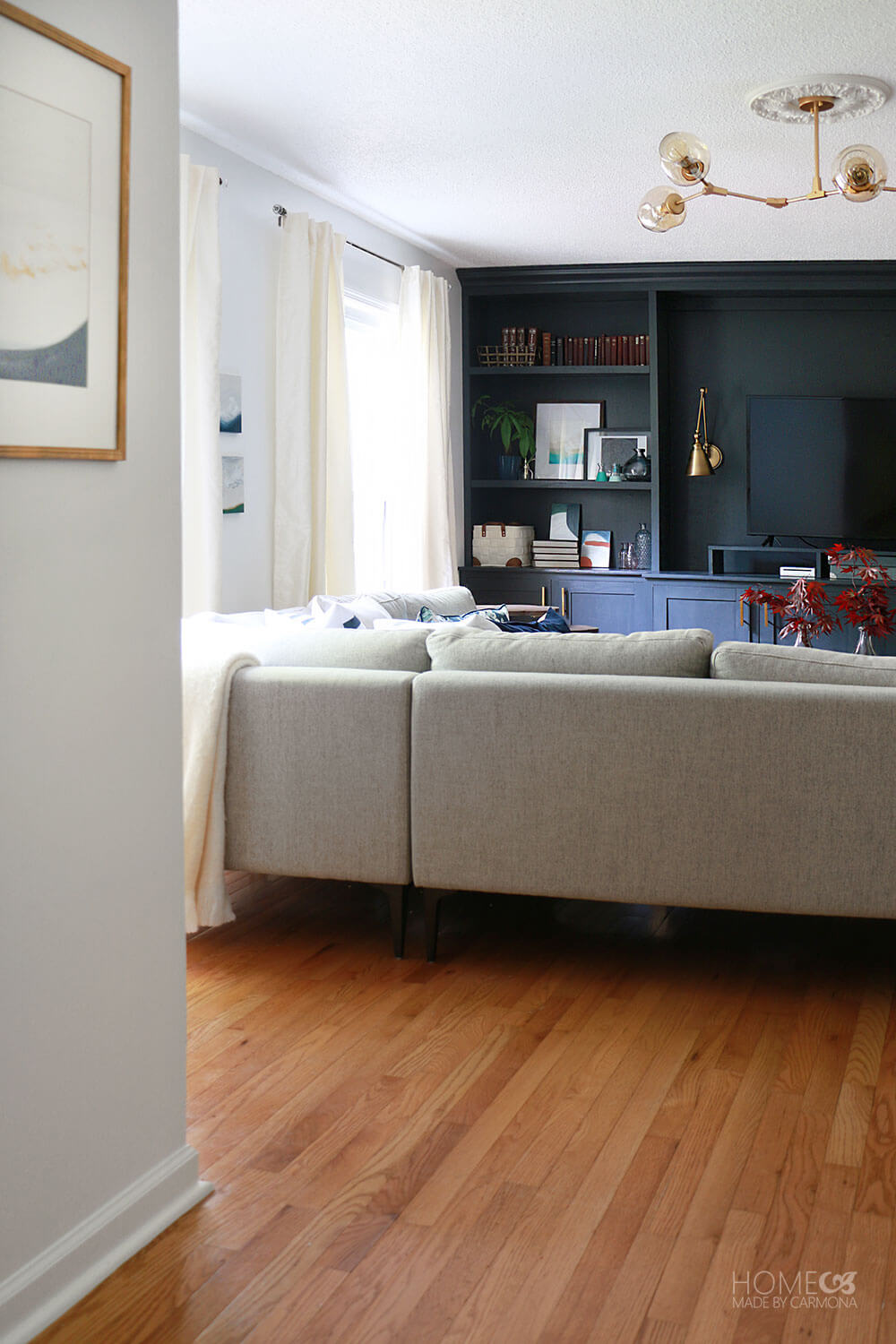 I also had to use a combination of new wood and leftover wood from prior projects to get this built-in created. My arms were killing me in the two days it took to build and paint this unit, but it is magnificent! Everything I imagined.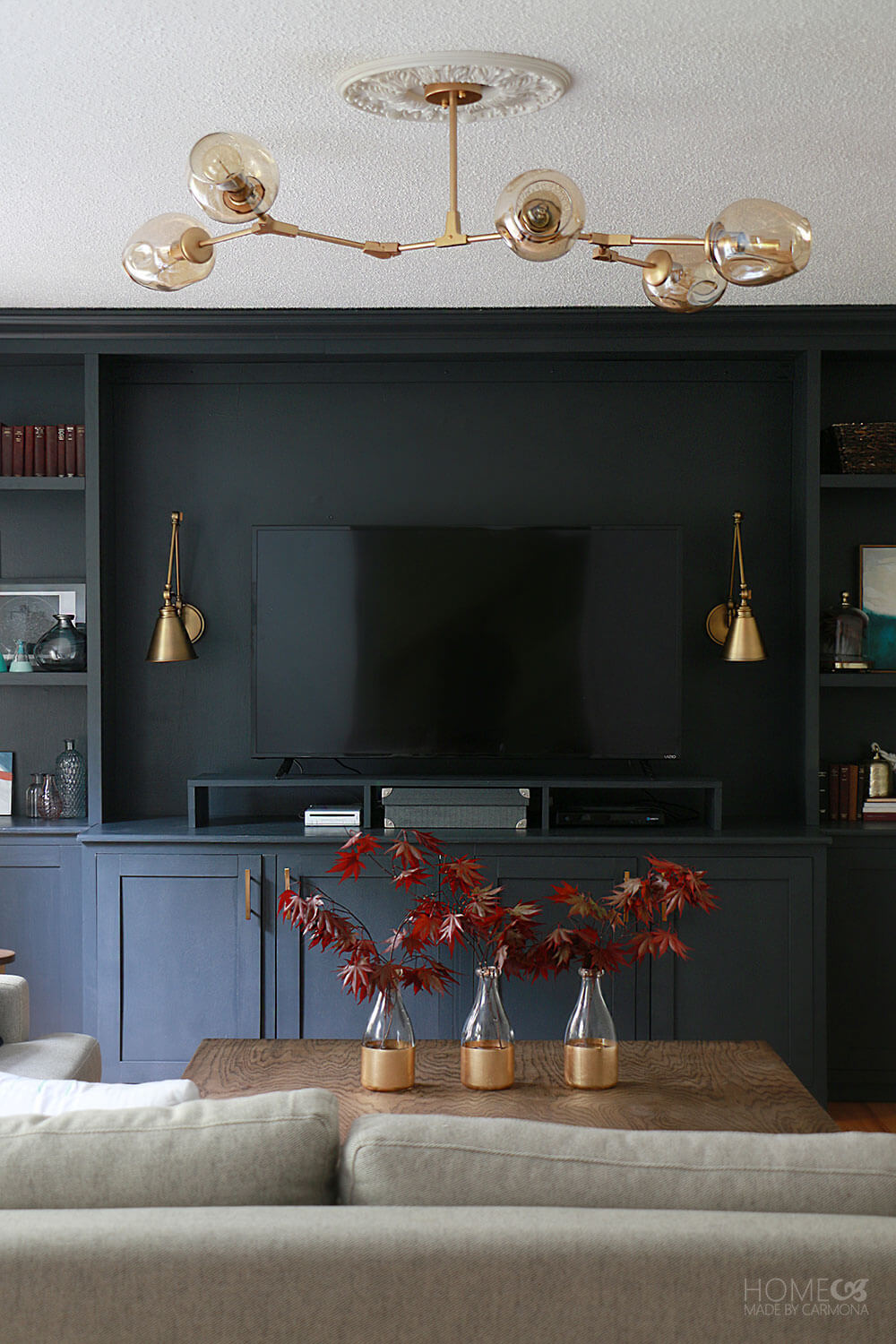 My assigned design style is 'Faux Natural'. It was described as subtle patterns created by nature's natural textures, lots of earthy tones like deep blues and beige, paired with an expected pop of bright color (even neon-like colors!) I was to find a way to bring in those unatural hues into a neutral space.
So I started the space in a very classic black that looked charcoal in some light and blue in others for the built-ins, kept the walls simple and white (BEHR MARQUEE® in Frost 57 to be exact, and in Satin Black on the built-ins). Everything was very traditional, even the area rug is a deep blue without over the top color or design.
Then I added some natural elements via the plant life, woven baskets, wooden furniture pieces, and textural elements.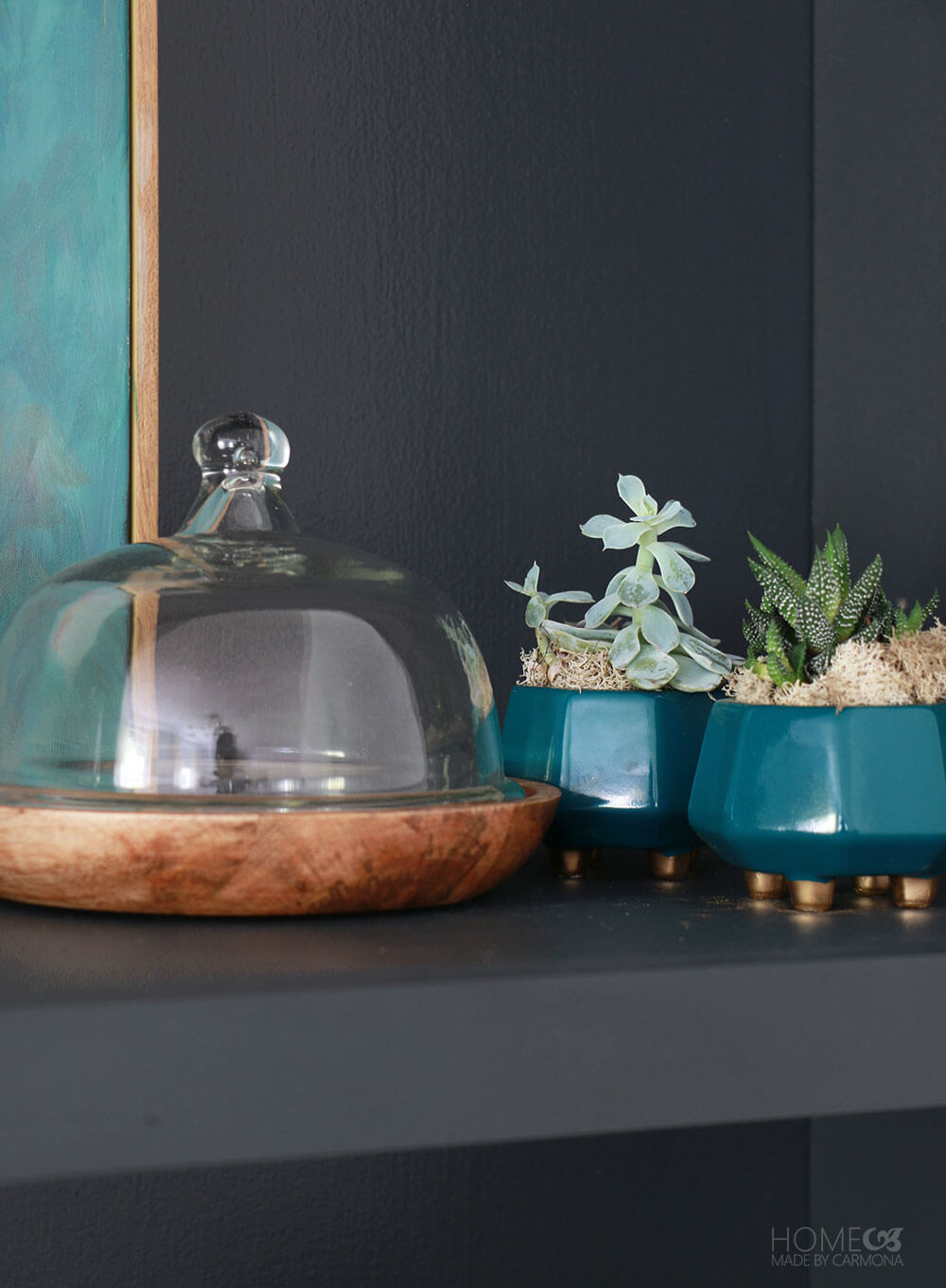 Finally I brought in those pops of bright color via DIY artwork. Painting these pieces felt fantastic since I haven't broken out my art set for at least a couple years now. I really need to get back to painting more.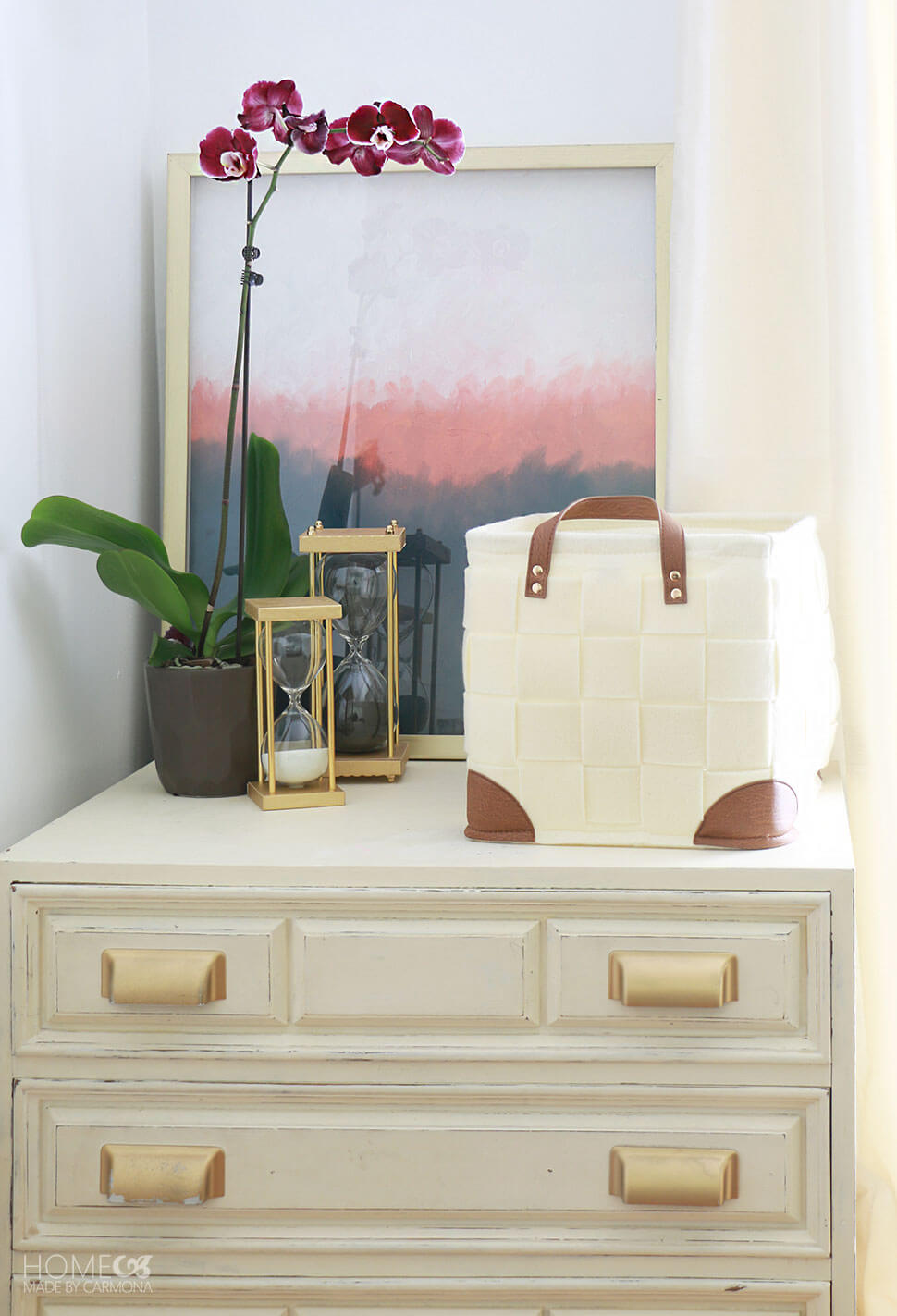 As a matter of fact I painted all the pieces in this room to save money, and used either thrifted frames or existing ones, or used blocks of wood like these two cute little guys.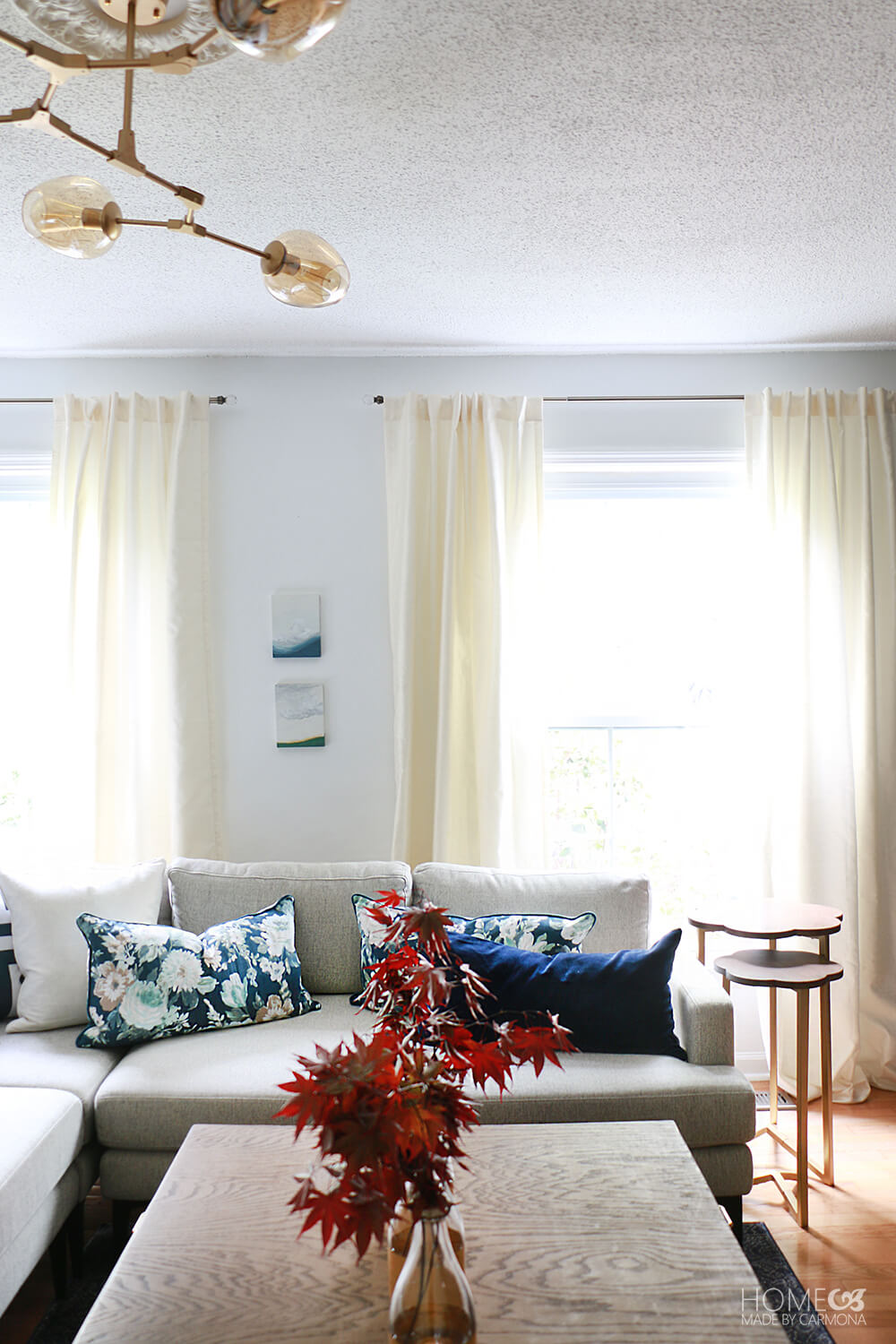 In order to bring a few pops of color I spray painted some cheap little jars.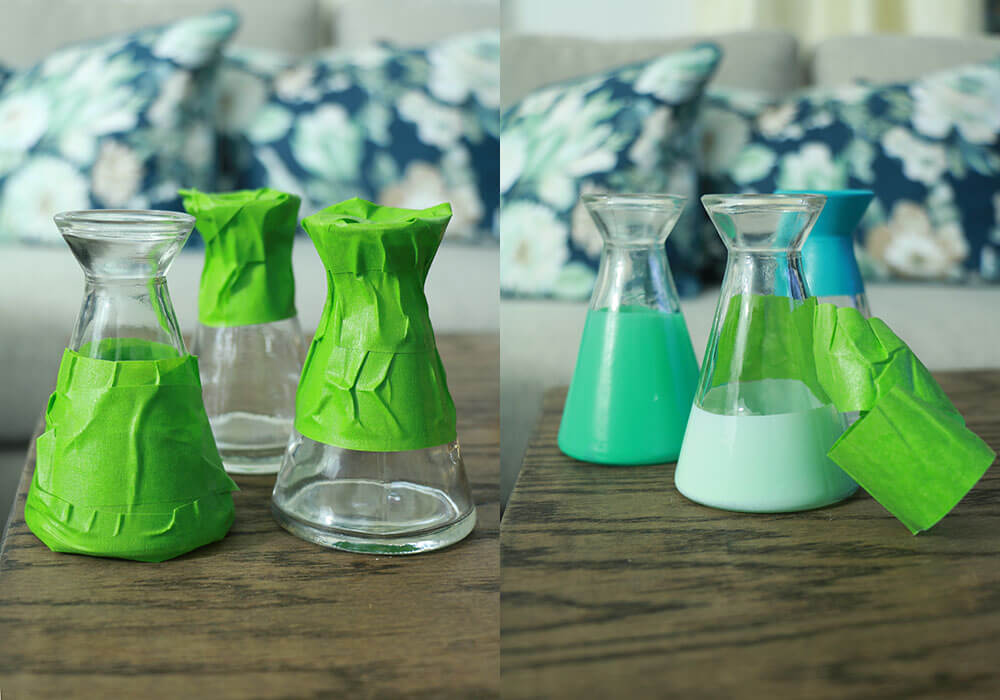 Isn't it great that small projects like this can make for beautiful and inexpensive decor solutions?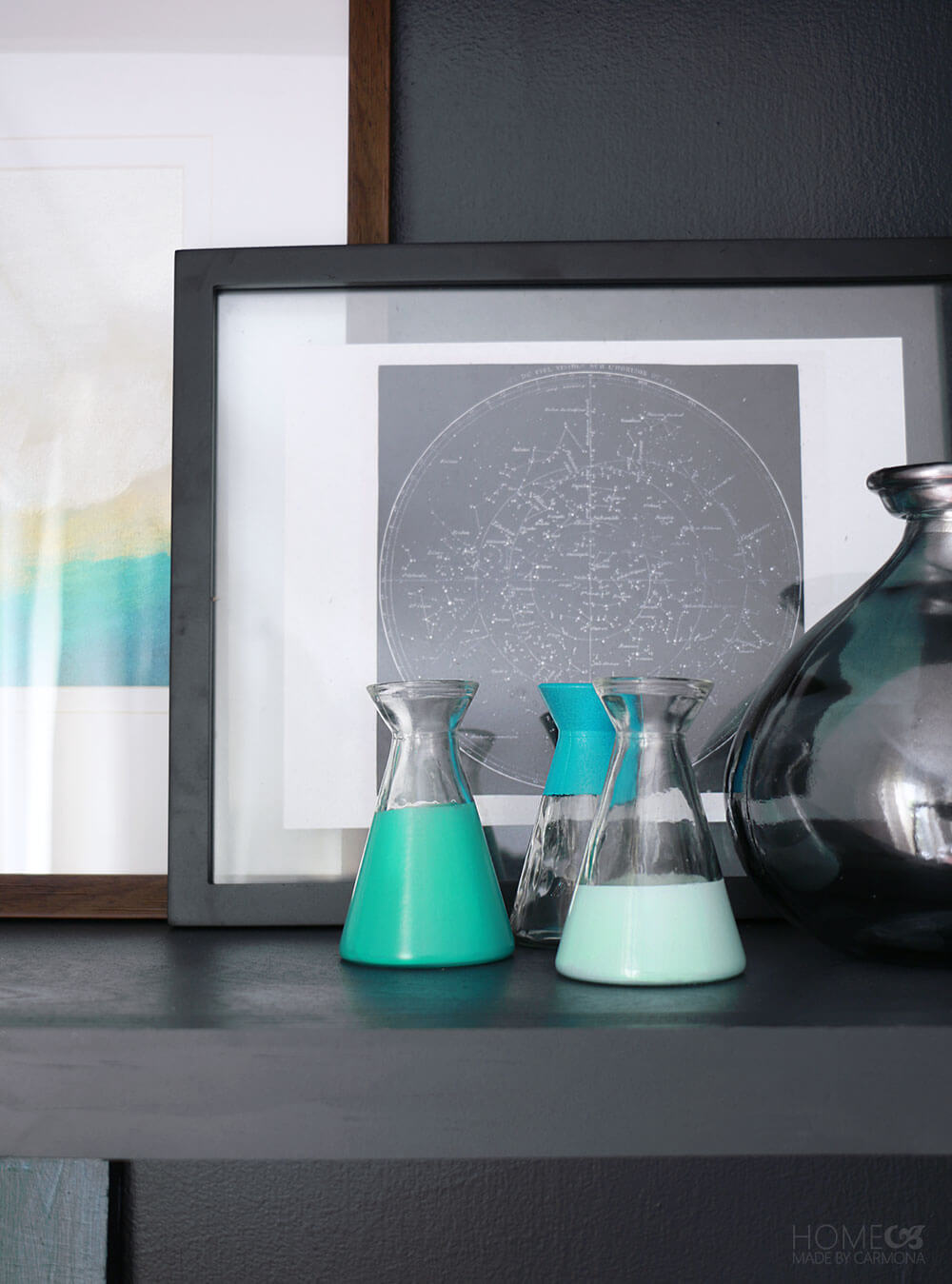 Since we're talking about paint projects, I also painted these DIY throw pillows to also add some design in the space.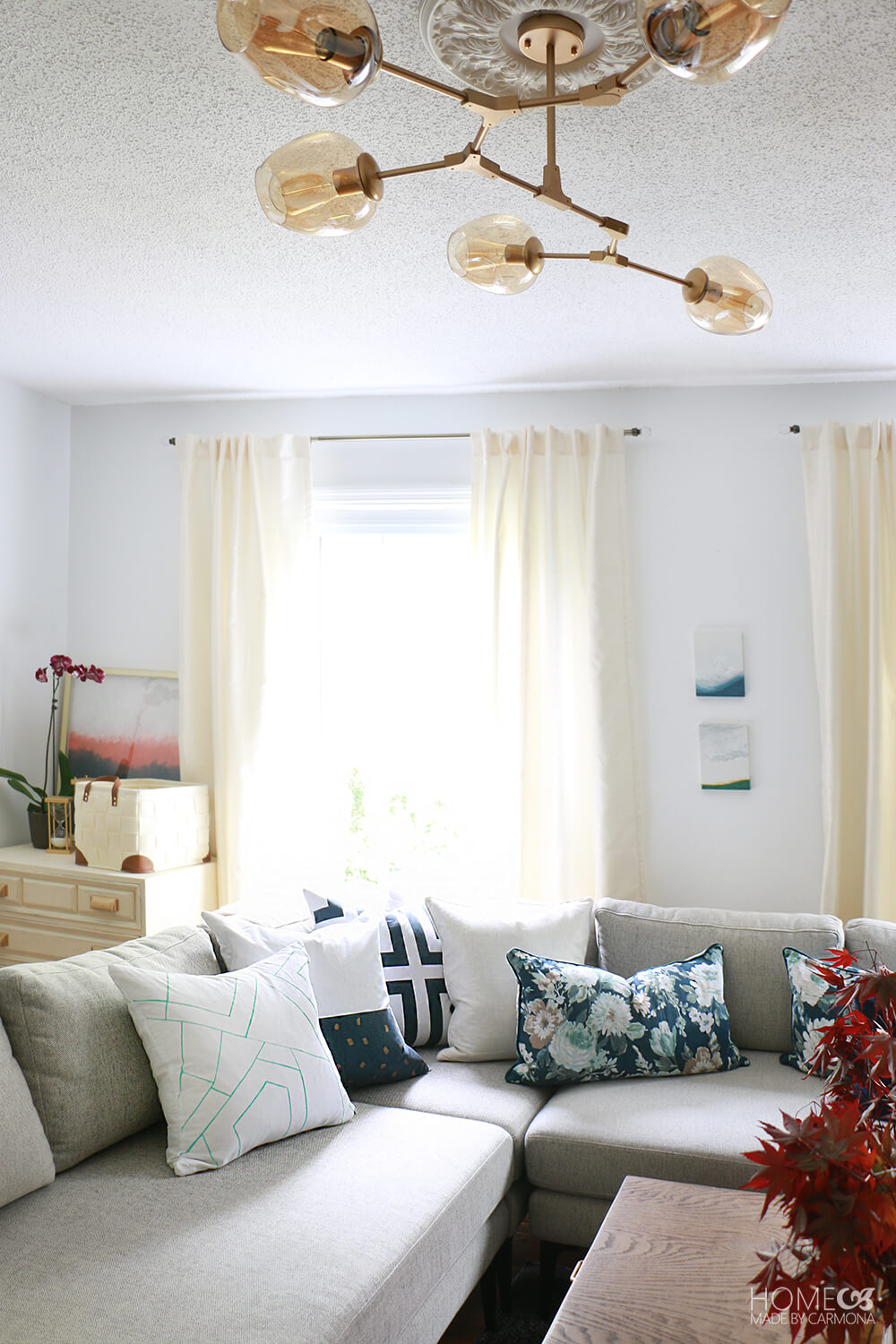 Between painting the walls, built-ins, and those small projects, my roll of FrogTape® worked overtime in this space and now it's dwindled down to nothing.
I hope you guys are enjoying the nuances of the living room design as much as I am. When I revealed this space to my family they seemed rather unimpressed. Haha, they aren't the types that are wowed by design. My husband walks up to the bookshelf and goes, "is it strong enough to hold our games?", tests the shelves and grunts in approval. It was high praise people. High praise indeed.
My kids just wanted to get back into the room for a family game or to watch a show while doing a puzzle together. When I see them actually sitting and functioning in the space in a way they couldn't before, and I know that's what really counts. The moments.
This coffee table I built (see more of it's features here) is perfect in this room, and has all kinds of pullouts for gaming, in-progress puzzles, etc.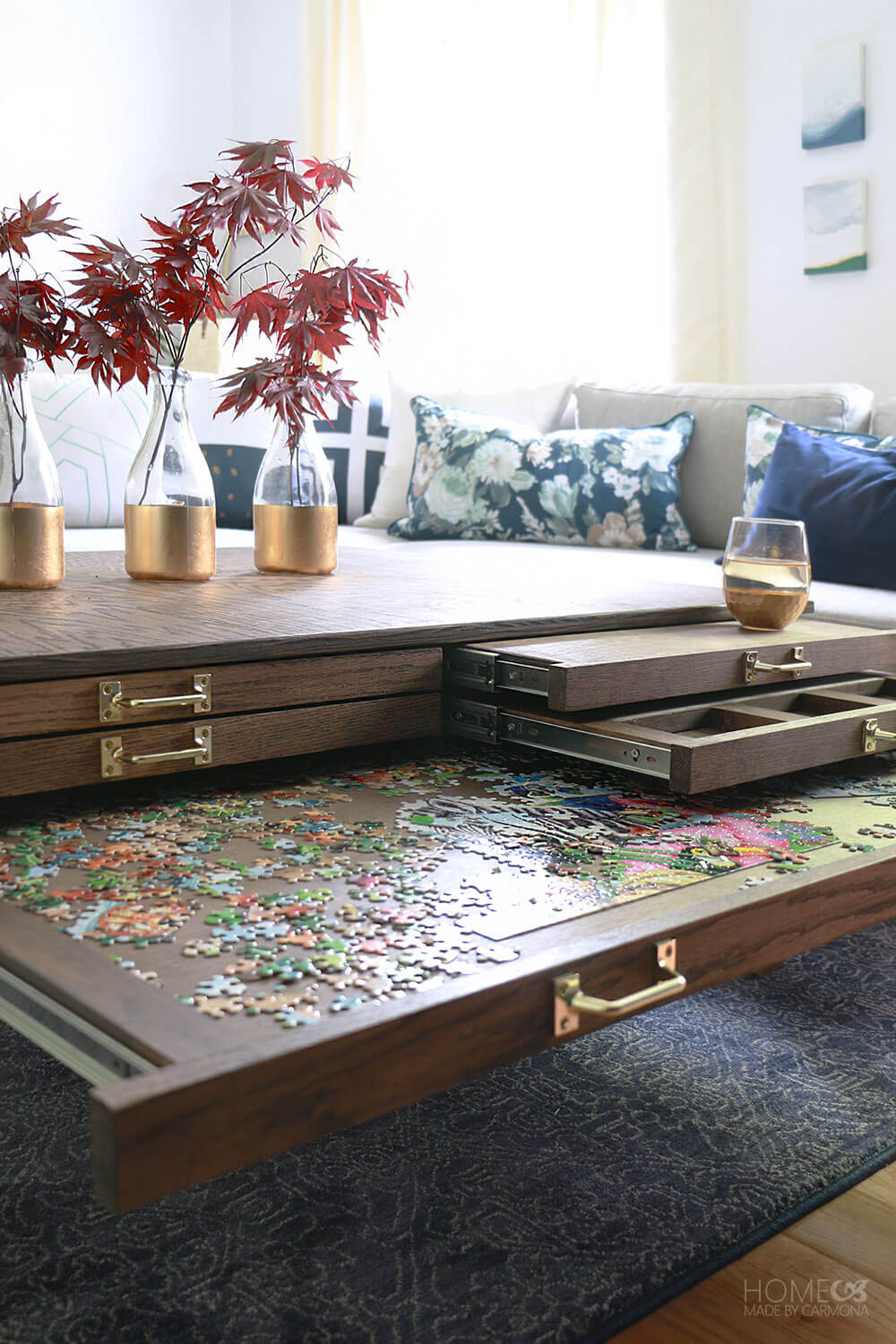 Moving the sectional into the room we spend the most time in should have been a no-brainer from the beginning. Now game night makes a lot more sense. We have all our tabletop games stored right in reach (in case you didn't notice we are total board game geeks…no really, ALL of the cabinets below are filled with games).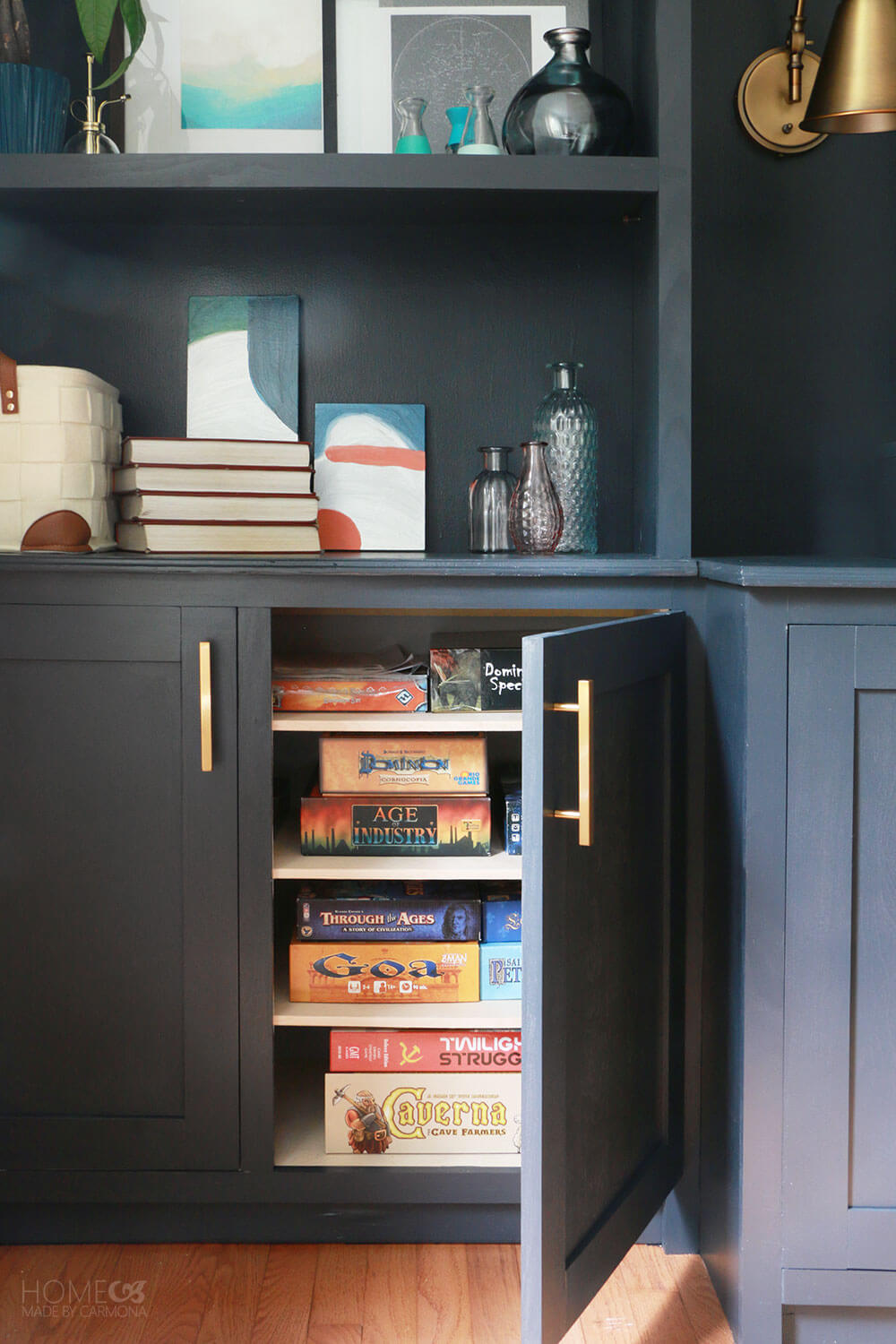 There is much better lighting to see (and how great is that light fixture by the way!!), and place for everything.
Storage and function are just so important in a space. I wanted to make sure I didn't neglect that as I made the space beautiful.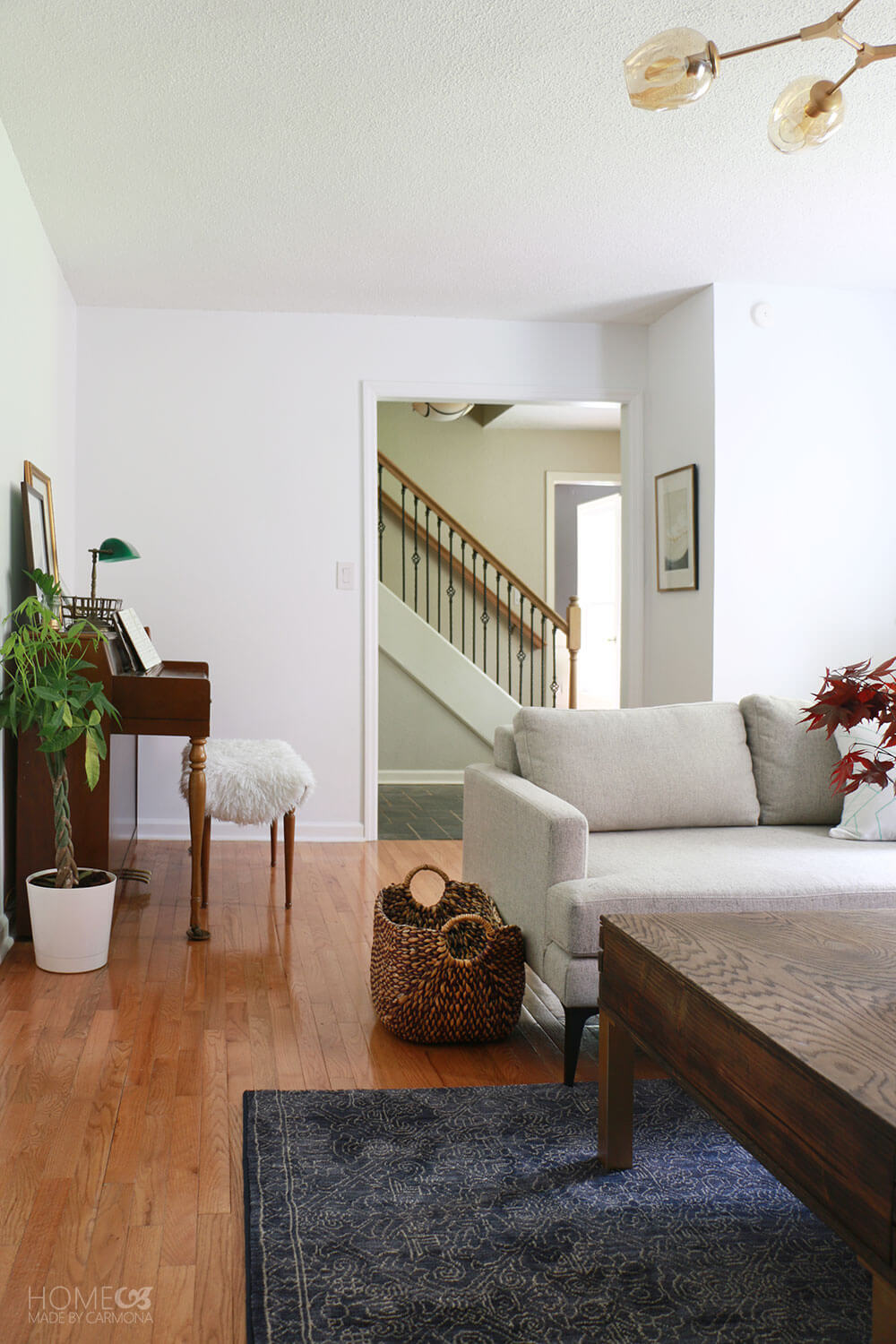 We don't just game in this space, it also acts as our music room, a space for daily family worship, and great entertaining. I'm LOVING it!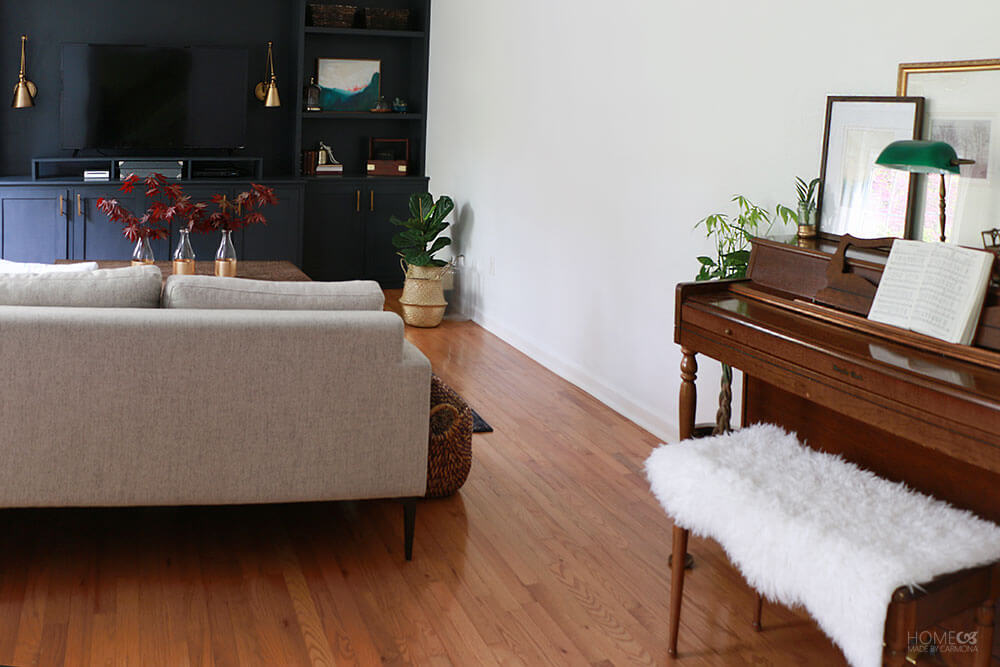 As you can see, in order to stay in my budget a lot of DIY projects went into this space. And I wasn't able to get rid of the popcorn ceilings scrapped on that budget, but perhaps it is something I can do in the future. However I was able to very carefully find some fantastic budget pieces and accessories to take it to that next level.
Here is the final breakdown and sources for you (affiliate links provided):
Glass bubble chandelier – $200
Gold sconces – $221
Gold pulls – $70
Set of nesting tables – $61
12″x24″ throw pillows (Home Goods) – $38
Upcycled thrifted decor (Goodwill) – $13
5'x8′ area rug (Lowes) – $148
2 gallons of paint: BEHR MARQUEE® in 'Frost 57', and 'Satin Black' – $79 (The Home Depot after rebate)
Ceiling medallion (The Home Depot) – $20
Glassware (Habitat for Humanity ReStore) – $16
Wooden caddy (Home Goods) – $12
Plants: $36
Ceiling trim, bookshelf trim – $54
Existing decor includes: baskets, paint canvasses, bell jar, books, 20×20 down pillow inserts, drawers, and ivory curtains and rods.
TOTAL: $996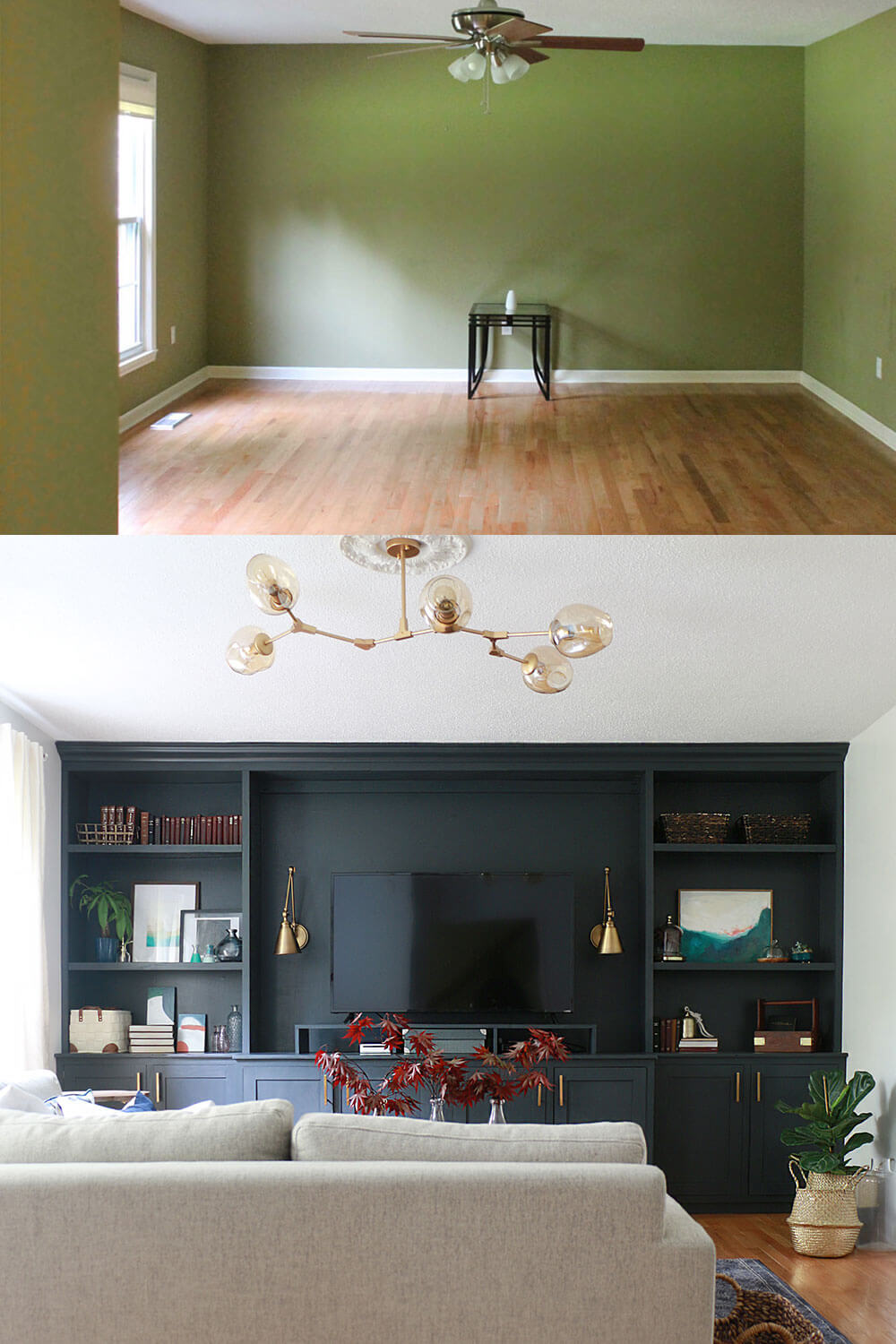 *Special thanks to FrogTape® for sponsoring this post and inviting me to join in this design challenge!